INSIDE: Everything you need to know about the Best Kids Activities Gold Coast.
The Gold Coast is Australia's number one destination for families. It's a no brainer.
The Gold Coast has it all.
Warm, sunny, glorious weather.
Wide open beaches with golden sand and turquoise waves.
ALL the best Australian theme parks.
And a backdrop of green space to go bush walking, mountain climbing, and shopping in cooler temperatures up in the mountain gallery spaces.
There's so many things to do on the Gold Coast with kids!
Take a look at the best low cost and free kids activities Gold Coast has to offer!
Disclosure: This article contains affiliate links. If you make a purchase after clicking on one of these links, we may receive a small commission at NO extra cost to you.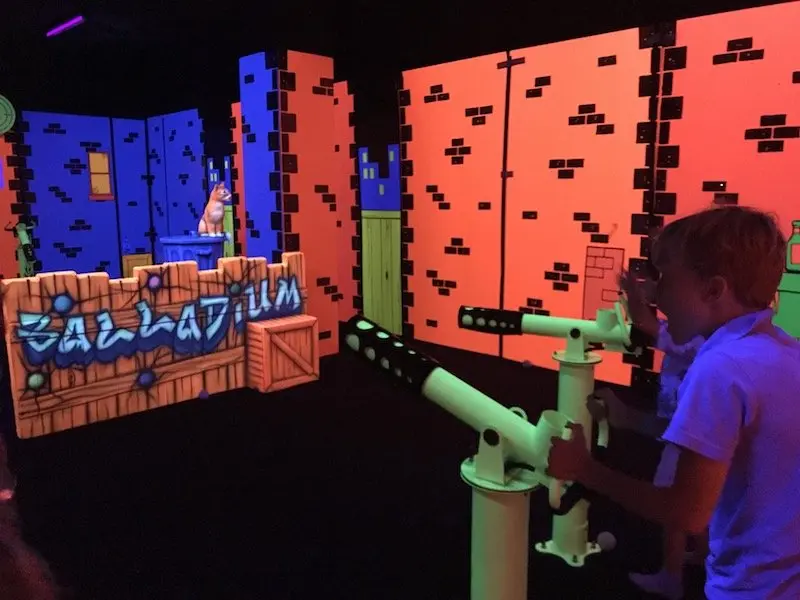 THE INSIDE SCOOP: Best Kids Activities Gold Coast Style!
Correct at time of publication on Roam the Gnome. Please check with venue for updates. We apologise in advance if there have been any changes we are unaware of. All prices in AUD dollars, unless otherwise stated
Fancy playing a game of skirmish under neon lights?
Or copping a bucket full of water over your head at the best splash pad on the Goldie?
How about swinging through the trees on a Tree Top adventure, like Tarzan, or riding in a duck boat?
Or experiencing majestic whale watching up close on a boat tour?
You can do all these things to do in Gold Coast, and more.
But first, let's talk Gold Coast accommodation, or more specifically, the BEST family resorts Gold Coast has for kids.
Guide to the Best Family Accommodation on Gold Coast
Looking for Gold Coast accommodation for families?
First up, narrow down the best Gold Coast suburbs for family holidays. (You can do that here.)
Then, read our guide to the best family resorts Gold Coast has to offer.
Here's a quick pick of three of the best KIDS ACTIVITIES Gold Coast has on it's books.
No.1: Seaworld Nara Resort Main Beach
The best family resort on the Gold Coast is Sea World Resort & Water Park on the Spit.
While the location is a little bit further out, it's right next door to Seaworld and you get priority access to the park during your stay. They can also arrange transfers to the other theme parks – Movie World, Wet n Wild, Paradise Country and Dreamworld.
The highlight?
The AMAZING water park playground and splash pads with spectacular views of the Broadwater.
Nowhere else has views quite like it.
It's what makes a relaxed holiday too – blue skies, shimmering water, cocktails by the pool, and happy kids.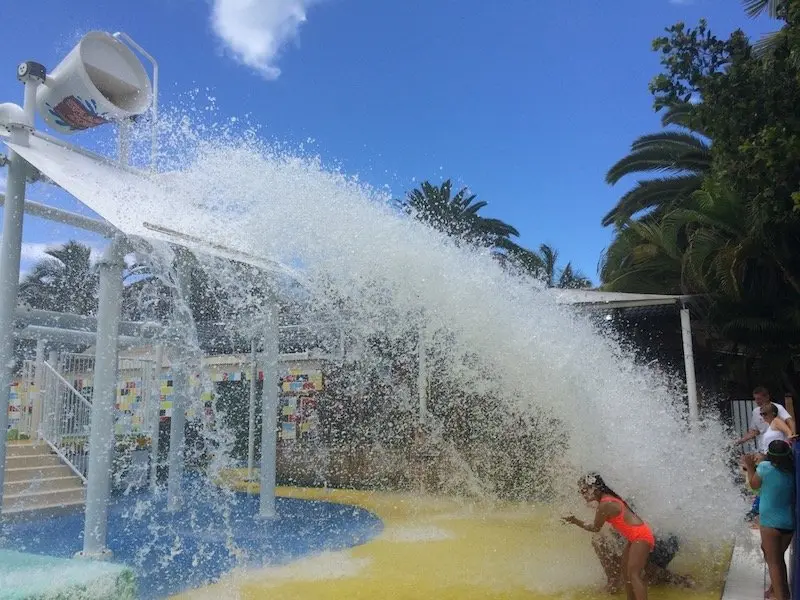 No.2: Turtle Beach Resort Gold Coast
Turtle Beach Resort Mermaid Beach is our top pick of family resorts if you want to hang with locals, and pretend you are a Gold Coaster for the week.
There's three pool precincts, four spas, two saunas, putt putt golf, a beauty spa, AND a private pool for adults.
This is just a fraction of what's on offer at this family hotel on the Gold Coast.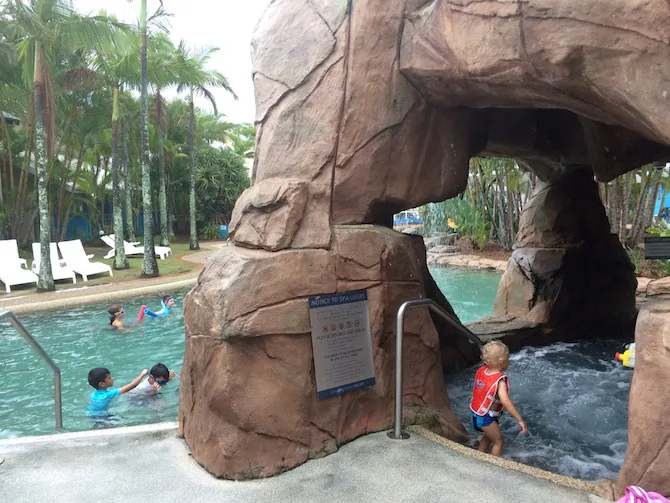 No.3: Diamond Beach Resort Broadbeach
Diamond Beach Resort at Broadbeach is another great family hotel on the Gold Coast.
This is one for families looking for a low key stay, with lots of other families and kids for your kids to play with!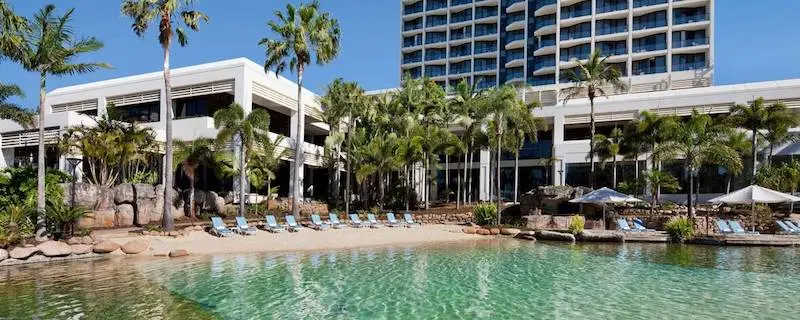 Image credit: Surfers Paradise Marriott Resort & Spa
MORE of the Best Places to stay on the Gold Coast with kids
You can also try:
Surfers Paradise Marriott Resort and Spa – the ultimate family staycation
Big 4 Holiday Park Gold Coast – top spot for theme park explorations
NRMA Treasure Island Holiday Resort – for kids, big and small
Paradise Country Farmstay – one for the animal lovers, where you can wake up with the farm animals
Nobby Beach Holiday Village Gold Coast – pools, waterslides, and right near Nobby Beach coffee shops!
Tallebudgera Creek Tourist Park – right across the road from the world famous Tallebudgera Creek beach!
Oaks Gold Coast Calypso Plaza Suites – one for those who like the southern end of the GC
Paradise Resort Gold Coast – one of the fun hotels on the GC for kids, newly renovated, with an ice skating rink, indoor playground, & water park
Broadwater Tourist park
Crowne Plaza Surfers Paradise – another one of their world famous stable of top quality hotels
Q1 Hotel – the most super fun hotel for design lovers who love a Palm Springs aesthetic
Mantra on Salt Beach Kingscliff – beautiful pools for families
North Star Holiday Resort Hastings Point (awesome water park, and hairdresser on site!)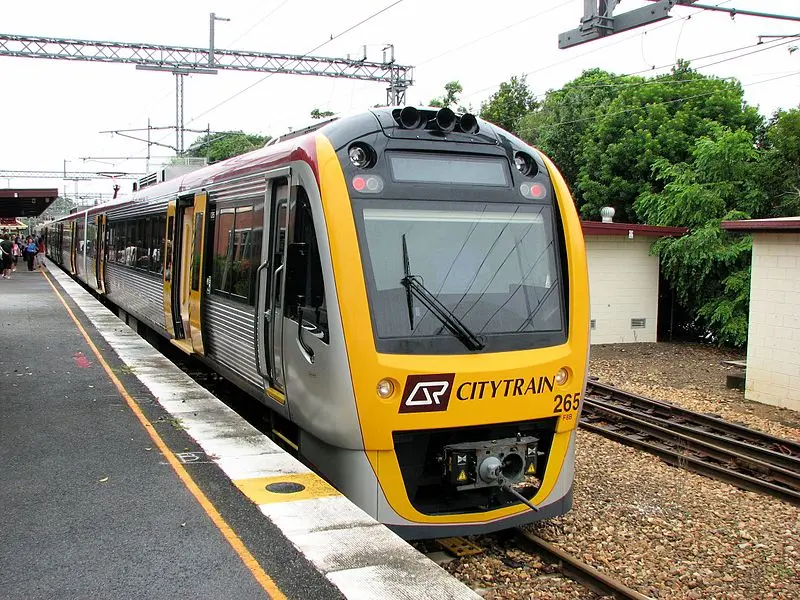 Image credit: Qld Matt via Wikipedia CC BY-SA 3.0
Getting around the Gold Coast Australia
Click here to read our comprehensive overview of getting around the Gold Coast by public transport
Includes getting to and from the airports (Brisbane and Gold Coast), and more, different ideas of Gold Coast attractions to visit with kids.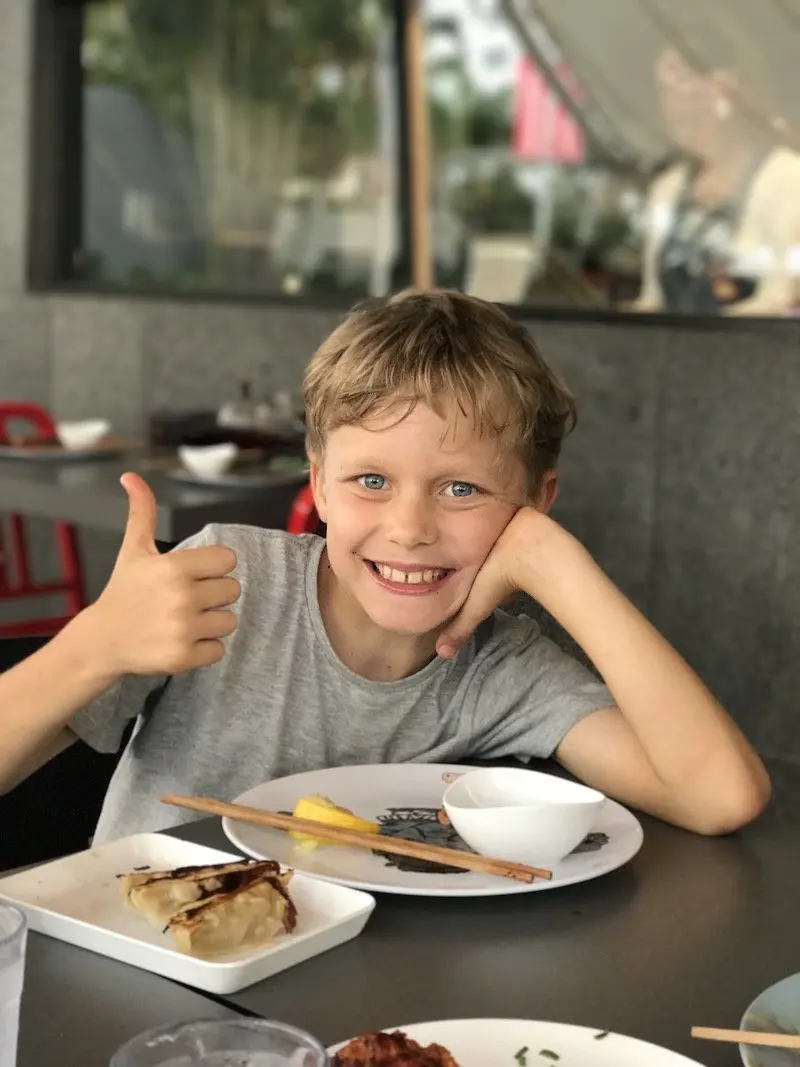 BEST FAMILY RESTAURANTS GOLD COAST STYLE
Eating on the Gold Coast with kids in tow is an adventure.
There's plenty of fast food joints (Guzman y Gomez is our favourite takeaway) and pizza places.
But if you are looking to find the best kid friendly restaurants Gold Coast has to offer with delicious food for mums and dads too, try one of these:
No.1: Aztec Broadbeach Mexican Restaurant
Our number one family-friendly restaurant in Broadbeach is the Aztec Mexican
There's also Montezuma's in Surfers Paradise and Burleigh Heads, with the same menu.
Address: The Aria, Building shop 11/17 Albert Ave, Broadbeach QLD 4218
No.2: Harajuku Gyoza Broadbeach
Harajuku Gyoza in Broadbeach Mall serves beer and the freshest dumplings, made on site.
(The kids can watch through the windo!)
For dessert – wait for it – try NUTELLA GYOZA.
Don't miss it.
Address: 2/26 Victoria Ave, Broadbeach QLD 4218 (Broadbeach Oasis Mall)
No.3: Southport Sharks Buffet
Southport Sharks is a popular local's club with kids menus and the Wobbygongs kids club!
Kids can choose what they'll eat, head off to kids club, and return to the table when dinner's up.
Then they can head back to the play room while you eat dinner in peace.
It's a win win!
Address: corner Musgrave & Olsen Ave's, Southport – playroom.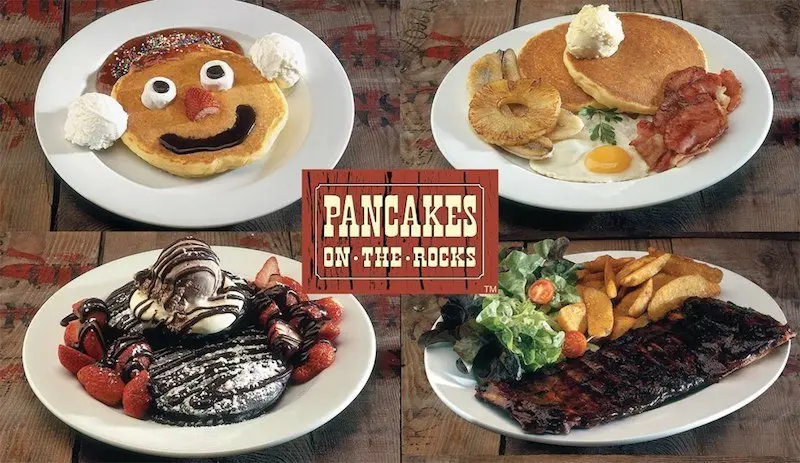 No.4: Pancakes on the Rocks Surfers Paradise
Pancakes on the Rocks has food to suit the fussiest of eaters.
It's NOT just pancakes.
The menu will surprise you!
But yes, there's pancakes – try the Bananarama pancake stack.
It's one of the most popular on the menu.
Address: Shop t1.31/4 Esplanade, Surfers Paradise QLD 4217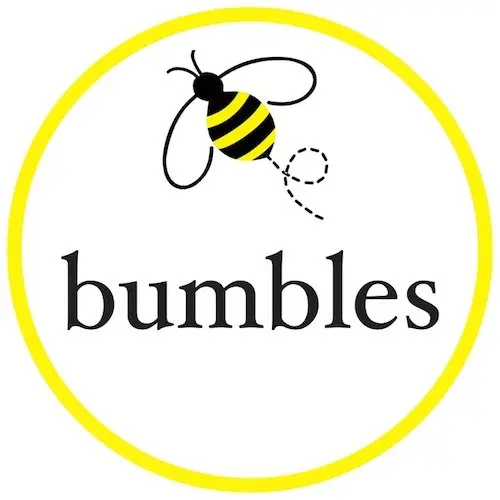 More Gold Coast Restaurants for kids
Or try one of these family friendly Gold Coast restaurants and cafes.
Bumbles Cafe Budds Beach Surfers Paradise – awesome kids menu!
Max Brenner Chocolate Cafe at Robina Town Centre
Cav's Steakhouse in Labrador, a popular spot for local families
Gold Coast Surf Clubs – try Kurrawa Surf Club, Currumbin Beach Surf Club, and Rainbow Bay Surf Club (check out the Nipper's meals menu there – all meals for kids under $10!).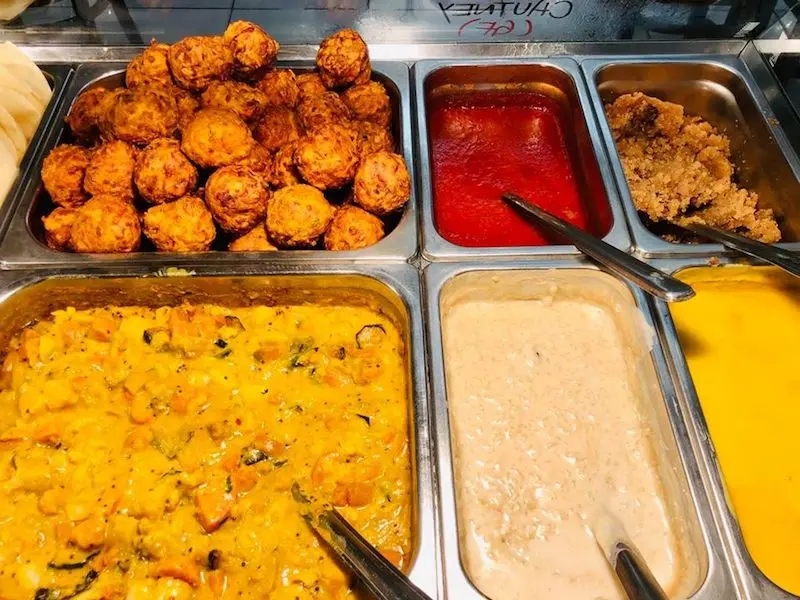 Image credit: Govindas
Family Restaurants Surfers Paradise
As the unofficial capital of the Gold Coast, many families book accommodation close to Surfers Paradise and need to find family friendly restaurants nearby.
Here's the top choices of places to eat in Surfers Paradise with kids:
Govindas Surfers Paradise – vegetarian delights at this much loved humble cafe restaurant (pictured above)
Steampunk Surfers Paradise – an unexpectedly good spot for kids and families
Betty's Burgers & Concrete Co – famous burgers and the best fries in town
Hard Rock Cafe Surfers Paradise – burgers, fries, and music memorabilia for the whole family
Misono Japanese Restaurant is Australia's biggest teppanyaki restaurant – THIS is a fun night out, with 'entertainment' thrown in!
Northcliffe Surf Club – good kids menu
Gelatissimo – the top spot for gelato after dinner
Clock Hotel Bistro and Bar
Four Winds Revolving Restaurant – the only one of it's kind on the GC
Charlies Cafe and Bar – right in the middle of Cavill Mall. Go for dinner, stay for hot chocolate.
Sushi Train – one of our trusted faves with food that kids LOVE!
San Churro Chocolateria – churros and chocolate, a winning combo.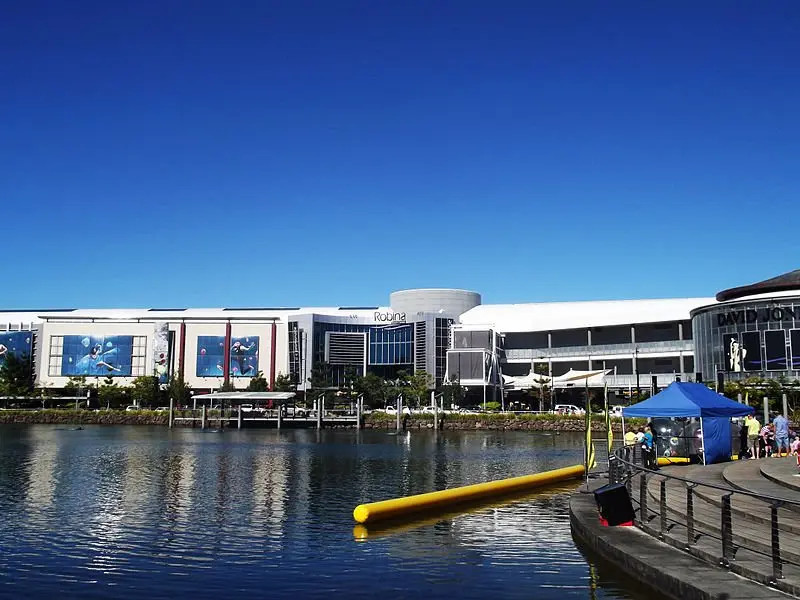 Image credit TravellerQLD via Wikipedia CC BY SA 3.0
Best Restaurants with Playgrounds Gold Coast
Click here for our guide to the best Gold Coast restaurants with playgrounds or play areas for the kids.
Buffet Restaurants Gold Coast
Check back soon for more yummy places to eat with Kids on the Gold Coast, including:
Best Buffet Breakfast
Best Buffet restaurants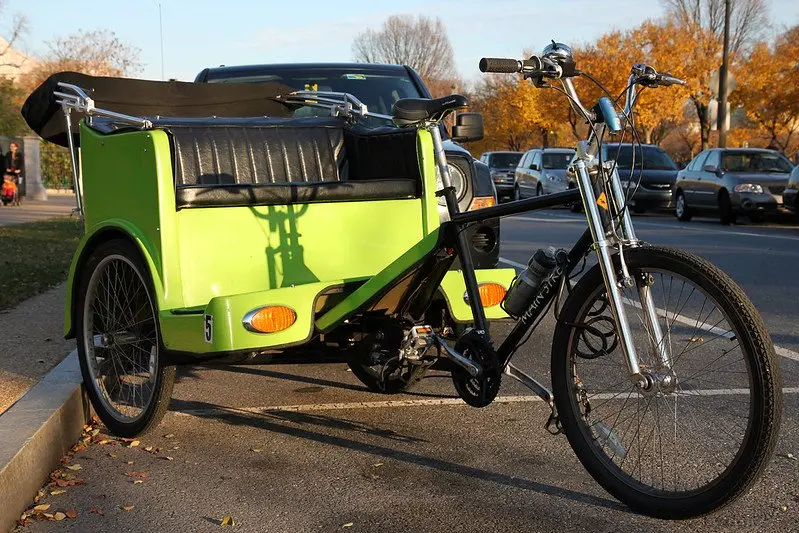 Image credit: Mr TinDC via Flickr CC BY-ND 2.0
FUN THINGS TO DO ON THE GOLD COAST WITH KIDS
Looking for fun things to do in Gold Coast with kids?
There's PLENTY of things to do in Gold Coast besides theme parks.
START HERE:
Here's our big list of the TOP 20 Things to do on the Gold Coast with kids.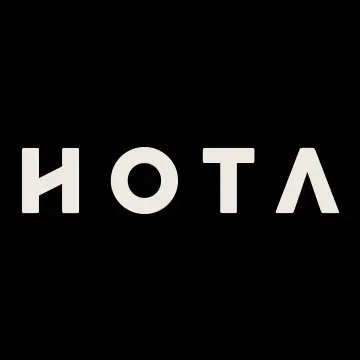 Top 4 Things to do at Gold Coast with kids
No.1: HOTA Gold Coast
Visit HOTA (Home of the Arts) at Bundall and join in all the kids activities every school holiday and some weekends too.
We loved the Playschool Presenters 50th Birthday Exhibition a while back.
It was SO cool to to see the Playschool Windows in real life!
HOTA (formerly the Gold Coast Arts Centre) has LOTS of live shows on offer for their kids program too.
Jack and I watched the Peppa Pig Gold Coast show in their elegant theatre.
The kids and I have enjoyed The Gruffalo, and Possum Magic live on stage too.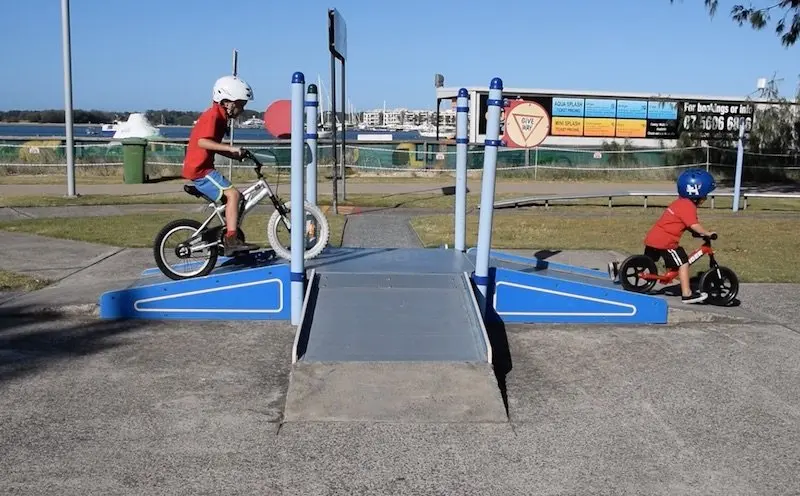 No.2: Kids Bike Tracks Gold Coast
Take the kids to this junior bike riding track at Southport
It's at Broadwater Parklands Southport, which also has a jumping pillow, a monorail playground track, cycle paths, an enclosed swimming area.
You can fill a whole day here, while enjoying the views across to Seaworld.
Seeing the helicopters taking off up close is a highlight for kids.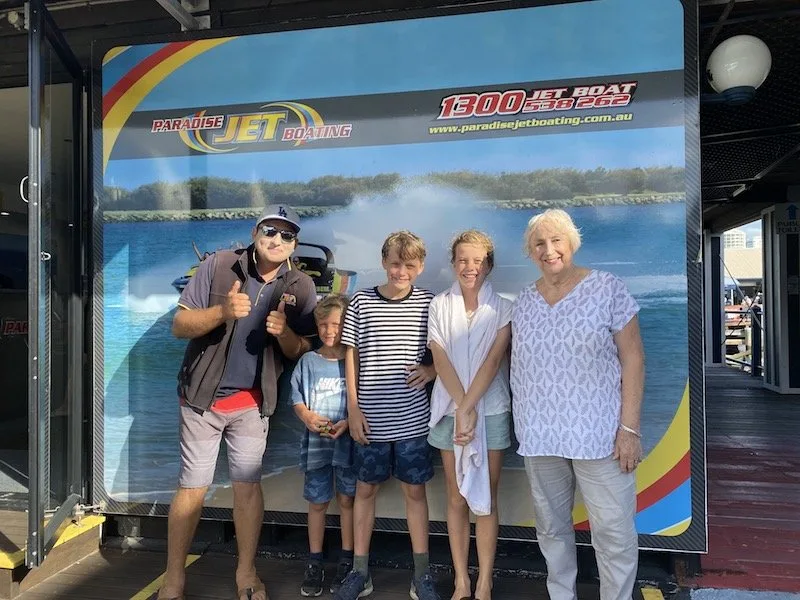 No.3: Paradise Jet Boating
THIS is the most fun you can have on the Broadwater of the Gold Coast with kids!
Paradise jet boat tours are a thrilling, bouncing, hi-speed race across the water in a super fast boat.
Hang on to your seats!
No.4: Thunderbird Egg Park Crystal Fossicking
Don't miss this place.
Head to Tamborine Mountain for a day.
Wander the art gallery walk, check out the national park bushwalks, see the paragliding, and visit Thunderbird Park to:
dig for hidden treasures from prehistoric volcanic lava in the world's largest Thunderegg Mine.
head up into the tops of the trees on the Treetop Challenge climbing and zipline adventure
play laser skirmish in among the trees
feed the lorikeets
play adventure minigolf
take a dip in the rock pools
Hot tip: Book a night or two stay at Cedar Creek Lodges to get the most out of this beautiful place.
Address: Corner Tamborine Mountain Rd &, Cedar Creek Falls Rd, Tamborine Mountain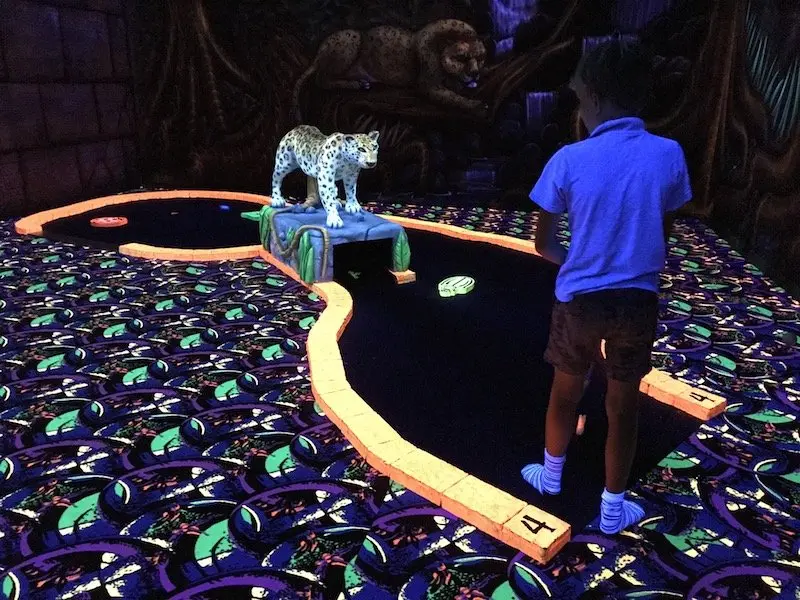 MORE OF THE BEST THINGS TO DO IN GOLD COAST WITH KIDS
Best Indoor Activities Gold Coast style?
Looking for things to do on a rainy day on the Gold Coast?
No.1: Gold Class Cinema Gold Coast
Treat the kids to a flick in Gold Class at one of the Gold Coast movie cinemas.
Find Gold Class movies at:
Reading Cinemas at Harbour Town
Event Cinemas Australia Fair
Event Cinemas Robina Town Centre
Event Cinemas Westfield Coomera
Event Cinemas Pacific Fair
No.2: Planet Chill Ice Skating
Get out of the heat and into the cold at Planet Chill ice skating rink at Paradise Resort Gold Coast.
This is one of the best family activities Gold Coast has for all ages from 2 up.
No.3: Tabatinga Indoor Play Centre Gold Coast
Tabatinga Tweed Heads is at Seagulls Leagues Club.
It has a glow-in-the-dark putt putt golf AND a 'balladium'.
Book a visit today. This place is an unexpected surprise.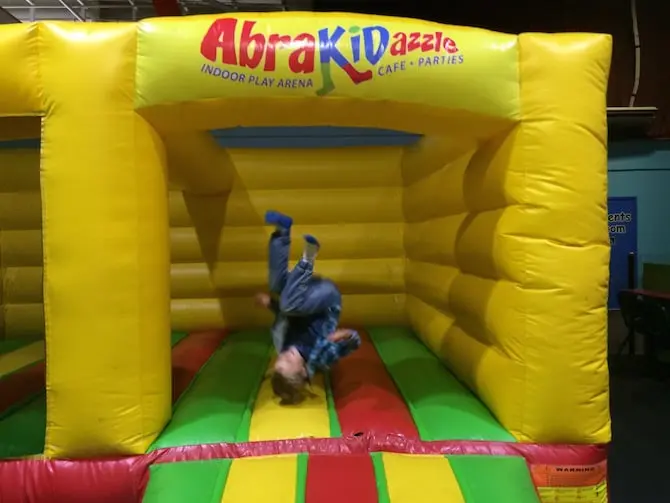 Best Indoor Play Centres Gold Coast
Check out our list of more of the best indoor play centres on the Gold Coast below
Abrakidazzle indoor play centre is the largest on the Gold Coast
Big Top Playhouse indoor play centre is Circus themed. (Formerly Yard Apes)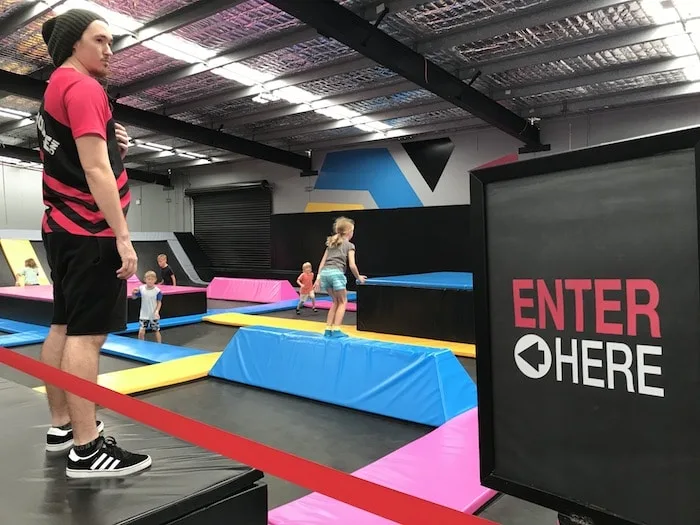 Best Gold Coast Trampoline Parks
Bounce Gold Coast
Take the kids to BOUNCE Inc Trampoline Park & X-Park Parkour Zone.
But be warned.
One hour is never enough!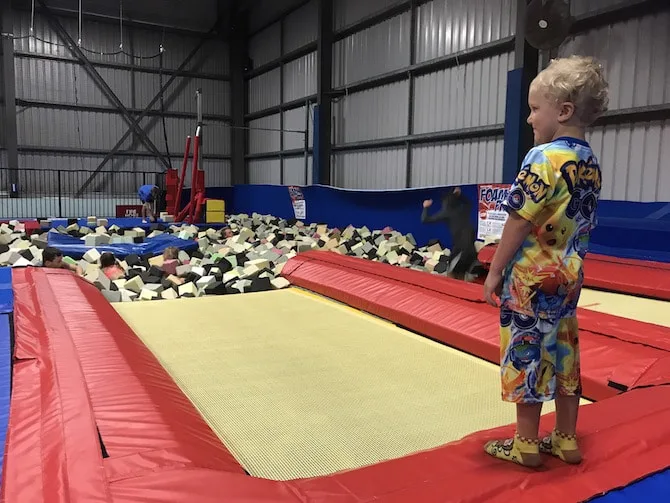 Springloaded Banora Point
Springloaded trampoline park is our favourite place to hang out in school holidays.
There's SO much to do here, and the staff are simply awesome.
Best Putt Putt Gold Coast?
There's a few places to pick up sticks and play a round of mini golf on the Gold Coast.
Book a session at:
Putt Putt Golf Mermaid Beach – the original putt putt course on the GC
King Tutts Putt Putt (indoor-outdoor mini golf, with excellent theming!
Lilliputt Mini Golf at Robina Town Centre – it's a fave for dinosaur fans
Holy Moly Golf Club Surfers paradise – the Gold Coast's newest mini golf course with a difference! Fun theming for adults as well as kids.
Thunderbird Egg Park Mt Tamborine
Tabatinga Tweed Indoor play centre (mentioned above) has black light glow in the dark mini golf where you putt putt around the neon course in the dark!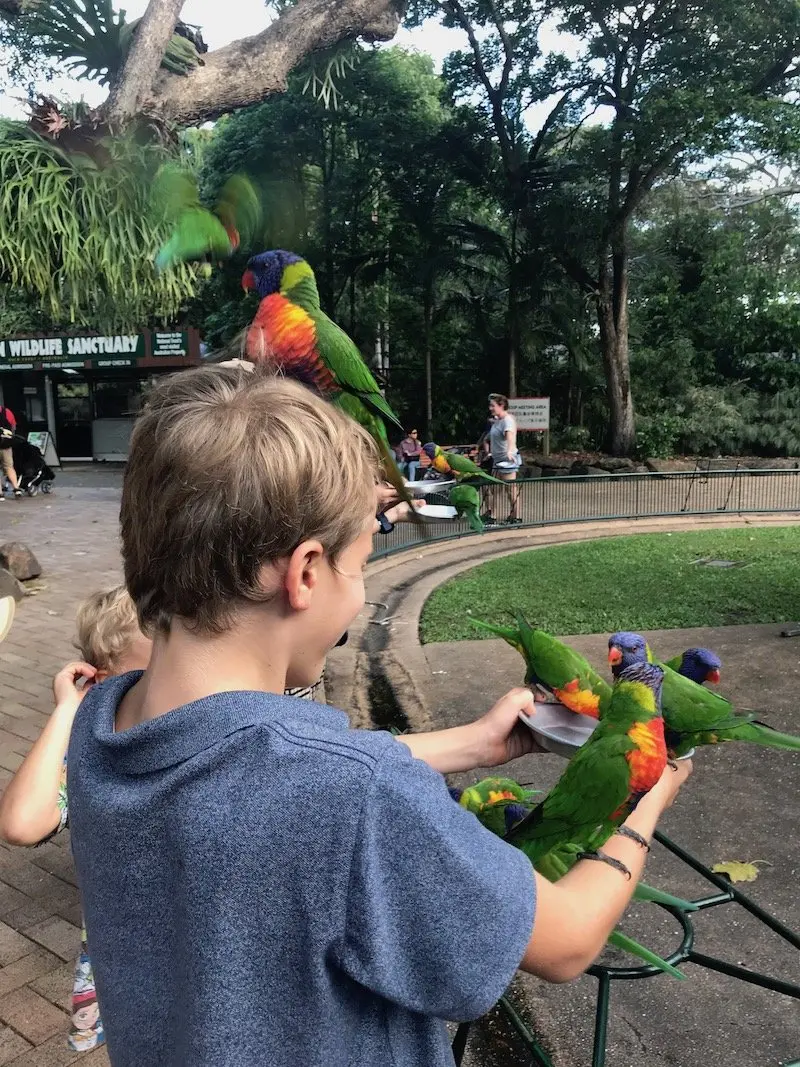 Best Gold Coast Zoos and Animal Parks (Wildlife Sanctuaries)
Wondering where to see Animals on the Gold Coast?
No.1: Currumbin Wildlife Sanctuary
Here's a guide to the 17 epic things to do at Currumbin Bird Sanctuary with kids.
Did you know there's also a chance to zipline OVER the crocodile enclosures?
Check all the details in the guide above.
No.2: David Fleay Wildlife Park
Head to David Fleay's to see emus, kangaroos, snakes, lizards, and crocodiles in a natural bushland setting.
Think of a much more low-key version of Currumbin Sanctuary, without the hoards.
Good for a morning excursion with little kids.
Address: Loman Lane, Burleigh Heads QLD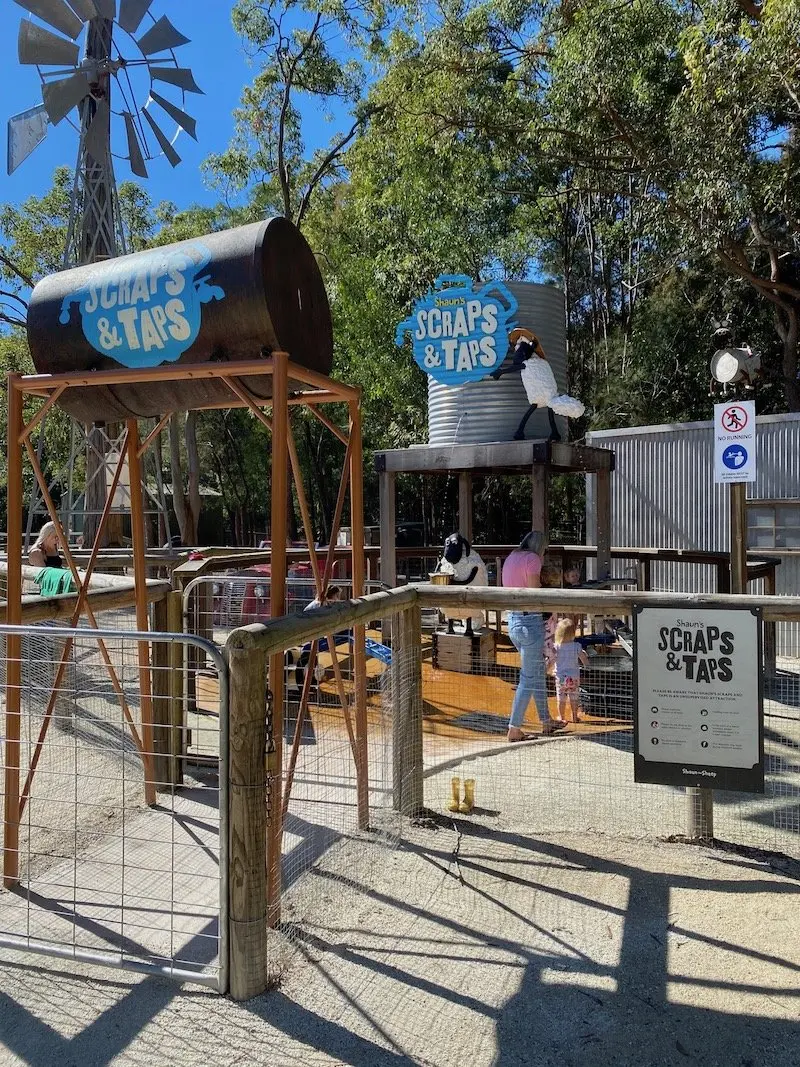 No.3: Paradise Country
Paradise Country is an Australian homestead where you can meet native Australian animals including koalas, kangaroos, emus and wombats, as well as farmyard animals.
Toddlers and preschoolers LOVE the Pigs Playground, and the Scraps and Taps water play area too.
No.4: Pelican Feeding Gold Coast
There's two places to feed the pelicans on the Gold Coast.
Watch the fishmonger feed the pelicans at Charis Seafood in Labrador.
You can also feed the pelicans at Ray Pascoe park in Tweed Heads
No.5: SuperBee Honey World Currumbin
Enjoy the bee presentation and tour at this tourist attraction opposite the Currumbin Wildlife Sanctuary entrance.
It's a chance to meet the bees, learn about the bee keeping process, and see the buzzy creatures up close (behind the safety of glass!)
Then stop by the shop to pick up some delicious local honey, and bee inspired souvenirs and gifts.
Superbee Honeyworld is open:
Sun – Sun 10:00 am – 5:00 pm
Mon – Sat 9:00 am – 5:00 pm
Address: 35 Tomewin St, Currumbin QLD 4223
No.6: Gold Coast Horse riding
Visit either Bonogin Valley Horse Retreat, or the Gold Coast Equestrian Centre to spend time with the ponies.
There's also horse riding on offer at Thunderbird Egg Park on Tamborine Mountain.
No.7: Glow Worms Natural Bridge
Head to Springbrook National park to see the glow worms at Natural Arch.
Do a day trip to find them along Nerang Murwillumbah road.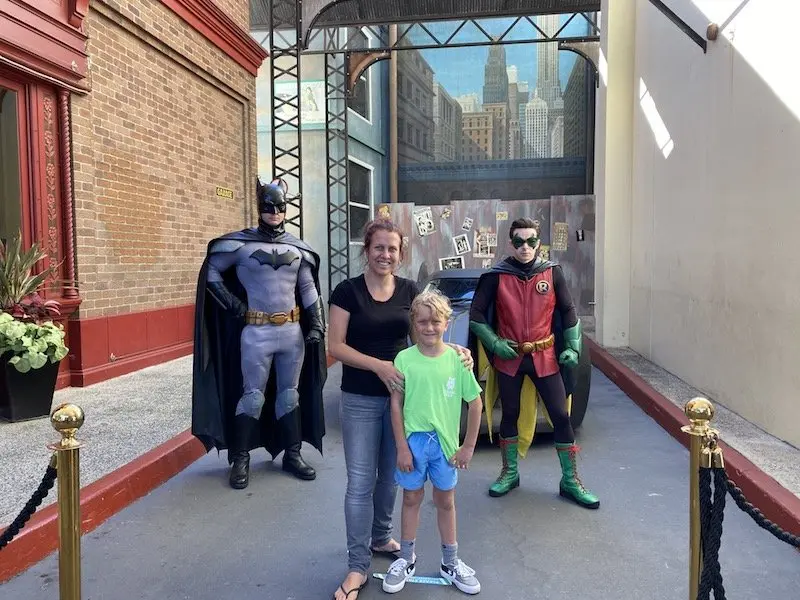 Best Gold Coast Toddler Activities
No.1: Movie World for Toddlers
Lots of people ask us 'Is there anything to do for toddlers at Movie World?'
Yes! Check out all the things to do at Movie World for toddlers and preschoolers here.
Hot tip: Did you know you can meet Batman and Robin? YOU CAN!
No.2: Carrara Market Petting Zoo Farm
The Baby Animal Farm at Carrara markets is open every Saturday and Sunday from 10am to 2pm.
It's a chance for kids to get up close and personal with farm animals, including baby alpacas, goats, lamb, chicks, piglets, ducklings, geese and guinea pigs .
$5 entry, $1 feed cups.
Address: Cnr Gooding Drive & Manchester Road, Carrara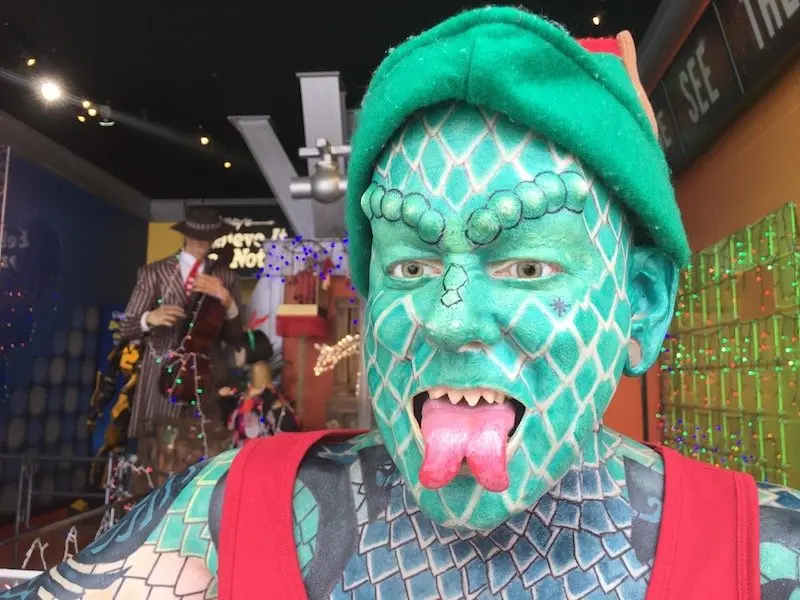 Things to do at Surfers Paradise for teens?
These are the best attractions in Gold Coast for teenagers.
Infinity Gold Coast
Teens love the 30 minute adventure that is Infinity illusions.
Expect flashing lights, neon colours, rainbow light beams, mirrors, music, and black light glowing fun.
Hot tip: Wear white!
Address: Shop 31 Chevron Renaissance Shopping Centre, 3240 Surfers Paradise Blvd, Surfers Paradise QLD 4217
Ripleys Surfers Paradise
Be baffled by the bizarre and wonderful at Ripleys Surfers Paradise
There's heaps of hands-on activities and games for kids inside!
Address: Soul Boardwalk, Cavill Ave, Surfers Paradise
TimeZone Surfers Paradise
Fill your pockets with cash and head to Time Zone Surfers Paradise, the indoor family theme park filled with arcade games including:
bean bag toss
Connect 4 hoops
Dizzy Chicken
Jurassic Park motion rides
Pinball games
Super bikes
Snow boarders
Ticket games too
There's interactive activities such as Typhoon, Mini Rider, Let's Go Jungle, and Virtual Rabbid, & attractions such as Laser Tag, Glow Golf, Bumper Cars, and Mini Bowling.
Hot tip: Buy a Time Play card and get one, two or three hours of fun for the one price.
Address: Level 1, Paradise Centre, Cavill Ave, Surfers Paradise

More Things to do in Surfers Paradise with kids
Surfers Paradise Events
Click here for what's on Surfers Paradise this week.
Surfers Paradise Shopping
Head to the Paradise Centre and Soul Boardwalk for name brand stores, plus eclectic shops selling everything from crystals, thongs, African homewares, Indigenous Australian gifts, jewellery and
The Chevron Renaissance shopping centre is another stop worth making.
Wander into the shops along the Gold Coast highway to find souvenirs, ugg boots, shoes, fashion and more.
Cavill Mall is the spot for a bit of people watching and a chance to listen to the buskers while you eat ice cream.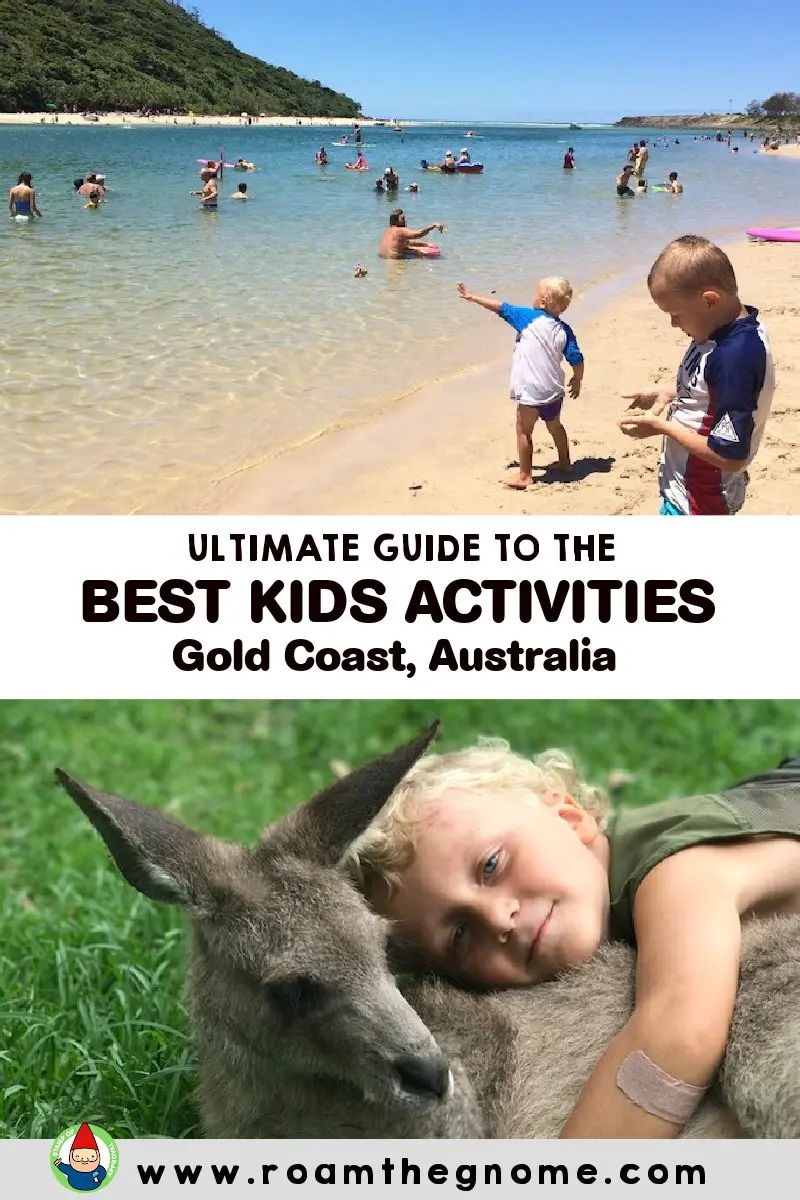 Surfers Paradise Markets
Visit the Surfers Paradise beachfront markets from
Make a brightly coloured wax replica of your hand, have your name engraved on a piece of rice, pick up a local artwork, stock up on natural handmade soaps from the region, and enjoy the views of the surf while you wander.
Open Friday and Saturday from 4pm to 9pm along the Surfers paradise esplanade.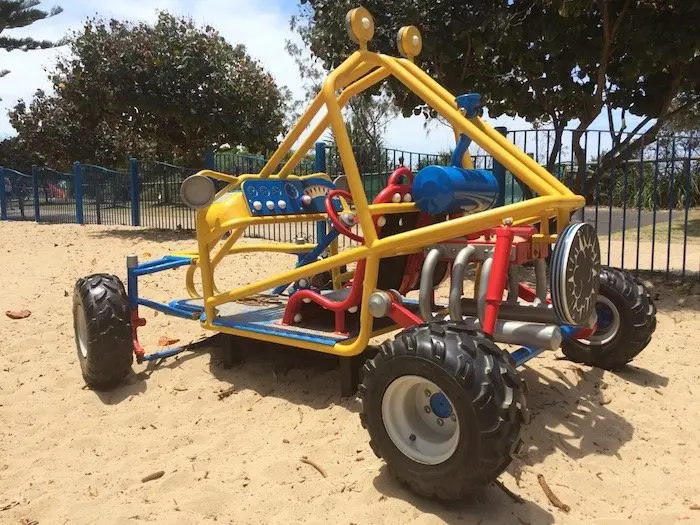 FREE THINGS TO DO ON THE GOLD COAST
Looking for things to do in Gold Coast for free?
Or perhaps you are nearing the end of your trip and looking for things to do in Gold Coast on a budget?
Best Gold Coast Playgrounds
Looking for the best playgrounds on the Gold Coast?
Here is our BIG round up of the best playgrounds Gold Coast has along the coast, and inland too.
Find all the details of each playground (listed from North to South) and take a sneak peek inside the playground in the links below.
Bookmark this page: Roundup of the best GC Playgrounds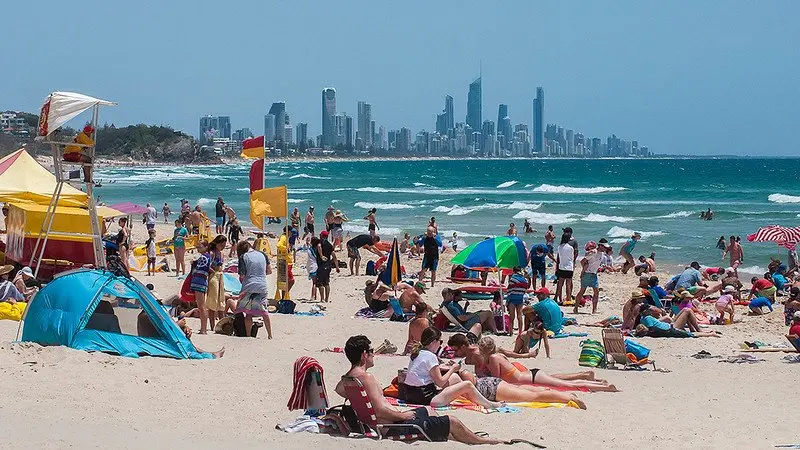 Where to swim on the Gold Coast
The best beaches on the Gold Coast for kids are:
Rainbow Bay (it's protected)
Burleigh Heads Beach
Surfers Paradise beach
Currumbin Beach, and
Nobby's Beach.
No.1: Tallebudgera Creek Beach
Tallebudgera Beach is the Number One beach for families on the Gold Coast – it's magical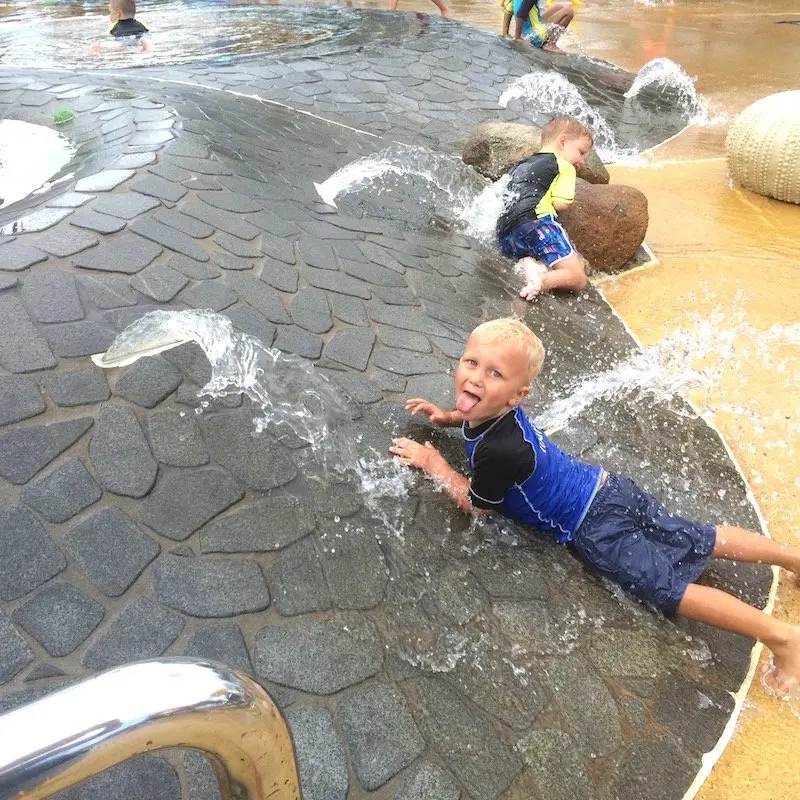 No.2: Southport Rock Pools
Broadwater Parklands Southport rock pools is the best splash pad water park on the Goldie.
No.3: Aqua Splash Gold Coast
Here's everything you need to know about AQUA SPLASH Gold Coast
Operating from September through to Easter, this inflatables park on the Broadwater is an awesome way to burn pesky holiday calories.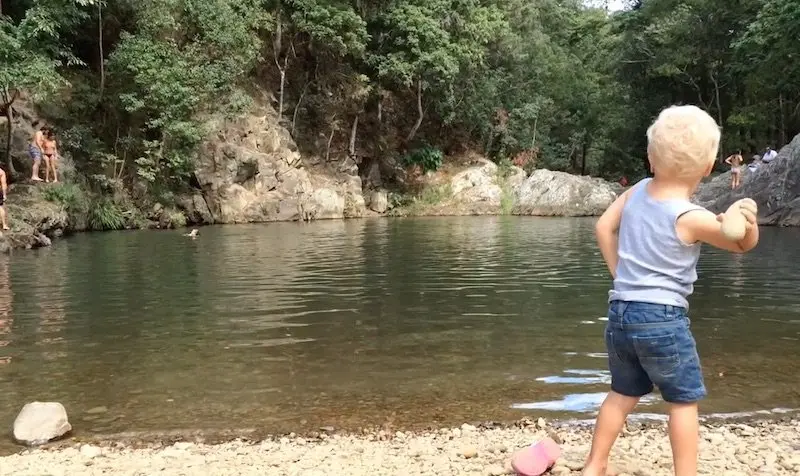 No.4: Currumbin Rock Pools
Currumbin Rock Pools are a local institution for an afternoon swim.
It gets busy, so either go really early, or late late afternoon.
No.5: Cougal Cascade
Go for a cool dip at Mt Cougall National Park rock pools.
BYO picnic lunch.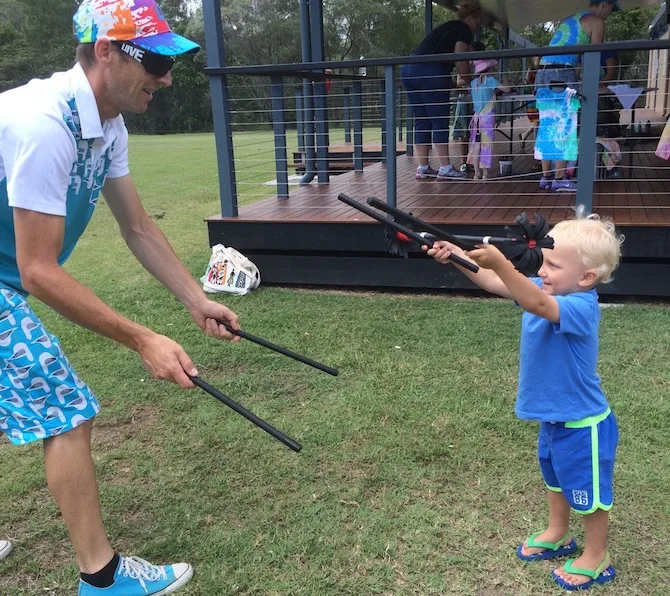 Best School Holiday Activities Gold Coast
Wondering what to do in the Gold Coast when it's school holidays and the kids are bored?
Check out Gold Coast City Council's FREE Active and Healthy Programs for kids and adults.
There's everything on offer from Pop Up Playgrounds with Sparky Do Dah, yoga and tai chi, nature explorations, tie dyeing, craft workshops, and more.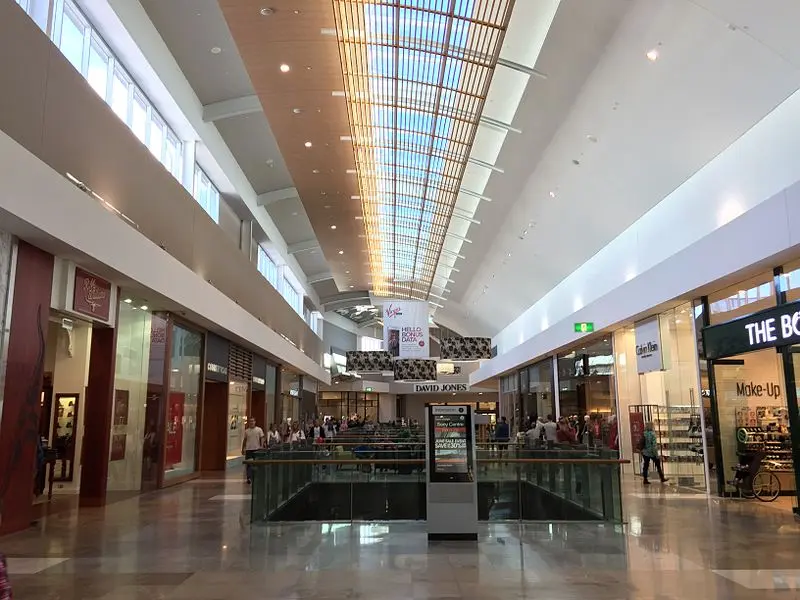 Image credit: Kgbo via Wikipedia CC BY-SA 4.0
BEST SHOPPING ON THE GOLD COAST
Wondering where to shop on the Gold Coast?
Here's our top shopping centres on the Gold Coast.
No.1: Robina Town Centre
Robina Town Centre has a giant TOY SHOP called Toymate Superstore – pop by for bargains galore.
When you are shopping at Robina Town Centre, there's an indoor playground called Tree Top Play
It's on the first floor, opposite the entrance to Toymate.
Click here to find out how to get to Robina Town Centre?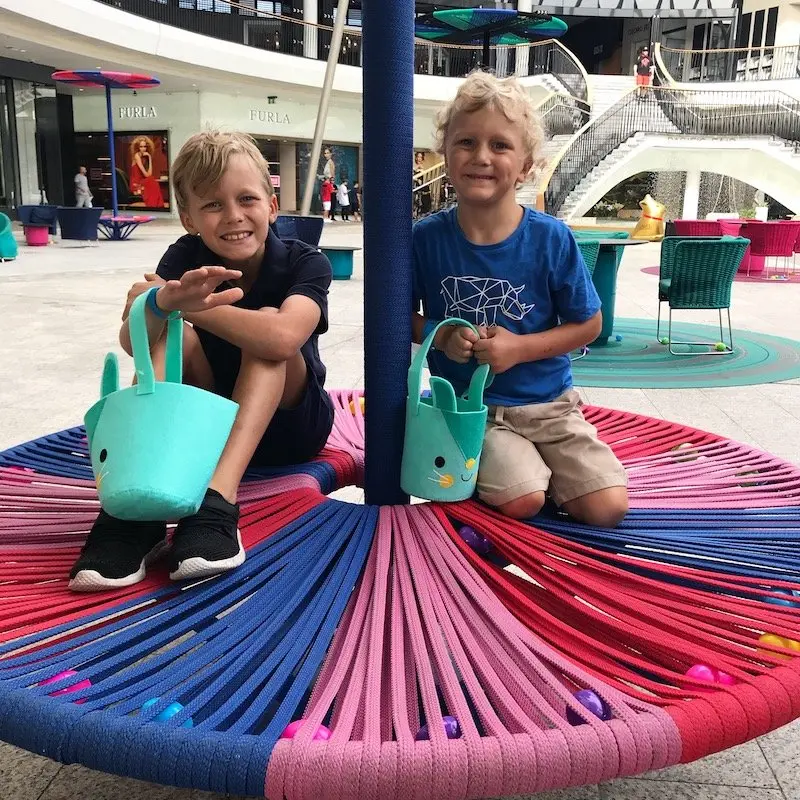 No.2: Pacific Fair Shopping Centre
Head to the Gold Coast's premier shopping centre.
Kids LOVE the new EMF Junior indoor play space with ball pits and fun activities galore.
Plus, keep an eye out for all the fun events for kids during school holidays (like the Pacific Fair Easter Egg hunt pictured above)
Shop at all your faves including:
Zara
Uniqlo
Culture Kings
Adairs
Adidas
Bonds
General Pants Co
H & M
All the high end labels have stores here too.
Do stop by COWCH dessert bar for one of their concoctions!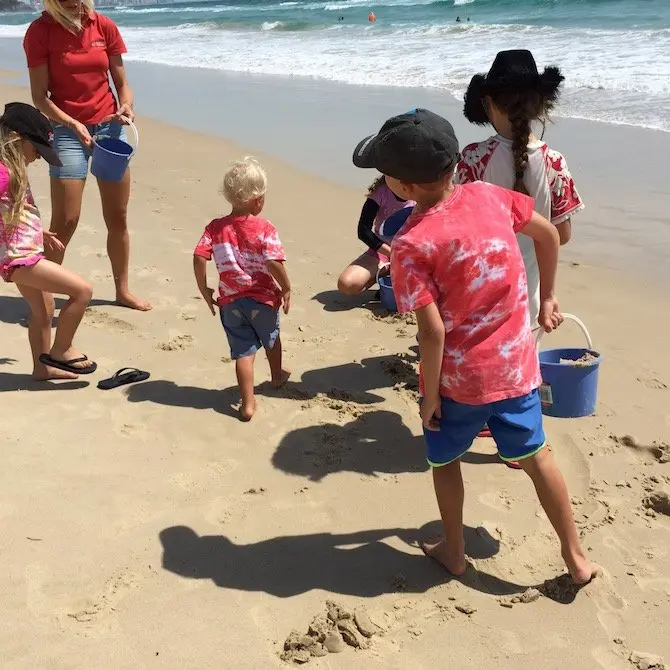 Gold Coast Events
There are plenty of family activities on the Gold Coast happening each weekend, from markets and shows, to multicultural days, movie screenings, art exhibitions, craft workshops and more.
Check the local newspaper and MyGC for details.
Toadstool Rating: Things to do in Gold Coast Australia