INSIDE: Everything you need to know about Turtle Beach Resort Gold Coast for kids.
When you drive along the Gold Coast Highway in Mermaid Beach, there's a big resort on your left hand side where you can see a BIG blue waterslide.
It's the Turtle Beach Resort Gold Coast, with it's own mascot pair of turtles, Shelldon and Shelley.
We've always wondered what was behind those towering walls and now, with thanks to our intrepid Roaming Gnomies – Juliette, Sarah and Kate – an inside tour!
Turtle Beach has four separate swimming areas, including wading pools and one adults only retreat, four spas (one in each pool complex), two saunas, Club Turtle Kids Activity Club (for kids aged 4 – 12), restaurants, putt putt AND MORE!
Take a look below to see inside the Turtle Beach Resort Gold Coast, and find details of how to book this awesome Gold Coast family resort.
Disclosure: This article contains affiliate links. If you make a purchase after clicking on one of these links, we may receive a small commission at NO extra cost to you.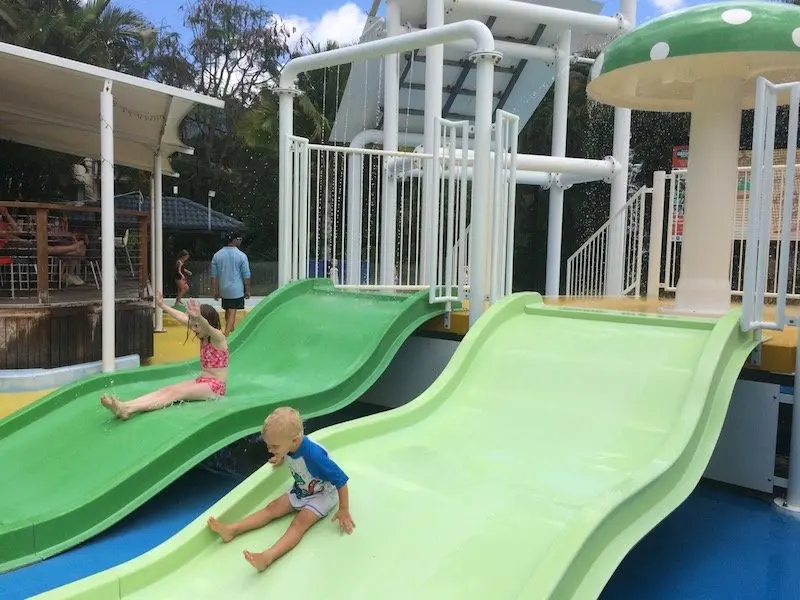 Guide to Turtle Beach Resort Gold Coast Australia
Turtle Beach Resort Gold Coast is MASSIVE.
However while it is one of the biggest family resorts on the Gold Coast, the layout of the place helps to make it not so imposing or restrictive.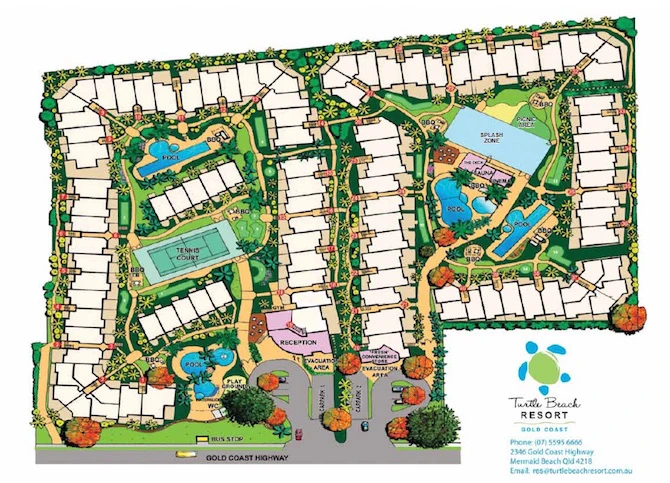 Layout of Turtle Beach Resort
There are a number of long separate apartment buildings, in a side-by-side configuration.
All of the facilities at the resort are placed in amongst the buildings and trees (see pic above) in two main zones.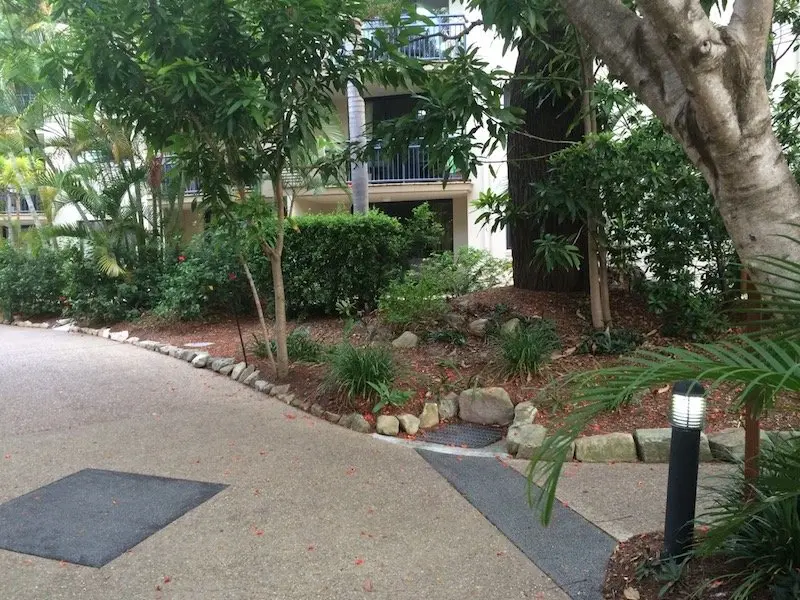 Greenery and landscaping
Vegetation and landscaped gardens help to soften the blow of the size of this place.
The greenery creates shadows, hidey holes and natural screens that build a sense of separation between apartments and people.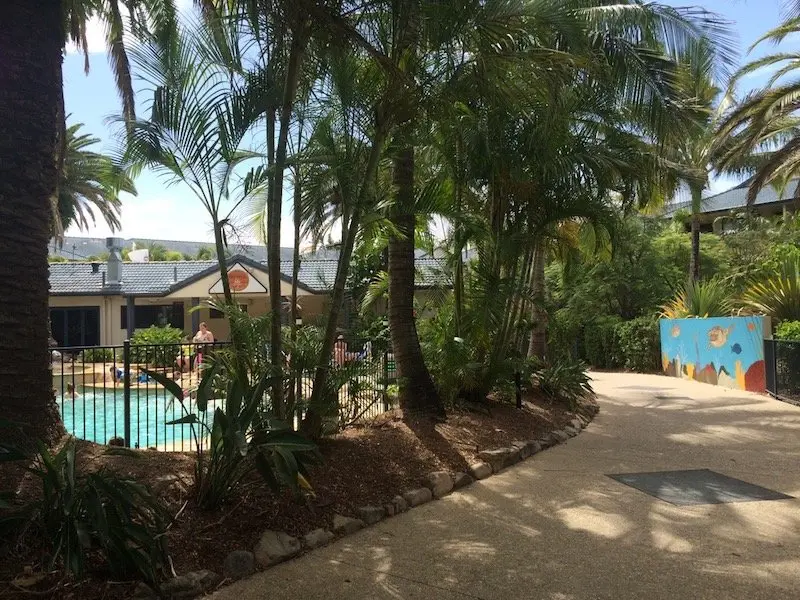 A big friendly neighbourhood hotel
But walking around from swimming pool to tennis court to kids club, you can't help but get a sense that this place caters for the masses.
But kids (like Juliette, Kate and Sarah) LOVE the place.
To them, it's like one big friendly neighbourhood, where they could make friends with other kids from all around Australia.
(Sydneysiders and Melbournites are big fans of Turtle Beach Resort.)
Juliette, Kate and Sarah's favourite place at Turtle Beach Resort Gold Coast was a tie between the Splash Zone, and the central pool precinct.
---
RELATED: Big List of Fun Things to do on the Gold Coast with kids
Where to swim at Turtle Beach Resort
There's three pool precincts, and one adults only pool area.
No.1: Central Pool Precinct at Turtle Beach Gold Coast
In the central pool precinct, there's also something for everyone!
It's a bit like an offering for Goldilocks & the Three Bears.
There's a pool that's TOO COLD
a spa that's TOO HOT, and
one pool that's JUST RIGHT.
Oh, and a tiny baby pool just right for wee little baby bears, complete with a fairytale toadstool that showers the little ones with water spray.
The girls spent their time running (or quickly walking- running's not allowed!) between the Splash Zone, and the Central Pool Precinct, only to stop off at The Deck Restaurant & Bar in between, when their mum and dad made them stop for something to eat!
Hot Tip: the pizza is good!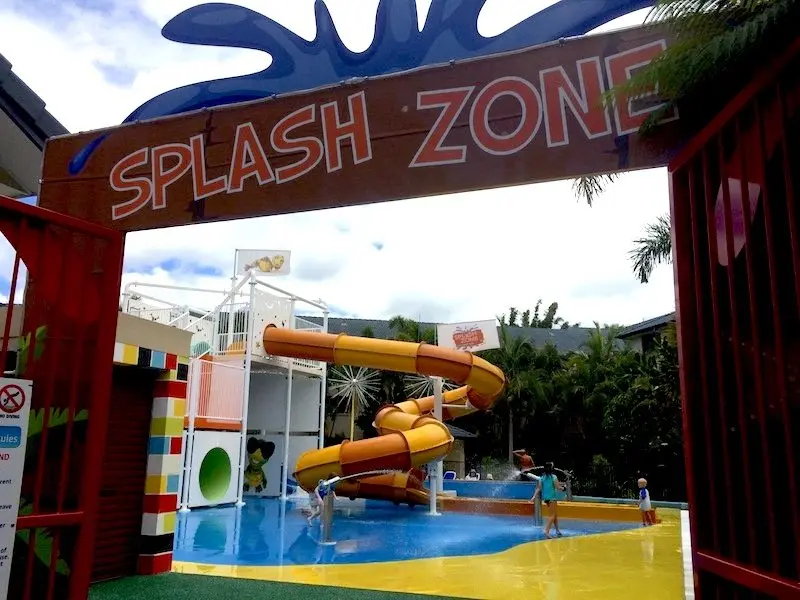 No.2: Turtle Beach Resort Water Park "Splash Zone"
Turtle Beach Resort Gold Coast's new waterpark features:
4 water slides
2 toddler slides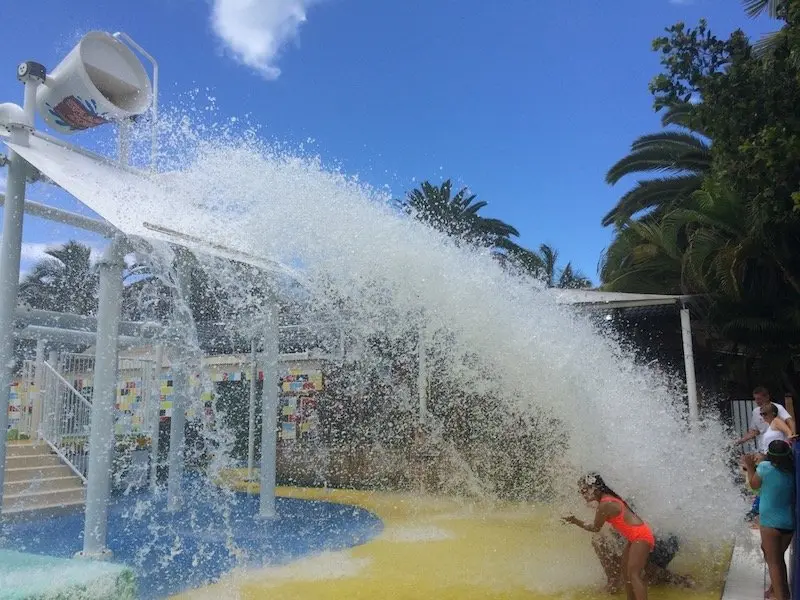 Splash Zone water bucket
a hilarious dumping bucket (get ready to giggle and roar with laughter!)
water cannons and
a water spray gun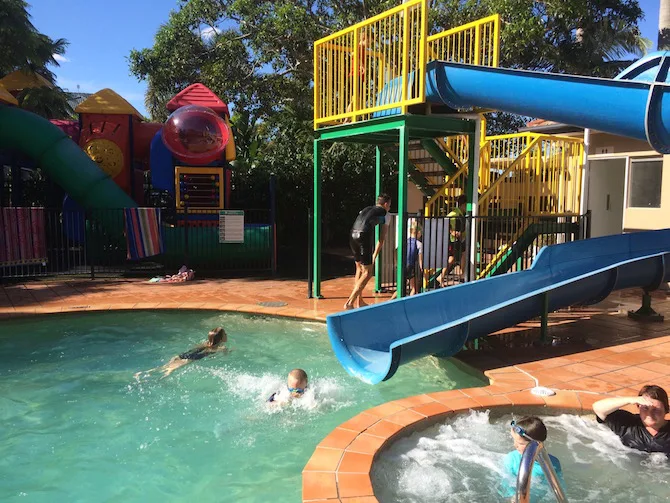 No.3: Roadside Pool (near entrance)
There's a third place kids love to swim.
This pool is near the Turtle Beach entrance and reception.
There's a pool, with a giant slide down into the water.
Plus a hot spa!
This is the best pool to swim in if you have toddlers with you as well as big kids, as there's a fenced playground for them right next to the pool.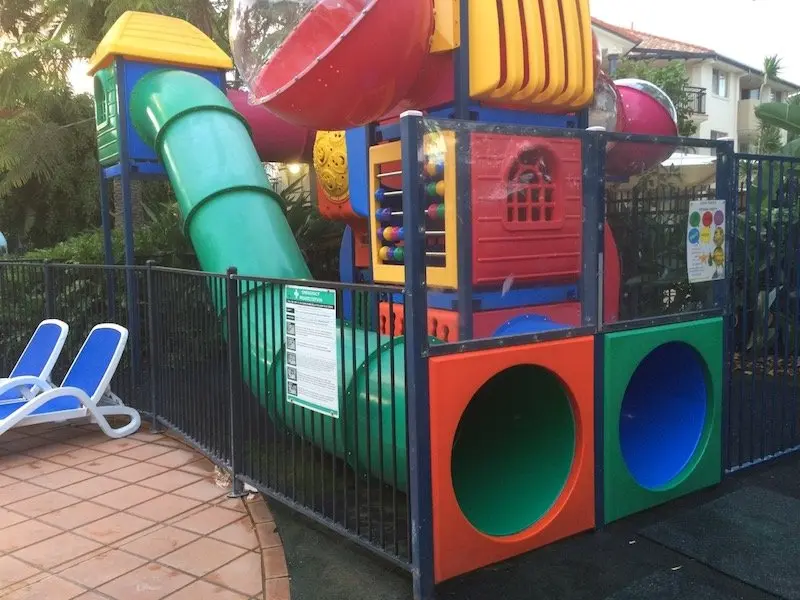 Turtle Beach Resort Playground
Hot tip: You need to keep a close eye on your kids at this playground as although it is 'gated', the entrance and exit tunnels lead straight into the pool area.
Kind of silly!
Especially as once they go inside the playground, the kids are out of sight.
Do not move from the entrance/exit tunnel.
It's the only way to monitor where they are.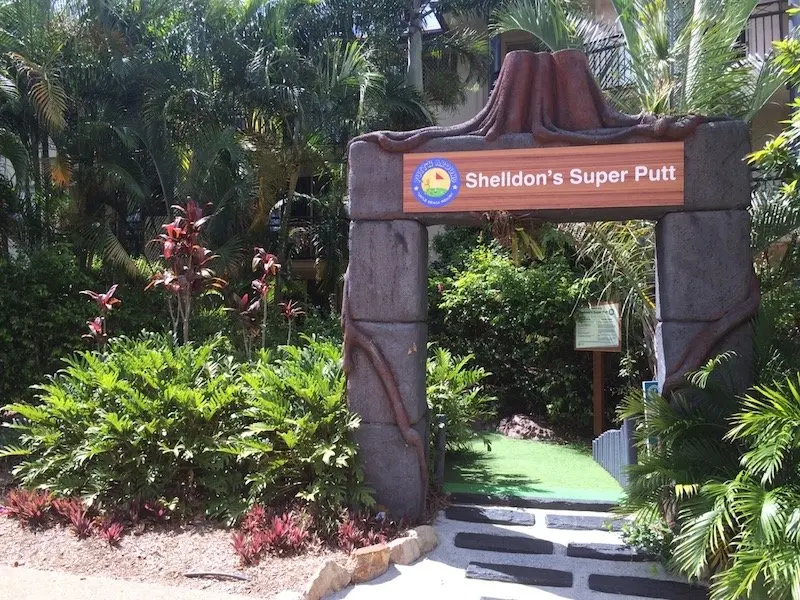 MORE Fun Things to do at Turtle Beach Resort with Kids
Turtle Beach Resort Putt Putt golf
15-hole putt-putt golf course (fees apply) – the putt putt course winds its way around the resort parallel to the pathways and in front of many apartments!
It's really quite a classic sight!
Arcade Games & Cinema
Arcade games room with coin-operated video and table games.
Plus, there's a 22-seat cinema with 4 showtimes daily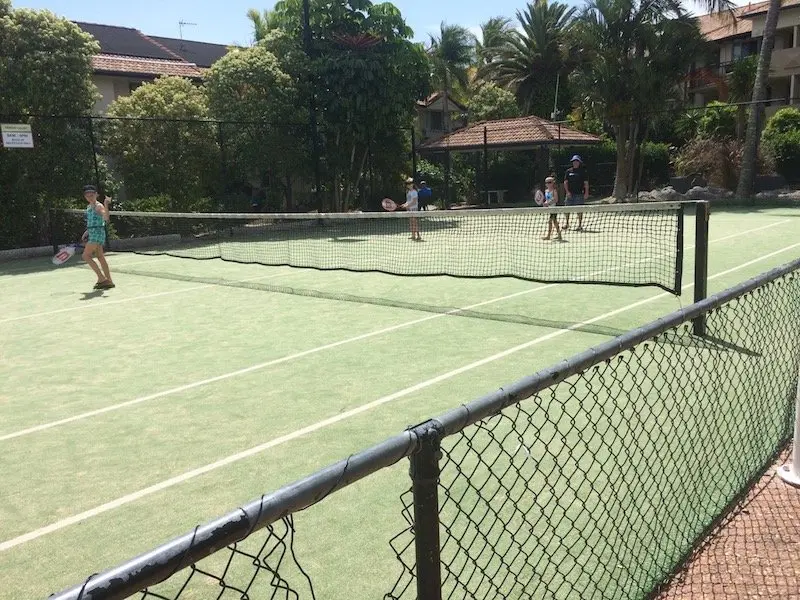 Fitness and Tennis
Floodlit tennis court (fees apply)
Fitness room with the latest equipment
Turtle Beach Day Spa
There's even a DAY SPA on site.
Oh Hooray for Chelonia Day Spa!
Click here for the massage menu
Kids (and adults!) love the facilities at Turtle Beach Resort Gold Coast so much that finding the motivation to go out and enjoy local Gold Coast attractions is not easy!
Leaving all these awesome on-site facilities included in the price of a stay to go to another theme park or water park can feel like a waste of time and money!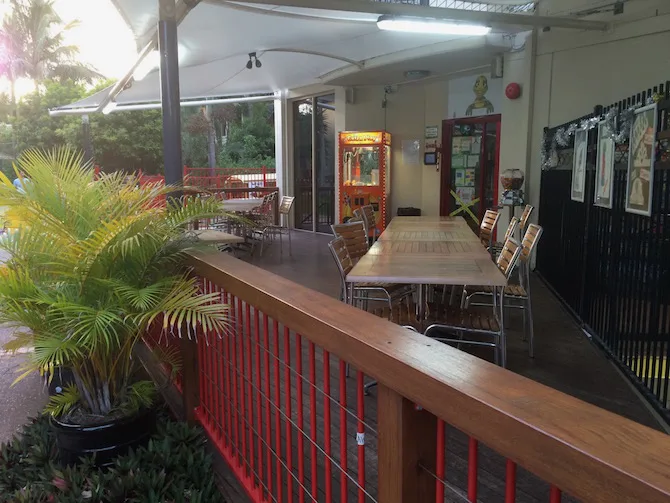 Turtle Beach Resort Kids Club
The girls liked Club Turtle Kids Club too, but once was enough, especially as only some of the staff were friendly and others were seen to be 'mean'!
Turtle Beach Kids Club was not as accessible as advertised, with so many children vying for places during school holidays, not enough sessions being run during the day, nor at times when the parents actually want to use it.
It also cost $25.00 per child aged 4-12 years for a 3 hour session, which soon adds when you have three kids!
Kids club is good for kids 6 years and older.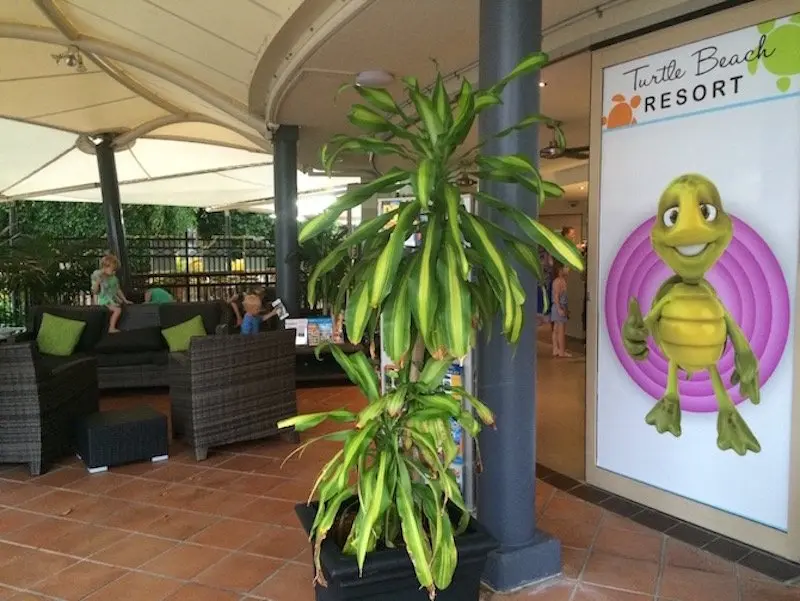 Turtle Beach Accommodation
The fully self contained, family friendly accommodation is available in 1, 2, 3 and 4 bedroom apartments, each with a balcony or patio that overlooks 4.5 hectares of lush gardens.
Turtle Beach Resort also has newly renovated two bedroom Family Suites, perfect for the kids, as each apartment has an Xbox and Xbox games!
The combination of quality accommodation and exceptional guest facilities makes Turtle Beach Resort uniquely different.
Turtle Beach Resort Gold Coast Rooms
Apartments feature:
Air-Conditioned and heated living areas
40 inch flat screen TV in living area, 28 inch flat screen TV in master bedroom
DVD player
Foxtel including complimentary movie channels
Ceiling fans in bedrooms
Full kitchen facilities including oven, cooktop, microwave, dishwasher and all crockery, cutlery and cookware
Laundry facilities including washing machine, dryer, clothes airer, iron and ironing board
Either a balcony or terraced courtyard
All bed and bathroom linen provided (pool towels available for hire)
Cots, high chairs, bed rails, strollers and prams available for hire (24 hours notice required)
All bathrooms with shower/bath combination
Complimentary in room safe
Hot tip: Book a ground floor apartment – just for the ease of getting in and out. Those 2nd and 3rd story apartments are a nightmare with kids.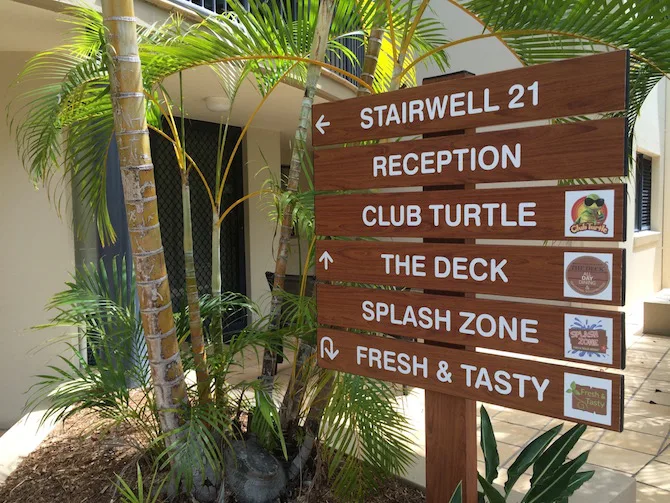 Tips for your Turtle Beach Resort stay!
Everyone has to carry an 'entry' card to get in and out the resort, making it difficult (but not impossible) for strangers to get in and out, move between, or access the interior of many of the apartment blocks.
It's great to be able to leave belongings such as towels, goggles, boogie boards and water play toys out on the 'terrace' of their Family Suite without concern that things might go missing.
Our friends left their apartment unlocked at times while they swam, with no concern about theft of wallets or phones – something they wouldn't do at other Gold Coast resorts they've stayed in.
Each apartment has limited toilet paper! Be sure to stock up when you do a shop or you'll pay exorbitant prices at the convenience store.
If you want bespoke, elegant, personalised style of accommodation, this is NOT the place for you.
It's a giant sized family holiday resort – not glam upmarket accommodations with swanky company, and you won't find a stylish bar with ritzy cocktails.
Tour Desk
Turtle Beach Resort has it's own Tour Desk for bookings, tickets and transfers to attractions and airport
There's also a Turtle Beach Resort App.
Through the app, you can pre book tours, car hire, taxis, and transfers plus more!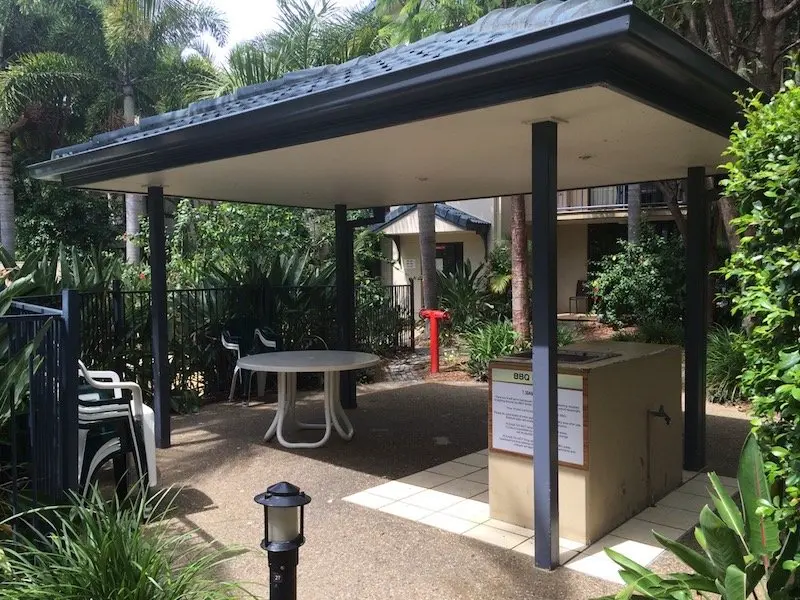 Where to eat at Turtle Beach Resort
No.1: The Deck Restaurant and Bar
There's no need to leave the resort unless you want to!
The Deck Restaurant & Bar located by the Splash Zone, is open daily for meals, woodfire pizza, snacks and drinks.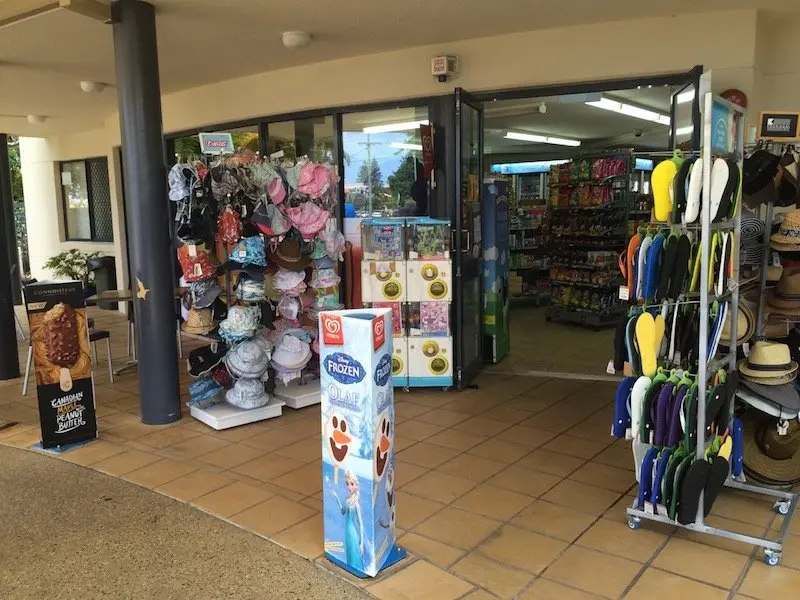 No.2: Fresh and Tasty convenience store
Another option on site is to buy fresh food at 'Fresh and Tasty' convenience store.
Our favourite Ben and Jerry's ice cream is available from 'Fresh and Tasty' onsite convenience store too.
Open from 7.00am till 8.00pm daily
No.3: Local Mermaid Beach shops
There's an organic shop RIGHT NEXT DOOR for all your on-the-go healthy snacks like chilli macadamias, perfectly popped popcorn, and an array of chips and dips.
Just across the road, you'll find a small shopping complex with:
Mermaid Sushi (best in the area!)
Subway
Poke Poke Hawaiian
Lucky Buddha Thai
Goccia Italian Pizzeria
Background Barista
Night owl convenience store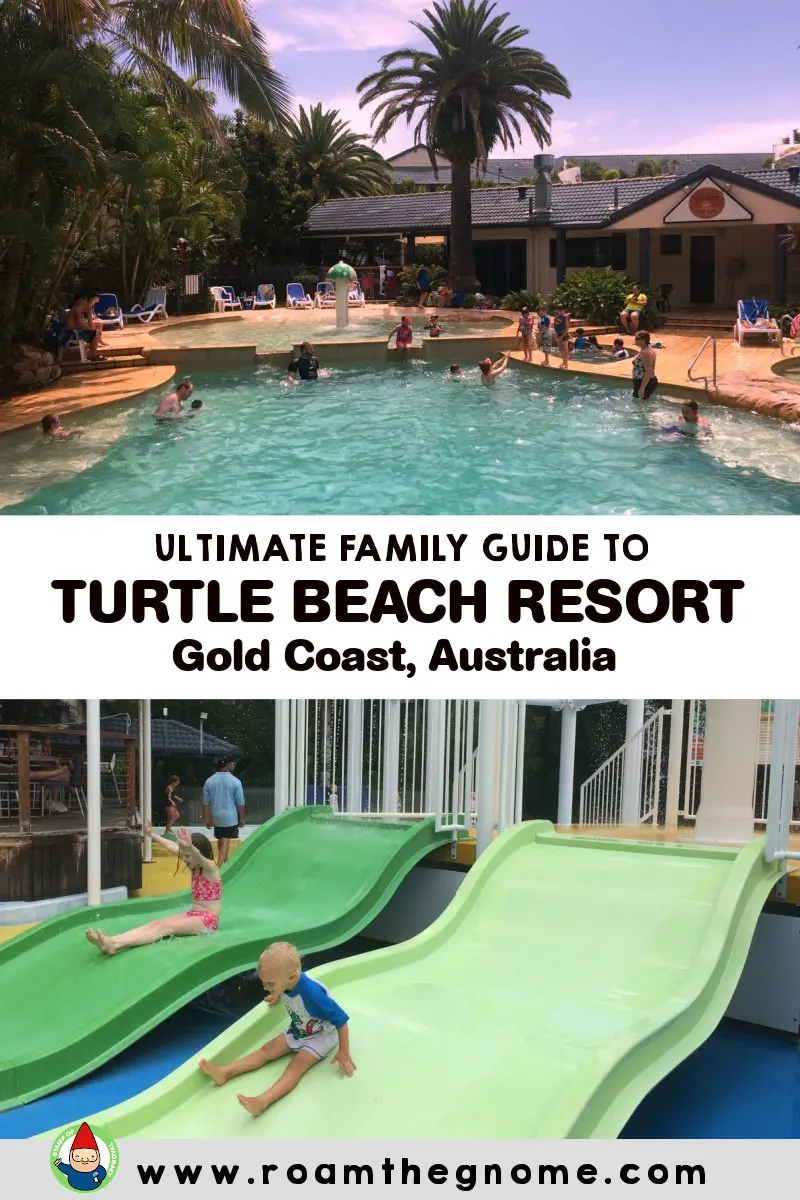 Celebration time?
The Cheesecake Shop is just a few hundred metres away to your left.
Along with a few cafes (take your pick), a Chinese grocer, and a newsagent/paraphernalia emporium.
No.4: Mermaid Beach takeaway restaurants
Keep walking north, and in 10 minutes you'll find:
the family-friendly Sizzler Buffet Restaurant
Putt Putt Mini Golf Mermaid Beach
Mermaid Beach Tavern
Itoshin Japanese restaurant (the best!)
KFC.
No.5: BYO BBQ food
If you want to cook, there's NINE BBQ entertainment areas at Turtle Beach!
Plus, chairs and tables, and it's all undercover.
No.6: Gold Coast supermarkets
Buy all your BBQ and picnic essentials at local Gold Coast supermarkets.
Turtle Beach is smack bang in the middle of three:
Woolworths supermarket is located on the bottom floor of the Oasis shopping centre, about a 7 minute drive north
Parking and getting in and out is easier at Miami Coles, heading south past Miami High School. It's on the right hand side of the GC highway opposite the Miami Shark Bar.
If you don't have a car, you can order online from both Coles and Woolies, and have your groceries delivered to you for a fee.
Aldi is on the beachside of the highway at Miami too.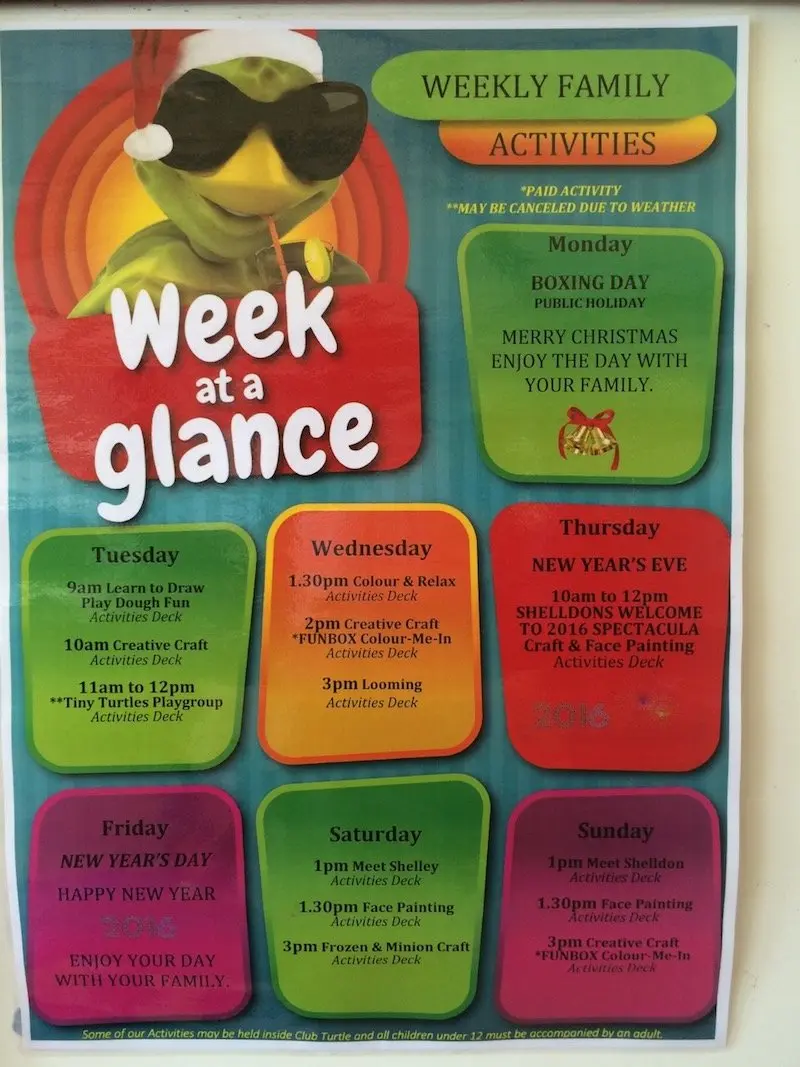 Tips & Things to do in Mermaid Beach with kids
No.1: Gold Coast Family Magazines
When you get to Turtle Beach, pick up a copy of Haven, Scout, or Kids on the Coast to find about all the local events and happenings.
You can also listen to Hot Tomato, the Gold Coast's only local radio station.
No.2: Bring an umbrella stroller or pram & walk!
The whole of Mermaid Beach is stroller and pram friendly – super flat, and with pathways to walk on.
You can take the stroller on public transport without much hassle.
A car is useful here, but not necessary.
Just be prepared for longer-than-normal walks :
about 500 metres to the beach
a few kilometres to Broadbeach and the G Link tram
a few kilometres south to Nobby's Beach.
a stroll to Pacific Fair
Walk via Hedges Ave up next to the beachfront where you can people watch fit-and-fancy GC life as it happens.
The beach is approximately 300-400 metres so walking distance.
Mermaid Beach Surf Club
Mermaid Beach Surf Club is located approximately 1 km to the North with Nobby's Beach Surf Club located approximately 1 km to the South. The beach directly opposite the Resort is council patrolled all year round.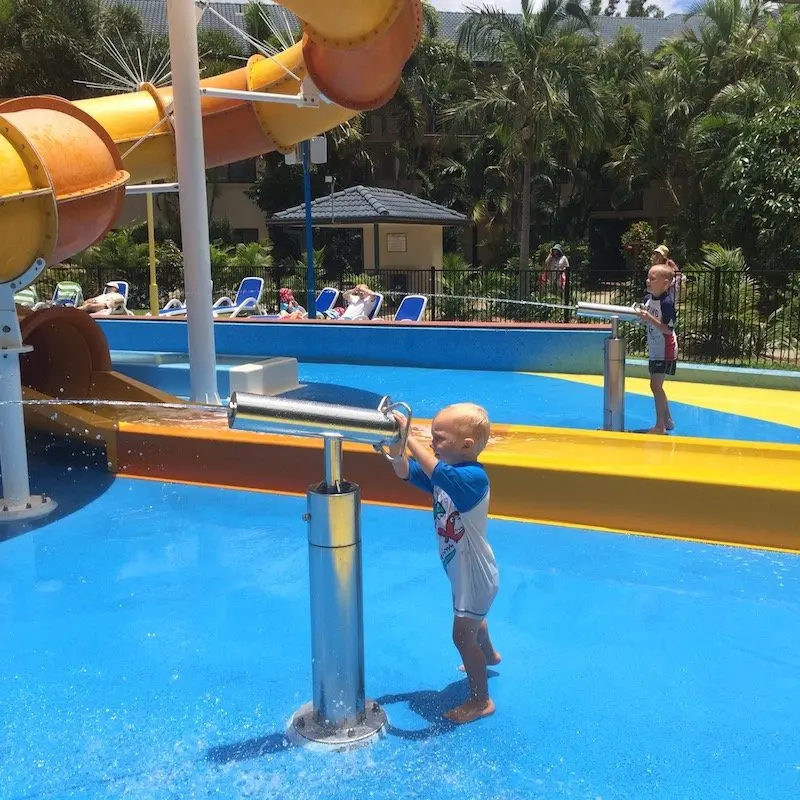 THE INSIDE SCOOP: Turtle Beach Resort Mermaid Beach
Correct at time of publication on Roam the Gnome. Please check with venue for updates. We apologise in advance if there have been any changes we are unaware of. All prices in Australian dollars, unless otherwise stated
Where is Turtle Beach Resort Gold Coast?
Address: Turtle Beach QLD is located at 2346 Gold Coast Highway, Mermaid Beach QLD 4218
Telephone: 07 5595 6666
Website: Click here
Turtle Beach Resort Bookings
From time to time, there's Turtle Beach resort specials on offer at this Gold Coast accommodation spot.
You can also google "Turtle Beach Resort Deals Groupon" to see if there's any bargains to be had.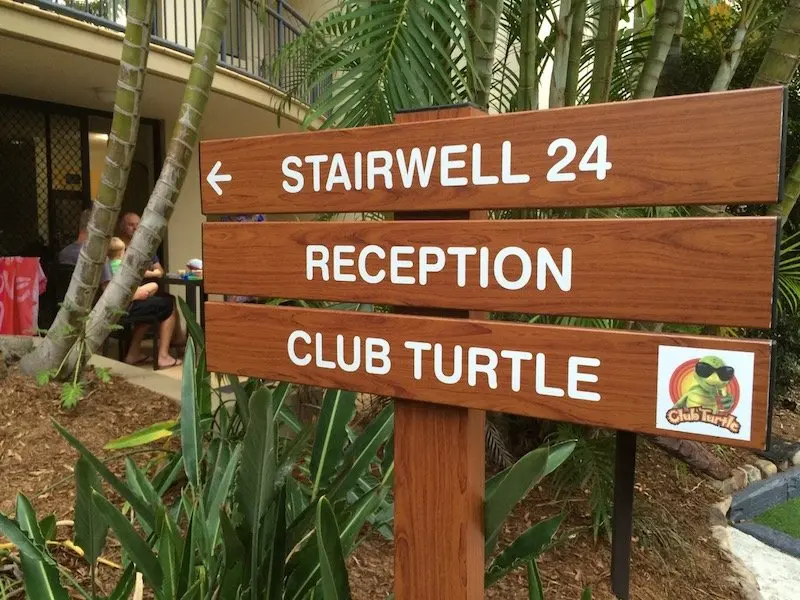 How to get to Turtle Beach Resort Queensland
By Public transport: Click here for details on getting to and from the hotel from the airport. Plus, all the details on getting around the Gold Coast by public transport too (bus, G link light rail)
From Brisbane by car:

On the M1/Pacific Highway take exit 71 – (Nerang-Broadbeach Road) to merge onto Nerang-Broadbeach Road/State Route 90.
Slight left onto State Route 90.
Turn right onto Gold Coast Highway/State Route 2 and keep driving straight.
Make a U-turn at Heron Ave and drive straight.
Turtle Beach Resort Australia is on your left.
From Coolangatta airport by car:

Merge onto the M1 via the ramp to Pacific Motorway/Brisbane.
Take exit 89 – (Tallebudgera Creek Road) and merge onto Tsipura Drive.
Turn left on to Tallebudgera Creek Rd and continue on to West Burleigh Rd.
Take a slight right to stay on West Burleigh Rd.
Turn right onto West Burleigh Rd/State Route 80.
Slight left on Gold Coast Highway/State Route 2.
Turtle Beach Resort is on your left.
Parking
Free secure undercover car parking
The Turtle Beach Resort Map
Frequently Asked Questions about Turtle Resort Gold Coast
How far is Turtle Beach Resort from the airport?
Turtle Beach Resort is approximately 20 minutes from Gold Coast Airport at Coolangatta, and approximately 80 minutes from Brisbane Airport.
How far away are theme parks and attractions from Turtle Beach Resort?
Most of the theme parks are off the M1 motorway, approximately 25 – 30 minutes drive North from the Resort.
Seaworld is located in Main Beach about 15 minutes from the Resort.
Currumbin Wildlife Sanctuary is located approximately 15-20 minutes South of the Resort.
Turtle Beach Resort Gold Coast runs daily private shuttle bus transfers to all theme parks.
Can you hire strollers, cots, high chairs etc. from Turtle Beach resort?
Turtle Beach Resort Gold Coast has cots, strollers, and highchairs available for hire for $9 each per day.
There are also bed rails available for $5 per day.
Turtle Beach Wifi
This Mermaid Beach accommodation has FREE wifi.
Yay for free wifi!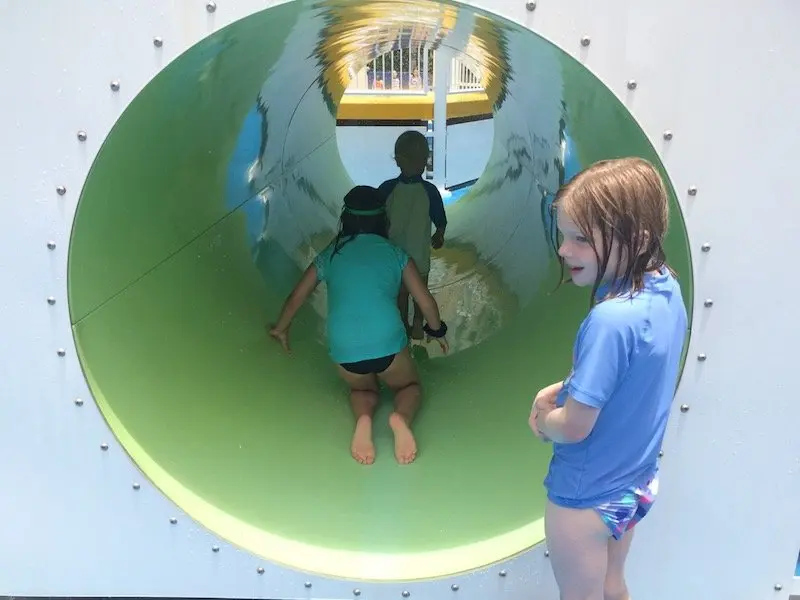 Toadstool Rating: Turtle Beach Resort Gold Coast Reviews
Turtle Beach Resort Gold Coast (sometimes mistakenly called Turtle Bay Resort Gold Coast!) is cool if you don't mind masses of people – think shoulder-to-shoulder (literally!) in the central precinct spa during peak times.
But despite the crowds, it's one of the best family friendly resorts Gold Coast has to offer.
(Here's a round up of the others)
Hot tip for Gold Coast Turtle Beach Resort QLD
Visit outside of school holidays, so you have more of the place to yourself.
Thank you to Juliette, Kate and Sarah, and their mum and dad Lisa and Brad, for taking the time to share your fabulous find with us!

Looking for MORE things to do on the Gold Coast with kids?
Click the blue links below for more Gold Coast playgrounds nearby.