INSIDE: Looking for an Indoor Play Centre Gold Coast? Check this one.
Looking for somewhere to go on a rainy day?
Abrakidazzle indoor play centre Gold Coast (or Abrakadazzle as some people say) is the biggest indoor play centre Gold Coast has on offer.
The whole place is air conditioned, so it's the perfect place to while a few hours out of the Australian sun.
Take a sneak peek inside and get all the details below.
Disclosure: This article contains affiliate links. If you make a purchase after clicking on one of these links, we may receive a small commission at NO extra cost to you.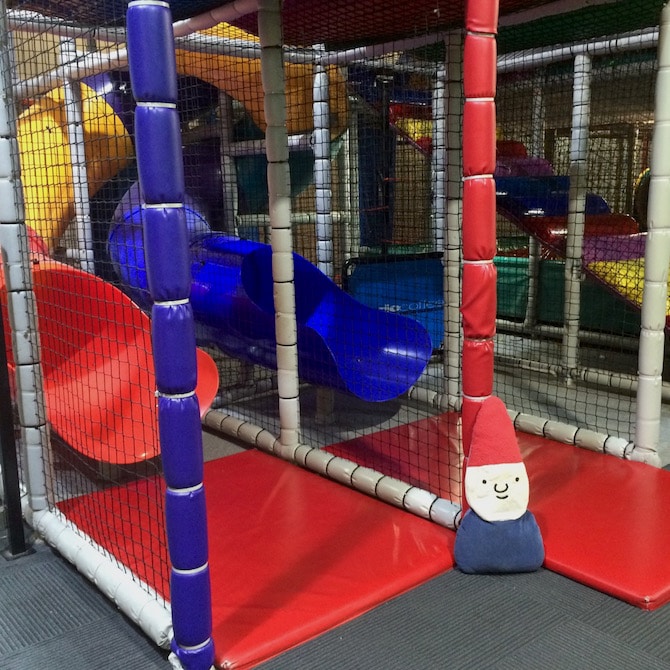 Guide to AbraKIDazzle Southport
Here's the latest news!
Smileez and Abrakidazzle have joined forces with the best bits of each indoor playground to make it even more fun.
This indoor playcentre is now a gigantic play maze measuring three storeys high and engulfing one half of a monstrous industrial space.
Abrakidazzle Gold Coast Equipment
Inside you'll find:
Balancing rope walks
Twisty slides
Climbing tube tunnels
Cargo nets
rope bridges
Punching bag walkways
Miniature zipline
AND a freestanding jumping castle too!
The ENTIRE indoor play centre is padded with bright colourful cushioning that appeals to the kids.
The soft landings help to soothe the anxieties of parents who watch their kids turn into fearless daredevils as soon as they enter the door.
---
RELATED: Big List of Things to Do on the Gold Coast with Kids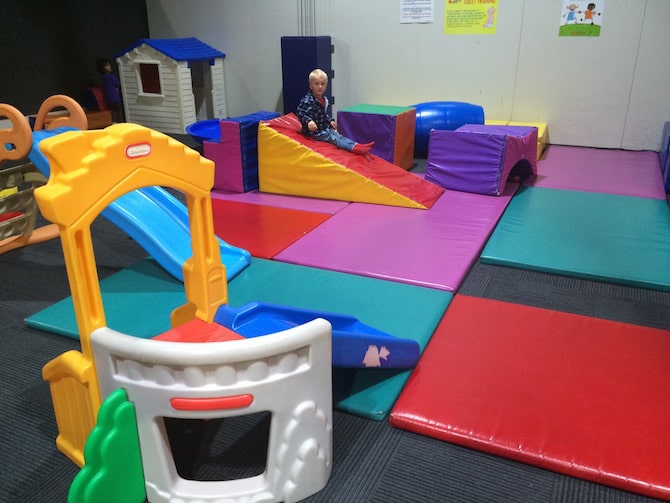 Toddler Playground at Abrakidazzle Indoor Play Centre
There's a designated baby/toddler playground area too, for children under 3.
This fenced area has:
Little Tikes driving cars
rocking horses
a rocking fish
a cubby house
roly poly floor mats
a slide
wall activity boards, and
plenty of soft blocks that make climbing stairs and slides for the little ones.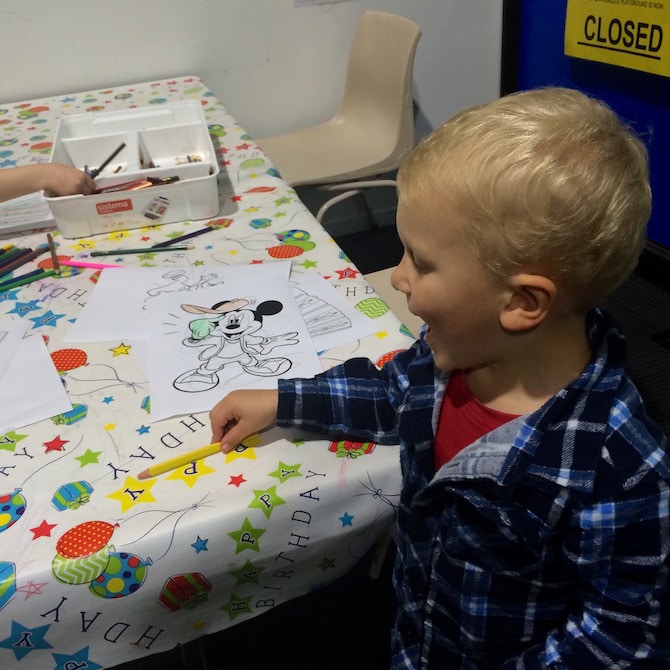 Craft & Activity Tables
When the kids have had enough, or just need a break, they can take a breather at the drawing table and colour in, or join you for a snack in the onsite café.
---
RELATED: Southport Rock Pools – The Essential Family Guide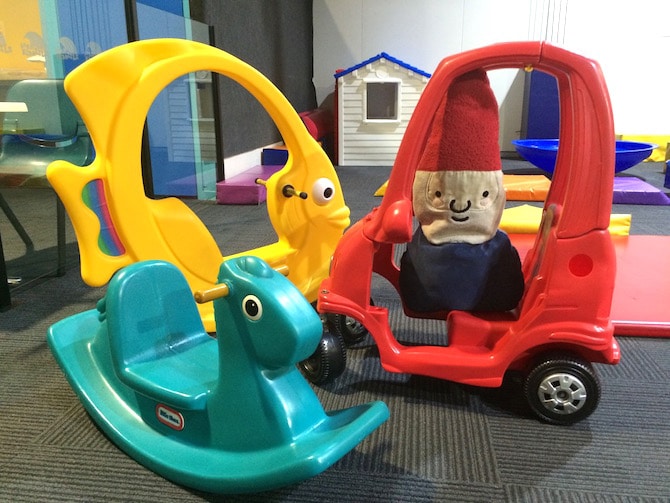 School Holidays at Abrakidazzle Indoor Play Centre Gold Coast
If it is school holiday time, there's even more to do with onsite entertainment provided offering an extended program of activities and entertainment that includes:
discos
face painting
temporary tattoos
storytelling
Character visits and
the Dazzlerettes Entertainment Team.
Check the Abrakidazzle Indoor Play Centre Gold Coast facebook page for details of Abrakidazzle events.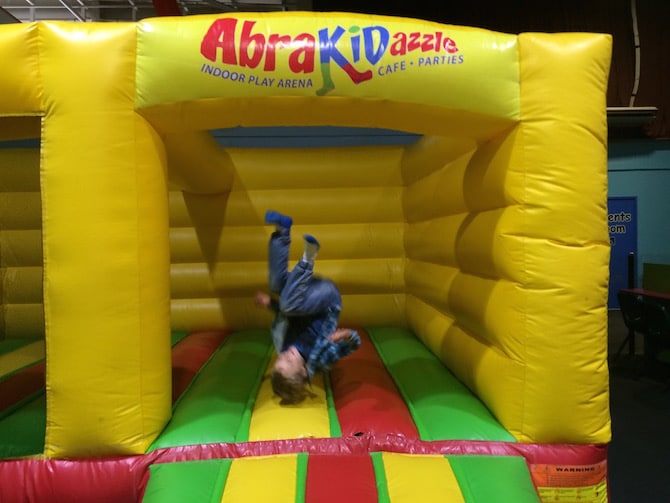 Abrakidazzle Birthday Party
Did you know you can also host your child's birthday party here?
Birthday Party Packages start from $22 per child and are suitable for children aged 1 to 12 years.
Children at the party can play in the indoor playground, party in the disco room and eat yummy party food with their friends!
There's both day time and night time parties available.
Call 07 5528 3744 between 9am-3pm or email Abrakidazzle on [email protected] to book or make enquiries.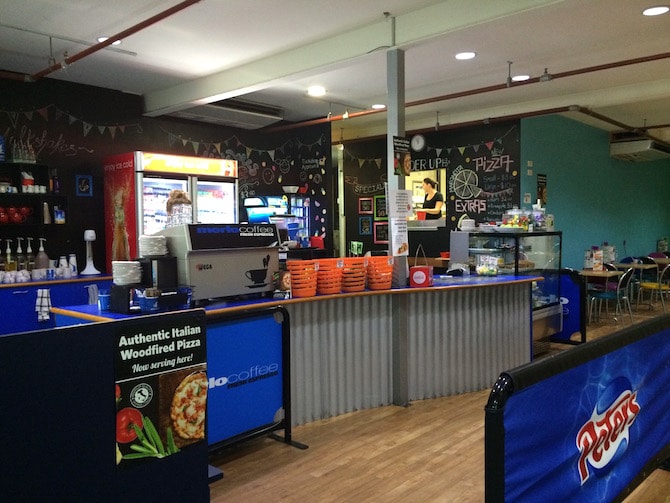 Abrakidazzle Cafe (Dazzler Cafe)
Mums, Dads, Grandparents and Visitors will have already spotted (and smelled) the cafe as they walked in the door.
Merlo coffee cannot be resisted for long!
Chai latte, tea, soft drinks, and milk shakes are available for non-coffee drinkers.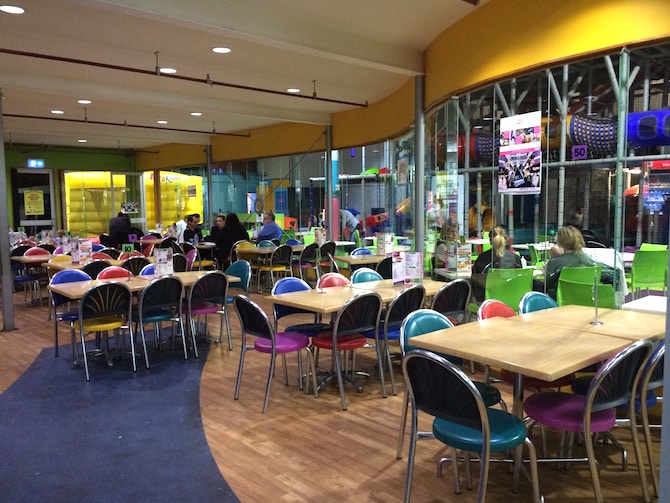 Abrakidazzle Menu
The Abrakidazzle Indoor Play Centre Gold Coast café offers a full menu of breakfast and lunch options
The all day breakfast menu till 3pm (the Dazzler breakfast of bacon, eggs, tomato and toast is just $10!), plus eggs on toast, French toast, and beans available too.
If you are visiting over lunchtime, try nachos, calamari, chicken schnitzel or parmigiana, club sandwiches, salads, and burgers with most choices under $12.
Vegetarian, Gluten Free and Dairy Free options available.
Abrakidazzle children's menu
The children's menu ranges from $2 – $5.50.
If you are just after a quick bite to keep them going, there's the old favourites too:
chips
wedges
garlic bread, and
potato scallops to satisfy the hunger pains.
Abrakidazzle is a licenced food premises so outside food is not be brought into the centre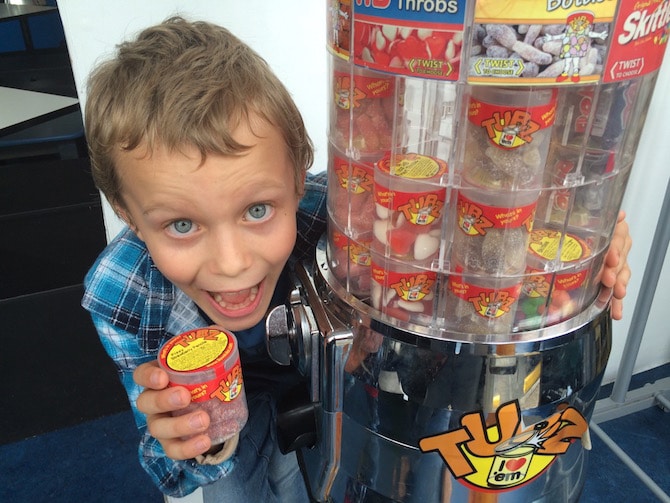 THE INSIDE SCOOP: Abrakidazzle Indoor Play Arena
Correct at time of publication on Roam the Gnome. Please check with venue for updates. We apologise in advance if there have been any changes we are unaware of. All prices in AUD dollars, unless otherwise stated
Address: Southport Trade Centre, 48/3 Jackman Street, Southport.
Email: [email protected]
Telephone: 07 5528 3744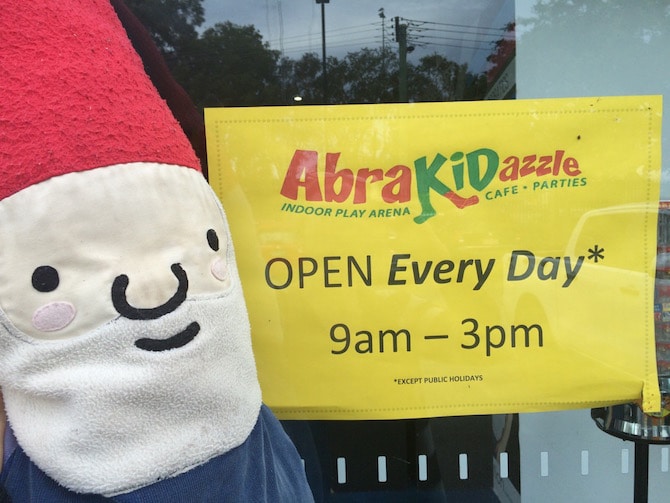 Abrakidazzle Opening hours
Current opening times are:
Monday to Friday 9am to 3pm
Saturday and Sunday 9am to 3pm
Closed Public Holidays
Abrakidazzle Prices
What's included in the price?
There's one entry fee for unlimited play at Abrakidazzle Indoor Play Centre Gold Coast.
Plan to spend between one and three hours here.
All children must wear socks in the playground (bring your own, or buy a pair of socks at the entrance for $2.50).
Under 6 months – FREE
6 months to 12 months – $5
1 year to 12 years old – $10
Adults FREE
Annual Passes and Gift Vouchers are available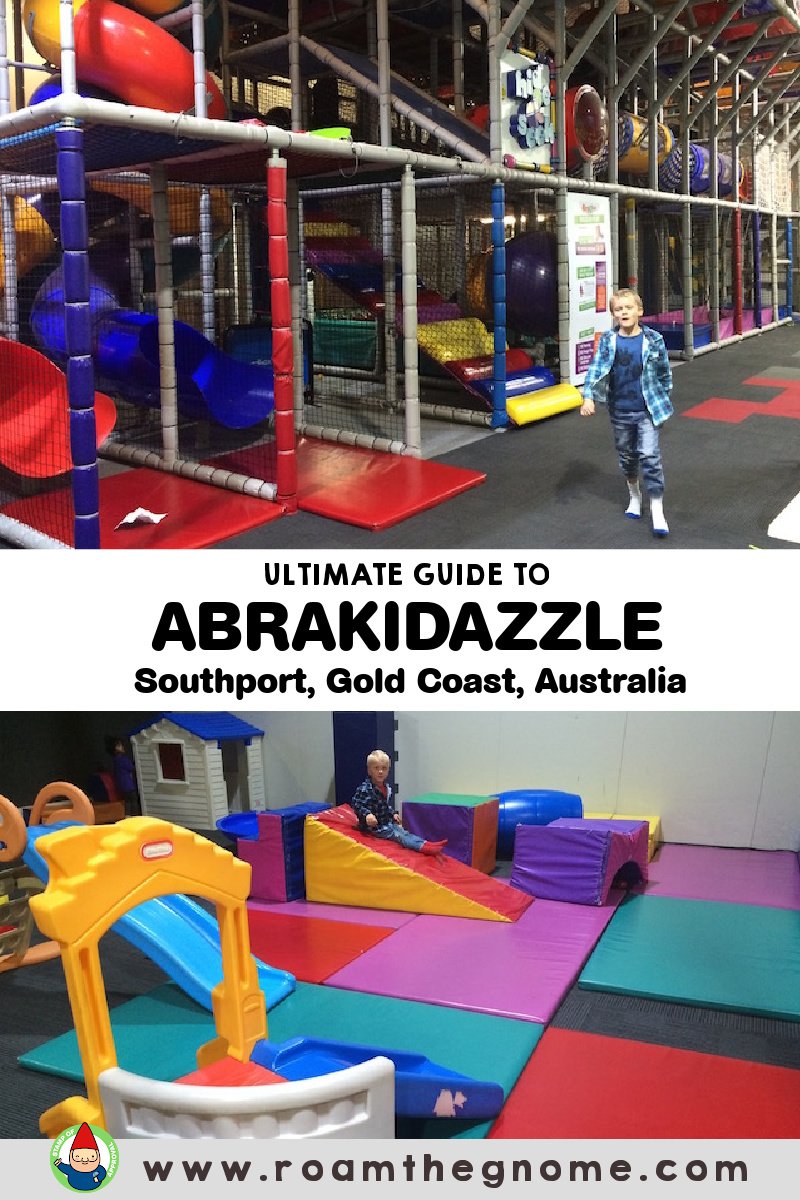 Abrakidazzle Groupon Discount vouchers
Google "Groupon Abrakidazzle" before you go to see if there are any current discount vouchers available.
This may save you up to 40% off normal entry fees, so worth a look.
Groupon often has super cheap entry deals including a coffee for the accompanying parent too.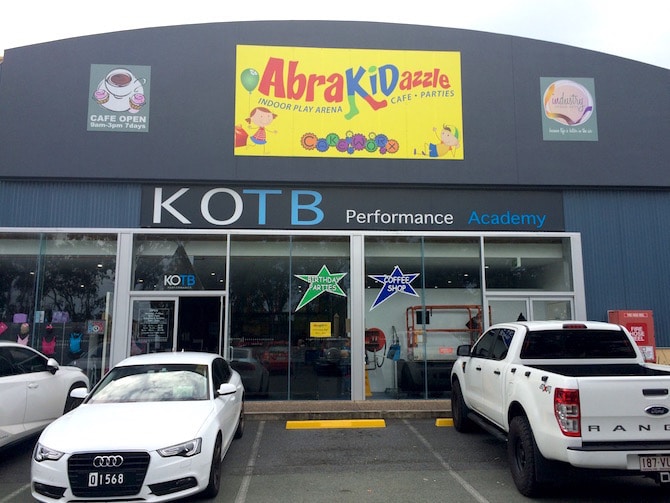 How to get to Abrakidazzle Play Centre Southport
By Bus: Johnson Street near Maid Street is your closest bus terminal from Southport. Bus 713 to Paradise Point will get you there. Plan your journey at Translink.
By Car: The easiest way to get here is to travel by car. Click here for google map directions.
Abrakidazzle Parking
FREE Parking is available at the front and rear of the Play Centre.
Map of Abrakidazzle Indoor Children's Play Centre
Facilities at Abrakidazzle
Public toilets:
Yes, with baby change table.
Young children who are toilet training must wear a nappy or pull up at all times.
There are nappy changing facilities on site
Tips:
All children must be wearing socks, shirts and shorts, or dresses at all times.
Please keep home toys at home.
Kids need to walk in the indoor play centre. Abrakidazzle does not tolerate bullying, rough play or obscene language.
Toadstool Rating – Gold Coast Indoor Playground Fun at Abrakidazzle!
Abrakidazzle, the indoor play centre located in Southport, should be on your list of "places to visit on the Gold Coast" with kids.

Looking for MORE things to do at the Gold Coast with kids nearby?
Click the blue links below for more Gold Coast ideas