INSIDE: Everything you need to know about Diamond Beach Resort Gold Coast with kids.
Looking for a SUPER FUN family friendly accommodation option for your Gold Coast holiday?
Diamond Beach Resort Gold Coast is one of the best options on the Gold Coast for a low key, beach style family holiday.
Diamond Beach Resort is in Broadbeach on Alexandra Ave, opposite Pacific Fair.
It's close enough to the action, but far enough away that you don't have to engage too closely with noisy party-goers, the oft-colourful language of backpackers, bikie gatherings, or the bronzed set, unless you choose to.
When you travel with kids, it's definitely easier to be around other families travelling with kids too, so the kids can make friends and adults are more likely to be tolerant of the noise and chaos that kids bring in their whirlwind of excitement about holidays!
This hotel is full of families just like you, so you are in the right place.
Plus, there's AWESOME LAGOON POOLS.
Take a sneak peek below for details, plus how to get there.
Disclosure: This article contains affiliate links. If you make a purchase after clicking on one of these links, we may receive a small commission at NO extra cost to you.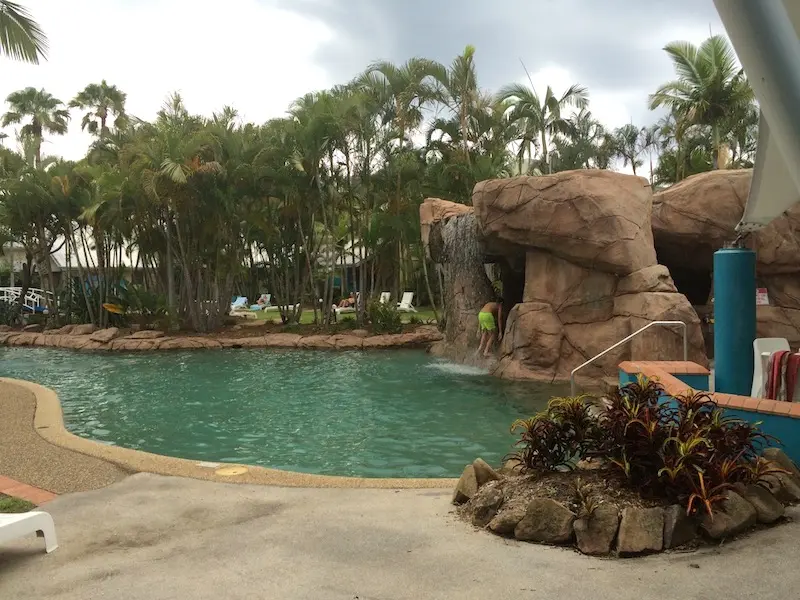 Guide to Diamond Beach Resort Gold Coast
Our Roaming Gnomie friends Josh and Maddie give it the thumbs up and say that the Lagoon Pool is the best SUPER DOOPER FUN ever.
The swimming areas meander:
under bridges
through rocky outcrops, and
around the central BBQ/playground zone.
AND, there are not one, but TWO hot spas!
One of which sits inside a rocky cave, complete with it's own dive-through waterfall.
---
RELATED: Big List of Fun Things to do on the Gold Coast with kids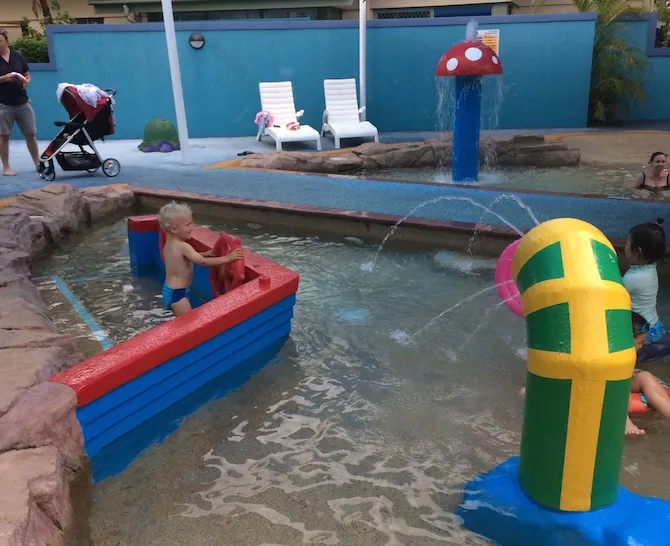 Things to do at Diamond Beach Gold Coast Australia
Maddie and Josh's mum and dad say the hot tip is to make sure you ask for a ground floor pool-front apartment with a private balcony, especially one close to the toddler pool with it's own private patio area.
This apartment is one of the biggest the family has EVER stayed in anywhere, and it was the best one they've stayed in at Diamond Beach.
As regular visitors to the Gold Coast, and Diamond Beach Apartments in particular as they have family nearby, the apartment is mostly used for sleeping as there's way too much on offer to keep the kids inside.
What they love most is the privacy of these units in amongst the palm trees, but still within cooee of the pool and HUGE BBQ AREA!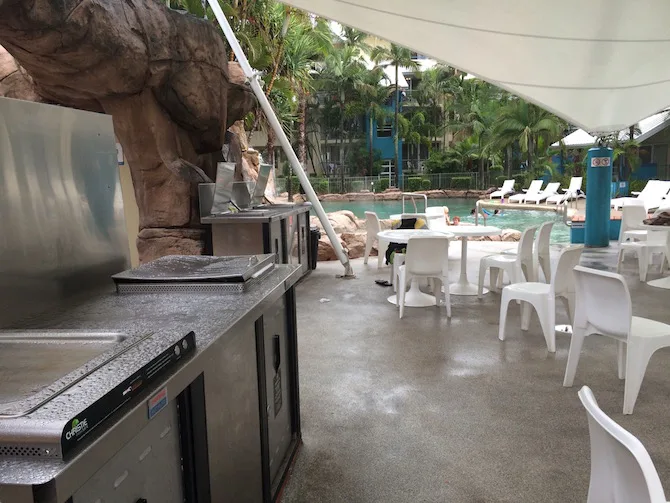 BBQ & Facilities at Diamond Beach Resort Broadbeach
On the topic of BBQ areas, while the apartment kitchens are super user-friendly, holiday time is time to fire up the BBQ for steaks, sausages and quick-pour salads.
The BBQ area at Diamond Beach Broadbeach is one of the biggest the family has ever seen, with an abundance of SPOTLESS stainless steel cooking plates to share, AND plenty of table space and chairs for when it comes time to eat.
Kids of swimming age can swim around, or laze in the bubbly spa, right up until they are called for dinner, while under the watchful eye of mum or dad close by too.
This BBQ area means there's no need to mess up the apartment at all.
The BBQ area is all undercover too.
Steamy stormy Gold Coast afternoons won't foil any plans of cooking dinner in a relaxed fashion outdoors.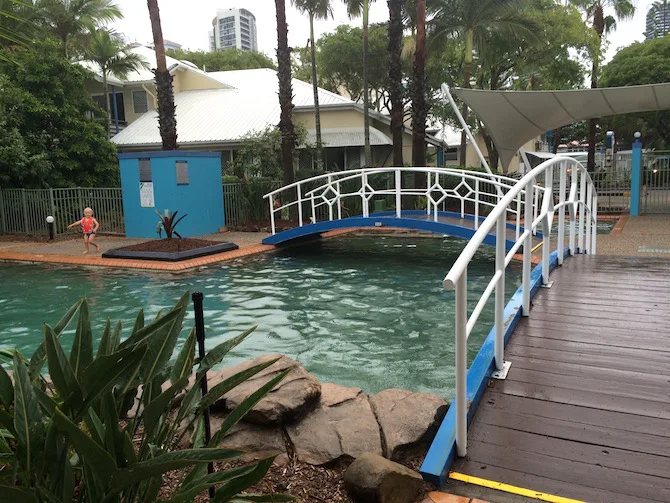 Did you know? Breakfree Diamond Beach Resort QLD
Diamond Beach is one of our top picks for a family friendly holiday in Broadbeach.
It's JUST across the road (beachside) from the legendary Pacific Fair shopping centre, an easy 10 minute stroll even with the kids in tow.
Diamond Beach apartments are 3 minutes from Kurrawa beach in the other direction.
You can walk to:
the Oasis shopping centre (eat at Harajuku Gyoza at least once!)
The Oracle restaurant strip
Kurrawa surf club (more excellent dining for families)
Two of the best kid-friendly playgrounds on the coast are right on the grassy strip between the Old Burleigh Road and the dunes.
Don't miss the All Abilities Playground at Pratten Park Kurrawa.
The All-Abilities FULLY FENCED playground at Pratten Park (on the right of Kurrawa Surf Club) has:
hill slides
a giant spiderweb swing
a themed sandcastle zone with sandpits
waterjets to help with sand shaping
an undersea zone with a giant submarine and sea creatures.
Broadbeach South G link station
The Broadbeach South depot stop of The G is directly across the highway too.
That means, once you've arrived at the hotel, getting to "Surfers" (Paradise) or The Broadwater Parklands playgrounds is as easy as a hop, skip and a G link ride away.
Buses too, are right at your doorstep if you prefer to head south away from the hustle and bustle, to neighbouring urban hot spots of Nobby's Beach, Burleigh Heads, Palm Beach or Currumbin.
Hot tip: Check out Palm Beach Parklands and the Pirate Park playground in Palmie if you do.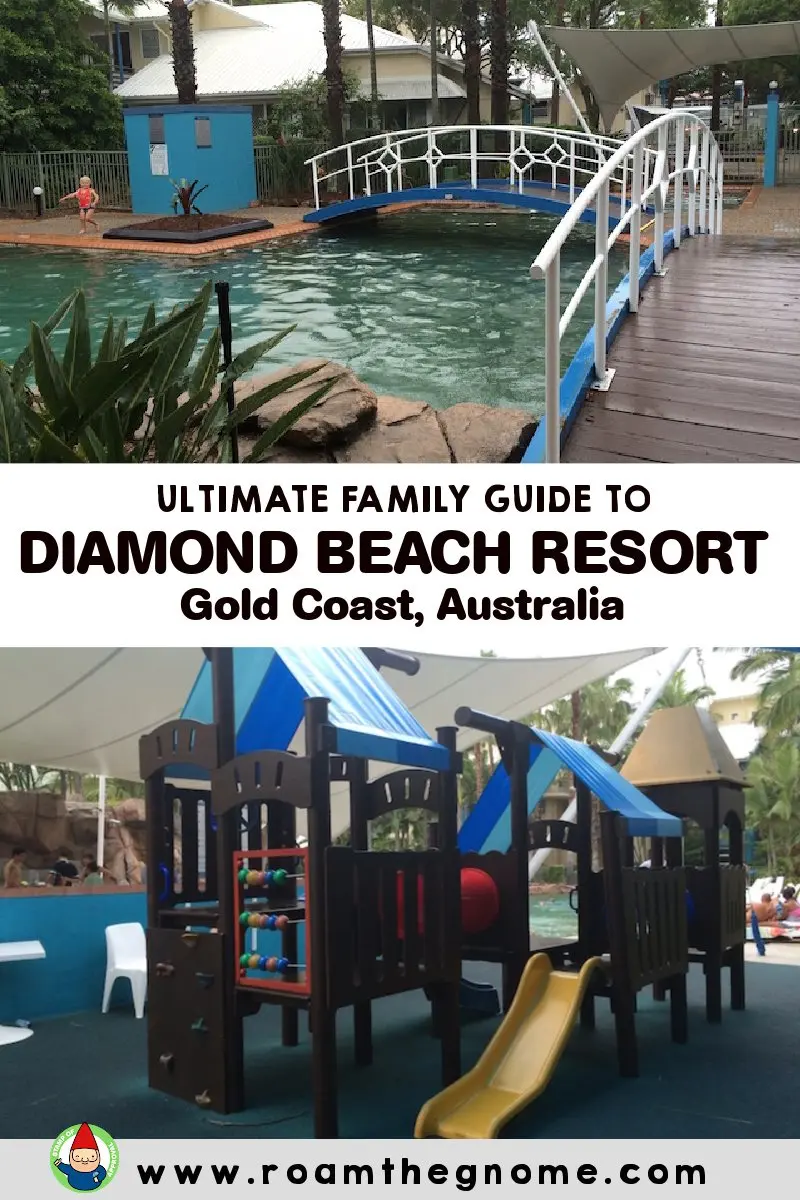 Gold Coast Diamond Beach Resort Rooms
There's 1, 2 and 3 bedroom apartments, so something for the smallest family right up to something that will fit an extended family reunion.
Check out all the room configurations here.
All Diamond Beach apartments Gold Coast style have fully equipped kitchens so you can eat in for breakfast to save money for the SUPER FUN stuff later.
Those with babies and toddlers will find the kitchen useful to manage mealtimes for little ones too.
There's air conditioning too, which is a godsend in summer.
For those who need it, there's:
a kiosk
babysitting and
a tour desk on site too.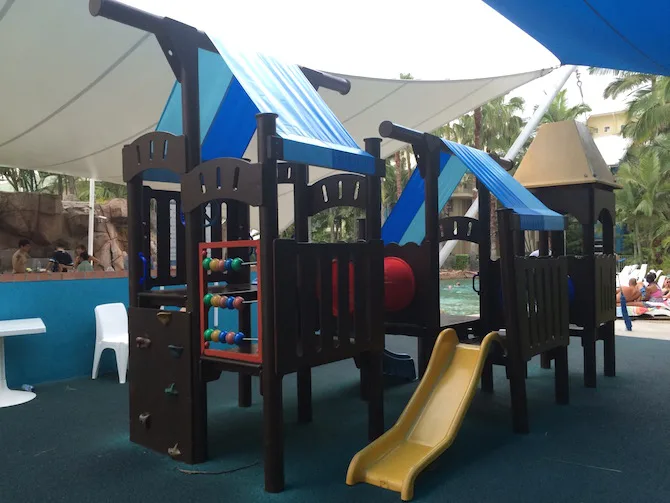 Food Shopping in Broadbeach
Woolworths Supermarket in Broadbeach
Woolworths supermarket is located on the bottom floor of the Oasis shopping centre, just 7 minutes walk away.
Tourists and locals alike 'borrow' the supermarket trolleys to carry their food home and leave the trolley on the footpath outside.
Woolworths trolley staff with trailers do a regular round up through the streets.
Where to eat in Broadbeach?
Broadbeach is foodie haven.
Family friendly restaurants in Broadbeach
Head to anyone of these with the kids:
The Cardamom Pod for vegetarian delights, and the most beautiful, Instagram worthy, colourful acai bowls you've ever seen.
Harajuku Gyoza (as mentioned above) for freshly made pot stickers, and beer (for the mums and dads)
Aztec Mexican restaurant on Albert street for chicken enchilada or tacos (a firm favourite with Josh and Maddie on holidays)
Mario's Italian
Cha Cha Japanese at 6/2705 Gold Coast Hwy, Broadbeach (opposite the Convention Centre in the row of shops facing)
The food court in Niecon Plaza for quick, in and out meals for the whole family
Best Broadbeach restaurants
If you can leave the kids with a babysitter for the night, the best Broadbeach dining for couples include:
Moo Moo for speciality steaks and wine
Kiyomi Japanese restaurant at The Star Gold Coast casino
Nineteen at the Star
Saffron Indian Gourmet on the highway
Hideaway Kitchen and Bar Asian fusion food, our pick of the bunch. Make a booking as early as you can, or you won't get in.
Or take your pick among any of the open-air dining destinations you find along the way.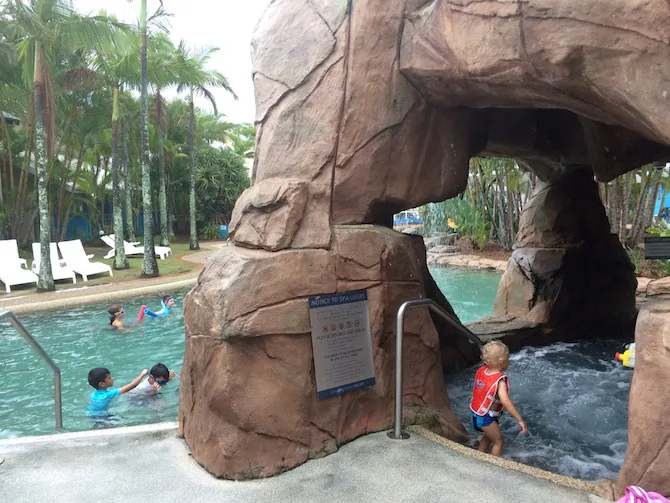 Broadbeach Gold Coast tips
No.1: What to do in Broadbeach when it rains?
Rainy day disrupt your plans?
Head to the Broadbeach Library at 61 Sunshine Blvd.
Gold Coast libraries are simply awesome with free wifi, quiet spaces, activities for kids, magazines to read, and more.
Hot tip: Check out the Active and Healthy Programs on offer during your stay. These free family activities are much loved by locals and visitors to the Gold Coast alike.
No.2: Local family magazines
While there, pick up a copy of Haven or Kids on the Coast to find about all the local events and happenings.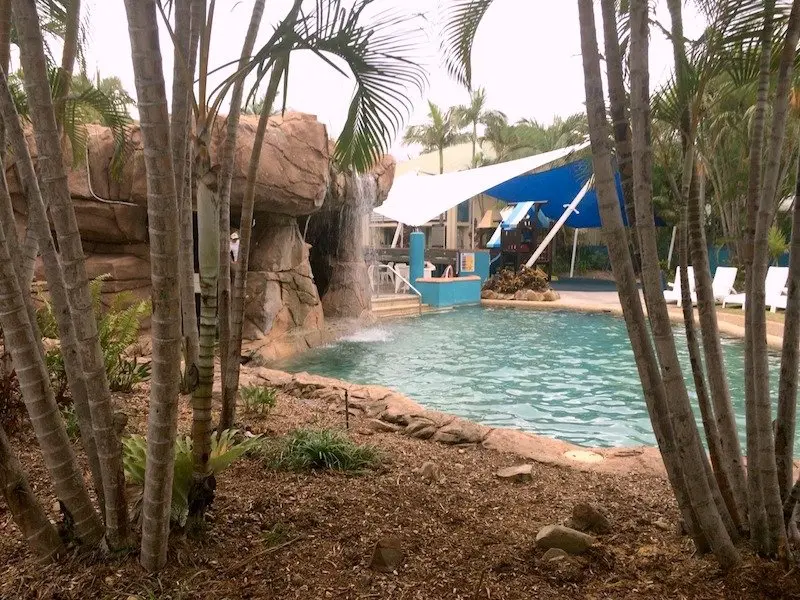 No.3: Bring a stroller.
The whole of Broadbeach is stroller and pram friendly – super flat, and with pathways to walk on.
You can take the stroller on public transport without much hassle.
No.4: Bring bikes and scooters
Broadbeach is the PERFECT suburb for kids to ride their scooters and bikes without fear of being run over.
From Diamond Beach Resort north, there are wide pathways that run a fair way towards Surfers Paradise.
Heading south, the right hand lane of Hedges Ave is now a dedicated running/walking/scooting lane all the way to Nobby's beach.
Yay for the GC council who made this decision in favour of pedestrian traffic and holiday makers!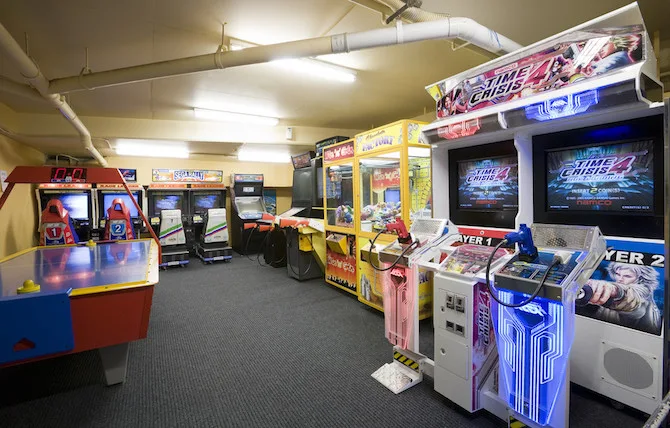 THE INSIDE SCOOP: Diamond Beach Resort Reviews
Correct at time of publication on Roam the Gnome. Please check with venue for updates. We apologise in advance if there have been any changes we are unaware of. All prices in Australian dollars, unless otherwise stated
Address: 10-16 Alexandra Avenue, Broadbeach QLD 4218
Telephone: 07 5570 0000
Email: [email protected]
Check in: 2pm
Check out: 10am
Diamond Beach Resort bookings
Click here to check latest prices.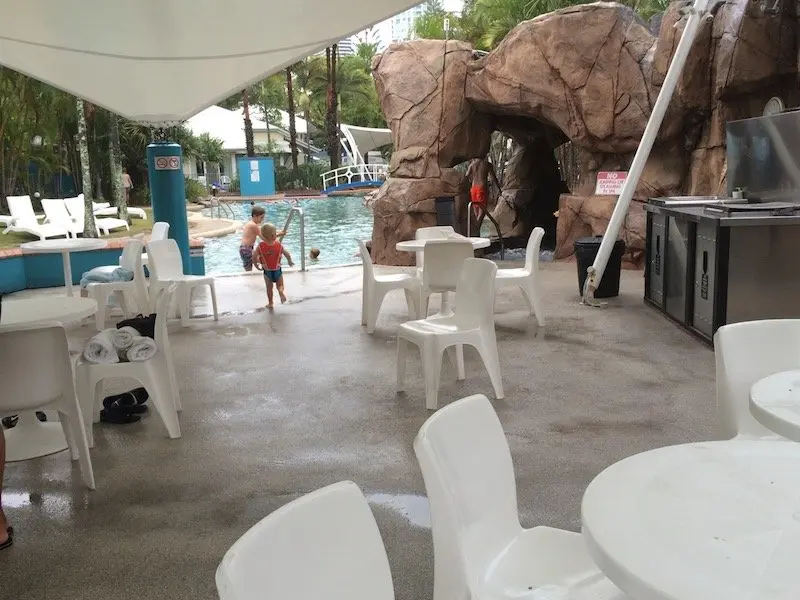 How to get to Diamond Beach Resort on the Gold Coast
By G link:
Catch the G link light rail train from Helensvale direction (past Gold Coast University Hospital, Surfers Paradise, & Southport).
Disembark at the Broadbeach terminal station (Broadbeach South) next to Pacific Fair.
Cross the road towards the beach, and follow these walking directions (10 minutes from station)
By Bus:
Surfside buses provide all day bus services up and down the Gold Coast highway, from the M1 and Gold Coast train stations, and Gold Coast airport, and stop at Broadbeach.
Click here for the Translink journey planner.
By Car/Uber/Private transfer:
Click here for google map directions from your location
Diamond Beach resort parking
There's free parking on site.
Diamond Beach Resort map
Facilities at Diamond Beach Resort accommodation
Picnic tables: Yes
Electric BBQs: Yes
Scooters and Bikes: Hire bikes available for guests
Lockers: No
Dogs: No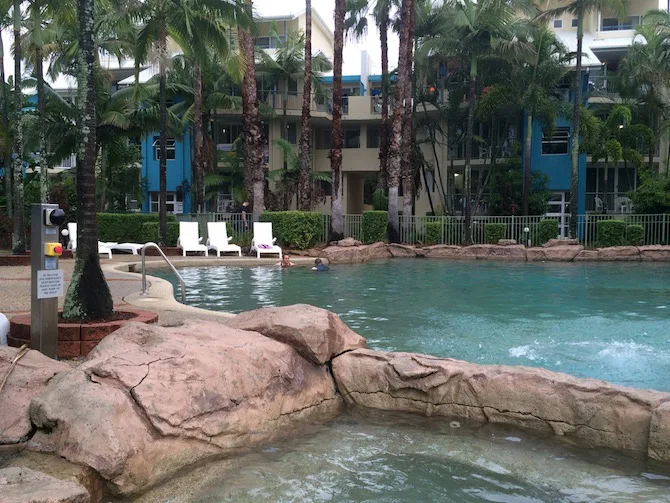 Toadstool Rating: Diamond Beach Resort Gold Coast Reviews
We vouch for Josh and Maddie's review of Diamond Beach Resort Broadbeach Gold Coast. We've visited too, and we'd second their rating.
The lagoon pool and spas are serious fun for the whole holidaying family!
If you are looking for a 5-star experience, this is NOT the place for you to go but if you are looking for a happy, trouble-free holiday in a kid-friendly apartment where you don't need to worry about your little kids making a mess or a fuss, Diamond Beach Resort Gold Coast Broadbeach is a winner.
Thank you to Josh, Maddie, Justine and Steve for taking the time to share your fabulous find with us!

Looking for MORE things to do on the Gold Coast with kids?
Click the blue links below for more Gold Coast tips