INSIDE: Why Spring Loaded Banora Point is our top choice of trampoline parks on the Gold Coast.
Where can you find a Trampoline Park that isn't JUST a Trampoline Park?
Imagine if you could find all this in ONE place:
A trampoline park with a ROPE SWING into a giant pit of foam blocks?
A trampoline park with it's own GYMNASTICS equipment?
A trampoline park with a enormous PARKOUR area?
Find all this AND MORE, at SPRINGLOADED Indoor Trampoline Park at Banora Point.
SPRING LOADED Trampoline Park is the BEST trampoline park for kids on the GC.
Disclosure: This article contains affiliate links. If you make a purchase after clicking on one of these links, we may receive a small commission at NO extra cost to you.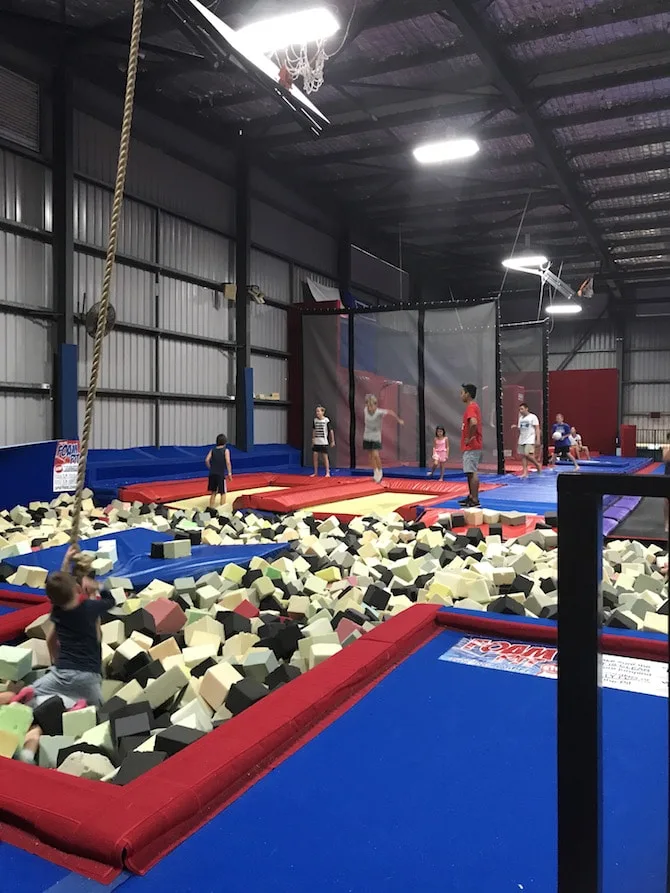 Guide to Spring Loaded Banora Point NSW
Call it what you will:
a flip out zone
a trampoline land
a jumpoline park, or
a jumpy place
Springloaded Tweed Heads / Banora Point is the best combination of all!
(And definitely Roam the Gnome's favourite.)
---
RELATED: Ultimate List of the BEST Things to do on the Gold Coast with Kids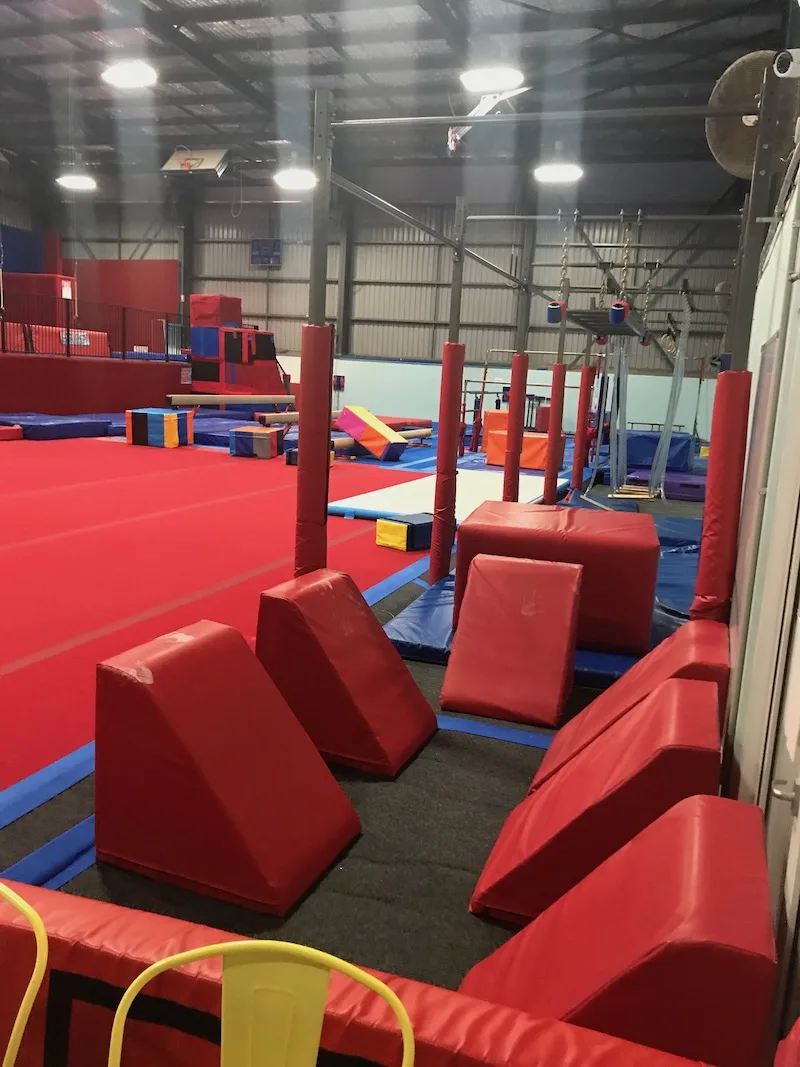 NEW Sprung Floor & Parkour Equipment (2020)
Springloaded Banora Point has just had an upgrade.
The inflatable slide has been replaced.
They now have a new, very bouncy, Sprung Floor on the lower level.
Along with new fixed parkour equipment with:
swinging bridge walk
nets
monkey bars
poles to climb and more.
(Pictured above)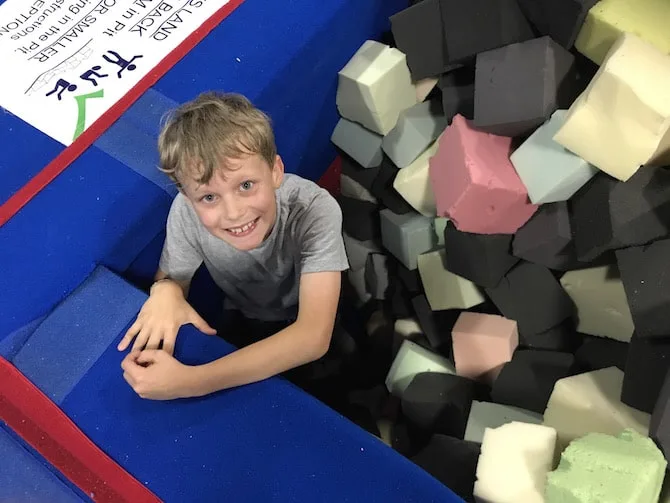 Springloaded Indoor Trampoline Park at Tweed Heads Activities
Springloaded indoor trampoline park at Tweed Heads is chockablock full of fun things to do.
There's:
the SLAM zone with two lanes of basketball slam dunk fun
PERFORMANCE trampoline zone where kids can wall walk!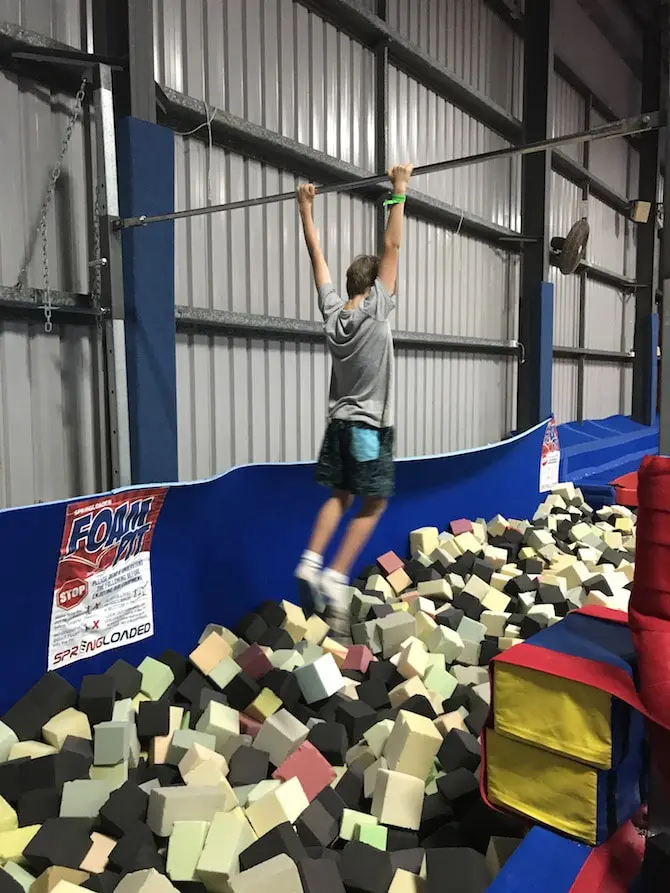 Equipment at Spring Loaded Tweed Heads
No.1: Giant Foam Pit
Kids love:
the GIANT FOAM PIT to land in after a bouncy run up
the gymnastic's beam to test your upper arm strength before you sink into the foam pit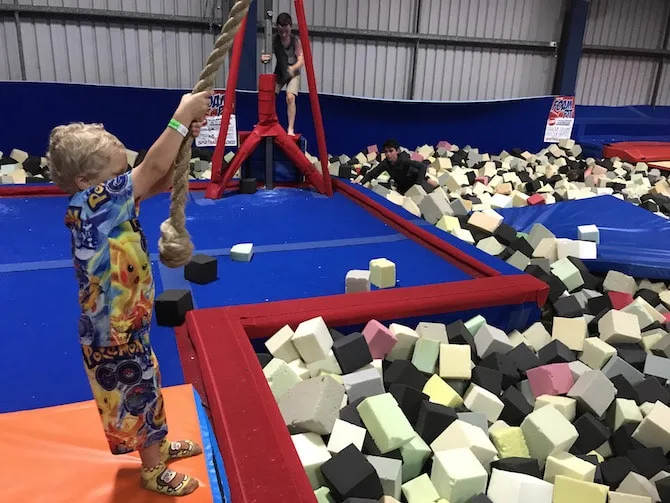 No.2: Swing Rope
There's a super fun SWING ROPE into the giant foam pit too.
Plus:
Giant vinyl blocks of all shapes and sizes to build with, jump over, and roll upon in the OBSTACLE RUN on the air floor
Gymnastic BEAMS to balance upon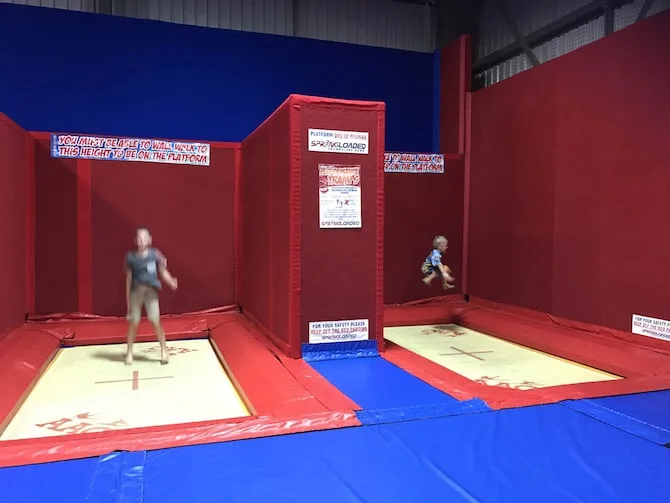 No.3: Parkour Zone
The PARKOUR ZONE is there to challenge your obstacle-negotiation skills and speed of jumping, climbing, and running
It's the best trampoline park for kids 3 and up, because there's SO MUCH variety!
Little kids aren't shoved into a mini-bounce area which gets old after about 5 minutes.
Here, kids of all ages can move from activity to activity, and NEVER get bored.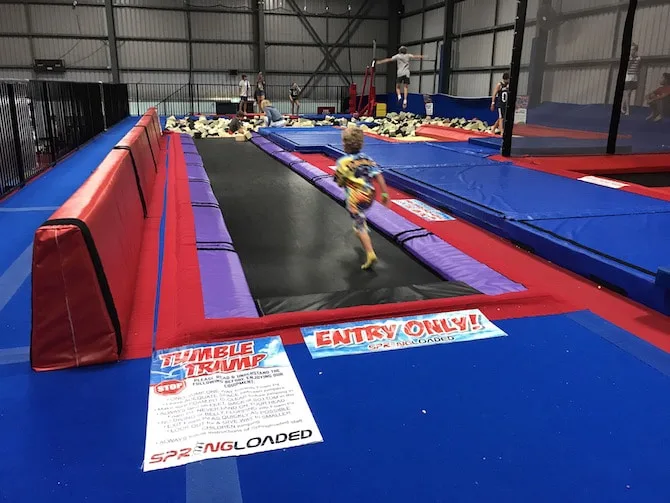 No.4: Trampoline Run
One of the most fun things to do at Springloaded is run on the tumble tramp, and fall or dive into the foam pit at the end.
No.5: Trapeze Rings & Gymnastics Zone
Check out the TRAPEZE ROPES and RINGS and swing along like Tarzan in the jungle.
The trapeze rings are a hoot!
No.6: Obstacle Course
NB: Inflatable slide is no longer a permanent fixture.
Springloaded Cafe
There's a small onside CAFE with drinks, a few snacks and lollies, should you need to top up and refresh half-way through.
You are welcome to BYO snacks and water bottles too.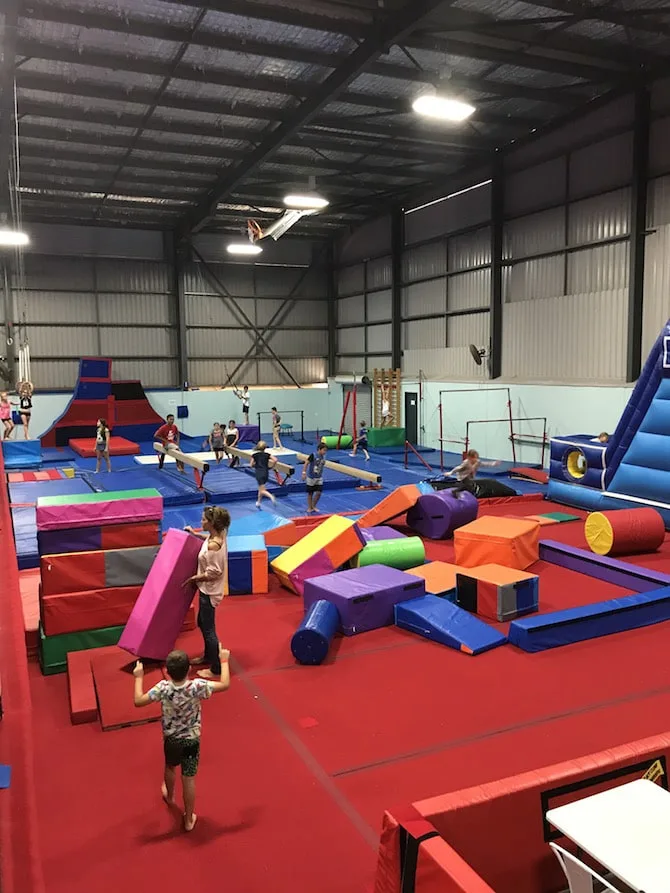 THE INSIDE SCOOP: Springloaded Banora Point
Correct at time of publication on Roam the Gnome. Please check with venue for updates. We apologise in advance if there have been any changes we are unaware of. All prices in AUD dollars, unless otherwise stated
Address: Cnr Leisure and Woodlands Drive, Banora Point NSW
Telephone: 07 5524 4900
Website: Click here
Email: [email protected]
Facebook: Click here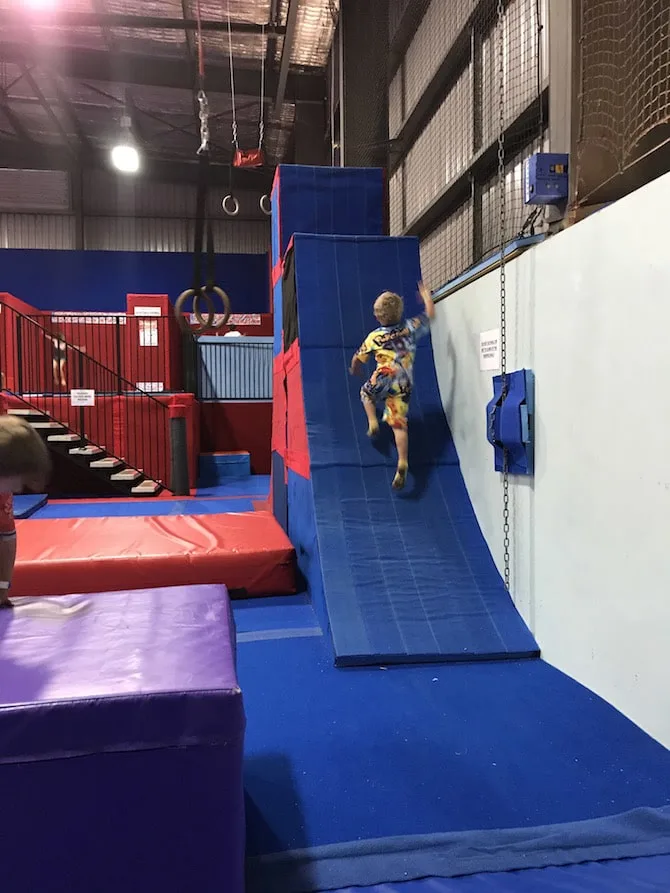 Opening Hours at Spring Loaded Trampoline Park
Casual Bounce Sessions for the General Public – Weekends
Saturday 10am – 5pm
Sunday 10am – 5pm
Adult Gym and Slam Session, Fridays 6 – 8 pm
NSW School Holidays
Monday to Sunday 10am – 5pm
Public Holidays 10am – 2pm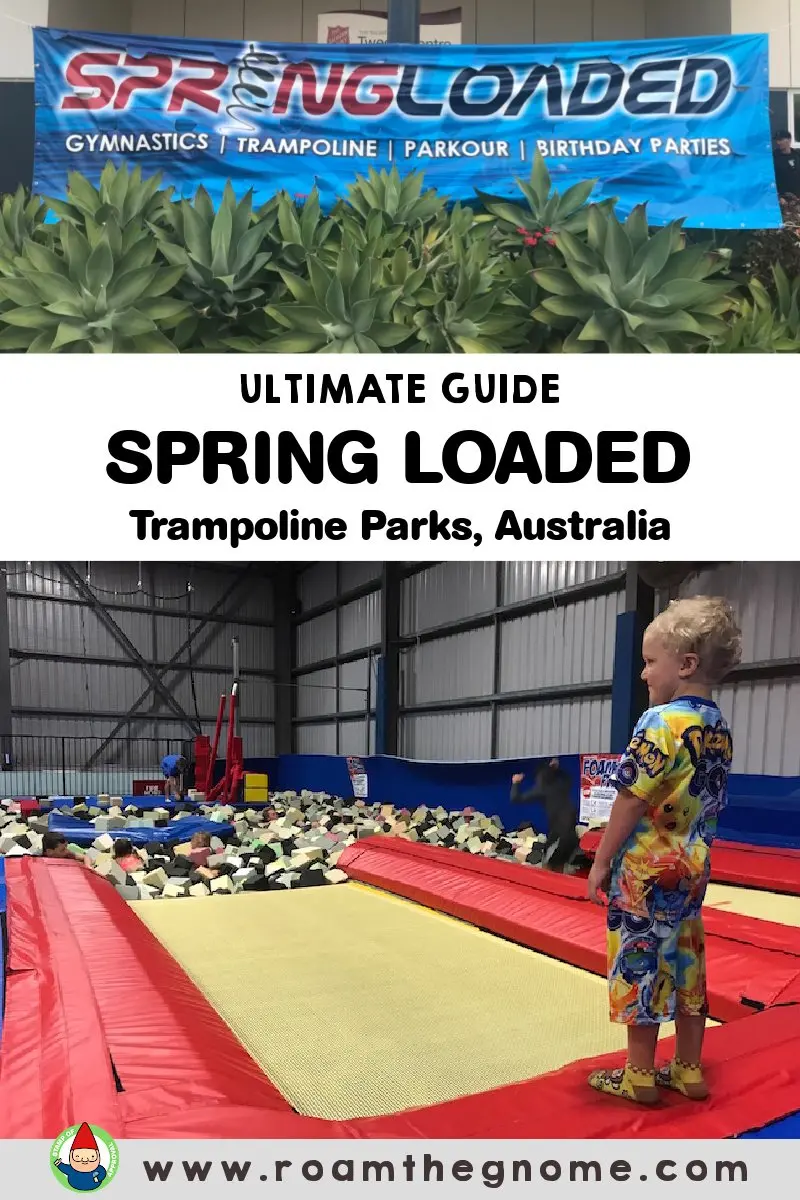 Gymnastics, Trampoline & Parkour Classes at Spring Loaded
During school terms, there's regular trampoline, Banora point gymnastics and parkour classes running from Monday to Saturday.
These Springloaded classes are SUPER POPULAR, with up to 50 odd kids engaged in athletic pursuits at one time.
Book early to secure your place. Discounts apply if you pay in full before the term starts.
Active Kids vouchers accepted for all classes.
Springloaded timetable
Kinda Gym, Junior Parkour for 3-5 year olds, and Mums & Bubs classes run during the term in the early morning.
Call for details.
There's classes from 3.30pm every afternoon of the week too. Check the website above for current class times.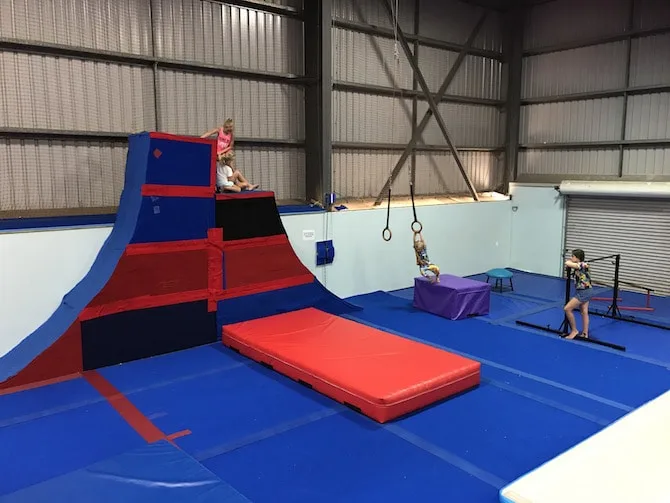 Spring Loaded Prices
Springloaded prices are subject to change. Please check with venue before you go.
The Springloaded Banora price for the general public:
$16.50 per person per hour for kids 5+. $10 per hour for consecutive hours.
Kids under 5 cost $15 per person for one hour, or $20 pp for two hours.
The Springloaded price for free-range sessions if you are enrolled in classes at Springloaded Banora Point is:
$12 per hour for first hour. $10 per hour for consecutive hours.
Super Sessions at Springloaded Banora
Super Session – the last 2 hours of every day is $20. ($18 if you are enrolled in classes)
Friday Night session at Springloaded – $20 for 3 hours or $15 if you enrolled in classes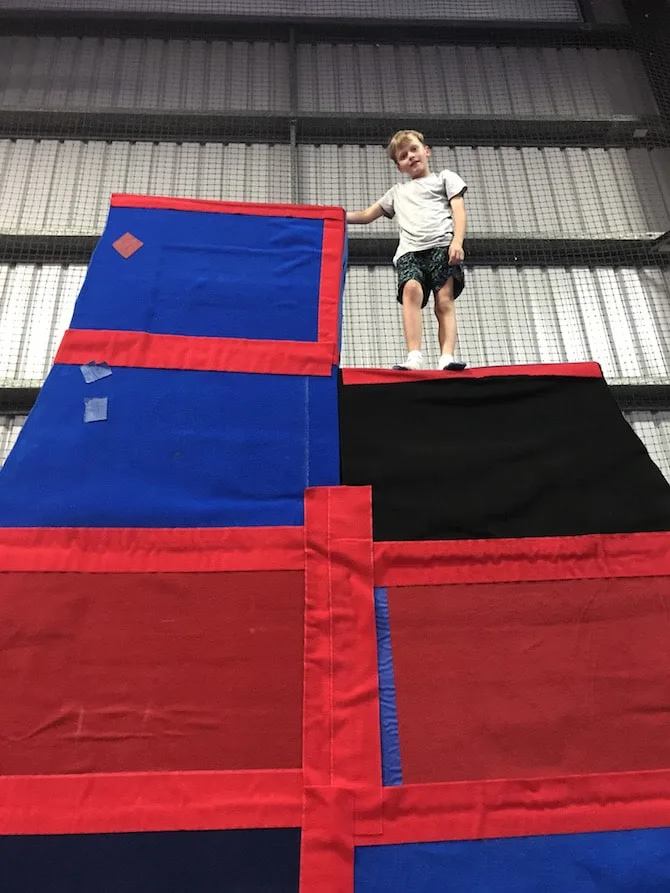 Vacation Care and Birthday Parties
Springloaded Tweed Heads offers birthday parties, and vacation care.
Birthday parties are for two-hour sessions and cost $200 for 10 kids.
$15 pp. extra.
BYO food and drink.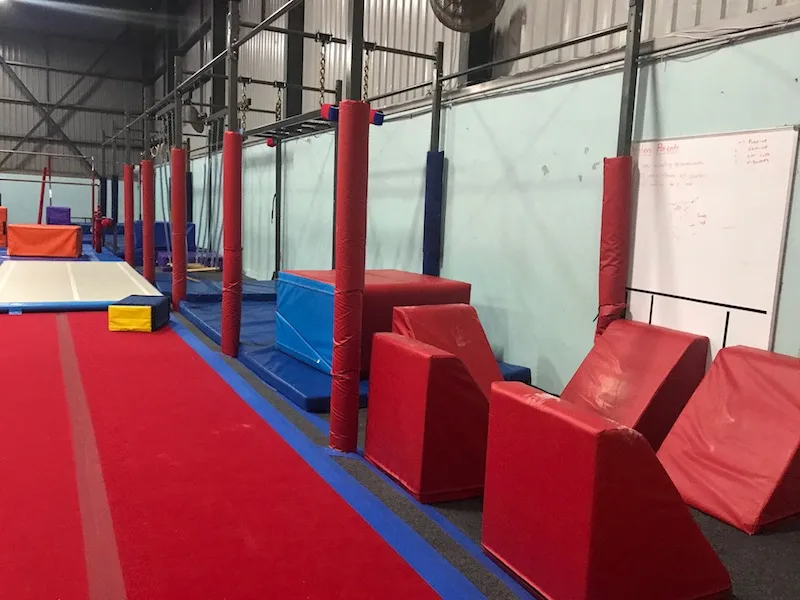 How to get to Spring Loaded Indoor Trampoline Park at Banora Point
Spring Loaded Park is located at the Salvation Army Banora Point headquarters, on the corner of Leisure and Woodlands Drive, Banora Point.
Note: This is no Bounce Tweed Heads or Air Factory Tweed Heads.
Springloaded in Banora Point is the ONLY Trampoline Park near Tweed Heads.
Map of Springloaded Indoor Trampoline Park.
Toadstool Rating – Springloaded Trampoline Park
Don't wait. Book a session today.

MORE Spring Loaded Trampoline Parks in Australia?
Spring Loaded Trampoline Parks have four venues altogether.
Find details of your closest Spring Loaded trampoline park below.
Spring Loaded Newcastle:
Spring Loaded Trampoline Park Newcastle is located at 26A Oakdale Rd, Gateshead NSW 2290.
The phone number for Spring Loaded Gateshead is (02) 4942 1488
Spring Loaded Coffs Harbour:
Springloaded Coffs Harbour is located at 600B Hogbin Dr, Toormina NSW 2452.
The phone number for Spring Loaded Toormina is (02) 6658 7188
Spring Loaded Ipswich – CLOSED
Springloaded Ipswich is now permanently closed after 5 years of operation.
Spring Loaded Coomera – CLOSED
Springloaded Coomera has closed.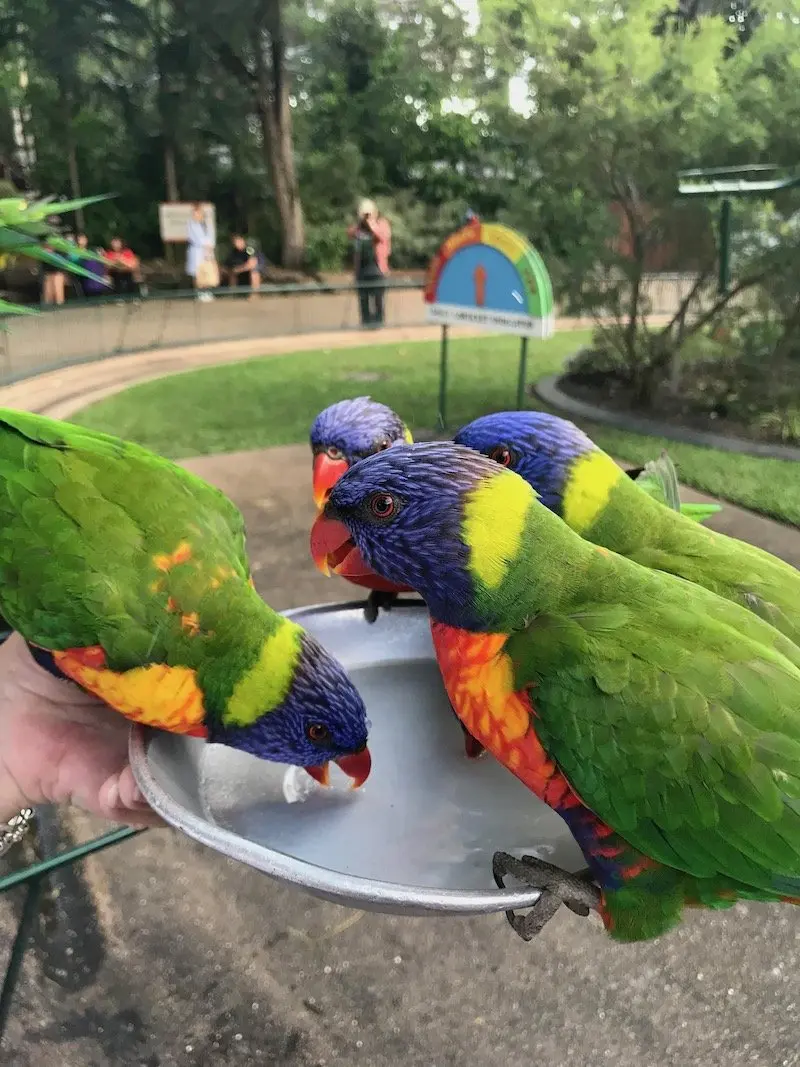 Looking for MORE SUPER DOOPER FUN things to do on the Gold Coast with Kids?
Click the blue links below for MORE Gold Coast activities.