INSIDE: Everything you need to know about Movie World for toddlers & preschoolers.
Is Movie World good for toddlers?
Is Movie World suitable for toddlers?
We vote YES.
Head straight to WB Fun Zone.
This area of Movie World is the main (some would say only) kid-friendly zone in the park.
That said, you can EASILY fill an entire day if you add in the Movie World shows, 4D Movie Theatre, snacks, & shopping.
Here's a detailed guide below of all the things to do at Movieworld with toddlers.
Disclosure: This article contains affiliate links. If you make a purchase after clicking on one of these links, we may receive a small commission at NO extra cost to you.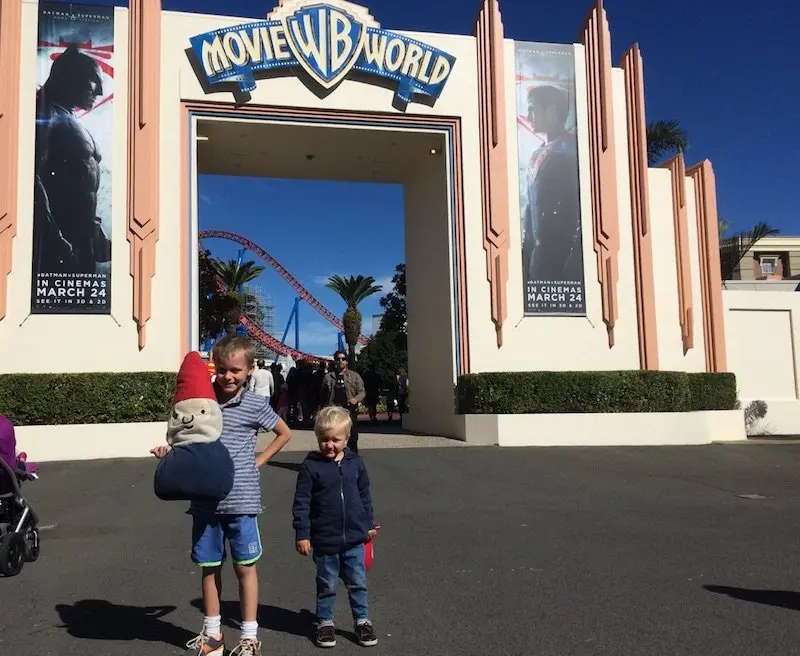 Best Things to do at Movie World for Toddlers & Preschoolers
What's the best things for the under 8's and toddlers at Movieworld?
Kids WB Fun Zone.
Ned, at 8, is not the kind of kid who wants big excitement or scary rides, and he was over the moon to spend the ENTIRE day in this Kids' WB! Fun Zone.
MORE of Warner Brother Movie World for Kids
The only time we left WB Kids Zone was to watch the Hollywood Stunt Driver Show and the Street Star Parade at 3.30pm, and to have a quick meander over to watch the boats fall from far above on the Wild West Falls Adventure Ride.
We also took a quick detour to check out the dodgem cars and the Intencity Fun'n'Games area, but I shuffled them on from this area quick smart before they could empty my coin stash.
With the kids wanting to queue up and ride their favourites in the Fun Zone over and over again, we didn't even have time to check out the shops until last minute.
Hot tip: Don't forget the sunscreen and hats. You need both here!
---
RELATED: Big List of Things to do on the Gold Coast with kids
Movie World Kids Rides at Kids WB! Fun Zone
WB! FUN Zone is a zany and magical cartoon world made for the kid in all of us.
Here's a list of the Movie World rides for toddlers.
No.1: Sylvester & Tweety Cages
Fly high above the ground in a Tweety Bird cage.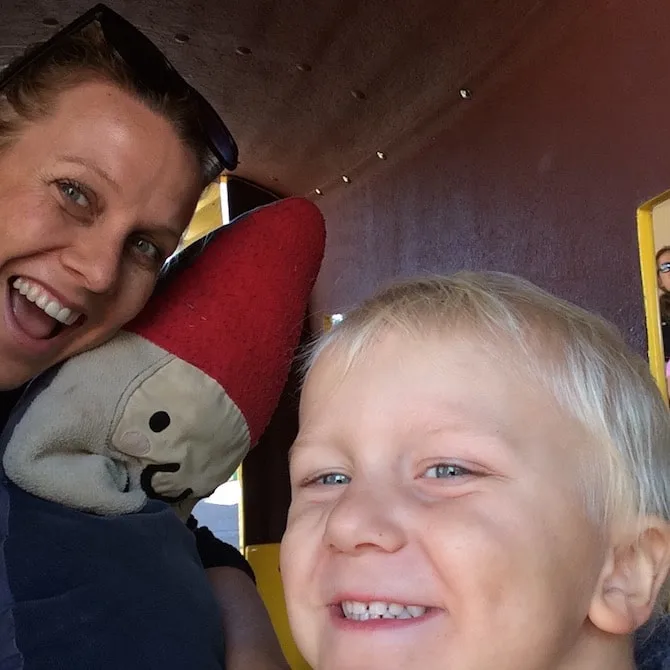 No.2: Yosemite Sam Railroad
Ride the rails around Monument Valley in a covered train wagon, or out in an open car carriage.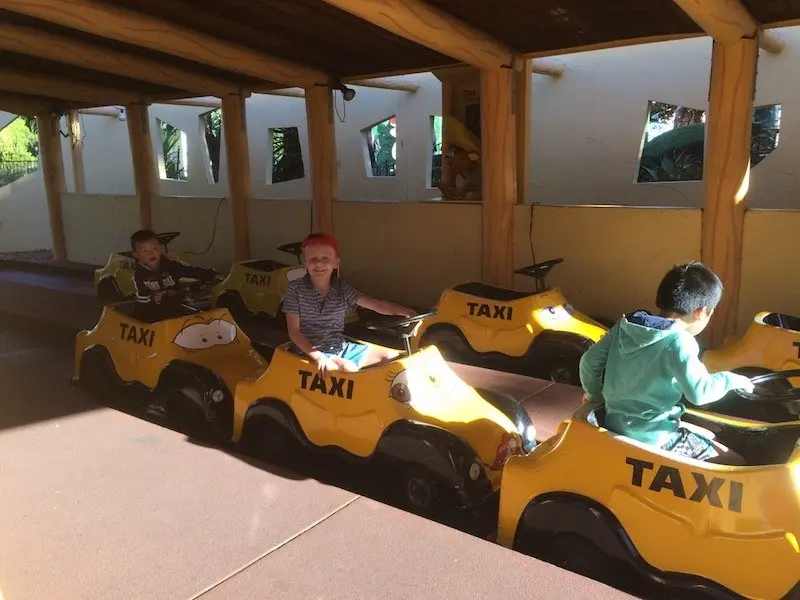 No.3: Speedy Gonzales' Tijuana Taxis
Arriba, Arriba, push that pedal to the metal, little one.
These yellow taxis are driven by the kids around a concrete track. They need to be able to hold the pedal down for the distance.
3 year old Jack managed, once he got the hang of it!
No.4: Sylvester's Pounce'n'Bounce
A kid's version of the Giant Drop, with unexpected bounces up, and down.
Fun!
(See pic at top)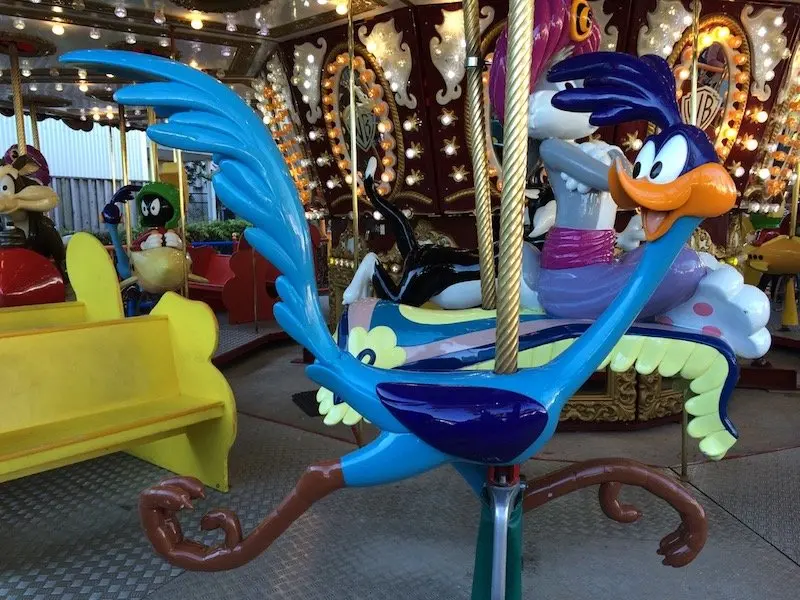 No.5: Looney Tunes Carousel
Choose your favourite Warner Brother character, and ride away on this Warner Bros Carousel ride.
This is a favourite Looney Tunes ride for the whole family.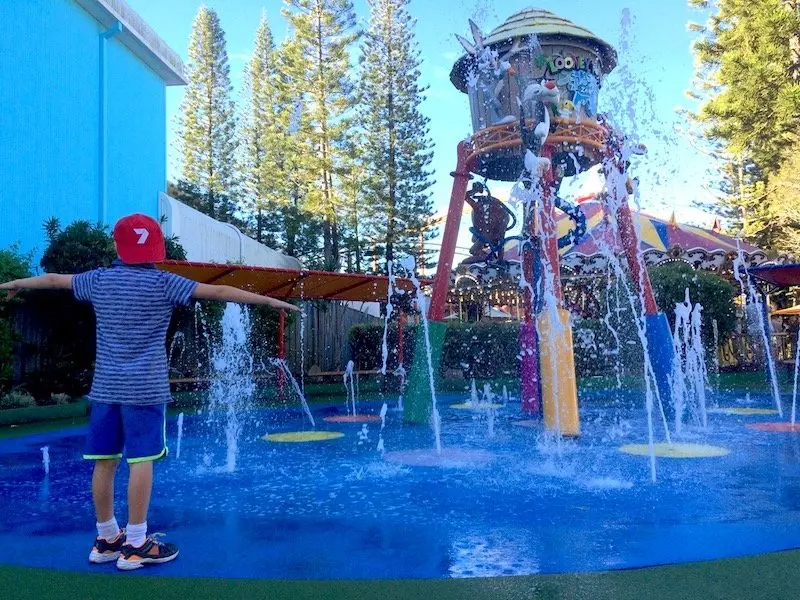 No.6: Looney Tunes Splash Zone
Free water park fun at this Gold Coast splash pad.
It's small but effective on a hot Gold Coast day.
BYO towel, swimmers, and change of clothes.
No.7: Road Runner Rollercoaster
Definitely not one for the scaredy cats!
It's fast!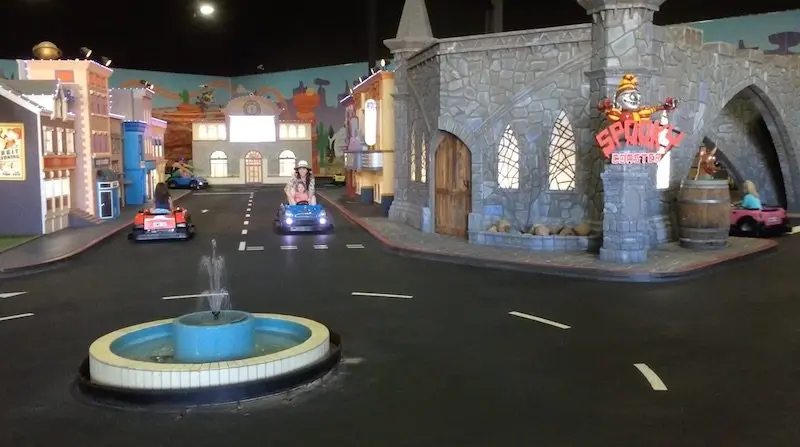 No.8: Junior Driving School!
Junior Driving School is a kids-size driving track for the little ones, mirroring the layout of the real Warner Brother's Movie World.
Jump in a car today.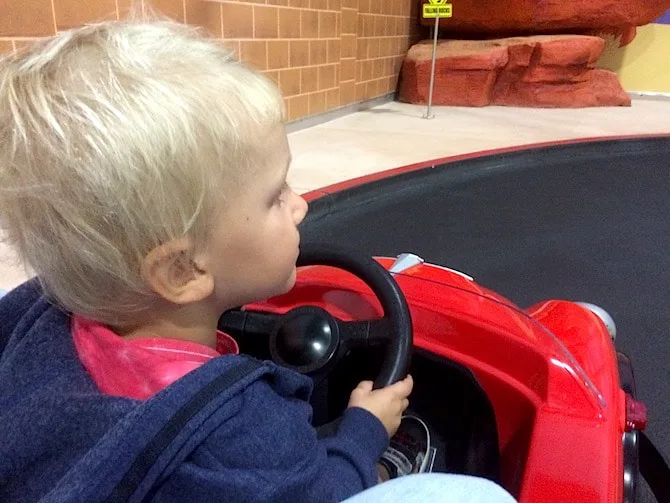 Drive Yourself Kids cars
Adults can drive a car too, so you can wave at one another as you pass.
It's our family favourite.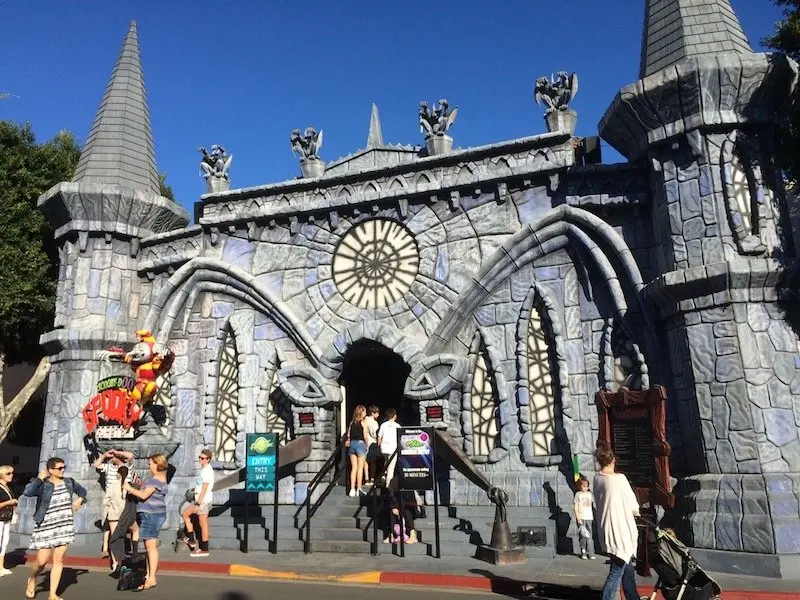 Hot Tip: Best Rides for Adults at Movie World Gold Coast
The best adult rides at Movie World are:
DC Rivals Hypercoaster
the Green Lantern coaster
The Batwing Spaceshot
Doomsday Destroyer
Justice League 3D ride
the Scooby Doo Spooky Coaster, and
Superman Escape (accelerator launch coaster)
Arkham Asylum Coaster (suspended looping coaster)
If YOU, or the adults in your group want to spend all day riding the BIG rides make sure you have at least one person in the family group who is happy to stay with the toddlers and preschoolers here while you wait in line.
Then everyone will be happy!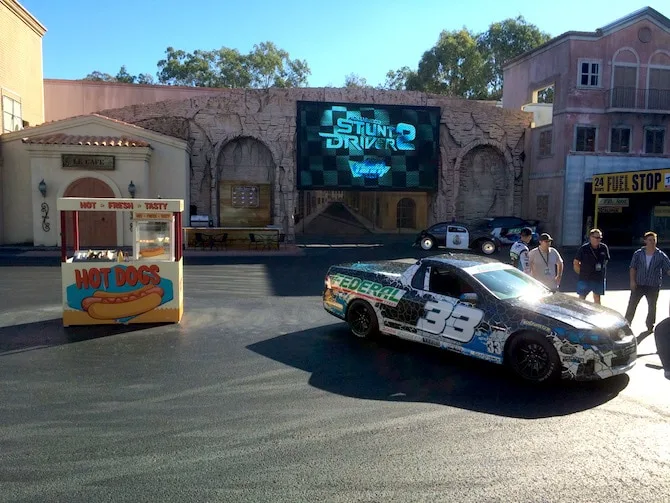 Best Movie World Shows for Kids
No.1: Hollywood Stunt Driver Show
Don't miss the Hollywood Stunt Driver Show.
Hot tip: When you see the camera pans over the audience, do something a bit silly. Dance. Wave your arms. Cajole them into dancing too. The kids will LOVE it when they are on camera for the whole audience to see!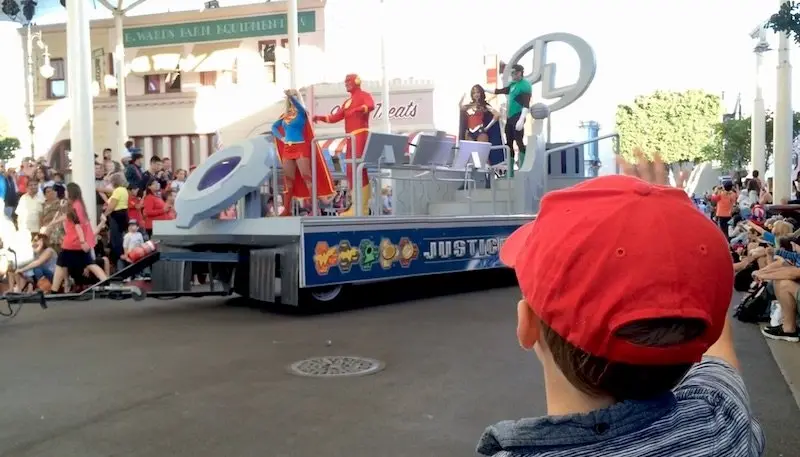 No.2: Movie World Character Parade
The Streets Star Parade is an all-dancing, all-singing extravaganza featuring all the WB Looney Tunes and DC Superhero favourites (and villains):
Bugs Bunny
Daffy Duck
Tweety
Sylvester
Wile E. Coyote
Batman
Catwoman, AND
Scooby Doo, Shaggy and the Gang.
Hot tip: Take a seat near the red curtain and you'll be in prime position.
No.3: Meet and Greets at Movie World
Meet Tom and Jerry, see the Batmobile cruising about, meet Batman and Robin, the Joker and Harley Quinn, and Dorothy from Wizard of Oz too.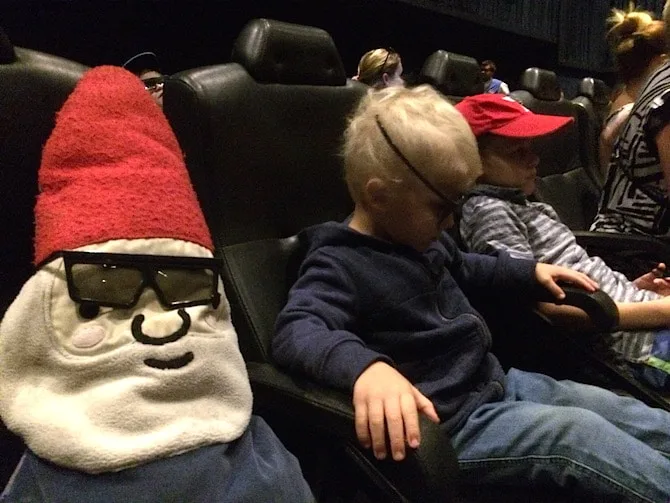 No.4: The 4D Movie Adventure – Yogi Bear
Visit the Roxy Theatre for a SUPER FUN 4D adventure featuring the classic and zany adventures of Yogi Bear and friends.
Hot tip: The movement of the seats was scary and unexpected for 3 yo, especially as they must sit in their own seat and can't sit on your lap. Jack and he freaked out.
If you suspect the same thing might happen, there are motionless seats in the back row that still hiss and spray water without the rocking, so you don't miss all the fun!
Ask an attendant for directions.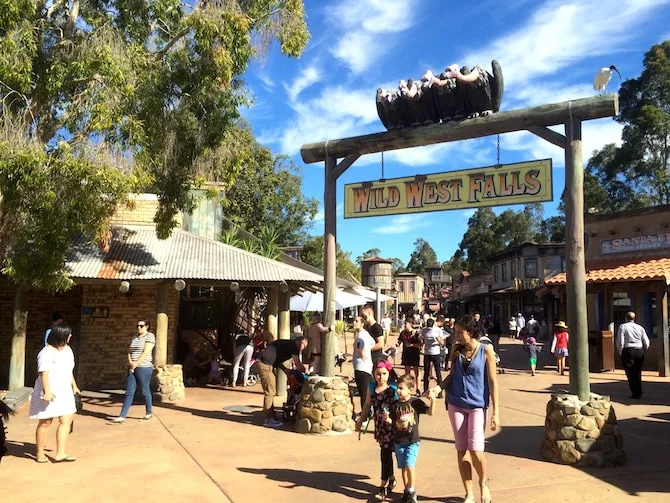 Old Time Games Arcades
County Fair Fun'n'Games area
Play and win great prizes on all your favorite traditional carnival games.
Look out for the games where every player wins a prize!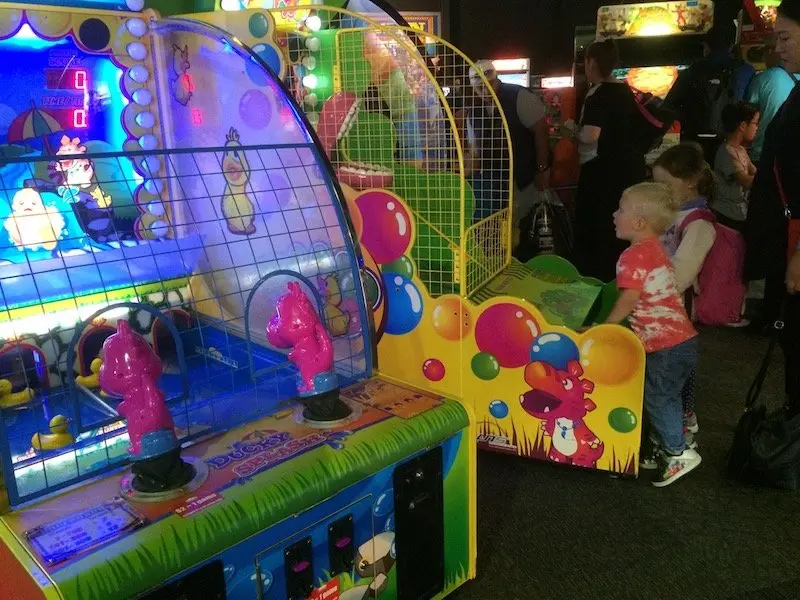 Intencity Fun'n'Games
Test your skills on:
electronic arcade games
racing cars and motorbikes
claw machines, and
amusements where you 'bop' the stuff.
Win tickets (on selected games), and pick from a great range of redemption prizes!
(Watch your hip pocket. Games not included in admission price.)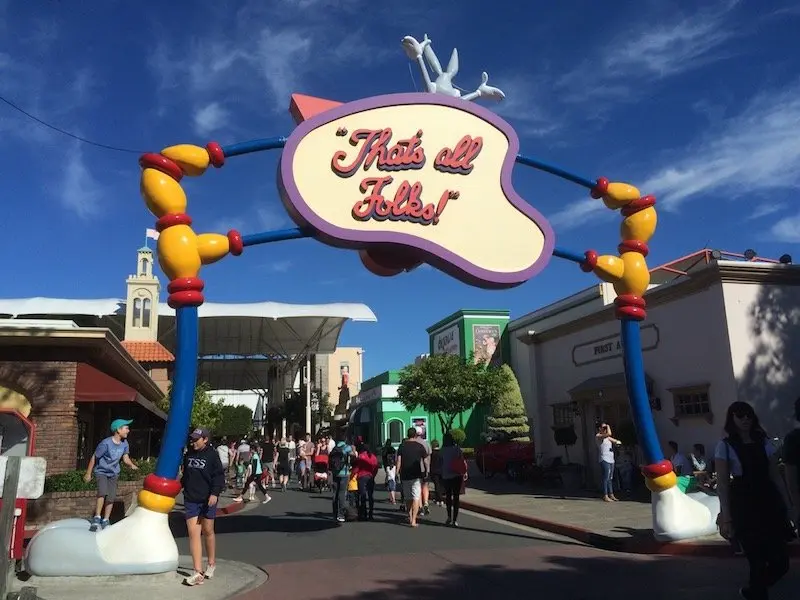 What to eat at Movie World?
There are (expensive) eateries throughout the park.
Choose from:
Burgers and chips at Prime Burgers Gotham City Cafe
All you can eat pasta, pizza and salad at Ricks Market Place
Snacks, cold drinks, and coffee at Village Bean Coffee House
Sandwiches and wraps at Main St Deli
Ice creams from Ben and Jerry's Ice Cream shop
Frozen Coke Kiosk
Santa Fe Dogtown for huge gourmet hot dogs, and soft drinks
Tacos, burritos and nachos at Dirty Harry Bar and Grill
There's a few seasonal kiosks around the park as well.
Hot tip: Check the website for current meal deals before you commit to buying lunch.
Save money by bringing your own snacks, and drinks.
BYO water bottle.
Fill them at stations throughout the park.
Need we say 'Ben and Jerry's"?
If you've never tried it, stop what you are doing and RETRACE your steps. There is NO comparison in the ice-cream world.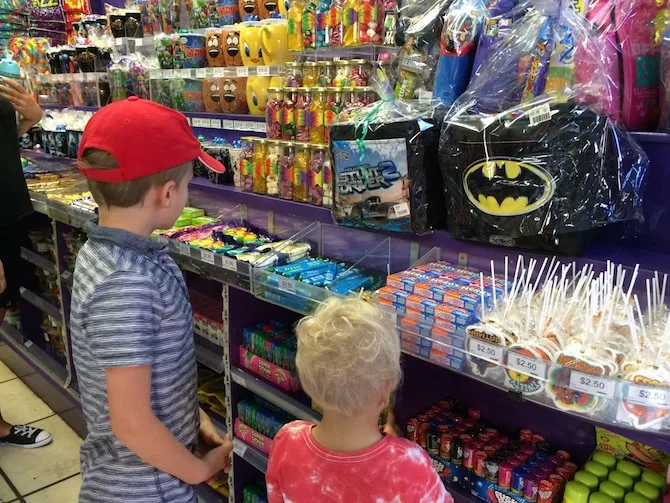 Shopping at Movie World
No.1: Charlie and the Chocolate Factory Candy Store
If you're game, the kids will LOVE Charlie and the Chocolate Factory's Candy Store.
Just like the lolly shop in the movie, everything's delicious!
Find lollies and candy from all around the world.
My boys loved the Sour Pucker Powder.
(Fun Mums Rule!)
No.2: Kids' WB!
Kids' WB! Toys and Gifts have a huge range of official LOONEY TUNES gifts, soft toys and clothes, just for kids.
Hot tip: $10 superheroes caps. Buy of the day if you are looking to get away with just ONE souvenir purchase per kid.
(Located on the right hand side of the road right near the entrance to Kids' WB! Fun Zone.)
No.3: Superman Store
One for the Superman Fans – you must stop by the SUPERMAN Escape Store.
There's a super dooper selection of SUPERMAN Escape merchandise for all ages, including:
T-shirts
hats
toys
key-rings
boxer shorts
mugs and f
fantastic baby romper suits (complete with red capes!)
Two of the BEST Movie World Shops
Hot tip: There are two popular shops for kids.
The Original Graffix is where you can buy your very own custom airbrushed cap, a hot item for cool kids.
The Hair Wraps and Braids shop is where kids can get their very own Mermaid Hair braids done.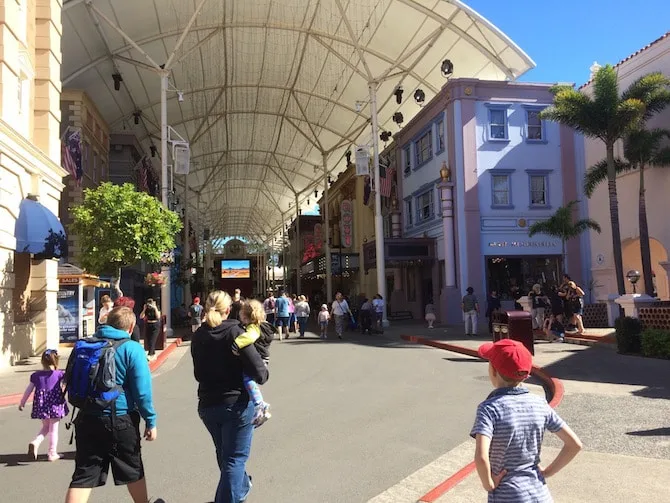 THE INSIDE SCOOP: Movie World Oxenford
Correct at time of publication on Roam the Gnome. Please check with venue for updates. We apologise in advance if there have been any changes we are unaware of. All prices in AUD dollars, unless otherwise stated
Movieworld Address: Warner Bros. Movie World, Pacific Motorway, Oxenford, Gold Coast
Telephone: 13 33 86
Website: Click here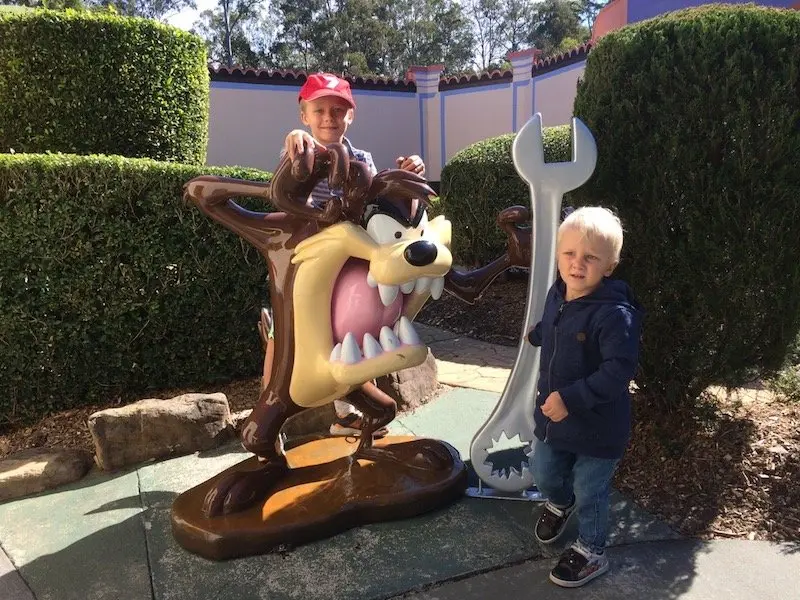 Movie World Opening Hours
Movieworld opening hours are:
9.30am to 5.30pm daily
Rides and attractions are open from 10am to 5pm
There are exceptions to the rule, when there are special events on. Check website for details.
Movie World closing time
Gates shut at 5.30pm. Be sure to have finished all your shopping before you go.
Movie World Prices
Movie World Tickets at the gate for families cost:
Adults $109
Children $99
Pensioners $99.
Save money by buying day passes online before you travel.
Movie World Discount Tickets – 3 Day Pass BEST VALUE
If you have the time to visit more than one of the Gold Coast theme parks during your stay, the best value is a 3 Day Pass.
This includes unlimited entry for 3 consecutive days to these three parks:
Warner Bros. Movie World
Sea World and
Wet n Wild
There's also the 7 day pass, and a 14 day pass. (14 day pass also includes Paradise Country entry)
Hot tip: Check Groupon, and Scoopon for single day discount tickets available during your stay.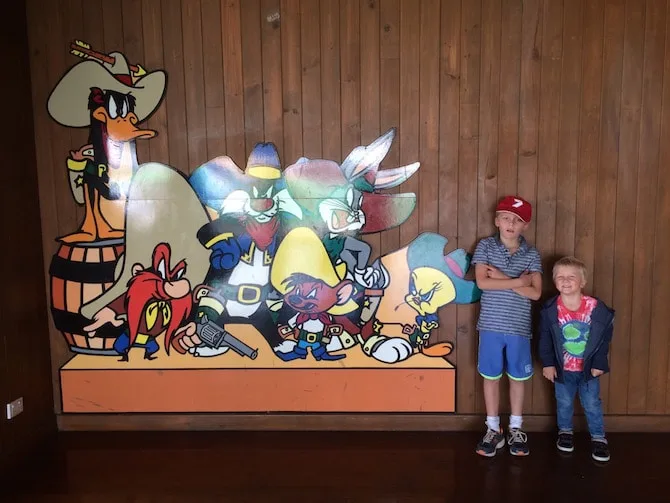 How to get to Movie World Gold Coast
Find Movie World Directions below.
By Bus:
Catch the 720, the TX1, or the TX2
Details of routes here.
By Train:
Closest station is Helensvale. Walk or catch a taxi or a bus connection to the park.
By Car:
From Surfers Paradise: drive along the Gold Coast Highway to Smith Street and follow the signs to Brisbane and the Pacific Motorway. Take exit 60 to Warner Bros. Movie World.
From Brisbane: follow the signs to the Pacific Motorway and the Gold Coast. Take exit 60 to Warner Bros. Movie World. Free car parking is available at the front of the park. Brisbane to Movie World takes approx 40 minutes from the CBD.
Hire Car Hot Tip
Thrifty Car & Truck Rental offers all Warner Bros. Movie World guests 10% off their vehicle hire.
Visit thrifty.com.au and quote promo code 'THEMEPARK' at time of booking.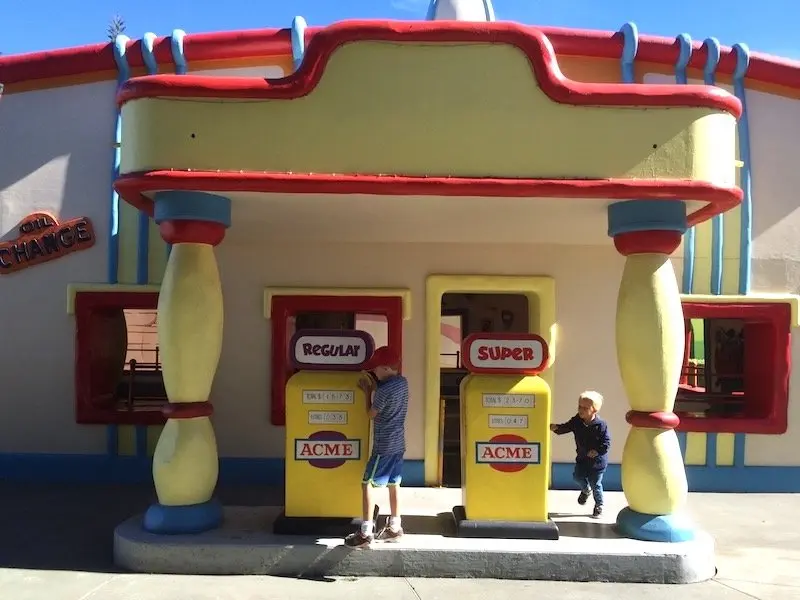 Movie World Parking
There's a HUGE car parking lot out the front of the theme park, and it's free.
Do not leave valuables in your car.
The Movie World entrance is at the front of the car park, near the purple rollercoaster.
Movie World Map
Facilities at Looney Tunes Movie World
Public Toilets: Yes
Baby Care rooms:
There are two Baby Care/Parent Rooms
Find them located in the rest rooms behind the Batman 75 shop, and in the rest rooms in the Kids' WB Fun Zone.
Strollers: A limited number of strollers and wheelchairs are available for rent at Guest Services.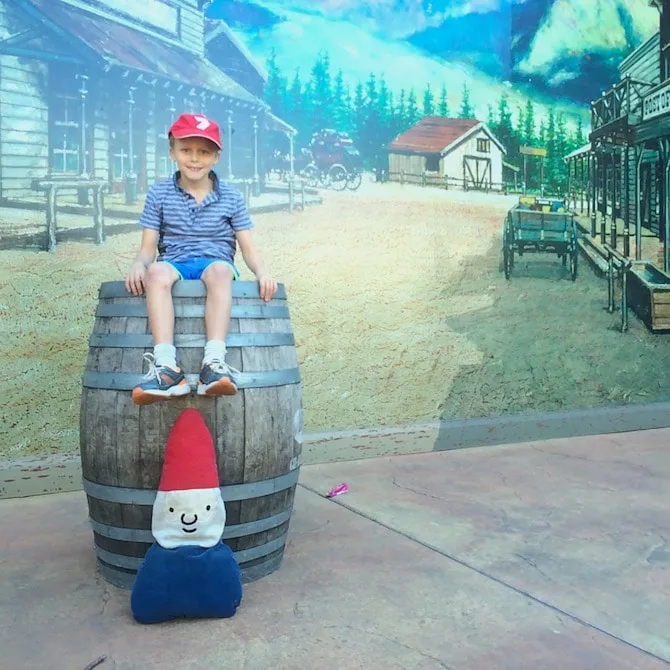 Lost children: Lost children and parents need to be reported to Guest Services located in Main street.
Hot tip: Pop your business card in a pocket of your children's jeans or shirt, so they have your phone number on them.
Movie World Height restrictions: Click here for details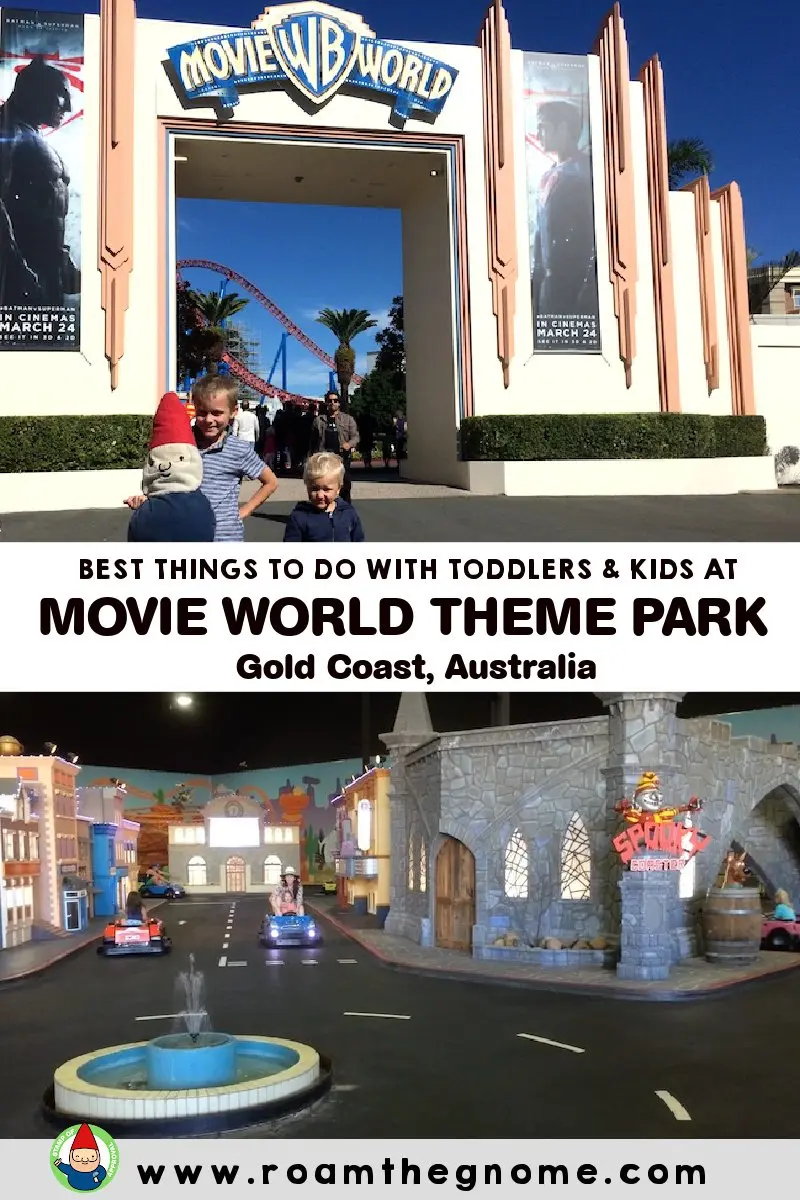 Toadstool Rating: Movieworld for Toddlers
Great fun to be had. Only downside is the lack of shade.

Looking for Gold Coast attractions for Kids?
Click the blue links for more Gold Coast ideas