INSIDE: Roam the Gnome's Review of the Southport Broadwater Parklands kids bike tracks Gold Coast
Looking for free activities for kids on the Gold Coast?
Or perhaps simply looking for a new adventure?
Try this Super Dooper Fun Bike-Riding Track in Southport at one end of Broadwater Parklands!
If you have your bikes with you, then this Bicycle Track Obstacle Course must be on your list of things to do.
It's the only dedicated kids bike tracks Gold Coast has to offer for toddlers, preschoolers and primary aged kids.
Find all the details below, including where to find it.
Disclosure: This article contains affiliate links. If you make a purchase after clicking on one of these links, we may receive a small commission at NO extra cost to you.
Guide to the Best of the Kids Bike Tracks Gold Coast Australia
Navigate the obstacle track on your bike without stopping or falling off!
Located on the waterfront opposite Australia Fair Shopping Centre, this obstacle course bicycle track is one of a kind on the Goldie.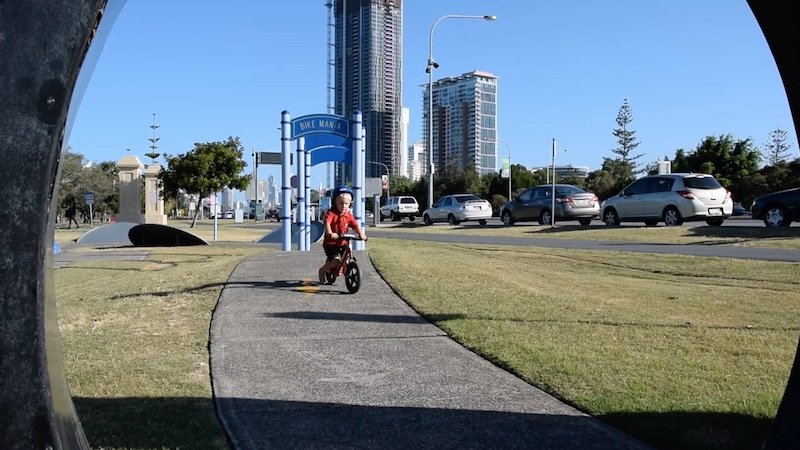 BYO Bikes and scooters
The kids will need their own bikes – sadly, there's no hire facility – but if you do have your bikes with you, Roam the Gnome and the boys would say "Go now!"
---
RELATED: Big List of Things to Do on the Gold Coast with Kids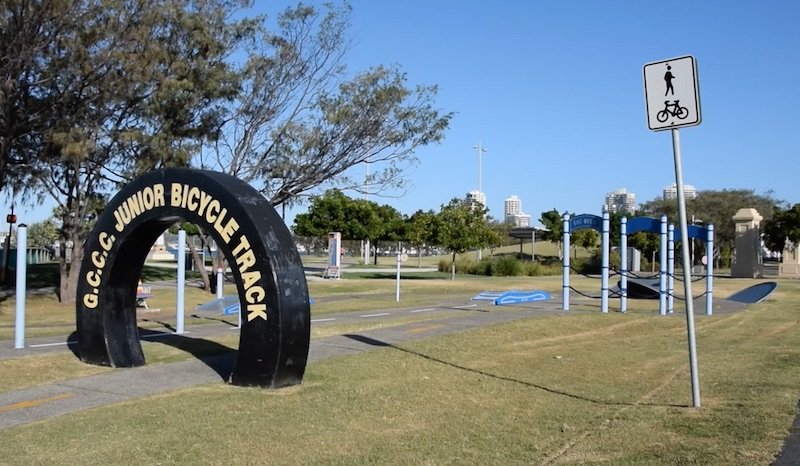 Gold Coast Kids Bike Track Equipment
These bike tracks for kids have:
poles to weave in and through
ramps
wobble boards to cross
a big dipper to traverse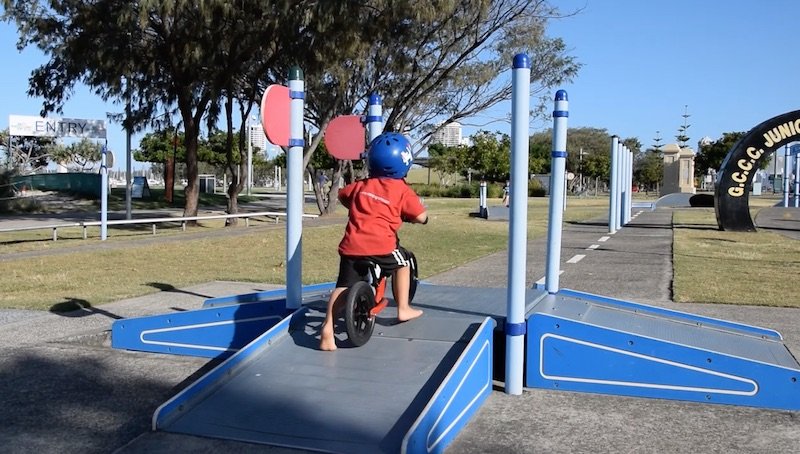 Crossways
There's a four way cross road so kids have to learn to navigate around one another coming and going.
Plus ramps at one end, so they can ride up, around and down, like at a skate park.
Although this also makes for a good parkour spot for toddlers!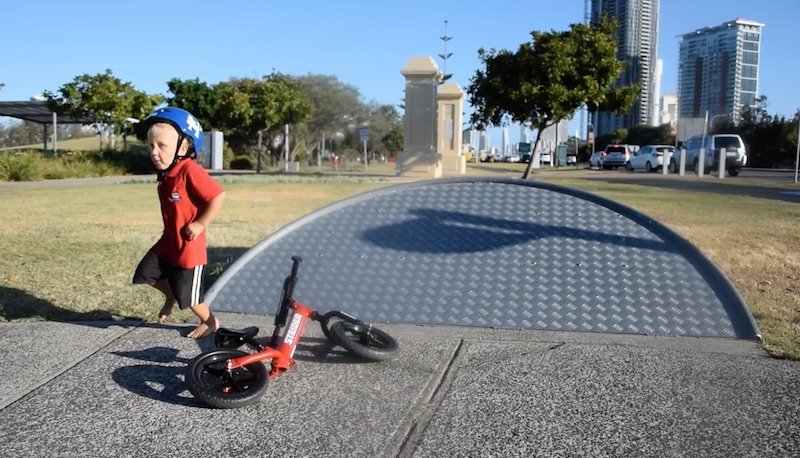 Gold Coast Bike Rides for Kids
The best thing about this bicycle track is that it is located within the huge expanse of the Broadwater Parklands precinct at Southport.
When you've finished with the bike track, there's heaps of other free stuff to do too, including more of the family bike rides Gold Coast has to offer, up and down the riding track along the coastline from Southport to the Spit and Main Beach, or down to Mermaid Beach and Burleigh Geads.
Or towards Biggera Waters and Paradise point.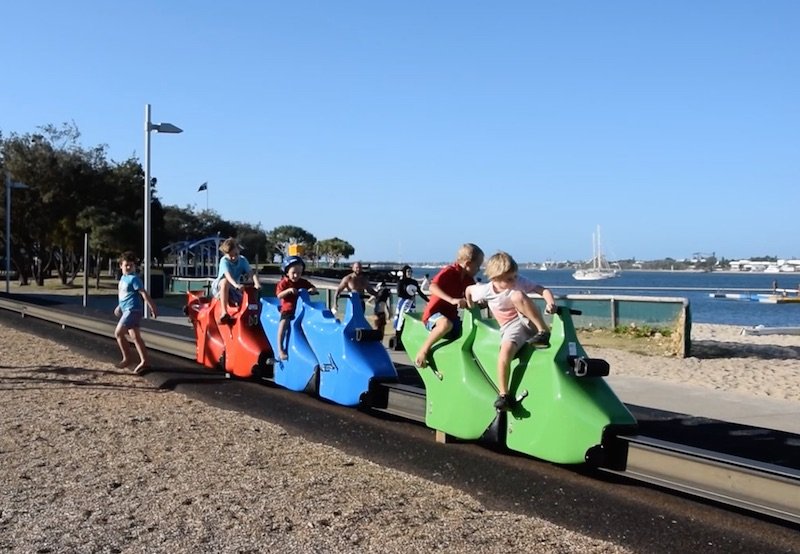 Broadwater Parklands Playgrounds
Make a day of it as the Broadwater Parklands playgrounds are GREAT fun.
There's:
a GIANT Jumping Pillow
a "Monorail Bikes" playground with a zipline swing (find it between the Bike Track and the Jumping Pillow)
Rotating pedal swing and other balancing equipment in a small playground on the right hand side of the Jumping Pillow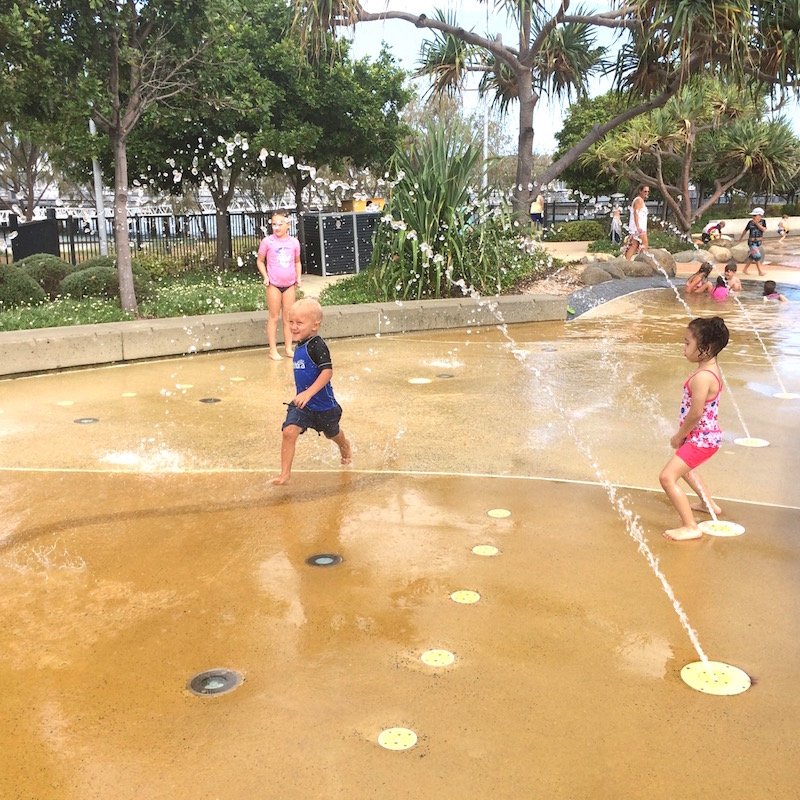 MORE fun at Southport Broadwater Parklands Precinct
Broadwater Parklands Events
Plus, there's always something happening at Southport Broadwater Parklands, particularly on weekends.
Monster Truck rides
pedal car rides
Food Truck Feasts
outdoor cinema events
a concert sound stage, and
community festivals.
Click here to see what's coming up!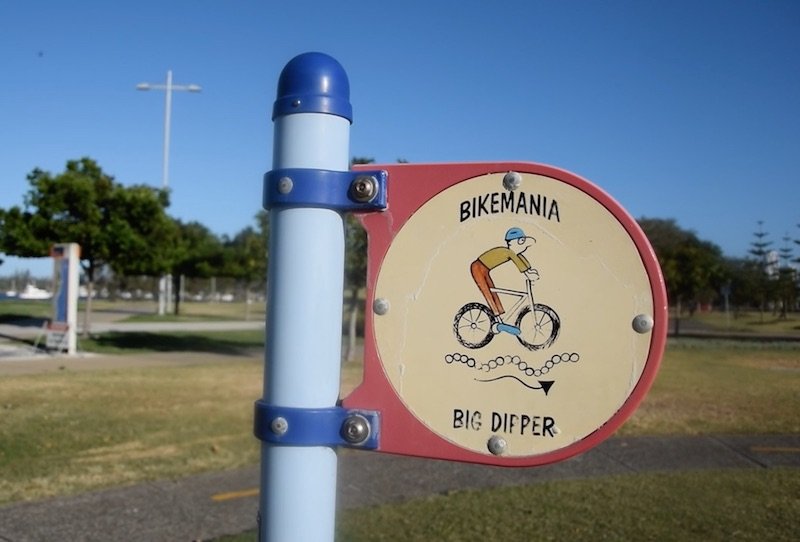 Where to eat at Broadwater Parklands
Broadwater Parklands cafes
The Fish Shak next to the Rockpools is good if you need food in a hurry. Sit on the great lawn in the sun to enjoy it.
Cafe Catalina is a family friendly cafe to the left of the Southport rock pools serves made-to-order breakfast and lunch, but you can also stop in for coffee and cake. We like the view across to Palazzo Versace and Marina Mirage.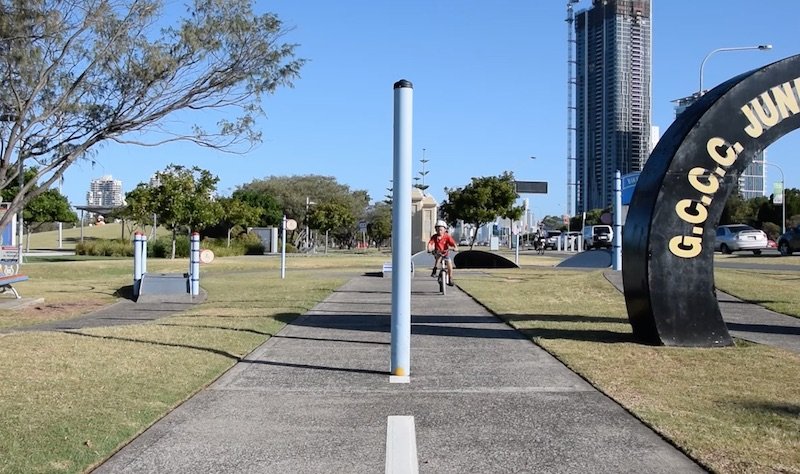 Picnic food
If you prefer to keep costs low, we suggest bringing your own snacks and drinks in an Esky.
There's an abundance of picnic tables, free BBQ's, and grassy spots in the shade so you can save your dollars for more non-food fun!
Local supermarkets
Both Coles and Woolworths supermarkets can be found across the road in the Australia Fair Shopping Centre, along with a Food Court.
Find lots of yummy restaurants and cafes across the highway in the Southport precinct too.
You won't starve!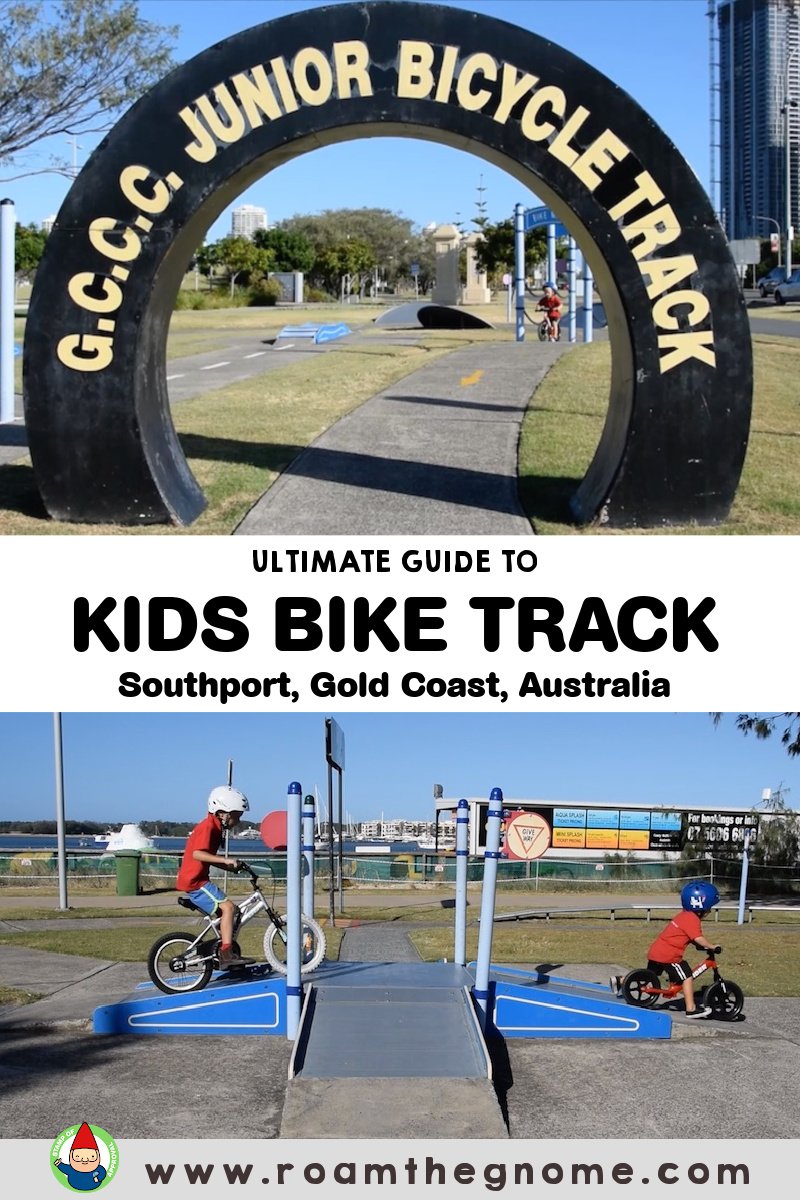 THE INSIDE SCOOP: Kids Bike Obstacle Course Gold Coast QLD
Correct at time of publication on Roam the Gnome. Please check with venue for updates. We apologise in advance if there have been any changes we are unaware of. All prices in Australian dollars, unless otherwise stated
Address: Marine Parade, Southport. Directly opposite Australia Fair shops
Telephone: 07 5581 6984 (Gold Coast city council)
Opening Hours: Sunrise to sunset
Entry Fees: FREE!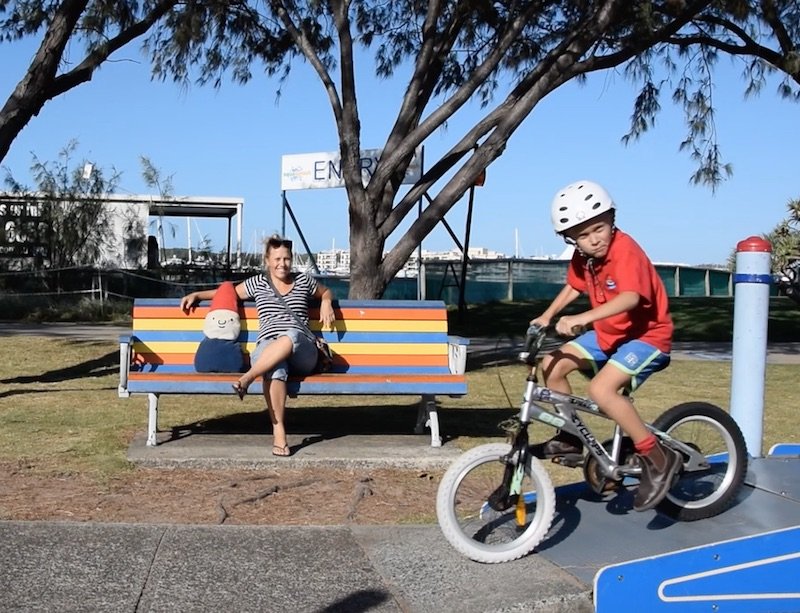 How to get to Broadwater Parklands Southport Gold Coast
By G link:
Catch the G link light rail train from Broadbeach or Helensvale directions.
Disembark at the Broadwater Parklands station.
By Bus:
Surfside buses provide all day bus services up and down the Gold Coast highway, from the M1 and Gold Coast train stations, and stop at Broadwater parklands in Southport.
Click here for the Translink journey planner.
By Car:
Click here for google map directions from your location (Use "Maddie and Mike" statues as your guide to the off street car park next to the Gold Coast bike track.)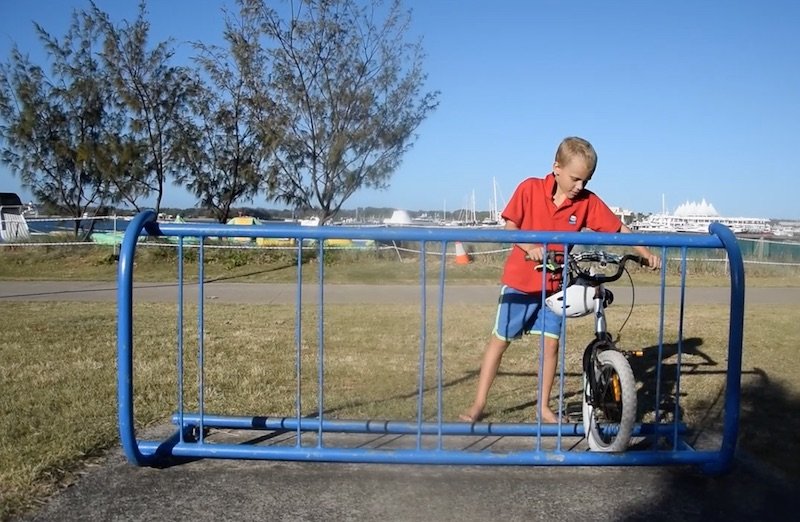 Broadwater Parklands parking (South end of park)
If you are lucky, you might find a spot on the Gold Coast Highway right next to the kids bicycle track in Southport.
If not, drive southbound on the Gold Coast Highway past the bike track (you'll see it) and take the first left you can into the Carpark at the Southern end of the Broadwater Parklands (before the bridge.) It's paid parking but you can pay with a credit card.
The main carpark is located next to the Rockpools. Entry opposite Nind Street. You'll see the big Broadwater Parklands sign. Drive around past the pool until you find the main carpark. Paid parking applies. Credit cards can be used.
Map of Anzac Park Southport QLD
Facilities at Gold Coast Bike Playground
Toilets:
There's a few toilet blocks throughout the Parklands.
To find the closest ones for the Bike Track, head south towards the Sundale bridge.
You'll see a small building in front of the small carpark. There's two there.
There's also another set of hexagonal shaped toilet booths on the opposite side of the Jumping Pillow (but the wait will be longer!)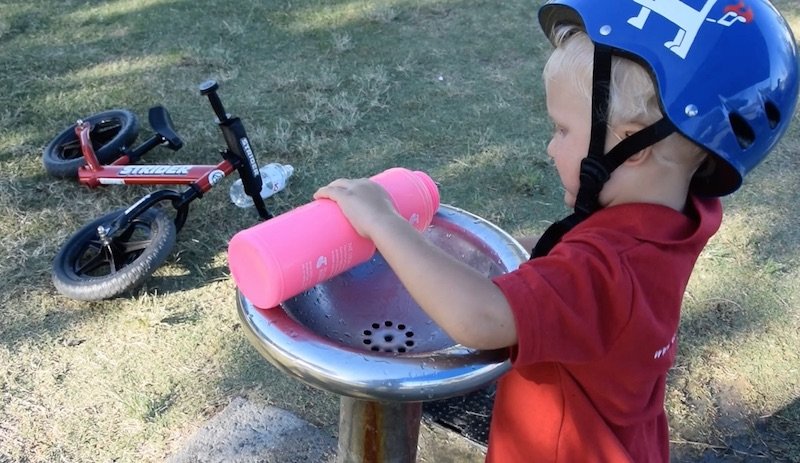 Shade: No
Enclosed: No
Picnic tables: Nearby, or lots of grass for a picnic!
Electric BBQs: Nearby
Water Bubblers: Nearby
Scooters and Bikes: Yes
Lockers: No
Dogs: On leash only
Toadstool Rating: Gold Coast Bike Ride Park

Looking for MORE things to do in Southport with kids (and nearby)?
Click the blue links below for more Gold Coast ideas