INSIDE: Everything you need to know about Mt Cougal National Park on the GC.
Did you know there's MORE rock pool fun (and less crowds) just 6km past Currumbin rock pools in Currumbin Valley on the Gold Coast.
Take the kid-friendly walking track at Mt Cougal National Park to the Cougal Cascade waterfall, and find lots of places to dip your toes in along the rocky water courses.
Bring swimmers, towels, and a shaker of salt, just in case you become tasty to a leech or two.
Find all the details of this natural wonder, and how to get to Mt Cougal below.
Disclosure: This article contains affiliate links. If you make a purchase after clicking on one of these links, we may receive a small commission at NO extra cost to you.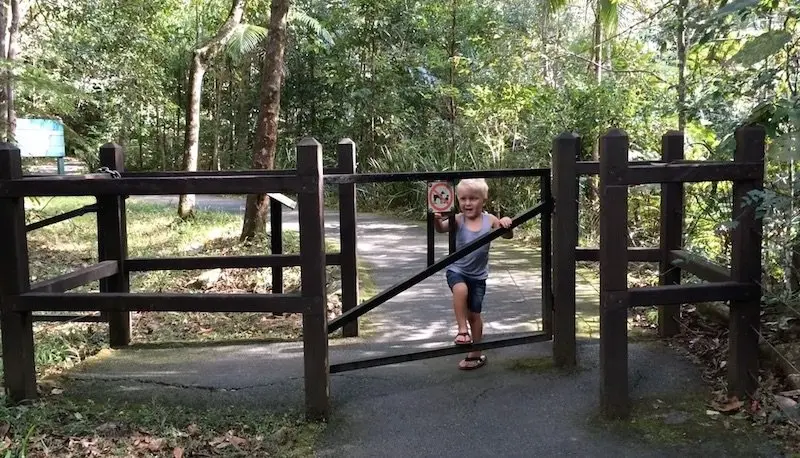 Guide to Mt Cougal National Park Gold Coast
While we probably wouldn't make a specific journey here to Mt Cougal National Park Rock Pools, it's good as an add-on "make a day of it" stop just 6km past the Currumbin Rock Pools.
---
RELATED: Big List of Fun Things to do on the Gold Coast with kids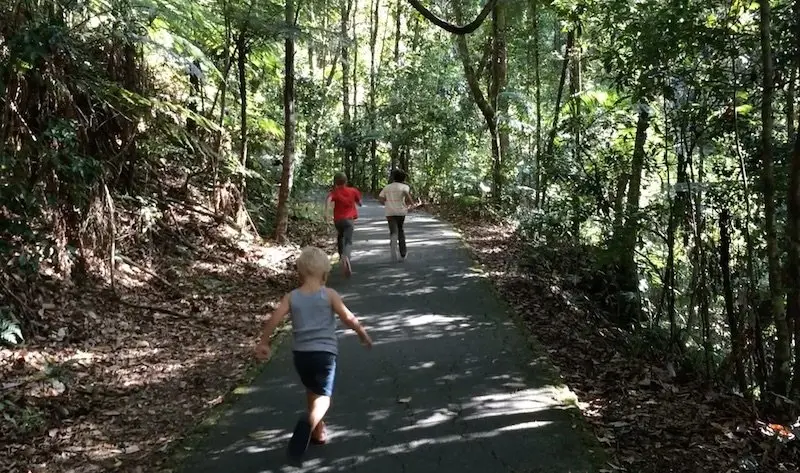 Mt Cougall National Park entrance
There's a small car park at the end of the road.
Hot tip: Take all your valuables with you (cameras, phones, wallets etc) as the isolated area of the car park has been known to attract thieves as it's out of the way, and presents an opportunity.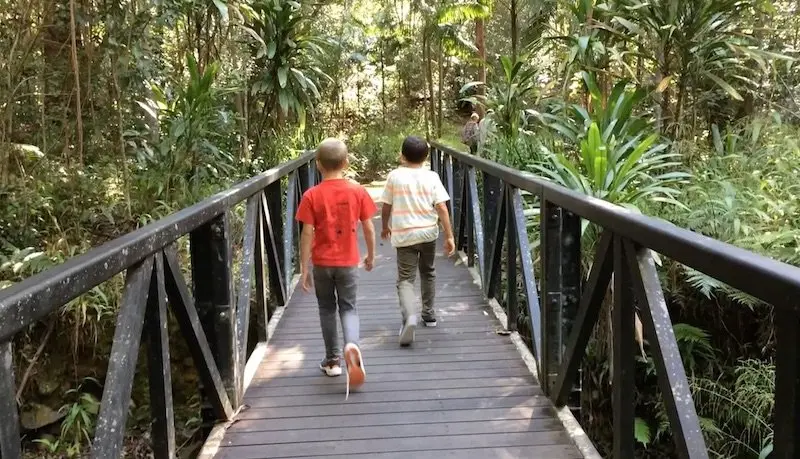 Mt Cougal National Park bridge
There's a really easy, flat paved pathway that meanders through rainforest, over a bridge, and all the way to a semi-restored Old Timber Mill.
Carry a bottle of water.
The walking track is 1.6 km long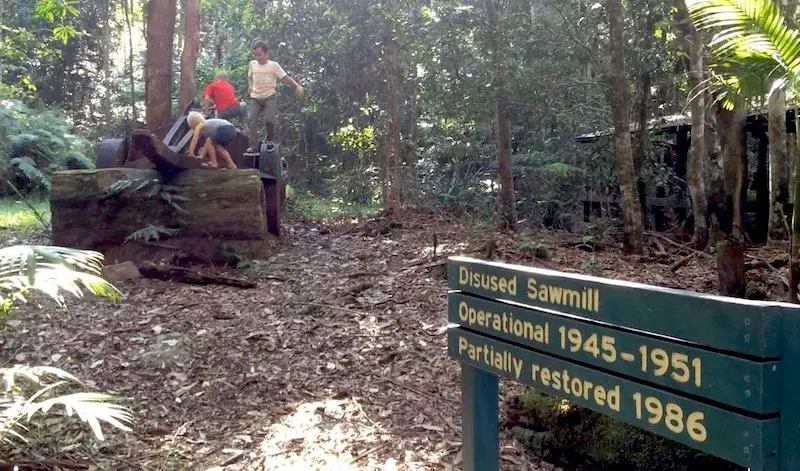 Mt Cougal Old Timber Mill
The Mt Cougal sawmill is a great place to let the kids run off a bit of steam in the bush, with the added bonus of a bit of Gold Coast history.
Read the information panels as you pass.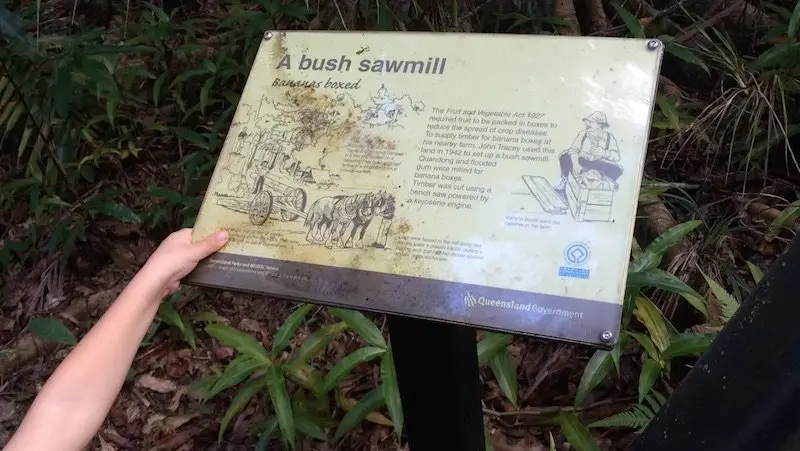 Mt Cougal Banana Plantation
This area was once a Banana plantation!
Not that you'd ever believe it today.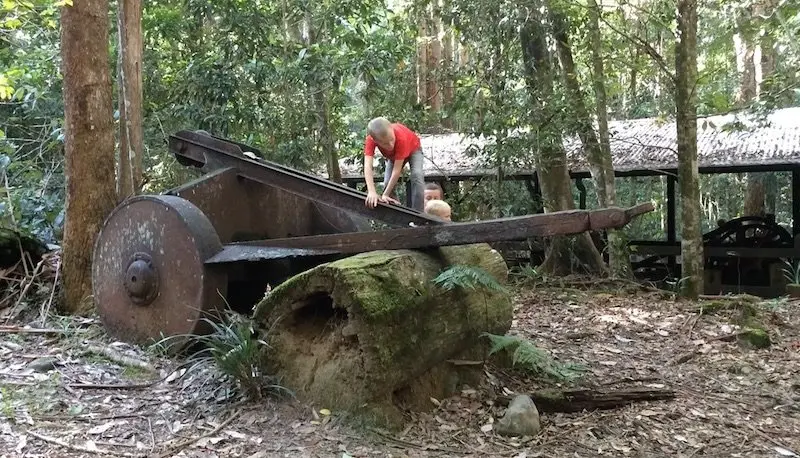 Mt Cougal Sawmill hut
There's some old sawmill equipment in the old hut.
As well as LOTS of moss covered logs that the kids love to clamber over.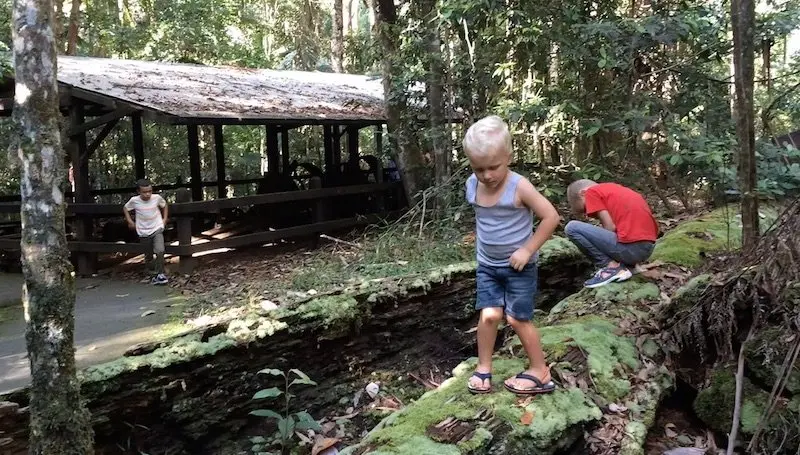 Ants!
Watch out for biting ants.
Hot tip: BYO Stingose, just in case.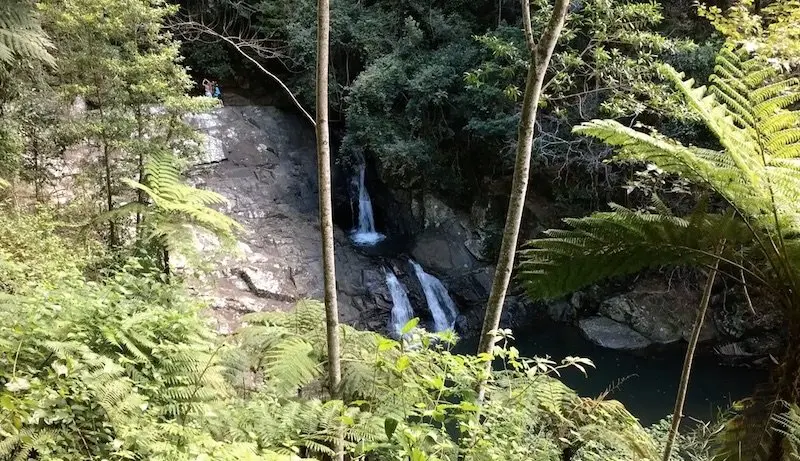 Mt Cougal Cascades Track
On the right side as you walk up, you'll see quite a few access points to get down to the running water.
The first access path takes you down to the impressive sheer cliffs of the Mt Cougal waterfalls, alt. called the Cougal Cascades (if you dare).
Climb down the trail carefully.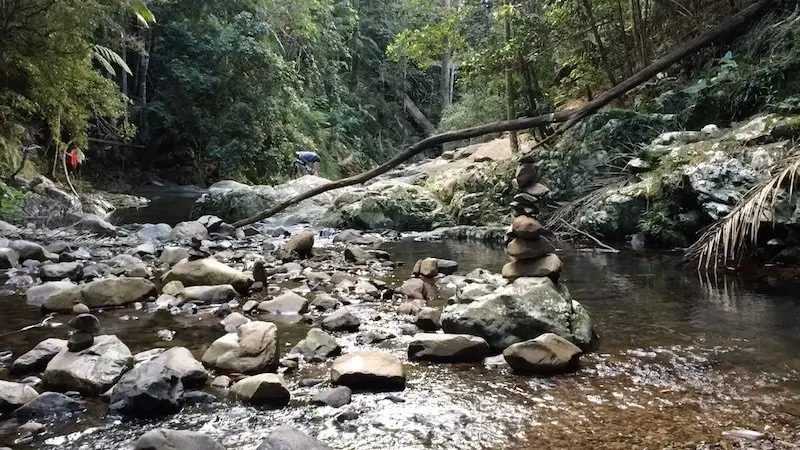 Mt Cougal swimming holes
Or wander up the path a little to find about 3 or 4 other access points that get you down to more sedate areas where children and families can take a little dip, or play on the rocky banks.
Do watch out and take extra care on the slippery rocks with the kids.
The nearest public phone is back at the Currumbin Rock Pools, and mobile reception may not be super strong here.
Mt Cougal Cascades afternoon light
If you are there in the mid afternoon, the LIGHT is spectacular.
Golden rays penetrate the trees above and create all kinds of magical illusions!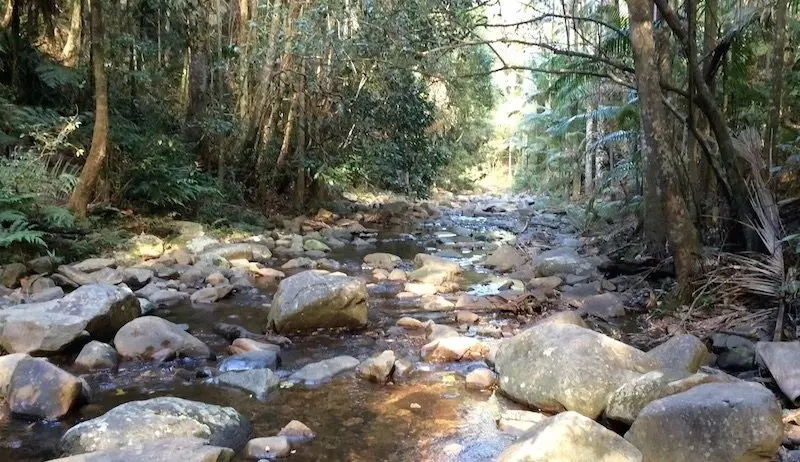 Nature Play at Mount Cougal National Park
This is one of the best spots on the Gold Coast for a bit of nature exploration for kids.
Toddlers, preschoolers and older kids love to leap from rock to rock, build rocky dam walls and direct the water where they want it to go, and build rock cairns and cubby houses.
Bring LOTS of snacks and water.
You aren't going anywhere fast with views like this.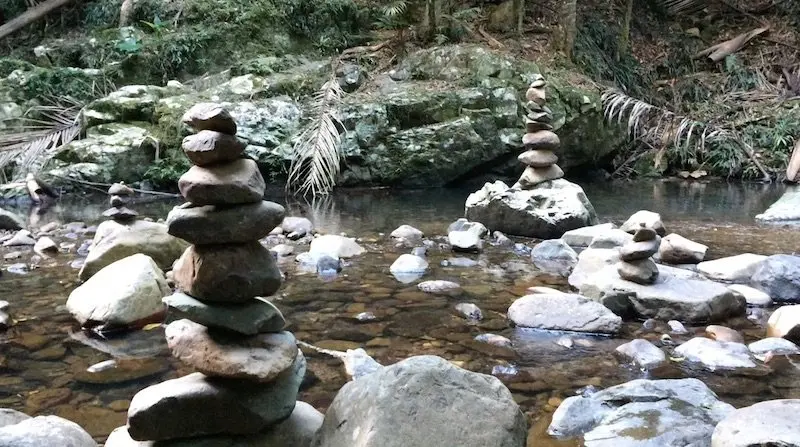 Where to eat at Mount Cougal Falls
BYO picnic food, and plenty of water.
There's no shops anywhere near here!
The closest cafe is the one opposite Currumbin Rock Pools.
Hot tip: Check out our guide to the best healthy snacks and food for picnics and road trips. There are fantastic ideas in here that you'll love.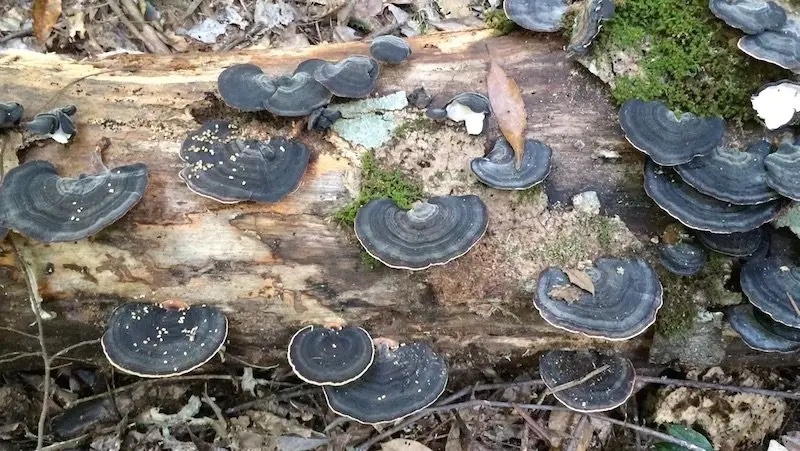 THE INSIDE SCOOP: Mt Cougal Springbrook national Park
Correct at time of publication on Roam the Gnome. Please check with venue for updates. We apologise in advance if there have been any changes we are unaware of. All prices in Australian dollars, unless otherwise stated
Where is Mount Cougal?
Address: Very end of Currumbin Creek Road, Currumbin Valley
Telephone: 137 468
Website: Click here
Opening Hours: Daylight hours
Entry Fees: FREE!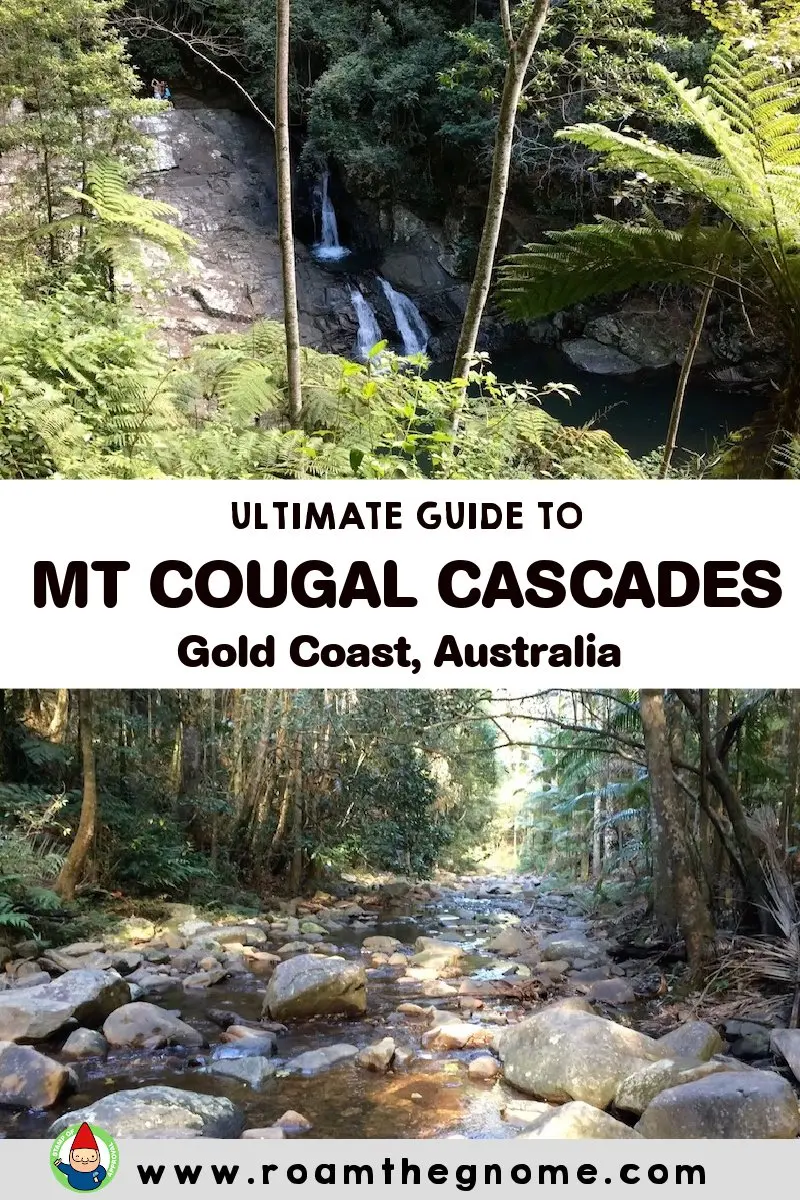 How to get to Mt Cougal National Park (Springbrook National Park)
By Car:
Exit the Gold Coast Highway at either Duringan Street or Thrower Drive and follow the signs inland to Currumbin Creek Road (State route 95).
Alternatively, exit the Pacific Motorway to head west on Stewart Road and turn left onto Currumbin Creek Road at the T-intersection.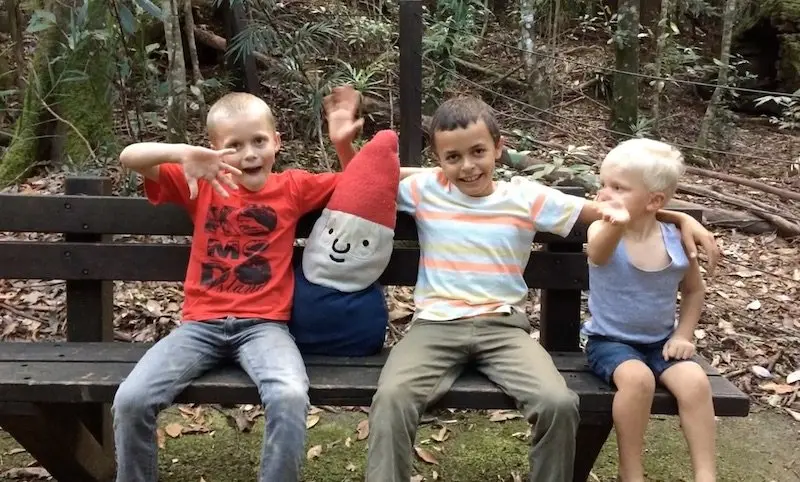 Mount Cougal Parking
The Cougal Cascades car park and picnic area is at the end of Currumbin Creek Road.
Approximately 18km from the Stewart Road intersection.
Parking is free.
Map of Mt Cougal Currumbin Valley
Facilities at Cougal Cascade Currumbin Valley
Toilets: Yes
Shade: Yes
Enclosed: No (watch the toddlers and young children near open water, and slippery rocks)
Ground cover: Rocks, bitumen pathways
Picnic tables: Yes
Electric BBQs: TBA
Water Bubblers: No
Scooters and Bikes: No
Lockers: No
Dogs: No
Toadstool Rating: Mt Cougal Walk

Looking for more things to do on the Gold Coast with kids nearby?
Click the blue links below for more Gold Coast tips