INSIDE: Try ALL the fun stuff at Bounce Gold Coast.
BOUNCE Inc Gold Coast is NOT just another trampoline park.
There's a bonus attraction at Bounce Burleigh Heads reserved for kids and adults over 125cm tall.
Their modern parkour park is a fun addition to all the other Bounce activities kids love.
Check out the Bounce trampoline place, and get all the details including how much does Bounce cost, and how to get there, below.
Disclosure: This article contains affiliate links. If you make a purchase after clicking on one of these links, we may receive a small commission at NO extra cost to you.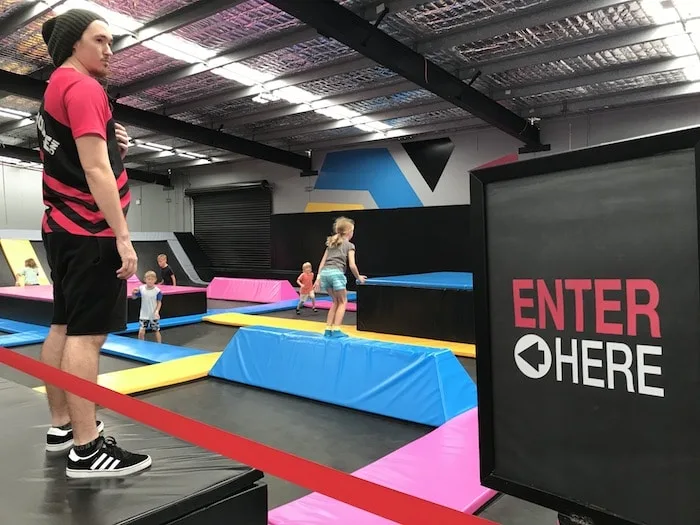 Ultimate Guide to Bounce Gold Coast
Bounce trampoline park merged with the former Air Factory trampoline park that was on the site.
Now, Bounce Inc trampoline park is the largest trampoline park on the Gold Coast.
---
RELATED: Ultimate List of the BEST Things to Do on the Gold Coast with Kids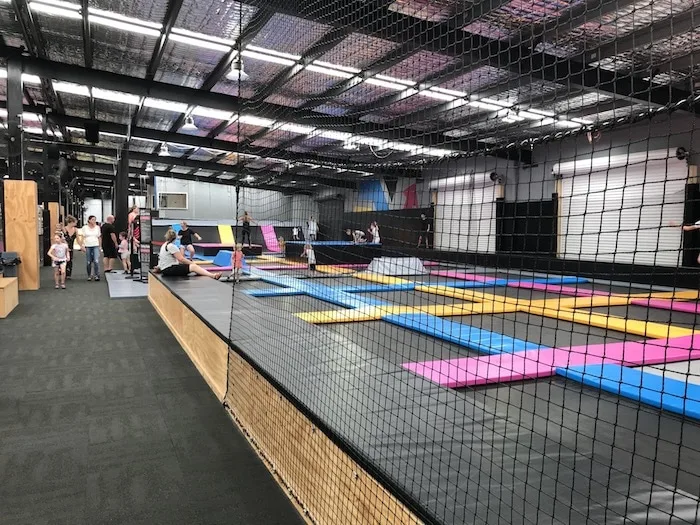 Things to do at BOUNCE Inc Gold Coast
This indoor trampoline park has so much to do. One hour is not enough. Book at least two. (Check out the deals here.)
Check out all the things to do below.
No. 1: Free Jump Arena at Bounce Burleigh Heads
Jump high, jump low, and Go, Go, Go at the Free Jump Arena.
There's 50 plus interconnected trampolines with tumble tracks, padded vaults to leap over, and banked walls to run up and down.
One part of this trampoline zone is sectioned off for younger kids so they avoid mishaps and collisions with the older kids.
---
RELATED: Guide to Spring Loaded Indoor Trampoline Park in Banora Point (sometimes called Bounce Tweed Heads!).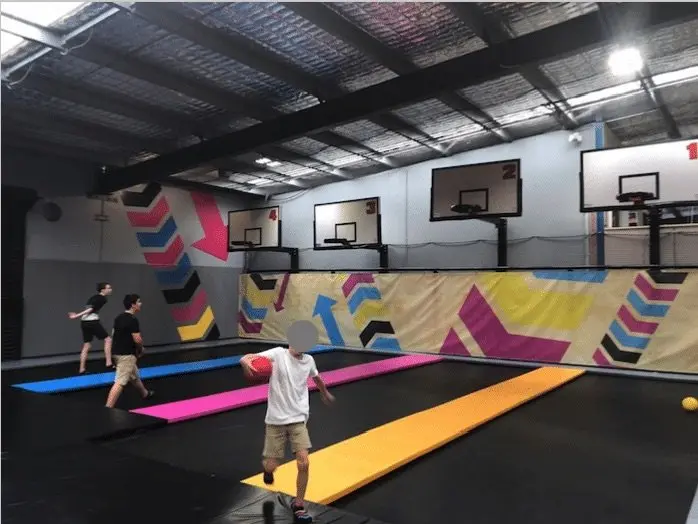 No. 2: Slam Dunk that basketball!
Leap up to full height rings with ball in hand.
Try to beat your mates score!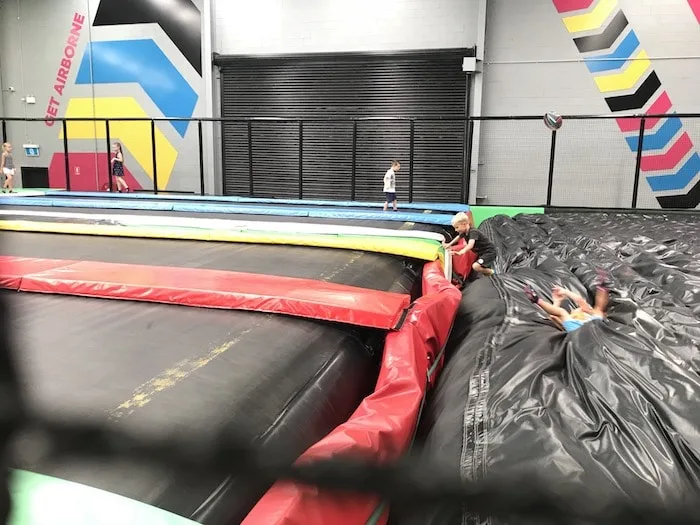 No. 3: Throw Yourself at the Big Bag
Run the distance along this long trampoline, practicing your finest moves, spins, tumbles, and aerials, before leaping into the air and landing with a soft thud on the air-inflated bag.
No. 4: Join a Game of Dodgeball
This is the ultimate game of skill and dexterity as you dodge the balls being thrown at your legs by the opposing team.
Balls come at you from every which direction and height.
It's a top way to build agility!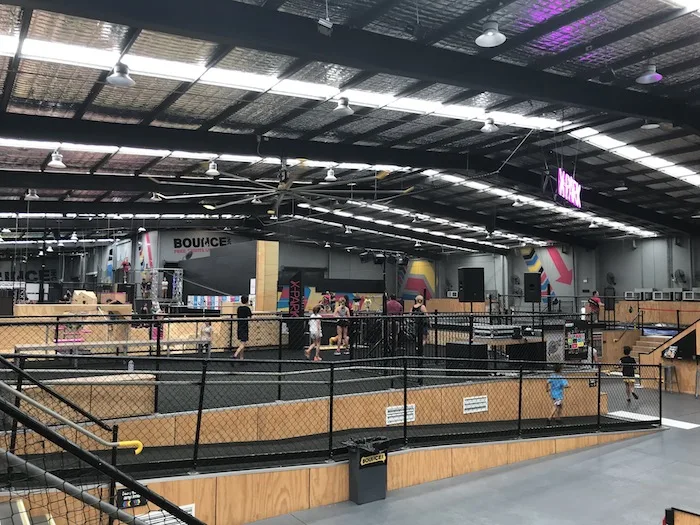 No. 5: High Performance Area
Head on in and jump on these Olympic grade trampolines.
Gold Coast Bounce has extra springy trampoline mats let you bounce and almost touch the roof!
Bigger kids can try Wall Walking and Cliff Jumping if they dare.
Performance trampolines are perfect to practice and build skills that can help both adults and kids improve their abilities at:
skiing
snowboarding
wake-boarding and
skate boarding.
Ask to try one of the trampoline skate boards!
NB: Kids must reach 110cm or taller to enter this area.
No. 6: Score a Goal at Bubble Soccer (extra charges)
Join in a group to play a game of Bubble Soccer.
Score goals in the bubble field.
Highly Addictive, and super fun with a bunch of mates.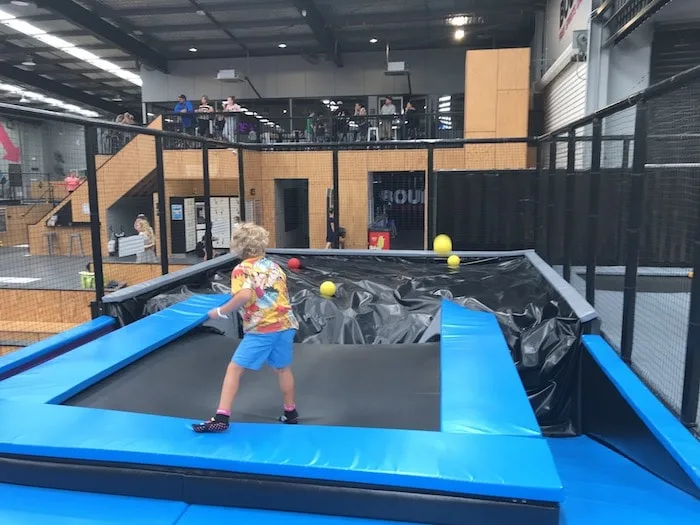 No. 7: Dedicated Junior Jumper Area
There's a separate toddler trampoline area at the front of Bounce.
It's fully gated with trampolines on one side, with basketball hoops, and this mat and big bag on the left.
Set the toddlers free here to jump and make new friends!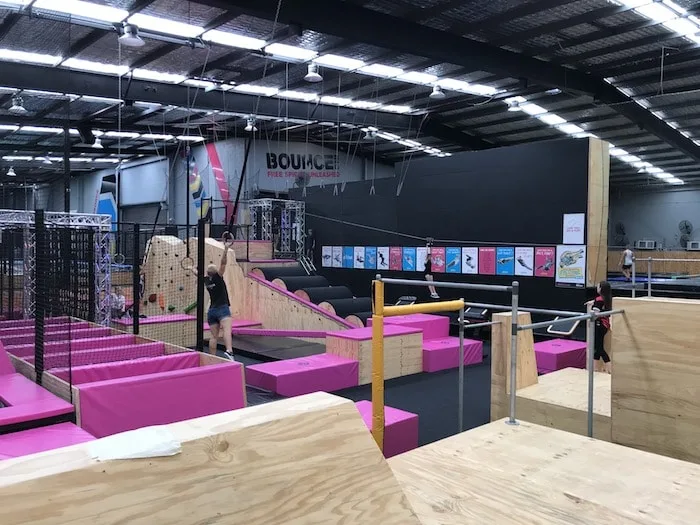 The Ultimate BOUNCE X-PARK
The X-Park at Bounce is an Adventure Challenge and Parkour course for kids who love to push their bodies to the extreme.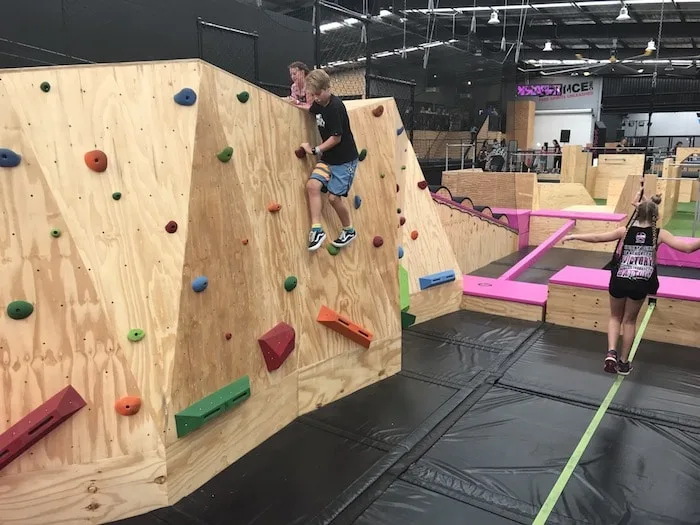 X Park Bounce experience
Bounce X Park is full of tricky obstacles including:
monkey bars
swings
parkour bars
parkour boxes
nets
balance pads
leap pads, and
a giant flying fox.
Tuckshop Cafe at Bounce Trampoline Park Gold Coast
High above the action, you'll find the Tuckshop Cafe with:
good coffee
drinks for the kids, and
simple snacks and foods to keep you going.
The onsite tuckshop is here for all of your thirst and hunger needs. No food is to be brought in from outside.
Water bottles are welcome.
THE INSIDE SCOOP: Bounce Gold Coast Review
Correct at time of publication on Roam the Gnome. Please check with venue for updates. We apologise in advance if there have been any changes we are unaware of. All prices in AUD dollars, unless otherwise stated
Where is Bounce Gold Coast?
Address: Bounce Inc Burleigh is located at 5 Sunlight Drive, Burleigh Waters QLD 4220, Australia
Telephone: 1300 000 540
Email: [email protected]
Website: Click here for the Bounce Indoor Trampoline Park Burleigh Gold Coast.
Bounce Opening Hours
Mon – Thurs: 10am – 8pm
Fri: 10am – 9pm
Sat: 9am – 9pm
Sun: 9am – 6pm
Bounce Gold Coast prices
How much is Bounce Gold Coast?
General Admission – Adults
Weekends & Holidays
1st session $19.70 online or $21.90 at venue
add an additional hour $11.00
Weekdays:
1st session $15.20 online or $16.90 at venue
add an additional hour $9.00
General Admission (for jumpers over 110cm in height)- children and students
Weekends & Holidays
1st session $17.90 online or $19.90 at venue
add an additional hour $11.00
Weekdays:
1st session $12.50 online or $13.90 at venue
add an additional hour $9.00
Junior Jumpers
Kids under 3 and 110cm in height.
Available from open till 6pm.
$11.60 Monday to Friday online only ($12.90 at venue)
$13.40 Weekends and public holidays online only (14.90 at venue)
Play Dates – Weekdays during school terms only
Unlimited jump time for toddlers and preschoolers, Monday to Friday only, 9am to 12pm and 12pm to 3pm.
Family Passes
Family of four. Max 2 adults.
$62.90 online, or $69.90 at venue on weekends and public holiday hours
$44.90 online or $49.90 at venue on weekdays
Check Bounce Gold Coast Prices and Book Tickets here.
Bounce Grip Socks: Entry prices to Bounce Inc Gold Coast EXCLUDE the bright cheerful BOUNCE grip socks which must be worn for every session. They're yours to buy and keep for $2.90!
Hot tip: We absolutely recommend buying tickets online before you go, especially during QLD and NSW school holidays. Don't be disappointed.

Best Bounce Deals
Save money by buying tickets online. That's the top tip.
Or if you are a local, buy tickets in bulk and save. 10 pack multi-visit passes are available
We ALWAYS buy one of these two awesome Bounce Deals.
One hour is no longer enough.
Two Hour Superpass for $20.00 weekdays, or $24 weekends. Book online only.
Bounce Gold Coast Groupon tickets
Groupon occasionally offers discounted tickets to Bounce.
It's work taking a minute to check before you buy.
o2 Party – 3 Hour Superpass
Three hour Saturday Super Sessions costs $23.
4pm to 7pm on Saturday nights.
Available Gold Coast only.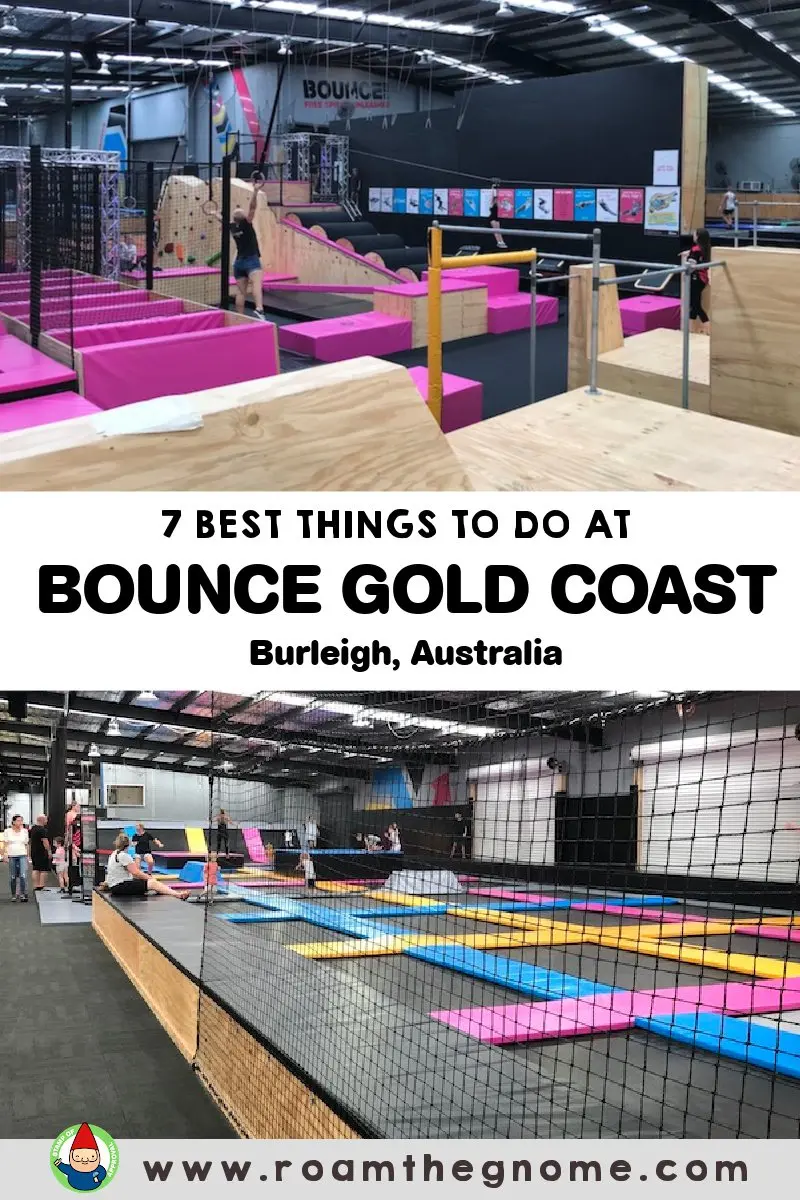 How to get to Bounce Gold Coast
By Bus:
Catch the 753, 754, 757, connecting to Marymount Catholic College.
Bus stop is about a 8 minute walk (stop located on the cnr of Kortum Dr & Burleigh Connection Rd). Visit Translink to plan your journey.
By Car:
5 minutes from both Burleigh Town Shopping Centre and Treetops Shopping Centre.
10 minutes to Burleigh Heads.
Click here for google map directions
Bounce Parking
Free car parking is available outside the venue.
There's also street parking if the car park is full.
Bounce Trampoline Gold Coast Map
Facilities at Bounce Trampoline Park in Burleigh
Public Toilets: Yes including baby change table. Showers also.
Disability access: Ramp access via main entry. For lift access to check in, please enter building at main entry way and head left once inside.
Closest ATM: Burleigh Treetops Shopping Centre.
Enclosed: No. The front entrance is open to the carpark. Keep a close eye on small children as it gets busy.
Dogs: No
Note: Bounce Robina moved permanently to this Burleigh venue and is no longer.
Toadstool Rating – Bounce Australia
See you at BounceInc!

Looking for MORE Things to do in Burleigh with kids
Click the blue links below for more Gold Coast ideas