INSIDE: Ultimate Guide to Aqua Splash Gold Coast QLD
Have you heard about the incredibly fun water park, AQUA SPLASH Gold Coast?
Aqua Splash is an inflatable water park set up on the Broadwater of the Gold Coast, with views to Seaworld and the Spit Main Beach.
Planning a trip?
We've got the down-low on everything you need to know.
Take a look below for details.
Disclosure: This article contains affiliate links. If you make a purchase after clicking on one of these links, we may receive a small commission at NO extra cost to you.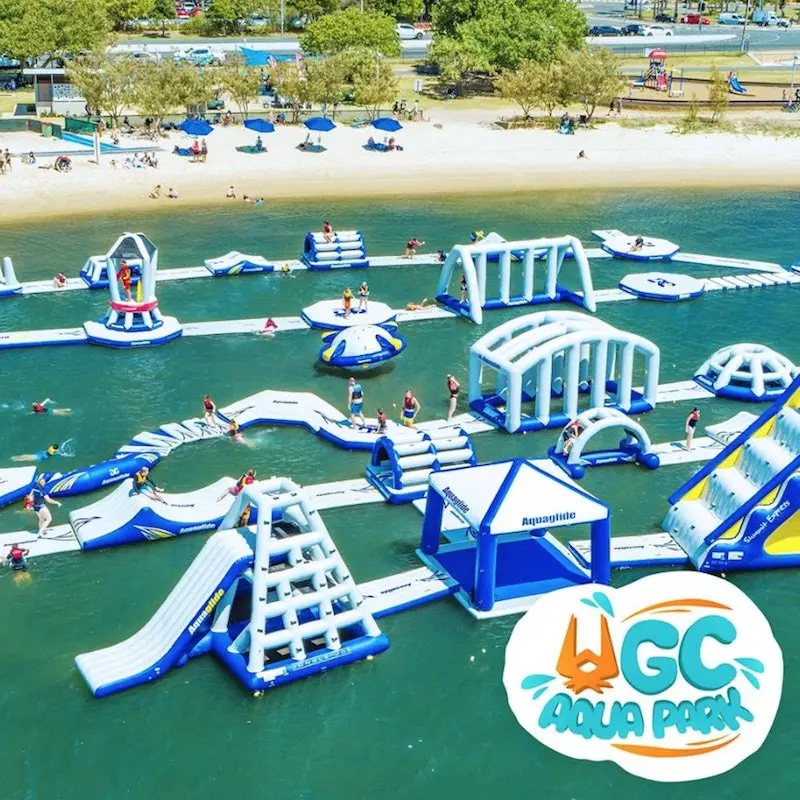 THE INSIDE SCOOP: Frequently asked questions about Aqua Splash Gold Coast
Correct at time of publication on Roam the Gnome. Please check with venue for updates. We apologise in advance if there have been any changes we are unaware of. All prices in AUD dollars, unless otherwise stated
What is Aqua Splash Southport?
A super fun inflatable water park, hovering above the warm waters of the Broadwater at Southport.
It's popular with everyone:
kids and families
groups of teens
young men out for a fun physical challenge against their mates
women on holiday from the southern states
tourists from around the world, and
locals near and far.
For those Australians old enough to remember…this place reminds me of a water-based "It's a Knockout" game.
Gold Coast Aqua Park inflatables
What kind of inflatables are there at the Aqua Splash Southport?
Challenge yourself on:
slippery balance beam tubes
jumping trampolines, and
obstacles to climb up, over, under and through.
Run across floating pathways with toppling in.
Climb the giant iceberg.
Catch the swing and fly into the water.
Ride the tilting, shifting see-saw inflatable.
Play volleyball with friends.
Slip down all the slippery slides.
50 minutes will leave you breathless, with the monstrous smile plastered across your face!
How to get to GC Aqua Park Inflatable Water Park Gold Coast
Where to find Aqua Splash
Aqua Splash is located at the Broadwater Parklands, directly opposite Australia Fair shopping centre, in line with the pedestrian crossing on the Gold Coast Highway.
---
RELATED: Big List of Things to do on the Gold Coast with kids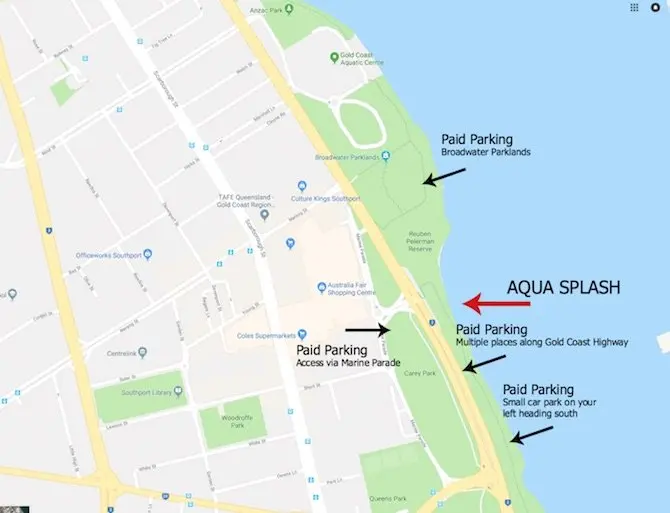 Aqua Splash Parking
We suggest parking in one of these four places
Paid parking in Broadwater Parklands (main entrance at intersection of Nind Street and Marine Parade, Southport).
Paid parking along the Gold Coast Highway on the left hand side, southbound, just past the intersection of Gold Coast highway and Marine Parade leading to Australia Fai
A second smaller, and less well-known parking area is 100 metre further on past these parallel parking spots. Entrance is on the left.
The last option, especially on weekends, is to park in the carpark at Carey Park. It is located on the Australia Fair shopping centre side of the highway. Entrance via Marine Parade. Free on Sundays. It's just a 3 minute walk across the road to Aqua Splash Southport.
The best public transport is the Gold Coast light rail (G link) to Southport followed by a 5 minute walk.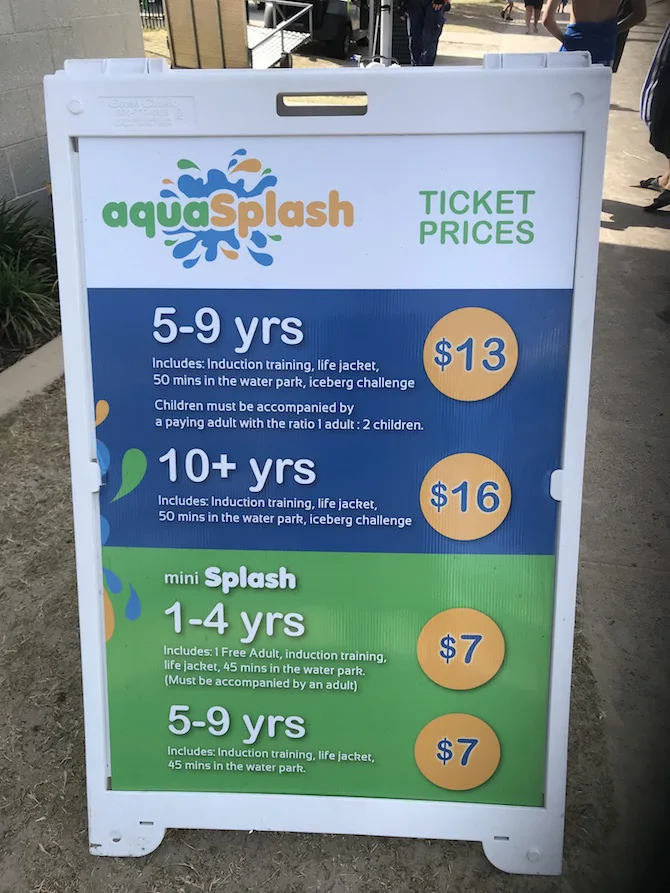 How much is Aqua Splash Gold Coast Southport?
Aqua Splash Prices range in price depending on age and which part of the park you'll visit.
Aqua Park Gold Coast
Children 5-9 years old are $13
Children 10 + years old are $16.
Cost includes induction training, a life jacket and glamorous headband, 50 minutes in the water park, and the Iceberg challenge.
Kids 5-9 must have an adult with them. One adult per two kids.
Mini Splash
1- 4 years $7 (includes 1 free adult entry also)
5-9 years $7 (Nope. Not for this age. Send them on the big one if you can.)
Cost includes induction training, a life jacket and glamorous headband, and 45 minutes in the water park
On our first visit, it was just Jack, Ned and I (Roam the Gnome tagged along in our beach bag) so the good people of Aqua Splash inflatable water park let me stay with Jack, and sent Ned off with one of their young lifeguards as a buddy for 40 minutes.
This was so helpful and such a friendly gesture.
Ned spent the last 10 minutes with us in the Mini-splash.
I'm not sure if it's a regular thing or was a once-off so if you have kids in both age groups, take an extra adult with you to mind the little one, and join in the fun with your older child.
(Your helper would go free!)
Hot tip: Check groupon and scoopon for current Gold Coast aqua park discount tickets before you go.
Aqua Splash Gold Coast opening hours
Operational hours 9am – 5pm
Last session at 4pm
Open 7 days during the season
What time does Aqua Splash Southport close?
5pm on the dot.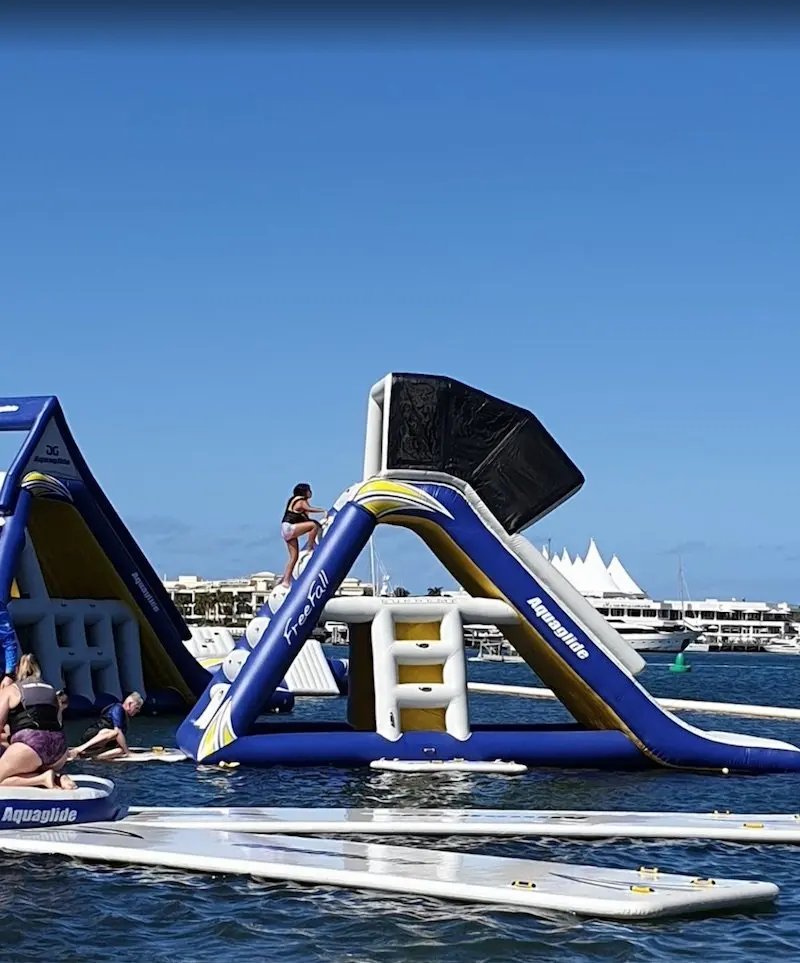 Image credit: Chris Benson
FREQUENTLY ASKED QUESTIONS ABOUT AQUASPLASH GOLD COAST WATER PARK
No.1: What should you wear to Aqua Splash Gold Coast Broadwater
Hot tip: Wear a pair of swimmers with enough elastic to hold them in place.
Definitely NOT old baggy ones, or you might be sharing more of yourself with the Gold Coast than you intended!
There's nothing dainty about splashing head-first into the water, legs flailing, and you definitely don't have any control over that.
Aqua Splash Southport supplies you with a fitted life-jacket to put over your swimmers/togs.
Unfortunately, you have to wear the ugly neoprene headband. It informs the staff where you and the kids are allowed, or not allowed, to go.
On a positive note, the neoprene headband does keep your hair out of your eyes, which is super helpful when you get dunked.
But there should be a "no-selfies" law here.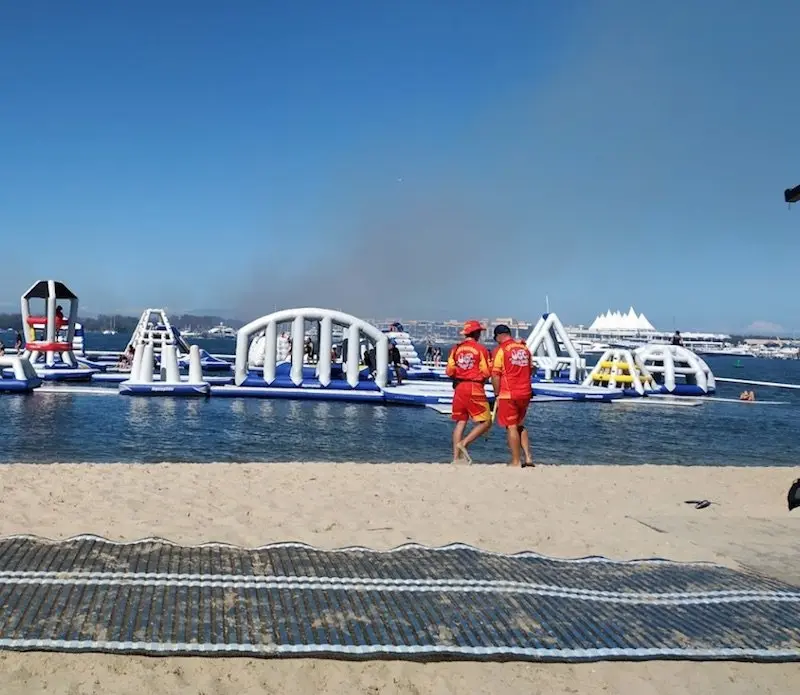 Image credit: Herm D
No.2: Are their lifeguards on duty at the Inflatable Water Park Gold Coast?
Yes, there are.
Helping to keep you safe, and to make sure no-one gets tangled up in the ropes or nets, or does silly moves on the slides, or gets swept under an inflatable accidentally.
Do the right thing, and you won't even notice them, but it's reassuring for the anxious mums among us (me included!)
No.3: How old do you have to be to go on Aquasplash Inflatable Water Park?
The minimum age to enter Aqua Splash Gold Coast is one.
1 – 4 year olds can only go on the Mini Splash, which to be honest is VERY boring.
(5-9 year olds can go on it too, but they rarely do)
Mini Splash just a square track of rounded inflatables, with a jumping pad at each corner.
But no slide.
In the centre of the square, there is a circular float you can climb into with your little one. It sinks a bit when you are in it, so it effectively becomes like a shallow pool of water.
The real fun begins when you are five.
5-9 year olds can access the BIG inflatable water park, with an adult supervisor in tow.
Kids 10+ can go alone, or in a group with friends.
No stuffy adults required!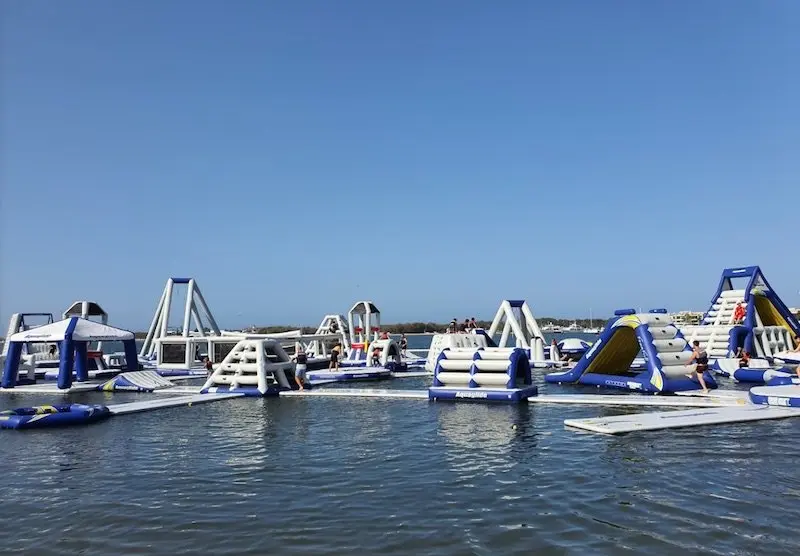 Image credit: Haha Ha
No.4: Is there somewhere to store your stuff safely?
Yes, the team behind the desk can store your smaller valuables eg mobile phone, wallet, handbag, behind the desk in numbered baskets.
They give you a neoprene wristband with a number on it.
No one else can collect your stuff without that wristband number.
No.5: How long does the session last at Aqua Splash Inflatable Water Park?
45 minutes for the Mini Splash.
50 minutes for the Aqua Splash.
The trick is to arrive at least 15-20 minutes before the session, so you are kitted up, have time to sign your life away on the ride agreement on the iPad, can complete induction training, and be ready to race into the water when given the signal.
If you are heading to Aqua Splash during school holidays, on weekends or on public holidays, they suggest arriving 45 minutes early to avoid delays at check in.
We arrived right on time both times we went this summer, (the parking fairies were not so kind) which is why there's no evidence of our stylish looks in puffy lifejacket and neoprene headbands!
No time for photos unless you are early and have time to spare.
This place runs like clockwork.
Wait, and you miss out.
I promise we'll get a photo next time to make up for it!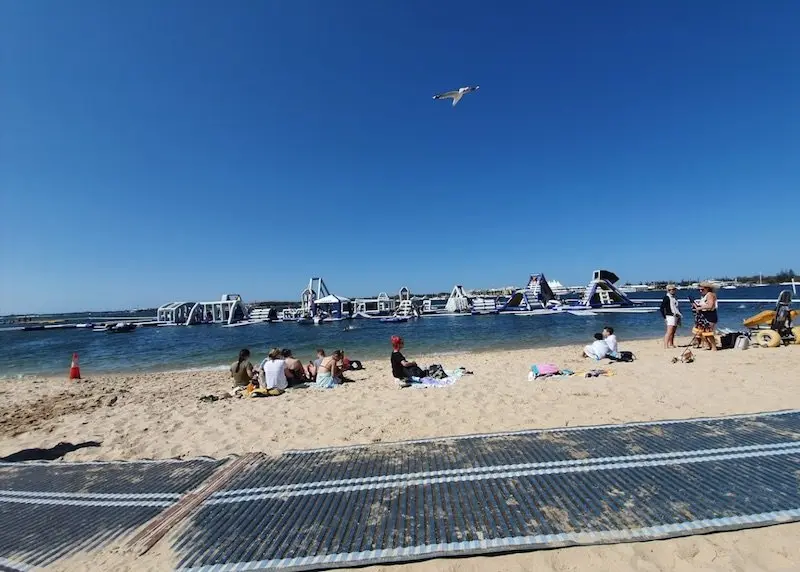 Image credit: Herm D
No.6: How do I book Aqua Splash?
There's no need to book ahead.
Walk-ins are accepted anytime, unless the session is already full.
If you want to book to secure your session time, do so below.
Choose your session and purchase your tickets here.
Important: No changes to date or refunds will be made in the case of change of mind, or wet weather.
No.7: Aqua Splash Phone Number
All enquiries, phone 07 5610 4387 between 9am and 4pm.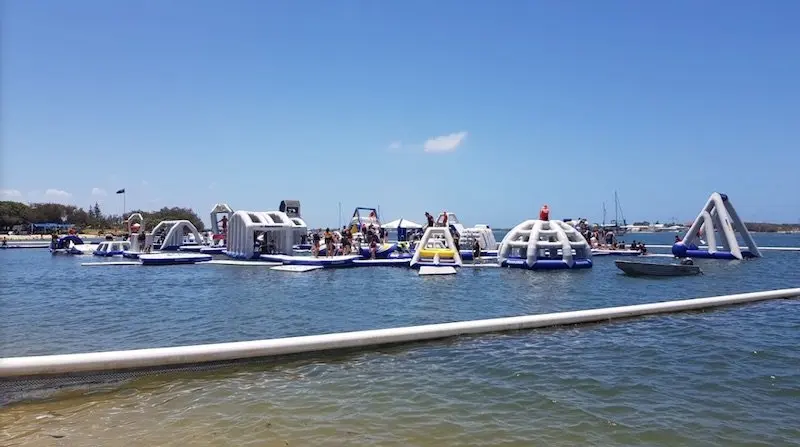 Image credit: Chris Benson
No.8: When does Aqua Splash Gold Coast close for the winter?
Usually at the end of April.
Don't worry. It's not gone for long.
Check the website for details.
No.9: When does Aqua Splash open for the season?
Usually around September, as soon as it warms up.
No.10: Is there somewhere to wash off afterwards?
Yes, the whole family can take a warm-ish shower in public to wash off the sand.
It's to the right of the reception tent, when facing towards Australia Fair.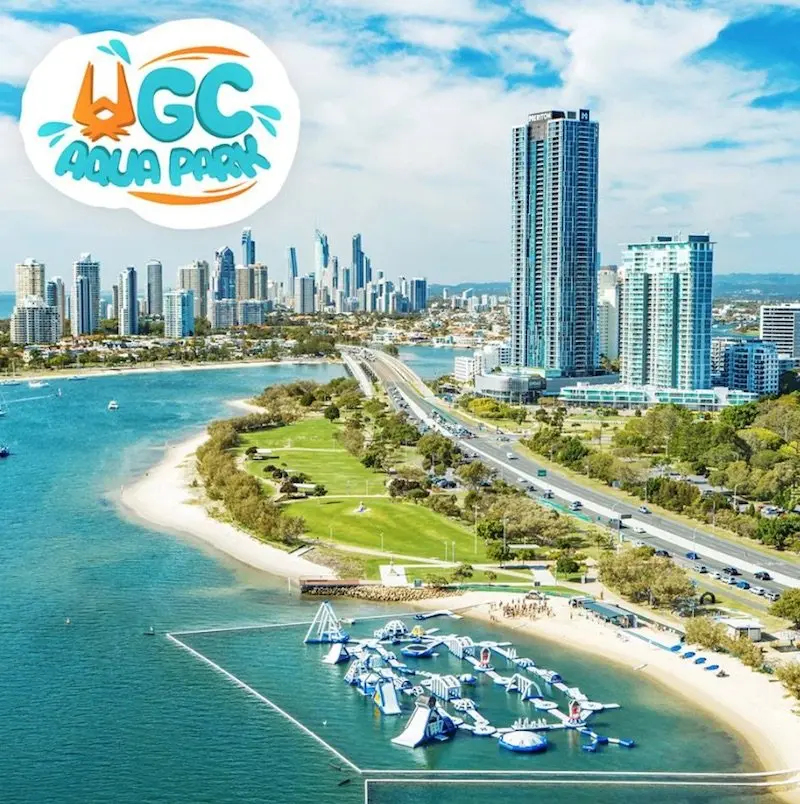 No.11: Are there change rooms and toilets onsite?
No, but there's a toilet block located directly behind Aquasplash.
And plenty more throughout the Broadwater Parklands.
No.12: Can you buy food at Aqua Splash Gold Coast?
No.
But there is a coffee and snacks vendor just outside the Southport water park entrance gates.
Or cross the road to Australia Fair shopping centre to find a food court, all the regular takeaway food outlets, cafes and restaurants, plus Coles and Woolworths.
BYO picnic.
(Read our guide to healthy snacks & food for picnics and road trips for new, creative easy ideas of picnic food to pack!)
No.13: More Aquasplash locations
Hot tip: Did you know there's also Aqua Splash Redcliffe and Aqua Splash Central Coast to visit too?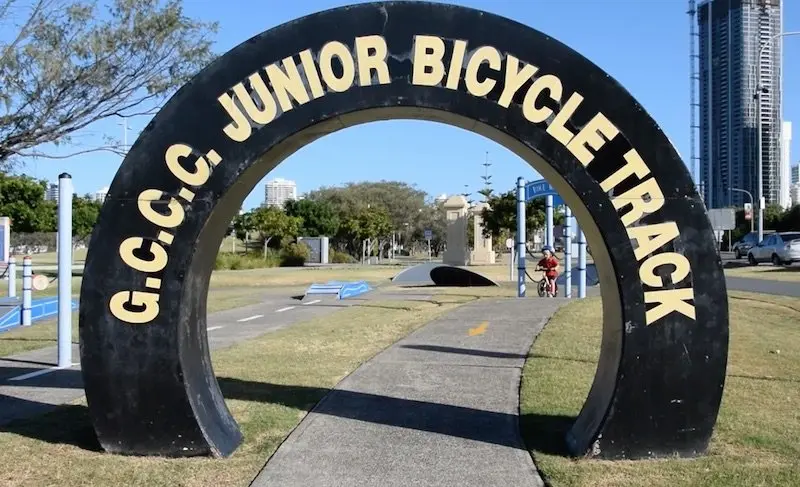 MORE Things to do at Broadwater Parklands
Change back into dry clothes and check out these fun things to do at Southport Broadwater Parklands.
No.1: Monorail playground
Kids can ride the pedal-powered monorail around the circuit at the playground right behind Aqua Splash
They can also zoom on the flying fox, and try out the variety of different play equipment across three playground spaces
No.2: Jumping Pillow Southport
The free jumping pillow is one of the most popular reasons locals visit the playground at Broadwater Parklands with kids.
Play circus tricks on the jumping pillow, or have fun bouncing around.
It's busy but there's always room for one more.
No.3: Broadwater Swimming enclosure
Want more swimming time?
Walk the pathway to your right as you exit Aqua Splash to find a lovely little netted swim area and beach about 200 metres north.
No.4: Kids Bike Tracks Gold Coast
Bring your bikes and take advantage of the never-ending bike paths/walkways in the Broadwater Parklands.
This cool bike cycle playground will keep the kids occupied for an hour or so.
No.5: The Southport Rock Pools Broadwater Parklands
Stroll north for about 500 metres and you'll find "The Rockpools", an artificial creek bed with:
water spouts
flowing water adventures, and
a GIANT dumping bucket.
It gets busy, so either go first thing, or late.
Map of GC Aqua Park Southport
Toadstool Rating: Aqua Park Southport
Gold Coast Aqua Park Southport is awesome fun for older kids 6+, but challenging if you are only one adult with two different aged kids who can't go in same area.
Go in pairs.

Looking for things to do at the Gold Coast with kids?
Click the blue links for more Gold Coast ideas: