INSIDE: Roam the Gnome's Review of a ride on the awesome Jet Boats Gold Coast.
One Sunday, not so long ago, my 75 year old mother Angie, randomly told me she's always wanted to ride on one of the super fast JET BOAT rides on the Gold Coast Broadwater, near Seaworld on the spit of Main Beach.
Being subject to 360 degree turns on a high speed boat is definitely NOT my idea of fun, so to say I was surprised is an understatement.
Up for a challenge, I decided to make her wish come true.
I started researching the best Jet Boat company on the Gold Coast for this Broadwater adventure, as well as finding the best jet boat price on both group deals websites, and local tours websites.
The Paradise Jet Boating Tour I found on Viator Tours was my pick of the bunch.
Take a look below to see why!
Disclosure: This article contains affiliate links. If you make a purchase after clicking on one of these links, we may receive a small commission at NO extra cost to you. Viator kindly invited us on this tour, but all opinions are honest and our own, and are in no way influenced by Viator. With thanks to Declan & Paradise Jet Boating for the use of footage.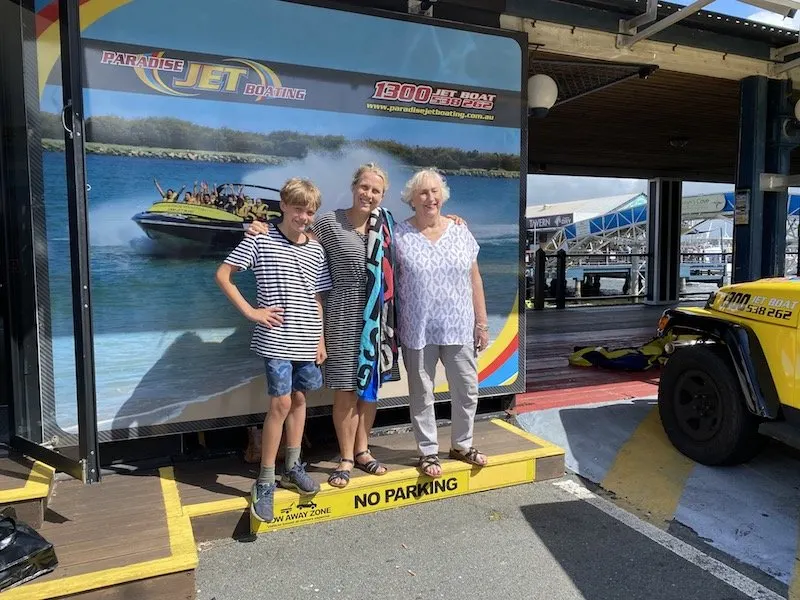 Guide to Paradise Jet Boating Gold Coast
Paradise Jet Boating on the Gold Coast is home to the best jet boat tours on the Gold Coast because the #1 Ride is the longest jet boat ride on the Gold Coast, at 55 minutes, travelling over 35 kilometres in total.
But there's more:
Ride Number #1 is the only jet boat ride on the Gold Coast that can access the Moreton Bay Marine Park areas, at the north of the Broadwater
IF you are very lucky, you may see dolphins! (We didn't, but you may!)
This is the only jet boat tour on the Gold Coast where you'll see the magnificent MULTI MILLION DOLLAR MANSIONS of Sovereign Island!
You boat past the magnificent South Stradbroke Island and Wavebreak Island, and might spy a wallaby or two
Paradise Jet Boats were the first Jetboat company on the Gold Coast, and have been in business for 15+ years!
This ultimate Jet Boat ride has an awards haul including a No. #1 Certificate of Excellence from TripAdvisor, nods from the QLD Government, Queensland Tourism Awards, and eco-certification
Paradise Jet Boating tours offer a FREE stretch jeep shuttle transfers to and from Surfers Paradise
There's no comparison.
Paradise Jet Boats Gold Coast Queensland Video
Paradise Jet Boat tours have an onboard video camera to film all the action.
You can buy footage of your trip home to show your family and friends, or just to laugh at the silly faces you pull during 360 spins on this Gold Coast speed boat ride.
Take a look at our video above!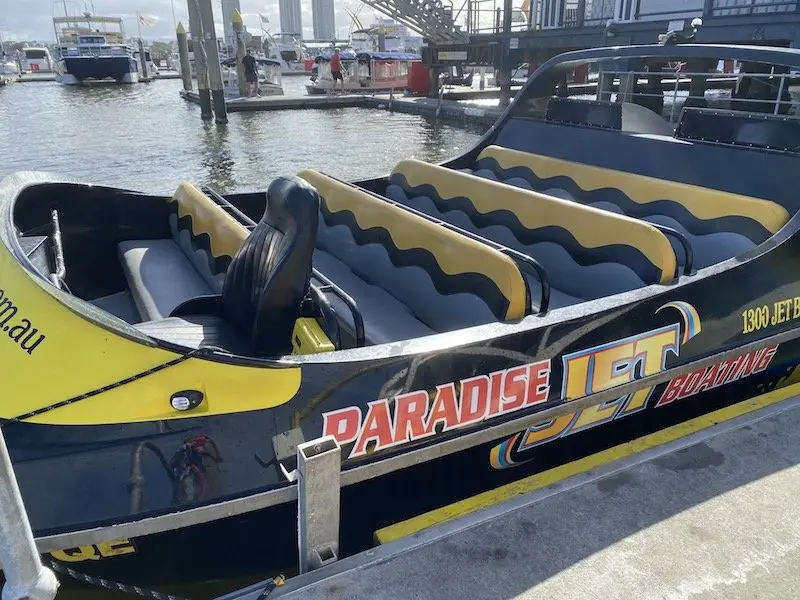 Best Jet Boat Ride by Paradise Jet Boating
Most importantly, Paradise Jet Boating operate the only twin-engine V8 petrol jetboats in Australia – making it FAST!
And if the main reason you are booking a jet boat ride is to fulfil your mum's dream of feeling the need for speed, isn't that the whole point?
There's tonnes of 360 degree spins, slides, high speed drifting, and water splashing too!
---
RELATED: Ultimate List of Things to do with Kids on the Gold Coast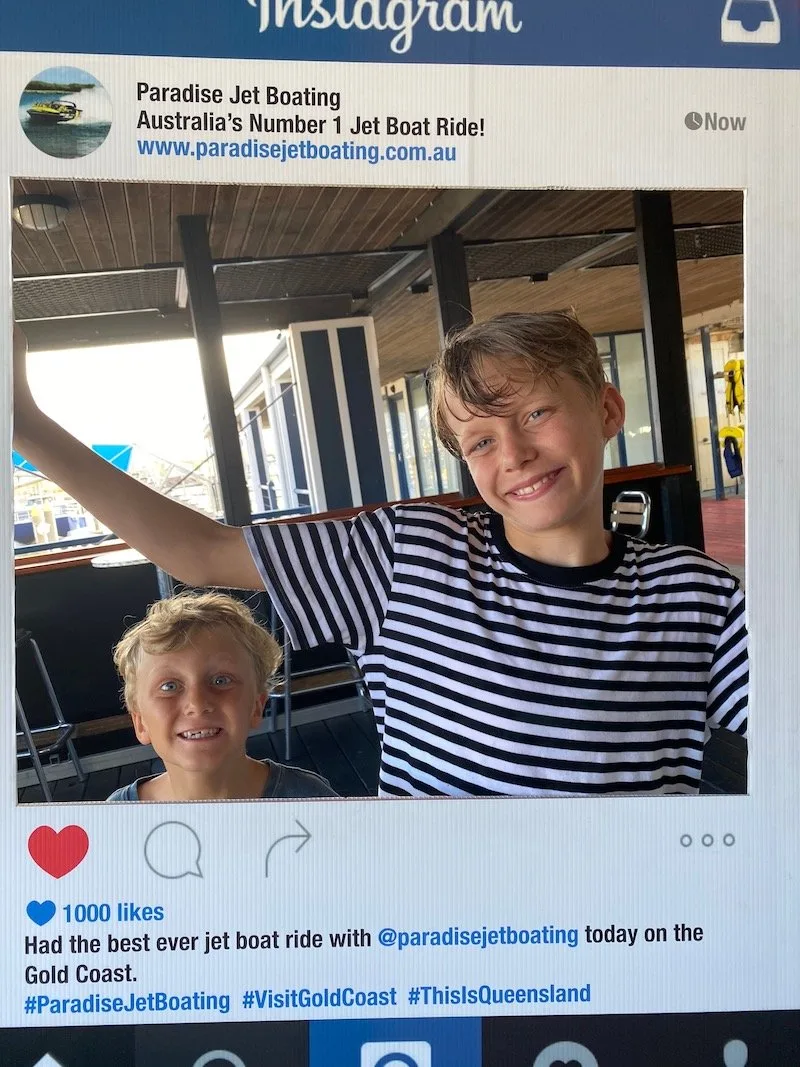 Things to do in Gold Coast with kids
Here's a little secret.
The Sunday before our trip, I had nightmare imaginations of sitting on the jet boat, strapped in by a 'roller coaster' style harness, and the boat flipping over, and me not being able to get myself, my mum or my kids out.
Or my mum, being of older age, having a heart attack on my watch from the excitement.
I almost cancelled the booking.
But I grabbed hold of my anxiety, and talked myself down!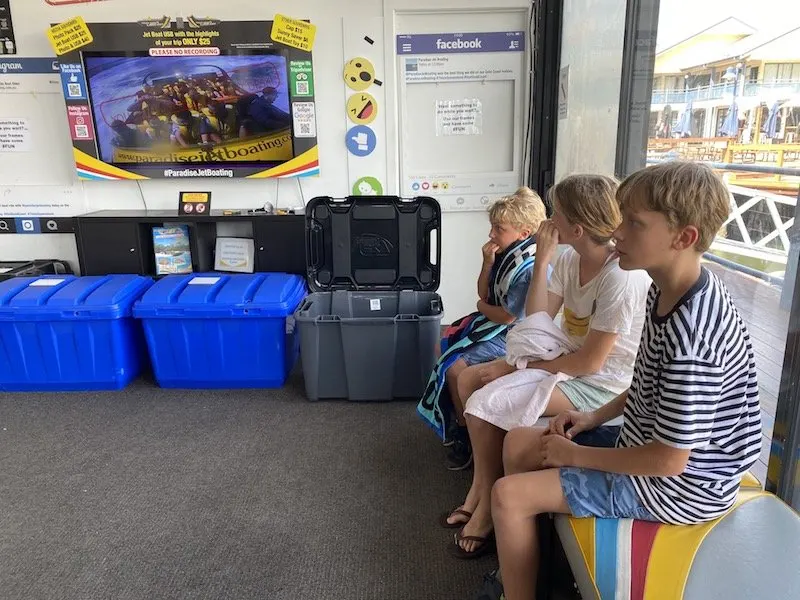 Safe for Kids
There is NOTHING to worry about taking a jet boat tour on the Gold Coast, despite the kids biting their nails beforehand (as seen above!).
It's safe to take the kids (from 4 years), the grandparents, and friends and family of all ages.
It's so safe, you don't even wear a seatbelt. (Nope, there's no over the shoulder restraints like I'd imagined!)
Just hold on tight.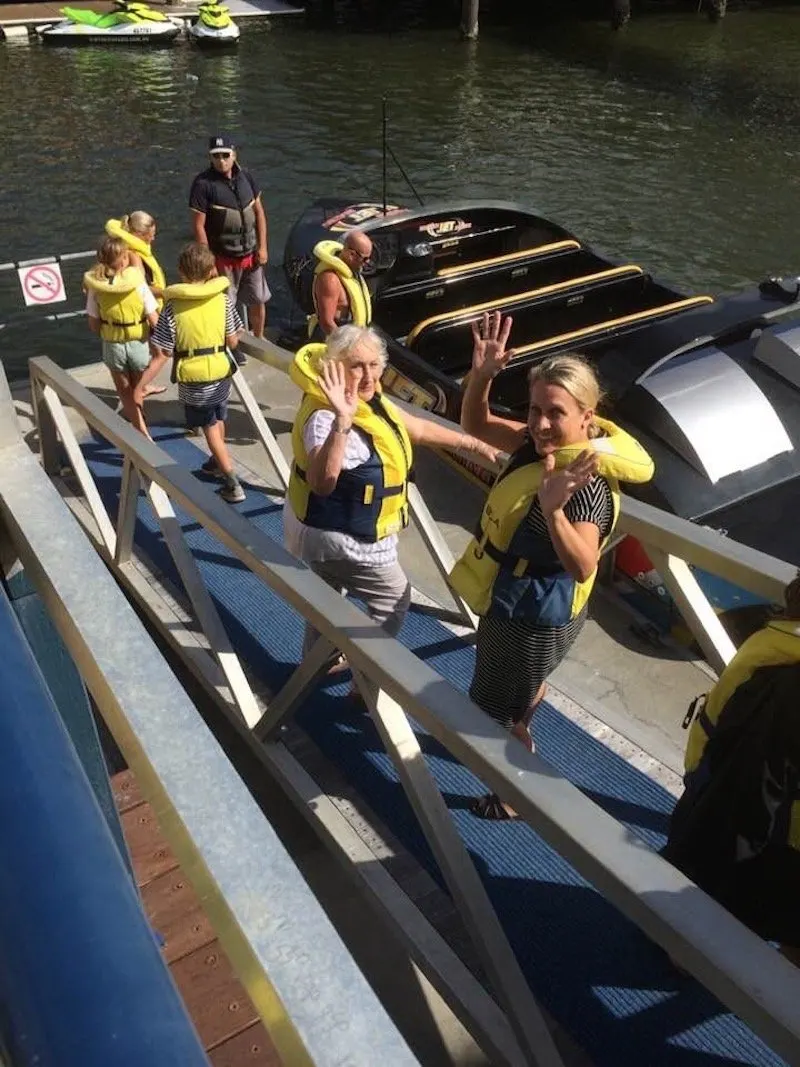 How fast does a jet boat go?
The speed boat ride gets up to speeds of 80km per hour (40 knots) fast, but it's nothing like the sick feeling of being on a roller coaster you can't get off.
(In fact, I didn't "lose" my stomach once.)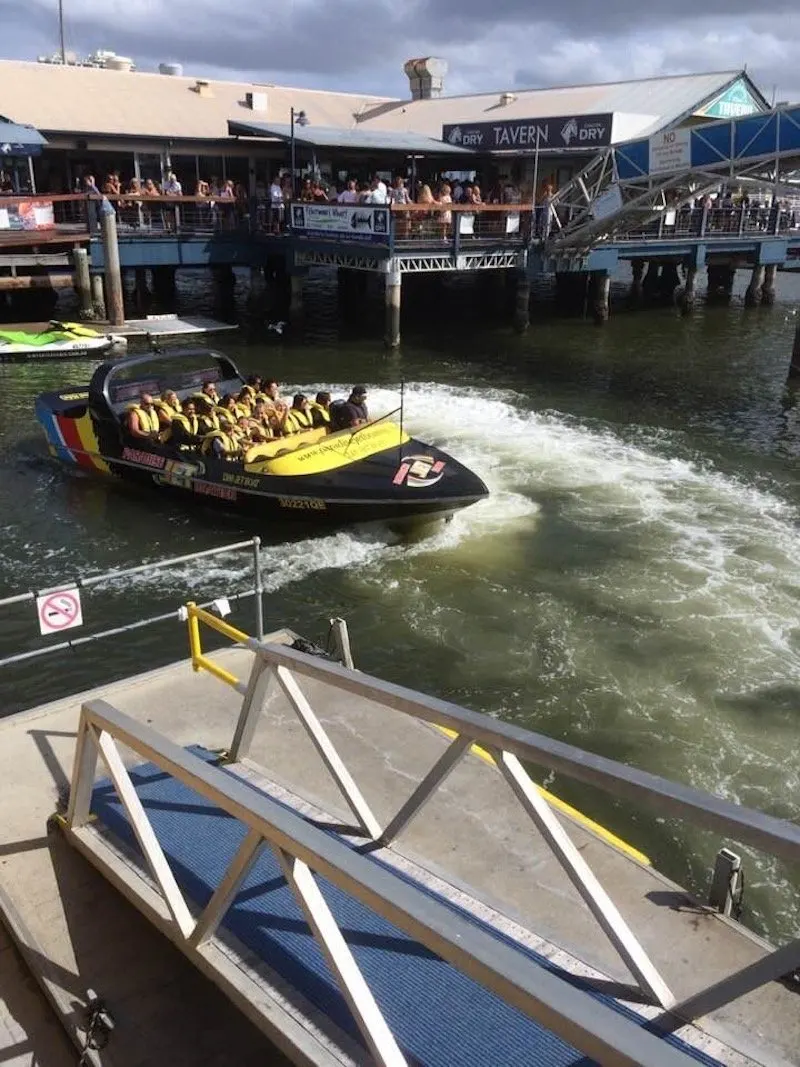 JetBoat Extreme Ride for Speed!
Jet Boating is EXHILIRATING!
It's extreme jet boating at it's finest.
Enjoy the:
wind in your hair
sea spray on your skin
warmth of the sun on your arms
The worst bit after a speedy 360 degree turn is the salty water dripping down your face and stinging your eyes, but you'll be too busy laughing to notice too much.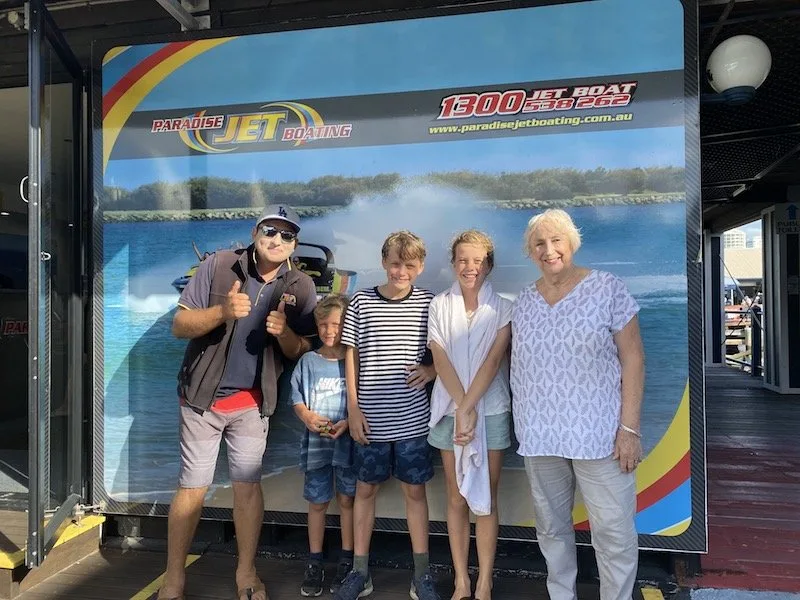 Declan, the awesome Jet Boat operator!
Plus, if you are lucky enough to have Declan as your Captain and driver, his silly spiel and banter will have you cracking up even more!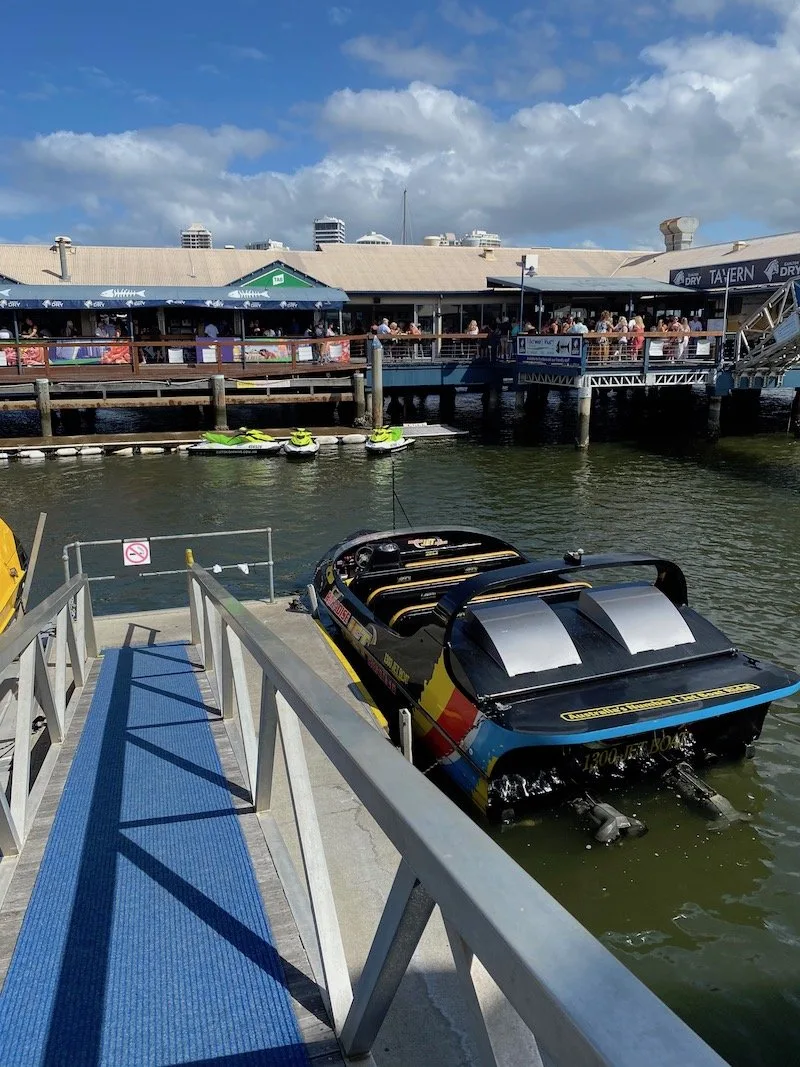 THE INSIDE SCOOP: Jet Boat Rides Gold Coast
Correct at time of publication on Roam the Gnome. Please check with venue for updates. We apologise in advance if there have been any changes we are unaware of. All prices in AUD dollars, unless otherwise stated
Address: Shop 7B, Mariners Cove Marina, 60 Seaworld Drive, Main Beach
The tour desk is located on the Spit at Mariners Cove, just a few minutes drive from Sea World Queensland.
Enquiries: 1300 538 262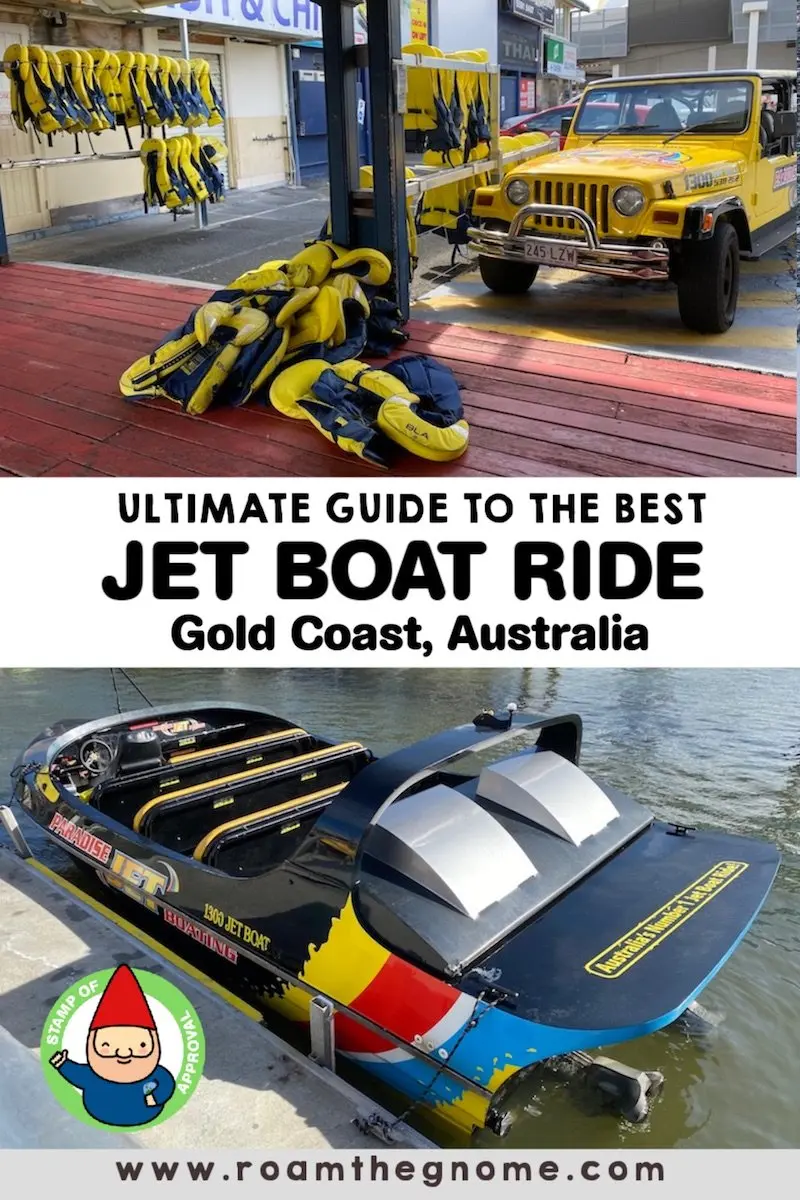 Paradise Jet Boat Prices
Ride #1 starts from:
$72 AUD adult
$54 AUD child (4-14)
$199 AUD family (2 + 2)
Price includes free transfers.
Book online below
Refunds & Cancellations
Minimum 24 hours notice required for reschedules, and 48 hours notice to cancel.
No refunds for late cancellations or no-shows.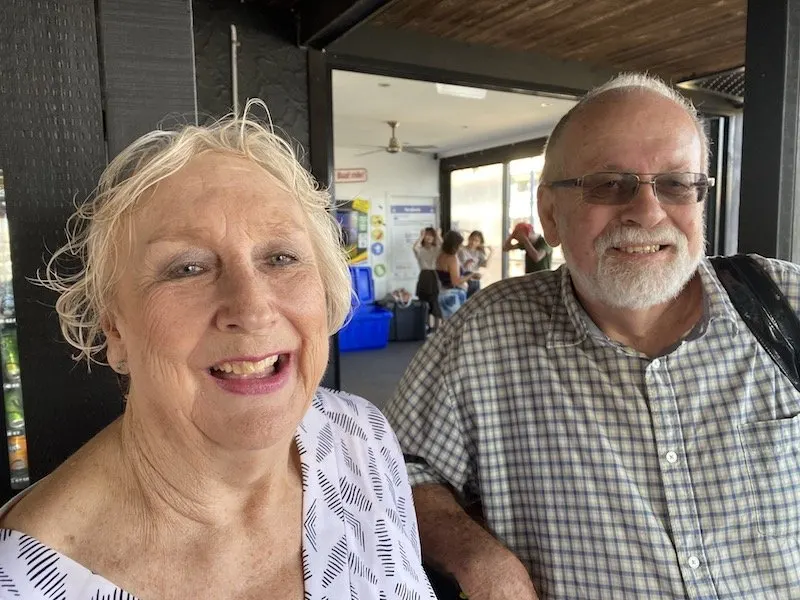 This is Angie (pictured with Roam the Gnome's Grandpa, Gunther), thrilled and complete with wet hair after the Jet Boat ride!
Paradise Jet Boat Gold Coast Deals
Keep an eye on Groupon and Scoopon Gold Coast for deals.
You can also compare prices with the tour companies and booking direct. It can be cheaper to go through a tour company.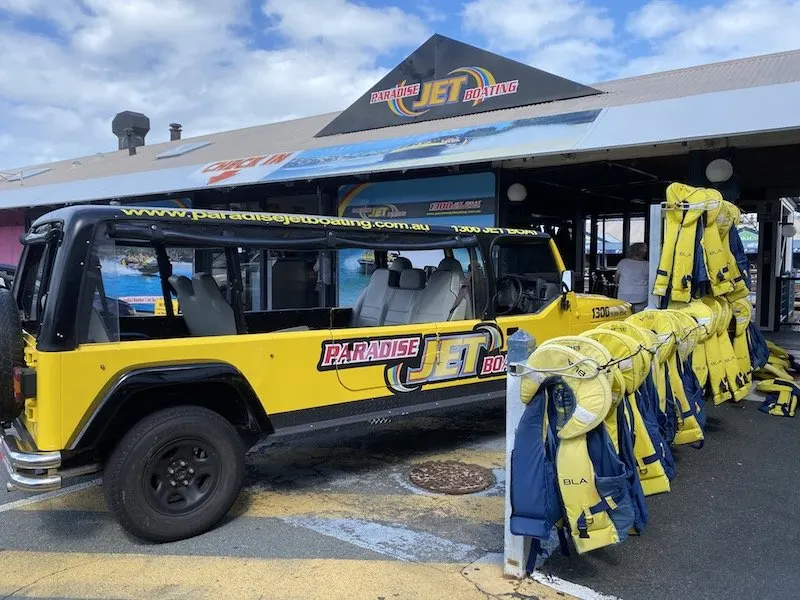 Paradise Jet Boat Tour times
Jet Boat tours depart every hour from 9am to 4pm, all days of the week.
Check in time is 30 minutes prior to your tour.
How to get to Paradise Jet Boating Surfers Paradise
By free transfer: Call 07 5526 3089 for a pick up
By bus: Catch Bus #705 from Surfers Paradise and Broadbeach (from the south) or Bus #704 from Southport (and the north)
By Tram: Catch the G tram to Main Beach, and walk up the Spit to Mariner's Cove
By Foot: Walk from your Surfer's Paradise hotel. The scenic walk takes around 45 minutes.
By Car: Set your GPS for Mariner's Cove, Seaworld Drive.
Mariners Cove Parking
Free parking available in the Mariner's Cove carpark, or underneath the Marina Mirage shopping centre.
Where to find Paradise Jet Boating
FAQ: Paradise Jet Boating Gold Coast Australia
At what age can you ride a Jet boat tour?
The minimum age is 4 years old to go on this Surfers Paradise Jet Boating tour.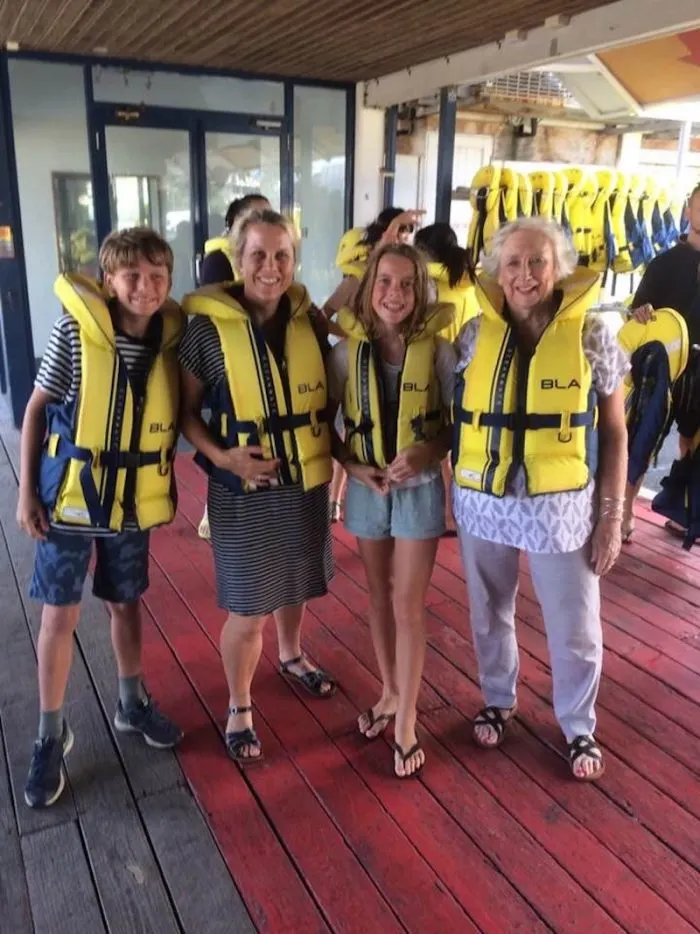 What to wear on a jet boat tour
It's a good idea to wear quick-dry clothes such as board shorts, summer t shirts, or lightweight cotton dresses as you WILL GET WET.
They do have wet weather gear – full length hooded raincoats- to borrow if you choose.
Everyone must wear a life jacket before boarding.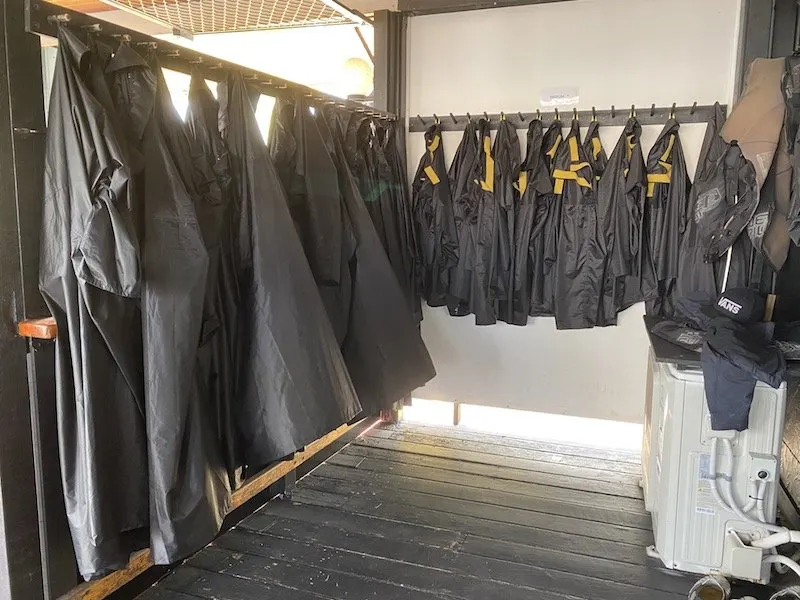 Safety Briefing
Paradise Jet Boat staff provide a short safety briefing before you depart.
Keep arms and legs inside the boat at all times.
But, the most important thing is to have lots of fun!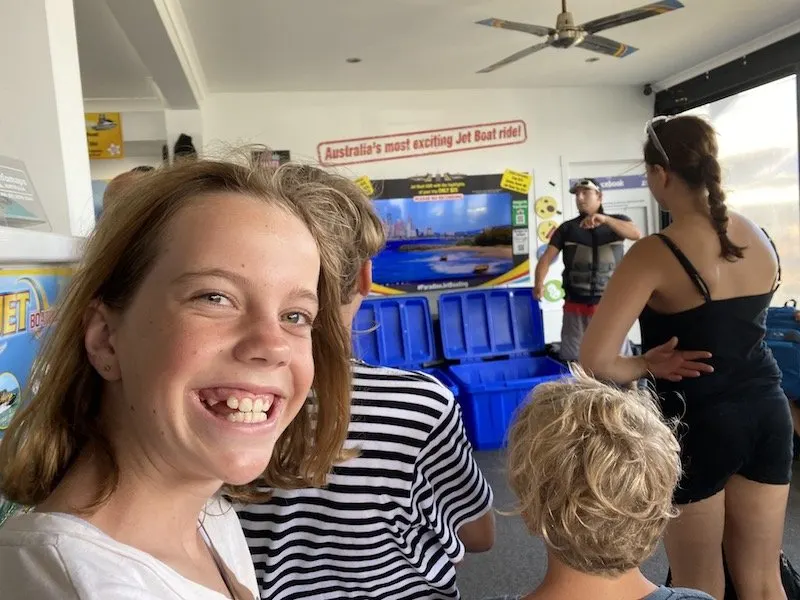 Storing your valuables
Secure storage is provided for your belongings at the office inside giant blue locked containers while you are on your ride.
iPhones and cameras are not permitted on the boat.
Wear sunglasses and hats at your own risk.
If they fly off, there's no stopping to get them.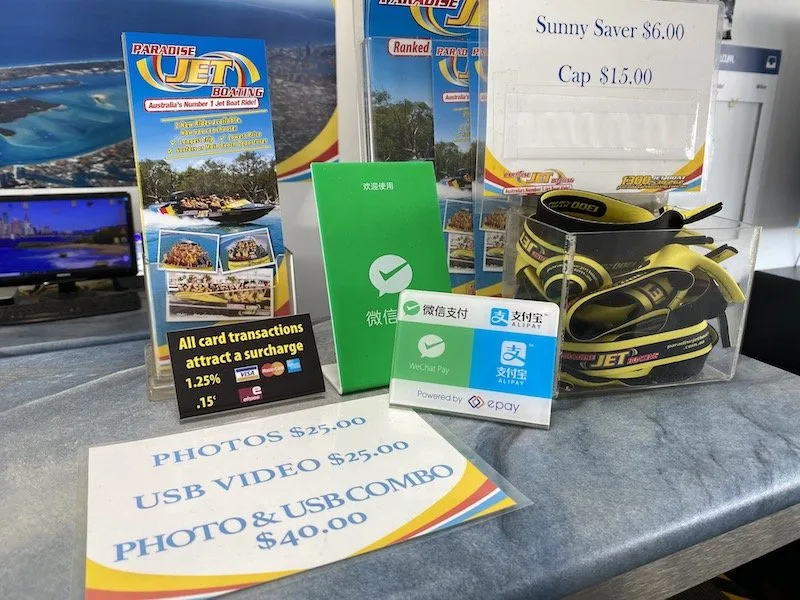 Paradise Jet Boat souvenirs
Purchase a USB stick with the videography of your ride for $25
There are also Jet Boat photo packs available for $25, or buy both for $40.
More Paradise Jet Boating souvenirs:
caps $15
sunny saver $6
jet boat toys $10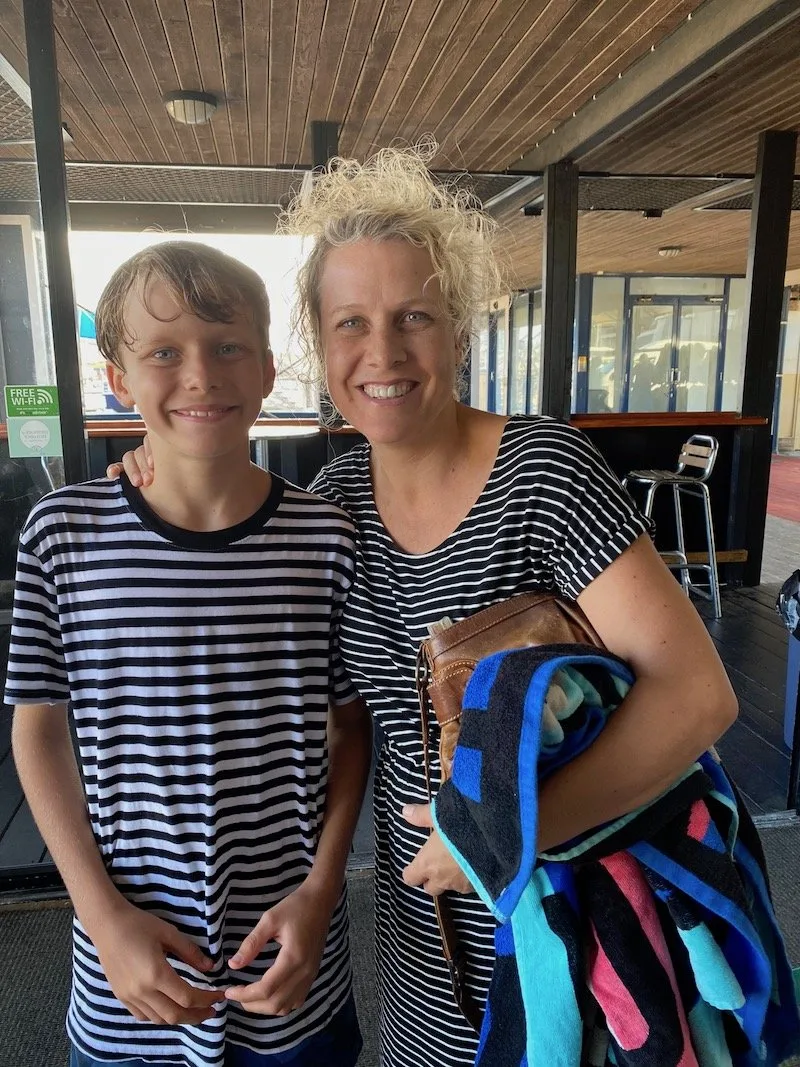 Health Information
All passengers must be in good health and free from any medical conditions that may be aggravated by the activities conducted by the jet boat ride.
Please seek medical advice if uncertain.
Any person who is pregnant, suffers from back, neck, or heart conditions, or has previous injuries are strongly advised not to participate
They don't tell you this, but your hair may end up looking like this bird's nest, despite all your best efforts to tie it back in a tight plait or ponytail.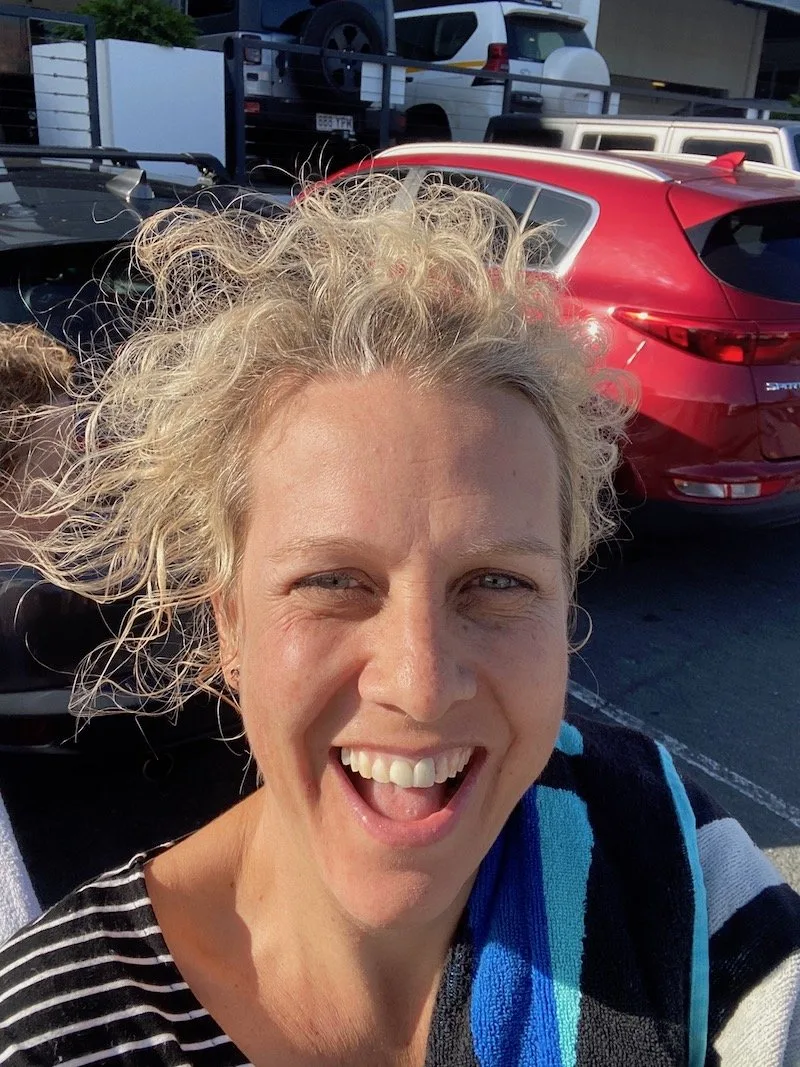 Toadstool Rating: Surfers Paradise Jet Boating Reviews
Paradise Jet Boating Main Beach is one hell of a way to spend a glorious hour on the pristine waters of the Gold Coast!
You will end up soggy, windswept, and perhaps a little burnt.
But it's worth it.
Buy a gift for a fabulous coworker, auntie, uncle, or friend by ordering gift vouchers from the tour desk.

MORE Viator Gold Coast Tours
Did you know that Viator Tours have lots of Gold Coast attractions for kids on offer including:
Wavebreak Island kayaking, bushwalking and snorkelling tour
Tropical Fruit World with Wildlife Boat Cruise from Gold Coast
North Stradbroke Island 4WD Beach Safari (with pick up)
2 hour beginners surf lesson at Main Beach
Natural Bridge Glow Worm Cave & World Heritage Eco Tour
Game Over Combo Package – Go Kart racing, Clip & Climb, Laser Tag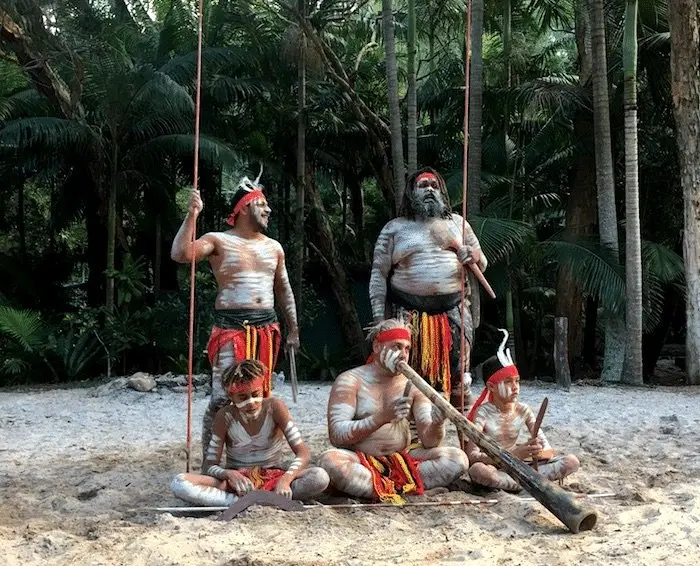 Viator Gold Coast Activities for Kids
You can also buy tickets for more Gold Coast family attractions for kids including:
Currumbin Wildlife Sanctuary General Entry Tickets (including the Aboriginal Cultural Show above)
Dreamworld Theme Parks Entry tickets
Private airport transfers
Holoverse Hologram experience tickets
Putt Putt Mermaid Beach tickets
Viator often has the best deals, so do check them out before you book anything.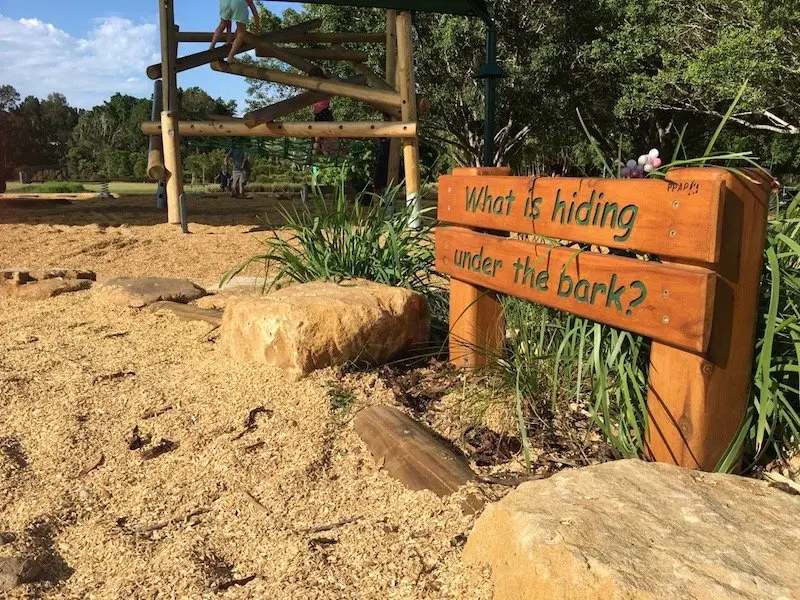 Looking for MORE SUPER DOOPER FUN things to do on the Gold Coast with kids?
Click the links in blue below for more Gold Coast fun.