INSIDE: Take a peek inside Currumbin Bird Sanctuary.
Firstly, this Gold Coast wildlife sanctuary is NOT just birds.
While Currumbin Bird Sanctuary might be best known for it's twice-daily Rainbow Lorikeet feeding sessions, there's so much more to do.
Anyone who is visiting the Gold Coast with kids, should put Currumbin Sanctuary on the itinerary.
It's the best value, nature experience on the Gold Coast where you can meet all kinds of native Australian wildlife close up.
We are National Trust Members, and have an annual pass so we might just see you there!
Take a look below to find the best things to do at Currumbin Wildlife Sanctuary, plus details of how to get there.
Disclosure: This article contains affiliate links. If you make a purchase after clicking on one of these links, we may receive a small commission at NO extra cost to you.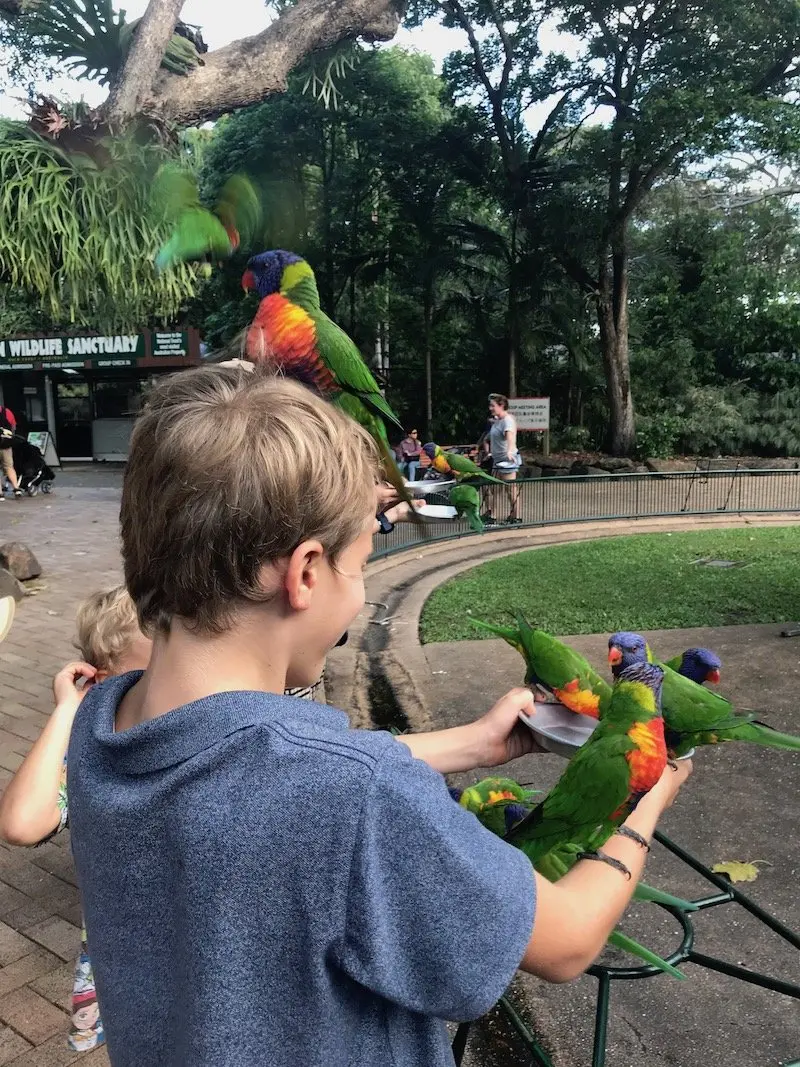 17 Best Things to Do at Currumbin Bird Sanctuary Gold Coast
Arrive at 9am and plan to spend the whole day.
It's shady and cool here, (unlike many of the other theme parks on the Gold Coast) and there's lots of places to sit and rest for a while.
Download the map to plan your day with our Top 17 things to do at Currumbin Sanctuary below.
---
RELATED: Big List of Things to Do on the Gold Coast with Kids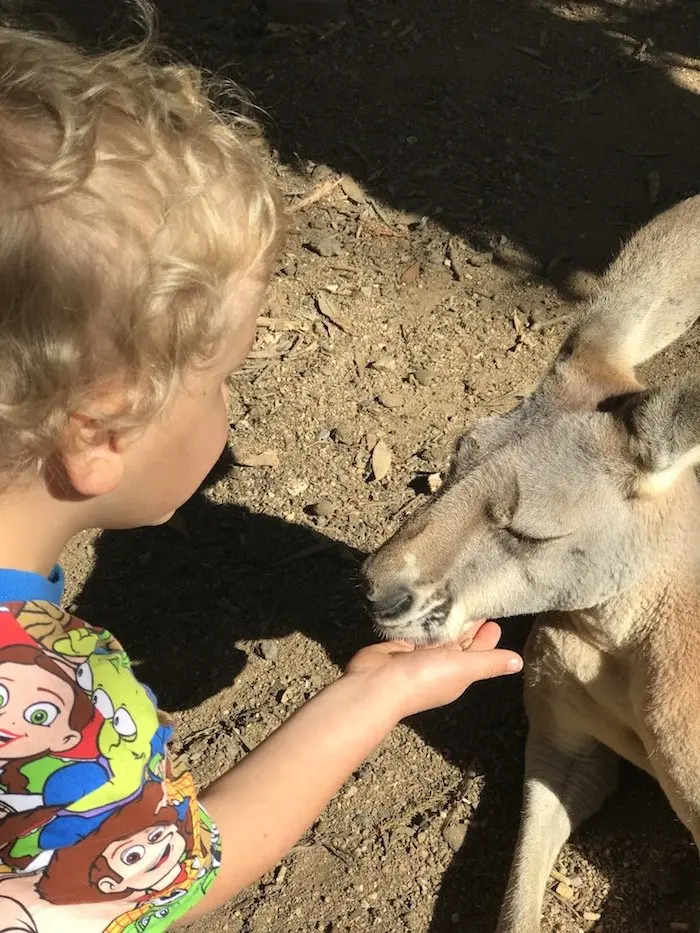 No. 1: Currumbin Wildlife Sanctuary Animals
Check out the Currumbin Bird Sanctuary animals.
Find native Australian animals including:
Koalas
Kangaroos and Wallabies
Wombats
Bilby
Echidnas
Emus
Dingo and Tassie Devil
Turtles and frogs
Snakes, Goannas, Lizards and Australia reptiles – all behind glass!
Pelicans
Hot tip: Buy a combo entrance ticket including a photo with the koalas!
NEW – Free Flight Bird Show
See eagles, kookaburras, owls, galahs and more.
Watch them soar above your heads at the new Free Flight Bird Show!
Boss Hogg Crocodile Show
Get up close with 'Boss Hogg', Currumbin Wildlife Sanctuary's resident male saltwater crocodile – reaching almost 5 metres in length and weighing about 800 kilograms!
Don't miss the Crocodile show.
Hot tip: Go early to find your place around the crocodile enclosure near the middle of the fence, in front of the feeding platform. You might be the lucky one who is picked to feed him!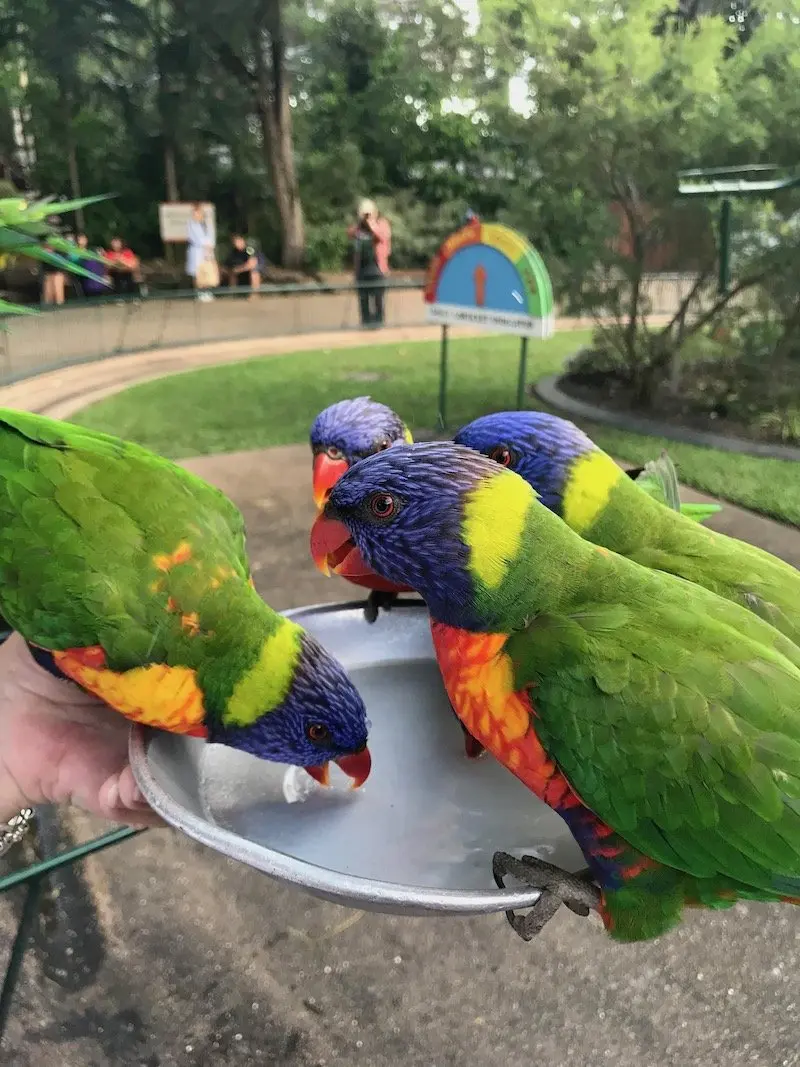 No.2: Currumbin Wildlife Sanctuary Bird Feeding Times
The lorikeet bird feeding at Currumbin Sanctuary is the thing I remember most from childhood!
Share this experience with your kids too.
Currumbin Bird Feeding times happen every day at 8am and 4pm.
These feeding sessions have been happening for more than 70 years, like clockwork.
Hold a plate of sweet syrup-covered bread and the birds will come to you. They may even land on your shoulders, eat out of your hand, or sit on your HEAD!
With no entry to Currumbin Wildlife Sanctuary required, this amazing experience is free to watch. Pay a gold coin donation for feeding.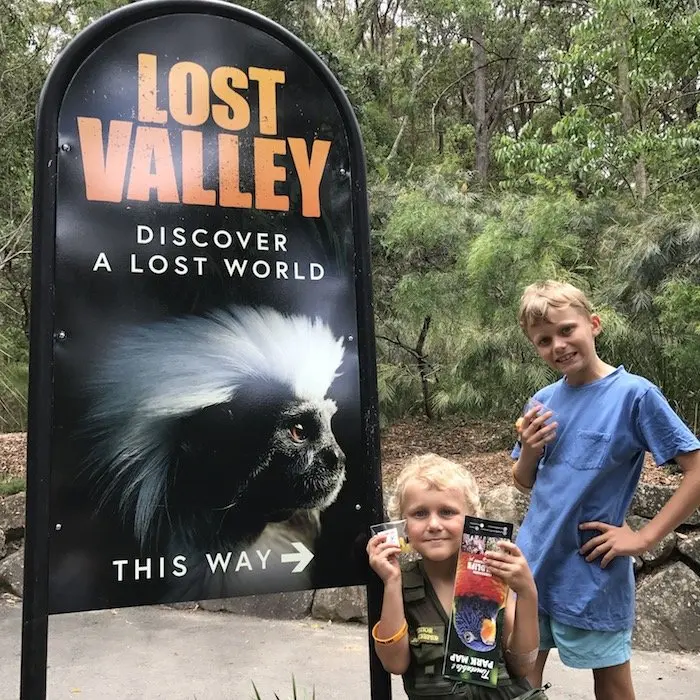 No. 3: Visit the Lost Valley at Currumbin Sanctuary
Discover a lost world at Currumbin Sanctuary.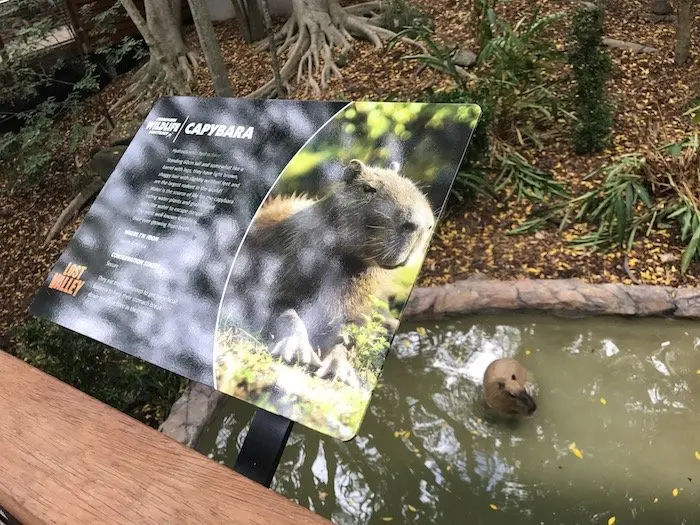 Opened on Boxing Day in 2017, this wetlands exhibit features animals including:
capybara
cassowary birds
cotton top tamarins (cute!)
red pandas
birds of the Lost Valley
reptiles of the Lost Valley
tree kangaroos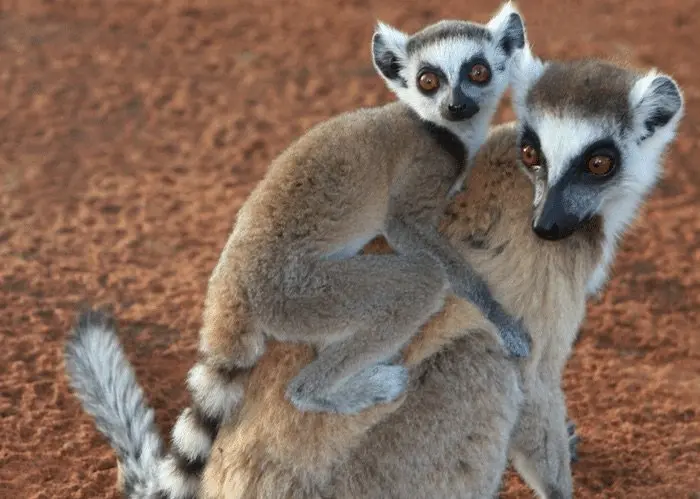 No. 4: Laugh with the Lemurs
The highlight is checking out the cheeky antics of the pair of funny Lemurs.
Follow them as they play their way around the park with their keeper close by.
Found only on the African island of Madagascar and some tiny neighbouring islands, these cute creatures have a big personality.
Say hi to them in the Lost Valley!
No. 5: Visit the Animal Hospital at Currumbin Sanctuary
A visit to the Sanctuary is not complete without a visit to the Currumbin Bird Sanctuary hospital where you can witness the amazing team operate on sick and injured animals.
There's some hands-on activities for kids including a chance to play Vet with dress ups, and stuffed toy animals to attend to!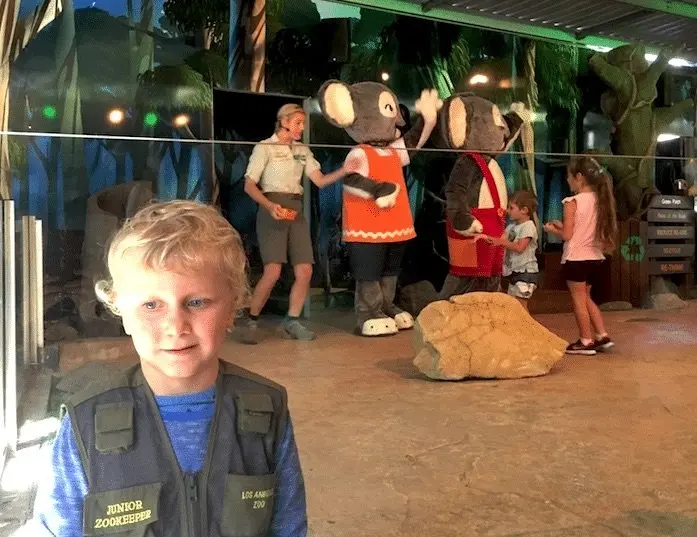 No. 6: Blinky Bill Currumbin Wildlife Sanctuary Show
Blinky Bill's Studio Adventure show is a fun, interactive, fast paced musical show, that will have the audience singing and dancing, and send imaginations soaring.
Plus, you can meet Blinky Bill after the show and have your photo taken.
(If you are brave enough. This is as close as Jack wanted to get!)
No. 7: Ride the Currumbin Sanctuary Train Locomotive
Built in 1964, and taking families on a fun trip around the Sanctuary ever since.
Stay on board the steam train, and you'll eventually travel THROUGH the kangaroo enclosure!
Read the history of the Currumbin Sanctuary train ride here.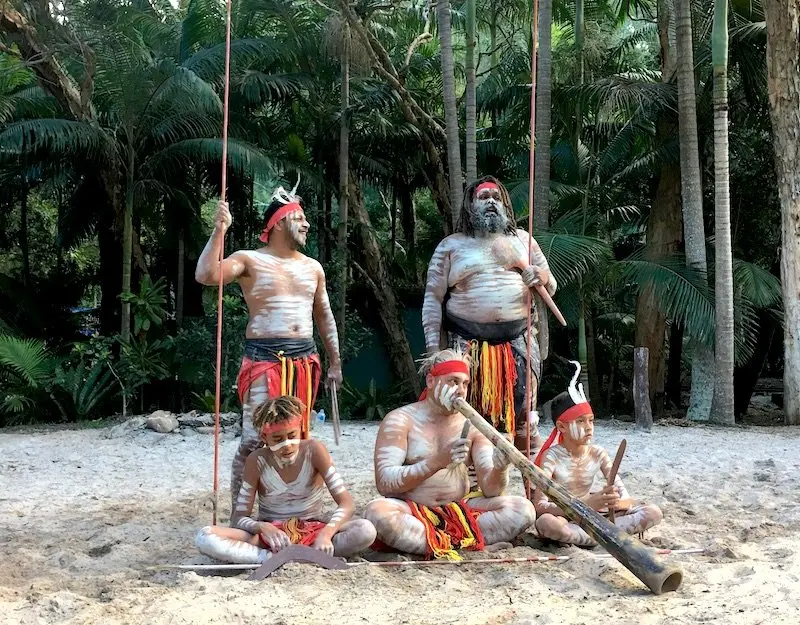 No. 8: Aboriginal Show at Currumbin Wildlife Park
Immerse yourselves in Indigenous Australian culture, song, dance and storytelling
Celebrate local Gold Coast Aboriginal culture too.
Watch the Yugambeh Aboriginal Dancers tell their stories through dance and music.
Show daily at 3.30pm.
Brought to you by Currumbin Wildlife Sanctuary & Jellurgal Aboriginal Cultural Centre.
For more information on the Jellurgal troop download PDF Brochure.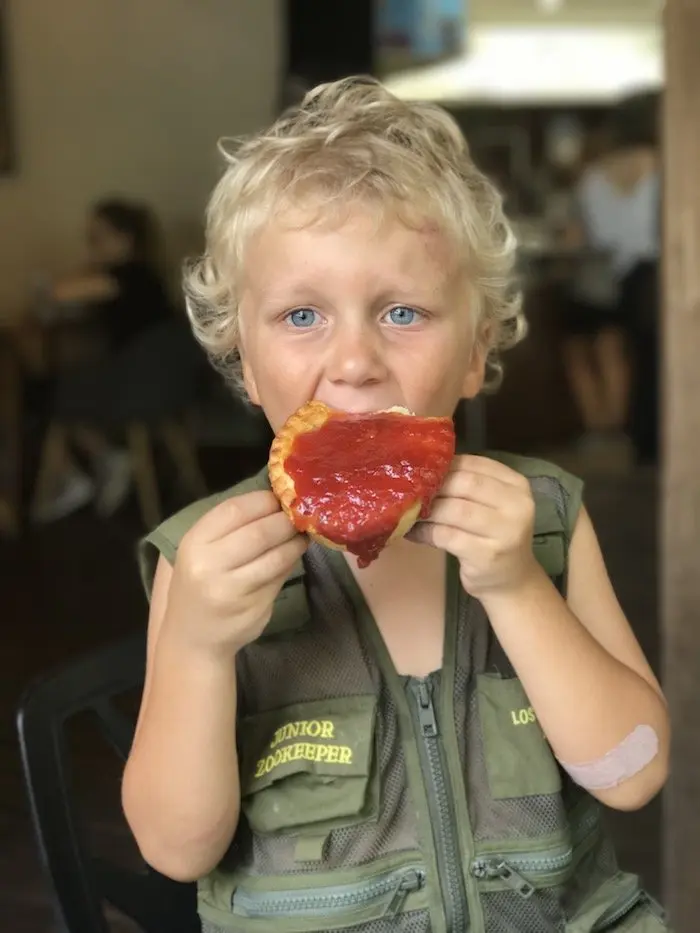 No. 9: Grab a Snack at Currumbin Wildlife Sanctuary Cafe.
The Sanctuary Cafe is situated at the entrance to the Sanctuary.
Pick up a coffee for you, and a commemorative Koala-shaped cup filled with lemonade for the kids.
Grab Morning tea, lunch or afternoon tea, and eat in style by the Lorikeet feeding zone, with a few pesky ibis on hand to eat your scraps too!
Click here for all dining options on site.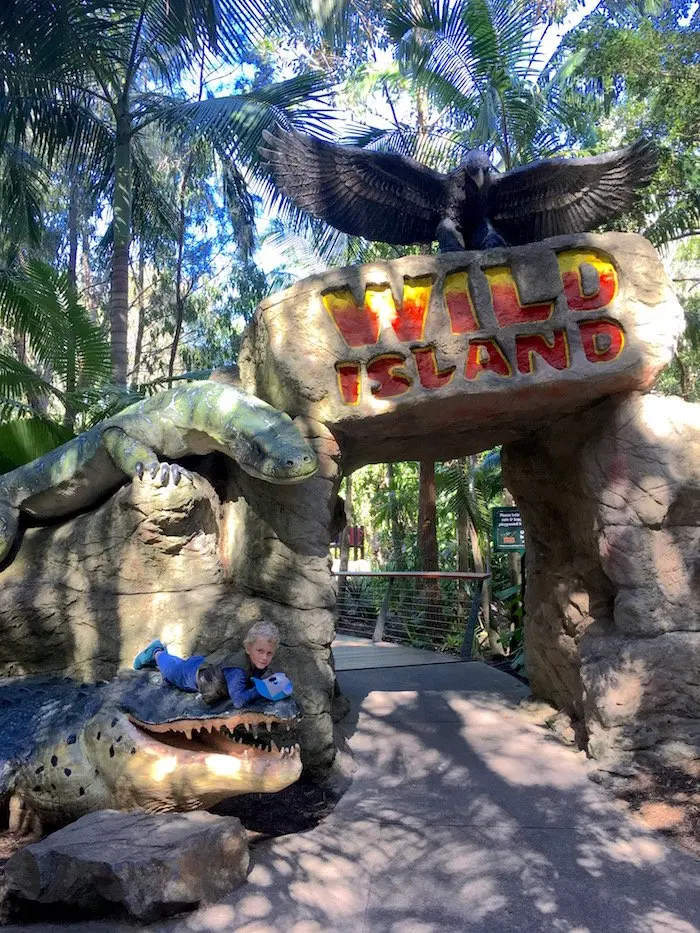 No. 10: Wild Island Adventure Playground
My kids LOVE the Wild Island Adventure playground at Currumbin Sanctuary.
There's:
hide-and-seek tunnels
a giant fort to climb with rope bridge ladders
a huge silver slide
a massive spider web scramble net, and
a flying fox.
NEW – Wild Island Adventure Splash Zone
The Wild Island Adventure Splash Zone offers kids up to the age of 12 a range of timed water jets, streams and waterfalls to run through.
Hot tip: A Currumbin Playground for Toddlers
Just across the train track, to the left of Wild Burgers food store, there's another fenced playground for toddlers and preschool kids too.
No. 11: Currumbin Sanctuary Gift Shop
Situated at the entrance/exit to the Sanctuary, The Currumbin Wildlife Sanctuary souvenir shop has TONNES of fun Aussie souvenirs.
Look out for the CWS t-shirts on sale, or pick up a new soft toy to add to your collection.
Nature's Gift Store is both the main gift shop and the location of the Photography Counter where you can view and collect your photos of your day.
The Currumbin Wildlife Sanctuary shop open to visitors to the Sanctuary and the general public from 8am daily.
There's also other gifts shops scattered around the Sanctuary including:
Spirit of the Outback gift shop outlet
Wild Things & Candy Store
General Store (next to Close Encounters stage)
Kangaroo Outpost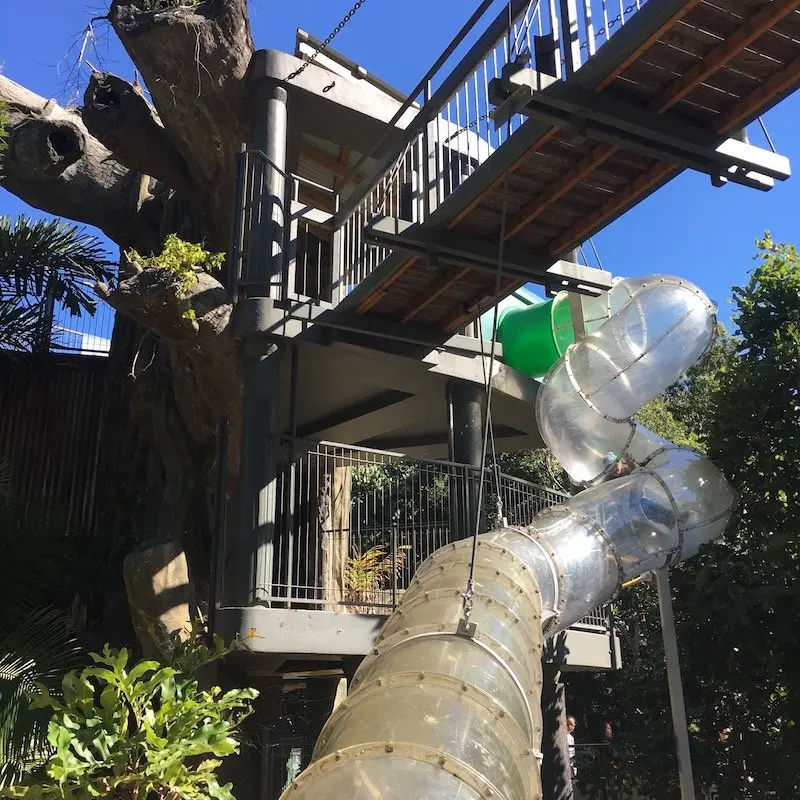 No. 12: Ride Blinky Bill Slide
Ride the see-through slide !
Be prepared to hang around Blinky Bill's Home Tree and Slide for a while as the kids race down, and climb back up again. Over and over and over.
This is the spot to find all the Australian reptiles, snakes, lizards and nocturnal animals too.
No. 13: MORE Currumbin Sanctuary Shows
Find a seat in the audience at one of these shows:
the Big Fang Theory show
the Pelican and Eel Show,
the Australiana Show where you can watch and listen as the "Gun Shearer" shares a yarn and a few laughs while shearing a Marino woolly sheep. Meet his working dog, and step up for a turn to hold a snake after the show too!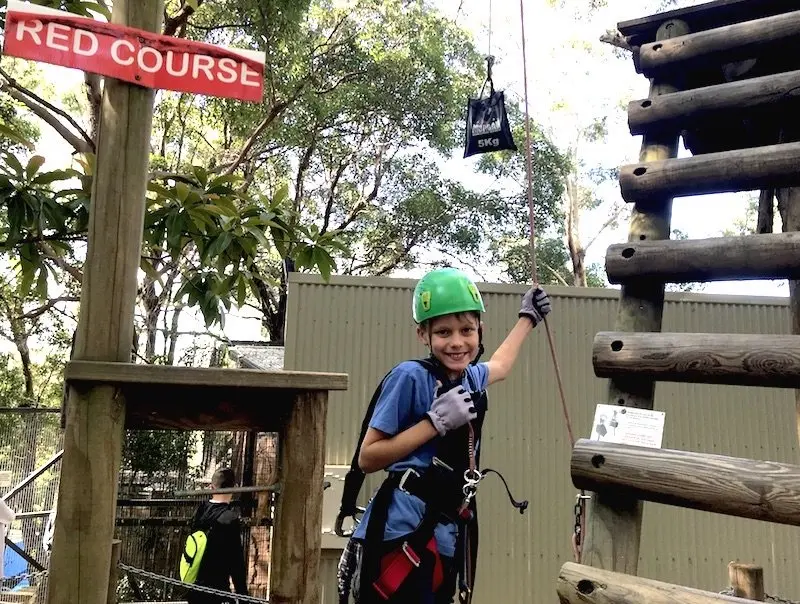 No. 14 – Currumbin Wildlife Reserve Experiences
There's plenty of additional activites you can do at this Gold Coast wildlife park for a fee.
Segway rides
Currumbin Wildlife Sanctuary Treetop Challenge
Echidna encounter
Dingo Walk
Behind the Scenes
Currumbin Wildlife Sanctuary Night Tour
Click here for details and to buy tickets (not included in entry fee)
Croc Shock! Tree Top Challenge
The Tree Top Challenge at Currumbin Sanctuary is the most fun you can have above the Crocodile pit!
Buy tickets here (includes entrance to wildlife reserve AND tickets for tree top adventure)
No. 15 – Sanctuary Markets every Friday
Open from 4pm to 9pm, bring the whole family to enjoy a scrumptious feast of street food eats, including:
dumplings
gyros
burgers
curries
paella
tacos and
crepes.
Bring cash.
Hot tip: Go early. It's popular with locals and gets packed. The food here is GOOD!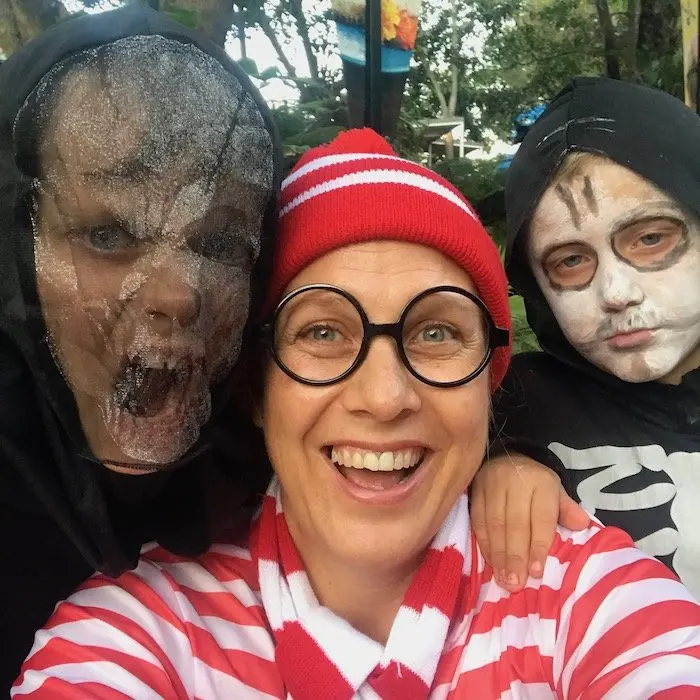 CURRUMBIN WILDLIFE SANCTUARY EVENTS
No. 16: FestEVIL at the FANGtuary!
Looking for some ghoulishly good fun to have with the family on the Gold Coast on Halloween?
Scare yourselves silly at the fun kid-friendly FestEVIL at the FANGtuary!
Deck yourself out in your most spine-tingling costume and swoop on into Currumbin Wildlife Sanctuary to celebrate FestEvil at the Fangtuary from 6-9 pm.
There's fang-tastic activities for kids (and the kids at heart).
Hop aboard the ghost train for an eerie, edge-of-your-seat ride through the Sanctuary at night.
Keep your eyes peeled for any ghosts of course, and see if you can, sneak a peek at what our resident animals get up to after dark.
There's tricks and treats for the kids to enjoy, plus a whole lot of activities on offer like:
special Halloween-inspired shows
a SpecDracula Blinky Dance Party, and
a kids disco with Sunny Skye.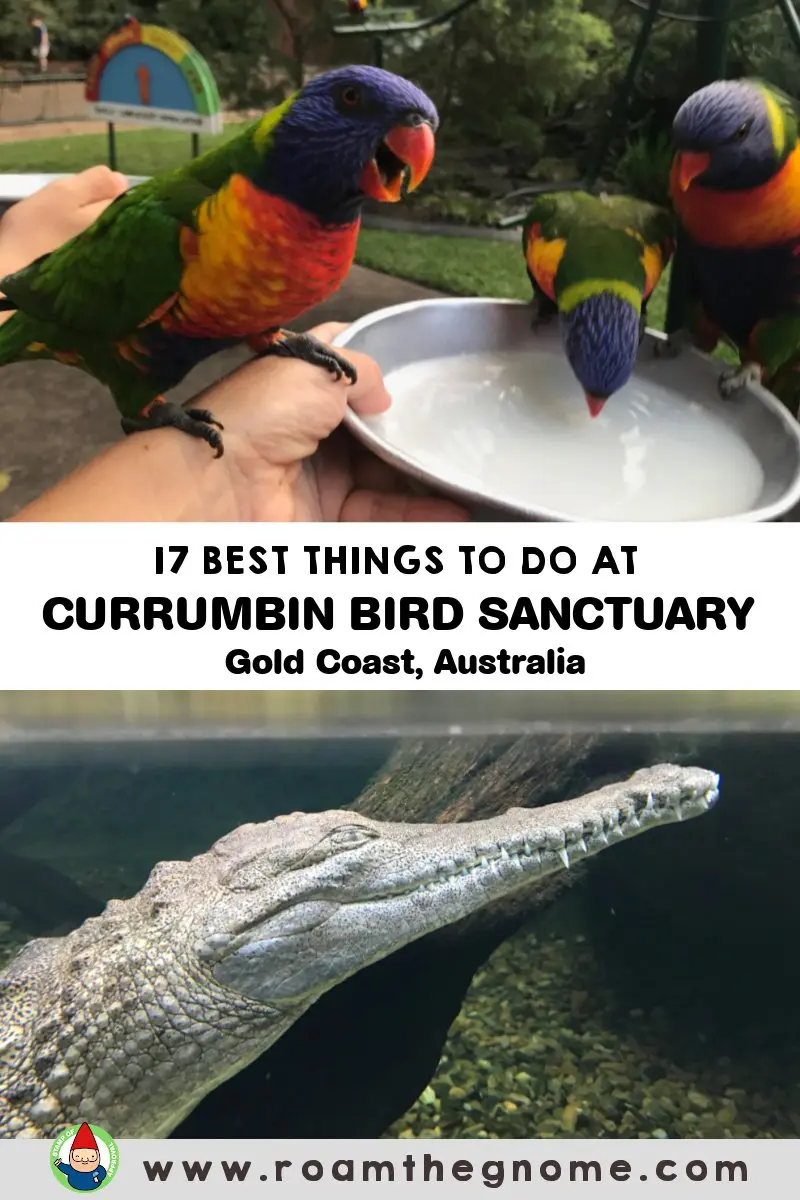 No. 17: Christmas at Currumbin Sanctuary
During the festive season, bring the family and enjoy dinner at the Sanctuary markets from 4pm, before you jingle all the way into the Sanctuary and board the Santa Express.
Have your photo taken with Australian wildlife
watch Blinky Bill's Christmas Party Show and
say hello to Santa!
Festive fun for the kids, and in-park entertainment for the whole family.
Entry to the Sanctuary $15 per person, $10 per National Trust Member.
Kids under 4 free (must be ticketed).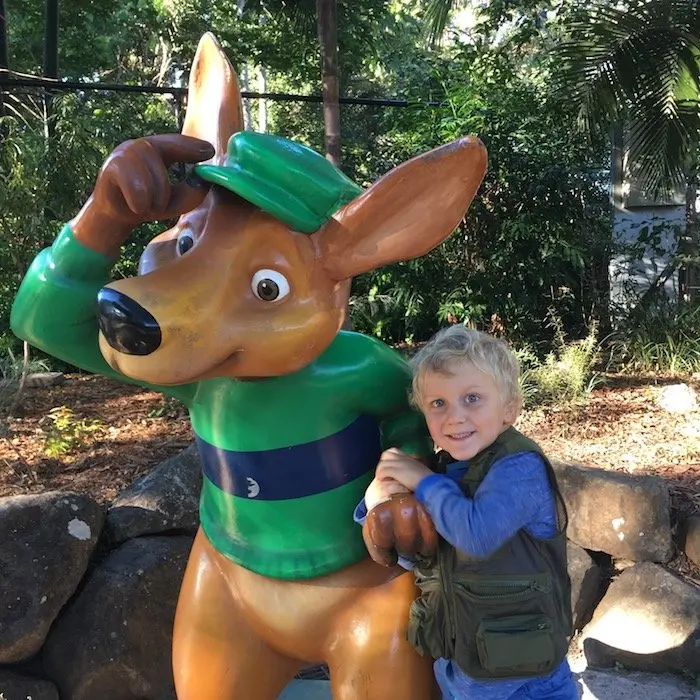 Currumbin Wildlife Sanctuary History
The sanctuary was opened as the "Currumbin Bird Sanctuary" by Alex Griffiths in 1947 as a scheme to stop the local lorikeet population destroying his flower plantations.
Since then, and now for over 70 years, the Sanctuary has been conserving native wildlife and nurturing the local indigenous heritage while attracting visitors from all around the world.
The wildlife hospital opened in 1989 and employs local wildlife vets to care for sick, injured and orphaned wildlife from around the city and Northern NSW.
It was officially renamed as Currumbin Wildlife Sanctuary in 1995, and added to the Queensland Heritage Register in 2009, as a ode to it's place as being of "great importance to the evolution of the state's history of conservation"
Read the whole history and more fun facts here.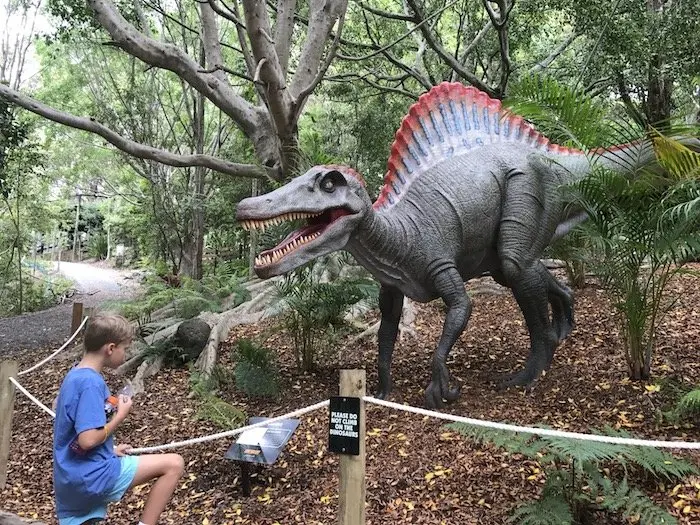 THE INSIDE SCOOP: Currumbin Wildlife Sanctuary Currumbin
Correct at time of publication. Please check with venue for updates. We apologise in advance if there have been any changes we are unaware of. All prices in AUD dollars.
Where is Currumbin Sanctuary?
Address: 28 Tomewin St, Currumbin QLD 4223. It's at the Southern end of the Gold Coast, just 5 minutes drive from Gold Coast International airport.
Telephone: (07) 5534 1266
Website: Click here
Currumbin Wildlife Sanctuary Opening Hours
Daily, 8am to 5pm.
Closed Christmas Day and Anzac Day.
Currumbin Wildlife Sanctuary Prices
Currumbin Bird Sanctuary prices start from:
Adults $49.95
Children 4-14 $39.95
Concession $39.95
Family – 2A + 2C $149.95
Family – 2A + 3C $172.00
Online specials available from time to time.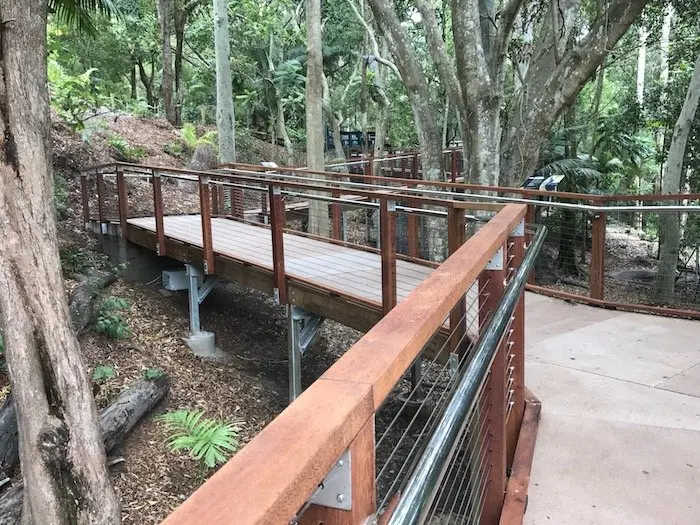 Currumbin Wildlife Sanctuary Tickets
You can also buy Currumbin San
Currumbin Wildlife Sanctuary Discount Tickets
Keep an eye out for Currumbin Wildlife Sanctuary deals as locals hardly ever pay full price. You don't have to either.
Search Groupon for Currumbin Wildlife Sanctuary groupon deals
RACQ members can access discounted entry. Click here for details.
Haven magazine occasionally advertises a d
Currumbin Wildlife Sanctuary Annual Pass
Become a National Trust member today, and enjoy:
free entry to CWS all year round
entry to all National Trust properties around Australia
discounts on food and merchandise, AND
the awesome National Trust magazine.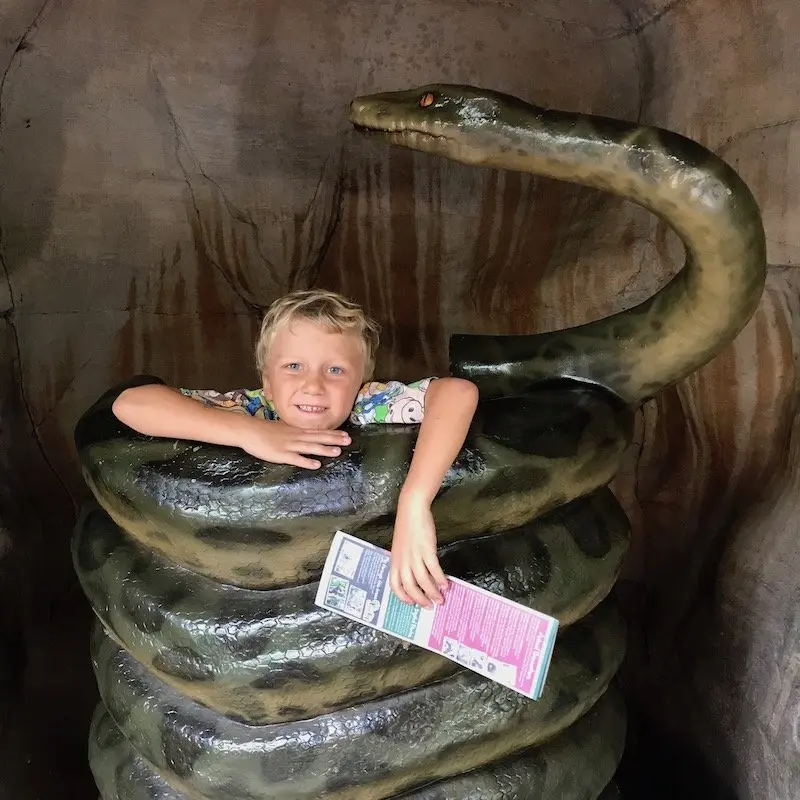 How to get to Currumbin Wildlife Sanctuary Australia
By Bus: Surfside Buses run along the Gold Coast highway from Southport, Surfers paradise and Broadbeach all the way through Burleigh and Palm Beach to the Sanctuary. See Translink for details.
By Car
From the south
Travel along the Pacific Highway onto the Gold Coast Highway at Coolangatta. Then follow the Gold Coast Highway to Currumbin and turn right at the traffic lights onto Tomewin Street.
From the north
Travel south on the Gold Coast Highway to Currumbin. Turn left at the lights onto Tomewin Street.
On the M1 Motorway
Travel on the M1 Motorway, take exit 95 to Stewart Road. Turn left onto the Gold Coast Highway, then turn right onto Tomewin Street.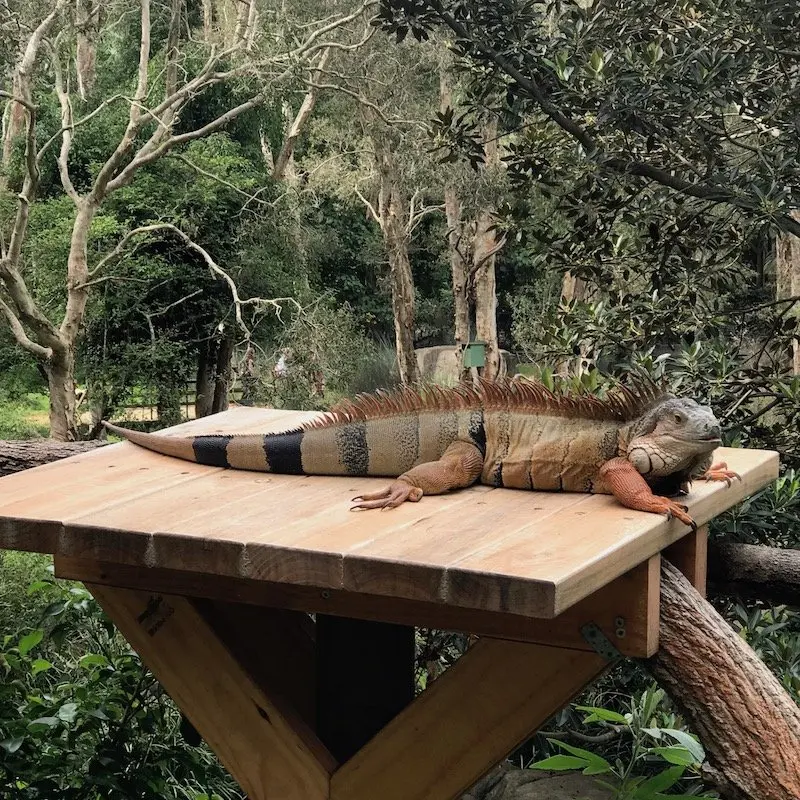 Currumbin Wildlife Sanctuary Parking
Dedicated car park on Tomewin Street
Open from 7.30am until 5.30pm (except on event days).
Car park fees apply.
Free for Annual Pass holders.
Alternatively there is free street parking.
Currumbin Wildlife Sanctuary Map
Facilities at Currumbin Bird Park
Public toilets: Yes, throughout park. Baby change facilities available.
Disability access: Yes
Closest ATM: In Sanctuary Cafe
Shade: Yes
Picnic tables: Yes
Water Bubblers/fountains: Yes
Scooters and Bikes: No
Dogs: No
Currumbin Wildlife Sanctuary Accommodation
The closest accommodation to Currumbin Sanctuary are the Sandcastles Apartments, or Jellyfish on Currumbin.
Rocks Resort is a divine 10 minute wander along the Currumbin beachfront from the sanctuary. This would be our pick!
Toadstool Rating – Currumbin Wildlife Sanctuary Review
Don't miss it.


Looking for MORE Things to Do in Currumbin & surrounds?
Wondering what to do in Currumbin afterwards? Click the links in blue below.