INSIDE: Take a look inside Ripleys Gold Coast Oddity Museum.
Ripleys Gold Coast is an ODDITY Museum to tickle your funny bone, bombard you with random facts, and scare the bejeezus out of you too.
There's tonnes of fun & hands-on activities for kids at Ripleys Surfers Paradise!
Grab yourself a discount entry to the Odditorium if you can, but it's good fun at any price.
It's one of the best Gold Coast Surfers Paradise attractions for the whole family.
Take a sneak peek below for all the details!
Disclosure: This article contains affiliate links. If you make a purchase after clicking on one of these links, we may receive a small commission at NO extra cost to you.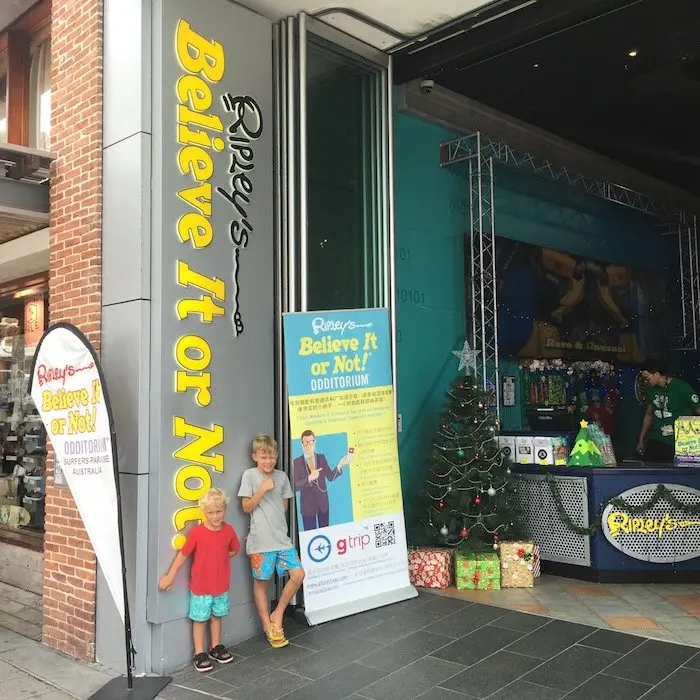 Guide to Ripleys Gold Coast
Ripleys Believe it or Not! museum in Surfers Paradise has 15 themed galleries and tonnes more hands-on interactive exhibits.
Every turn reveals something new, fun or surprising to discover.
Be sure to look beyond the obvious!
If you think a room is boring, look more closely until you find something that catches you unawares.
---
RELATED: Big List of Things to do on the Gold Coast with Kids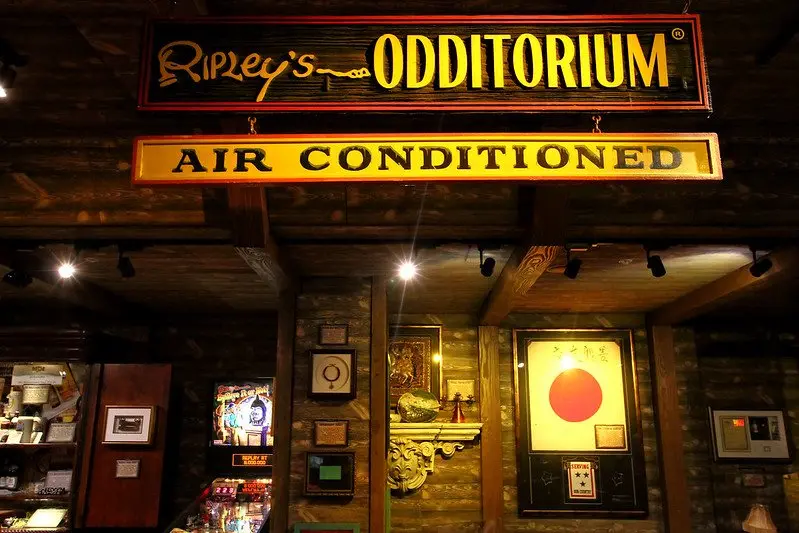 Image credit: Mohd Fazlin Mohd Effendy Ooi via Flickr CC BY 2.0
Things to do at Ripleys Surfers Paradise
No.1: Shrunken Heads
Shrunken heads, animal oddities, and rare artefacts from around the globe (over 400 of them!)
No.2: Spinning Vortex Tunnel
Survive a walk through the Spinning Vortex Tunnel.
This is an exercise in winning over nausea.
No.3: Piano Musical Stairs
Play the Piano Musical Stairs as you walk down!
No.4: Interactive Dance Room
Jump for joy in the Interactive Dance Room (our favourite spot!)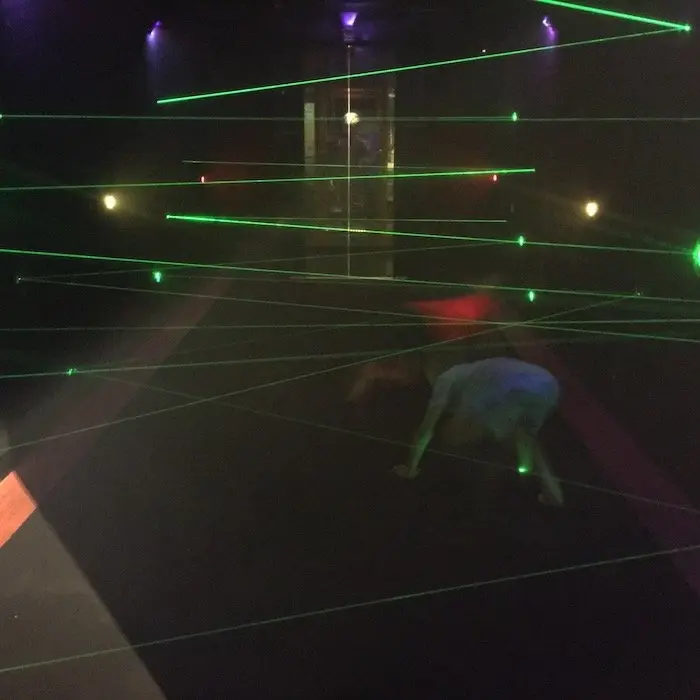 MORE attractions at Ripleys Believe It or Not Gold Coast
No.5: Laser Race
Navigate through a web of lasers as you try and beat the buzzer. This attraction raises your heartbeat somewhat.
No.6: Oddities made from food
See the Last Supper made from burnt toast, and a portrait of Michael Jackson made from gum balls.
No.7: Curious collections
There's collections of unusual dresses, fashion, hats, and jewellery – each one special because of the connection it has to a historical event, or what it's made from.
No.8: Miniatures
Spot the World's Smallest Car.
Plus a tiny jade elephant, tiny story books, and a minute baseball glove, perfectly stitched.
No.9: Touch the Skull Face
He invites you to!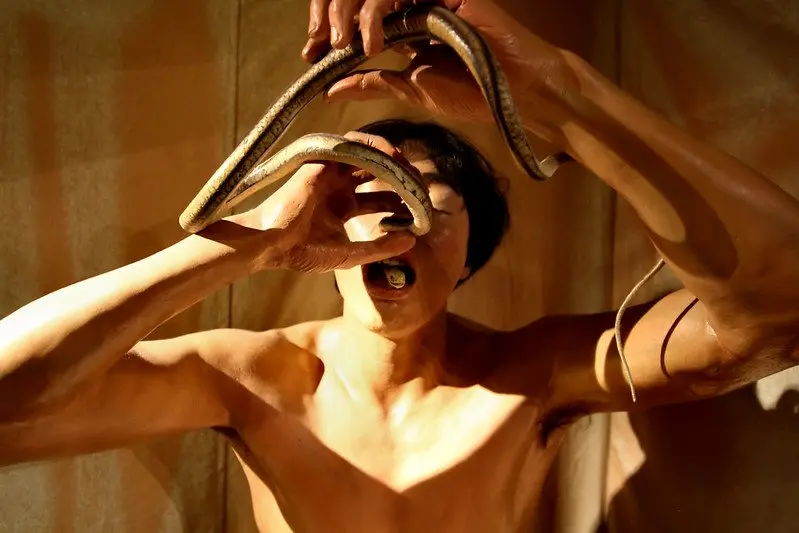 Image credit: Mohd Fazlin Mohd Effendy Ooi via Flickr CC BY 2.0
No.10: Snake Charmer
See the Venice Beach snake charmer who trained his pet snake to crawl in and out his nose!
No.11: Touch the Fertility Statues
Or not, if you don't want to have a baby.
These statues are well known for their ability to help couples fall pregnant, or so they say.
If this is you, be sure to fill in the form so you can let them know of your success in making a baby!
No.12: See Dame Edna made from Chicken Wire!
There's no end to the display of creative art and craft here too.
Dame Edna's sculpture is one of the best.
No.13: Double Eyed Man
Look for the model of the man with two pupils in each eye.
He's one of only FOUR people in the world who've ever displayed this oddity.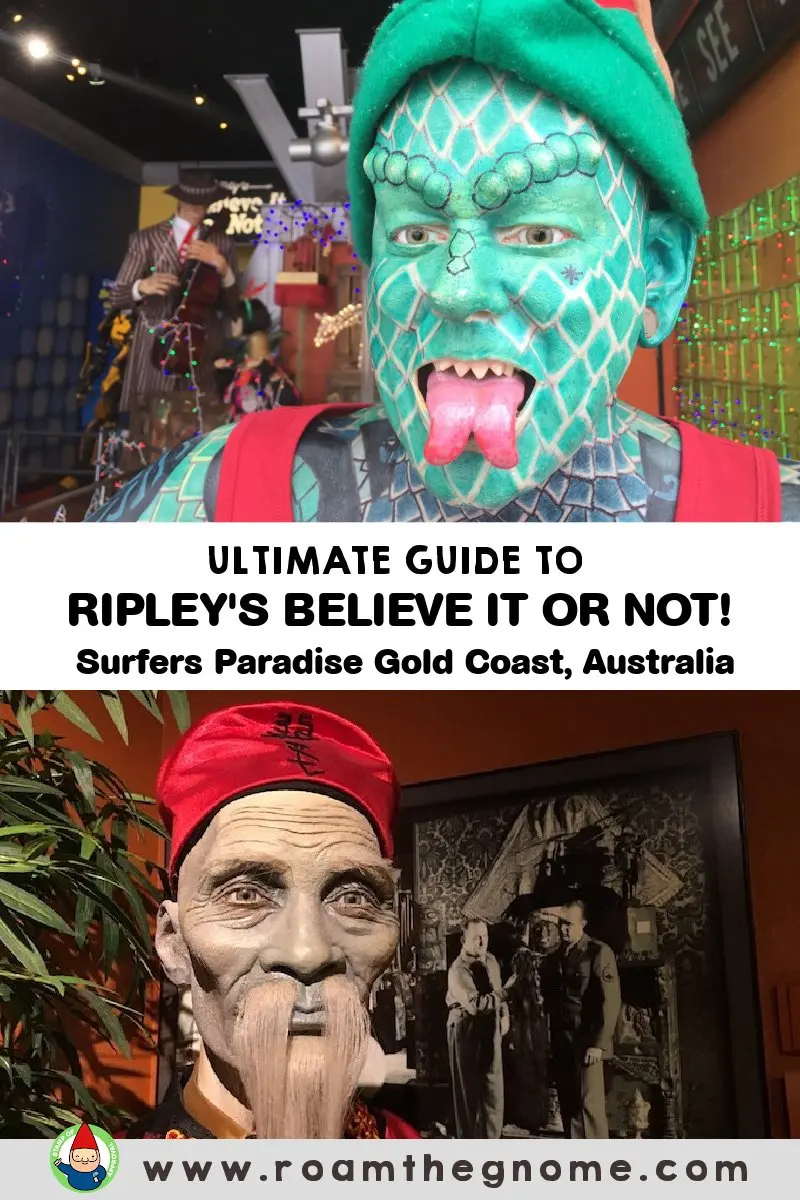 Ripleys Believe It or Not?
No.14: Blue Face Man
Ching Foo of Shensi China, pictured above, was born with a blue face.
Believe it, or not?
No. 15: Interactive Games & Play
There's places for kids to crawl, dance, and race, plus puzzles to complete, illusions to wow, and lots of interactive games.
There's something for everyone at Ripley's Surfers Paradise.
Hot tip: Beware of mirrors. That's all we'll say.
Ripley's 7D Moving Theatre
The brand new 7 Dimension theatre lets you see, touch, feel, move, shoot, and engage in a screen adventure like never before.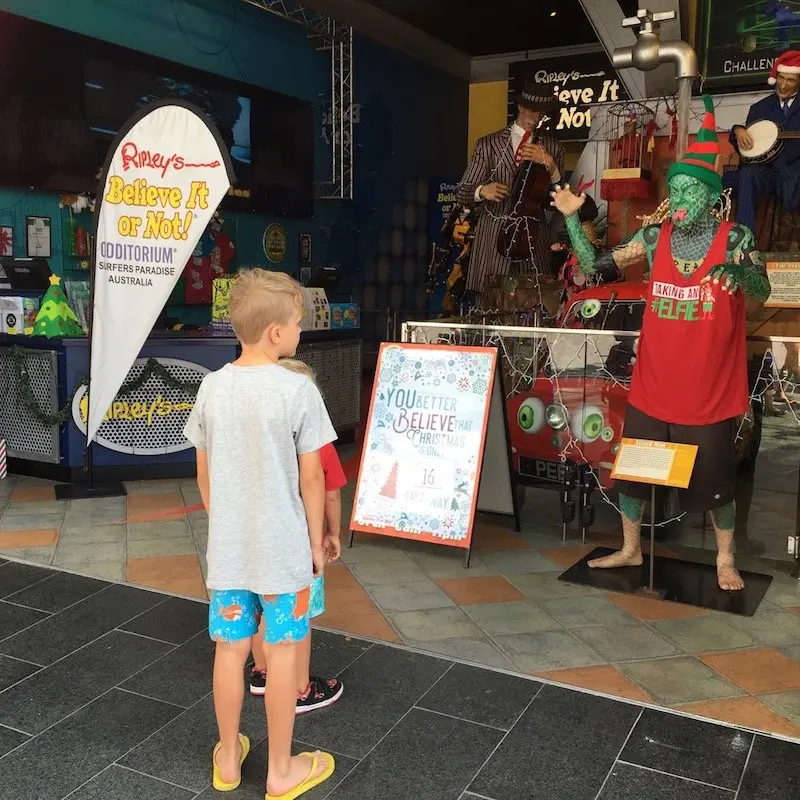 Three Fun Ripleys Facts!
Robert Riply was a collector, traveler, cartoonist, entrepreneur, anthropologist, curator, sports man, and presenter.
His life was one incredible adventure, travelling the world to find oddities and strange phenomena.
His life's work enabled him to become a millionaire early on!
He also coined the term, "Believe it, or Not!"
Ripley's Believe it or Not! Museums around the world
There are also Ripleys museums in:
England
USA
Malaysia
Denmark
Korea
Mexico
Thailand and
the Netherlands.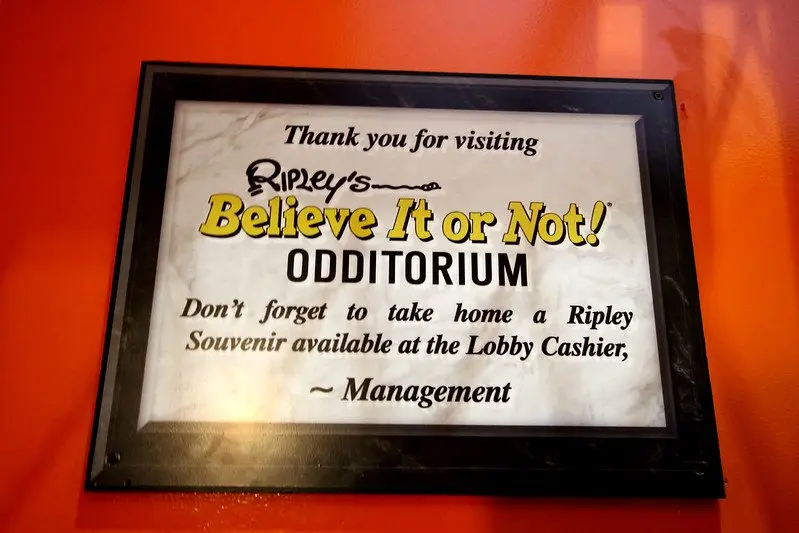 Image credit: Mohd Fazlin Mohd Effendy Ooi via Flickr CC BY 2.0
Ripleys Believe it or Not Surfers Paradise Shop
Pick up a souvenir of your time at Ripley's Believe it or Not! Odditorium souvenir and gift shop on the premises.
Exit the museum through the Ripleys gift shop.
Find:
Science Kits
Posters
Replicas of exhibitions
Postcards and Stationery
Ornaments and quirky gifts
Musical instruments
Books
Leave yourself at least 30 minutes to browse as there's all kind of strange treasures here.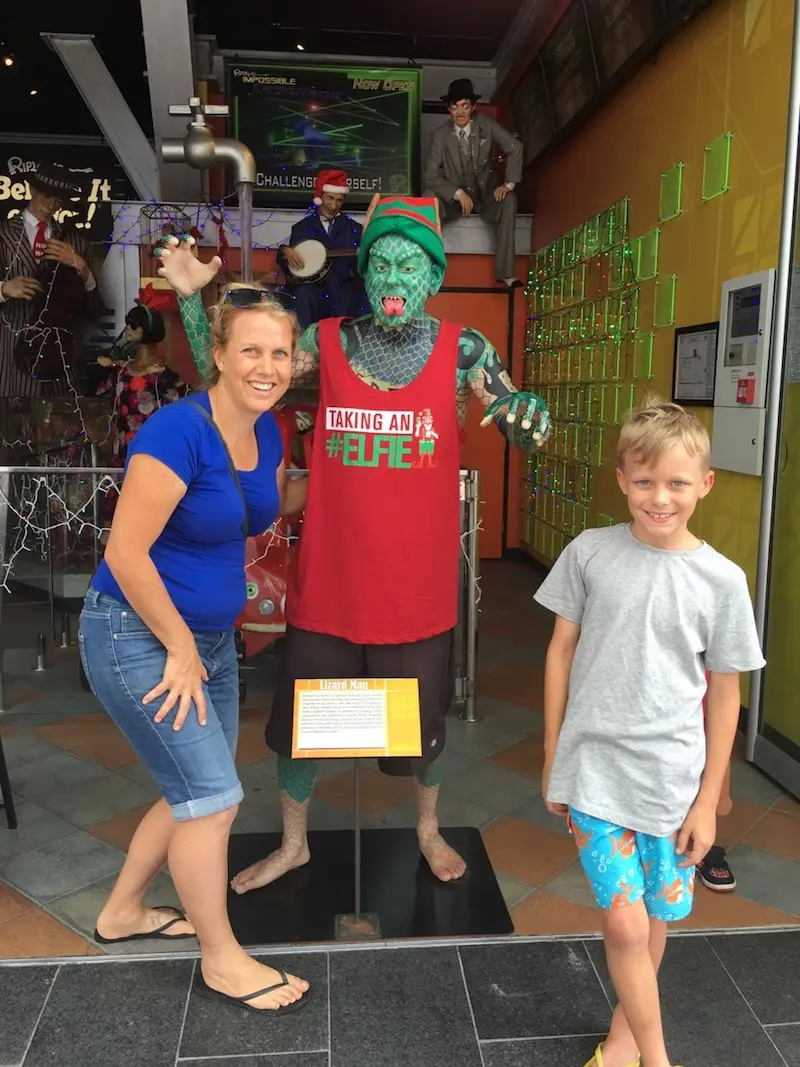 Image credit: Mohd Fazlin Mohd Effendy Ooi via Flickr CC BY 2.0
THE INSIDE SCOOP: Ripleys Museum Surfers Paradise
Correct at time of publication. Please check with venue for updates. We apologise in advance if there have been any changes we are unaware of. All prices in AUS dollars.
Address: Ripleys Believe it or Not in Surfers Paradise is located at Soul Boardwalk, Cavill Mall, Surfers Paradise, QLD 4217.
Telephone: 07 5592 0040
Email: [email protected]
Website: Click here
Opening Hours
9am till late, daily.
365 days a year.
New Years Day 9am to 6pm.
During low season, last admission 9pm, out by 10pm
During high season and weekend – last admission 10pm, out by 11pm
Ripleys Tickets
Adults $26.90
Seniors 55+ $22.90
Students 13-17 $22.90
Child 3-11 $17.90
FREE for under 3's
Ripleys Discount Tickets
Save $2 per adult, and $1 per child ticket by booking online.
Keep an eye on Groupon Gold Coast for Ripley's Surfers Paradise discount tickets.
BOOK NOW: Gold Coast Attractions Pass (save up to 40% off normal admission prices on 3, 5, or 7 local attractions)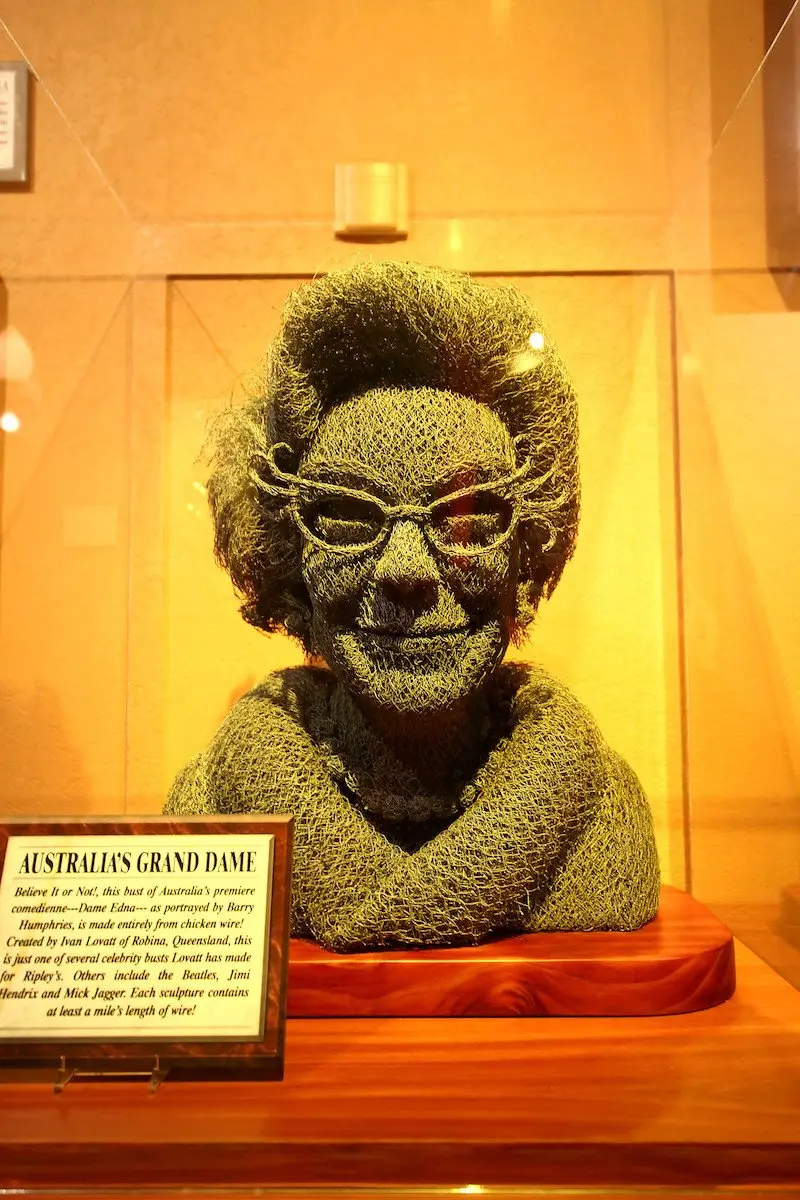 How to get to Ripleys Gold Coast QLD
How to get to Cavill Mall Surfers Paradise?
By Gold Coast light rail: Ride the G Link to the Cavill Ave station (from Helensvale or Broadbeach directions)
By Bus: Surfside Buslines provide daily scheduled services between major Gold Coast suburbs and Surfers Paradise for nominal fares. One of the closest bus stops either from North, South or West is Ferny Ave App Beach Rd Bus Stop.
By Car: Click here for google map directions
Where to park in Surfers Paradise
Soul Boardwalk parking
Soul Boardwalk Car Park- (Entry off 'The Esplanade'). Can stay all day. Covered. Pay on Exit. Min $5.00, Max $15.00 .
First hour free between 5am and 4pm
After 4pm, $8.00 flat rate
Bruce Bishop Car Park Surfers Paradise
Entry off 'Beach Road' or the Gold Coast highway
Can stay all day. Pay on Exit. Covered parking.
Approx $2.30 per hour
5 min walk to Cavill Mall
Esplanade Street Parking Beachside
Pay & Display parking available on the Esplanade Surfers Paradise
Approx. $2.70 per hour
Pay when you park. Check time limits and top up as you go.
Ripley's Believe It or Not! Map

Nearest takeaway coffee and/or food options: Cavill Mall has plenty of eateries and takeaway restaurants
Toilets: Yes including baby change table
Disability access: Yes
Dogs: No
Toadstool Rating – Ripleys Believe It or Not Surfers Paradise
This Gold Coast wax museum & odditorium is one of the things to do in Gold Coast with kids.

MORE Things to do in Surfers Paradise Australia
No.1: Cavill Mall
Wander around Cavill Mall to see street entertainment, and the local characters.
You can also:
ride the AquaDuck
grab a coffee at Starbucks
shop for fashion in Paradise centre mall
Visit Build a Bear Workshop toy store in the Paradise Centre
grab a gelato cone at Gelatissimo or an icecream at Ben & Jerry's Surfers Paradise
enjoy a burger at Hard Rock Cafe Surfers Paradise (look for the giant guitar at the start of the mall)
stay healthy with a Boost Juice smoothie for the whole family
grab a snack at Lord of the Fries !
No.2: TimeZone Surfers Paradise
Stay and play in one of Australia's biggest games arcades for the whole family.
Play glow in the dark golf, new laser tag arena, ride bumper cars, join in mini bowling, and there's over 200 games.
Find it at Level 1, Paradise Centre.
Open 10am to 11pm daily.
Hot tip: You can also visit Infinity Gold Coast, a laser experience like no other.
No.3: Surfers Paradise Beach
This is the Gold Coast's most famous beach, and entry is right across the road from Cavill Mall.
Bring your swimming costumes, sunscreen, and towels and take a dip between the flags.
Looking for MORE things to do on the Gold Coast with kids?
Click the blue links below for more Gold Coast tips