INSIDE: Everything you need to know about Tabatinga Tweed Heads.
Where do you go on the Gold Coast if you want to find GLOW IN THE DARK Putt Putt Golf, and a Balladium – the fast-paced, interactive ball blasting game played in an eye-popping black light arena, AND a giant indoor playground maze with a triple-run slide?
You'll find ALL of this, AND MORE, inside Tabatinga Tweed Heads, (part of Seagulls Club).
Tabatinga Tweed Heads is the BEST Indoor Playground!
It's our number one of Tweed Heads attractions for families.
Take a look below for a sneak peek, plus all the details of how to get here, entry fees and more.
Disclosure: This article contains affiliate links. If you make a purchase after clicking on one of these links, we may receive a small commission at NO extra cost to you.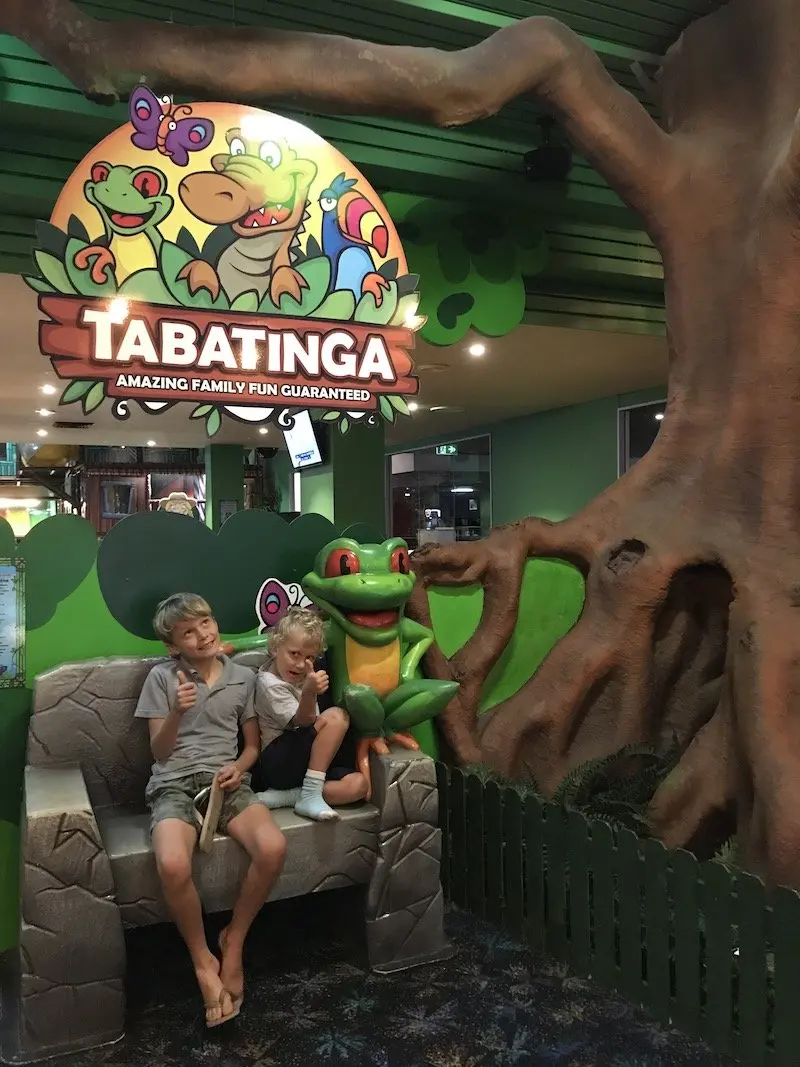 Guide to Tabatinga Tweed Heads
The Ultimate Indoor Playground on the Gold Coast
Tabatinga Tweed Heads is spotlessly clean, with not a rip or a tear in sight, and that alone is why you should put this indoor playground at the top of your 'things to do on the Gold Coast with kids' list.
We've visited lots of indoor playgrounds over the years, and this one tops the lot.
Without question.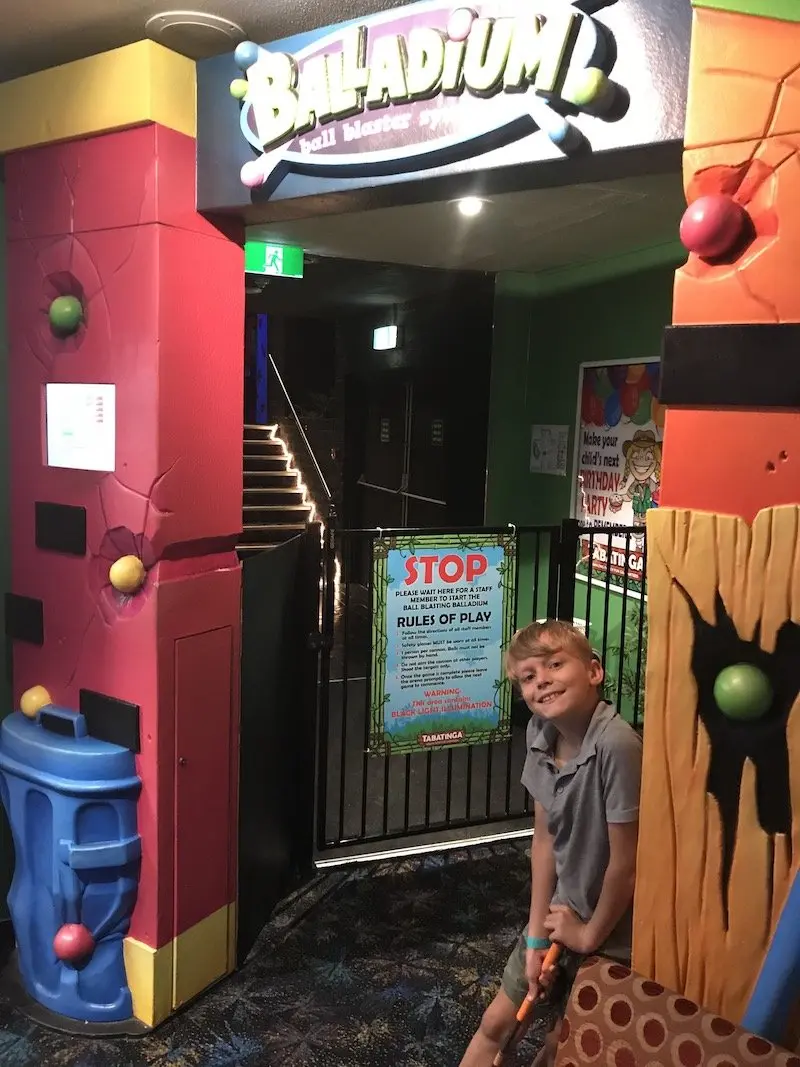 Tabatinga Indoor Play Space
Tabatinga Tweed Heads is NOT like those grubby, petri-dish indoor playgrounds, where you keep the sanitary wipes handy and swab down every surface before you touch it.
There's no ripped pile of magazines, dirty dish covered tables, or scraps on the floor, and this actually blew our mind.
Tabatinga Tweed Heads is more like a grown up's RSL or surf club restaurant WITH an epic kids play area attached, as opposed to a kids indoor playground with a snack food kiosk, and it makes a huge difference.
---
RELATED: Big List of Things to Do on the Gold Coast with Kids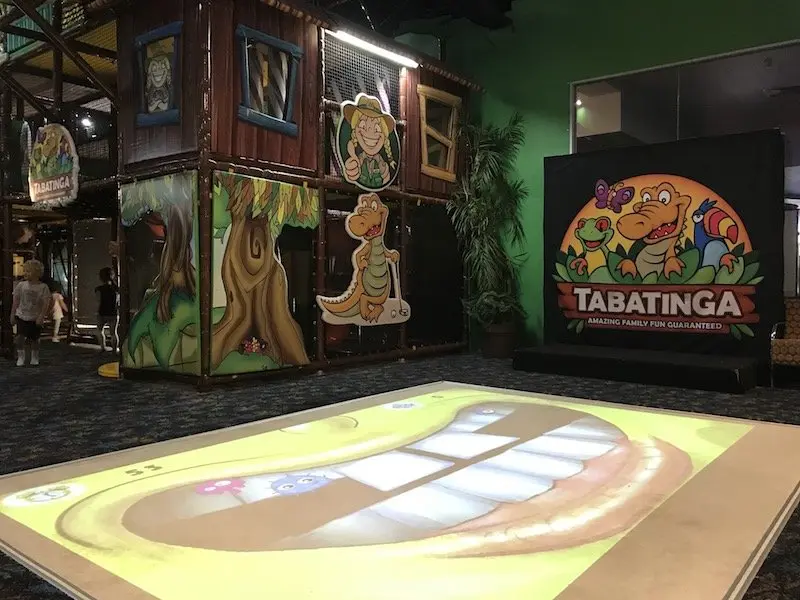 What to do at Tabatinga Seagulls
At Tabatinga, kids can:
climb the multi-story play maze structure
ride the slides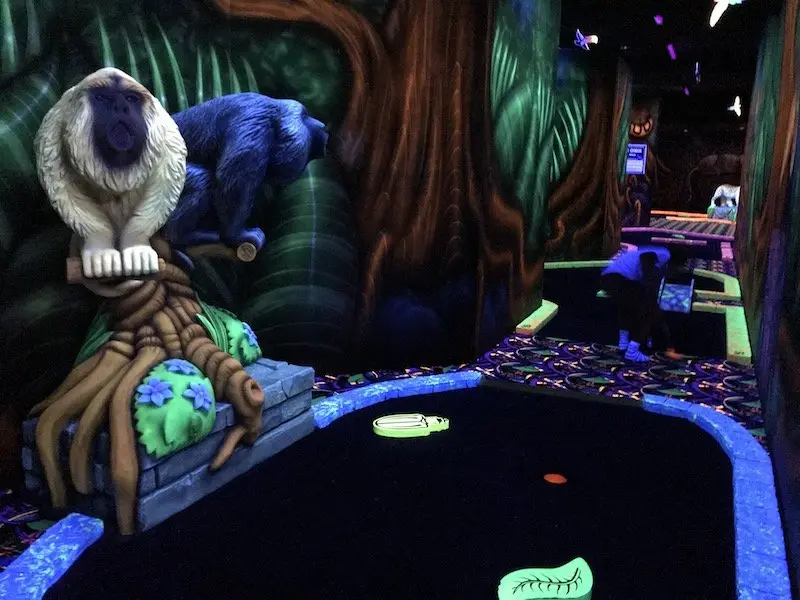 Glow in the Dark Mini Golf
Play Glow in the Dark 6 Hole Mini Golf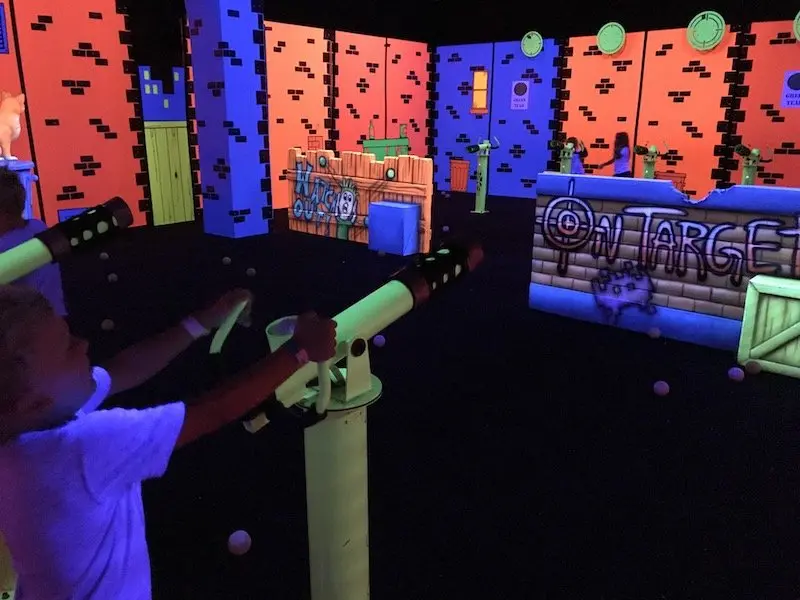 Balladium
Join the fun in the 10 Cannon Balladium Ball blaster zone. It's magnificent!
Or Skip and step on the interactive play floor
4 Car Bumper Car Arena
The newest addition to the fun!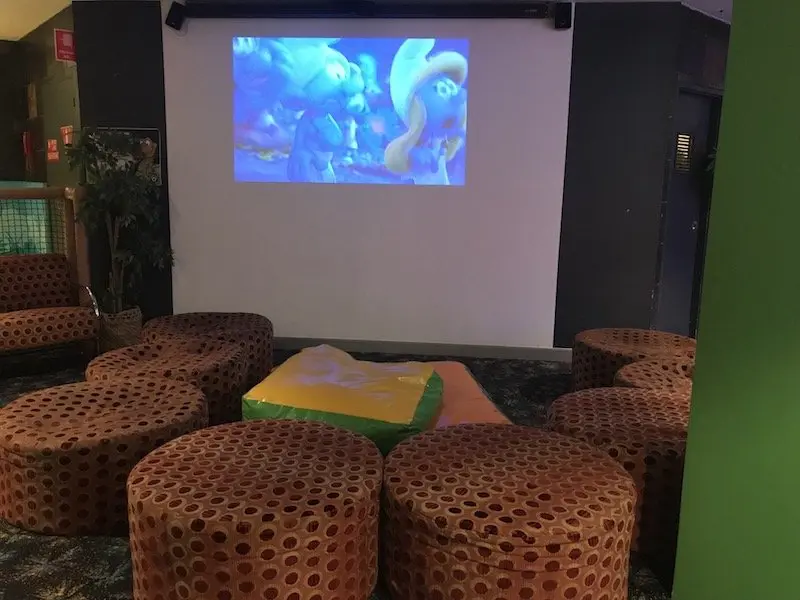 Movie Chill Out zone
Chill out on the lounges in the movie zone
Toddler Playground
Toddlers have their very own play area with soft spongy blocks to navigate, sculptures to climb, and baby slides.
Arcade Games
Scattered about, there's also arcade games where you earn tickets to win a prize.
(NB: Pay by coin. Not included in entry price)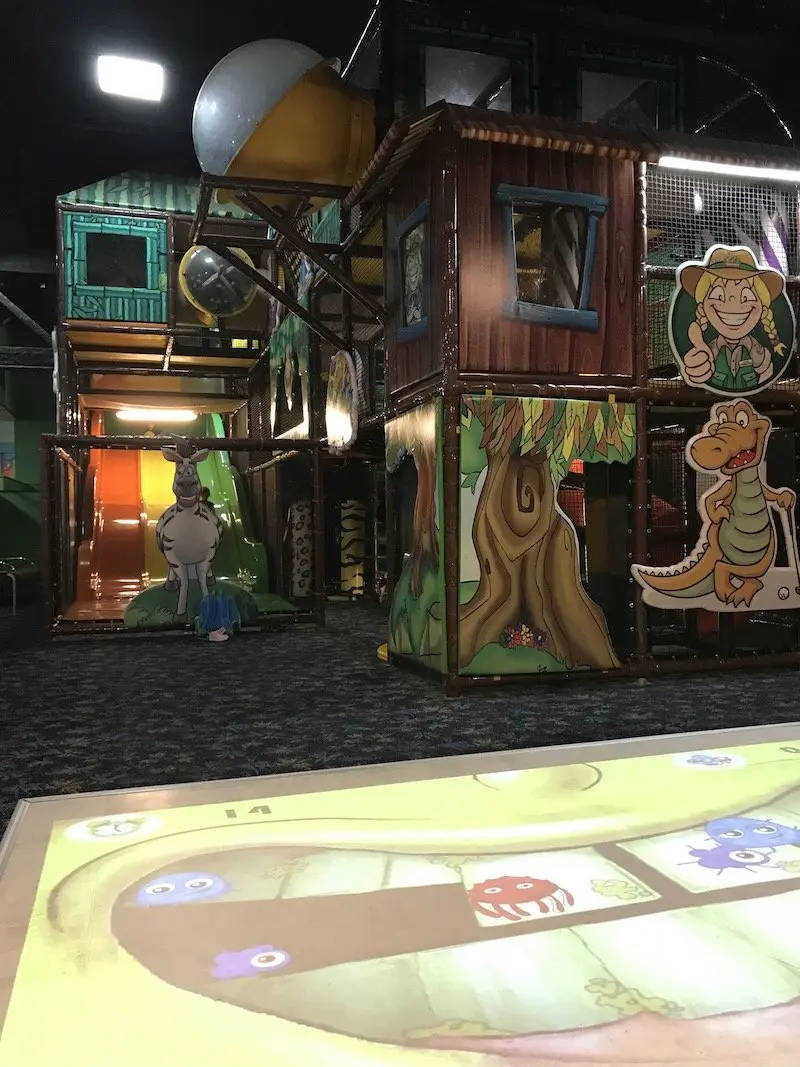 Tabatinga Play Centre gated for families
Tabatinga indoor playground is gated too, which means you CAN sit in peace and read, or work, or chat to other mums and dads uninterrupted, without worrying about where the kids have gone now.
It's air-conditioned too.
Is it obvious we love Tabatinga at Seagulls?
This Tweed family fun centre is a welcome change.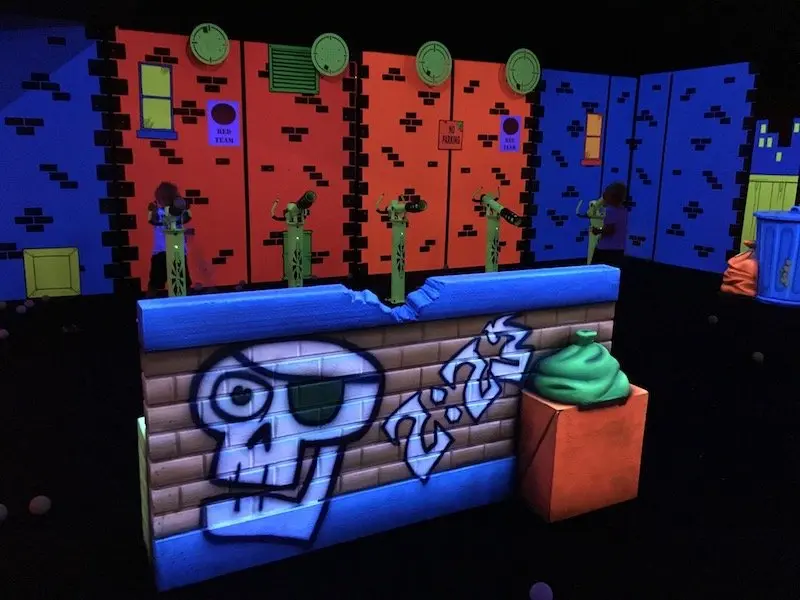 Tabatinga is the ULTIMATE FAMILY FUN CENTRE!
If you are looking for things to do in Tweed heads with kids, Tabatinga should be number one.
Number two would be Spring Loaded Trampoline Park in Banora Point about 10 mins away.
We love both.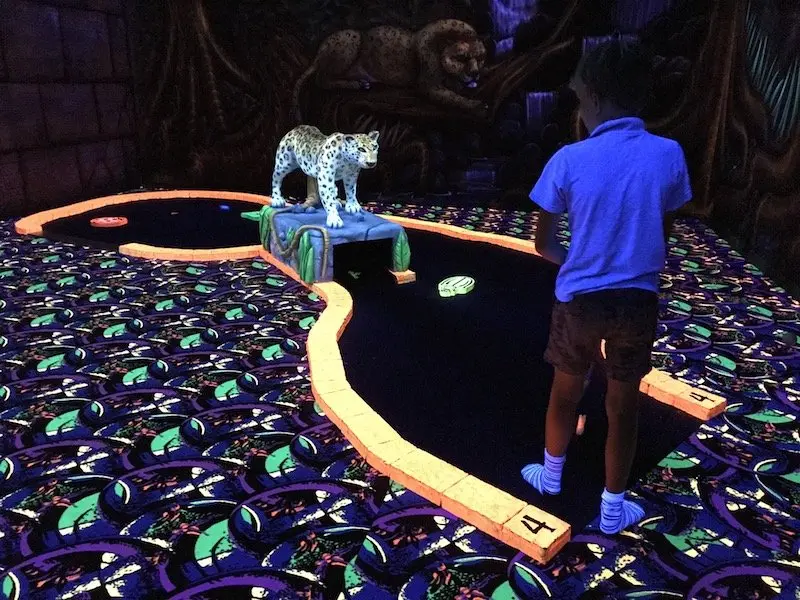 Tabatinga Menu
Find a seat at one of the tables (it seats 120) and order from Tabatinga's full service cafe.
Pick up a kids value meal for $10.
Or check out the ala carte menu with heaps of healthy choices.
Prices are similar to a upmarket cafe.
Tabatinga Food Options
Light snacks include:
fruit salad, slices, banana bread, croissants, muesli with fruit and greek yoghur
Salads are under $15.
Choose from Asian crispy noodle sesame salad, balsamic herb mediterranean salad, or grilled chilli lime chicken fajita salad
There's Superfood smoothie bowls for $10 in Acai, Minty Mango, and Berry Blast flavours.
Hunger busters around $11 include:
nacho's
potato wedges
fish and chip cone
chicken strip cone
calamari and chips cone
Family favourites include:
quiche
bacon and egg on turkish
gourmet turkish sandwiches
Tabatinga drinks
There's:
superfood smoothies ($7.50 each)
slushies
milk shakes, and
fusions for under $7.
Plus all your normal coffee shop orders including coffee, tea, chai latte, and babychinos.
Tabatinga VIP Gold Pass
Buy a VIP Gold membership pass to Tabatinga soft play entry for $120 for 12 months.
These are available for kids aged 1-3 years.
Bonus: bring a friend once a month for free.
Tabatinga VIP Platinum Pass
Buy a VIP Platinum membership pass for kids aged 4 + for $150 for 12 months.
This includes free entry and ALL attractions every day.
Bonus: bring a friend once a month for FREE!
Membership also gives you:
a Junior Ranger certificate
a Tabatinga Gift pack
a mailbox package once a month with an 8 page newsletter full of fun colour-ins, games and puzzles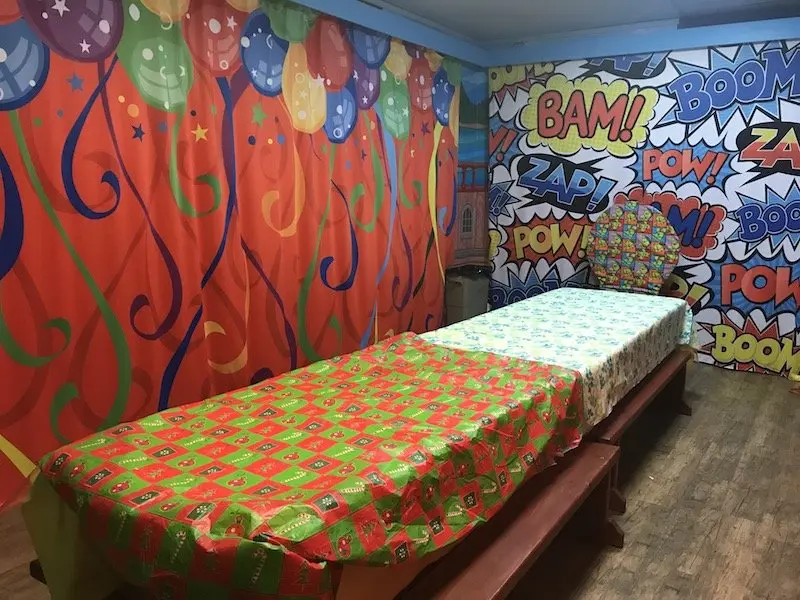 Tabatinga Birthday Parties
Book your next birthday party at Tabatinga.
They offer fully scripted and themed parties in their cool themed party rooms.
They now have themed party rooms including:
Teenage Mutant Ninja Turtle
Elsa from Frozen
Wild Jungle
Princess
Glow Disco party, or
Superhero themed parties.
Themed parties include a party host, use of a party room, party food platters, and a party bag.
Purchase an ice-cream cake, order birthday cupcakes, or bring your own.
Tabatinga Birthday Party Menu
You can also order gourmet platters for the adults:
sandwiches and cold meats
fresh fruit
grazing board of cheese, meats and dips, or
an asian fusion platter of rice paper rolls, spring rolls, dumplings and garlic prawns
Kids a la carte menu for birthdays
Fancy organising your own party, or have kids in your group with food allergies?
That's simple.
BYO water and fruit platters to snack on, and order dishes for the kids from the Tabatinga menu.
For more info on Tabatinga parties, click here.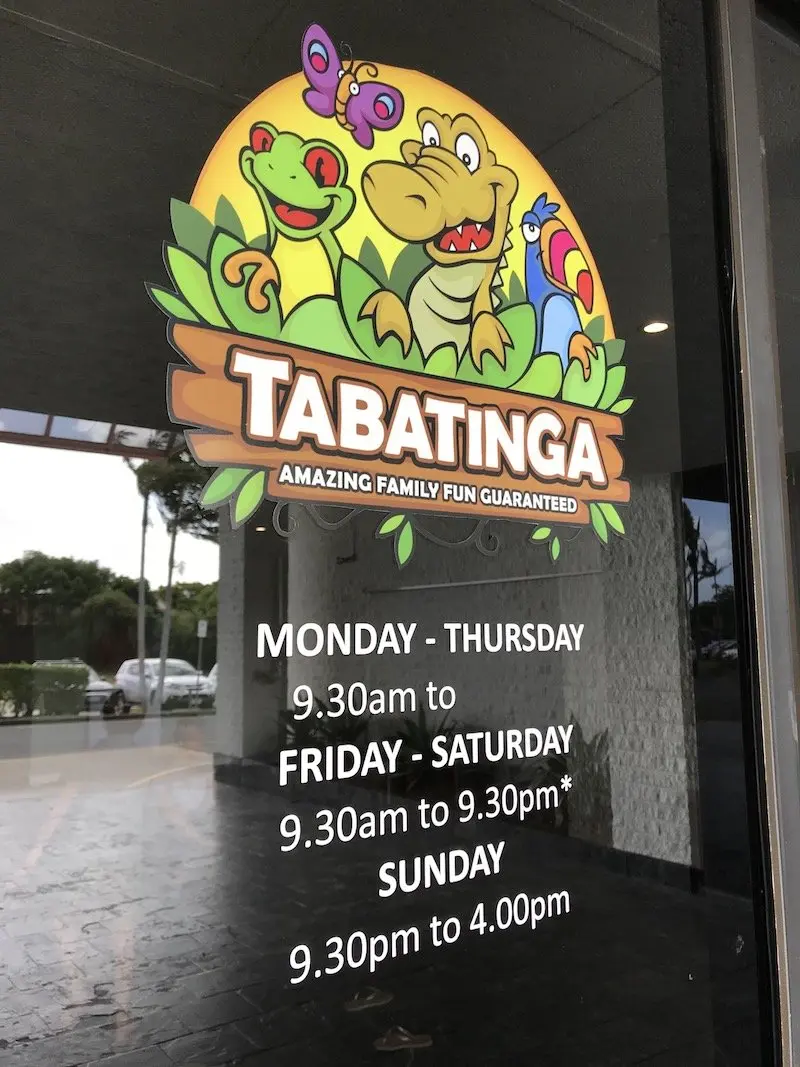 THE INSIDE SCOOP: Indoor Play Centre Tweed Heads
Correct at time of publication on Roam the Gnome. Please check with venue for updates. We apologise in advance if there have been any changes we are unaware of. All prices in AUD dollars, unless otherwise stated
Address: Tabatinga Seagulls Club, Gollan Drive, Tweed Heads West NSW
Telephone: 07 5587 9035
Email: [email protected]
Website: Tabatinga NSW website
Tabatinga Opening Hours
Monday to Friday 9.30am to 3.00pm
Saturday 9.30am to 6pm.
Sunday 9.30am to 4pm
Saturday Nights – 6:00pm – 9:30pm – Drop and Dine program
On Friday and Saturday nights, Tabatinga also offers "Drop and Dine" closed sessions from 6pm – 9.30pm for children 3+ years who are toilet trained.
Drop and dine children are given a meal, drink and dessert, and can play on the all equipment while fully supervised by Tabatinga staff.
Parents must stay in the club, and be contactable at all times.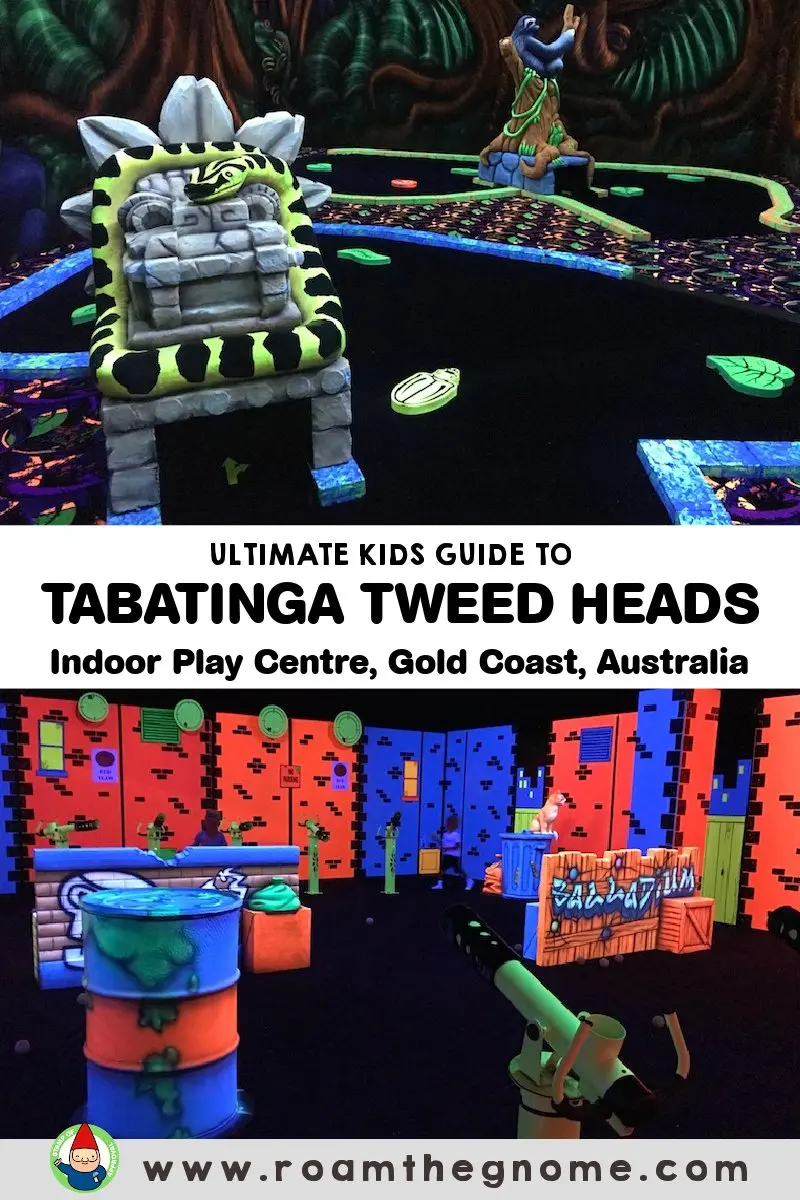 Tabatinga Prices
Under 1 year – FREE!
1-3 years $8.90
4+ years $11.90
Supervising Adults – FREE!
*Add Mini Golf OR Balladium +$5.00
*Add Mini Golf AND Balladium +$8.00
Playing Adult (Mini Golf & Balladium) $5.00
Note: Mini Golf and Balladium attractions are recommended for children 4 years and older
*Mini-Golf is unlimited, Bumper Cars is 3 x Rides
Tabatinga Deals
4 persons ALL attractions $55.90
Extra person $13.90
Note: Only one discount can be applied on any entry
Regulars can get a discount by buying a VIP membership (see details in section above).
Seagulls members get 10% off entry too.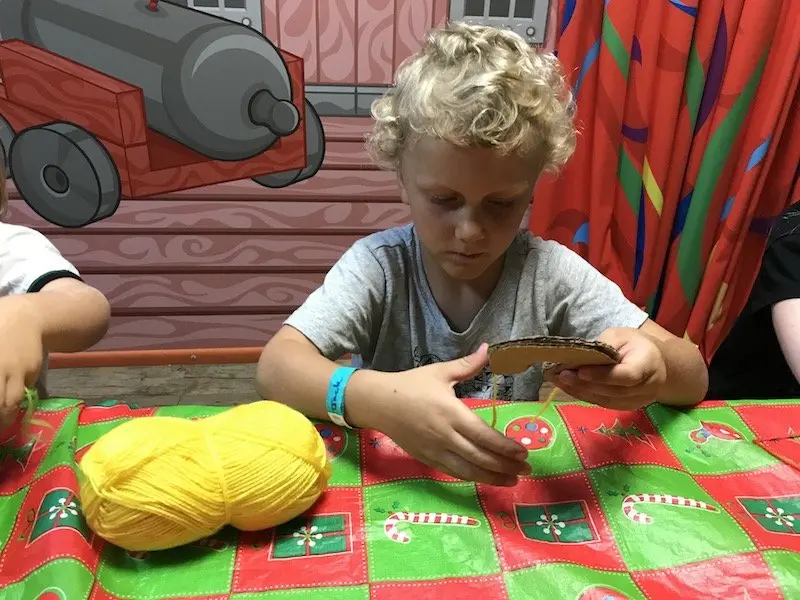 How to get to Tabatinga Tweed Heads at Seagulls Gold Coast
By Bus:
By Car:
From the M1, head down Kennedy Drive, past the Tweed Historial Museum, over the bridge until you see Seagulls in front of you.
Take the left turn at Gollan Drive.
Seagulls Parking
Parking is in the carpark on the right of the building.
You'll see the signs to the Tabatinga entrance on the far right.
Seagulls does get busy on weekends so our tip is to go early.
Tabatinga Tweed Heads Map
Facilities
Public Toilets: Yes, including baby change table
Disability access: Stairs at entry. Lift available.
Closest ATM: Entry fees and cafe orders can be paid by eftpos or credit card.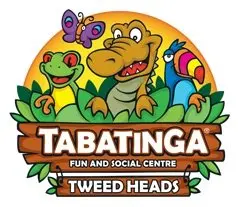 Frequently Asked Questions about Tabatinga Australia
Do I need to be a Seagulls Member to visit Tabatinga?
Visitors don't need to be a Seagulls member to visit, and you don't have to sign in.
Do I need to book tickets for Tabatinga in advance?
No, you don't need to book, but we recommend it during busy times like school holidays
Can I bring my own food to Tabatinga?
No, visitors are not allowed to bring any food other than fruit, water, and baby formula. This is to ensure the safety of visiting children with food allergies.
Can I leave my children at Tabatinga?
Kids must be accompanied by an adult at all times.
Children must be supervised by you (or a guardian over 16 years) at all times when they are booked in.
The only time kids can be there without you is during Drop and Dine sessions.

Other Tabatinga Locations
Tabatinga Coffs Harbour
Address: Bray Street Complex, Cnr Bray Street and Pacific Highway, Coffs Harbour, NSW, 2450
Telephone: (02) 6658 0924
Opening hours:
Monday – Thursday 9:30am to 3:00pm.
Friday 9:30am – 3:00pm.
Saturday 9:30am to 6:00pm*.
Sunday 9:30am to 4:00pm.
Out of School Hours Care 3:00pm to 6:30p
Note: During School Holidays, the Play Centre will close in order to run the OOSH
Tabatinga Kempsey
Address: Kempsey Macleay RSL Club, 1 York Lane, Kempsey, NSW, 2440
Telephone: (02) 6560 1111
Opening hours:
Mon-Tues Closed.
Wed-Thur 9:30am to 4:00pm.
Fri-Sat 9:30am to 4:00pm.
Sun 9:30am to 4:00pm.
Drop & Dine Friday and Saturday from 5:30pm to 8:30pm
Tabatinga Ingleburn
Address: Ingleburn RSL Club, 70 Chester Road, Ingleburn, NSW, 2565
Telephone:(02) 9765 7700
Opening hours:
Monday to Thursday – 9:30am to 3:30pm.
Friday to Saturday 9:30am to 5:30pm. Sunday 9:30am to 4:00pm.
Drop & Dine Friday and Saturday 6:00pm to 9:30pm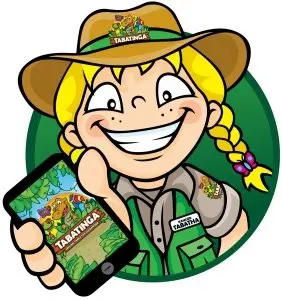 Toadstool Rating: Tabatinga Seagulls Tweed Heads.

Looking for MORE things to do in Currumbin & nearby?
Click the blue links below for more Gold Coast ideas