INSIDE: Roam the Gnome's Review of Pirate Park Palm Beach Parklands.
Ahoy me hearties!
Mini pirates, find your own buried treasure at the Pirate Park, Palm Beach, Gold Coast.
This adventure playground on the Gold Coast is serious fun for the kiddies, AND located in my favourite spot in the entire world with breathtaking views of the Currumbin Creek.
The playground is also just metres from a flat water swimming inlet of Currumbin Creek, just perfect for the kids.
The parklands surrounding the playground itself is pretty fab too, with lots of grass, plenty of shade, flat bike paths away from the road, and the groovy Dune Cafe.
Take a look below for details.
Disclosure: This article contains affiliate links. If you make a purchase after clicking on one of these links, we may receive a small commission at NO extra cost to you.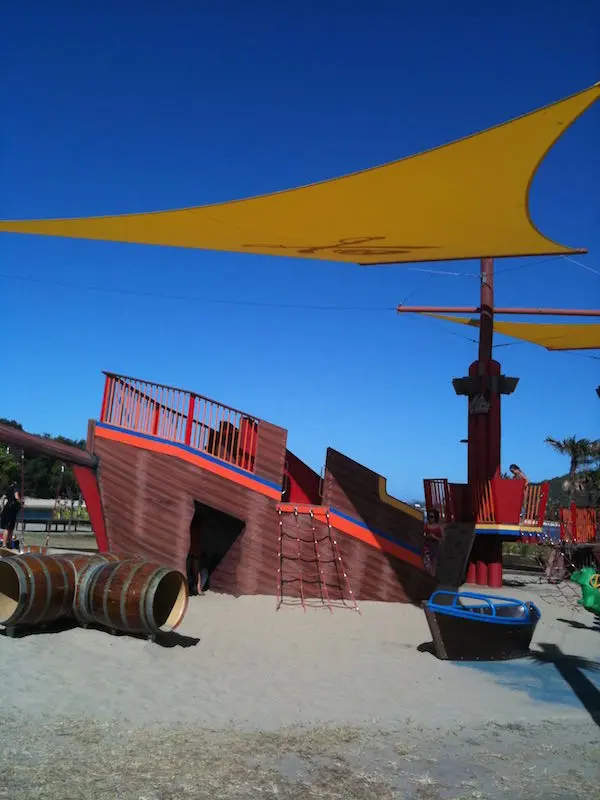 Guide to Pirate Park Palm Beach Gold Coast.
The main attraction is the Pirate Ship, complete with flags and lookouts.
There's hide and seek barrels, and barrel swings too!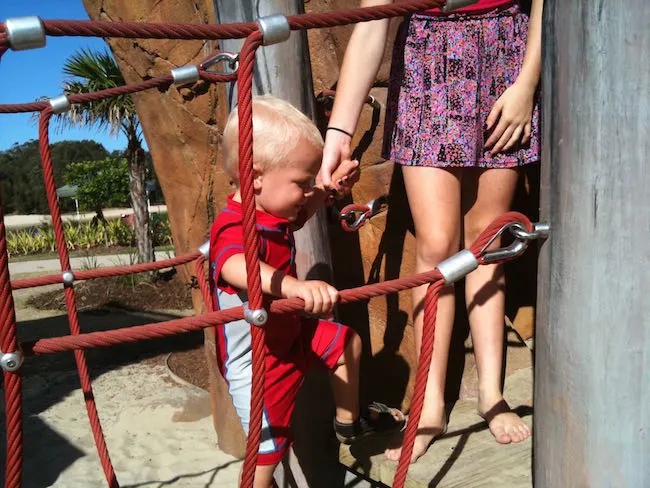 Pirate Ship Playground equipment
There's bridges to climb across, and planks to walk.
Plus lots of nooks and hidey spots in the underside of the boat make playing pirates that extra little bit fun.
---
RELATED: Big List of Things to Do on the Gold Coast with Kids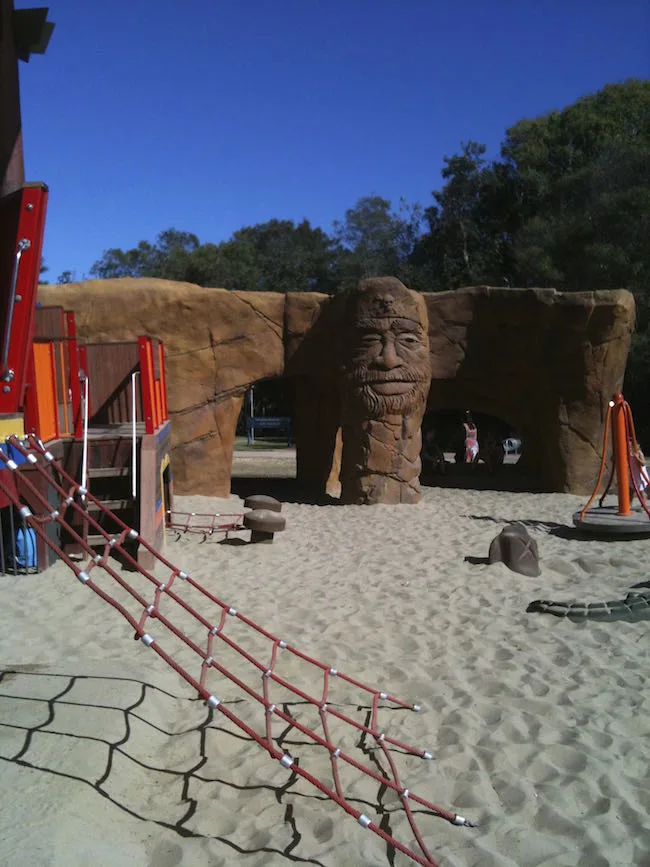 Palm Beach Pirate Park Rock Cave
There's a giant rock cave with hidden tunnels.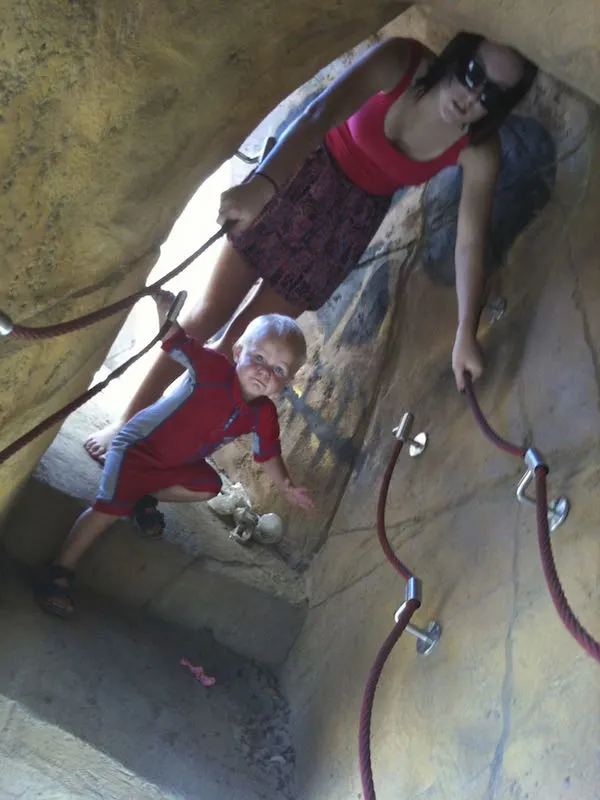 Hide and Seek
Kids love to play hide and seek around these parts.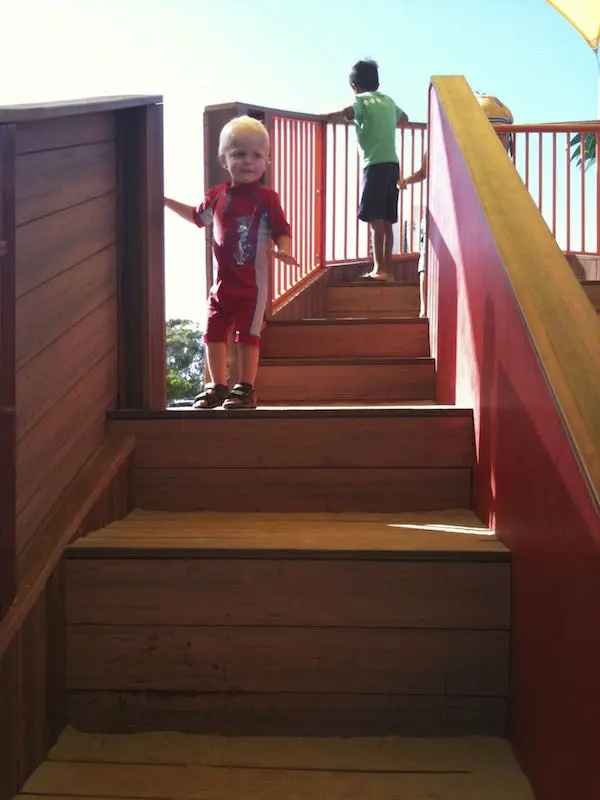 Pirate Park Slide
There's a steep slide at the bow of the boat, accessed by deep steps.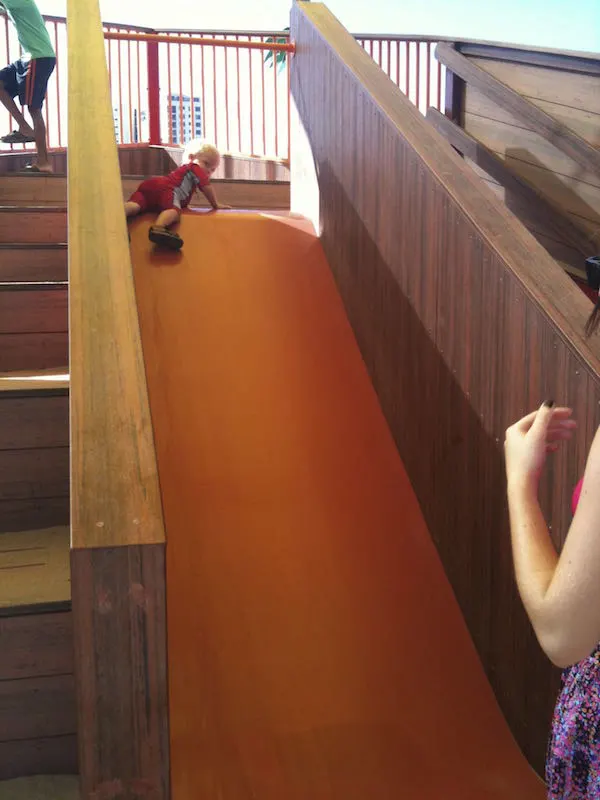 Steps up, and down!
The slippery dip is a bit steep for little ones.
(Ned's about 2 in this pic.)
We've seen many kids "come a cropper" (Aussie term for take a big fall) as they swoop off the end of this slide so, word to the wise, stay close by if you have little ones, to catch them before they fall.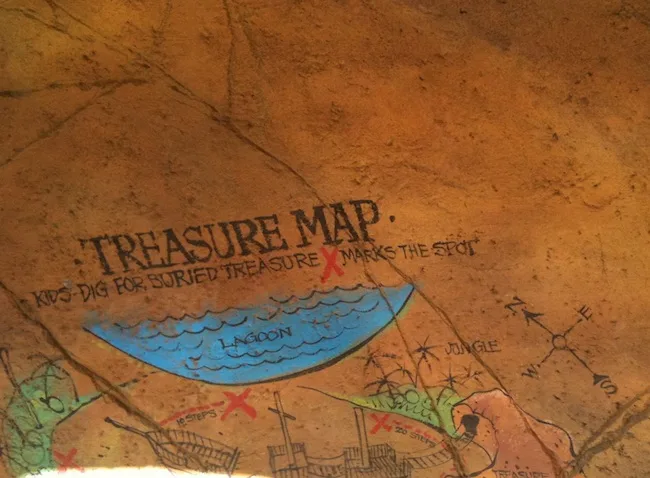 Pirate Park Treasure Map
AND there's a treasure map!
The treasure map leads children to a few X marks the spot places where they can dig for buried treasure.
Rumour from locals has it that some of the local primary school children helped to make the treasure rocks that were then cemented into the ground under the sand.
(We love this bit of community outreach and engagement.)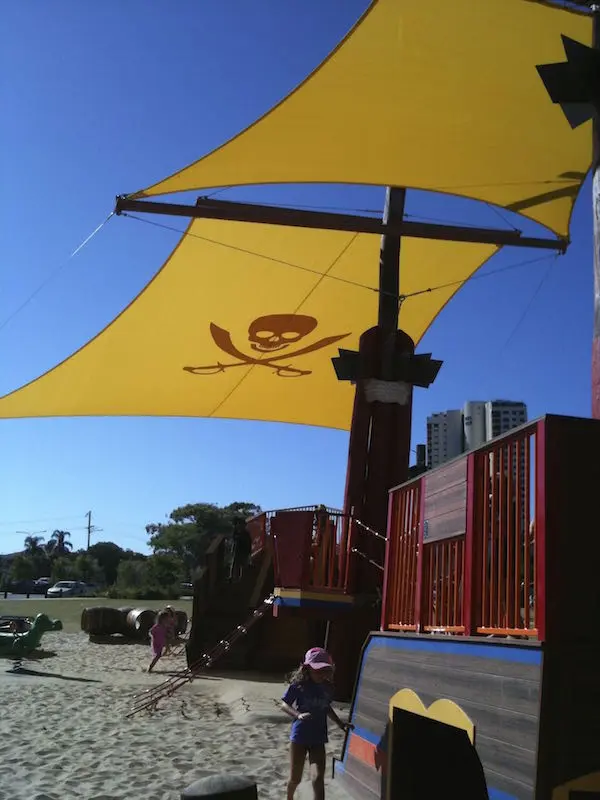 Pirate Ship Park Palm Beach Life!
The beauty of this place is in the detail.
This park with pirate ship is the only one of it's kind on the Gold Coast, and it's still going strong, much loved by locals and visitors.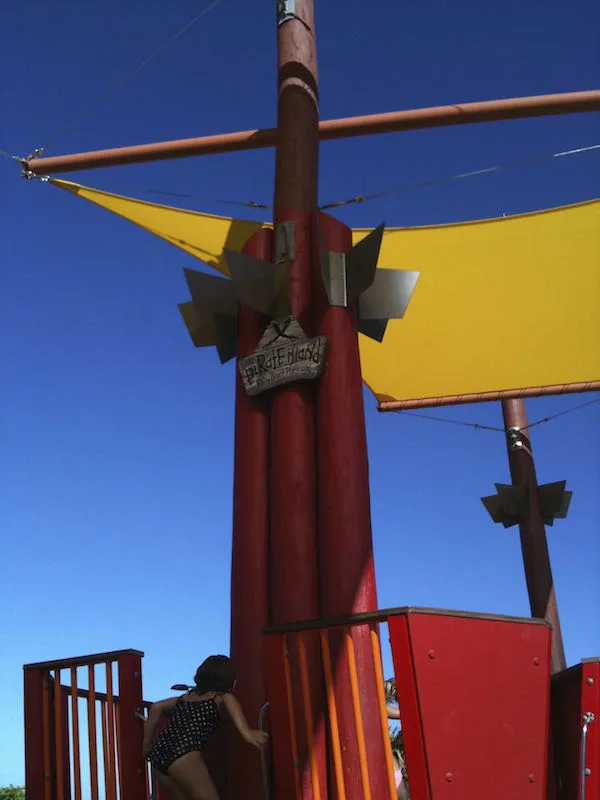 Pirate Ship Palm Beach style
There's pirate themed signage, mysterious things set into stone, treasure boxes, and more.
Hot tip: Bring your own dustpans and brushes (to look for bones), plus sand pit toys.
Young pirates will notice their pirate insignia on the shade sail too.
Fun Fact: Did you know that September 19 is Talk Like a Pirate Day. Follow the international movement (yes, there is one) on Facebook.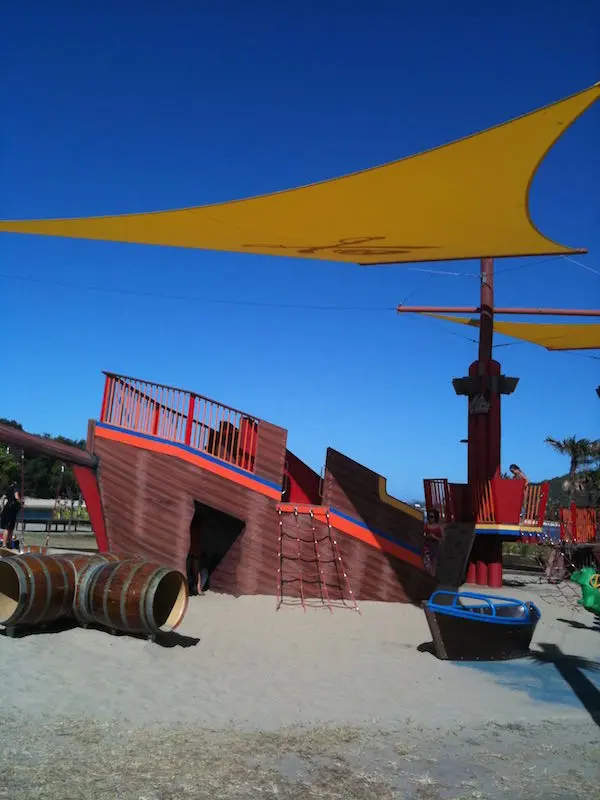 Where to eat at Palm Beach Parklands
Dunes Cafe Palm Beach
Do pop over to the Dune Cafe about 100 metres away for a coffee or brunch too.
They have a fabulous drinks menu, with all your regular coffee and tea choices (with your choice of milk), plus old fashioned milkshakes, frappes, iced drinks, smoothies and berry crushes
Dune Cafe Menu
There's an all day menu, with a choice from:
toast or fruit toast
eggs benny on croissant
granola bowls
spelt pancakes
big brekkie meals
potato hash
karaage chicken bowls,
burgers and fries.
There's a KIDS menu too!
The organic spelt, banana and blueberry pancake with vanilla bean ice cream can't be beat.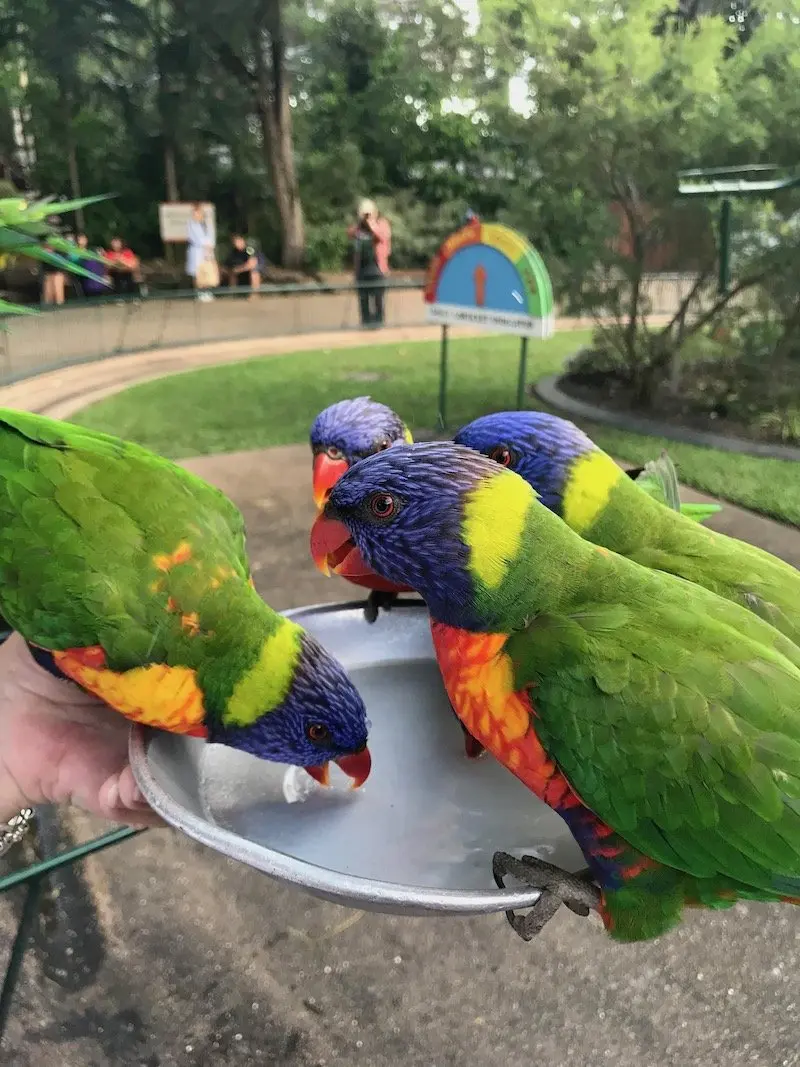 MORE Things to do in Palm Beach Gold Coast
Palm Beach (and Currumbin) is truly my favourite spot on the GC.
There's:
golden sands
quiet water for little ones
clear blue ocean for surfers
flat water for standup paddle boarding
warm weather all year round.
If you go early enough, you'll spy stingrays under the sand.
If you are holidaying on the Goldie anytime soon, be sure to pop on by.
No.1: Elephant Rock & Currumbin Headland
It's a 20 minute walk around the Currumbin Headland to Elephant Rock, and the Currumbin Surf Club.
If it is winter time, be sure to keep an eye on the ocean for whales breaching. They love this place too!
No.2: Currumbin Wildlife Sanctuary.
Currumbin Bird Sanctuary is one of Australia's best wildlife parks.
At this one see kangaroos, koalas, emus, and plenty of native Australian wildlife including snakes, crocodiles, and lizards.
Don't miss the Crocodile Show.
There's a new waterpark for kids too, as well as an awesome adventure playground.
No.3: Palm Beach Farmer's Market
On Saturday mornings, head to Palm Beach Farmer Markets at Palm Beach Currumbin high school to pick up a whole range of delicious food for picnics and home.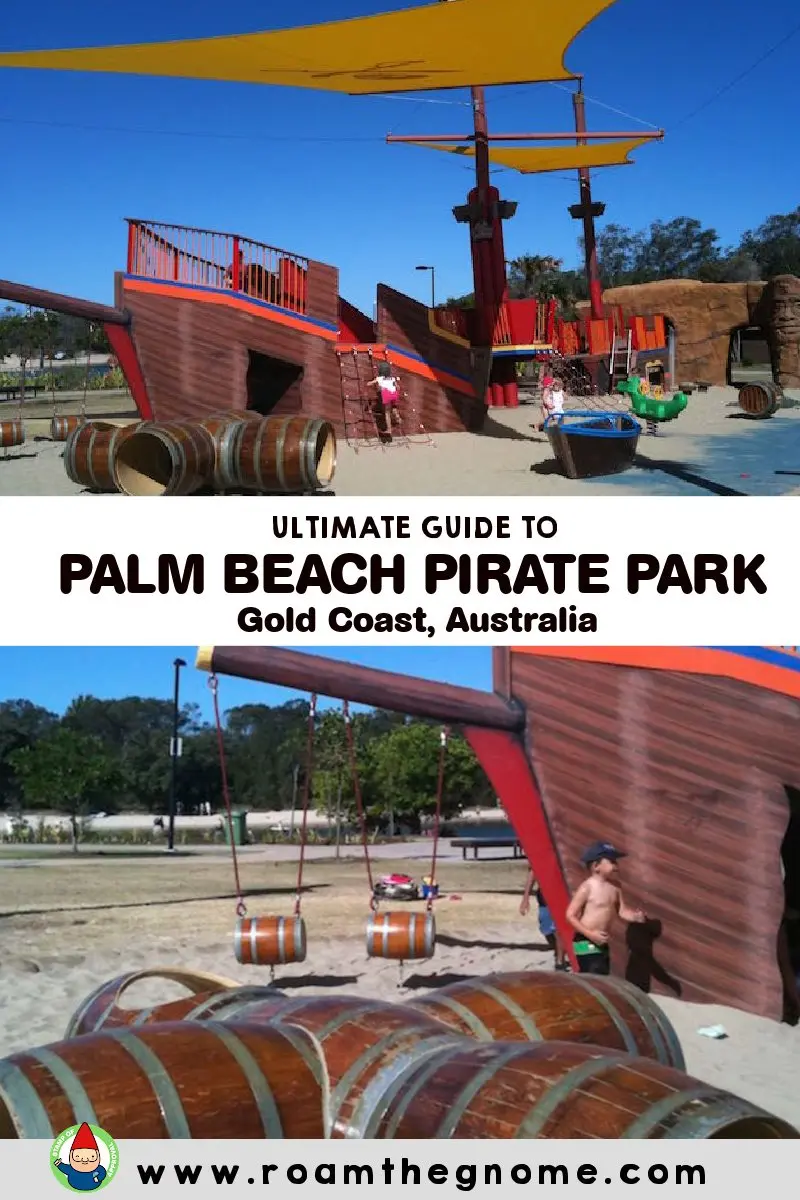 THE INSIDE SCOOP: The Pirate Park Currumbin
Correct at time of publication on Roam the Gnome. Please check with venue for updates. We apologise in advance if there have been any changes we are unaware of. All prices in Australian dollars, unless otherwise stated
Address: 945 Gold Coast Highway, Palm Beach Parklands, Gold Coast Highway
Telephone: GC City Council 1300 694 222
Opening Hours: Sunrise to sunset
Entry Fees: FREE!
How to get to Palm Beach Parklands Gold Coast
The Pirate Ship Park Currumbin is located on the beach side of the Gold Coast Highway at Palm Beach Parklands at Palm Beach (opposite Palm Beach Currumbin High School) just before you cross over the bridge to Currumbin Sanctuary and Tugun.
By Bus:
Translink buses run along the Gold Coast Highway through Burleigh and Palm beach from Surfers paradise, and Southport, and from Coolangatta & Tweed Heads through Currumbin.
Find your way with Translink's journey planner
By Car: Travel via Tweed Valley Way, Gold Coast highway, or the M1
Click here for google map directions
Currumbin Pirate Park parking
Parking can be a problem, so go early or late.
NEVER in the middle of the day.
Or park over the bridge in front of Currumbin beach and take a casual stroll along my favourite coastline.
Map of Palm Beach Pirate Treasure Island Playground
Facilities at this Palm Beach Playground
Public toilets: Yes, close by
Shade: Some, under picnic huts. BYO hats and sunscreen.
Enclosed: No
There's no fence between the playground and the water.
Keep a close eye on young children and toddlers, as there are lots of escape routes to this body of water
Ground cover: Grass, sand, concrete under tables and paths
Picnic tables: Yes, both covered tables and ones in the open air
Bench seating: Yes
Electric BBQs: Yes
Water Bubblers: Yes
Scooters and Bikes: Yes, to ride bike paths around the parklands
Lockers: No
Dogs: On leash only
Toadstool Rating: Pirate Park Gold Coast
Hooray to the Gold Coast City Council who employed a team who put on their creative thinking caps!
Creative stars to you all.
It's definitely one of the best Gold Coast playgrounds around.

Looking for MORE things to do in Currumbin & nearby?
Click the blue links below for more Gold Coast ideas