INSIDE: Everything you need to know about the All Abilities Broadbeach Playground for kids on the Gold Coast.
The BEST Broadbeach park & playground for families on the Gold Coast is the All Abilities Playground near the Oasis shopping centre.
It's the ultimate playground because there's parking close by, public toilets within the perimeter, water bubblers, tonnes of shade, and is fully fenced all the way around with child-proof gates to enter, to keep little ones away from the busy road.
The only thing missing is a stylish coffee cart for parents to buy their daily brew!
Read all the details below, including how to get there.
Disclosure: This article contains affiliate links. If you make a purchase after clicking on one of these links, we may receive a small commission at NO extra cost to you.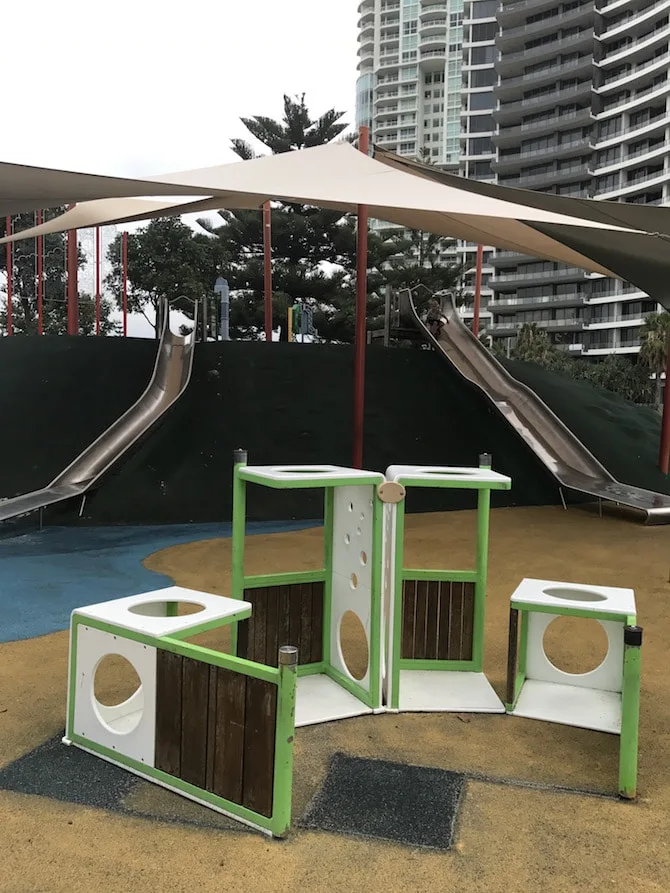 Guide to All Abilities Broadbeach Park Gold Coast
This Gold Coast playground at this much-loved Broadbeach Park, just 100 steps from the newly renovated Kurrawa surf club, and a five minute walk from Broadbeach Mall and the Oasis Shopping Centre has everything BUT the coffee cart.
But this playground is so good, and so big, we forgive the coffee-cart oversight.
We've learned to BYO, or pick up one on the way.
---
RELATED: Big List of Things to Do on the Gold Coast with Kids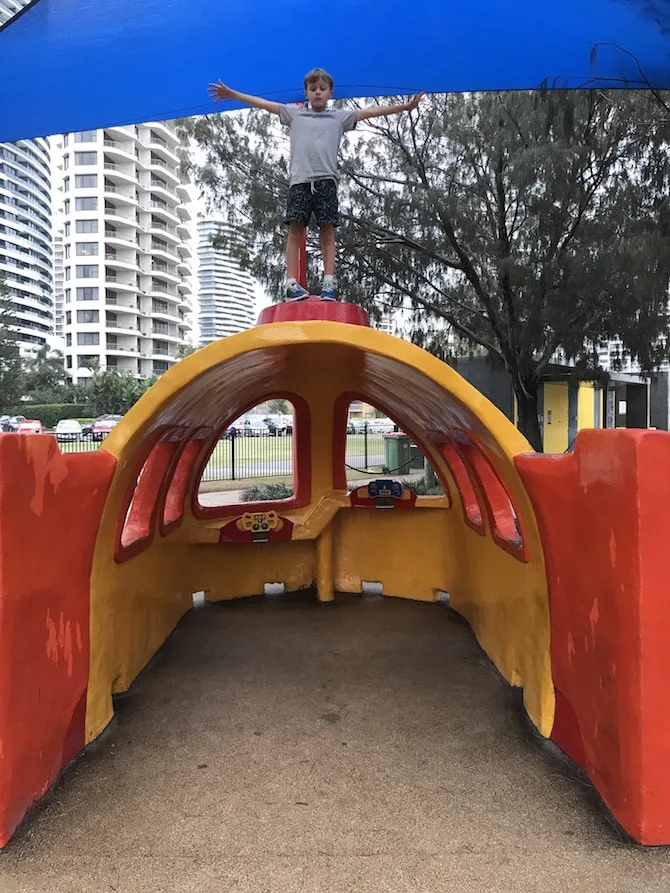 The BEST Broadbeach Playground
Plan for at least an hour here, maybe two if you have food.
Find a central spot, lay out your brightest picnic mat beacon for the kids to hone in on, and set up camp.
There's THREE zones (The Hill, Sandcastle, and Under the Sea) where the kids will be compelled to try all the play equipment.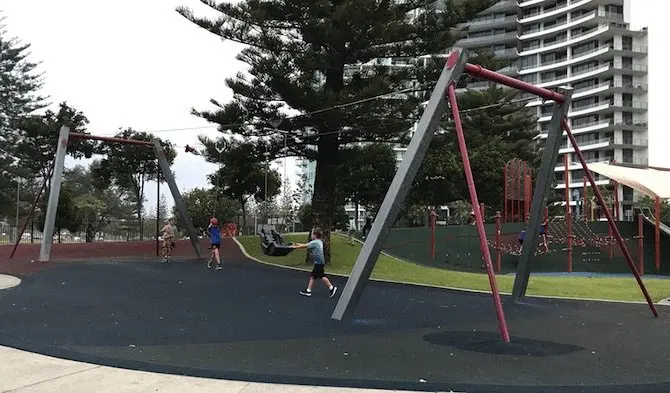 Broadbeach Park All Abilities Playground Areas
The Hill
the two giant silver slides, under shade (older kids LOVE these)
the monster rope net maze
to race each other on the double-lane flying fox, featuring an all-abilities chair with straps in one lane
to do a 360 degree loop on the spider-web swing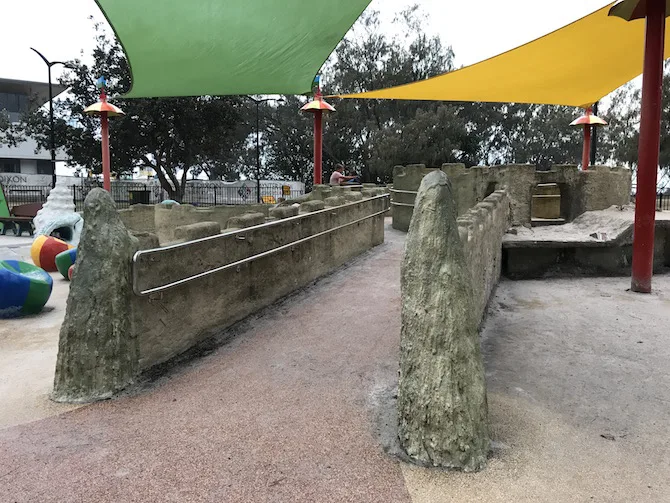 The Sandcastle
dig and build in two large sand pits and three sand tables (raised to enable wheelchair access)
a wobble platform that rocks back and forth
take a running race throughout the seashell-themed sand "castle"
It's wheelchair-navigable too with a ramp leading to a central turret look out.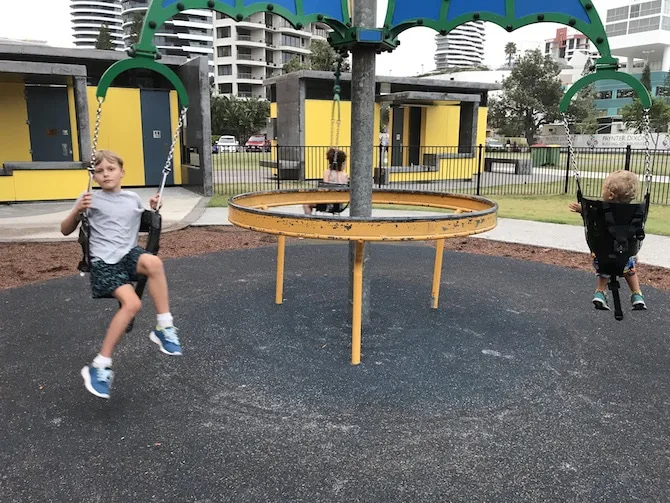 Under the Sea
climb the artistic sculptures, balance along the sea snake serpent, and clamber over the colourful concrete beach ball seats
drive the open-faced Submarine complete with multi-height steering wheels for imaginative play fun
row of swings, including an all-abilities swing for children with disabilities
two person carousel swing
On a 10,000 step mission?
Fast-track your steps by giving the kids a push (or 10) on the carousel-style roundabout swing.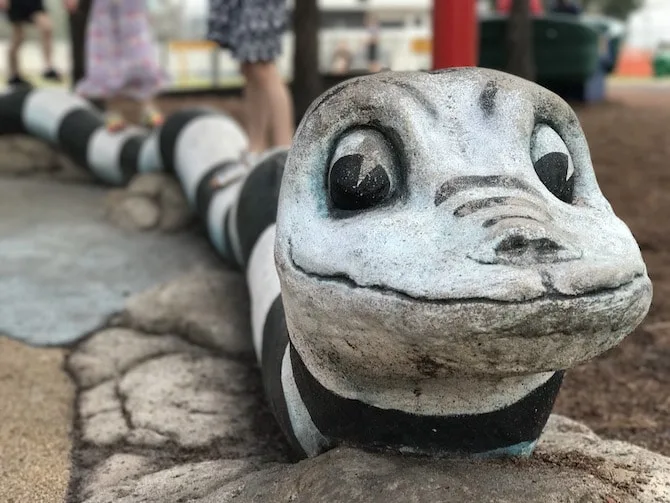 All Abilities Swing?
Yes, there's more than one.
One in the general swing section
another on the swing carousel, and
a third on the flying fox.
The sway bridge wobble platform is also wheelchair accessible
So is the sand 'castle', the pathways, and the submarine.
Accessible toilets are available onsite, not far from the action.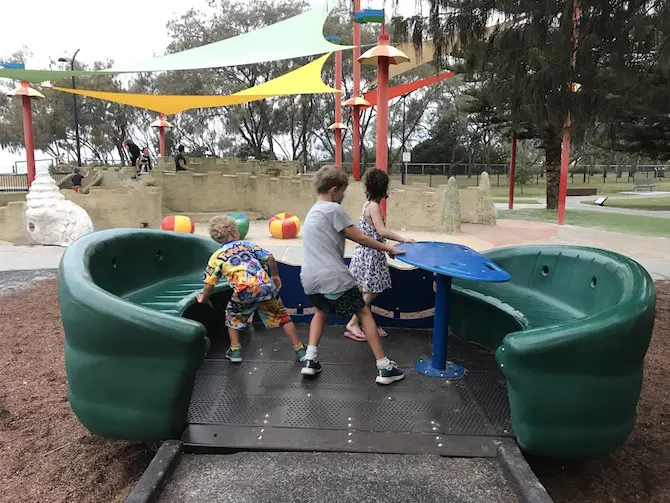 Special Needs Playground on the Gold Coast
This is the first purpose-built inclusive playground to be created on the Gold Coast, and we look forward to many more.
Look out for the little artistic touches throughout the park.
There's more than one 'fishy' seat, an the underwater diver keeping his eye on things, and sea creatures including a stingray, fish, and mermaid.
These touches were developed by six interactive community art projects, created by 70 special education students from six local schools, and local artists.
Fun Fact: Stage One took out the State prize in the 2011 Inclusive Community Champion Awards, coordinated by the Spinal Injuries Association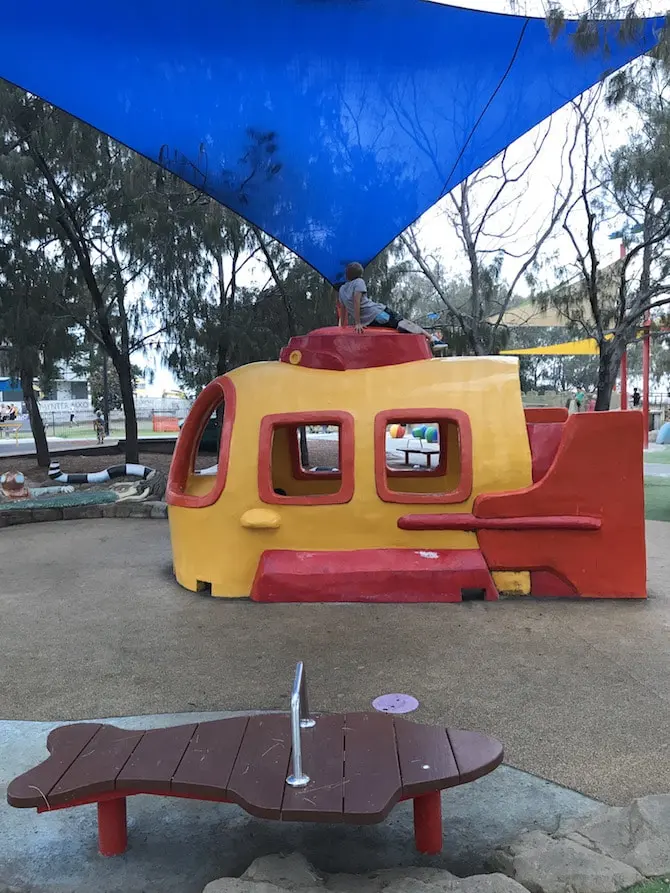 BYO Picnic, or eat at the Kurrawa Surf Club
The Oasis Shopping Centre and Kurrawa Surf Club are just minutes away when those hunger pains start, but you'd be equally at home bringing a picnic here.
There's grassy fields on either side of the playground, as well as tonnes of room inside to lay out a picnic rug and snack, and parking close by.
---
RELATED: THE BEST guide to Healthy Snacks & Food for picnics and road trips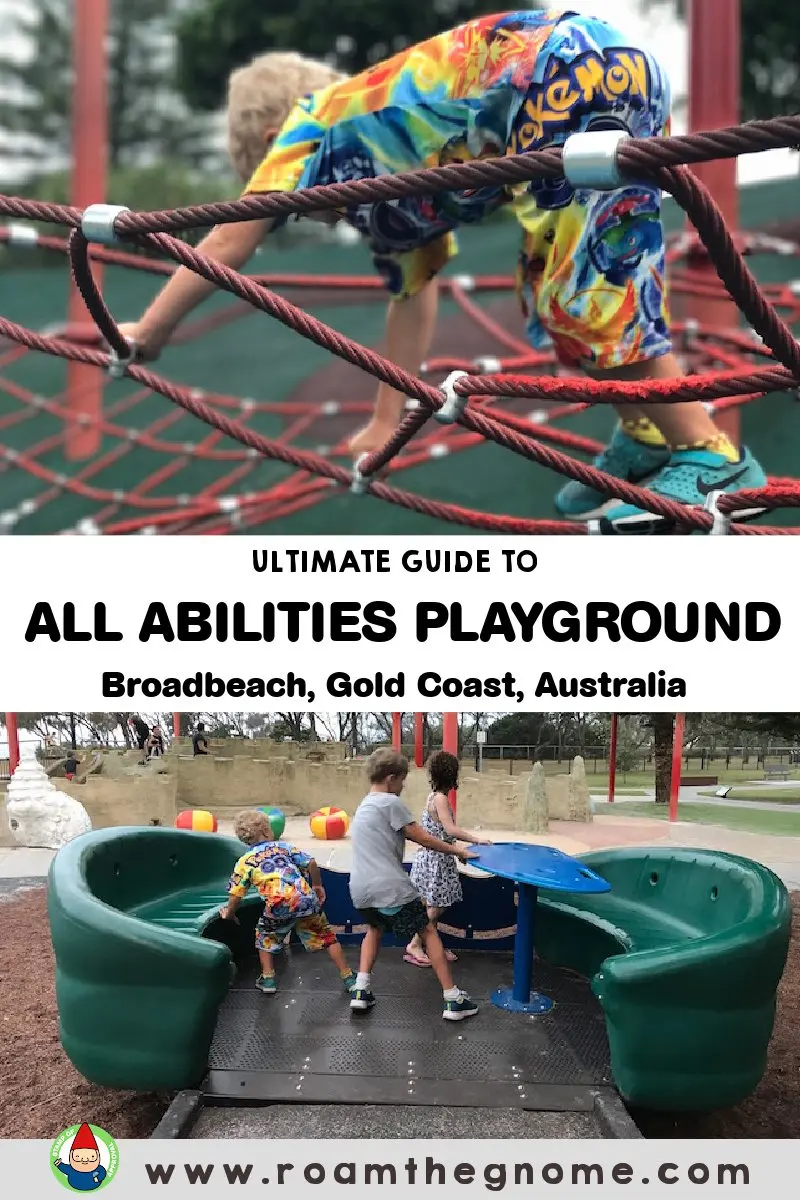 THE INSIDE SCOOP: Broadbeach All Abilities Playground
Correct at time of publication on Roam the Gnome. Please check with venue for updates. We apologise in advance if there have been any changes we are unaware of. All prices in Australian dollars, unless otherwise stated
Address: Just south of Kurrawa Surf Club, Old Burleigh Road, Broadbeach
Opening Hours: Sunrise to sunset
Entry Fees: FREE!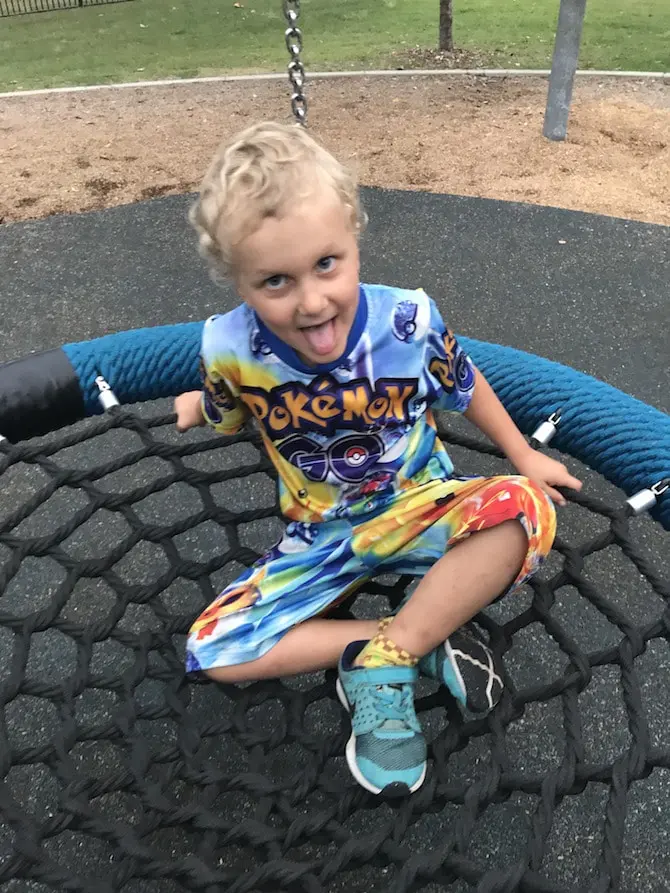 How to get to Kurrawa Pratten Park
By G link:
Catch the G link light rail train from Helensvale direction (past Gold Coast University Hospital, Surfers Paradise, & Southport).
Disembark at the Broadbeach terminal station (Broadbeach South) next to Pacific Fair, or Broadbeach North station.
From Pacific Fair, cross the road and walk up Margaret Avenue towards the beach. The playground is 300 metres to your left, opposite the Oracle building.
By Bus:
Surfside buses provide all day bus services up and down the Gold Coast highway, from the M1 and Gold Coast train stations, and stop at Broadbeach.
Click here for the Translink journey planner.
By Car:
Click here for google map directions from your location
Kurrawa Parking
Lots of nose-in paid street parking along Old Burleigh Road
Or park in the Kurrawa surf club car park
Or the Margaret Ave car park.
You can also park in the Oasis car park for up to 3 hours for free, and enjoy lunch at Harajuku Gyoza Broadbeach Mall before you leave.
Map of Pratten Park Kurrawa
Kurrawa playground facilities
Toilets: Public toilet block on site
In the amenity block, there's an adult-sized, height adjustable change bench and hoist.
This change room was developed especially for people with high physical support needs and their families.
Access to the change room requires a Master Locksmith Access Key
Shade: Yes. Some natural shade from trees and a few shade structures over a section of the playground.
Enclosed: Yes
Ground cover: Grass, concrete, and sand
Food options: BYO
Picnic tables: Nearby
Electric BBQs: Nearby
Water Bubblers: Yes, and running water taps to fill your drink bottles
Scooters and Bikes: Yes, to use on the bike paths in Kurrawa park next door
Lockers: No
Dogs: No
Toadstool Rating: All Abilities Playground at Kurrawa Pratten Park
The best of the Gold Coast playgrounds for children with differing abilities.

Looking for more things to do in Broadbeach with Kids?
Click the blue links below for more Gold Coast ideas