INSIDE: Roam the Gnome's Best Disney Tips and Tricks for Family Vacations.
Are you planning a Disney vacation?
Want to know the best Disney tips and tricks to help you with your Disneyland or Disney World planning?
Take a look at our giant collection of Disney tips & tricks.
There's likely some you've never have heard of.
Let us know if you have any fabulous Disney tips for Disneyland in Anaheim, Walt Disney World in Orlando, or any of the Disney parks around the world too. We'd love to add them to the list for our readers.
Disclosure: This article contains affiliate links. If you make a purchase after clicking on one of these links, we may receive a small commission at NO extra cost to you.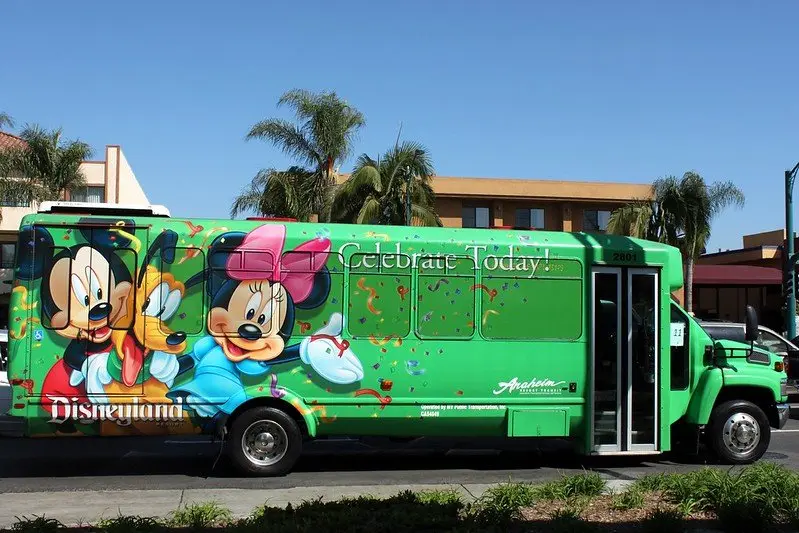 Image credit: Prayitno via Flickr CC BY 2.0
THE 20 BEST DISNEY TIPS AND TRICKS
Correct at time of publication on Roam the Gnome. Please check with venue for updates. We apologise in advance if there have been any changes we are unaware of. All prices in US dollars, unless otherwise stated
This is our comprehensive collection of the best Disney information, hints and insider knowledge.
We have so many Disney Tips that they won't all fit here.
Our first tip?
Before you book, google the best Walt Disney World crowd calendar (or Disneyland Crowd Calendar) to get up to date Disney World crowd predictions.
There's no guarantee, but having some idea of when to go, and when not to go to Disney World, based upon previous years crowd attendance, is your best shot at picking a moderate crowds week.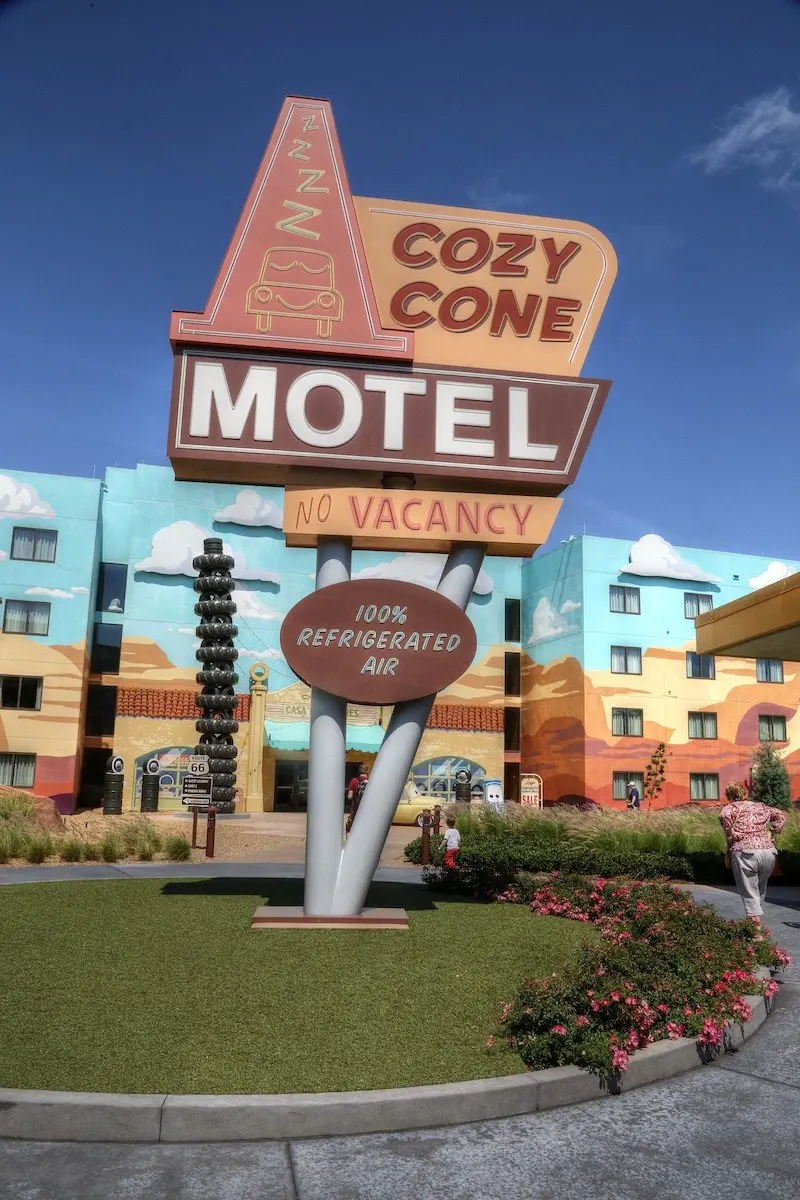 Image credit: Gardener41 via Flickr CC BY SA 2.0
BEFORE YOU GO
No.1: The Best Disney Hotels
Once you've stayed at a Disney hotel on property, you can't go back.
Many, if not most, visitors start their Disney vacations at a budget Disney value hotel at Walt Disney World in Orlando. The Disney stay works its magic and gets into your bones, and you want more, and this is where the real fun starts.
Researching the Disney hotel options and trying to narrow your focus to pick one!
There are SO many Disney hotels in Orlando to choose from.
We can help.
Take a look at our comprehensive guide to the best Disney hotels at Disney World and Disneyland below. It's a good place to start.
Hot tip: Looking for a budget Disney hotel stay? Book during the "value season" when it's the least expensive. The bonus is that crowds are thinner too. Value season is January, February, the last half of October, first half of November before Thanksgiving, and the first two weeks of December before the Christmas rush.
READ MORE: The Low Down on the BEST Disney Hotels near Disney World and Disneyland.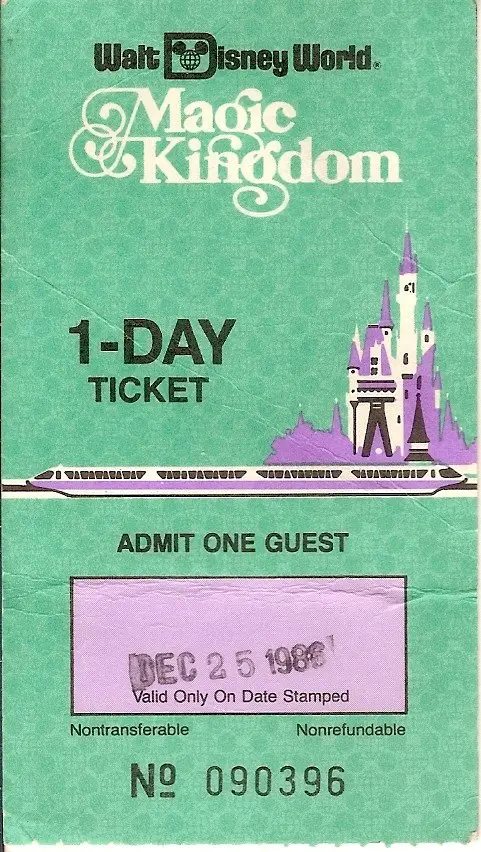 Image credit: Joel via Flickr CC BY ND 2.0
No.2: The best place to buy Disney tickets
The most important thing is to avoid scams. Don't buy tickets from craigslist, or secondhand. Disney tickets are non-transferable so you WILL lose your money.
Here's our tips on the best places to buy Disneyland tickets, Disney World tickets and tickets for Disney parks around the world.
If you are booking with Disney direct, the best discounts start from a 4-day Disney Theme Park ticket.
Undercover Tourist is THE trusted, safe source to buy discount Disneyland tickets and discount Walt Disney World Resort tickets too.
You can also check prices on KLOOK to buy Disneyland Park & Disney California Adventure Park Admission Tickets
In Australia, try Expedia.com.au and Flight Centre. Package deals with Disney hotel accommodation AND Disneyland tickets are often the best way to go.
Ask an Australian travel agent about their exclusive 10 day park hoppers that cost the same as a 3 day pass. These can only be purchased in Australia.
Disney UK also offers discounted tickets to both Disney World, and Disneyland. Discounts start from the 7-day ultimate ticket.
Hot tip: Take a photo or scan a copy of your tickets (both sides) to your email address in case you lose them. There's no guarantee Disney will replace them BUT you'll need the code on the tickets to even start the process of possibly recovering them.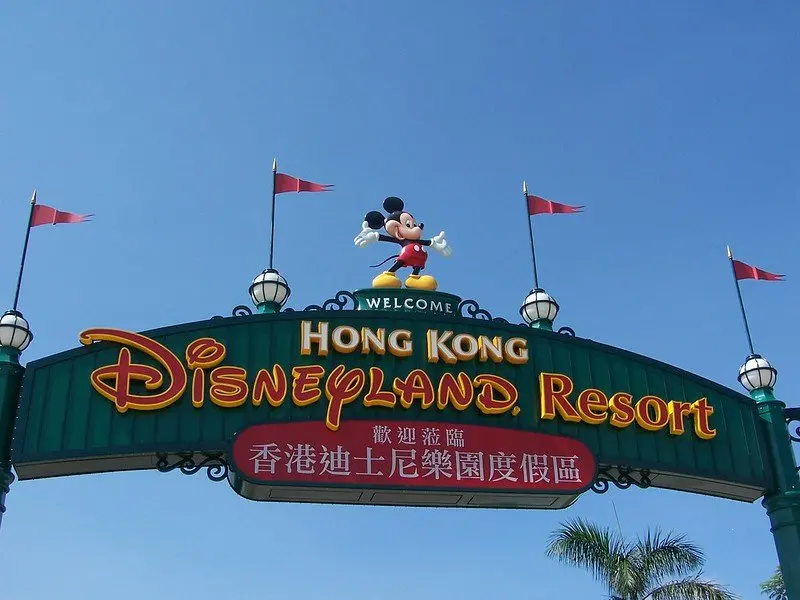 Image credit: Joel via Flickr CC BY ND 2.0
Discount Tickets for Hong Kong Disneyland
Buy discount tickets for Hong Kong Disneyland park at KLOOK here
You can enjoy a magical Disney-themed afternoon tea for two at the Main Street Corner Cafe in Hong Kong Disneyland too.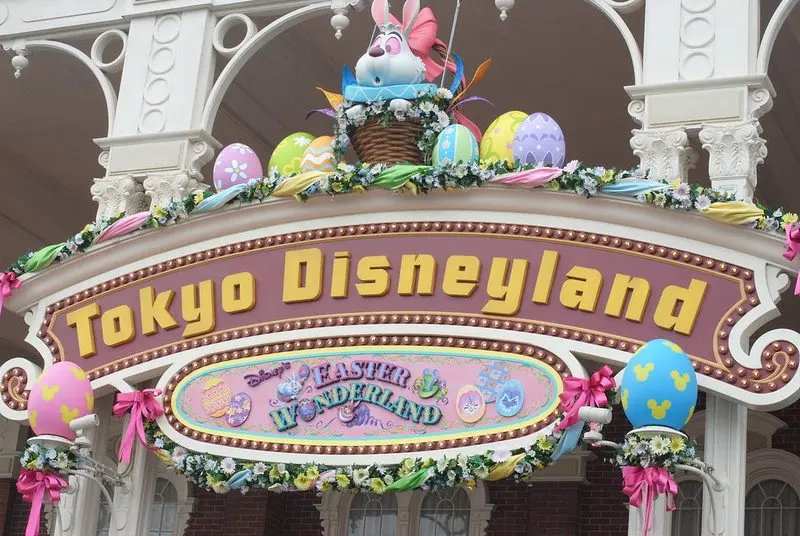 Image credit: Kosabe via Flickr CC BY SA 2.0
Discount Tickets for Tokyo Disney Parks
Buy skip the line tickets for Tokyo Disneysea on Get your Guide here
Buy skip the line tickets for Tokyo Disneyland on Get Your Guide here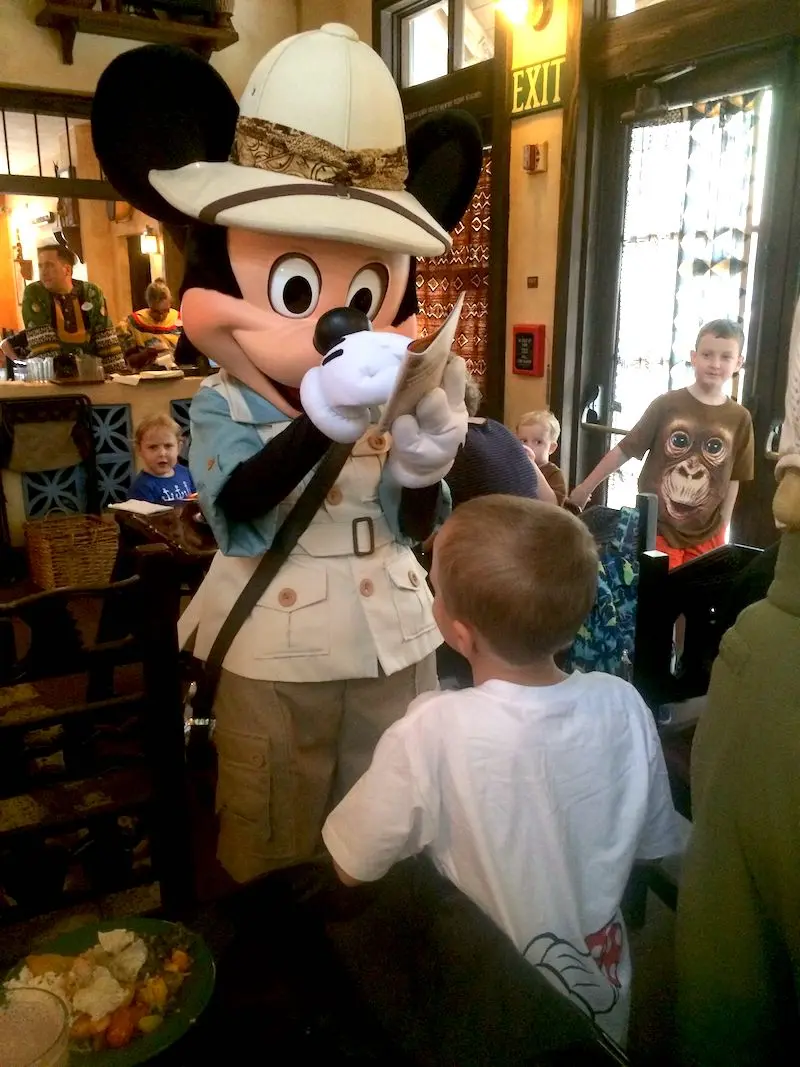 No.3: Disney Dining Plan
The Disney Dining plan is worth every cent if you use it to book character meals.
Don't even bother with the sums.
The Disney dining pass with a combo of quick service and table service is the best. A table service meal is the quickest way to eat at Disney too. Simply turn up for your reservation, with no waiting or queues, enjoy a relaxed meal at a table, and head on back to the Disney fun.
The hassle free experience is worth every cent. It makes sense of cents!
Hot tip: Prebook all Disney experiences, restaurants and character meals to avoid disappointment.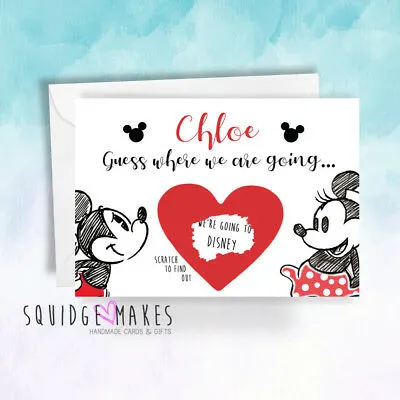 Image credit: Squidge Makes on Etsy
No.4: Surprise your kids!
There's lots of ways to surprise your kids and tell them of your upcoming Disney vacation. The internet is filled with clips of the imaginative ways moms and dads break the news.
A customisable handmade invitation for your little prince and princesses, in the style of Hear ye, Hear ye scroll like a town crier would use.
Here's an example of text you might use:
Hear Ye! Hear Ye! Prince/Princess (child's name).
You are cordially summoned to join Mickey, Minnie, and all their friends at (Disneyland) on a royal adventure on (date).
Your enchanting journey begins shortly.
We await your arrival with glee.
Sincerely yours. Mom and Dad.
Or this one, a Disney Greeting Card scratch card customised to reveal your Disney vacation surprise!
Or this, customisable Disney Boarding Pass printable vacation ticket.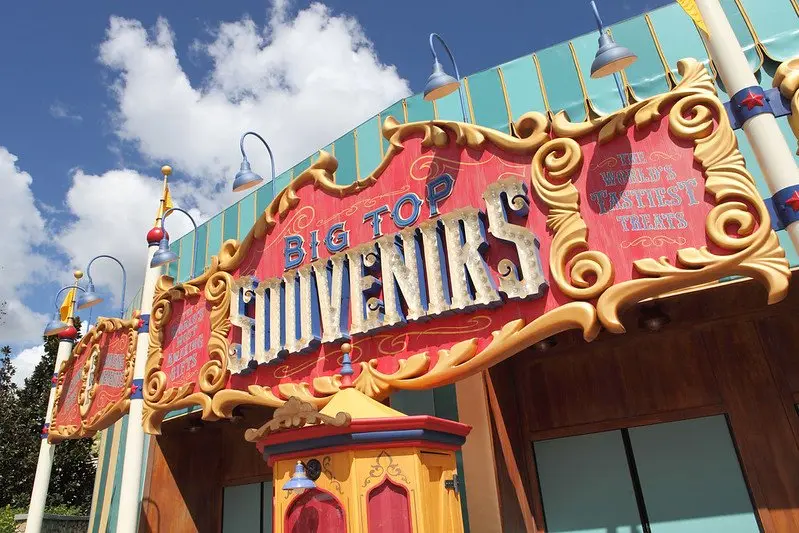 Image credit: Steven Miller via Flickr CC BY 2.0
No.5: Decide on your Disney souvenir collectible ahead of time
Take a look at this guide to Disney souvenirs and this handbook of the best things to collect when you travel.
With the kids, narrow down your target and pick one or two travel collectibles.
This then becomes your target souvenir/s.
For example, if you decide to collect teatowels, your focus is homeware and kitchen shops.
If you decide to collect snowglobes or fridge magnets, souvenir shops on Main Street USA and souvenir carts at Disney will be your mark.
It's easy to shop when you have a laser focused target.
Hot tip: Collect and keep all the Disney paper souvenirs to add to a scrapbook of memories when you get home.
Postcards
ticket stubs
boarding passes
Disney parks maps
Disney stickers
Disney transportation cards
Disney pin boards
Disney confectionery wrappers etc.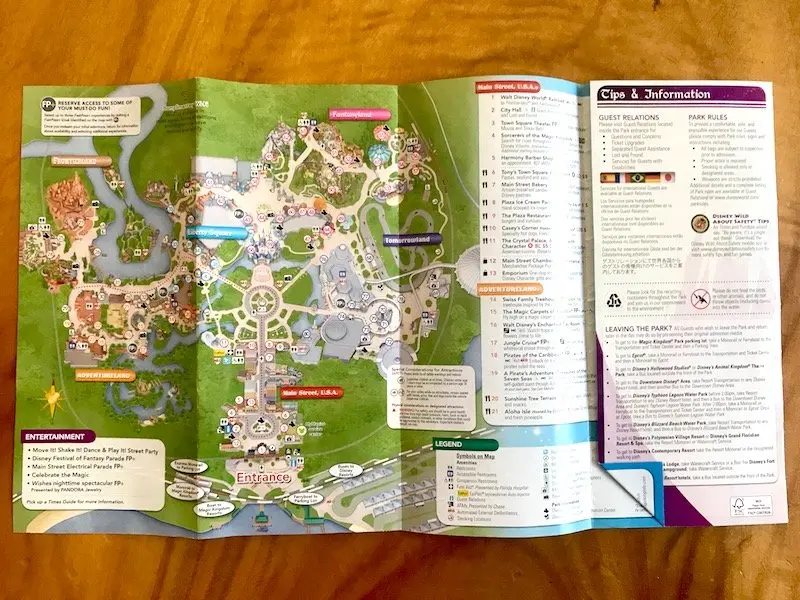 No.6: Make a Vague Disney Travel Itinerary BUT Also, Be Flexible
Do this around your fast passes.
A fast pass window is one hour, so if you time it right, you can do the first one at the END of the window, and jump straight onto the next fastpass ride straight after, leaving lots of time on other side to pick up a Disney snack, or walk from one place to another.
Be sure to add your show times into your Disney itinerary, and leave yourself enough time to get there at least 15 minutes before it starts.
Look at the MAP.
Try to do ALL the attractions and rides in one area, before moving on to the next.
Most people start in a clockwise direction, so go anti-clockwise to avoid the bulk of the crowds.
Hot tip: Make sure you get extra magic hours for Magic Kingdom if you have kids.
Disney souvenir shopping
Hot tip: If you are travelling with young kids, do some research before you go to find out the best shops to visit. We suggest visiting one shop in each land as you go.
Avoid shopping last thing at night before you go, as the shops are chaotic and it's the prime time to lose sight of your kids.
No.7: Book at least ONE Character Meal
Character dining is fun for all ages. Book one, and I guarantee you'll want to book all the Disney character dining reservations.
Don't think it's just about the kids!
You'll get as much kick from a cuddle with Piglet as the kids do!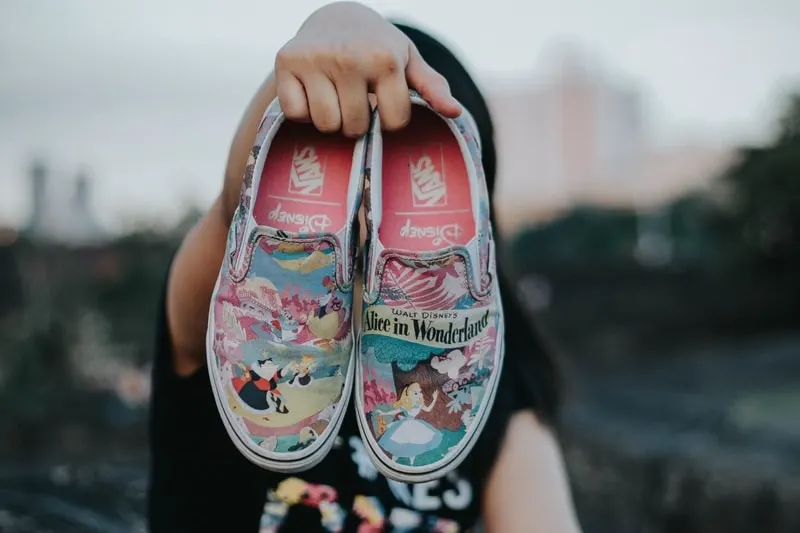 Image credit: Bert Ferranco via Unsplash
DISNEY PACKING TIPS
No.9: Wear Good Shoes
We think this is so important, we wrote about it.
Check out our guide to the best shoes for Disneyland and Disney World here.
Plus, pack the blister packs and bandaids. Thank us later.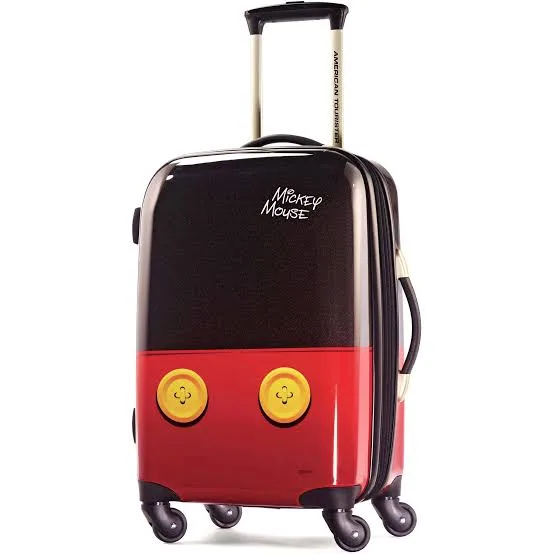 No.10: What to Bring to Disney? The Best Disney Packing List
Writing your Disney packing list, and want to know what to pack for Disney?
Here's a few ideas:
Use a lanyard around your neck to put all the fast passes, photo pass cards etc
Take a hat clip to hold their hat to their shirt in case it falls off
Bring flexible water bottles and use a carabiner clip to attach it to your bag or stroller.
Bring a muslin cloth and 2 clothes pegs so you can clip it to the stroller when the toddler needs a nap in the shade
Pack a travel cutlery set for everyone in your family so you don't need to use disposable plastic ones.
Bring rain ponchos from home, or buy them at the dollar store before you arrive. Otherwise risk paying a bomb in the parks.
Add the same Disney luggage tag to all your checked luggage.
Make it difficult for thieves, and easy for yourselves to find your bags. Buy matching luggage skins for each piece of luggage. They have Disney luggage covers!
BUY NOW ON AMAZON: The adorable Disney pants rolling luggage by American Tourister, as pictured above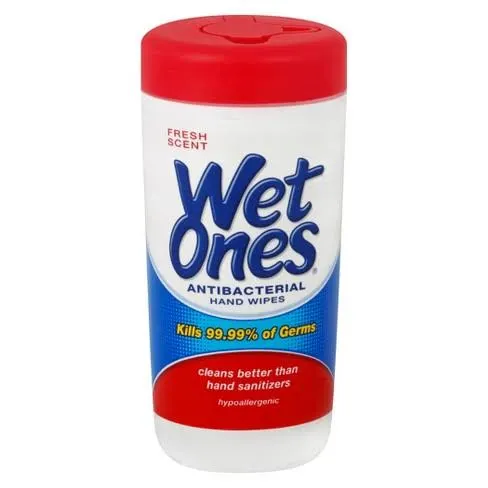 No.11: Make a Travel Kit of Food Prep Supplies for Toddlers
Add a few sachets of mayonnaise, ketchup, salt, pepper, stevia or sugar sachets, zip lock bags, a fold up cereal bowl, a spoon, and wet ones.
Keep this in a small waterproof bag in the bottom of your stroller for emergencies.
Have allergies? Let your servers know so they can help, or ask to talk to the chef. Chef's have the ability to prepare something especially for you if necessary.
Remember there's FREE iced water at all Quick Service restaurants too. Don't buy or waste snack credits on bottled water.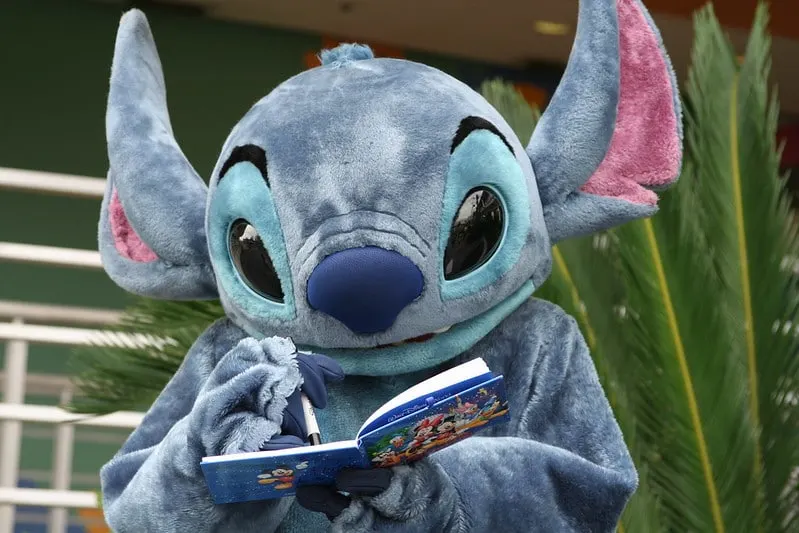 Image credit: Jeff Christiansen via Flickr CC BY SA 2.0
No.12: Pack a Sharpie pen and an Autograph Book
Your kids may not have plans to collect autographs from the Disney characters yet, but guarantee you, when they see other kids doing it, they'll want to join in too.
BUY NOW ON AMAZON: Official Walt Disney World Four Parks Mickey Mouse Autograph Book
BUY NOW ON AMAZON: Sharpie Assorted Rainbow Colored Fine Point Permanent Markers – Set of 12 x 2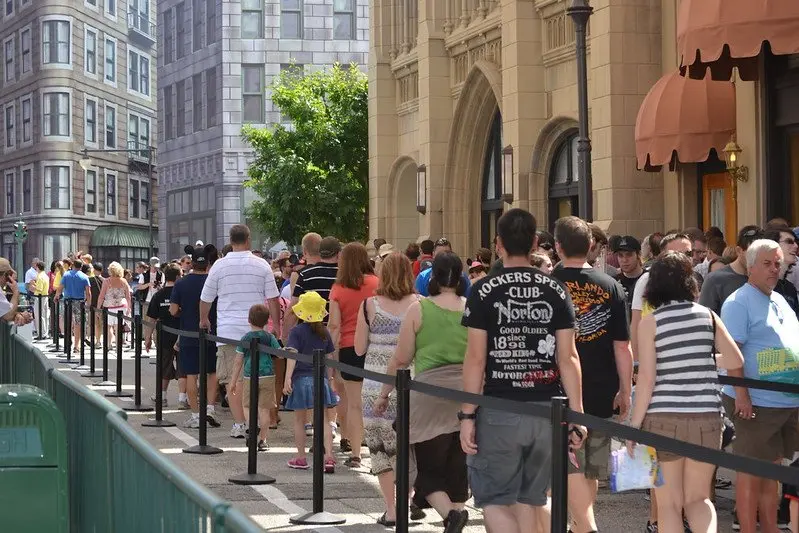 Image credit: D.K Peterson via Flickr CC BY SA 2.0
No.11: Pack an Activity Pack
Hot tip: Pack a small 'Mickey pack' of games or activities for the kids to use when you have a shower in the morning, in ride queues, during table service meals, or at the hotel before bed when the kids need to wind down.
Search the craft and stationery aisles at variety stores, discount stores, Walmart and Amazon for ideas.
A few of the activities we used included the Water Art reusable travel activity by Melissa and Doug where the kids 'color' the art with a water filled pen, but no mess.
(These come in a pack of six different themes including number, safari, vehicle, animal, under the sea and alphabet, so you can swap them around between the kids to prevent boredom.)
Another one was these Disney Princess Coloring Book Pages & Wonder markers.
There's also the Disney Cars Magic Ink coloring book set for toddlers.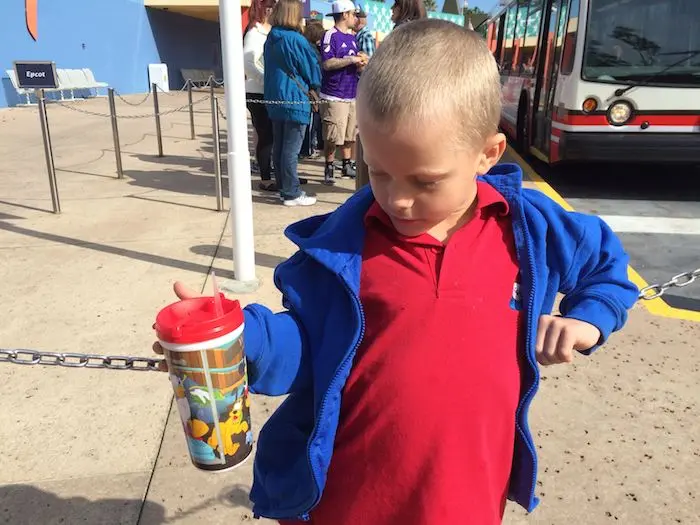 No.12: Hot tips for Disney World resort vacations
If you book the Disney Dining package, you receive this Disney Resort refillable mug (travel mug). We start each day with tea, or hot chocolate. You can fill it as many times as you like at any quick service locations at all Disney resort hotels. We carry it with us so we can stay hydrated with water all day long.
BYO snacks and baby food such as milk, yoghurt, cheese sticks, fruit and veggie sticks. There's a mini refrigerator (but no freezer) in every resort room at Walt Disney World so you can keep it cool.
Did you know you can order groceries and have them delivered to your Disney World resort room? Save money on food at Disney by eating breakfast and supper in your room. Try Garden Grocer, Instacart, and Amazon Fresh.
Take a look at our guide to packing for Disney.
READ MORE: The BEST Disney Packing List with lots of Disney Packing Tips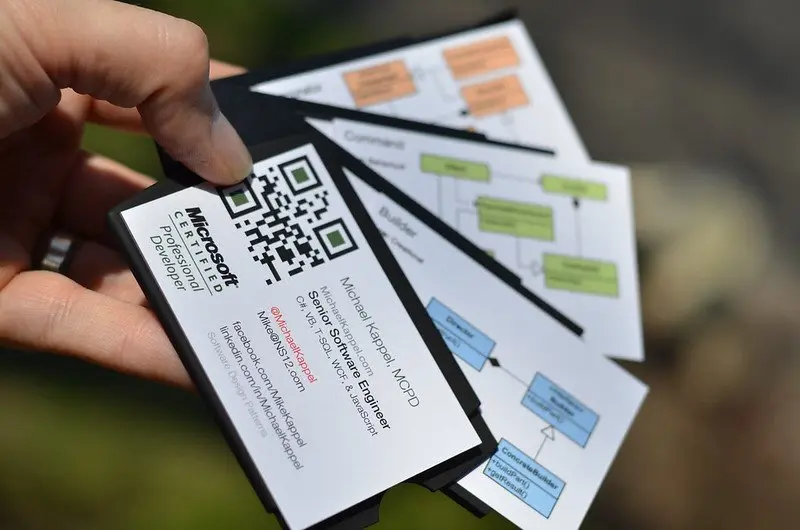 Image credit: Michael Kappel via Flickr CC BY ND 2.0
No.13: Stop the kids getting lost
Here's a few tips on how to keep the kids safe at Disney.
Add a clothing label to all their t-shirts with your family name, and cell phone number on it.
Stick a sticky label on their back with your surname, and cell phone (mobile phone) number on it.
Write your cell phone number on the inside of their arm with permanent marker (it fades with washing)
Make a meeting point with a visual cue
Take a pic of the kids every morning so you know what they are wearing that day
Give them a lanyard to wear, and put a small information card inside the pocket with important contact details
Tag a luggage label to the kids clothing eg on the loop of their jeans or shorts. Pop your business card inside.
Put a business card in each of their pockets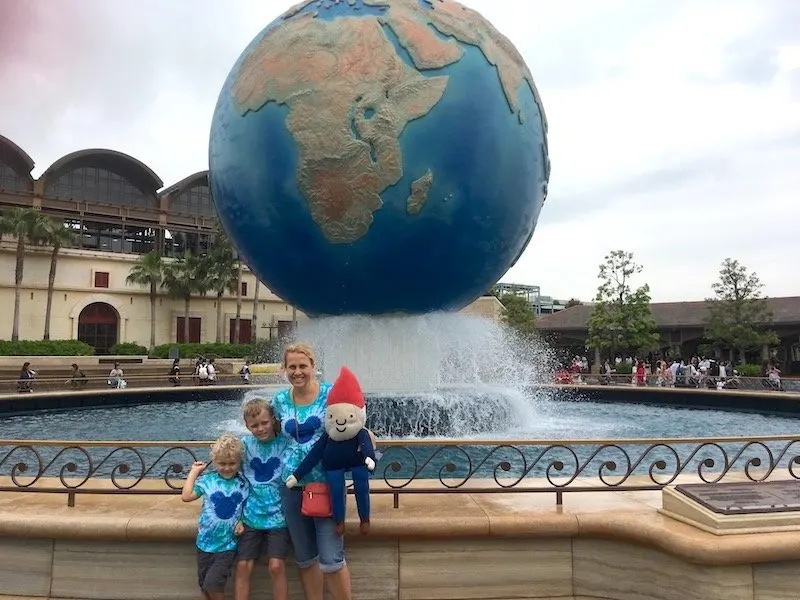 No.14: Wear the Matching Disney Shirts
Buy a customised "We're going to Disney" shirt from Etsy for everyone in the family.
Or you could ask our friend Amelia, from Sunny Daisy Tie Dye, to recreate our custom Mickey tees for you!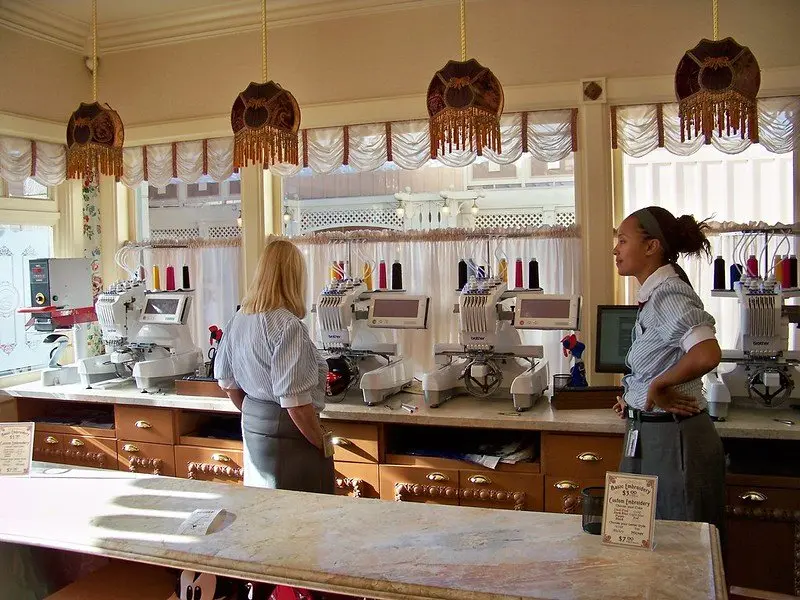 Image credit: Loren Javier via Flickr CC BY ND 2.0
WHEN YOU ARRIVE
N0.15: Buy Personalized Mickey Mouse Ears
While you are at it, pick up matching customised Mickey Ears hat.
Visit Mad Hatter on Main Street USA, and Mad Hatter in Fantasyland.
They'll embroider your Mickey hat while you wait. You can also pick them up at Disney California Adventure Park at Elias & Co. on Buena Vista street.
At Disney World, there's one shop in each of the four theme parks where you can order customized Mickey ears, while you wait. Ask at Guest Services for details.
If you want customized Mickey ear headbands, preorder through Etsy.
No.16: Collect all the Disney Buttons
Start collecting all the Disney buttons
(They are also called Disney badges by some.)
There's a Disney button for first time visitors, and one if you are celebrating a birthday. (Pick one up at Guest Relations as you enter the parks.)
Newly engaged or married couples can collect a celebratory Disney button too.
Celebrating an anniversary or a family reunion?
Ask a cast member or at Disney Guest relations for a button to commemorate the occasion!
Take a look into the shops on Main Street USA to find MORE exclusive Disney parks buttons too.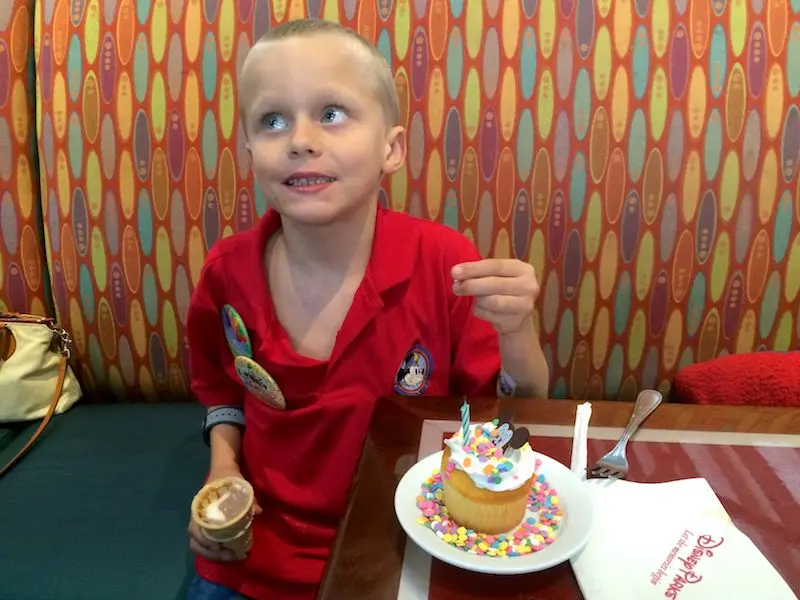 No.17: Celebrating at Disney?
If you are celebrating something at Disney, there's lots of ways the Disney cast members can help to make your stay even better.
Ask what can be done when you check in.
Helium balloons for the room?
Autographed birthday card from Mickey and friends?
A special birthday cake at a Character meal lunch or dinner?
Room decorations?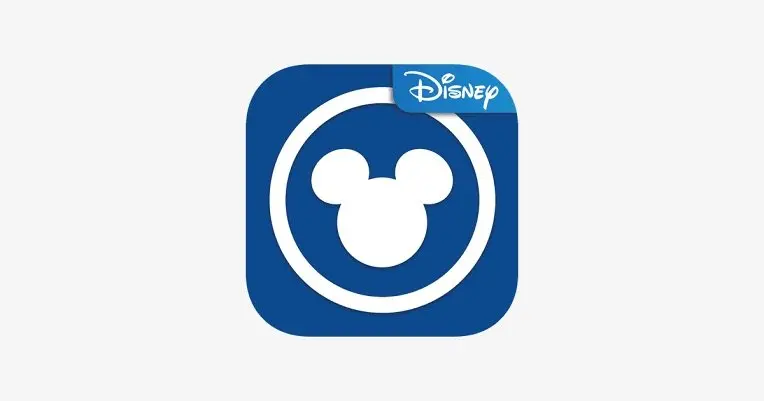 No. 18: Download My Disney Experience App
Don't leave home without downloading the My Disney Experience App to get access to real time Park information, including queue times and wait times to meet your favorite Disney characters.
Plus, there's maps!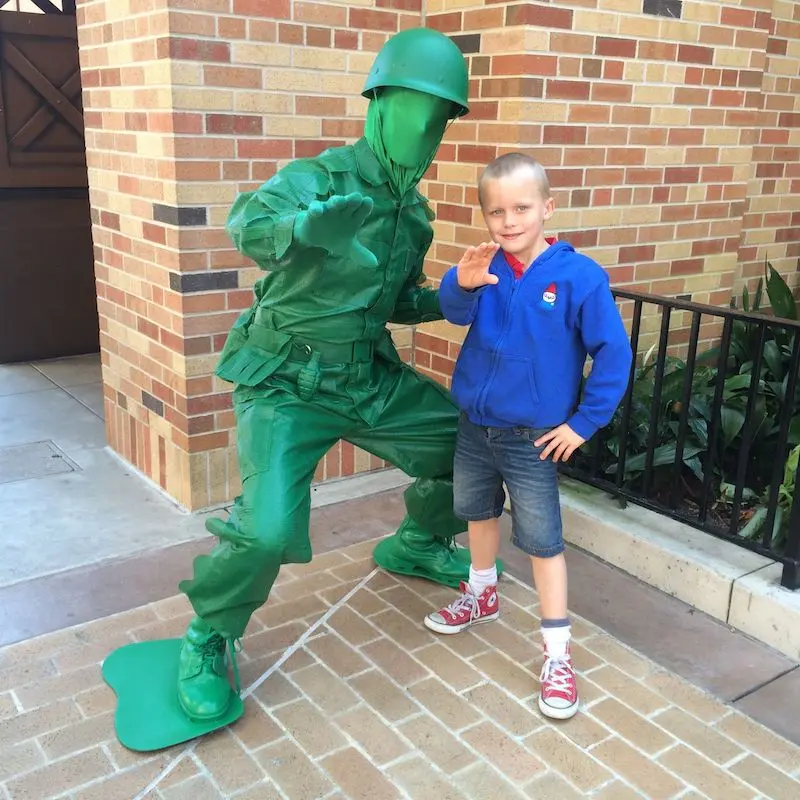 No.19: Do one park at a time
Don't bother park hopping.
It's a waste of time.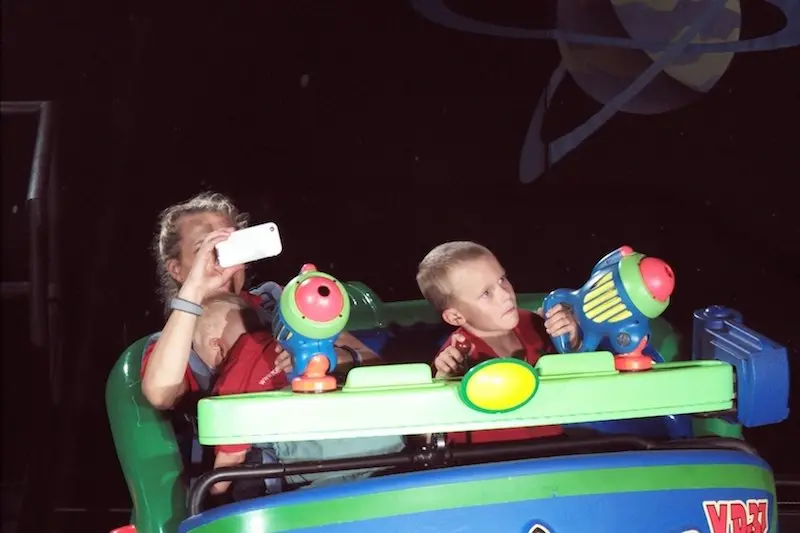 Ooops! Stuffed up on the photo opp on Buzz Lightyear ride.
No.20: Start your first day in the afternoon
Crowds thin in the late afternoon when the families with babies and toddlers retreat to their hotels.
THIS is the perfect time to ride all of the kids rides with little wait time so you can tick them off.
After 6pm, you can ride the whole bunch of the kids rides, multiple times in one go, with hardly a queue.
It's the ideal time to get on the BUZZ LIGHTYEAR RIDE – over and over again!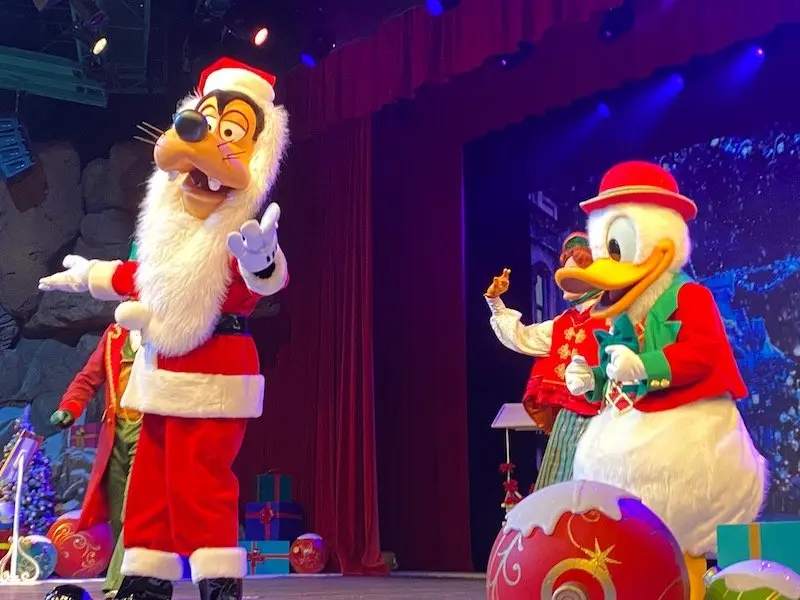 No.21: Watch the Disney shows
The quality of the Disneyland and Disney World shows are as good as Broadway.
There's also lots of seasonal shows, such as this Disneyland Christmas musical.
Do not be tempted to leave early to beat the rush to the bus.
Stay till the end.
There's always another bus.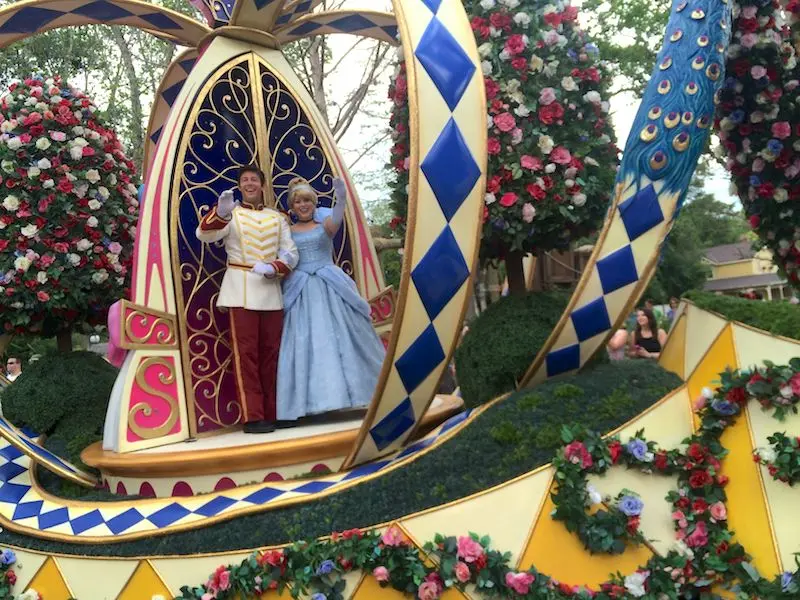 No.22 Do your research to find the best spot to watch Disney Parades
At Walt Disney World, it's best to ask the experts where the best spot to watch the Disney World parade is.
Take a look here for some tips.
Main Street has the best atmosphere.
At Disneyland, ask at Guest Relations for the hot tips on where to stand for the best view of the parade. Cast members are happy to help.
Hot tip for Disney parades:
Pick an outside curve, rather than on the straight where you can't see the parade coming toward you, or an inside curve as it's hard to see the whole floats.
Check the Disney parade route on the park map, and see where the parade ends. Stand there. This is a good tip too.
Don't miss the Main Street Electrical Parade. This is the best Disney parade ever.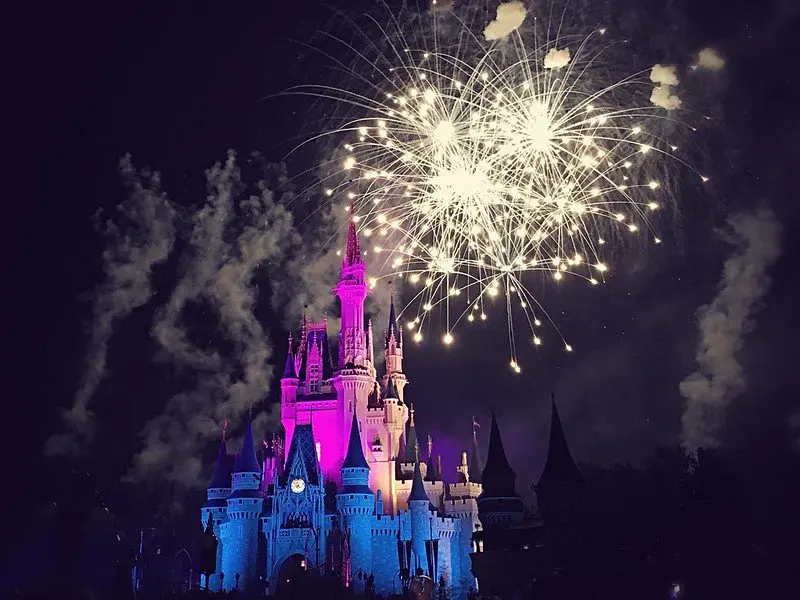 Image credit: Steven Van via Flickr CC BY 2.0
No. 23: Same goes for Disney Fireworks
At Disneyland, head to these spots:
In front of Sleeping Beauty Castle
Main Street, U.S.A., between Central Plaza and the Main Street Train Station
In front of "it's a small world"
Along the Rivers of America in Frontierland
At Disney World, head to the middle of the hub behind the Walt Disney and Mickey partners statue, so you can watch the fireworks with the castle in view too.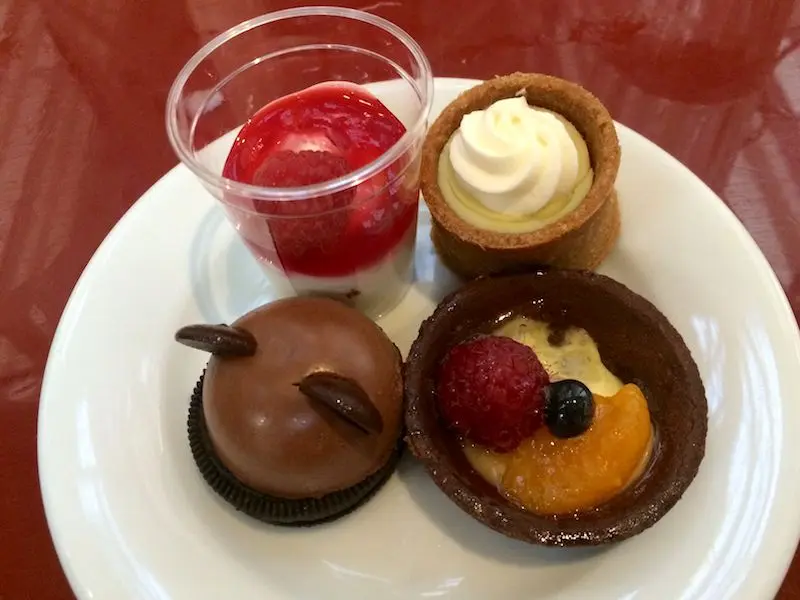 Hot tip: Disney Dessert Party
No.1: World of Color Dessert Party
At Disneyland, you can book tickets to the World of Color Dessert Party at Paradise Gardens park reserved seating area at Disney California Adventure park.
It's a chance to eat delicious Disney desserts followed by viewing the fireworks from directors chairs on the lawn.
No.2: Disney World Fireworks Dessert Party
At Disney World, you can book into a Fireworks Dessert Party at Tomorrowland Terrace, where you can eat delicious Disney desserts and watch the Magic Kingdom fireworks away from the crowds in the terrace seating area.
(Visiting at Christmas time? The dessert parties turn Christmas themed !)
No.3: Frozen Ever After Dessert Party
You can also book into the Frozen Ever After Dessert Party at Epcot World showcase to watch a water side viewing of the nighttime show.
(The new show, Epcot Forever, starts from 1st October 2019.)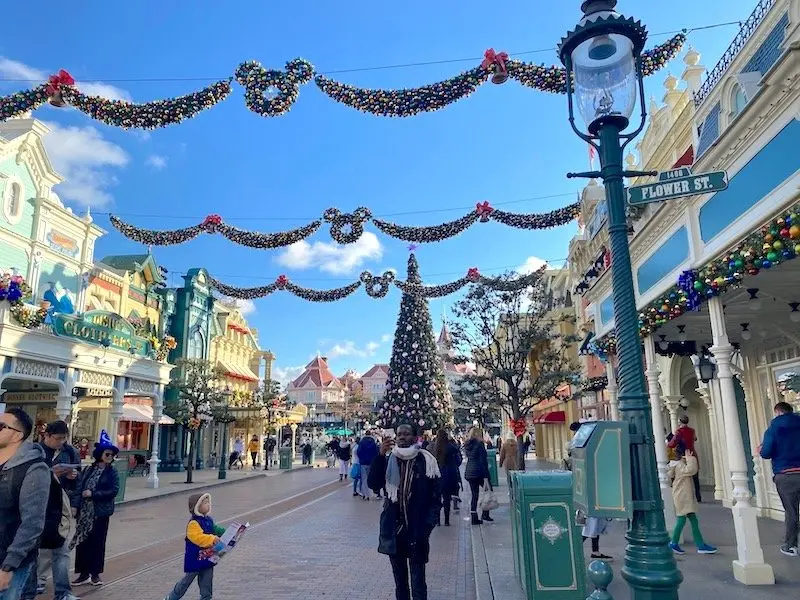 No.24: Visit Disney at Christmas
At least once in your life, head to a Disney Park during Christmas to see the special Disney Christmas parade, and experience triple the Disney magic.
If you adore Christmas AND Disney, there's a special tour at Disney World called Disney's Holiday D-Lights.
It's a chance to go behind the scenes to see, firsthand, how Disney brings their most treasured customs to life. Includes dinner, and a special limited edition keepsake pin.
You can also book tickets for the special event, Mickey's Very Merry Christmas Party at Disney World.
Disney Scary Halloween Party
Same goes for Halloween. So. Much. Fun.
Buy tickets for the special event, Mickey's Not-So-Scary Halloween Party at Disney World, or A Disney Halloween Party at Disneyland.
Make reservations quickly. These Disney events sell out fast.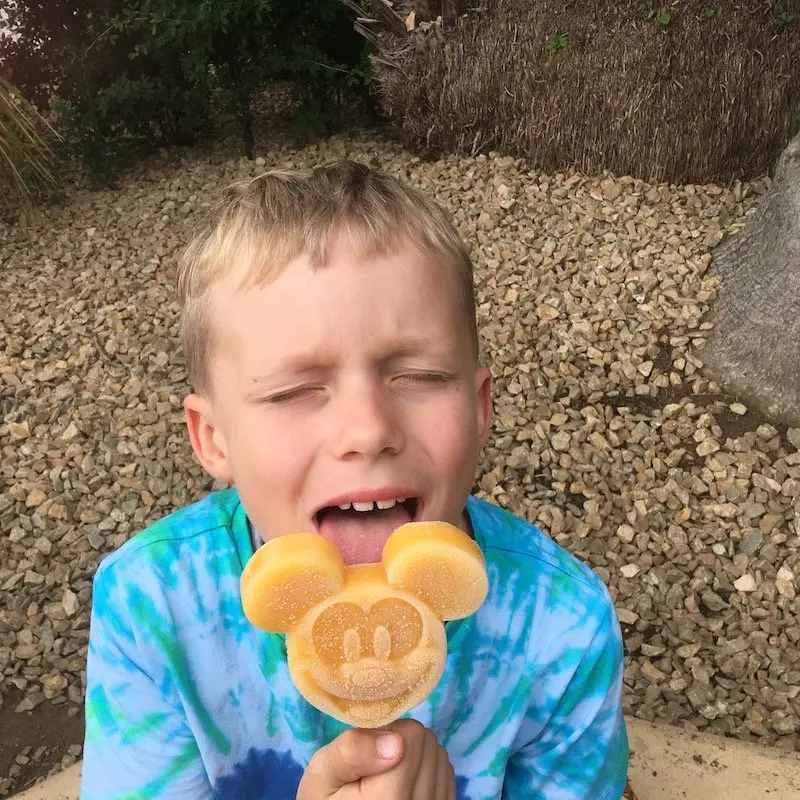 WHAT TO EAT AT DISNEY
No. 25: Try all the Disney Snacks
There's no such thing as a diet at Disney World.
That starts tomorrow.
The best snacks to try at Disney include:
Blue Milk at Star Wars Galaxy Edge (There's Green Milk too!)
Mickey shaped waffles at a Character breakfast
Mickey Mouse pancakes at Disneyland
Mickey Mouse pizza
ALL the Disney Popcorn flavors. (We love the popcorn choices at Tokyo Disneyland especially!)
Tonga Toast, banana stuffed french toast at Kona Cafe at Disney's Polynesian Village Resort
Dole Whip is one of the famous snacks at Disneyland but it's not to everyone's liking.
Try it for yourself to see.
Love Disney food? Book this tour: Taste of Magic Kingdom VIP Tour.
A chance to go behind the scenes of the food and beverage experience at Disney and try all the iconic Disney menu items.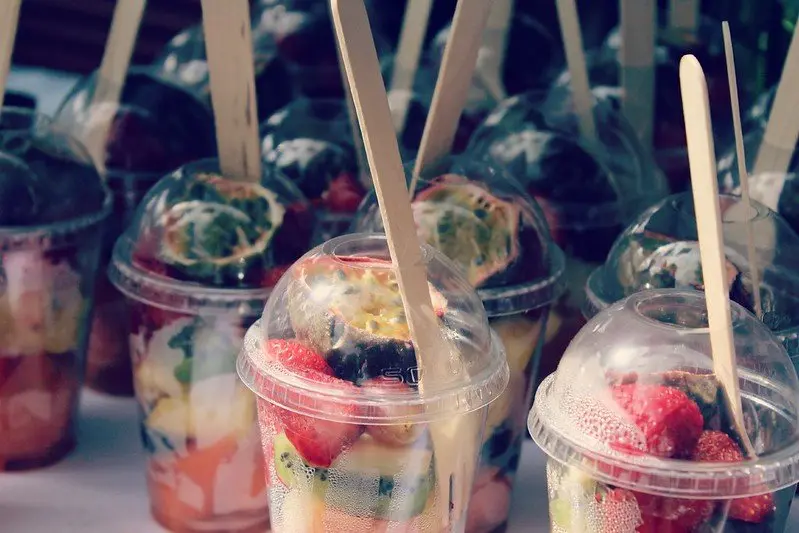 Image credit: A Thrifty Mrs via Flickr CC BY SA 2.0
No.26: Eat Fresh Fruit at Disney
Disney Parks at Disney World sell fresh fruit and ready made fruit cups, plus veggies and hummus, and all natural lemonade.
In Animal Kingdom, you'll find the Harambe Fruit Market cart. In Epcot, visit the Land Cart in Future World. At Magic Kingdom, find Prince Eric's Village Market in Fantasyland.
Look out for the Anaheim Produce cart on Sunset Boulevard at Disney's Hollywood Studios.
At Disneyland, visit any one of these snack carts.
Critter Country Fruit Cart
Fairfax Market
Fantasyland Fruit Cart
Filmore's Taste-In
Main Street, U.S.A. Fruit Cart
Ship to Shore Marketplace
Mortimer's Market
Tomorrowland Fruit Cart
Toon Up Treats
Tropical Imports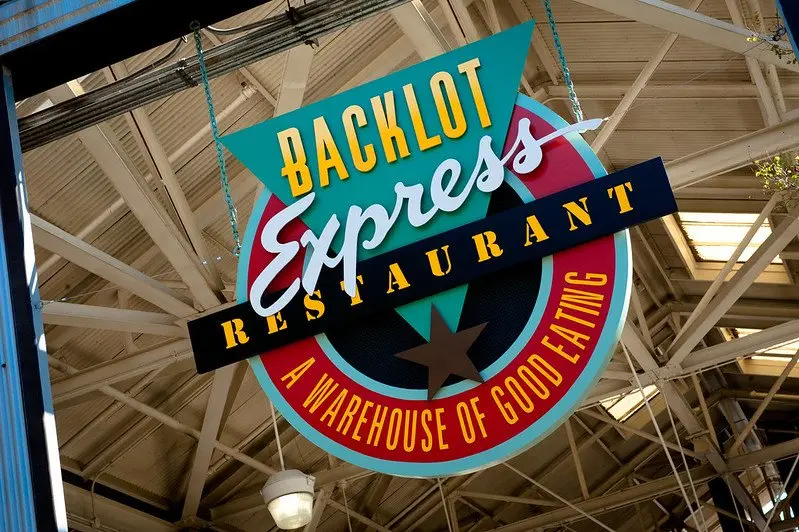 Image credit: Josh Hallett via Flickr CC BY SA 2.0
No.27: Preorder your Food
Save time, and hassle by preordering your food at both Disneyland and Disney World on the My Disney Experience app.
Never wait in a quick service food queue again!
Order and prepay for your food, choose an arrival time, then pick it up when it's ready.
Easy peasy.
Image credit: D.K Peterson via Flickr CC BY SA 2.0
FUN THINGS TO DO AT DISNEY
No.28: Disney Barber Shop
Did you know you can visit a Disney Barber shop for a haircut on Main Street USA? Look for the red and white striped pole.
You can take your little one for their 'first haircut' and receive a keepsake lock of hair, an Official Disney milestone certificate, AND a commemorative Mickey Ears hat!
There's a possibility you might be serenaded by the famous Disney Barbershop Quartet while you are there.
(Hot tip: Book a haircut during the midday parade and they might just sing along to the songs.)
Fingers crossed!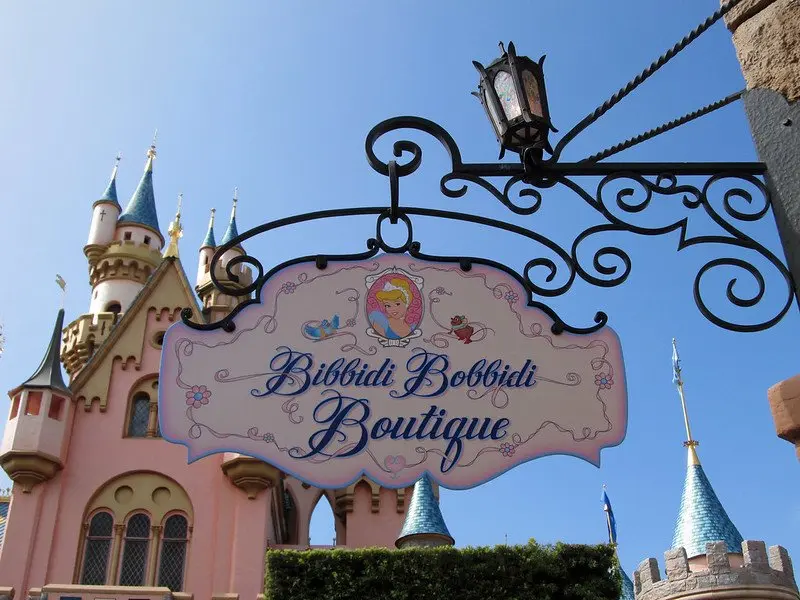 Image credit: Daryl Mitchell via Flickr CC BY SA 2.0
No.29: Give the kids a fantasy makeover at Bibbidi Bobbidi Boutique
Book in to the Bibbidi Bobbidi Boutique at Disneyland resort and watch as your kids are transformed by the wave of a magical wand into elegant princesses and shining knights, fit for the ball.
The magical makeovers are available for boys and girls, aged 3 to 12.
Kids can choose their hair style, make up, nail color, and costume.
The Castle Package is the ultimate. Kids are given a Disney Princess gown with sash, and have a keepsake portrait photoshoot too.
Charges apply.
Hot tip: Book well in advance. This is a popular special Disney treat for kids.
Bibbidi Bobbidi Boutiques can also be found at Magic Kingdom in Fantasyland, Disney Springs in Orlando, and Disney's Grand Floridian Resort and Spa.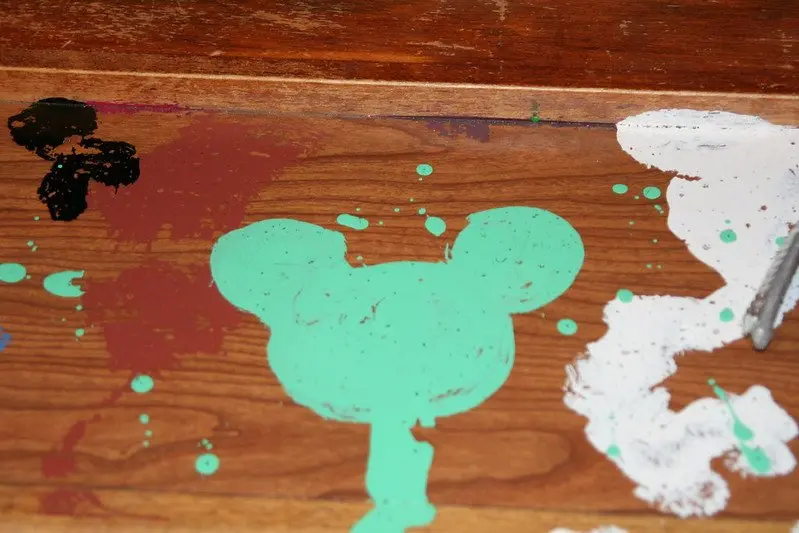 Image credit: Jeff Christiansen via Flickr CC BY SA 2.0
N0.30: Spot the Hidden Mickeys
If you are wondering what are some amazing secrets hidden within Disneyland and Walt Disney World, you'll be interested to know about Hidden Mickeys.
The team of imagineers at Disney keep the surprises coming. One of the cool things they've done is to insert whats called HIDDEN MICKEYS throughout the park in random places such as in the design of a ride queue, on a piece of signage, in the props around the lands, in the decor, or the stores layout.
In fact, Hidden Mickeys can be found just about anywhere.
A Hidden Mickey is a silhouette of Mickey's head, with his face and two ears, like in the painting above.
Look for the Mickey shape everywhere:
Here's a few tips on where to look for hidden Mickey's!
three large rocks placed in a Mickey configuration in a sidewalk garden display
on a carving on a totem pole
in the carpet pile throughout the resorts
as twisted twigs
in window grills
on the tiles
in the way the ropes are wound up
in the props around the parks, and
in the concrete pathways.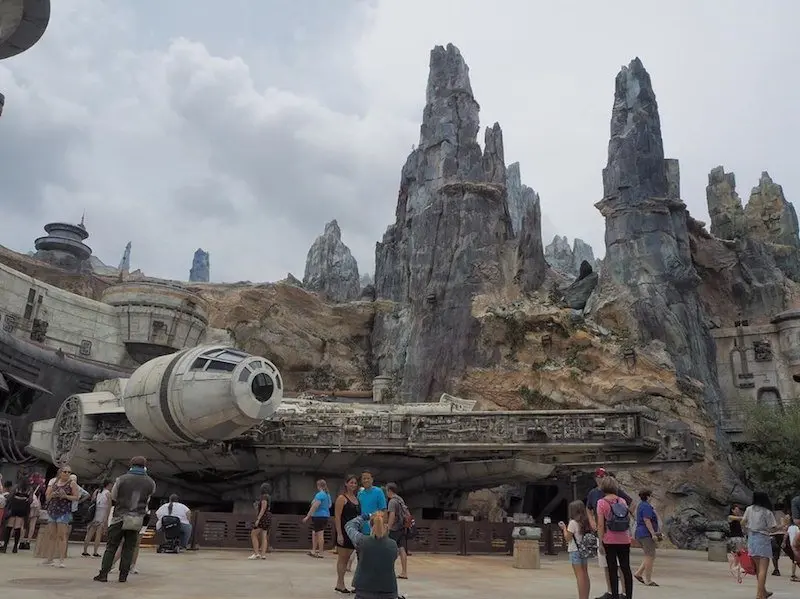 SUPER COOL DISNEY SECRETS & SPECIAL FINDS
No.31: Download the Disney PLAY app
Don't go to any Disney Park without this new app.
It's the key to unique interactive games and family friendly activities in the park, including Disney quiz games and interactive activities when queuing for rides.
There's a bunch of super fun things to do in Star Wars: Galaxy's Edge such as interacting with droids, translating languages, and hack into control panels and devices.
Don't forget to download from the app store or google play.
Image credit: MapHobbit via Flickr CC BY SA 2.0
No.32: Love it's a Small World?
Then book your kids into the Mary Blair illustration workshop through Outschool.
She's the artist behind the It's a Small World ride, one of Disney's most beloved artists.
Sadly, it's only for kids aged 8-12.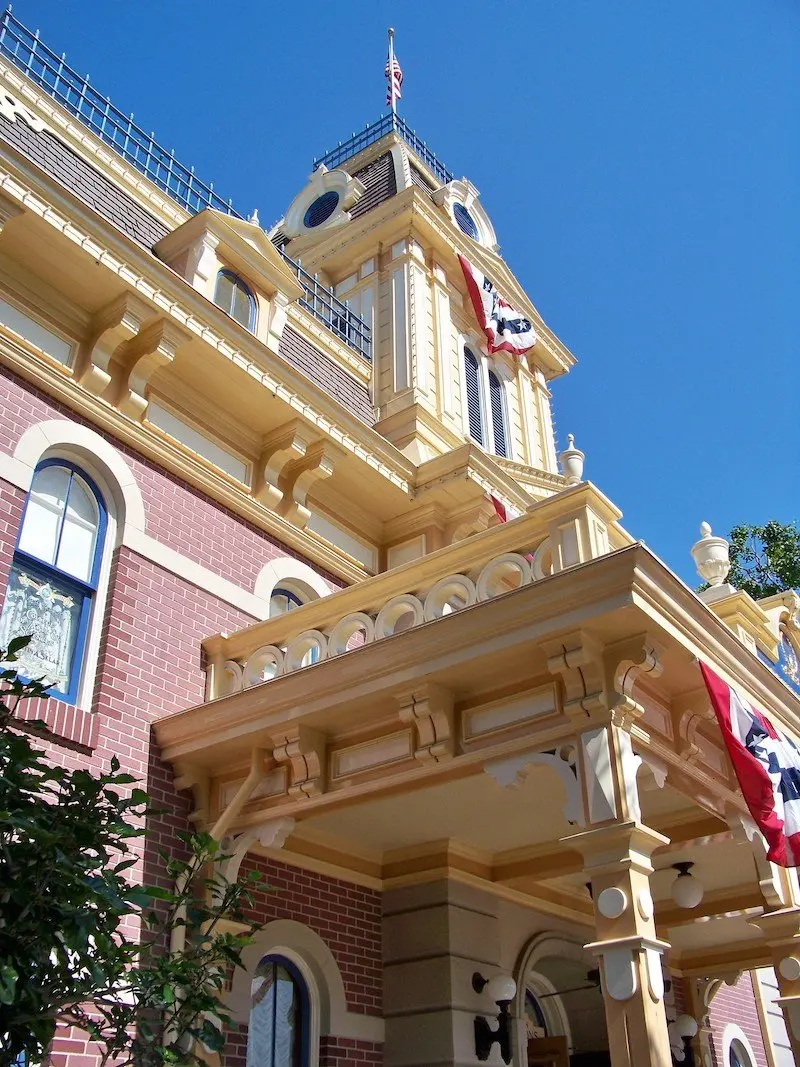 Image credit: Loren Javier via Flickr CC BY ND 2.0
No.33 : Bust the Disney secrets
Disney imagineers plan everything at Disney with meticulous attention to make a visit as magical as it can possibly be.
But it's kind of fun to find out the back stories.
Here's one of the things we want to investigate further.
It's alleged that Disney paints all the boring stuff in a color called 'go away green'.
It's supposedly used on bins, fencing, and doors leading to backstage areas to help things fade into the background and blend with the trees, foliage and greenery of the landscaping.
Image credit: Evan Didier via Flickr CC BY ND 2.0
No.34: Take home the magic of Disney hotels
When you stay on property, you can order from the Disney Resort collection, inspired by the Disney hotels at Disneyland, Disney World and Aulani Disney Resort and Spa.
Choose from:
bed runners
Mickey logo linen
Disney Resort bath robes
Disney H20 Bath and Body collections, and Spa formulas
Disney pillow covers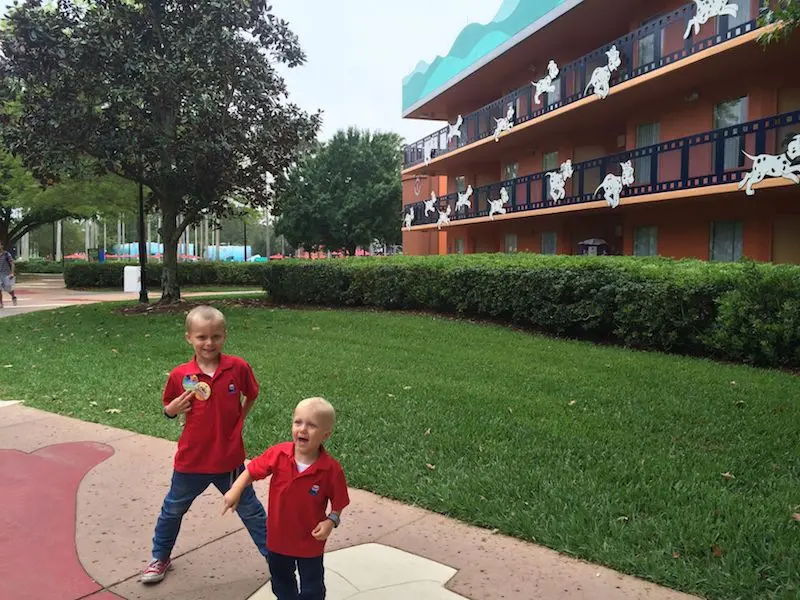 No. 35: Book Another Disney Hotel Stay and save!
Book your next Disney Resort hotel stay before you leave, and get a special booking code to save up to 35% off your next Disney vacation.
Check with your hotel concierge for details on how to book your family trip.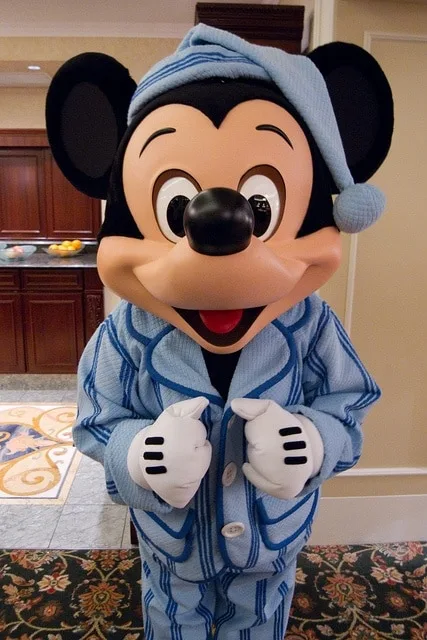 No.36: Book a Bedtime Call with Mickey (NEW)
If you are in the USA, you can call the special Disney Bedtime Hotline on 1-877-7-MICKEY to hear a special bedtime message from your favorite Disney friends including Mickey of course, but also:
Anna and Elsa
Yoda
Spider-man
Woody
Press 2 to avoid the text messages, then press the corresponding number for your fave character.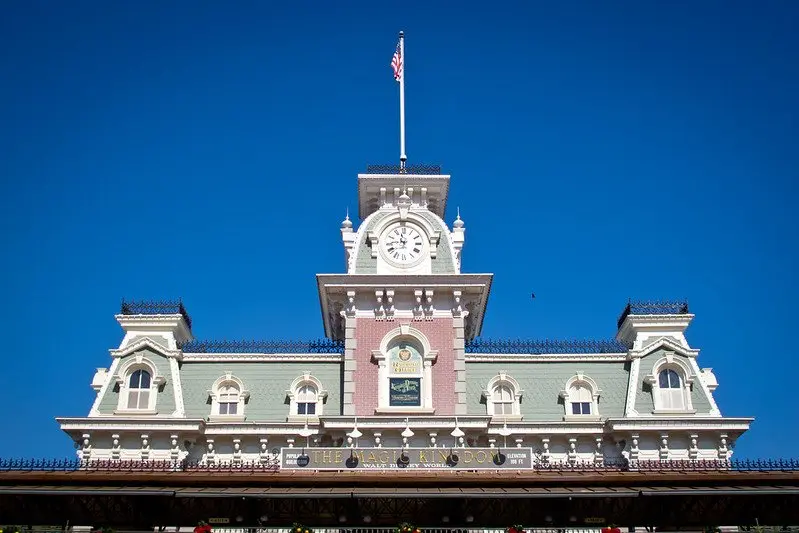 Image credit: Harshlight via Flickr CC BY 2.0
FREQUENTLY ASKED QUESTIONS
Disneyland or Disney World?
What's the question? Do both.
You need more time at Disney World, as it's four parks where Disneyland is two.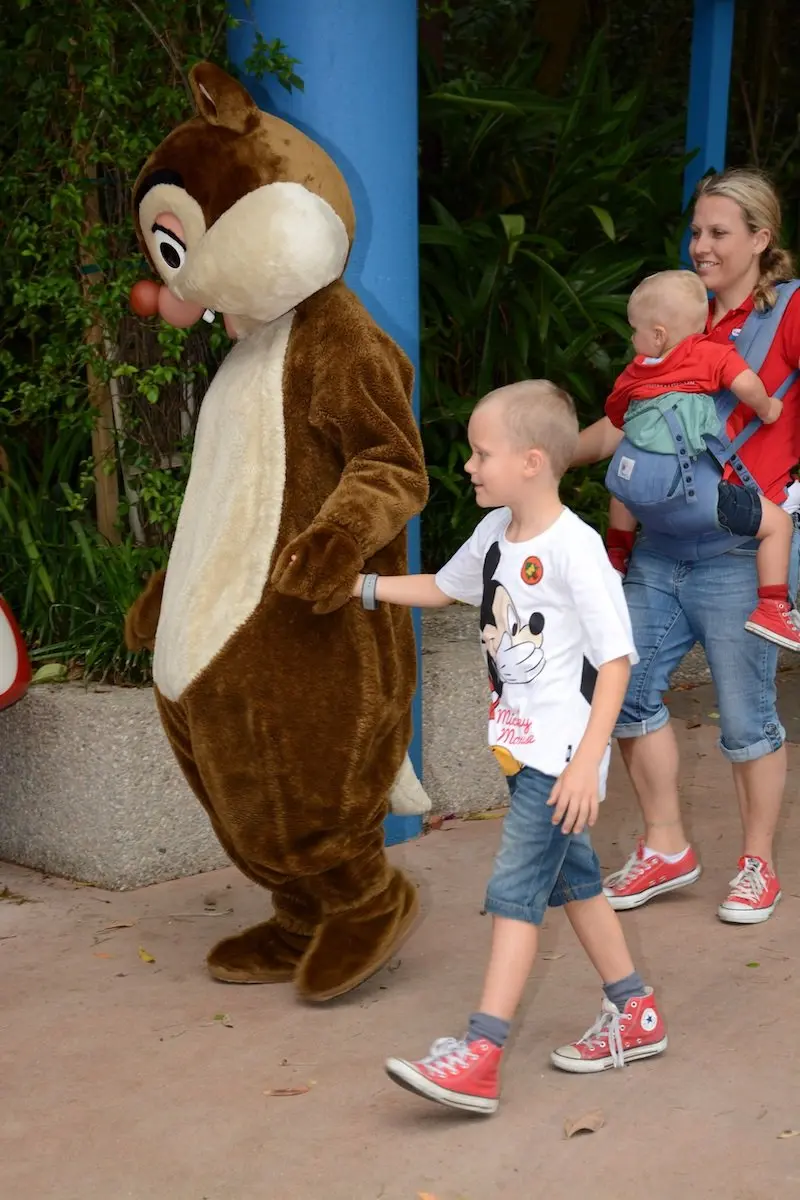 Looking for more Disney Tips and Tricks?
Find more information on Disney World and Disneyland here.