INSIDE: Everything you need to know about the best playgrounds on the Gold Coast and where to find them
Looking for the best playground on the Gold Coast?
Here's a quick overview.
From North to South, and East to West, we've listed the best Gold Coast playgrounds for toddlers, preschoolers, and big kids.
Take a look at our guide below for details.
Disclosure: This article contains affiliate links. If you make a purchase after clicking on one of these links, we may receive a small commission at NO extra cost to you.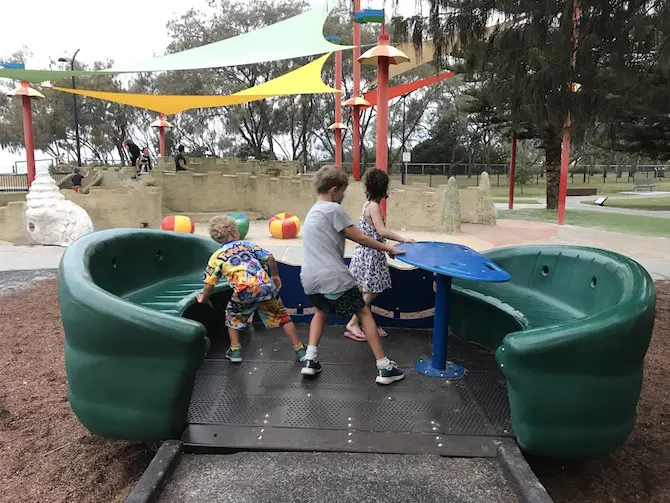 THE INSIDE SCOOP: Top 22 Playgrounds on the Gold Coast
Correct at time of publication on Roam the Gnome. Please check with venue for updates. We apologise in advance if there have been any changes we are unaware of. All prices in AUD dollars, unless otherwise stated
In no particular order, these are the ultimate Gold Coast playgrounds for kids.
Be sure to pack water, snacks, towels, swimmers, jumpers or jackets in case it suddenly turns cold, and a sense of humour when you head to these Gold Coast parks.
Happy exploring these top parks Gold Coast style!
Hot tip: Check out our guide to the best healthy & delicious snacks and food for picnics and road trips. (Good stuff guaranteed)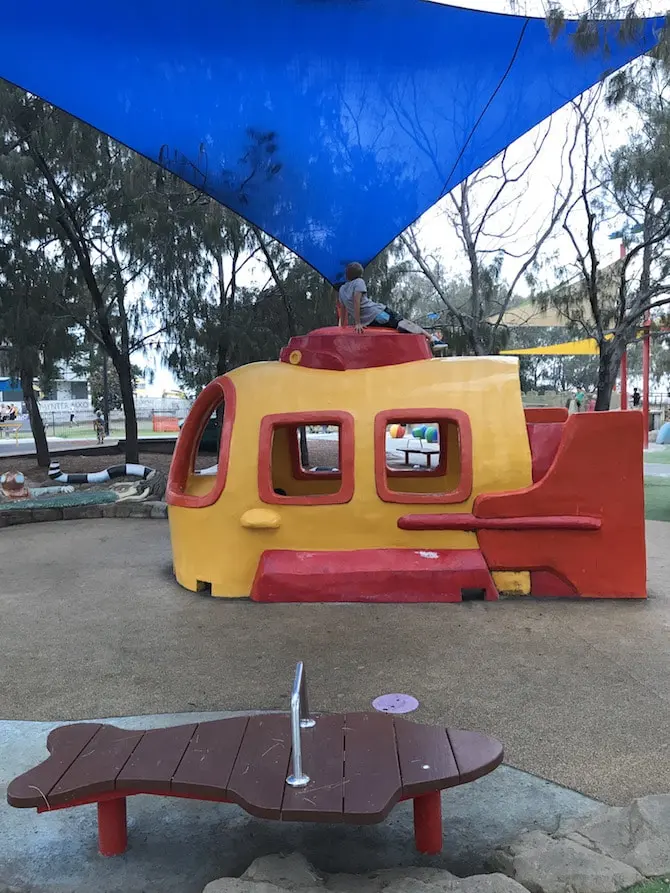 BEST GOLD COAST PLAYGROUNDS (CENTRAL)
Broadbeach Playgrounds
No.1: Broadbeach All Abilities Playground
The Broadbeach All Abilities playground near Kurrawa surf club is a fenced playground with equipment for both the able bodied, and also children who have disabilities.
This all inclusive playground on the Gold Coast aims to make play equitable, so all children can join in without barriers.
Check it out here: All Abilities Playground Broadbeach Park
Address: 167 Old Burleigh Rd, Broadbeach QLD 4218
No.2: Cascade Gardens playground
The playground at Cascade Gardens is a locals favourite, with a pony roundabout merry-go-round that toddlers LOVE!
Plus, a fort, slides, swings… all under shade sails.
Looking for an escape into nature? This is a park with big established trees, perfect for climbing!
BYO picnic – there's multiple undercover picnic tables and loads of grass for the kids to run around on.
A Liberty Swing for children with disabilities is on site too.
Address: 2690 Gold Coast Hwy, Broadbeach QLD 4218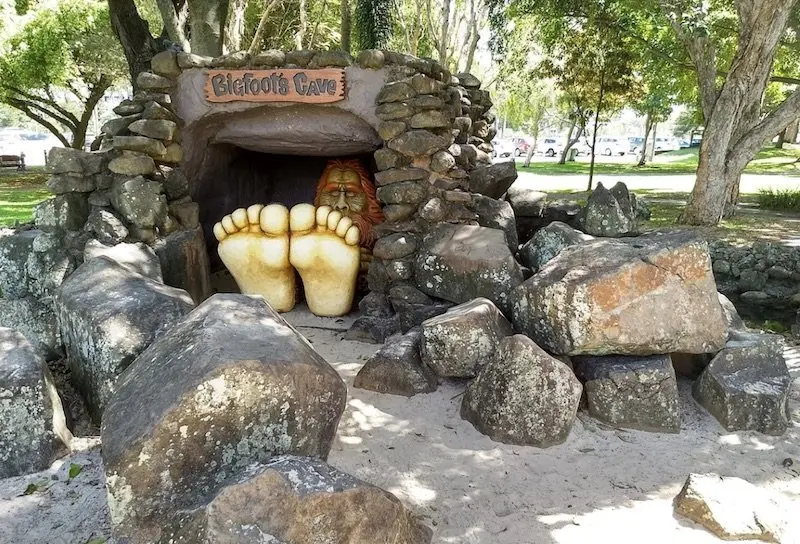 Image credit: Winston Wong
Playgrounds Surfers Paradise
No.1: Macintosh Island Park
The lovely thing about this Macintosh Island playground Surfers Paradise is the natural landscape, the pretty bridges, and the rock waterfalls.
Do look out for BigFoot's Cave!
There's also swings, slides, forts, seesaws and more under the shade sail.
Address: Main Beach Parade, Main Beach QLD 4217
No.2: Hollindale Park Main Beach
There's a small but eye catching playground at Main Beach, just north of Surfers.
Toddlers will like the animal rockers.
Older kids love the cacophony of the nets, climbing rails, loops, hoops and more here.
It's a climber's dream!
Address: Seaworld Dr, Main Beach QLD 4217 (next to Main Beach Pavilion and near Lifeguard Tower 40)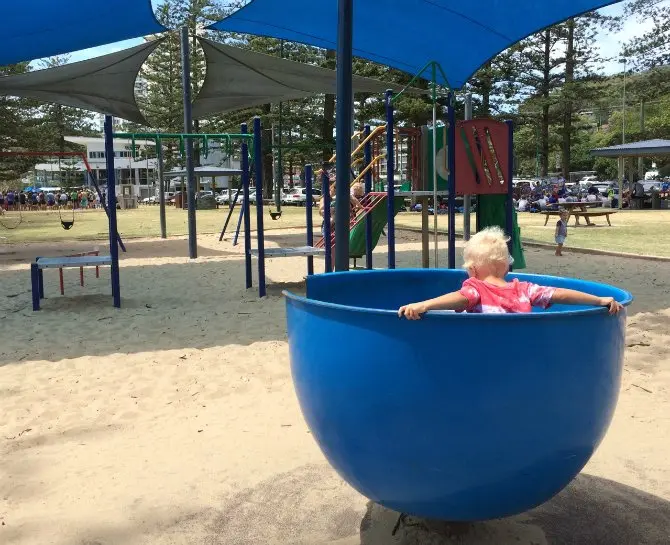 SOUTHERN GOLD COAST PLAYGROUNDS
Burleigh Playgrounds
No.1: Justins Park Burleigh Heads playground
This Burleigh Heads playground has one of those egg-spinner rides!
It's the key piece of equipment, unlike anywhere else on the GC.
Plus, it has the best views of the ocean anywhere along the coastline.
Check it out here: Justins Park Burleigh playground
Address: 167 Old Burleigh Rd, Broadbeach QLD 4218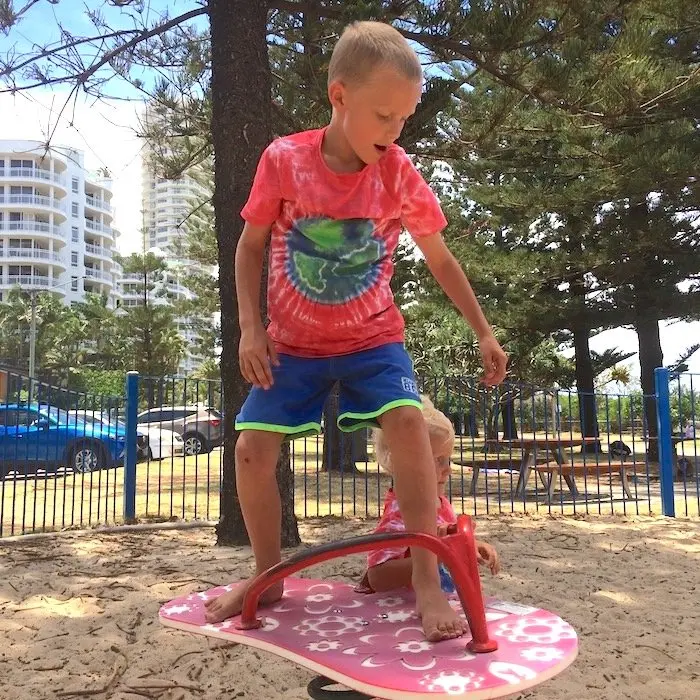 No.2: North Burleigh Playground
This Burleigh playground for kids is surfer themed.
There's surfboard rock climbing!
And a jeep to 'drive'.
But the highlight is trying to balance and stand upright on a giant 'thong' rocker.
It's not easy!
Check it out here: North Burleigh kids playground
Address: Corner of Fifth Ave & The Esplanade, Burleigh Heads QLD 4220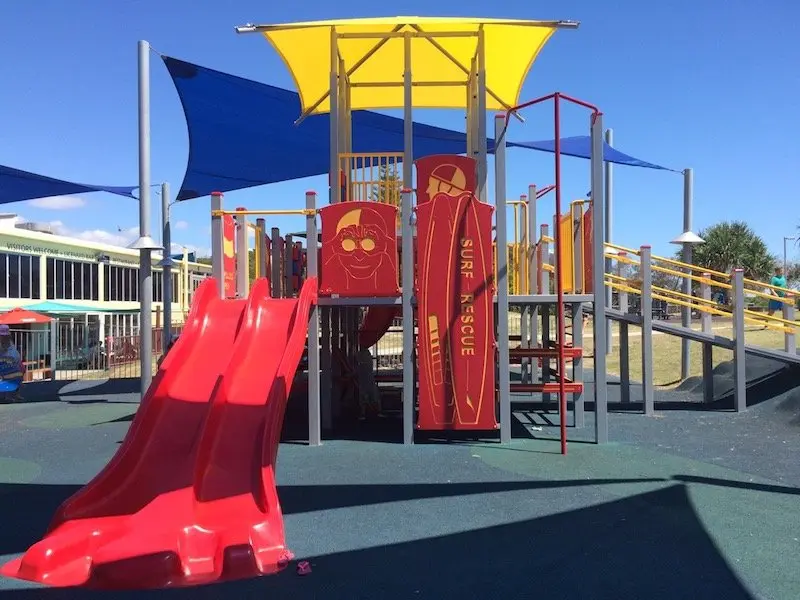 Tallebudgera playgrounds
No.1: Tallebudgera Surf Club Playground
Let the kids play lifeguards at the Tallebudgera Surf Club playground.
Themed around Surf Life saving, there's loads to do across TWO undercover play spaces with both big and small forts.
Hot tip: Visit Tallebudgera Creek beach next door, one of the best beaches for kids on the Gold Coast.
Check it out here: Tallebudgera beach playground
Address: 1509 Gold Coast Hwy Palm Beach QLD 4221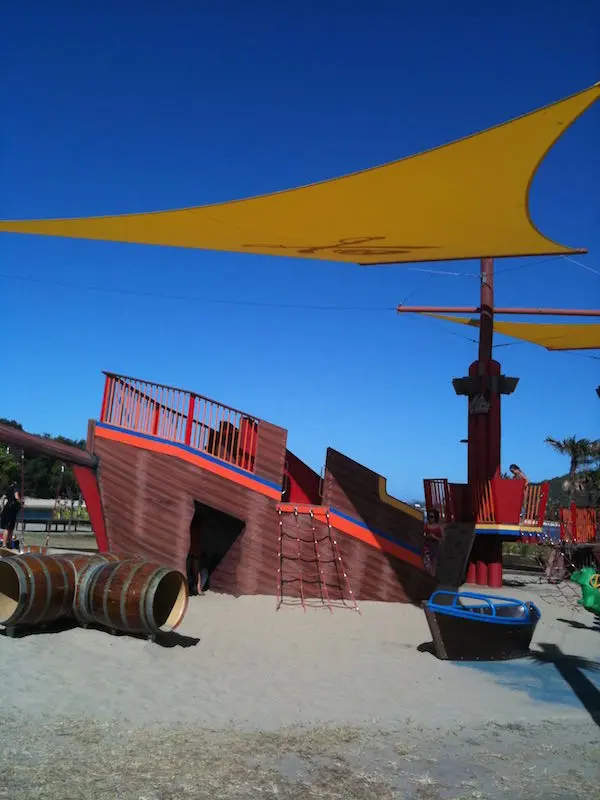 Palm Beach Playgrounds
No.1: Pirate Park Palm Beach
The Pirate Park playground in Palm Beach is Gold Coast's best playground for creative storytelling and imaginative play.
Check out the giant galleon ship centrestage – climb to the lookouts and slide down the rafter slide.
Lookout – it's FAST!
Hot tip: This Palm Beach park is the spot for a Pirate Party!
Check it out here: Pirate Park Currumbin playground
Address: 945 Gold Coast Hwy, Palm Beach QLD 4221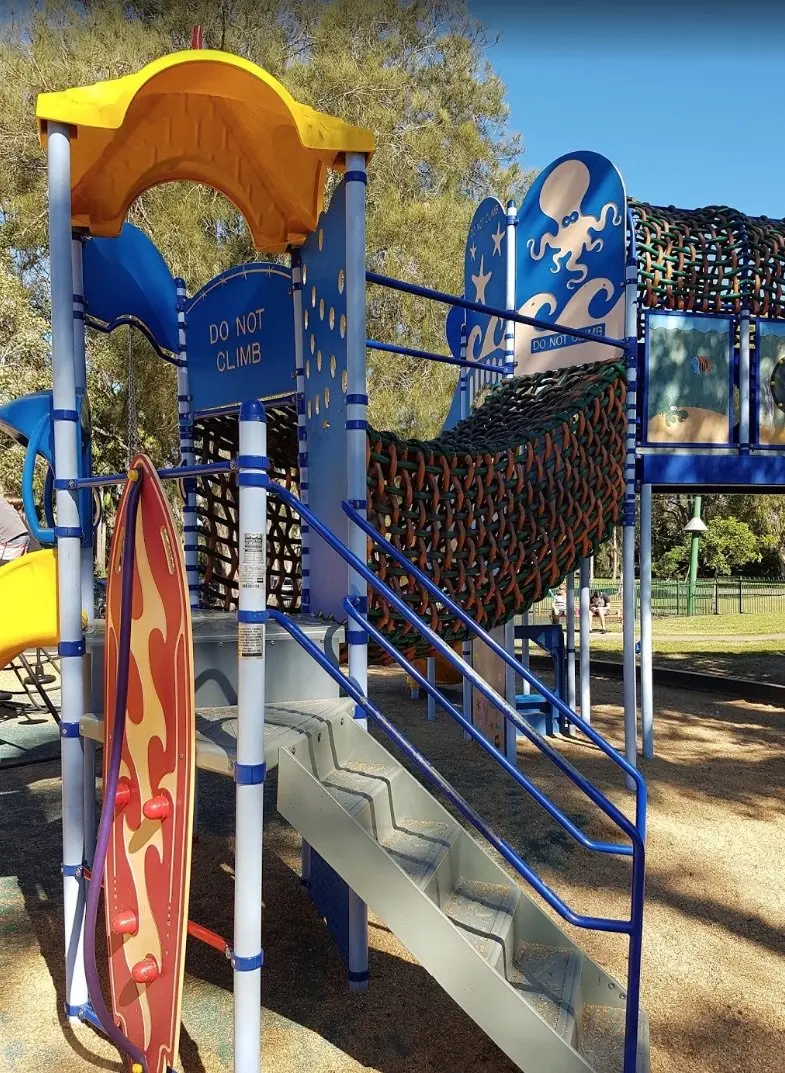 Image credit: Bob Leoo
No.2: Laguna Park Palm Beach
Ride Monorail bikes around and under the giant rope-web fort at this fully fenced playground, along with regular play equipment such as forts, slides and swings, and magic mirrors.
Kids can build their balance skills too, on wobbly spinners, and balancing poles.
There's another Pirate Ship here too, with bridges, and ropes to climb.
Much loved by the local community, this HUGE space is full of children making new friends and enjoying one another's company while parents and grandparents chat.
Address: 130 Laguna Ave, Palm Beach QLD 4227
Currumbin Playgrounds
No.1: Wild Island Adventure Playground & Water Park
Recently revamped and now even better, this playground at Currumbin Bird Sanctuary has a new water splash pad area!
Plus zipline, HUGE fort with stepping bridges and tunnel nets, giant climbing nets, and hide-and-go-seek tunnels too.
Check it out here: Currumbin Wildlife Sanctuary Playground
Address: 28 Tomewin St, Currumbin QLD 4223
No.2: Kropp Park Tugun
This hidden playground is found by following the bike path and the Currumbin Oceanway, over the pedestrian bridge from Teemangum street towards Pacific Parade.
(Don't mistake the small green, yellow and orange playground next to Sandcastles resort. Keep walking)
This Tugun playground has the ultimate Gold Coast view, yet it's mostly known only to locals who love it for birthday parties, and rock pool treasure hunts, and intimate weddings.
If you are visiting Currumbin Bird Sanctuary, finish your day with a play here.
Also accessible from the car park at the end of Pacific Parade Tugun.
Address: Pacific Parade, Currumbin QLD 4223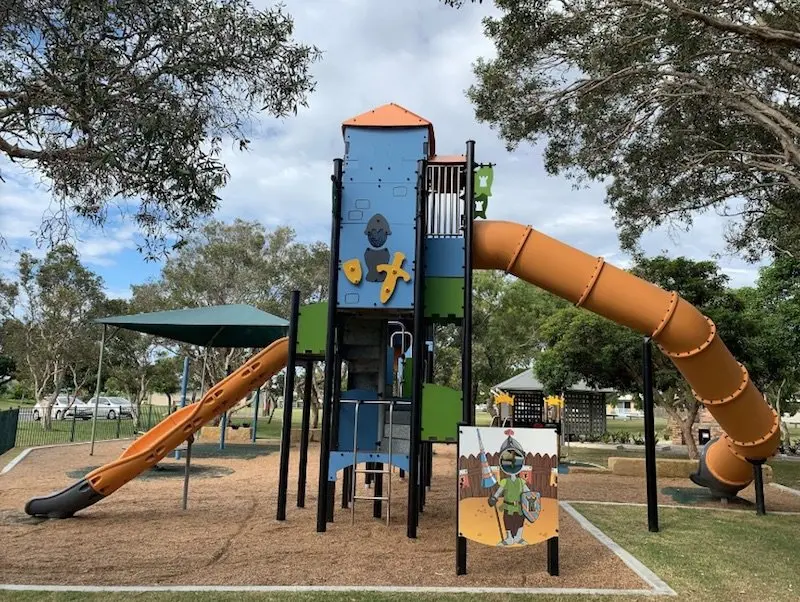 Image credit: J PK
No.3: Tugun Park
You can see this one from the Gold Coast highway near the Gold Coast airport as you travel north.
In fact, there's two playgrounds along this road.
But the main one has a GIANT yellow slide, (and a smaller one too) and is themed around kings, queens, knights and castles!
Address: 414 Coolangatta Rd, Tugun QLD 4224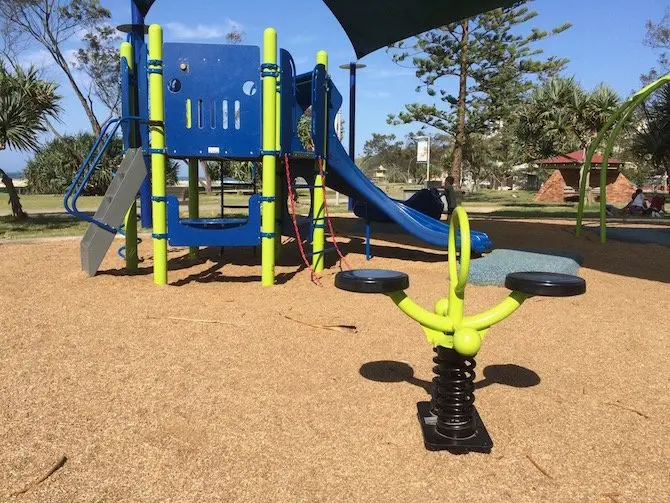 Tweed & Coolangatta Playgrounds
No.1: Kirra Beach playground
Kirra playground has views of the best surfing break on the Gold Coast
(Keep an eye out for Mick Fanning here)
There's a car park right there, plus BBQ's and picnic areas too.
Check it out here: Kirra playground
Address: 34 Musgrave St, Coolangatta QLD 4225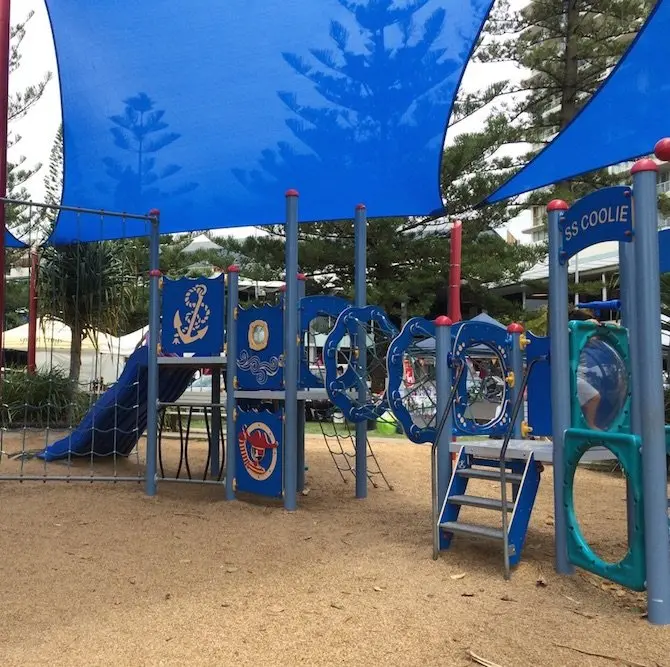 No.2: Queen Elizabeth Park Playground
Coolangatta is our favourite place on the southern end of the coast.
This Coolangatta playground is on the beachfront opposite the shopping mall.
Check it out here: Queen Elizabeth playground Coolangatta
Address: Opposite The Strand & next to Coolangatta Surf Club, Marine Parade, Coolangatta QLD 4225
No.3: Ray Pascoe Park Playground Tweed Heads
The hanging see saw ride at this playground is the centrepiece, but there's a fort and swings too.
This playground also has a special nature experience.
You can feed wild pelicans at this playground. (BYO whiting, or pick some up small fish pieces from the fish shop across the road)
Follow the locals lead and be gentle. Remember these birds ARE wild.
Hot tip: Order some fish and chips takeaway and eat it in the park here. It's super peaceful, and a lovely retreat from the hectic life of the GC.
Check it out here: Ray Pascoe playground & Pelican Feeding Gold Coast
Address: Opposite Scales Fish and Chips shop, 73 Kennedy Dr, Tweed Heads NSW 2485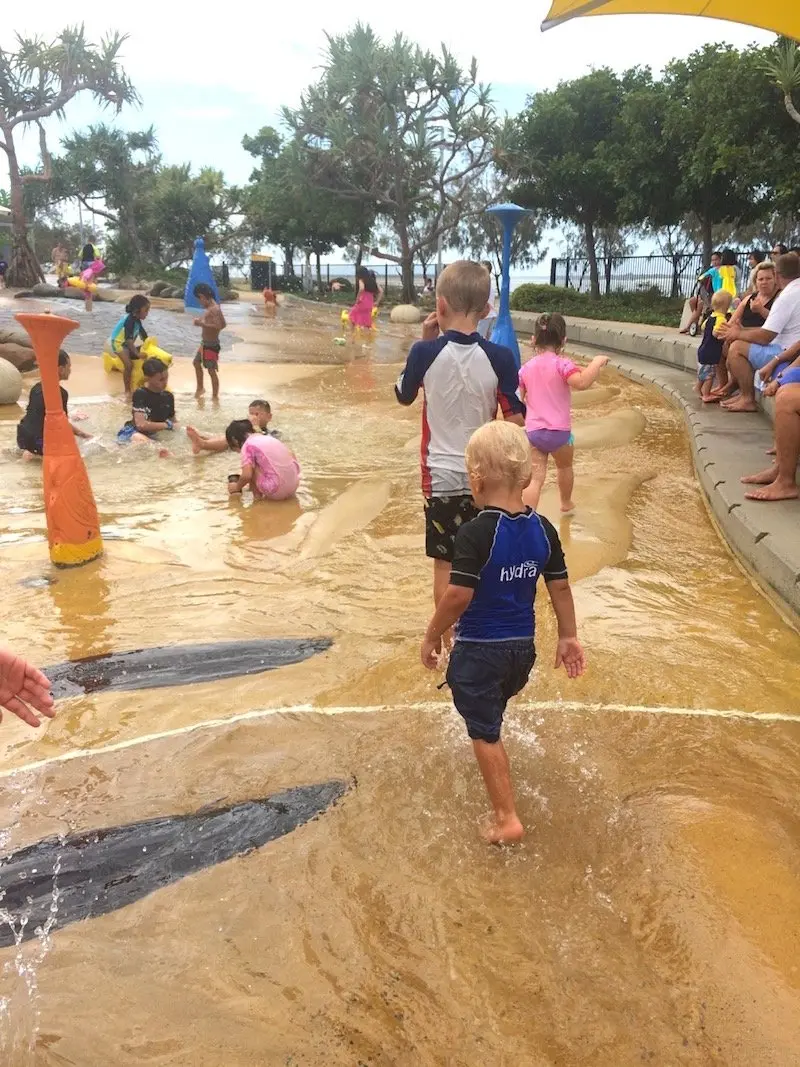 NORTHERN GOLD COAST PLAYGROUNDS
Southport Playgrounds
No.1: Southport Rock Pools
This water park and splash pad is the only one of it's kind on the Gold Coast.
Bring swimmers, towels and snacks.
The kids won't want to leave the best water playground Gold Coast has to offer.
Check it out here: Broadwater Parklands rock pools
Address: 56 Marine Parade, Southport QLD 4215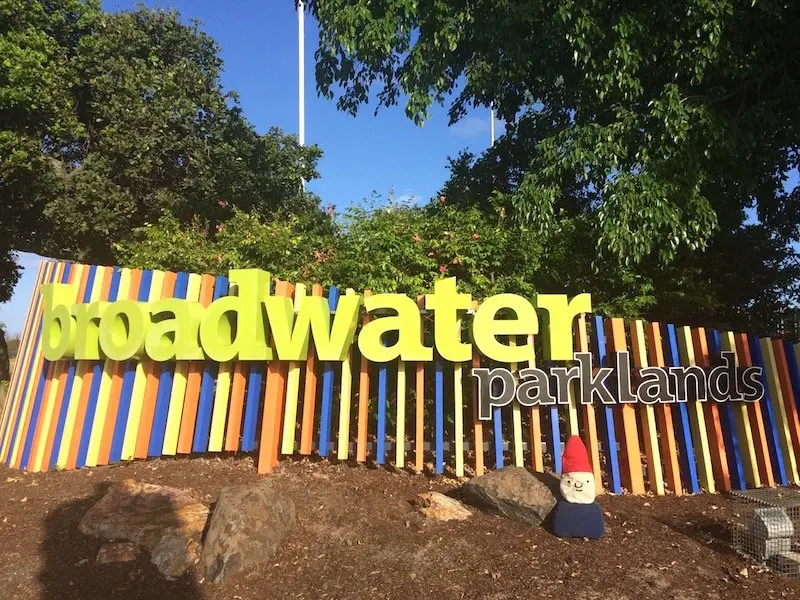 No.2: Broadwater Parklands playgrounds
When the kids are waterlogged and can't take any more, head to the JUMPING PILLOW.
Walk to your right, past the Great Lawn, until you find it.
There's a monorail playground too, a zipline, an enclosed swimming area, and lots of free standing play equipment too.
Address: Marine Parade, Southport QLD 4215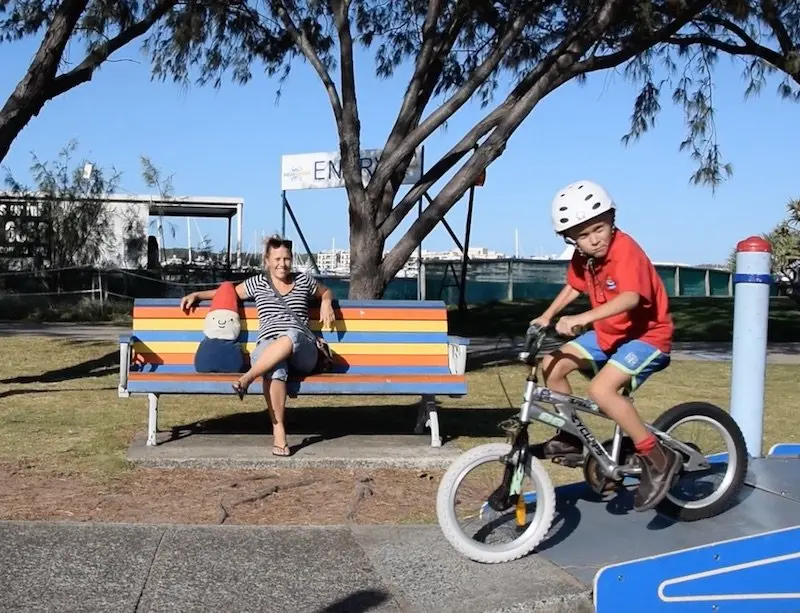 No.3: Southport Kids Bike Track Gold Coast
Bring your bikes and scooters to this free bike park activity.
They can ride over obstacles, and around weaving poles, all the while testing and building their balance and bike skills.
Take a look at the video in the link below.
Check it out here: Gold Coast Kids Bike Track Southport
Address: Near Maddie and Mike statues, Broadwater Parklands, Southport QLD 4215 (South Lawn area)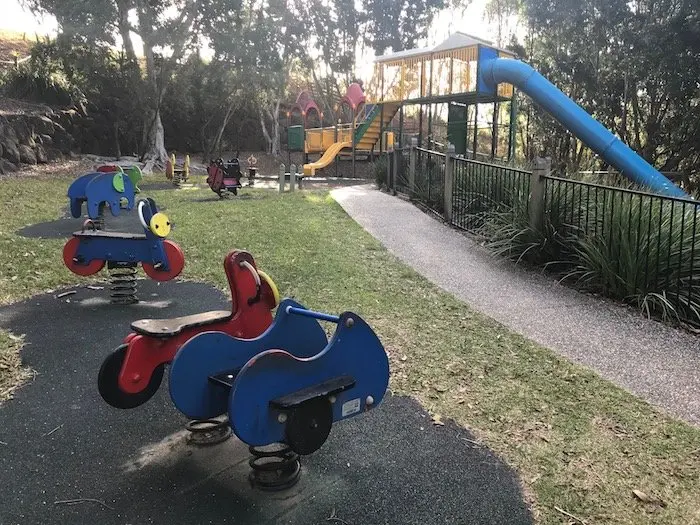 Pacific Pines Playgrounds
No.1: Parklake Park playground
Slide down the GIANT slippery dip at the Parklake Park Pacific Pines Playground.
There's three different play areas, on three levels, including swings, rockers, multiple forts, a 'car racer', hide and seek huts, and a cricket pitch next door.
Plus, ducks and baby turtles if you are lucky!
Check it out here: Park Lake playground
Address: Greenway Blvd, Maudsland QLD 4210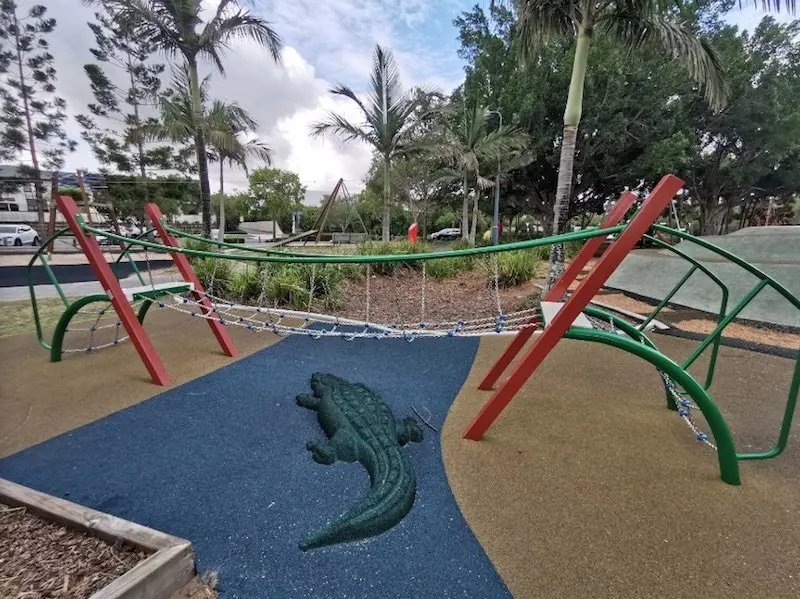 Image credit: Zack Gutteridge
No.2: Pacific Pines Central Park
The train depot playground equipment is unlike anything we've seen before.
Kids can climb into the red train, and race each other down the duo slides.
There's web climbing nets, and a giant pyramid, plus a super cute cubby house for toddlers.
Watch out for the crocodile under the swing bridge!
Address: 149 Pacific Pines Blvd, Pacific Pines QLD 4211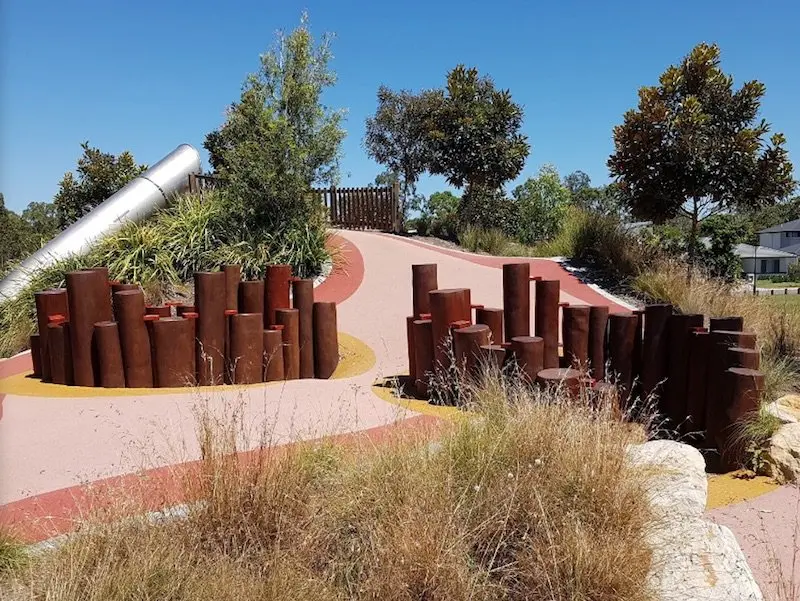 Image credit: The Earl
Coomera Playgrounds
No.1: Forest Green Playground
This Pimpama playground has a different aesthetic than the norm.
This nature inspired play area is made from tree logs.
There are logs to weave in and out, balancing logs, a fort made from logs, and log bridges.
Plus, there's a GIANT silver slide.
Great if you are in the area, after a Dreamworld or Movie World day out.
Address: Melville Dr, Pimpama QLD 4209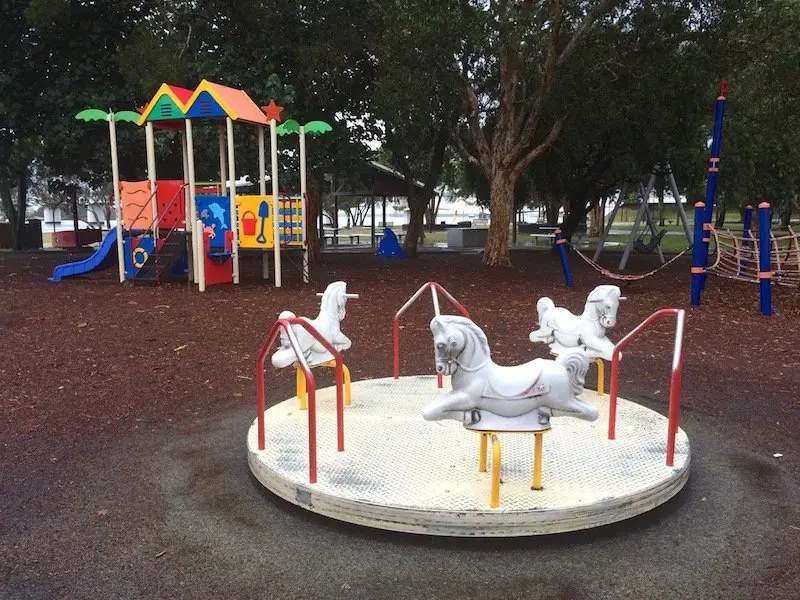 Labrador & Paradise Point playgrounds
No.1: Paradise Point Parklands
Paradise Point parklands playground has an old-school 'horse' carousel spinner ride.
Plus multiple forts, climbing equipment, nets, and more.
All in a seaside carnival theme.
Check it out here: Paradise Point playground
Address: 74 The Esplanade, Paradise Point QLD 4216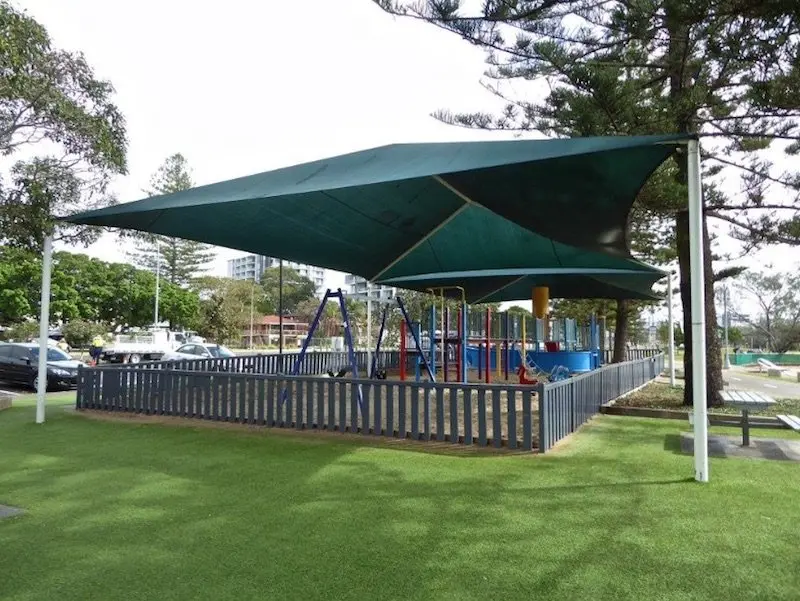 Image credit: Maria Bitunjac
No.2: Harley Park Labrador
There's multiple play areas at Harley Park in Labrador.
The main one is fenced, with a BOAT playground, fort, climbing nets and swings.
Further up to the left (facing the water) there's another play area with a long free standing zipline, and a fun but unusual rubber net climbing fort.
Toddlers LOVE to play and drive the little 'boats' (Pearl and Nemo) sitting on the sand in front of Ian Dipple Lagoon.
Hot tip: Stay to watch the pelican feeding out front of the Charis Seafoods on the stairs.
Address: Near Charis Seafood, 376 Marine Parade, Labrador QLD 4215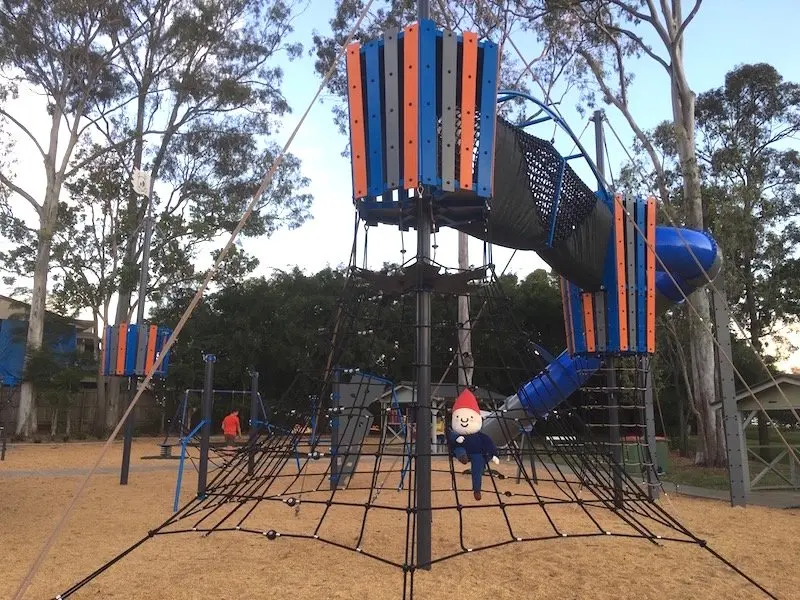 Helensvale Playgrounds
No.1: Lions Park Playground Helensvale
There's a super high slippery dip at the Lions Park playground in Helensvale.
Plus awesome parkour equipment, AND separate toddler equipment too.
It's a local's secret.
Check it out here: Lions Park playground
Address: 1a Discovery Dr, Helensvale QLD 4212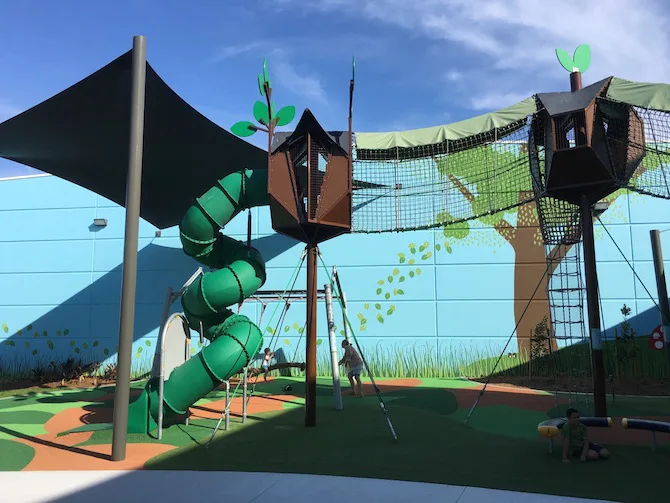 No.2: Westfield Helensvale Playground
Westfield Helensvale shopping centre on the northern end of the Gold Coast has an epic indoor outdoor playground for kids of all ages, with a monster sized slide.
Helensvale Westfield playground is the the best shopping centre play area on the Goldie for sure.
Check it out here: Westfield Helensvale Shopping Centre playground
Address: 1-29 Millaroo Dr, Helensvale QLD 4212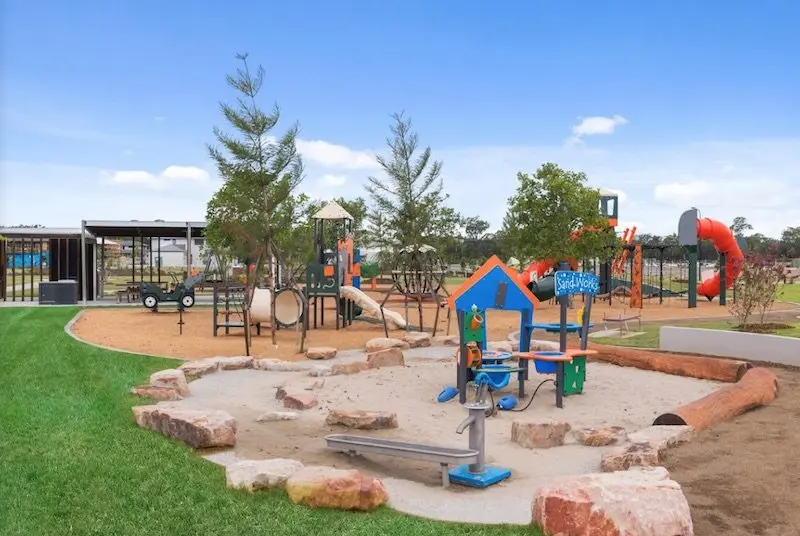 No.3: The Surrounds Playground Helensvale
A brand new playground in Helensvale at the Villa World estate, this playground has:
three giant slides and a huge fort
rock climbing walls
swings
a smaller fort with tunnels to climb through
a rope log balance beam
swaying bridge
in ground trampoline jumpers
climbing nets
a zip line
a 'jeep' to ride in
an ORB ball to climb!
It's the best of the playgrounds in Helensvale now.
Address: Country Club Dr, Helensvale QLD 4212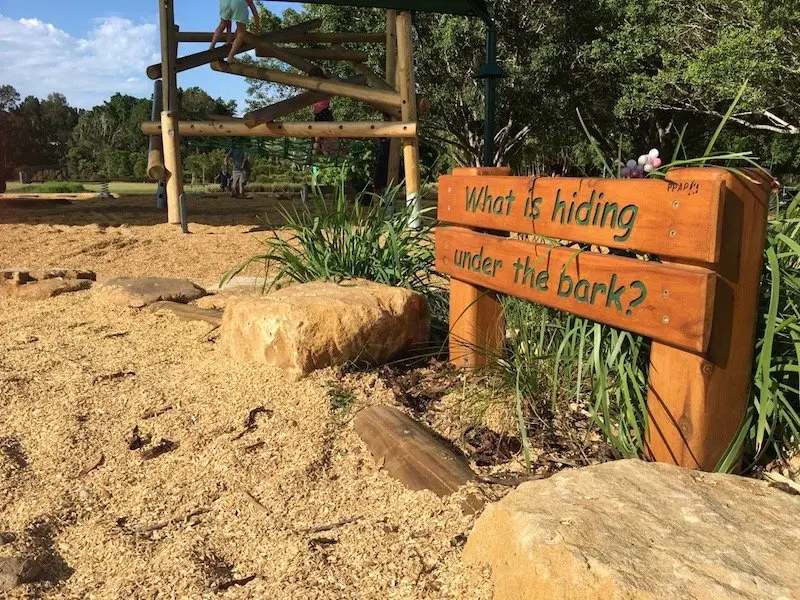 MID GOLD COAST PRESCHOOL & TODDLER PLAYGROUNDS
Benowa Playgrounds
No.1: Gold Coast Botanical Gardens Playground
Visit the revamped playground at the Gold Coast Botanic Gardens Benowa.
This nature playground is one for the those who love timber and natural surrounds.
Plus, there's trees to climb, a pond to fish, geese and ducks, boardwalks, AND a cafe on site.
Check it out here: Benowa Botanic Gardens playground
Address: 320 Ashmore Rd, Benowa QLD 4217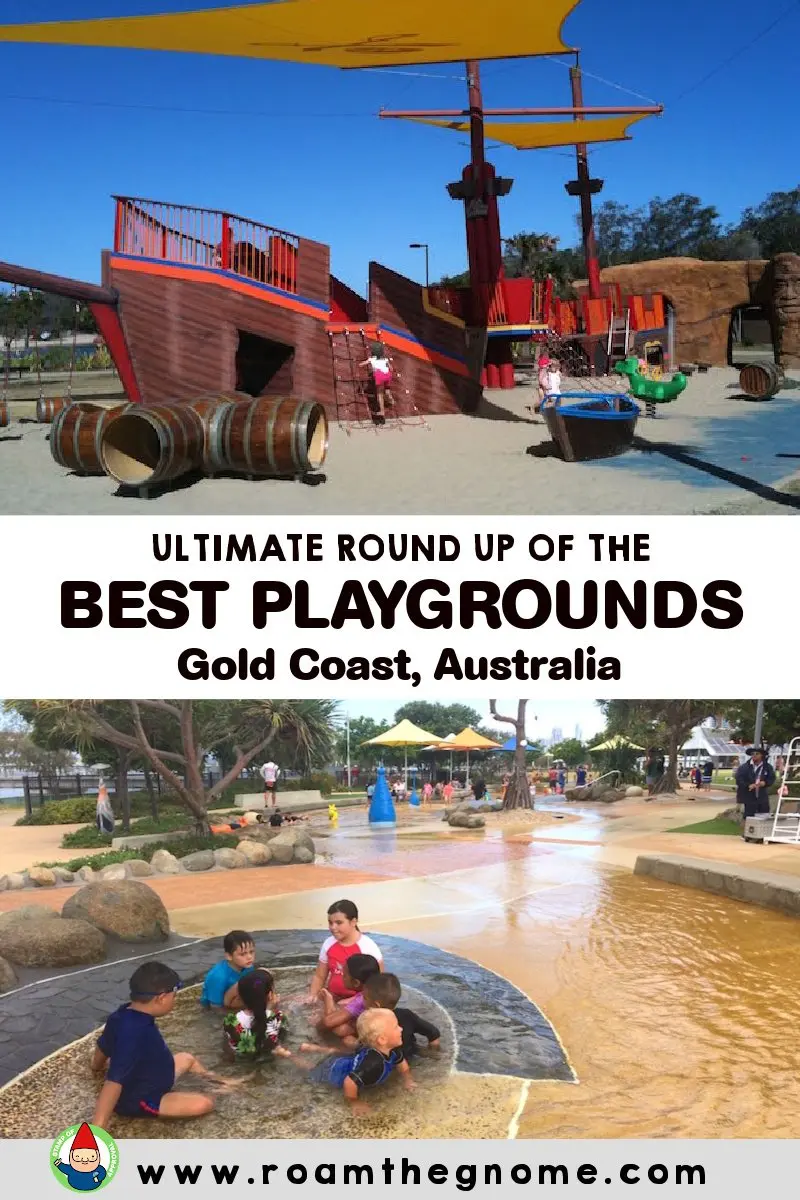 Looking for more Gold Coast attractions for families?
Click the blue links below for more Gold Coast ideas