INSIDE: Everything you need to know about the Pancakes on the Rocks menu & dining.
Fancy Pancakes for Breakfast, Lunch, Dinner or DESSERT?
Pancakes on the Rocks is your go-to spot.
Try funny face pancakes at Pancakes on the Rocks – they are the BEST thing on the menu for kids!
Most Pancakes on the Rocks restaurants have family booths and screens separating diners in one section from those in another, making it possible to eat your meal, toddler-in-tow, without too much fuss or disturbance for the other customers.
Take a look below for info on where to find Pancakes on the Rocks in Australia, and what's on the Pancakes on the Rocks menu too.
Disclosure: This article contains affiliate links. If you make a purchase after clicking on one of these links, we may receive a small commission at NO extra cost to you. Image credits: Pancakes On the Rocks Official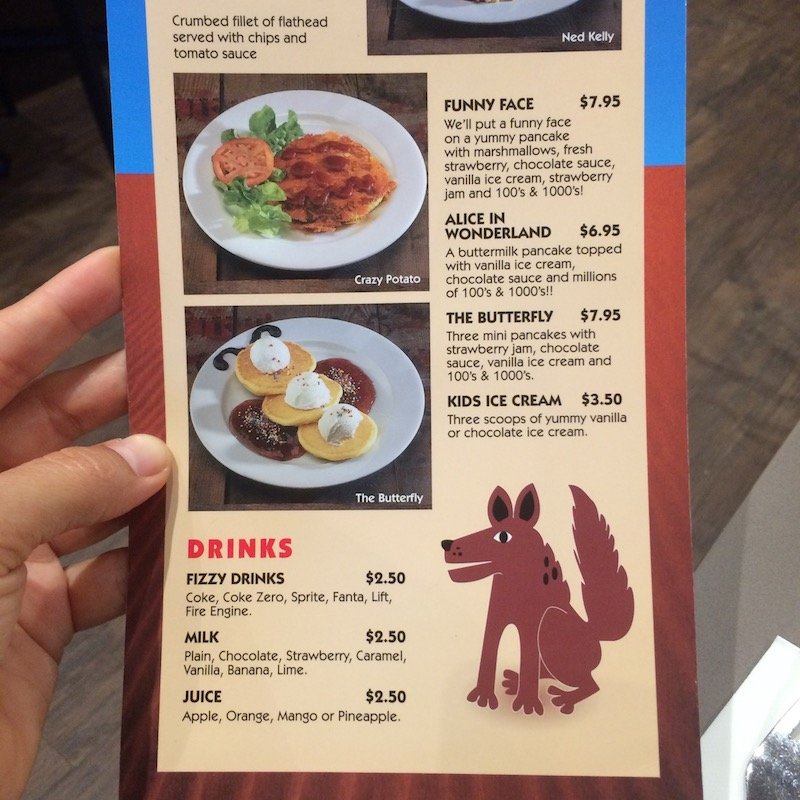 Pancakes on the Rocks Menu
Want to eat somewhere that caters for ALL the family's tastebuds?
Try Pancakes on the Rocks – there's pancakes of course, but it is NOT JUST pancakes.
Did you know that Pancakes on the Rocks menu also features STEAK, SALAD, RIBS, FISH, NACHOS and PIZZA!
Until we visited, I had NO idea.
I wonder how many other families have given Pancakes on the Rocks the flick because ONE of their bunch was not a pancake fan.
Good to know this family diner can be back on the list of SUPER DOOPER fun places to eat out with the kids.
Hot tip: I had the Bananarama Pancake stack for dinner but next time, I'll be picking the Chicken and Mushroom crepe (given 5+ toadstools by our three extended family members who devoured this dish) and SHARING a pancake stack with the kids for dessert.
A whole pancake dinner/dessert was too much sweetness for me.
It was a sweet-treat overload and that, my friends, is a hard thing to do in my world.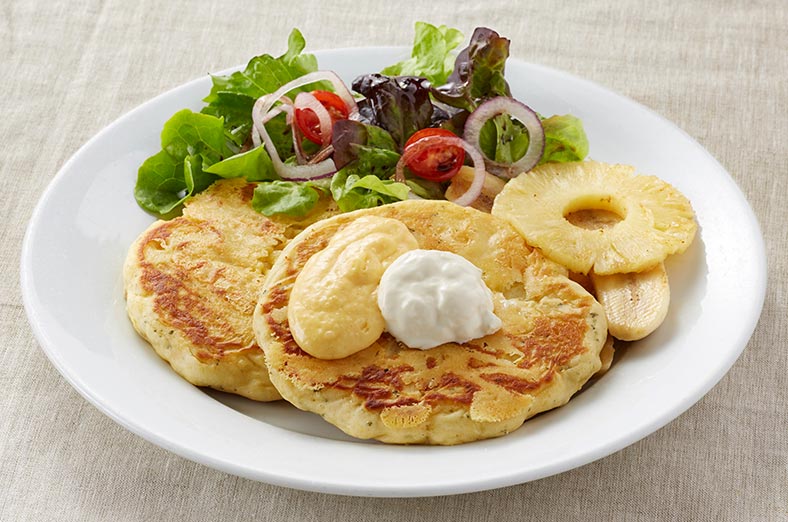 Savoury Pancakes at the Rocks
There's TWO savoury pancake choices at Pancakes on the Rocks.
No.1: Potato au Gratin with pancakes
Try the Potato and onion pancakes topped with a melted cheese topping.
It's served with a grilled banana and pineapple, then topped with hollandaise sauce and sour cream.
No.2: Mexican potato
The Potato and onion pancakes also has a tasty cheese melted topping.
It's served with spicy Mexican beef sauce, sour cream, guacamole and spicy tomato salsa.
Savoury Crepes
Try one of their signature crepes in one of these popular combos:
Mexicana
Chicken and mushroom
Farmer's brunch
Greek delight
Seafood
Thai chicken
Monte cristo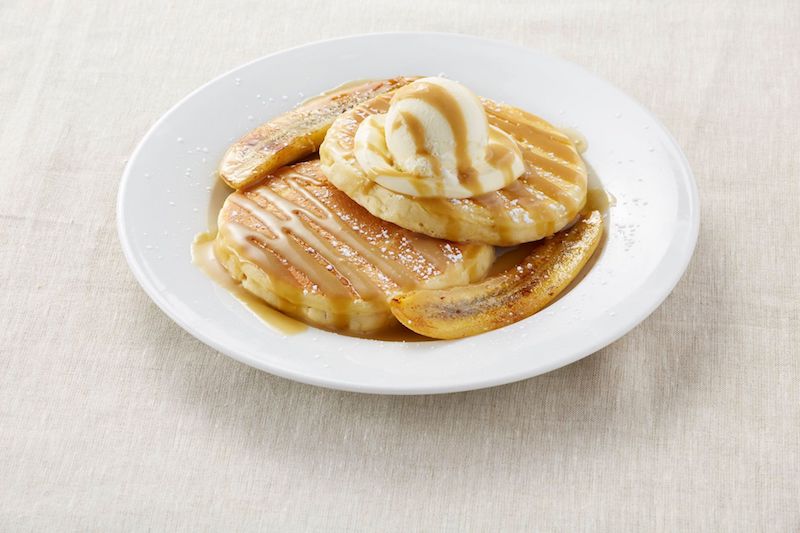 Famous Sweet Pancake Stacks at Pancakes on the Rocks
Their range of sweet pancakes, topped with ice cream, include:
Chocolate peanut butter
Lemon Meringue
Blueberry Heaven
Coco Berry
Vanilla and Chocolate Surprise
Apple Crumble
Strawberry Patch
Pancakes with Nutella
Devil's delight
Macadamia madness
Devonshire pancakes
Raspberry and white chocolate
Black Forest cherry chocolate pancakes with chocolate ice cream
Did you know? Even though the choices are outstanding, the Original three pancake stack is still a popular choice!
Banana Pancakes for the Win!
The Banarama stack is Buttermilk pancakes with grilled banana and homemade butterscotch sauce, topped with cream and vanilla ice cream.
How can you beat it?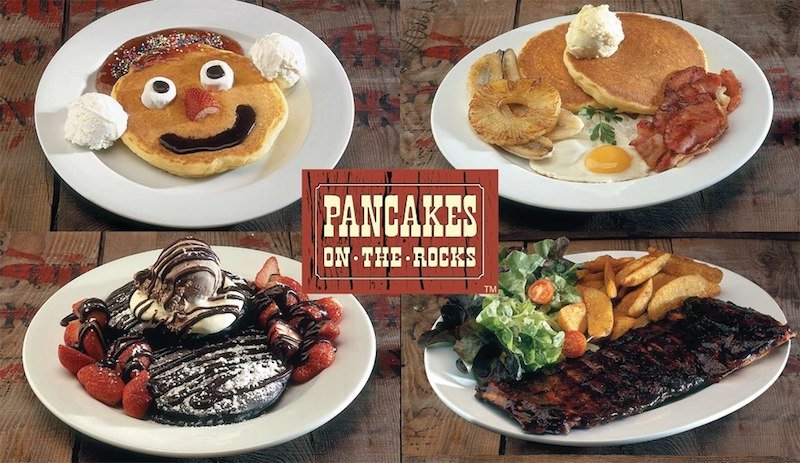 MORE of the Pancakes at the Rocks Dinner Menu (& Lunch)
Pancakes on the Rocks starters:
Calamari
Potato Wedges
Sweet Potato chips
Nachos
Bowl of chips
Pancakes on the Rocks Pizza
Italian salami
Eggplant pizza
Smoke ham pizza
Tandoori chicken pizza
Chicken and bacon pizza
From the Grill
Pork ribs
Famous beef short ribs
American style beef brisket
Fisherman's Catch
Chicken Schnitzel
Ribeye steak
Beef back ribs
There's gluten free options available.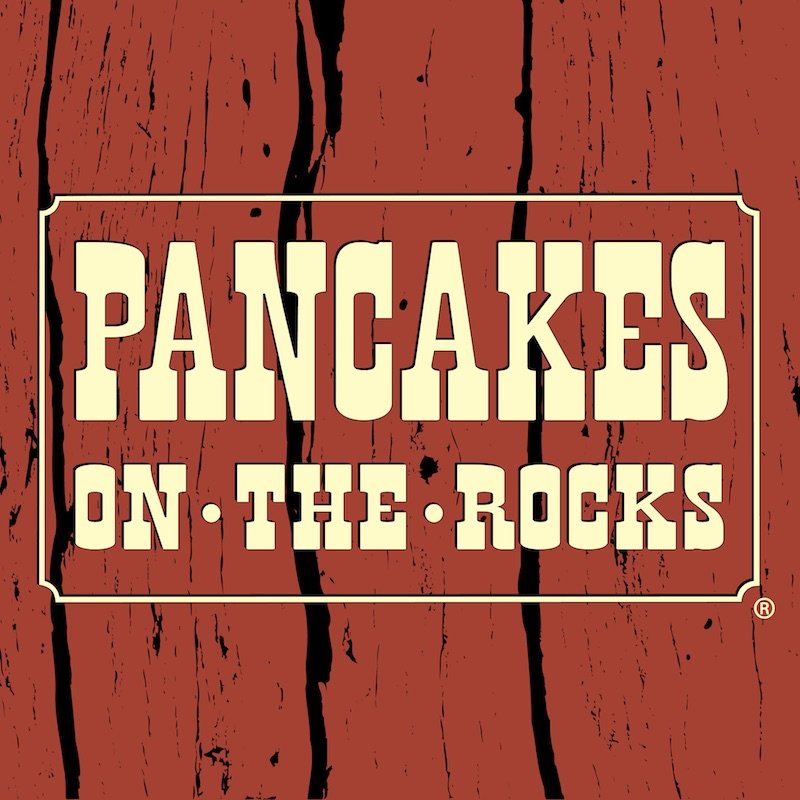 Pancakes on the Rocks Breakfast Menu
Breakfast is served at all times during opening hours.
Breakfast Menu includes:
Aussie Sunrise – bacon, eggs, pineapple, grilled banana, and pancakes with whipped butter
Pancakes with whipped butter, egg, and hash browns
Pancakes and scrambled eggs
Eggs benedict with pancakes
Bacon, fried egg, hash and sausage
Pancakes and sausages
The Big Breakfast with bacon, eggs, tomato, hash browns, pinapple, sausages and pancakes
Pancakes on the Rocks Menu PDF
Click here to download the current POTR menu
Pancakes on the Rocks calories?
A buttermilk pancakes stack off 100 grams in size has 175 calories, 29 grams of carbohydrate, 2 grams of fat, and 7 grams of protein.
Not including the whipped butter.
If you are worried about calories, it's advisable to skip a visit.
Or avoid the pancakes and stick to the mixed lettuce salads – you can order a garden salad main, a chicken caesar salad with chicken breast pieces, or a greek salad.
This is a high calorie exercise in eating, every way you look at it.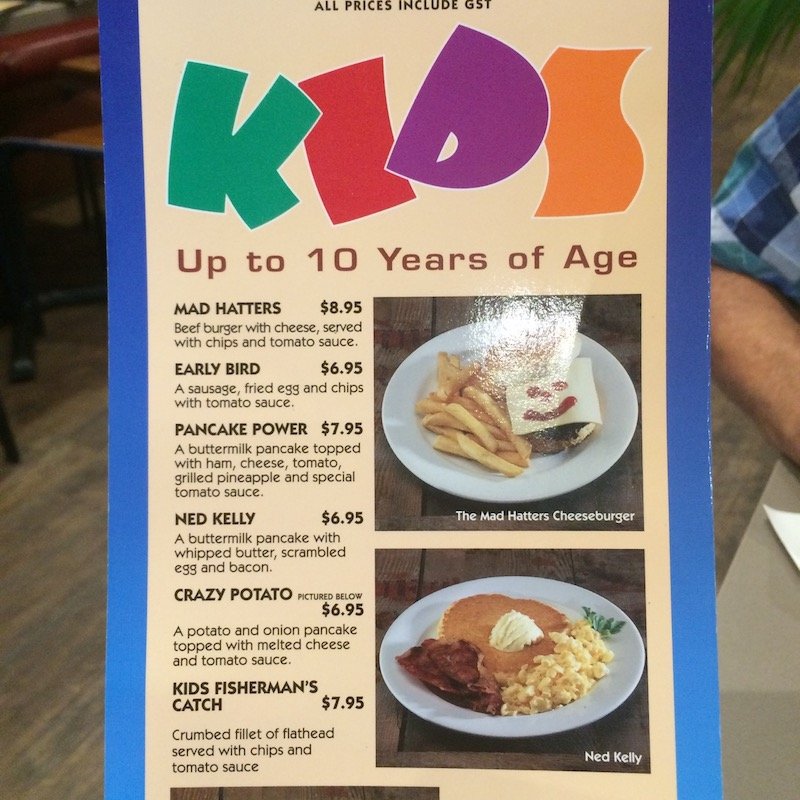 Pancakes on the Rocks Kids Menu
Everything on the Pancake on the Rocks children's menu comes in under $10 and there's a decent variety of sweet and savoury dishes.
Failing that, there's reasonable (and some healthier) alternative options for kids on the main menu.
But if you are looking for FUN eats, you can't beat something with a face on it, or an ice cream accompaniment.
There's colouring in pages, and pencils for the kids too.
This kid friendly move is always a helpful bonus to keep kids occupied while they wait for their food.
The staff are super helpful, friendly, but non-obtrusive, coming when you call and ensuring that meals are delivered quickly to those with impatient and/or demanding little people in your family or group.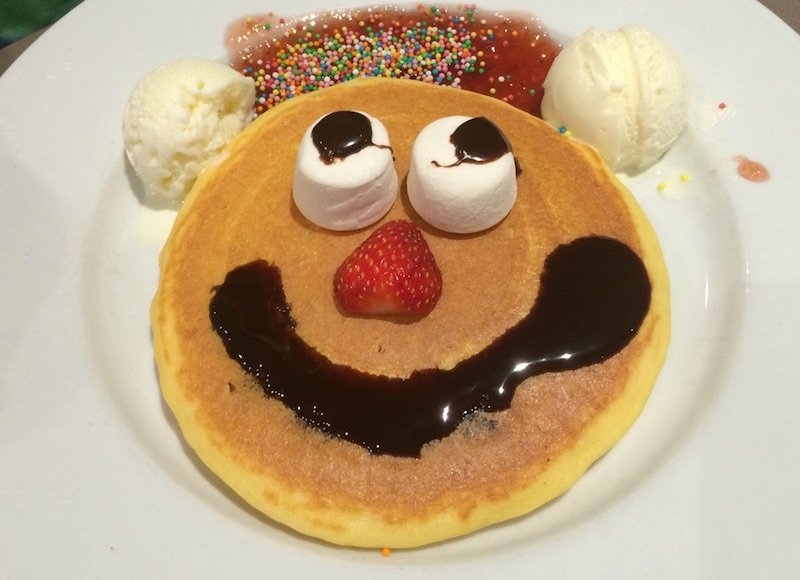 Funny Face Pancakes
As we were out for a birthday gathering, my boys were allowed to choose whatever meal they fancied.
Guess what they picked?
Yes, both of them chose the Funny Face pancake with marshmallows, strawberry, chocolate sauce and ice-cream.
Dessert as dinner?
Yes, it's a Christmas holiday time treat!
Pancakes on the Rocks Birthday Club Discount Voucher
Join the Pancakes on the Rocks Birthday Club and two days before your birthday, they'll email you a voucher for 20% off your bill (up to a maximum of $25)
Pancakes on the Rocks Birthdays
You can BYO birthday cake to your gathering of friends and family to eat after dinner.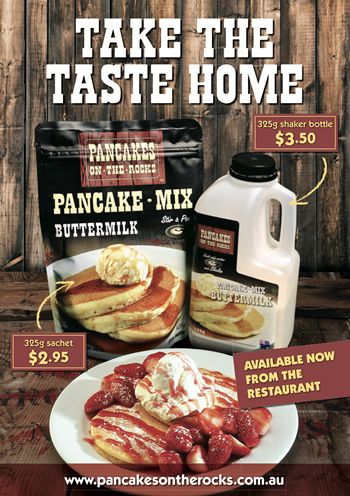 Pancakes on the Rocks recipe?
No-one is giving away the actual original Pancake recipe, but you can BUY Pancakes on the Rocks pancake mix in a shaker bottle in buttermilk and chocolate flavours.
There's also a 325 gram sachet of Pancakes on the Rocks mix too.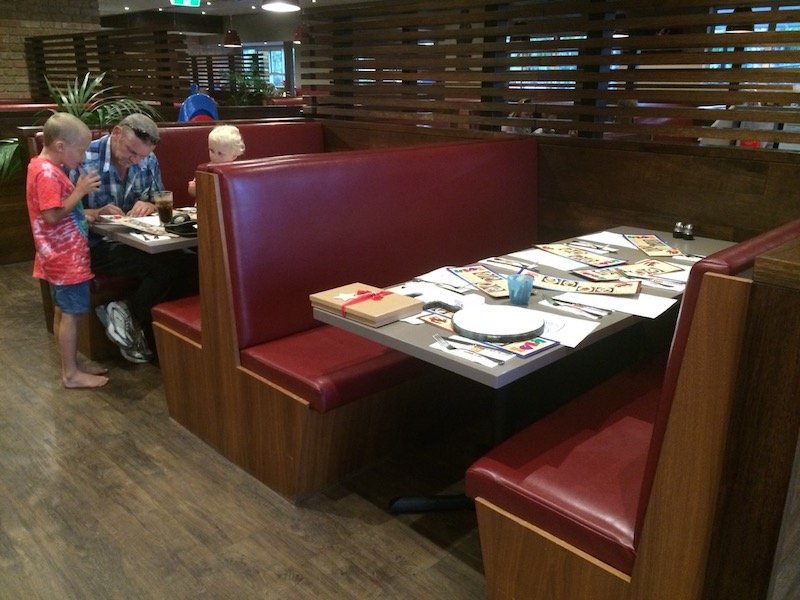 THE INSIDE SCOOP: Pancakes on the Rocks Australia
Correct at time of publication on Roam the Gnome. Please check with venue for updates. We apologise in advance if there have been any changes we are unaware of. All prices in Australian dollars, unless otherwise stated
Pancakes on the Rocks Opening Hours
Most restaurants are open from 7am to 10pm weekends, and 7.30am to 9pm weekdays.
Check with your local restaurant for details.
Pancakes on the Rocks Prices
What surprised me most of all was the prices at Pancakes on the Rocks.
The prices are REALLY affordable with the majority of salads, savoury crepes, pancakes and pizzas all below $20 each.
Ribs and Steak meals were a bit more pricey around the $30 mark but there's so many other options, I think I'd be saving steak for another night to keep this family outing well under $100, possibly even under $60 for 4.
Pancakes on the Rocks deals
Try Groupon or Scoopon or Deals Extra before you visit to pick up discount vouchers for Pancakes on the Rocks.
NRMA subscribers receive 20% off dining at participating restaurants.
Pancakes on the Rocks voucher
Searching for the perfect Christmas present for a foodie?
Buy a Pancakes on the Rocks Gift Voucher.
$20 and $50 vouchers can be purchased at restaurant locations.
The gift vouchers do not expire, however, treat them like cash because if lost, they cannot be replaced. Gift vouchers can be used in any of our restaurant locations in NSW and QLD.
Pancakes on the Rocks Delivery
Sadly, there's no delivery options through Menu Log, or Deliveroo as yet.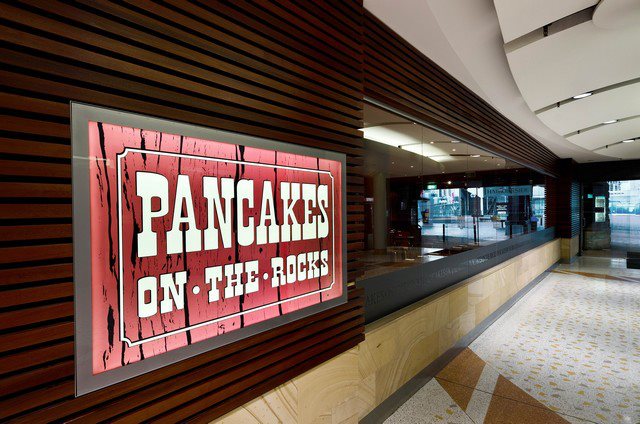 PANCAKES ON THE ROCKS LOCATIONS
Pancakes on the Rocks Sydney
Looking for the best pancakes in Sydney?
Head to one of these locations.
Pancakes on the Rocks Darling Harbour
Harbourside Shopping Centre, Shop 230, Darling Dr, Darling Harbour NSW 2000
+61292803791
9am to 9.30pm Mon-Thurs, 8am to 10pm Friday, 7.30am to 10 pm Sat, 7.30am to 9.30pm Sun
Pancakes on the Rocks The Rocks
Also called Pancakes on the Rocks Circular Quay.
22 Playfair St, The Rocks NSW 2000
+61292476371
Open 24 hours, 7 days
In Greater Sydney, there's also:
Pancakes on the Rocks Campbelltown
Pancakes on the Rocks Beverly Hills
Unfortunately, there is no longer:
Pancakes on the Rocks North Strathfield NSW
Pancakes on the Rocks Parramatta
Pancakes on the Rocks Penrith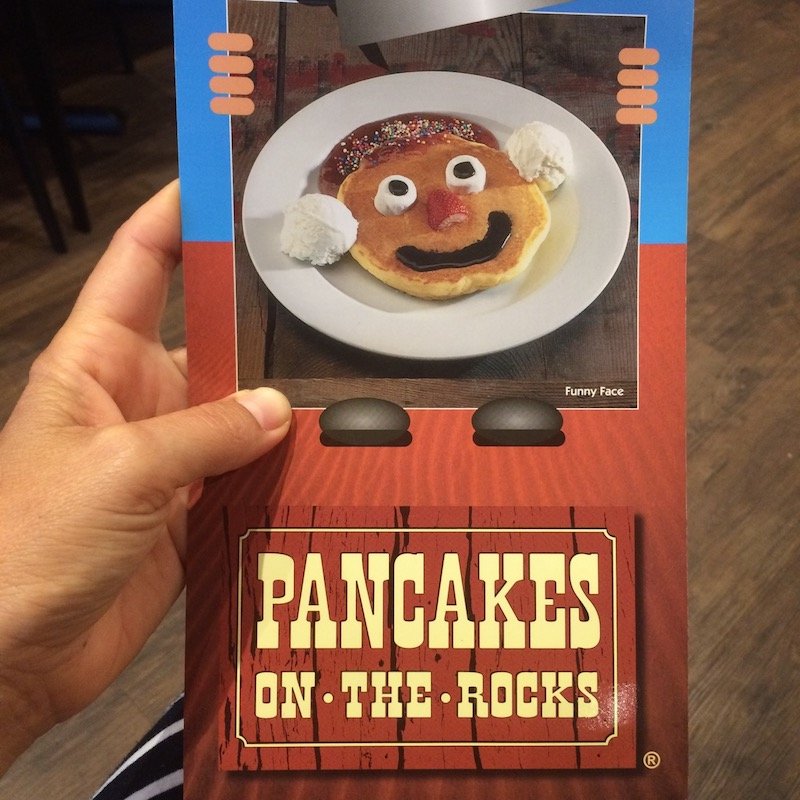 Pancakes on the Rocks Takeaway Menu
Pancakes on the Rocks Northmead
Northmead Pancakes on the Rocks is offering takeaway through online ordering.
100 Briens Rd, Northmead NSW 2152
+61296834322
7am to Midnight
Click here for the menu.
Pancakes on the Rocks Locations Queensland
Pancakes on the Rocks Gold Coast
Pancakes on the Rocks Surfers Paradise is located at Shop t1.31/4 Esplanade, Surfers Paradise QLD 4217
+61755706250
Open 7am to 10.30pm daily
Unfortunately, there is no Pancakes on the Rocks Brisbane.
Toadstool Rating: Pancakes at the Rocks Menu

Looking for MORE fun places to eat with kids on the Gold Coast?
Click the blue links below for more Gold Coast ideas