INSIDE: The Ultimate Guide to the Best Disney Souvenirs for young and old.
DISNEY PARKS SHOPPING is our kind of shopping.
When we travel with kids, shopping is usually the last thing on our itinerary, as we'd rather spend our money on events, activities, attractions, and fun food.
(We also bypass many a shop to avoid that horrific meltdown tantrum when we say no to something they want to buy.)
On the flip side, when we plan a Disney vacation, shopping at the Disney Parks is our number one task!
If you are setting out on a Disneyland or Disney World vacation, and want to plan ahead, you'll love this collection of Walt Disney souvenir ideas.
It's filled with ideas of Disney memorabilia, Disney collectibles, cute Disney merchandise and stationery, and the BEST souvenirs to bring back from:
Disneyland CALIFORNIA
Disney World ORLANDO
Tokyo Disneyland and DisneySEA, AND
Disneyland PARIS!
Take a look below for all the details.
Disclosure: This article contains affiliate links. If you make a purchase after clicking on one of these links, we may receive a small commission at NO extra cost to you. Travis Wise (CC BY 2.0) via Flickr.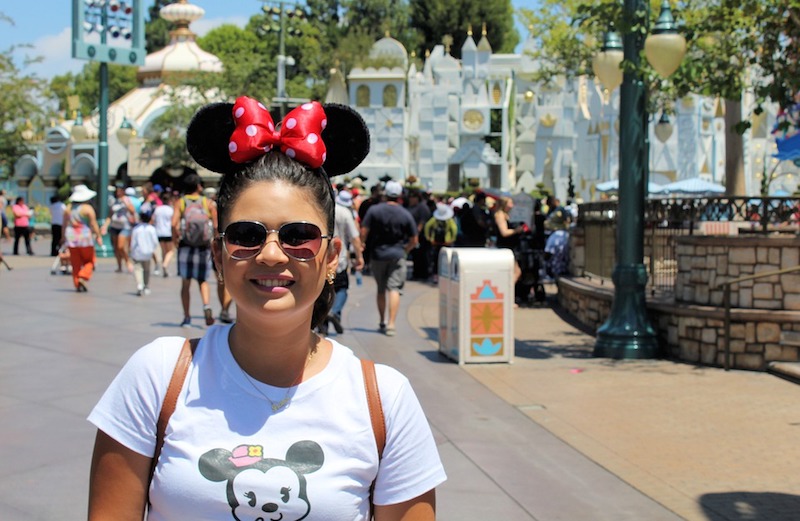 The Complete List of Best Disney Souvenirs & Gifts for Family and Friends
Correct at time of publication on Roam the Gnome. Please check with venues for updates. We apologise in advance if there have been any changes we are unaware of. All prices in US dollars, unless otherwise stated
We've organised the list of Disney souvenirs by category.
Click the headings in the contents box to go straight to a particular topic, or scroll the list from top to bottom.
If you are planning on bringing Disney souvenirs home from America, start here to make your Disney souvenirs treasure hunt list.
RELATED: The Ultimate Guide of the Best DISNEYLAND TRAVEL TIPS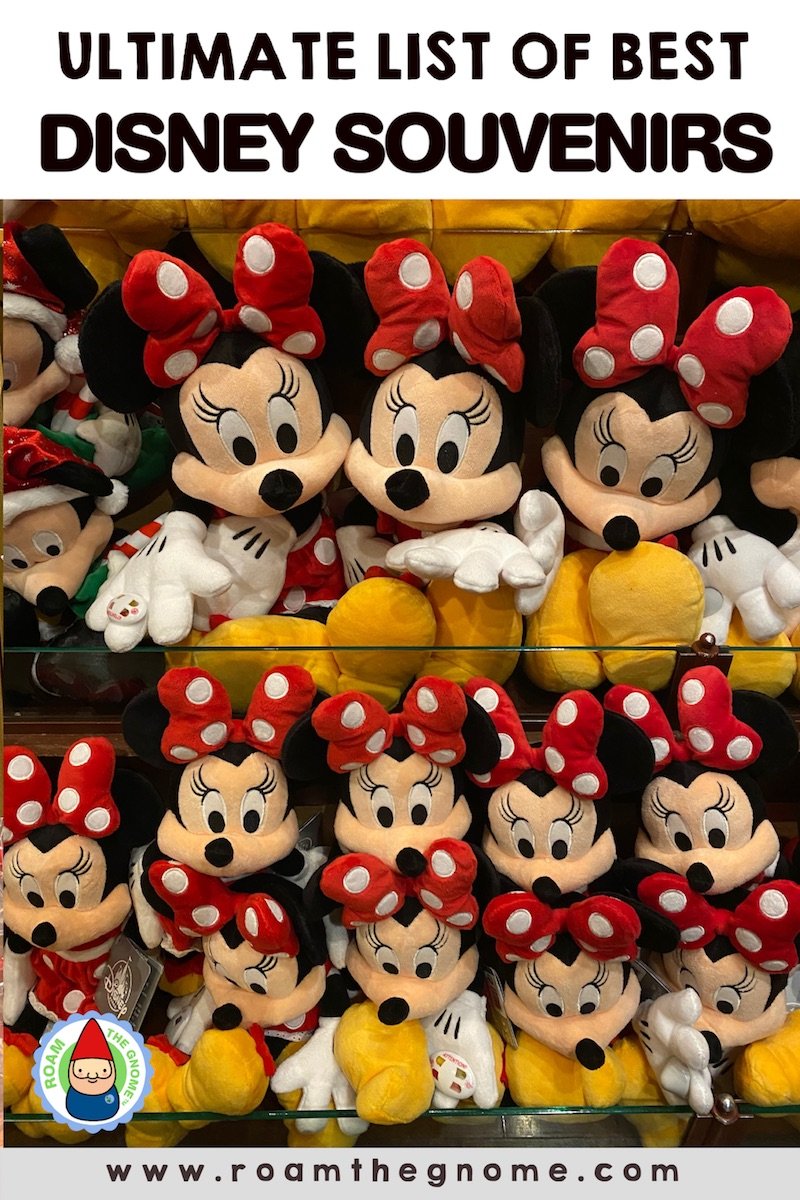 FAMOUS THINGS TO BUY AT DISNEY
No.1: Must Have Disney Souvenirs: Disney Mickey Mouse Ears
Top of your Disney Parks merchandise should be Mickey Ears!
Some people love a Mouseketeer Disney Ears Hat – and these can be personalised with your own name!
But I prefer the classic Disney Minnie Ears Polka Dot Bow headbands.
Visit any Disney park to find an exclusive range of Disney Ears you can't find anywhere else, as well as the most popular Disney hats.
Look out for:
Limited edition Mickey and Minnie Mouse Americana Ear Headbands
Minnie Mouse Briar Rose Gold Ear Headbands
Lollipop Ear Headbands
Minnie Mouse Sequin Ear headbands
Epcot themed Ear Headbands
There's even a Minnie Mouse Donut Ear Headband!
RELATED: The Ultimate Guide of SPECIAL THINGS TO DO AT DISNEY WORLD with kids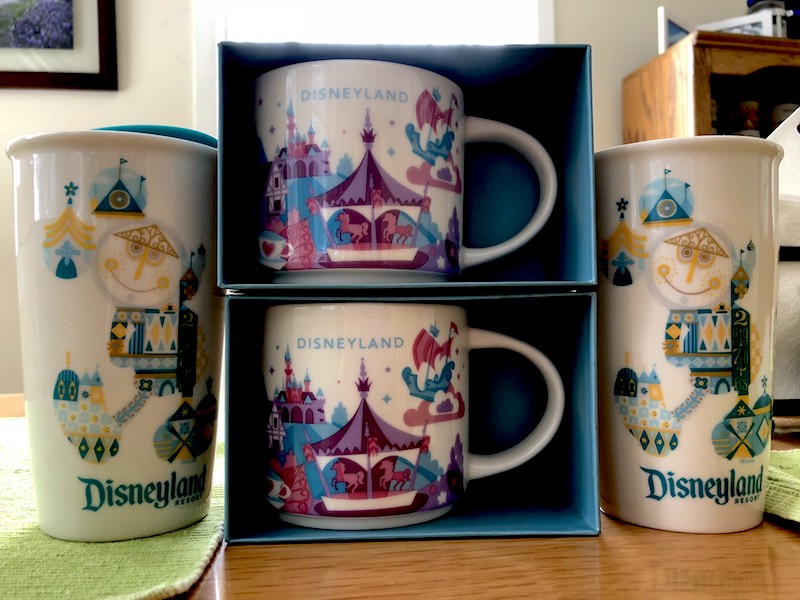 Image credit: Mo1229 (CC BY 2.0) via Flickr
No.2: Disney Souvenir Cups, Drink Bottles & Mugs
Disney souvenir cups, Disney drink bottles and Disney mugs are wonderful souvenirs from Disney that you can use in your everyday life at home to keep the Disney magic alive!
If you can find them, the Starbucks Disney "You are Here" mugs are a top notch collectors item. Probably one mug you won't actually drink from!
Some of the You are Here Starbucks mugs are dedicated to different lands in Disneyland, such as:
the Starbucks You are Here Disneyland Adventureland (with imagery of the Jungle cruise, and the singing parrots from the Enchanted tiki room), and
the futuristic Starbucks You are Here Disneyland Tomorrowland.
There's also a:
Magic Kingdom You are Here mug,
an Epcot You are Here mug
Starbucks You are Here Animal Kingdom mug
Starbucks You are Here Hollywood Studios mug
Starbucks You are Here Walt Disney Park in Paris mug, and a
Starbucks You are Here California Adventure Park mug
There's a Disneyland Paris You are Here mug too.
We think these are top of the list of best things to buy at Disney World for adults who love their morning coffee!
BUY NOW ON AMAZON: Set of Four Starbucks You Are Here mugs for Disney World (Magic Kingdom, Epcot, Hollywood Studios & Animal Kingdom.)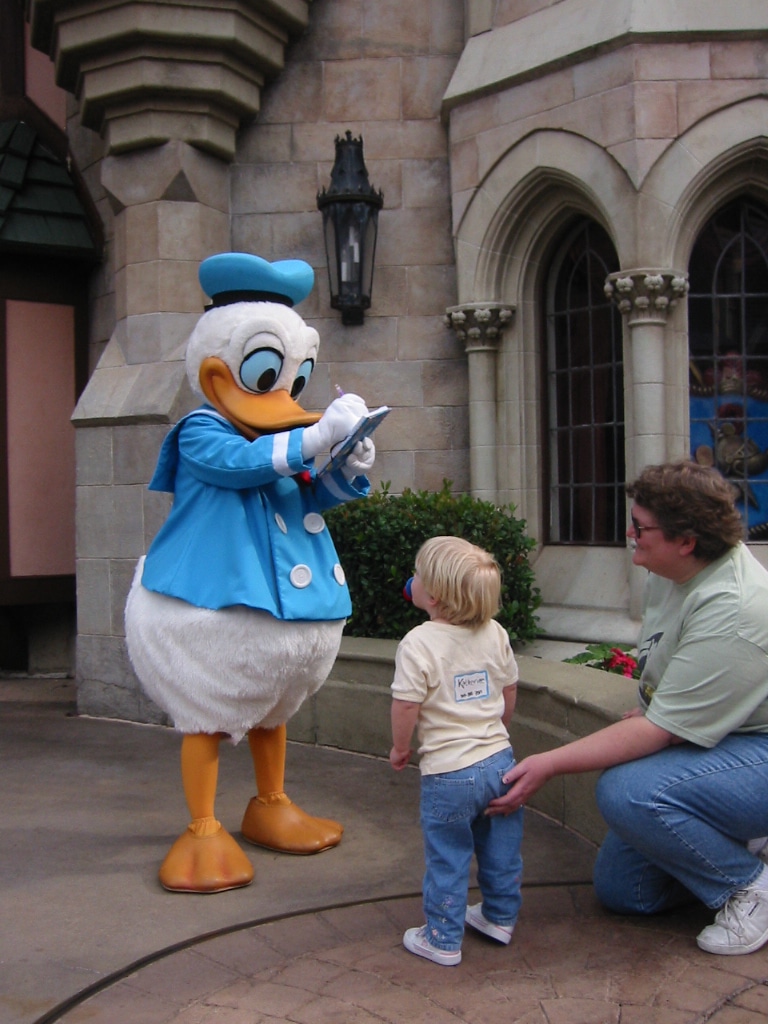 Image credit: Dave & Margie Hill ( CC BY 2.0) via Flickr
No.3: Official Disney Mickey Mouse and Friends Autograph Books
You need something to capture all those Disney signatures from your favourite characters at Meet and Greets, and an official Disney Mickey Mouse autograph book is just the thing.
The character signatures are something special to treasure forever.
If you are wondering what to buy at Disney World for the grandkids to stoke their passion for all things Mouse, this is a good start.
BUY NOW ON AMAZON: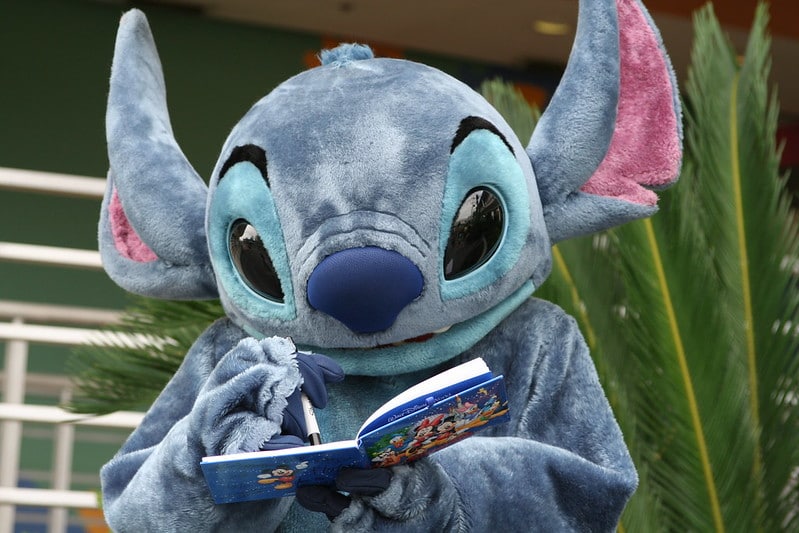 Image credit: JeffChristiansen ( CC BY 2.0) via Flickr
Hot tip: How to collect Disney Signatures
Or you could kindly ask each character to autograph one of these unique Disney souvenirs ideas:
Cotton Material:
a plain coloured 15cm by 15cm piece of material, and sew it up into a quilt (red and white pieces would be cute!) (Hot tip: put it into a small embroidery hoop to make it easy for the characters to sign)
a banner, or on a decorative bunting banner – one character per piece of bunting flag
one 40 cm by 40cm piece of fabric and make it into a cushion
a plain pillowcase
a calico tote bag
Paper or Cardboard:
a matt board to go around a framed photograph
a souvenir copy of a Disneyland or Disneyworld MAP
a park map brochure
a Disney birthday card
a silhouette of Walt Disney and Mickey – characters need to sign with a white marker
a book with printed photos or pictures, or your own hand-illustrated drawings of each character, so they can sign their own pic
Fashion item:
Homewares:
a Starbucks plastic tumbler
a DisneyParks tumbler
a white china dinner plate
Sports equipment:
a baseball or soccer ball
Hot tip: Be safe and use the real deal when collecting souvenir autographs from Disney characters.
These Staedtler Lumocolor Permanent markers in a set of 8 rainbow colors won't wash out or fade.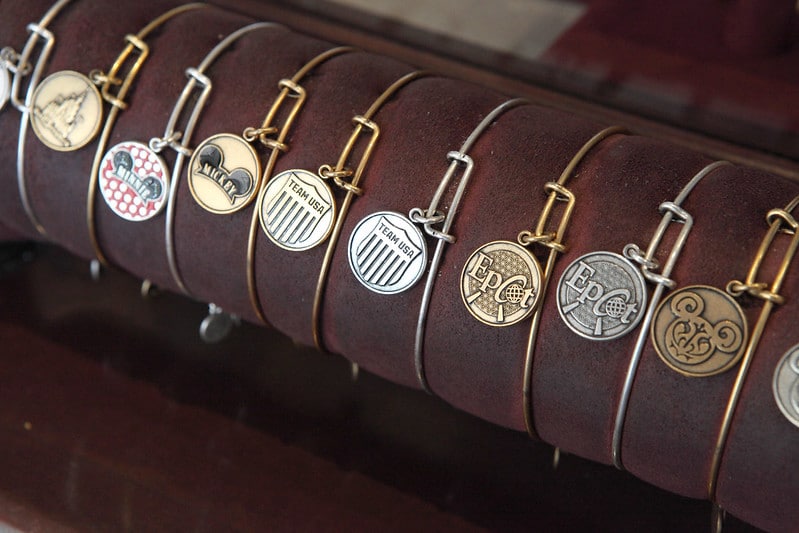 Image credit: Sam Howitz ( CC BY 2.0) via Flickr
No.4: Disney Alex and Ani Bangles
The best things to buy at Disneyland for girls or women who love charms are these Alex & Ani charm bracelets.
Alex and Ani bracelets are made especially for Disney and come in either a silver or gold finish.
The sliding mechanism on the bracelet means anyone can wear one to fit!
These Disney bracelets come with individual charms – one feature charm, and a few tiny tags too.
One is never enough.
Fill your arm full!
Prices start from $39.95 USD.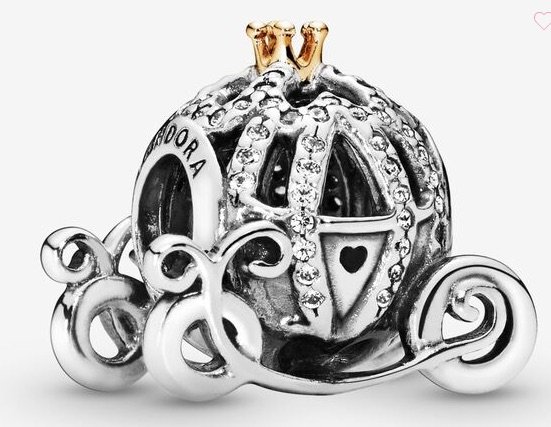 Image credit: Disney x Pandora
No.5: Disney Pandora Charms
Collect all the Disney Pandora charms including:
Once you start looking, it's impossible to stop.
The Pandora Disney charms are divine, and what a fabulous collectible, giving you a new excuse to shop for a new Disney Pandora charm every birthday, Christmas, Thanksgiving, Disney vacation, first day of the month…
Visiting WDW?
Pick up the exclusive Cinderella Castle Charm by Pandora Jewellery while you are there!
No.6: Best Disney Jewellery
You won't be able to resist the cutest Disney hoop earrings with Mickey Mouse charms attached.
My favourites are the Mickey Mouse stud earrings.
Or the red and black enamel Mickey Minnie earrings created to celebrate Mickey's 90th anniversary.
Or a classic Mickey Mouse adults watch on a leather strap.
If your inner child is alive and well, a piece or two of Disney Jewellery is the perfect gift.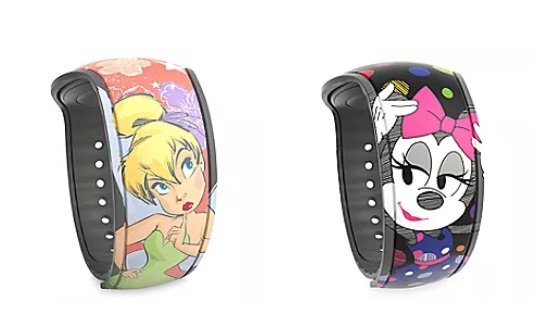 No.7: Disney MagicBands in different styles
First thing on the list of what to buy in Disney World if you are staying as Disney World Resort Guests is an upgrade to your Disney Magic Bands. These are the best souvenirs from Disney World if you plan to return, as you can use them again and again.
Disney bands for entry come in so many different themes including classic Disney Characters:
MICKEY MOUSE & Minnie Mouse (various styles including Fantasia)
Daisy Duck
Donald Duck
Plus, cute Rainbow bands.
Modern Disney Characters Magic Bands
Frozen – Elsa
The Little Mermaid
Nemo & Dory
The Nightmare before Chrsitmas
Aladdin and the Genie
Moana
Lilo and Stitch
Toy Story characters – Woody, Buzz, Slinky Dog
Beauty and the Beast – Gaston, Belle
Movie Themes, Star Wars & Marvel Magic Bands
Marvel – Captain America
Guardians of the Galaxy – Groot
Star Wars – R2D2, Darth Vader
The Pirates of the Caribbean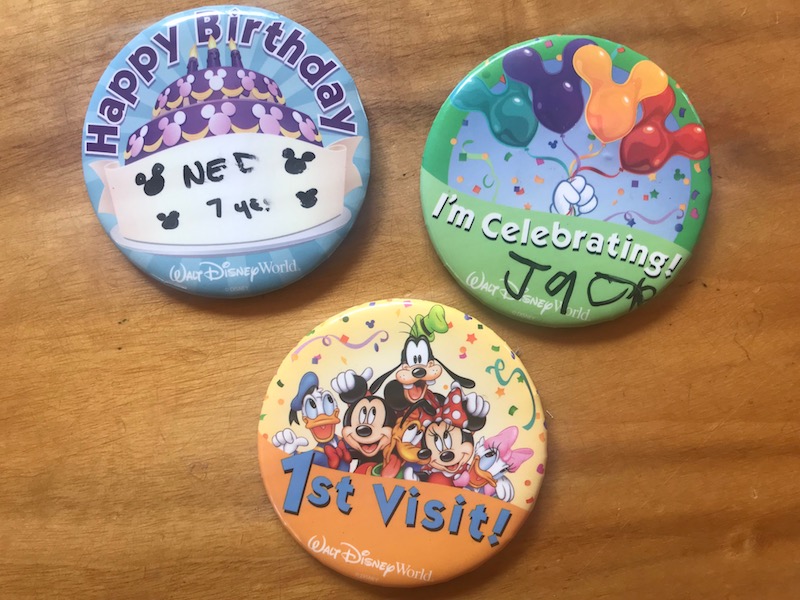 No.8: Best Disney Buttons
Looking to start a collection?
Why not gather Disney Buttons – there's one for every occasion, theme, or outing!
There's also buttons to celebrate getting married, getting engaged, family reunions, happy anniversaries, happily ever after, and a magical triumph of your own choosing!
These new Disney buttons are cute:
I'm here for EARS!
I'm here for CHURROS
Looking for More Thing-a-ma-bobs! (Ariel Little Mermaid)
I'm here for all the ROSE GOLD
I'm here for the RIDES
I'm here for AUTOGRAPHS
Meet me at the People Mover
This has become one of our favorite Disney things to do.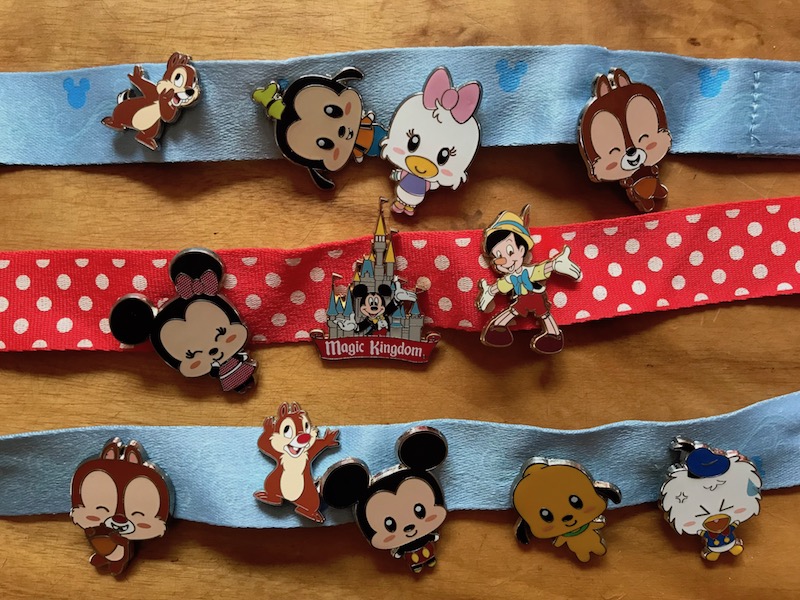 No.9: Best Disney Pins
Disney Pins are a whole next level of collecting. Disney Pin collectors are die-hard, and they are on a mission to get them all.
Join in the fun of pin trading with experienced Disney pin collectors, or swap a double of a pin with a cast member.
It's fun to buy a Pin Lanyard, so you have somewhere to put all the Disney pins. The bonus is you can wear the lanyard on your next Disney day out.
Word of caution: Buy AUTHENTIC Disney pins at the parks, or from a reputable source as cast members can only trade authentic pins.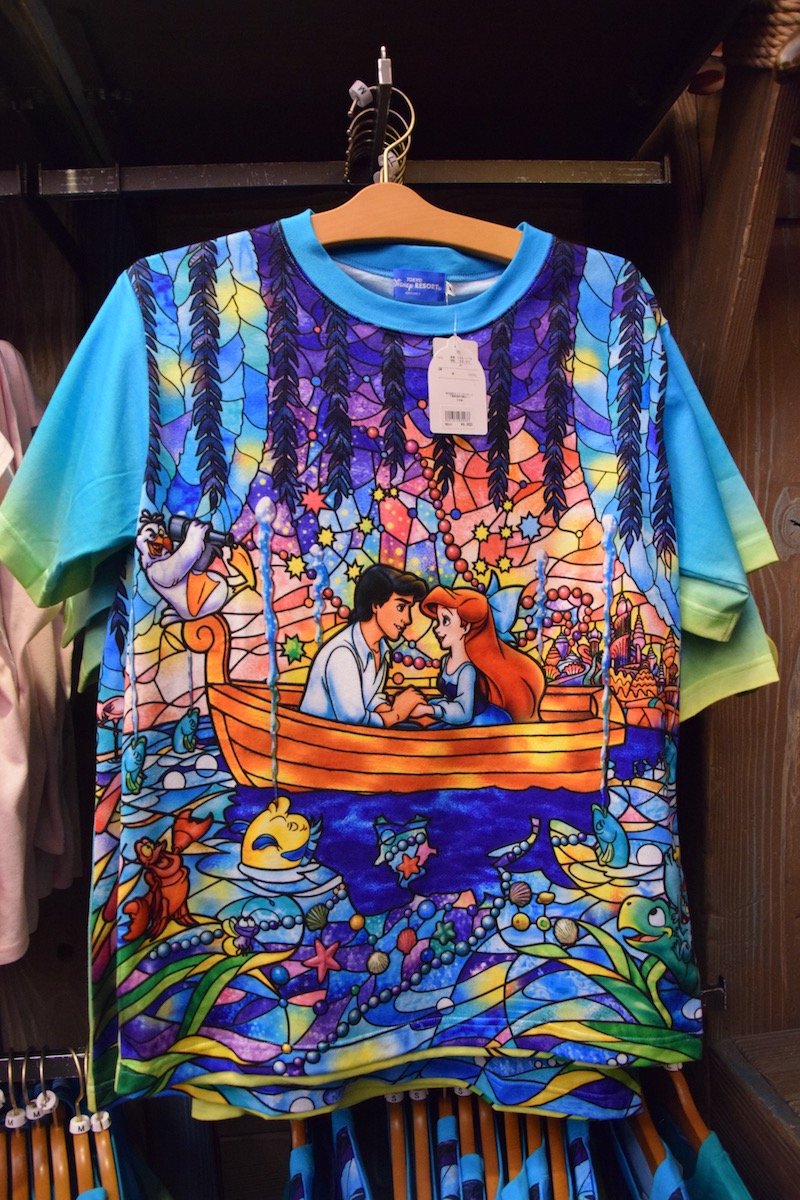 No.10: Best Disney Clothing for Kids & Adults
Look for unique Disney apparel at Disneyland.
The Walt Disney World apparel range is solid too.
You'll find all kinds of Disney clothing and accessories including t shirts, coats and jackets, activewear, dresses and skirts, sleepwear and socks.
There's DRESS UP CLOTHES for kids and adults, and Disney baby clothes too.
Walt Disney World clothing
Clothes and hats are the best things to buy in Disney World for non-believers who are yet to realise their passion for Disney parks. Help them along gently by gifting them something cute to wear!
Walt Disney World tshirts
Walt Disney World sweatshirts
Walt Disney hoodies and jerseys
Magic Kingdom baseball caps
Toy Story land baseball cap
Click here for a list of current Walt Disney World clothing in stock at the parks.
Disneyland Clothing
Jungle Cruise or Space Mountain windbreaker
Main Street USA t-shirt
Fantasyland King of the Castle shirts for men
Space Mountain attraction t-shirt
Click here for a list of current Disneyland clothing in stock so you can make your wish list!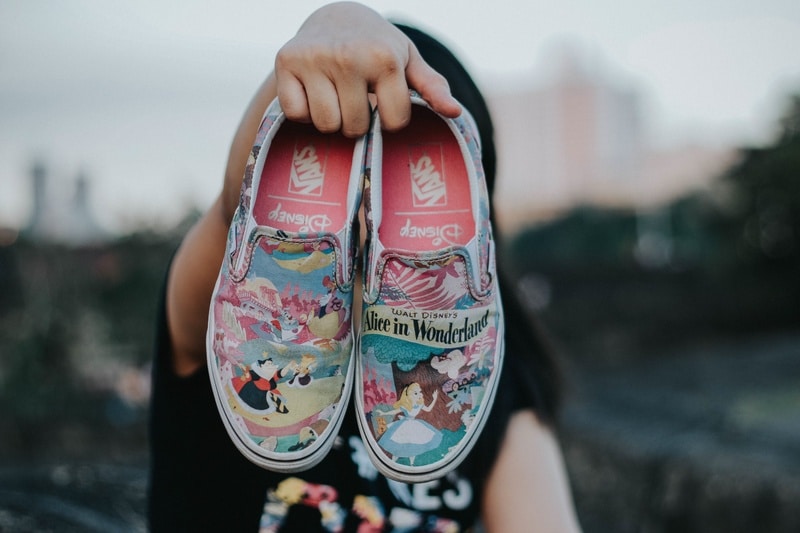 Image credit: Public Domain
Fan of Disney Fashion?
Love Disney fashion?
Follow the Disney fashionista blog for updates on current releases.
Hot tip: If you haven't heard of Dapper Day, look it up. THIS is the best kind of Disney fashion event.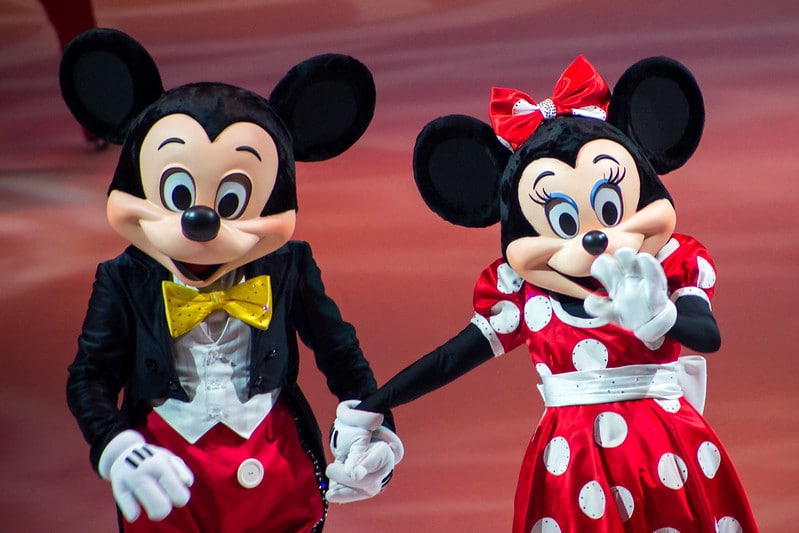 Image credit: Harshlight (CC BY 2.0) via Flickr
No.11: Best Disney Homewares
Some of the best Disney gifts for adults can be found in Disney homewares & accessories shops in the parks.
Why not buy:
Disney Phone Cases
Disney Backpacks
Disney lunchboxes
Disney Wall Art. How about "The Enchanted Tiki Room" wall sign or a Frontierland Wall sign for a little childhood nostalgia brought back to life?
Disney snow globes
Disney photo frames
Disney pet bowls
Mickey Mouse leather luggage tag, or a Mickey Mouse duffel bag
Disney Parks rolling luggage
See below for exclusive homewares you can find at both Disneyland and Disney World.
Disney World Homewares
The best Disney World gift shop is The Emporium. Find:
Walt Disney World refrigerator magnets
Walt Disney World tote bags
WDW Cinderella Castle towels
Click here to take a sneak peek at exclusive Walt Disney World Home goods.
Disneyland Homewares
Click here for unique Disneyland homewares.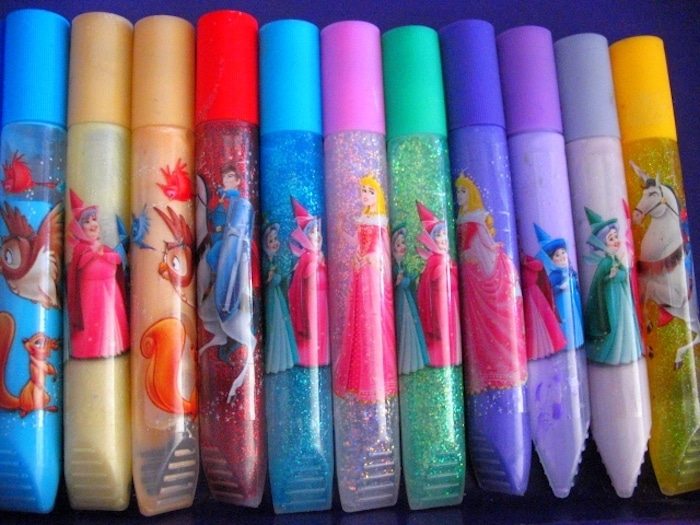 Image credit 640: Ariel Grimm ( CC BY 2.0) via Flickr
No.12: Best Disney Stationery & Paper Goods
Buy Disneyland products for your home office, or to take with you to work to spread the Disney cheer among your friends and colleagues!
Why not share the Disney love with one of these Disney gifts?:
Disney Calendars
Walt Disney World Mickey Mouse Memo Holder
Walt Disney World personalised pens
It's a Small World notebooks
Disney journals and binders and clipboards
Disney Sticky notes
Disney Sticker books
Disney Glitter Glue!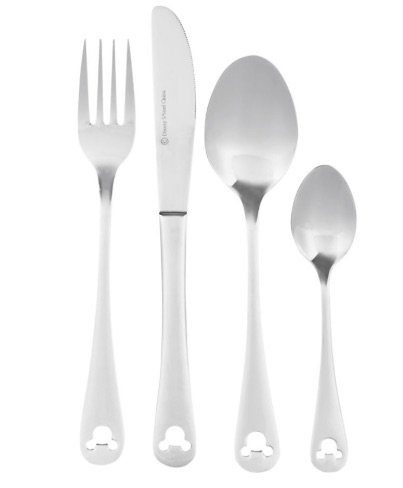 No.13: Best Disney Kitchenware
Showcase your love of Disney with Disney kitchen tools and accessories.
Mickey Mouse pasta spoon set, or ladle and spoon set
Mickey Mouse serving bowls
Cinderella and Prince Charming glass flutes set
Disney teatowels
Mickey and Minnie salt and pepper shakers
Mickey Mouse Apron and chef's hat
Disney themed Cookie jars
Mickey and Minnie Mouse bottle stoppers
The number one Disney kitchen souvenir is the Gourmet Mickey Mouse flatware set (cutlery set).
Put this Disney tableware on your Christmas list.
Everyone needs to eat dinner with Disney cutlery!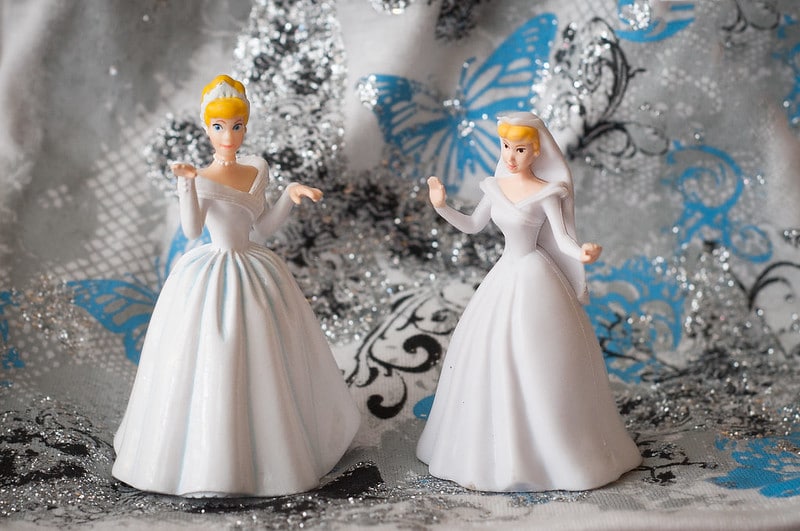 Image credit: David Goehring ( CC BY 2.0) via Flickr
No.14: Best Disney Collectibles, Disney Ornaments & Figurines
If you love ornaments, add to your Disney ornament showcase with:
a Pinocchio & Figaro figurine
the elegant Beauty and the Beast Enchanted Rose Sculpture in a glass dome
a Disney princess figurine, or
Mickey Mouse and Walt Disney Laser Cube ornaments.
This is the best Disney merch for super fans!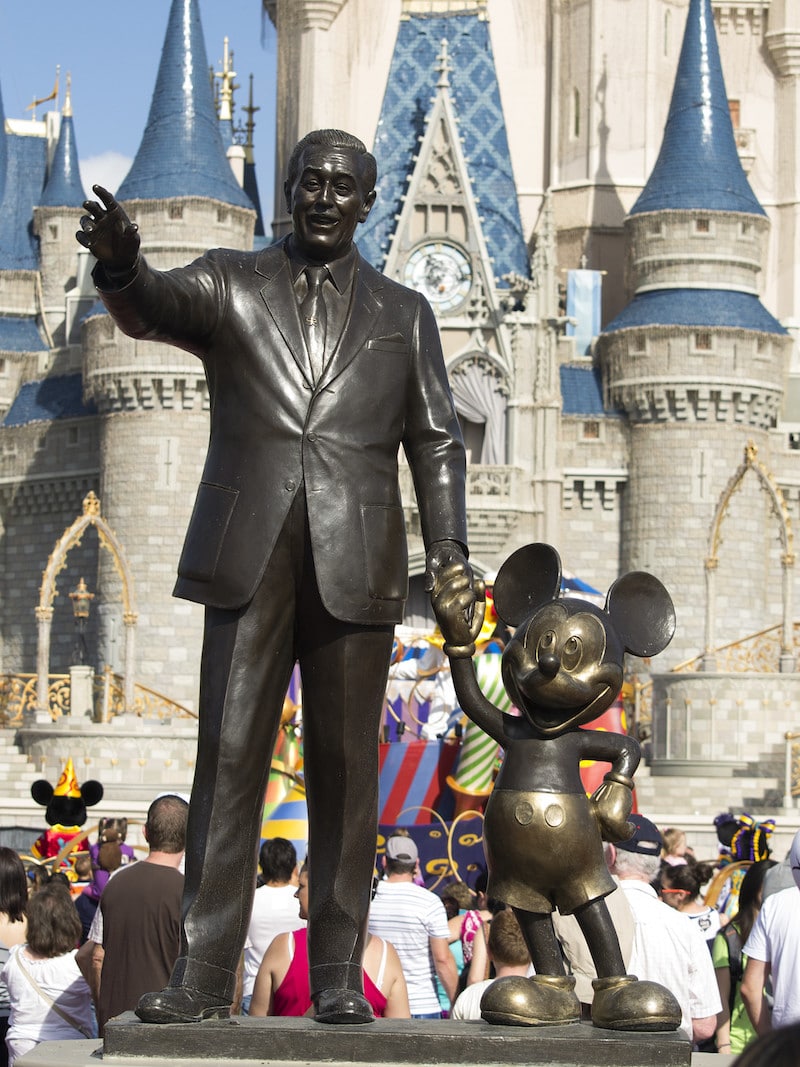 Image credit: Jason Howie ( CC BY 2.0) via Flickr
No.15: The Partners Statue at Disney World
Top of my Disney souvenir shopping wish list?
The "Partners" Walt Disney and Mickey Mouse statue.
A miniature statuette replica of the "Partners" statue on display in front of Sleeping Beauty Castle at Disneyland Park, and Cinderella Castle at Magic Kingdom Park.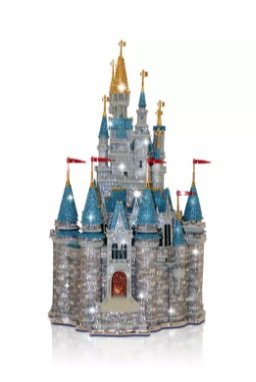 Big spender?
Why not pick up a Limited Edition Walt Disney World Cinderella Castle?
This limited edition Cinderella Castle by Arribas Brothers made from hand-enameled metal is set with 28,255 Swarovski® crystals.
At $37,500 USD, it's a steal!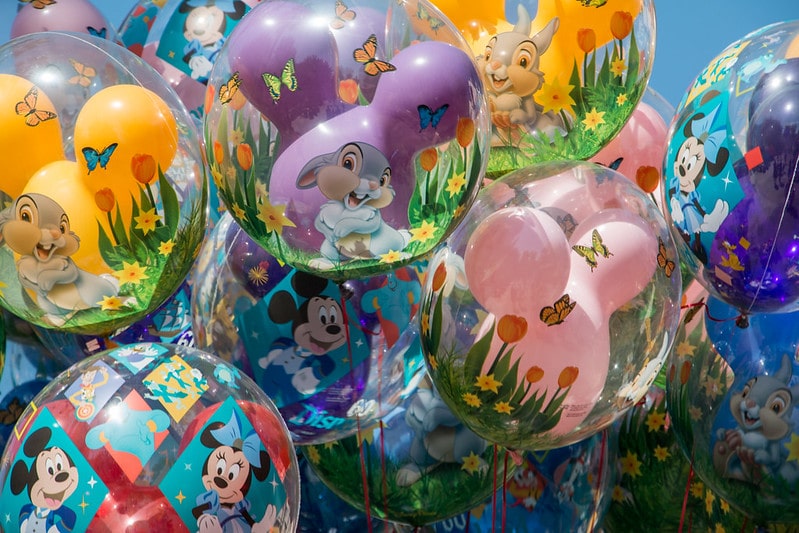 Image credit: Harshlight ( CC BY 2.0) via Flickr
No.16: Fun Disney Balloons
One of the iconic sights on Main Street Disney World and Disneyland is the Disney cast members holding a big bunch of helium balloons.
A Disney Balloon is hard to resist.
The classic Disney balloon is a clear bubble with a Mickey shaped balloon inside. These start from $12 USD.
Buying a Disney balloon is one of those once-in-a-lifetime purchases, but you've got to do it at least once!
Hold on tight.
Don't let your Disney balloon escape into the environment.
That wouldn't be much fun for anyone.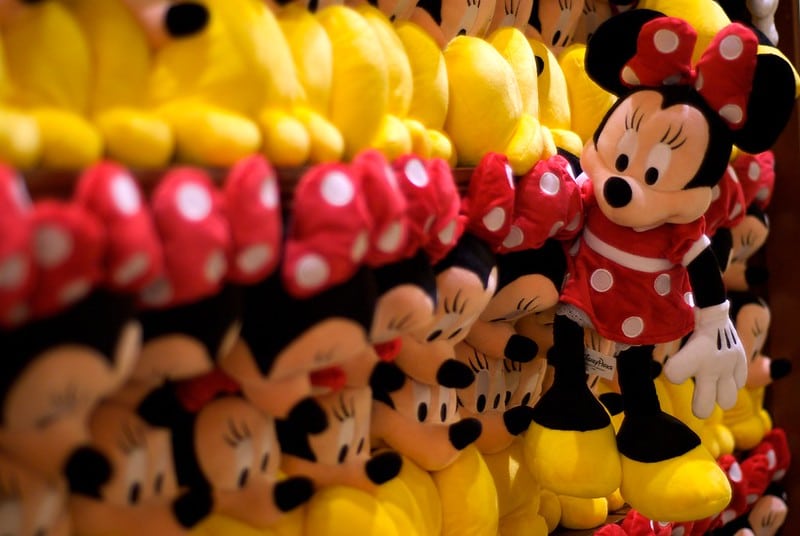 Image credit: Chuck Waters 83 ( CC BY 2.0) via Flickr
No.17: Best Disney Soft Toys
Disney plush toys are the best Disney Souvenirs for toddlers.
The only challenge is deciding how many you can carry.
Hot tip: If you are travelling on a budget, stay away from Winnie the Pooh. I have five. He's impossible to resist!
The one other Disney toy you need is Mr Potato Head.
Because that nostalgic toy is never ending fun!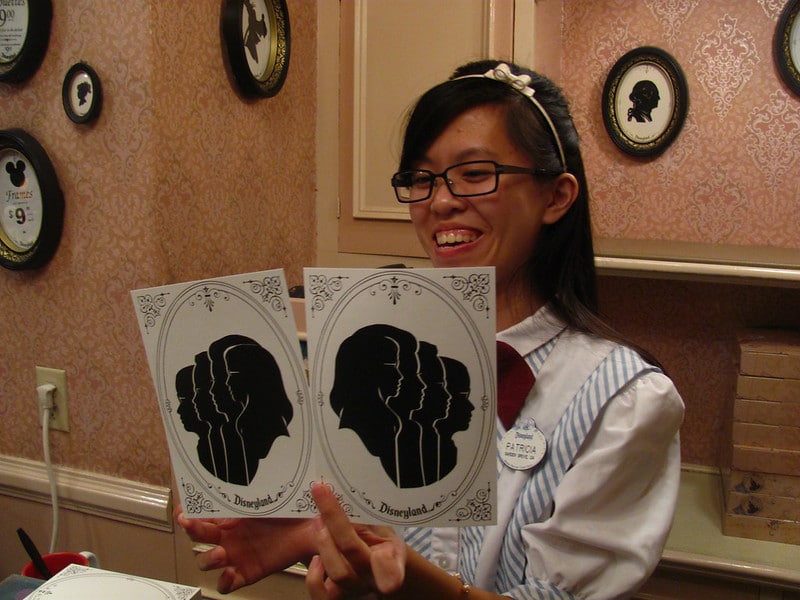 Image credit: Loren Javier ( CC BY ND 2.0) via Flickr
No.18: Handcut Disney Silhouette Portrait
A Disney World Silhouette is the number one souvenir to buy from Disneyland.
You can find the Disneyland Silhouette Studio on Main Street USA.
Watch as a Disney artist cuts a personalised silhouette of you in 60 seconds!
You can also find these at the Disney Silhouette Portraits Cart in the marketplace at Disney Springs.
Look for the shop selling Disney Silhouettes on the Main Street of Disney World too.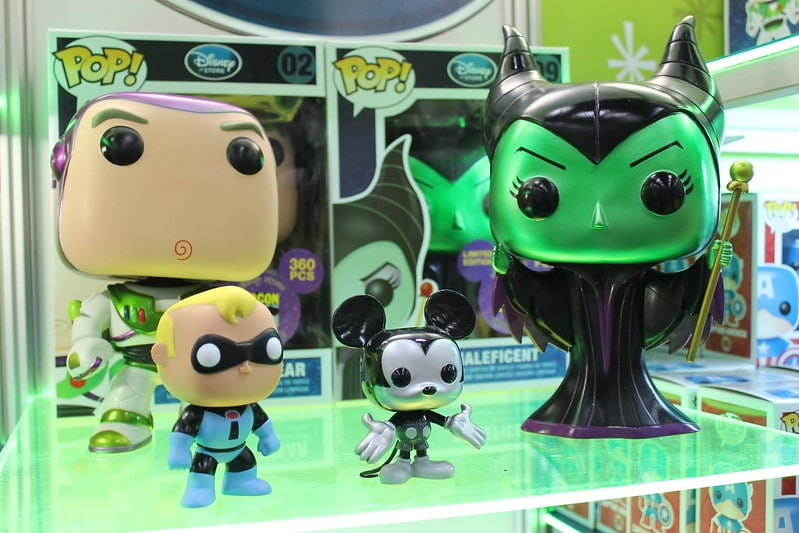 Image credit: Loren Javier ( CC BY ND 2.0) via Flickr
No.19: Disney Funko Pop! Vinyl Figures
Fanatical Disney Fans adore Disney Funko dolls.
Why not collect a:
Jessie Pop! Vinyl figure from Toy Story
a Scar or Rafiki Pop Vinyl toy from the Lion King,
or the Splash Mountain 30th anniversary set of Disney Funko Pop! Toys featuring the characters from the ride.
The Alice at the Mad Tea Party POP Vinyl figure has Alice sitting in the cup and saucer ride!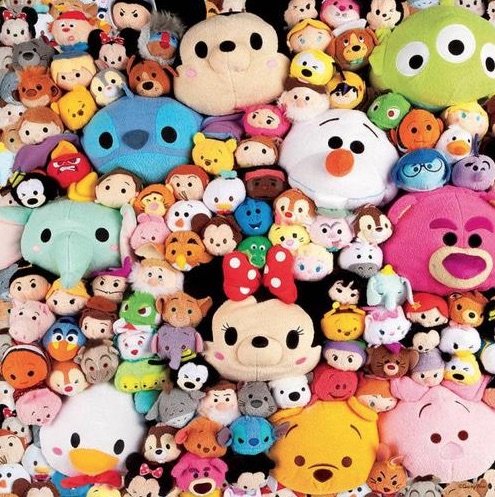 Image credit: Serious puzzles
No.20: Disney Tsum Tsums
Looking for a pocket souvenir that won't break the bank?
Pick up any of the Disney Tsum Tsums characters. The tiny weeny ones only cost a few dollars each.
Chip and Dale are endearing.
But all Disney Tsum Tsum toys are seriously adorable.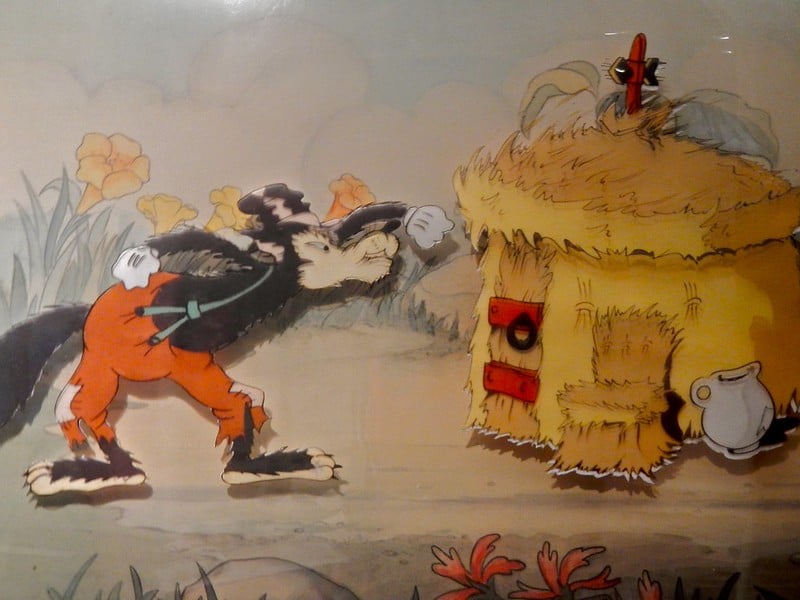 Image credit: Punk Toad ( CC BY 2.0) via Flickr
No.21: Unusual Disney Souvenirs – Disney Art Cells
Visit Disneyana on Main Street Disneyland to pick up a one of a kind piece of Disney art, including art cells you can frame.
These are top Disney souvenirs for artists, or anyone inspired by Disney animators in their own personal career.
In fact, these are the best Disney souvenirs for adults who adore this magical place, a gift that increases in value over time, so a worthy investment too.
Animal Gallery at Disney's Hollywood Studios is another place to buy Disney art cells.
Try WonderGround Gallery at Downtown Disney District shops near Disneyland.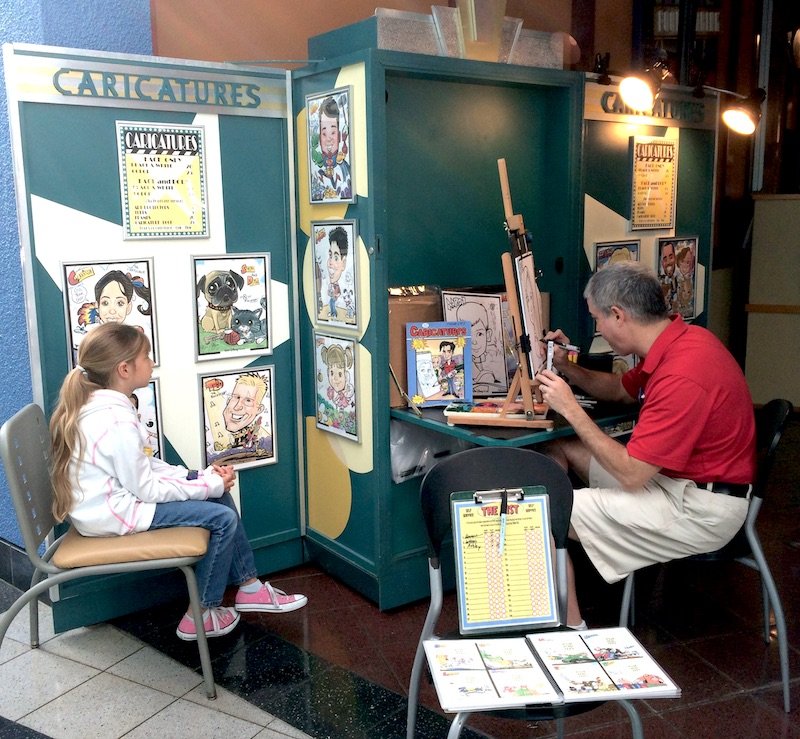 All Star Movies foyer on our last Disney World trip.
No.22: Fun Disney Caricatures Souvenir
Another fun souvenir is a Disney caricature drawn by one of the Disney artists.
These cool Disney souvenirs can be framed and hung on the wall in the kid's bedrooms for years to come, a happy memory for all to see.
Look out for Disney caricature artists in Disney World hotel foyers, and at Disney Springs.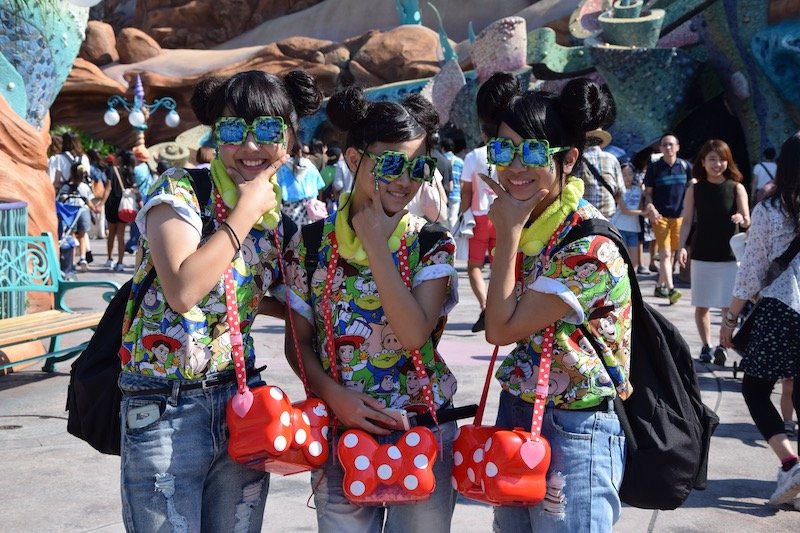 No.23: Best Disney Vacation shirts
Wearing matchy-matchy t-shirts is a cool thing to do at Disney parks.
You can either buy Disney t-shirts for the whole family before you go, or pick them up at the parks when you arrive.
Or take it next level and have one handmade for your family team.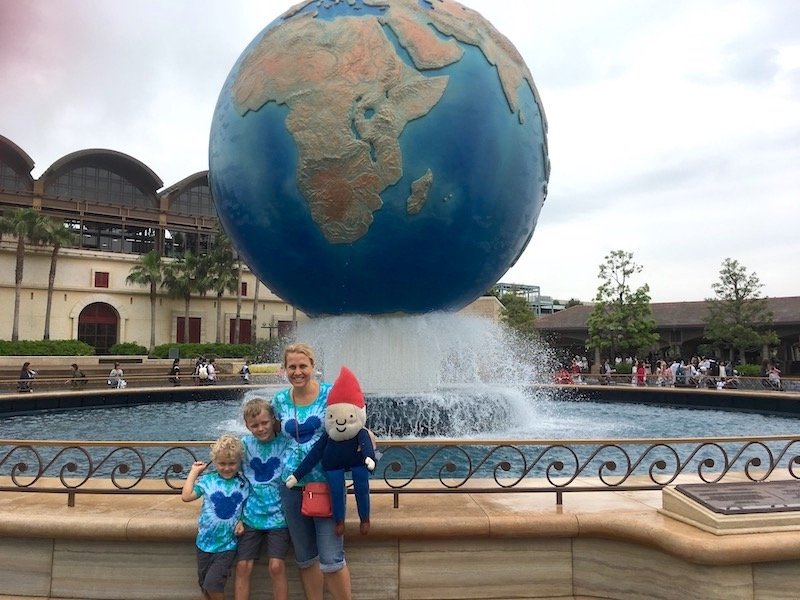 Handmade Personalised Disney T-shirts
Our last trip to Tokyo Disney, my friend Amelia from Sunny Daisy Tie Dye created these unique tie-dyed Mickey tees for us!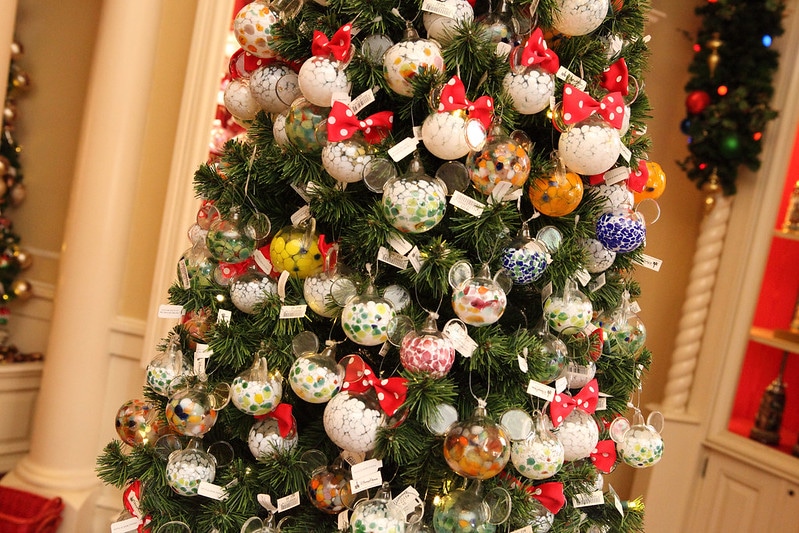 Image credit: Sam Howitz ( CC BY 2.0) via Flickr
No.24: Disney Christmas Ornaments for the holidays
We're making it our mission to replace all of our Christmas ornaments with Disney ornaments, one at a time.
We collect new Disney holiday ornaments every visit, and can't wait to see what we find at Paris Disneyland this year.
We also buy these Disney gifts for our family members too, to share the love.
If you are in Florida, visit Disney's Days of Christmas at Disney Springs to collect your new ornament for this year's tree.
This Disney Shop in the Disney Springs marketplace is the place to celebrate Christmas all year long, and is home to some of the best gifts from Disney World for lovers of Christmas!
Find ornaments, stockings, Disney-themed holiday décor and more.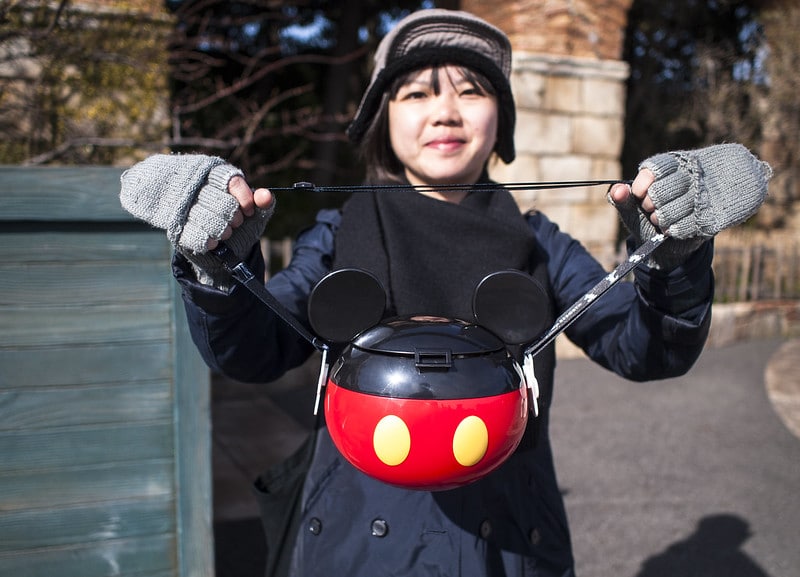 Image credit: Jonathon Lin ( CC BY 2.0) via Flickr
No.25: Best Disney Popcorn Buckets
Here's a Disney souvenir for mad Disney foodies.
The best bit is you get to fill it with flavored popcorn and eat from it as you explore the parks!
And you can refill it as many times as you want for just a few dollars.
Disney popcorn buckets come in all shapes and sizes.
Look out for:
Duffy popcorn buckets
Star Wars Galaxy Edge popcorn buckets
Disney Holiday popcorn buckets in Christmas themes
Dumbo popcorn buckets
Disney Cinderella Carridge popcorn bucket
Toy Story popcorn buckets
Winnie the Pooh popcorn buckets
Minnie Mouse popcorn buckets
Mickey Mouse popcorn buckets
Popcorn buckets at Disneyland start from around $17. Refills from $2.
---
RELATED: Ultimate Guide to Tokyo DisneySea Popcorn Flavors & Buckets to buy!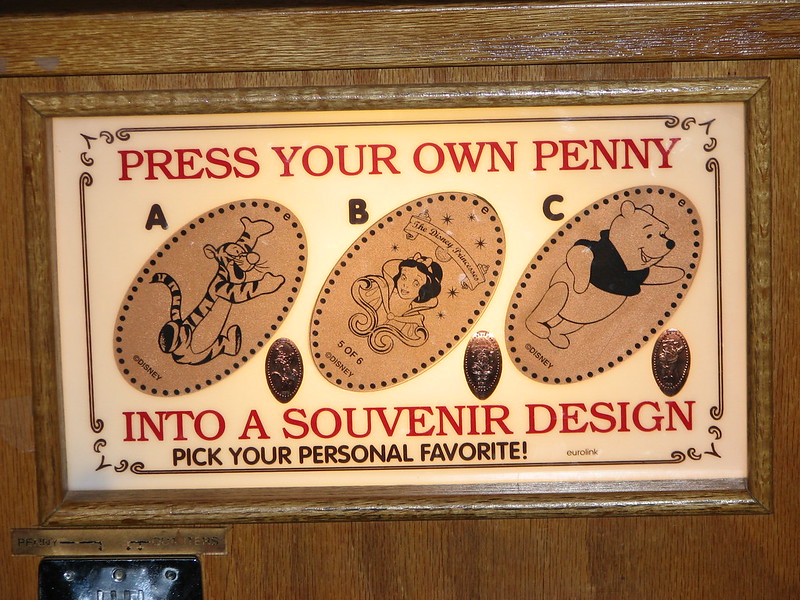 Image credit: Quester Mark ( CC BY 2.0) via Flickr
No.26: Budget Disney souvenirs
Wondering what souvenirs to buy at Disneyland or what souvenirs to buy at Disney World for school friends and local friends from the neighbourhood?
How about:
Disney souvenir coins (also called Disney pressed pennies)
Disney souvenir fridge magnets
Disney iron on patches, or badges
Disney trading pins
Disney pens and pencils, or stationery kits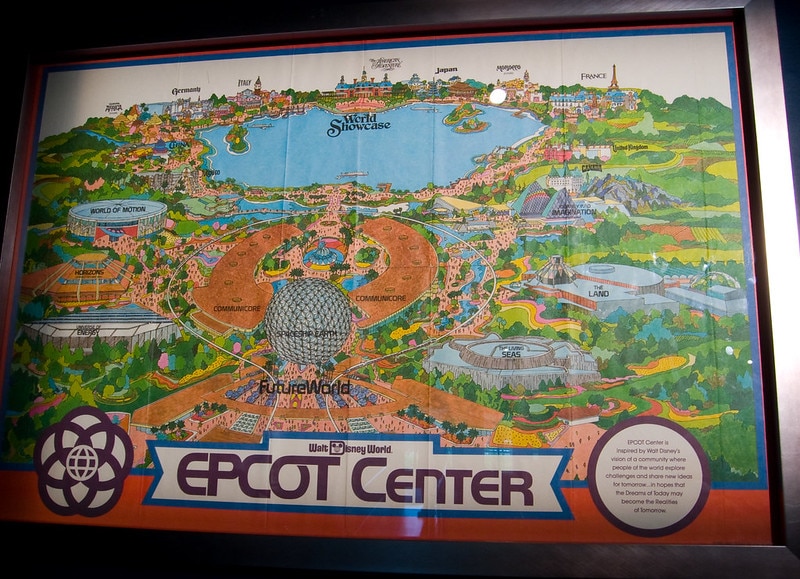 Image credit: Jason Pratt ( CC BY 2.0) via Flickr
No.27: Free Souvenirs from Disney
Did you know you can collect FREE DISNEY SOUVENIRS too?
No.1: Disney Trading Cards
Collect "Sorcerers of the Magic Kingdom" cards from the fire station in Town Square at Magic Kingdom. Want to join in the Interactive Scavenger Hunt at Disney World in person? Click here for details.
No.2: Disney Transportation Cards
Kindly ask your Magic Kingdom ferryboat driver, ship's captain, resort bus driver, monorail driver, or train conductor for one of the collectible Transportation Cards and start collecting.
Each card features a different Disney character. Plus, there's fun Disney facts and trivia on the cards too.
There's 27 Walt Disney World transportation cards to collect including Watercraft, Monorail and Buses.
No.3: Disney Parks Maps
Pick up an extra brand new copy of a park map when you visit, and put it somewhere safe (we carry a clear pocket wallet for these kinds of treasures and tickets we want to keep).
Frame them when you return home.
No.4: Photos of the Hidden Mickeys you find!
Here's another challenge.
Instead of buying Disney souvenirs, why not look for Hidden Mickeys around the parks, and frame all the pictures of the photos you take?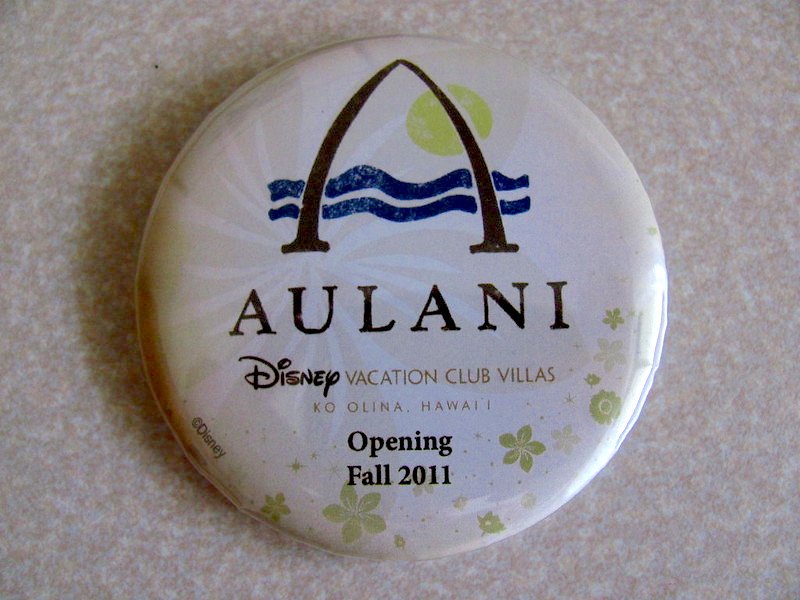 Image credit: Loren Javier( CC BY ND 2.0) via Flickr
No.5: Complimentary Celebratory Button Badges.
I remember our first visit to Walt Disney World and how thrilled with were with our collectible pins:
one for Ned's birthday
one for first time visitors, and
another for staying at Walt Disney World.
Tell a Cast Member about your special trip or event, and they may gift you a Disney button badge to acknowledge it!
New Disney buttons may also released every time there's a:
special event
new parade
change of season
festival, or
birthday anniversary of a park or ride.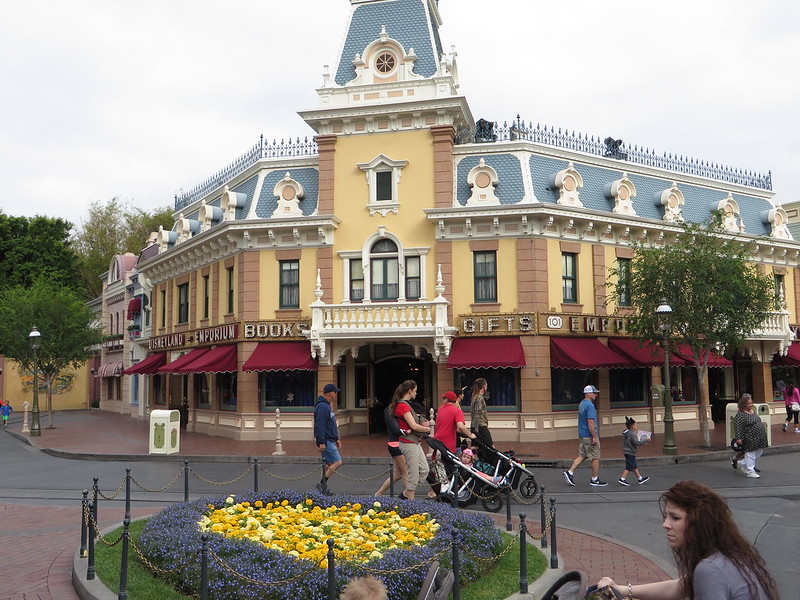 Image credit: Ken Lund ( CC Sharelike BY 2.0) via Flickr
BEST DISNEY WORLD SOUVENIRS FOR ADULTS AND KIDS
Looking for awesome Disney Park merchandise and the best Walt Disney souvenirs?
Shop the Emporium Disney World shop for the best Magic Kingdom souvenirs.
They have the largest range of best Disney World merchandise including:
Disney apparel
plush toys
pins
candy, and more.
If you can only wrangle the kids into one of the Magic Kingdom stores, this is the one you should go to.
Things you can only buy at Disney World?
Click here to see all the EXCLUSIVE Disney World souvenirs 2021 that are currently available.
Our hot tip is to ask in-store at Magic Kingdom shops for help to find their exclusive Disney World souvenirs.
Look out for these Disney World budget souvenirs too:
Walt Disney World balloons
Walt Disney World souvenir cups
Walt Disney World Mickey Ears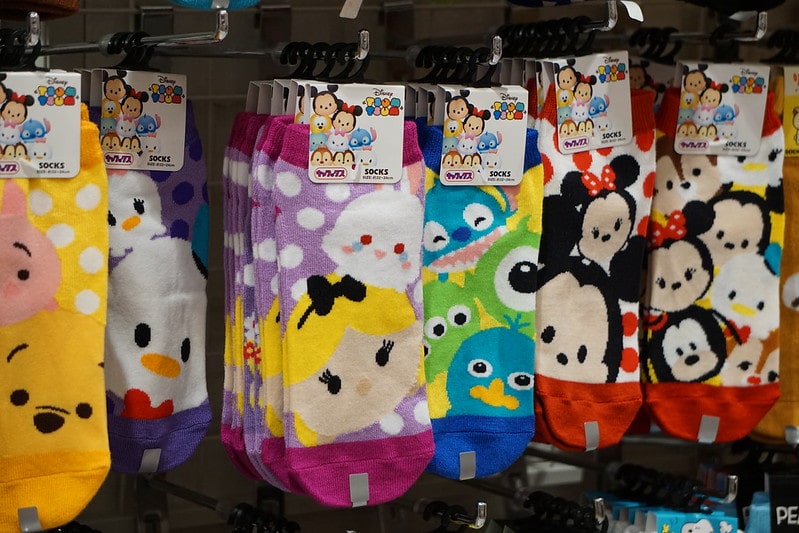 Image credit: Nelo Hotsumal ( CC BY 2.0) via Flickr
Frequently Asked Questions about Disney World shopping
Best place to buy Mickey ears at Disney World Magic Kingdom?
The Emporium at Magic Kingdom is a good start.
Fantasy Faire, Curtain Call Collectibles, Mickey's Star Traders, Big Top Souvenirs, the Briar Patch, and The Chapeau also stock Mickey ears.
You can also look out for the portable carts for Mickey and Minnie ears too.
How much do Mickey ears cost at Disney World?
Mickey Ears for Kids ears start from $13.
A plain pair of Mickey ears starts from $10.
Adults Mickey ears start from $27.
A fancy, limited edition pair of Mouse Ears can sell for upwards of $80!
Personalizable Mickey Mouseketeer Ear Hats start from $17.99 for both adults and kids.
A Mickey Mouseketeer Hat for baby starts from $17.99.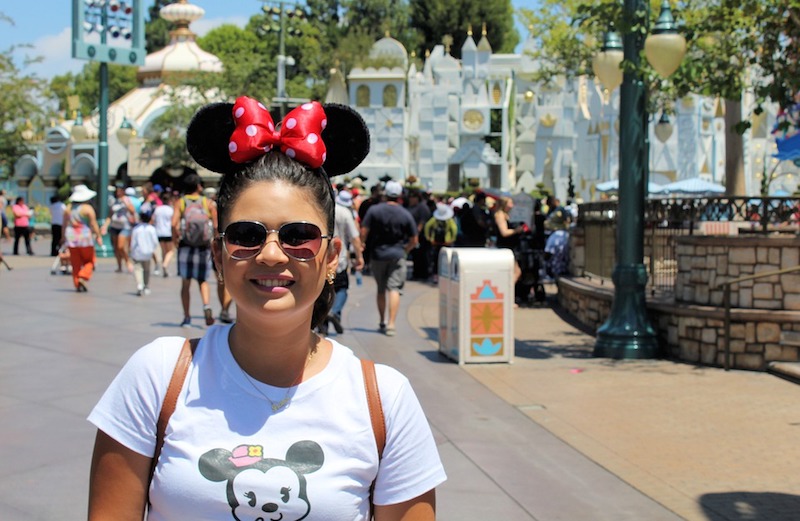 How much are Minnie ears at Disney World?
Same as above.
Look out for the sales at Walmart, Target and the The Disney Character Warehouse outlet shops in Orlando, Florida to find markdown ears.
(You'll also find other discount Disney souvenirs like backpacks, t shirts, clothing, and Disney toys and Disney craft packs to keep kids entertained in the hotel room.)
Did you know you can buy Mouseketeer Ear Baseball caps for adults and kids too?
(These are cool things to buy at Disney World as you can hang them on your wall as a memento of your vacation afterwards!)
What are some cheap Disney World souvenirs to buy?
The best cheap Disney souvenirs include:
Disney World socks
Pressed pennies
Disney World stationery, and
Disney World confectionery
But remember, prices at Disney are relative.
What you pay for a pair of socks or a Disney lollipop here is way more than you'd ever pay at Walmart or a discount store.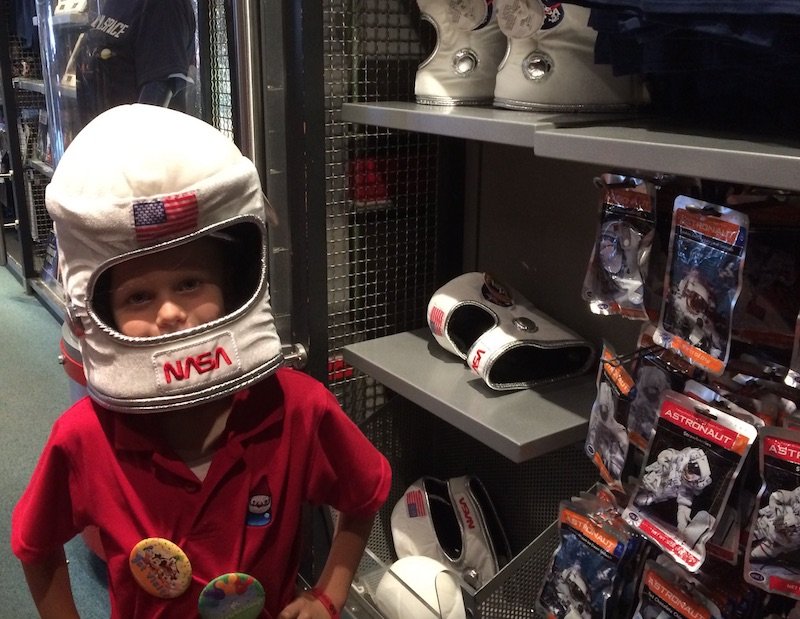 BEST EPCOT SOUVENIRS
Wondering "What should I buy at the Epcot gift shop?"
When people ask us what are the best Epcot souvenirs, these are our suggestions:
Visit the Art of Disney for unique collectibles and artwork.
Pin Central is home to a huge selection of exclusive Disney pins.
Frozen fans should visit the Wandering Reindeer split-log shop in the countryside of the Norway Pavilion to find kids dress up costumes, and Frozen dolls and accessories galore!
Why not visit each of the Epcot countries to see what you find in their gift shops, and buy a signature Disney souvenir such as:
one piece of candy
one pair of earrings
a mug, or
a drink bottle from each one?
Image credit: CrispyCream27
BEST DISNEY'S HOLLYWOOD STUDIOS SOUVENIRS
Star Wars Souvenirs at Disney World
Star Wars fan?
Head to Dok-Ondar's Den of Antiquities to buy jewelry, ancient tools, rare kyber crystals, statue, and world famous lightsabers. I've heard these goodies comes from many different planets and eras!
There's also the new Droid Depot to scour, and the Toydarian Toymaker is the spot for:
Princess Leia dolls
Star Wars soft toys
Wookie dolls
Star Wars ornaments (CP30 and R2D2)
classic games like chance cubes and sabacc, and
themed trinkets.
Die Hard Star Wars Fans MUST visit SAVI's WORKSHOP to make their own Handbuitl Lightsabers!
This is No.1 of the list of unique things to get at Disney World as you cannot buy them elsewhere!
More souvenirs from Hollywood Studios
Frozen devotees should visit the Frozen Fractal Gift shop to find MORE Frozen souvenirs you can't find anywhere else.
Here's something truly unique: Buy Disney cel art and artistic sketches at the Stage 1 Company Store.
My favourite is "It's a Wonderful Shop" on Grand Avenue to find fun Disney homewares, and beautifully designed Disney collectibles.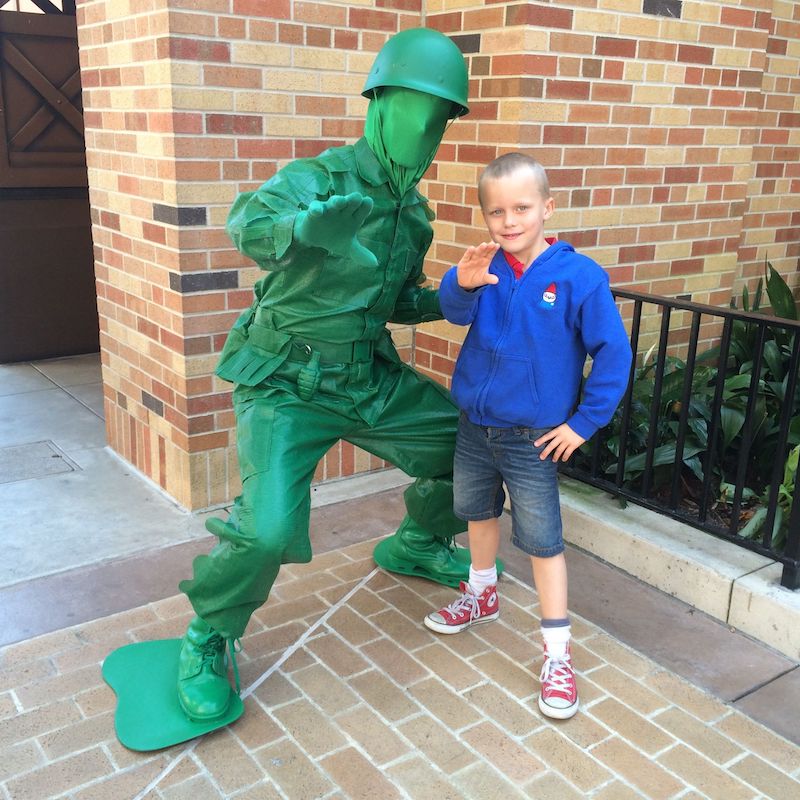 Best Toy Story souvenirs
Visit the Walt Disney World Store of Pixar to find a whole bunch of Toy Story themed toys and souvenirs near the new Toy Story land in Disney Hollywood Studios.
Look out for things featuring the Green Army dudes!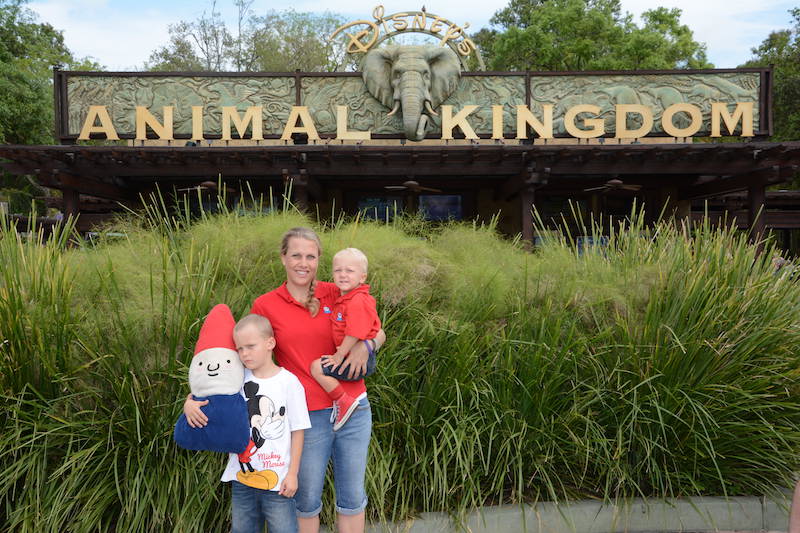 BEST ANIMAL KINGDOM SOUVENIRS
What are the best Animal Kingdom souvenirs?
The Boneyard Cart is the place to pick up dinosaur themed gifts and souvenirs!
Colors of Mo'ara sells all the Avatar souvenirs.
Looking for a stuffed tiger or lion to remind you of your Animal Kingdom adventures?
Keep an eye on the portable shop carts.
They are FULL to the brim of wild animals soft toys.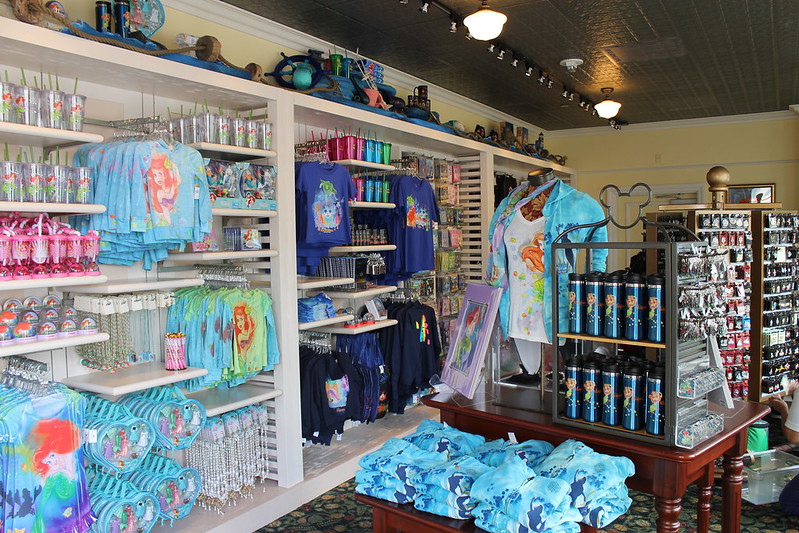 Image credit: Loren Javier via Flickr CC BY ND 2.0
BEST DISNEYLAND SOUVENIRS
Want to know what things to buy at Disneyland?
Look out for exclusive Disneyland souvenirs, seasonal Disneyland souvenirs, and Disneyland exclusive confectionery and snacks.
You will also find:
Disneyland themed t-shirts, and
a few Disneyland hats, ears, and accessories that you won't find elsewhere.
Our tip: Ask the Disneyland guest services personnel in the stores.
They'll help you find that one-off gift.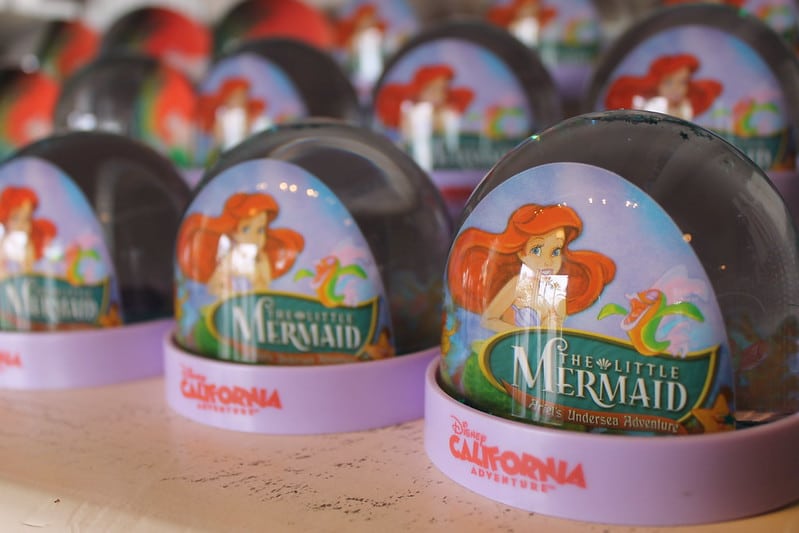 Image credit: Loren Javier via Flickr CC BY ND 2.0
Cheap things to buy at Disneyland
Running out of cash?
Spend the last of your pocket money on these Disney treats:
Disney snacks – popcorn, churros, Mickey ice cream snack
Disneyland pressed pennies
Disneyland notebooks
Disneyland pencils
Disneyland magnets
Disneyland chocolates
Disneyland refillable mugs
Disneyland postcards
Disneyland toast stamps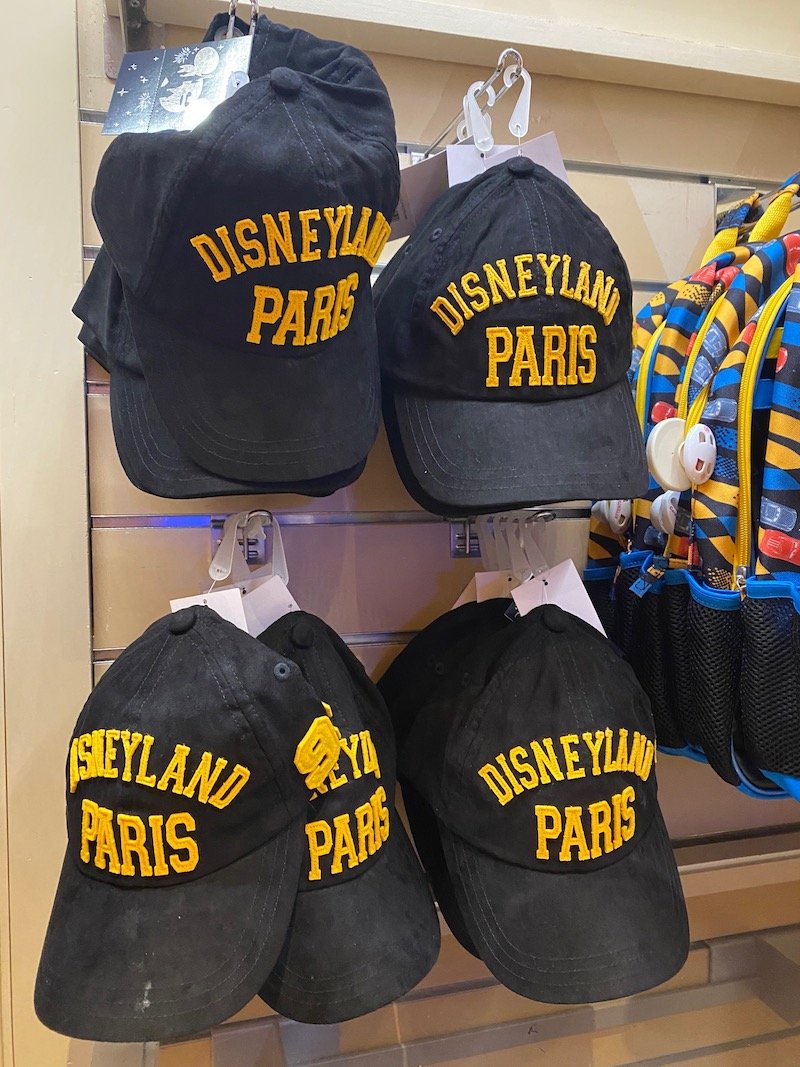 BEST DISNEYLAND PARIS SOUVENIRS AND GIFTS
Read all about the best Paris Disneyland souvenirs here
We've also got a guide to the best exclusive Disneyland Paris merchandise here and a round up of the most beautiful Disneyland Paris Christmas ornaments
And a whole bunch of guides to the best shops in Disneyland Paris:
RELATED: Everything you need to know about visiting Disneyland Paris at Christmas!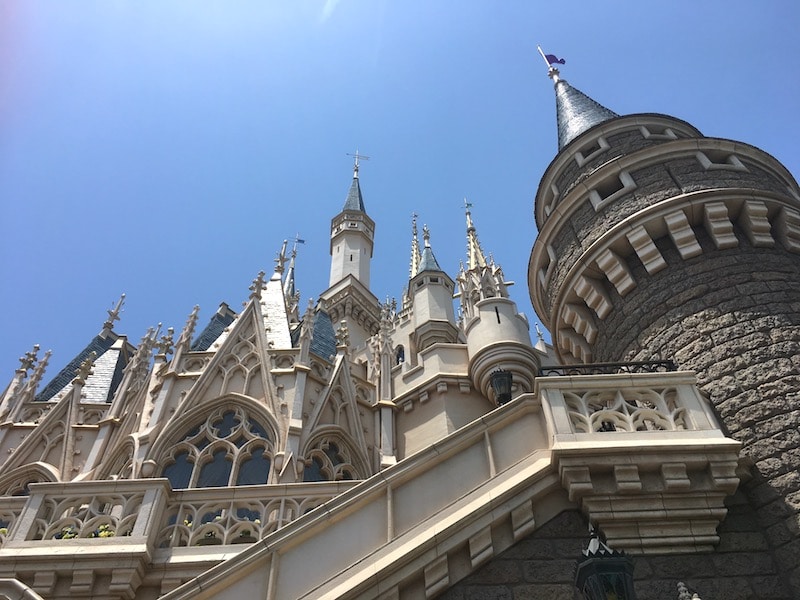 TOKYO DISNEYLAND SOUVENIRS
Guide to the best Tokyo Disneyland merchandise (update coming soon).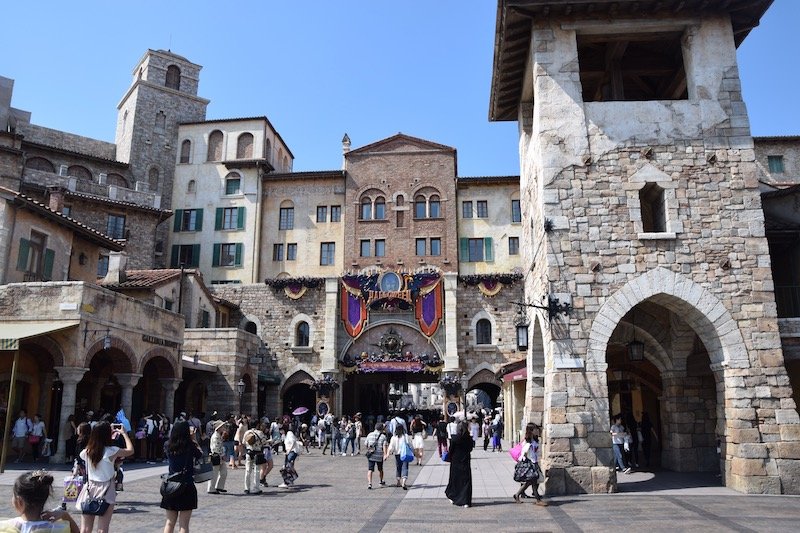 TOKYO DISNEYSEA SOUVENIRS
Read our guide to Tokyo Disneysea for kids.
It includes some fun Tokyo Disneysea merchandise you can buy.
Hot tip: Be sure to take a sneak peek at the gorgeous Whale Shoppe and the Little Mermaid tshirts you can buy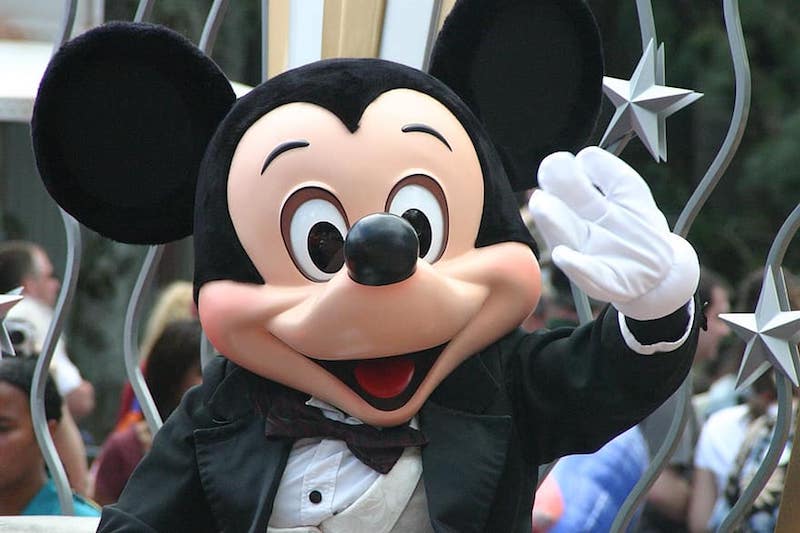 Image credit: Pikist Sejow via Flickr CC BY 1.0
Looking for more Disney Tips and Tricks?
Click the links in blue below for more Disney tips.