INSIDE: Everything you need to know about the Aztec Broadbeach restaurant
Your kids won't go hungry at AZTEC MEXICAN Gold Coast, and neither will you!
Imagine a soft tortilla dipped in tomato based sauce stuffed with a chicken and gooey cheese filling.
Rolled and topped with MORE gooey cheese, and oven baked to a perfect crisp, served with a side of Mexican rice and Frijoles refried beans.
Is your mouth watering yet?
Find this and all your favourite family-friendly meals at our favourite Mexican Gold Coast restaurant.
Read details below.
Disclosure: This article contains affiliate links. If you make a purchase after clicking on one of these links, we may receive a small commission at NO extra cost to you.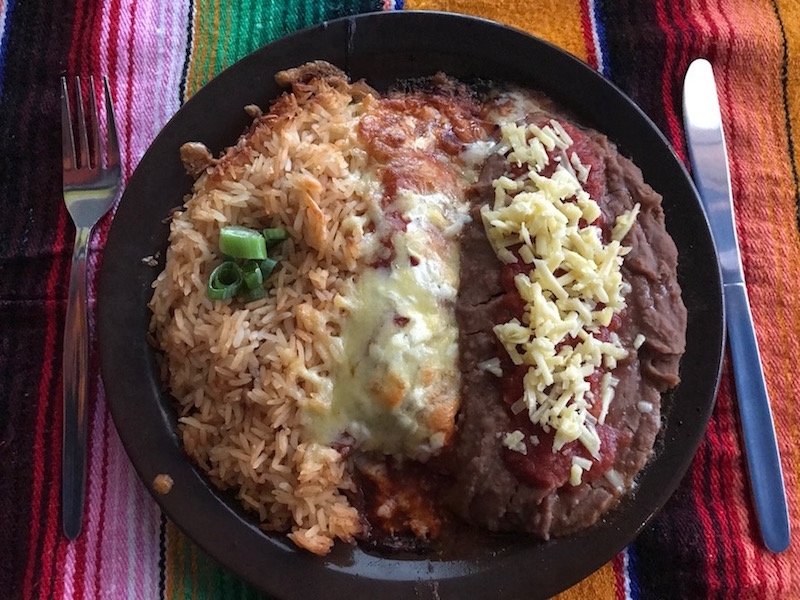 Guide to The Aztec Broadbeach Mexican Gold Coast
Mexican Restaurants Food, Not Mexican Fast Food
Operating since 1995, this multi-award winning Mexican Gold Coast Restaurant is uniquely themed in the Aztec tradition.
My school friends and I have a long-standing tradition of visiting this Gold Coast Mexican restaurant for our catch-ups whenever the whole gang is in town.
Now, it's time for the next generation to have their tastebuds tantalised and tempted by this scrumptious food.
Mexican food at the Aztec restaurant beats Mexican from any of the Mexican fast food joints every time!
Hot tip: Order the chicken enchilada pictured above. It's a best seller.
---
RELATED: Big List of Things to do on the Gold Coast with kids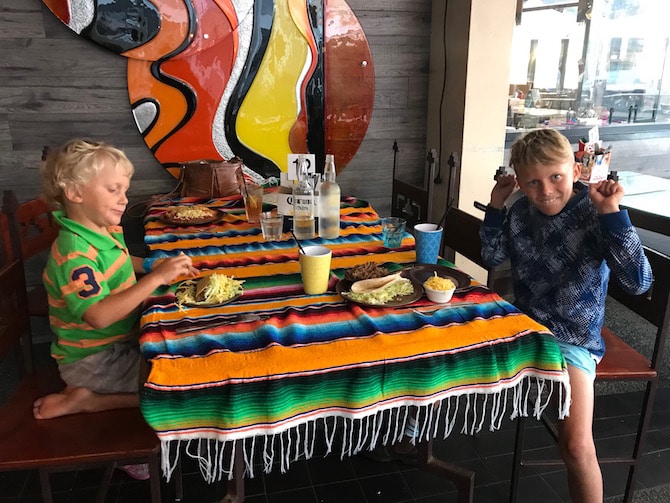 Aztec Mexican Restaurant Gold Coast locations
The Aztec Restaurants in Broadbeach and Coolangatta are the family friendly choice for holiday dining especially.
The Aztec is part of a group of Mexican restaurants on the Gold Coast, so you can also find the identical menu at Montezumas Surfers Paradise, as well as a Mexican Takeaway, both located in the tourist mecca of Surfers Paradise.
(There's another Montezumas at Burleigh too, with a takeaway outlet located separately on the Gold Coast highway. This one is separately owned, but has the same menu.)
Lunch, or Dinner from 5.30pm
You can feed the starving hordes from 5.30pm, the tables are topped with bright rainbow coloured cloth table covers that hide all the spills and stains, and the vibe is loud and boisterous, perfect for kids.
Plus, there's colouring in!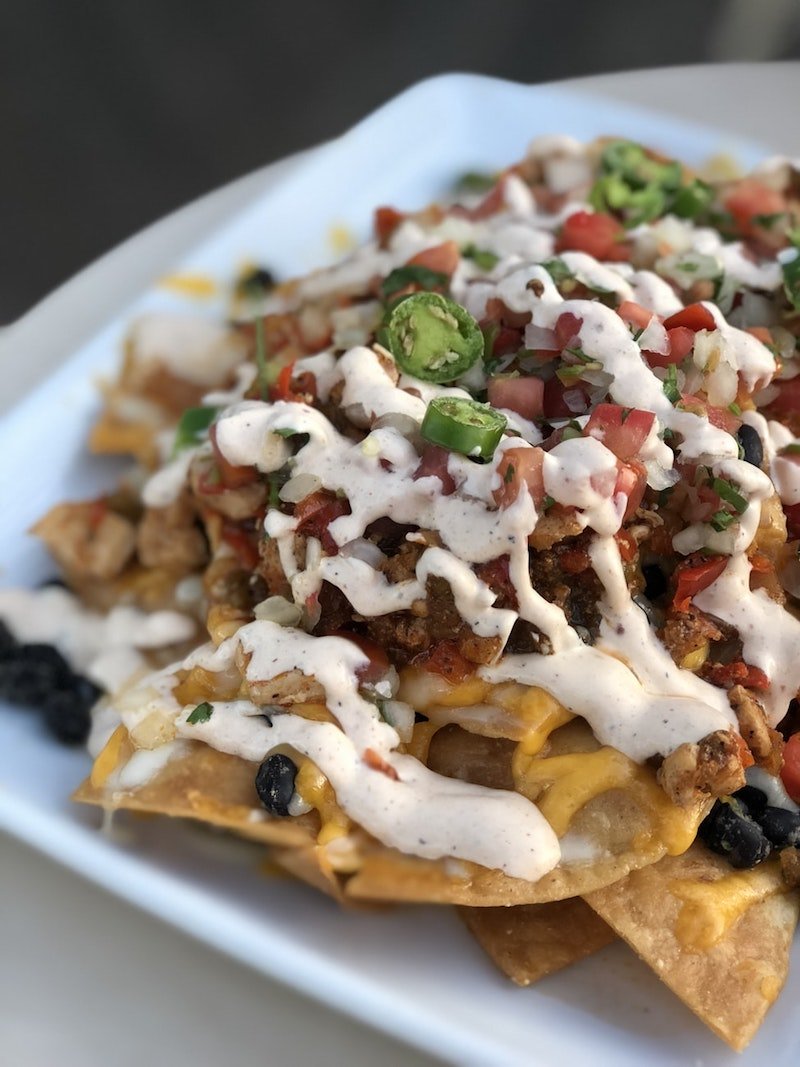 Image credit: Natasha Bhogal
Aztec Broadbeach Menu
Mains options for adults and teens include:
Nachos
Quesadillas (folded flour tortilla with a filling)
Burritos (a beef burrito is a winner)
Chicken Mexican (half a succulent chicken glazed in special spices and oven baked)
Tamale Pie, and
Chilli Verde simmered on the stove. (Get in my belly.)
Aztec Delight
There's LOTS of gluten free and vegetarian options.
Wash it all down with a Margarita, a jug of Sangria, a Mexican beer, or a cocktail.
BEST Aztec Mexican Mains Options
No.1: Chicken Enchilada
I can never go past that Chicken Enchilada mentioned before.
It's the best I've ever eaten anywhere in the world.
Most of my friends order the same thing!
No.2: Montezumas Delight
My friend Sellina loves her No. 1 – the Montezuma's Delight.
It's a soft tortilla smothered with frijoles beans, cheese, heaped with salad, salsa, sour cream and cheese and topped with black olives and beef.
At least the salad makes you feel like it's kind of healthy!
There's also a bunch of starters, including all the Mexican dips you can imagine (yep, chilli con carne too), plus a Taco Bar.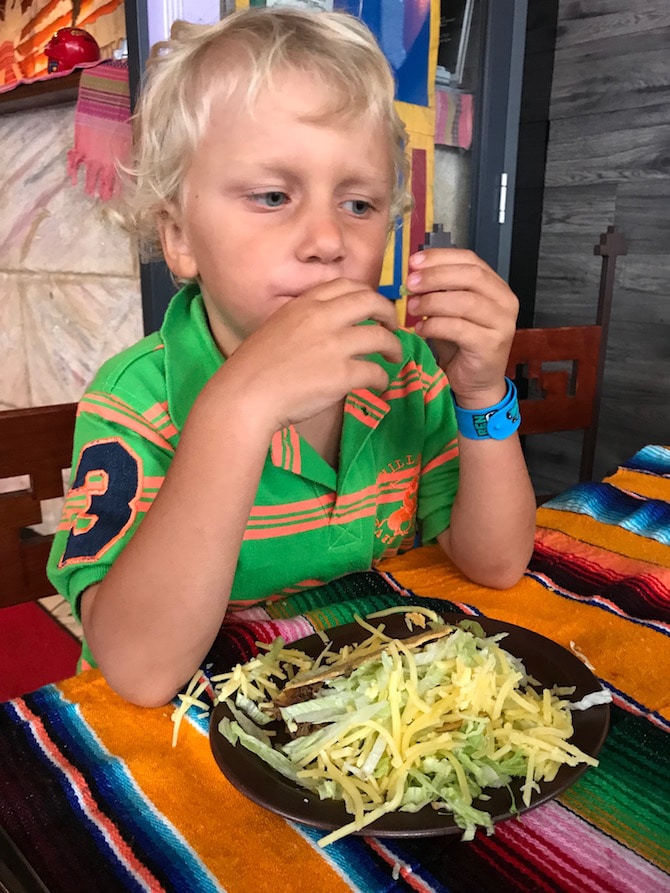 Aztec Mexican Food – Kids Menu
The Aztec kids menu has all their Mexican favourites – including one very plain dish of cheese on corn chips for the fussy eaters.
But for those with a bit more sense of adventure, there's:
Tacos
Cheese Enchiladas (a corn tortilla rolled around a filling and covered with a tomato sauce and cheese) and
Taquitos (a rolled tortilla with a filling, which is then crisp-fried).
At Aztec Restaurants, kids can choose their own filling for their meal:
shredded beef enchilada
chicken, or
beans for a vego option.
Or kids can try Tostadas (a Mexican version of an open-faced sandwich, with the fillings and salads on top)
Ned's favourite is the Fajitas, a roll-your-own dish where you fill a soft tortilla with your fave ingredients.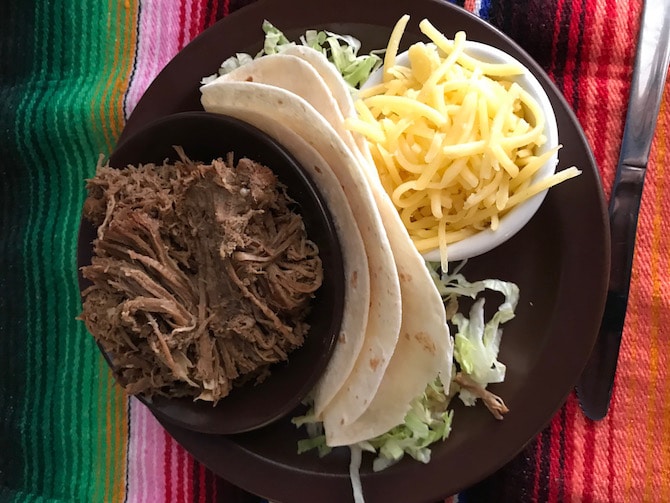 Gold Coast Mexican restaurant – Kids Meals with FREE dessert!
All kids meals come with a free soft drink or juice, AND a generous bowl of ice cream with topping.
Who could ask for more?
The best bit – all kids meals at Aztec are under $10, but start from $7!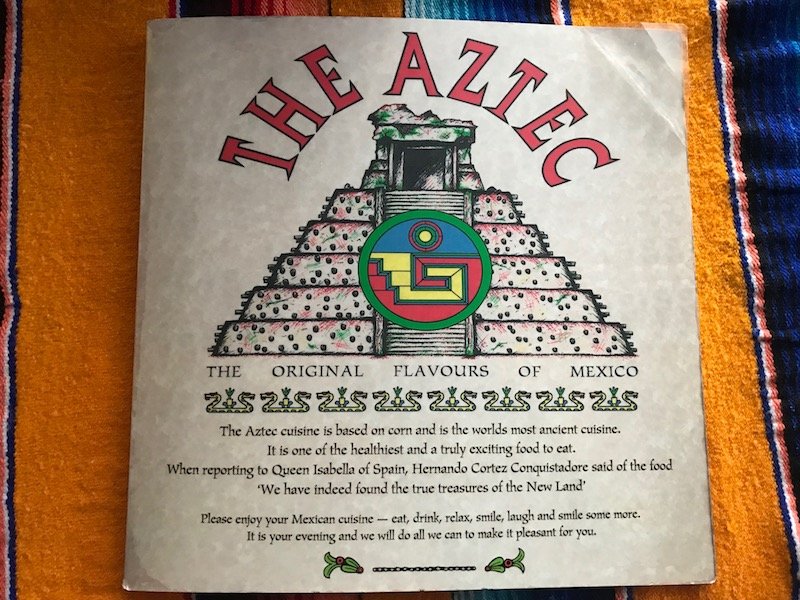 Aztec Deals
Also, check Scoopon or Groupon for bargain dining vouchers valid for Aztec meals during your stay.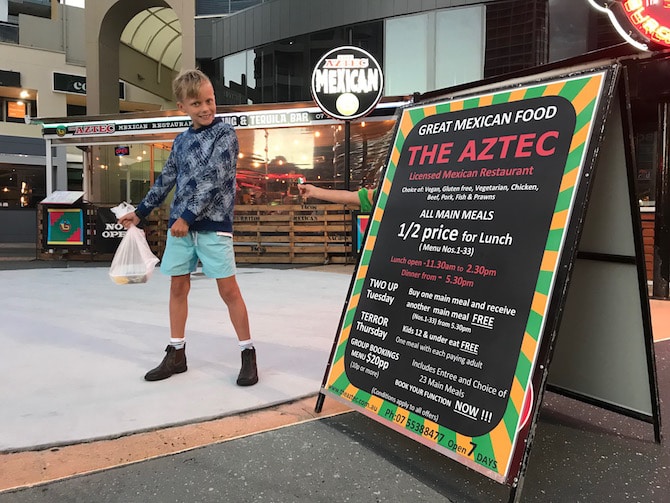 THE INSIDE SCOOP: The Aztec Restaurant Broadbeach
Correct at time of publication on Roam the Gnome. Please check with venue for updates. We apologise in advance if there have been any changes we are unaware of. All prices in AUD dollars, unless otherwise stated
Address: The Aztec Mexican Broadbeach restaurant is now located at The Aria, Building shop 11/17 Albert Ave, Broadbeach QLD 4218
Telephone: (07) 5538 8477
Opening hours:
Monday – Sunday:
Lunch 11.30am – 2.30pm
Dinner from 5.30pm
Bookings: Click here to book online
Aztec Broadbeach Mexican Restaurant Map
The Aztec Restaurant Coolangatta
Address: Aztec Mexican restaurant Coolangatta is now located at 152 Griffith St, Coolangatta QLD 4225
Telephone: (07) 5599 2748
Aztec Coolangatta Opening hours:
Weekdays – Lunch 11.30am – 2.30pm
Weekdays – Dinner from 5.30pm (Tues from 5pm)
Weekends – Open all day from 11:30am
The Aztec Coolangatta menu can be found here. (Find details of Aztec Coolangatta specials and ordering Aztec Coolangatta takeaway dinners too)
Two Up Tuesday buy one main meal and receive another FREE – from 5.30pm.
Definitely the best of the Coolangatta Mexican restaurants.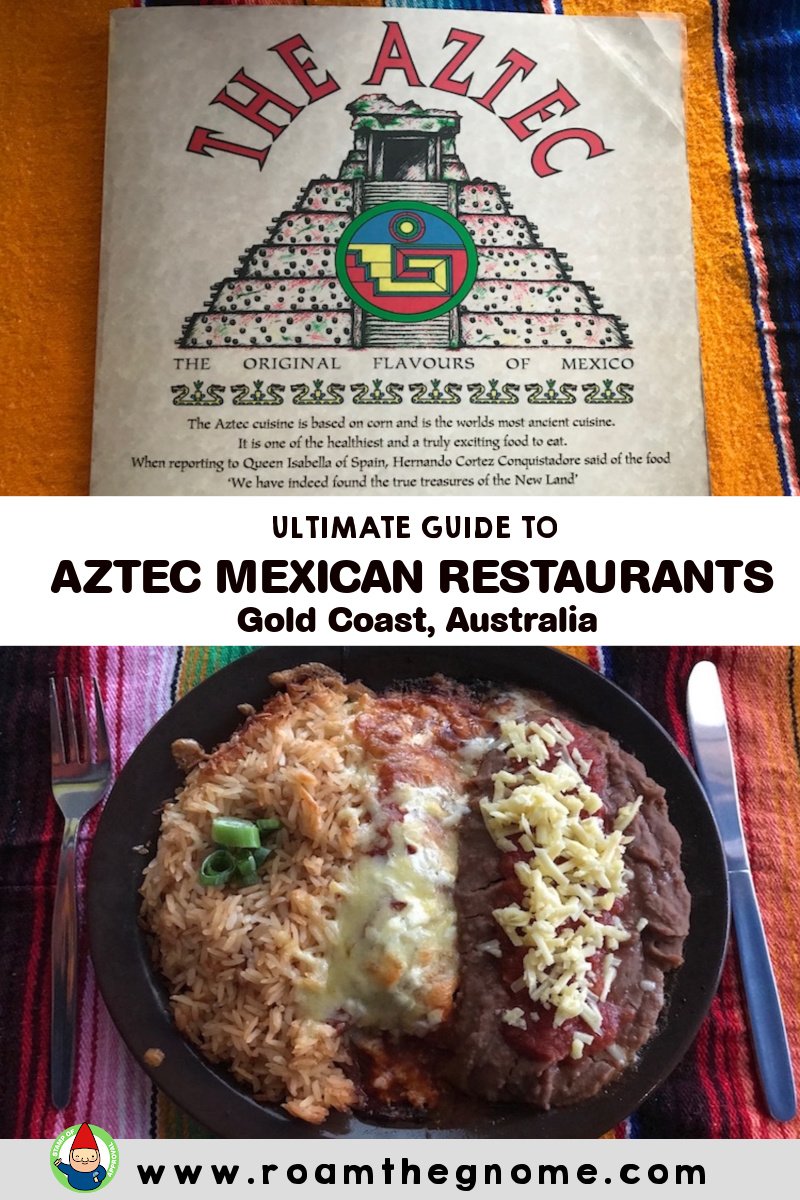 Montezumas Surfers Paradise
Address: Aloha Apartments, 8/12 Trickett St, Surfers Paradise QLD 4217
Telephone: (07) 5538 4748
Opening hours:
Monday-Thursday: closed for Lunch
Fri-Sun: Lunch 11.30am-2.30pm
Dinner 7 nights from 5.30pm
1/2 price lunch Friday to Sunday (Note: Main meals # 1 – 33 only).
Two Up Thursday: Buy one Main Meal and receive another Main Meal Free from 5.30pm (Conditions apply)
Terrific Tuesday: Buy one adults Main Meal and receive one child's main meal for free
Montezumas Burleigh Heads
Address: Old Burleigh Theatre Arcade, 64 Goodwin Terrace, Burleigh Heads QLD 4220
Takeaway and Pick Up Address: 1823 Gold Coast Highway, Burleigh Heads QLD 4220, Australia
Telephone: (07) 5599 2748
Montezuma's Burleigh Opening hours:
11.30 to 2pm, Monday to Saturday
5.30pm to 8.30pm, Monday to Thursday
5.30pm to 9pm, Friday and Saturday
11.30 to 8.30pm Sunday
Click here for Montezuma's Burleigh Menu (Find the Montezuma takeaway menu here too)
Toadstool Rating: Aztec Mexican Gold Coast

Looking for more places to eat on the Gold Coast with kids
Click the blue links for more Gold Coast ideas: