INSIDE: Roam the Gnome's Review of Currumbin Rock Pools Gold Coast.
Until instagram came along, Currumbin Rock Pools next to Currumbin Creek Road in the Gold Coast hinterland was a local's secret.
Tourists visiting the Gold Coast simply didn't know they existed.
But even today, with bigger crowds and better facilities and access, if you want an authentic experience of nature or a chance to swim in a turquoise-coloured pool of mountain dew water, head on out.
It's about 15 minutes drive from Currumbin Beach.
Bring fluffy towels. The water is icy!
Read all the details below, including how to get there.
Disclosure: This article contains affiliate links. If you make a purchase after clicking on one of these links, we may receive a small commission at NO extra cost to you.
Guide to Currumbin Rock Pools Currumbin Valley!
Check out the video above to see Currumbin Rock Pools in full glory.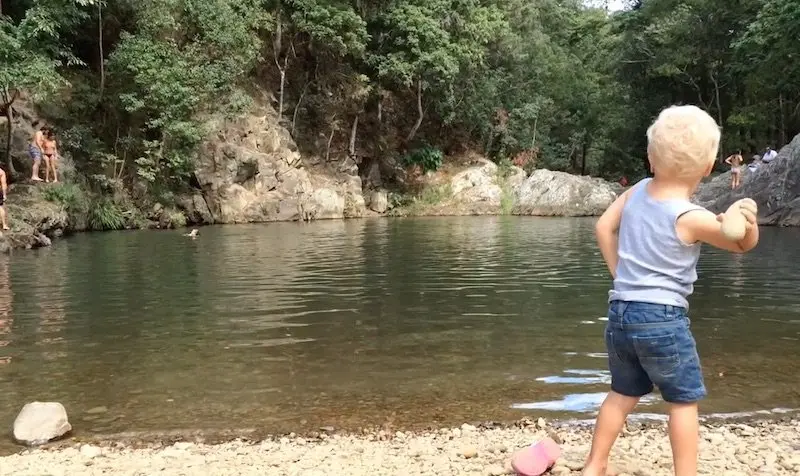 Swimming at Currumbin Rock Pool
Suitable for both young and old, the freshwater hole at Currumbin Rock pools is calm and flat water, and you can wade in from the rocky beach end.
It's great for day trips when you don't want to be sizzled by the sun on the beach.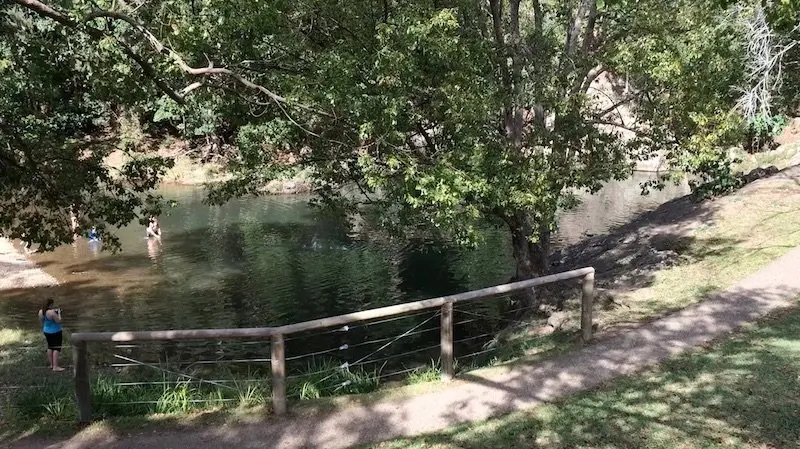 Currumbin Rock Pool swimming
When you arrive, follow the pathway down to the left side, to reach the pebbly beach area.
The water is varying depths, so keep a close eye on toddlers and little kids.
It's a refreshing dip on a hot day!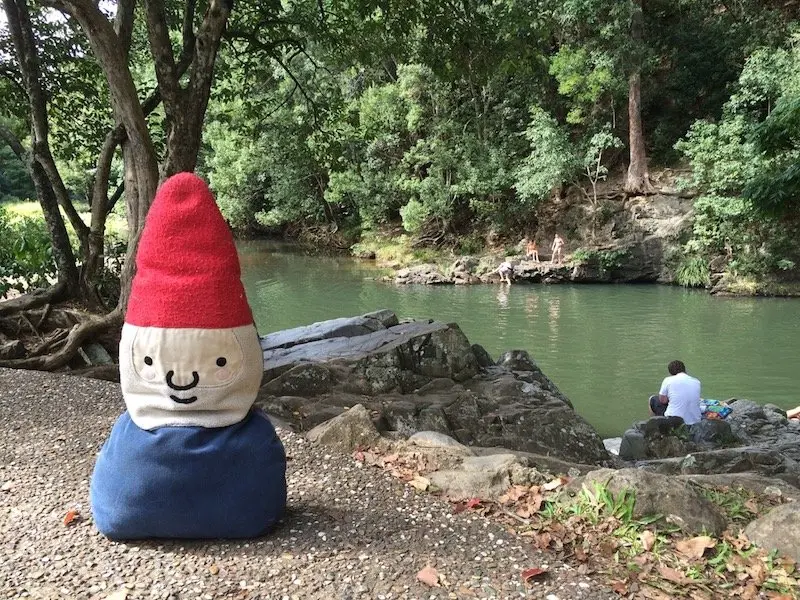 MORE Things to do at Currumbin Valley Rock Pools
No.1: Nature & Wildlife
One of the best reasons to visit Currumbin Rock Pool is to enjoy nature and the natural environs of the GC.
Listen out for the Australian native bird calls!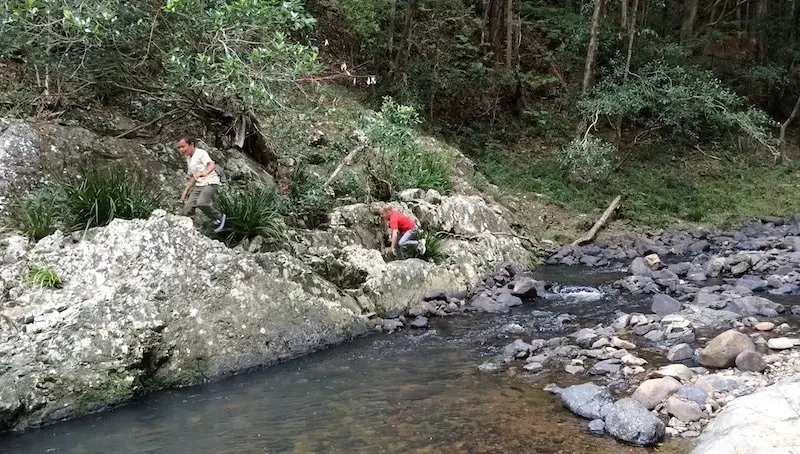 No.2: Parkour
My eight year old and his mate LOVED the craggy rocks.
Bounding up and down the rocks is a great opportunity to build motor skills and balance development.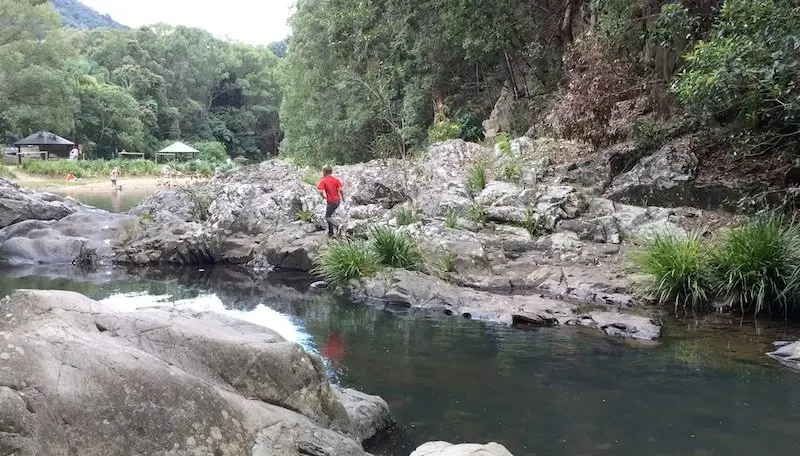 Rock bouldering fun!
The boys thought it was just the coolest spot for a bit of (practice) "parkour"-style nature-based rock jumping!
Fun Fact: Parkour is the activity or sport of moving rapidly through an area, typically in an urban environment, negotiating obstacles by running, jumping, and climbing.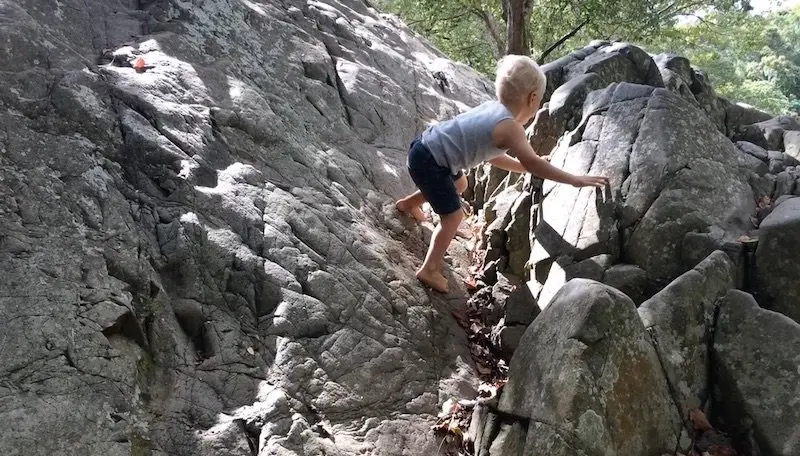 No.3: Toddler Nature Playground
The Currumbin Valley rockpools are a fabulous spot for a bit of nature play or 'bush schooling' adventures, especially during the weekdays when it's less busy.
Grab a bunch of friends and spend the morning.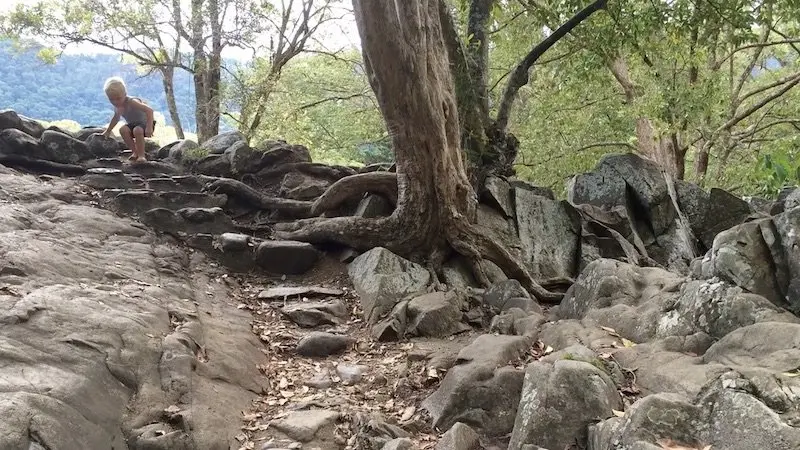 The tree vines make excellent steps for toddlers and preschoolers (and awkward mamas!)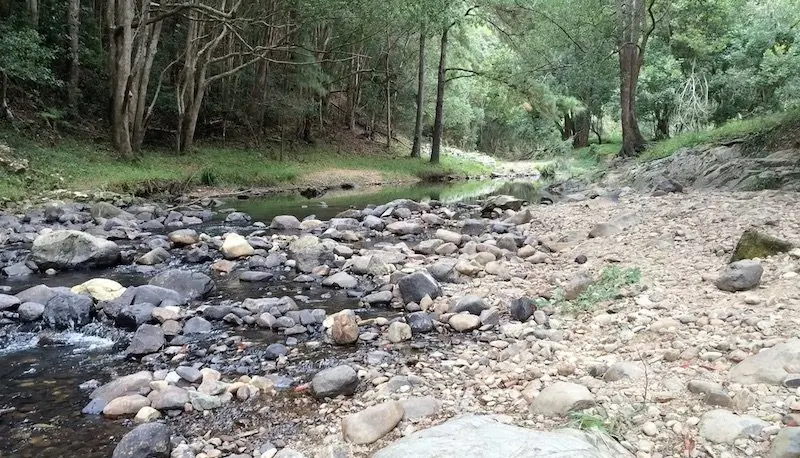 No.4: Water play for kids
The creek bed on the western side of the rock pool is shallow and slow moving, with lots of little stones for skimming.
Kids love to dam the water with stone cairns too, and a good few hours can be spent in this area alone.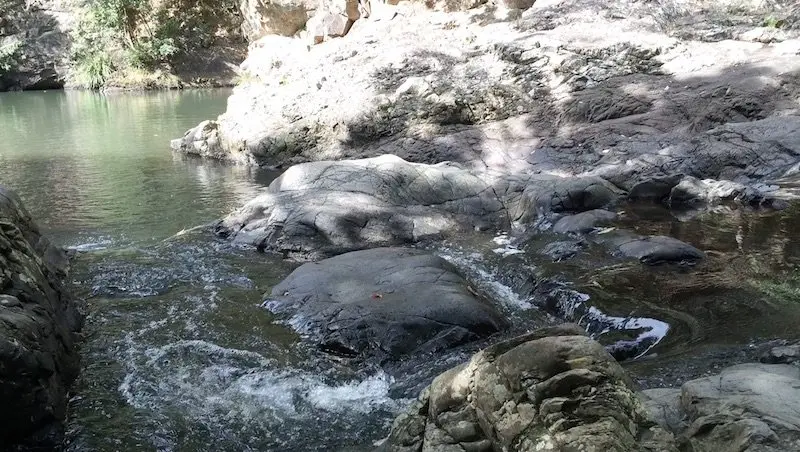 No.5: Currumbin Rock Pool "rapids"
BYO "black bean seed pods" to use as boats on the 'rapids'.
Or race some sturdy leaves down the bends!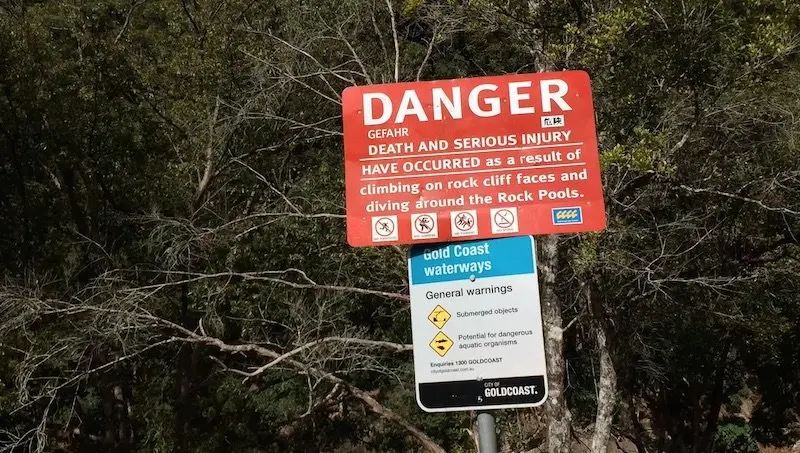 Hidden Dangers at Currumbin Rock Pools Gold Coast
Lifeguards DO NOT patrol here and the water in the rock pool can be deep in places.
There are also hidden rock shelves under the water in some places.
It's very popular for teens and adults to jump from the high ledges, but it's risky.
There are accidents regularly, sometimes resulting in permanent injury or disability when someone slips or makes a wrong calculation on a jump.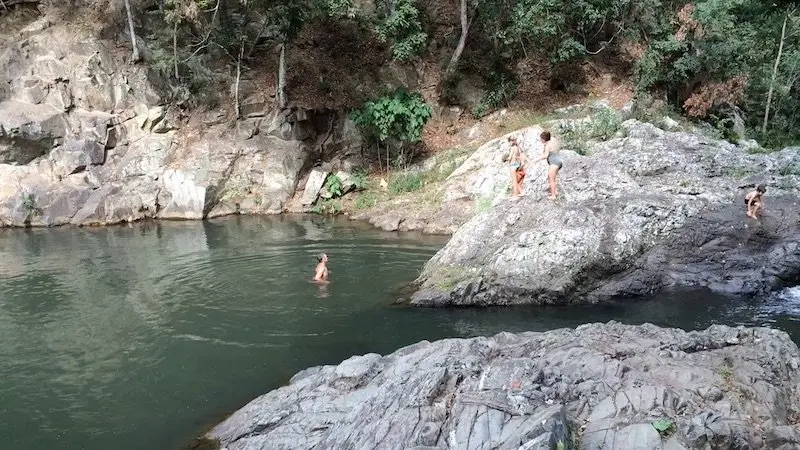 Use Caution and Care
While we never want to spoil anyone's fun, please take extreme care and caution.
Jumping into the water from the rocks at Currumbin Rock Pools is at your own risk.
Murky stirred up water may hide dangers!
BE CAREFUL.
---
RELATED: Big List of Things to Do on the Gold Coast with Kids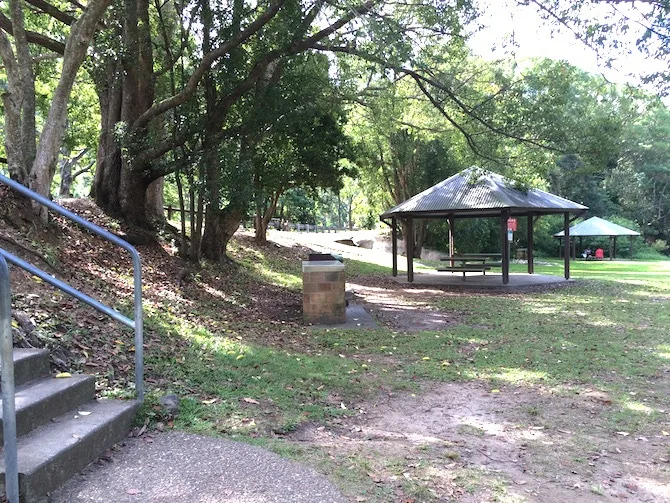 Picnic Tables and BBQ's at Currumbin Creek Rock pools
There's:
undercover picnic tables at the top near the facilities (and a few more down by the lower entrance to the base pool),
free gas bbq's, and
a toilet block (can be a little stinky)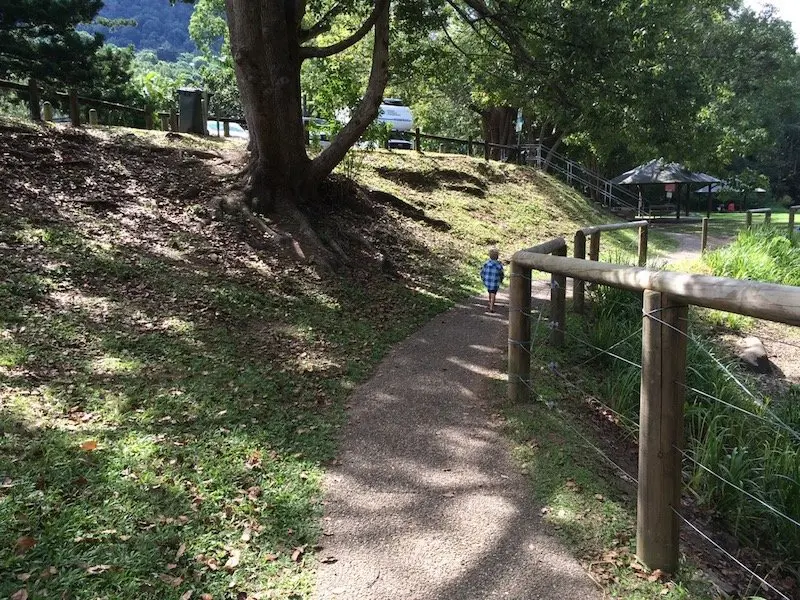 BYO Toilet Paper!
Hot tip: BYO toilet paper. It's a good idea if you are travelling with the kids – when we were there, all four rolls in the toilet were soggy. Eeewww!
BYO picnic rug and try to nab a patch of grass.
It does get busy so we'd suggest early morning or late afternoon for your visit.
(Not like when we were kids and no-one came here!)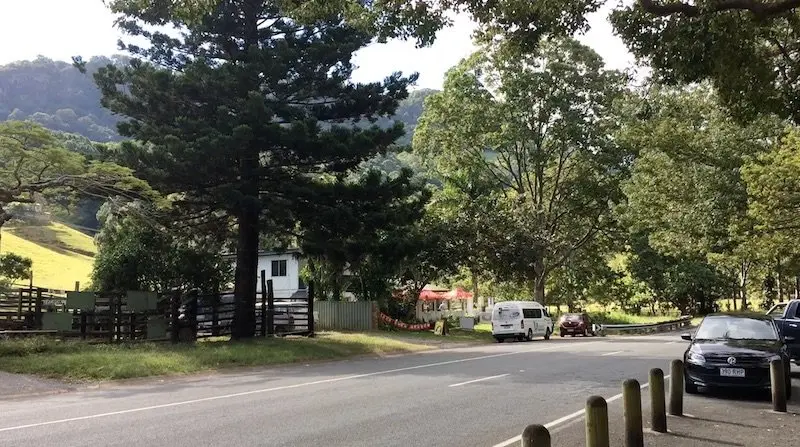 Currumbin Rock Pools Cafe
BYO picnic, or buy lunch at Currumbin Rock Pool Cafe across the road (about 100 metres east of the entrance sign).
There's an eat-in area and they offer takeaways too:
coffees
delicious cake
ice-creams, and
savoury food too.
While you are waiting for your order, have a look at the little Currumbin Valley Art Gallery attached.
Cafe is located at 1206 Currumbin Creek Road.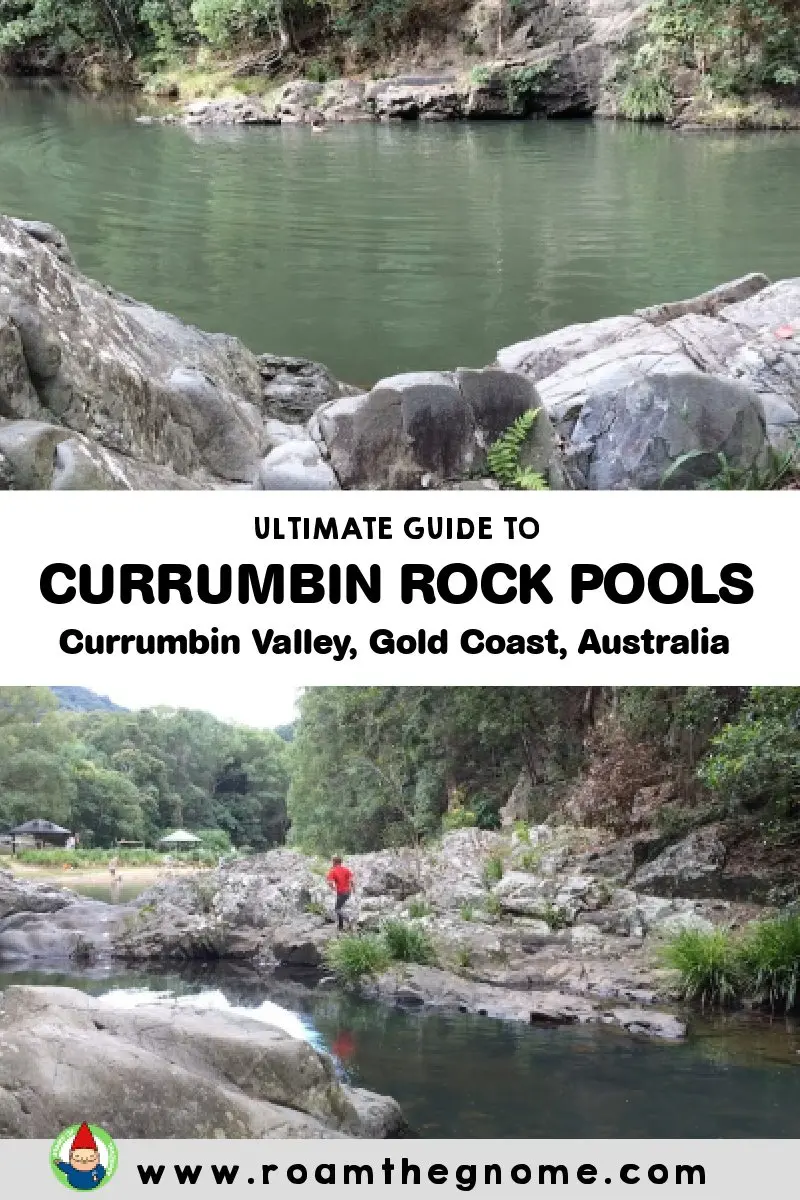 Hot tip: Mount Cougal National Park – Cougal Cascade
Just 6km further up the road is the Mount Cougal National Park with more swimming holes, and a kid-friendly walking track.
The elusive Currumbin Rock Pools water slide can be found at Cougal Cascades at Currumbin Valley, along the 1.6 km pathway called the Cascades Track.
(It's paved with bitumen the whole way, so not such a natural experience for bush walkers!)
Read our review of Cougal Cascades in Currumbin Valley here.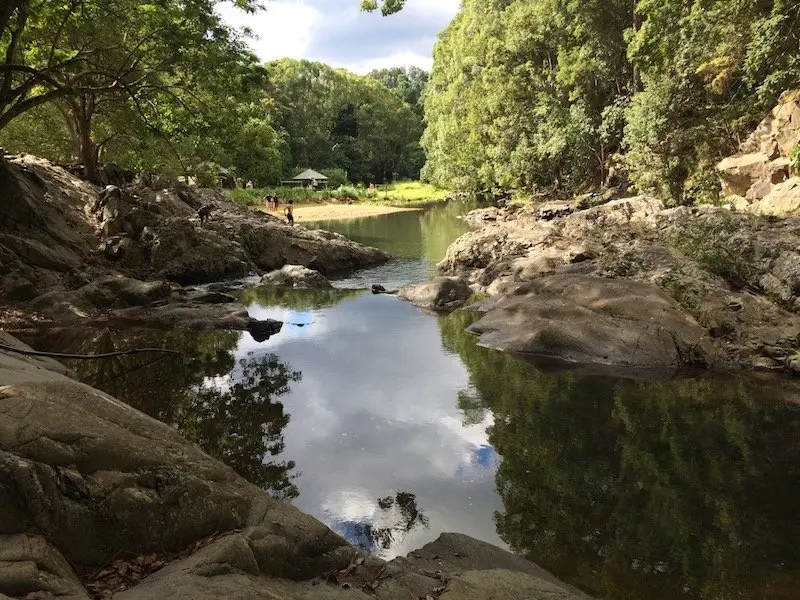 THE INSIDE SCOOP: Best Gold Coast Rock Pools for Kids
Correct at time of publication on Roam the Gnome. Please check with venue for updates. We apologise in advance if there have been any changes we are unaware of. All prices in Australian dollars, unless otherwise stated
Currumbin Rock Pools Address: Currumbin Creek Rd, Currumbin Valley QLD
Telephone: 1300 GoldCoast (1300 465 326) – Gold Coast City Council Parks and Recreation
Opening Hours: Sunrise to Sunset
Entry Fees: FREE!
Directions to Currumbin Rock Pools
By Car: You'll need a car to get here.
From the M1 highway, take the Tugun exit
Drive for 19 minutes along Currumbin Creek Rd.
You'll pass the Currumbin Eco Village on your left, Currumbin Valley Pottery on your right, and the Murwillumbah turn off (Tomewin Mountain Rd) on the left.
4km on, you'll find the Rock Pools on your left.
Click here for google map directions.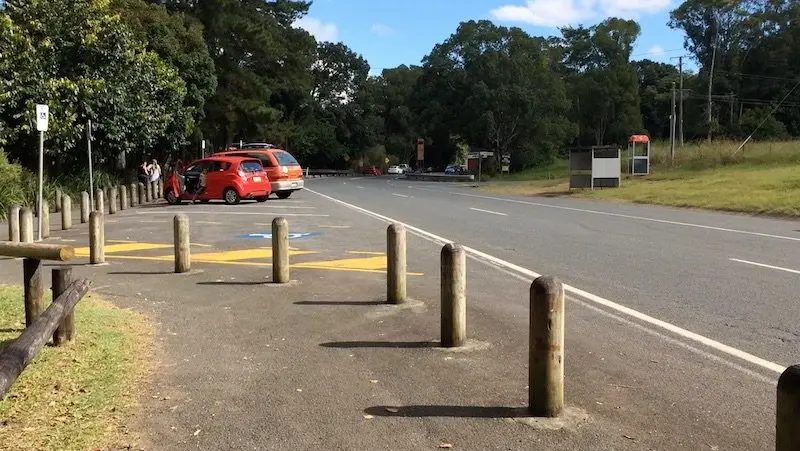 Currumbin Rock Pool parking
There's a few dedicated car park spaces on the left hand side of the road as you approach.
If these are full, you'll need to parallel park along the road.
250 metres further up the road is the Currumbin Valley primary school.
You can utilise the spaces there if it's a weekend.
Currumbin Rock Pools Map
Facilities at the Rock Pools at Currumbin Valley
Public toilets: Yes
Shade: Trees abound
Enclosed: No
Ground cover: Grass, rocky paths through bushland, concrete pathways to pools
Picnic tables: Yes
Electric BBQs: Yes
Water Bubblers: Yes
Scooters and Bikes: Not suitable
Lockers: No
Dogs: On leash only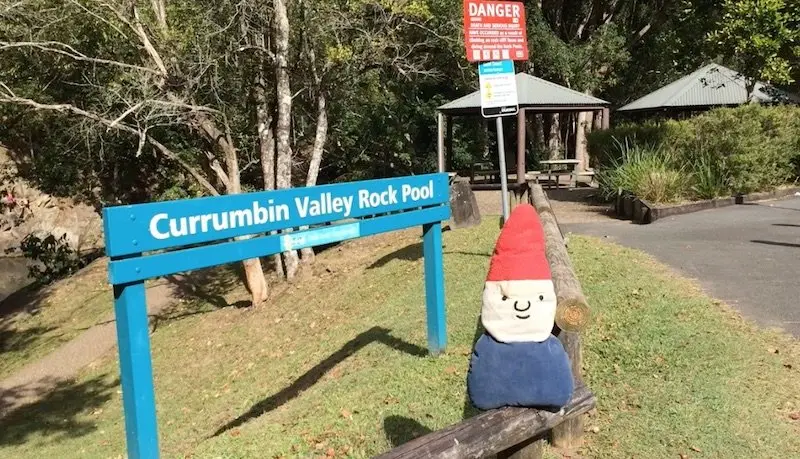 Toadstool Rating: Currumbin Rockpools
It's a long way to go to find it's crowded with tourists and visitors.

Best Things to do in Currumbin with Kids & nearby?
Click the blue links below for more Gold Coast ideas