INSIDE: Everything you need to know about getting around Gold Coast QLD.
The Gold Coast is Australia's family holiday mecca!
Think Waikiki meets Ft Lauderdale.
From one end of the coast to the other, it's:
57 kilometres of deliciously white-sandy beaches, scooter and bike footpaths
seaside playgrounds
outdoor eateries
gorgeous blue-sky weather 300 days a year, and
WARM all year round, averaging early 20's temperatures celsius (approximately 70-odd farenheit) during the day in WINTER.
Put it this way.
Melbourne and Sydney-ites think nothing of swimming here all year round.
(While many locals won't put a toe in between April and August as it is 'too cold'!)
It's the theme park capital of Australia, with Dreamworld, Seaworld, Warner Bros. Movie World and Wet'n'Wild just waiting to tempt families with thrilling rides, forbidden food, noise, chaos and SUPER DOOPER family fun!
It's Australia's number one family holiday destination.
And there's more…
Disclosure: This article contains affiliate links. If you make a purchase after clicking on one of these links, we may receive a small commission at NO extra cost to you.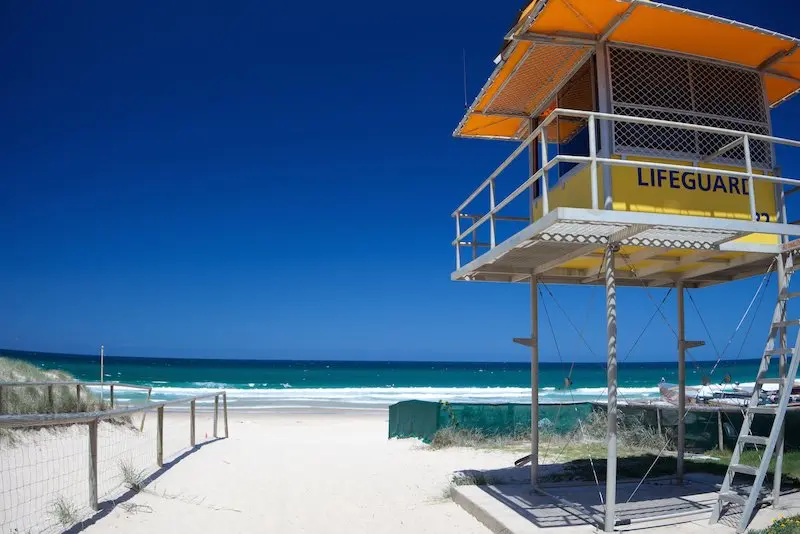 Gold Coast Holiday for Families
Hidden behind the coastal gems of hip locales, food truck feasts, and events galore, is the green hinterland:
spectacular drives to waterfalls
glow worm caves
rock pools for swimming
art gallery walks
craft shops
fudge shops
farm animals
cosy fireplaces
quaint family-friendly eateries, and
craft shops and markets for that perfect one-of-a-kind souvenir.
Gold Coast.
You'll fill a week chockablock, but could easily spend a month!
Find details of how to get around the Gold Coast, and more of the best things to do on the Gold Coast below.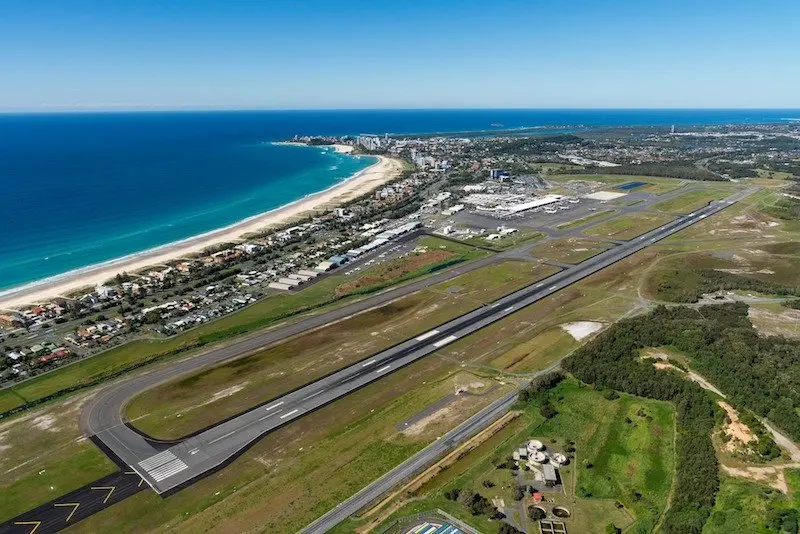 Image credit: Gold Coast Airport
THE INSIDE SCOOP: GETTING TO THE GOLD COAST AUSTRALIA
Correct at time of publication on Roam the Gnome. Please check with venue for updates. We apologise in advance if there have been any changes we are unaware of. All prices in AUD dollars, unless otherwise stated
Arrival via Gold Coast Airport, Coolangatta
No.1: Pre-booked private transfer
Travelling with kids?
The simplest and best option is to grab a pre-booked family transfer. While it's not the cheapest option, it's definitely the sanest one!
Personalised service.
No mucking about with big groups, or big coaches full of other holiday makers AND FIXED PRICES with NO hidden surcharges.
When you are with small kids, THAT is worth every cent.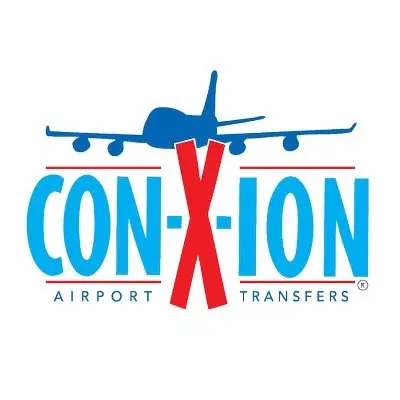 No.2 Gold Coast Airport to Accommodation Transfers Door to Door
CON-X-ION AIRPORT TRANSFERS FROM GC AIRPORT
Call to enquire on 5556 9888
For more details or to make a booking, click here
Upon arrival, collect your luggage from the luggage carousel and proceed to The Fix Café (please wait inside).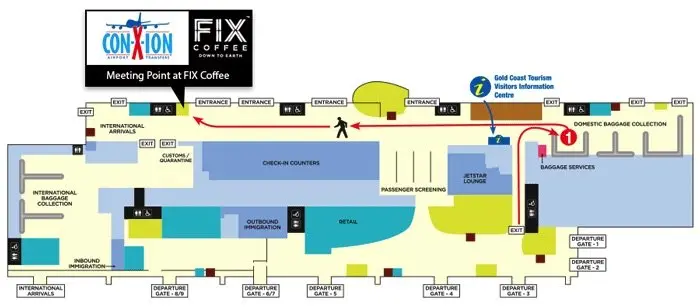 See the maps below for directions.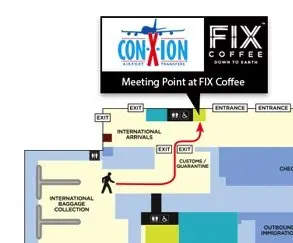 BUSINESS CLASS TRANSFERS
This company offers transfers from GC airport to accommodation across the Gold Coast.
Worth a call for a quote.
To book or enquire, visit the BCT website here.
GOLD COAST TOURIST SHUTTLE
When you want to get to your hotel without hassle and huge fares, the Gold Coast Tourist Shuttle Airport Transfers could be the way to go.
All these transfers pick you up and drop you off right at your hotel door.
Travel in comfort and with some personal space.
The entire Gold Coast Tourist Shuttle fleet is designed specifically for Gold Coast transfers.
All of our fleet feature air-conditioning, friendly bus drivers and your own guaranteed seat in a spacious, purpose built coach.
Under 4yrs travels free on the Gold Coast Tourist Shuttle.
There are family rates also.
Gold Coast Tourist Shuttle also offers a Freedom pass, that includes:
a Return Gold Coast Airport transfer
Unlimited Daily Theme Park Transfers and
Unlimited use of the 24 hour a day Surfside Buslines local bus network
Freedom Passes are valid for consecutive days from and including the airport arrival date.
For prices on the Freedom Pass, click here.
Hot tip: If you like to shop around for prices and convenience for airport transfers, here is a downloadable PDF list of more ground operators you might try, with thanks to GC Airport.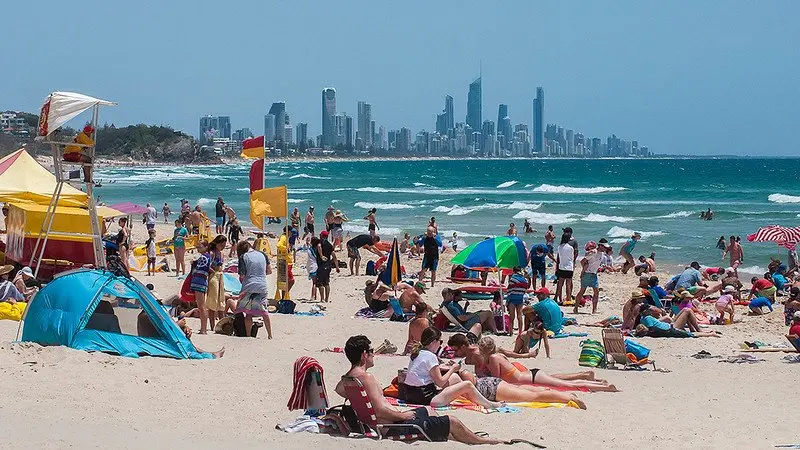 Image credit: Kerrie Brailsford via Flickr CC BY-SA 2.0
No.3: Uber
We prefer UBER over taxi's anyday.
The cashless transaction is documented (it's all done via an app) and the app lets you know WHO the driver is (and see their face) and WHEN they are coming, right down to being able to watch their approach on a google map, as the UBER app shows details.
It feels MUCH safer to me to use this service than some random driver in a taxi.
Uber travel is also cheaper!
Visit the website or download the UBER app here, if you haven't already.
No.4: By Gold Coast Taxi
Phone Gold Coast City Cabs on 07 55 88 1234 or book online.
Use their app.
Get a general price guide by using their fare estimator on the website or app.
No.5: Skybus Gold Coast
The newest entrant on the Gold Coast transportation market, Sky Bus is one of the cheapest ways to get from the airport to Gold Coast suburbs and Byron Bay.
Details here.
No.6: Gold Coast Car Hire
FAMILY CAR RENTALS
Family Car Rentals prices are good and might be worth looking into.
They will pick you up from the airport and take you to their office to collect your hire car.
EAST COAST CAR RENTALS CAR HIRE GOLD COAST
East Coast Car Rentals are located in Tugun, just up the road from the airport.
Again, they'll pick you up in their free shuttle bus to take you to your car.
RENT-A-BOMB (Gold Coast AND Brisbane locations)
Check out their web specials here first.
Rent a Bomb Car Hire are located at 1273 Gold Coast Highway Palm Beach (07) 5568 7333.
Palm Beach is about 5 minutes drive north of the airport.
In my experience, off-site companies are quite a bit cheaper than ones located at the airport and for a few minutes inconvenience of travelling offsite, can save you big bucks I'd rather use DURING my holiday.
It's also less stressful to start driving a new unfamiliar car without the pressure of honking horns and the hectic pace of the airport driveway!
ALL THE BIG 6 CAR RENTAL COMPANIES
The big 6 car hire companies are located at the Gold Coast Airport too.
In my experience, some of these companies often have hidden charges so it's wise to read that contract carefully before signing to make sure you know the FULL price you'll be up for!
Sometimes these companies have deals that can save you $$ on entry fees into theme parks and holiday destinations.
Might pay to do your sums.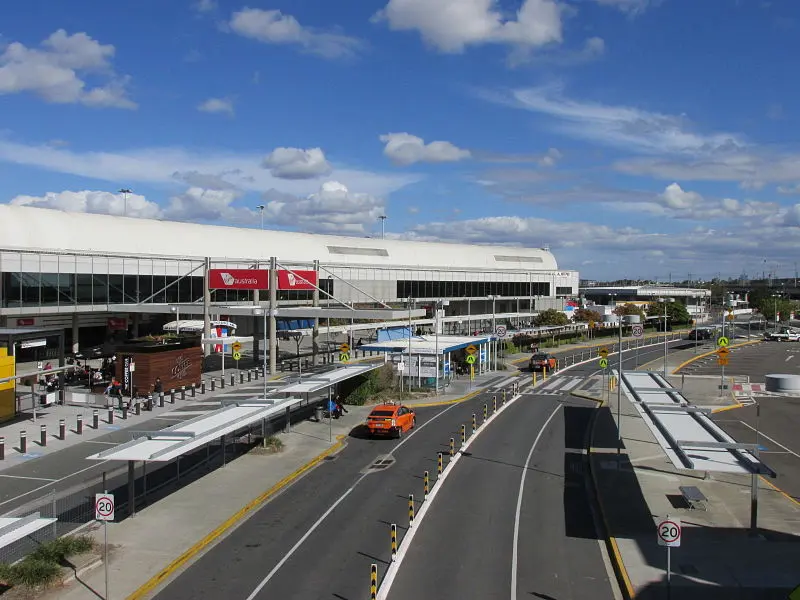 Image credit: Orderinchaos via Flickr CC BY-SA 3.0
Arrival via Brisbane Airport
Here's details on how to travel from Brisbane to Gold Coast, and in reverse, how to travel from Gold Coast to Brisbane.
No.1: Pre-booked private transfer to the Gold Coast from Brisbane
EXPRESS TRANSFERS
Personalised service.
Click here for a price guide.
Or call for a quote 0409 084 150.
BLACK LABEL TRANSFERS
Click here for a price chart.
Call these guys for a quote on 1300 255522 or book online here.
No.2: Brisbane Airport to Accommodation Transfers Door to Door
CON-X-ION AIRPORT TRANSFERS
Con-x-ion Airport Transfers provides services to the Gold Coast, door-to-door from Sanctuary Cove to Coolangatta, east of the Pacific Highway.
Passengers can book transfers at the Con-X-ion customer service counter on Level 2 of the International Terminal and at the Con-X-ion kerbside booth at the Domestic Terminal.
Phone: 1300 266 946
To book or enquire about rates, visit the website.
BUSINESS CLASS TRANSFERS
This company also offers transfers from Brisbane to the Gold Coast.
Worth a call for a quote.
To book or enquire about rates, visit the website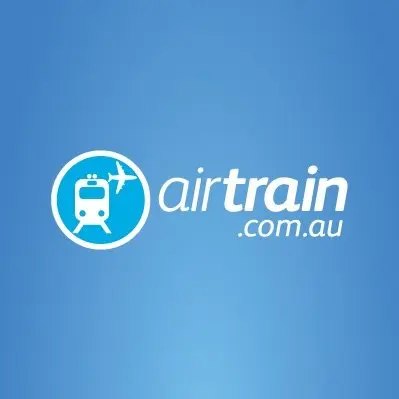 No.3: By Brisbane to Gold Coast Airtrain
Airtrain is safe, reliable and comfortable and offers services between Airport, Brisbane City and the Gold Coast.
It's a quick walk from the airport terminal over the airbridge to the platform.
Air train departs every 15 minutes during peak hours and every 30 minutes during non-peak times.
Journey takes about 90 minutes to the main transfer stations of Nerang or Robina.
From there, you can grab a taxi, or bus it (bus not recommended – too much hassle!)
If a no-stress train trip is your goal, I'd go for Airtrain Connect where you combine the Airport to Gold Coast train trip with a chauffeur vehicle pick up from the nearest train station to your accommodation.
Book tickets for Airtrain here
Hot tip: Buy online at least 7 days in advance and get a 15% discount!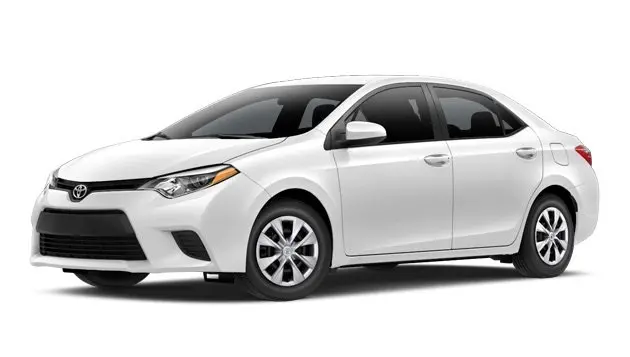 No.4: Brisbane Car Hire
VROOM VROOM VROOM
Compare car hire prices at Vroom Vroom Vroom.
Let them do the searching and comparing for you!
Their claim is "Free To Book, Free To Cancel and Cheapest Price Guaranteed" but they only compare the big 6.
Still worth a few minutes of time I think.
BRISBANE AIRPORT CAR HIRE
This is another company that does the behind-the-scenes car hire price comparisons but with MORE brands and companies on their books including some car hire places I've never heard of.
You can also call 07 3503 6794 or toll free 1300 350 401.
ECONOMY CAR RENTALS
Economy car rentals have deals with a bunch of the major car hire companies and can supposedly get you the same deal for less, worldwide!

ALL THE BIG 6 CAR RENTAL COMPANIES
The Big 6 car hire companies in Brisbane have depots at the airport too if you prefer to just rock up and book, or have a favourite.
Contact details above.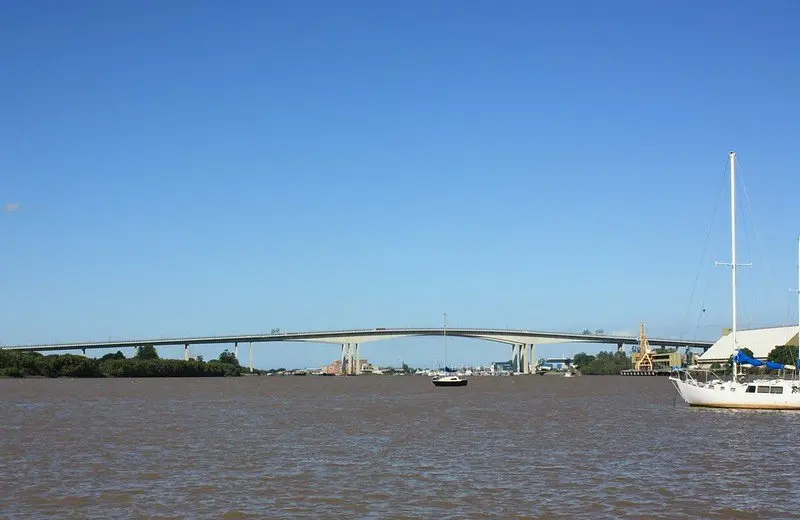 Image credit: Jan Smith via Flickr CC BY 2.0
FAQ: Brisbane Road Tolls
NB: Brisbane's road traffic network is outstanding but beware of toll roads. There are plenty.
AirportlinkM7
Operated by BrisConnections, you will hit this this toll road within around 10 minutes of leaving Brisbane Airport in your rental.
A car will cost $4.50 (US$3.72) between Bowen Hills and Kedron.
Between Bowen Hills and Toombul it's $4.98 and $3.82 between Kedron and Toombul.
A day pass for all routes is $14.68 (US$12.13).
Clem Jones Tunnel (CLEM7)
Operated by Queensland Motorways, this travels under the Brisbane River between Bowen Hills to the north, near the tip of the M7, all the way down to Woolloongabba in the south.
The CLEM7 is a direct route for the likes of Chermside Shopping Centre and the RNA Exhibition grounds.
The electronic tolling system currently costs $4.78 for your rental car, then varies for shorter journeys.
Again, check with the rental provider – it will help if you have a rough idea of where you're travelling.
Gateway Motorway and Bridges
Located on the eastern side of the city, the Gateway Motorway travels via Gateway Bridges, also taking in Sir Leo Hielscher Bridges.
It's the perfect route between the Gold Coast and Sunshine Coast, so is very popular.
Running from Nudgee to the Pacific Motorway interchange at Eight Mile Planes and on to the Logan Motorway Extension, there are two toll points:
Murarrie between Exits 105 and 103 (Sir Leo Hielscher Bridges) and,
later Kuraby.
The toll tarrif for a car at Murarrie is $4.25, at Kuraby $2.51.
Logan Motorway
There are three toll spots on Logan.
Heathwood will cost you $2.65
Loganlea $1.61 and
Paradise Road $2.65.
Go Between Bridge
Four lanes wide, this route over the Brisbane River will take you to the South Bank, Gallery of Modern Art and Suncorp Stadium. Connecting Merivale and Cordelia Streets to Hale St and the Inner City Bypass, it's fully electronic so you will not see any toll booths.
But that doesn't mean you're not being charged.
Your rental car will be charged a toll of $2.98.
No.5: Arrival by Private Car
Yay! You made it.
Now unload the car, and let's get this holiday started.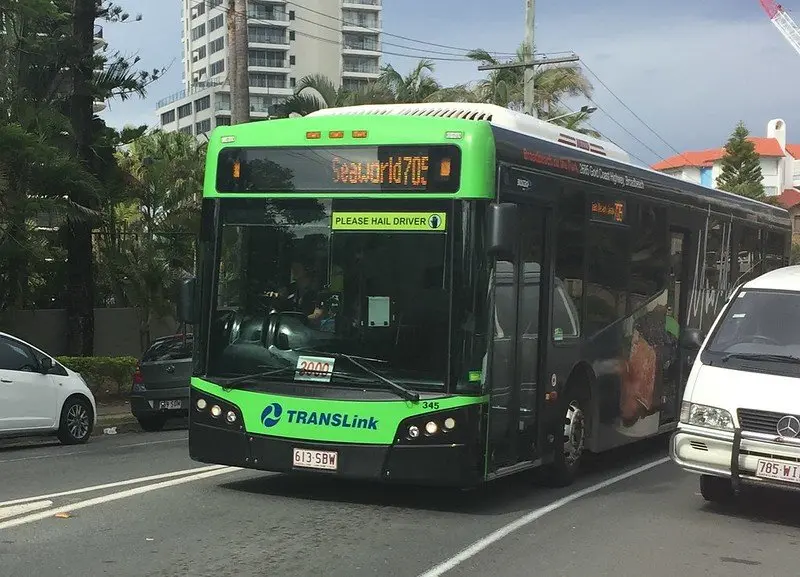 Image credit: Simon Sees via Wikipedia CC BY-2.0
GETTING AROUND GOLD COAST AUSTRALIA BY PUBLIC TRANSPORT
While it is super easy to get up and down the length of beachside Gold Coast from Southport to Coolangatta on public buses, or take the Gold Coast light rail system to shuttle between Broadbeach and Southport, I'd have to say that with the exception of super short trips, travelling the Gold Coast by public transport is a big time-suck, using up valuable hours of fun play time.
Hot tip: Here's the guide to the Gold Coast tram zones (includes the Gold Coast monorail routes on G link, Gold Coast tram route map, and the Gold Coast tram cost estimates).
There are two Gold Coast water taxi services that can take you to most waterside venues around the Broadwater and Sanctuary Cove too.
It's also NOT so easy to get around the rest of the coast.
If you want to visit the hinterland, forget it.
Getting around Gold Coast without a car is a nightmare.
Car hire is the way to go.
If you have kids, it will probably be worth every penny and probably not that different to what you'll pay in total when you add up all airport transfer fees, taxis, ubers, shuttles to theme parks etc and THINK OF THE CONVENIENCE.
Convenience is the dream word when it comes to travelling with kids.
It's the key trick to making family travel a breeze!
Budget for convenience.
You'll thank me!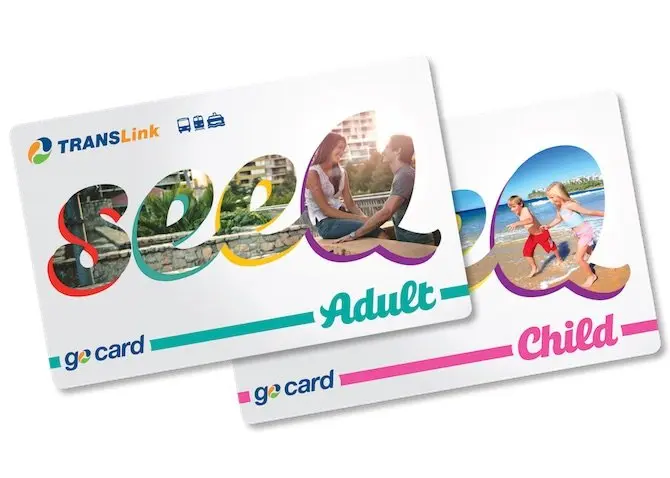 Gold Coast Public Transport
If you do decide to take trains, trams, and buses, you'll need some kind of a Go Card.
No.1: SEE Q CARD (for those families who will include Brisbane in their itinerary)
If you arrive in Brisbane, there's a family travel visitors option called a seeQ card, purchase either online or at selected Go Card locations throughout south east Qld.
With a seeQ card, you can travel three or five consecutive calendar days on all TransLink bus, train, ferry or tram services.
The SeeQ card includes 2 journeys on Airtrain services to anywhere on the TransLink network.
Adults and children over 15 years can travel on the entire TransLink network of bus, train, ferry and tram services for 3* days for $79 or 5* days for $129.
Children's prices are $40 for 3* days or $65 for 5* days.
Children aged 5 to 14 years inclusive.
Kids under 5 are FREE! ( *consecutive calendar days)
Buy online now or find your nearest retailer
How to use seeQ card.
Always touch on and touch off.
As you board a bus or ferry, enter a train or tram station or platform you will need to touch your seeQ card flat to the card reader.
Only remove your card from the reader when you see a green or amber light and a beep is sounded.
This will signal you have used your card correctly.
You will need to repeat this process as you exit the vehicle or station.
The first time you touch on your seeQ card is your first day of travel. Your seeQ card is only valid for three or five consecutive calendar days of travel (depending on the type of card).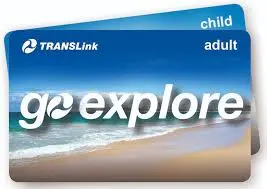 No.2: GO EXPLORE CARD (for those families who want to explore GC exclusively)
Once on the Gold Coast, The Gold Coast go explore card is an electronic ticket which offers visitors unlimited travel on any TransLink bus or The G-link tram service on the Gold Coast for only $10 a day and $5 for children.
Travel is FREE for kids under 5! (Now that is a bargain!)
Your card is valid on all TransLink bus and tram services throughout the Gold Coast.
To activate your travel day simply touch on when boarding and touch off as you exit each bus or tram service you use.
Reload your Gold Coast go explore card with another day pass at any tram station, selected TransLink retail agents or on board Gold Coast buses.
Cards can be reloaded with up to 8 day passes at any one time.
The passes do not have to be used on consecutive days.
Gold Coast go explore cards expire 12 months after the date of purchase.
All pass reloads and travel using the Gold Coast go explore card must be completed before the card expires.
There are no refunds on the actual card at expiry.
NB: You cannot use this card on train services from Varsity Lakes to Brisbane and will need to purchase a train ticket separately should you plan a Brisbane-bound trip.
You can purchase the Gold Coast go explore card from:
selected hotel booking desks
the Gold Coast Airport
7-Eleven stores
the Translink website, or
by calling 13 12 30.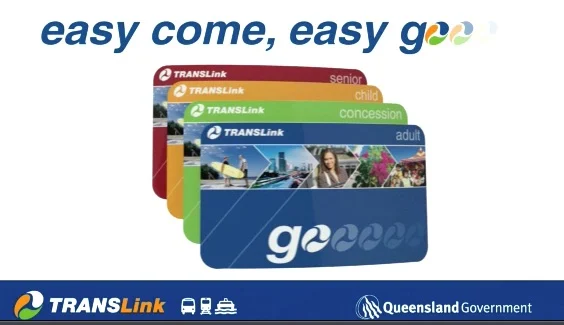 No.3: GO CARD (Regular)
If you won't be using public transport that often, then a regular Go Card is the go.
Fares on the Go card are cheaper than paper tickets and much more convenient as you just fill up the card as you go, and tap on and off when you use it.
There are many ways a go card will save you money:
go card is at least 30 per cent cheaper than a single paper ticket.
Travel in off-peak and save a further 20 per cent. Travel between 8.30am and 3.30pm, after 7pm on weekdays and all day on weekends and on public holidays to receive an additional 20 per cent saving off your go card fare.
Make 9 journeys then travel free. Travel for free after your 9th paid journey in a 7 day period, from Monday to Sunday, regardless of the zones travelled.
Concession fares are 50% cheaper than adult fares and apply to children, students, pensioners, seniors and defence force veterans.
Children under 5 travel FREE!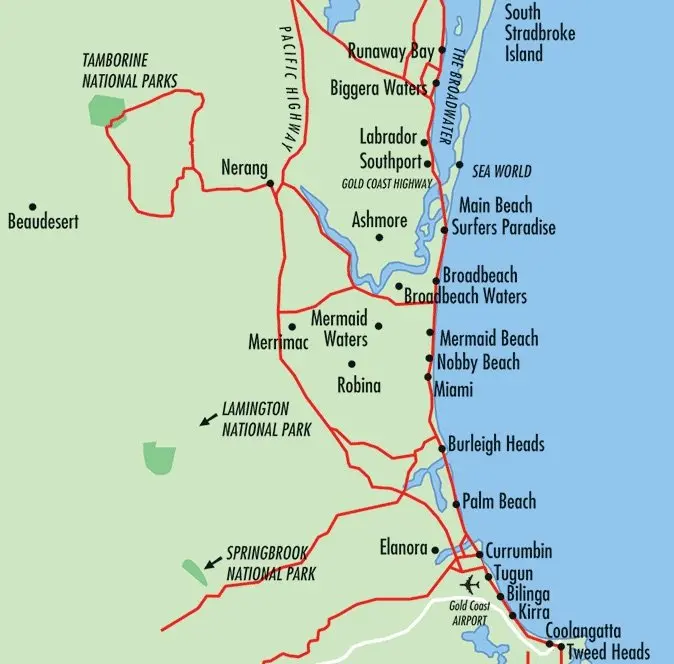 Where to stay on the Gold Coast with kids
The Gold Coast is HUGE, spanning over 57 kms from top to tail, with thousands of accommodation options and Gold Coast hotels and suburbs to choose from.
If this is your first visit, it can be daunting!
As a local, these are our top picks for family friendly locales.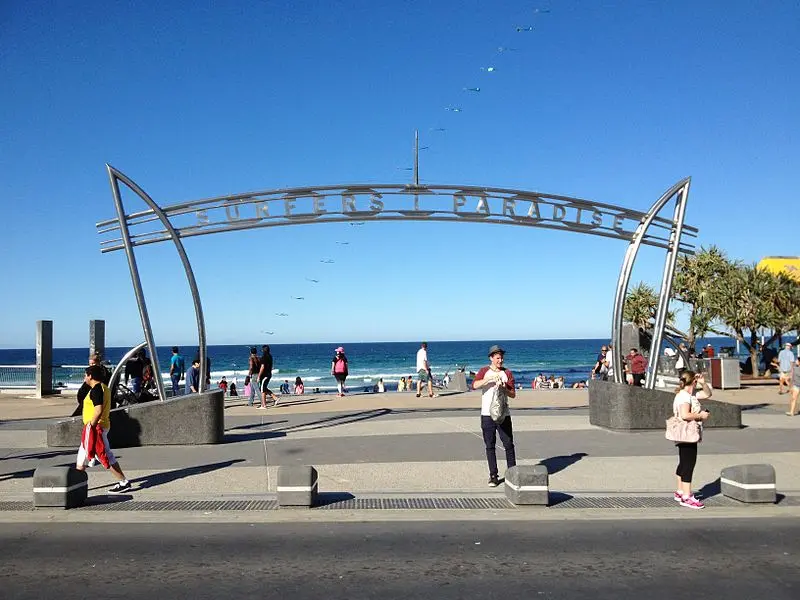 Image credit: Unknown
BEST GOLD COAST SUBURBS FOR HOLIDAYS WITH KIDS
The best suburbs on the Gold Coast for family holidays are:
Broadbeach
Mermaid Beach
Surfers Paradise
Burleigh Heads
Palm Beach & Currumbin
Northern Gold Coast
These suburbs are all located on the G-link light rail from Southport to Broadbeach, or on the Gold Coast Surfside bus lines, making it easy to get around.
Click here to read more about these Gold Coast suburbs to find out which one suits you best.
The guide above lists:
all the fun attractions
restaurants, and
best things to do in each of these Gold Coast suburb locations with kids.
Then read our Gold Coast travel guide to the best Family Resorts Gold Coast style to choose your family accommodation on the Gold Coast.
Hot tip: These family hotels have lots of kids activities Gold Coast style!
Turtle Beach Resort Gold Coast
Paradise Resort Surfers Paradise (has Planet Chill Ice Skating!)
Sea World Nara Resort
Gold Coast Map
THE LOCALS LIST
As well as the neighbourhoods above, there's a few other places to pop on to your itinerary.
Hot tip: Check out our guide to the Best Things to do on the Gold Coast, as well as 20 unique things to do on the Gold Coast with kids.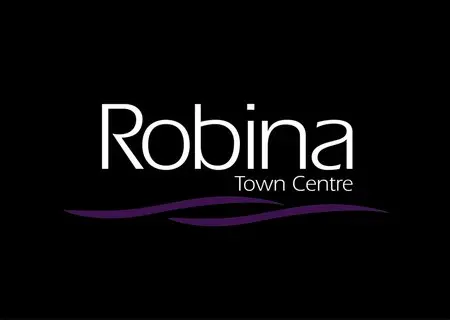 No.1: Robina Town Centre
THIS is the premier shopping destination for locals.
Click here for directions to Robina Town Shopping Centre.
It has all the big brand shops, including:
Kikki K
Rebel Sport
Big W
Kmart
Target
David Jones
Myer
LEGO store
JB HiFi
EB Games
Peter Alexander
Apple Store
Sportsgirl
NIKE, and
Boost Juice.
Plus, quite a few cute independent shops.
We love the Lakeside Promenade restaurant area – there's Grilled, and one of the last remaining Max Brenner Chocolate Cafes on the Gold Coast.
The Kitchens at Robina Town Centre is one of the Gold Coast's best dining precincts too.
Hot tip: Take the kids to the FREE Tree Top Play Ground at Robina Town Shopping Mall.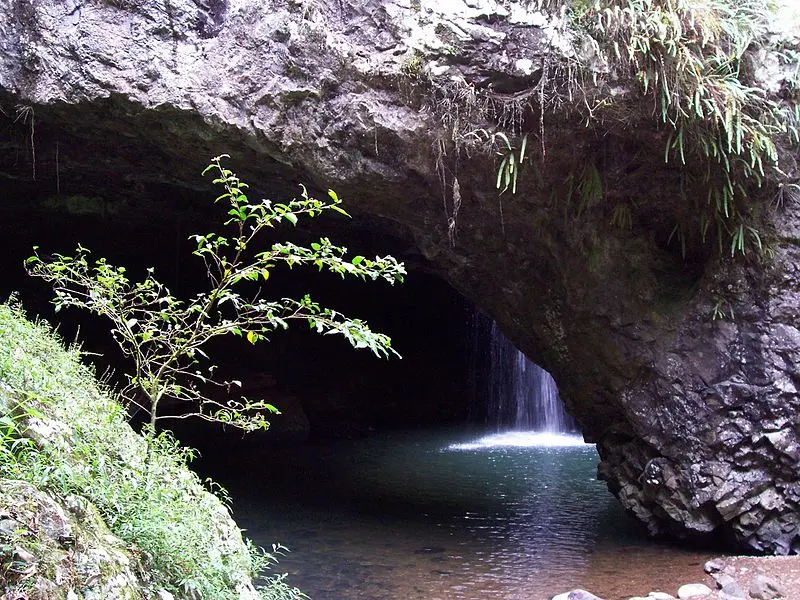 Image credit: Zpunout via Wikipedia CC BY SA-3.0
No.2: Mudgeeraba, Springbrook and Natural Arch
You'll need a car for this Gold Coast day trip.
Head west past Robina Town Centre and follow the signs for Mudgeeraba.
Mudgeeraba is the Gold Coast's oldest settlement and is a popular place to live.
Drive through town towards the mountains.
Stop by the Old Teahouse Gallery for devonshire tea of scones, jam and cream – find it at 7 Johns Road.
Continue heading up to Springbrook, for mountain walks, misty moments, waterfalls and olde-worldly cafes selling bakery goods and milkshakes.
Do not pass The Springbrook Fudge Shop without going in.
(Take some Springbrook fudge home with you for an extra treat, along with a jar of jam, lemon myrtle products, local honey and homemade soap. Gold Coast souvenirs done!)
Natural Arch Glow Worms Gold Coast
Drive down the mountain on the western side via Pine Creek Road and turn left at the bottom onto Nerang Murwillumbah Road.
Drive along for about 15 minutes to find Natural Arch, a place of natural beauty where a waterfall cascades through a hole in the rock into a cave.
After dark, the ceiling of this cave turns into a magical scape of glow worms!
Be prepared with torches, drink bottles and warm tops for the wobbly bushwalk down and back to the carpark.
This place is top secret, and few visitors to the coast ever find it!

Image credit: Source unknown
No.3: Tamborine Mountain Gold Coast Hinterland
Tamborine Mountain is the home of the Gallery Walk, a street filled with art, craft, antiques and fabulous food, this might not be the kid's favourite place but it might be yours!
Be sure to stop by The Polish Place for the Segafredo Polish-style hot drink has to be made with a very specific milk to chocolate ratio and left to set before being served.
It's a thing!
Sit amongst the birds while you sip.
Tamborine Rainforest Skywalk
In a setting of 30 private acres of magnificent rainforest alongside a kilometre of tumbling creek and rockpools, a new eco-adventure exploring the beautiful rainforest canopies and habitat in a different and thrilling way.
Visitors depart from the Rainforest Eco Gallery.
Tamborine Mountains Botanic Gardens
Continue the nature theme with a visit to the Botanic Gardens, located in Forsythia Drive, Eagle Heights for time spent amongst the exotics and native rainforest plants.
Open daylight hours 7 days a week.
Paragliding Mt Tamborine
The kids will love seeing all the para-gliders and hang-gliders launch into the air from the launch pad on Main Western Road too.
Thunderbird Egg Park Mt Tamborine
If you've time, we'd highly recommend Thunderbird Egg Park
There are SO many things for the kids to do here with top of the list being fossicking for your very own thunder egg.
(Watch the kids faces when they crack it open to see what treasure lies inside- that is childhood magic right there!)
swim in natural rock pools
play a round of mini golf
head off for a horse ride
eat delicious food in the restaurant
You could fill a day just here!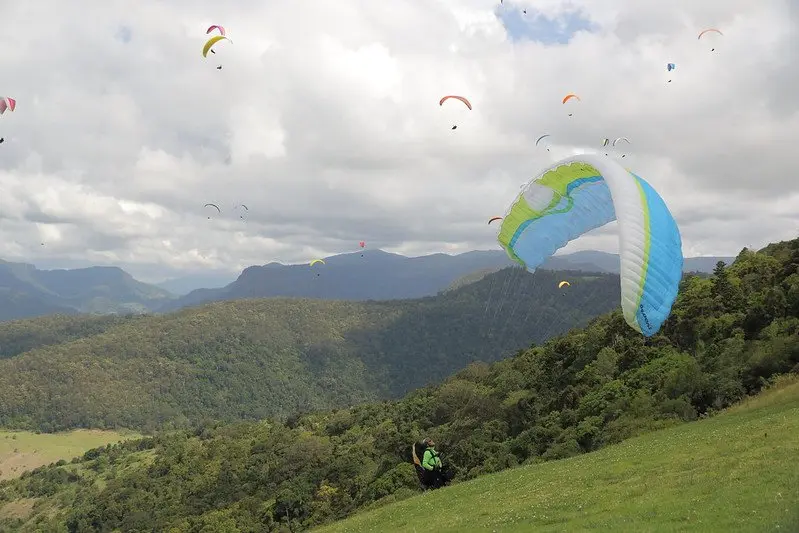 Image credit: Texaus1 via flickr CC BY-2.0
No.4: Beechmont and Canungra
One other mountain deserves a mention – Beechmont.
The views from the plateau on Beechmont mountain are spectacular, and if you keep heading upwards to Binna Burra, you'll find a popular lunch spot at the Lamington Teahouse.
There's a free adventure playground and maze located right next to the Lodge and while you are there, why not embark on an adventure and ride the flying fox?
It's fast and furious, and not for the faint hearted!
James Sharp Park swimming
Drive back down the mountain via Canungra and stop by Sharp Park for a paddle, a swim and a run around before you head home.
James Sharp Memorial Park is a family bush camping ground situated five kilometres before you reach the township of Canungra, and is located at 3069-3095 Beechmont Road, Canungra.

Image credit: Shiftchange via Wikipedia CC BY-1.0
No.5: Labrador & Southport
Harley Park Labrador has been a well kept locals secret for years.
There are two playgrounds at Harley Park.
Ahoy to the pirates with a nautical themed ship playground to the south.
There's also one for the monkeys to the north, with a climbing frame poles, ropes, ladders and it's own flying fox.
Ian Dipple Lagoon
Bring your swimmers and take a dip in the Ian Dipple Lagoon (371 Marine Parade) at any time of the day or night
(It's flood lit!)
Charis Bros Pelican Feeding
If you have kids who are animal mad like mine, then don't miss the Pelican feeding at 1.30 pm daily.
Be sure to be there by 1pm as it can get pretty busy.
Pick up some takeaway fish and chips for lunch from Charis Seafoods- it's pretty much a GC institution.
There's free parking for 2 hours too.
Gold Coast Botanical Gardens
The nature playground at the Benowa Botanic Gardens is not far from Southport either.
There's a lovely cafe on site too.
Worth a wander amongst the flowers and native plants.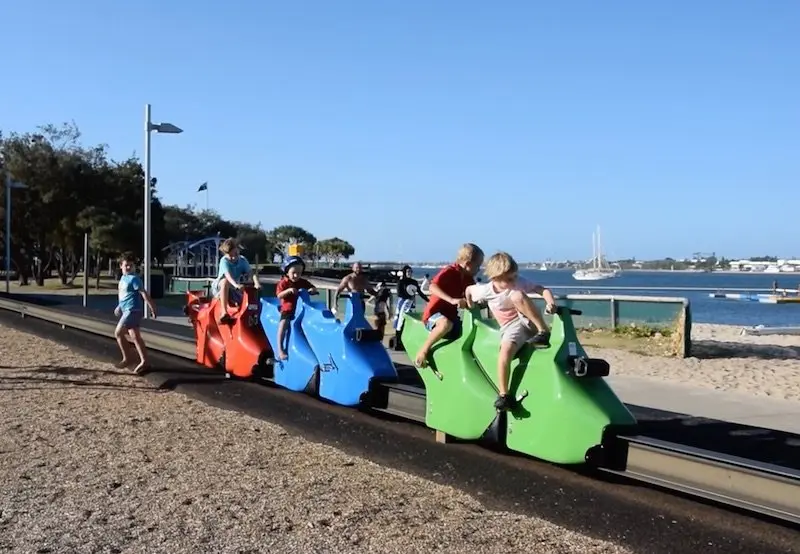 Broadwater Parklands & Sea World Drive Main Beach
Southport is another underrated holiday destination on the Gold Coast.
The main drawcard for kids here is the Broadwater Parklands with views across the Broadwater towards Seaworld.
There's:
Book a morning tea cruise around the canals of the Gold Coast from Surfers paradise to see how the other half live.
Or take a whale watching cruise to see the giant humpbacks breech out of the water in front of the Surfers Paradise skyline.
Or book an aqua duck tour of the Goldie!
Outback Spectacular Show
If you are looking for family things to do at night on the Gold Coast, book the evening show of Outback Spectacular – it's a fun way to explore Australian outback with a delicious steak dinner included!
It's a super fun way to see the GC.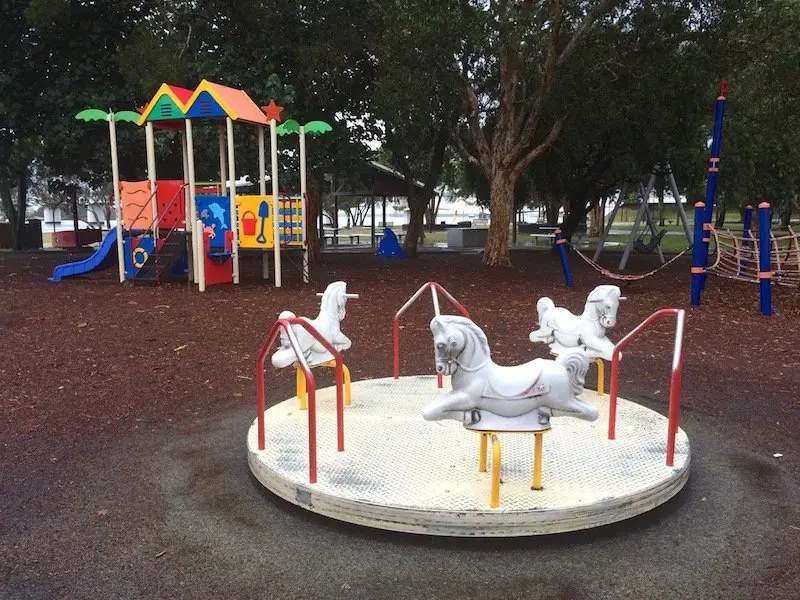 No.6: Paradise Point
If you want to hang with locals, or fish, or take a low-key approach to understand why half-a-million people call this GC place home, then Paradise Point is your go-to spot.
The Paradise Point Parklands and playground will keep the kids entertained while you drink your morning coffee in peace.
Bring the scooters!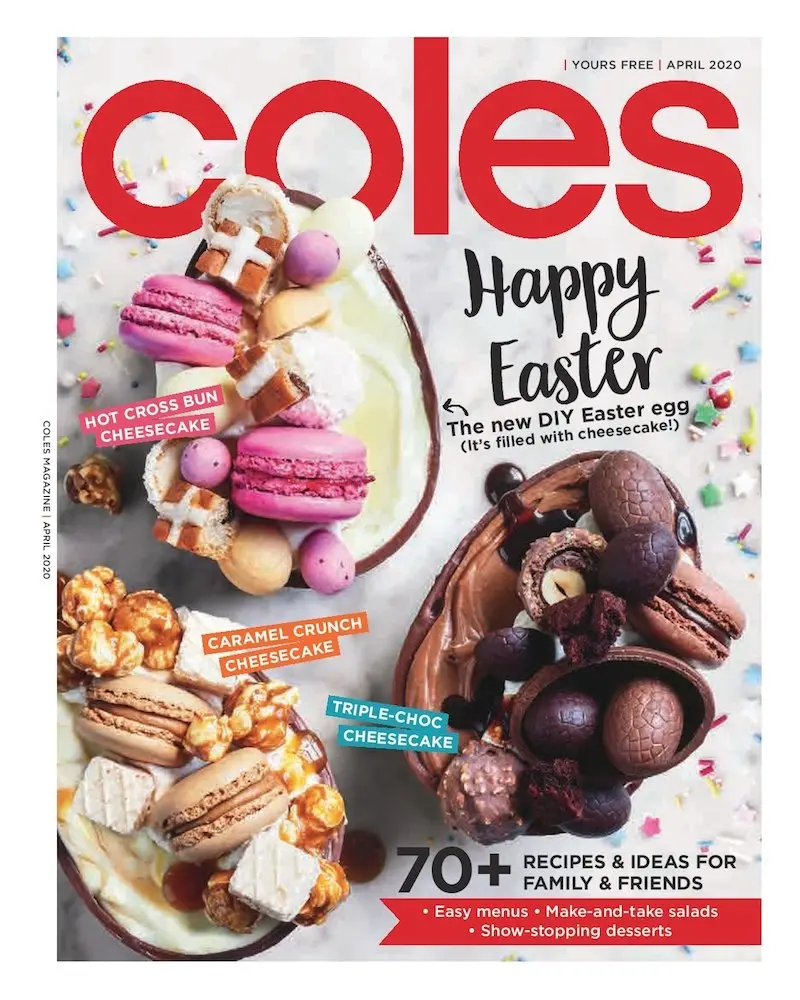 Gold Coast Supermarkets
Where to go food shopping on the Gold Coast
If you want to save your pennies for fun, rather than forking out for extortionately overpriced food, stay away from all 'convenient' stores.
Convenient is another word for 'rip off'.
Instead find the big supermarkets and stock up there.
Coles, Woolworths and Aldi
On the Gold Coast, the two main supermarkets are Coles and Woolworths (they are all over the place) but you'll also find IGA and Aldi.
Aldi on the Gold Coast tends to be located in the mid and outer suburbs, with the exception of the newly opened Aldi at Miami on the Gold Coast highway.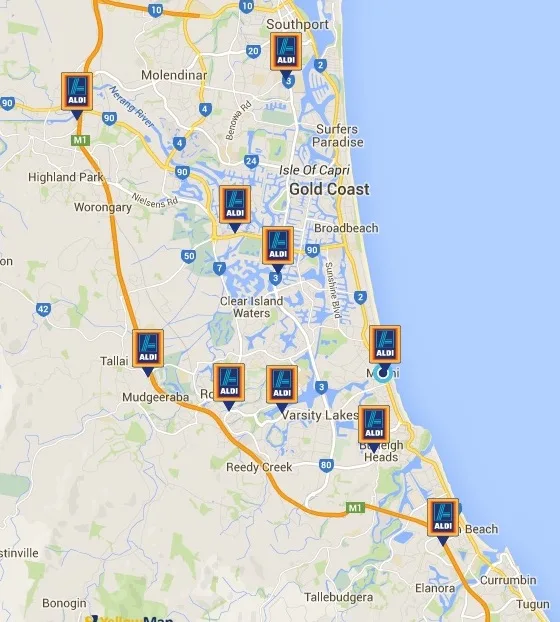 Travel Tips for a Gold Coast Family Holiday
No.1: Gold Coast Discount Vouchers
Discount vouchers can be found in most tourist brochures.
(Find a tourist brochure display in all accommodation foyers on the Gold Coast)
Experience Oz have instant discount vouchers for heaps of attractions
Try Book Me for more serious discounts for the Gold Coast attractions too.

No.2: Group Booking Sites
Before you arrive, sign up to:
Living Social
Groupon
Scoopon
Spreets and
Our Deal
Choose Gold Coast in the search bar and see what deals come up during your stay – everything from discounted accommodation and meals to spray tans and super fun things to do!
No.3: Nerang Cinemas
If the kids have had it, or it's a rainy day on the Gold Coast and you are looking for cheap things to do, the movies at Nerang is the best value around.
The Nerang Cineplex has $8.50 adult tickets, and $4.50 kids tickets before 6pm.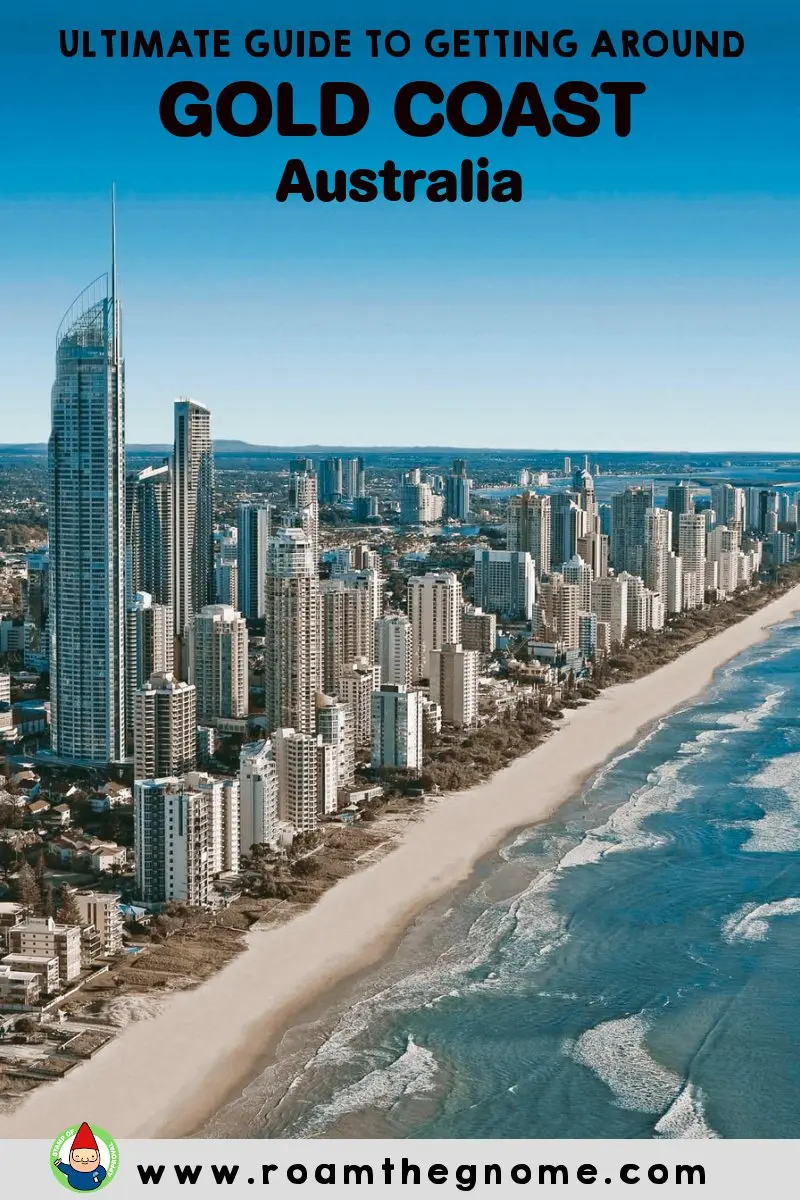 No.4: Gold Coast Family Magazines
Pick up a copy of Haven, Scout, or Kids on the Coast magazines to find all the up-to-date information and events on the Gold Coast for kids during your stay.
Try kids bookshops on the Gold Coast, children's fashion stores on James street in Burleigh, cool coffee shops, and the local libraries for your free copy.
No.5: Listen to Hot Tomato Radio Station
Hot Tomato is the only local radio on the Gold Coast, so listen in to find out all the comings and goings, and things to do on the Gold Coast today.
No.6: FREE Active and Healthy Gold Coast Activities
Read our guide to the Healthy and Active Gold Coast program and find loads of free activities for kids on the Gold Coast (and parents too).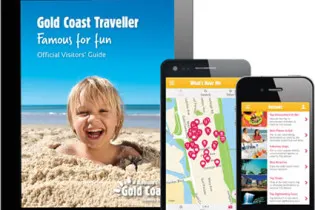 My GC App
Download the My GC app.
It's free and easy to use.
Stay up to date with the latest News, Weather, LIVE Traffic and Local Events.
There's also:
awesome competitions
1029 Hot Tomato Podcasts
local photos and videos.
If you live on the Gold Coast or are planning a visit, then grab this feature packed app.
Download it for FREE today!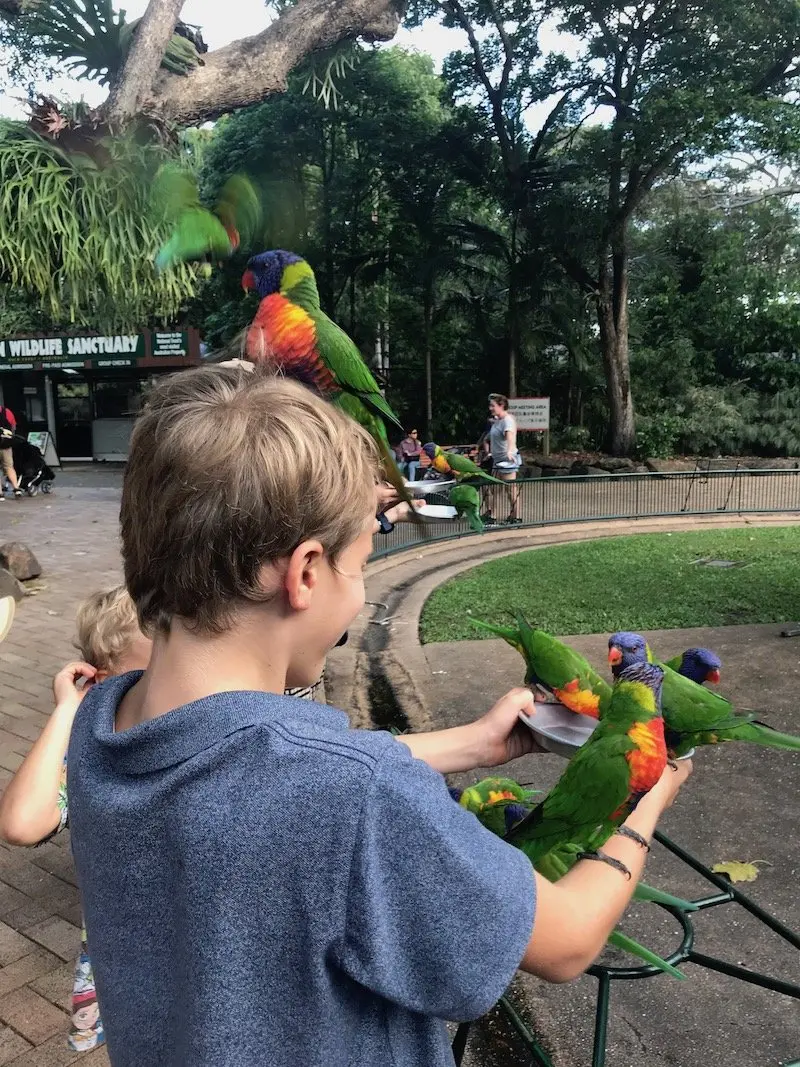 Looking for Gold Coast attractions for Kids?
Click the blue links for more Gold Coast ideas: