INSIDE: Roam the Gnome's Guide to Westfield Helensvale Playground
Have you been to the coolest indoor playground Gold Coast has to offer?
Not only is it cool, this outdoor-indoor playcentre area is FREE for shoppers and their family!
Although you do have to walk through the Westfield Helensvale food court to get there, and the McDonald's soft serves act like a magnet!
Take a sneak peek at Helensvale Westfield Playground below, and get all the details of how to get here too.
Disclosure: This article contains affiliate links. If you make a purchase after clicking on one of these links, we may receive a small commission at NO extra cost to you.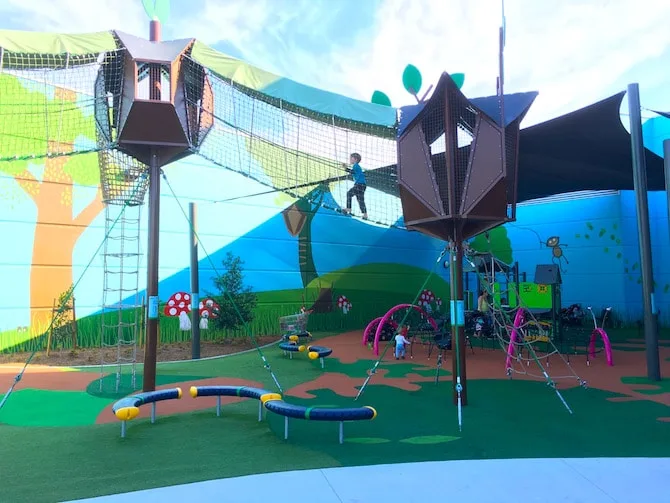 Guide to Westfield Helensvale Playground Gold Coast
The first thing you'll see as you head outdoors at Helensvale shopping centre is the Tree Tower and Sky Walk.
This Tom-Sawyer-esque structure soars high above the playground and is suitable for kids 5 +.
Having said that, Jack, at three years old, had no trouble scaling the ladders (with Roam the Gnome and I standing alert and ready to catch him) or wandering the tree top walk up high.
You'll know your child's limits and capabilities.
---
RELATED: Ultimate List of the BEST Things to Do on the Gold Coast with Kids
Play Equipment at Helensvale Westfield Playground
There's plenty of other fun equipment for kids of all ages too.
1+ years:
Colourful play panel
Game benches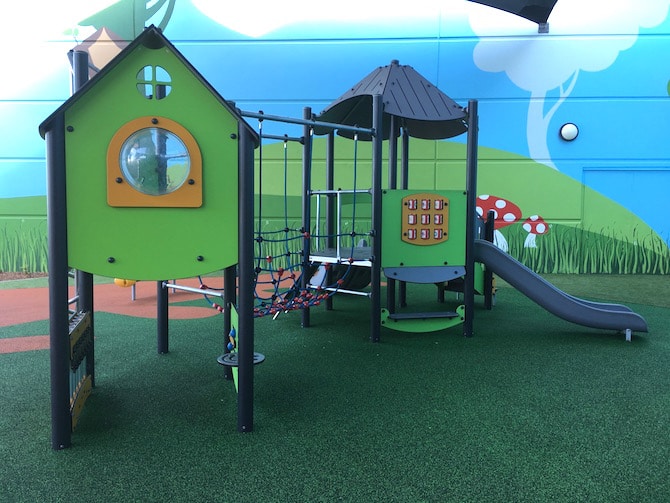 2+ years:
A miniature version of the Play Tower with a slide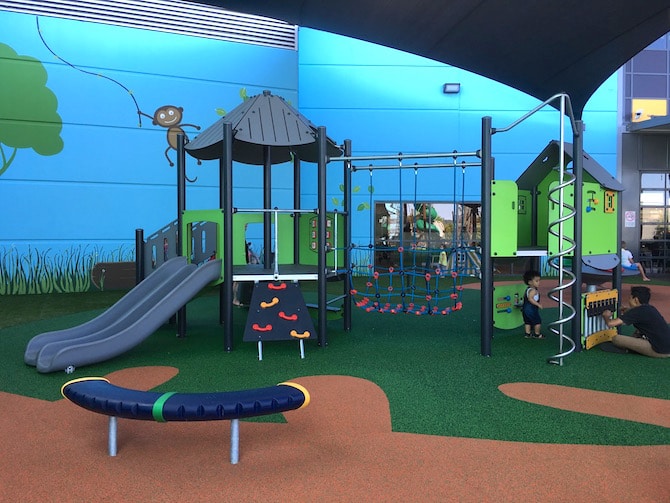 3+ years: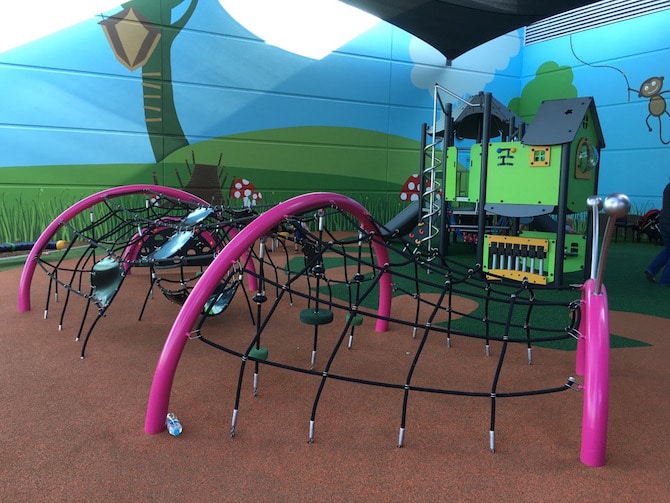 5 + Years:
Pendulum Rope Swing
Purple Caterpillar Net Climber for 5 -12 year olds
---
RELATED: Guide to Lions Park Helensvale Playground (with giant fort & slide nearby)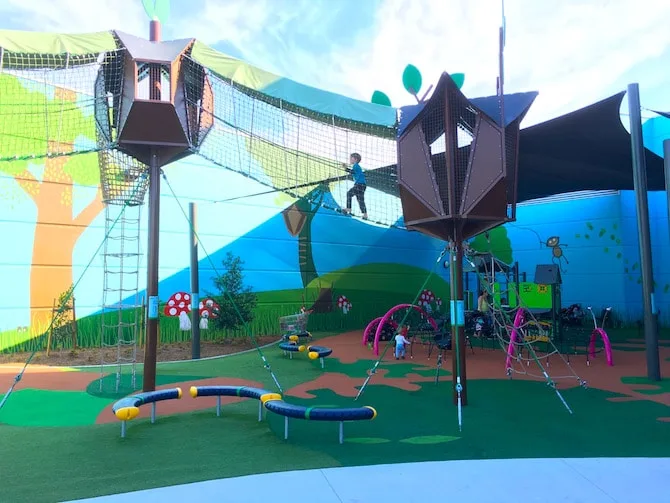 More Fun at Westfield Playground Helensvale
The pendulum rope swing is one for the older kids!
Make sure the kids hang on.
It's wild when it gets going.
The Westfield Helensvale indoor/outdoor playground is by far the best shopping centre playground on the Gold Coast.
It won't remain a secret for long, so don't delay.
The locals are on it already – taking their kids there for a play after school.

If you are heading out to the shops, take a detour up to Westfield Helensvale and swing by the indoor playcentre today!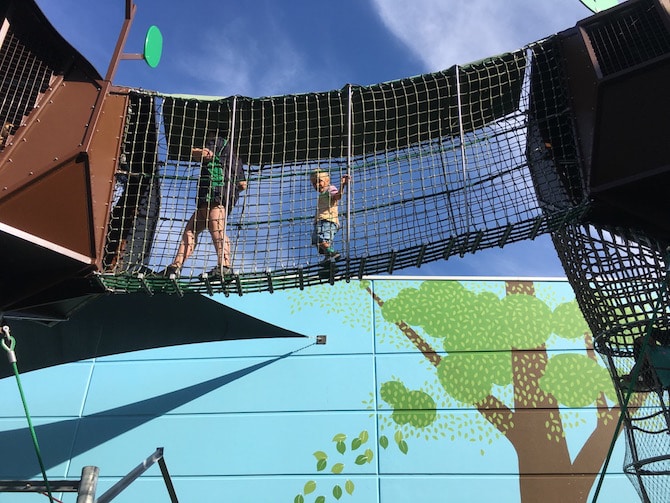 THE INSIDE SCOOP: Westfield Helensvale's Indoor Playground Gold Coast
Correct at time of publication on Roam the Gnome. Please check with venue for updates. We apologise in advance if there have been any changes we are unaware of. All prices in AUD dollars, unless otherwise stated
Address: Westfield Helensvale, 1 – 29 Millaroo Drive, Helensvale QLD Australia 4212
Telephone: (07) 5630-5102
Email: [email protected]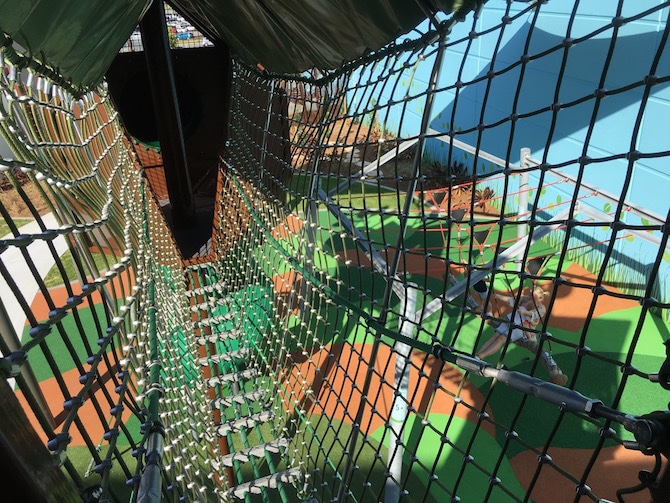 Opening Hours: Westfield Helensvale Town Centre Shop Trading Hours
Open seven days a week.
Monday to Wednesday, and Friday 9am to 5.30pm
Thursday – 9am to 9pm
Saturday – 9am to 5pm
Sunday – 10am to 4pm
Westfield Helensvale playground entry fees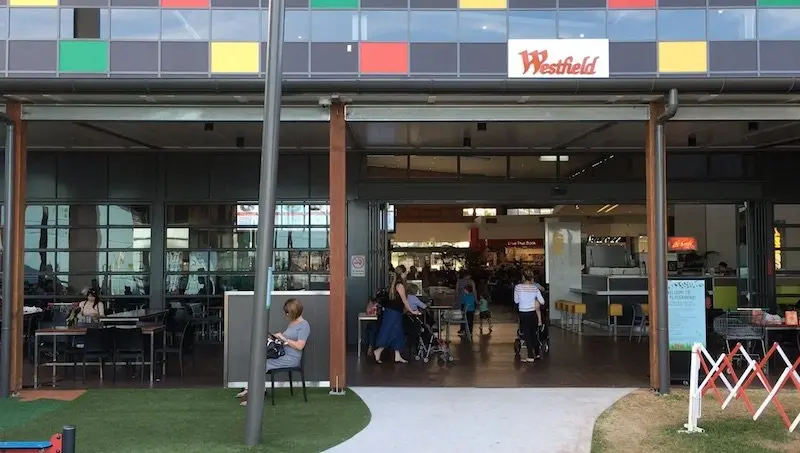 Where is the Helensvale Westfield Playground?
The entrance to the playground at Helensvale Shopping Town is at the back of the food court, close to McDonalds.
Walk through the glass doors to enter the play area.
The food court is located opposite Sanity Music, in the centre of the mall between City Beach and Target.
Turn into the food court at Donut King.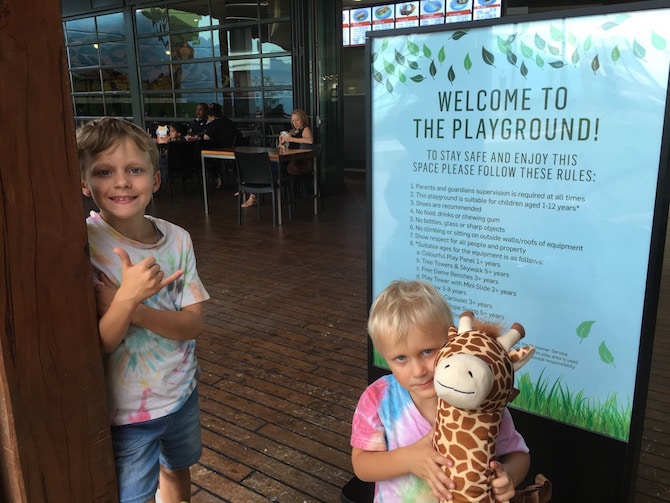 How to get to Westfield Helensvale Town Centre
By Bus: The bus stops on Town Centre Drive, near Coles. Visit Translink to plan your trip by bus.
By train: Helensvale train station is a short 5 minute walk to the centre.
By Taxi: Contact Concierge who will be more than happy to book you a taxi and to direct you to the taxi rank location.
By car
Take exit 62 from the Pacific Motorway towards the Gold Coast Highway link up, and turn right at the lights into Town Centre Drive.
Follow the road around to find parking at the rear of the centre.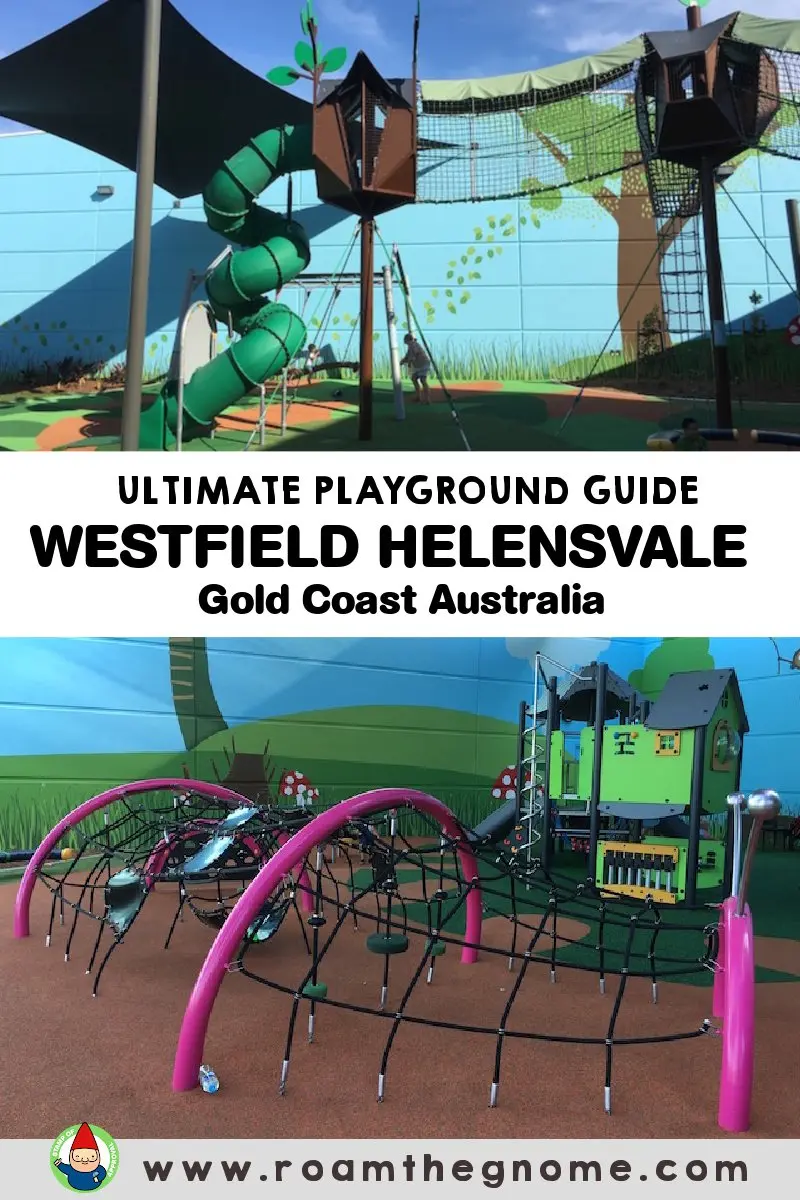 Westfield Helensvale Parking
There's over 2000 FREE parking spaces around Westfield Helensvale town centre.
The playground is in the centre of the Westfield shopping mall so you can park where to like as it's easy to access.
Westfield Helensvale Map
Facilities at Westfield Helensvale Shops
Public toilets: Yes, nearby
Baby Change Room:
The baby change room/feeding room/parent room also has a cute Wonderland theme centred around a magnificent enchanted tree sculpture.
There's a sweet teepee and a screen with kids' shows to keep the toddlers entertained while you do your thing.
Warning:
From time to time, you may a teen scale over the safety barrier on the giant slide, and make their way to the very top of the fort on the outside.
This is somewhat dangerous (and an insurance nightmare waiting to happen).
Please report this behaviour to Security on 0450 605 616 so this playground remains open for families.
Image credit: NRMA Treasure Island Holiday Resort
Where to stay near Westfield Helensvale Shopping Centre with kids
Planning to visit the Gold Coast on holiday, or looking for a fun staycation on the Gold Coast with kids?
Check out the SUPER DOOPER FUN family-friendly caravan park, NRMA Treasure Island Holiday Park.
There's loads of fun for kids including:
Shipwreck Shores Waterpark
Pirate Mini Golf
four resort pools
tennis courts
giant jumping pillow
go karts
children's playground
the family friendly Galleons Bistro & Bar.
Don't forget that Treasure Island Holiday Park has a Holiday Activities program that runs 364 days a year.
Toadstool Rating: Indoor Playground Helensvale
Go early on school holidays as it's very popular with local Gold Coast kids and families.
Strangely, we'd rank it one of the best playgrounds Gold Coast has to offer, despite the fact it's in a shopping centre!
Hot tip: Grab a coffee from one of the friendly cafes as you walk through the food court. Thank me later!

Looking for MORE of the best things to do with kids on the Gold Coast?
Click the blue links below for more Gold Coast ideas