INSIDE: Everything you need to know about the best Gold Coast suburbs for families visiting or moving to the GC.
Planning a Gold Coast holiday (or perhaps a more permanent move to the Gold Coast)?
Not sure where you want to stay?
Here's a quick guide to the best Gold Coast suburbs for holidaymakers and visitors.
Plus a list of the BEST things to do on the Gold Coast in each suburb with family & kids.
Take a look at all the details below.
Disclosure: This article contains affiliate links. If you make a purchase after clicking on one of these links, we may receive a small commission at NO extra cost to you. Main image header: Currumbin by Daniel Jurin via Pexels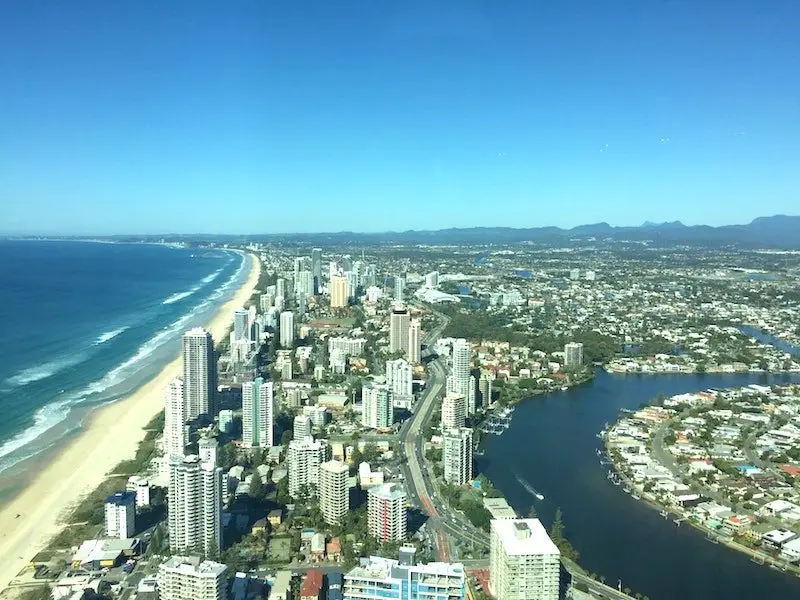 Image credit: Evie Ge via Unsplash
Quick Overview of Places to Stay on the Gold Coast with Kids
These are the top suburbs on the Gold Coast for family holidays.
Broadbeach (THE spot on the GC if you want to holiday without a car)
Mermaid Beach, Nobby's Beach & Miami (1970's style charm and good coffee & a good all round spot for families, close to shopping and restaurant hubs)
Surfers Paradise (for those who want to be in the centre of the action)
Burleigh Heads / Tallebudgera (for those who like relaxed picnics with views, and calm places to swim with kids!)
Currumbin/ Palm Beach (perfect for foodies)
Coolangatta (low key beach holidays and pool swims galore )
Main Beach (great for those who like to keep fit on the beach, away from the hoards)
Runaway Bay/ Labrador (good for those who like boating and sailing)
Southport (close to the Broadwater Parklands & all the fun for kids there, and Seaworld!)
Tweed Coast (a little slower pace, with beautiful creek swimming, & up and coming foodie spots)
---
RELATED: The Big List of the Best Things to do on the Gold Coast with kids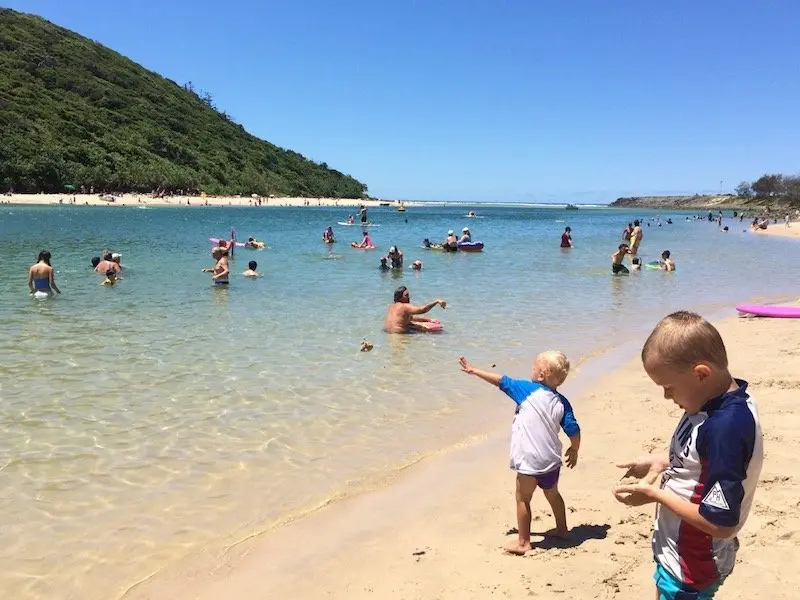 THE INSIDE SCOOP: BEST GOLD COAST SUBURBS FOR FAMILIES
Correct at time of publication on Roam the Gnome. Please check with venue for updates. We apologise in advance if there have been any changes we are unaware of. All prices in AUD dollars, unless otherwise stated
Check out each suburb in more detail below.
Hot tip: When you've chosen the best suburbs on the Gold Coast to suit your family travel from the list below, come back and click here to find a BIG list of the the best family resorts and hotels in the area.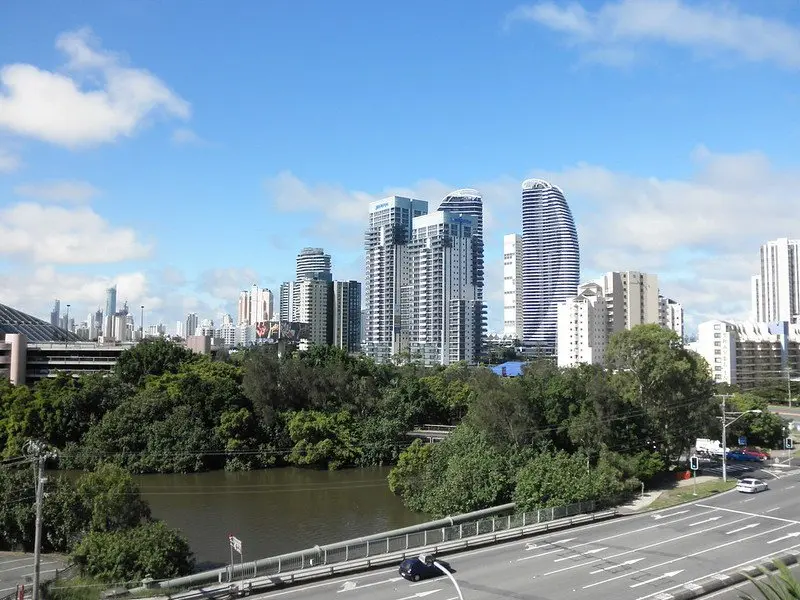 Image credit: Jason Thien via Flickr CC BY-2.0
No.1: Broadbeach GC
Broadbeach is family friendly, and smack bang in the centre of the coast, without the tackiness of Surfers Paradise, yet only minutes away by car or The G light rail.
The Oasis Shopping Centre
The Oasis Broadbeach Mall is bordered on either side by plenty of eateries and kid-friendly open-air dining spots and there's a $2 carousel and a small playground for mini-breaks.
The Oasis shopping centre on the right of the mall has a Woolworths supermarket too.
Kurrawa Pratten Park
Walk through the mall up to the beach and across Old Burleigh Road, you have Kurrawa surf club, another family friendly local's fave.
Just metres away on the right of Kurrawa is the All Abilities Playground (completely fenced and huge!), and a second playground with one of those monorail rides just a little further along heading south near the roundabout at Margaret St.
This stretch of the Gold Coast beachside is filled with picnic spots and FREE BBQ stations too for the budget-conscious who don't want to eat out all the time.
The Oracle Boulevard
There's also a newer precinct to the right of the Oasis called the Oracle Boulevard, which is a dining hotspot for hipsters and the child-free.
Pacific Fair Shopping Centre
The newly revamped Pacific Fair Shopping Mall is just across the road.
Full of ALL the big name brands, and family favourites such as Kmart, Big W, and Target, plus loads of restaurants, fast food, ice cream and more.
There's cinemas, free school holiday activities, plus a new fun indoor playground for kids.
Cowch dessert bar is a must do.
The Star Broadbeach & the GC Convention Centre
The Star Casino is home to the fabulously tasty Harvest Buffet (previously called Food Fantasy Buffet) – a holiday must!
The Gold Coast Convention Centre is to the left of the Star, and is the venue for all major rock and pop concerts and performances, as well as:
Tourism and Travel exhibitions
Local and interstate conferences, and
Fundraising events.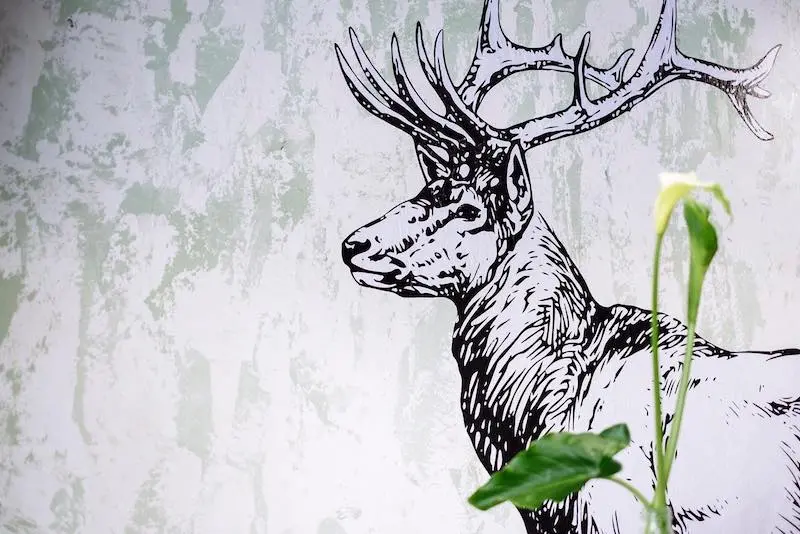 Image credit: Elk Espresso
Cafes in Broadbeach
No.1: Elk Espresso
Elk Espresso is a popular cafe with locals who love the mismatched furniture and polished concrete floor aesthetic.
It's a good cafe for kids too.
Address: Shop G044 Oasis Shopping Centre, 12 Victoria Ave, Broadbeach QLD 4218
No.2: Urban Eatery
Address: Phoenician Resort, Shop 4/90 Surf Parade, Broadbeach QLD 4218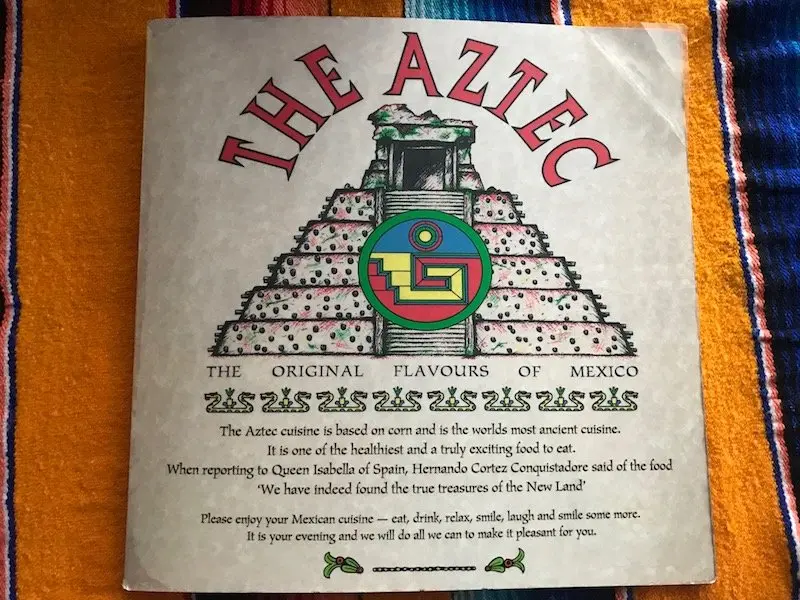 Family Restaurants Broadbeach
No.1: The Aztec Mexican Broadbeach
The Aztec Broadbeach is one of the best family friendly Mexican restaurants around, with a delicious menu.
Plus, there's an Aztec Ankle Biter's menu – all children's meals are served with a soft drink or juice, and ice cream with topping!
Hot tip: Try the Chicken Enchilada!
Click here for all the details
Address: The Aria, Building shop 11/17 Albert Ave, Broadbeach QLD 4218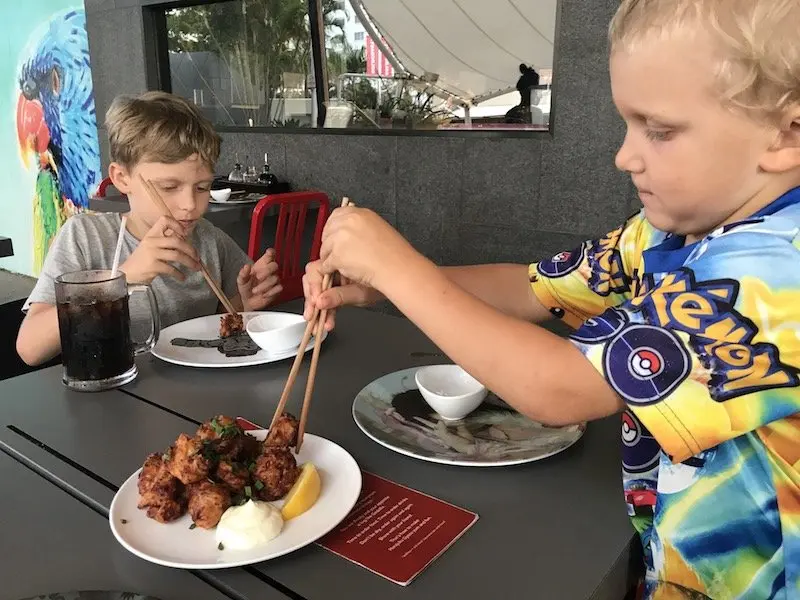 No.2: Harajuku Gyoza Beer Stadium
Find the freshest gyoza dumplings on the Gold Coast at Harajuku Gyoza.
Kids can watch them being made through the kitchen window!
Take our advice and don't miss this top foodie spot on the GC.
Click here for all the details.
Address: 2/26 Victoria Ave, Broadbeach QLD 4218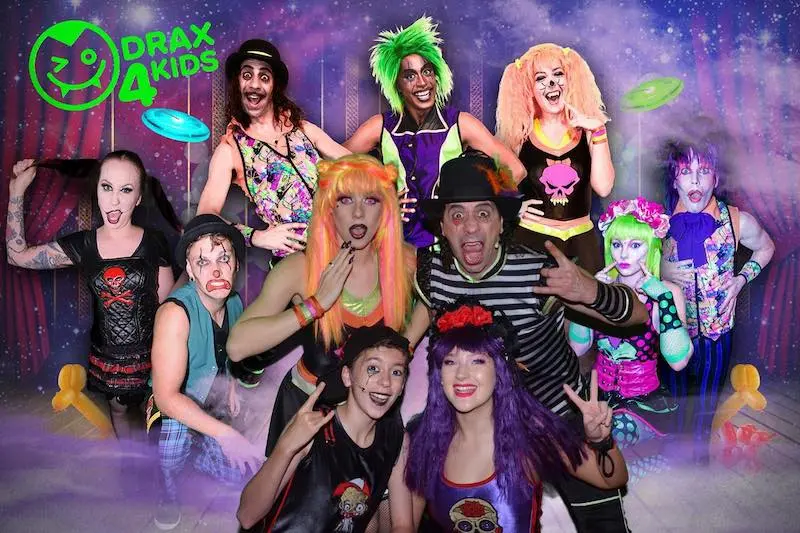 Special Mention: Dracula's Broadbeach
Dracula's Cabaret restaurant is a super fun night out for adults, but too scary for kids, unless they are teens.
Drax for Kids is the alternative.
Drax4Kids opens at 12pm midday on Saturdays for a few hours of:
loud and live rock music
fun special effects
kid friendly comedy
awesome puppetry
crazy dancing and
interactive games
Yes, kids enter via the GHOST TRAIN!
Bookings or enquiries: Draculas Gold Coast: (07) 5563 4900
Address: 1 Hooker Blvd, Broadbeach QLD 4218
---
RELATED: The Best Restaurants on the Gold Coast with Playgrounds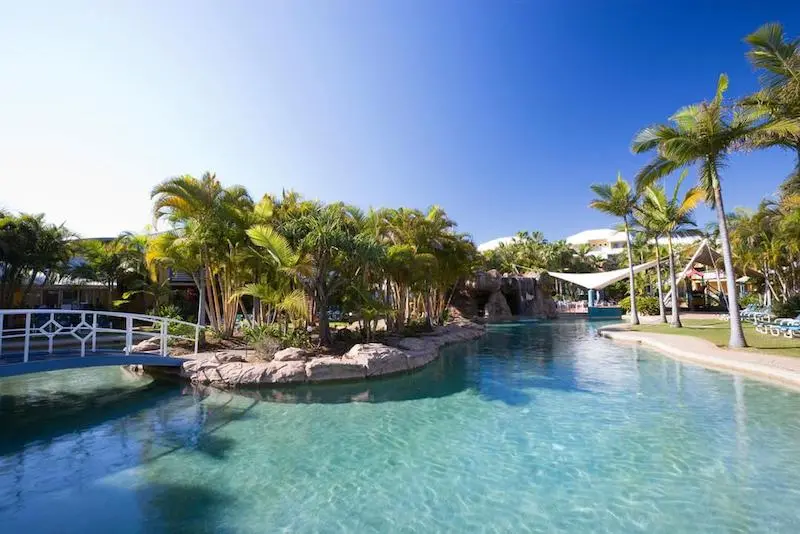 Image credit: Breakfree Diamond Beach Resort
Broadbeach Family Accommodation
Where to stay in Broadbeach with kids?
For a comprehensive review on the above properties, visit our Broadbeach accommodation guide.
If you are renting an Airbnb house, Clear Island waters, Broadbeach waters, and Varsity Lakes are a short distance from Pacific Fair Queensland. Reedy Creek is on the back highway, too far for holidaymakers.
Image credit: Kgbo via Wikipedia CC BY SA 4.0
No.2: Mermaid Beach & Nobby Beach/Miami
Just a few kilometres further south is Mermaid Beach.
While still within walking distance to Pacific Fair, Broadbeach and the most southern terminal stop of The G, it is also it's own little hub, close to Nobbys Beach, Miami, and North Burleigh.
You can ride bikes and scooters all along the beach front, climb the stairs at Miami Hill, and over to North Burleigh beach.
There's lots of surf club restaurants along this strip, with kids play areas.
Just across the road, you'll find Subway, Noodle Box, and some of the best sushi on the Gold Coast at Mermaid Sushi.
Miami Marketta
The beach is just a walk across the highway away, and the trendy haven of Nobby's beach.
And the creative hub/food truck feast known as Miami Marketta is a 20-30 minute stroll to your right, depending on your pace!
Describing themselves as an "unfussy indoor-outdoor night market offering global street fare, cocktails & beers plus live music", it's open Wednesday, Friday and Saturday from 5pm – late.
Putt Putt Golf Mermaid Beach
Go left, and book a session of Mini golf at Putt Putt Golf Mermaid Beach.
There's three themed 18 hole mini golf courses, with fabulous theming.
Jungle Trail, surrounded by wild animals and water courses
Fun Run with motorised obstacles, traffic light challenges, and Hot Wheels style putt putt challenges
Waterways, a tropical oasis with castles, dragons, and more.
Look out for the giant yellow golf ball smiley face on the GC Highway to find it.
Barefoot Bowling
Or head to Mermaid Beach Bowls Club for a Sunday session.
Kids welcome.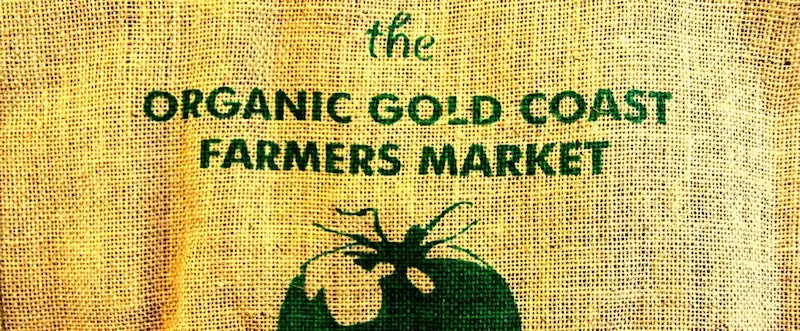 Miami Gold Coast Organic Farmers Market
Held at the Miami State High School grounds every Sunday morning from 6am to 11.30am, these markets are the place to hang out with like minded foodie friends, chatting over a fresh bunch of spinach.
Enjoy breakfast and coffee freshly made from the food stalls on site.
Free parking on site.
Pizzey Park Pool (Miami Aquatic Centre)
Kids LOVE the Miami splash pad here.
The brightly coloured kids pool has a giant toadstool shower, a toadstool slide, and a funny sea creature poking his head up from below the surface!
Kids love running through this knee deep water, under the fountains!
Bring a picnic to enjoy in the pool grounds with friends.
There's also a 50 metre outdoor pool, and an indoor undercover pool for lessons too.
Miami Stairs
Miami beach, below Mick Schamburg Park lookout, is a sheltered cove perfect for kids, with rocky outcrops for climbing and hiding.
Talk a walk UP the steep Miami beach stairs for some of the best views of the coastline.
(It's also great for the calves, and to burn a few calories)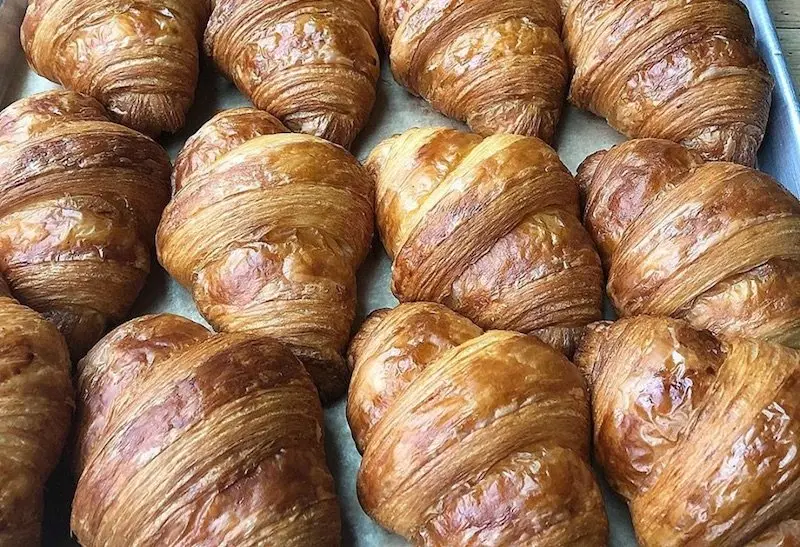 Image credit: BamBam bakehouse
Mermaid Beach Cafes
No.1: Bam Bam Bakehouse Mermaid Beach
Younger sister to the world famous Paddock Bakery, Bam Bam is the place to pick up your "flakiest, crunchiest and drool-worthy pastries" including their delicious croissants (made with love over three days to perfect the pastry!)
Grab a Marvel Street coffee while you are there.
Address: 2519 Gold Coast Hwy, Mermaid Beach QLD 4218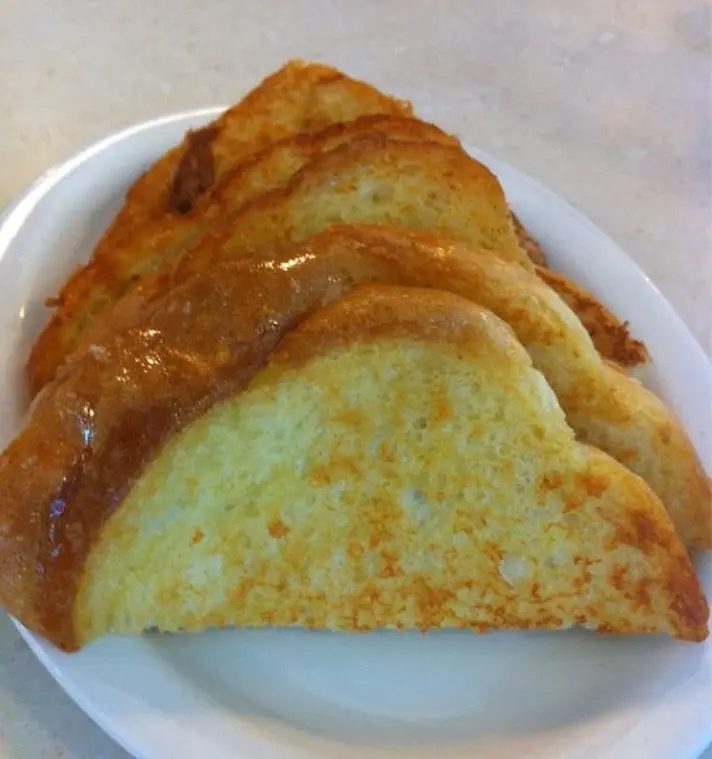 Mermaid Beach Restaurants
No.1: Sizzler Mermaid Beach QLD
The Sizzler buffet is awesome fun for kids, with a pasta bar, salad bar, and dessert bar with soft serve ice cream and LOADS of toppings including chocolate pieces, sprinkles, jelly beans, and more.
If you don't fancy a buffet, there's plenty of a la carte options for adults too.
Don't miss the CHEESE TOAST – it's complimentary and comes out to your table once you've been seated.
Address: Cnr Gold Coast Hwy &, Crescent Ave, Mermaid Beach QLD
No.2: Itoshin Japanese
A local's favourite since 1990, this family owned Japanese restaurant is well known for their sushi and sashimi, but do try their teriyaki chicken or beef sirloin, both served with tempura vegetables.
Or, for fun, order a Sukiyaki nabe, and cook dinner at your table with the kids helping out.
Address: 3/2484 Gold Coast Hwy, Mermaid Beach QLD 4218
No.3: Sushi Train Miami One
Take the kids to sushi train in Miami for awesome sushi plates, sashimi, and a la carte dishes including ramen, soba noodles, curry and donburi rice bowls.
Miami Sushi train is in the set of shops at Nundah avenue on the Gold Coast highway.
Be sure to pick up a regulars card and have it stamped.
Address: Shop 6&7, Miami One Shopping Centre, 1930 Gold Coast Hwy, Miami QLD 4220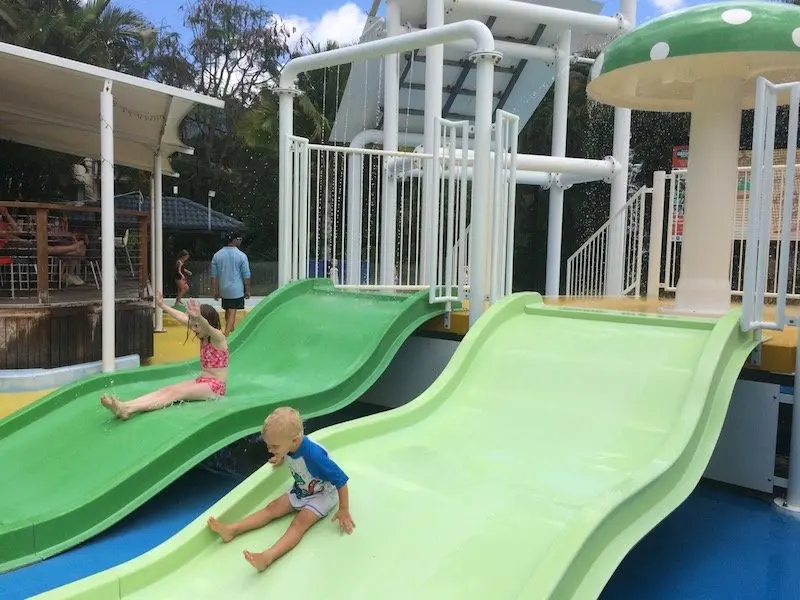 Where to stay in Mermaid Beach with Kids?
Looking for Mermaid Beach family accommodation?
For a comprehensive review on the above properties, visit our Mermaid Beach accommodation guide.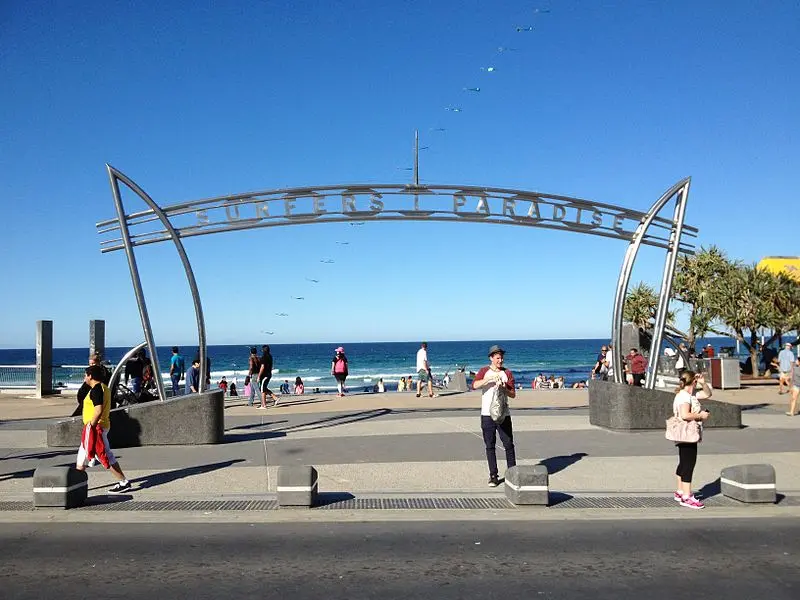 Image credit: Unknown
No.3: Surfers Paradise
Yes, Surfers still has the tacky nightclubs, the bronzed Meter Maids, and street touts
Hot tip: Do NOT sign up for cheap theme park tickets in exchange for an hour or two of your time… unless you fancy being bullied into timeshare schemes
BUT it has definitely had a big image revamp and overhaul and is now back on my family friendly list of places to go.
Be warned that Surfers Paradise IS touristy, and overpriced, and colourful, but kids (and you!) will LOVE it.
It's Waikiki but with better beaches.
Staying IN Surfers means you rarely have to get on any transport, if at all.
It's foot and stroller friendly, flat everywhere you go, and fairly safe, so long as you stay in the populated areas and are home before the rowdy drinking crowd gets going.
The beach is a wide expanse of open water with not much protection (unlike Burleigh or Tallebudgera for instance) but stay between the flags, and the kids will be fine.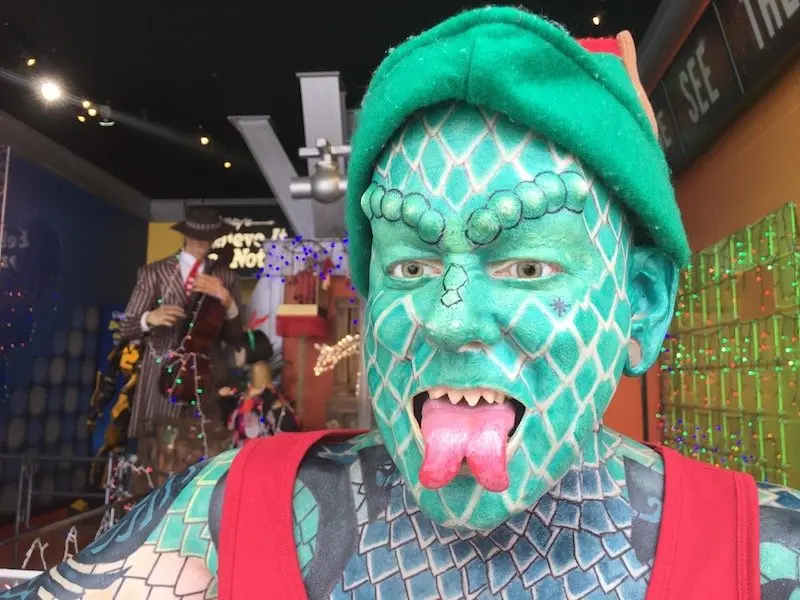 Surfers Paradise Attractions
Ripleys Believe it or Not! odditorium, & Infinity laser maze are two fun things to do in Surfers Paradise with kids.
You can also:
spend a few hours in TimeZone arcade game hall
have Old Time photographs taken of your family
head up to SkyPoint to see the view of the coastline
play a round of mini golf at the Surfers Paradise Putt Putt & Bungy Trampolines
visit the Surfers Paradise trick eye museum (Trickpic) or the Gold Coast Wax Museum
wander around Macintosh Island & enjoy the space and the playground
The Southport Broadwater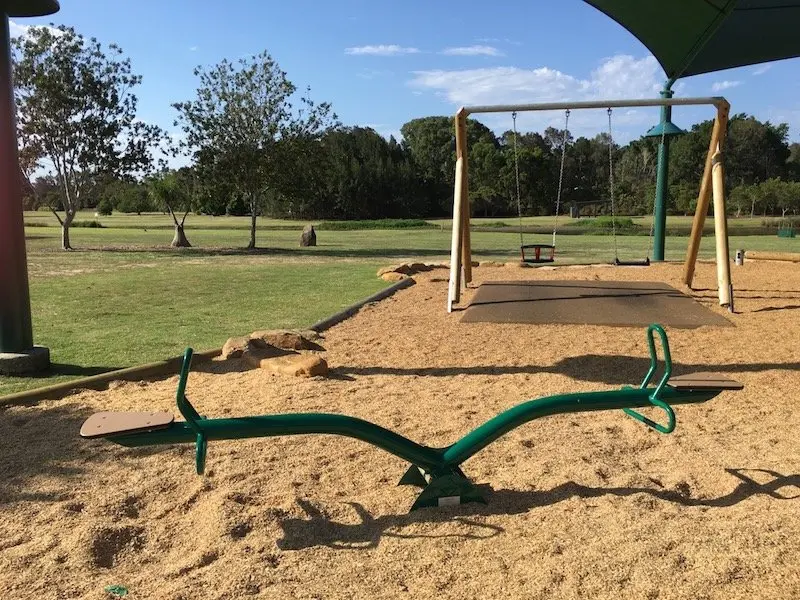 Gold Coast Regional Botanic Gardens
Just a few minutes drive away, the Benowa botanical gardens are home to hundreds of different native Australian plants and shrubs.
Take the kids to play on the gorgeous nature playground, climb the trees and feed the ducks.
Read our guide to the Gold Coast Botanic Gardens here.
HOTA Home of the Arts
HOTA, or Home of the Arts Gold Coast, is just a short dash over Chevron Island on the other side of the canals.
This impressive art space and outdoor theatre brings together cinema, live shows, comedy, children's theatre, art, music and more.
It's a place for the entire family.
Check out what's on at HOTA here.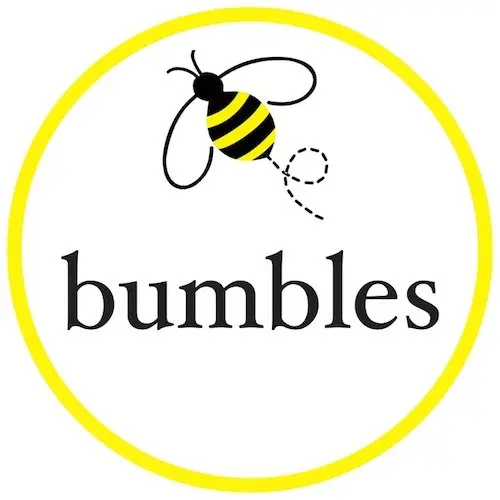 Surfers Paradise Cafes
No.1: Bumbles Cafe Budds Beach
This is a cute cafe for adults and kids, with a gorgeous outlook towards the Nerang River.
Very family friendly, and with top notch coffee in house.
They also do a popular high tea experience that local women love.
Address: 21 River Dr, Surfers Paradise QLD 4217
No.1: Charlie's Cafe and Bar Surfers Paradise
THIS cafe is a Gold Coast institution, right in the centre of Cavill Mall.
You must visit at least once.
Wander up the mall and ask for a table.
It's a top spot for people watching, with good food to boot.
Address: Cavill Mall, 8 Cavill Ave, Surfers Paradise QLD 4217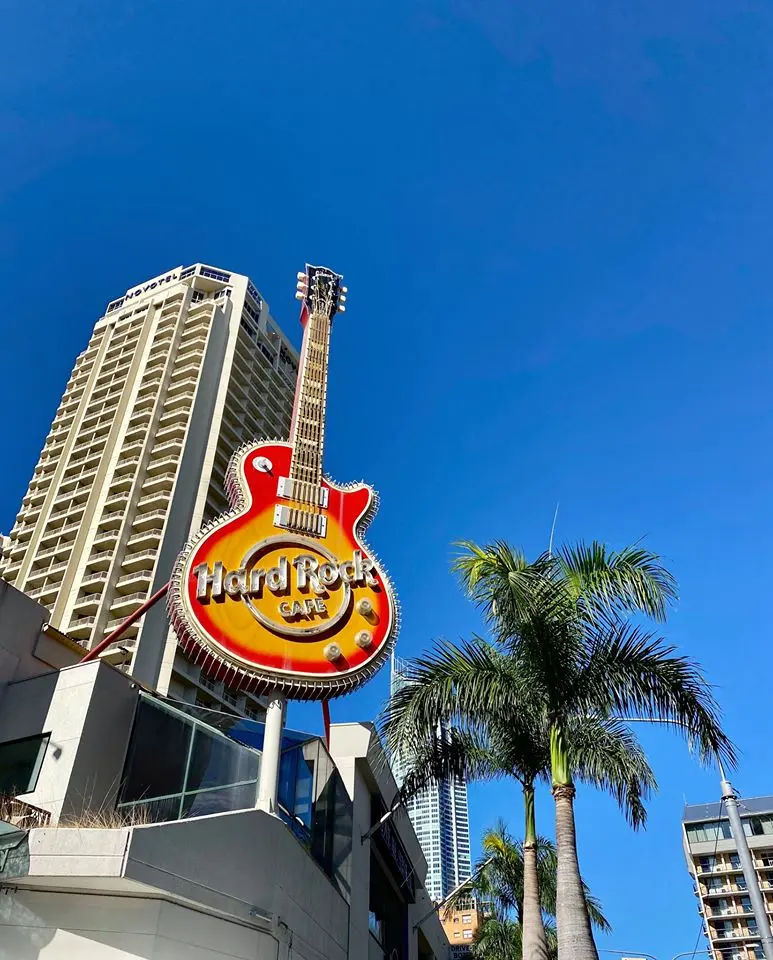 Image credit: Hard Rock Cafe Surfers Paradise
Family Restaurants Surfers Paradise
No.1: Hard Rock Cafe
Here's a fun fact. Hard Rock Cafe is a global phenomenon with 185 cafes that are visited by nearly 80 million guests each year.
You can't miss the Hard Rock Cafe in Surfers Paradise.
Just look for the GIANT guitar on the building.
Enter, and you'll find rock memorabilia from the most famous musicians, singers, and artists around the world.
Then pick up a menu and whip your hunger into a frenzy.
There's BURGERS – juicy, decadent, layered burgers with giant meat patties, melted cheese and tasty condiments.
And steak.
And a tempting cocktail menu.
Lots of fun for the whole family.
Address: Cnr Cavill Ave &, Surfers Paradise Blvd, Surfers Paradise QLD 4217
No.2: Govindas Surfers Paradise
If you prefer wholesome vegetarian food, head to Govinda's for Indian curries, kofta balls and mango lassie.
Address: 3120 Surfers Paradise Blvd, Surfers Paradise QLD 4217
Surfers Paradise Family Accommodation
Where to stay in Surfers Paradise with Kids?
For a comprehensive review on the above properties, visit our Surfers Paradise accommodation guide.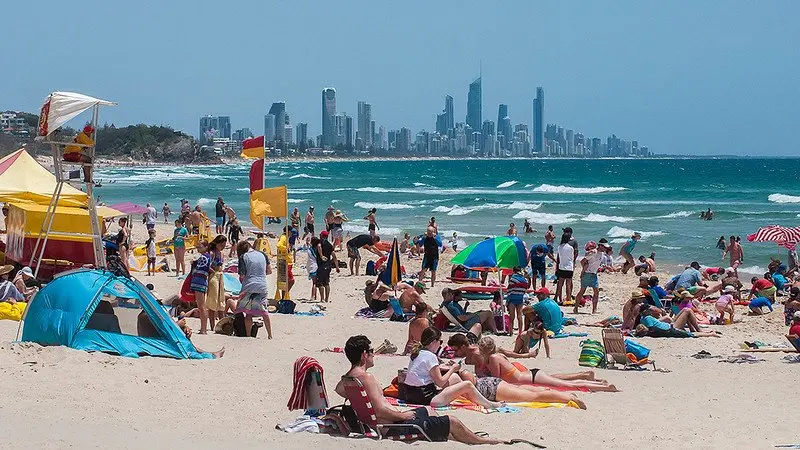 Image credit: Kerrie Brailsford via Flickr CC BY-SA 2.0
No.4: Burleigh Heads
Burleigh is beloved by locals from one end of the coast to the other, and would probably top the list of 'favourite places on the Gold Coast' in any poll.
Burleigh headland is just right for a picnic with the kids (BYO bottle of wine) with views out past the breakers to Surfers Paradise.
Kids of all ages love to skate or scooter down Burleigh hill, past the surf club, and all the way up to North Burleigh and back.
(Check out the cute North Burleigh playground too)
It's flat all the way and totally fun, with a number of playgrounds to break up the route.
James Street Burleigh
James Street in Burleigh will capture the heart of all fashion-loving mum's.
While in Burleigh you've got to try a curry or kofta balls at family friendly Govinda's on James street too.
You can also duck into one of the coffeeshops along this strip for a latte or a chai.
Justin Lane
Just around the corner is Justin Lane, the well known roof top pizzeria.
Leave the kids with a babysitter, or grab takeaway.
Hot tip: Show the kids the egg spinner ride at Justins Park across the road too. It's a classic!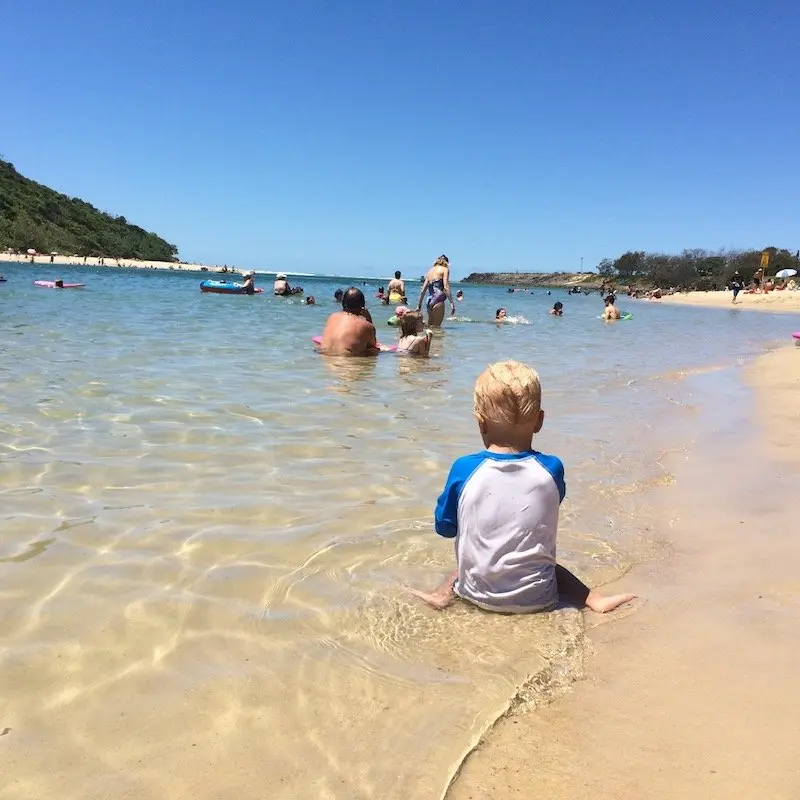 Burleigh Head National Park
Locals love the walk from the top of Burleigh Hill around and through the national park to Tallebudgera Creek.
Arrive early enough at Burleigh to grab a parking spot, and you can walk around, cross the Tallebudgera Creek bridge, and find a magical swimming spot.
Tallebudgera Creek Beach
Swim at Echo Beach on the Burleigh side.
Or in the creek inlet on the Tallebudgera side (by the Gold Coast Recreation Centre/Tallebudgera Beach School), and wander over to the Tallebudgera surf club for lunch and an hour or so on the fun surf-lifesaver playground there.
"Tally" creek is super for stand up paddle boarding too.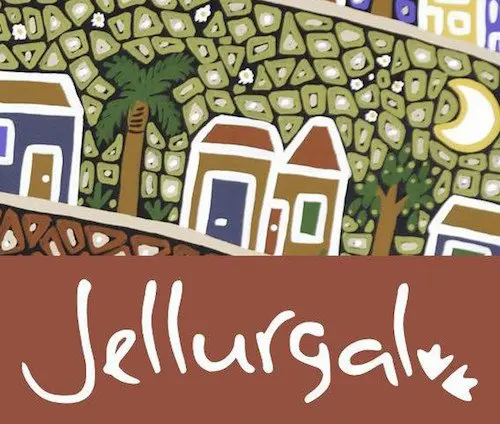 Jellurgal Aboriginal Cultural Centre
Return via the Jellurgal Cultural Centre located at 1711 Gold Coast Highway for an insight into local indigenous culture.
See Aboriginal artefacts of everyday life from the past including:
dilly bags
shields and tools
boomerangs
nulla nullas
message sticks
didgeridoos
There's also a boardwalk to wander to learn more about the local Yugambeh speaking people.
You can also browse Aboriginal art, jewellery and handicrafts created by local Indigenous artists, or enjoy a coffee at their Jingi cafe.
Entry is free.
David Fleay Wildlife Park
A low key wildlife reserve on the Gold Coast, where you can meet emus, koalas, lizards, snakes, noctural animals, birdlife AND crocodiles.
This attraction is a local's secret!
Address: Loman Lane, Burleigh Heads QLD 4220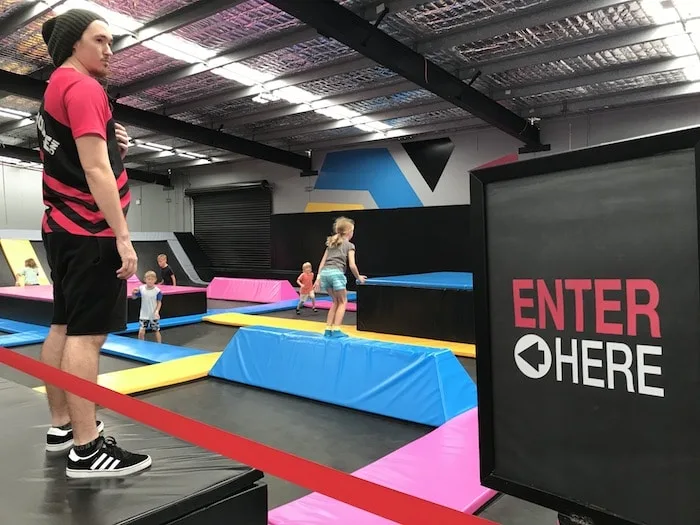 Bounce Gold Coast
Gold Coast kids LOVE Bounce at Burleigh.
There's 7 EPIC things to do at this Burleigh trampoline park.
Address: 5 Sunlight Dr, Burleigh Waters QLD 4220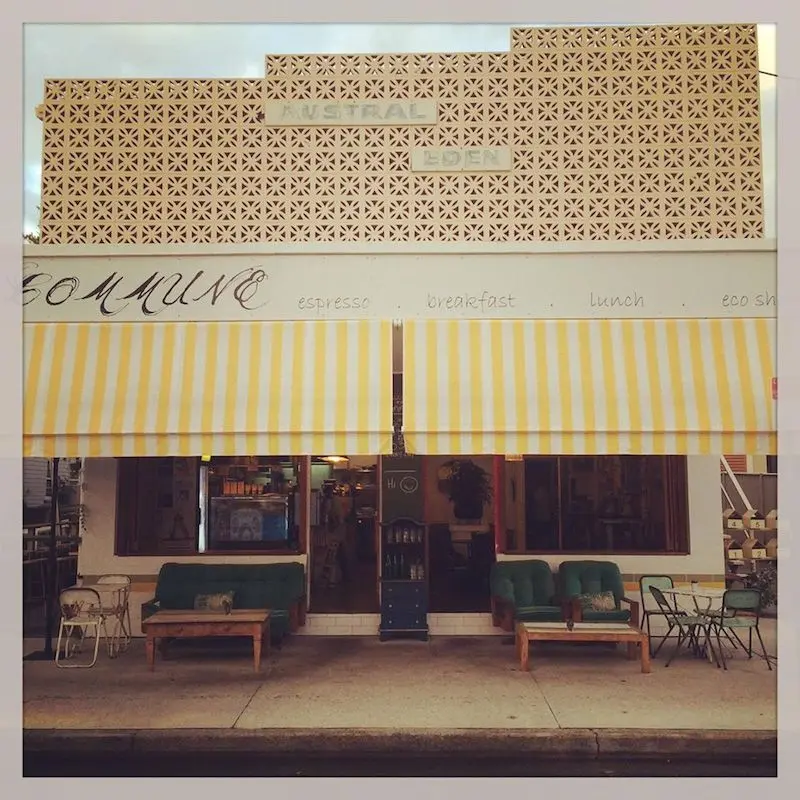 Image credit: Commune Burleigh Heads
Burleigh Heads Cafes
No.1: Commune Cafe Burleigh
Still one of Gold Coast's best cafes, with a dedicated cult following.
The combo of quirky vintage decor, organic food and delicious drinks keep locals and visitors coming back, again and again.
Address: 1844 Gold Coast Hwy, Burleigh Heads QLD 4220
No.2: Canteen Kitchen
If you love pretty food that tastes as good as it looks, visit Canteen.
Address: 23 Park Ave, Burleigh Heads QLD 4220
No.3: Paddock Bakery Burleigh
Stop by the original and the best.
Don't miss the LINDT CHOCOLATE BROWNIE with Dulce De Leche & Walnuts.
Or their signature HOT CHOCOLATE – it's an explosion of creamy melted chocolate with crispy skin marshmallow on top!
Address: 20 Hibiscus Haven, Burleigh Heads QLD 4220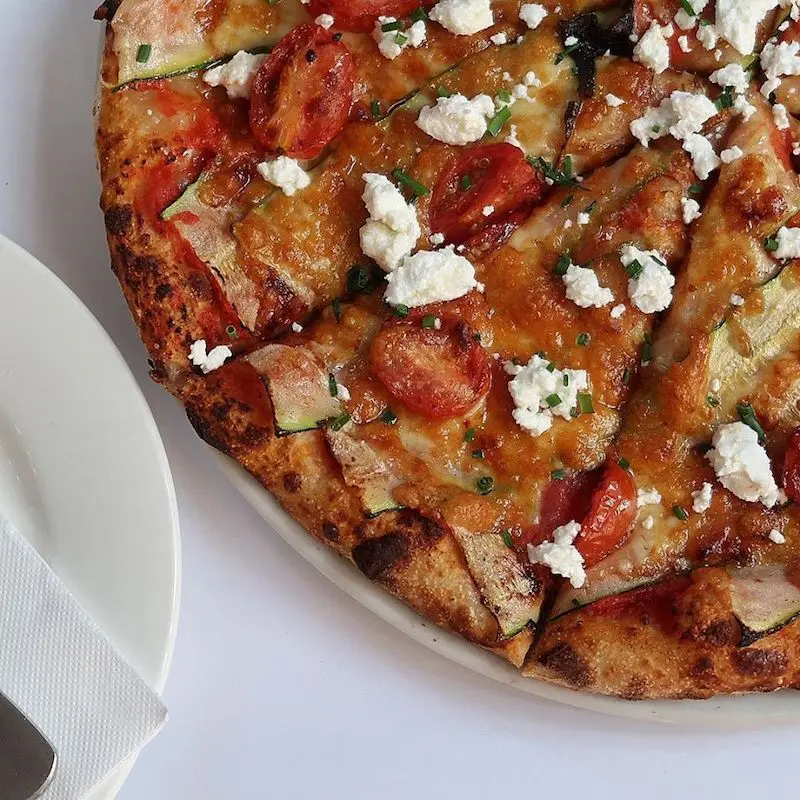 Image credit: Justin Lane
Burleigh Heads Restaurants
No.1: Justin Lane Establishment
Gourmet pizzeria with a friendly happy atmosphere and community vibe.
It's the spot to hang if you are part of the 20-something crowd.
Address: 1708-1710 Gold Coast Hwy, Burleigh Heads QLD 4220
No.2: Jimmy Wah's
Jimmy Wah's is modern Vietnamese with a modern Australian influence.
It's fresh, fun and fabulous.
Make a booking so you don't miss out.
Address: 1724 Gold Coast Hwy, Burleigh Heads QLD 4220
No.3: Rick Shores
Evidently, the Moreton Bay bug roll is THE thing to order.
But there's plenty more delicious food to choose from too.
Don't miss it.
Address: 3/43 Goodwin Terrace, Burleigh Heads QLD 4220
Burleigh Heads Family Accommodation
Where to stay in Burleigh Heads with Kids?
For a comprehensive review on the above properties, visit our Burleigh Heads accommodation guide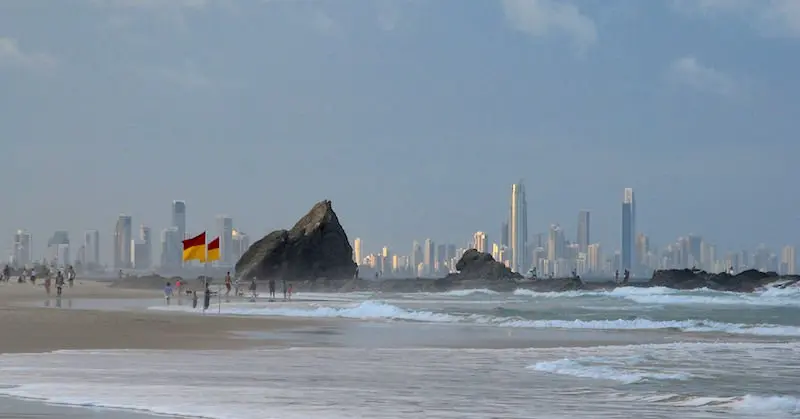 Image credit: Rob Deutscher
No.5: Currumbin, Palm Beach & Southern Gold Coast suburbs
On the list of our favourite places in the world, Currumbin is no. 1.
It's drop dead beautiful (like many beaches) but the combo of scenery, flat terrain, beachside walking pathways, yummy family-friendly cafes, the Pirate Park at Palm Beach Parklands, and the Currumbin Wildlife Sanctuary means it ticks ALL our boxes.
Go surf at Currumbin Alley
Take a snap of the picturesque Elephant Rock
Try paddle boarding along the creek down to Winders park.
Check out the Sunbathing Lady statue as you wander along Pacific Parade down towards the Currumbin Surf Club.
Palm Beach is just over the bridge, and this one dodgy suburb has experienced a comeback and is now one of the Gold Coast's top foodie haunts.
Superbee Honeyworld
A place to learn about bees, and the good they do in the world. You can also meet a hive of bees, and see them work creating delicious honey.
Lots of honey products to buy here too.
Address: 35 Tomewin St, Currumbin QLD 4223
Surf World Gold Coast
The Museum of Surfing on the Gold Coast is located opposite Currumbin Bird Sanctuary.
Full of collections of surfing memorabilia, and stories of local surf heroes who ruled the waves around these parts.
If you are a die hard surfer, don't miss it.
Address: 35 Tomewin St, Currumbin QLD 4223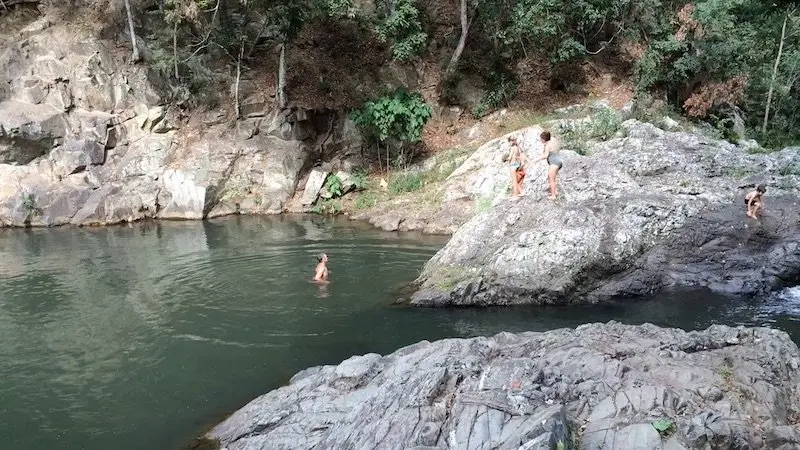 Currumbin Rock Pools Currumbin Valley
The best natural rock pools on the Gold Coast, loved by locals and the odd visitor that finds it.
Mt Cougal Cascade Currumbin Valley
Just 6km further on, you'll find the Springbrook National Park and Cougal Cascades.
THIS is a top spot for nature play.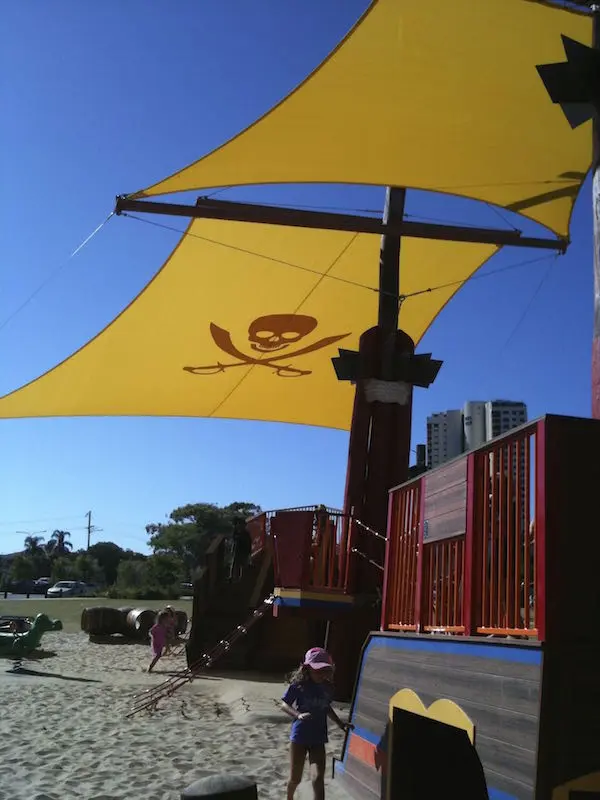 Local Palm Beach Cafes
No.1: Dune Cafe
Right at Palm Beach Parklands, next to the Pirate Park, Dune cafe is a healthy spot for breakfast, brunch or lunch.
Bring the kids scooters or bikes, so you can work off that cake you weren't planning to eat!
Address: 945 Gold Coast Hwy, Palm Beach QLD 4223
No.2: Barefoot Barista Palm Beach
Just up the road in the midst of Palm Beach shops, find Barefoot Barista, a coffeehouse for local coffee lovers.
Try one of their Barefoot classics including Barefoot Beans (with poached eggs, and slow brewed rich beans) or their Loaded Vegan sweet potato fries with cashew cheese!
Their burgers are legendary.
Address: 15 Palm Beach Ave, Palm Beach QLD 4221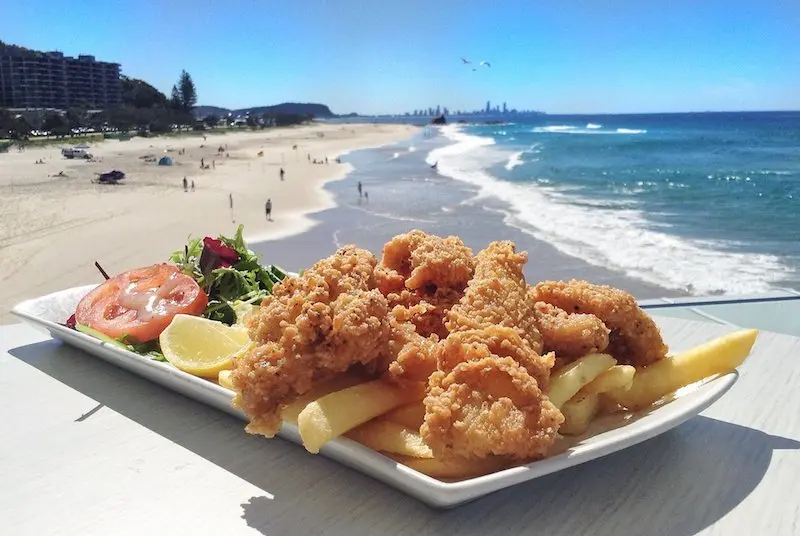 Image credit: Currumbin Beach surf club restaurant
Currumbin Restaurants
No.1: Currumbin Surf Club
Currumbin Beach Vikings surf life saving club has the best view from a restaurant on the coast.
Who cares what the food or drinks taste like?
Grab a table by the windows, or on the balcony and enjoy the sunny rays.
Please call (07) 5534 2932 to make a reservation. Open 7.30am until 8pm. (9pm Fri and Sat)
Address: 741 Pacific Parade, Currumbin QLD 4223
No.2: The Boatshed Currumbin
Stop by the Boatshed for breakfast, lunch or dinner.
With views of the divine Currumbin Creek, this is a low key spot for delicious dining.
Locals love it.
Address: 2/4 Thrower Dr, Currumbin QLD 4223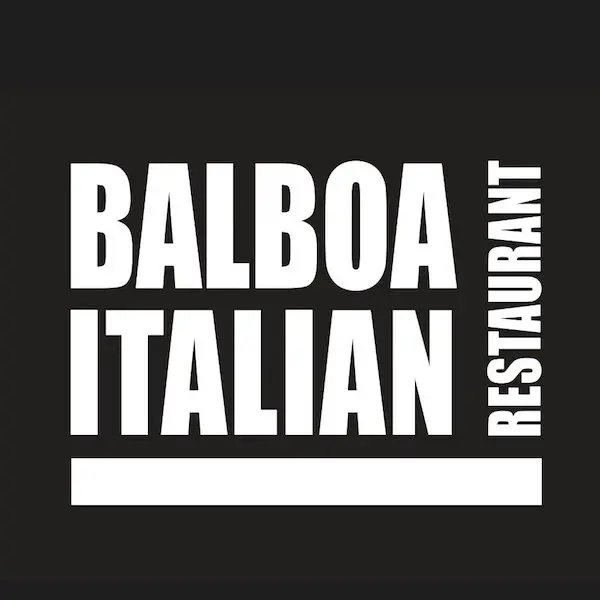 Palm Beach Restaurants
No.1: Balboa Italian
THIS is a restaurant best enjoyed without the little ones in tow.
The distinctive two storey brick and black timber building on the GC highway is the place for vintage furniture, Italian style and food that makes your mouth water.
There's pizza and salad of course, but try the handmade gnocchi or risotti if you want authentic flavours and rich tastes.
Or the Roasted Lamb cannelloni – this is foodie heaven.
Check the menu to set your mouth watering, then book a table.
Address: 1069 Gold Coast Hwy, Palm Beach QLD 4221
No.2: The Collective Palm Beach
This was the place that changed Palm Beach forever.
Opened in 2016, it came to life as a collaboration of five kitchens serving American, Italian, Mexican, Asian and Greek.
You pick what you'll eat!
The mood is festive and fun, with fairy lights, a pink flowered frangipani tree, a roof top bar, and loads of natural light – it's Palm Beach, a GC version of Palm Springs!
Address: 1128 Gold Coast Hwy, Palm Beach QLD 4221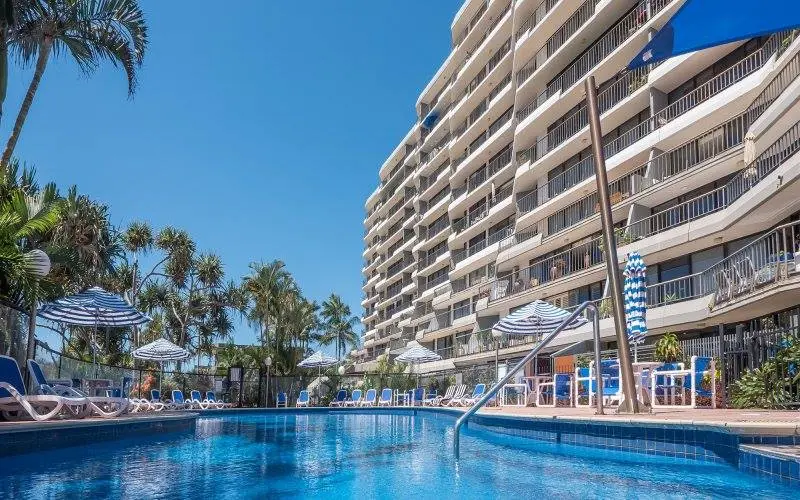 Image credit: The Rocks Resort Currumbin Beach Gold Coast
Currumbin Family Accommodation
Where to stay in Currumbin with Kids?
For a comprehensive review on the above properties, visit our Currumbin accommodation guide.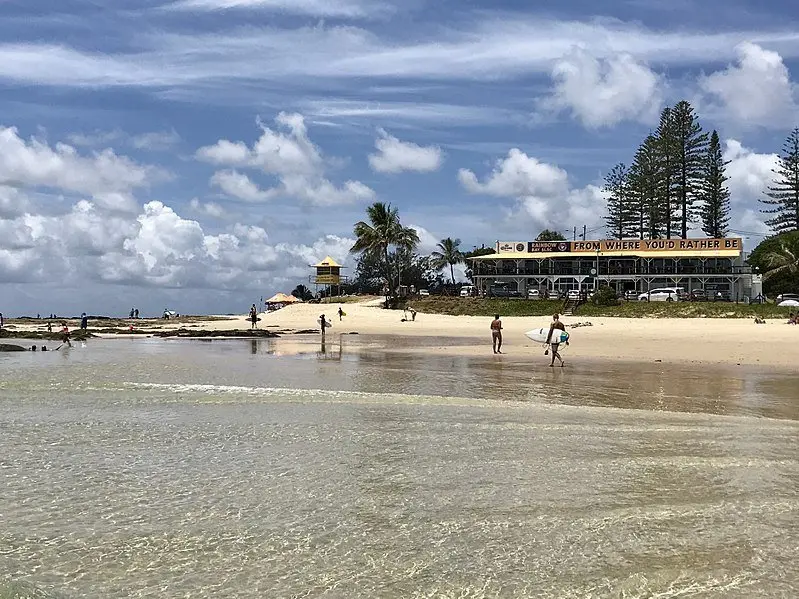 Image credit: Kgbo via Wikipedia CC-BY SA 4.0
No.6: Coolangatta & Rainbow Bay
THE unspoilt, 70's like Gold Coast we knew and loved has gone for good but if there's anywhere you can feel it in the winds, it's here at Coolie and Rainbow Bay.
You don't need much more than a hotel room, and taking all the inflatables and sand toys to the calm waters of Rainbow Bay and Greenmount Beach, or around at Froggie's beach.
Or exploring the rock pools at Snapper Rocks.
It's all walkable, and there's views from both Rainbow Bay lookout at Pat Fagan park, Kirra Hill lookout, and Dbar hill on Tweed terrace.
See the Captain Cook memorial too.
Kids love both Kirra Beach playground, and the Queen Elizabeth Park playground opposite the Strand at Coolangatta.
Image credit: Gelato Messina Coolangatta
Coolangatta Restaurants
No.1: Aztec Restaurant
A sister to the Aztec Broadbeach, you can't go wrong with Mexican for kids and families.
Address: 152 Griffith St, Coolangatta QLD 4225
No.2: Grill'd Coolangatta
Burgers and fries for the kids, but delicious flame grilled burgers for those with a hungry appetite.
Address: Shop 23 Showcase on the Beach, 72/80 Marine Parade, Coolangatta QLD 4225
No.3: Gelato Messina
For afters, this is the only ice cream shop you'll need in Coolangatta.
The flavour selection is unparalleled.
Address: 33/72-80 Marine Parade, Coolangatta QLD 4225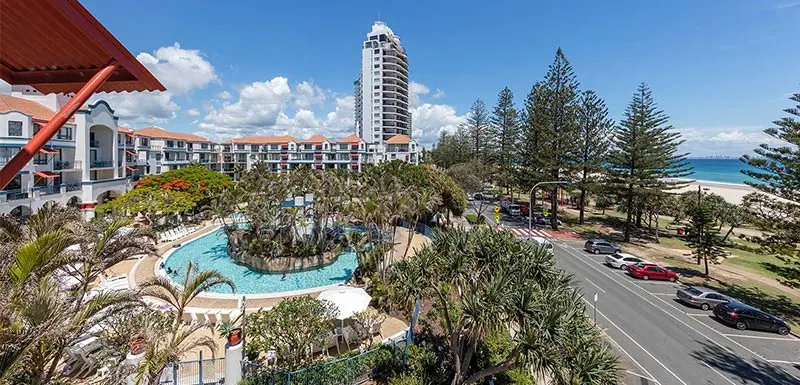 Image credit: Oaks Calypso hotel
Coolangatta Family Accommodation
Where to stay in Coolangatta with kids?
For a comprehensive review on the above properties, visit our Coolangatta accommodation guide.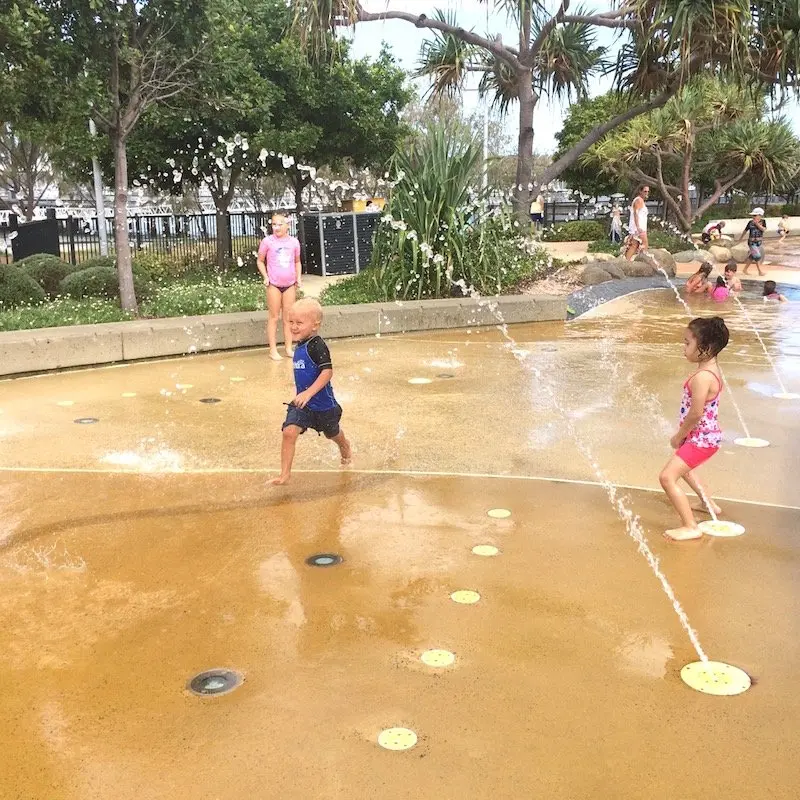 No.7: Main Beach & Southport
Main Beach & Southport are good go-to areas with good access to public transport.
Southport Broadwater Parklands
Stay near here and you'll be close to Seaworld, and the awesome Broadwater Parklands park, a giant coastal green space.
Home to the Southport rock pools and water splash pad, plus:
There's tonnes of FREE and low cost activities on the Gold Coast here.
Hot tip: Check out Active and Healthy Gold Coast programs for school holiday fun for free (or just a few dollars)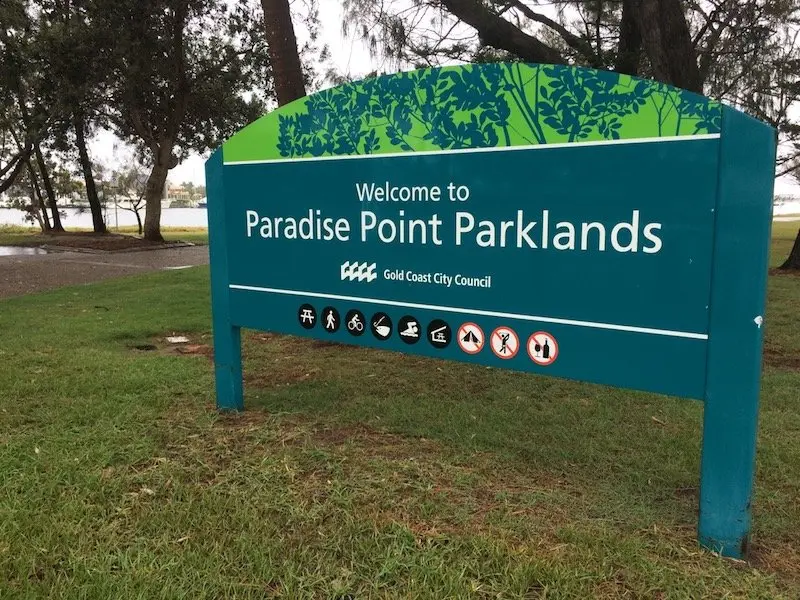 No.8: Labrador, Runaway Bay and Paradise Point
The Gold Coast IS all about the beaches.
I would not be booking anywhere that is more than a 5 minute walk to the beach or you'll be in the 'burbs, and wasting plenty of money AND time on taxi's and buses getting to where you want to go.
That said, the best North Gold Coast suburbs for holidays are:
Labrador
Chirn Park
Paradise Point
Runaway Bay
While not the typical touristy spot, North Gold Coast is the spot if you like boating, want to visit Sanctuary Cove, or are planning a week long vacation at the major theme parks (Warner Brothers Movie World, Paradise Country, Dreamworld, and Wet n Wild).
It's also the perfect spot for laid back days at the Paradise Point Parklands, and sailing for kids.
Paradise Point Parklands
A beautiful park and playground on the northern end of the GC.
There's opportunities for kids to learn to sail here too.
Bring your swimmers and towels too.
Harley Park Labrador
There's TWO fun playgrounds here, plus an enclosed swimming beach.
But the highlight is watching the pelicans be fed every day by the fishmonger.
Come watch! It's free.
Movie World
Wondering if there's much to do at Movieworld for kids?
There is.
Read our guide to Movieworld for toddlers and preschoolers.
Book tickets here. (Discount 3 day passes to Movie World, Seaworld and Wet n Wild theme parks)
Outback Spectacular Dinner & Show
Book tickets to see this Australian history extravaganza on horseback, with a delicious steak dinner and interactive fun for the whole family
It's right next to Movie World
Image credit: NRMA Treasure Island Holiday Resort
Where to stay on the Gold Coast with kids (Northern end)?
Where to stay near the theme parks on the Gold coast?
Visit our guide to accommodation near the Gold Coast theme parks
If you are renting a house on Airbnb for your trip, and have a car, Ormeau Hills and Hope Island are other good outer suburbs quite near the theme parks. Although Dreamworld is in Coomera, it would not be on our list of handy places to stay.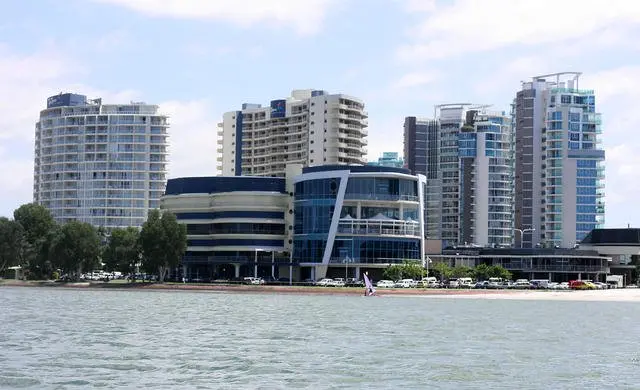 Image credit: Tweed Heads Twin Towns via Wikipedia CC BY 2.5
No.9: Tweed Coast & Kingscliff
Our favourite end of the Gold Coast is as close to the QLD border as you can get, but just over into NSW!
THIS is laid back holiday mode for families, without the traffic, or botox, or the hype of this energetic city.
It's the spot for wandering and lazing about, but you will likely need to drive a little from time to time to access all what the GC has to offer.
It's a fair trade off.
The natural attractions are the highlight:
Ray Pascoe park on Kennedy drive to feed the wild pelicans
Fingal Head
Tropical Fruit World (wonderful spot for kids!)
Cudgen Nature Reserve
Mount Warning
Dreamtime Beach
Ed Parker rotary park (swimming spot)
Casuarina beach
Cabarita beach to see all the surf action and walk the headland (Norries Headland Lions Park)
Hastings Point beach and lazy river, and Hastings point lookout
Kingscliff is an up and coming town, with a brand new pottery workshop space where you can make your own cups and plates, and an old school art deco cinema where you can bring a glass of wine.
Be sure to visit Minjungbal Aboriginal Cultural Centre, the Sheoak Shack gallery cafe in Fingal, and Springloaded trampoline park at Banora Point too.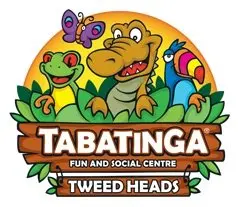 Where to eat in Tweed Heads?
Head to Seagulls Leagues Club for dinner, and drop the kids to play Tabatinga indoor play centre on your way.
Weekends only.
Hot tip: Enjoy lunch at Paper Daisy at Halcyon House, the boutique hotel of your dreams!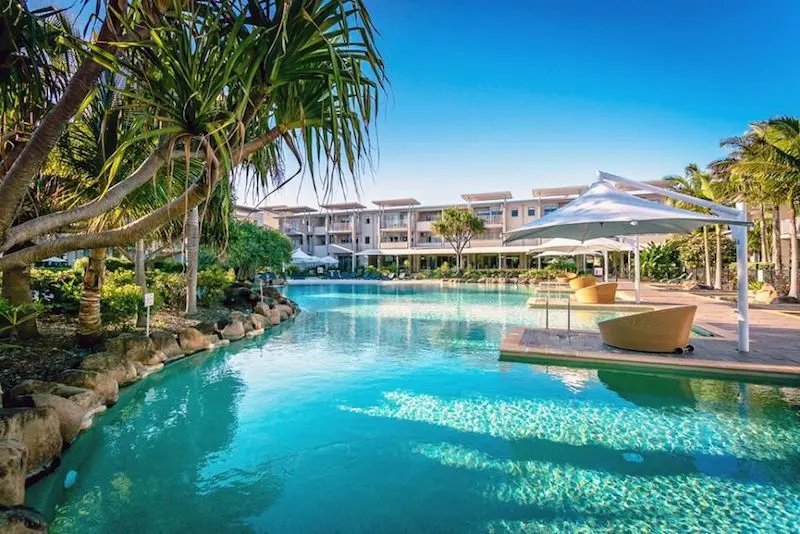 Image credit: Peppers Salt Resort and Spa Kingscliff
Where to stay on the Tweed Coast?
For a comprehensive review on the above properties, visit our Tweed Coast accommodation guide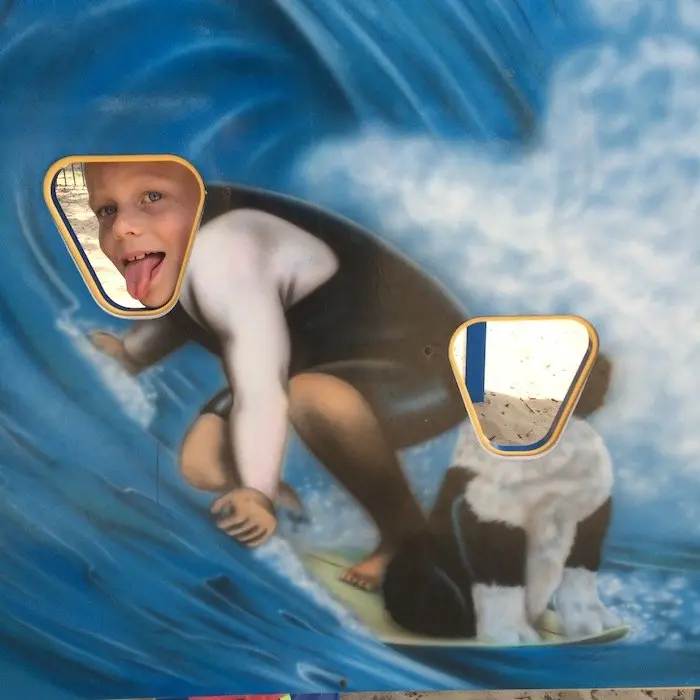 Looking for more Gold Coast attractions for families?
Click the blue links below for more Gold Coast ideas