INSIDE: A sneak peek into Tokyo Station Food Hall, Tokyo Me+
Japanese people never visit friends or family without a gift in hand.
It's a Japanese cultural tradition, and one that I adore.
This is why every Tokyo Department Store and Japanese Train station has a well-stocked food hall filled with prettily packaged cakes, fruit, regional delicacies, and Japanese snacks.
Just to the right of Kitchen Street is a place selling the most delicious cakes of the packaged kind.
TOKYO ME+ is the BEST food hall in the city for elegant cakes and foodie gifts
Let me be your travel guide, and encourage you to take a good look at this beautiful Tokyo food hall below.
Disclosure: This article contains affiliate links. If you make a purchase after clicking on one of these links, we may receive a small commission at NO extra cost to you.

Guide to Tokyo Me+ for The Best Cakes in Tokyo!
If you are looking for unique Japanese souvenirs, and want to buy foodie gifts to take home, this is the place to start.
There's so many elegantly wrapped treats to choose from, you might be compelled to spend all your money in this place alone.
Don't forget to buy a box or two of typical Japanese dessert cakes to try for yourselves when you get home.
A wrapped box of treats is the thing you need when you find yourself at home with the post-Japan trip blues.
Take a bite, and remember your trip with a smile.
If you have kids in tow on your travels, they will be mesmerised by the rainbow hue colouring of the place, along with all the beautiful shapes, flowers, and styles of cakes and desserts.
It's SUPER pretty in this place.
It's worth a wander even just to take a look!
---
RELATED: Big List of the Best Things to do in Tokyo with kids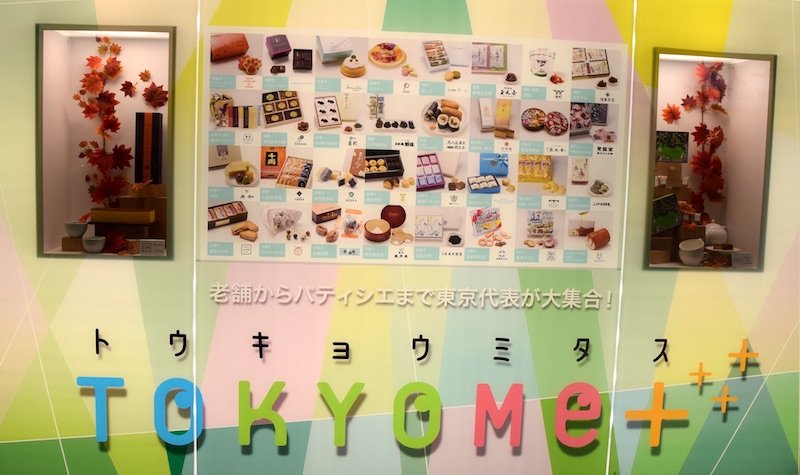 Tokyo Station Food Hall Menu Board
Near the entrance, you'll see a menu board showing all the different cakes and desserts on offer.
It's then up to you and your kids to decide what you think are the best cakes in Tokyo?
Will it be the famous Banana cakes
Will it be the soft pancake with red bean filling?
Will it be the Fabrice Gillotte box of chocolates?
Will it be the Japanese sponge cakes, or
Will it be the rainbow macarons?
Take advantage of the taste-tests at many of the stores to help you decide!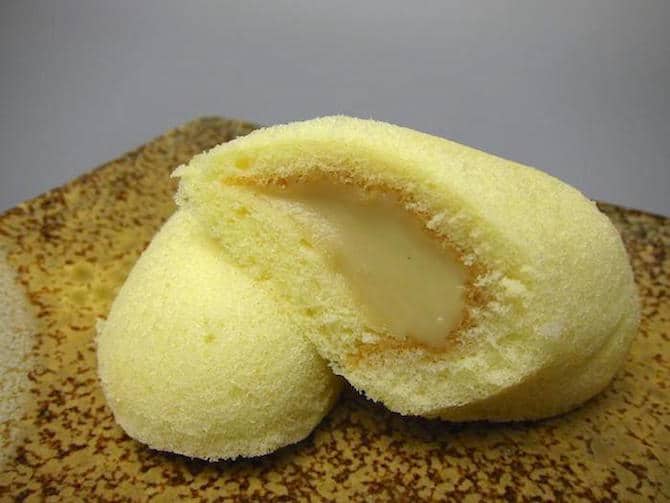 Sample the Best Japanese Cakes in Tokyo
No.1: Tokyo Banana
This is a famous and popular sweet souvenir from Japan, and is much loved by Japanese people everywhere.
Sponge cake is wrapped around a filling of mushy banana mixed with creamy custard cream.
While it looks a bit like an American Twinkie, the taste is much better!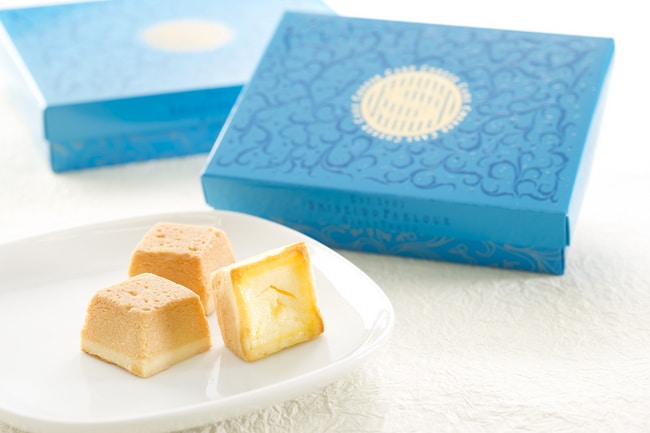 No.2: Shiseido Parlour Cheesecake
This cheesecake is made with cream cheese produced in Denmark, enveloped and baked in an aromatic biscuit base made from Hokkaido-grown wheat flour.
It melts smoothly in your mouth for a supremely rich, intense experience of pure extravagance.
Each piece is wrapped individually with great care.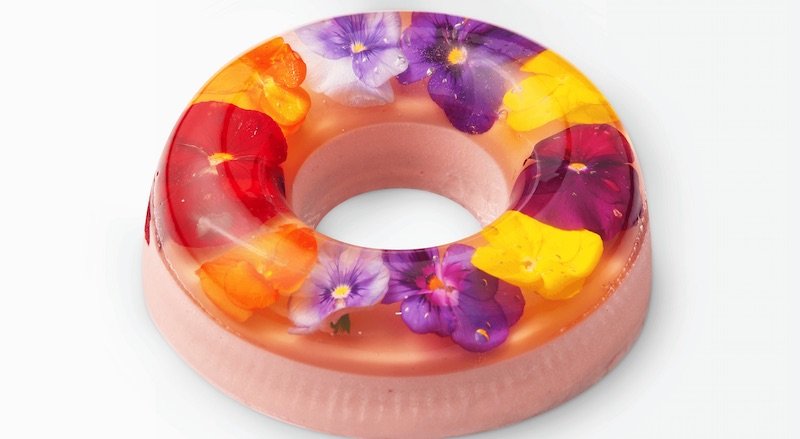 No.3: Flower Bavarois Cream
You must find the shop Havaro (a combination of 'Hana' meaning flower, 'Varo' from the Japanese nickname for Bavarion, 'Bavarois') just to take a peek at this beautiful cake dessert topped with edible flowers.
The base is made from Bavarian cream, and the chefs of Havaro have taken it up a level, creating a work of seasonal art, with a sparkly gelatinous topping.
You can buy this cake in 'bite size' pieces also.
These cakes come in six flavours:
orange
cream cheese
fraise (French for "strawberry")
vanilla yogurt
chocolate, and
matcha green tea flavors.
Go early if you want to buy one of these Japanese cakes. These sell out quickly. Check the website for details.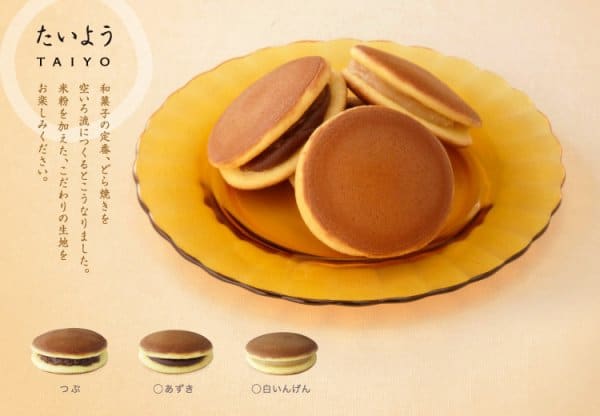 No.4: Dorayaki Sponge Cakes
If you are looking for an authentic old-school favourite of Japanese people for hundreds of years, try the sweet bean cake known as dorayaki.
Dorayaki are two pancake-like pieces of sponge cake filled with a giant spoonful of the sweet red bean paste called "anko".
Good ones are fluffy and moist.
While red bean paste is the traditional flavour, modern makers also fill them with other sweet fillings such as mixed berry jam, lemon, blueberries or cherries.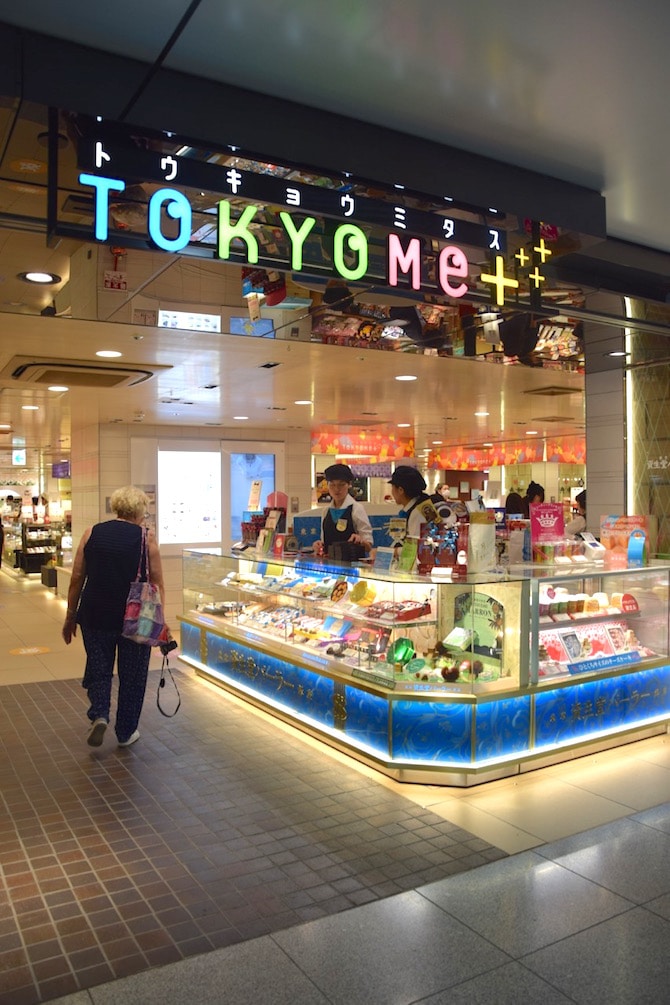 Meet Tokyo Department Store Food Hall Staff
Wandering through this Tokyo Department Store food hall, you'll meet the staff behind each stall.
Japanese hospitality staff are the most polite shop assistants we've ever met, and they take pride in their work.
Every food purchase is wrapped delicately and with care, to make sure your gift is as beautifully presented as can be.
They smile and laugh with you as you both work hard to understand one another!
It's a joy to shop in this Japanese food hall for that very reason.
The fact that Tokyo Me+ has the best food for Tokyo souvenirs and gifts is a bonus!
MORE OF THE BEST THINGS TO DO AT TOKYO STATION
When you've finished sampling and buying up all the sweet treats, head back into First Avenue Tokyo Station to find more fun things to do.
No.1: Tokyo Ramen Street
Ramen Street is a food alley full of delicious noodle shop restaurants.
The options are endless.
No.2: Kitchen Street Tokyo Station
Another spot to sample traditional Japanese food with locals.
No.3: Character Street Tokyo Station
Character Street Tokyo Station is a shopping alley in the station FILLED with licenced Japanese characters.
Buy toys, dolls, clothing, stationery, luggage, bags, cute food and more in your favourite Japanese character brand.
No.4: Tokyo Okashi Land
Okashi Land is the spot to pick up unique Japanese snacks by famous snack manufacturers in Japan.
Think Ginco and Calbee.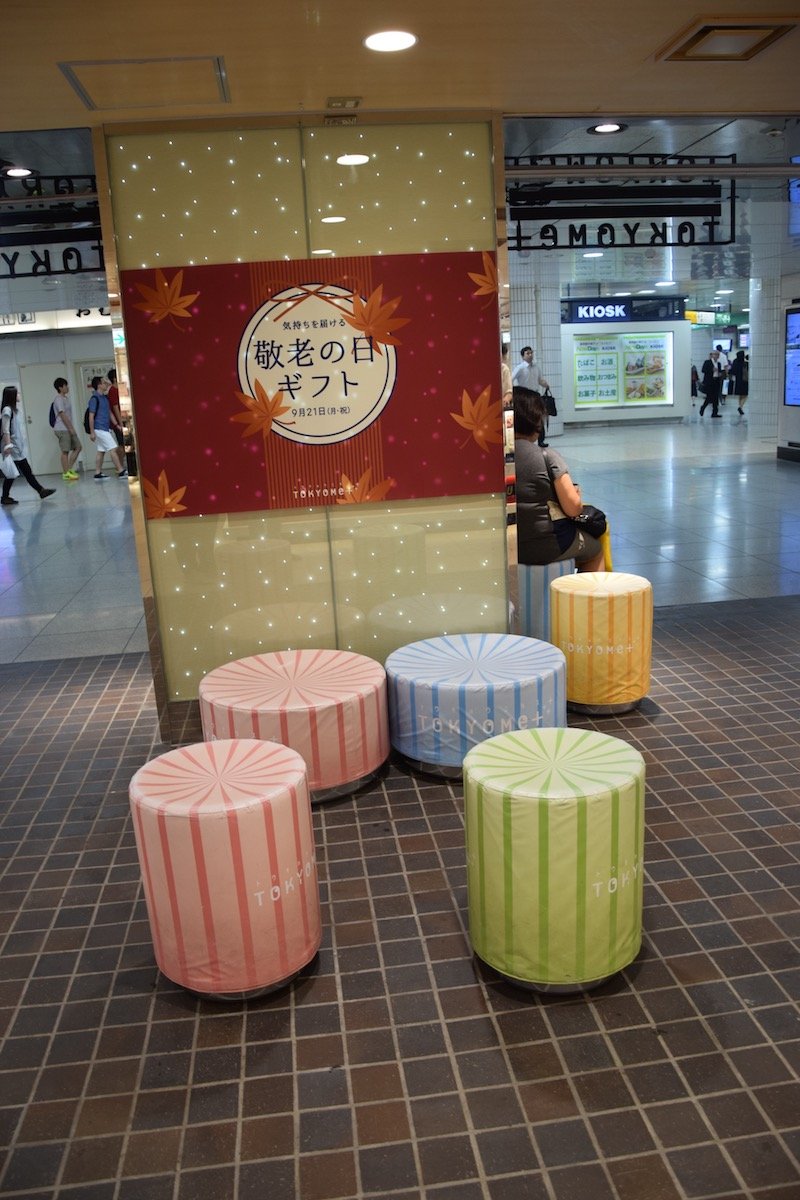 THE INSIDE SCOOP: Tokyo Station Food Hall
Correct at time of publication on Roam the Gnome. Please check with venue for updates. We apologise in advance if there have been any changes we are unaware of. All prices in yen, unless otherwise stated
Address: Chiyoda-ku, Marunouchi 1-9-1, Tokyo-eki Ichibangai 1st floor
Telephone: 03-3218-0051
Opening Hours: Open Monday-Friday 9 a.m.-8:30 p.m. Weekends/holidays 9 a.m.-8 p.m.
Price of cakes and desserts: See individual stores for pricing.
How to get to Tokyo Station Tokyo
Take a JR train to Tokyo Station.
Walk to the 1st floor. The Food Hall is next to the Daimaru Tokyo Department Store entrance and in front of the Yaesu North Gate.
Tokyo Station Map
Toadstool Rating:
The best cakes in Japan will definitely appeal to foodies, and those who love to give elegant gifts to others. Get ready to tantalise your tastebuds.


Looking for MORE SUPER DOOPER FUN places to shop in TOKYO?
Click the blue links below for more Tokyo tips.