INSIDE: Where to buy a Japanese bento lunch box in Tokyo on a budget.
Japanese people seem to have a special talent for packing delicious, nutritious lunchboxes for their kids and family members.
At age 15, I travelled with 16 fellow Japanese-Language classmates on a school group tour to Tokyo and regional Japan for a month.
I experienced firsthand the tradition of a portable lunchbox 'obentoo' box when I lived with a Japanese family for 3 weeks.
And I've been in love with bento boxes ever since.
Take a look at our guide to Bento, and what we think is the best shop in Tokyo to buy a bento lunch box to use at home.
Disclosure: This article contains affiliate links. If you make a purchase after clicking on one of these links, we may receive a small commission at NO extra cost to you.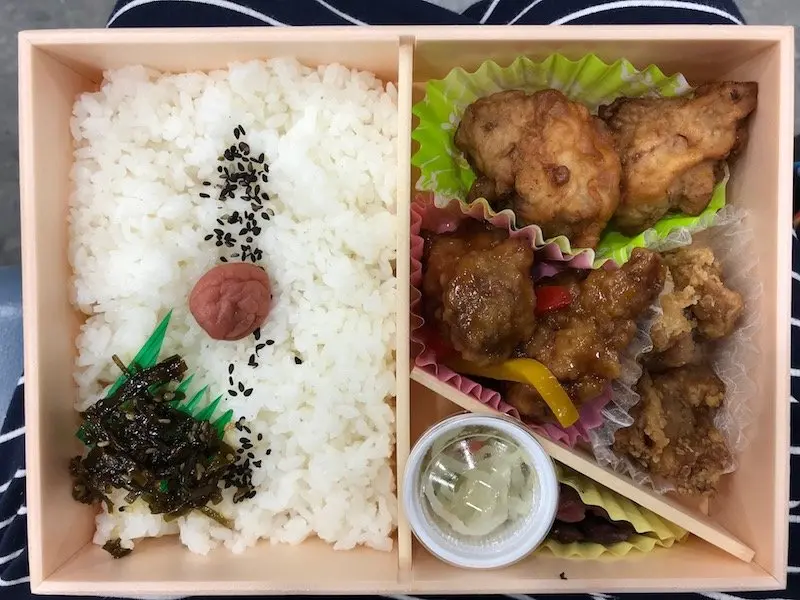 Question: What is a Bento Box?
A bento box is simply a traditional Japanese lunch (or meal) featuring multiple small dishes, served in a 'box' style lunchbox with separated compartments.
My homestay mother sent me off on my daily school adventures with a bento food box in hand, and I'd never seen food be presented so beautifully.
Bento are often wrapped with a pretty 'furoshiki' cloth wrap that, when knotted, forms a sack with a carry handle that helps keep multiple layers of bento safe from spilling.
These furoshiki cloths come in a huge range of patterns, styles and colors including this Maneki-Neko Lucky Cat one and this pretty pink and blue Japanese Mountain design.
Opening a bento was my favourite part of the day, and my mouth waters at the memory of it.
BUY NOW ON AMAZON: Wrapping with Fabric: Your complete guide to Furoshiki, the Japanese Art of Wrapping book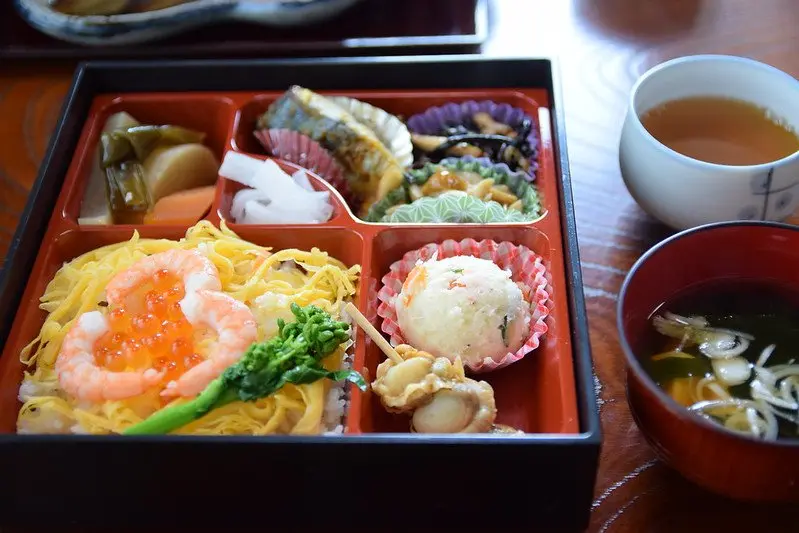 Image credit: Raita Futo via Flickr CC BY-2.0
What goes into a classic traditional Bento box?
Each section in the box was filled with a small morsel of Japanese food.
In a traditional Japanese lunchbox, you might find:
A scoop of creamy coleslaw.
Miniature sausages filled with cheese.
Crunchy chicken karaage.
Seaweed salad or salads to reflect the season
Buckwheat noodles in ponzu sauce.
Tempura vegetables.
Umeboshi pickled sour Japanese plums.
Pickles.
Egg salad.
Tamagoyaki – a sweet Japanese rolled omelette.
Deep-fried foods such as croquettes, and fried fish cakes.
Agedashi tofu
Rice.
Onigiri rice balls filled with tuna, salmon, pickled vegetables or umeboshi plum
Steamed fish.
Gyoza pork dumplings
Pickled vegetables.
Fresh vegetables
Sadly, you probably WON'T find any of the best candies from Japan inside. (But do try them if you get the chance!)
---
RELATED: Complete Guide to Shopping in a Japanese Grocery Store, including suggestions on what to buy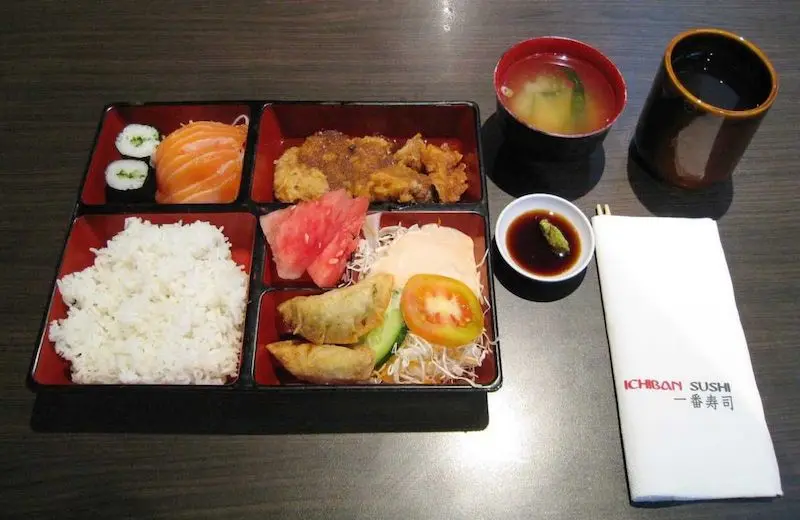 Image credit: Source unknown
What does UMAMI in Japanese mean?
Umami means "pleasant savory taste", that almost indescribable sensation when the flavours mix to create the perfect full-bodied impression in your mouth.
A Japanese lunch box "obentoo" is designed to be a nourishing, well balanced collection of foods to satisfy hunger and palate, a mix of the five tastes considered in Japan:
sweet
salty
sour
bitter and
the illusive "umami".
---
RELATED: An Epic List of Tokyo Supermarkets for Grocery Shopping in Japan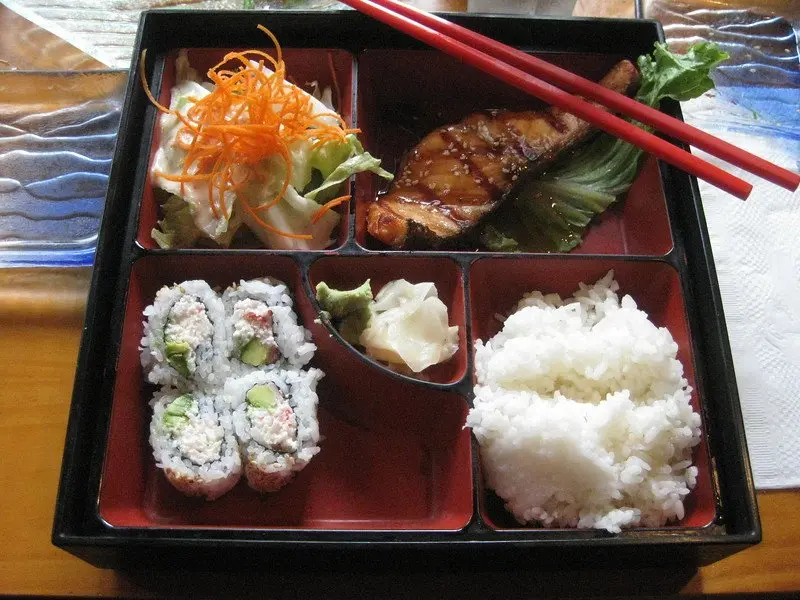 Image credit: Michael Ocampo via Flickr CC BY-2.0
Japanese Bento Set Meals
In Japan, eating from an "Obento" box for lunch is a cultural standard.
An obentoo meal is a balanced and aesthetically pleasing meal for one, a single-portion takeout or home-packed meal common in Japanese cuisine.
A Japanese box lunch served in a wooden bento box or enamel bento box is a time-honoured tradition in Japan.
I'd hedge my bets that even the most modern of Japanese mothers feel a sense of pride and accomplishment when creating an obentoo work of art for their own children to eat.
---
BUY NOW ON AMAZON: Little Bento – 32 Irresistible Bento Box Lunches for Kids book by Sonoma Press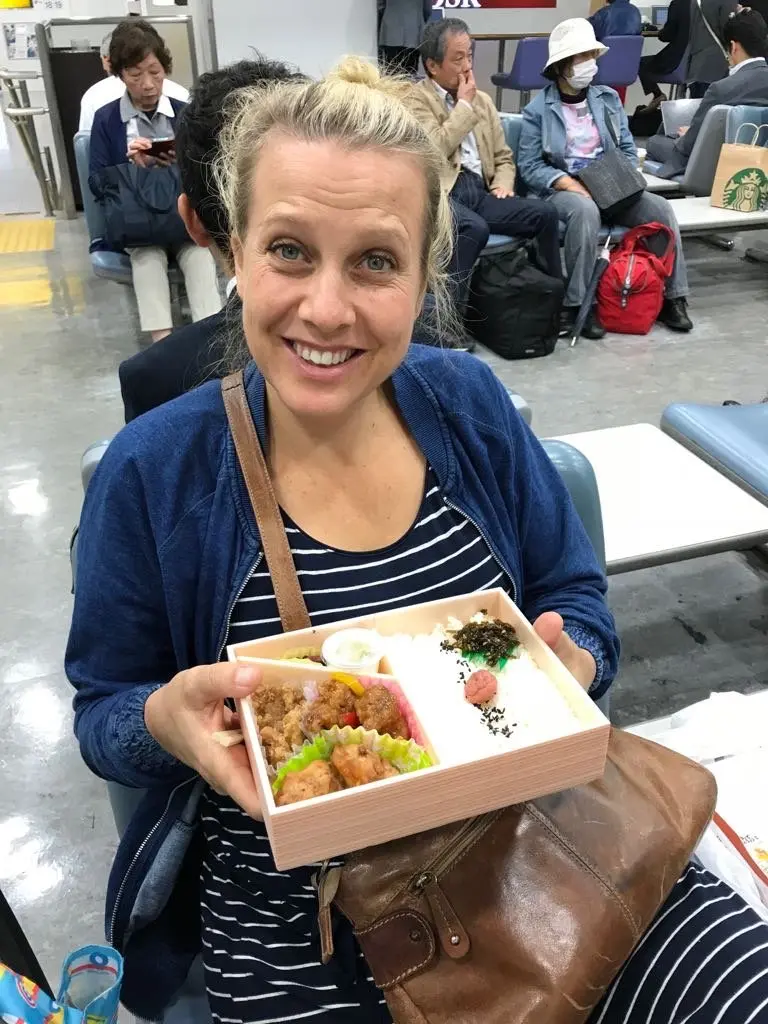 Where to buy Bento Lunch Boxes in Tokyo, ready to eat?
The best thing is that you don't need your own Japanese mother to make you a bento lunch box.
Everyone can try a ready-made bento box for lunch in Japan, and many cost less than $10 a meal.
Here's a list of the three most common places to eat Japanese style bento box lunch.
No.1: Japanese Supermarkets & Japanese Grocery Stores
Head to a Japanese supermarket in Japan to buy fresh bento boxes on a budget.
Visiting a Japanese supermarket should be top of your itinerary.
They are FILLED to the brim with bright colorful packaging, and heaps of fresh food options!
---
RELATED: The Best Japanese Snacks to put in a Bento Box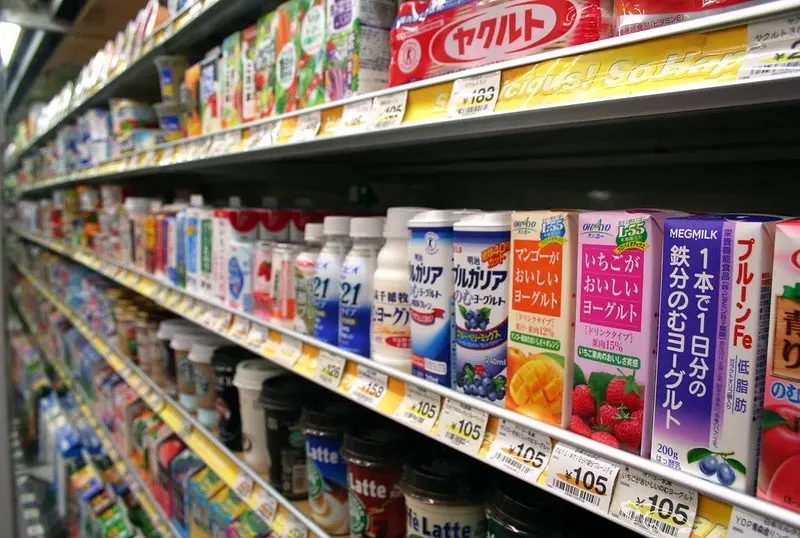 Image credit: Jon Rawlinson via Flickr CC BY-2.0
No.2: Japanese Convenience Stores
You can find fresh, ready-to-eat bento in all Japanese convenience stores.
Family Mart is our favourite.
(Read our guide to Family Mart Food here)
We love these budget bento boxes in Tokyo and throughout Japan for a quick budget dinner, especially when the kids are ready for a bit of down time on their iPads after a long day's walking.
The best thing about these bento boxes is that the food is fresh, not soggy or overcooked like most food you find in a convenience store anywhere else in the world.
Japanese bento boxes in the convenience stores are great value too.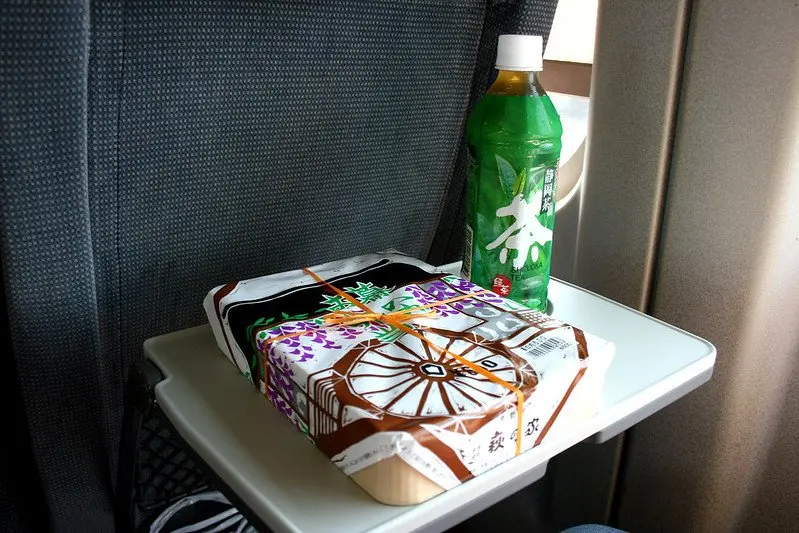 Image credit: Christian Kadluba via Flickr CC BY-SA 2.0
No.3: Japanese Bento Boxes for Train Travel
Find shops selling fresh bento lunch boxes at all long-distance train stations in Japan too.
You can buy an Obentoo box full of a freshly cooked hot meal from special stands, and then take these on board the train with you to eat on the way.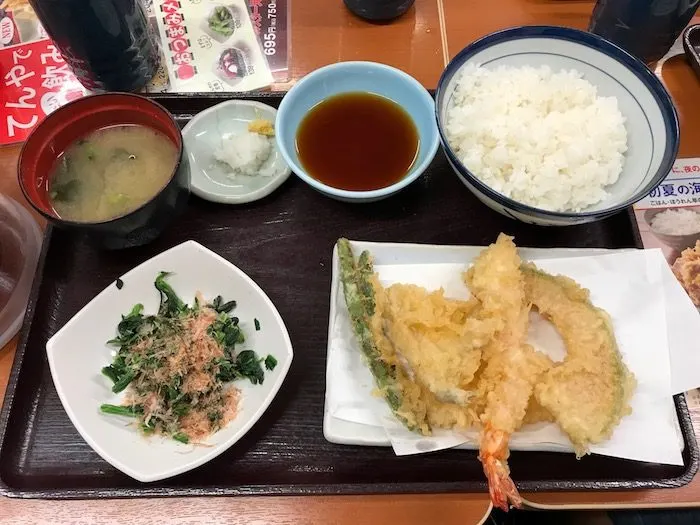 Image credit: Unknown
No.4: Eat Bento at Restaurants
The best next-level 'obentoo' lunches in an authentic bento box are found in quality restaurants, where chefs take special pride in concocting a lunch bento box to remember.
Lunch bento sets usually include a separate bowl of rice and a miso soup too.
---
BUY NOW ON AMAZON: Pack lunch into one of these stylish oval bento boxes made from timber.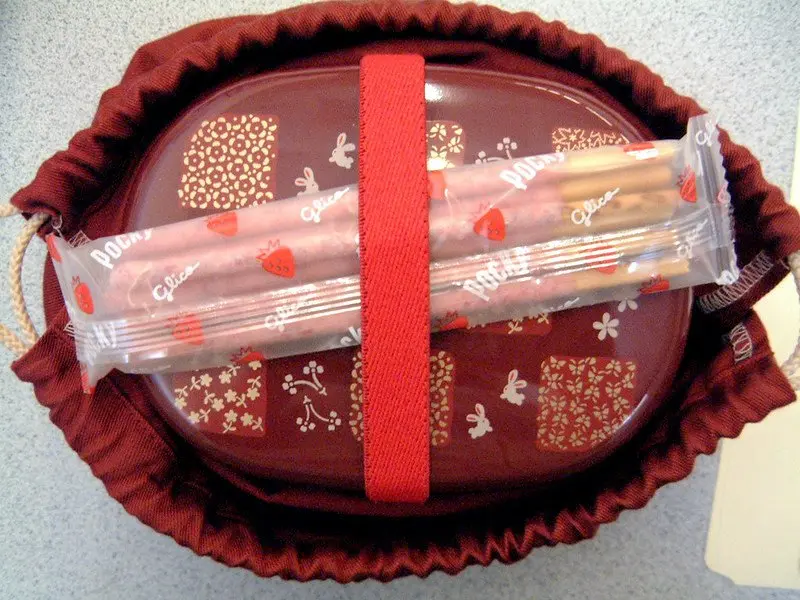 Image credit: Ignote via Flickr CC BY-2.0
Souvenir Idea: Buy Bento Box in Tokyo for Family and Friends
A traditional Japanese Bento Box makes a fabulous, practical souvenir for adults and kids.
Japanese Bento Boxes are usually made from timber or plastic, and have fixed compartments inside to keep the foods and flavours separate.
They may be one layer, or multiple layers.
Best Japanese Bento Box for kids
Japanese Bento boxes for kids often contain two separate containers that sit one on top of the other.
A furoshiki cloth is wrapped around the boxes to keep them together, and tied in such a way it makes a handle to carry it.
You can also buy all kinds of cute bento accessories to help you create your bento box masterpiece with artistic flair.
Presentation of the bento box for kids altis as important as the foods it contains.
---
BUY NOW ON AMAZON: Click here to buy Japanese Bento Boxes like the traditional ones used in restaurants (pictured above)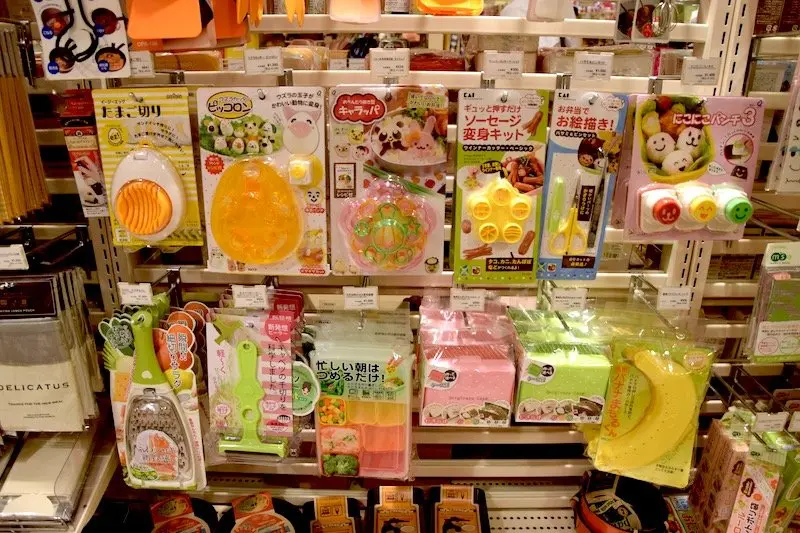 Visit Loft Ikebukuro Sunshine City to buy a Japanese Bento Lunch Box
Wondering where to buy Bento boxes?
Our favourite place to buy bento boxes in Tokyo is LOFT.
Loft is located in many of the larger suburbs of Tokyo, including LOFT Shibuya (Bento is on 3rd floor)
For the biggest range of the cute bento boxes for kids in Tokyo, we'd suggest Sunshine City in Ikebukuro.
---
BUY NOW ON AMAZON: Japanese Traditional Bento Box with Carry Bag (With Rabbit on the Moon illustrations in blue)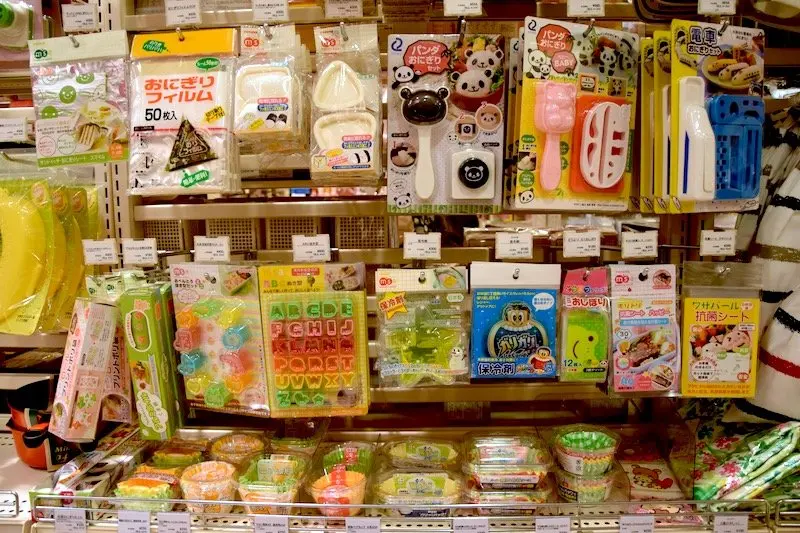 Loft Bento Box supplies
Kawaii Bento Box (Kawaii = Cute)
Sunshine City LOFT has LOTS of Japanese lunch boxes, as well as cute bento accessories for kids including:
bento picks
onigiri rice ball moulds
bento box supplies to clean them, and
bento box accessories such as soy sauce and mayonnaise containers.
Be sure that you purchase a LEAKPROOF bento box.
Over the years, bento box preparation has become something of a design-statement and now there's more and more SUPER CUTE bento box accessories and bento box supplies.
Paper patty pans just don't cut it anymore!
Luckily, box bento supplies are readily accessible and cheap, so everyone can master the art of the Japanese bento lunch box.
---
BUY NOW ON AMAZON: Cute Ninja Boy 3-Level Japanese Bento Box with strap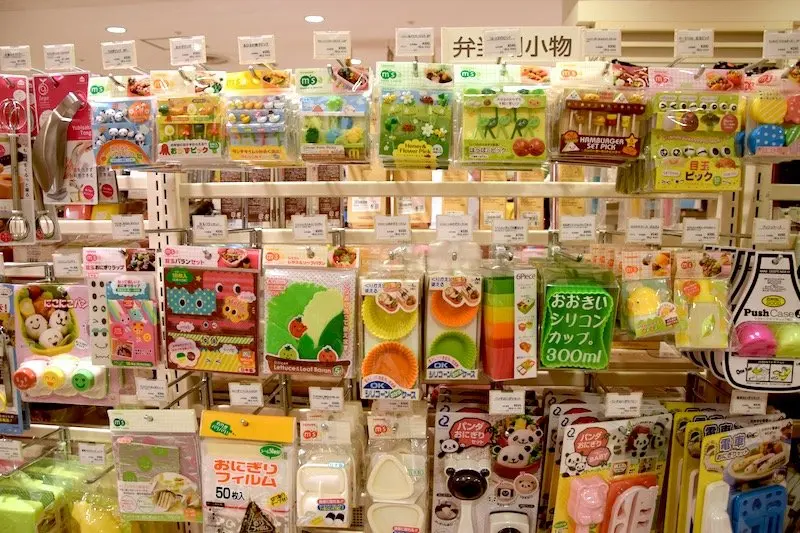 Japanese Bento Box for Kids – Ideas
Here's a list of some of the Bento accessories available in LOFT.
Sushi rice moulds in traditional oval or onigiri (triangular) shapes
Rice moulds in cute (kawaii) shapes like panda bears or a teddy bear rice mold
Bento sauce containers
Condiment containers for soy sauce and Japanese mayonnaise
Bento picks – tiny plastic toothpicks that are primarily used for decoration. Find animal food picks in the shape of ducks, panda bears, African animals, chickens, and more.
You can also find:
alphabet bento picks
flower bento food picks
bento pick emoji shapes
fruit and vegetable bento picks
little people bento picks…
There's no limit to the imagination here.
---
BUY NOW ON AMAZON: Japanese Bento Accessories to make rice balls shaped like cat heads!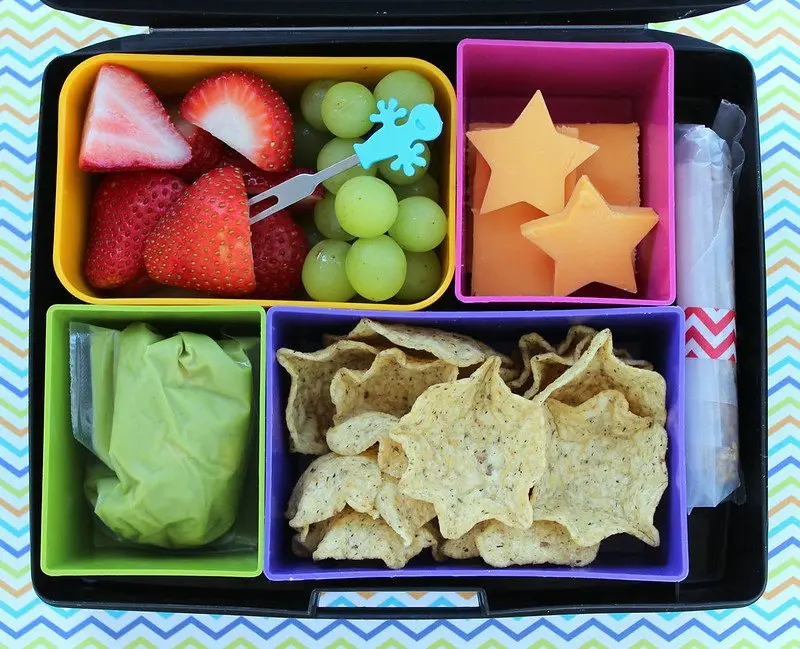 Image credit: Melissa via Flickr CC BY-2.0
MORE Japanese Bento Box Accessories
LOFT has a Japanese bento accessory to suit everyone who wants to try food decorating.
Japanese bento accessories come in all shapes and sizes to suit every kind of personality and hunger!
Silicon baking cups and holders (like individual muffin trays, but to hold pieces of sushi and keep them separated in the bento box to maintain aesthetic presentation)
Nesting containers and bento cups
Nori paper punches and a seaweed nori cutter – to cut shapes out of nori paper to embellish designs on the rice.
Lunch box cutters
Sushi containers
Bento containers for pickles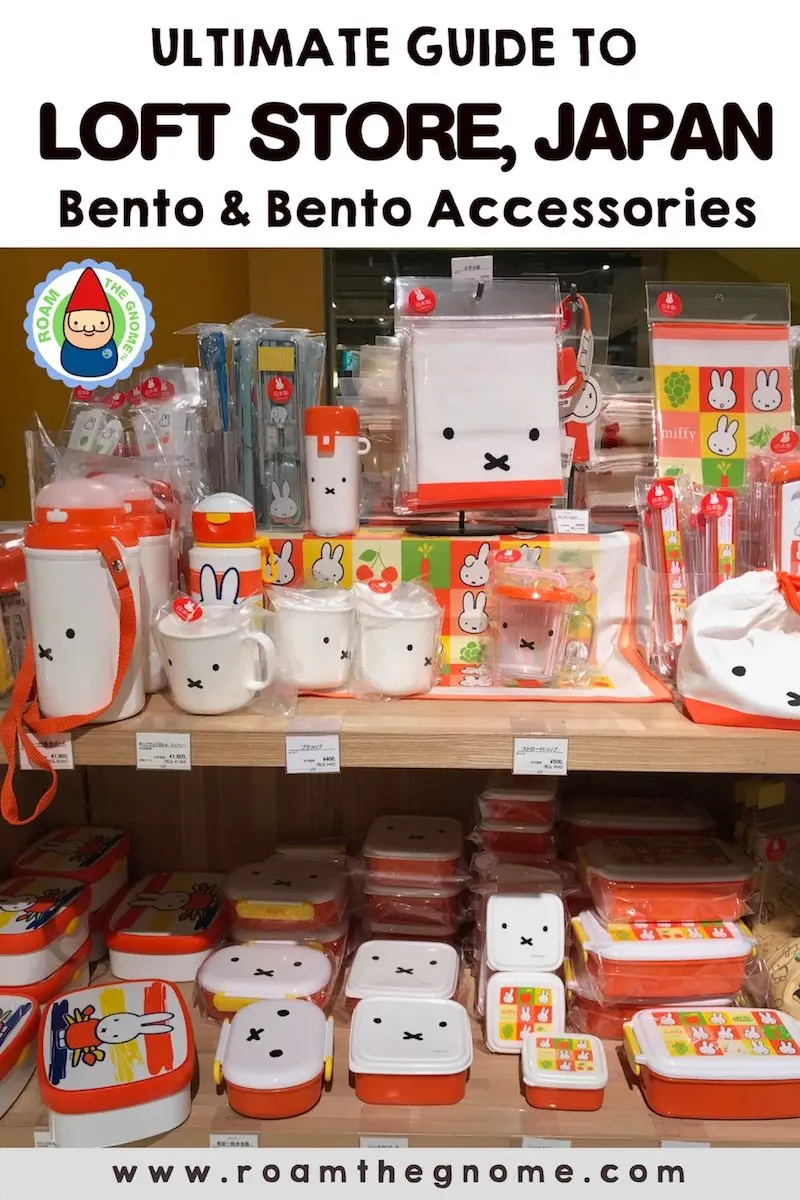 MORE of the Best Japanese Bento Accessories
Mini-rice moulds in alphabet shapes and cute characters
Fake plastic grass separator strips (who knew?)
Vegetable Cutter Shapes
Microwave safe containers
Hard-Boiled Egg molds
Lego Utensils and other items
Panda Molds (see picture below!)
Japanese lunch bag
Insulated lunch bags and at least one variety of insulated bento box
---
BUY NOW ON AMAZON: Super cute PANDA shaped bento picks.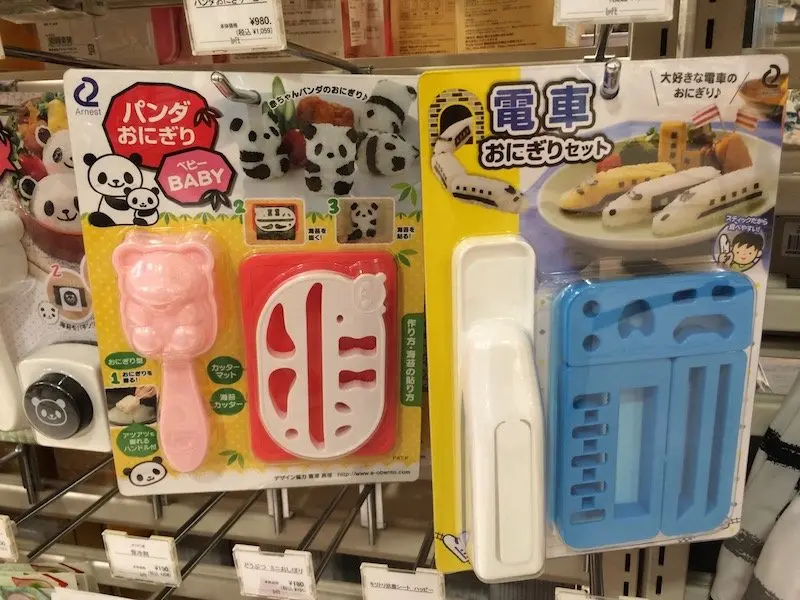 The Best Bento Box for Kids Accessories
The Shinkansen Bullet Train rice moulds (pictured above) is the best Japanese bento food shape.
In fact, in our opinion, it's the BEST bento box accessory ever!
Don't you agree?
---
BUY NOW ON AMAZON: "Shinkansen" Japanese Bullet Train Shape Cutter (as pictured above)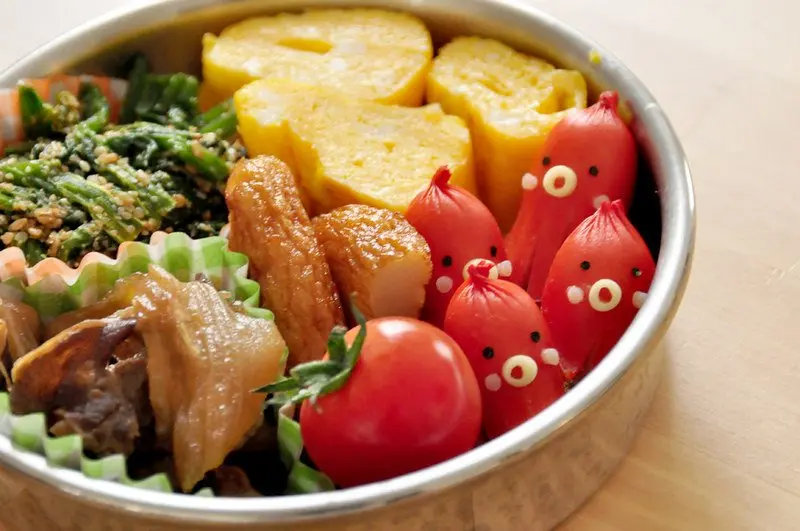 Image credit: Saotin via Flickr CC BY-2.0
Bento Box inspiration!
All this talk of Bento boxes must be making you as hungry as Roam the Gnome and I.
So, here's some inspiration to get you started on making your own SUPER CUTE bento for the kids and you.
---
RELATED: BEST Japanese Chocolate and Chocolate Snacks for a Bento Treat!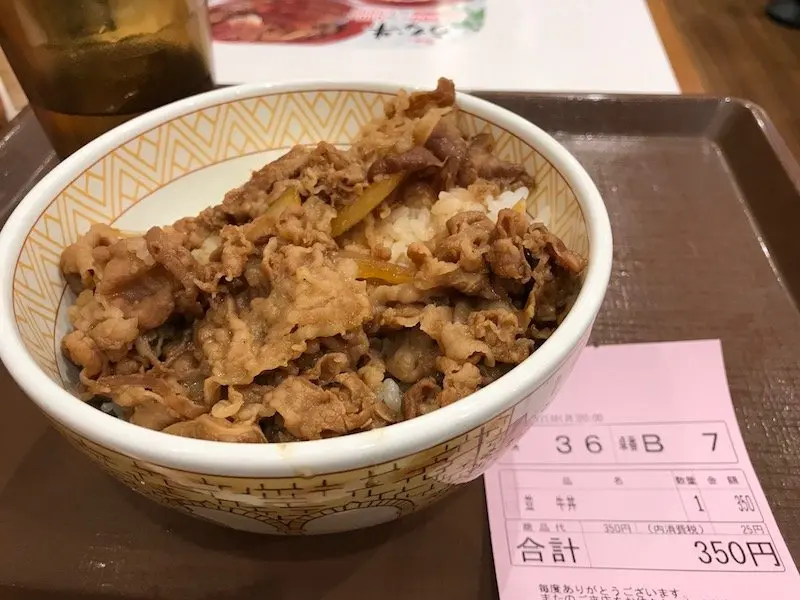 Japanese Bento Lunch Box Recipes
If you want to know how to make Japanese bento lunch box, have a look below to find four of our favourite Bento recipe sites.
They publish easy cooking ideas for beginners who are looking for Japanese bento box recipes that don't require a qualified chef to cook them.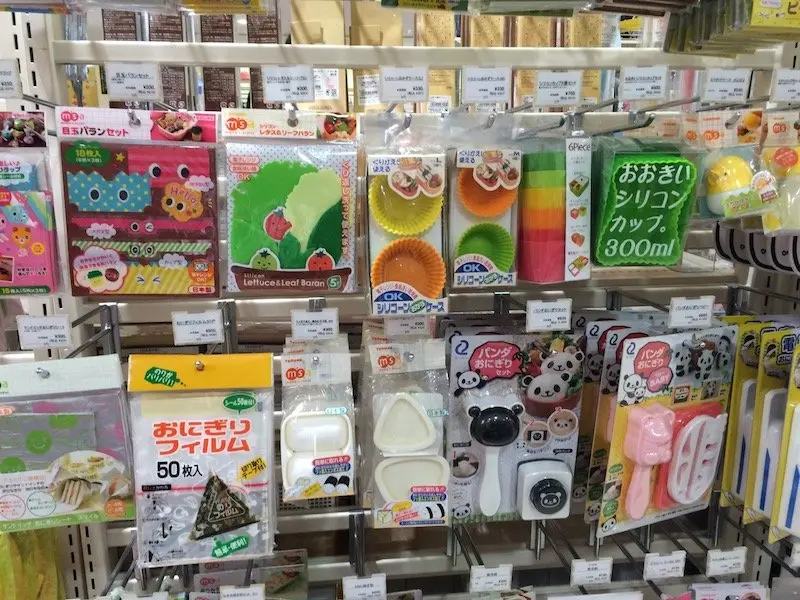 THE INSIDE SCOOP: Where to buy Bento Box in Tokyo? Loft Sunshine City
Correct at time of publication on Roam the Gnome. Please check with venue for updates. We apologise in advance if there have been any changes we are unaware of. All prices in yen, unless otherwise stated
Loft in Sunshine City Tokyo is the place if you are wondering where to buy bento lunch boxes in Tokyo.
Address: 2F Sunshine City Alpa, 3-1Higashiikebukuro, Toshima-ku, Tokyo, 170-8630
Opening Hours & Entry Fees: Open 10am until 8pm daily.
Telephone: +81-3-6907-4860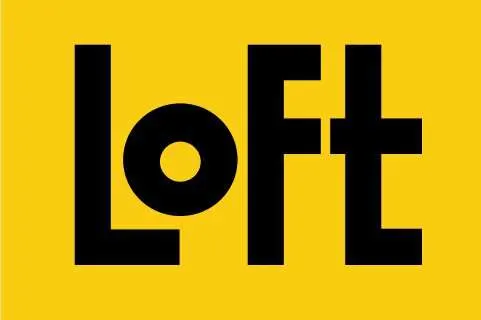 How to get to Sunshine City Loft Ikebukuro for Bento Box Supplies
Nearest train stations to Sunshine City Ikebukuro
3 minutes on foot from Higashi-Ikebukuro Station (Tokyo Metro Yurakucho Line)
8 minutes on foot from Ikebukuro Station (JR, Tokyo Metro, Seibu Line, Tobu Line)
4 minutes on foot from Higashi-Ikebukuro 4-Chome Station (Toden Arakawa Line)
Directions to Sunshine City Mall Ikebukuro from Ikebukuro Station:
Go to exit 35 of Ikebukuro Station. Walk down Sunshine 60 Dori street
The underground entrance (escalator) to Sunshine City will be visible on the right-hand side next to Tokyu Hands.
Directions to Sunshine City Mall Ikebukuro from Higashi-Ikebukuro Station:
Walk toward exit 6 or 7
Look for the sign that directs you to the "Underground Passage" that takes you directly toSunshine City.
Map of Loft in Ikebukuro Sunshine City for Bento Supplies
Toadstool Rating – LOFT Bento Box shop
Don't miss it.
LOFT also has traditional Japanese kitchen tools, pots, pans and more, so be sure to check out the whole kitchenware section.

Looking for more fun things to do in Tokyo?
Click the links in blue for more Tokyo tips below.