INSIDE: The Ultimate Guide to Tokyo Okashi Land at Tokyo Station.
When you travel with kids in Japan, one of the SUPER DOOPER FUN things to see in Japan is the gigantic range of mouth-watering candy, snacks, and chocolate treats you'll come across.
There's a collective word for the manufacture of them – "Okashi" in Japanese.
What does Okashi mean?
The okashi meaning describes popular Japanese confections, pastries, sweets or snacks.
Hot tip: There's a dedicated Tokyo Okashi Land store in Tokyo station, full of okashi treats!
Take a look inside below.
Disclosure: This article contains affiliate links. If you make a purchase after clicking on one of these links, we may receive a small commission at NO extra cost to you.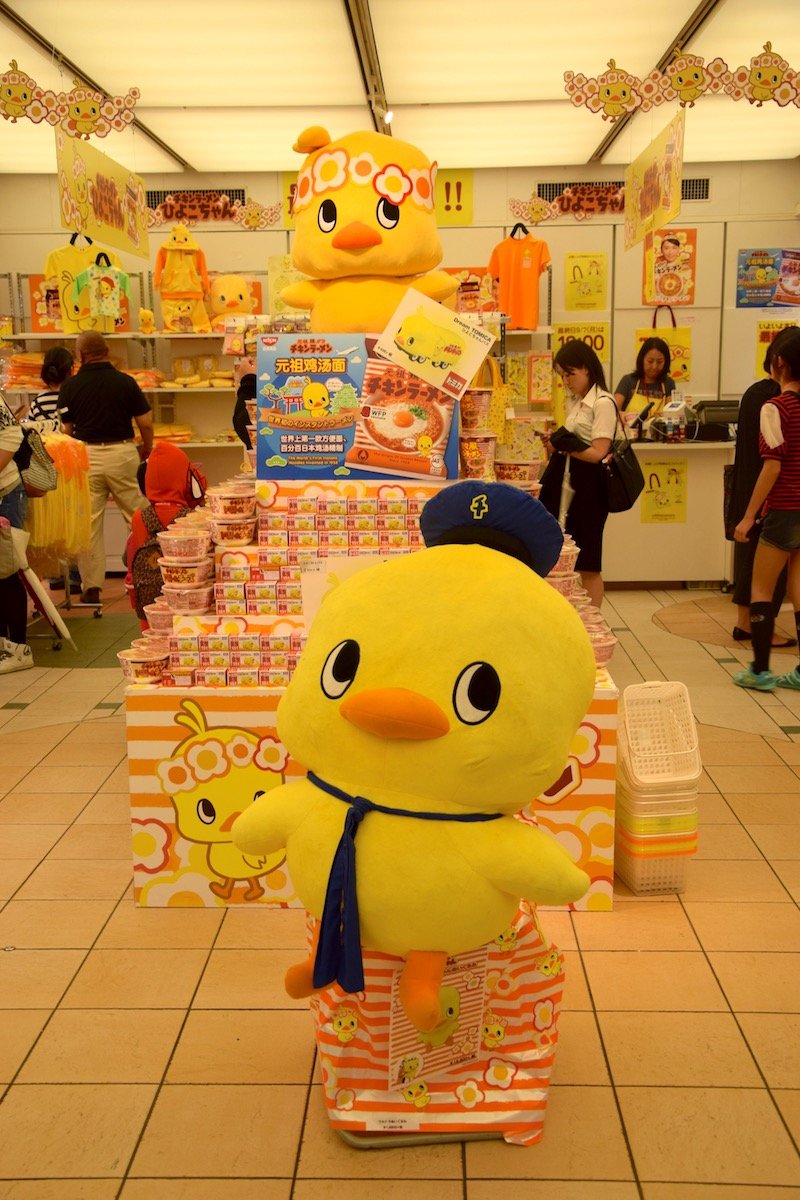 Guide to Tokyo Okashi Land, First Avenue Tokyo Station
Although you will find sweet treats and snacks on every corner in Tokyo, and in every Family Mart convenience store, Lawson convenience store, Japanese supermarket, and 7-11 store, there is ONE Tokyo attraction where the three major snack manufacturers (Gliko – famous for Pocky!, Morinaga, and Calbee brands) come together to showcase their products.
This magical unicorn land of dreams for kids is called Tokyo Okashi Land, and it's a confectionary-themed retail zone.
Okashi land is located in the infinite underground shopping zone "First Avenue Tokyo Station", hidden beneath Tokyo Station, Japan's busiest railway station.
If you do not let your kids eat sugar, avoid this place like the plague.
---
RELATED: Big List of the Best Things to do in Tokyo with kids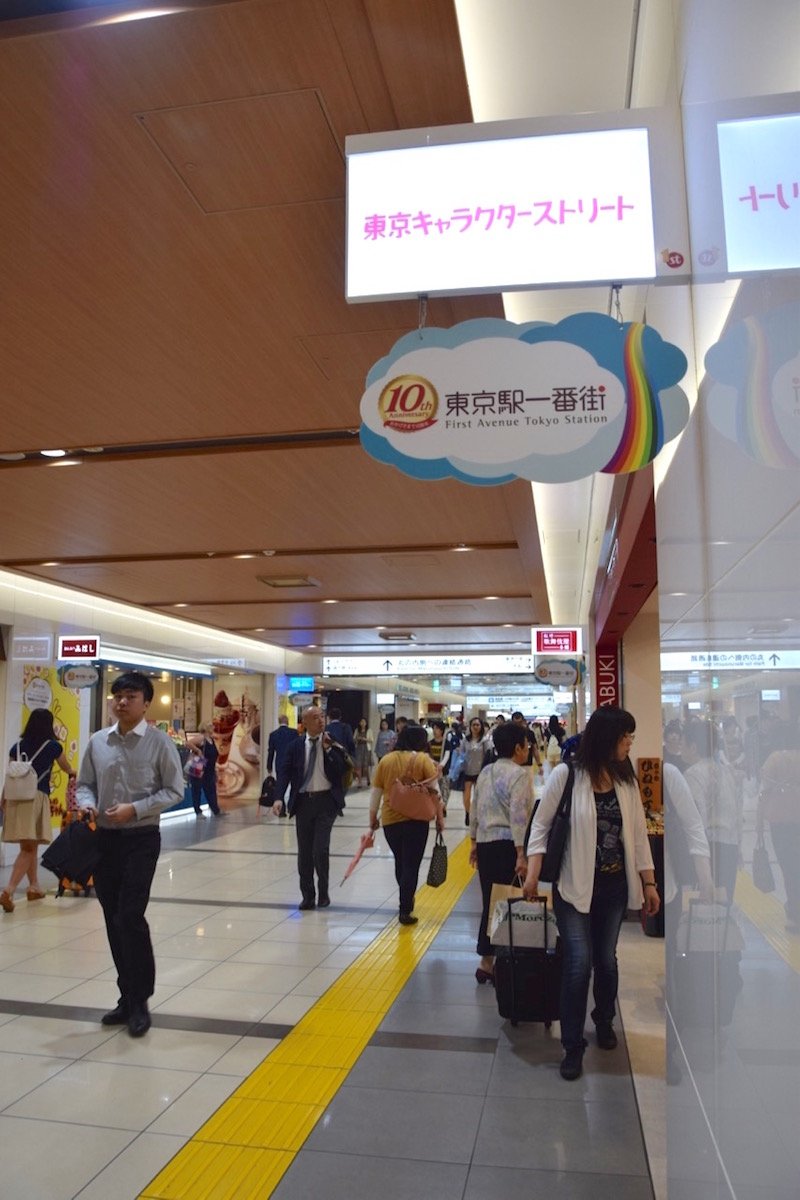 Best Things to do at Tokyo Station Okashi Land
When we travel with Roam the Gnome, we embrace all quirks of the country, and we eat all kinds of food.
Snacks, sweet treats and yummies included.
There's none of the rules of home.
Sugar is up for grabs and on the menu, and we all eat a sweet treat (or five) most days.
I figure all that walking from place to place, and the kids (and Roam the Gnome's) enduring patience as we navigate heaving crowds, deserves a reward.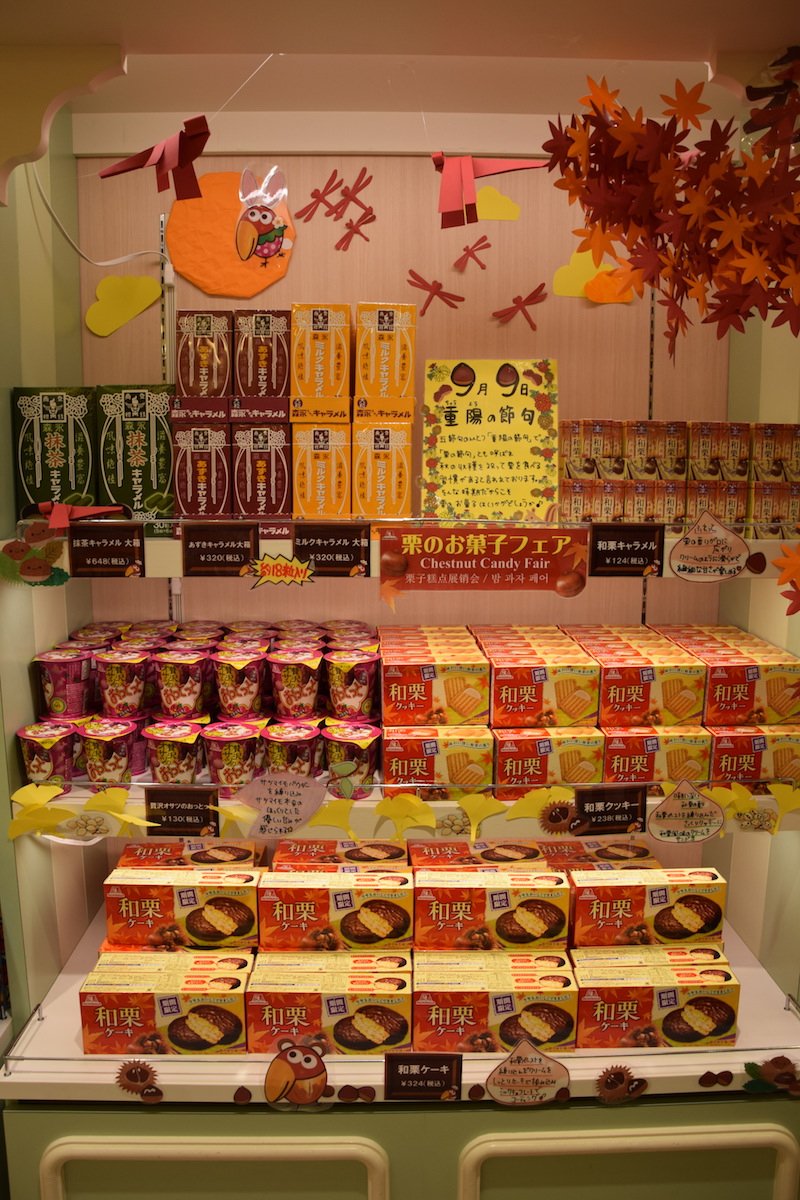 Okashi Japanese Brand Treats
This Okashi shop is a tourist attraction with a difference!
Tokyo Okashi Land in Tokyo Station stocks the best Japanese brands of sweets and treats.
There's even regional versions of particular Okashi snacks, Okashi treats and Okashi candy that you can't buy elsewhere in Tokyo.
If you are wondering where do I buy Japanese snacks with great prices in Tokyo, try Okashi land.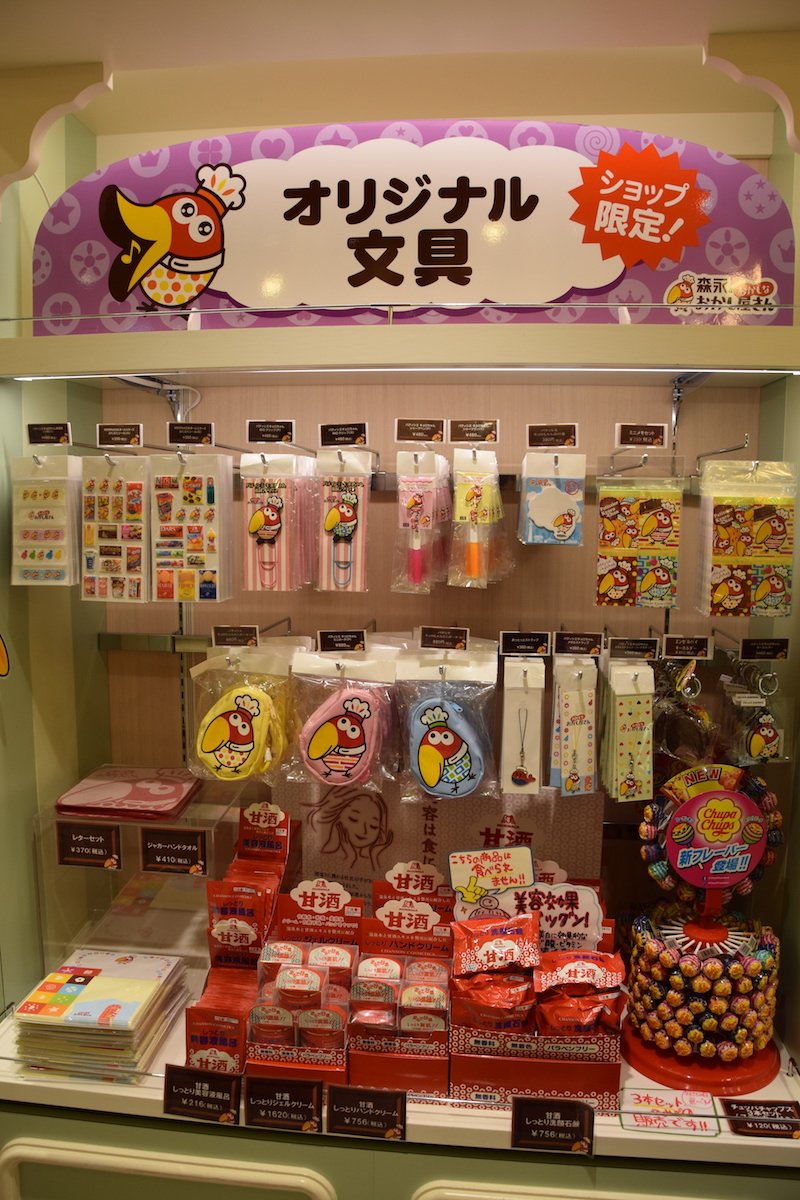 Meet the Okashiya Mascot at Tokyo Okashi Land Tokyo Station
Tokyo Okashi Land is the perfect spot to taste some unusual snack combinations, and pick up some Japanese snacks and Japanese food souvenirs.
It's one of the more unique Tokyo Tourist Attractions for kids.
Throughout the store, you'll see this bird a lot!
His name is Kyorochan!
He's the mascot (and star of his own anime cartoon!) for the Chocoball candy, the Japanese chocolate snack that features a cookie with a chocolate coating, made by Moringa.
You can buy a mascot plush toy in his image plus stationery, keyrings, purses, and stickers too.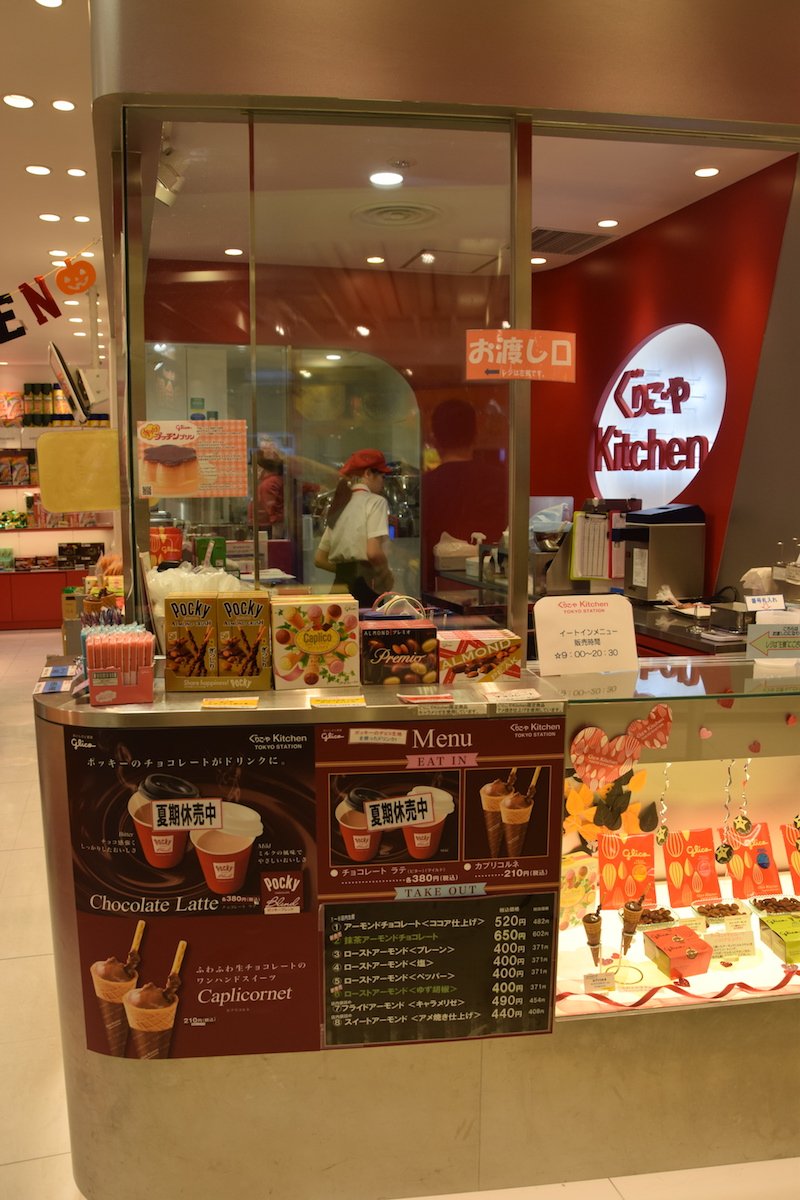 Okashi Menu – Try a freshly made Okashi Snack onsite!
Not only can you shop for Japanese snacks and Japanese treats here, but you can see them make Japanese sweets first hand.
At Tokyo Okashi Snack Land, there's a number of okashi snacks and okashi sweet treats made with love and cooked-on-the-spot.
Glico Kitchen has a range of Glico snacks to tempt you including freshly made chocolate-covered almonds, chocolate lattes, and chocolate ice cream waffle cones.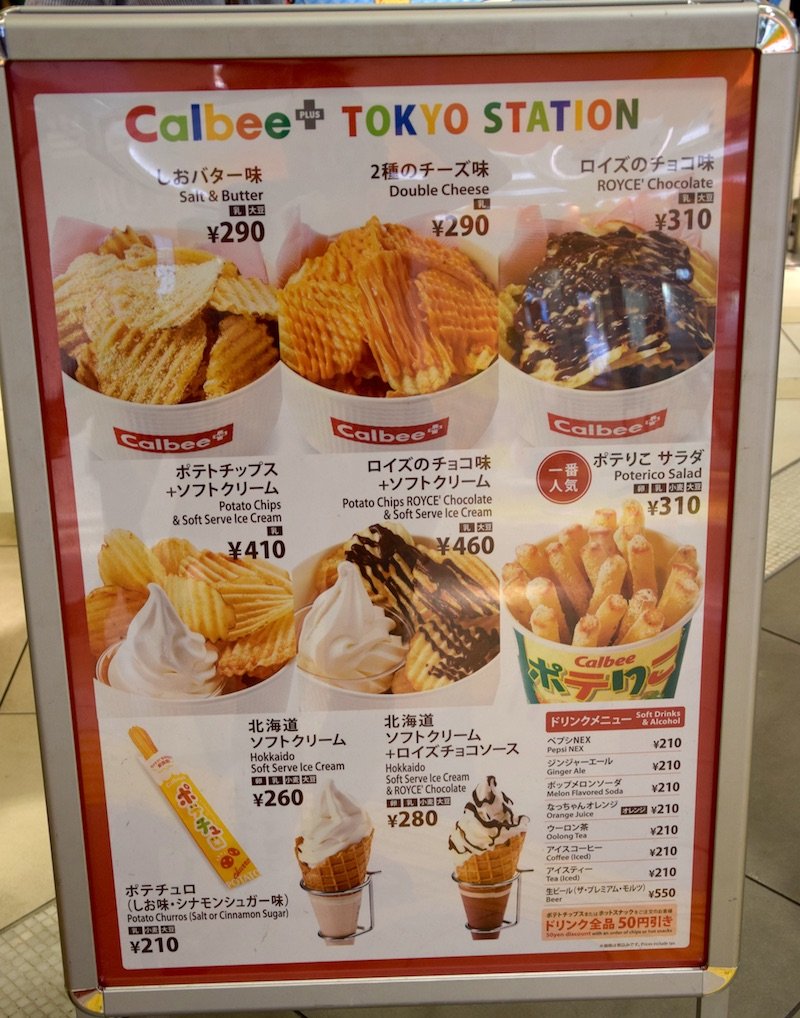 Eat Awesome Calbee Chips concoctions at Calbee Plus Tokyo Station
The best Calbee potato chips are at Tokyo Okashi Land Tokyo Station
Try the Royce Chocolate Treat (Calbee Chocolate Potato Chips) at the Calbee Tokyo Station Store for yourselves!
The Calbee shop okashi snack is fresh potato crisps with a warm chocolate sauce drizzled over top, and with soft serve ice cream on the side.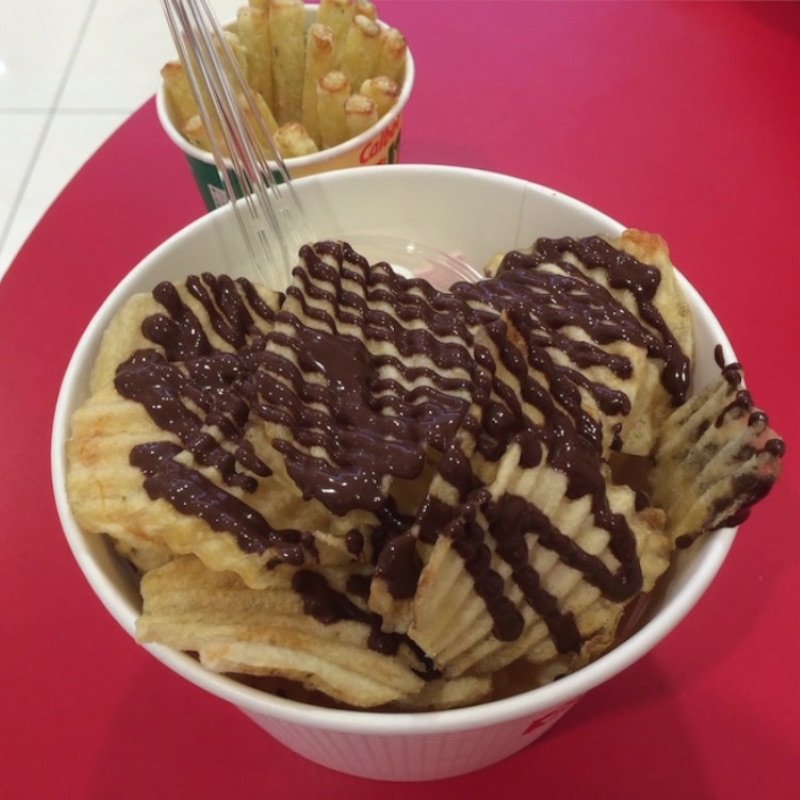 Potato Chips Royce Chocolate and Soft Serve Ice Cream
You can't come all the way to Tokyo and miss this.
This okashi snack of potato chips, chocolate sauce and soft-serve icecream might sound a little foul, but it's DELICIOUS!
Tokyo Okashiland should be on your list of unique places to eat in Tokyo.
If you can't make it to this Calbee Japan shop, try Calbee Harajuku on Takeshita Dori.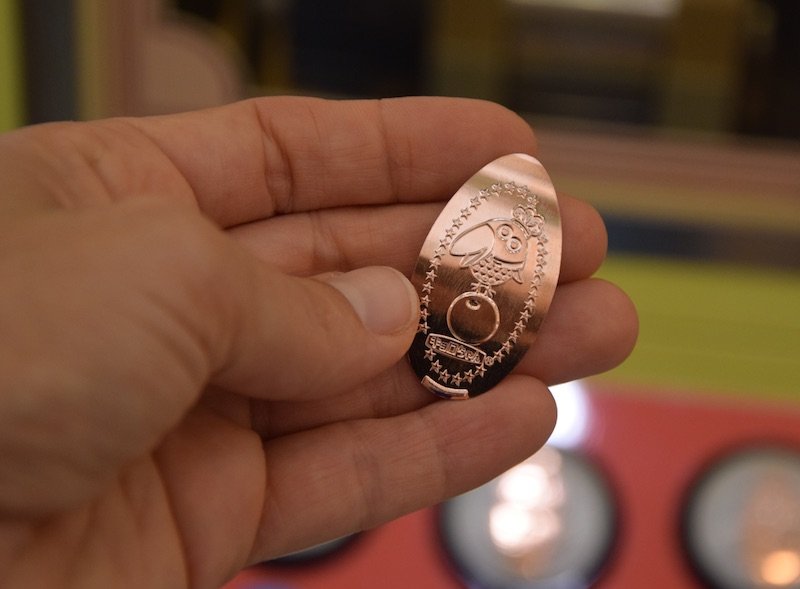 Two Unique Things for Kids to Do at the Tokyo Okashi Land Shop
No.1: Press a Penny
Our favourite souvenir in Tokyo (and everywhere we go) is a pressed penny. This one is in the image of Kyorochan. Cute!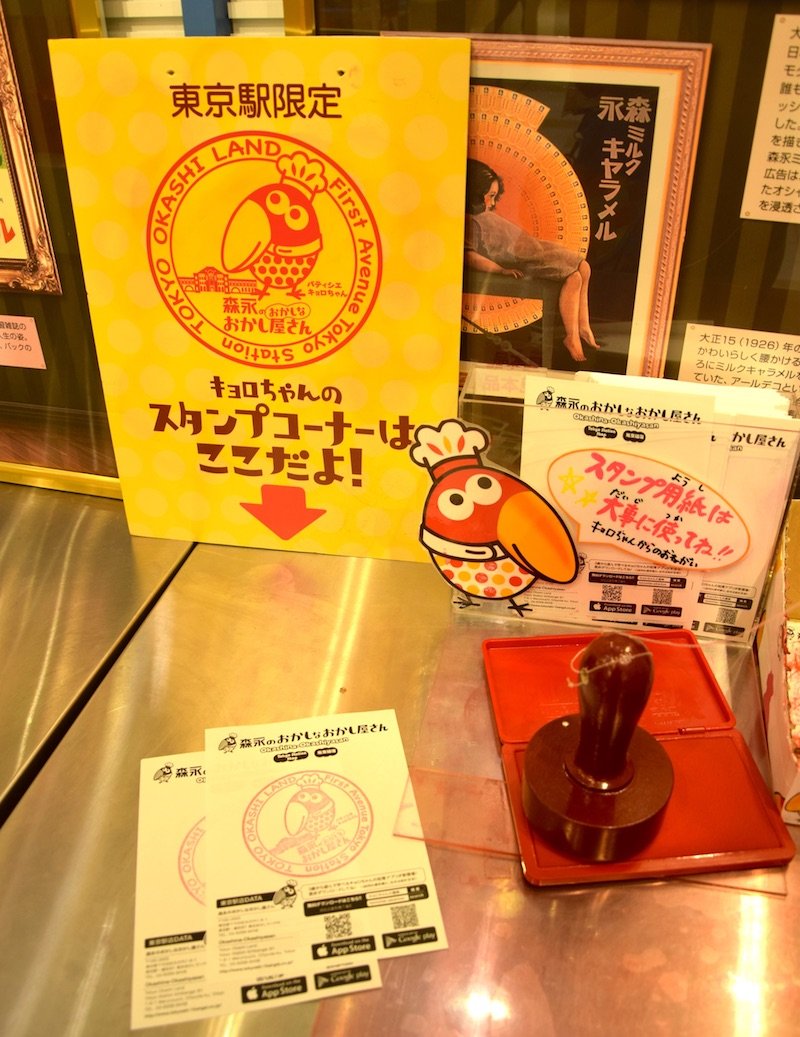 No.2: Collect an Eki Stamp
We love to find an Eki stamps in Tokyo.
Eki stamps are stamps and ink pads you find at most train stations, and children throughout Japan collect eki stamps like some people collect enamel pins, or cloth patches for a backpack or blanket.
Tokyo Okashi Land has a unique eki stamp too.
Be sure to stamp it.
(Did you know you can buy new Eki Stamp booklets to collect eki stamps in most Japanese stationery shops. Collecting eki stamps is a fun thing for kids to do in Japan)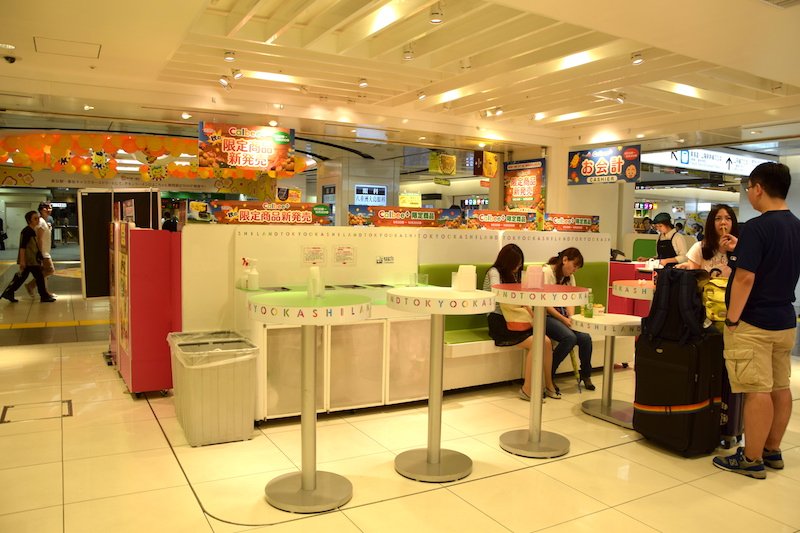 MORE Fun Things to do at Tokyo Station
Ask at the Tourist Information Hub for a Tokyo Station Map!
It's a GREAT resource to keep and use when you are looking for things to do in Tokyo Station. There's language tips, directions, and helpful icons!
There's more than one reason to pop First Avenue Tokyo Station (also known as Ichibangai or Tokyo-eki Ichibangai) on your itinerary.
(Read our guide here)
No.1: Tokyo Ramen Street
Ramen Street Tokyo Station is THE place to eat the best ramen noodles in Tokyo.
No.2: Character Street Tokyo Station.
Tokyo Character street is a fun thoroughfare of shops selling ALL the licenced characters and brands that Japan is famous for.
Hello Kitty. Pokemon. Sanrio. Sailor Moon.
Kids love this place.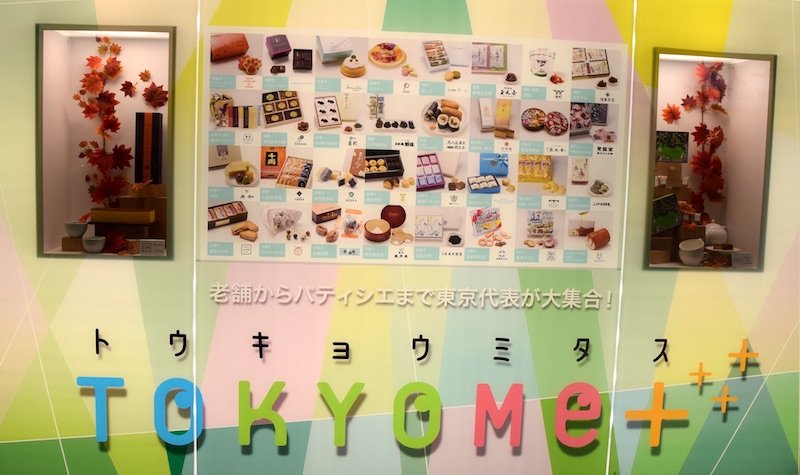 No.3: Tokyo Me+ Dessert food hall
Pop in to see ALL the beautifully packaged desserts and traditional Japanese sweets.
Don't leave empty handed.
No.4: Tokyo Kitchen Street Tokyo Station
If you are looking for a food court style spot to eat in Tokyo with kids, head to the walkway that links Yaesu and Marunouch under the Tokyo Station.
There's a whole row of small restaurants lining the strip. You'll find a selection of typical Japanese food here.
Don't go before 11am as they don't open until then.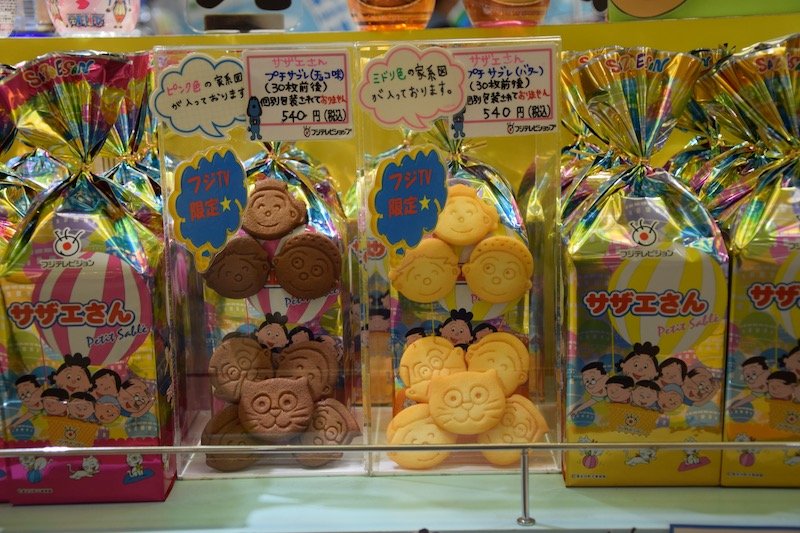 THE INSIDE SCOOP: Where to buy Japanese Snacks in Tokyo?
Correct at time of publication on Roam the Gnome. Please check with venue for updates. We apologise in advance if there have been any changes we are unaware of. All prices in yen, unless otherwise stated
Visit Okashi Land Tokyo Station and Calbee Store in Tokyo
Address: In front of Yaesu Underground Central Gate, Tokyo Station.
Opening Hours: Tokyo Okashi Land is open from 9 am to 9 pm year round.
Entry Fees: Entry is free.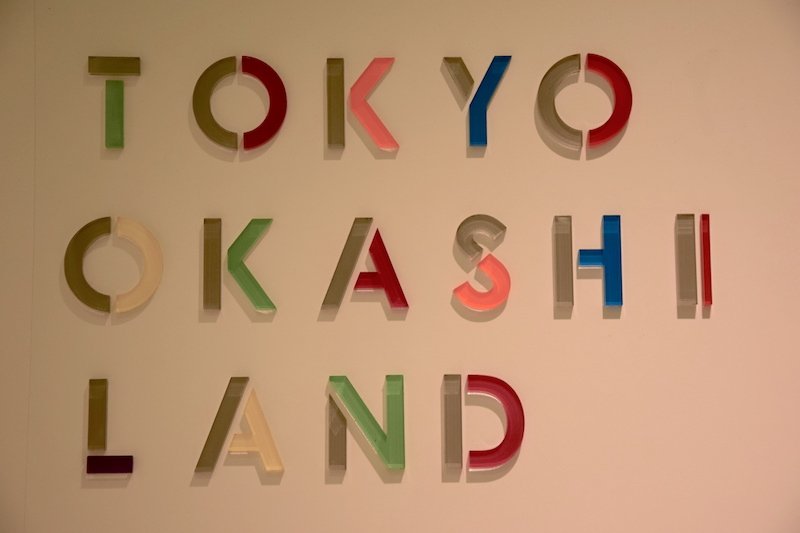 How to get to Tokyo Okashi Land at Tokyo Station:
Travel by JR train to the central hub of Tokyo Station. Head down to B1F level.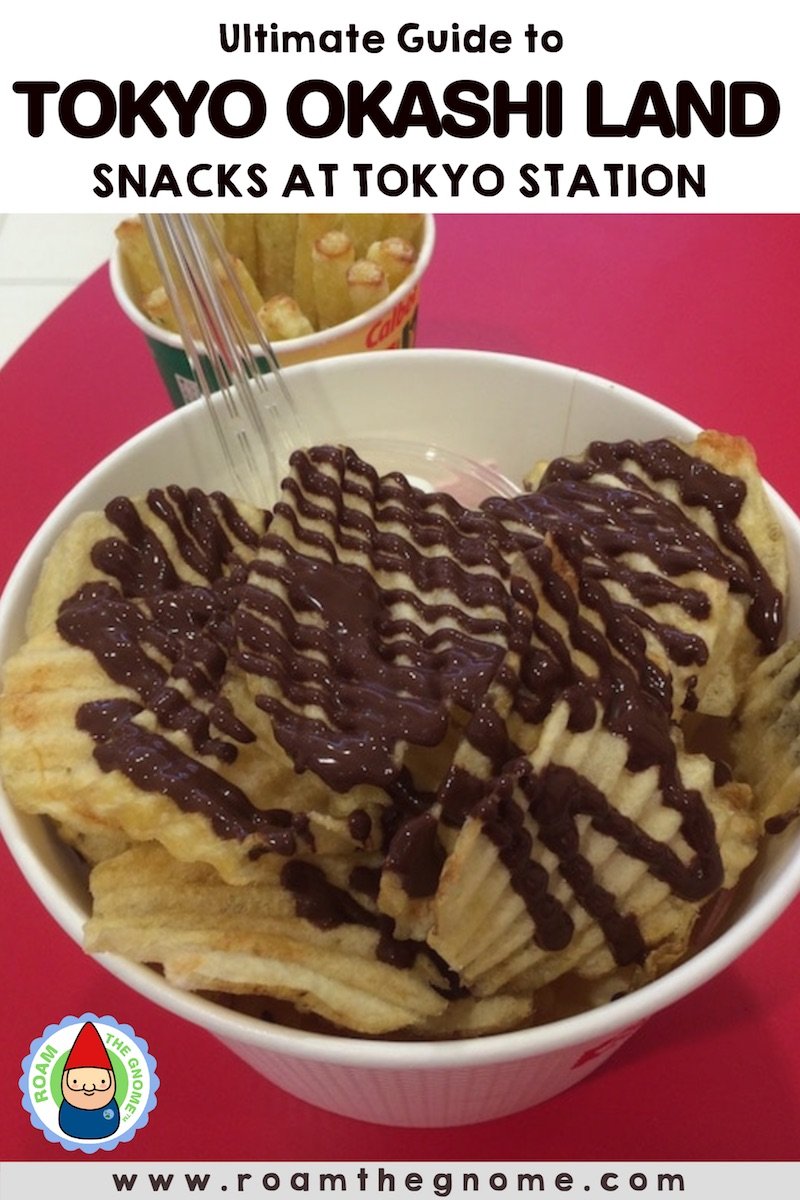 Map of Tokyo Okashi Land
Toadstool Rating: Calbee & Glico Tokyo Station Restaurants

Looking for MORE SUPER DOOPER FUN places to visit in TOKYO?
Click the blue links below for more Tokyo tips.