INSIDE: The Complete TOKYO DISNEYSEA rides list for toddlers & kids, plus all the family friendly attractions!
Are you planning a visit to Tokyo with kids?
Are you looking for info about Tokyo Disneysea attractions for kids, including the best Tokyo Disneysea rides for toddlers?
Or are you keen to find out whether Tokyo Disney Sea is better or worse than Tokyo Disneyland for small children?
Let's take a look and see if we can answer your questions!
Disclosure: This article contains affiliate links. If you make a purchase after clicking on one of these links, we may receive a small commission at NO extra cost to you.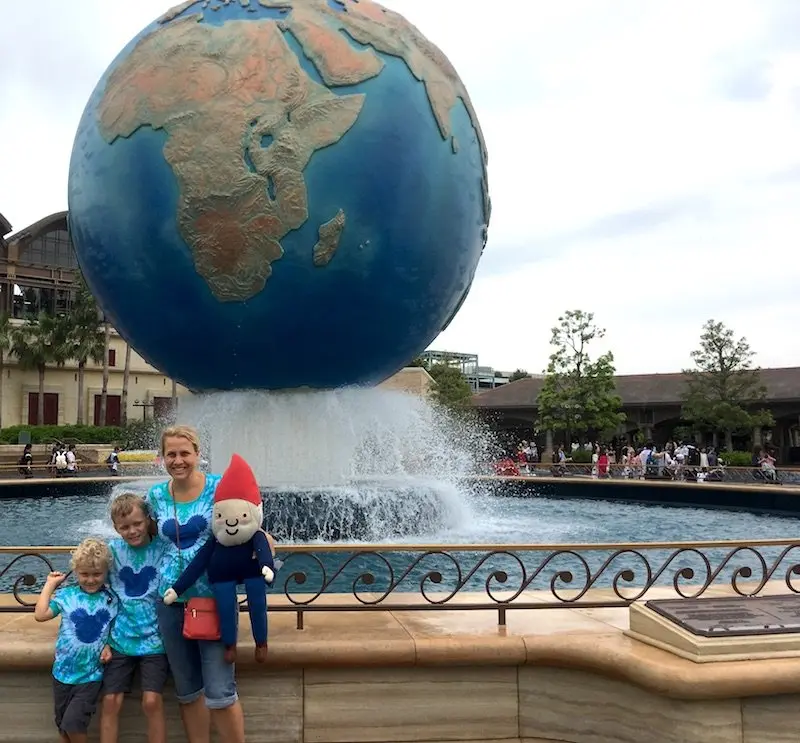 Tokyo Disneyland or Disneysea for Toddlers & Kids?
First up.
Our thoughts on whether Tokyo Disneyland or Tokyo Disneysea is better for kids?
Many Tokyo Disney Sea attractions are definitely geared for the older crowd.
There IS an EDGE to this place – the vibe and atmosphere is VERY different to Tokyo Disneyland.
You'll also notice the presence of Disney's shadier villain-type characters who are definitely NOT visible at the Tokyo Disneyland, the Happiest Place on Earth.
---
Check latest prices: Tokyo Disneysea 1 day ticket with Skip the Line through Get your Guide (Bestseller)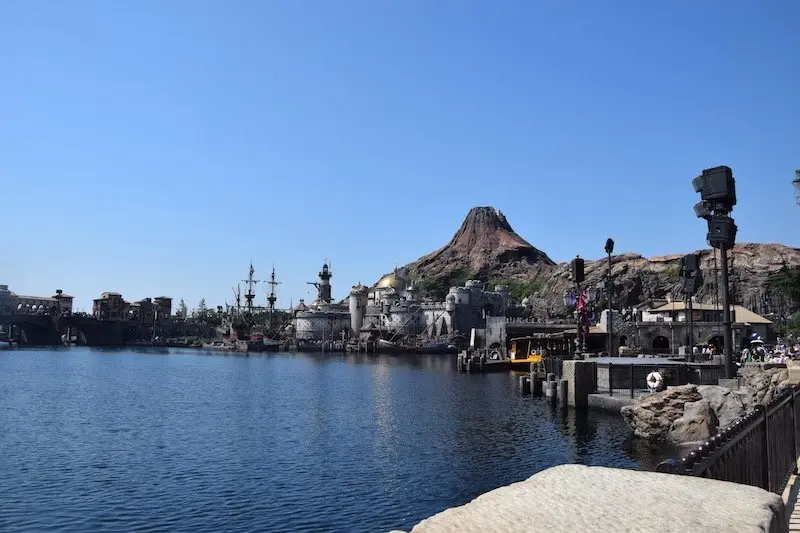 Tokyo DisneySea Mediterranean Harbor
Even the landscape is more harsh, with heavy stone architecture, lots of grey concrete, and a deep body of blackish water centre-stage.
It's all part of the Disneysea illusion.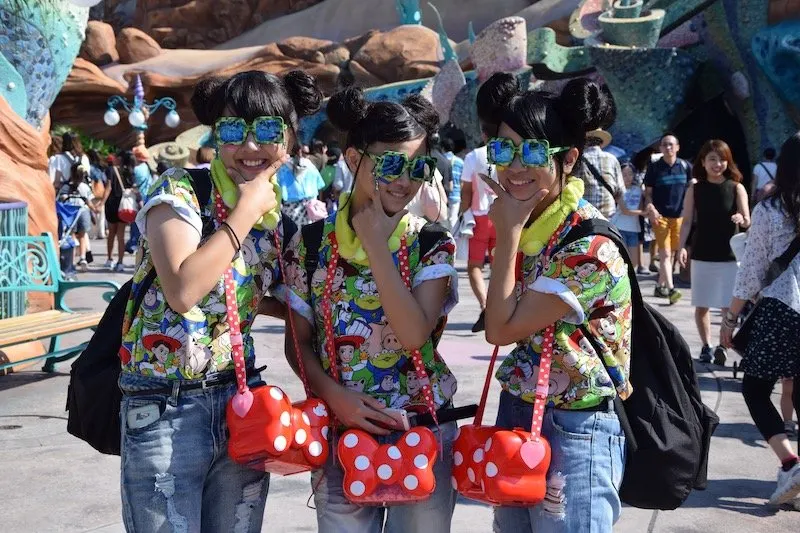 Things to do at DisneySea for kids?
There are hundreds and hundreds of teenagers and young adults walking about, many of them in matching outfits.
Also, the ratio of "families with young children", to "teens with their friends", is definitely NOT as balanced as at Disneyland.
Young adults dominate the landscape.
BUT, don't let that stop you visiting.
---
READ MORE: Our Helpful Comparison Guide to Tokyo Disneyland VS Tokyo Disneysea (Update coming soon)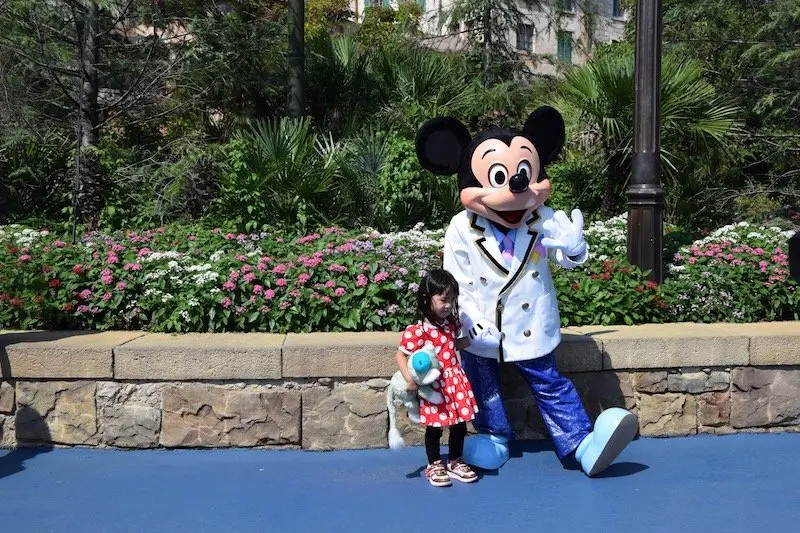 TOKYO DISNEYSEA RIDES FOR KIDS
You'll spy hundreds of families with strollers, babies, toddlers and the under 7's in tow, if you look in the right places.
You just need to know where to go.
There ARE plenty of things to do at Tokyo Disneysea with kids under 7, including lots of Tokyo Disney Sea rides for toddlers and kids.
Take a look below.
One day is simply not enough.
Tips for your Tokyo Disneysea Itinerary
The best place to start your Tokyo Disneysea itinerary with kids is at the Mermaid Lagoon.
We've then listed the best kids rides at Disneysea, land by land.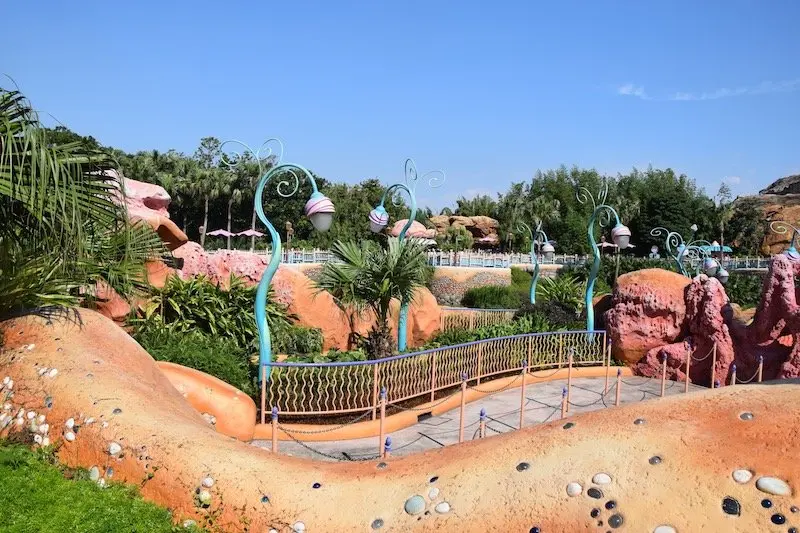 BEST TOKYO DISNEYSEA ATTRACTIONS FOR KIDS?
Firstly, bypass all the attractions of the Mediterranean Harbor and Mysterious Island, and head straight for Ariel's Mermaid Lagoon.
THIS place is a sight no child or family member should miss.
TOKYO DISNEYSEA MERMAID LAGOON is a must do!
In fact, Mermaid Lagoon might just be my favourite Disney 'land' ever, anywhere in the world.
It's breathtakingly pretty!
You can easily spend a third, to a half of your day at Disneysea here alone!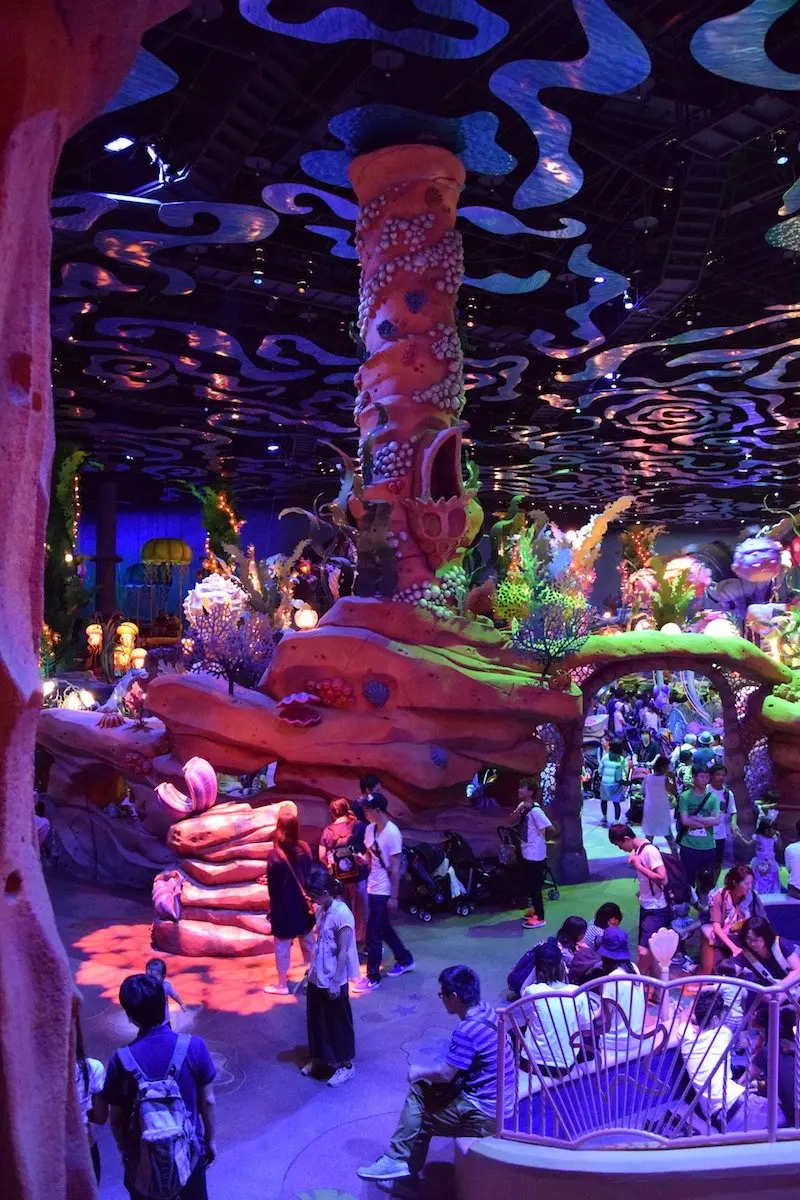 Best Tokyo Disneysea Rides for Toddlers
Follow the path downhill to find the glorious sights of Ariel's Mermaid Lagoon and Grotto.
This place is the epitome of the word, 'magical'.
Mermaid Lagoon at Disneysea is breathtaking, AND popular for young and old.
So don't delay.
Jump in a queue and claim your spot on ALL of these Tokyo Disney rides & show.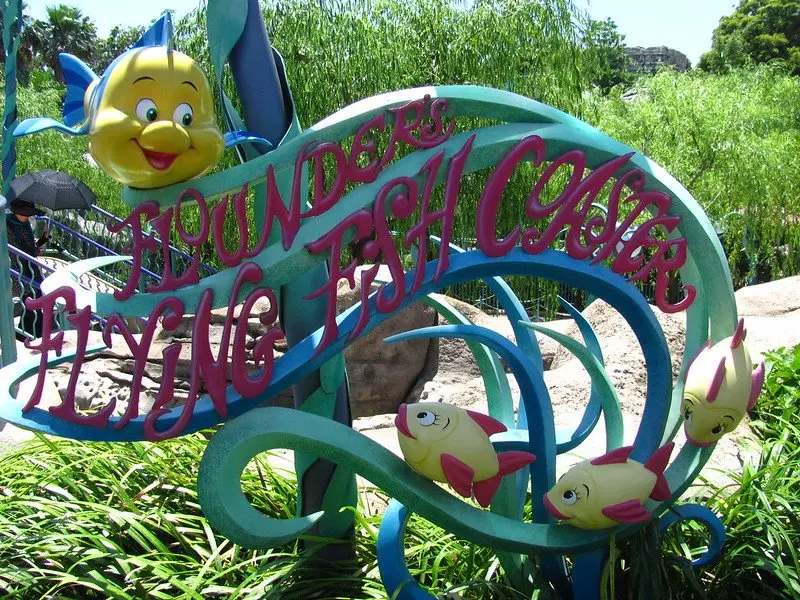 Image credit: Jeremy Thompson via Flickr CC BY-2.0
Best Disneysea rides at Mermaid Lagoon DisneySea Japan
No.1: Flounder's Flying Fish Coaster
A miniature roller coaster making it's way over a tide pool
(*Not for under 3's)
Image credit: Jeremy Thompson via Flickr CC BY-2.0
No.2: Scuttle's Scooters
Scoot on a sand crab on this cool ride in the open air.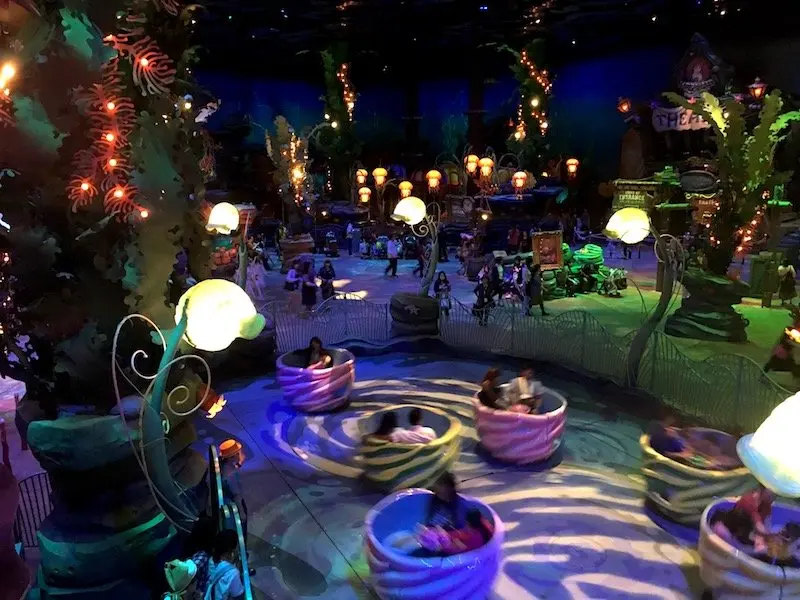 No.3 The Whirlpool
Like a teacup, but a kelp cup!
Take a spin.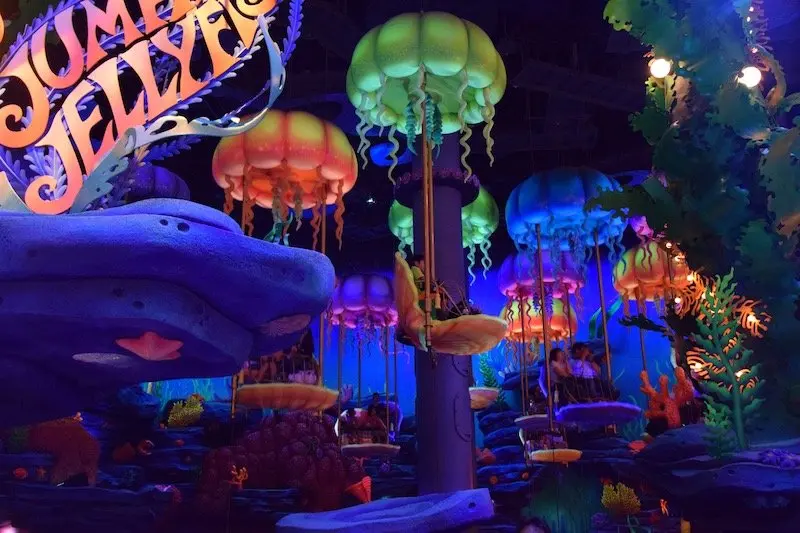 No.4: Jumpin' Jellyfish
Float up and down on a shell suspended from jellyfish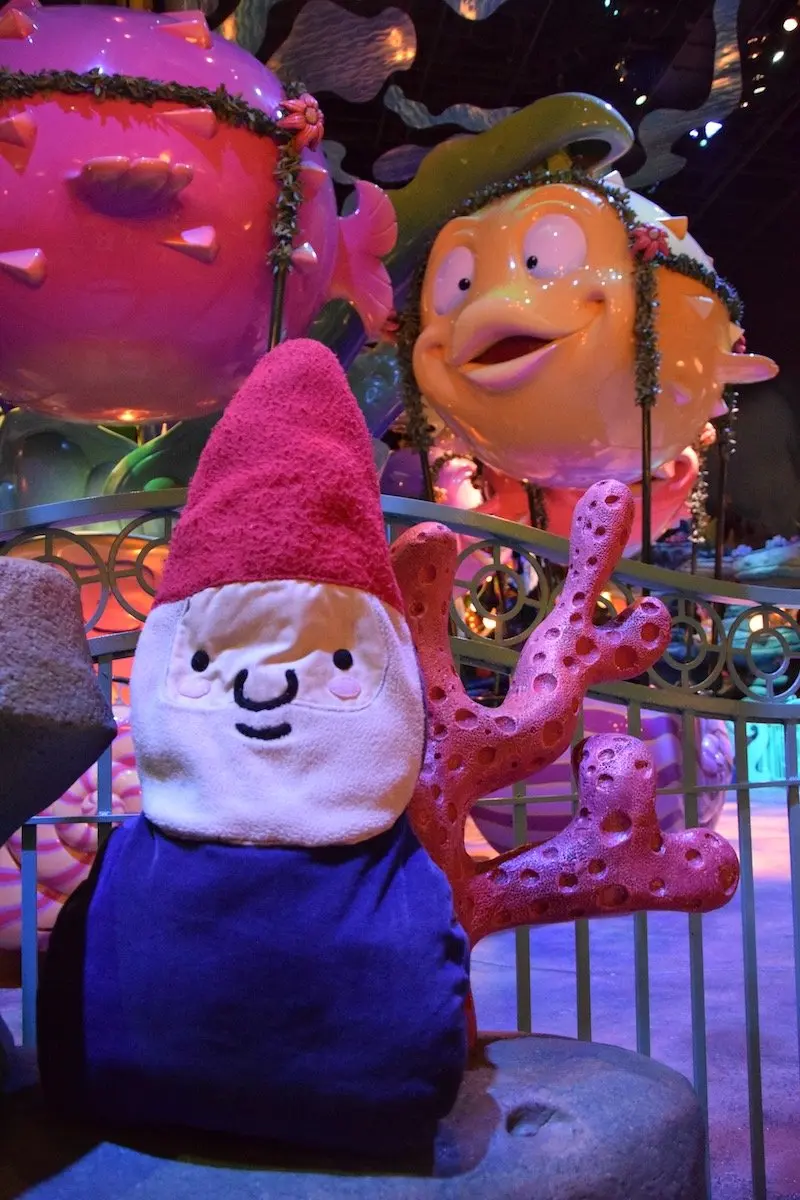 No.5: Blowfish Balloon Race
Board a shell and join the blowfish as they race round and round, high in the sky.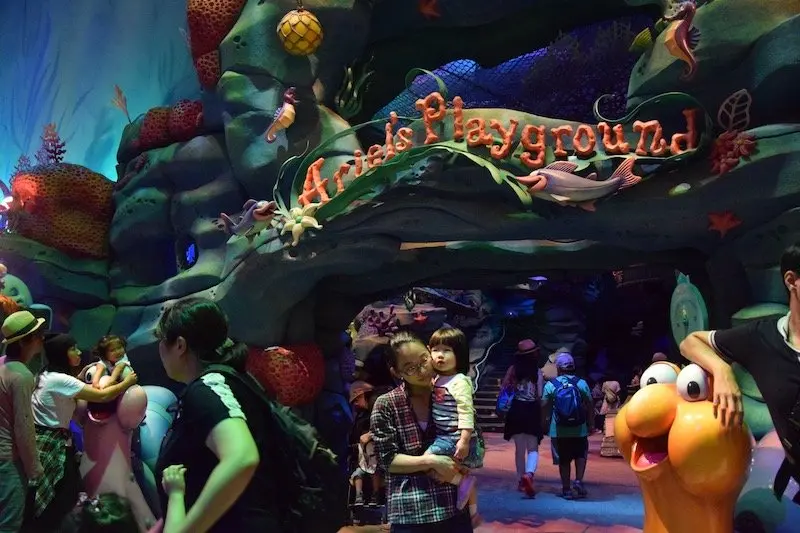 No. 6: Ariel's Playground for Kids at Japan Disneysea
Tokyo Disneysea Attractions don't get much better than this walk-through indoor playground with NO waiting required.
Ariel's playground has:
a cave of shadows
a Galleon graveyard (watch out for unexpected noises!)
a kelp forest
fishermen's nets to clamber through
a starfish playpen
a mermaid sea spray
a sea dragon tunnel, and
Ursula's dungeon.
The Tokyo playground is hands-on with lots of interactive elements.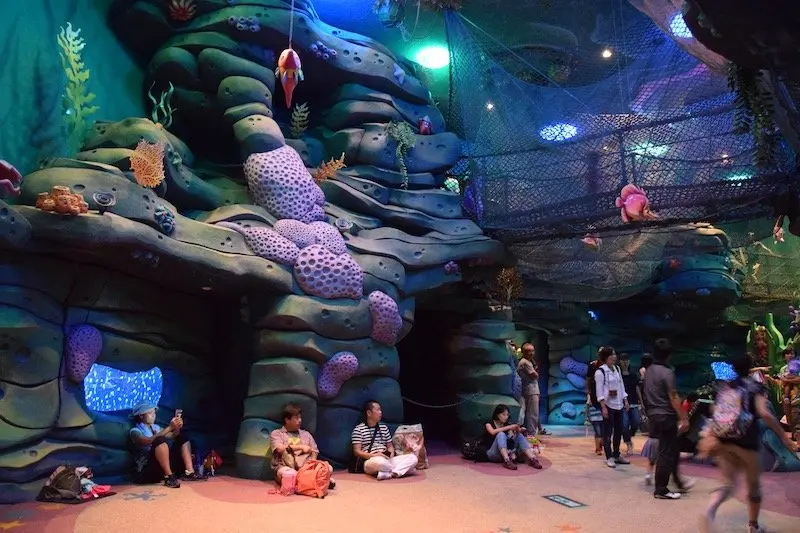 Mermaid Lagoon Disney Sea Playground for Kids
Hot tip: Be vigilant.
While you will see lots of parents taking a break, and sitting quietly against the walls in the main cavern, there are TWO separate exits with no gates, and LOTS and LOTS of kids running about.
Ariel's Playground is also semi-dark, and mysterious, with lots of hidden tunnels.
Designate a meeting spot before you let them run off to play.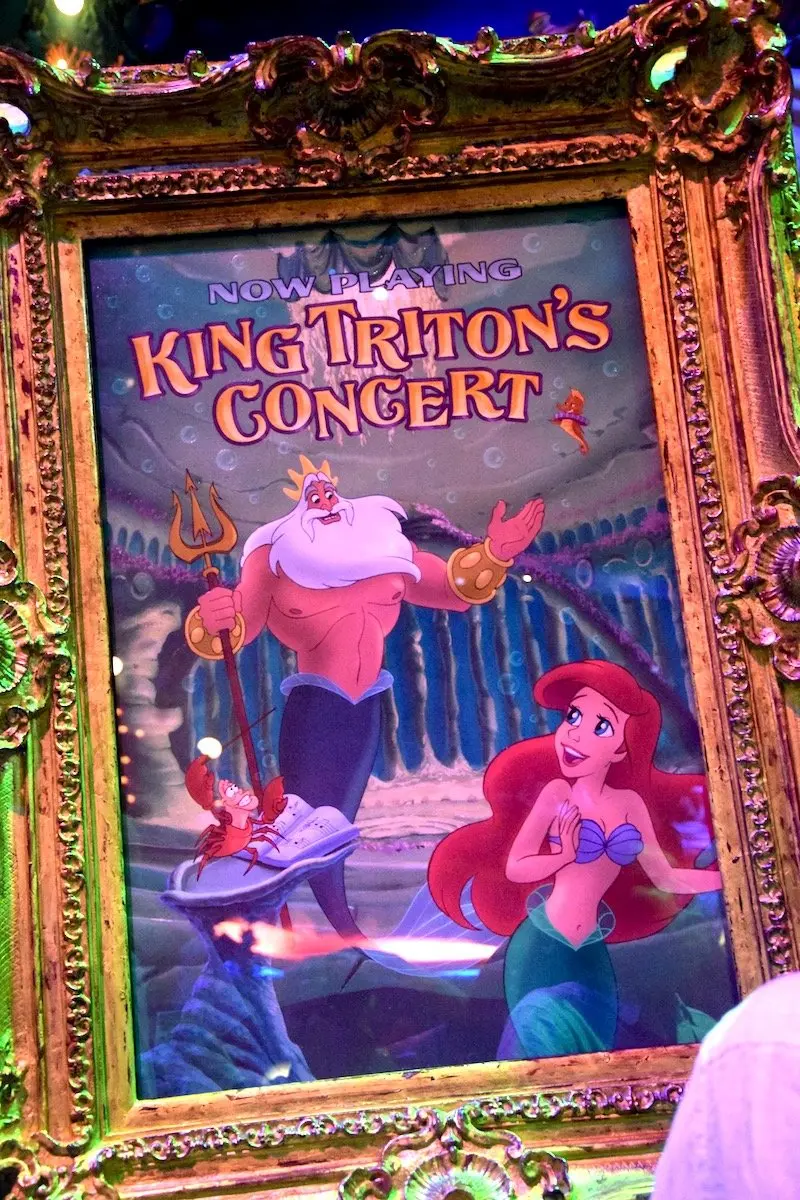 No.7: Mermaid Lagoon Theatre
Grab a Fast Pass for this super clever show, King Triton's Concert, so you don't waste precious minutes.
With real-life people, puppetry, AND vision combined, it's a rollicking boisterous song and dance rendition of the Little Mermaid Tale in the round.
It's my number one thing to do in Mermaid Lagoon.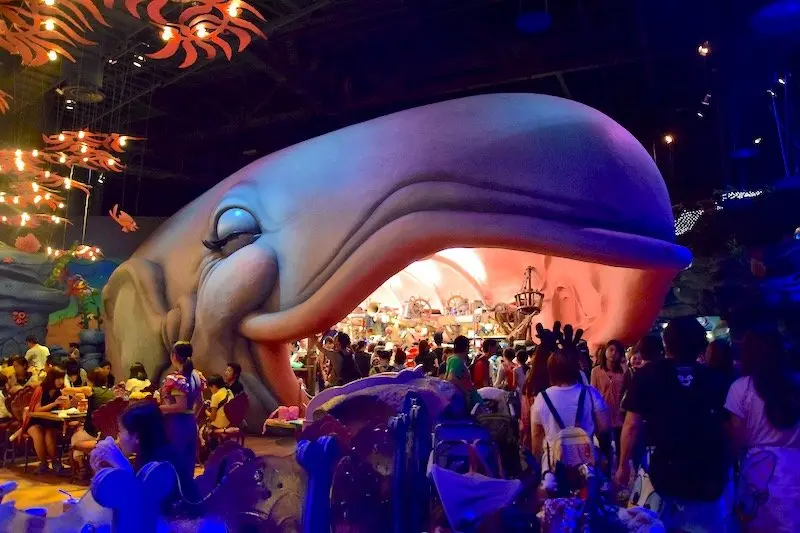 PS: Shop for Souvenirs at DISNEYSEA Tokyo Sleepy Whale Shoppe!
Go inside the giant whale in Mermaid Lagoon to buy super cute Disney merchandise!
Find lots of character merchandise and sweets related to the Disney film The Little Mermaid!
You can buy personalised caricatures, and silhouette cut-outs in here too.
Wear Matching Disney Shirts & Bags!
I fell in love with the prettiest Ariel t-shirt I ever did see from one of the stores there.
If you and your family want to do as many Japanese families do, that is – dress in unison, this is an excellent place to buy a Disney t shirt for everyone in the family.
The Tokyo Disney shirts are bright AND stylish.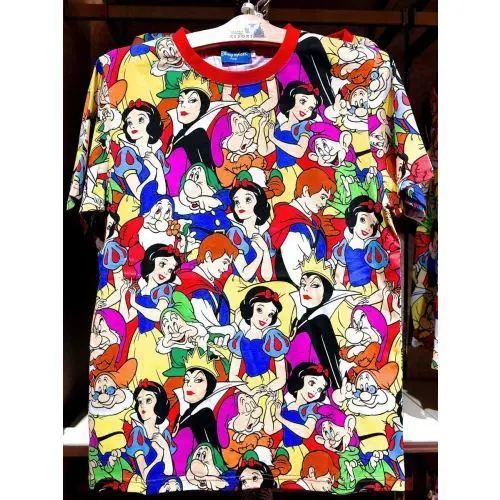 Image credit: K23Japan (Link to shop now)
Tokyo Disney Resort Character T-Shirts
My kids and I LOVE the Character T shirt designs at Tokyo Disney resort.
You can buy these fun multicolor designs in these styles:
Winnie the Pooh tshirt
Peter Pan t shirt
Toy Story t shirt
Aladdin t shirt
Rapunzel t shirt
Little Mermaid t shirt
Snow White t shirt
Beauty and the Beast t shirt
If you are looking for the perfect Tokyo Disneysea souvenir memory, you can't beat a tee.
We have three designs and plan to buy more next trip!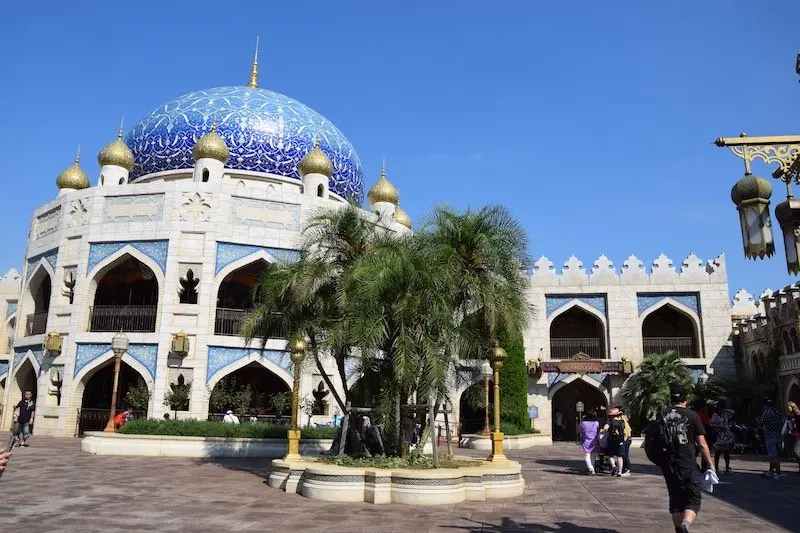 MORE Tokyo Disney Sea Rides for Kids
In each 'land', there are more rides and attractions for little kids.
Here's a list of our favourites.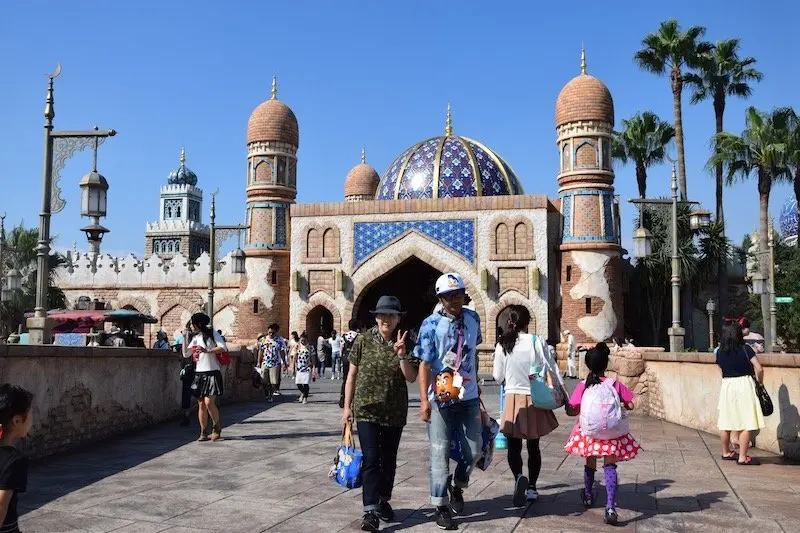 ARABIAN COAST
We love this beautifully designed area of Disney Sea.
The vibrancy of Arabia and the colors make us smile!
The best Disneysea rides and attractions for kids on the Arabian Coast are
Caravan Carousel
Jasmine's Flying Carpet
Sinbad's Storybook Voyage ride
The Magic Lamp Show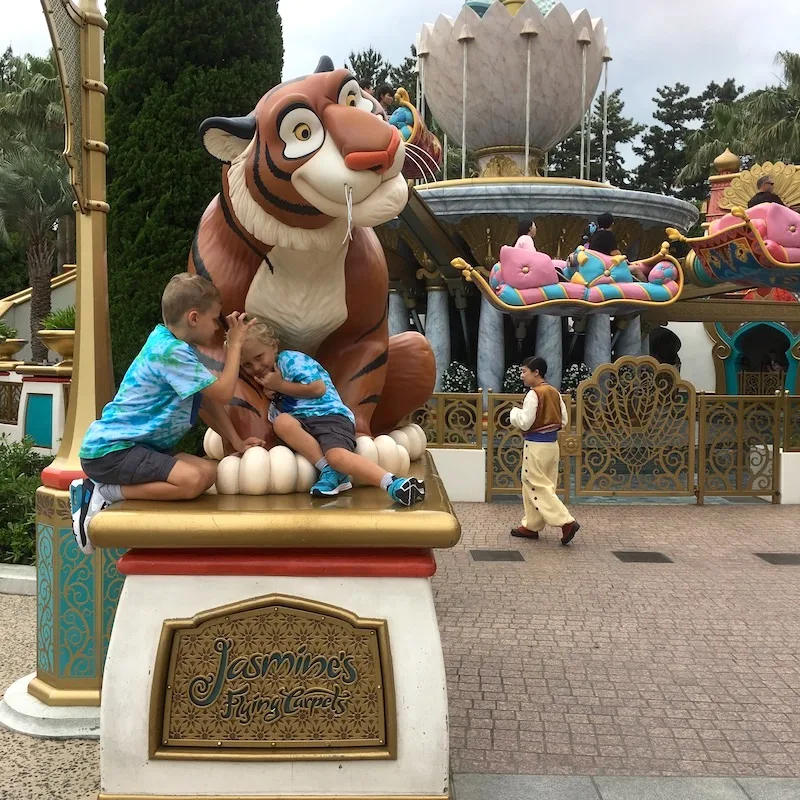 Caravan Carousel
A two-level carousel with characters from AliBaba including The Genie, AND camels to ride.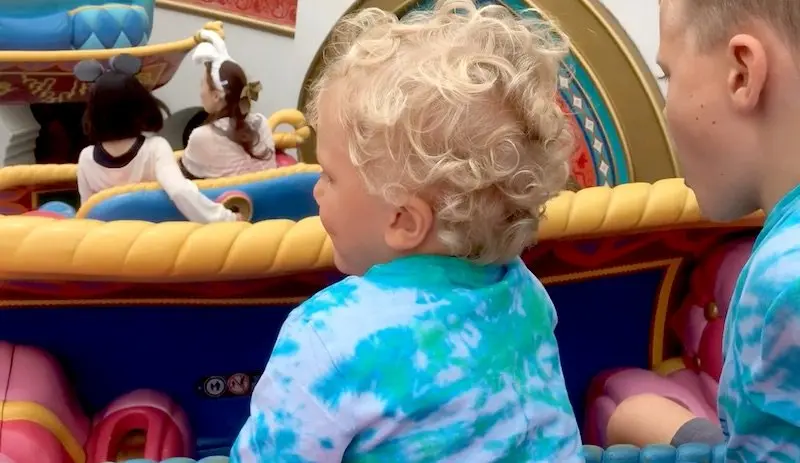 Jasmine's Flying Carpet
Like Dumbo the Flying Elephant, but cuter!
The magic carpet ride at Tokyo Disneysea floats up and down, as you go round and round.
Hot tip: If there's no-one in the back seat to manage it, put your hand over the seat to use their controls too.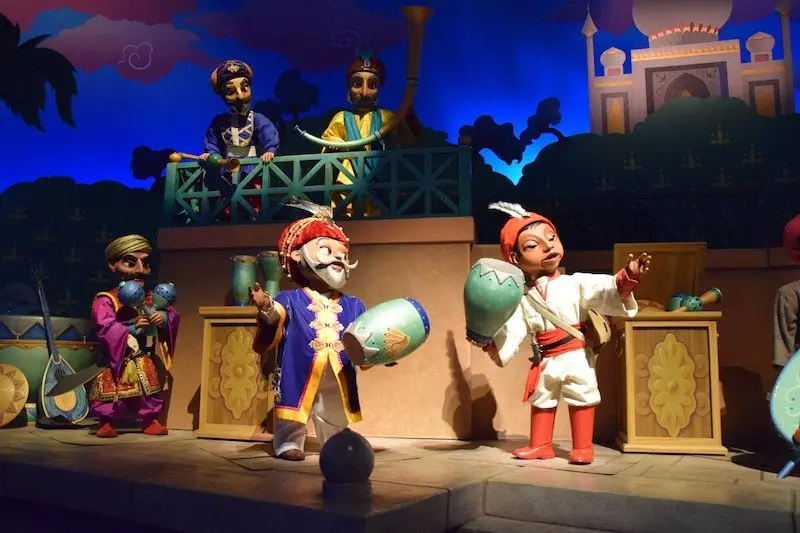 Sinbad's Storybook Voyage
An animated boat ride through the waters of Arabia with Sinbad and Chandu.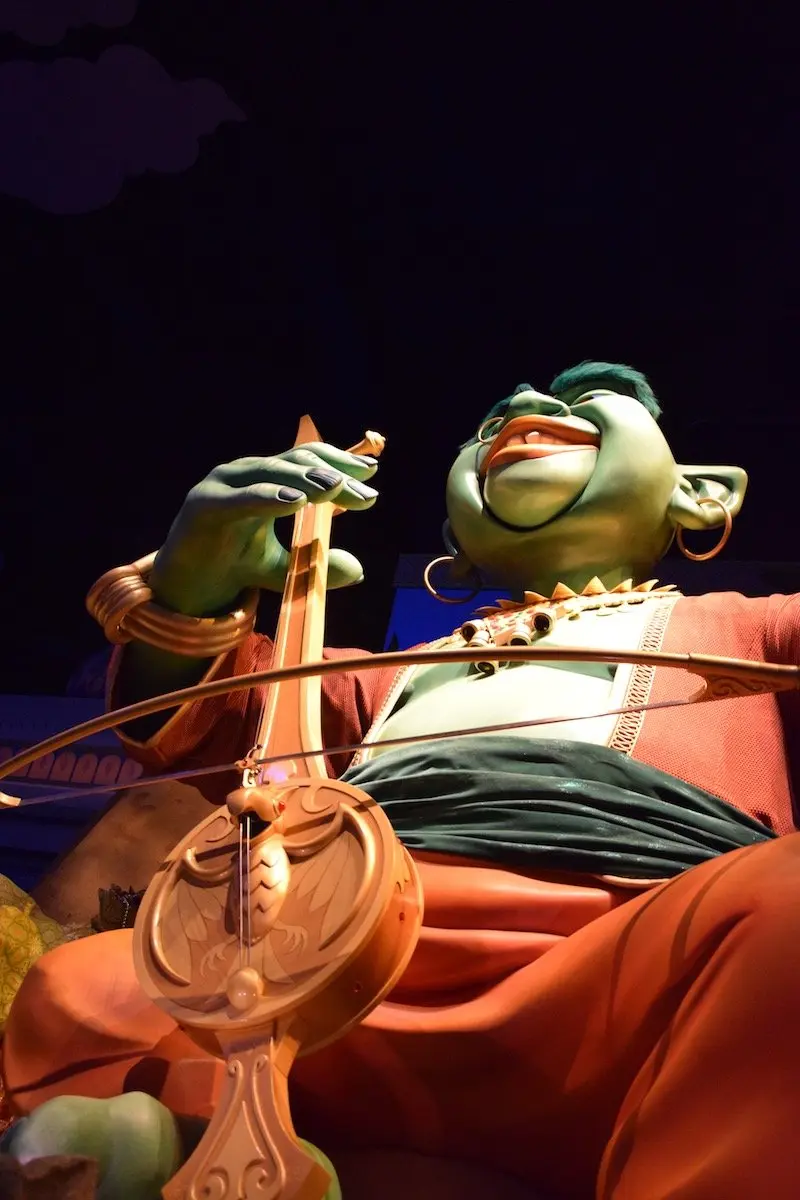 The Magic Lamp Theater 3D show
This show has with the world's greatest magician and the hilarious Genie.
It's hilariously good fun!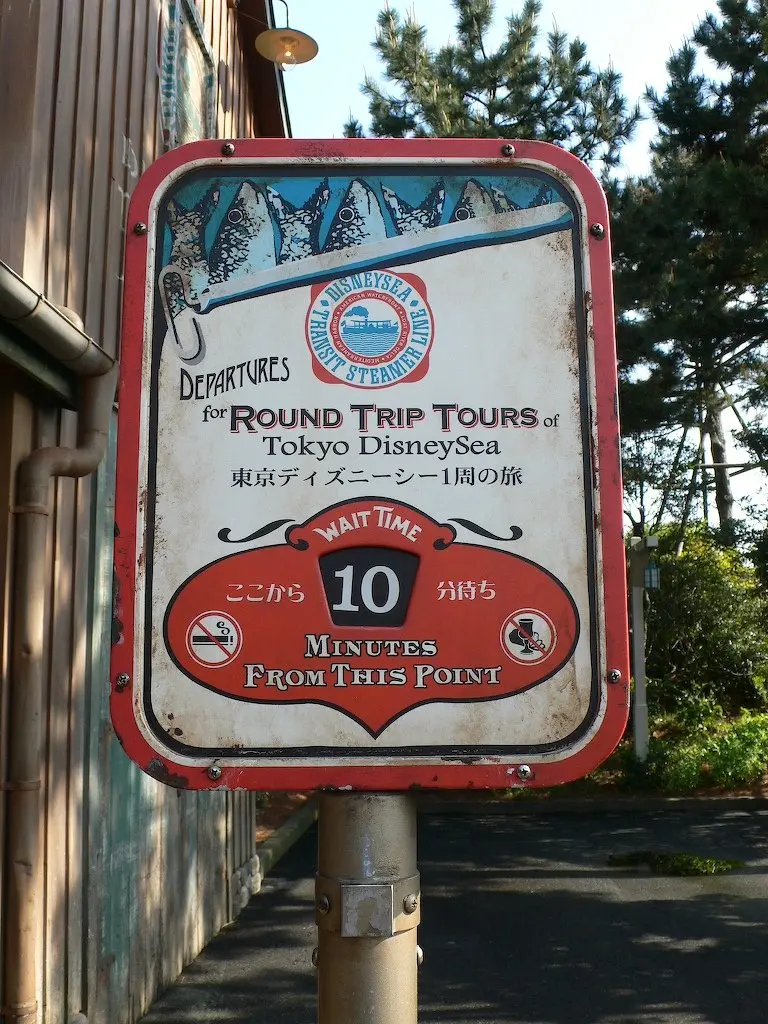 Image credit: Cory Doctorow via Flickr CC by SA 2.0
LOST RIVER DELTA
The best Disneysea rides and attractions for kids in Lost River Delta is the transit steamer boat.
DisneySea Transit Steamer Line
A low key steamer voyage around town.
The perfect spot to sit down and take a rest when the kids nap in their stroller.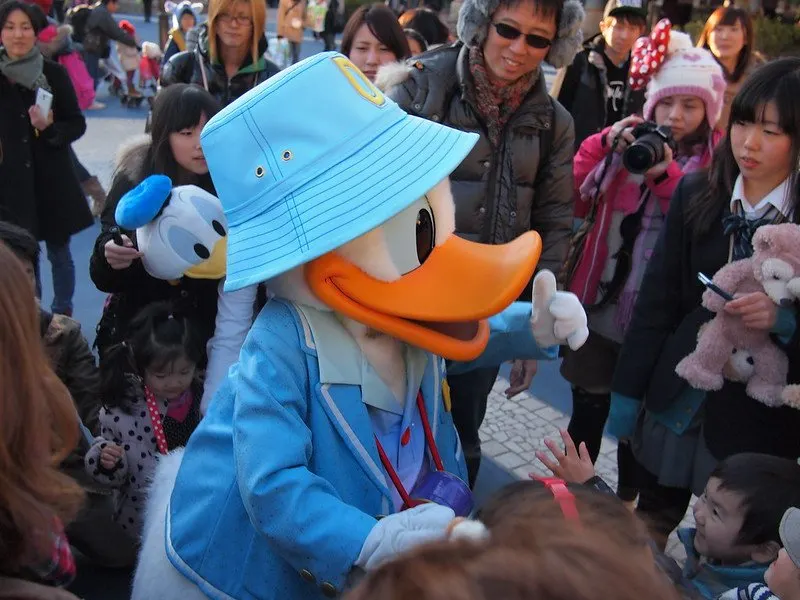 Image credit: Nakashi via Flickr CC by SA 2.0
Meet Mickey and Friends at Greeting Trails.
Head to Character greeting with Mickey and Friends at Greeting Trails.
It's pot luck but you might meet Mickey Mouse, Minnie Mouse or Donald Duck!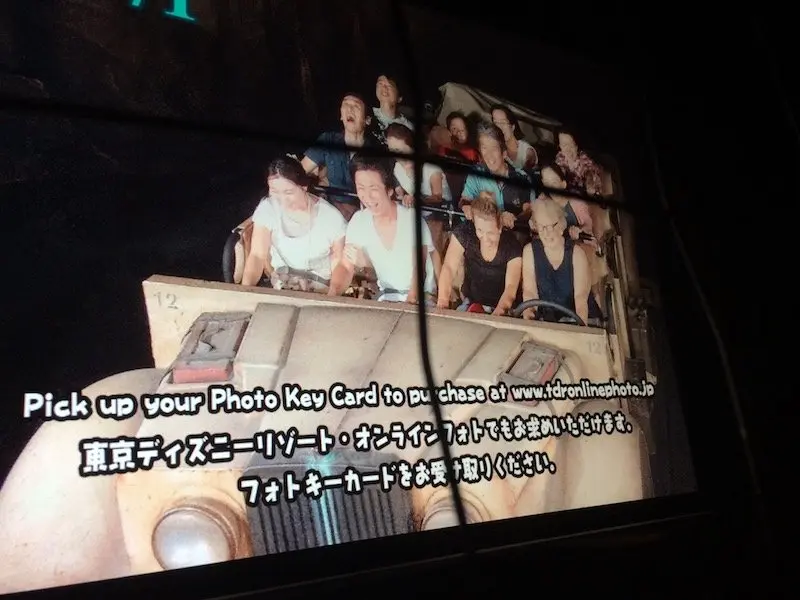 Hot tip: Indiana Jones Adventure Ride at Tokyo Disney Sea
If you can manage to take turns looking after the kids, the Indiana Jones Adventure, Temple of the Crystal Skull is THE BEST DISNEY RIDE I'VE EVER BEEN ON!
(Take a look at our faces, bottom right)
But it's pretty rough and tumble, so kids need to be 117 cm tall AND strong enough to hang on.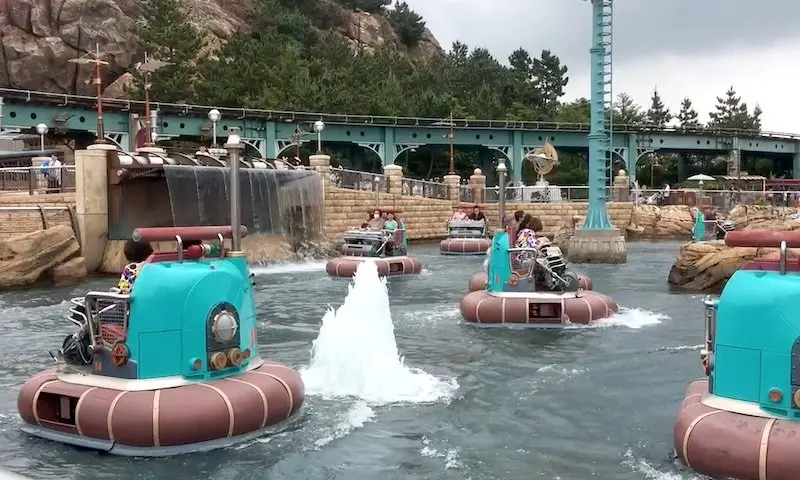 PORT DISCOVERY
The best Disneysea rides for kids in Port Discovery are:
Aquatopia
Nemo and Friends Sea Rider, and
the Electric Railway.
Details below.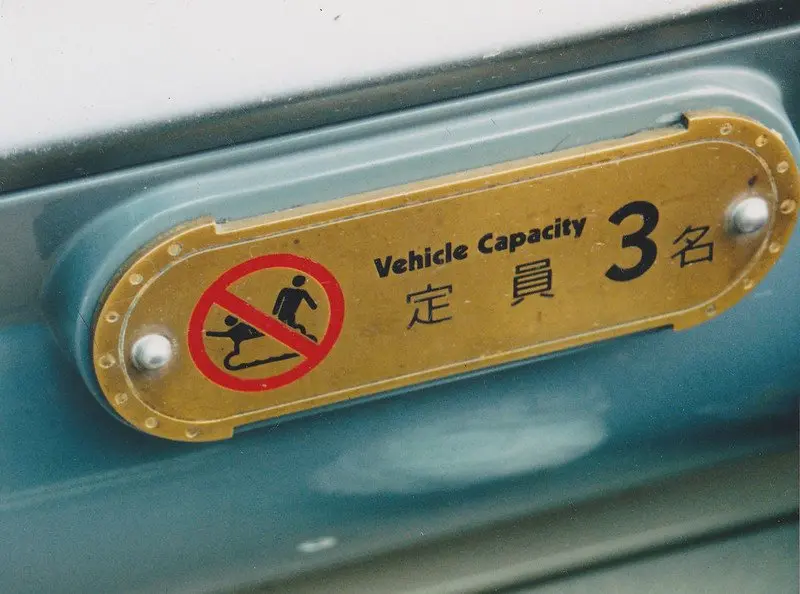 Image credit: Steven Miller via Flickr CC by 2.0
Aquatopia at Tokyo DisneySea
Join the WET queue on this wild spinning watercraft ride.
The queue is shorter and quicker AND the soaking is a tonne of fun.
You WILL get very wet but oh, how you'll laugh!
(The wet queue is only available in warmer weather.)
Don't miss this ride, summer or winter.
It's a favourite.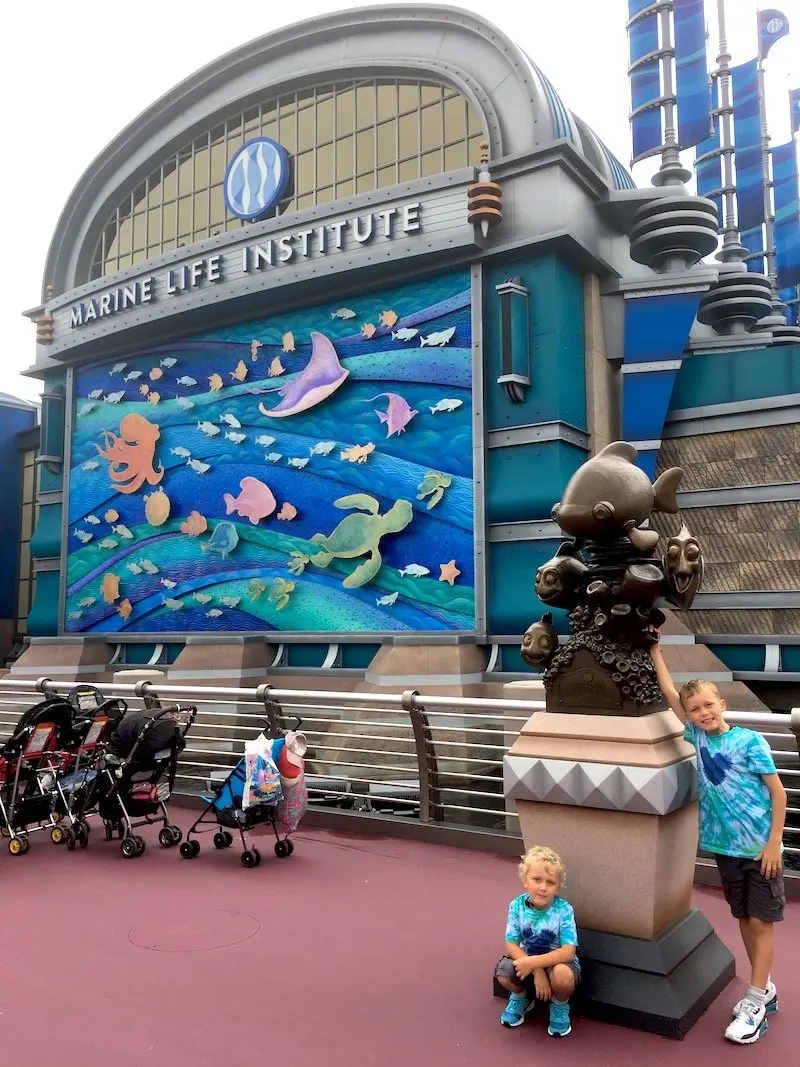 Nemo and Friends Sea Rider at Tokyo Disneysea
Similar to the Star Wars ride, but for younger kids, you'll board a submersible and take a trip through the vast ocean.
It's fast and fun!
Hot tip: Get the Fast Pass.
This is a popular ride for kids at Tokyo Disneysea.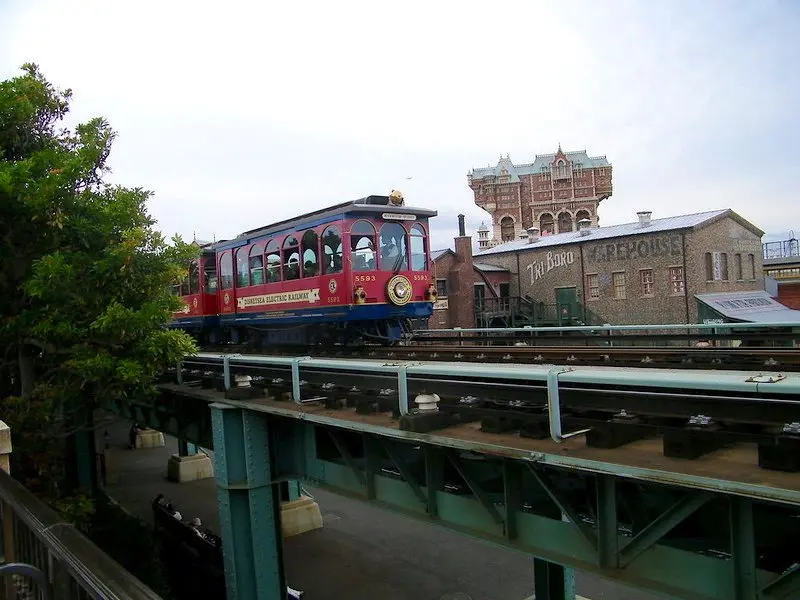 Image Credit: Joel via Flickr CC By ND 2.0
DisneySea Electric Railway
Take an electric trolley ride on an elevated track right back to the front of the park.
There's some top views of Disneysea from this child friendly ride.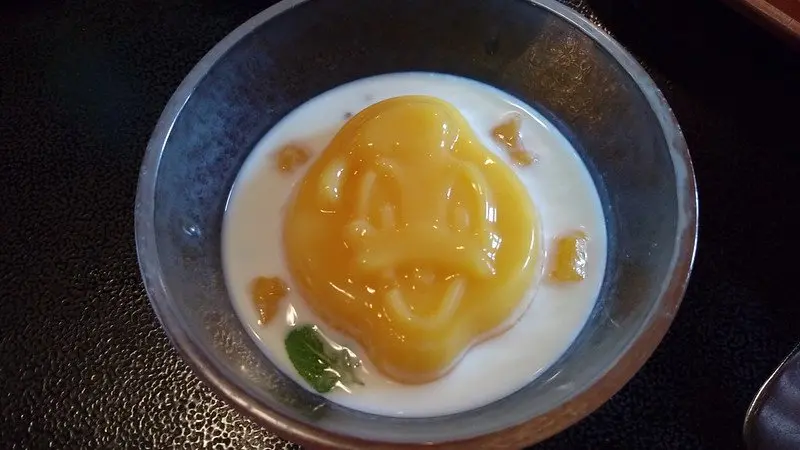 Image credit: Tzuhsun Hsu via Flickr CC by SA 2.0
Disney Character Dining
Disney Character Dining is available at the Horizons Bay Restaurant.
It's the best way to meet traditional Disney characters without queuing!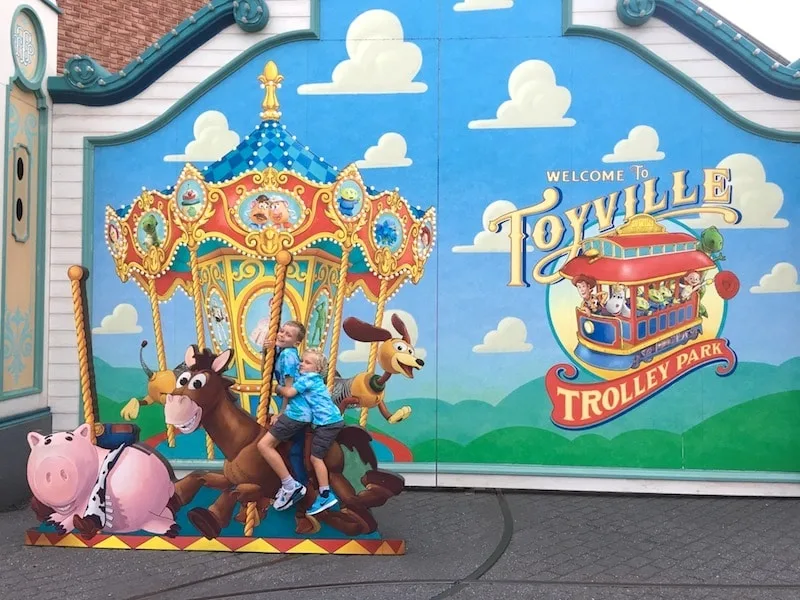 AMERICAN WATERFRONT
The best Disneysea rides for kids in the American Waterfront are:
Toy Story Mania
Toy Story Carnival Corral games arcade (free to play)
Big City Vehicles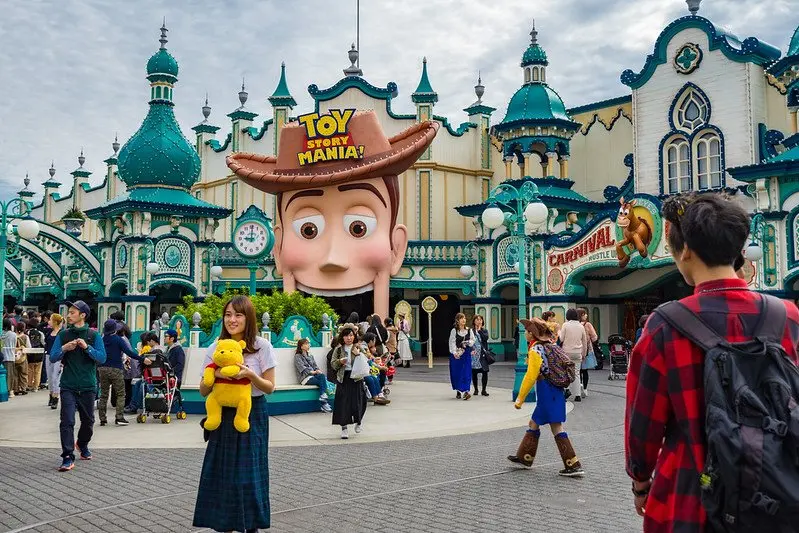 Image credit: Guillermo via Flickr CC by ND 2.0
Toy Story Mania at Tokyo Disneysea
Possibly THE BEST interactive ride in the world.
Toy Story Mania is excitement plus, and a fun challenge for everyone!
Put the Disneysea Toy Story ride at the top of your must-do list if you haven't ridden it already.
Grab a fast pass for Toy Story, as the queue can be an hour long.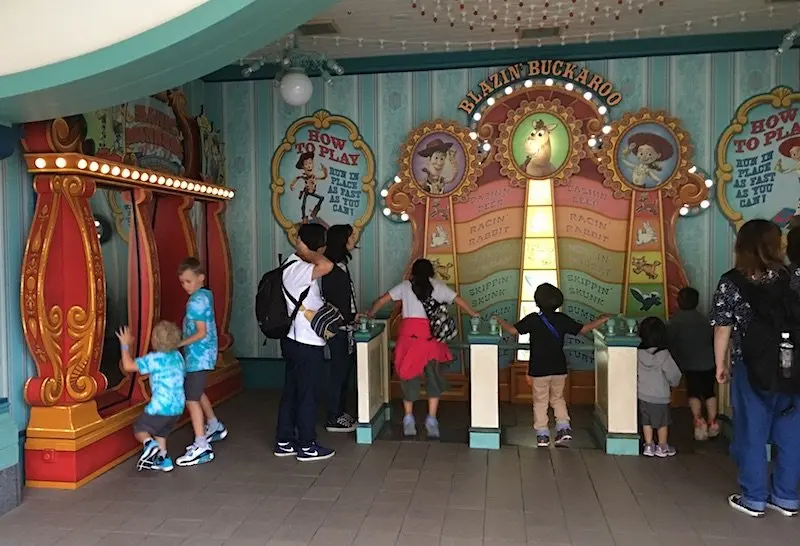 Hot tip: Toy Story Games Arcade at Disneysea
As you walk into the area where Toy Story ride is, you'll spot these FREE fun Toy Story arcade games to play and activities to do.
At the Carnival Corral, there's:
Magic mirrors
Blazin' Buckaroo running game
Knobs to twirl on the Woody's Wonder Wagon (moving the Toy Story characters at the funfair)
Photo opportunities
Don't miss it!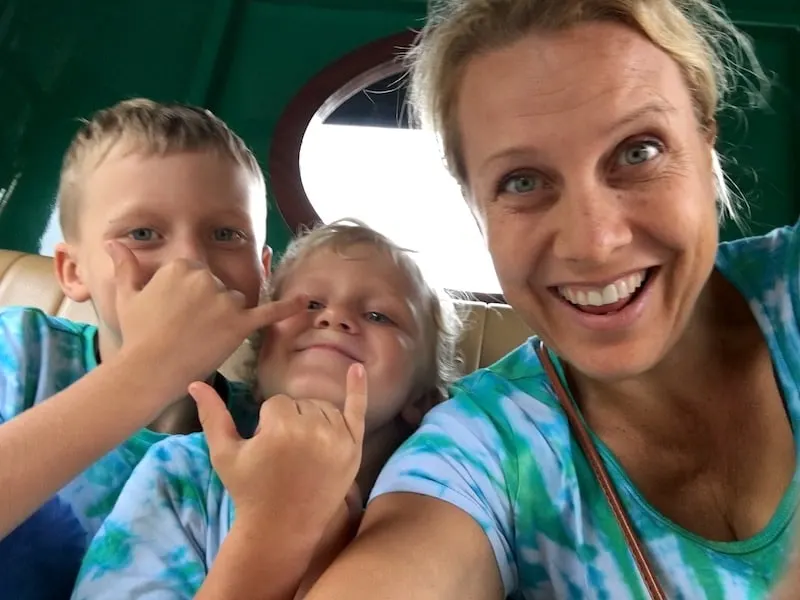 Big City Vehicles
Board a early 20th century vehicle for a ride aorund the streets of New York. Choose from an open top town car, a police wagon, or a delivery truck!
Kids who love trucks and vehicles will adore this ride.
Hello New York Show
This show presented in the New York area of American Waterfront features Mickey Mouse and the Disney Friends discovering different ways to enjoy the big city.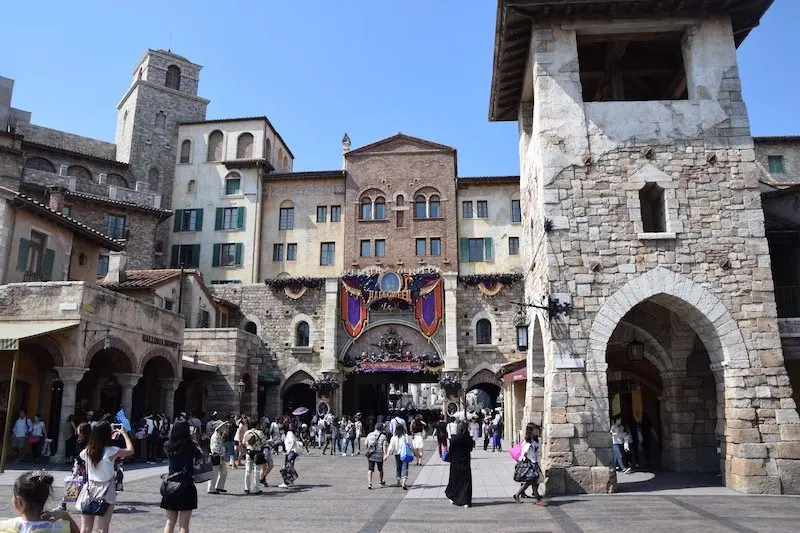 MEDITERRANEAN HARBOR
The best Disneysea rides and shows for kids in Mediterranean Harbor are:
Venetian gondolas
Disneysea Fantasmic!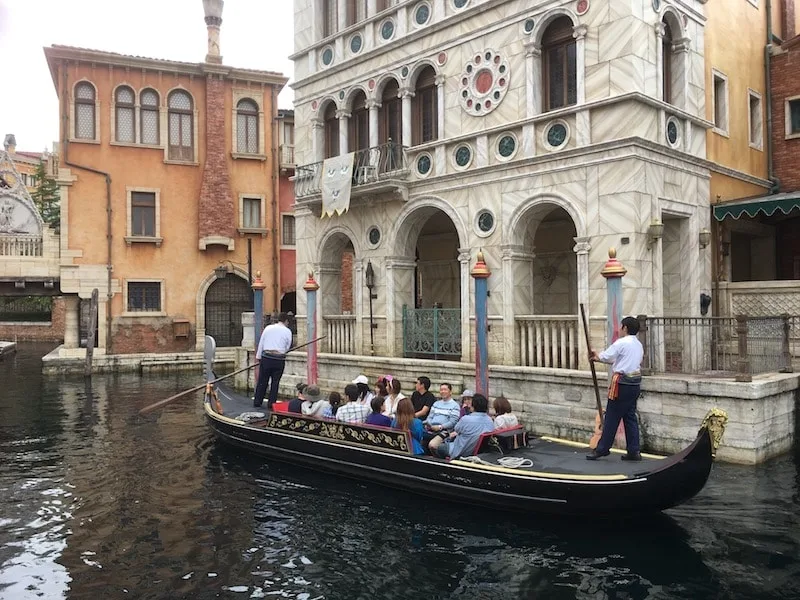 Venetian Gondolas
Take a ride through the canals of DisneySea on these replica gondolas captained by two charming gondola drivers, or gondoliers.
Just like in the real Venice, these strong fellows row their gondola boats through the canals of the Mediterranean Harbor using long oars to paddle and steer by hand.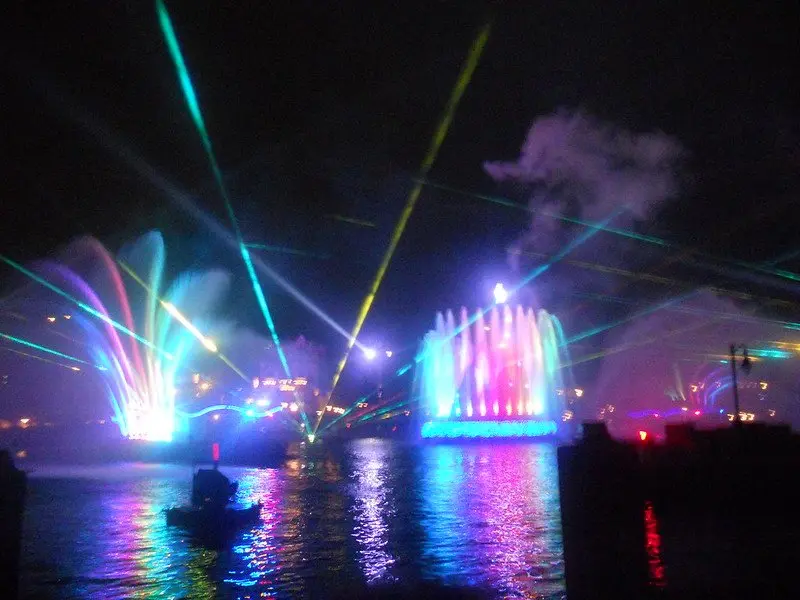 Image Credit: Meredith P. via Flickr CC By ND 2.0
Fantasmic! show
Find yourself a good spot overlooking the Mediterranean Harbour to see this fireworks, boats, laser and music spectacular.
All the Disney characters appear in this ode to the imagination.
But Mickey is star of the show!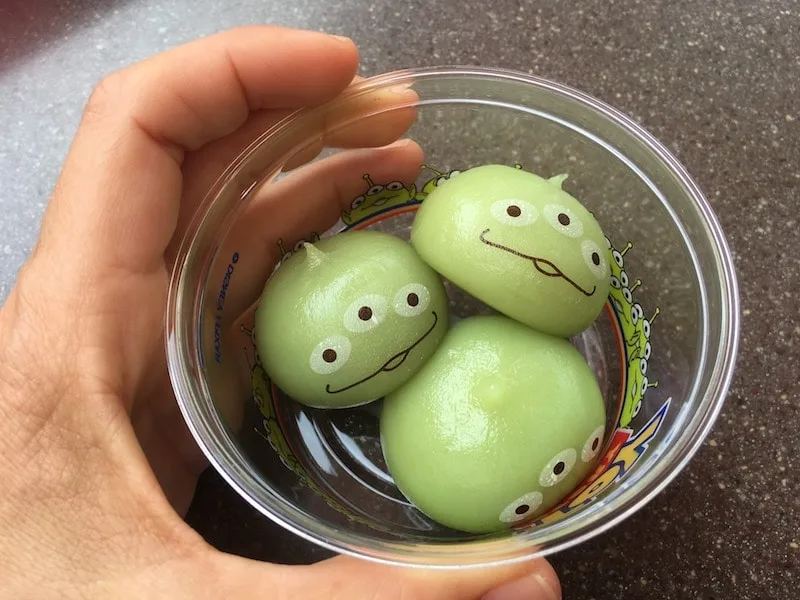 BEST TOKYO DISNEYSEA SNACKS
Tokyo Disneysea is a magical place where you can eat all the Disney snack foods without expanding your frame.
Calories don't count at Tokyo Disneysea!
The snack menu at Tokyo Disneysea is out of this world, and most Disney snacks retail for less than ¥500 yen each so they are perfect Tokyo Disney food options for those on a budget too.
HOT TIP: YOU MUST TRY THE LITTLE GREEN MEN MOCHI.
But don't take our word for it.
Add a visit to Mamma Biscottis Bakery to your Disneysea itinerary quick smart.
Then, read our Guide to Popular Tokyo Disneysea Snacks & Children's Set meals.
You'll be glad you did!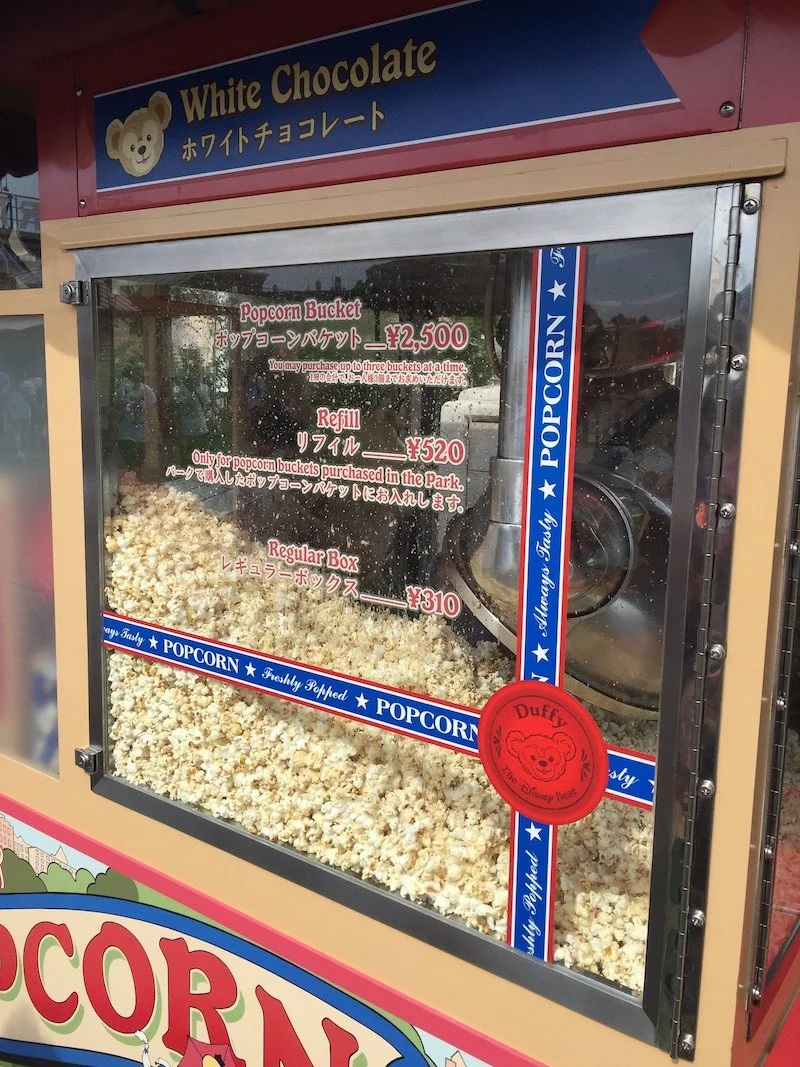 Image Credit: Joel via Flickr CC By ND 2.0
Tokyo Disneysea Popcorn Buckets
One of the best snacks at Disneysea is popcorn.
It's cheap, you can eat it on the run, AND kids love it.
You can buy it in a cardboard box, or in a limited edition refillable Tokyo Disneysea popcorn bucket.
Different shaped Disney characters popcorn buckets can be found in different popcorn wagons.
You'll find popcorn buckets shaped in all kinds of different Disney characters for sale at each popcorn wagon, so it's a good idea to do your research before you go.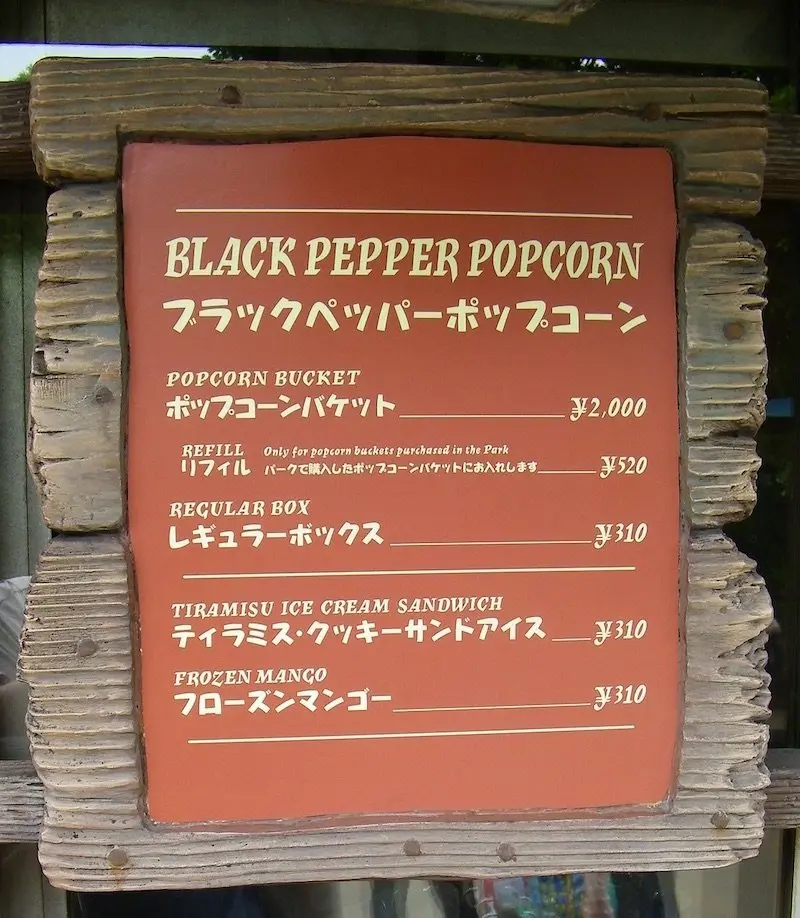 Image Credit: Joel via Flickr CC By ND 2.0
Tokyo Disney Popcorn Flavors
There are SO MANY different popcorn flavors to try at Tokyo DisneySea too.
It's popcorn heaven.
Want all the insider's knowledge?
Take a look at our guide to Disneysea Popcorn here.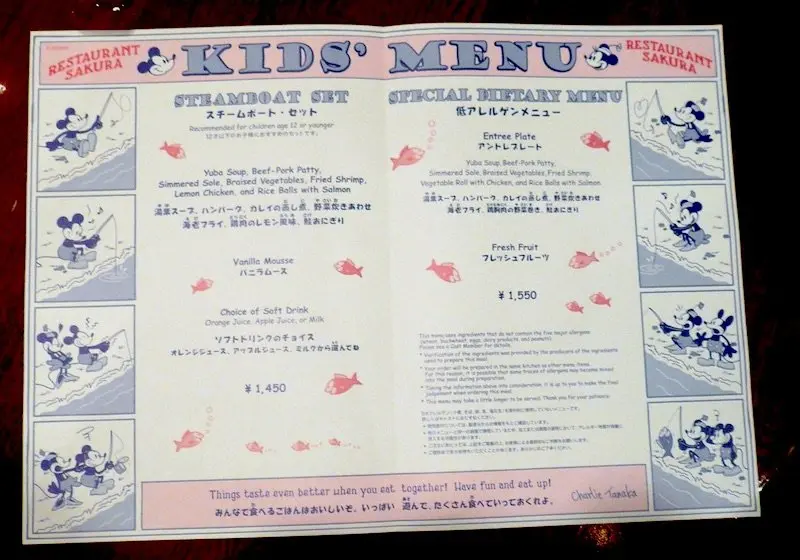 DISNEYSEA RESTAURANTS
Click here to find the complete list of Disneysea restaurants, and current menus.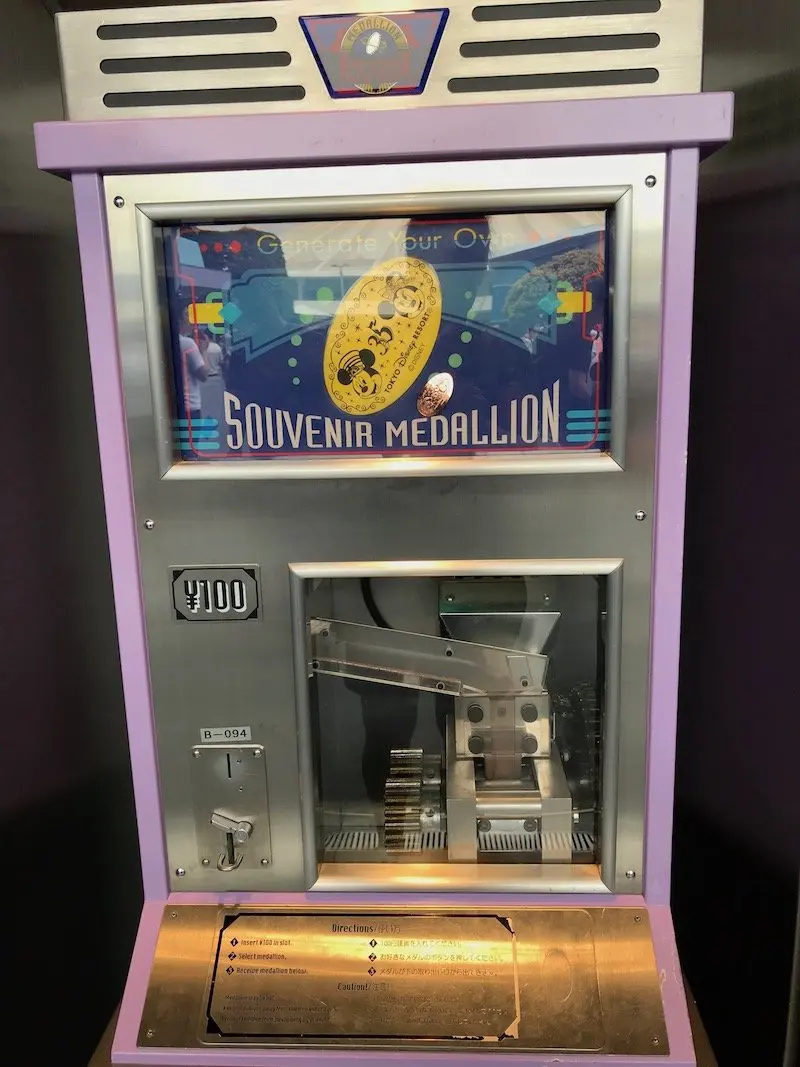 BEST DISNEYSEA STORES
Fun Tokyo Disneysea Merchandise
Disney food snack souvenirs
Valentina's Sweets shop in the Mediterranean Harbour has the biggest selection of Disney-themed treats to take home.
Cute but tasty souvenirs they are!
Disney Sea Souvenirs – pressed pennies
Make a Souvenir Pressed Penny medallion for ¥100 each.
Collect all the different designs.
Find machines at:
the Sleepy Whale shop
the Agrabah Marketplace
The Expedition Photo Archive
Aunt Peg's Village store, and
Galleria Disney.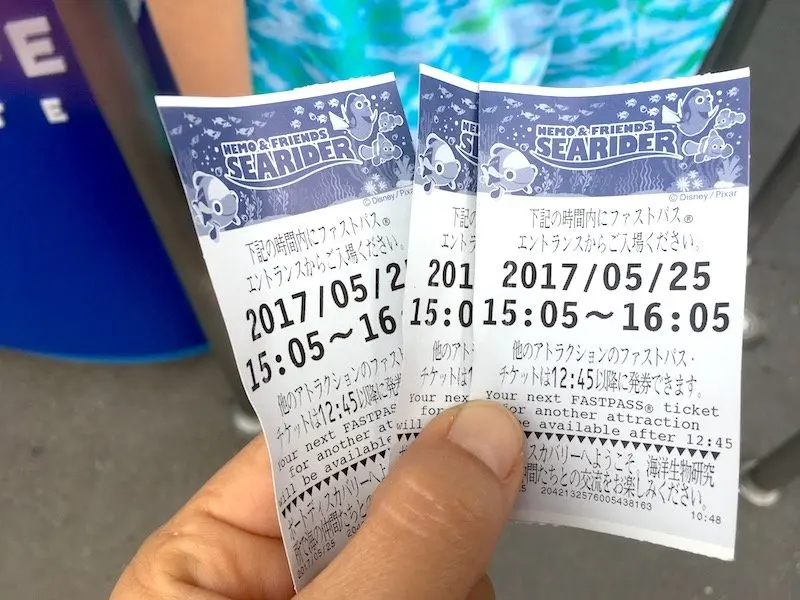 7 BEST TOKYO DISNEYSEA TIPS
No.1: Disneysea Fastpass is essential to skip queues with kids
Get FREE Disney Sea FASTPASS tickets on the day of your Park visit.
Go to the FASTPASS ticketing machine location.
These are located close to the front entrance of all rides that take FastPass.
Hot tip: Look for the queue leading to the row of ticketing machines.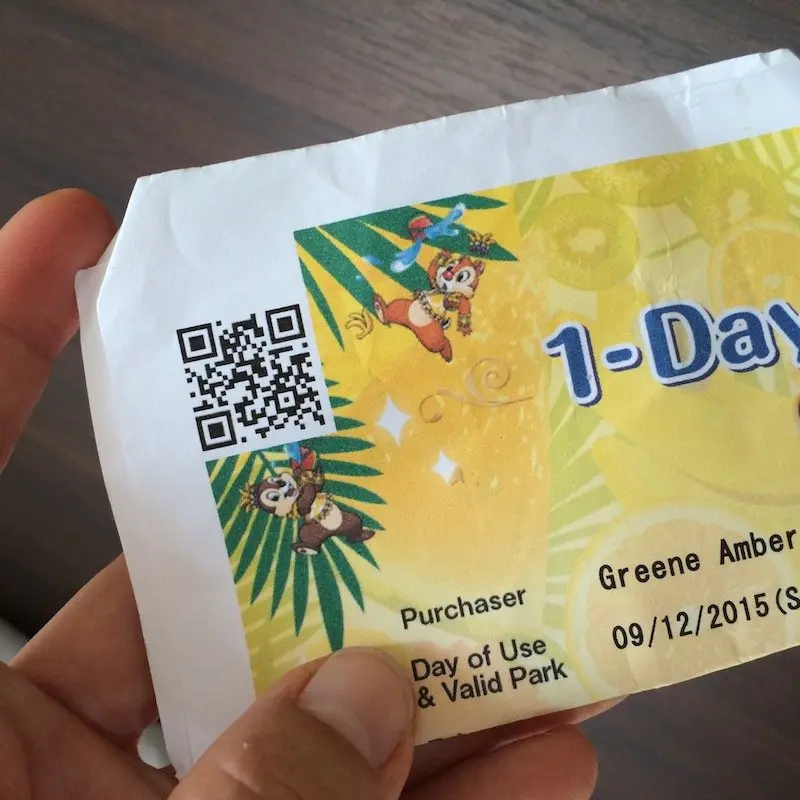 How to use e-tickets for fastpass machines
If you have a Disney eTicket printout, fold it in eighths.
At the FASTPASS ticket machine, insert your folded paper park ticket with the 2D code facing up.
When the green light goes on, withdraw your Park ticket.
Pick up your FASTPASS Ticket from the dispenser.
Take advantage of these little travel aids. They save you SO MUCH TIME.
Use time in between fastpass rides to eat or snack.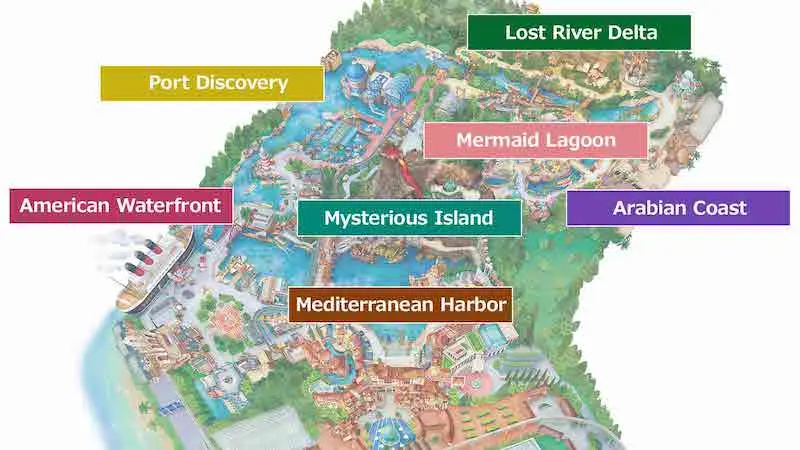 No.2: Pick up a Disneysea Guide Map
Pick up a guide map on entry.
The Disneysea Map, the entertainment schedule "Today," and other information on merchandise and food will help you enjoy the Park even more.
Wagons containing the maps are located either side of Passaggio MiraCosta.
You can also download the Tokyo Disneysea map here.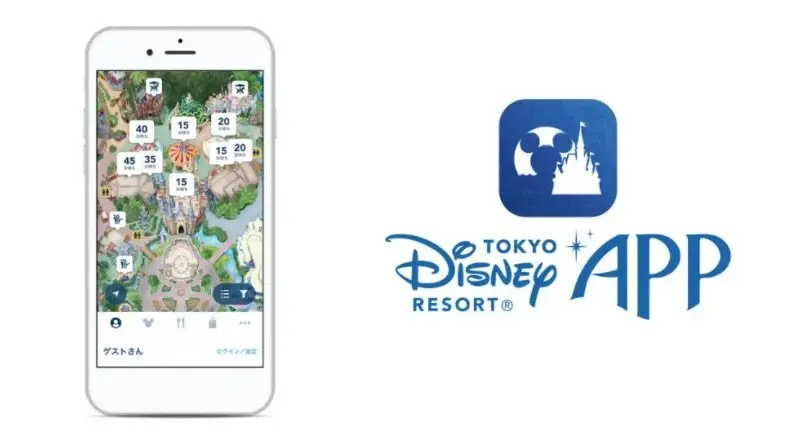 No.3: Download the Disneysea app
Plan your day and make the best use of your time for Disneysea rides by checking the wait times on the Disneysea app from iTunes.
You can also check the Park Information board at Mediterranean Harbor.
Friendly Cast Members can help you with:
Attraction wait times
FASTPASS ticketing status
Scheduled start times for entertainment
Checking heights for attractions with height restrictions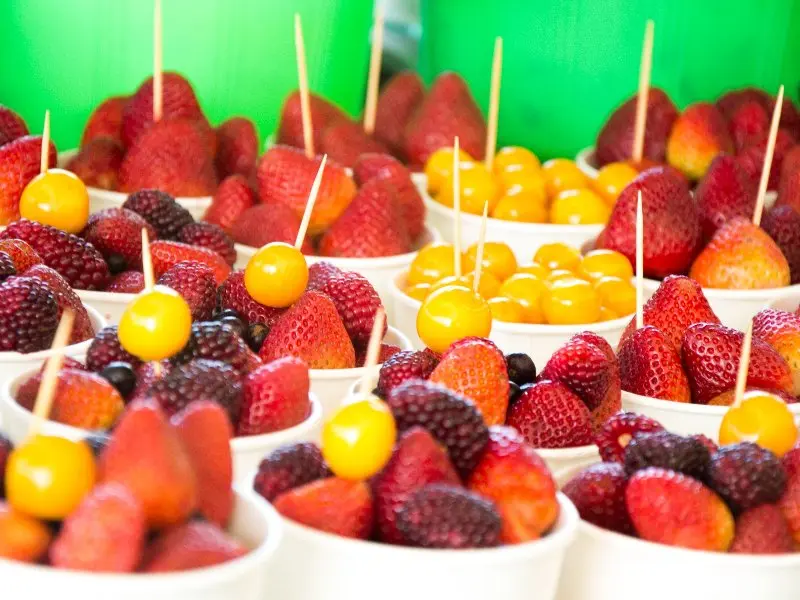 No.4: Eat Healthy Food at Tokyo Disneysea
Hungry for something healthy?
There's a Papadakis Fresh Fruit wagon in American Waterfront that sells freshly cut fruit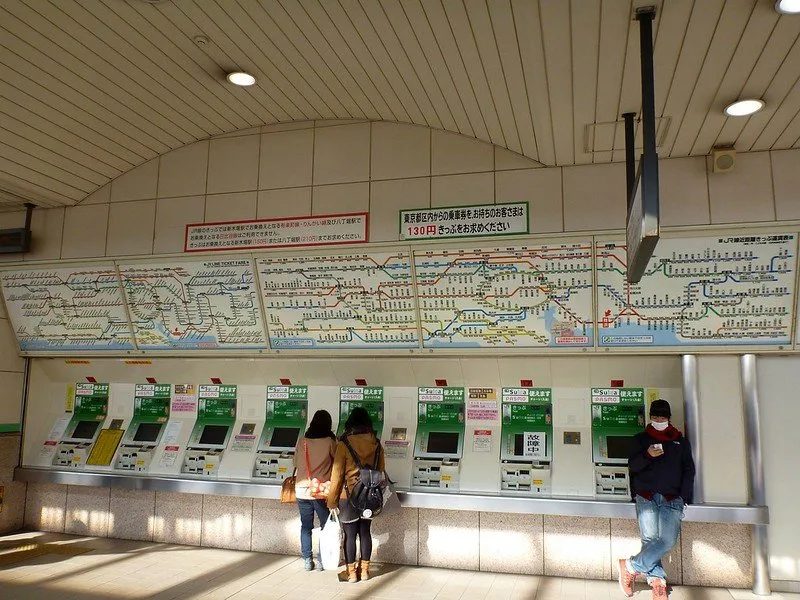 Image credit: Kzaral via Flickr CC by 2.0
No.5: Visit Tokyo Disneysea on a Budget
There's a Japanese Convenience Store just outside the Maihama Disney train station when you arrive
(It's on your left as you exit, heading towards Ikspiari shopping centre).
If you want to save your dollars for Disney treats later in the day, eat a big breakfast, then stock up on your drinks, Japanese snacks, and onigiri rice balls here before heading in.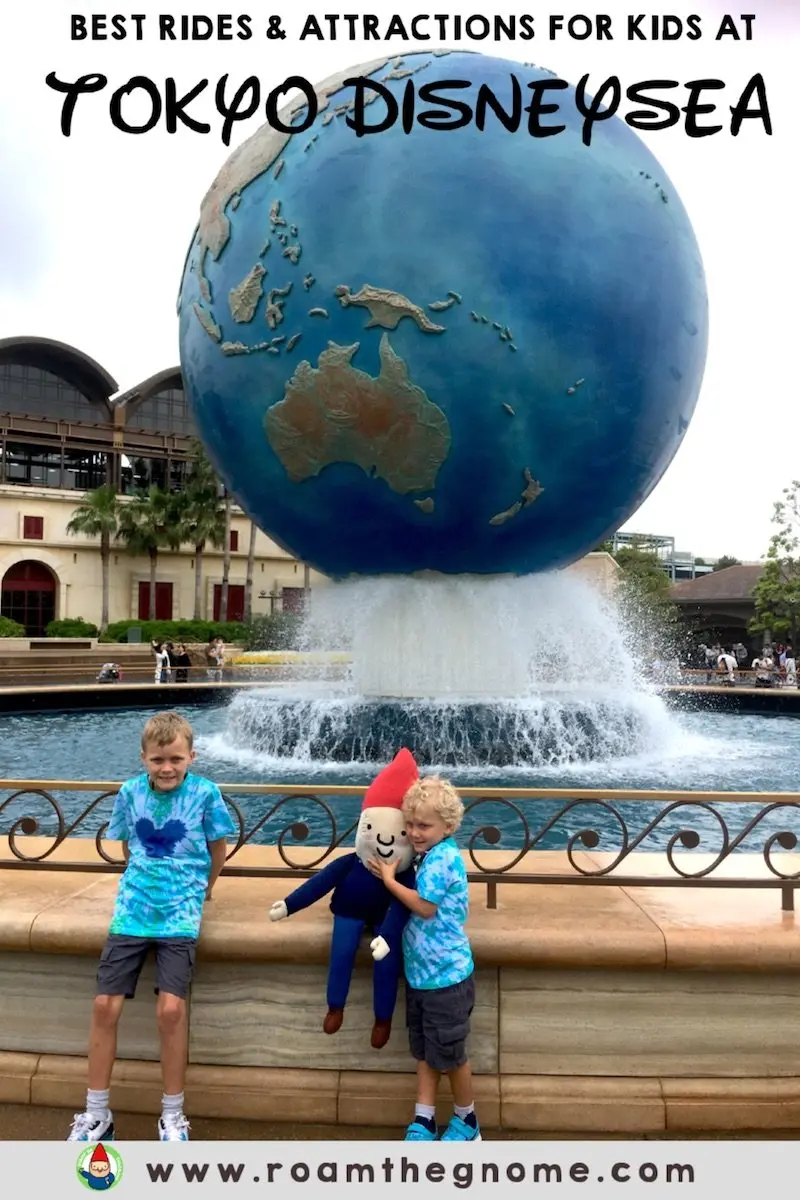 No.6: Dress up Costumes for Kids
Get into the spirit of things by letting the kids dress up as their favourite Disney character or princess.
The Japanese embrace the idea of dress up strongly so your kids will fit right in.
Kids under 11 may wear full costumes all year round.
No.7: Send a postcard from Tokyo Disneysea
Send a postcard from inside Tokyo DisneySea.
Letters and postcards placed in these mailboxes will be imprinted with a special Tokyo DisneySea design and delivered to the post office.
Mailboxes are located in 11 different areas within Tokyo DisneySea.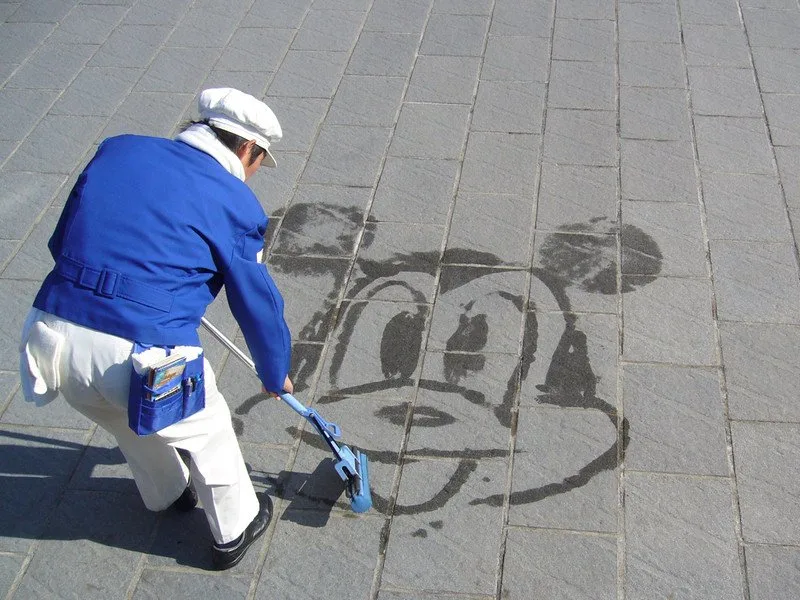 Image Credit: Kyoko via Flickr CC BY ND 2.0
THE INSIDE SCOOP – TOKYO DISNEY SEA JAPAN
Correct at time of publication on Roam the Gnome. Please check with venue for updates. We apologise in advance if there have been any changes we are unaware of. All prices in yen, unless otherwise stated
Tokyo Disney Sea is a separate park to Tokyo Disneyland, even though visitors often call it Tokyo Disneyland Sea.
Address: 1-13 Maihama, Urayasu, Chiba Prefecture 279-0031, Japan
Tokyo Disneysea Opening Hours
Generally 8am to 10pm. Please check Disneysea hours & opening times on the Park Operation calendar.
Buy your e-tickets here and print at home. No waiting in line at the gate, AND guaranteed entry!
Telephone: 0570-00-8632
Website: Click here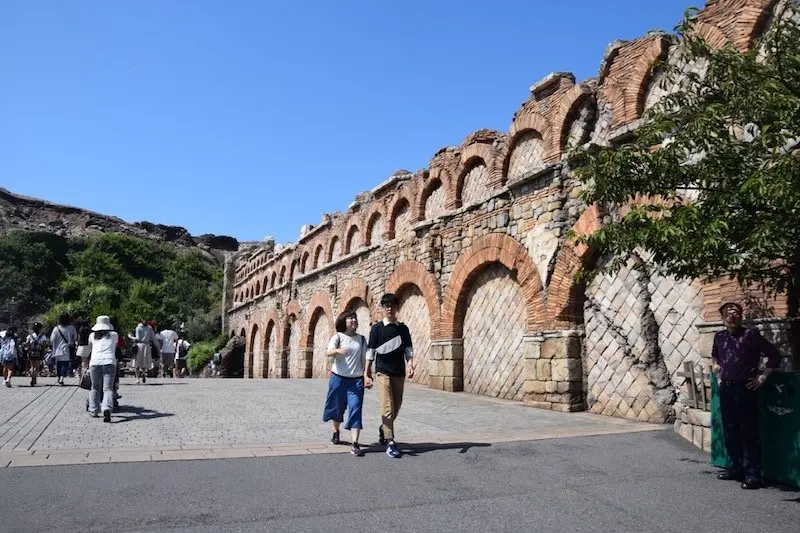 Entry Fees to Tokyo Disneysea
Entry prices to Tokyo Disneyland Resort are determined by status:
adults
junior (12-17 years) and
child (4-11 years)
Kids 3 and under are FREE!
Buy Skip the Line Tokyo Disneysea tickets here. (Bestseller)
Single Day Passports
One day passports can be used for Tokyo Disneysea OR Tokyo Disneyland, but you must specify at the time of purchase.
Multiple Day Passports
Ticket prices are the same for Tokyo Disneyland Park and Tokyo DisneySea Park.
With a 2-Day Passport, you can enjoy one Park the first day and the other Park the following day.
With a 3-Day or 4-Day Magic Passport, you can enjoy the privileges of a 2-Day Passport and then visit both Parks as you like on the third or fourth consecutive day.
2, 3, and 4 day passports must be used on consecutive days, or the tickets will be deemed invalid.
Learn from my error
I did not read this important detail when planning my itinerary in Tokyo with kids last time, so spaced the days out.
When we turned up for the second day to visit Tokyo Disney Sea, the tickets were null and void. Luckily, one of the helpful staff felt sorry for my misunderstanding, and reissued my ticket, at a cost of another $50 AUD!
Do not do as I did!
If you want to separate your visits, buy individual tickets for each park.
How to get to Disney Sea Theme Park in Japan
Click here for all transport options to Tokyo Disney Resort including:
Tokyo DisneySea Map
Toadstool Rating (by the kids) – Disneysea rides for kids
DO NOT MISS THIS PLACE if you love The Little Mermaid, or are a Disney Fan.
If you've been to Disneyland in the USA or elsewhere before, make Disney Sea your preference.
If not, try to visit both parks (despite not being able to understand the show commentary or some of the ride commentary unless you speak Japanese).
We believe EVERYONE needs a bit of Disney Magic in their lives.

Looking for MORE SUPER DOOPER FUN things to do in Tokyo with Kids?
Click the links in blue below.