INSIDE: A Comprehensive List of Tokyo Supermarkets for Grocery Shopping.
Are you looking for a big supermarket in Tokyo to go grocery shopping?
Do you want to take a look at the price of the fruit and vegetables, or compare fish you can buy.
Perhaps you want to buy Japanese snacks, or stock up on all best Japanese candy and delicious Japanese chocolate & chocolate snacks like Pocky and Green Tea KitKats in bulk to take home as Tokyo souvenirs.
Or maybe you are travelling Tokyo on a budget, and have heard about the excellent ready-made food options in a Japanese supermarket?
Whatever your reason for needing a good supermarket in Tokyo, we can help.
Disclosure: This article contains affiliate links. If you make a purchase after clicking on one of these links, we may receive a small commission at NO extra cost to you.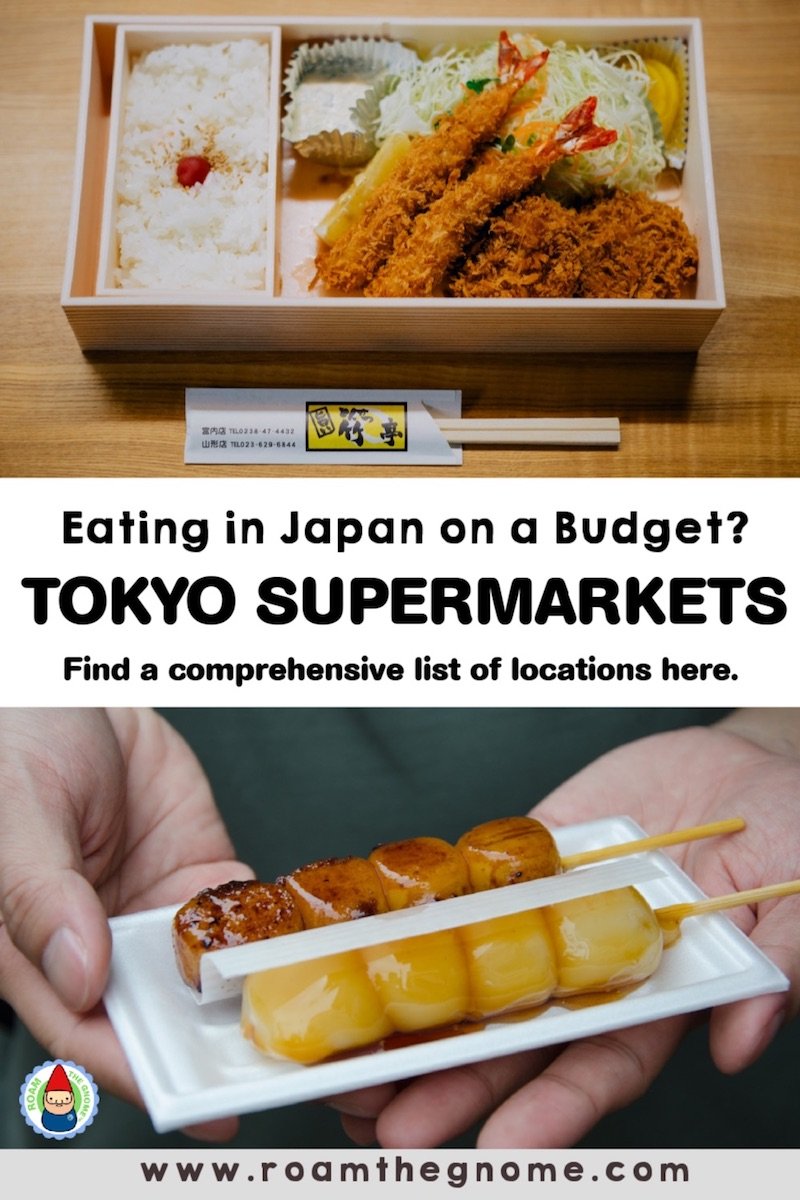 The Best Tokyo Supermarket near me?
Correct at time of publication on Roam the Gnome. Please check with venue for updates. We apologise in advance if there have been any changes we are unaware of. All prices in yen, unless otherwise stated.
Find a list of Tokyo Grocery Store supermarkets in popular Tokyo districts near you from the list below.
We've done the research for you.
Email [email protected] to let us know when you find a new local Japanese supermarket you'd recommend and we'll add it to the list.
In this guide, you'll find answers to questions such as:
what to buy in Tokyo supermarket?
where are the best places to buy inexpensive groceries near Tokyo?
what are cost effective meals one could prepare in Tokyo? and
what ready to eat vegetarian food can I buy in a supermarket in Tokyo?
---
RELATED: What to buy in a Japanese mart? Here's our list of supermarket items you should buy in Japan at a Japanese grocery store.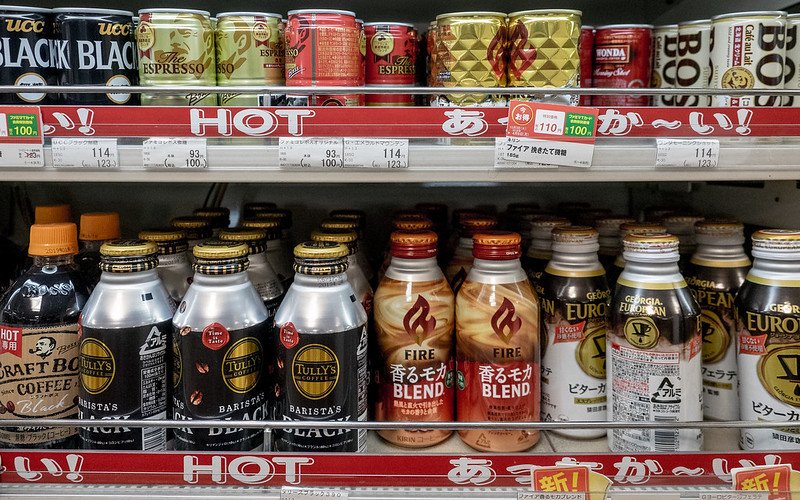 Image credit: Ajay Suresh via Flickr CC BY-2.0
TOKYO SUPERMARKETS GUIDE – PART 1
OK Supermarkets Tokyo
OK supermarket in Tokyo (OK store) is much loved for cheap produce.
This is the super market in Tokyo you should visit if you are wondering where to buy cheap fruits in Tokyo.
OK supermarkets are most often situated on the outskirts of Tokyo.
The closest ones to access are:
OK Odaiba supermarket
OK Sendagaya supermarket near Harajuku. (About 500 metres walk from Takeshita Street and our favourite 100 yen store, Daiso Harajuku)
OK Hatsudai supermarket on the western side of Yoyogi park, about 500 metres walk from Yoyogi-Hachiman station.
---
Hot tip: Explore Tokyo easily with a 24-hour Hop-on Hop-off Sightseeing Bus Ticket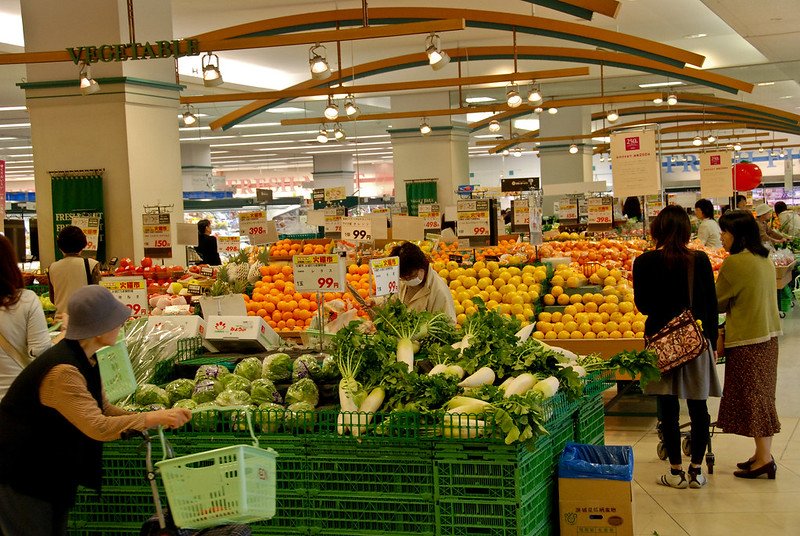 Image credit: Ben Kutoba via Flickr CC BY-2.0
Aeon Supermarket Tokyo
Aeon supermarkets are called Aeon My Basket, Aeon Style, or Aeon stores.
Bigger Aeon Tokyo locations include:
Shinjuku
Shinonome near Odaiba, and
Yokohama.
Click here for a map of Aeon supermarkets and Aeon My Basket supermarkets too.
---
READ MORE: Learn how to cook authentic Japanese food using ingredients from the supermarket at a private cooking class in Tokyo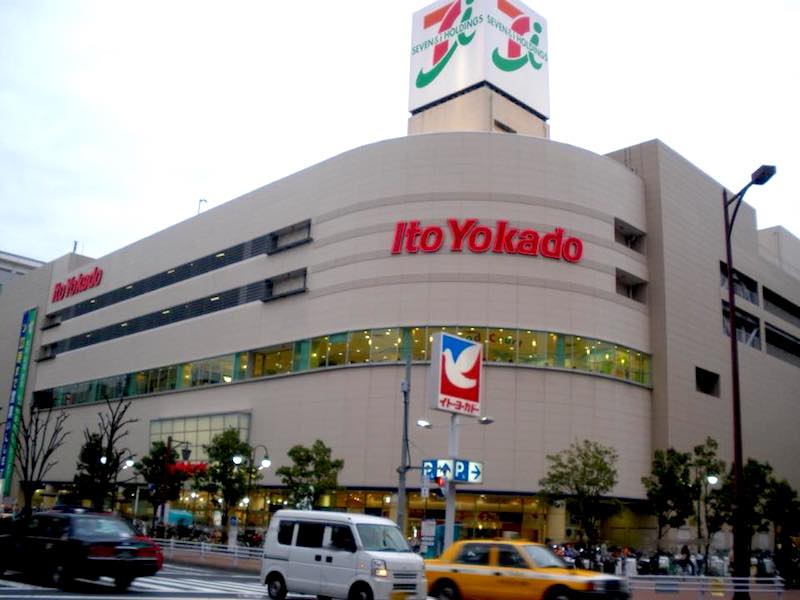 Image credit: Ito Yokado
Ito Yokado Supermarket
Ito Yokado supermarkets in Tokyo can be found on the outskirts of Tokyo city, in the family friendly suburbs.
The closest ones to the centre of Tokyo are:
Shinagawa
Yokado Kiba near Odaiba, and
Shinjuku.
Click here for a map of Ito Yokado Tokyo supermarkets
If you are looking to buy candies from Japan in bulk for friends and family as souvenirs, this supermarket is a good place to do so.
---
Hot Tip: Book a Tokyo Street Food Tour to learn the secrets of where to find the best food in Tokyo!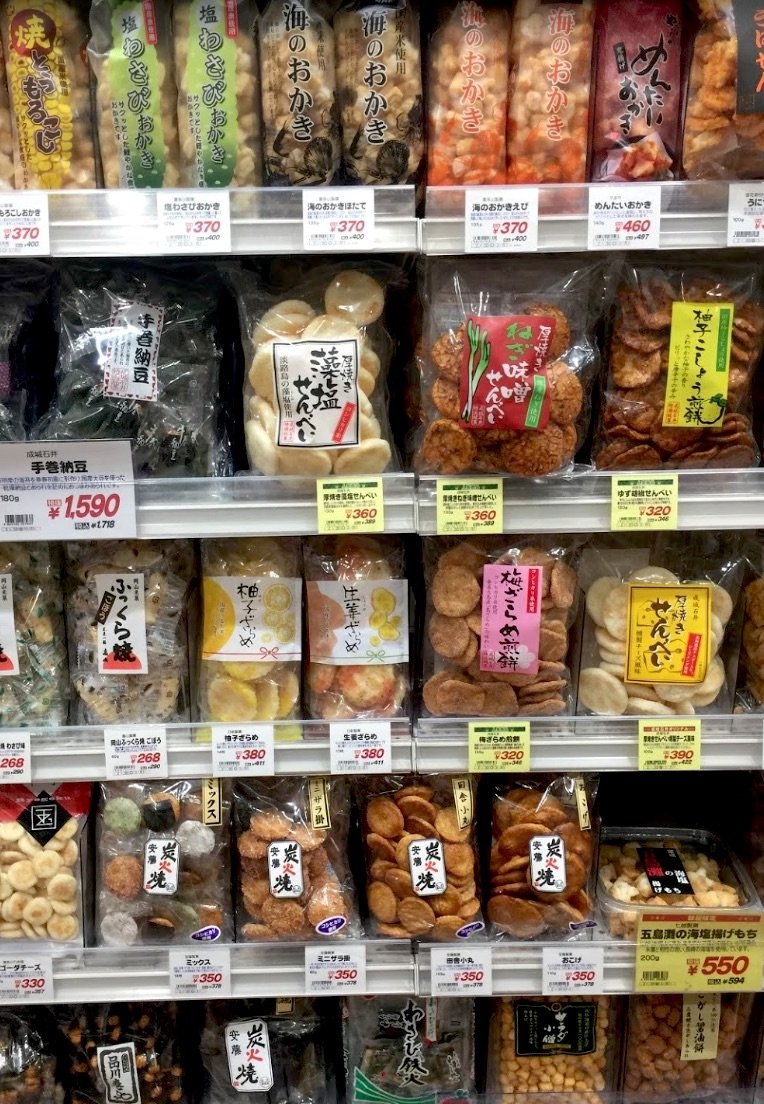 Image credit: Fun Coder
Seijo Ishii Supermarkets in Tokyo central
Staying in central Tokyo?
Seijo Ishii is your go-to supermarket in Tokyo.
Scattered around the suburbs near Tokyo Imperial Palace, you'll find Seijo Ishii supermarkets in:
Marunouchi
Nihonbashi
Yotsuya (home of the Tokyo Toy Museum and Fire Museum)
Tokyo Station
Kojimachi
Akasaka
Fujimi
Shibuya
Yurakucho
Tokyo Dome and Shinjuku.
Click here for a map of Seijo Ishii Supermarkets in Tokyo
Don't worry if these names sound unfamiliar to you.
You'll soon start to recognise them when you catch trains in Tokyo central.
---
Don't miss out: Book this award winning Japan Cultural Curiosities Tour – visit a seaweed seller, and taste sweet and savory Japanese food treats!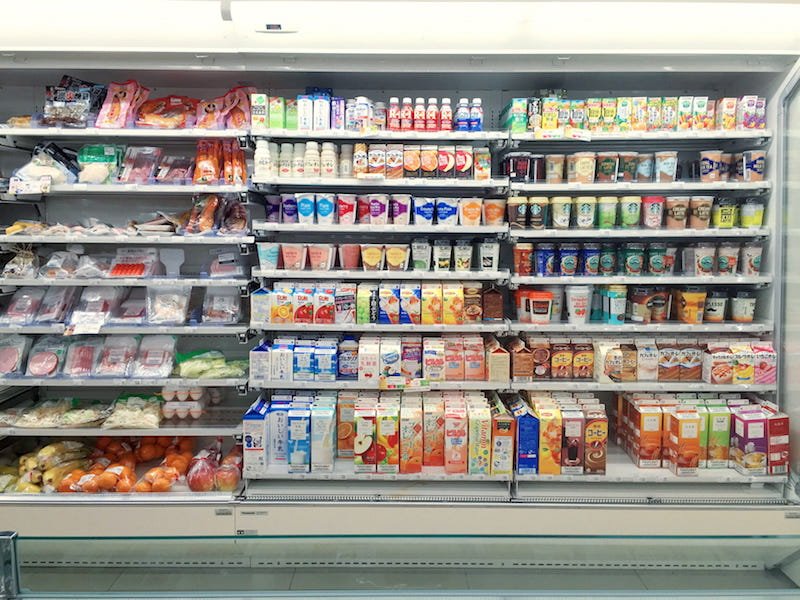 Image credit: Convenience store by Pisquels Public domain
Hanamasa supermarket Tokyo
After Seijo Ishii supermarkets, the most common supermarket to find in Tokyo central are Hanamasa supermarkets.
There's one in:
Nihombashi near Kanda station
Asakusa
Ginza
Akihabara
Okachimachi, and
Shimbashi near Tsujiki fish market.
Click here for a map of Hanamasa stores in Tokyo.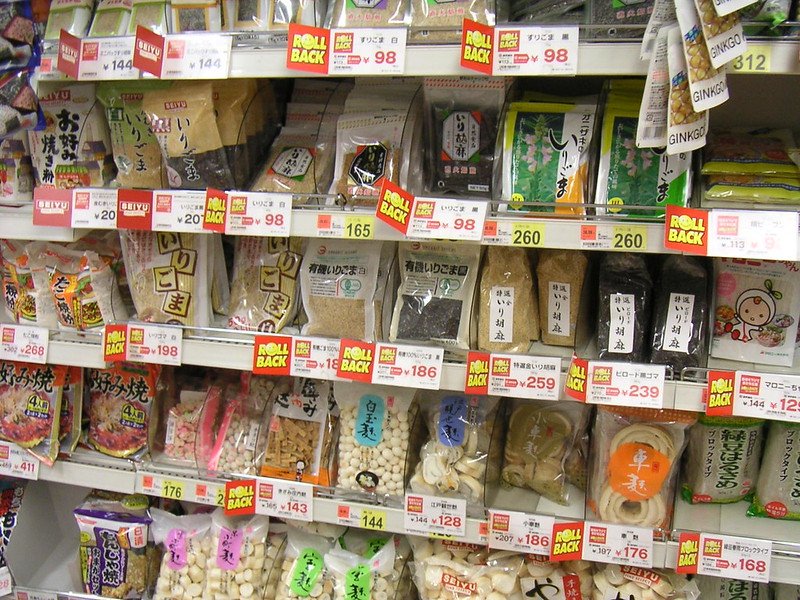 Image credit: Brave new films via Flickr CC BY-2.0
Seiyu Supermarket Tokyo
Seiyu Tokyo is a popular well known supermarket in Japan.
Seiyu supermarkets in Tokyo include:
Asakusa
Sangenyaya
Chofu
Shimotakaido
near Shinjuku
Sugano
Nakano, and
Koenji.
There's also a Seiyu supermarket store in our favourite shopping mall, Sunshine City in Ikebukuro.
If you need to go grocery shopping in Japan for bulk food souvenirs, try here.
Click here to find locations near you.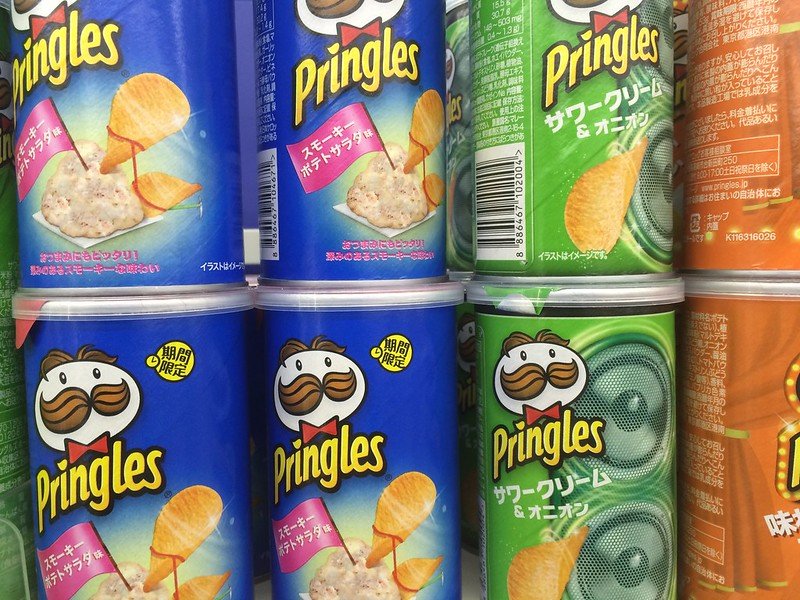 Image credit: Nelo Hotsuma via Flickr CC BY-2.0
Marusho Supermarket
Arguably the biggest supermarket in Japan, Marusho supermarkets are centred in the west of Tokyo.
Find one in:
Shinjuku
Nishigahara
Oimachi
Nogata
Nagano
Sekiguchi, and
Shimosoya
Click here to find addresses for locations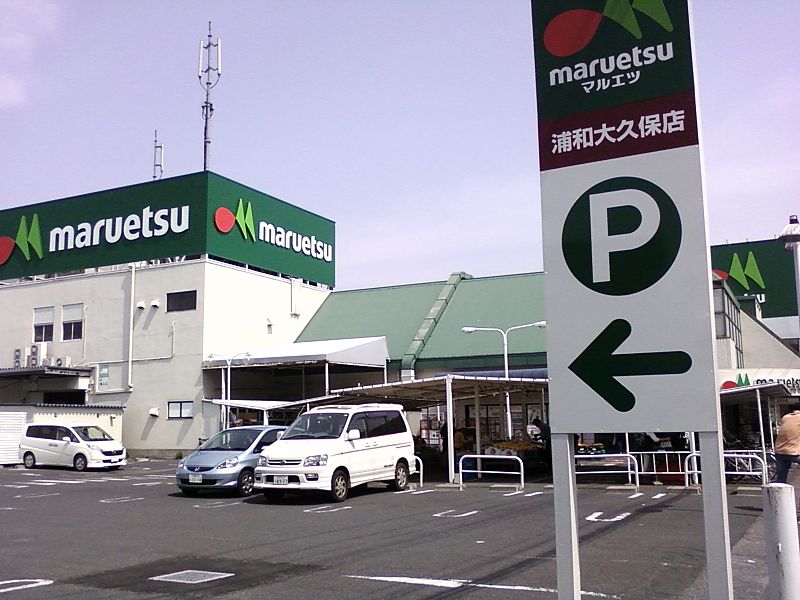 Image credit: Coolbd via Wikimedia CC BY-SA 3.0
Maru Etsu supermarket
Another big chain are Maru Etsu supermarkets with many locations in Tokyo central.
Click here for a map of Maruetsu supermarkets in Tokyo locations.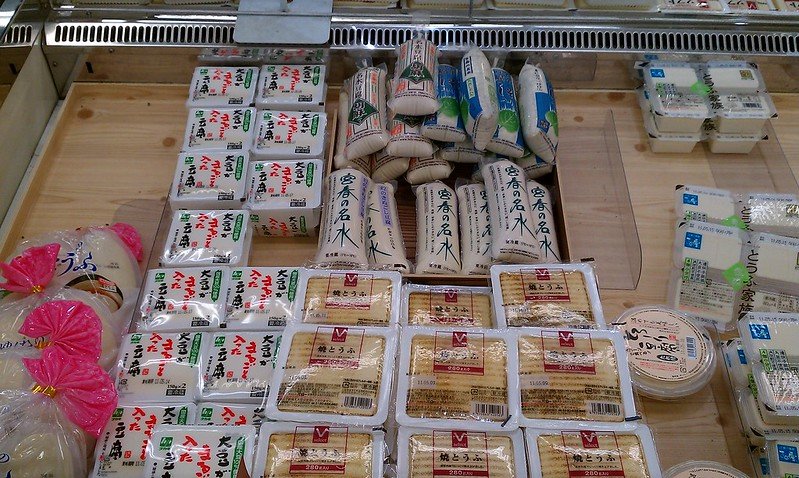 Image credit: Yuya Tamai via Flickr CC BY-2.0
LIST OF SUPERMARKETS IN JAPAN GUIDE – PART 2
Here's a list of some of the smaller or less visible Japanese supermarkets.
Gyomu Super Tokyo
Gyomu Super Tokyo discount supermarket can be found:
between Akihabara and Kanda station
Shinjuku
Okachimachi, and
one on both the north and south sides of Ueno park.
Click here for a map.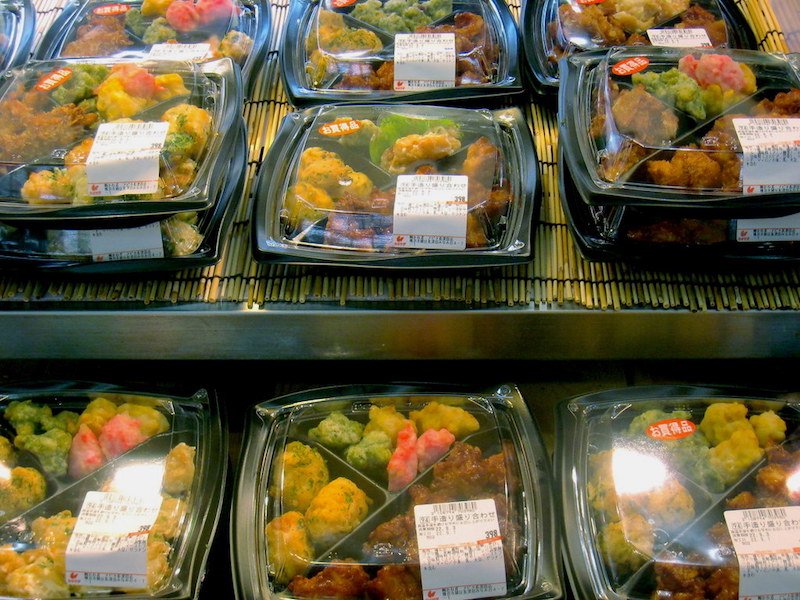 Image credit: Dom Pates via Flickr CC BY-2.0
Tokyu Store supermarket in Tokyo
You'll find a bunch of Tokyo Store food stations in the Meguro area, south of Tokyo, and there's one near our favourite stationery store, Shibuya Loft.
Click here for a list of Tokyo store food station stores in Tokyo and addresses.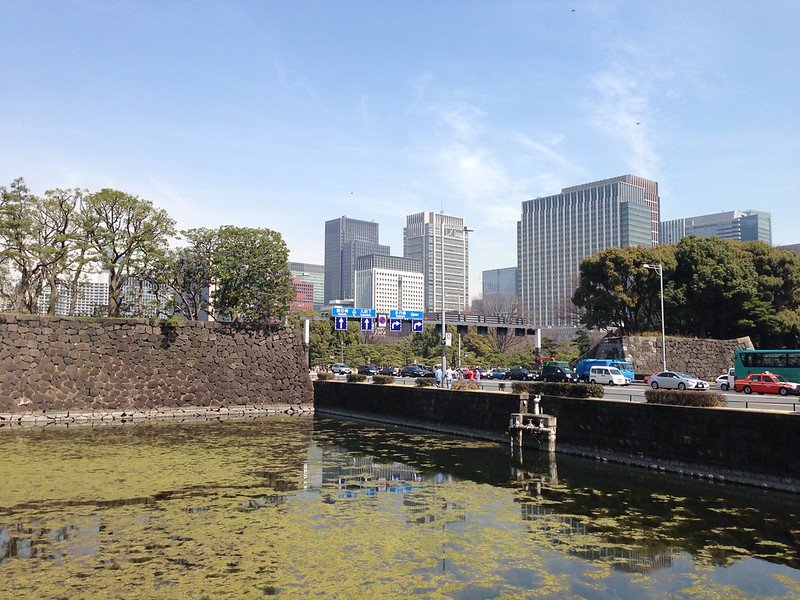 Image credit: Tataquax via Flickr CC BY-SA 2.0
Meiji-Ya supermarket
Another supermarket chain with stores in central Tokyo are Meiji Ya supermarkets.
Find one in:
Shinjuku
Roppongi
Hiroo, and
two near Tokyo station and Imperial Palace at Nihombashi and Kyobashi.
Click here for a map to find a Meijiya supermarket in Tokyo nearby.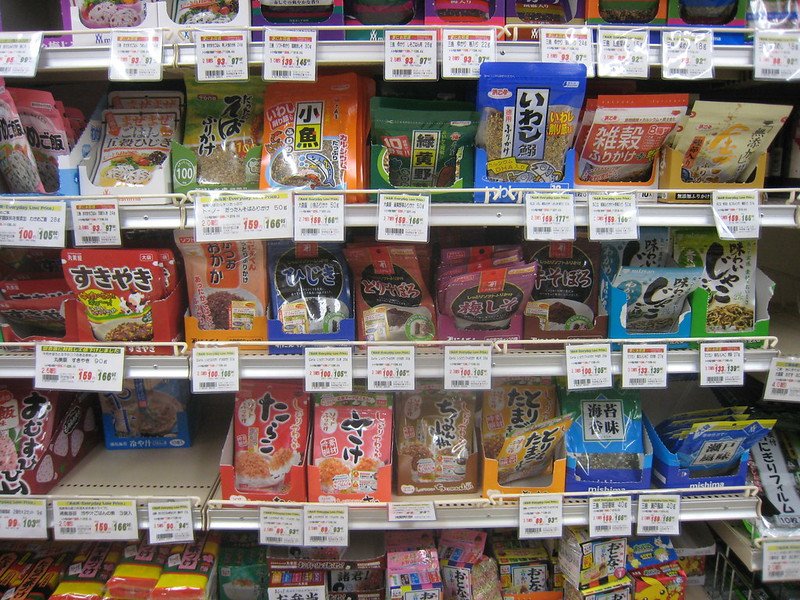 Image credit: Dom Pates via Flickr CC BY-2.0
Supermarket near Tokyo Station?
You'll find Meiji Ya, Hanamasa and THREE Seijo Ishii supermarkets near Tokyo Station, within 5 minutes walk of the station.
Ask at the Tourist Information office to point you in the right direction towards the best supermarket Tokyo Station has to offer.
Remember to buy all the Japanese chocolate you can carry, Japanese items from the fresh food area, and try all the Japanese drinks you can stomach too.
---
READ MORE: Ultimate Guide of Things to do in Tokyo with Kids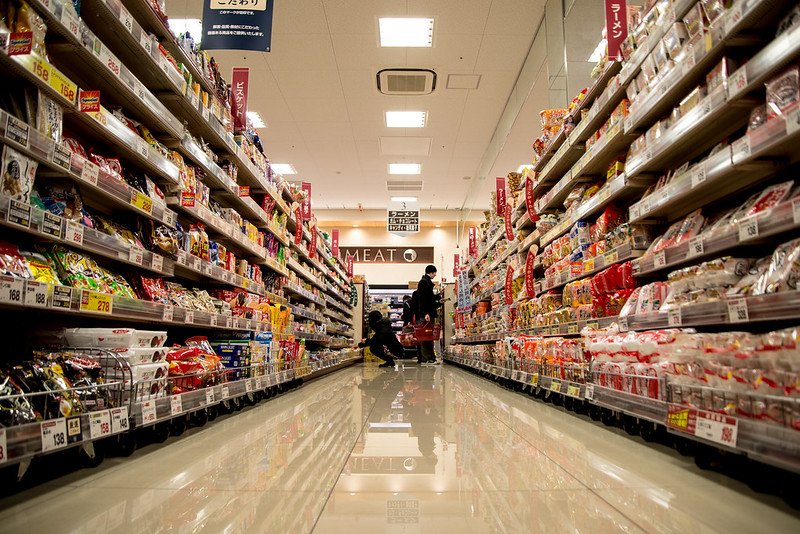 Image credit: Sean Gregor via Flickr CC BY-2.0
More Japanese Supermarkets in Tokyo
Here's a list of more Japanese supermarkets in Tokyo to keep an eye out for.
Natural House organic supermarket in Shibuya and Shimokitazawa
Peacock supermarket in Daikanyamacho near Shibuya, and Takayama (near the Rainbow Bridge)
National Azabu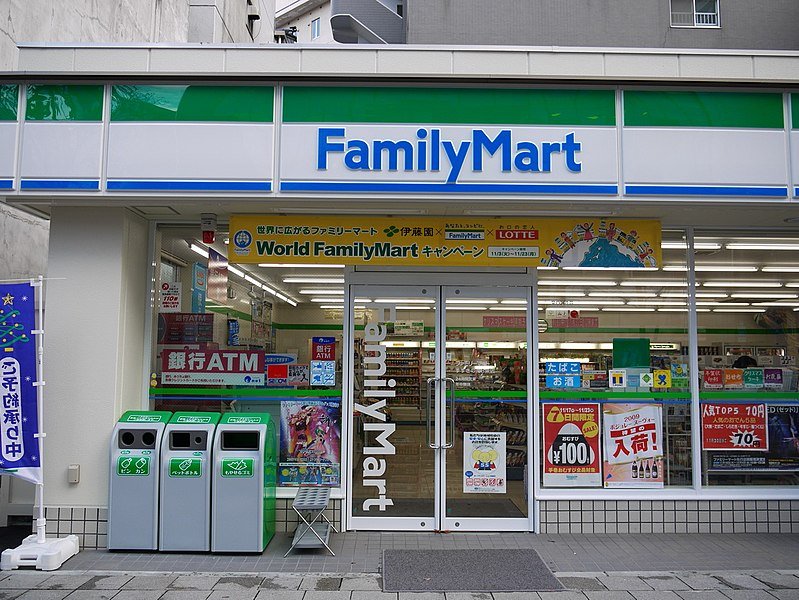 Image credit: Rafiq Mirza via Flickr CC BY-2.0
Explore a little Tokyo Supermarket
Convenience stores in Tokyo will do in a hurry.
Prices are higher than in a supermarket but very reasonable in comparison to convenience store prices in the rest of the world.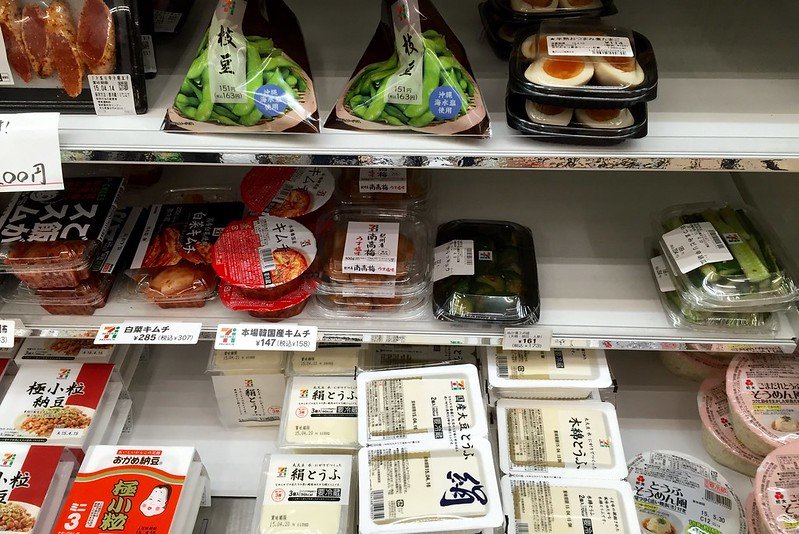 Image credit: Amy Jane Mitchell via Flickr CC BY-ND 2.0
Popular Japanese convenience store chains
Konbini Japanese convenience stores in Tokyo include chains such as:
Family Mart (Read our guide to Family Mart food and products)
Lawson
Tokyo Mart
7-Eleven
Lawson 100
Ministop, and
Yamazaki Daily.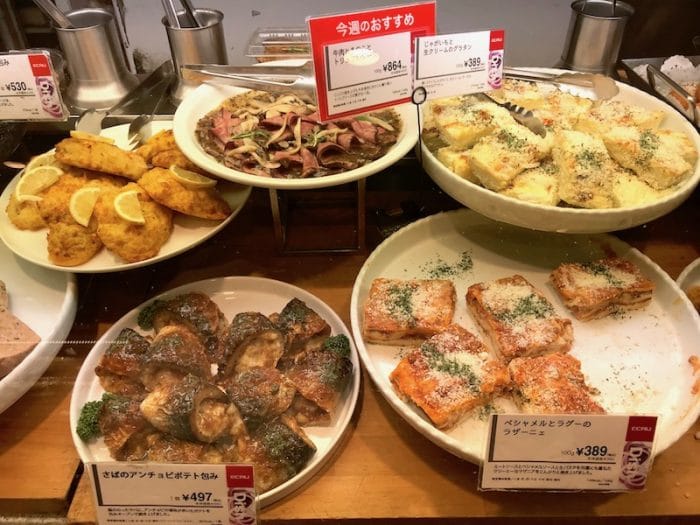 Image credit: Source unknown
Depachika
Our other spot for buying delicious Japanese food on the go, or food souvenirs, is to visit any Tokyo Department store food hall, otherwise know as Depachika.
These underground food purveyors treasure trove are normally located in the basement of Japan's top department stores in places such as:
Shibuya
Shinjuku
Ginza
Akihabara
Nihonbashi
Ikebukuro
Go treasure hunting in a Depachika for delicious food on-the-go (or to take home for dinner) and Japanese food gift boxes at your own risk!
We cannot guarantee you will leave empty handed.
100 Yen Stores in Tokyo
100 yen shops like Daiso also stock a range of Japanese food at budget prices.
Worth a look.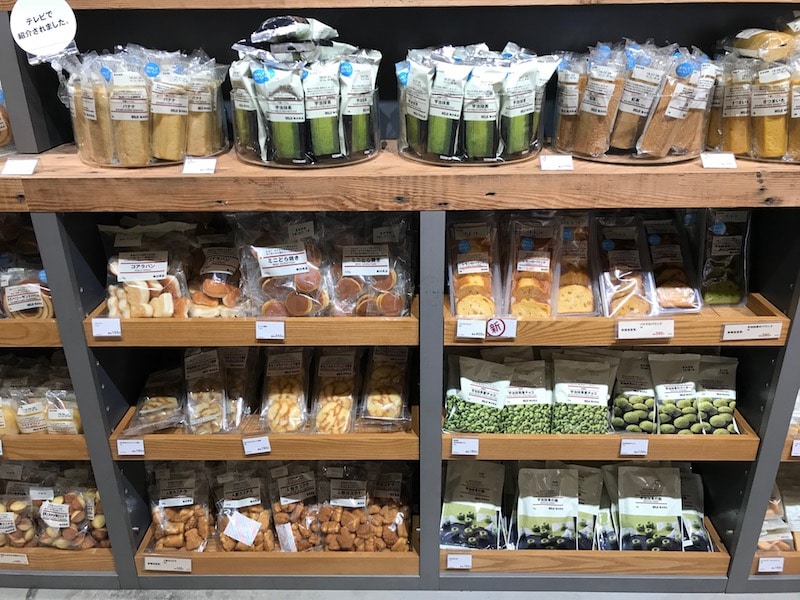 MUJI Supermarket Deli
MUJI supermarkets and delis are the best one of all for those who like organic, natural food packaged in plain and simple paper or bags.
Find MUJI in Shibuya on the basement floor, or the new flagship store in Ginza.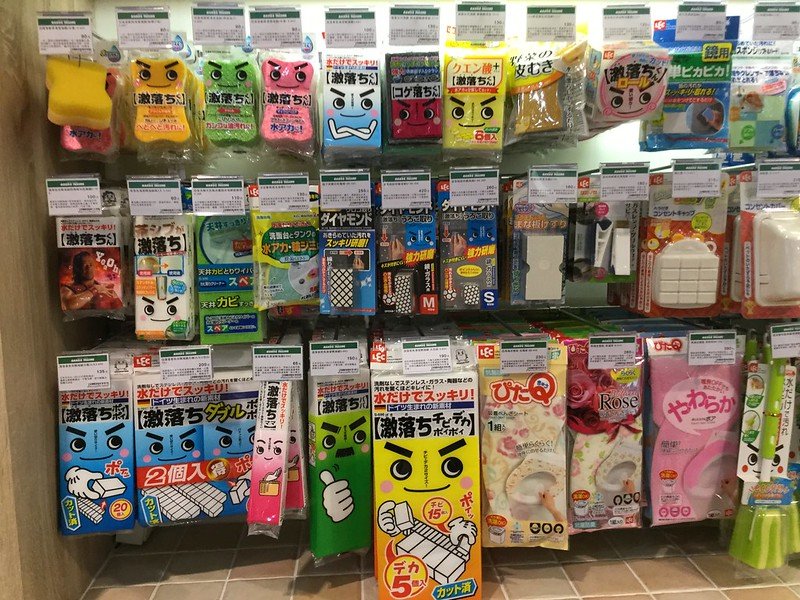 Image credit: Mia via Flickr CC BY-SA2.0
Looking for more shopping in Tokyo?
Click the links in blue below.