INSIDE: Roam the Gnome's Guide to the Best Japanese chocolate to eat, and he should know!
The worst thing a chocolate addict can do when visiting Japan is to head to the chocolate aisle in a Japanese supermarket.
If you can't stop eating chocolate, Japan is both ALL your dreams come true, AND your worst nightmare!
Japanese chocolate is GOOD.
Very GOOD.
So good, you'll want to know more, including what is the BEST Japanese chocolate?
Take a look at this comprehensive guide.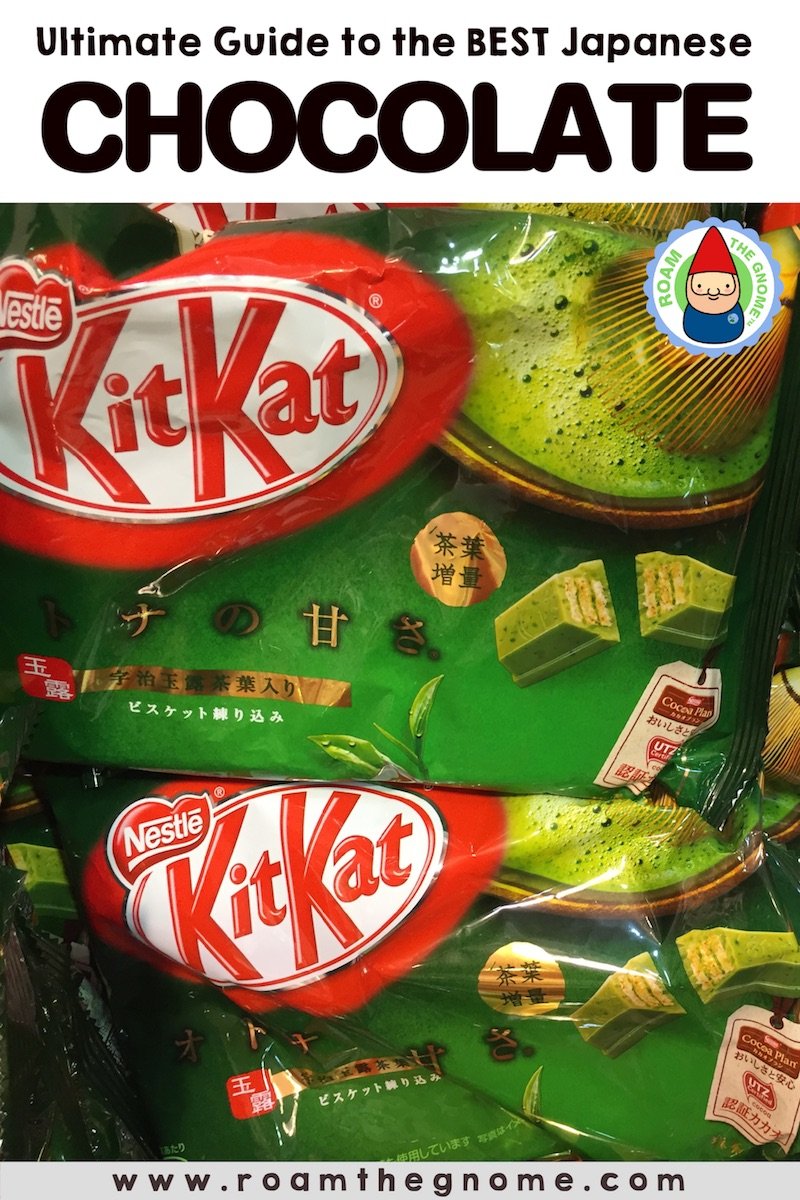 THE BEST JAPANESE CHOCOLATE IN JAPAN
Best Japanese Chocolate Brands?
Arguably, the two most popular brands of Japanese chocolate in Japan are Meiji chocolate and Royce chocolate.
We feature these two famous Japanese chocolate brand companies below, plus a whole bunch of other Japanese chocolate brands to look out for.
Find out why Japanese chocolate rates so highly with both locals, AND visitors alike.
Fun Fact: Chocolate in Japan is called 'chokoreeto'.
Disclosure: This article contains affiliate links. If you make a purchase after clicking on one of these links, we may receive a small commission at NO extra cost to you.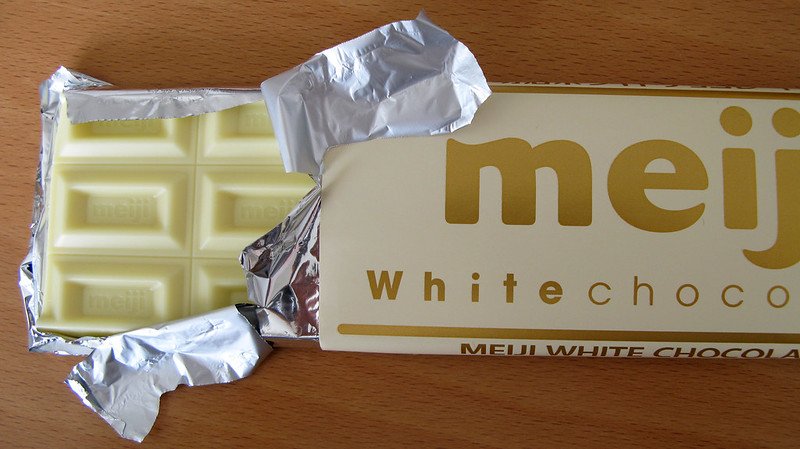 Image credit: Miki Yoshihito via Flickr CC BY-2.0
MEIJI CHOCOLATE BARS
Established in 1918, Meiji Milk Chocolate was released in 1926 and to this day is made in much the same way.
Meiji's chocolate lineup includes nearly 130 products, including:
chocolate snacks, and
cocoa-rich chocolate.
BUY NOW ON AMAZON: Meiji White Chocolate (as pictured above)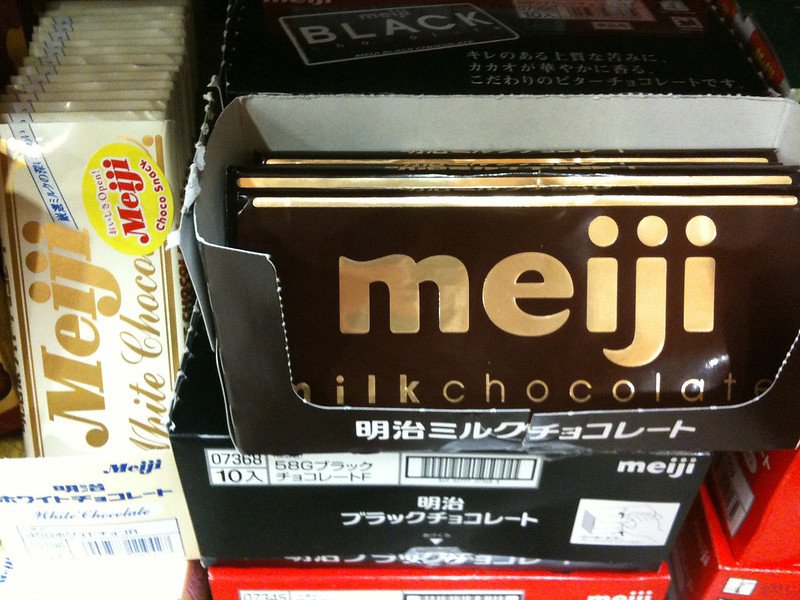 Image credit: Chinnian via Flickr CC BY-SA 2.0
Other Meiji Chocolate Bars
You can also buy the original Meiji chocolate bars in:
White chocolate
Marble chocolate
Our favourite is the original plain milk chocolate Meiji chocolate bar in the distinctive brown card and gold packaging.
BUY NOW ON AMAZON: Milk Chocolate Meiji Chocolate Bar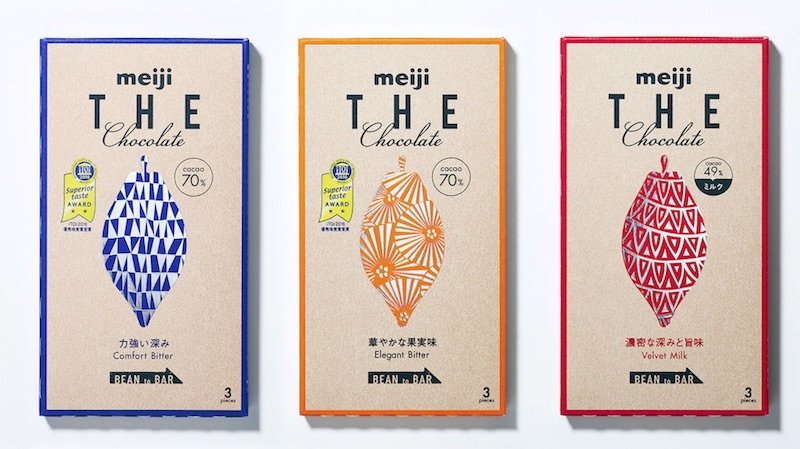 Meiji THE Chocolate
The newest offering from this much-loved Japanese manufacturer of sweets and snack is THE Chocolate.
This high end Bean to Bar chocolate smashed chocolate sales in 2016 with sales of 30 million bars in their launch year, despite costing almost double compared to other chocolates available in store.
The design of this Meiji product was unique, being that these packaging was designed to stand upright vertically.
That feature alone made this product stand out from the crowd of chocolate bars in the Japanese market whose packaging and text is designed to sit horizontally.
The considerate process of how the cacao beans are harvested and roasted was another factor in their success.
This attention to detail in the manufacture of THE chocolate bars captured the attention of chocolate lovers.
Meiji THE chocolate bar flavors are determined by the cacao beans origin as they come from different climes and countries.
THE chocolate bars are available in different cacao percentages too.
Try all the different Meiji THE Chocolate flavors:
Sunny Milk (10 box)
Brilliant Milk
Velvet Milk
Elegant Bitter
Gorgeous Fruit Elegant Bitter
Comfort Bitter
Blossom Bitter (10 box)
BUY NOW ON AMAZON: Meiji THE Chocolate Brilliant Milk x 10 pack
Meiji Meltykiss Chocolate Cubes
Meltykiss chocolate cubes by Meiji are so soft to eat, they are only available in the cooler seasons.
Meltykiss flavors include:
Dark Rum
Green Tea
Fruity Strawberry
Macadamia Chocolate
Caramel
Creamy Raisin
Kinako Roasted Soy Bean, and
Creamy Milk flavors.
---
BUY NOW ON AMAZON: MeltyKiss Creamy Chocolate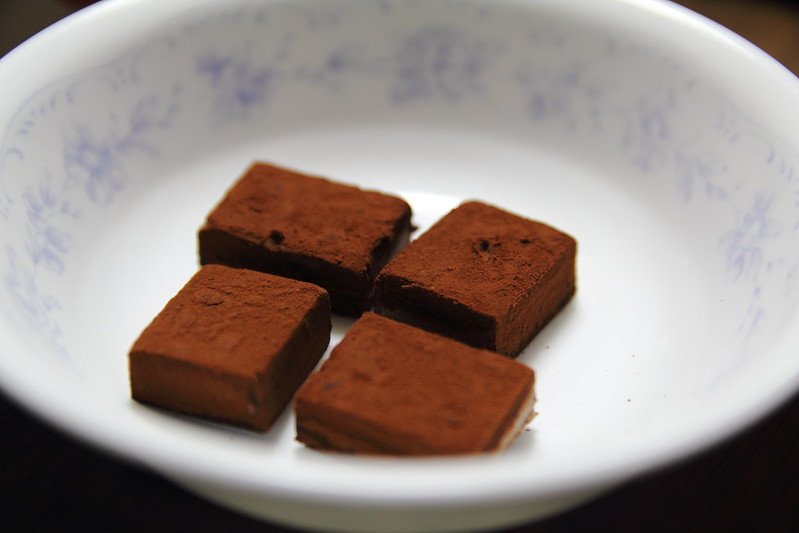 Image credit: T-Mizo via Flickr CC BY-2.0
ROYCE CHOCOLATE JAPAN
Famous Royce Chocolate in Japan
Royce chocolate is the famous Japanese chocolate!
Delicious ROYCE pure chocolate bars are carefully made in the cooler climes of Hokkaido.
The northernmost tip of Japan is an area well known by foodies who love visiting to devour full flavored cheese, creamy milk, and thick buttery cream.
Royce Japanese chocolate has a special spot in the hearts of many Japanese people and more and more visitors to Japan are discovering this Japanese brand of chocolate too.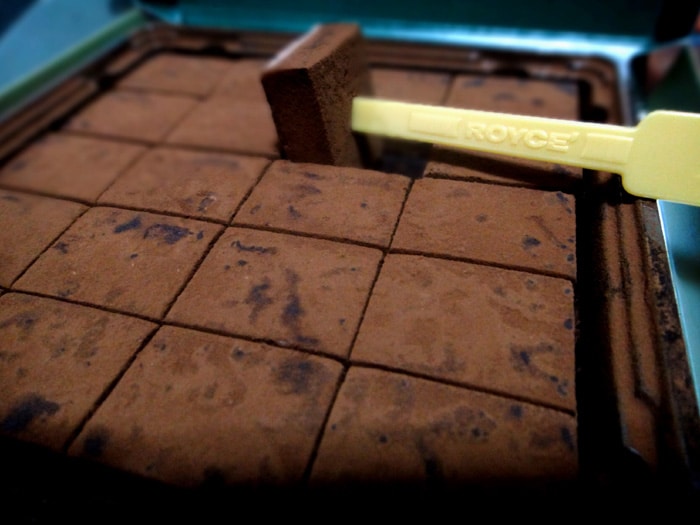 Image credit 700: Ninjakeg via Wikipedia CC BY-SA 3.0
Royce Nama Chocolate
The best and most famous Royce chocolates are Nama Chocolates, pictured above.
Nama chocolate is kind of like the best gooey chocolate brownie you've ever tasted.
Made from locally made dark chocolate and fresh, thick Hokkaido cream, the finish is a chocolate dust coating that reminds me of pixie dust.
It's a melt in your mouth experience you must try at least once.
Words to describe this unique chocolate include rich, thick, moist and a chocolate explosion in your mouth.
Velvety smooth and silky Nama chocolate is made in limited edition batches, so be quick to jump on those.
BUY NOW ON AMAZON: Royce Nama chocolate "Au Lait"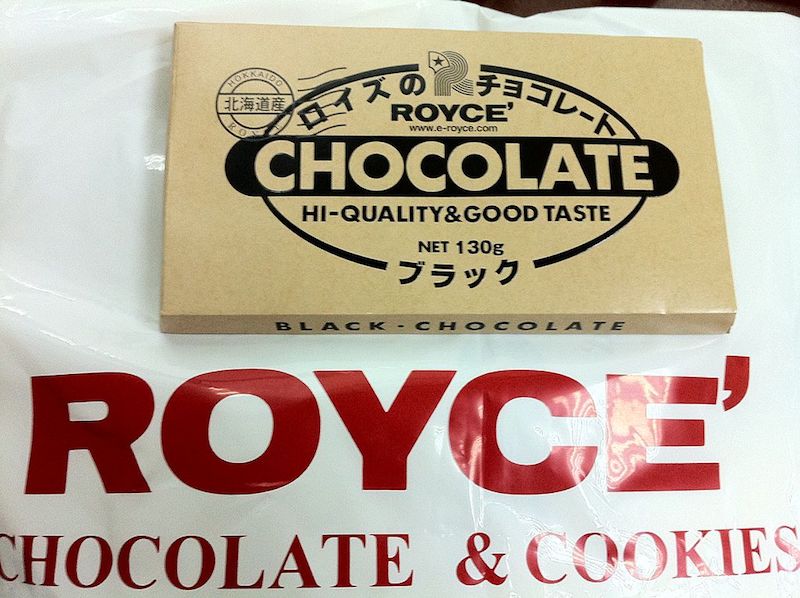 Image credit: Riana-santos via Wikimedia CC BY-SA 3.0
Royce Chocolate Bars
Royce chocolate bars come in a distinctive wholesome minimalist packaging with a stamped nameplate in different colours depending on the flavor.
Royce chocolate bars come in:
Matcha bar chocolate
Creamy Milk
Fruit Bar chocolate
Milk
Nut
Champagne and Raisins
BUY NOW ON AMAZON: Royce Chocolate Bar in Milk flavor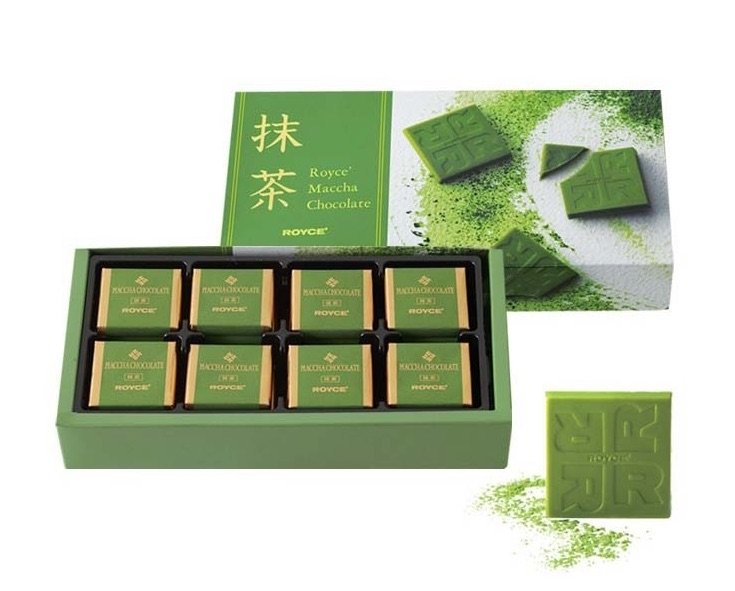 Royce Matcha Chocolates
Their range of matcha chocolates make a unique gift.
You can buy:
Matcha and chocolate covered almonds
Chocolate wafers in matcha flavor
Matcha truffles
Tiny squares of Royca Nama Chocolate in matcha
Boxes of hand crafted matcha pralines.
BUY NOW ON AMAZON: Box of Royce Nama Chocolate in Matcha Flavor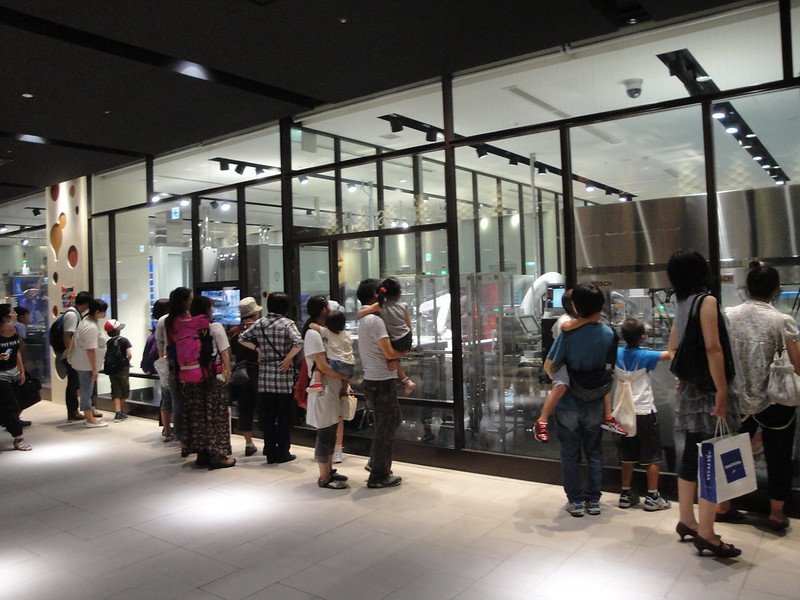 Image credit: Tzuhsun HSu via Flickr CC BY-SA 2.0
Where to buy Royce chocolates
Firstly, take a peek at the whole range of Royce products here.
Royce chocolate products are sold at souvenir stores, airports and their directly managed shops in Hokkaido.
For more information about where to find Royce chocolate shops, click here.
Want to know where to buy Royce Chocolate in Tokyo?
The best place to buy Royce chocolate in Tokyo is at Narita Airport and Haneda Airport.
Both airports have multiple duty free outlets selling them.
Royce chocolates can also be purchased at Duty Free Shops in most airports in other parts of Japan too.
Image credit: Kentaro Ohno via Flickr CC BY-2.0
Visit Hokkaido with Kids to see Royce Chocolate World!
The New Chitose airport is home to ROYCE Chocolate World, the first chocolate factory and museum located inside an airport in Japan!
World of Royce chocolate in Japan stocks over 200 varieties of Royce chocolates, including speciality Royce chocolates you can't buy anywhere else.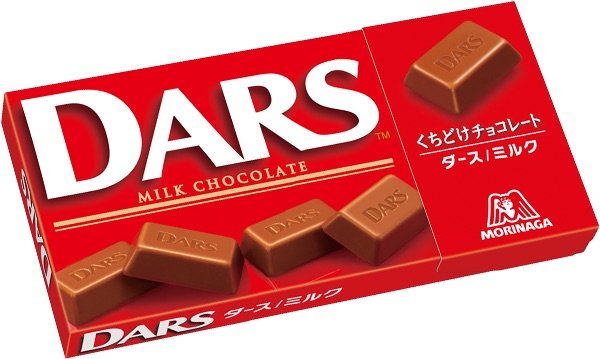 MORINAGA DARS CHOCOLATE BARS
Dars chocolate bar flavors include:
raspberry
milk chocolate
chocolate rum raisin
chocolate strawberry
white strawberry.
mint
BUY NOW ON AMAZON: Morinaga DARS Milk Chocolate Bar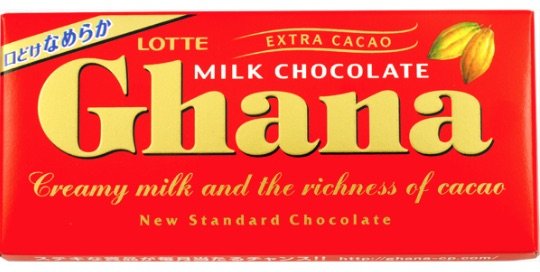 LOTTE CHOCOLATE JAPAN
Lotte Ghana Chocolate
Ghana Milk chocolate bars have a creamy texture. I swear you can hear the cows mooing!
Ghana milk chocolate bars cost about 100 yen, and they are readily available in convenience stores and supermarkets.
Japanese mothers use this chocolate in their home made chocolate cakes and desserts.
---
BUY NOW ON AMAZON: Lotte Ghana Milk Chocolate Bar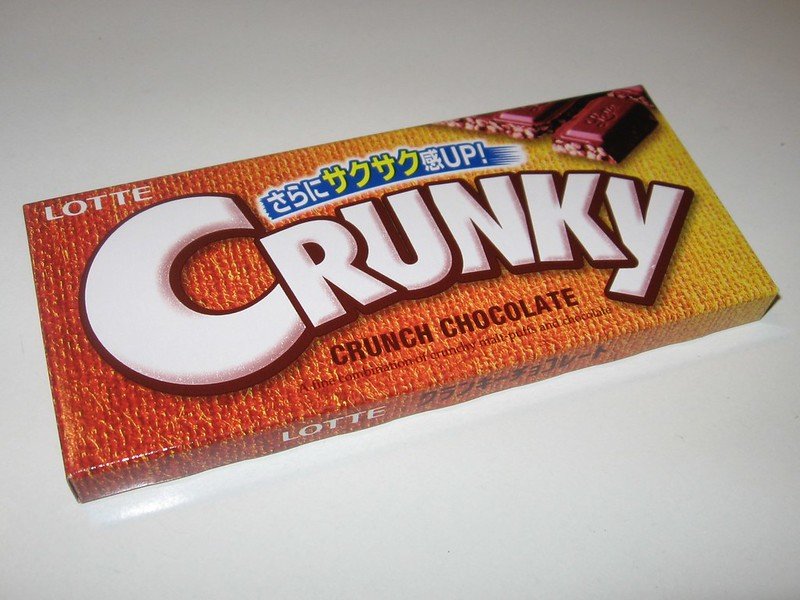 Image credit: Arnold Gatilao via Flickr CC BY-2.0
Lotte Crunky Chocolate
My favourite chocolate bars in Japan are made by Lotte.
Crunky chocolate has a biscuity texture due to the puffed wheat but it's quite a different taste sensation to Nestle Crunch.
First made in 1974, they've proven they can go the distance and rank as one of Japan's favourite chocolate bars with families.
BUY NOW ON AMAZON: Lotte Crunky Chocolate Bar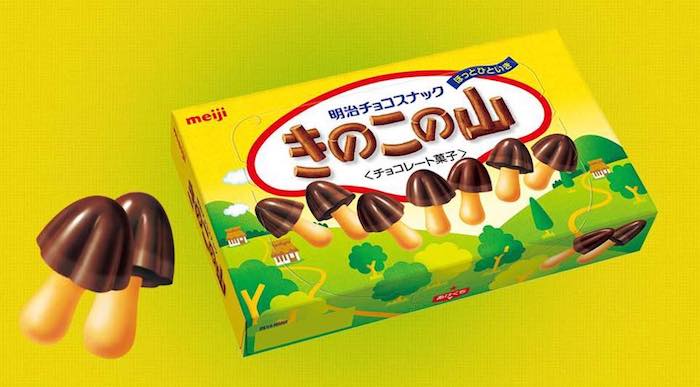 JAPANESE CHOCOLATES FOR KIDS
Hot tip: Read our complete guide to sweet and savory snacks in Japan here.
Meiji Kinoko No Yama chocolate biscuits
We can't write a story on Japanese chocolate products from Meiji confectionery without mentioning the kawaii cute Kinoko No Yama, literally "mushroom mountain".
Kinoko no Yama are a brand of biscuits shaped like mushrooms topped with chocolate that come in several flavors.
We don't call them mushrooms because Gnomes would never have that. These biscuits are toadstools.
BUY NOW ON AMAZON: Kinoko No Yama chocolates from Japan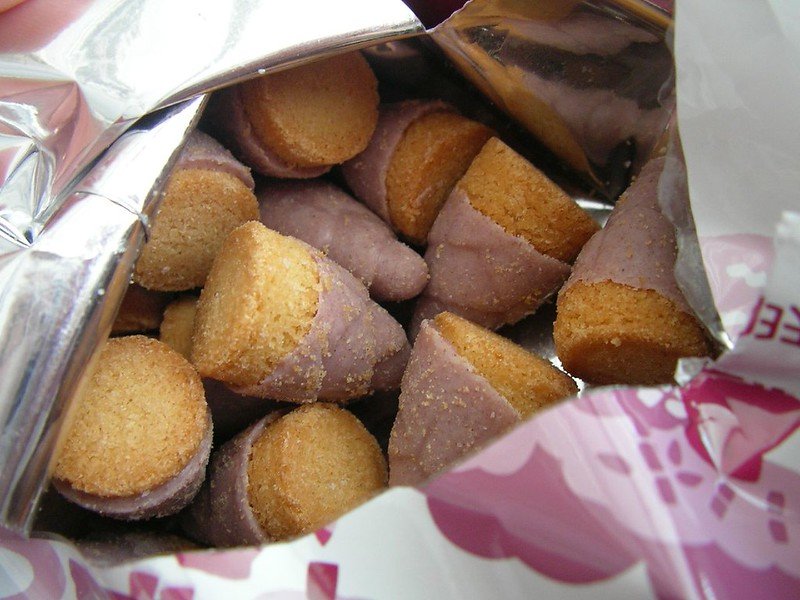 Image credit: Hajime Nakano via Flickr CC BY-2.0
Takenoko No Sato Chocolate Snacks
Meiji manufactures a sister product called Takenoko No Sato.
Almost as cute as the toadstools, these Japanese chocolate biscuit snacks are shaped like bamboo shoots.
BUY NOW ON AMAZON: Takenoko No Sato chocolate biscuits
MOST POPULAR JAPANESE CHOCOLATE SNACKS
Meiji Almond Chocolate
Meiji Almond Chocolate is a delicious combination of roasted almonds covered with Meiji's iconic milk chocolate.
These Japanese chocolate almonds packs make wonderful Japanese food souvenirs as they are small and lightweight to carry.
BUY NOW ON AMAZON: Meiji Chocolate Almond 10 pack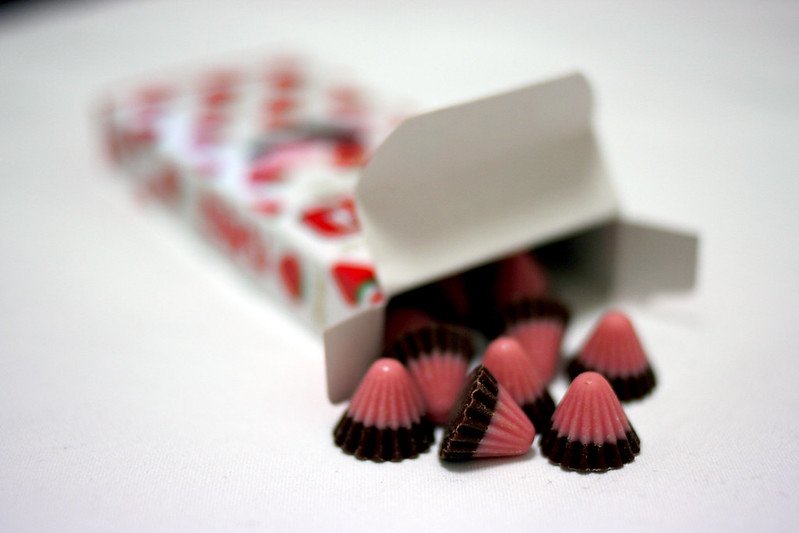 Image credit: Christian Kadluba via Flickr CC BY-SA 2.0
Meiji Apollo Strawberry Chocolate
These tiny strawberry-topped chocolate cones look like pointy shells with fluted sides. They are almost too adorable to eat.
But eat you must.
The strawberry-flavored white chocolate cream inside means you cannot stop at one.
---
BUY NOW ON AMAZON: Meiji Apollo Strawberry Chocolate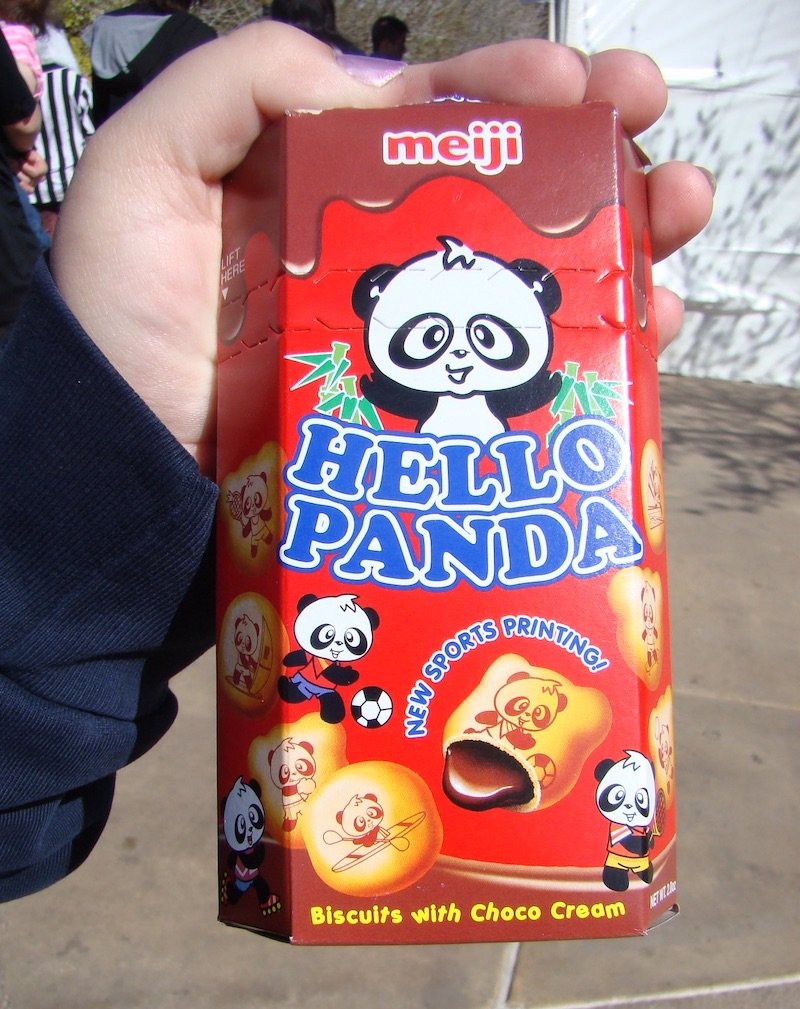 Image credit: Merle Tsuki via Flickr CC BY-ND 2.0
Meiji Hello Panda Japanese Chocolate Biscuit
These Japanese chocolate biscuits are a big hit with the kids.
They are light crunchy biscuits with a delicious smooth filling.
You can't stop at one.
BUY NOW ON AMAZON: Hello Panda biscuits, pack of three. Flavors – Choco Creme, Strawberry, Vanilla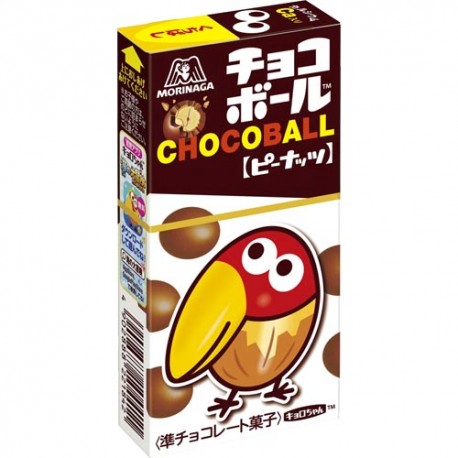 Chocoball Chocolate Candy
CHOCOBALL snacks are a chocolate coated treat with a surprise inside.
They come in three flavors:
the original crunchy peanuts
smooth caramel and
exquisite strawberry.
Image credit: 毒島みるくvia Wikimedia public domain CC BY-1.0
Kyoro-chan
Every Chocoball chocolate packaging since 1967 features the Chocoball mascot Kyoro-chan with his signature large beak.
He's so famous in Japan he's appeared in commercials, promotional materials and his own cartoon series!
I love that they created the packaging with a beak-shaped opening in honour of Kyoro-chan bird.
Cleverly, this opening is designed to dish out one choco ball at a time.
BUY NOW ON AMAZON: Morinaga ChocoBall chocolate candy – choose your flavor
Image credit: Willis Lam via Flickr CC BY-2.0
Lotte Choco Pie
Lotte Choco Pie is a Japanese version of a wagon wheel with a thick chocolate shell covering a soft cake.
It's the cream filling inside that is the real winner though.
Biting into one of these is every Japanese child's dream.
BUY NOW ON AMAZON: Lotte Choco Pie- 1 Pack (12 snack pies)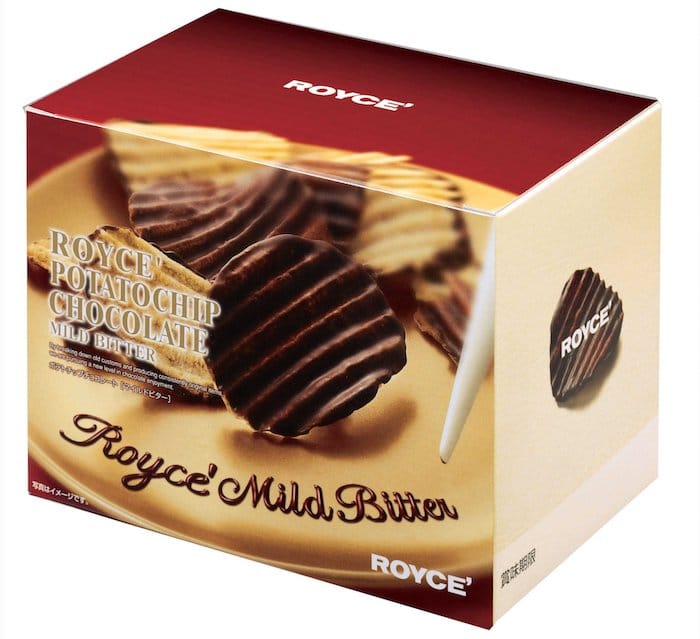 Royce Potato Chip Chocolate
Kids LOVE their chocolate covered potato chips!
Buy them in:
original chocolate flavor
caramel
white chocolate, and
dark chocolate varieties.
BUY NOW: The Original Royce Potato Chip "Chocorate" in Milk Chocolate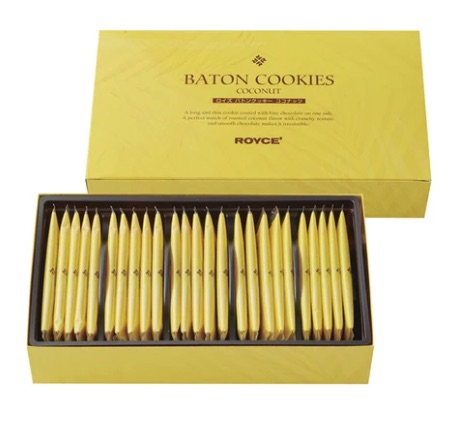 Royce Biscuits & other Royce products
They sell buttery chocolate-covered thin biscuits in coconut and hazel cacao flavours – these are called Royce Baton cookies.
They also sell marshmallows covered in chocolate dust, Royce chocolate coated coffee beans, and Royce praline chocolates.
Chocolate lovers can purchase:
wafer biscuits
pure chocolate rounds
leaf chocolate (similar to "after dinner mints") and
Royce finger-sized chocolate bars (similar to the look of a Kit Kat).
BUY NOW ON AMAZON: Box of Royce Baton Cookies in Coconut flavor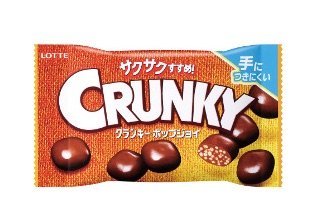 Lotte Crunky Chocolate Balls – the BEST Japanese Chocolate Candy!
If I spot Crunky Chocolate balls in a konbini in Japan, there goes the diet.
Also available in seasonal flavors like Caramel and Cereal.
THESE ARE ROAM THE GNOME'S FAVOURITE JAPANESE CHOCOLATE EVER!
BUY NOW ON AMAZON: Lotte Crunky Balls x 6 pack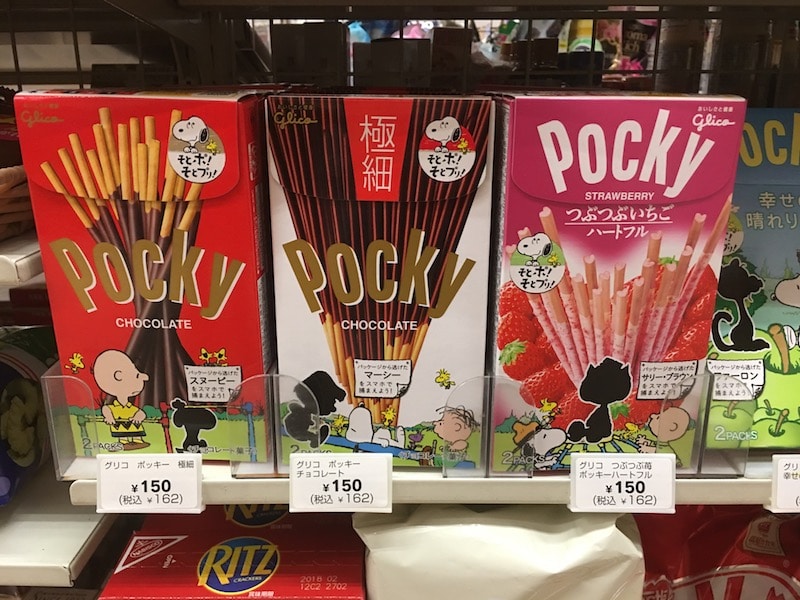 POCKY JAPANESE CHOCOLATE STICKS BY GLICO CHOCOLATE
Made by Glico chocolates, Pocky deserve their own section.
Pocky is a chocolate covered biscuit stick (like a pretzel) that offers the perfect balance of creamy chocolate and a crunch of biscuit and that was released in Japan in 1966.
Pocky come in a tsunami of flavor choices.
Pocky Strawberry Heartful
Almond Crush Pocky
Luxury Chocolate Pocky
Amazake pocky
Pocky Cocoa Powered chocolate sticks
You can also buy fruit flavored Pocky in Orange, Strawberry, Kintoki Sweet Potato, Sato Nishiki Cherry, King Melon, Grape and Matcha flavors
Try them ALL.
BUY NOW ON AMAZON: Variety Pack of 5 Flavors of Pocky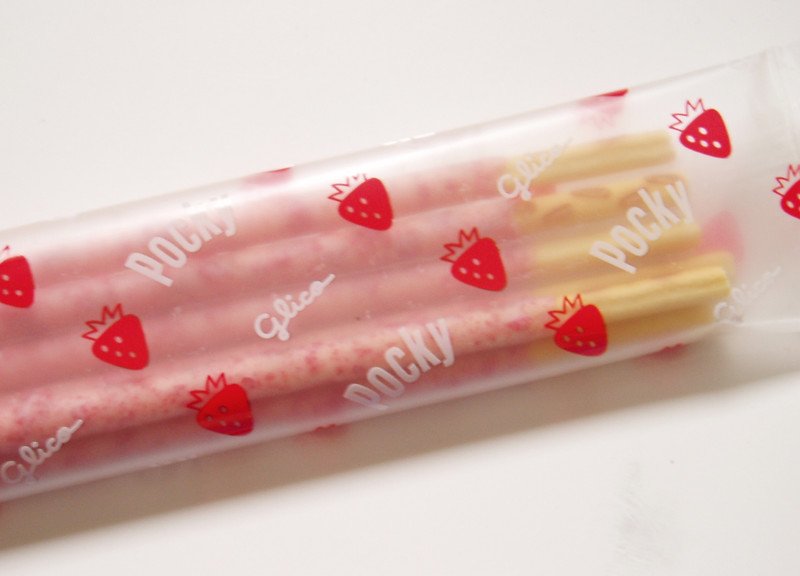 Image credit: Janine via Flickr CC BY-2.0
Pocky Sticks by Glico
The original Pocky chocolate and Pocky Strawberry come in a multiple pack, with 9 individual packs inside if you want to buy in bulk.
They release special Pocky in seasonal varieties too.
Look out for the GIANT POCKY versions!
Giant Pocky sticks are the ultimate souvenir for a chocolate addict.
Here's something fun for the kids to do: Record yourself saying 'Pocky' and Pocky Global will make you a Happiness playlist on Spotify to boost your mood!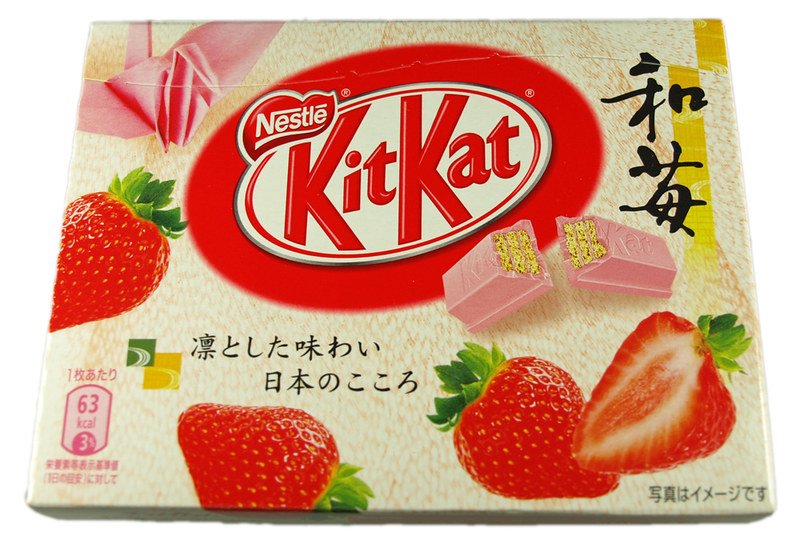 Image credit: Bodo via Flickr CC BY-2.0
POPULAR JAPANESE CHOCOLATE? JAPANESE KIT KATS
I've no idea why Kit Kats are one of the most popular Tokyo souvenirs to buy, but let's run with it.
Maybe it's the multitude of flavor combinations?
Or the mix of crunchy wafer and chocolate?
I'm intrigued but not convinced.
You can buy Matcha Green Tea Kit Kats in bulk in most Japanese supermarkets, Japanese convenience stores, Japanese souvenir shops, and duty free shops in Japan.
Made by Nestle, Kit Kat varieties in Japan have, from time to time, include: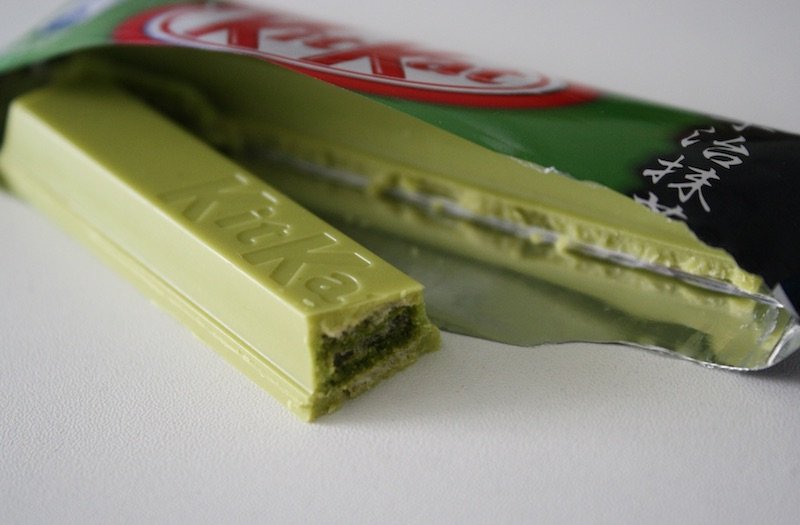 Image credit:Mira Pangkey via Flickr CC BY-2.0
Classic Japanese KitKats
Matcha green tea (pictured above)
Classic chocolate kit kat
Raspberry kit kat
Adzuki sweet red bean
Sakura Matcha Latte kit kats
Royal Milk Tea (that's one I'd love to try!)
Dark Chocolate kit kat
Salt and caramel
Unique Japanese Kit Kat Flavors
Sakura kinako cherry blossom and roasted soybean
Banana kit kats
Blueberry cheesecake
Cantaloupe/rockmelon
Peach mint kit kats
Maple kit kat
Limited Edition Kit Kat Flavors
Autumn Chestnut kit kats
Strawberry Cheesecake (Limited edition)
It's worth taking a look in a Japanese supermarket to see what flavors in the range are currently in stock.
---
BUY NOW ON AMAZON: 4-pack of Kit Kat Bags in Variety Assortment of Japanese Kit Kat Flavors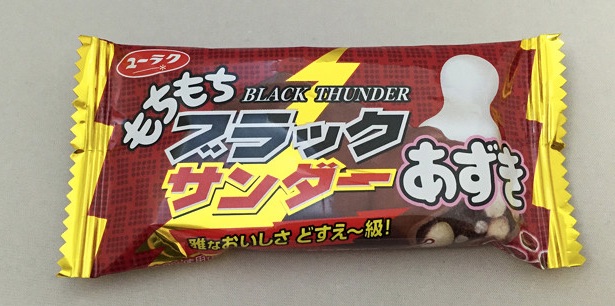 Image credit: source unknown
MORE CHOCOLATE IN JAPAN
Black Thunder III Japanese Chocolate Snack
Black Thunder III is a Japanese chocolate bar with dark cocoa-flavored cookie pieces mixed with Japanese-style crisped rice, and coated with dark milk chocolate.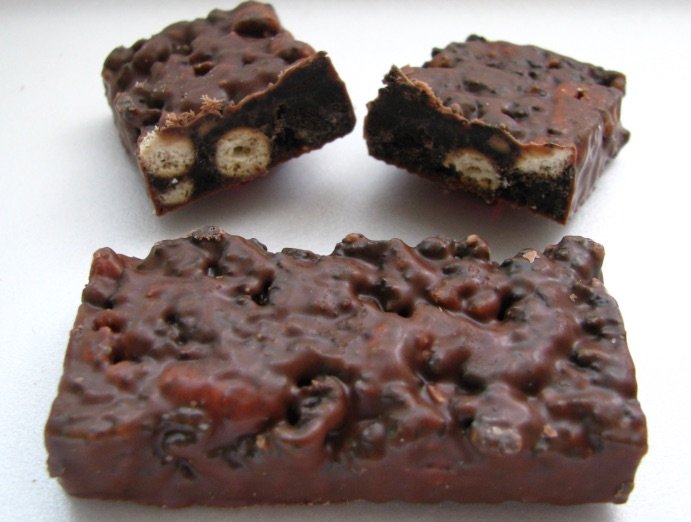 Image credit: Boneyard90 via Flickr CC BY 3.0
It retails for less than 50 yen, making it one of the most popular Japanese chocolate sweets around.
This the best Japanese chocolate candy according to those in the know.
Legend says these chocolate bars have made their creator a millionaire!
BUY NOW ON AMAZON: Black Thunder Choco Bar from Japan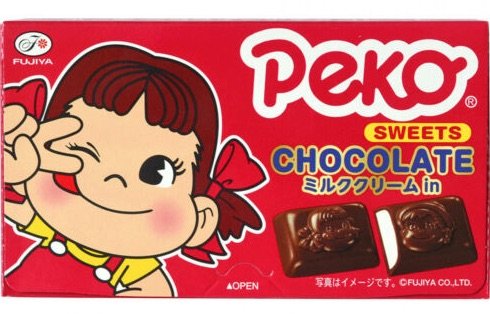 Fujiya Japanese Chocolate Bars
Fujiya Chocolate is brought to you by the same company that makes the delicious Milky Candy featuring the adorable Peko-chan girl.
Fujiya Confectionery makes Look chocolate and Peko Chocolate, plus very cute Peko Poko Chocolate Stick chocolates with Peko Chan's head on it!
BUY NOW ON AMAZON: Peko x Sanrio characters Strawberry Chocolate Bar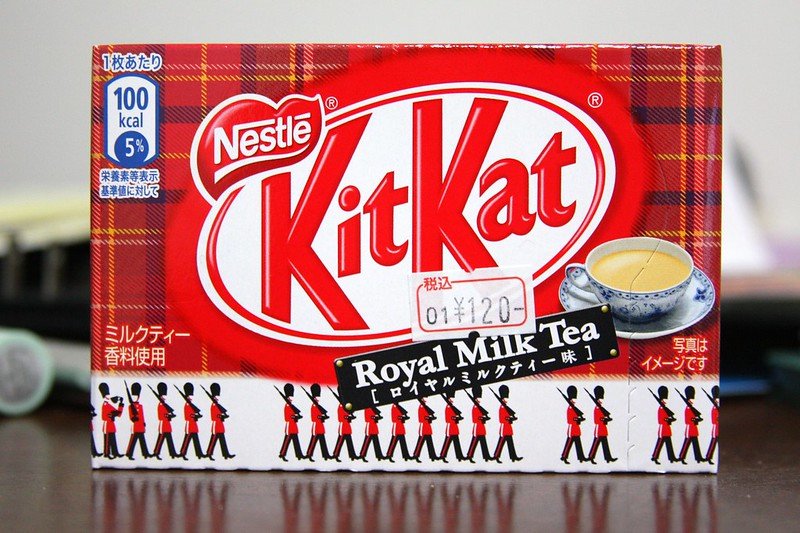 Image credit: Madeline via Flickr CC BY-ND 2.0
WHERE TO BUY JAPANESE CHOCOLATE
Correct at time of publication on Roam the Gnome. Please check with venue for updates. We apologise in advance if there have been any changes we are unaware of. All prices in US dollars, unless otherwise stated
Wondering where to buy Japanese chocolate for the best price?
Japanese supermarkets should be your first port of call because that's the cheapest place to buy Japanese chocolate. More bang for your buck and all that.
---
RELATED: Roam the Gnome's™ Guide to Finding Supermarkets in Tokyo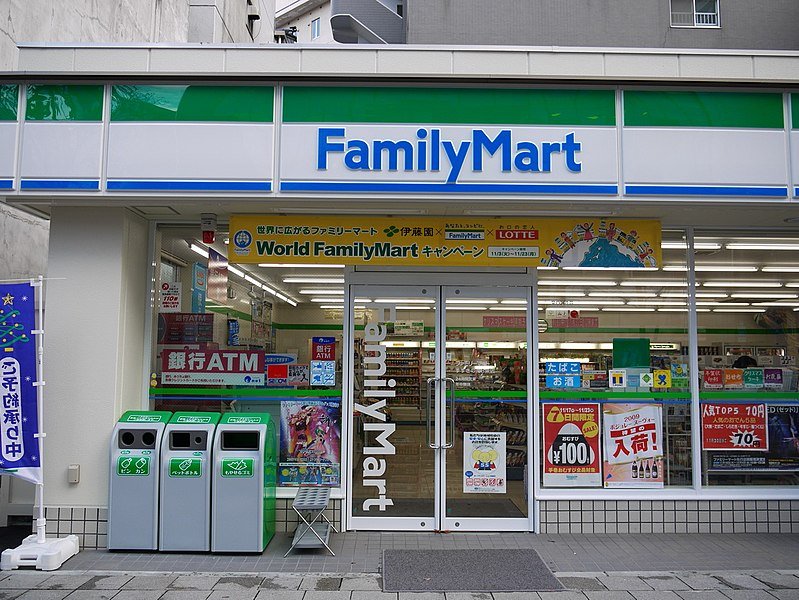 Image credit: Rafiq Mirza via Wikimedia Commons CC BY 2.0
More places to buy Japanese chocolate
Hot tip: Make sure you have a pocket wifi device with you so you can use google maps to find your way around.
Try these Japanese chocolate shops:
Japanese convenience store Family Mart Japan
Lawson Konbini store
7-Eleven convenience store
Depachika Department Store Food Halls on the basement level of all good Japanese Department Stores sell Depachika boxed chocolate souvenirs from Japan. An elegant gift for someone who is a little hard to buy for.
Muji in Tokyo Shibuya grocery deli (basement floor)
Disney Store in Shibuya
Tokyo Disneyland and Tokyo Disney Sea
Ameya-Yokochō market in Ueno
Japanese transport hubs
All the major Japanese train stations such as Tokyo Station have shops sell Japanese chocolates
Narita Airport and Haneda Airport duty free shops
Hot tip: Look out for DIY candy boxes to make your own chocolate snacks too!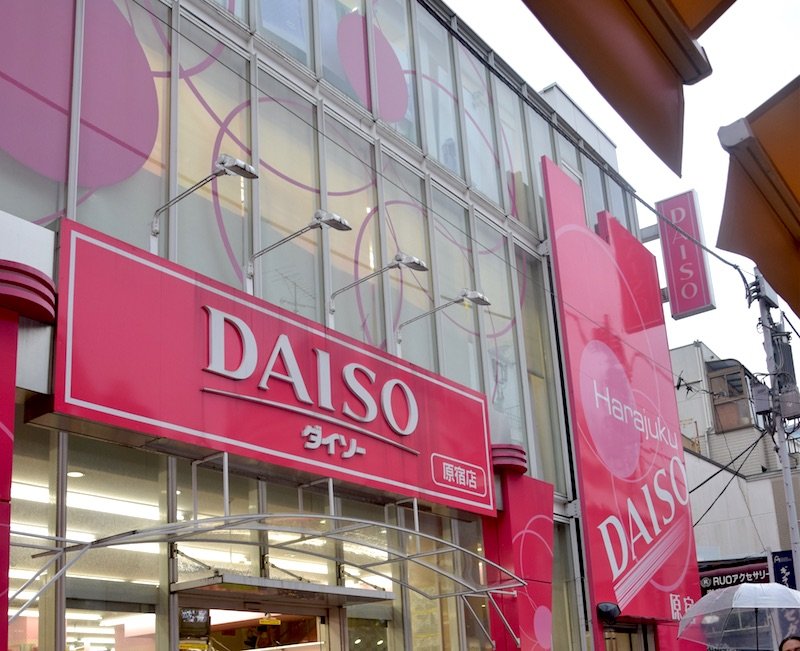 Looking for cheap Japanese chocolate?
Try a 100 yen store in Japan.
Not all 100 yen stores sell food, but even if they don't, enjoy the riches you'll find.
100 Yen Store Locations in the links below.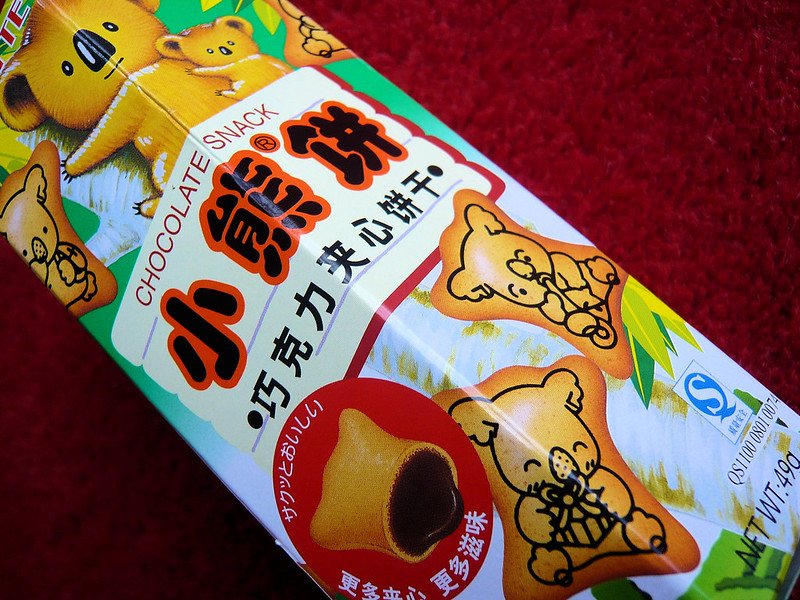 Image credit: DocChewBacca via Flickr CC BY-SA 2.0
We tried hard to answer your most common questions.
Is Japanese chocolate good?
Why is Japanese chocolate so good?
What is Japanese chocolate like?
Do Japanese like chocolate? (Obviously!)
What is the best Japanese chcoolate
What is Japanese for Chocolate? (did you miss it? see the answer above)
Where to buy Japanese chocolate
Where to buy Japanese Chocolates in Tokyo
Where to buy Japanese chocolate candy
What type of chocolate is the most popular in Japan
But sadly, we can't tell you how to make Japanese chocolate, how to make Japanese chocolate cake, how to make Japanese chocolate mochi (although we'd love to know how), how to make Japanese chocolate pudding, or how to make Japanese chocolate muffins.
We'll leave that to the experts!
Japan Train Station Music!
Just for fun, here's a little taste of Tokyo to get you in the mood for a Japanese chocolate feast.
A recording of all the Japanese train station music jingles from the Yamanote line.
Toadstool Rating- Top Japanese Chocolate

More Japanese Food ideas for you!
Click the links in blue below.