INSIDE: Our Japanese Street Food Guide on What to Eat in Tokyo.
Wondering what to eat in Tokyo when you are out and about?
Wonder no longer.
This is our Roam the Gnome™ Tokyo Food Guide to the best Japanese snacks to eat on your Tokyo vacation.
The guide to Japanese street food in Tokyo in two parts.
Take a look below.
Disclosure: This article contains affiliate links. If you make a purchase after clicking on one of these links, we may receive a small commission at NO extra cost to you.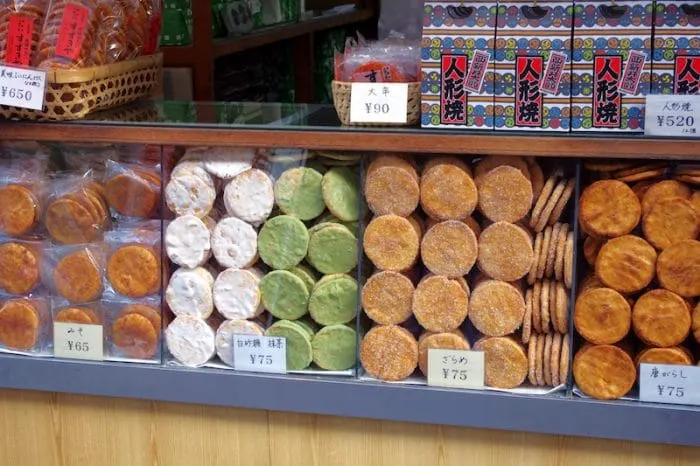 Image credit: Motoshi Ohmori via CC BY 2.0
THE INSIDE SCOOP: BEST JAPANESE STREET FOOD LIST OF THINGS TO TRY
Correct at time of publication on Roam the Gnome. Please check with venue for updates. We apologise in advance if there have been any changes we are unaware of. All prices in yen, unless otherwise stated
No.1: The first section is traditional Japanese snacks to eat on vacation in Japan.
Most of these can be found at Japanese street food markets.
But these foods have become so popular that many Japanese convenience stores, and supermarkets in Tokyo and Japan in general have now packaged them up as a Japanese convenience food you can buy AT ANY TIME.
Many a Japanese shop now sell one type of food exclusively, such as the iconic crepe shops in Harajuku.
Head to any area of high traffic filled with tourists and visitors to Japan, and you'll be sure to find these fresh Japanese snacks.
READ MORE: The Ultimate Guide to Japanese Snacks to buy in a Japanese Grocery Store
No.2: The second section is a list of authentic Japanese street food.
Japanese street food is most easily found when you are out and about on your Japan travels at Japanese festivals and events, but you can also find freshly made in Depachika food halls in the basement of good Japanese Department Stores throughout Japan.
These are the best cheap eats in Tokyo.
If you want to know the best places to eat in Japan, do include these Tokyo food suggestions to make sure you eat authentic Japanese food that the Japanese themselves love.
Eating Japanese street food is the way to eat cheap in Tokyo.
We hope this guide helps you stop wondering what to eat when in Tokyo.
Happy snacking!
---
RELATED: Big List of the Best Things to do in Tokyo with kids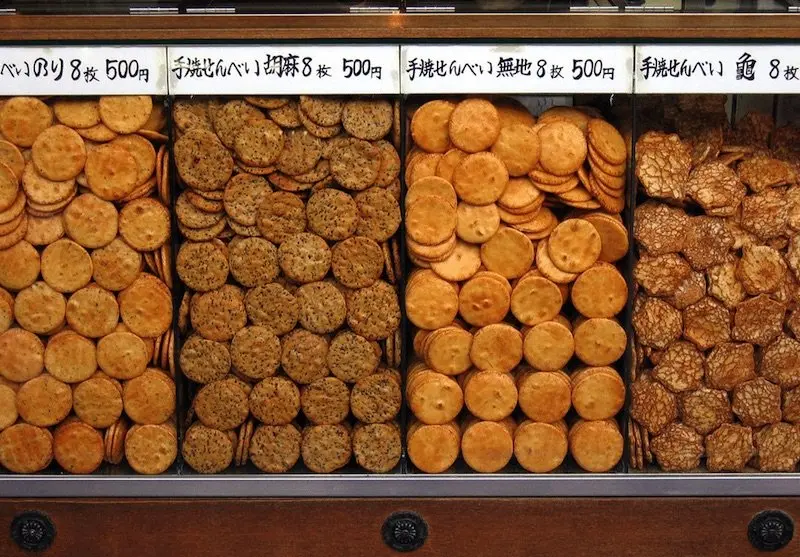 PART ONE: TRADITIONAL JAPANESE SNACKS TO EAT ON VACATION IN JAPAN
Here's a list of snack Japanese foods to try in Tokyo on your next Tokyo trip – a quick and easy solution to hunger pains!
No.1: Japanese Senbei Crackers
The best Japanese rice crackers are Senbei.
Senbei are best straight off the grill if you can find them (try a festival or Japanese food hall for starters)
You can find packaged versions in all Japanese department stores Depachika food halls in a sizable array of shapes, sizes, and flavors including soy sauce.
Look out for Japanese senbei crackers in gift packs at all major train stations including:
Tokyo Station
Shinjuku station
Shibuya station
Ueno station.
Buy Senbei crackers at all major Tokyo tourist attractions such as Tokyo Tower, Tokyo Sky Tree, and Ueno Zoo too.
Visit the souvenir shop at Meiji Jingu Shrine or take a stroll down the souvenir shopping streets in Tokyo at Senso-ji Temple in Asakusa (Nakamise Dori), and you'll find bags full of crunchy Japanese crackers with nori seaweed flavoring.
Tokyo Disneyland and Tokyo Disney Sea sell Disney senbei crackers too, with Japanese packaging featuring Mickey, Minnie and Duffy to boot.
You can pick up last minute gifts at Narita Airport terminal and Haneda Airport terminals – the senbei collection at duty free gift shops is as good as anywhere in Tokyo.
No.2: Japanese Crepes
Japanese teenagers and families love crepes.
Visit Harajuku in Tokyo and you'll see an abundance of crepe shops all in a row. Outside each one stands a window of plastic models of crepes filled with the full menu of possibilities.
Crepe stalls are also popular at:
Japanese theme parks
Japanese festivals
tourist attractions in Japan, and
Japanese markets and events too.
Sweet or savory, a Japanese crepe is a light batter filled with all kinds of ingredients.
I do love a good chocolate and banana crepe, or a ham and cheese crepe in Japan. Interesting thing to note, the sweet crepes in Japan almost always feature whipped cream!
A Japanese crepe is a must eat in Tokyo food at least once.
No.3: Melon Pan bread
A Japanese staple, Melon pan bread has a thin cookie crust on top that crackles during baking to end up in the likeness of a rock melon.
Strangely, Melon pan bread is not traditionally melon-flavored, which is kind of weird in a country where melon is one of their most popular flavor choices for candy, gum, snacks and drinks.
Try a melon bread in:
caramel
chocolate
maple syrup flavor, or
filled with custard or whipped cream.

No.4: Anpan bread rolls
Anpan is another sweet bread roll with a centre of gooey red bean paste.
It's a Japan food is a staple.
Depending on where you buy it, Anpan sweet bread rolls might also be filled with:
chestnut paste
white beans paste
green bean paste, or
sesame paste.
Interestingly, Anpan bread was the invention of a former Samurai.
In 1875, when the world was rapidly changing for those like him in traditional roles that were becoming redundant, and new-age bakeries were booming in Japan, his clever combination of Japanese food sensibilities with western-style bread was an instant hit.
So much so, you can find anpan buns in every bakery in Japan today.
No.5: Wasabi Peas
Eat these by the handful.
A snack of roasted peas covered in a wasabi-flavored crunchy batter.
Delicious!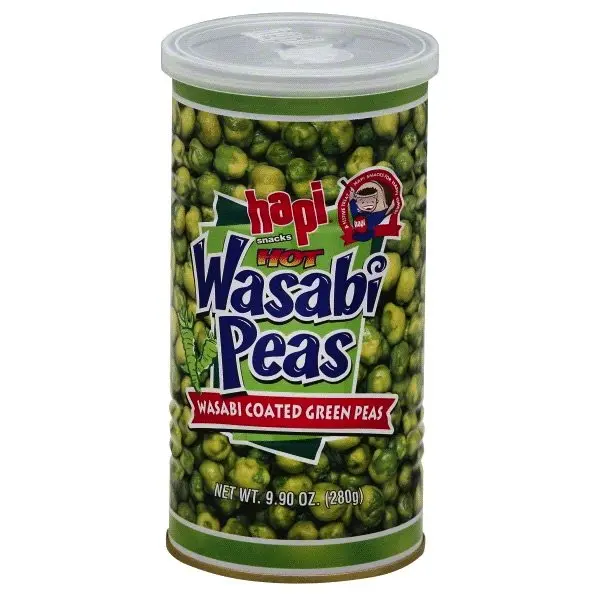 Buy Hapi Hot Wasabi flavored peas in any Japanese supermarket in either a pouch or a tin.
READ MORE: The Quick Guide to Finding Tokyo Supermarkets near me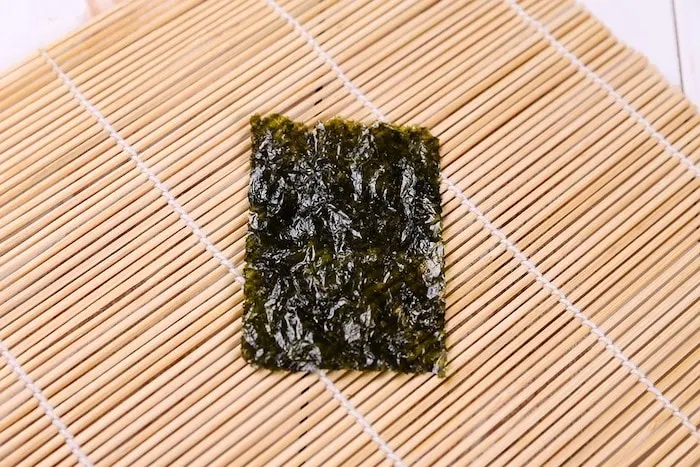 No.6: Crispy Seaweed Snacks
Made from dried seaweed kelp, crispy seaweed snacks are becoming more and more popular as a healthy Japanese snack on the run, or in Japanese bento lunch boxes.
Sometimes called Wakame chips or Kombu chips, dried nori seaweed snacks are the epitome of 'umami', the perfect blend of flavors to satiate the tastebuds.
I like to think of these as the healthier version of potato crisps.
Look for the Nagai brand of Seasoned Roasted Seaweed, flavored with Japanese soy sauce and savory seasoning. These come in handy individual packs.
You may also find the Tao Kae Noi brand of crispy seaweed snacks. This Thai company sells Japanese crispy seaweed snacks in original, squid, hot and spicy, Japanese sauce, seafood, and wasabi flavors.
READ MORE: The best shop in Japan to buy Japanese bento lunch boxes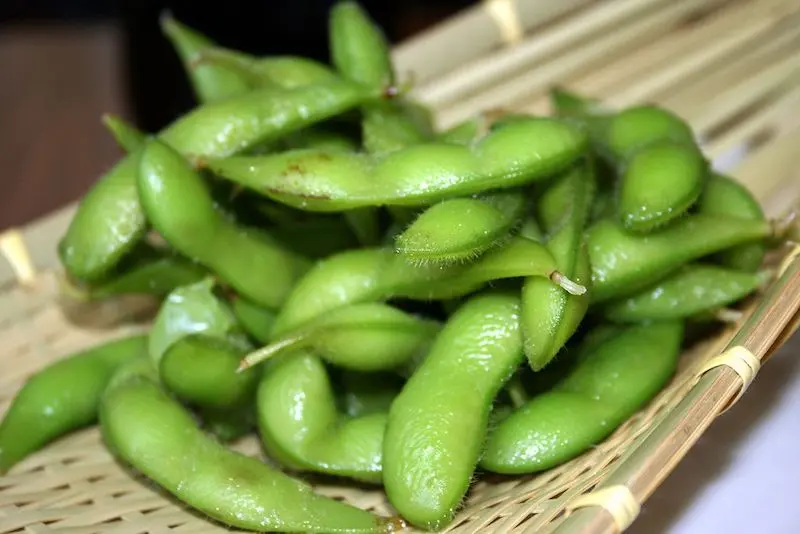 No.7: Edamame beans
Steamed green soy beans blanched in salty water and lightly drizzled with a sprinkle of salt grains. Served hot, they are a meal in themselves.
Want to know where to eat freshly boiled edamame beans? The best places to find them include:
Yakitori bars in Japanese food alleyways such as the infamous Omoide Yokocho aka Piss Alley in Shinjuku
Japanese marketplaces such as Ramen Street in Tokyo Station, and Ameya Yokocho in Ueno
Harajuku Takeshita street
Gyoza bars everywhere. Shinjuku has a bucketload.
Japanese Family restaurants such as Gusto, Royal Host, Denny's, Joyful, Yoshinoya, and Coco Ichiban ya may serve edamame as an appetiser
You can also try the Japanese street food stalls at Nakamise Dori in Asakusa, and Ueno Park
No.8: Onigiri rice balls
The best healthy Japanese snack food is onigiri balls.
A cousin of the popular sushi rolls, the onigiri concept has never really taken off outside of Japan and we can't work out why.
This Japanese food is not only tasty, it comes in at a little under 150 yen each. That's equivalent to around $1.50 for a healthy freshly prepared rice ball snack that will fill you up till dinner. These are a contender for the best food in Tokyo for kids!
Onigiri is a much loved Japanese comfort food for both young and old, a triangle shaped rice ball wrapped in dried nori seaweed. You can also buy seasoned onigiri coated in sesame seeds, or with a furikake seasoning sprinkle such as dried bonito fish flakes or shrimp over the top.
Onigiri are stuffed with a variety of fillings including:
Tuna flakes with mayonnaise.
Salted salmon flakes (sha-keh or shio-zake)
Kombu caramelised seaweed. (The best!)
Vegetable onigiri
Chicken onigiri with karaage style chicken inside
Keep an eye out for a brown and tan-coloured round-shaped rice ball.
This is mixed chicken rice, a great choice for kids.
It's super yummy!
The one to watch out for is Umeboshi pickled plum.
Accidentally bite into one of these and you'll know it by the sour taste.
It's not for me!
Onigiri rice balls in Family Mart stores in Japan are usually marked with English descriptions of the fillings, but if not, ask a staff member.
Sign language works wonders to figure this out!

THE ORIGINS OF JAPANESE STREET FOOD SNACKS
A quick heads up.
While you can now buy a common array of Japanese street food snacks in most city and regional areas of Japan, it's good to do your research about the city you are visiting to see what they are mostly well known for.
For example, while you can buy okonomiyaki vegetable pancakes almost everywhere, they originate from the Kansai and Hiroshima areas of Japan, and are now one of Osaka's famous street foods too.
Osaka is well known for:
takoyaki octopus balls
kushikatsu breadcrumbed and fried meat
seafood or veggie skewers served with delicious dipping sauces, and
yakiniku grilled meat.
The best place to try these Japanese street food snacks is in the place they originated from.
Years of experience put these towns at a big advantage when it comes to flavor and taste.

MORE OF WHAT TO EAT IN TOKYO
No.1: Dorayaki
Sweet puffy spongecake batter is cooked to perfection to make Castella pancakes that are then filled with Japanese sweet red bean (anko) and occasionally, whipped cream or custard.
You can't eat just one.

No.2: Taiyaki
Taiyaki is a sweet pancake in the shape of a fish! (A Japanese red seabream in fact). They are made from regular pancake or waffle batter, that is then poured into a fish mould and cooked over a grill into a fried dough.
Taiyaki are usually filled with red bean paste, custard, chocolate, sweet potato or cheese.
Taiyaki are best eaten fresh and hot. Find them at Japanese festivals, and in Japanese Department Store food halls.

No.3: Takoyaki
Takoyaki is another word for OCTOPUS BALL!
A much loved favourite of most Japanese people, these ball-shaped Japanese snacks are made of a wheat flour-based batter and cooked in a special molded pan.
Takoyaki is "typically filled with minced or diced octopus, tempura scraps, pickled ginger, and green onion."
When served, they are often topped with Japanese mayonnaise, nori flakes and dried bonito fish flakes.
A seriously delicious Japanese street food treat you should not miss.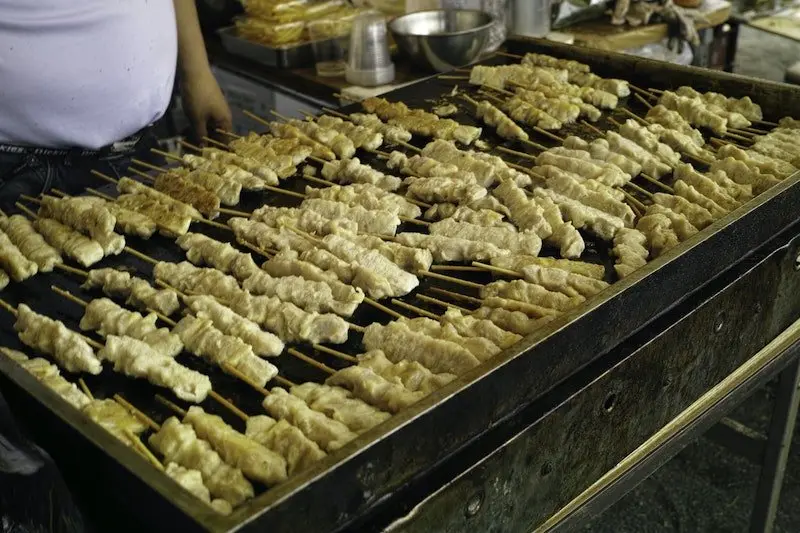 Image credit: Magic Mary via Unsplash
No.4: Yakitori
Stop by any Japanese festival or street food alley and you'll smell seasoned chicken grilling on the hot plate well before you see them.
Yakitori chicken skewers are usually cooked on bamboo skewers and grilled over a charcoal fire.
Yakitori meat is seasoned with salt and a tare sauce made from soy sauce, mirin, sugar, ginger, garlic and sake.
Just a few hundred yen each, they are a bargain feast.

No.5: Dango (Japanese street candy)
Dango is a stick of rice dumpling balls, each one about the size of a large marble. Dango is made from mochiko rice flour, a cousin of mochi.
Dango skewers are pretty as well as tasty.
Their appearance reminds me of a traffic light but in pink, green and white.
My favourite place to eat Dango in Tokyo every day of the week is at the Asakusa Kibi-Dango Azuma shop on Nakamise street.
Enjoy dango in Asakusa with a refreshment of cold sweet green tea.
Do not pass until you have tried this sweet treat!
READ MORE: Roam the Gnome's Guide to the Best Japanese Candy & Sweets to try in Japan.
No.6: MORE things to add to your Japanese Street Food List
Soba Noodles
Japanese curry katsu
Donburi rice bowls
Nikudon rice bowls
Oyako donburi bowls
Donburi rice bowls are the best Japanese food for family travelers on a budget.
Prices start at just 350 yen and these will keep you going for hours!
Head to these Japanese family restaurants to find ready made Japanese food:
Sukiya
Tendon Japanese family restaurant
Yoshinoya
Matsuya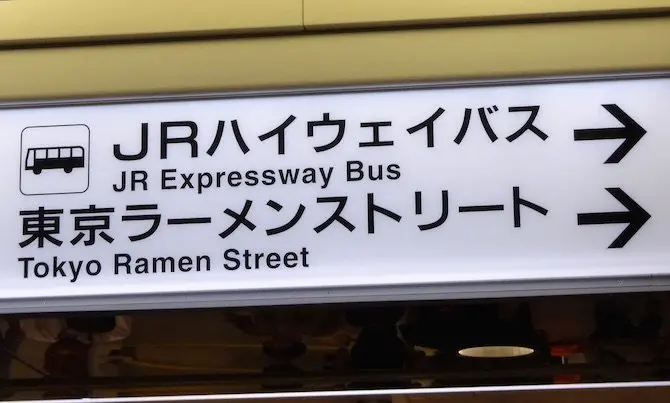 Where to find Japanese Cuisine street food in Japan?
Find your way to the best Tokyo Food Streets with this budget Pocket Wifi for Japan
No.1: Sushi and sashimi in Tokyo
Eat Sushi for breakfast at the Tsukiji Fish market sushi restaurant after you've been on an early morning tour of the fish market as soon as it opens.
It's the freshest tuna fish on any menu.
Check google maps for new directions as it recently moved.
No.2: Omoide Yokocho Piss Alley Shinjuku
Head to the vulgarly named Piss Alley in Shinjuku (Omoide Yokocho) for the best chicken yakitori in Shinjuku
No.3: Tokyo Ramen Street Tokyo
Eat the best Ramen in Tokyo at your choice of Tokyo Ramen Street restaurants at Tokyo station.
No.4: Tokyo Ice Cream shop
Try 50+ Japanese ice cream flavors at the ice cream shop in Tokyo, Namco Namja town indoor theme park.
You can even try EEL icecream! If you are game.
No.5: Michelin restaurants in Tokyo
Serious foodies should also search google for Michelin star restaurants in Japan for a VIP foodie experience in Tokyo.
(Coming soon – The best Michelin starred Japanese restaurant in Tokyo).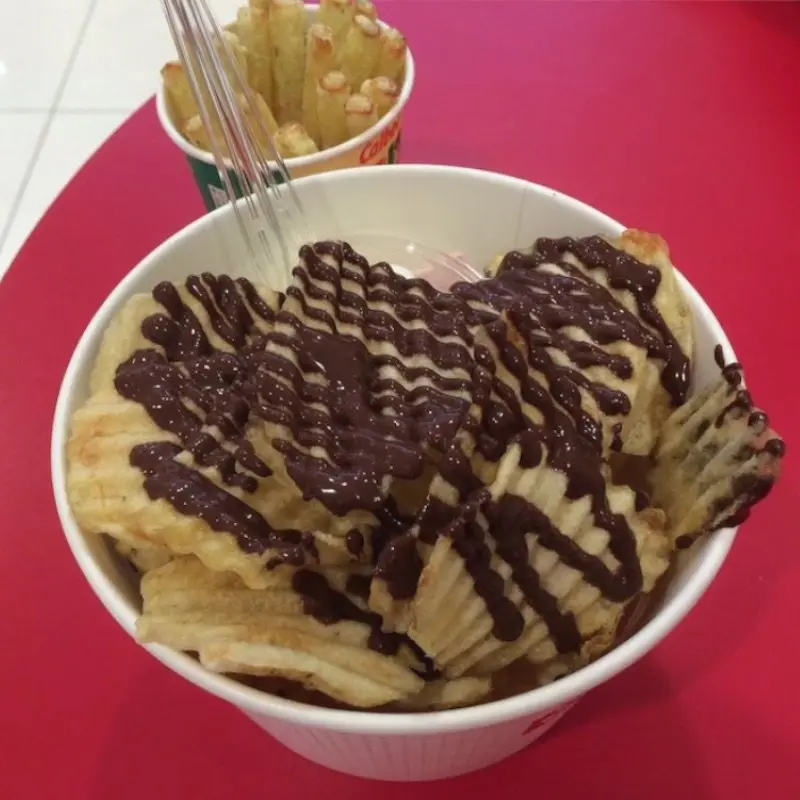 MORE Places to Eat Japanese Food in Tokyo
Here's an ever growing list of the best places to eat in Tokyo.
It includes things you must eat in Tokyo, and the best restaurants in Tokyo for families too.
What to Eat in Tokyo Station?
Looking for where to eat in Tokyo Station?
Where to shop in Tokyo for foodies ?
Click the blue links below for more Tokyo tips.