INSIDE: All you need to know about the best Japanese snacks to eat during your Tokyo vacation & the must-buy Japanese snacks to take home.
In no particular order, these are the best Japanese snacks you cannot possibly live without.
You no longer need to wonder what snacks to buy in Japan.
On our favourite Japanese snacks list, we've included popular sweet AND savory Japanese snacks you can buy in a Japanese supermarket, cafe or restaurant including:
Japanese rice crackers
Japanese dagashi snacks
Japanese sweet snacks (the best candies form Japan!)
Japanese biscuit snacks
Japanese ice cream snacks
Japanese chocolate snacks
Japanese desserts, and
traditional Japanese snacks to nibble on when you enjoy green tea
We've also included a link to a comprehensive list of fresh Japanese street food snacks you are likely to encounter at a Japanese festival, Japanese market, or community event.
Plus, ideas of healthy Japanese snacks for kids when you are travelling in Japan.
Take a look below for details.
Disclosure: This article contains affiliate links. If you make a purchase after clicking on one of these links, we may receive a small commission at NO extra cost to you.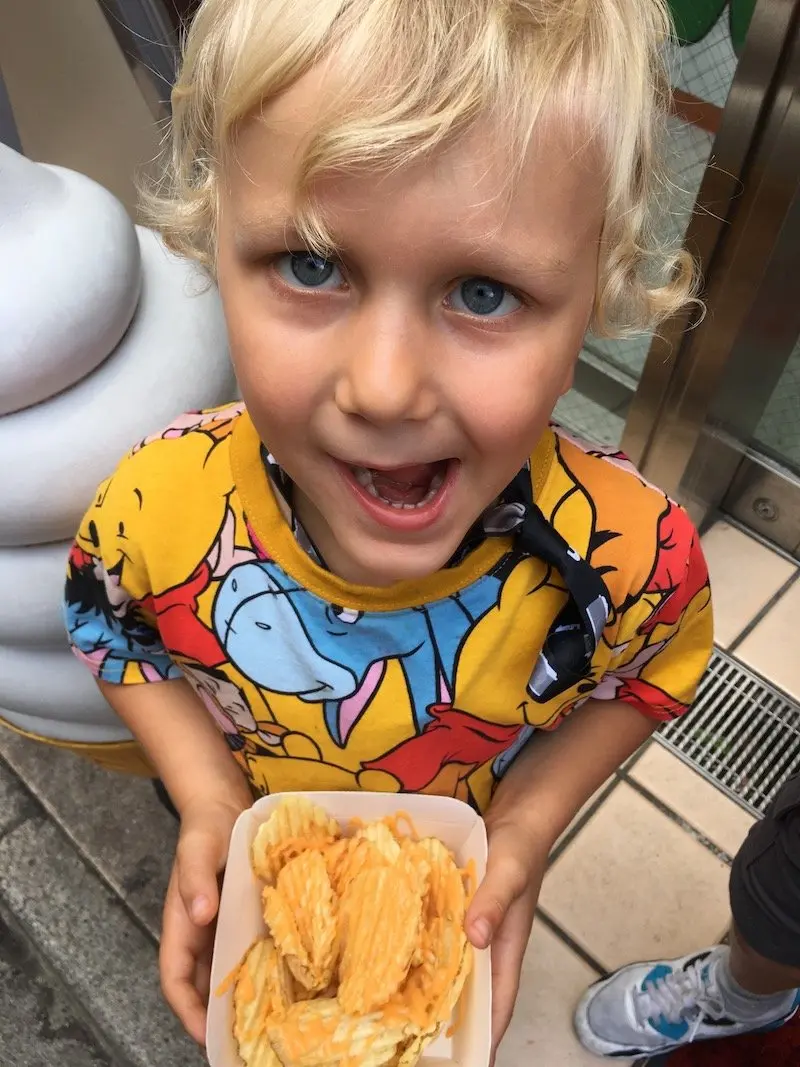 THE ULTIMATE GUIDE TO THE BEST JAPANESE SNACKS LIST
Authentic Japanese Snacks are fun souvenirs from Japan
We've listed the Japanese food snacks that make the best souvenirs from Tokyo.
These Japanese snacks are cheap, lightweight, and fun to share.
Hot tip: Buy Japanese snacks with unique or unusual flavors such as umeboshi (plum) or wasabi (hot strong horseradish flavor) for a fabulous foodie gift for friends and family.
RELATED: Read our Tokyo Treats review of their Japanese snacks subscription box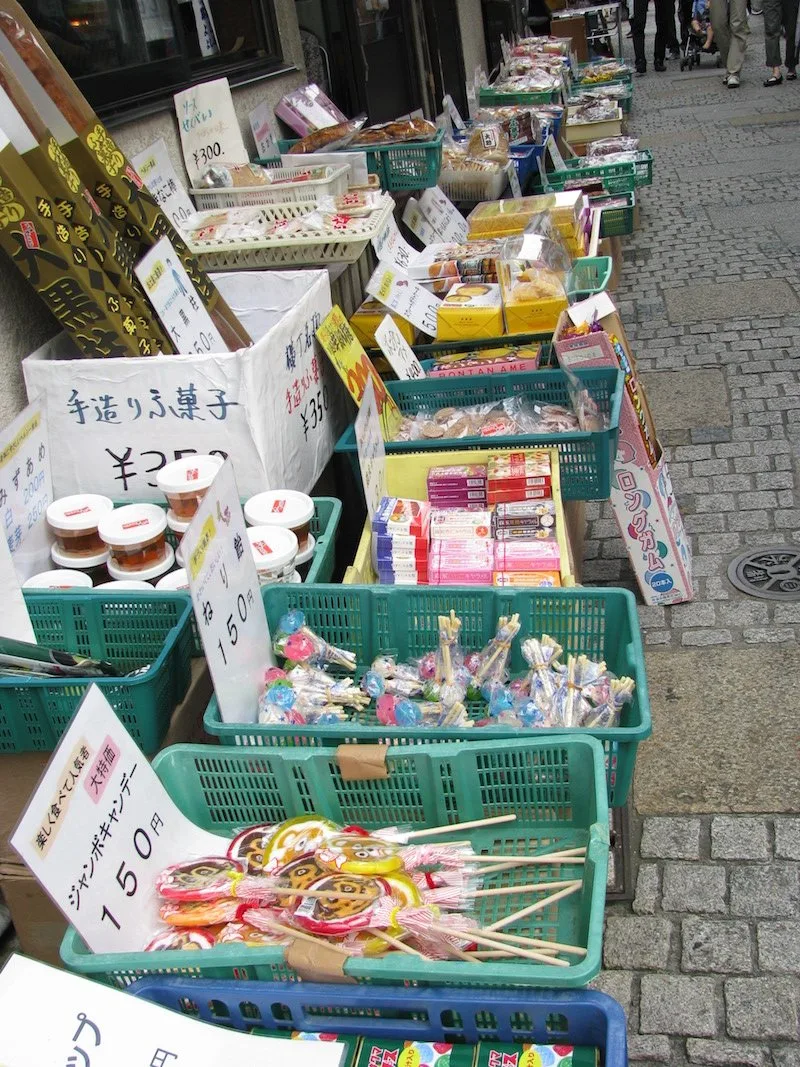 Image credit: Aimaimyi via Wikimedia CCBY-SA 3.0
BEST JAPANESE SNACKS TO BUY
There's only one thing we left out of our guide.
The answer to the question, "Why are Japanese snacks so good?"
As far as Tokyo souvenir snacks go, you can't go past the products in this list.
Where possible, we've included links to the best Japanese snacks on Amazon.
No.1: POPULAR DAGASHI SNACKS
Looking to buy cheap Japanese snacks that taste good? Choose any one from this list of Dagashi Japanese cracker snack options.
Visit any Japanese supermarket and you'll find aisles of Japanese food snacks including cheap Japanese snacks for kids called Dagashi.
Dagashi is the colloquial name given to cheap Japanese candies and Japanese snack foods and it means 'pointless snacks'. (Da is pointless or futile, Kashi is snacks)
Dagashi snacks are designed for kids.
(That doesn't mean kids are the only ones who eat them!)
In the past, children bought dagashi snacks straight from the corner store. Cheap dagashi snacks are both sweet and savory, and cost as little as 25 yen each.
They are not healthy snacks in Japan, because they are mass produced, of dubious quality, include artificial ingredients, and usually sweetened with syrup or fruit juice.
But kids still love them as the price is right, and their Japanese packaging with cute kawaii characters targets this market.
The Best Dagashi Snacks
Umaibo
Baby Star Ramen and Potato rounds
Cabbage Taro
Details below.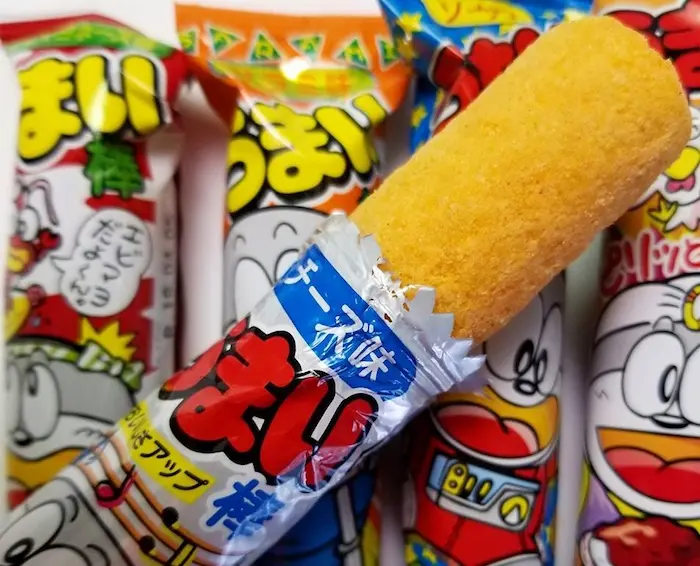 Image credit: CC BY -1.0
Umaibo
These famous Japanese snacks are individually wrapped puffed corn snacks (pictured above) that feature a distinctive cat character on the Japanese packaging.
They come in lots of different flavors including our favourite – Cheese.
You can also buy Umaibo corn snacks in sweet flavors like cinnamon apple, chocolate and sugar rusk,
Savory flavors include:
Takoyaki (octopus)
Teriyaki
Tonkatsu sauce
Pizza
Salami
Corn potage
Shrimp mayonnaise, and
that gross Japanese delicacy, natto!
---
Buy now on Amazon: Umaibo Japanese Corn Puffed Snacks Variety Pack – 10 flavors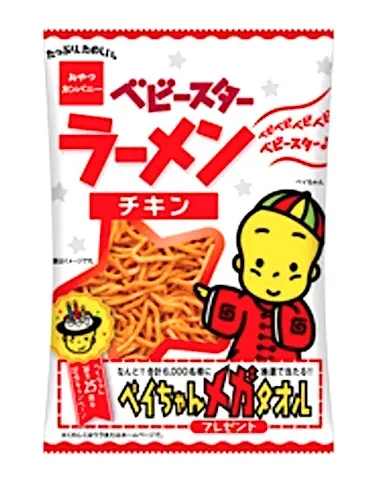 Baby Star Dried Ramen Noodles
Baby Star Ramen is a good snack on the go, or after a playground stop.
This crispy crunchy dried ramen noodle snack is most popular in chicken flavor, but they also come in flavours including:
Yakisoba
Umami
Miso, and
Pepper.
You can buy Baby Star crunchy ramen noodles for kids, but they also sell grown up versions too, in:
chilli pepper
ume shio
tonkatsu and
soy sauce flavors.
When the boys saw these, Ned said 'why are some Japanese snacks so weird?'
---
Buy now on Amazon: Baby Star Ramen – four flavor pack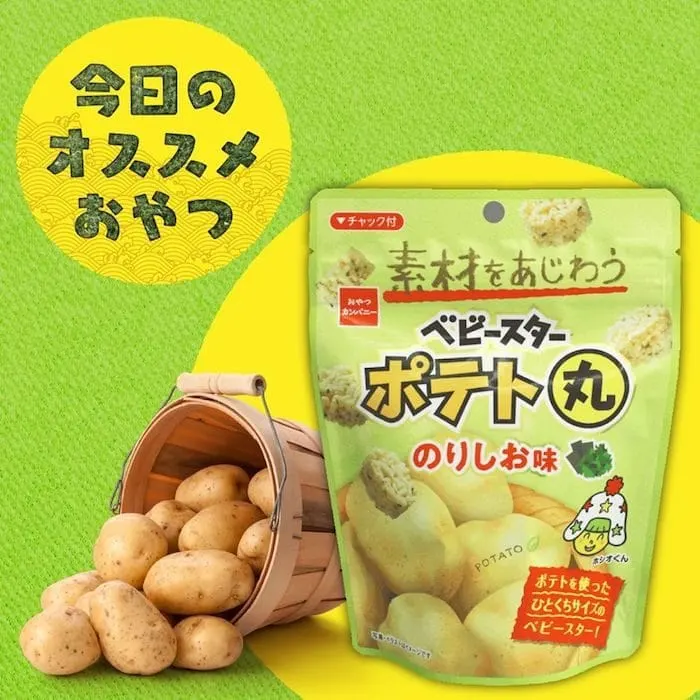 Image credit: Oyatsu snack company
Baby Star Potato rounds
Baby Star also sell potato round crackers (Baby Star Potato Maru) in:
plain potato
fried onion
consomme, and
nori seaweed flavors.
Another hit with the kids.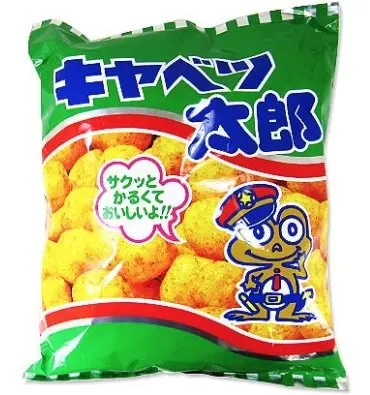 Cabbage Taro
Cabbage Taro is another puffed corn snack, this time shaped like a ball, in two different flavours.
One is stronger that the other.
Try both Japanese savoury snacks to see your preference.
---
Buy now on Amazon: Cabbage Taro dagashi snacks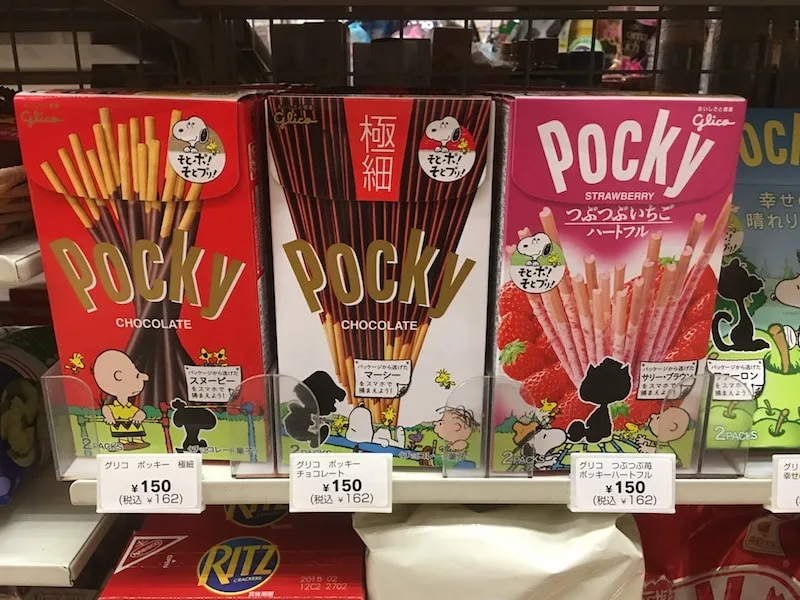 No. 2: MOST POPULAR JAPANESE SNACK SOUVENIR IDEAS
These are the best snacks in Tokyo that are popular with tourists.
Pop them on your list of the best Tokyo snacks to buy.
Pocky Japanese chocolate sticks
Look out for seasonal release limited edition flavors too.
Pocky first launched in 1966 and the original chocolate Pocky in their signature red box is still my favourite.
I love that you can eat these snacks without getting sticky chocolate fingers.
These top of our list of Tokyo must buy items.
Japanese Pocky Flavors
Try Pocky Japanese snacks in all the flavors.
Almond Crush
Chocolate Mint
Crunchy Coconut Chocolate
Crunchy Strawberry Chocolate
Matcha Green Tea
Sakura Cherry Blossom
Original Milk Chocolate, and
Every Seasonal Pocky flavor around.
Keep your eyes peeled.
---
Buy now on Amazon: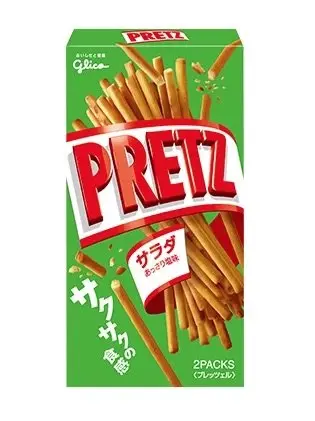 Pretz Stick Pretzels
Pretz sticks are seasoned in unusual savory tastes such as:
Mild Salad (!)
Salad seasoned pretzels
Kari Kari Basil and Olive
Kari Kari butter and soy sauce
Fermented creamy butter
Tomato
Crunchy cheese
Osatsu Sweet Potato, and
Mild roast flavors
They sound gross, but they taste GREAT!
---
Buy now on Amazon: Glico Pretz multipack – 5 flavors (Basil, Butter & soy sauce, Roast, Tomato, Salad)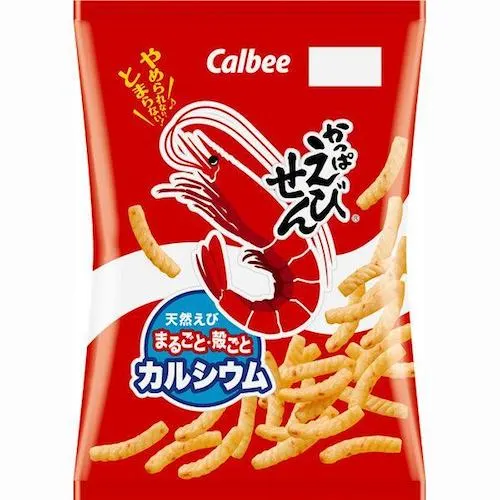 Kappa Ebisen
These top Japanese snacks are crunchy shrimp flavored chips, made from wheat flour.
Manufactured by Calbee of Japan.
---
Buy now on Amazon: Calbee Shrimp flavored chips baked – pack of six (US packaging)

Tohato Caramel Corn
This puffed corn comes in flavors including:
Chocolate
Chocolate mint
caramel
fruit parfait
Honey soy
condensed milk
matcha green tea
tiramisu, and
peanuts.
---
Buy now on Amazon: Tohato Caramel Corn Original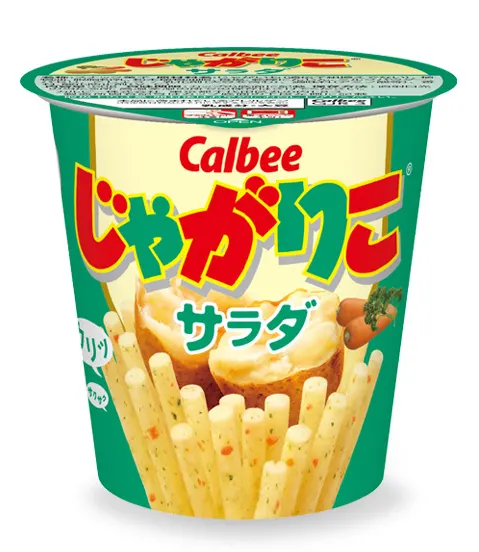 Calbee Jagariko potato sticks snack
Jagariko potato snacks stand like fries in a noodle cup.
They come in flavors including:
hot chilli
moriko salt and corn
edamame salty taste
salad flavor
garlic edamame potato chips flavor.
---
Buy now on Amazon: Calbee potato sticks – Salad flavor
Calbee 'Kata Age' potato chips
Delicious in these flavors:
seaweed
salty wasabi
light salt or
black pepper flavors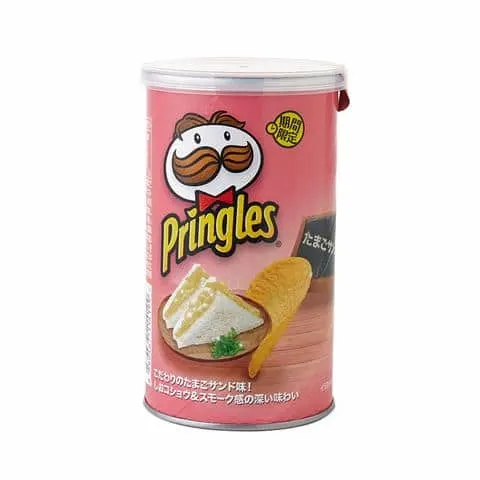 Pringles in unique flavors
Look out for Pringles in ALL of these flavors:
Egg sandwich Pringles
Japanese nori seaweed flavor
Sukiyaki pringles
Garlic Shrimp pringles
Wasabi mayonnaise
Wasabi and beef
Karaage fried chicken
Mentaiko spicy cod roe
Butter and soy sauce
Yakitori
Fried noodles
Squid Yakisoba pringles
Chicken Soy Sauce Ramen pringles
---
Buy now on Amazon: Seaweed Pringles (product of Thailand)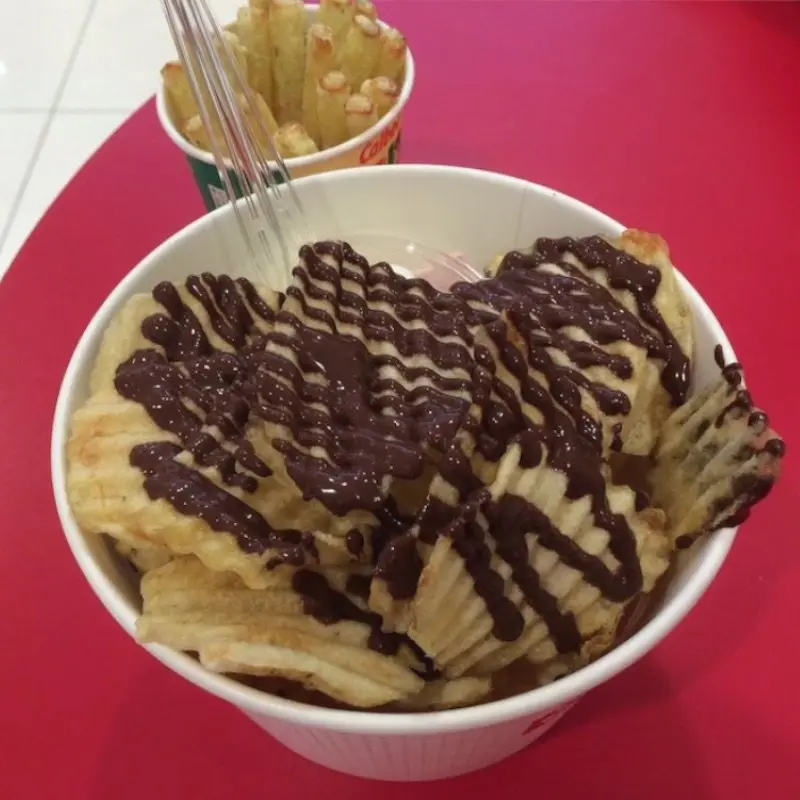 Calbee potato chips
The best ones are the potato crisps drizzled with CHOCOLATE!
---
RELATED: Eat Calbee Potato Chips drizzled with warm chocolate & accompanied by soft serve ice cream IN PERSON at Tokyo Okashi Land!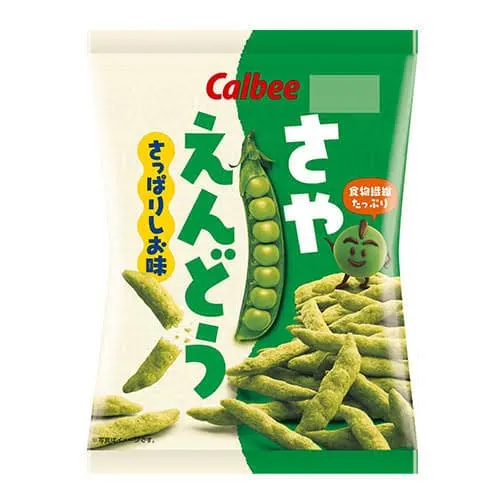 Saya Endo
If you love eating edamame soy beans, try this Edamame snack:
Edamame Soy Bean Crisps by Calbee.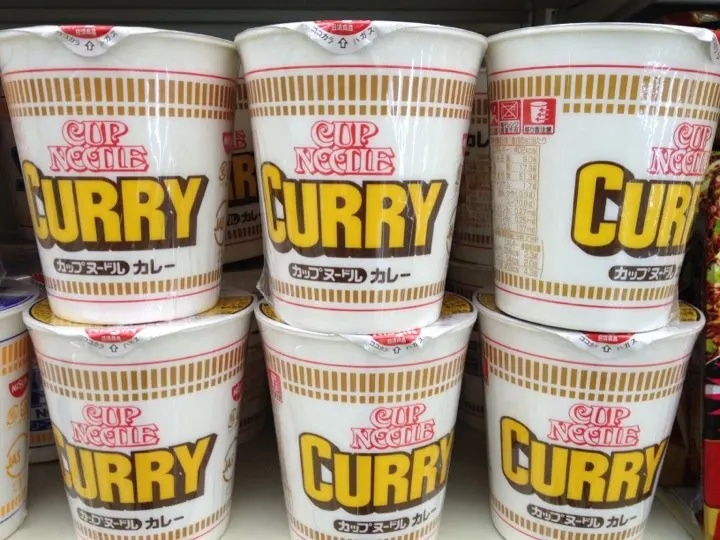 Image credit 720: Yuya Tamai via Flickr CC BY-2.0
No.3: JAPANESE INSTANT CUP NOODLES
We also can't forget Cup Noodles.
Not just for kids, Japanese cup noodles are a snack enjoyed by everyone in Japan, young and old.
We love the Cup Noodle brand by Nissin the best.
Their flavors include:
Yakisoba cup noodles
Chicken Ramen
Chilli Tomato
Miso
Cheese curry
Singapore Laksa, and
Creamy seafood.
Look out for cup noodles by Maruchan and Marutai too.
Their Japanese cup noodle bowls feature ramen, soba, and udon, with all kind of fun additions such as wontons!
Maruchan's Curry Udon is a cup noodle bowl with a difference.
---
Buy now on Amazon: Japanese Ramen Cup Noodles – Curry Flavor (Pack 6)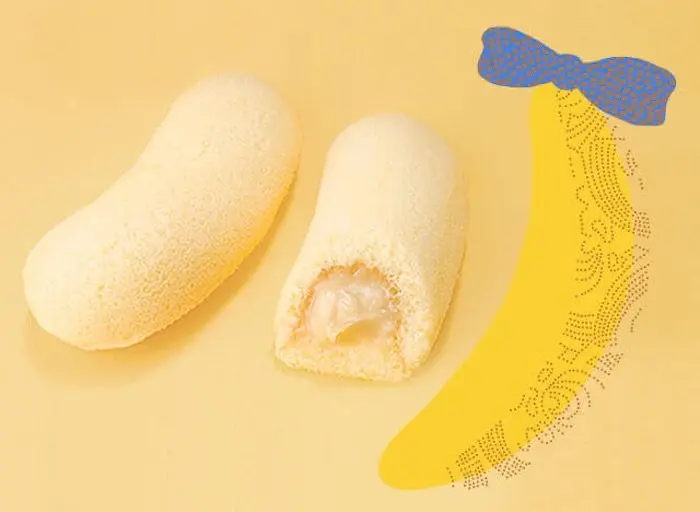 No.4: TOKYO BANANA
A special mention must go to the Tokyo Banana Cake, the number one Japanese souvenir.
Buy Tokyo Banana if you are unsure what snacks to buy in Tokyo for your friends.
Tokyo Bananas are only available in Japan (unless you buy on Amazon.)
These cream-filled cakes are a Japanese delicacy and come in numerous flavors including:
original
honey
coffee milk
banana yogurt
maple
banana caramel custard cream, and
chocolate banana cream.
Put this on your list of Japanese snacks to try.
---
Buy now on Amazon: Tokyo Banana Cake – 8 pieces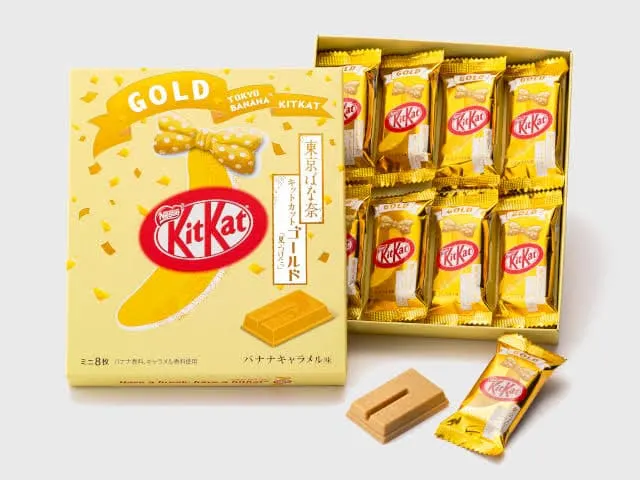 You can also buy different snack variations of Tokyo Banana.
Tokyo Banana Biscuit. Tokyo Banana cookies are another much-loved treat with tourists in Japan.
Tokyo Banana Castella Cake
Tokyo Banana Pie
Tokyo Banana Kit Kat, in both original chocolate and Gold caramel flavors
---
Buy now on Amazon: Tokyo Banana Kit Kat (original)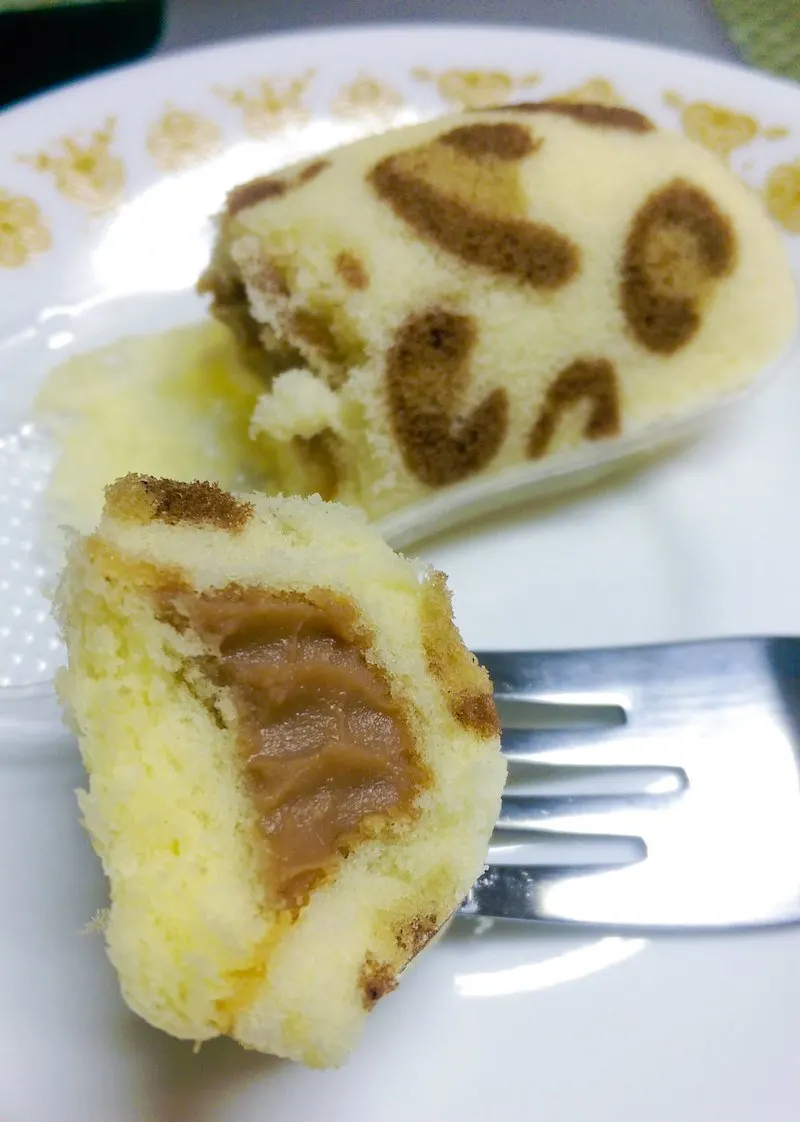 Image credit: SStrieu i via Flickr CC BY-ND 2.0
Where to buy Tokyo Banana in Japan
If you want to know where to buy Tokyo Banana gift boxes, we suggest heading to a Japanese department store food hall in any major city.
Click here for the full list of Tokyo Banana store locations.
You'll definitely find Tokyo Banana outlets here:
Daimaru Tokyo
Seibu in Ikebukuro
Keio Shinjuku
Isetan Fuchu
Odakyu Machida
Sogo Yokohama
Diversity Tokyo Plaza
Aqua City Odaiba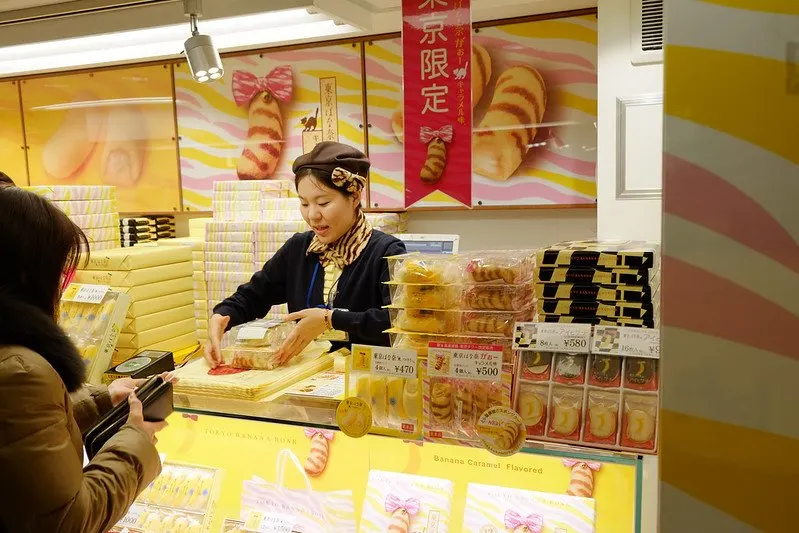 Image credit: Chinnian i via Flickr CC BY-SA 2.0
You'll also find Tokyo Banana stores at these Tokyo attractions
Tokyo Sky Tree
Tokyo Tower
Akihabara RAdio Hall
Bic Camera in Shinjuku, Yurakucho and Akiba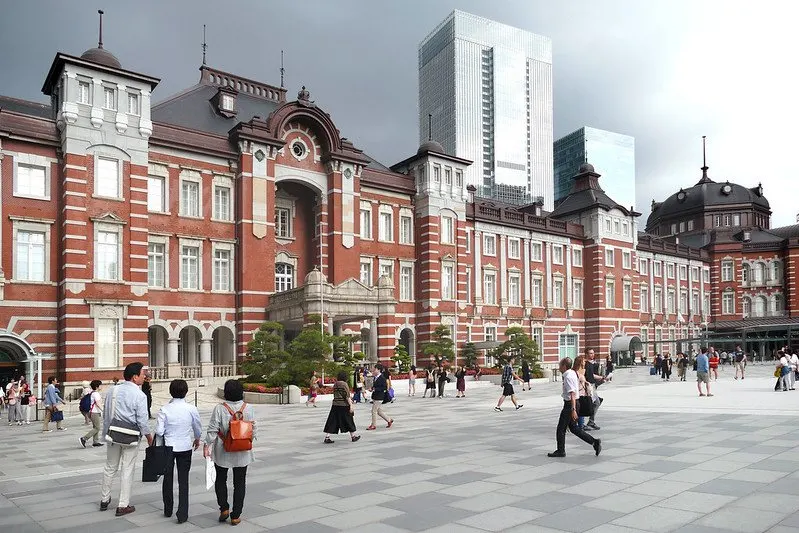 Image credit: Bernard Spragg via Flickr Public domain
Tokyo Banana at Tokyo Train Stations
Don't forget to look for Tokyo Banana at Japan's main train stations.
Find Tokyo Banana at JR Tokyo Station – there are plenty of shops selling Tokyo Banana there.
You can also find Tokyo Banana at these Tokyo train stations:
JR Ueno station
JR Ikebukuro station
JR Shinagawa station
JR Hachioji Station
JR Shinjuku station
JR Machida station
JR Shin-Yokohama station
JR Yokohama station
JR Maihama station (the home of Tokyo Disneyland)
Tobu Sky Tree Line Asakusa Station, and
JR Omiya station.
Please inquire at the customer service center.
Select hotels also sell Tokyo Banana including:
Grab them last minute at one of Japan's airports including:
Narita airport Terminal 1, 2 or 3
Haneda Airport international terminal
Haneda Airport Terminal 1 and 2.
Visit the website: Click here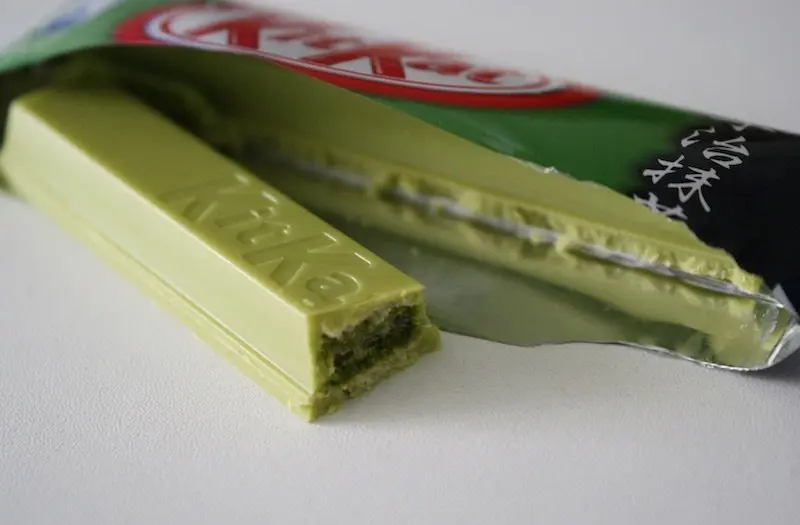 Image credit: Mira Pangley via Flickr CC BY 2.0
No.5: JAPANESE KIT KATS
One of the most popular Japanese snacks for visitors to buy is packs of Japanese KitKats.
(Read our guide to Japanese chocolate here.)
Kit Kats in Japan come in unusual flavors including the most popular Japanese Green Tea Kit Kats (Matcha kitkats) and the limited edition Tokyo Banana Kit Kats we mentioned above.
You can also find them in flavors such as:
purple sweet potato
strawberry cheesecake
Sake
apple
apple pie
wasabi
red bean sandwich
strawberry
caramel
rum raisin
Hokkaido melon
chocolate strawberry
autumn chestnut
Japanese black tea
dark chocolate
---
Buy now on Amazon: Japanese Kit Kat 16 pcs Variety pack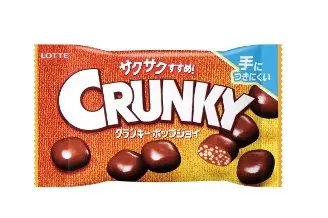 No.6: JAPANESE CHOCOLATE SNACKS YOU MUST BUY IN TOKYO
Do not leave Japan without these Japanese chocolates stashed in your suitcase.
I've listed them in alphabetical order.
Just in case you are wondering, my favourite Japanese chocolate is MILK CHOCOLATE CRUNKY BALLS.
Here they are from A-Z:
Anpanman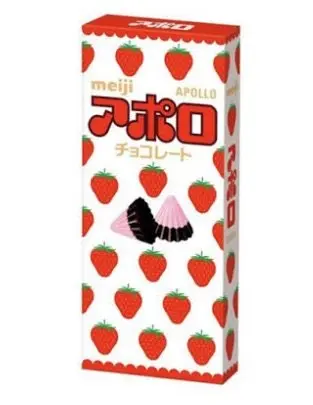 Apollo Chocolate by Meiji
Chocolate strawberry flavor.
Cutest Japanese chocolate snack around. Buy now.
Bake Chocolate filled baked brownie cake.
Also available in Mint Ice Cream, Strawberry, Green Tea, and Creamy Cheesecake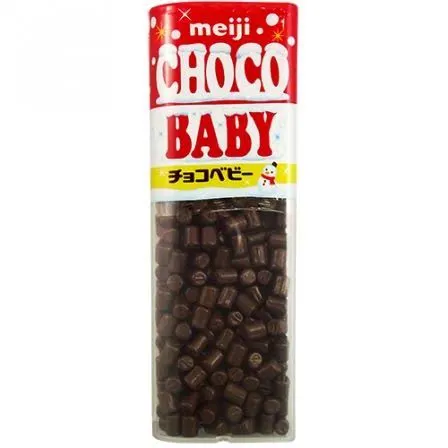 Choco Baby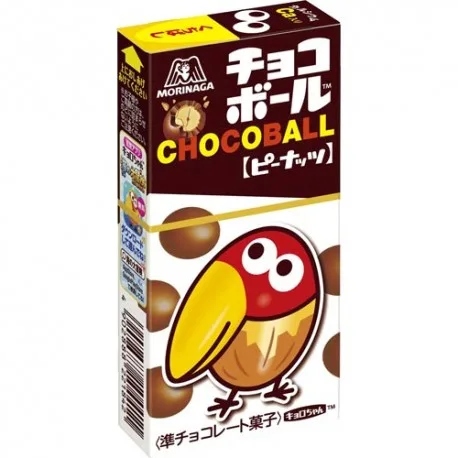 Choco Ball by Morinaga
Featuring the mascot Kyoro-chan on the packaging.
In flavors including Caramel, Peanut, Milk Caramel, Strawberry, White Milk and Chocolate
Crunky balls
Available in milk chocolate, dark chocolate, strawberry, green tea chocolate and green tea cookie chocolate
Galbo chocolate minis
Available in regular, salty caramel, soy milk and kinako, soy milk green tea, strawberry and white chocolate flavors
Meiji Filled Cookies
In rich orange, rich strawberry, and rich green tea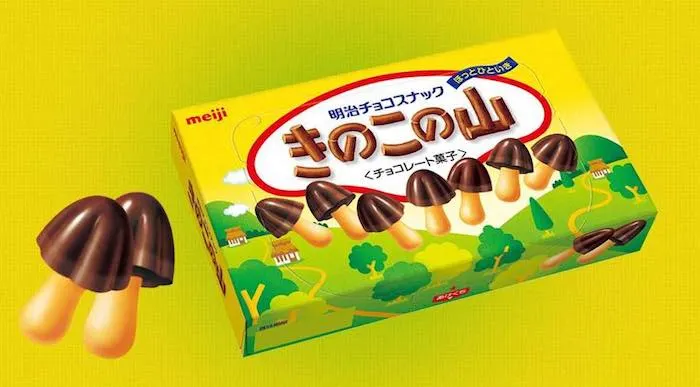 Kinoko no Yama biscuits
Takenoko no Sato biscuits
Meiji's chocolate snack – chocolate topped snack shaped like bamboo shoots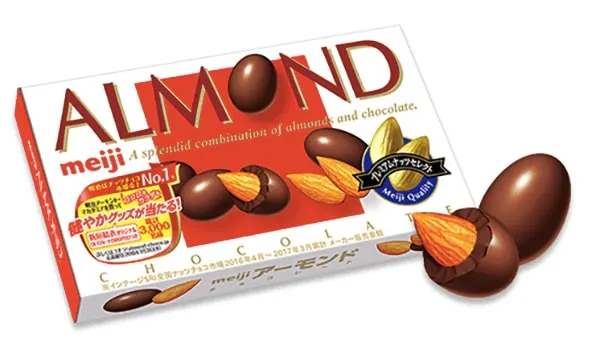 Meiji Almond Chocolate
MILKY Chocolate bar
Delicious with a milk cream filling.
Look for the cute Peko-chan girl on the packaging.
Mochi Chocolate
Mochi chocolate is available in these flavors:
strawberry
kuromitsu kinako
mint ice cream
rich ganache
green tea matcha, and
There's a special collaboration with the Gudetama character in Caramel pudding flavor too!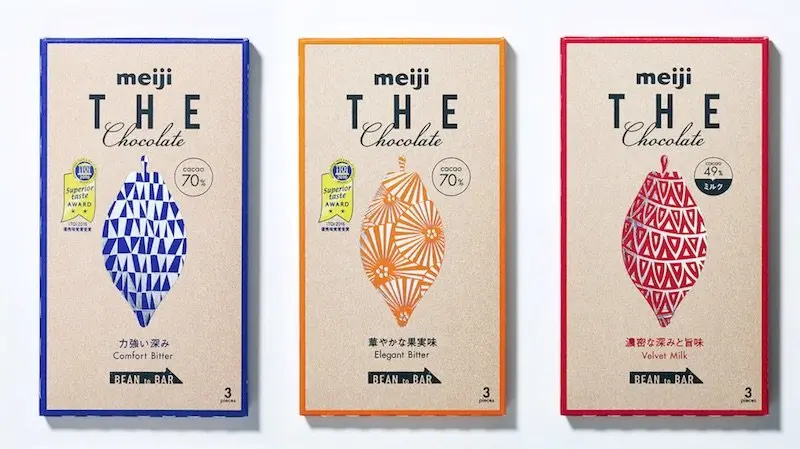 Japanese Chocolate Bars
A special mention must go to Japanese chocolate.
Japanese chocolate is remarkably different in taste to Hershey's or Cadbury chocolate, and the kids love it.
Try one of these for starters:
Dars chocolate bars in all the flavors
Crunky milk chocolate bar (also in strawberry and vanilla ice cream)
The original Meiji Milk Chocolate bar in the distinctive brown card and gold foil packaging
Meiji THE chocolates.
Royce chocolate. One of the most popular chocolates in Japan.
In our guide to Japanese chocolate below, we tell you all the secret stuff about:
where to buy chocolates in Tokyo
recommendations for the best chocolate in Tokyo for kids, and
share details on where to buy Royce chocolate in Tokyo.
READ NOW: Roam the Gnome's Guide to the Best Japanese Chocolate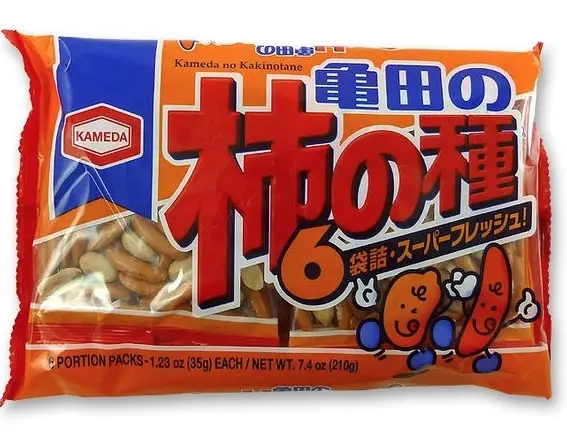 No.7: CRUNCHY JAPANESE CRACKERS
Japanese crackers made from rice are called beika.
If you are gluten free, or coeliac, be aware that not all Japanese crackers are made from rice.
Some are made from wheat flour or barley flour.
Are Japanese rice cracker snacks healthy?
Some are better than others.
The best Japanese rice crackers are Senbei.
Senbei are best straight off the grill if you can find them (try a festival or Japanese food hall for starters, or head to Asakusa)
You can also find packaged versions in all Japanese department stores in a sizeable array of shapes, sizes, and flavors.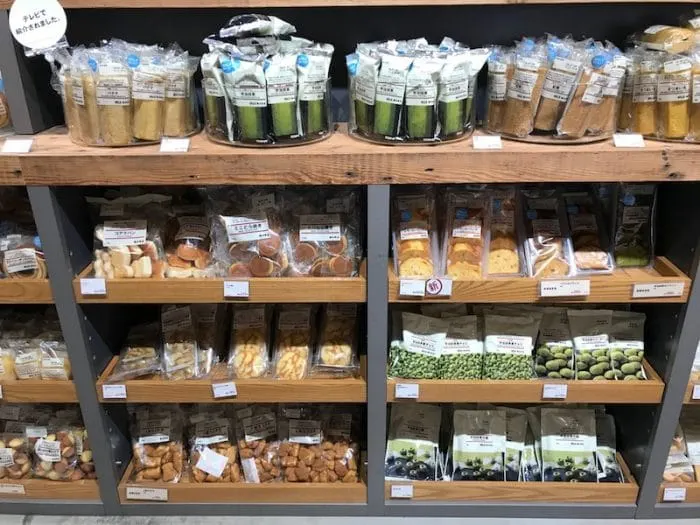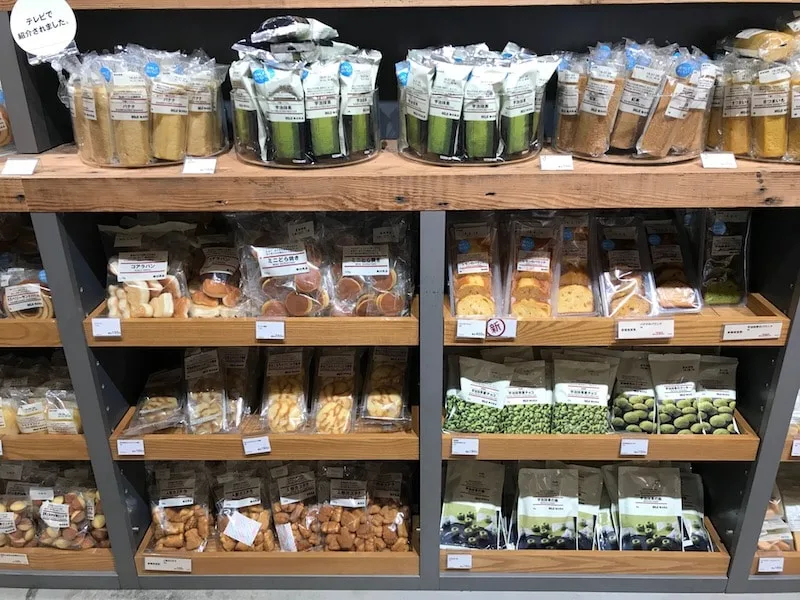 Muji Shibuya Grocery Store
Muji in Shibuya has an enormous selection of Japanese rice crackers and traditional Japanese sweets.
Muji shop should be top of your list of shops to visit in Tokyo.
MUJI TOKYO in Shibuya is 5 storeys of Japanese simplicity and elegance, perfect for anyone who loves Japanese design.
The Muji Food Hall on the B1F level is a must-do.
But we digress.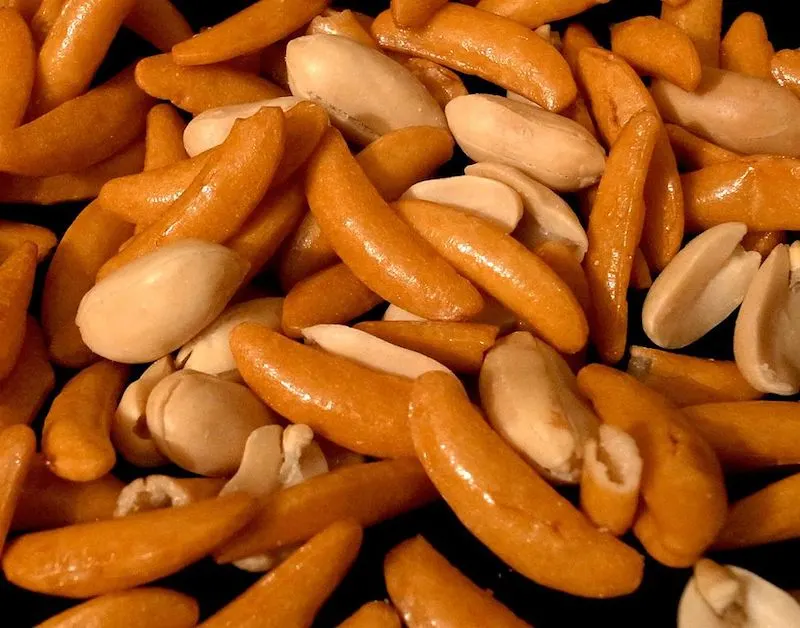 Image credit: Nesnad via Creative Commons 3.0
Most popular Japanese rice crackers to buy in Japan
The most popular Japanese rice crackers to buy in Japan include:
Kaki no Tane rice crackers
Hai Hain rice crackers
Pota Pota-Yaki
Usuyaki rice cracker
Tsu no Edamame rice crackers
See below for details.
Kaki no Tane rice crackers
Kaki no Tane rice crackers (pictured above) are made by Kameda.
My kids like the original version – a mix of crackers and peanuts, but why not try the Wasabi flavored version of this all-time Japanese classic?
---
Buy now on Amazon: Original Kaki no Tane – 6 pack

Hai Hain rice crackers.
The best rice cracker in Japan for children, and very popular among Japanese parents, because they are made as a safe treat that won't trigger allergies.
Two flavors are available:
the classic plain one, and
the vegetable version flavored with pumpkin, tomato, carrot and spinach.
---
Buy now on Amazon: Hai Hain rice crackers – vegetable flavor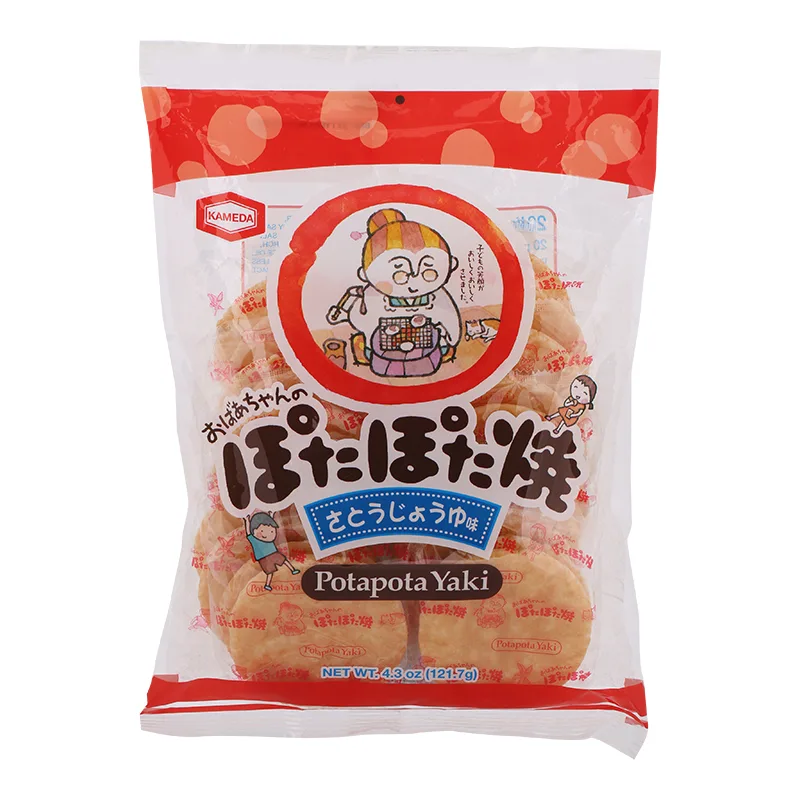 Pota Pota-Yaki
Pota Pota-Yaki continue to be a best seller in Japan.
Families love them.
Children love them.
Adults love them.
These chemical-free crunchy rice crackers taste of sweet soy sauce.
You can't get enough.
The only downside is that they come individually wrapped in plastic and we try to avoid that wherever possible.
---
Buy now on Amazon: Pota PotaYaki – pack of 2
Usuyaki rice cracker
At home, my boys LIVE on seaweed crackers and the Usuyaki rice cracker by Sarada is about as close as we can find in Japan.
We bring these home to eat with brie and dip.
Tsu no Edamame rice crackers
If you love edamame green soybeans, the Tsu no Edamame rice cracker snack is the next best thing.
Crunchy and slightly salty, they are good as a travel snack on the go.
Wondering where to buy Japanese rice crackers?
Hot tip: See the list of Japanese snacks shops below.
No.8: JAPANESE BISCUITS
These are my top recommended Japanese souvenirs, and top of our list of the best Japanese snacks to bring home.
NO ONE can resist a cute koala or panda biscuit filled with choco creme!
Koala's March biscuits (Koala no March)
Koala no March – the Japanese term for them meaning the Koala's March – are the cutest bite-sized Koala-shaped cookie snack.
The original Japanese biscuits are filled with milk chocolate but you can now buy them in:
cocoa and milk
cream pudding, and
strawberry chocolate flavor too.
They are almost too cute to eat!
Look for the distinctive hexagon shaped packaging in green and yellow.
---
Buy now on Amazon: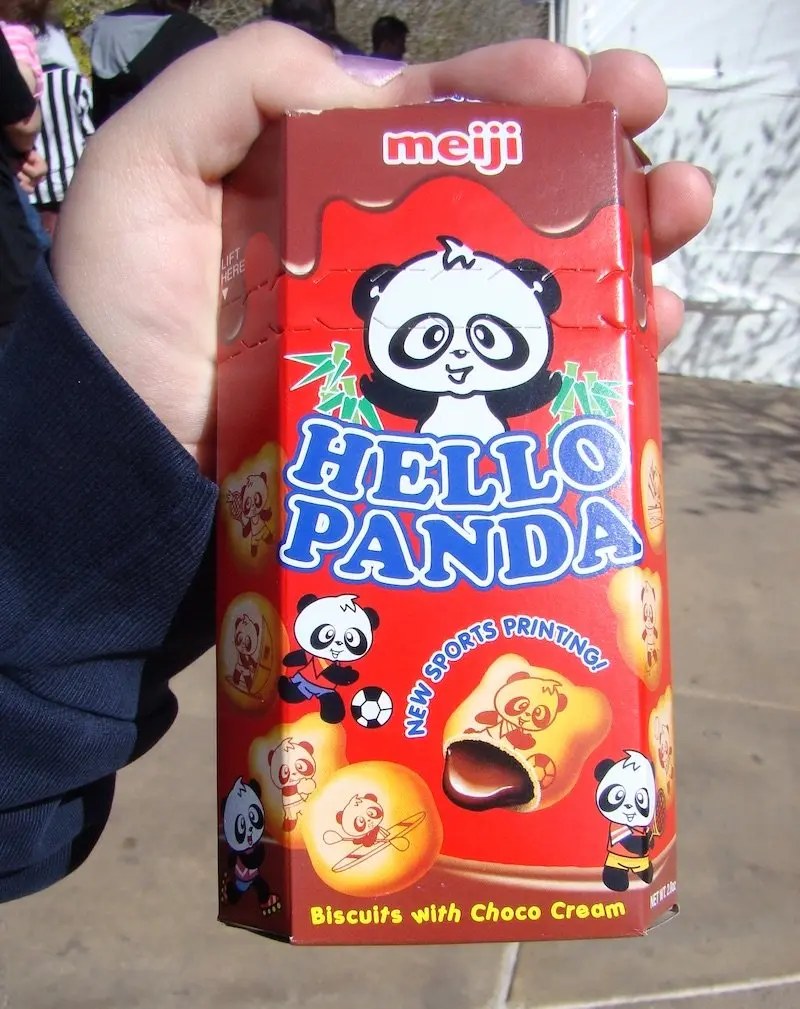 Image credit: Merle Tsuki via Flickr CC BY-ND 2.0
Hello Panda Cookies
This brand of Japanese biscuit, manufactured by Meiji Seika.
Each biscuit consists of a small hollow shortbread layer, filled with either:
vanilla
double chocolate
matcha green tea or
chocolate filling.
Packets can also be bought containing a mixture of flavours.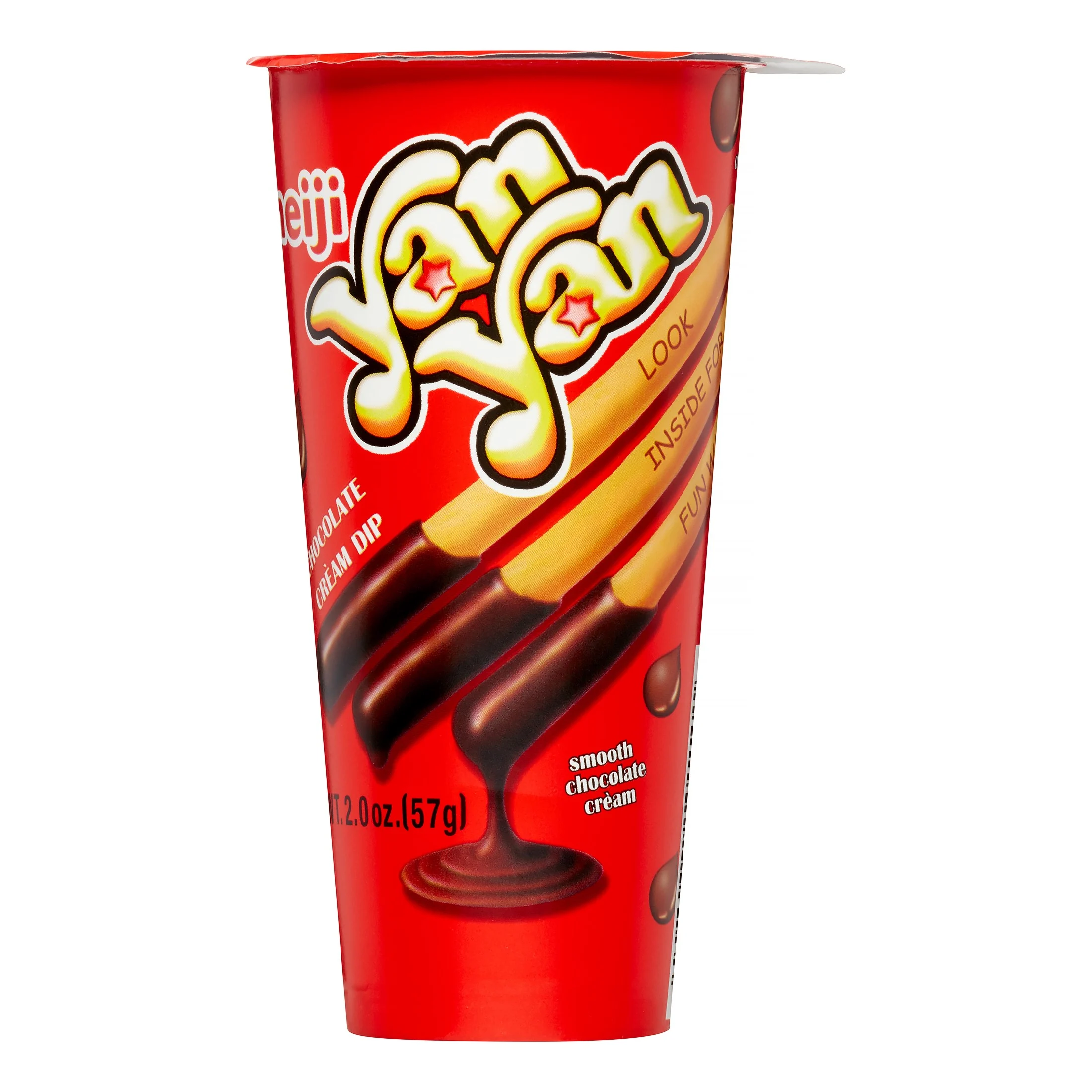 Yan Yan Japanese snack food made by Meiji Seika.
We are lucky enough to find this Japanese snack in our local supermarket at home.
A Yan Yan snack has biscuit sticks on one side of the container, and a sweet frosting dip for the sticks on the other.
The dip comes in chocolate, strawberry, and vanilla.
Buy now on Amazon: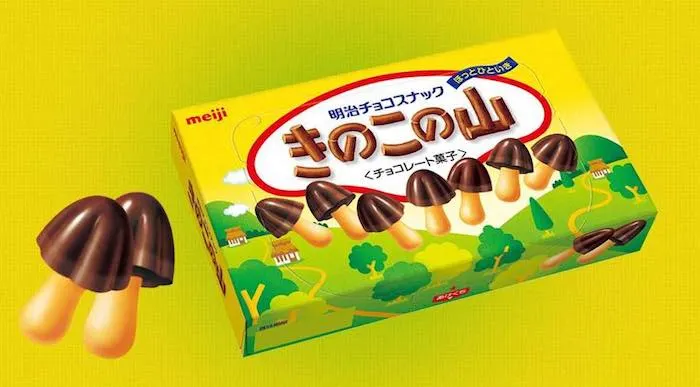 Kinoko no Yama biscuits
A special mention must again go to Roam the Gnome's favourite Japenese snacks are "Kinoko no Yama" because they are toadstool shaped!
Kinoko no Yama means 'mushroom mountain'
The biscuit is milk chocolate-dipped on the toadstool cap and has a plain biscuit for the stem. Keep a look out for regional versions in quirky flavors.
You can also find chocolate cookies shaped like bamboo shoots. These Takenoko no Sato are made by the same company.
Buy now on Amazon: Kinoko no Yama cookies – 3 pack
Melon Pan cookies
Cute melon-flavored cookies that kids love.
Puku Puku Tai Chocolate Wafers
These fish-shaped wafer biscuits come in Caramel chocolate, Mint chocolate, Strawberry and Milk chocolate flavors.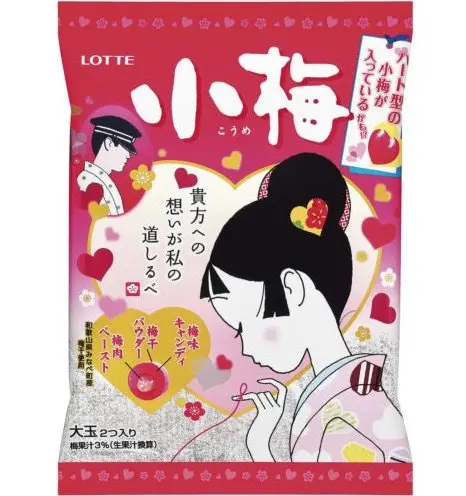 No.9: JAPANESE CANDY
There are so many Japanese candies that we wrote a whole story about popular Japanese candy.
We feature the best candy in Japan, including the current fad, DIY candy kits
(Also called Popin' Cookin' Japanese candy kits).
Japanese candy & gummy lollies should be in your Top 10 things to buy in Tokyo.
---
READ NOW: Roam the Gnome's Ultimate Guide to the Best Japanese Candy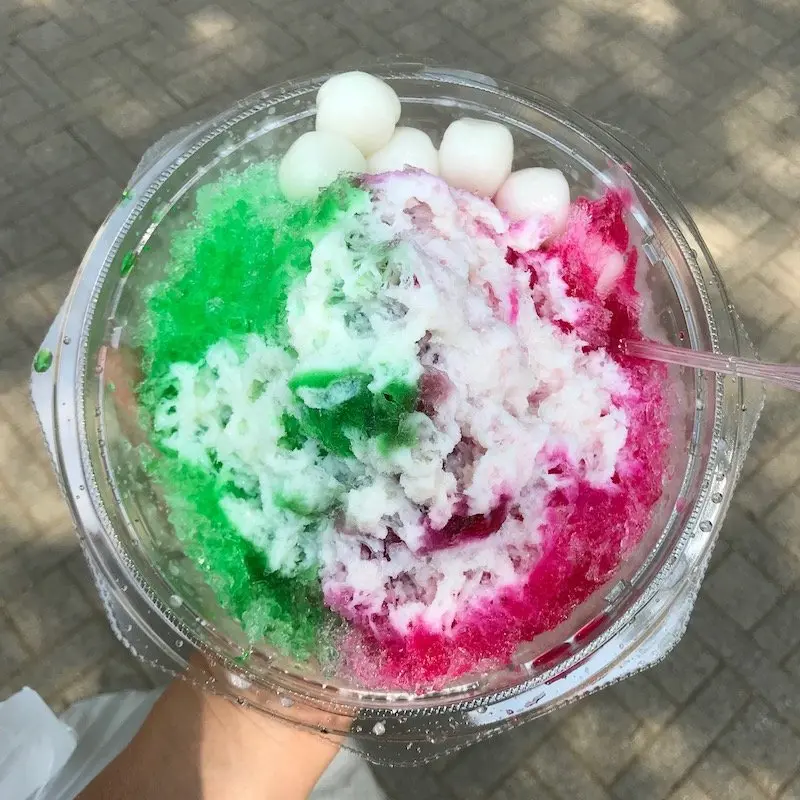 NO.10: JAPANESE ICE CREAM
Put THESE Japanese ice creams on your foodie bucket list and try them at least once.
Kakigori (pictured above) is a Japanese shaved ice dessert flavored with sickly sweet syrup and a topping of condensed milk. SO good!
Green Tea ice cream, a perennial favourite for both locals and tourists visiting Japan.
Mochi ice cream, a Japanese medley of mochi sticky rice filled with flavored ice cream and frozen
---
RELATED: Try 50+ Japanese ice cream flavors at Ice Cream City, Namco Namja Town.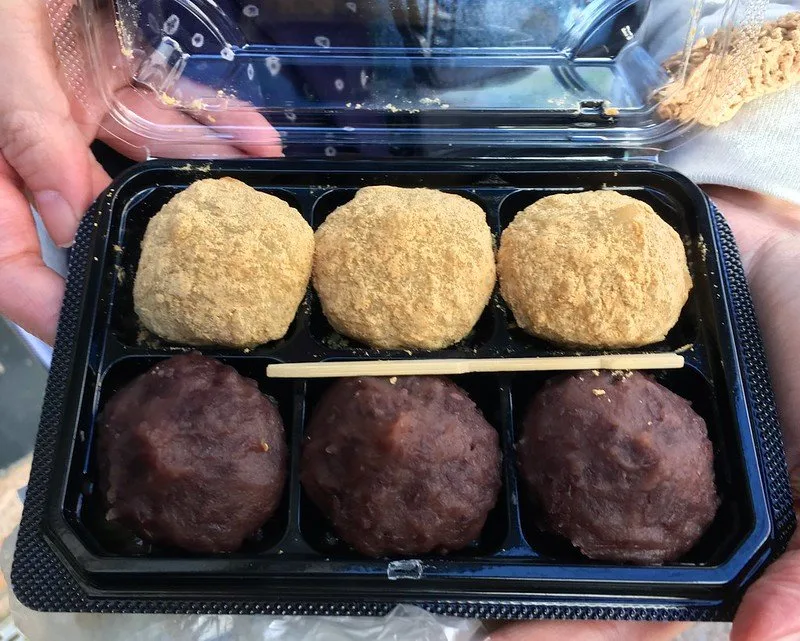 Image credit: Pete Birkinshaw via Flickr CC BY-2.0
NO.11: JAPANESE DESSERTS & JAPANESE CAKES
Mochi Cake
Mochi Japanese snacks (often called Daifuku) is my all-time favourite dessert cake in the world.
I can't get enough of the chewy glutinous rice cakes normally filled with sweet red bean (azuki beans), or rolled in sweet kinako roasted soybean flour.
Luckily for me, you can buy them in Family Mart every single day of the year.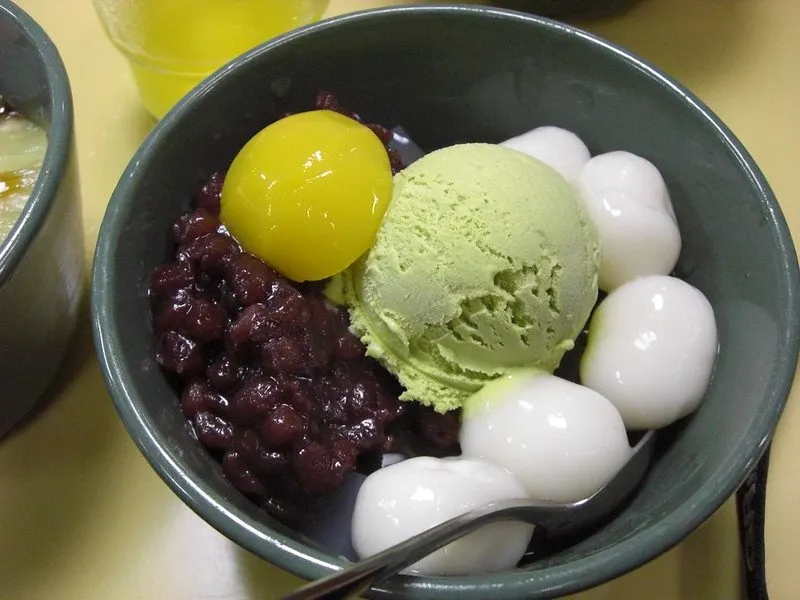 Image credit: Yumtan via Flickr CC BY-2.0
Anmitsu
A classic Japanese dessert featuring:
cubes of white colored jelly served with fruit
miniature mochi rice balls
ice cream and
a sweet syrup (my absolute favourite!)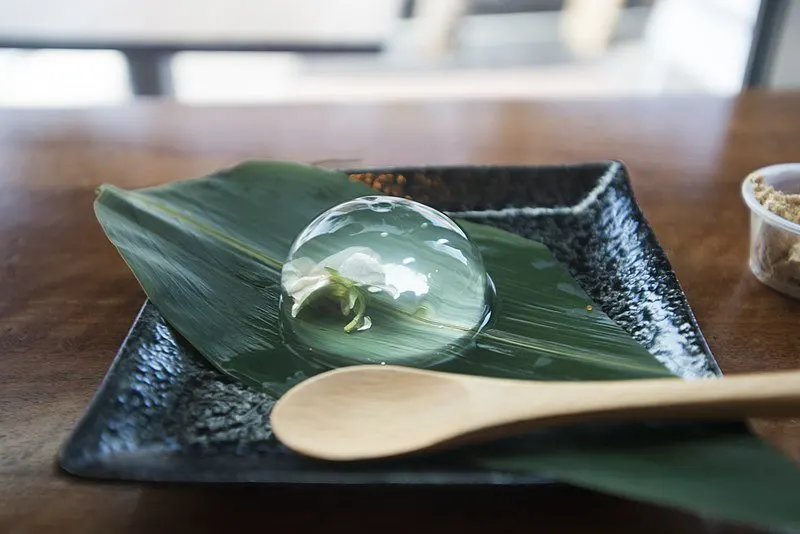 Image credit: Ty Night via Wikimedia CC BY-2.0
Japanese Raindrop cake
Looks like a giant raindrop that has landed on a plate!
Made from water and agar, these first caught the world's attention in 2014.
Both mochi and raindrop cakes are the perfect vegan snacks in Japan.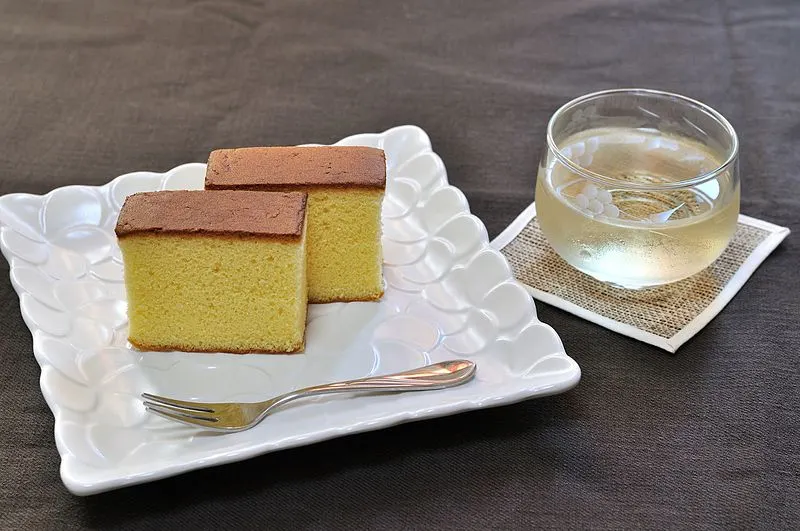 Image credit: OCDP via Wikimedia Public domain
Japanese Castella cake
Japanese version of sponge cake.
Not to be missed.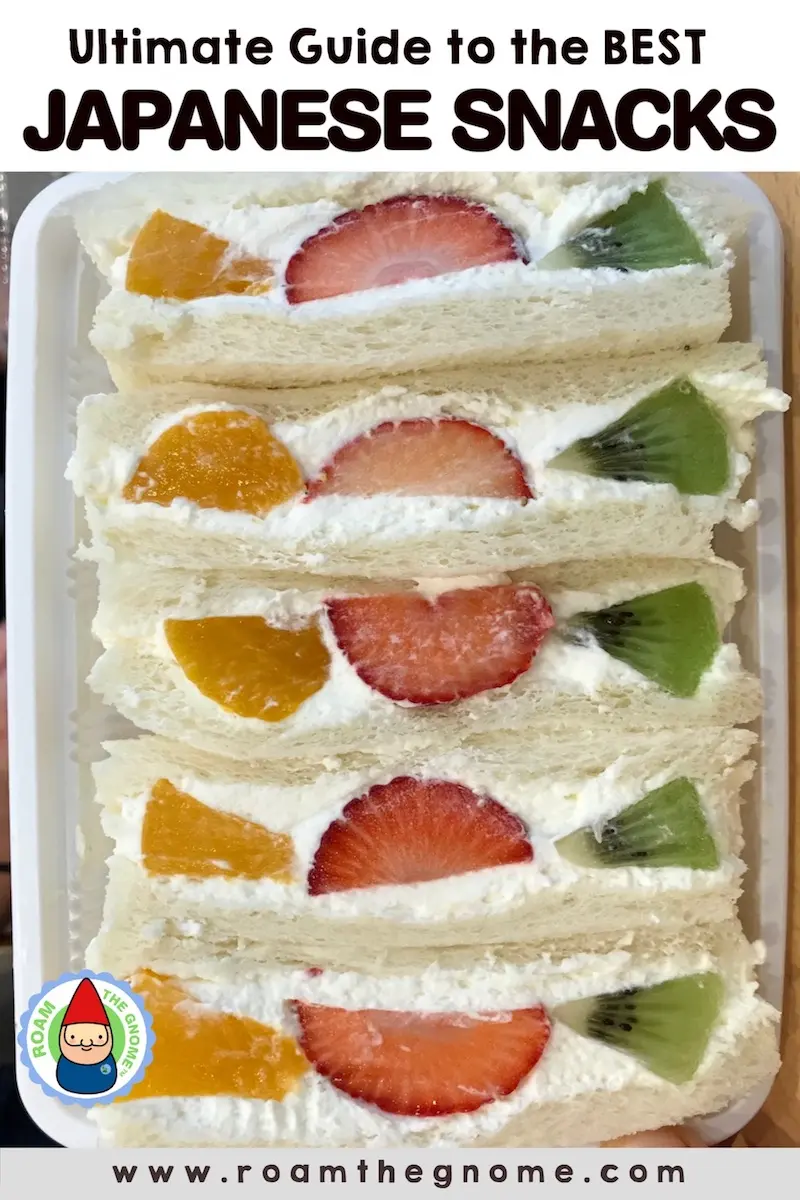 Japanese Fruit Sandwiches ("FURUTSU" Sandwiches)
Hunt down this funny but popular Japanese snack!
A fruit sandwich is crust-free slices of Japanese white milk bread (shokupan) that are filled with whipped cream topped with fresh fruits and stuck together.
Common fruit sandwich fillings include:
strawberry
kiwi fruit
peaches
mango
banana and
mandarin
Shokupan is a white square bread.
Coffee jelly
Another Japanese favourite with adults and teens alike.
You can even buy instant packets in the supermarket to make at home.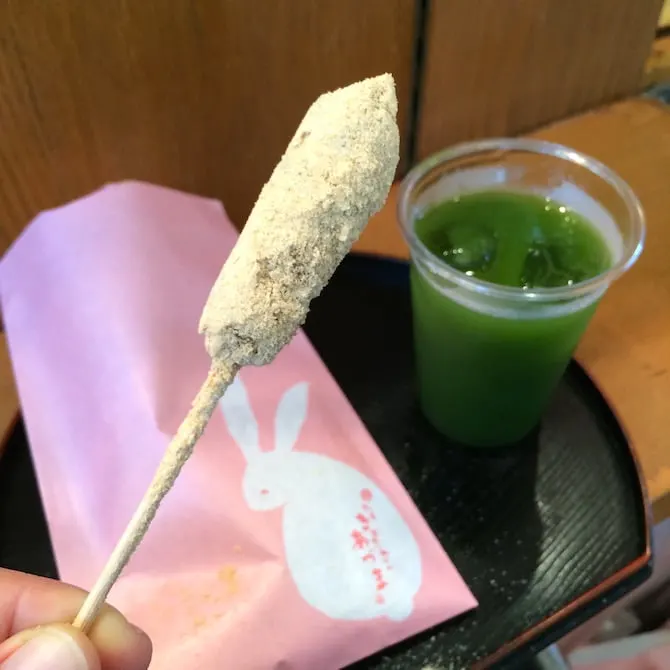 Kibi Dango
Mochi on a stick, covered in kinako powder and served with sweetened cold green tea.
I never ever visit Japan without a stop at my favourite street food stall selling dango in Asakusa.
(It's number 5 on the list of the best 16 awesome things to do in Asakusa with kids)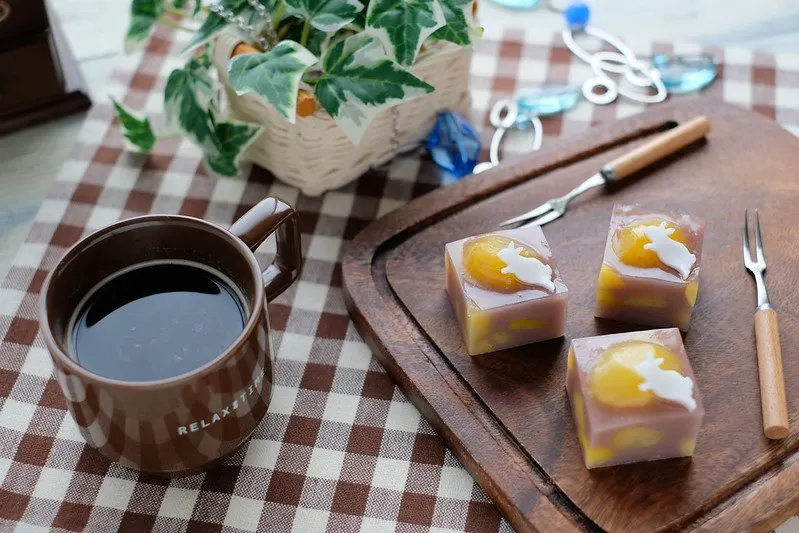 Image credit: Hinata via Flickr CC BY-2.0
No.12: WAGASHI JAPANESE SWEETS served with green tea
Wagashi sweets are as good to look at as they are to eat.
These traditional Japanese snacks are shaped by hand into delicate flowers and leaves, squares of goodness, balls or peachy domes.
Many of them are filled with sweet red bean paste.
Wagashi Japanese snacks are a delicacy enjoyed at a traditional green tea ceremony in Japan, during festivals, and as something to share with visitors to your home at afternoon tea.
Japanese people love to take gift boxes of regional and seasonal wagashi home to their family and friends as a token of their trip.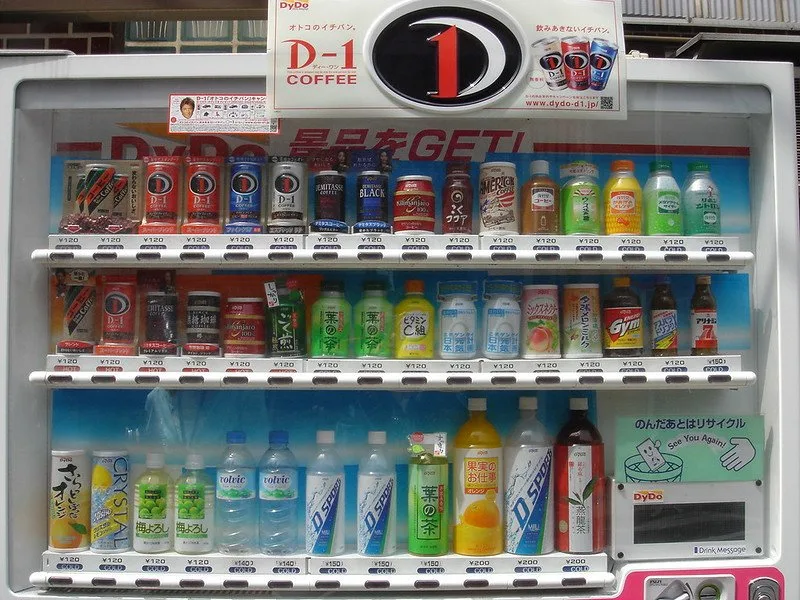 Image credit: Ayako via Flickr CC BY-2.0
No.13: JAPANESE DRINKS
My favourite drink in Japan is, without doubt, Royal Milk Tea.
Hot or cold, it's the best drink in Japan.
I'm chuffed you can now buy Royal Milk Instant Tea Mix in sachets to take home, 10 servings in a bag.
Japan is the home of the biggest range of drinks we've ever seen, and we're on a mission to taste all the flavors.
We love the drinks range in Japan so much, I wrote a story about it!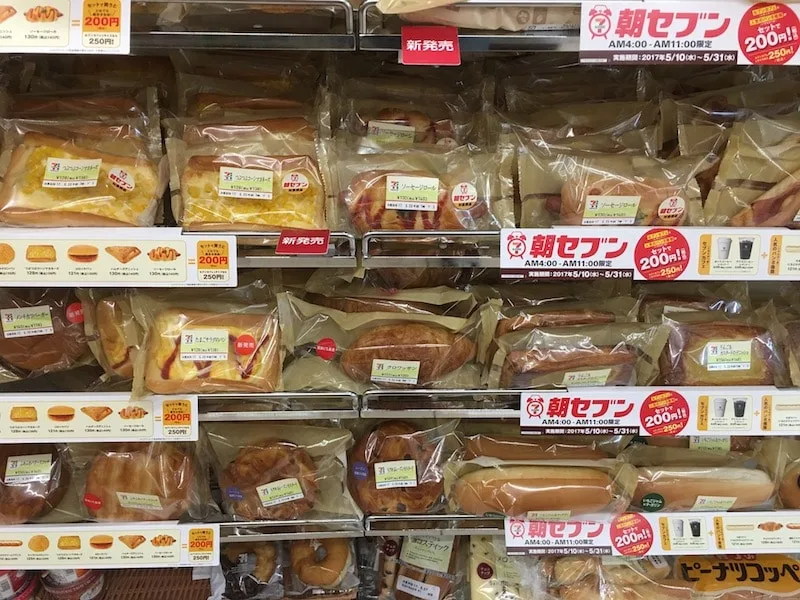 No. 14 JAPANESE CONVENIENCE STORE BAKERY GOODS
There's a very popular food in Family Mart in the bakery section for a snack on the go.
Canned Corn & Mayonnaise Sandwiches.
But it's definitely a Japanese thing.
I can't see these cheap Japanese snacks catching on anywhere else.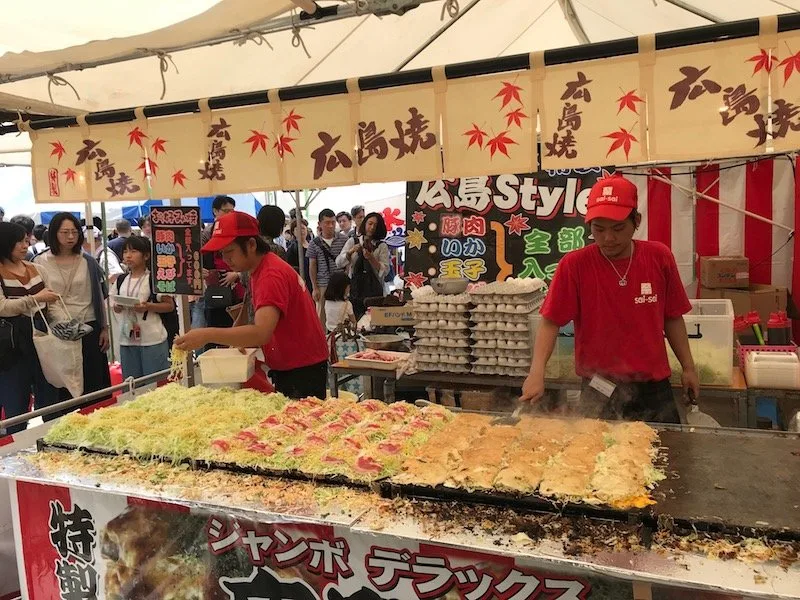 NO.15: JAPANESE STREET FOOD SNACKS
We've compiled a BIG list of the best Japanese street food and traditional Japanese snacks you can try at Japanese festivals and events.
You might find:
Yakisoba
Okonomiyaki pancakes
yakitori chicken skewers
Japanese crepes
Find yummy Japanese crepe shops throughout Harajuku, and for sale all good fairs, and fetes.
But there's so much more.
Read our guide to healthy Japanese snacks by clicking the blue link above.

FREQUENTLY ASKED QUESTIONS
No.1: The Best Japanese Snack Companies?
These are the best and most popular Japanese snack companies.
If you want to find out about their latest Japanese snacks releases, their best Japanese snacks to buy, and their must have Japanese snacks, visit their websites.
Calbee
Glico
Kameda Seika
Koikeya
Kuriyama Beika
Lotte
Meiji
Morinaga
Tohato
Yamayoshi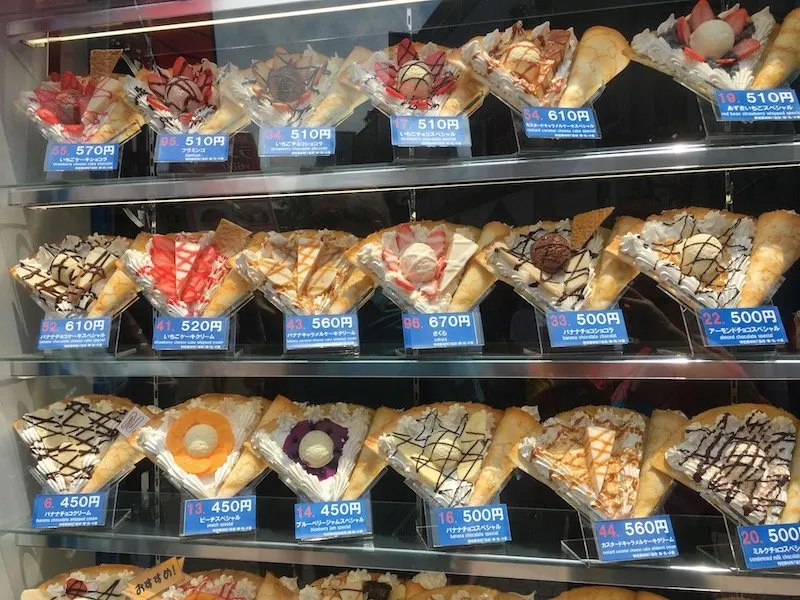 No.2: Are Japanese Snacks Healthy?
Are Japanese snacks healthy?
Yes and No.
Savory Japanese street food snacks, by and large, are good for you.
The Japanese candy, desserts and chocolate not so much.
No.3: Do Japanese like snacks?
Yes, as much as we do.
But they are probably better at limiting their intake!
Do Japanese eat snacks?
Yes, teenagers especially.
I've seen inside many a Japanese home stay students' suitcase, and can confirm that they bring a stash of their favourite Japanese snacks with them so they don't get homesick.
My Japanese friend Mari makes a lot of her own Japanese snacks now she can't buy them so easily.
No.4: What are Japanese snacks names?
The word for snack in Japanese is "sunakku (snack)" or "oyatsu".
The word dagashi also stands for children's snacks.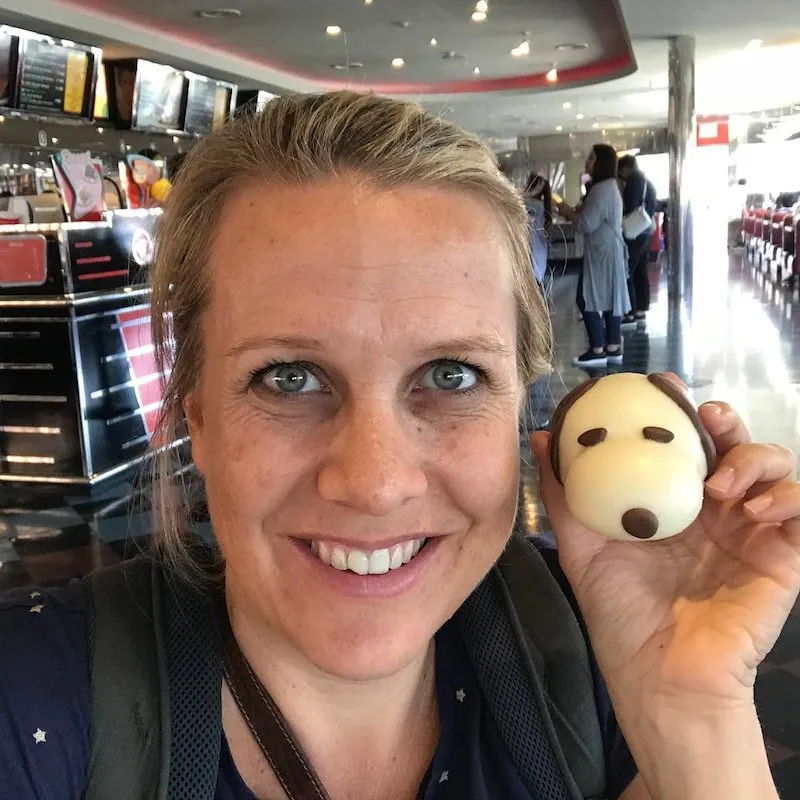 Foodie snacks at Universal Studios in Osaka
WHERE TO BUY JAPANESE SNACKS IN TOKYO
Now you've got the big list of the best Japanese snacks to buy in Japan, you need to know where to buy snacks in Tokyo.
You'll find a range of delicious Japanese snacks at all these shops:
Japanese convenience store Family Mart Japan snacks
Lawson Konbini store
7-Eleven convenience store
Depachika Department Store Food Halls
The best Tokyo Station snacks shop is Tokyo Okashi Land Calbee store (linked above) where you can eat delicious Japanese snacks straight from the grill!
Another best place to buy Japanese snacks in Tokyo is in the big parks such as Ueno Park or Yoyogi Park near Harajuku during Japanese festivals.
You can also find Japanese snacks souvenir and candy stalls:
outside the Ueno Zoo
at Japanese theme parks such as Tokyo Disneyland, Tokyo Disney Sea, and Universal Studios in Osaka
at any place where Japanese people gather for a picnic, or to take the children to the playground.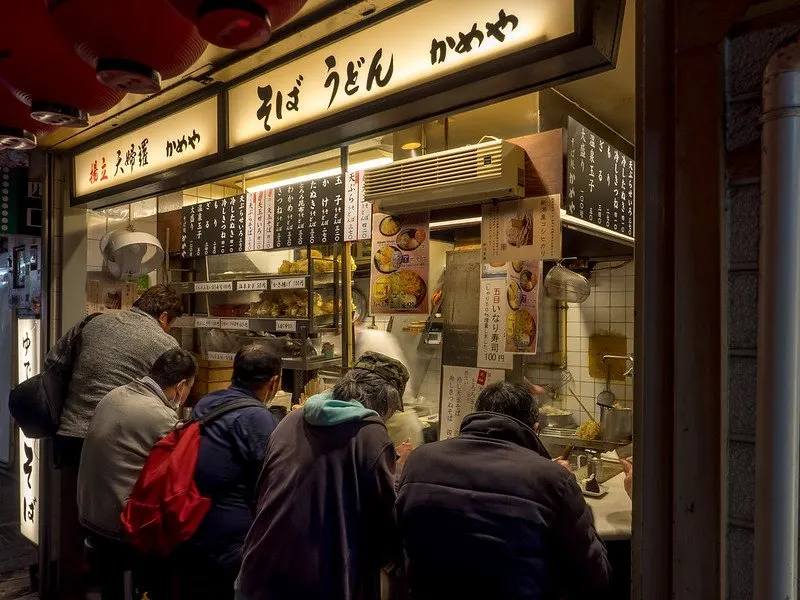 Image credit: Ajay Suresh via Flickr CC BY-2.0
Where to buy Japanese snacks in Shinjuku?
Find freshly cooked Yakitori skewer snacks in the grossly named Piss Alley aka Omoide Yokocho, not far from the Shinjuku station.
Try Depachika food halls in any of the big Japanese department stores in Shinjuku to find yummy Japanese snacks including:
Taiyaki
Senbei crackers
Takoyaki octopus balls, and
Pocky sticks.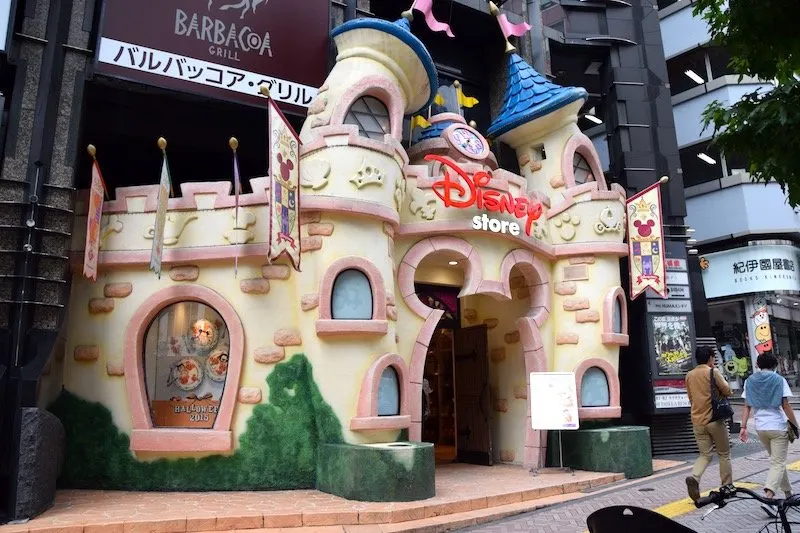 Where to buy Japanese snacks in Shibuya?
Head to the Shibuya Disney Store for cute Mickey mouse snacks and Duffy snacks too.
Muji in Shibuya has a wholesome grocery store on the B1F filled with cheap Japanese snacks galore!
Ditto Depachika above
Now you no longer have to wonder where to buy Japanese snacks in Tokyo but you do have to work out what is your favourite Japanese snack?
---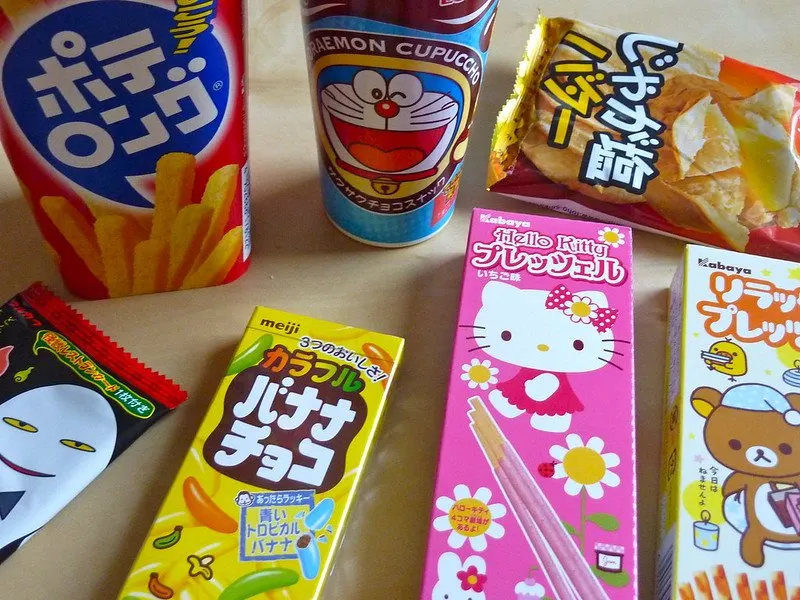 Image credit: Magnus D via Flickr CC BY-2.0
Order Japanese Snacks Subscription Box
Can't get to Japan in a hurry?
No problem.
If all this talk about Japanese snacks is already making your mouth water, order yourself a Japanese Snacks Subscription Box today.
This is the only way to guarantee Japanese snacks reach your home, and belly, regularly once a month!
There are plenty of Japanese snack box and Japanese candy box options where you can have Japanese treats delivered to your door.
They compile the must buy snacks in Japan each month, so you don't have to miss out on Japanese snack food.
These are cool Japanese snacks to buy!
READ MORE: Roam the Gnome's Guide to the Best Japanese Subscription Box options for Japanese candy and snacks. (coming soon!)
Toadstool rating: Good Japanese snacks
Correct at time of publication on Roam the Gnome. Please check with venues for updates. We apologise in advance if there have been any changes we are unaware of. All prices in US dollars, unless otherwise stated
Japanese snacks are the best snacks in the world.

Looking for More Shopping in Tokyo ?
Click the links in blue below for more Tokyo attractions.