INSIDE: The Complete Guide to Buying Japanese Art Supplies with a list of the best shops in Tokyo.
If you are an artist, manga comic illustrator, designer, creative, illustrator or hobbyist in Tokyo, you need to keep this list of Tokyo art supplies shops handy.
These are the best shops to visit for Japanese art supplies and and the best Japanese art brands.
It's the complete guide to shopping for art supplies in Tokyo.
Hot tip: Fill your wallet.
If you thought shopping for art supplies at home was fun, then this will blow your mind.
Shopping in Tokyo for Japanese art supplies when you are an artist, designer, creator, maker or hobbyist is next level excitement!
Take a look below for details.
Disclosure: This article contains affiliate links. If you make a purchase after clicking on one of these links, we may receive a small commission at NO extra cost to you.
Shopping in Tokyo at the Best Japanese Art Supplies Store
The first question is: what type of artist are you, and what art supplies do you normally use?
The second question is: what kind of art supplies are available in Japan?
The third question is: what art supply stores in Tokyo offer art workshops too?
With those three questions answered, you can pinpoint the best shops in Tokyo to visit on your Tokyo itinerary.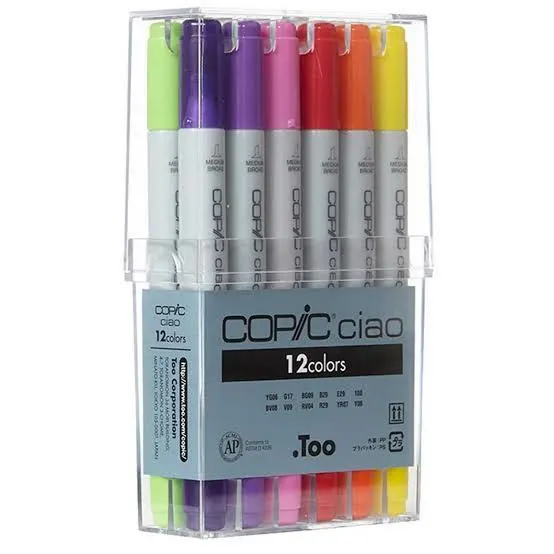 Top 10 Japanese Art Supplies & More!
Correct at time of publication on Roam the Gnome. Please check with venue for updates. We apologise in advance if there have been any changes we are unaware of. All prices in AUD dollars, unless otherwise stated
For starters, Japanese art tools to look for in a Japanese art store include:
Japanese art brushes and Japanese paint brushes (a Japanese paint brush is one of those must-have things)
Japanese painting supplies
Japanese ink brush & Japanese ink painting supplies
Manga art supplies and comic art supplies including the world famous COPIC markers!
Japanese printmaking supplies
Japanese paper and origami supplies
Japanese art materials including quality paper, visual diaries, and journals
Japanese ceramic supplies and clay
Japanese brush art pens & Japanese brush painting supplies
Japanese calligraphy supplies
Japanese art pens
Artist pigments and art materials
Artist supplies for Japanese wood block printing, and hand carved stamping
Japanese washi tape
---
RELATED: The BEST Stationery Stores in Tokyo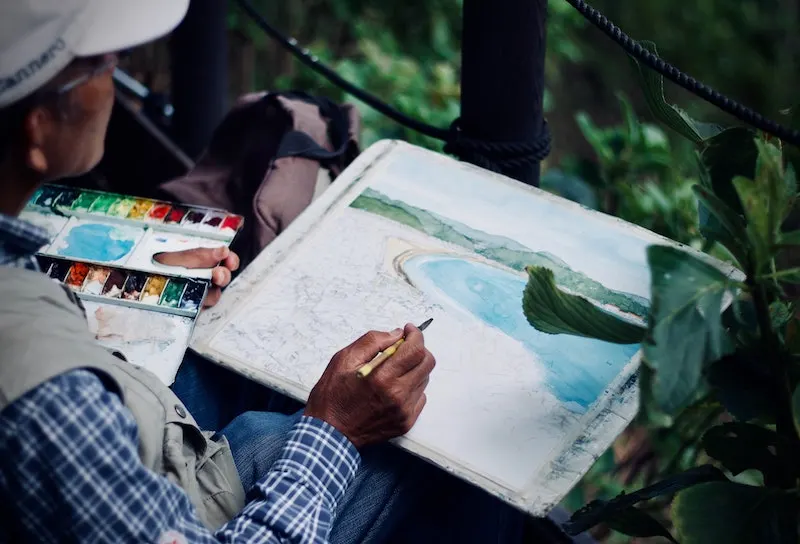 Image credit: Jelleke Vanooteghem via Unsplash
Where to Buy Japanese Art Supplies in Tokyo?
This is a general list of the best art shops in Tokyo selling a broad range of Tokyo art supplies for all kinds of artists.
Start here.
Before you go, be sure to write down a few of these tips from this guide: The best candies from Japan
You'll need it to give you energy for these Japanese art supply shopping trips!
Image credit: Kakimori
No.1: Kakimori Japan Art Store
Kakimori is the place to purchase a customised notebook where you choose:
your binder ring colors
notepapers
fasteners, and
cover design.
Choose your arts supplies, then the staff will make it right in front of you!
The whole process takes about 20-30 minutes.
Prices in this Japan art shop range from 1'000 yen to 3'500 yen.
They stock all kinds of pens.
fountain pens
ballpoint pens
refillable ball point pens
pencils
pen cases
jetpens
You are invited to try before you buy at Kakimori Tokyo art store.
Kakimori also home to well made stationery items, including:
business card holders
hand crafted notebooks
letter writing sets
envelopes, and
gift cards.
Kakimori art supply store is in Kuramae Tokyo.
Kuramae is the home of many, many artisans and craftspeople in Tokyo, and can be found between Asakusa and Tokyo Skytree.
THE INSIDE SCOOP: Kakimori Tokyo
Address:1-6-2, Misuji, Taito, Tokyo, Japan 1110055
Access: Click here for a map.
8 minutes by foot from the A1 Exit of the Kuramae Station on the Asakusa Line.
10 minutes by foot from West Exit of the Asakusabashi Station on the JR Line.»
Opening hours: 11am to 7pm daily. Closed Mondays. Open on public holidays.
URL: Click here for website (English)
Workshops: N/A

Image credit: Inkstand
No.2: Inkstand by Kakimori Japan Art Supplies
Inkstand is the place in Japan to purchase your very own fountain pen ink colour, specially designed just for you and your personality and mood.
Inkstand came from the idea that "everyone should have a color that truly represents them"
Ink samples are prepared drop by drop, allowing you to mix your way towards the color that matches your mood perfectly.
With each drop, your personal ink adds to the joy of writing and expressing yourself on paper..
Inkstand's greatest wish is that everyone will share the enjoyment that comes from bringing a sense of color into your daily life.
THE INSIDE SCOOP: Kakimori Inkstand Tokyo
Address:4–20–12 Kuramae' Taito' Tokyo' Japan zip.111–0051
Access:
3 minutes by foot from the A0 Exit of the Kuramae Station on the Asakusa Line.
5 minutes by foot from the A5 Exit of the Kuramae Station on the Oedo Line.
Opening hours: 11:00am–7:00pm. Closed on Mondays (open on public holidays)
URL:Click here
Workshops: Book your Reservation HERE to make your own Japanese ink colour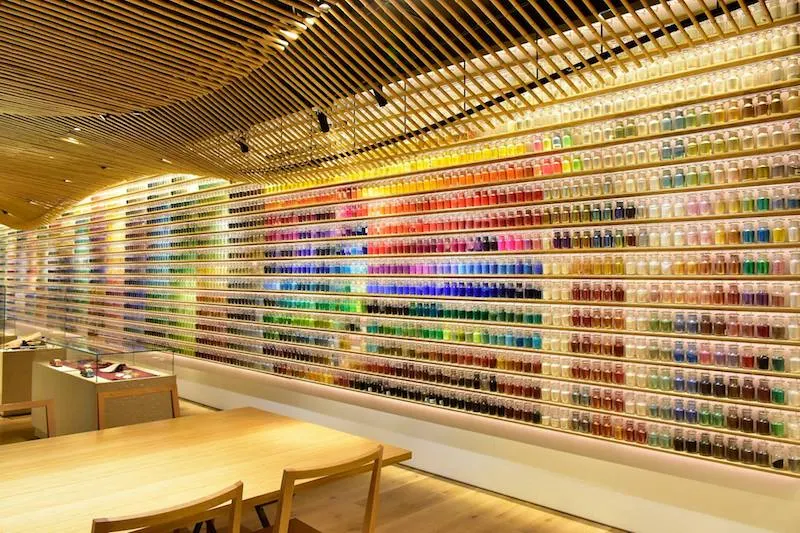 Image credit: Pigment Tokyo Lab
No.3: Pigment Store Tokyo – The Famous Japanese Art Store!
PIGMENT Tokyo Lab (pronounced as in the French, pīgmōn) is a laboratory for exploring "expression in color and materials" as well as an academy, a museum, and a store.
It's a comprehensive facility for creativity!
All the pigments are displayed in the glass jars and there are more than 4500 choices of colors here.
To buy artist pigments, you simply choose the color you like from the wall and the staff will measure as much you want from the jars, starting from 15 grams.
There are:
Shin-iwa (Artificial) Pigments
Natural Mineral Pigments
Earth Pigments
Suihi pigments
Effect Pigment
Kyojyo pigments
and more.
Image credit: David Davis via Flickr CC BY-ND 2.0
The Pigment store in Tokyo also stocks:
Painting canvases of canvas, silk, cotton
Washi paper
Sumi Ink sticks
Metal leaf, gold and silver pigments, coloured silver leaf
Oil paints, pigment paste, acrylic paints, watercolours, ink, tempera paste
Water or oil based resin paint supplies
Glues and adhesives
Japanese art books
Ink stones and pigment dishes
Japanese art brushes:
oil paint brushes
watercolour brushes
flat paint brushes
finger brushes (yubifude)
flat fog brushes
calligraphy brushes
Brushes to do detail line drawings:
Umpitsu drawing brushes
Mensofude fine brushes
Hirafude flat brushes
Saishiki-fudde coloring brushes
Kegaki-fude brushes
THE INSIDE SCOOP: Tokyo Pigment Lab Art Store Japan
Address:TERRADA Harbor One Bldg. 1F, 2-5-5 Higashi-Shinagawa, Shinagawa-ku, Tokyo 140-0002 JAPAN
Access:
About 3-minute walk from Tokyo Waterfront Area Rapid Transit Rinkai Line 'Tennozu Isle Station'
About 5-minute walk from Tokyo Monorail 'Tennoz Isle Station'
Opening hours: 11.30am to 7pm. Closed Mondays and Thursdays.
URL:Click here
Workshops: Yes. Click here for details. (You can book a private class too.)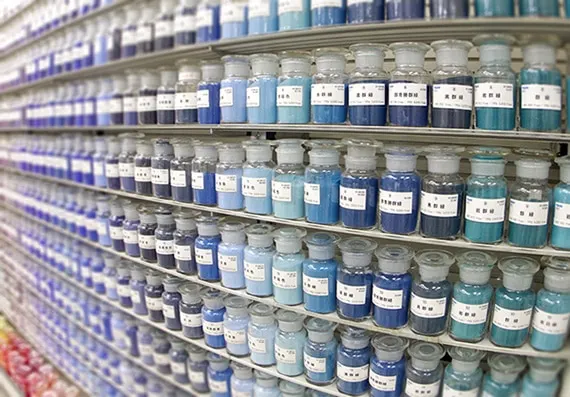 No.4: Uematsu Art Store in Japan
Uematsu art supply store in Shibuya is well established, having been in business for more than 85 years, with a full range of service painting materials that cater to anyone who loves to draw or paint.
Painters, artists, culture aficionados, drawing students, illustrators, designers, and amateur hobbyists in Japan know Uematsu very well.
Uematsu Japanese art supply store stocks:
water color painting supplies
acrylic painting supplies
oil painting supplies
environmentally friendly art supplies
They offer an extensive selection of art supplies Japan style, and friendly store clerks who are more than happy to help!
THE INSIDE SCOOP: Uematsu store
Address:2-chome 20-8 Shibuya, Shibuya-ku, Tokyo – Miya Masuzaka Rise Sona Bank
Access:Click here for a map
Opening hours: Mon-Sat: 10am – 7pm (Incl. public holidays). Closed on Sundays.
URL:Click here
Workshops: Yes, in-house painting classes. Email [email protected] for details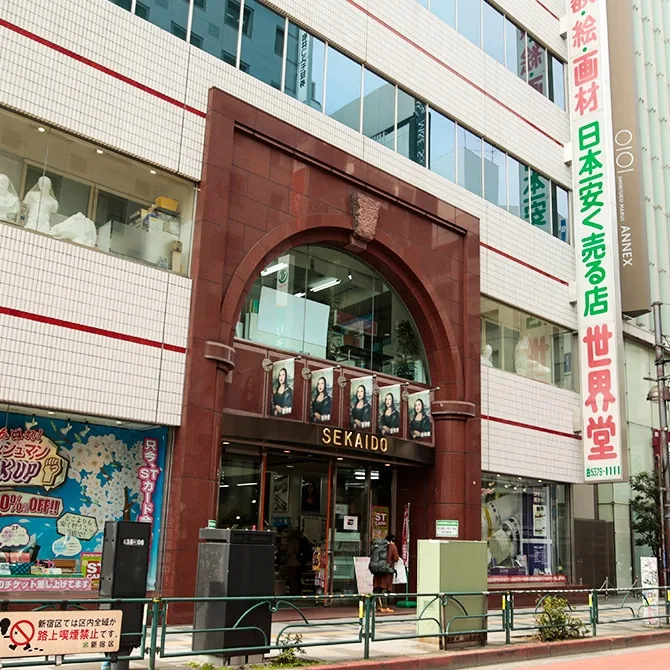 Image credit: Sekaido Shinjuku
No.5: Sekaido Japanese Art Supply Store Tokyo
Sekaido Art Store is the world biggest art store in Japan, with in excess of 100,000 art materials in stock!
Sekaido Japanese Art stores (and Japanese stationery shop) has two stores in Shinjuku, and there's also one in Machida, Ikebukuro, Kitaguci, Yokohama, and other parts of Japan too.
Sekaidou first opened in 1940!
The Sekaido Shinjuku stationery store stocks:
art supplies
stationery
paint
design and drafting supplies
frames
painting and poster boards
design supplies
comic manga supplies, and
modelling material.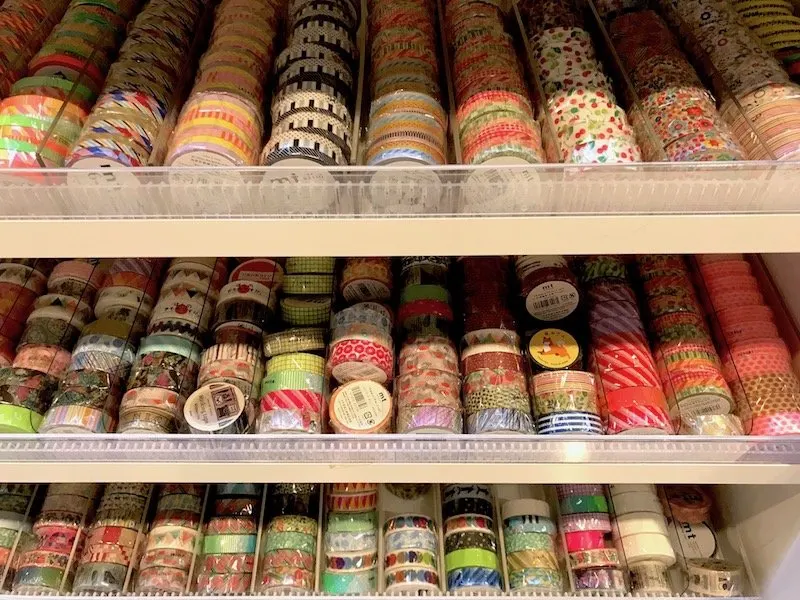 Here's a general guide to the Sekaido Shinjuku main store.
Here a guide to finding the art supplies from Japan in this store:
1st Floor
Japanese fountain pens and Japanese stationery including washi tape
2nd Floor
Japanese paper
drafting tools and paper
design and illustrator supplies
animation goods
model materials
art and design related books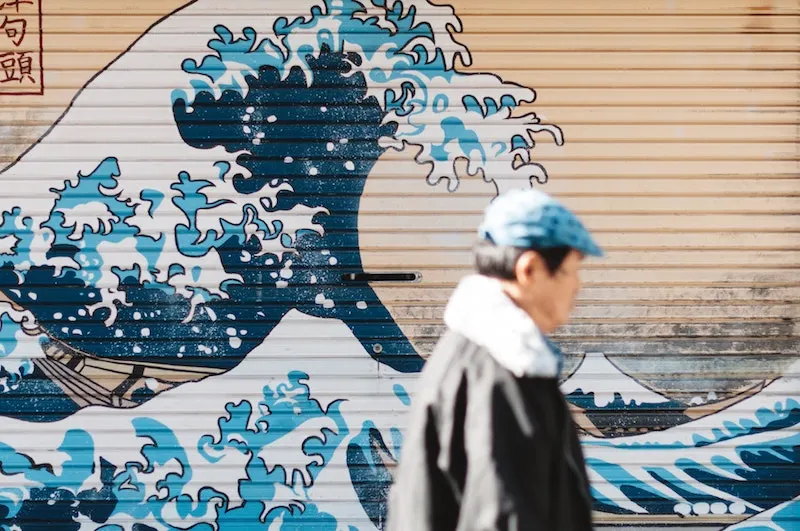 Image credit: Matthew Buchanan via Unsplash
Manga art supplies for beginners & experts!
It's also the go-to place for comics and manga art supplies.
3rd Floor
painting materials
Japanese painting supplies
Japanese woodblock printing supplies
modelling materials for hand cut stamping
materials for miniature clay making
easels
Japanese calligraphy supplies on the third floor
4th Floor
framing of artworks
purchase Japanese prints and Japanese artworks
5th Floor
THE INSIDE SCOOP: Sekaido Shinjuku main store
Address:3-1-1 Shinjuku, Shinjuku-ku, Tokyo 160-0022, Tokyo 3-1-1 World hall building 1F-5F. **Look for the Mona Lisa flags out front.
Access:
1 minute walk from Marunouchi Line – Shinjuku Line "Shinjuku 3-chome Station" Exit C-4
7 minutes walk from JR / Odakyu Line / Keioh Line "Shinjuku Station"
Opening hours: 9:30-21:00 (except New Year)
Sekaido Art Store website:Click here
More Sekaido Japan Art Stores: Find other Sekaido art stores in Tokyo here.
Workshops at Sekaido art store?
Yes, holiday workshops happen each season in the main stores including Shinjuku Sekaido store.
Check the website for details of workshops to join in. You can also see demonstrations and sample new crafts during the presentation.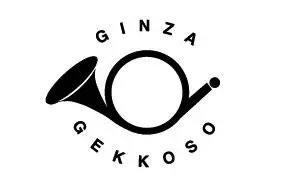 No.6: Ginza Gekko-so Art Supplies Japan
Gekkoso was founded in 1917, and continues to attract visitors to experience the old-school charm of the place on both the entry level and in the basement.
Visit the Ginza Gekkoso art Supply Store for:
hand crafted paint
hand crafted paintbrushes
visual art diaries
sketch books,
Gekkoso watercolor paints, and more.
Gekkoso's own brand logo is a musical horn.
Buy any of their original products, and you'll find this logo inscribed. It's a wonderful keepsake of your visit.
THE INSIDE SCOOP: Ginza Gekkoso
Address:8-7-2 Eiju Building 1F・B1F, Ginza, Chuo-ku, Tokyo (Hanatsubaki Street)
Access:
Ginza Station via Tokyo Metro Ginza Line, Tokyo Metro Marunouchi Line, or Tokyo Metro Hibiya Line
7 minutes on foot
Opening hours: 11:00AM to 7:00PM.
URL:Click here
Workshops: Not as such, but you can buy a postcard from the basement level, and embellish it during your visit using original Gekkoso paints. Ask at the counter for details.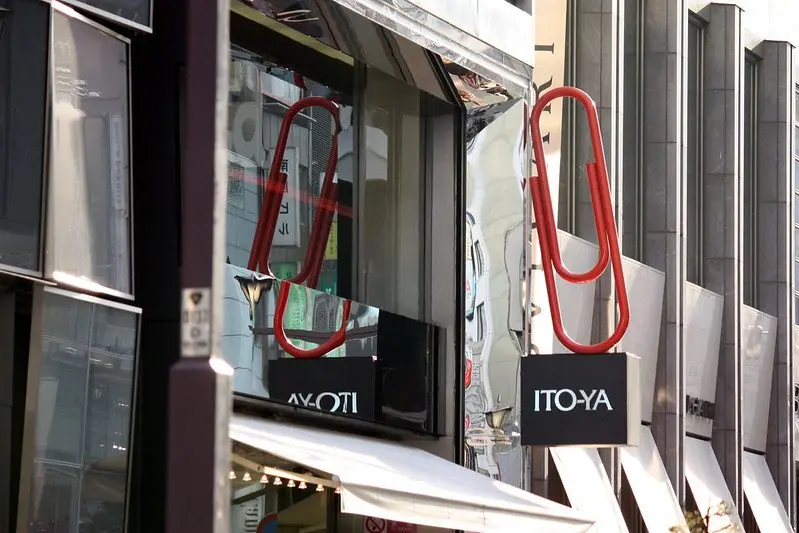 Image credit: Hiroaki Maeda via Flickr CC BY-ND 2.0
No.7: Itoya Ginza
Itoya Ginza (or Itoya Tokyo, as it's sometimes called) is a well known stationery shop in Tokyo with a giant red paperclip on the building. The flagship store in Ginza is two buildings (G. Itoya and K. Itoya) with a total of 18 floors!
But don't write it off as just a stationery shop.
Itoya Ginza has a MASSIVE selection of art supplies too.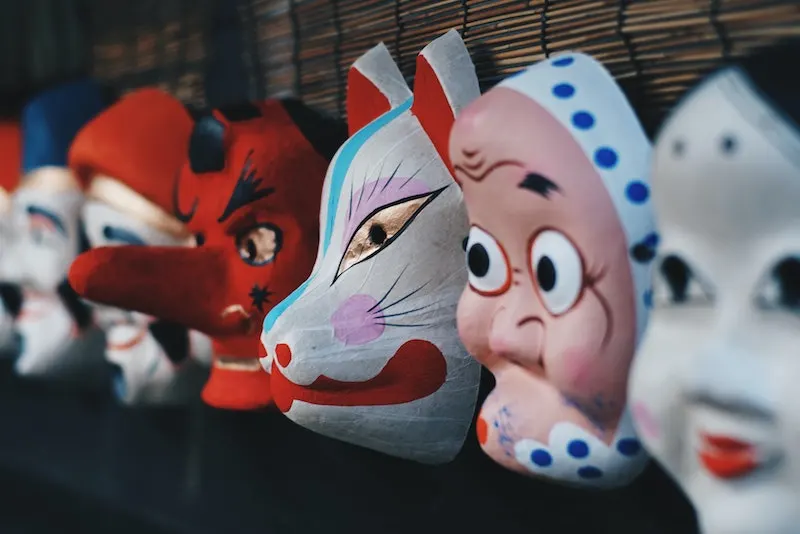 Image credit: Finan Akbar via Unsplash
What to buy at Itoya Japan
You'll find:
Japanese calligraphy brushes and ink
Paintbrushes for oils and acrylics, oil painting supplies, acrylic supplies, paint
Crayon pastels, oil pastels and chalk
Calligraphy pens
Best Japanese watercolor brushes, watercolor supplies
Japanese drawing supplies for manga, comic supplies, design ink, drawing aids
Airbrush supplies
Dyes
Canvas, easels
Drafting supplies – compass, drafts, templates, rulers
Paper craft supplies – seals, decorations, scrapbooking supplies, washi tape
Modelling supplies – clay
Craft supplies, origami paper
THE INSIDE SCOOP: Ginza Itoya
Address:2-7-15 Ginza, Chuo-ku, Tokyo 7 104-0061
Access:
Tokyo Metro Ginza Station – turn right walk 3 minutes out to Ginza Chuo-dori from the A12 exit (about 300M)
Ginza chome station – Shinbashi direction from Exit 9 1 minute walk towards (about 100M)
Opening hours: Monday-Saturday 10:00 to 20:00. Sunday / Holiday 10:00 to 19:00
URL:Check the floor guide here for art supplies in Tokyo
Workshops:
The B1 inspiration hall in G. Itoya is the space where creators gather to enjoy exhibitions, events, lectures and shows about art culture.
The 8F Crafts floor is the Ginza Itoya Papierium Workshop space.
Regular craft workshops are held on a first-come, first-served basis.
Even if you are a beginner, feel free to attend.
There are monthly craft classes for kids too. Join in!
You can also check the Itoya Ginza events page for craft workshops, art workshops and exhibitions that are coming up.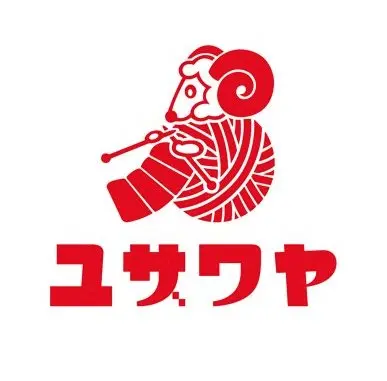 Image credit: Yuzawaya stores
No.8: Yuzawaya Tokyo Art Stores in Japan
Yuzawaya is a large-scale specialty store of handmade hobby materials that has been in action for 64 years, with a wide range of materials and tools from around the world.
Some of the stores stock art supplies.
Click here for a guide to Yuzawaya stores.
Check the descriptions in the orange ovals to find your closest store that stocks art supplies.
THE INSIDE SCOOP: Yuzawaya Shibata store
Address:8-2 144-8660 Nishida, Ota-ku, Tokyo, Japan 8-23-5
Access:JR · Tokyu Shibata Station South Exit. Click here for a map.
Opening hours: 10: 00-20: 00
URL:Shibata store
Workshops:
Yes, the Shibata store has regular free in-store workshops. Materials fee extra. Click here for details.
Yuzawaya also has a Yuzawaya Art Academy with regular classes for beginners through to experienced artists and crafters.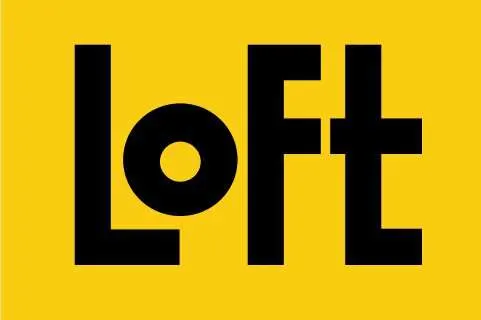 No.9: LOFT Japan
Paper craft lovers will find MT Washi Tape, craft templates, and paper craft embellishments.
Artists will find coloured pencil sets, graphite pencils, and sketch books.
But LOFT Tokyo has so much more.
Souvenirs, gifts, design goods, luggage, leather…
Don't miss the Loft shop Tokyo.
THE INSIDE SCOOP: Shibuya Loft Store
Address:Loft Shibuya can be located at 21-1 Udagawacho, Shibuya-ku, Tokyo, 150-0042
Access:The Shibuya branch of LOFT is near to the main Shibuya Crossing at JR Shibuya Station. Click here for details
Opening hours: 10am to 9pm daily
URL:Take a sneak peek inside
Workshops: N/A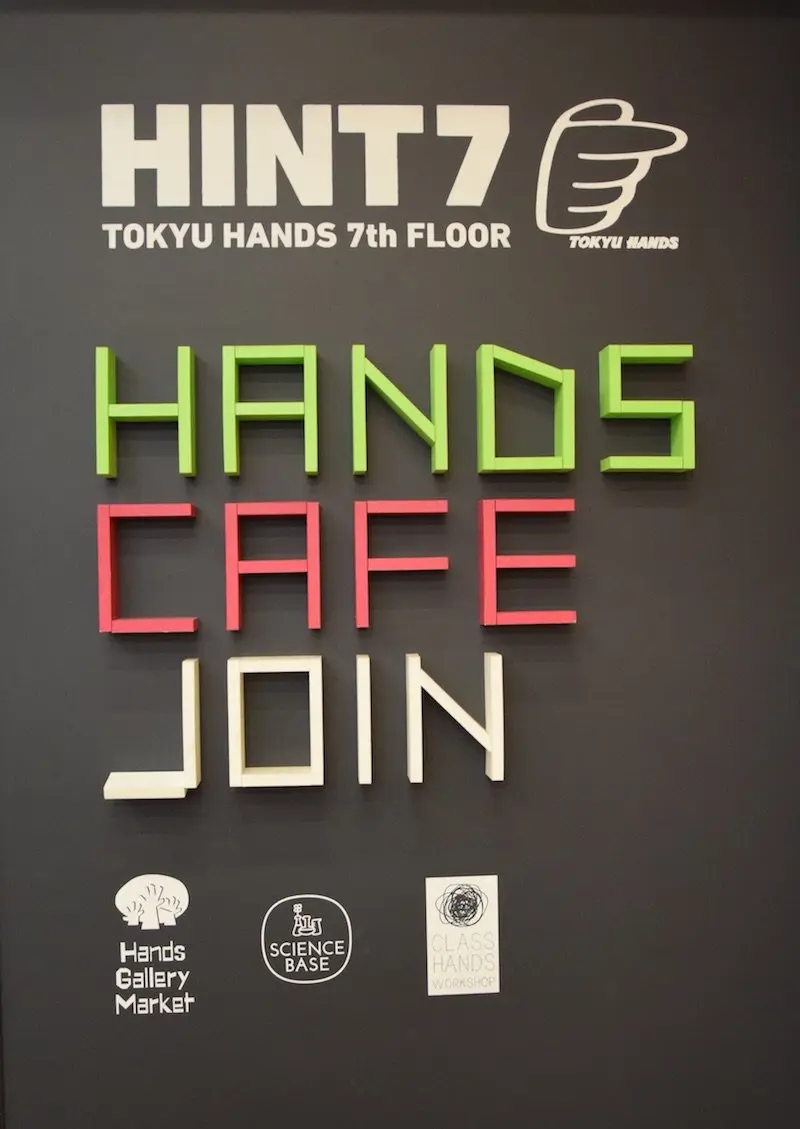 No.10: Tokyu Hands Products
Tokyu Hands Department Store is THE ultimate craft supplies store in Japan, but there's lots of art supplies too.
At this Japan craft store, find:
calligraphy supplies including calligraphy brush pens
painting supplies
wood block printing supplies
paper craft supplies, washi tape, nuno deco tape
glass painting supplies
stamping supplies
Look out for the Tokyu Hands copic markers.
Some Tokyu Hands stores have an in-store cafe with original menus that change each season, and opportunities to join in hands on workshops and other special events.
This is the place to buy handmade goodies too.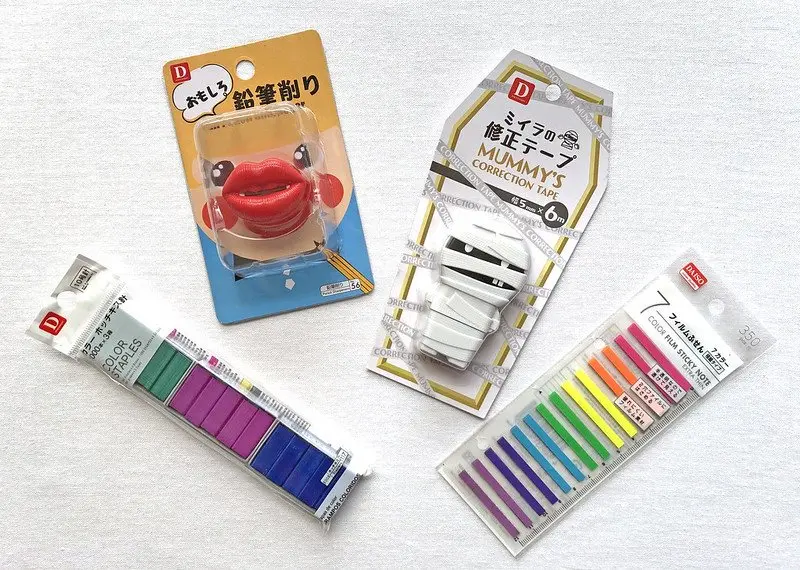 Image credit: Doing via Flickr CC BY-ND 2.0
No.11: Daiso Art Supplies Tokyo
Daiso has cheap art supplies for paper craft, drawing, and manga illustration.
The best Daiso products for artists are:
sticky notes
washi tape
deco tape
modelling clay
pens and pencils
notebooks and notepads
glue
stickers
paint brushes
paint palettes
Daiso watercolour paints and painting stuff to buy
Daiso acrylic paint
stretched canvas
watercolour paint sets, and
washable crayons
nail art supplies
This is the best place to start your collection of nice art supplies for kids.
THE INSIDE SCOOP: DAISO Japan
Address:1 Chome-19-24 Jingumae, Shibuya, Tokyo 150-0001, Japan (Takeshita street, in Harajuku)
Access:Click here for details
Opening hours: 10am to 9pm daily
URL:Daiso in Harajuku
Workshops: N/A
LOOKING FOR SOMETHING SPECIFIC?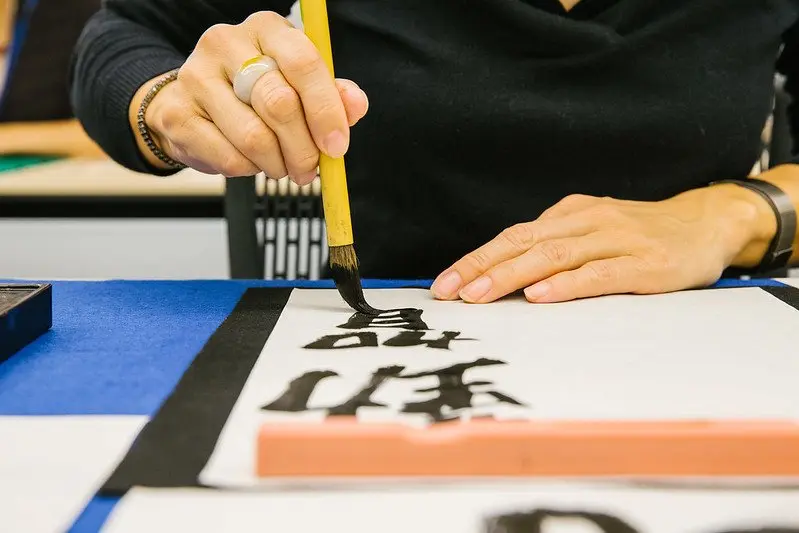 Image credit: OIST via Flickr CC BY-2.0
No.1: Where to buy Japanese calligraphy supplies?
According to Wikipedia, Japanese calligraphy (書道, shodō) is called shūji (習字)
This beautiful art form was inspired by Chinese calligraphy,
What you need for Japanese calligraphy?
Japanese ink stick (Japanese sumi ink)
Japanese ink stone (suzuri)
Japanese calligraphy brushes (fude), and
Japanese calligraphy paper (hanshi) – try the Ryugu calligraphy paper, or mulberry paper (washi)
A felt mat (shitajiki)
Start your art supply adventure at Sekaido art shop. (See above for details.)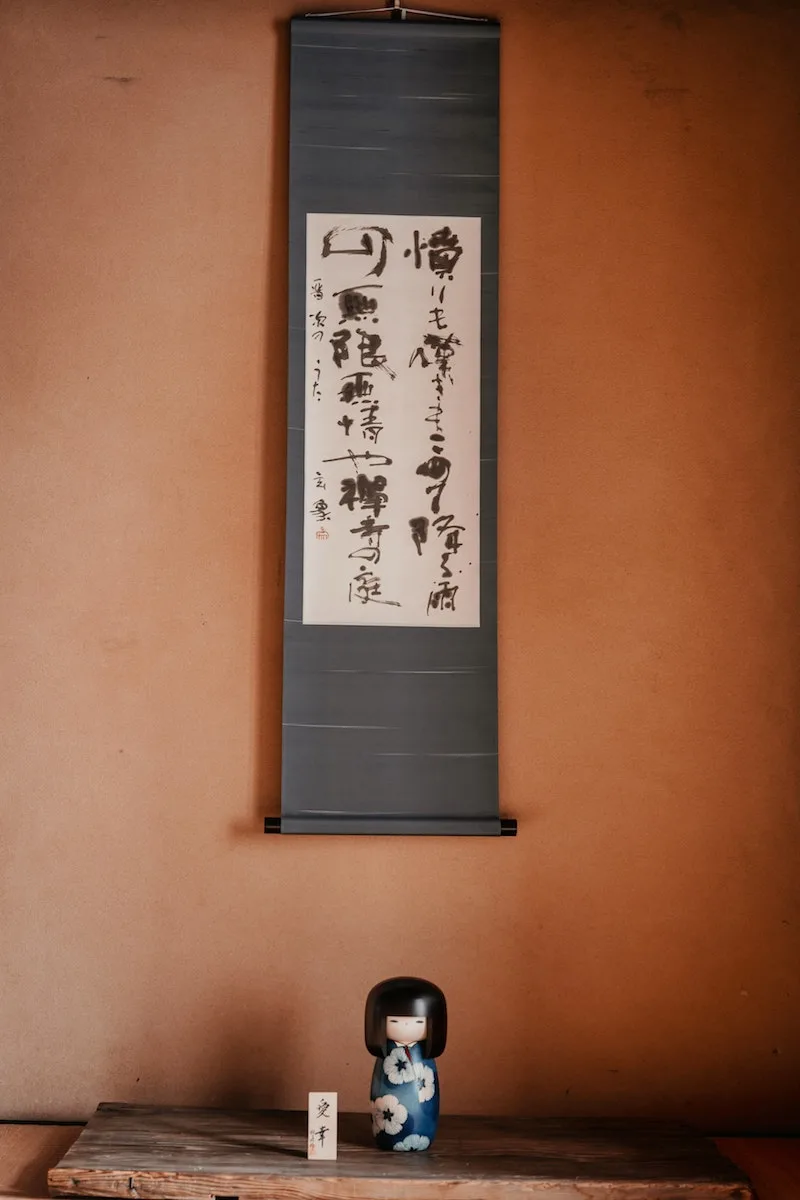 Image credit: Koto Kyoto via Unsplash
More Calligraphy supplies in Japan
Next stop should be Lapis Design & Art Supply in Roppongi Hills for:
calligraphy pens
paper, and more.
---
BOOK NOW: Traditional Japanese Calligraphy Experience in Tokyo with a master of the art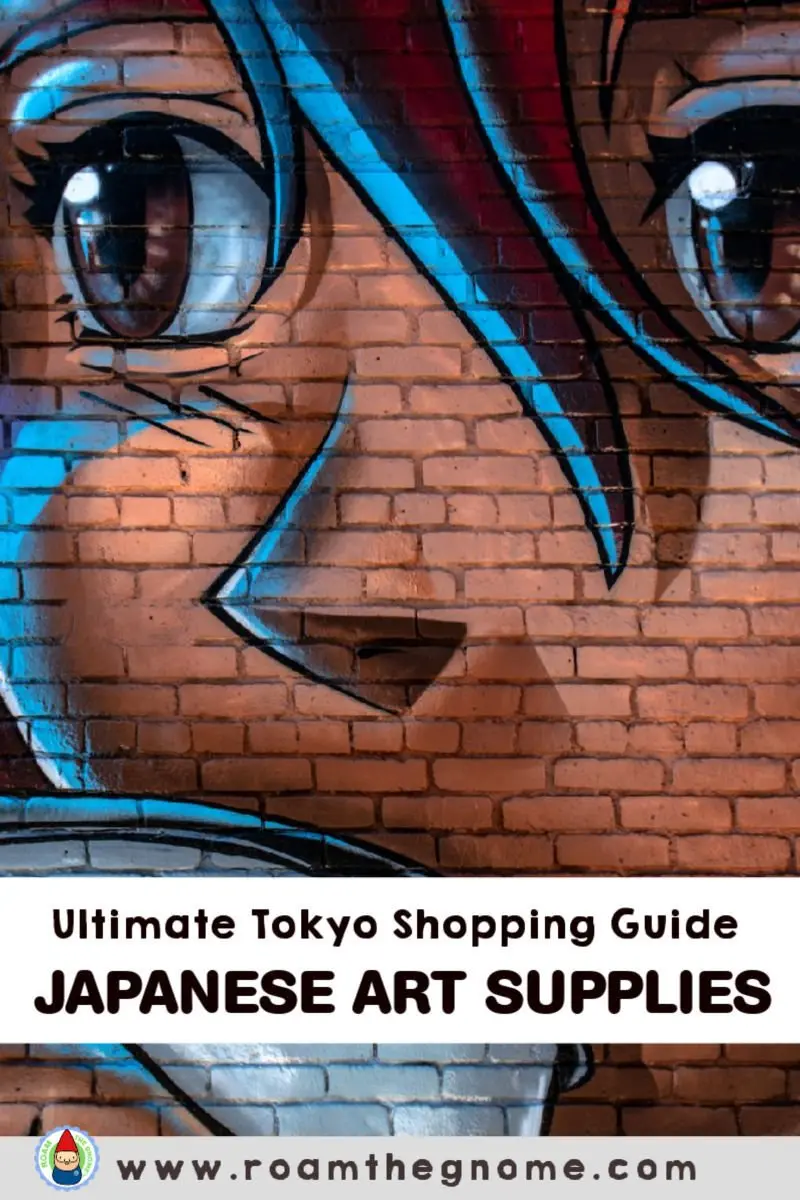 No.2: Where to buy cute Japanese art supplies for Manga comics?
Manga illustrators need these cute art supplies in their collection.
Deleter comic paper
Non-photo blue pencil leads
Graphite pencils
Erasers
Inking tools
Dip pen nibs and holders
Dip pen ink
Fineliners including copic multiliner pens
Copic markets – Copic sketch markers, Copic classic markers, Copic ciao markers
Templates and guides, curves and rulers, compass
Anti smudge tools, dust removers
Read this excellent guide to Manga art supplies here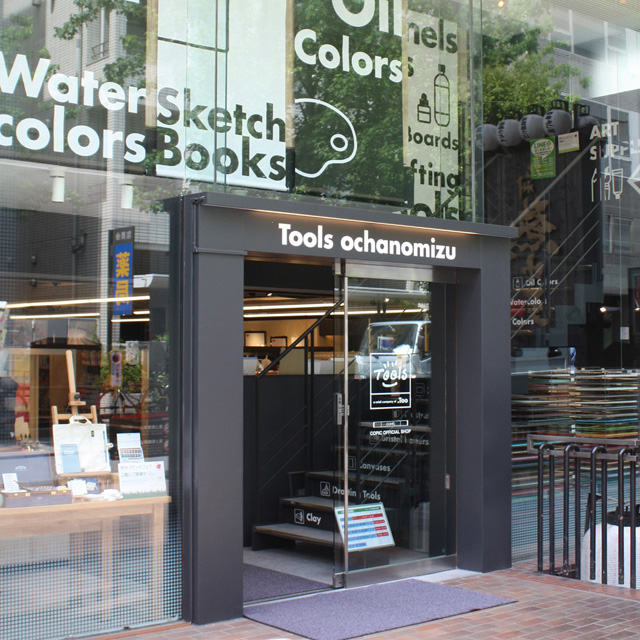 Image credit: Tools
Tools Japan Art Store Tokyo for Manga Art Supplies
Tools art supply shop in Tokyo is the place to be.
This is the best place to buy your Copic markers in Japan.
They are an official stockist, with a Copic Clinic on site to do all your copic marker refills and nib replacements.
They sell lots of the best art supplies for drawing anime.
Here's a good anime art supplies list:
Zebra mechanical graphite pencil for sketching
Pilot Eno pens (non photo blue color)
Block eraser
Putty rubber eraser
Pentell arts brush pen
Deleter Manga ink and comic book paper
Sakura Pigma ink pens
Pigma Sensei Manga pens
Copic markers
Make a pit stop at Tools Art Store Japan today.
THE INSIDE SCOOP: Tools art shop in Ochanomizu
Address:2-1-30 Kanda Surugadai Chiyoda-ku 101-0062
Opening hours at Tools Ochanomizu
Weekdays from 9:30 to 19:00
Saturdays and Sundays from 10:00 to 18:30
URL:Find the shop list here (There is one in Shinjuku is on the 6th floor of Lumine Est, the east exit of Shinjuku Station, the busiest terminal station in Japan. )
Workshops: Yes. Check the website for details of upcoming workshops at the Ochanomizu shop.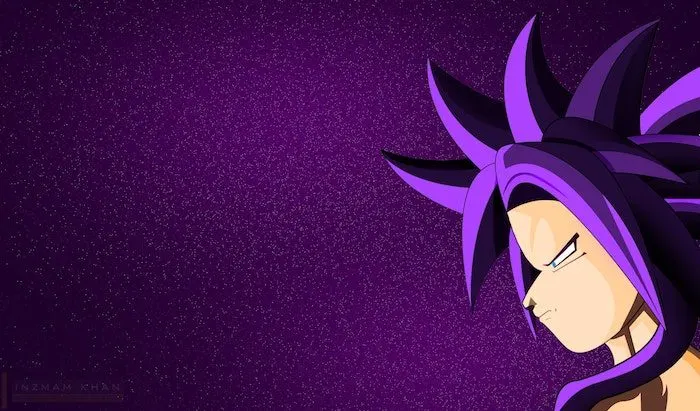 Image credit: Inzmam Khan from Pexels
MORE places for Manga & Anime products
Head to Uematsu Tokyo art supplies store, and Sekaido Shinjuku for an enormous selection of manga art supplies.
Visit Mandarake in Shibuya for a giant collection of:
manga comics inspiration
anime toys
manga dolls
anime ornaments
manga cards
CD's, DVDs
toys.
---
Book now: Made in Japan Cultural Curiosities Walking tour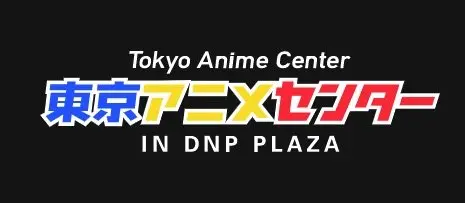 Hot tip: Buy Manga in Japan at Tokyo Anime Center
The Tokyo Anime Center is another excellent resource for manga fans.
READ MORE: Best Things to Do in Tokyo with Kids!
THE INSIDE SCOOP: Anime centre Tokyo
Address:1-14-1 Yata-cho, Shinjuku-ku, Tokyo DNP City Yata- cho Building DNP Plaza B1F
Opening hours: 11am to 10pm daily.
URL:Tokyo Anime Center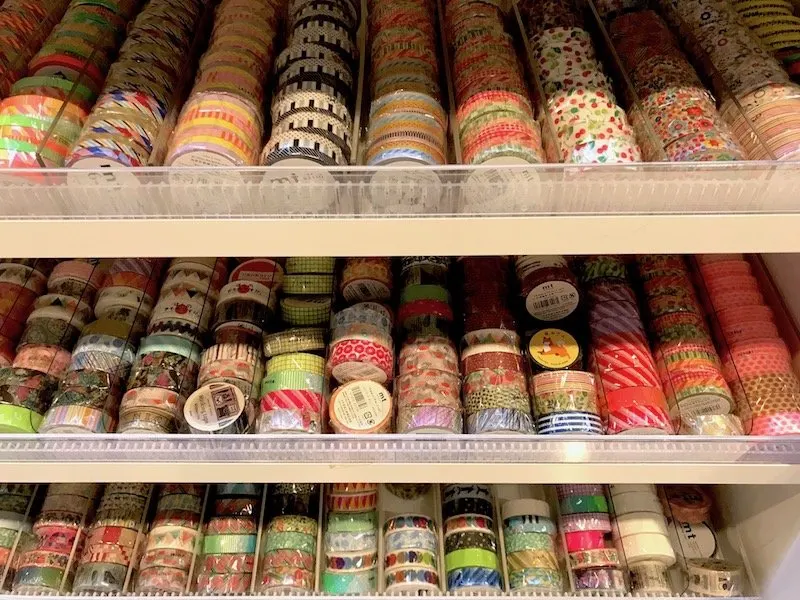 Looking for more places to shop in Japan?
Click the blue links below for more Tokyo shopping tips