INSIDE: Everything you need to know about shopping in Daiso Tokyo in Harajuku.
Daiso in Japan is the ULTIMATE shop if you are wondering where to buy cheap souvenirs in Tokyo.
Our favourite Daiso store in Tokyo is Daiso Harajuku.
If you are travelling with kids on a family trip to Tokyo, then you MUST visit Harajuku.
It is the most colorful, noisy, on-trend, vivid, creative, lively town in Tokyo, full of throngs of bubbly chatty tourists and the odd Cos Players dressed up in anime outfits
Did we say colourful? Yes? Good.
Think:
cute kawaii food, and every kind of sweet and savoury crepe imaginable
kooky but cool Tokyo fashion and knee high socks
loud crazy music and dancing
Purikura photo booths full of teenagers
unusual Tokyo souvenirs
But most importantly, DAISO, the best 100 yen shop.
Take a look below to see why DAISO should be top of your places to visit in Harajuku list!
Disclosure: This article contains affiliate links. If you make a purchase after clicking on one of these links, we may receive a small commission at NO extra cost to you.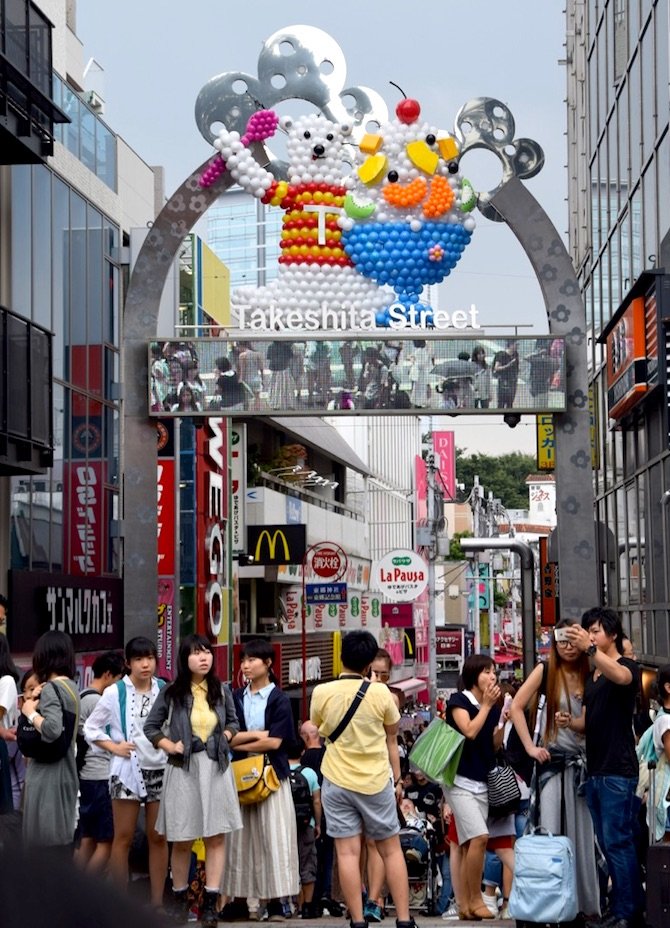 Image credit: Source Unknown
How to find Takeshita Dori in Harajuku
Takeshita Dori is the main street thoroughfare in Harajuku, and begins directly opposite the train station. (Use google maps with your pocket wifi device to find it)
Look up to see the Takeshita Dori street sign welcoming you.
I first visited here in 1998 as a 15 year old, and nothing much has changed.
It's still as wacky, out-there, groovy, and FUN, and it's top of my list of places to go in Tokyo with kids.
There's just so much to see and do in Harajuku, schedule at least two days on your Tokyo Itinerary with kids to browse, eat, shop, and take snaps!
Visiting the massive Daiso shop in Harajuku means you can tick off two Tokyo bucket list attractions in one:
the magical town of Harajuku (and the main Harajuku shopping street, Takeshita Dori), AND
Tokyo souvenir shopping.
---
Book now: Take a Kawaii Culture Guided Tour of Harajuku – includes a visit to Kawaii Monster Cafe!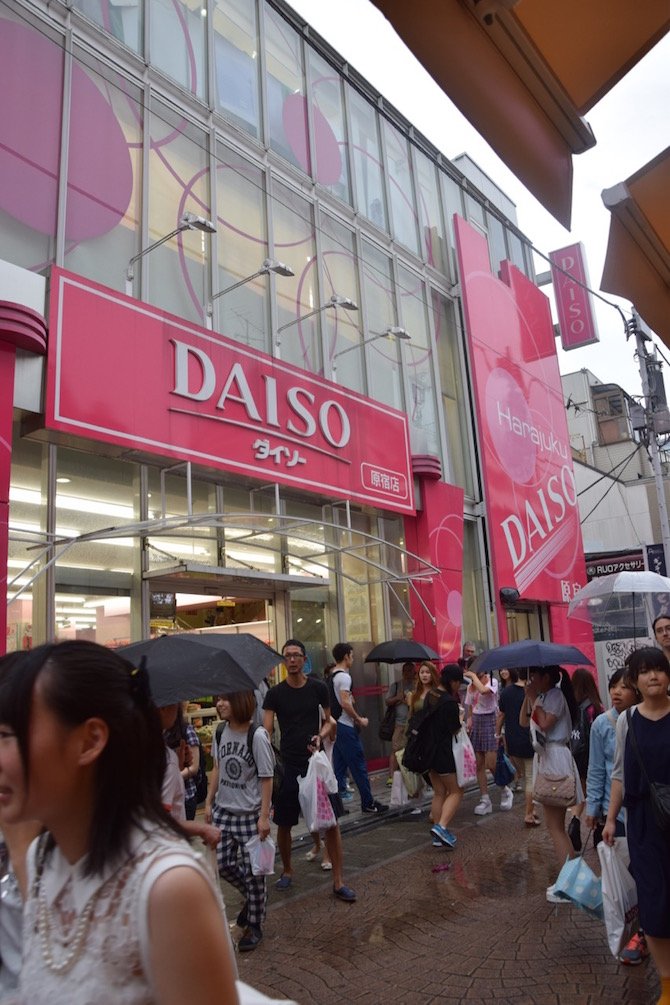 How to find the Daiso Tokyo Store in Harajuku
Daiso in Harajuku is smack bang in the middle of Takeshita street, on the left.
As you start walking downhill along Takeshita Dori street, you'll come to this giant-sized pink sign.
DO NOT PASS THIS SHOP WITHOUT ENTERING.
The Daiso shop in Tokyo Harajuku is awesome!
Our best travel tip: Bring a backpack to carry your Daiso shopping treasures home.
---
Hot Tip: Get up close to owls and falcons at a unique Owl Café in the Harajuku district of Tokyo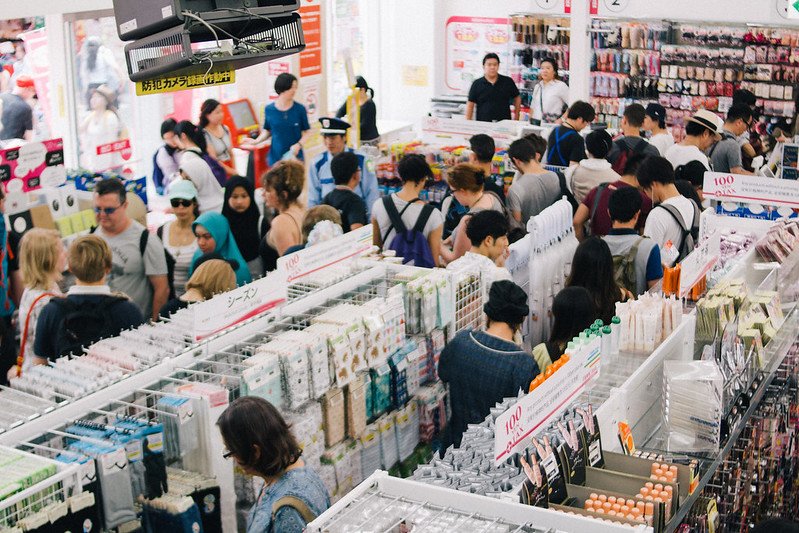 Image credit: Dick Thomas Johnson via Flickr CC BY-2.0
Where to buy Cheap Souvenirs in Tokyo?
There's so much on offer in this shop, and 90% of things are just 100 YEN EACH.
Yes, 100 yen.
(Around 90 cents USD, and just a little over ONE dollar AUD!)
It's the best shop in Tokyo for souvenirs, gifts and homewares of all kinds.
BUT unlike lots of other cheap, variety stores with rubbish quality items, lots of Daiso products are really cute, well made, fashionable and stylish too.
Daiso Tokyo in Harajuku is also THE SHOP to buy a gift for everyone on your list without breaking your travel budget!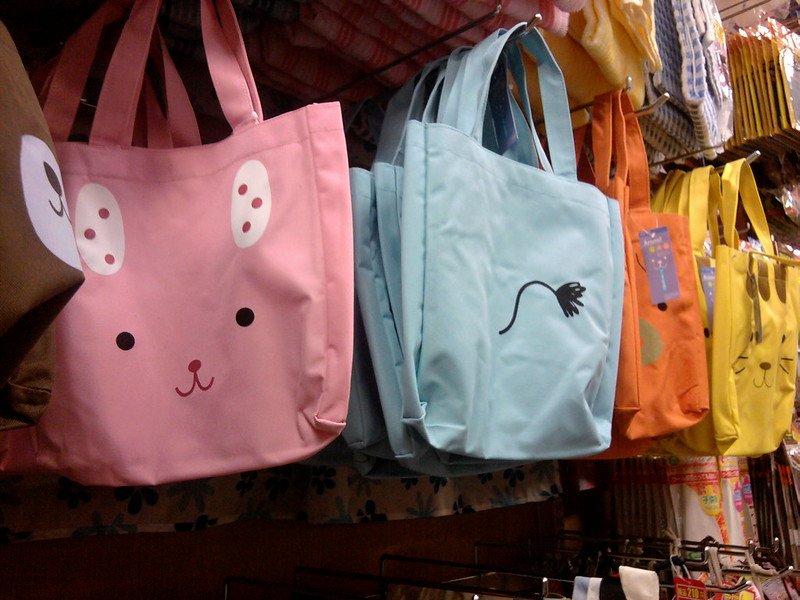 Image credit: Lisa Paulvia Flickr CC BY-2.0
Pocket Money Spends at Daiso Harajuku
Our top tip for visiting Harajuku is to go early in your Tokyo vacation for a first look-see.
Then if you can manage it, popping back a day or two before your departure date to let the kids buy all their budget souvenir purchases at Daiso Harajuku.
Word of warning:
It's easy to get lost in this Daiso Japanese store with so many people and so many aisles.
Make sure the kids know NOT to leave the store, and to wait by the front cash registers until you come for them.
Roam the Gnome's Travel Tip:
Give your kids a limit of 1000 yen each, and let them search for their souvenirs for friends and family at Daiso.
It's budget-sized fun for everyone, and a lesson in managing money too.
If you need to know where to buy cheap souvenirs in Tokyo, don't walk past.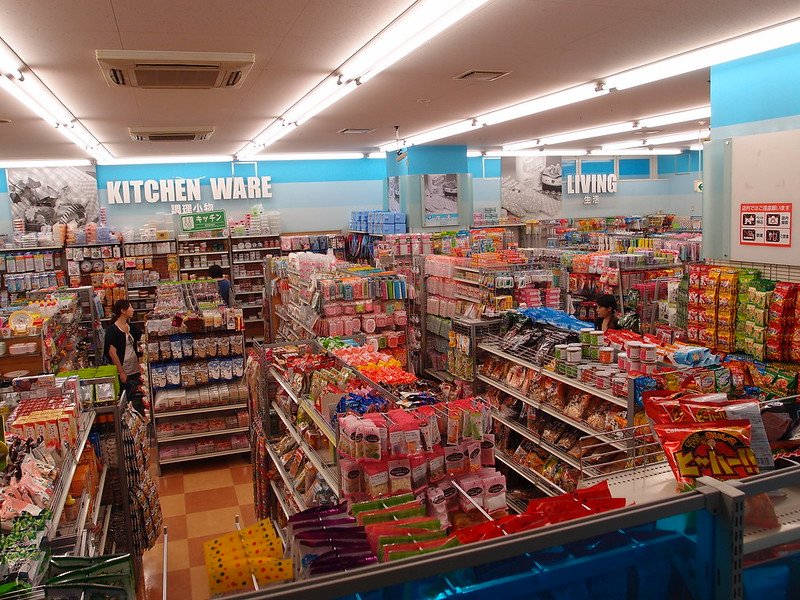 Image credit: Guilhem Vellut via Flickr CC BY-2.0
The ULTIMATE List of Daiso Japan Products
What to buy in Daiso Tokyo? Start here.
Bento Box Accessories at Daiso
Mix and match your:
pastel coloured bento lunch boxes
bento accessories including bento picks and rice moulds so you can have panda or teddy bear 'onigiri' rice balls!
furoshiki lunch-wrap cloths
sweetly decorated Japanese lunch bags made from cloth
portable chopsticks and cutlery.
---
RELATED: Visit this shop for more BENTO boxes & bento accessories
Image credit: Abdullah Al Muhairi via Flickr CC BY-2.0
Cheap Japanese stationery shop
Go upstairs to the 3rd floor for a whole range of Japanese stationery. Daiso stocks:
Japanese pencils
coloured pens and Japanese markers
deco tape
washi tape
folders and origimi paper
Japanese notepads
Japanese letter writing sets
Japanese stickers
Japanese phone accessories
Japanese items to help you organise your desk
If your kids love cute Japanese stationery as much as we do, they'll remember this shop as the best Japanese shop in Tokyo.
---
RELATED: Visit LOFT in Shibuya for more beautiful Japanese stationery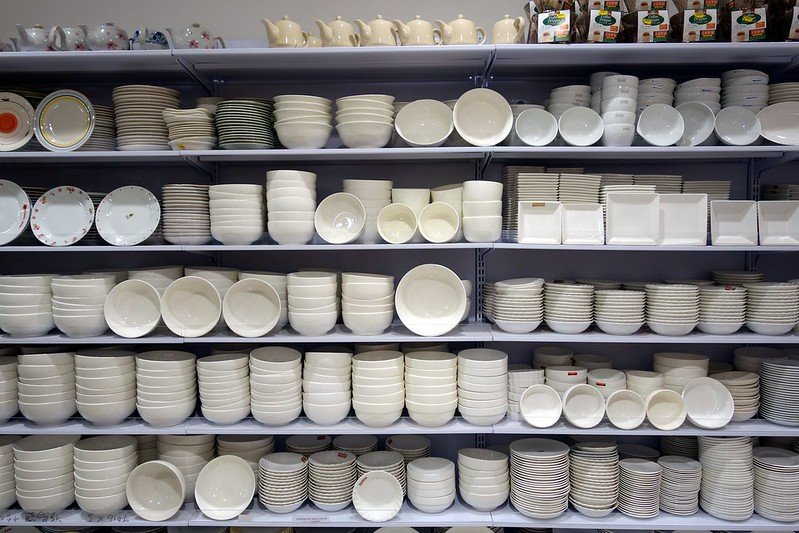 Image credit: Abdullah Al Muhairi via Flickr CC BY-2.0
Japanese ceramics
Upstairs, you'll also stumble upon aisles of cheap Japanese ceramics.
My cupboards at home are FILLED with these sweet finds that replaced all my tired plates and dinnerware.
I love using these Japanese dishes to pretty up the way we serve dinner and they serve to remind us of time in Japan, our favourite country in the world.
Miniature plates and bowls in plain white, shibori colours, and simple Japanese patterns top my list of things to buy in Tokyo.
Look out for:
Small Japanese ceramic dishes, bowls, and plates
Japanese chopsticks and chopstick rests
Japanese Green Tea or Sake sets
Japanese tea cups.
Take a little bit of Japan back home to reflect on your travels when drinking your late afternoon cup of green tea.
---
RELATED: Ultimate Guide to the Best Kitchenware Street in Tokyo (perfect for ceramic & pottery lovers)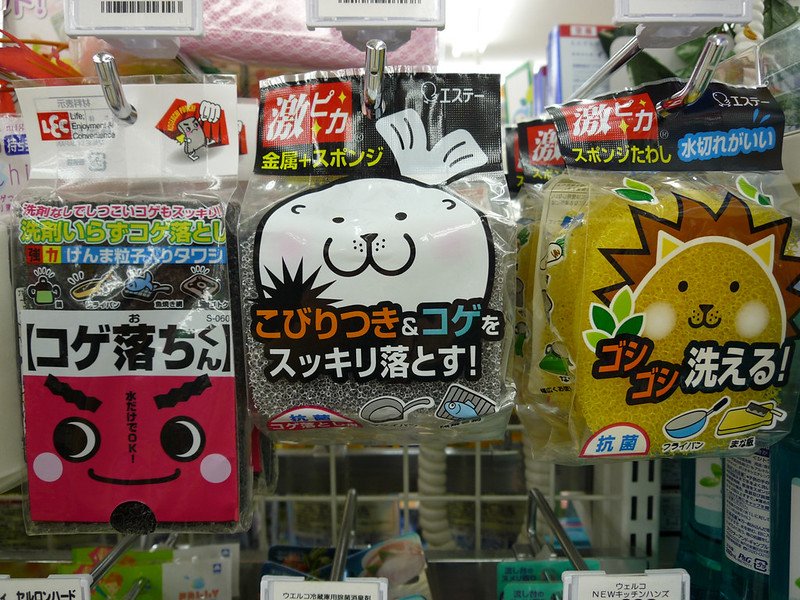 Image credit: Britta Frahm via Flickr CC BY-2.0
Kitchen supplies and kitchen gadgets at Daiso
If the kids need something for Grandma, or someone who loves to bake, visit the kitchen section in Daiso for all kinds of fun.
brightly coloured gloves
super cute heart and star shaped ice cube trays
Japanese kitchen utensils
fun kitchen sponges
kitchen tongs
quirky frog-shaped pot holders (and other styles), all made from silicon so they are light to pack.
---
RELATED: MUJI in Shibuya has beautiful kitchen supplies and homewares for the organised minimalist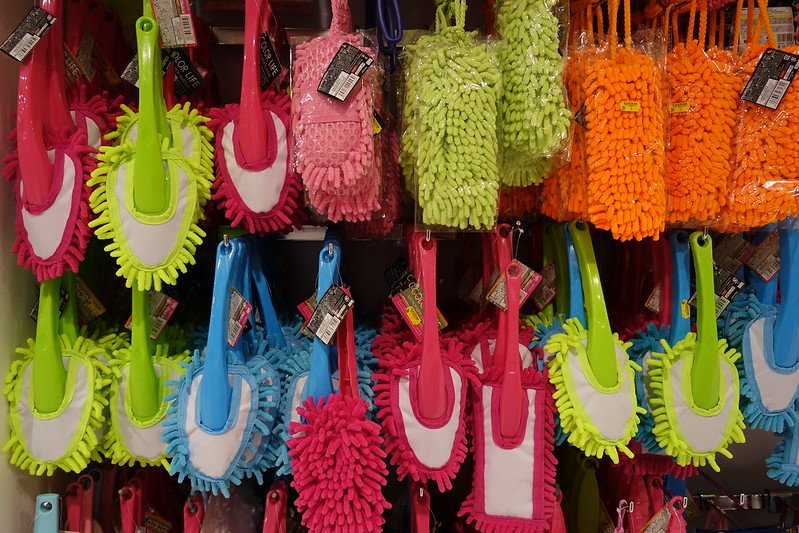 Image credit: Abdullah Al Muhairi via Flickr CC BY-2.0
Japanese homewares
My favourite part of Daiso is the homewares section.
I find things here that I never knew I needed, like tools to hold your boots upright in storage, and hard brushes to clean grout in the shower.
There's also super cute home accessories like animal shaped kitchen sponges, and doll-shaped toilet brushes.
Who can resist?
Japanese aprons
Japanese cleaning products
Handy tools to organise your home and life.
Take a GOOD look, budding Marie Kondo organisers.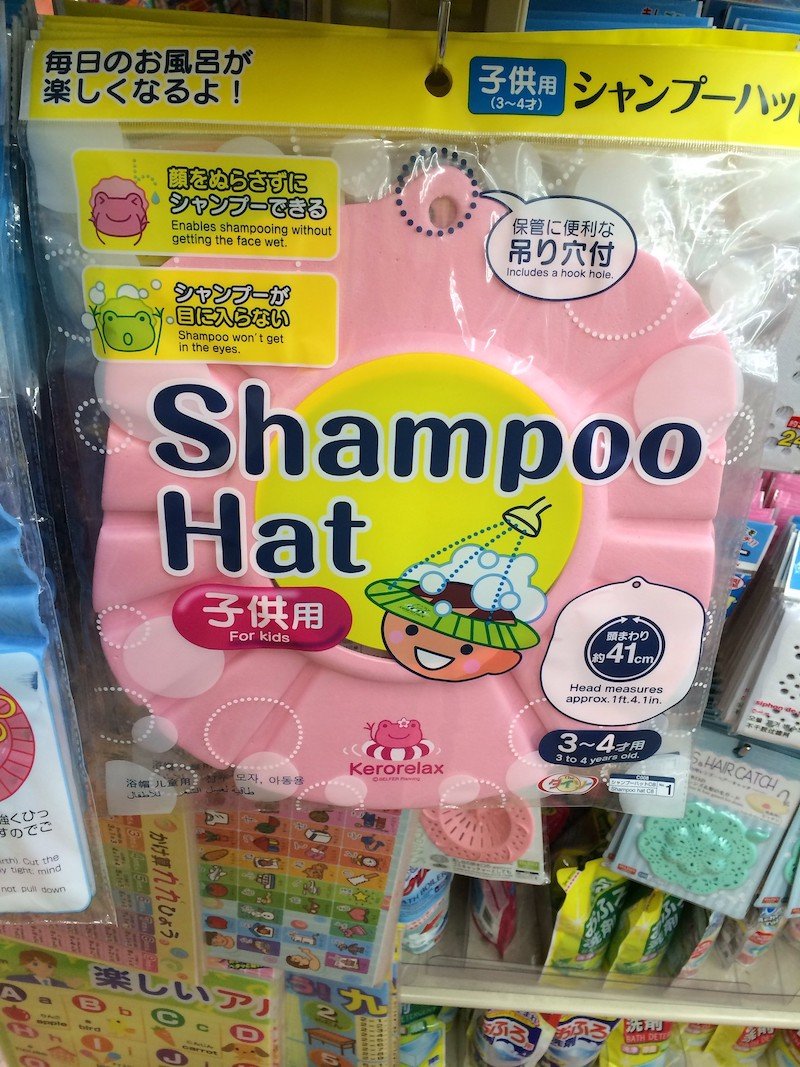 Image credit: Karl Baron via Flickr CC BY-2.0
Japanese bath products & beauty supplies
All kinds of beauty goods to keep your skin and hair glowing!
Japanese bathmats
shower caps
budget cosmetics
hair ties
beauty bags
makeup bags
drawstring bags
Japanese face masks in kabuki designs (and more)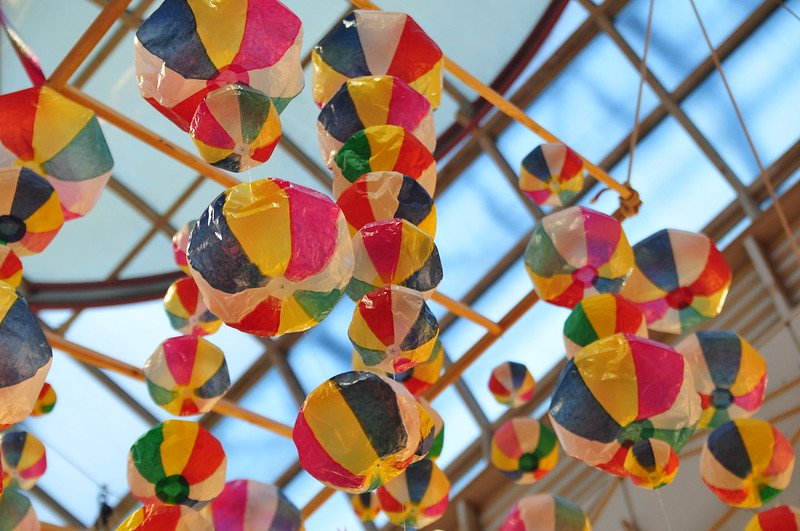 Image credit: Ajari, Tanabata Festival via Flickr CC BY-2.0
Japanese toys in Daiso
The kids can find a range of traditional Japanese toys both they and their friends will adore.
Wooden cup and ball sets – Kendama
wooden spinning tops
Japanese paper balloons
Japanese wooden yoyos
wooden Japanese dolls.
Japanese paper balloons (pictured)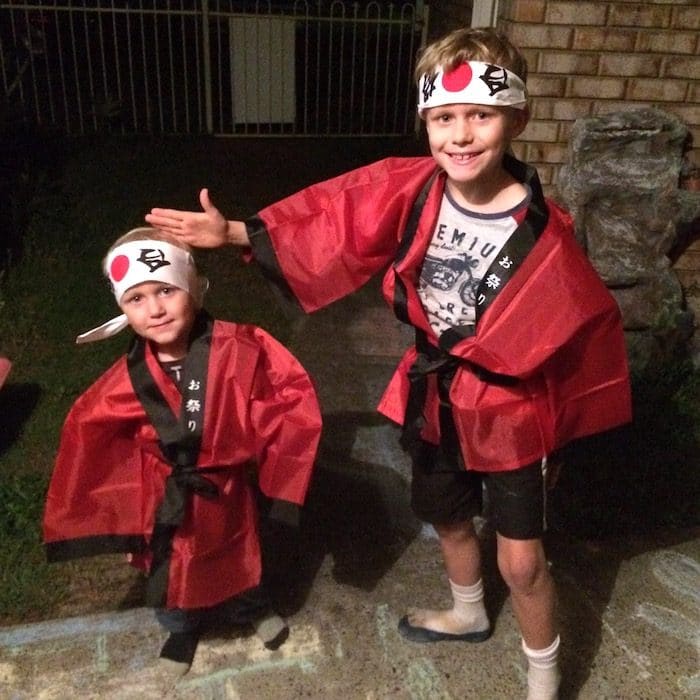 Daiso Dress Up Costumes
The most fun thing you can buy in Daiso for kids is this Japanese karate costume.
Halloween in Japan is HUGE, and Daiso joins the party, with a huge range of Halloween costumes in stock during the season too, including:
skeleton costumes
witches costumes
ghosts costumes
ghoul costumes
witches capes
Dracula costumes
Ninja costumes
pumpkins and more.
You may find other kids dress up costumes in store from time to time too.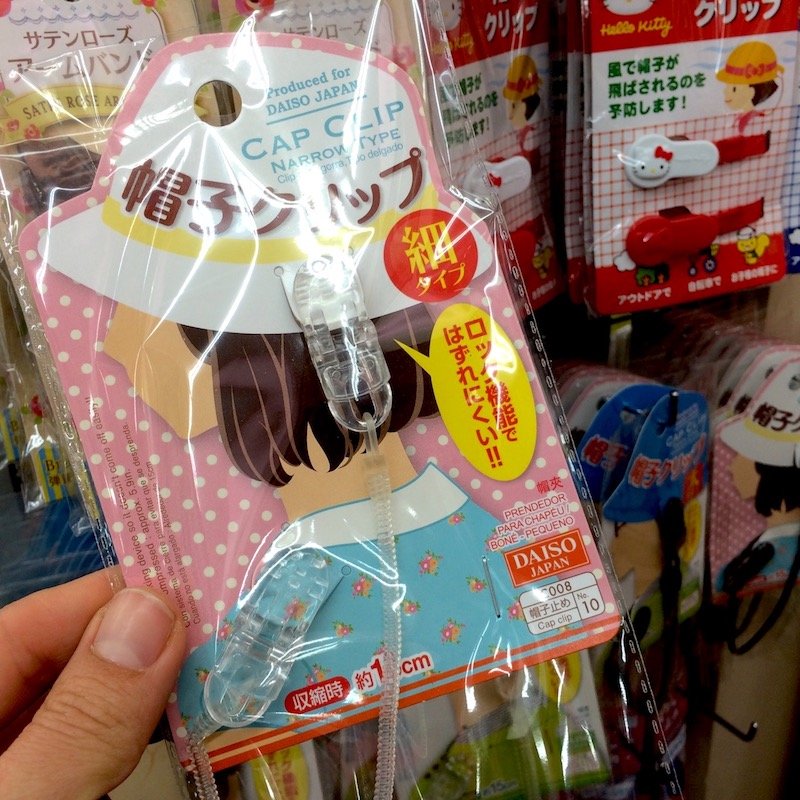 Japanese travel goods at Daiso
There's plenty of travel goods too, including these life-saving hat clips so you never lose a toddler's hat again!
But that's not the most surprising.
Someone once asked me, "where can I find surgical masks in Tokyo Japan?", and I told them to try Daiso!
You can find ALL kinds of random stuff in this place.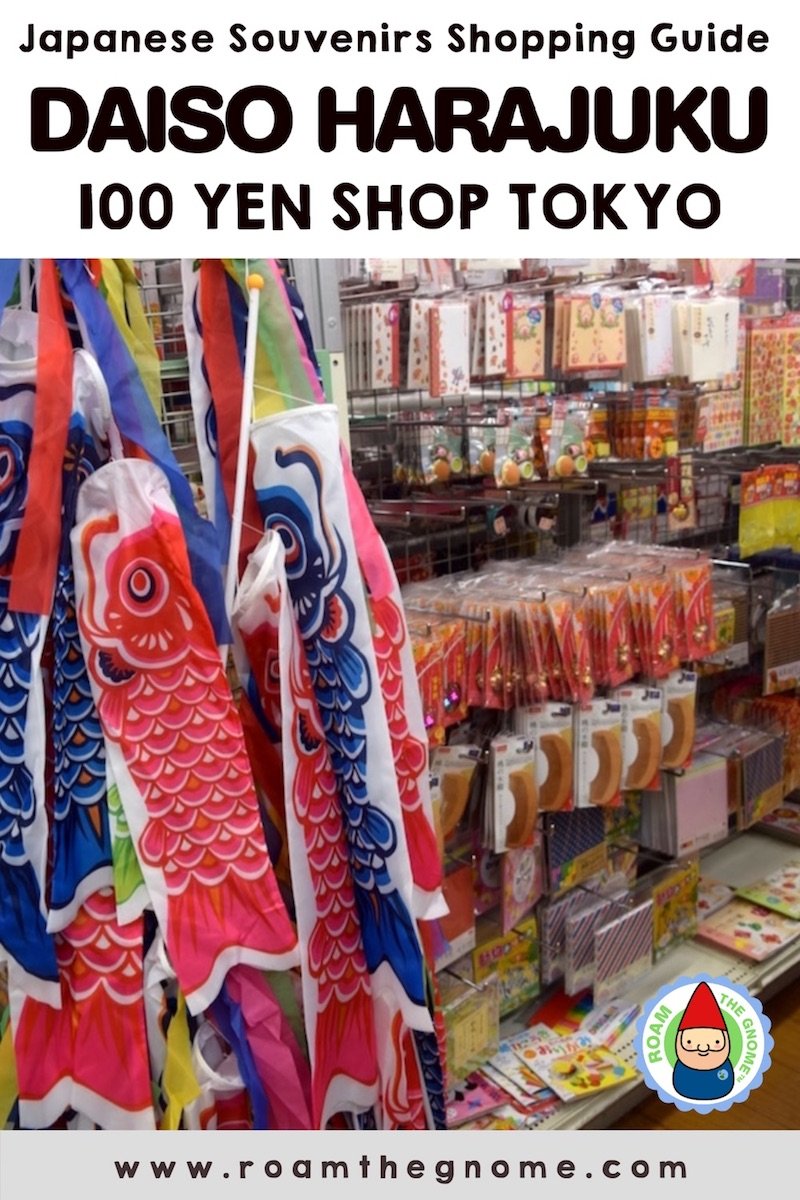 Tokyo Souvenir Shopping at Harajuku Daiso
Here's a sample of some of the Tokyo souvenirs you can buy at Daiso in Tokyo 100 yen store.
Japanese souvenirs at Daiso
At the Harajuku Daiso, there's also whole section on the ground floor as you walk in the door dedicated to traditional Japanese-style gifts.
This is where you'll find the best Daiso finds too, as they are ever changing.
Find:
Japanese good luck charms
Japanese wall hangings
Japanese fans
traditional Japanese ornaments
origami paper packs
sushi-shaped erasers and magnets
Japanese notepaper
sushi mats
lucky charm ornaments
Our best buy in Tokyo is the "Koinobori" carp streamers (pictured above), a symbol of of Children's Day.
In Japanese culture, the carp symbolizes courage and strength because of its ability to swim up a waterfall.
There's even "Hot Spring Bath Powder", for those who want to give some of the 'onsen' magic back to friends back home.
---
RELATED: Visit Oriental Bazaar in Harajuku for all your traditional Japanese souvenirs at reasonable prices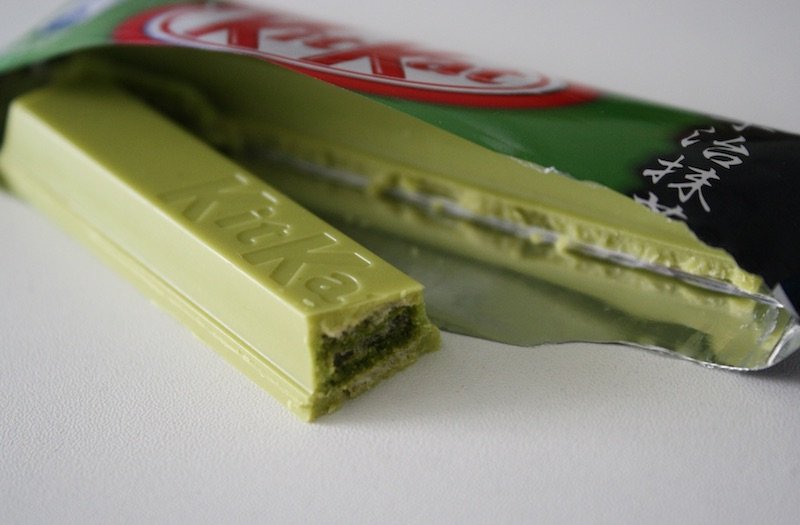 Image credit: Mira Pangkey via Flickr CC BY-2.0
Green Tea Kit Kat at the Daiso Supermarket
The Daiso supermarket on the ground floor also stocks:
Japanese foodstuffs for the pantry such as sauces and dressings
Japanese grocery items such as packet mixes
Japanese chocolate
Japanese candy and lollies
Japanese drinks
Most importantly, you can buy up big on the ultimate Japanese chocolate treat, Green Tea Kit Kats.
This is the busiest spot in these 100 yen shops.
We recommend you head upstairs first for unique and different ideas for Tokyo souvenirs as mentioned, then finish in this section.
This version of a Tokyo supermarket is the place to buy cheap things in Tokyo including fun Japanese food gifts and treats to share when you get home.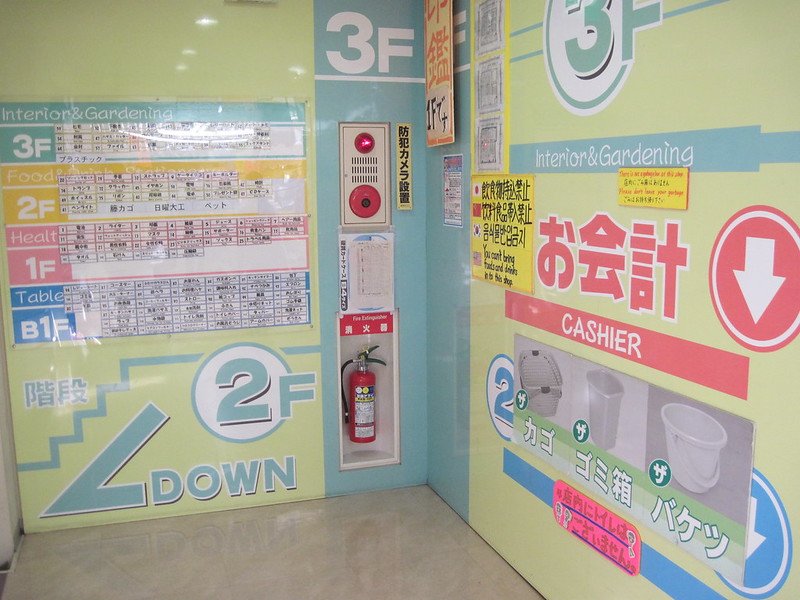 Image credit: Rudy Herman via Flickr CC BY-2.0
THE INSIDE SCOOP: Daiso Japan in Harajuku
Correct at time of publication on Roam the Gnome. Please check with venue for updates. We apologise in advance if there have been any changes we are unaware of. All prices in AUD dollars, unless otherwise stated
Daiso Address: 1 Chome-19-24 Jingumae, Shibuya, Tokyo 150-0001, Japan
Telephone: 03-5775-9641
Daiso Opening Hours: 10am to 9pm daily
Daiso website: TBC.
NB: The shop takes Mastercard and Visa should you need.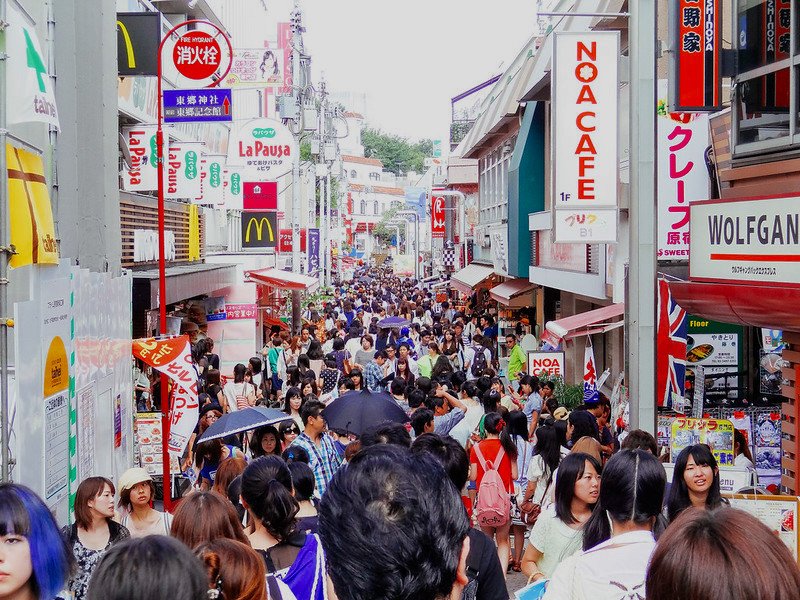 Image credit: Dick Thomas Johnson via Flickr CC BY-2.0
How to get to Daiso in Harajuku
Want directions to Daiso in Tokyo?
Catch a train to Harajuku, cross the street to the entrance of the very busy Takeshita Dori street (pictured above).
Wander about 200 metres downhill and find Daiso Harajuku on your left.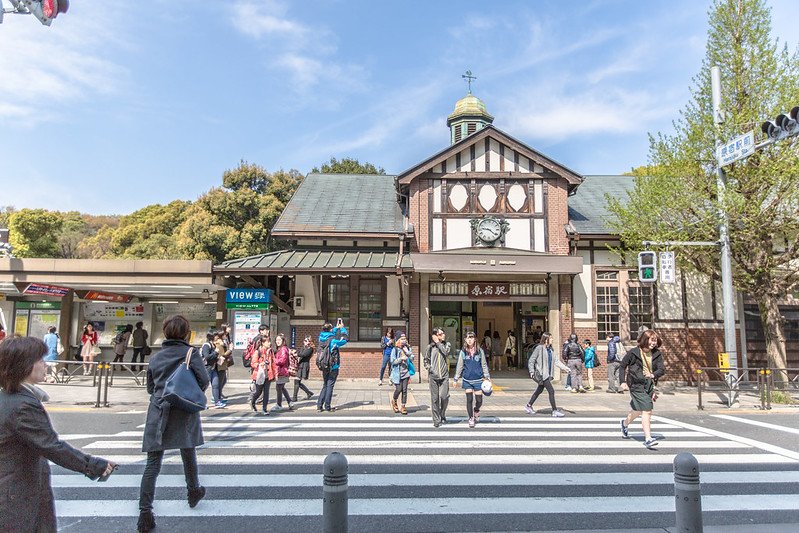 Image credit: IQremix via Flickr CC BY-SA 2.0
How to get to Harajuku station
From Shibuya Station to Harajuku
Route: JR Yamanote Line (Shinjuku・Ikebukuro bound)
Note: It only takes two minutes to reach Harajuku. Not only is this faster than taking a taxi, it is also considerably cheaper.
From Shinjuku Station to Harajuku.
Route: JR Yamanote Line (Shibuya・Shinagawa bound)
From Tokyo Station to Harajuku.
Route: JR Chuo Line(Kofu・Matsumoto bound) or JR Yamanote Line (Shibuya・Shinagawa bound)
Note: You can also transfer at Shinjuku Station for the inner circle Yamamoto Line (Shibuya・Shinagawa bound)
Map of DAISO Japanese Dollar Store
More Daiso Stores in Japan
People ask me, how many Daiso stores can be found in Japan?
You can find hundreds more Daiso branches in Tokyo alone – both small, medium and large sized.
There's a bucketload more around the country too. You're never far from a Daiso.
The most popular Daiso stores are listed below.
Daiso Ueno
Daiso Shibuya
Daiso Shinjuku
Daiso Asakusa
Daiso Tokyo Station
Daiso Ginza
Daiso Ikebukuro in Sunshine City
Click on the interactive map of Daiso locations in Japan to find the exact locations.
Find Daiso stores near your hotel with this map.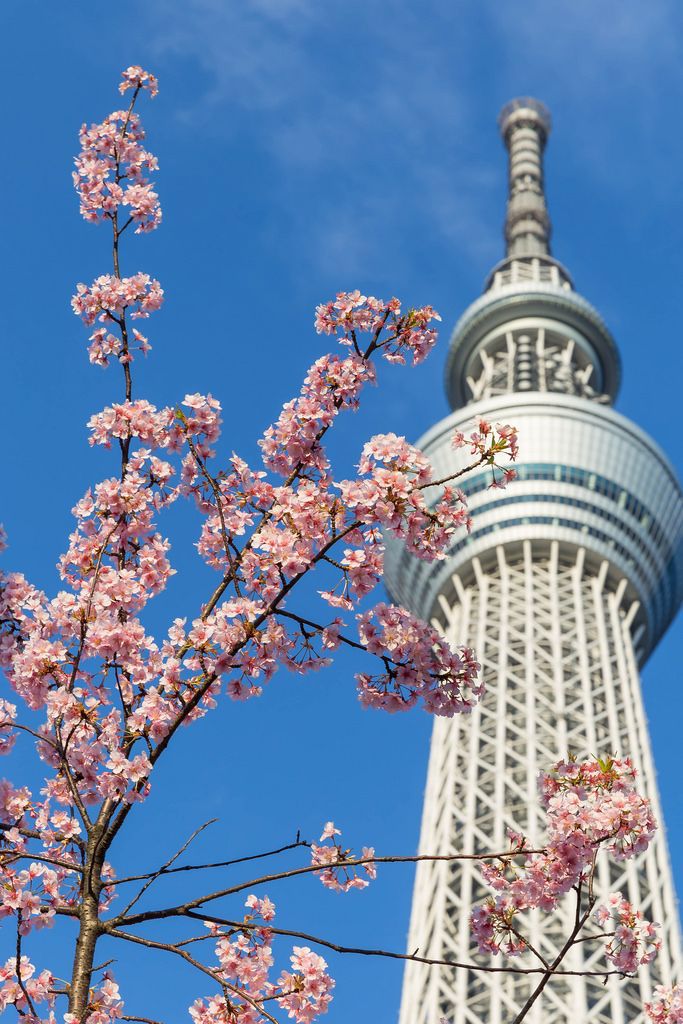 Image credit: Tokyo Skytree with Sakura by Marco Verch CC BY 2.0
Biggest Daiso Tokyo?
Heads up:
The largest Daiso in Tokyo is Daiso Arcakit Kinshicho, about a 20 minute walk south of Tokyo Skytree.
The nearest train station is Kinshicho.
Find the Biggest Daiso in Tokyo here.
It's the best Daiso Tokyo has for both locals and tourists alike, simply because of range!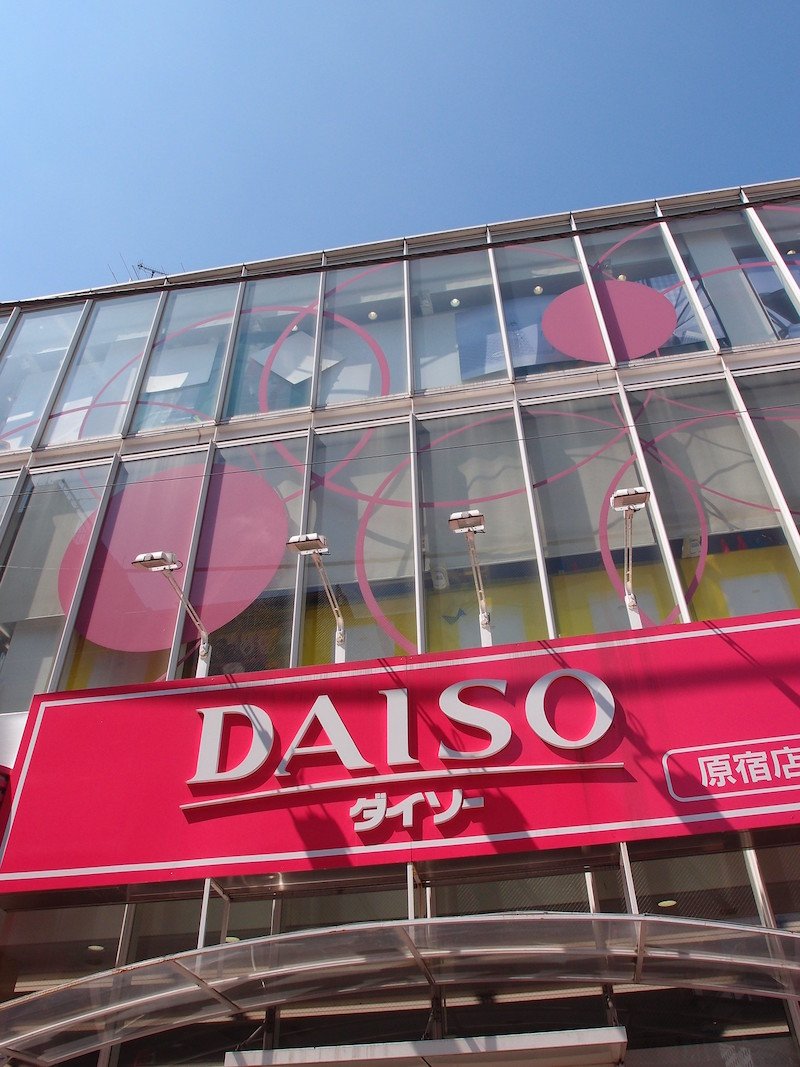 Image credit: Guilhem Vellut via Flickr CC BY-2.0
Toadstool Rating: Shop Daiso Harajuku 100 yen shop
Roam the Gnome and I agree.
Daiso in Harajuku is a SUPER FUN shop for the kids where they can shop to their heart's delight (and yours too!)

Daiso Stores around the World
PS: Did you know you can also visit Daiso in many other countries and cities now?
Daiso Seattle
Daiso NYC
Daiso San Francisco
Daiso India
Daiso UK
Daiso Korea
Daiso Australia
MORE Tokyo Shopping – 100 Yen Stores in Japan round up
Update on the Japan dollar store options coming soon!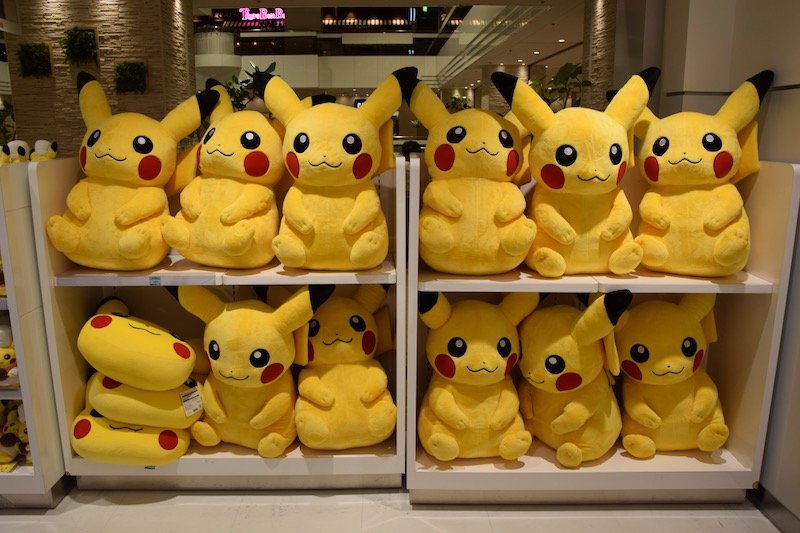 Looking for places to go shopping in Tokyo?
Click the links in blue below.