INSIDE: The Ultimate Guide to the Tokyo Toy Museum with kids.
STOP what you are doing.
Get out your Tokyo itinerary, and pop the Tokyo Toy Museum FIRST on your list of things to do with kids in Tokyo.
The TOKYO TOY MUSEUM is, hands down, the most unique, hands-on kids museum play space we have EVER been (and it's our mission to find them.)
With over 10,000 Japanese toys and dolls in the museum, most of which the kids (and you!) can touch, handle, interact and and play with, it's the ultimate of places to visit in Tokyo with kids.
Find all the details of how to get here, and more, below.
Disclosure: This article contains affiliate links. If you make a purchase after clicking on one of these links, we may receive a small commission at NO extra cost to you.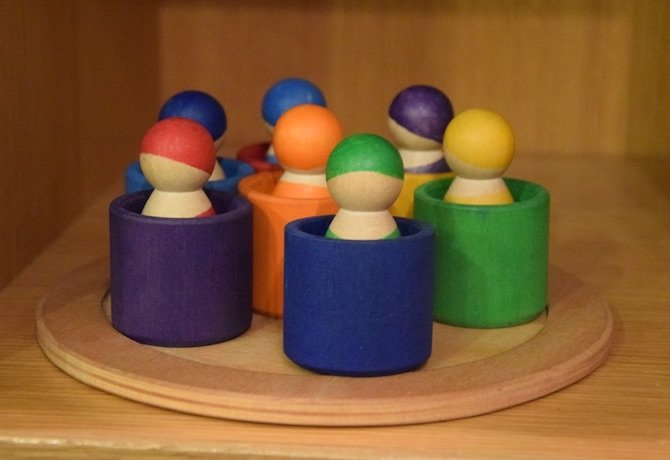 Guide to Tokyo Toy Museum with Kids
This is No. 1 of "Fun Things to Do in Tokyo with Kids" !
If you LOVE the natural ambience, atmosphere and aesthetics of Waldorf or Steiner kindergartens and schools, or adore Montessori classrooms and the types of equipment they use in Montessori environments, be prepared to fall in love with the Toy Museum in Tokyo.
If you dream of children being immersed in play spaces filled with natural timber structures, gentle rainbow tones, and carefully selected, handmade wooden toys, you will ADORE this place.
If you LOVE good design, quality toys, and stylish environments (that baby room – swoon!), you WILL fall in love with this place like I did.
I guarantee you will not be able to walk out of their onsite Tokyo toy shop package-free.
Especially as they stock my favourite Grapat toys and nins (pictured above).
BYO shopping bags.
Or an empty suitcase!
---
RELATED: Big List of the Best Things to do in Tokyo with kids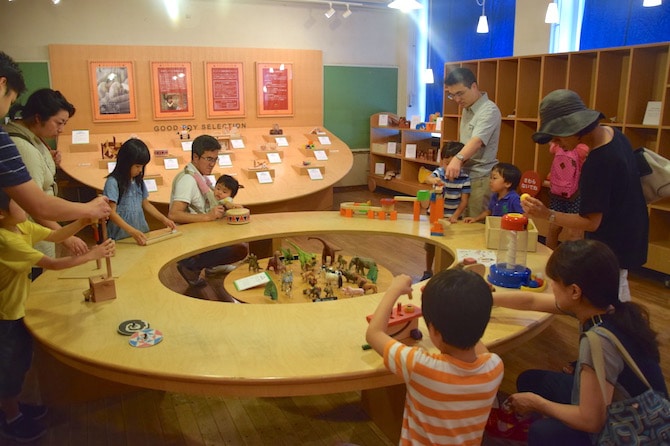 Tokyo Toys Museum is THREE floors of fun!
Located in the former Shinjuku Kuritsu Yotsuya Elementary School, the Tokyo Toy Museum that now lives there is three floors of awesome.
Floors 2 & 3 have themed rooms in the former classrooms where children used to play and learn.
Both hallway corridors on Floors 2 & 3 also house hundreds of 'analogue' toys and games that will test your brain power and imaginative play skills!
The First Floor is a dedicated relaxation and play space for babies and toddlers.
Within the Tokyo Toy Museum, there's also:
a museum-exhibit displaying handmade and Japanese cultural toys from around the world
a Japanese Toy Factory where you can join in a workshop to make your own toys,
plus one of the best toy shops in Tokyo "Museum Shop Apty".
It's the best toy shop in Japan – we have yet to find better.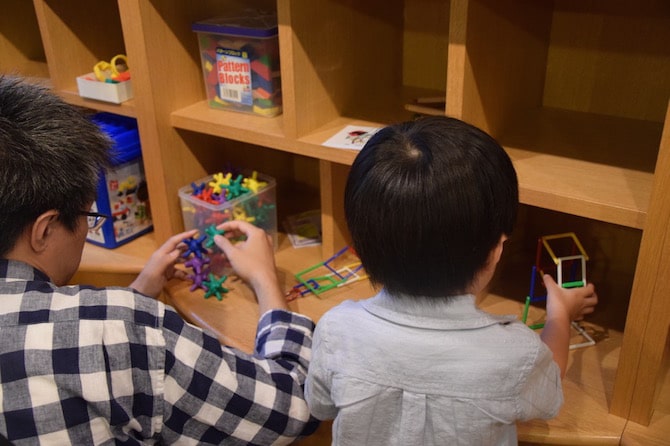 Toy Curators on Hand
The Tokyo Toy Museum has dedicated volunteer Toy Curator attendants who act as the bridge between visitors and the toys.
Tokyo Toy Museum Toy Curators are on hand to help the children (and families) play, explore and learn the rules or the how-to's of each game or toy.
Tokyo Toy Museum has games from over 100 countries, many of which are unfamiliar.
Although most people don't speak English as a whole, the staff and helpers are more than willing to try and teach you.
Expect hand gestures and signs, and the best of their English language knowledge as they strive to get their message across as best as they can, with a few laughs along the way!
No need to worry though.
They will give you an English Map for the Tokyo Toy Museum as you enter.
The Tokyo Toy Museum is a non-profit organisation striving to:
promote friendships among different generations
encourage partnerships in the social community, and
build opportunities family communication.
Most visitors are Japanese, and it is a delightful experience to watch families and children being deeply engaged in game play together.
We've included LOTS of photos in this post, but it's a tiny taste of what is on offer.
Our photos don't show you 1/4 of what is there.
You'll have to plan a visit to see this magical wonder for yourselves!
BYO Lunch to eat in the Outdoor Playground
Hot tip: Pick up some onigiri (triangular sushi) from the closest Family Mart convenience store for breakfast or morning tea, and eat it in the outdoor yard before you head in, so there's no growling tummies.
Once the kids go in, you'll have a hard time getting them out.
Pass outs are available, so you can always stash a few onigiri or snacks in your bag or stroller, and break up your visit with a snack break if there's a need.

Take a peek inside the different rooms below.
The Tokyo Toy Museum rooms each offer something different.
We suggest you:
start on the main floor (2nd floor on the map) and explore these gallery rooms
head up to the 3rd Floor (the top floor on the map) for all the hands-on games, dress ups, and play zones
then walk down the stairs to the basement level (1st floor on the map) to peek inside the natural timber styled Baby Room full of Japanese Toys
Finish up by spending all your money in the Toy Shop that sits behind the front desk on your way out.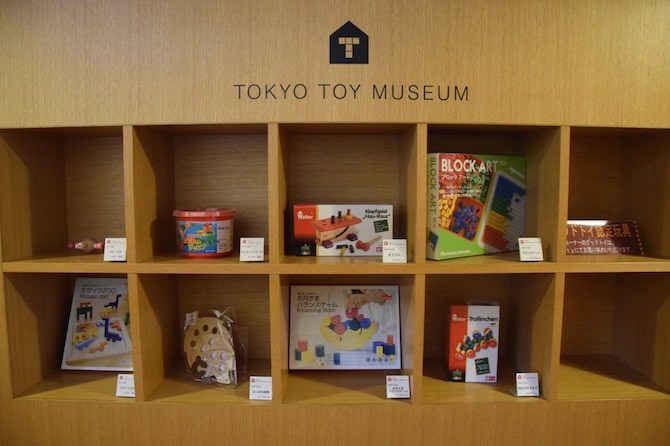 LEVEL TWO (2ND FLOOR)
Strangely, you start in the middle level, Level 2.
There's one level above, and another level below with the baby play room. Let's take a look…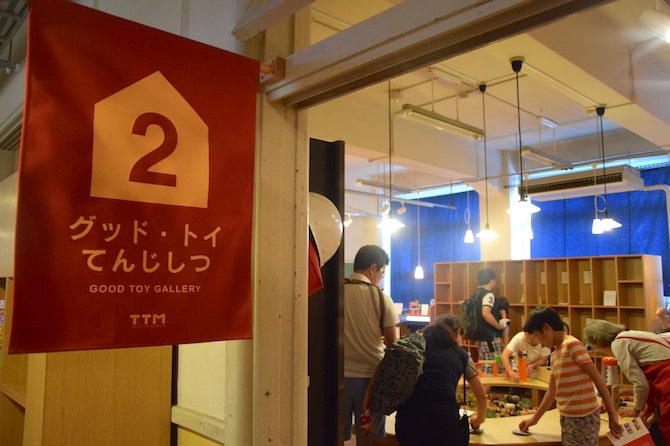 Room 2: Good Toy Gallery of Japanese Toys for Kids
This room is filled to the brim with toys, games and activities that meet certain standards – that is, they are accredited as being good for children's development across both physical (fine and gross motor) or intellectual realms.
Head straight to the donut-shaped table in the centre of the room and take your pick of toys to play with. Not sure how? Ask someone in a red-apron. They are there to help you!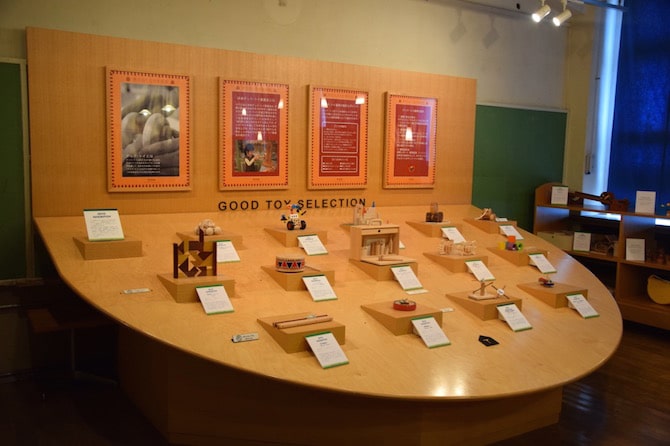 You'll also see examples of other Good Toys displayed around the room. Lots of these toys are available for sale in the shop too.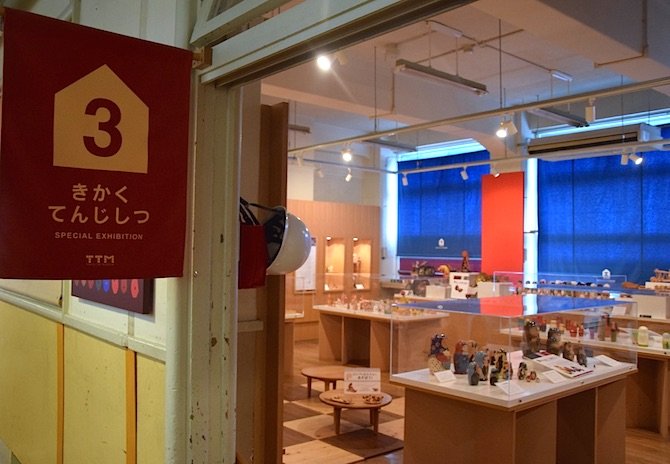 Room 3: Special Exhibition at the Japanese Toy Museum
This is the only room where it's more about LOOK than touch.
But it's still worth a few minutes of your time to check out all the different toys from around the world, from different cultures and timeframes in the Special Exhibition room.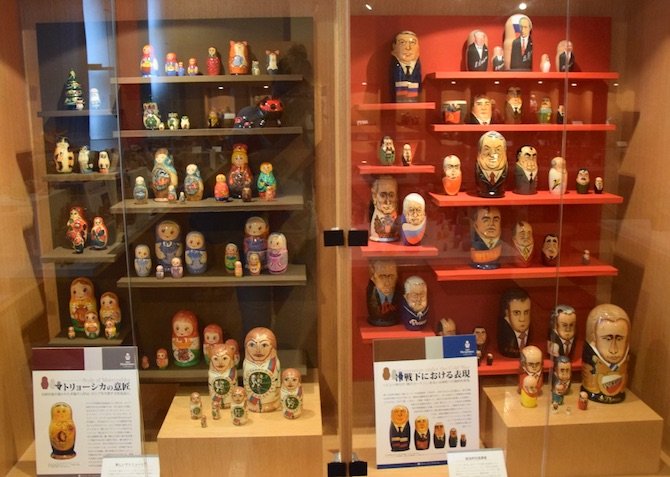 The Russian Doll display when we visited was hilarious! See if you can spot someone you know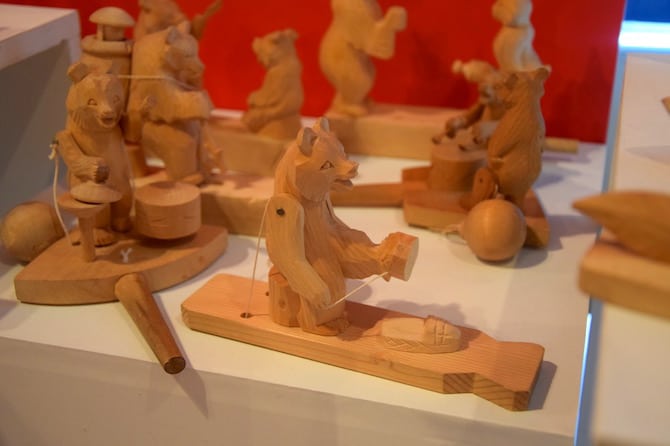 Most of the toys on exhibition are handmade, hand carved, or have some element of artistic human skill involved.
The displays of toys in this room are interchangeable, specially curated on a yearly basis to showcase some of the 15000 toys in the Tokyo Toy Museum's collection.

Room 4: Wooden Toy Forest at the Japan Toy Museum
This room was our favourite. With scents of Cypress throughout the space, the centrepiece of this room is the timber-slatted dual-level cubby house. Take a trip up the stairs too.
On the ground around this feature, there are a number play stations with Japanese wooden toys to try.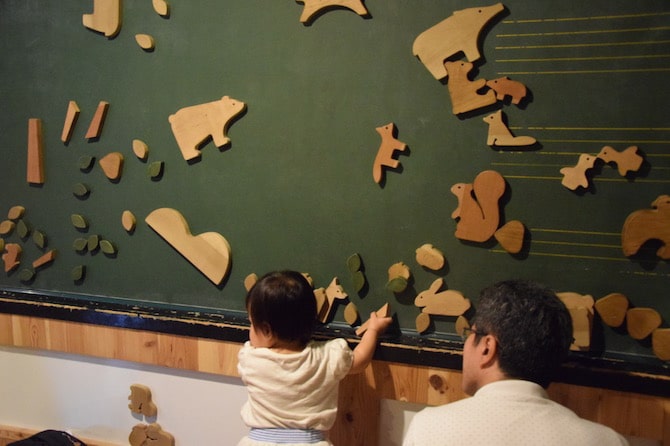 There's storytelling opportunities with magnetic story pieces on a blackboard just waiting for you to move and shift them around.
There's TWO of the best ball pits we've ever seen – a smaller one in the corner, and a larger circular one, the Wood Ball Pool.
The bigger one is filled with twenty thousand handmade wooden balls! Kids are encouraged to take a 'wood bath'.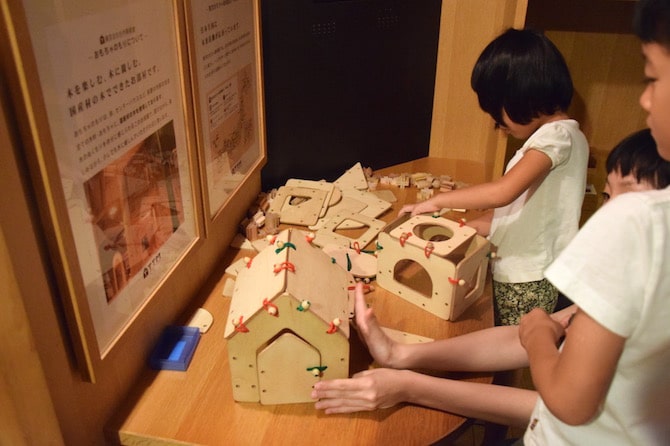 There's games where you can use elastic baubles to connect wooden frames in different ways to make house shapes.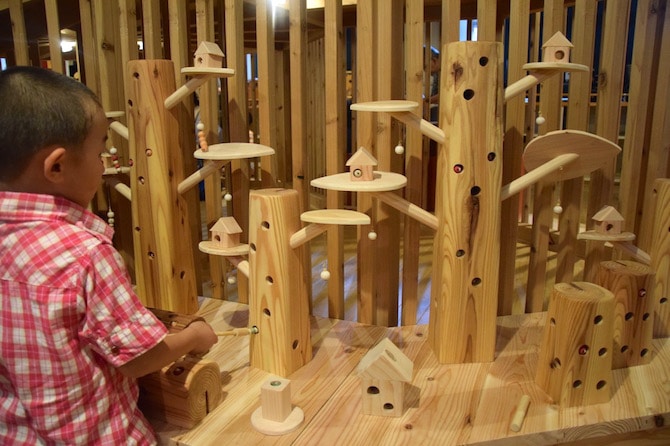 There is a magnetic 'Find the Worm' game where children use wooden poles to locate the "bead caterpillars" and pull them out of the tree trunks.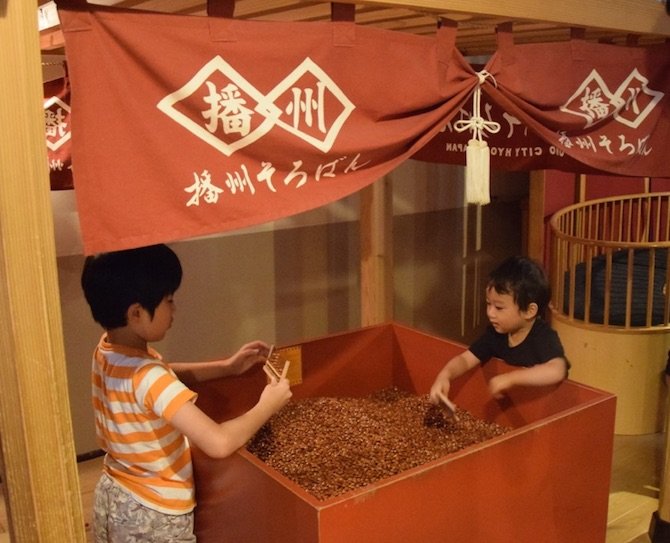 Children can scoop up flat timber beads onto an abacus base as they practice counting.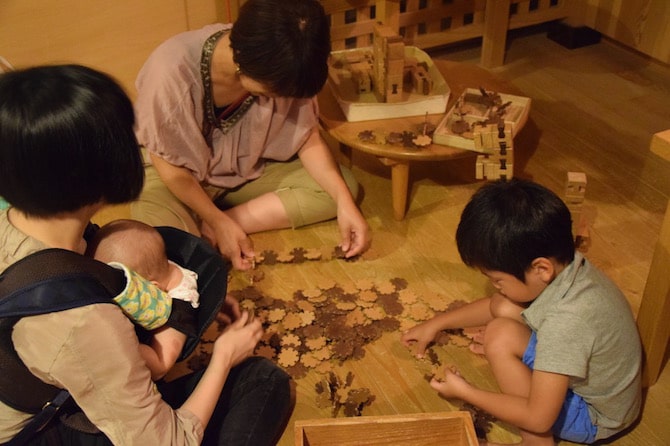 And there's click-together shapes, and plenty of wooden blocks in all shapes and sizes too. Everyone is invited to join in the puzzle play, the activities, and the fun.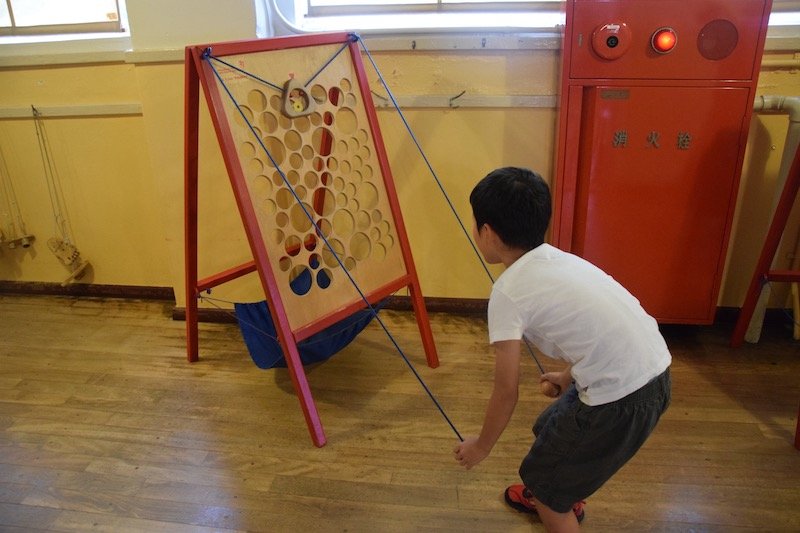 LEVEL THREE (3RD FLOOR)
Corridor Area
Lining the corridor of this floor, are MORE and MORE Japanese games and Japanese kids activities to try your hand at. They are the first thing you'll see.
Try:
Push carts
Skill and tactic games
Books to read
Ride on's
Conquer the challenge of tactical puzzles (like the one pictured above)
Do your best to walk on the giant-sized walking stilts.
These 'stilts' are shaped as a pair of traditional kimono clogs called 'geta', and have handy ropes to hang on to as you gain your balance and move along the floor.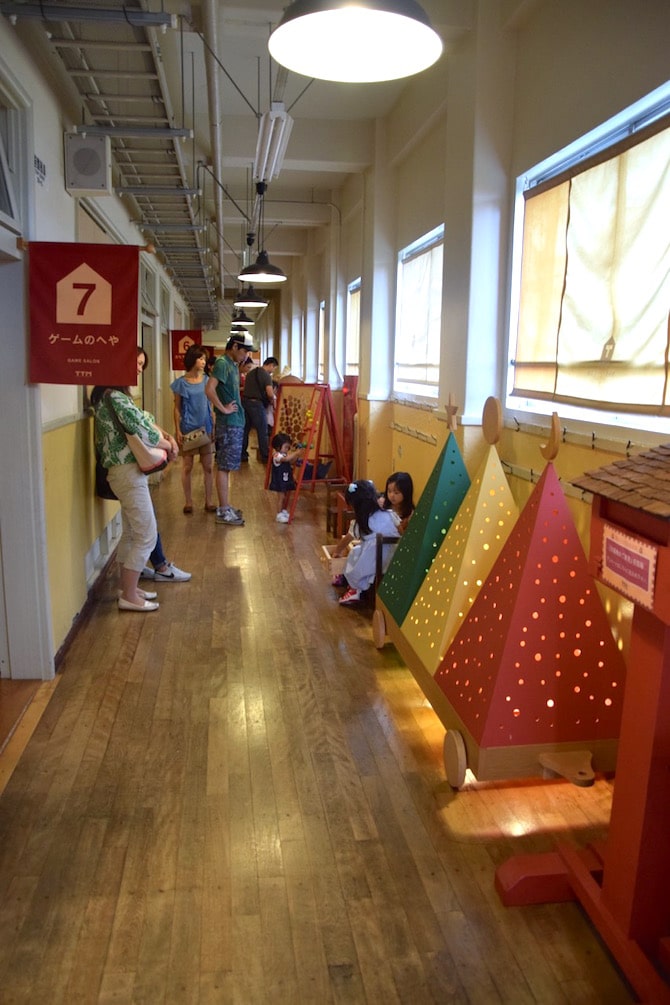 Room 5: Toy Square Yellow
The Toy Square Yellow room is based on the world of scientific discovery and invention. There's a Food Forest where children can 'grow their own vegetables'.
Take a look at this 'apple tree'!
Children can also play musical instruments where you drop wooden balls down a spiral to create sound, and balance toys. There's also a little playhouse area.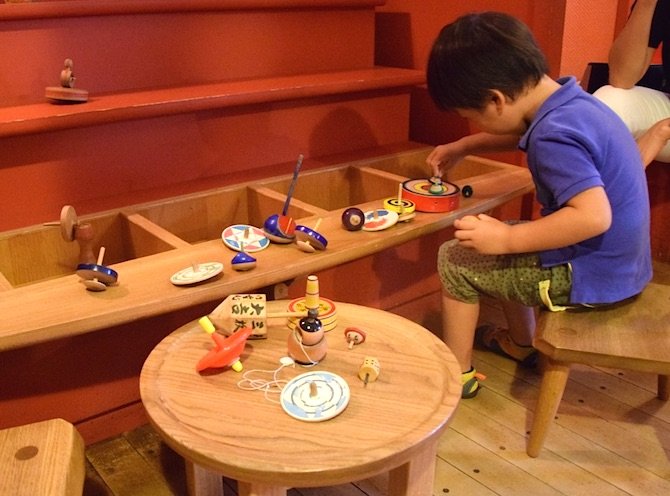 Room 6: Toy Square Red
Room 6 is full of traditional Japanese toys for everyone to try.
Choose from:
spinning top tables
silk juggling sacks
cup-and-ball games
retro-style games from Japanese childhood.
There's also an exhibition of Ryukyu toys, and toys from the Showa period.
Room 7: Game Salon
Inside this room, you'll find lots of table games and seating. There's wooden soccer, table football, puzzles, and things that remind me of Snakes and Ladders. As you can see, it's a fabulous place for families to enjoy one another's company while having fun!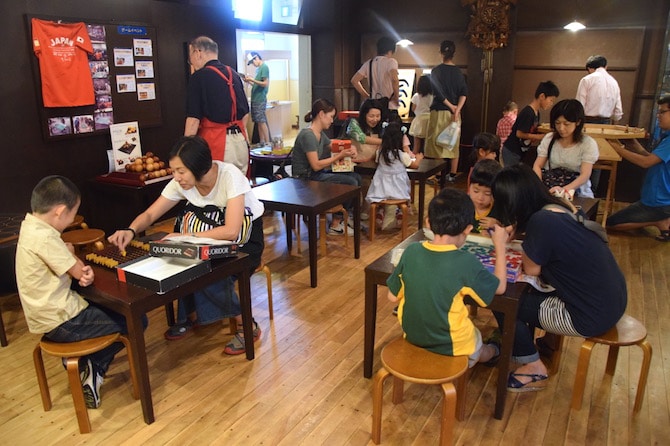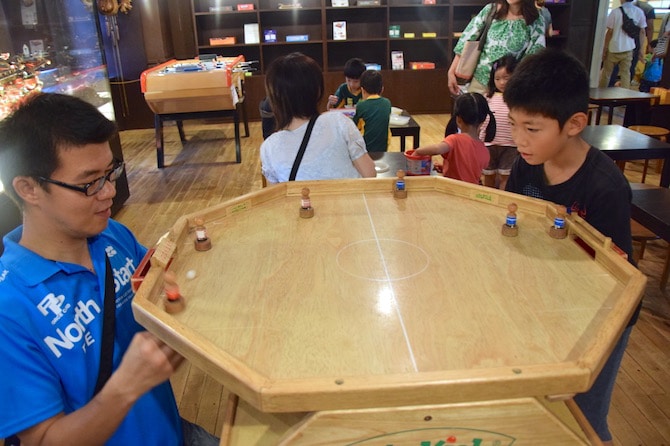 Room 8: Traditional Japanese Toys Factory
This is the workshop space where you can make handmade toys. Enquire at the front desk for start times, and to book in.
Hot tip: Point to the Toy Factory icon on the map so the staff can understand what you'd like to do.
We love a good hands-on workshop or class. These unique experiences make a family trip to Tokyo even more memorable.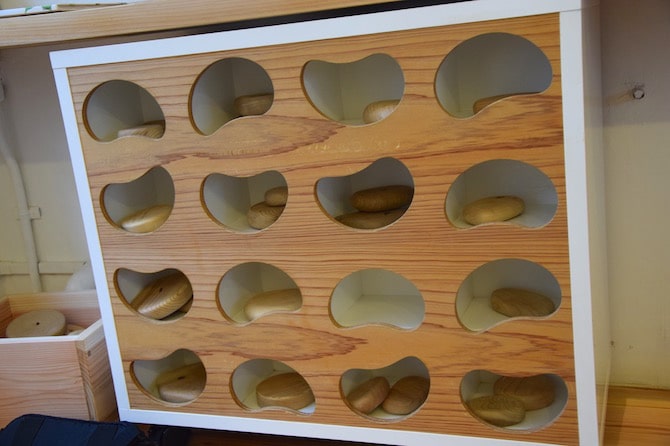 LEVEL ONE (1ST FLOOR)
Room 9: Wooden Baby Room
Do not miss taking a peek at the baby room, nicknamed the "Baby Kilku Square" even if you don't have a toddler in tow.
It is simply too beautiful and graceful to miss. Every little thing has a place, and there's a place for everything. Including this sweet wooden block storage unit.
Oh my!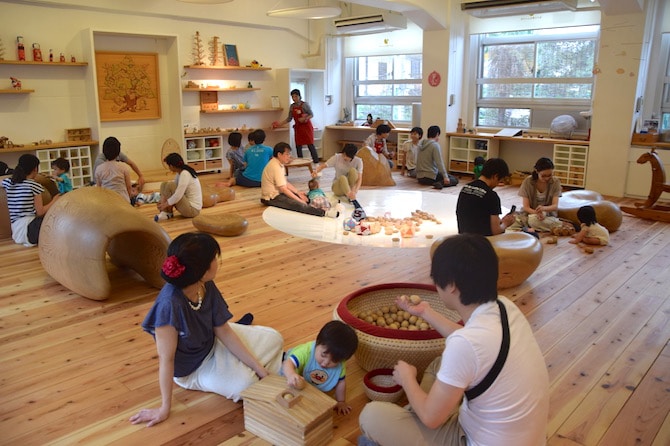 My favourite things are giant-sized wooden tree trunks that have been carved, shaped and smoothed into tunnels for babies and toddlers to crawl through.
When they've had enough crawling and hiding, staff can transform these tunnels into baby slides by turning them over.
The centrepiece of the room is the white concave disk that provides a tactile sliding and climbing experience for babies and toddlers too.
(Take a look in the picture above)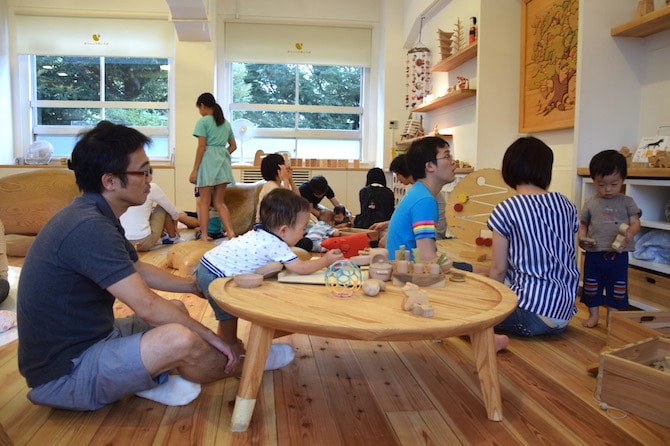 The Baby Room is stocked with:
Japanese wooden blocks
silk scarves
individual wood ball pits
rocking horses
teething rings
rounded tables to pull themselves up on
baby puzzles and shape games
handmade animal props
musical instruments
elevated tables to keep puzzles and games out of the way of inquisitive babies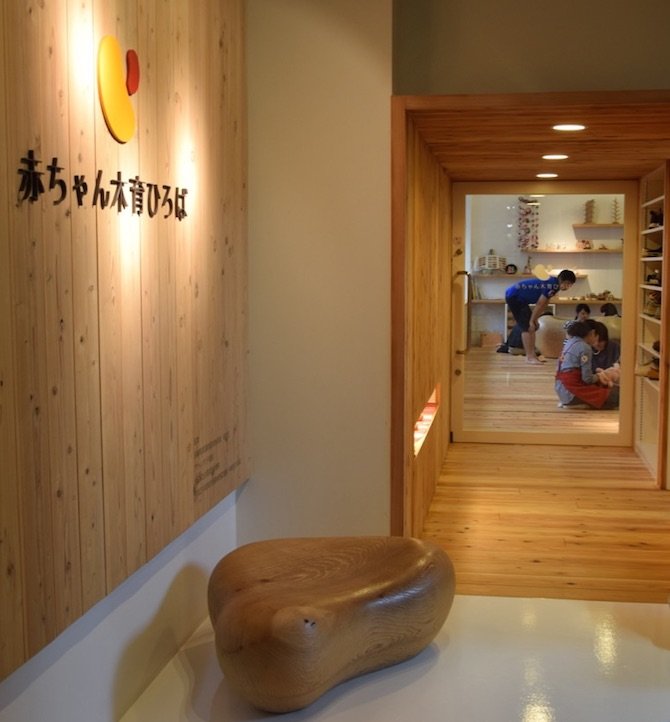 This minimalistic and warm-hued room is a respite from the normal demands of baby's and toddlers.
Friendly attendants are on hand to:
bring appropriate toys
interact with the little ones
clean up any spills, and
wipe down toys that have been tasted or mouthed by the bubs!
Changing and nursing facilities are available too.
Workshops to explore Japanese Childrens Toys at the Toy Museum in Tokyo
Each month, the Tokyo Toy Museum hosts a number of regular workshops or events for children to explore Japanese childrens toys. Check out the schedule here.
Note: All workshops are in Japanese language but for most of these, you'll be able to follow along with the instructions or story outline.
Be taught how to play simple Japanese games
Learn how to do simple paper cutting of animals
Watch a puppet show or Japanese folk tales come to life
Be a guest at a traditional Japanese tea ceremony
Learn all about science tricks
Be mesmerised by balloon games and learn about Edo-era children's games
Join in a Japanese style playgroup and learn simple Japanese songs
Children 3+ can also make one toy per day (a glitter jar, or a swirly mobile) during the weekdays for FREE! There are other toys you can make for ¥100 yen.
There's also workshops with the Toy Consultants.
These attract a small fee. Ask at the front desk for details.
Craft workshops are offered on a first come basis. Book in at the front desk.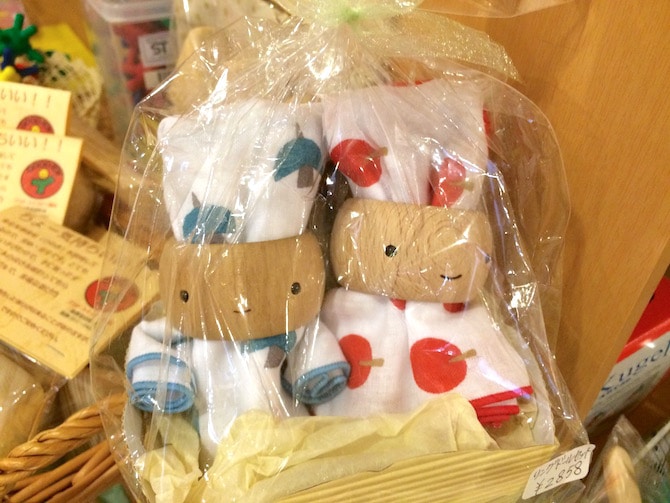 Where to Buy Toys in Tokyo?
Head to the Tokyo Toy Museum shop.
Even if you don't have time to explore the Toy Museum this trip, the toy shop alone is worth the effort.
You'll find LOTS of:
beloved Steiner toys
Steiner baby toys
Montessori toys
Waldorf wooden toys
Grapat Toys and Nins.
And cute Japanese homewares too!
The simple facewash or serviette holders with the faces on them (pictured above) made my heart sing!
The Tokyo Toy museum shop also answers the question: where to buy souvenirs in Tokyo?
You could honestly buy the bulk of your Tokyo toys and souvenirs here in one go.
It might not answer the question 'where to buy cheap souvenirs in Tokyo' though.
If you want to buy cute but cheap toys in Tokyo, I'd head to Daiso.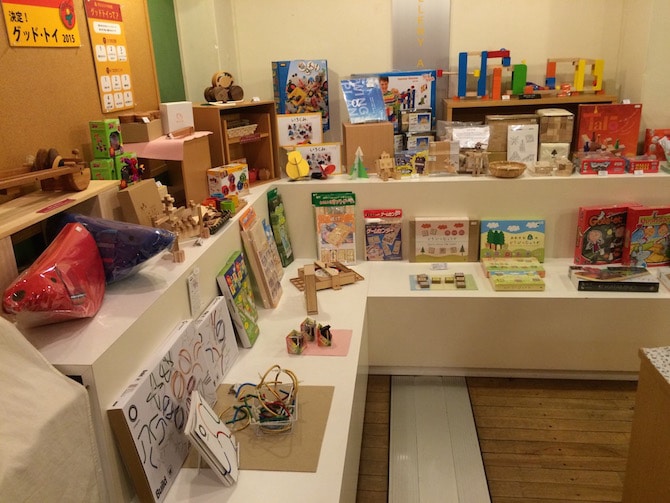 Room 1: Museum Shop Apty Tokyo Toy Store near entrance on Level 2
If all these toys have you longing to start your own beautiful toy collection, take home a replica of a toy from your childhood, or simply refill your kids toy box with more natural, quality toys, then this Tokyo Toys shop will be a dream come true.
Many, if not most, toys in the Apty Store have been created by Japanese toy artisans and can't be found elsewhere.
This makes it a great souvenir shop in Tokyo for finding unique Tokyo gifts for kids too.
I could not resist buying the adorable toadstool doll toy that wobbles its' way down any incline surface.
We added this sweet treasure to Roam the Gnome's collection of red and white spotted toadstools.
Many toys are reasonably priced too.
You could spend hours and hours (and lots of money) in what we'd call the best toy shop Tokyo has to offer.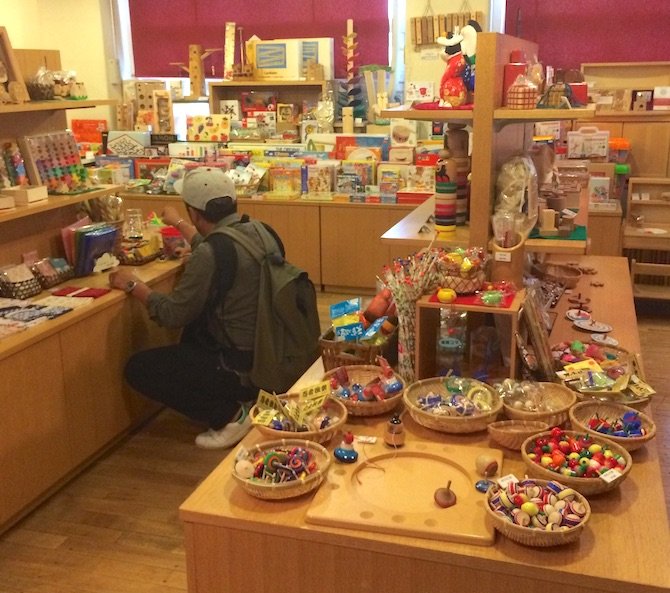 Do they have a Japanese Toy Store Online?
Sadly, the Tokyo Toy Museum shop only ships around Japan at this stage, but if you want to take a peek at all the beautiful toys you can buy in the shop before you visit, click here.
NB: Apply Google Translate to English
You can also take a look at their Tumblr Blog to see more of what they have in store.
You can also visit the Japan Toys Online Shop to see the Japanese Baby Toys stocked at the Tokyo Toy Museum stocked at the Tokyo Toy Museum.
Be warned: This Japanese online toy shop is full of sweet and pretty things, and it's VERY VERY hard to resist jumping on a plane right this minute to buy up one of everything.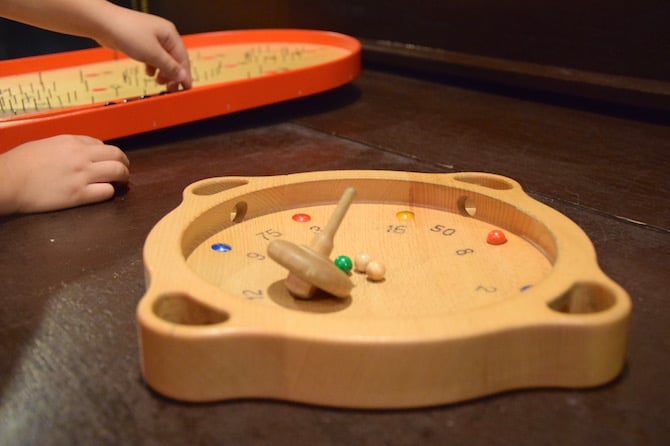 THE INSIDE SCOOP: Toy Museum in Tokyo
Correct at time of publication on Roam the Gnome. Please check with venue for updates. We apologise in advance if there have been any changes we are unaware of. All prices in yen, unless otherwise stated
Address: 4-20 Yotsuya, Shinjuku-ku Tokyo 160-0004
Telephone: 03 5367 9601
Website: Click here for website
Email: [email protected]
Tokyo Toy Museum Opening Hours
10am to 4pm (last entry 3.30pm)
Closed: Thursdays, over the New Year Holiday period, and special holidays in February and September
Tokyo Toy Museum Fee for Entry
Adults (13 years +; junior high school and above) ¥800
Children (6 months to elementary school) ¥500
Child and Adult pair ticket ¥1200
Map of Tokyo Toy Museum in Japan
How to get to Tokyo Toy Museum Japan
My first time, I followed a detailed map from search to find this Tokyo museum, and walked straight past the correct turn off, getting myself lost in the process.
Don't do as I did.
Look out for these signs below to make sure you find this Tokyo Toy store on your first go.
It's about a 7 minutes walk from Yotsuya- Sanchome Station (Marunouchi Subway Line).
Head out Exit 2 and reach street level.
Turn right onto Shinjuku Avenue, so you head past the main entrance to the Tokyo Fire Museum.
(Tokyo Fire Museum is another one of the best museums in Tokyo for kids)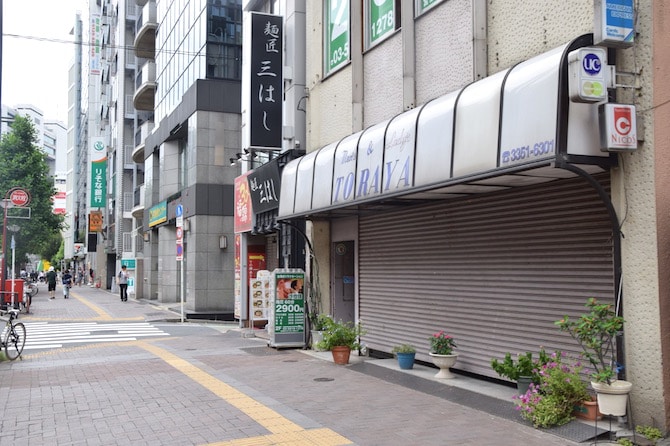 This Intersection
Keep walking along this road until you come to this intersection, the Yotsuya-Yonchome East Intersection.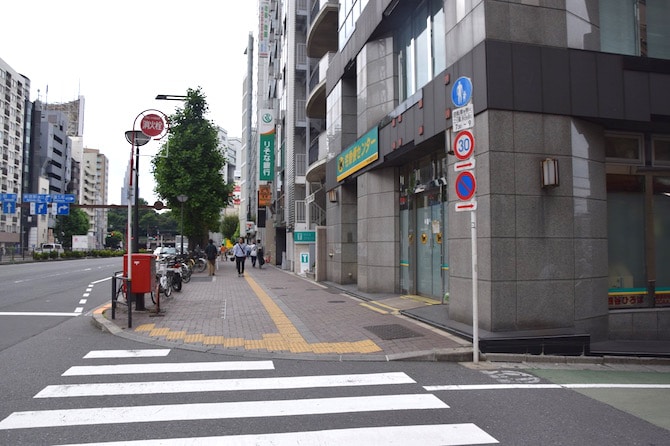 Turn right down this street.
Notice there is a walkway on the left hand side of the street that is painted green.
There is a Yamato Transport building on the other side of this crossing, on the right hand side. If you pass that building, you've gone too far. Turn back.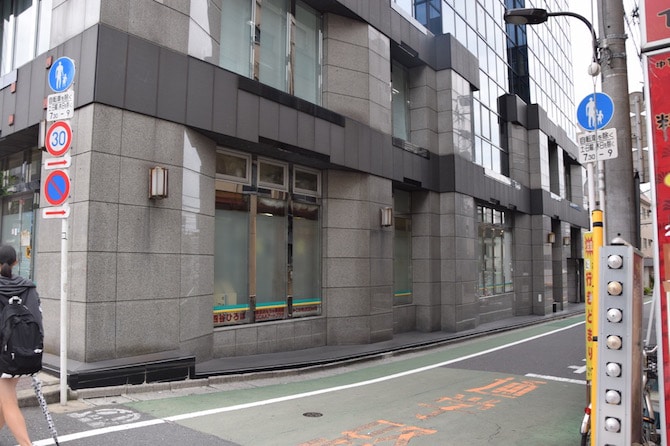 Blue Circle Sign
Look for the blue circle street sign that shows children walking with adults.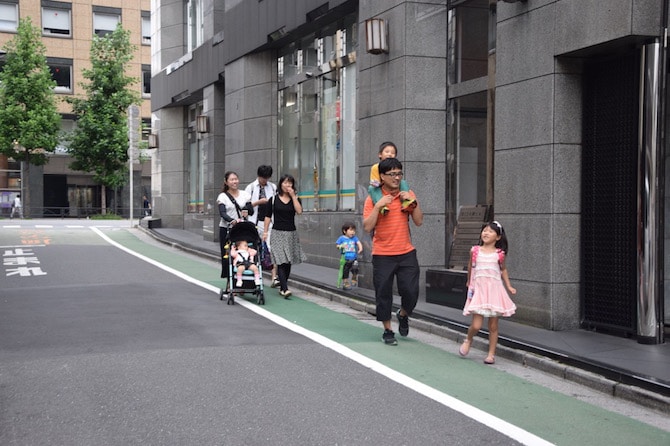 Follow the crowd!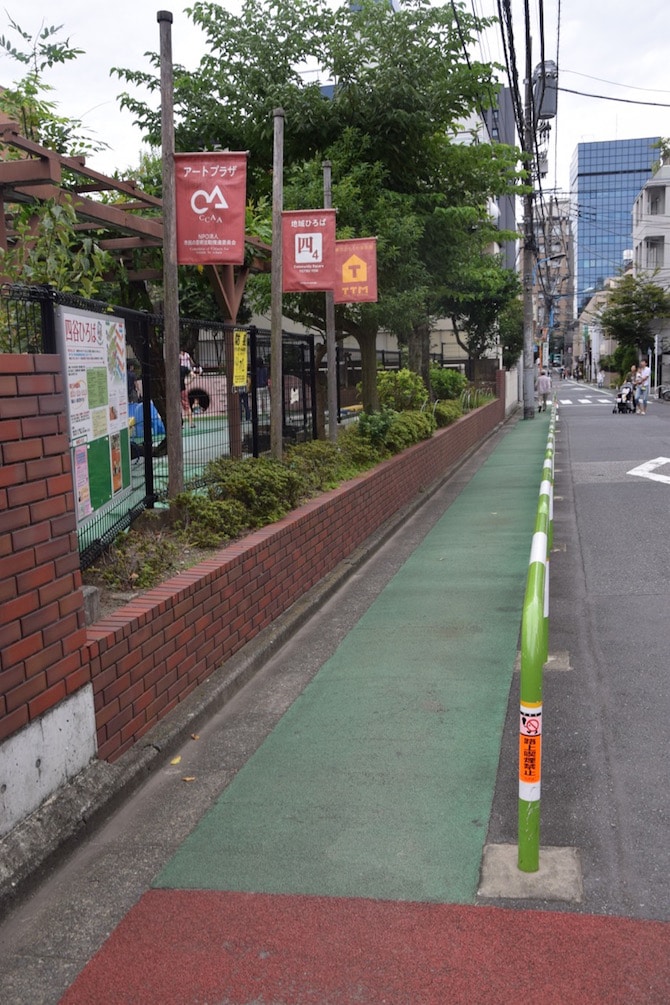 Green & White Poles
This photo above shows the view looking back to the intersection.
The green and white stripped pole is another indicator to look out for, along with the red TTM flags.
The building is about 150 metres walk from the main road.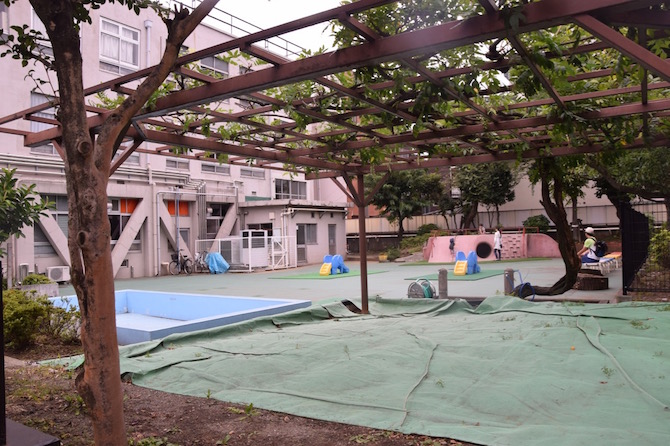 Tokyo Toy Museum playground
When you reach the Tokyo Toy Museum, you'll see an outdoor playground to your right as you enter the gates.
Tokyo Toy Museum building
The Tokyo Toy Museums is housed in this old school building.
A red Tokyo Toy Museum flag banner sits on the building above the entrance.
Make your way in and have fun!
Toadstool Rating (by the kids) – Toy Museum Tokyo Review
If we could give it 10, we would! SO GOOD! Put the Toy Museum in Tokyo on your Tokyo Bucket list NOW.
Tokyo Toy Museum is THE BEST Children's Museum in the World!

Looking for MORE SUPER DOOPER FUN places to visit in TOKYO?
Click the blue links below for more Tokyo tips.