Inside: Everything you need to know about Family Mart Japan Food & Snacks in this Japanese Convenience Store.
Our pick of "konbini store" is Family Mart Japan.
Find Family Mart convenience stores in Japan on just about every corner in cities, and on every second one in rural areas.
This shop is a lifesaver.
Look out for this sign konbini (written in Japanese as コンビニ).
Their (FREE) public restrooms are clean, the shop assistants are always helpful, and there's nearly always an ATM machine that takes your travel money card.
But the best thing of all is the Konbini FOOD.
It's tasty, fresh, plentiful, and cheap to boot.
You'll never run of out Japanese food options at Family Mart store for breakfast, lunch, dinner or anytime hungry tummies are grumbling.
Disclosure: This article contains affiliate links. If you make a purchase after clicking on one of these links, we may receive a small commission at NO extra cost to you. Main image credit: Yasu via Wikipedia commons CC BY SA-3.0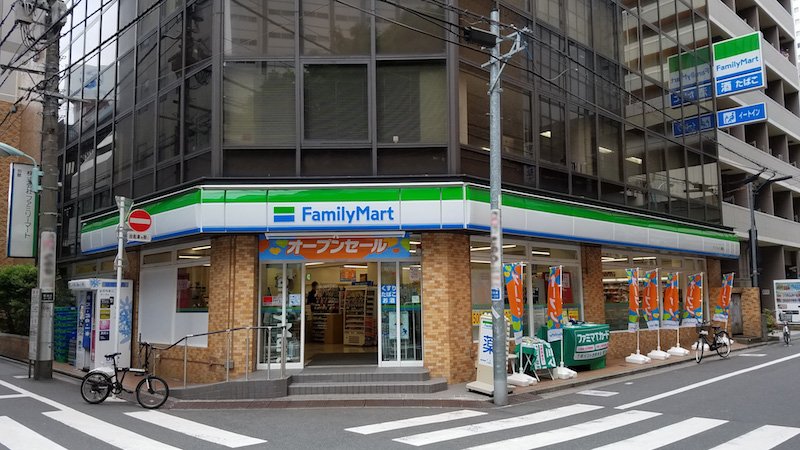 Image credit: Lerk via wikimedia commons CC BY-SA 4.0
Guide to Family Mart Japan Food
Save Money in Japan buying Japanese Snacks & Food at Family Mart Japan Store
Seriously, you can travel the whole of Japan on a budget by eating here.
The Family Mart Japanese food is real food, just like home, and freshly made (unlike the food on offer at most of the convenience stores we've visited elsewhere in the world)
And there are plenty of options for adults and kids alike.
Hot meals and snacks are SUPER DOOPER cheap too!
---
HOT TIP: Book the Popular Skip the Line Tour to the Tokyo Skytree, with lunch at Sky Restaurant 634.
<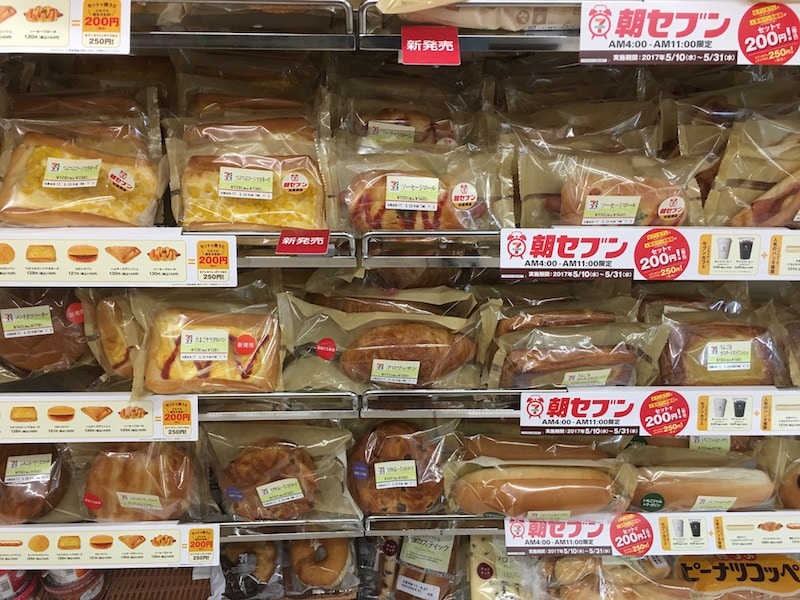 Japan Family Mart Products on a Budget
Convenience Stores in Japan are the home of budget friendly food for family travel.
You can also buy Japanese snack foods here to save money when you need to pass through a place (aka travel budget killers) where food prices are exorbitant and choices limited.
You know the places:
Buying expensive drinks and meals from the cafe or meal cart on train trips
Same on Shinkansen long-distance journeys
Travelling to and from the airport
At the airport.
Theme parks
Concerts
Ticketed events
In Japan, you can overcome travel budget stress and say no to excessively high prices by stopping in at Family Mart on your way and stocking up with real food choices.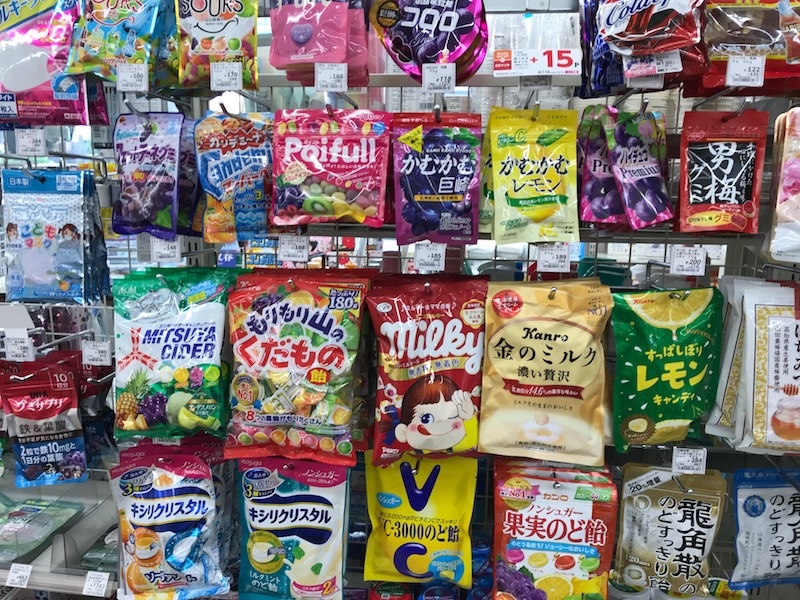 What to buy in Family Mart?
Wondering what you can buy at Family Mart Convenience Store in Japan?
Family Mart is one of the largest chains of convenience stores in Japan, and as such, has become a hub for everything a local or traveller could need.
Here's a list of the Family Mart must try Japanese convenience store food that don't break the bank, while still tasting like fresh food.
---
FUN ALERT: Book a Tokyo Secret Food Tour for 3 hours of delicious fun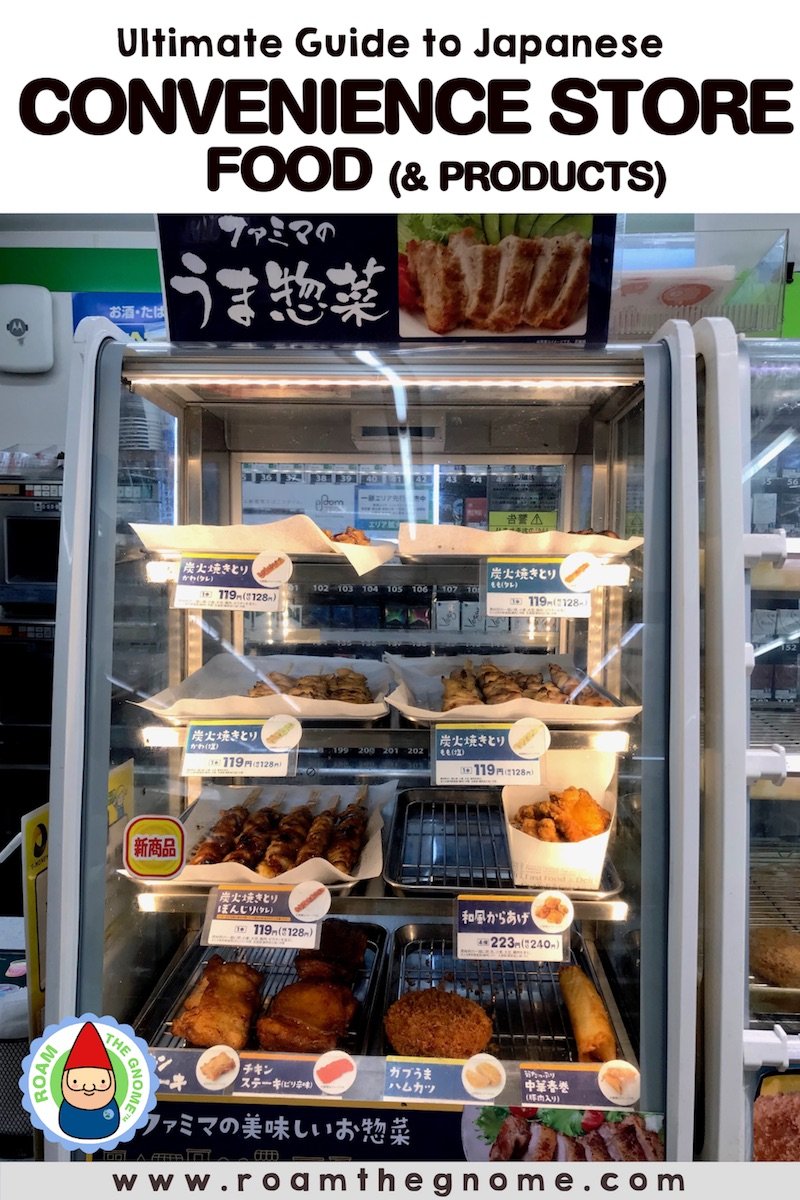 TOP 9 ITEMS ON THE FAMILY MART JAPAN MENU
No.1: Family Mart Healthy Food
At the Family Mart counter, pick up a quick snack or late night feed.
The ready-to-go hot food stand on the counter sells:
yakitori (chicken on a skewer stick)
chicken kaarage (crumbed lightly fried chicken)
steamed pork buns
Hot tip: Family Mart fried chicken kaarage is good. Very very good.
It's top of our must buy in Family Mart list.
---
RELATED: Complete Guide on What to Buy in a Japanese Grocery Store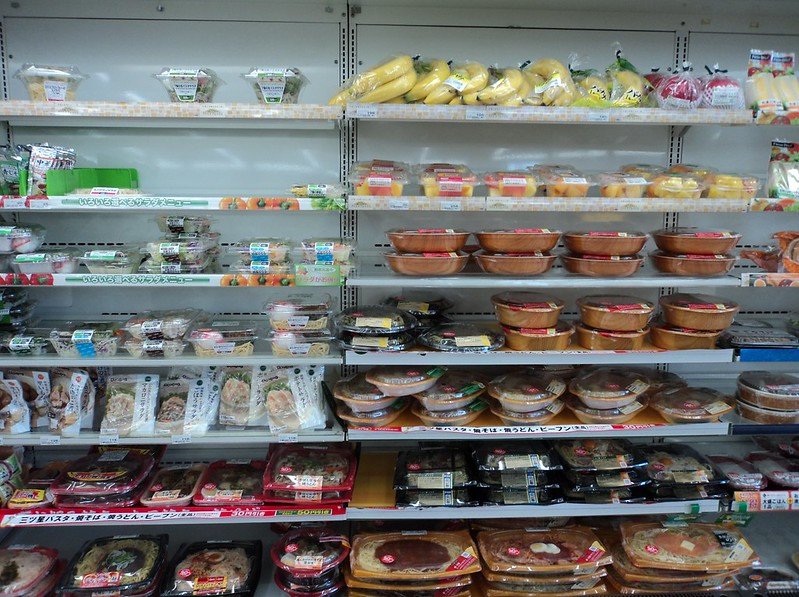 Image credit:Erysimum via Flickr CC BY 2.0
No.2: Family Mart Bento
Wondering what to buy in Family Mart Japan for a quick takeout dinner or late night snack after you arrive?
In the refrigerator aisle in FamilyMart convenience store, you'll find ready-to-eat Family Mart bento boxes (also called Konbini bento)
The Japanese bento boxes are a decent budget priced lunch, or early dinner if you fancy an early one after a big day of sightseeing.
They are also healthy, and a good option for anyone wanting to eat clean.
Take your Bento Family Mart packs to the counter to purchase.
If the bento needs heating, staff will pop it in the ovens behind the cash registers for you, and provide you with disposable chopsticks, plastic sporks (spoon/fork) and drinking straws.
Bento is top of the Family Mart Famous Food list!
More of the Best Family Mart Food for lunch and dinner
Next to the bento, you'll also find Family Mart ready to eat food including:
Family Mart soba noodles
curry bowls
sushi
soba noodles, and
ramen dishes.
You can also find instant noodles.
---
READ MORE: The Best Shop in Tokyo to buy a Japanese Bento Lunch Box and Bento Accessories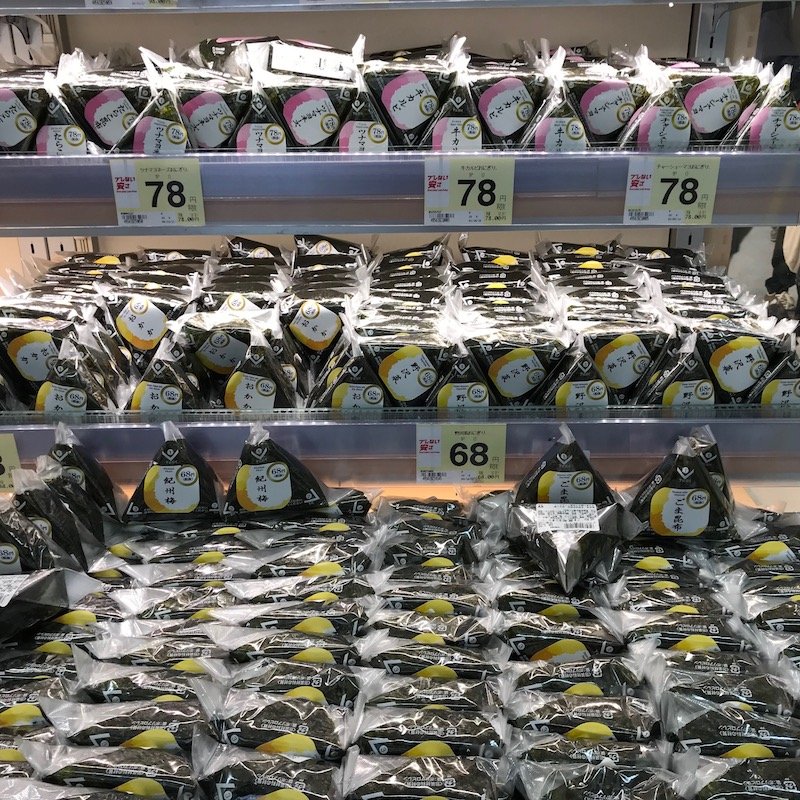 No.3: Family Mart Onigiri Flavors
Our all-time favourite Japanese snack, onigiri rice balls are a triangle of rice stuffed with some kind of flavouring, wrapped in seaweed nori paper.
(Some people call them Family Mart rice triangles!)
Find these flavors on the Family Mart Menu.
salmon flakes
chicken
kombu kelp, and
tuna mayonnaise.
Family Mart onigiri price?
The price for Family Mart onigiri starts from about ¥110 each.
(Two makes for a cheap lunch or snack.)
Watch out for the Salted Plum onigiri (umeboshi), especially if you are travelling Japan with kids
Ugghh!
It's definitely an acquired taste.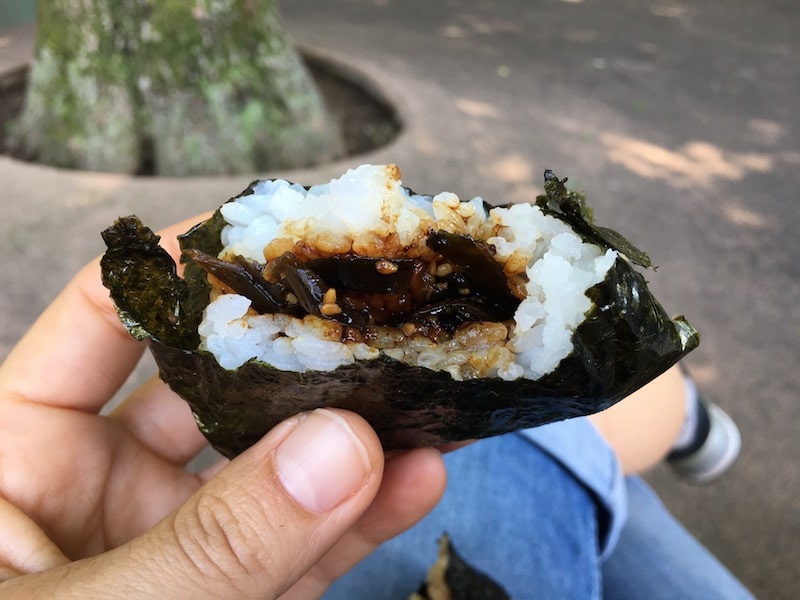 No.4: Japan Family Mart Sushi
Take your pic of popular sushi roll combinations.
Again, sushi in Family Mart costs around 150 yen or LESS per roll.
But so popular with the thousands of commuters and customers visiting Family Mart that it doesn't stay on the shelf for long.
You're guaranteed fresh sushi, with soy sauce, at ANY time of the day.
It's why this Japan Family Mart food is one of their best sellers.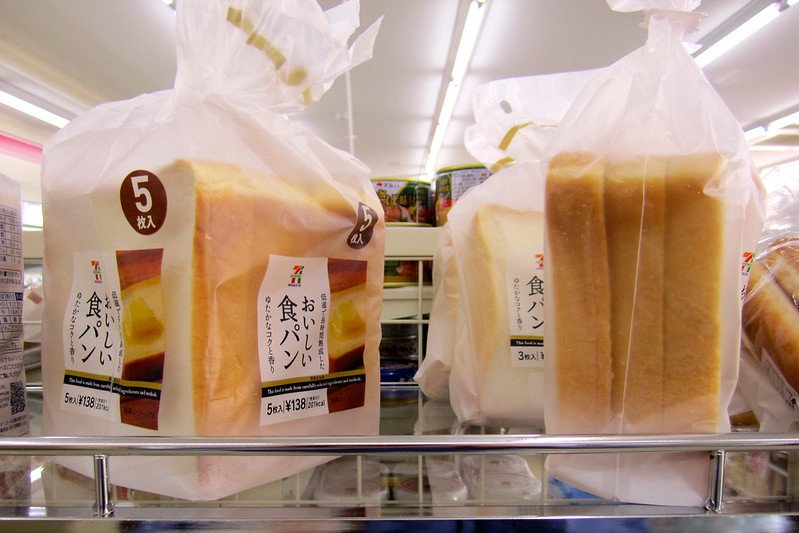 Image credit: Amy Jane Mitchell via Flickr CC BY ND 2.0
No.5: Family Mart Bread & Bakery Goods
Do try Japanese bread at least once.
It's very sweet, and super thick in comparison to bread we are used to.
Buy it in packs of three slices, or five slices.
Not a whole loaf!
There's also a whole shelf of delicious 'pan' bread variations – sweet and savoury, including:
hot dogs
long filled bread rolls
pizza breads
donuts
croissants
pastries with chocolate or sultanas
These are a great snack on the go!
Japanese Convenience Store Sandwiches
You must try Corn and Mayonnaise sandwiches.
Yes, it's a Japanese thing!
No.6: Family Mart Japan Snacks
Family Mart in Japan stocks the best Japanese chocolate AND delicious Japanese snacks.
Best Family Mart Snacks?
These are the best Family Mart snacks for when you are out on your Tokyo day trips, at Tokyo Disneyland, or as after dinner treats.
all kinds of fresh delicious pastries
Japanese crisps
Japanese wasabi snacks
Japanese nori snacks (dried seaweed) and senbei crackers
cheap Dagashi snacks for kids
---
RELATED: Roam the Gnome's Guide to the BEST JAPANESE SNACKS on the go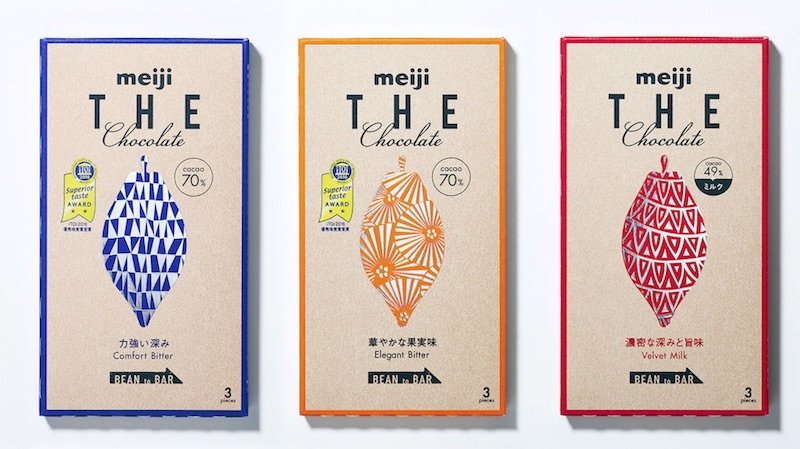 No.7: Sweet Things to buy at Family Mart?
Pocky in all the flavors!
Meiji THE chocolate bars
Crunky chocolate balls
---
RELATED: Roam the Gnome's Guide to the BEST JAPANESE CHOCOLATE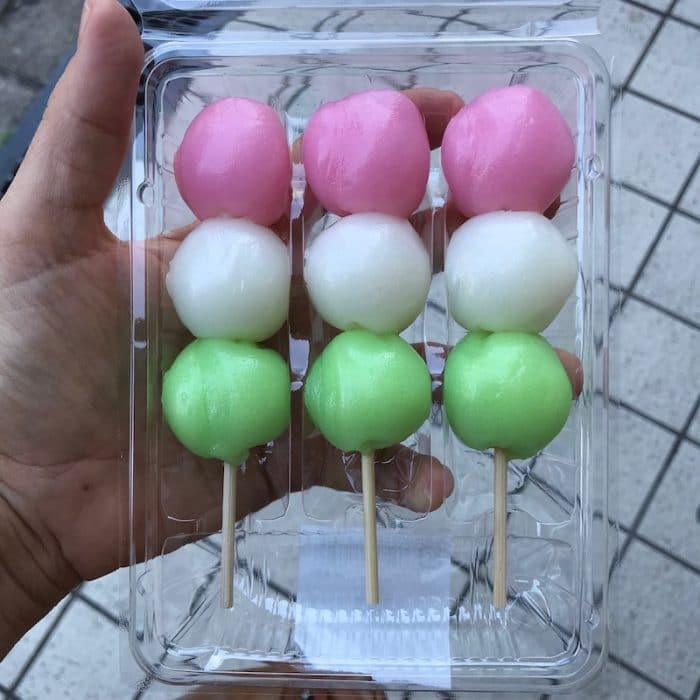 No.8: Traditional Japanese sweets & desserts
Wondering what to buy in Japan convenience store for dessert?
Look out for traditional Japanese sweets like:
Sweet Red Bean Mochi balls, and
three-color dango mochi on a stick
yogashi (Western-style desserts) like custards
sundaes and trifles
Mochifuwa pancake
Sticky, chewy Mochi is our favourite Japanese treat!
You can also buy Japanese bread at Family Mart, both sweet and savory, including the famous melon pan bread that resembles the skin of a rockmelon, which is how it got its' name.
Take the perfect opportunity to try a green tea-flavoured sweet snack if you can.
Family Mart Japan Ice Cream
Family Mart Japanese ice cream is a winner.
Try Japanese ice cream AND green tea in one go, with a Green Tea ice cream!
You won't regret it.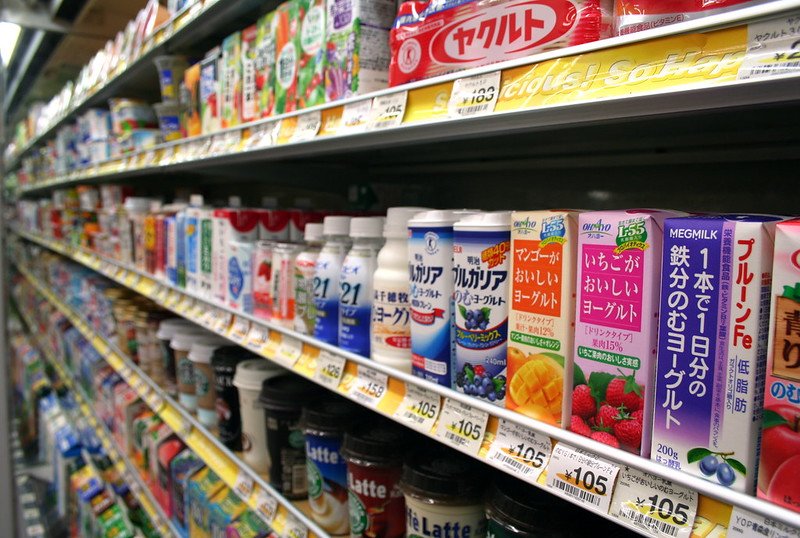 Image credit: Jon Rawlinson via Flickr CC BY 2.0
No.9: Family Mart Drinks
It's hard to choose the Best Japanese drinks at Family Mart.
Our family favourite Japanese drink is Family Mart Milk Tea, a cold and very sweet milky tea in a carton.
I dream of it when I'm away and can't wait to get back to put my hands on it again.
---
RELATED: Roam the Gnome's Guide to the Best JAPANESE DRINKS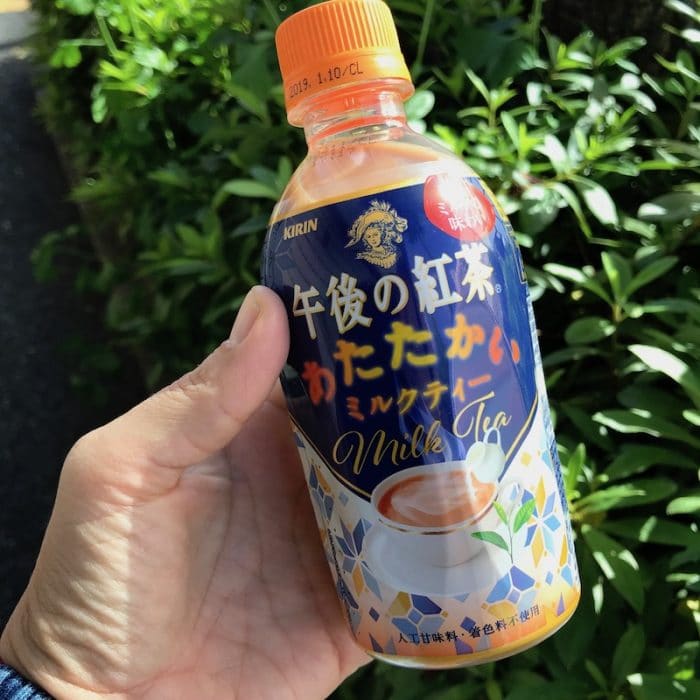 Hot Milky Tea & Coffee at Family Mart in Japan!
The good news is that this Japanese grocery store stocks a HOT version of my favourite sweet Milky Tea too.
I can drink five on a cold day!
Most Family Mart convenience stores also have ready-to-go hot drinks such as coffee in cans.
Look for the special hot cabinet shelf near the registers too.
The Family Mart konbini stocks Japanese drinks including:
Japanese soda in all flavors
Japanese lemon soda
Popular Japanese soft drinks including Japanese lemonade
Japanese Fanta in all the flavors
Japanese green tea
Bottled water
Japanese sport drinks
Japanese juice drinks
Milk
Japanese peach tea
Japanese melon drink
Vitamin drinks
Japanese carbonated drink
Japanese sake
Other Japanese alcohol including beer, happoshu, chuhai, shochu and wine.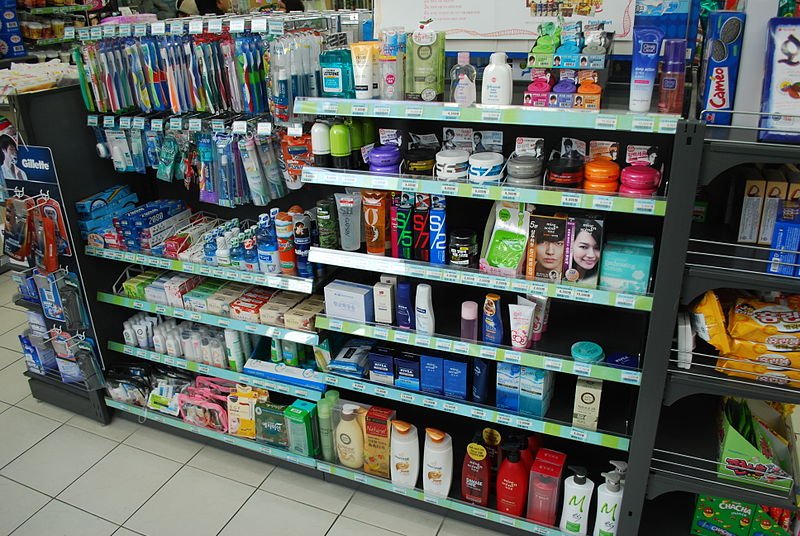 Image credit: Ellif via Wikimedia commons CC by 3.0
MORE USEFUL FAMILY MART JAPAN PRODUCTS FOR FAMILY TRAVEL
Wondering what to buy in Family Mart Japan?
Family Mart Japan products are endless.
Everyday Family Mart Products
Other useful goods available at Family Mart include:
batteries
toothbrushes
deodorant
hair ties
sanitary products
toothpicks
hair dye
fabulous cheap clear umbrellas for just a few dollars.
I keep a Japanese umbrella from Family Mart in the back of my car at home, and when it comes out on a rainy day, people ask me where I go it!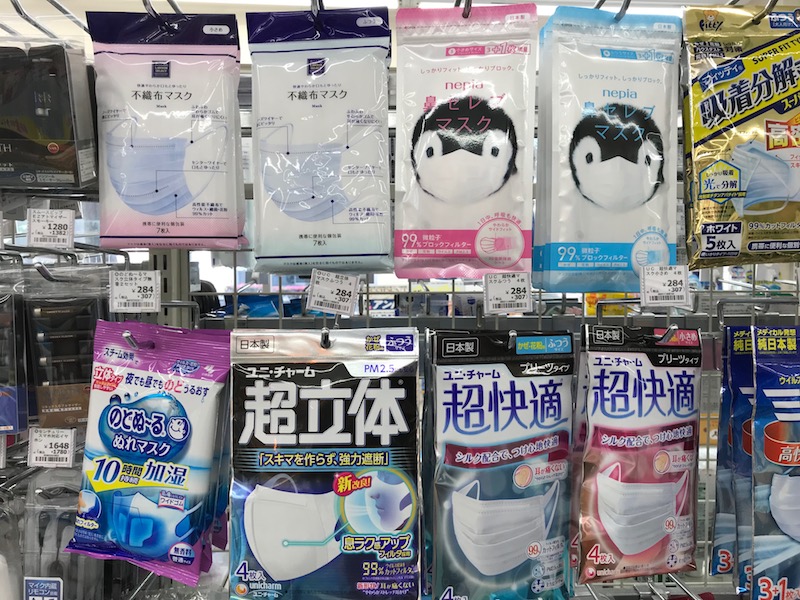 Miscellaneous Goods
Face masks for coughs and colds
Telephone Cards that let you ring home (international)
Manga comics, newspapers, and magazines (sometimes in English)
Medicine, bandaids, blister patches, body care products, toothbrushes and cosmetics
A small selection of Japanese toys in some stores
---
RELATED: Don't miss the Tokyo Toy Museum in Japan
All Round Stores
Many Family Marts have in-store copy machines, movie & concert & overnight bus ticket kiosks, and instant picture printers too.
They stock every kind of phone charger, phone battery, pen, stylus, and adaptors.
Use the ATM inside Family Mart to safely withdraw more funds too.
You can even check into your AirBNB apartment at some Family Mart stores!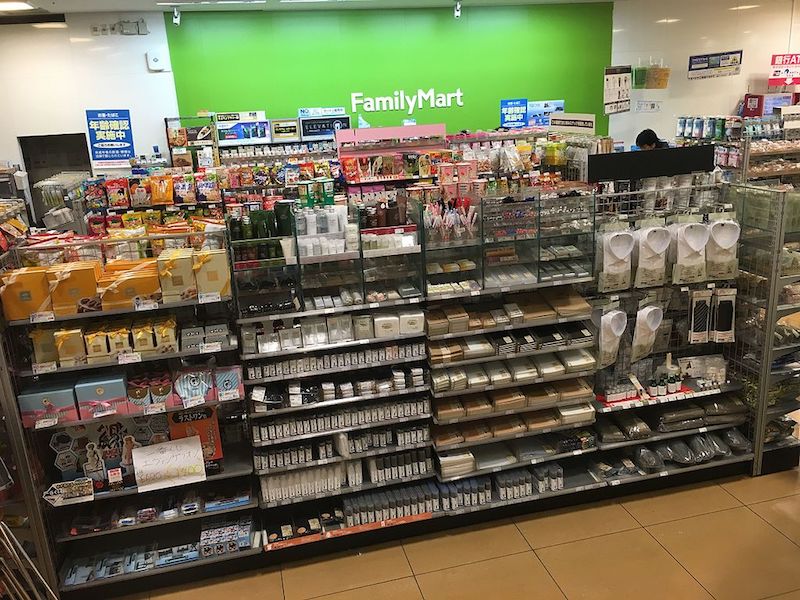 Image credit: Kyle Taylor via Creative Commons CC BY 2.0
SOUVENIR SUGGESTIONS from Family Mart Tokyo Konbini
If you suddenly remember you need a gift for your favourite long lost aunt, or to thank your neighbour who has been looking after your dog, pop in and pick up one of these.
Muji products.
The range of Muji products at Family Mart includes:
stationery
emergency clothes
underwear
pens
work attire
shoes
make up, and more.
Muji products are an everyday stylish design for the busy person.
Minimalists LOVE Muji design especially.
---
RELATED: MUJI Tokyo Shibuya is the BEST shop for People who Love to Organise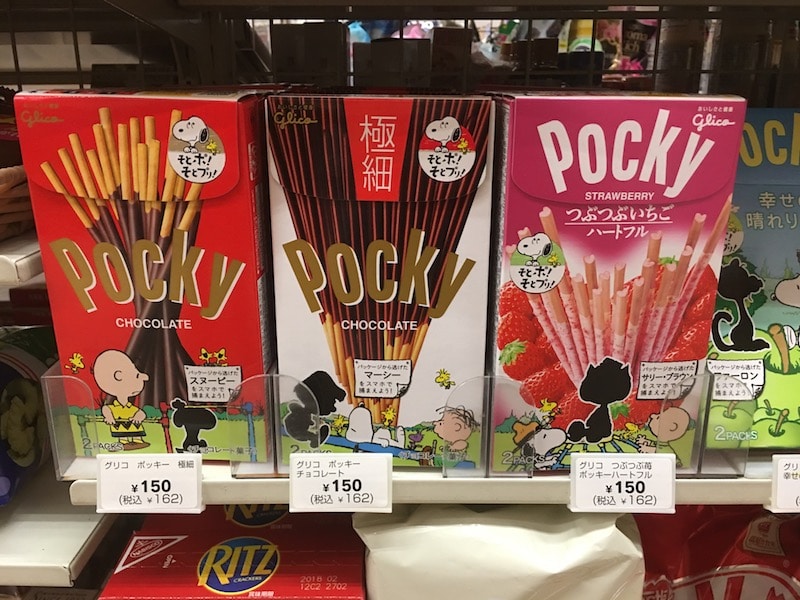 More Japanese Souvenir Ideas
Pocky chocolate-covered pretzel sticks. A Japanese favourite.
Green Tea Kit Kats, plus all the Japanese Kit Kats in a multitude of flavors
Japanese salad dressing
Japanese Shampoo and Conditioner set (Japanese brands are mind-boggingly good.)
Japanese cosmetics and fragrances
Family Mart umbrella
---
RELATED: Find More Cheap Souvenirs & Budget Green Kit Kats at DAISO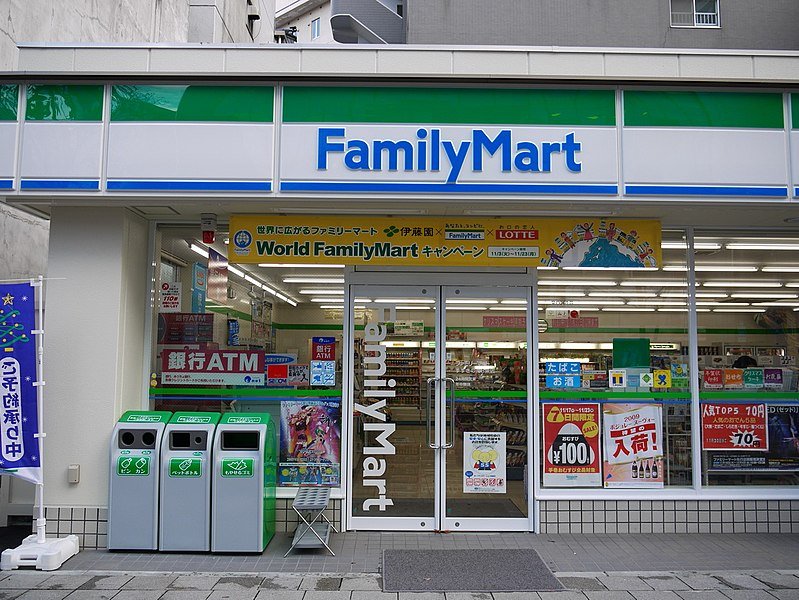 Image credit: Rafiq Mirza via Wikimedia Commons CC BY 2.0
THE INSIDE SCOOP: Family Mart Supermarket
Correct at time of publication on Roam the Gnome. Please check with venue for updates. We apologise in advance if there have been any changes we are unaware of. All prices in yen, unless otherwise stated
Family Mart Hours: Most Family Mart Japan opening hours are 24 hours a day.
Find Family Mart Branches
Find a Family Mart near you: Click here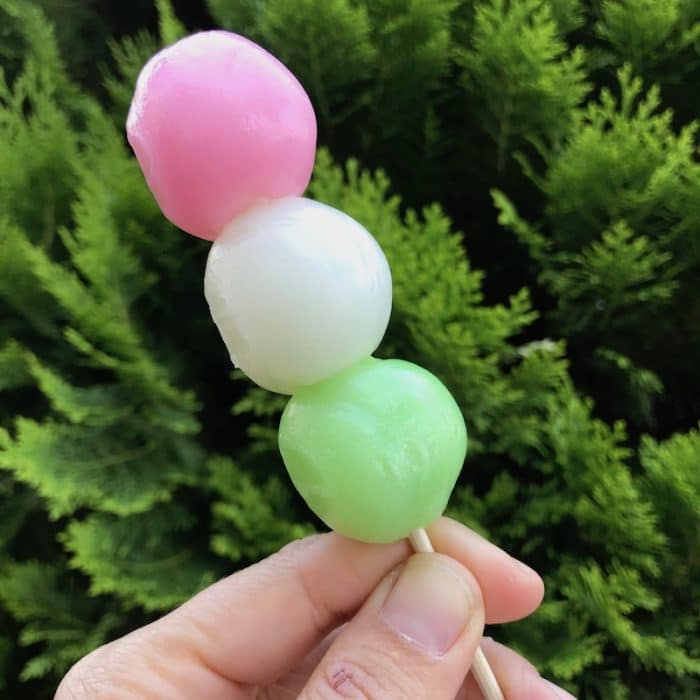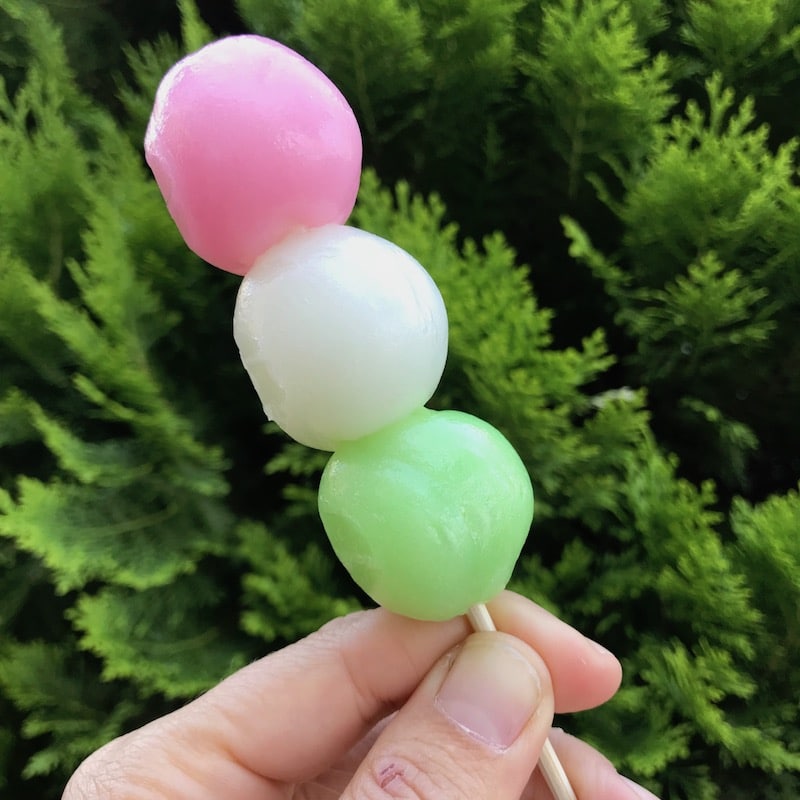 Toadstool Rating: Family Mart Best Food
We LOVE that we can fill the kid's bellies up with decent Japanese convenience store food, AND save money by not buying expensive restaurant meals they don't eat.
That's more money in our pockets for Tokyo sightseeing!

Other Japanese Convenience Stores in Tokyo
The two other Japanese convenience stores to look out for are:
Lawson Japan
7-Eleven Japan (Seven-Eleven)
Circle K Sunkus
Mini Stop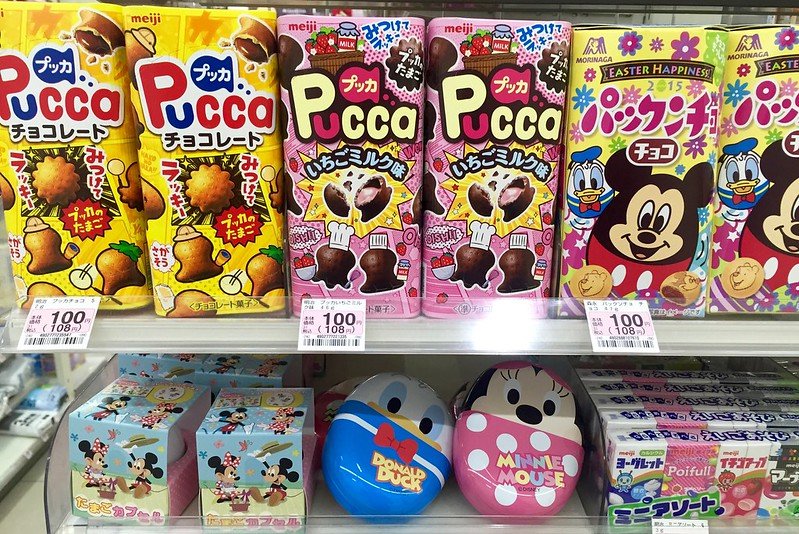 Image credit: Amy Jane Mitchell via Flickr CC BY-ND 2.0
FAQ about Japanese Convenience Stores in Japan
Why are there so many convenience stores in Japan?
Because life in Japanese cities is busy and hectic, and these corner stores in Japan smooth the edges to make life less hurried or hassled.
You never know when you will need a quick bite to eat, a new pen, or a charger for your phone. But when you do, it's easy to solve the problem at a convenience store.
Why does Japan have this obsession with convenience stores?
Ditto, the above.
Is Japanese convenience store food healthy?
Compared to the food in convenience stores in other countries around the world, the answer is a resolute YES.
The high turnover of food bought by customers each day means the food is freshly prepared, and delivered more than once a day to keep up with demand.
Lots of the options for meals are almost as good as buying from a local restaurant.
Are the bento from Japanese convenience stores healthier than fast food?
Yes, the bento boxes and onigiri are just like mama makes, albeit at scale. A Japanese convenience store bento box is definitely a better option than fried foods such as fries or chain store fast food burgers.
What foods should I try in Japan?
All of them.
Here's a guide to the best ones to try.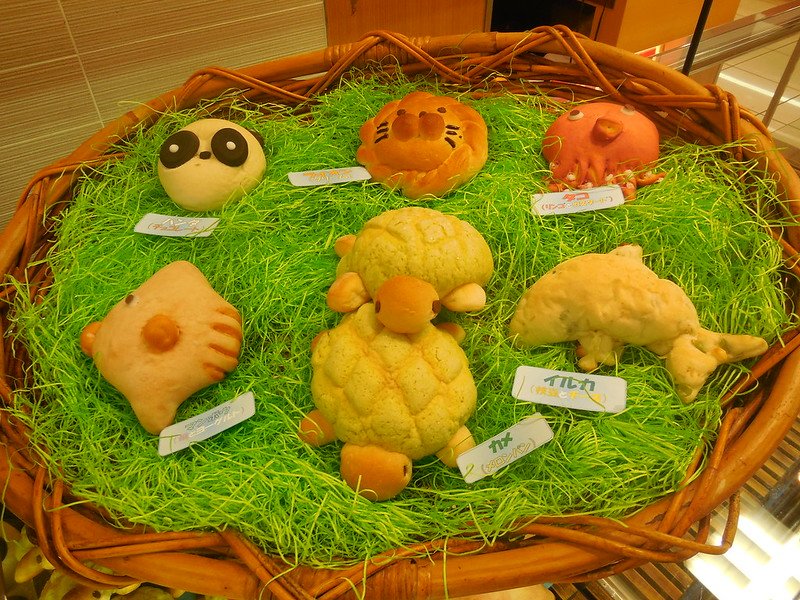 Image credit: Udou via Flickr CC BY-ND 2.0
Looking for More Fun Things to Eat in Tokyo?
Click the links in blue below.