INSIDE: The Ultimate Guide of what to buy at Japanese grocery store markets for cooking recipes and authentic dishes.
Hoping to head to Japan soon?
Visit a Japanese supermarket for an adventure into authenic Japanese food.
We always plan a visit to at least one giant supermarket in every country we visit.
I truly believe there's no better place to get a feel for local life than seeing how and what the everyday locals eat.
In my opinion, the best supermarkets are in Japan but that's because I could eat Japanese food every single day of my life.
(I sometimes wonder if I was Japanese in a past life!)
A local Japanese grocery store is a wonder filled treasure chest of delicious Japanese food pantry products, fresh groceries, all the popular candies from Japan, and ready to eat staples.
Wondering what to buy from a Japanese supermarket?
Read our guide to the best Japanese grocery items and find out what to buy at a Japanese grocery store below!
Disclosure: This article contains affiliate links. If you make a purchase after clicking on one of these links, we may receive a small commission at NO extra cost to you. Main image credit: Michael Saechange via Flickr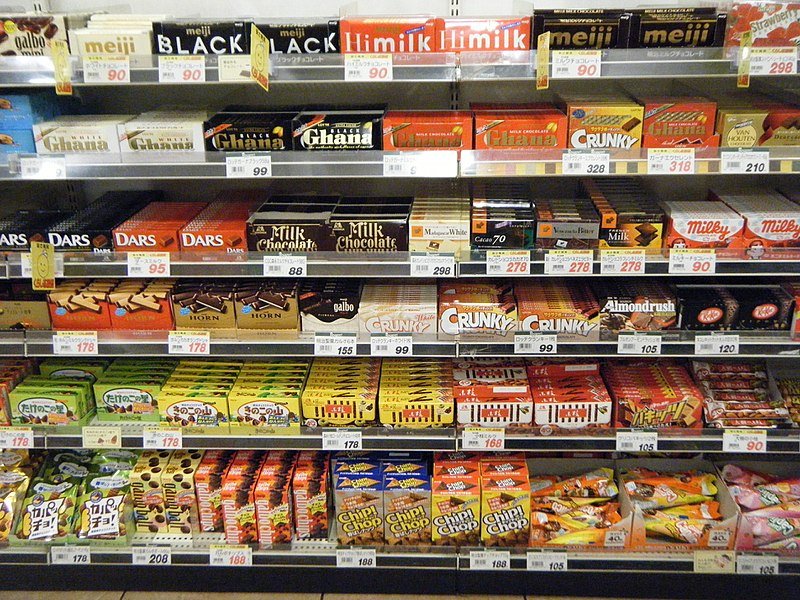 Image credit: Gary Cycles via Wikimedia CC BY-2.0
How to carry the best Japanese grocery items home?
Hot tip: Prepay excess luggage
If you are a serious foodie, pay for an extra 30 kilos of luggage now.
Because once you read this guide on what to buy at Japanese grocery store, you'll need it.
That small investment will pay off big time when you see how much cheaper Japanese foodstuffs are in Japanese grocery stores in Tokyo and other cities, compared to when you buy a bottle of Japanese sauce in a Japanese grocery story at home.
It's another reason grocery shopping in Japan is so much fun!
And then there's JAPANESE CANDY.
(Need we say more?)
NB: We prefer to buy fresh Japanese foods like tofu and freshly made miso from our local Japanese food stores at home.
---
RELATED: Everything You Need to Know about Finding Tokyo Supermarkets near you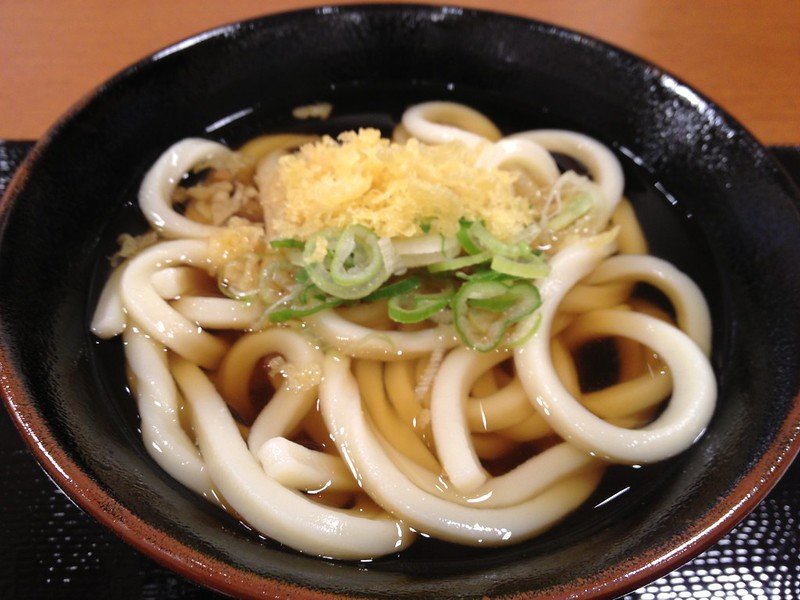 Image credit: Yuya Tamai via Flickr CC BY-2.0
THE INSIDE SCOOP: What to buy at Japanese Grocery Store in Japan?
Buy the necessary base ingredients from Japanese Grocery Stores for these dishes.
This list of Japanese food products will ensure you have the base ingredients necessary to cook the most popular Japanese home cooked foods, such as:
Udon, soba and ramen bowls
Donburi rice bowls
Onigiri rice balls
Sushi dishes
Japanese curry rice
Miso soup
Tempura
Okonomiyaki pancakes
Japanese hot pots including oden, sukiyaki and shabu shabu
Okayu savory rice porridge dish for good health
Yakisoba
Yakitori
Gyoza dumplings
Tonkatsu and Kashikatsu fried dishes
Tamagoyaki Japanese omelette
Wonder what to get at Japanese market stores no longer.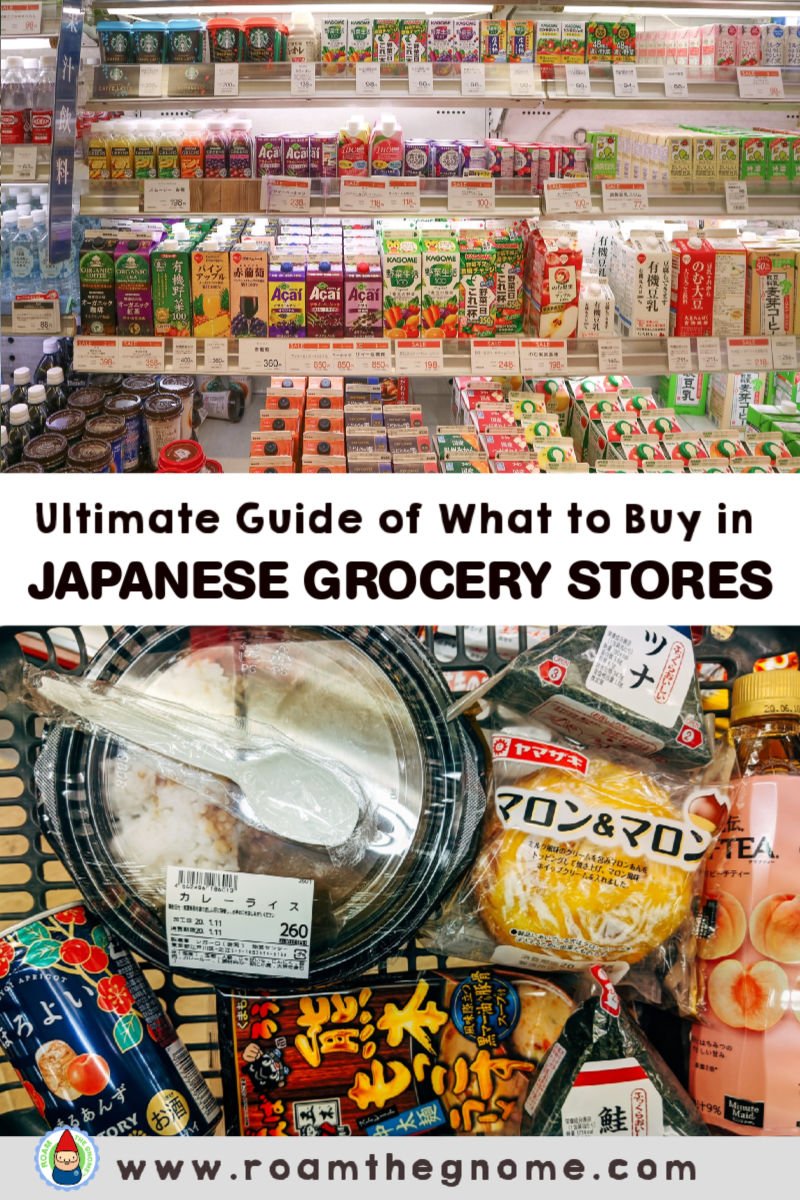 THE BEST JAPANESE GROCERY LIST!
Take a look below at our Japanese grocery store shopping list – it has everything you need to know about what to buy at a Japanese market.
Write down your favourites and take your food shopping list with you next time you want to buy Japanese groceries.
PS: You can also use this list if you want to shop in your local Japanese grocery store so you can cook traditional Japanese food at home.
---
RELATED: A Complete Guide to Visiting Japanese Supermarkets in Japan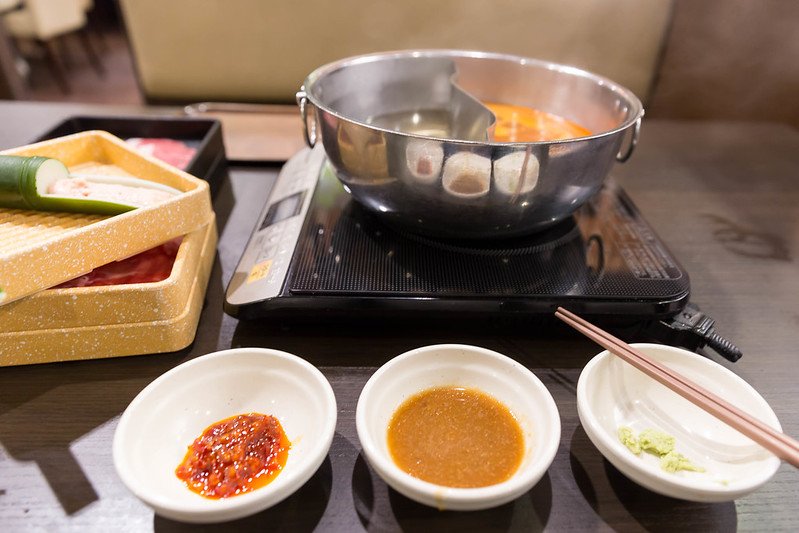 Image credit: Marco Verch CC BY-2.0
WHAT TO BUY IN JAPANESE GROCERY STORE – TOP TEN CATEGORIES
No.1: Best Japanese Sauces & Japanese cupboard staples
Write these Japanese food suppplies down.
Here's a round up of all the best Japanese pantry staples you should buy from a Japanese grocery store in Japan.
Ponzu Sauce – sweet citrus soy sauce (I love this on plain rice)
Goma dare sesame seed dressing – as seen above, centre (for shabu shabu hot pot and as a salad dressing)
Tonkatsu sauce (to drizzle over tonkatsu battered fried pork)
Okonomiyaki sauce
Yakisoba sauce
Yakiniku dare sauce
Kushikatsu sauce for deep-fried dishes
Japanese shoyu soy sauce
Rice vinegar
Mirin sweet rice wine – used to make teriyaki sauce
Wafu Japanese salad dressing – I cannot get enough of this stuff!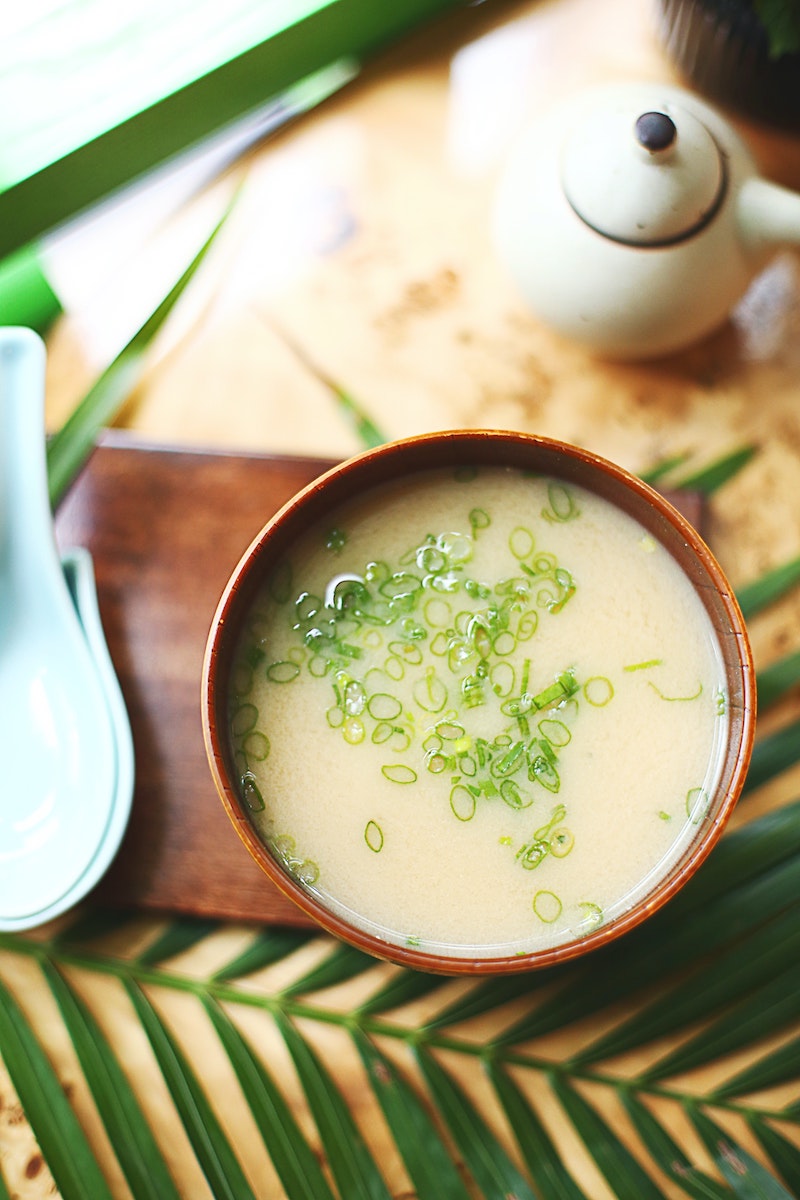 Image credit: Ponyo Sakana via Pexels
Best Japanese Miso paste?
You can buy brown rice miso paste in a sealed jar (soybean paste).
I'm often asked, where is miso usually kept in a grocery store?
In Japan, fresh miso is kept in the fridge, so it's not something you can travel home with but you can buy miso in a glass jar to take home in the grocery aisle.
If you are wondering:
Which miso paste is best for miso soup?
What is the best miso paste brand?
How do you choose miso paste?
this article will help.
It tells you about the three type of miso – red, white and yellow, as well as which miso to use in recipes.
It also asks 13 Japanese chefs their thoughts on the best miso paste to buy.
(Coming soon – Grocery Shopping in Japan PDF checklist for your handbag.)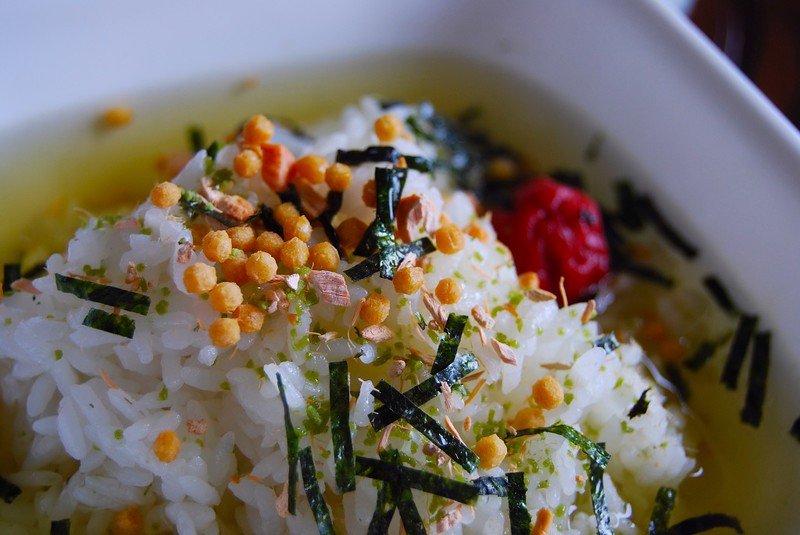 Image credit: Janine via Flickr CC BY-2.0
No.2: Japanese Seasoning
Add these Japanese seasoning mixes to your list of things to shop for in a Japanese grocery shop for your pantry.
Japanese Katsu Curry ground spice mix seasoning
Shichimi Togarashi Japanese Mixed Chilli Pepper
Furikake Rice Seasoning – made from sesame seeds, dried fish, sugar, salt and seaweed
Omusubiyama Aona Japanese vegetable flavor seasoning for onigiri and rice dishes
Wakame seedweed
Japanese grocery stores in Japan have hundreds of options.
Take your Google Translate app to decipher the ingredients.
FAQ: What is umami?
Interesting titbit: Have you heard of umami?
It's called the 5th taste in Japan after sweet, sour, salt and bitter. It's what gives a dish that extra boost of flavor to make it just right!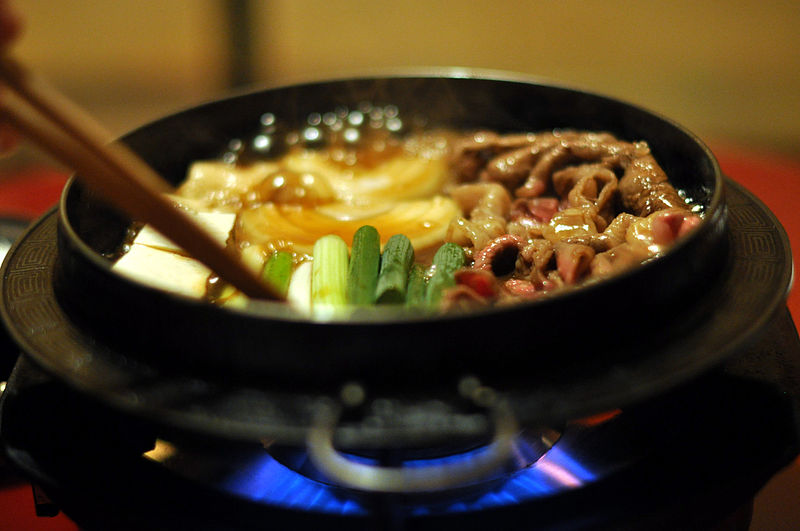 Image credit: CycloneBill via Flickr CC BY-SA 2.0
No.3: Best Japanese broth ingredients
My absolute favorite foods in Japan are "nabe" – one pot meals.
Japanese nabe hot pots are full of flavor and "umami" – they are often brought out at special occasions such as birthdays, festivals, and having special guests over for dinner.
But you can make them at home anytime too.
Search the grocery market for these Japanese ingredients for hot pots.
Dried seaweed to make homemade dashi broth for Japanese dishes & hotpots
Dried bonito flakes (katsuobushi) to make fish broth (NB: Bonito fish flakes are used as a savory topping on many Japanese dishes to create 'umami' )
Ready-made kombu dashi broth (seaweed soup stock)
Ready-made sukiyaki broth (soy sauce, mirin rice wine, sake, and sugar)
Ready-made shabu shabu broth
Hot tip: This Japanese cookbook is a great place to learn how to do Japanese hot pot cooking.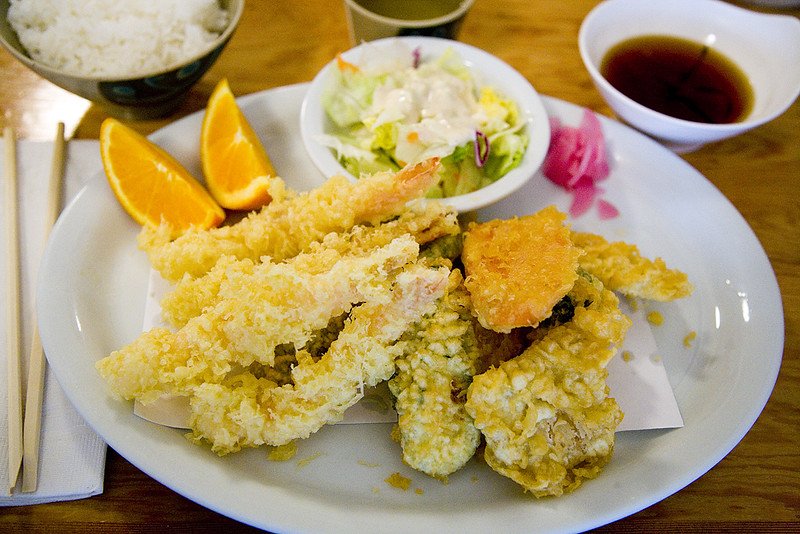 Image credit: PointnShoot via Flickr CC BY-2.0
ESSENTIAL JAPANESE INGREDIENTS
No.4: Best Japanese Cupboard Stores
These are standard Japanese grocery items.
Okonomiyaki flour
Japanese panko bread crumbs for tonkatsu pork cutlets
Tempura batter mix
Japanese agar powder
Japanese mayonnaisse – Kewpie brand
Goma sesame oil
Mentsuyu – for the soup base for soba and udon noodle bowls
Japanese pickles in jars or a sealed bag
Gyoza wrappers
senbei rice crackers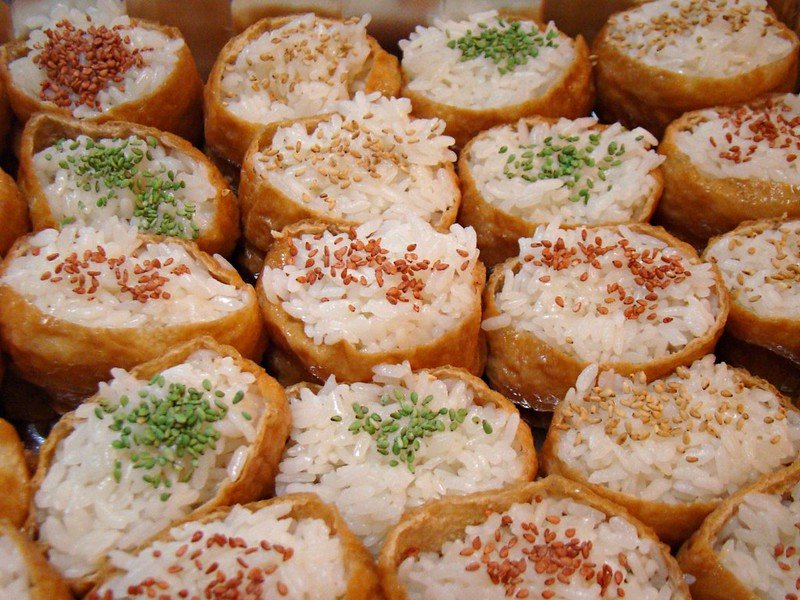 Image credit: Vegan Feast Catering via Flickr CC BY-2.0
No.5: Best Japanese Rice Dishes
Wondering what to buy at Japanese market to make sushi?
Pick up:
Readymade tins of inari sushi pockets (seen in the picture above, filled with seasoned rice)
Sushi rice
Sushi rice wine seasoning
Roasted seaweed sheets of nori
Hot tip: Inari Sushi pockets
Inari sushi is sometimes called inari zushi (inarizushi).
They are made using seasoned deep-fried tofu pockets.
These pocket sushi can have lots of different toppings including seasoning.
Take a look here for inari sushi topping ideas.
No.6: Japanese Noodles & Curry Pastes
These are the best things to buy at Japanese market stores for foodies.
Unique Japanese curry pastes especially go down a treat!
Japanese curry blocks (Our favourite brand is Golden curry in mild)
Udon noodles
Ramen noodles
Ready made ramen broth
Soba noodles
Cup Noodle Ramen
instant noodles
The best things to buy at a japanese market for noodle lovers are the Japanese cup noodles.
Best Japanese cup noodle flavours
Try these Japanese noodle flavors.
soy sauce cup noodles
spicy seafood cup noodles (and seafood cup noodles)
black pepper crab cup noodles
korean army stew noodles
sea urchin cup noodles
chilli tomato cup noodles
cheese curry cup noodles
chicken cup noodles
beef cup noodles
mushroom chicken cup noodles
kyusu white cup noodles
maple bacon cup noodles
green tea cup noodles
There's even a seasonal chicken nuggets and french fries cup noodle flavor from time to time!
The flavors are kind of weird, but fun.
Plus, they are cheap, and lightweight so the perfect answer to the question, what to buy from Japanese supermarket on a budget.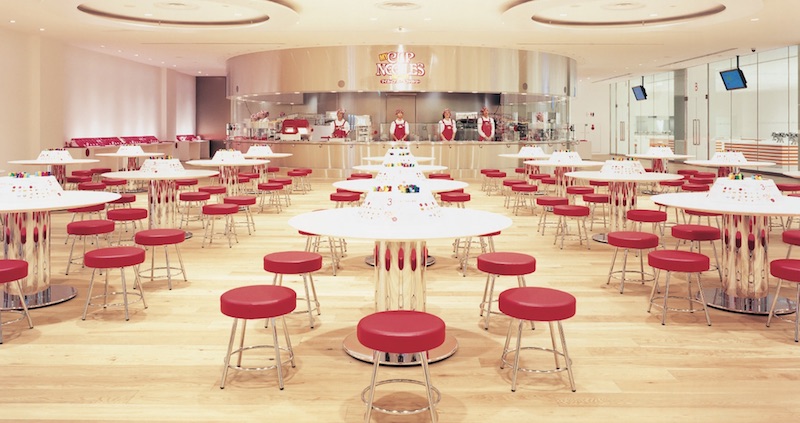 What can guests do at the Cup Noodles museum?
Hot tip: Did you know you can make your own cup noodles in Osaka at the Cup Noodle factory?
Or if you are staying in Tokyo, head to the Yokohama cup noodles museum
Either of these places will let you make your own cup noodles but the Yokohama Cup Noodle museum is bigger, and has more attractions including a chance to:
make a completely original CUPNOODLES package (you can't do this anywhere else in the world) Once you've designed your cup, you are invited to select your favorite soup base from one of four varieties, then add four toppings out of the 12 varieties on offer.
make Chicken Ramen by hand in the factory – kneading, spreading, steaming and seasoning the wheat flour and drying it with the flash frying method
play in the Cup Noodles Park – you can pretend to be a noodle going through the entire manufacturing process!
visit the Noodles Bazaar to eat lots of different types of noodles
shop in the Yokohama Cup Noodles Museum shop to buy cup noodle souvenirs!
Hot tip: There's also the Momofuku Ando Instant Ramen Museum is in Ikeda City, near Osaka.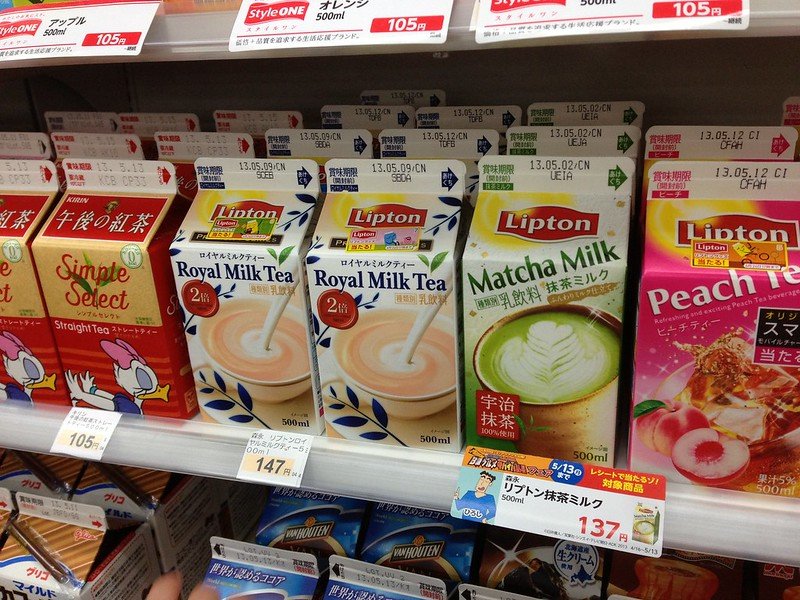 Image credit: Jencu via Flickr CC BY-2.0
No.7: Best Japanese Drinks
The list of Japanese drinks includes:
Organic Matcha Tea Powder
Peach Tea
Sakura Latte instant sachets
Royal Milk Tea sachets – 10 in a box.
(I buy at least 3 boxes each visit!)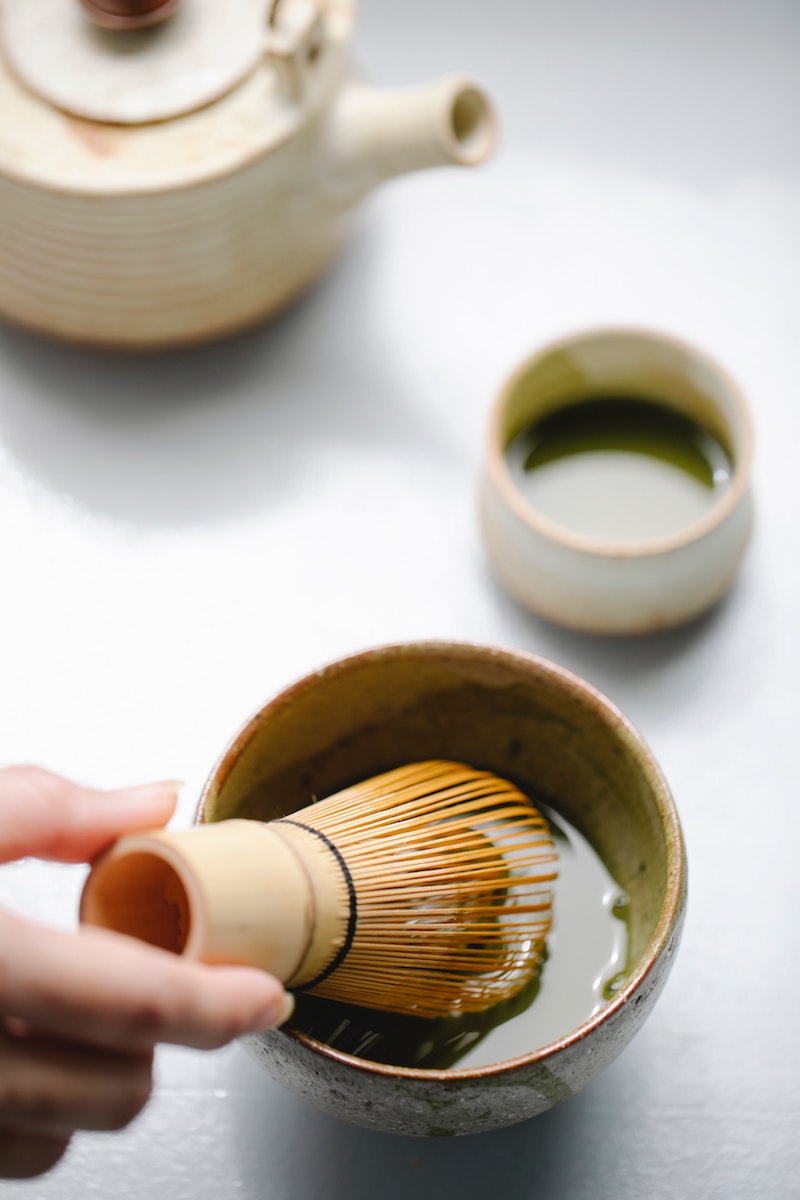 Image credit: Charlotte May via Pexels
List of Famous Japanese drinks
Here are the 12 best Japanese drinks to put on your shopping list!
It lists the 12 best types of Japanese drinks including Japanese soft drinks, Ramune soda drinks, Japanese juice drinks, traditional Japanese drinks (and what you drink at a Japanese tea ceremony) and Japanese alcohol.
The list is gigantic.
Try them all!
RELATED: Where to BUY Japanese drinks in Japan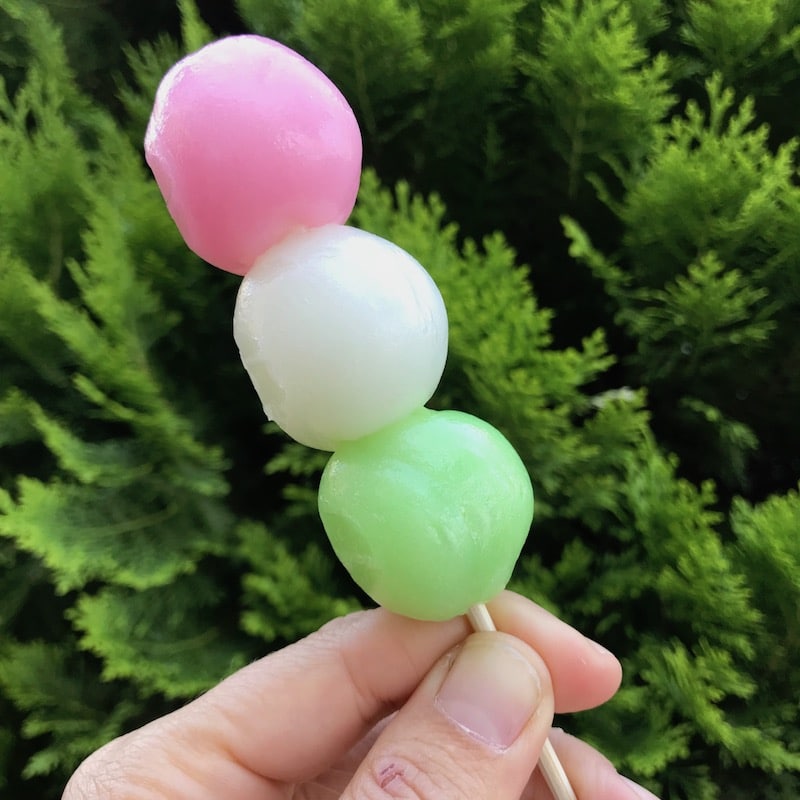 SWEET TREATS FOR YOUR JAPANESE GROCERY SHOPPING LIST
No.8: Japanese Snacks
Japanese is the best land for Japanese snacks and sweets.
We dare you to argue!
Take a look at some of the best ones we've found, and all at an affordable price.
Kinoko no Yama toadstool biscuits (how can a Gnome resist?)
Takenoko no Sato biscuits by Meiji
Pocky Chocolate Sticks
Cheap and cheerful Dagashi Snacks
Japanese Kit Kats
Japanese chips
Hello Panda biscuits
Sweet potato karinto snacks
Nanbu Japanese crackers assortment
Lotte Choco Pie biscuits
colorful dango on a stick (as pictured)
Edamame bean snacks
READ MORE: The Ultimate Guide to Japanese Snacks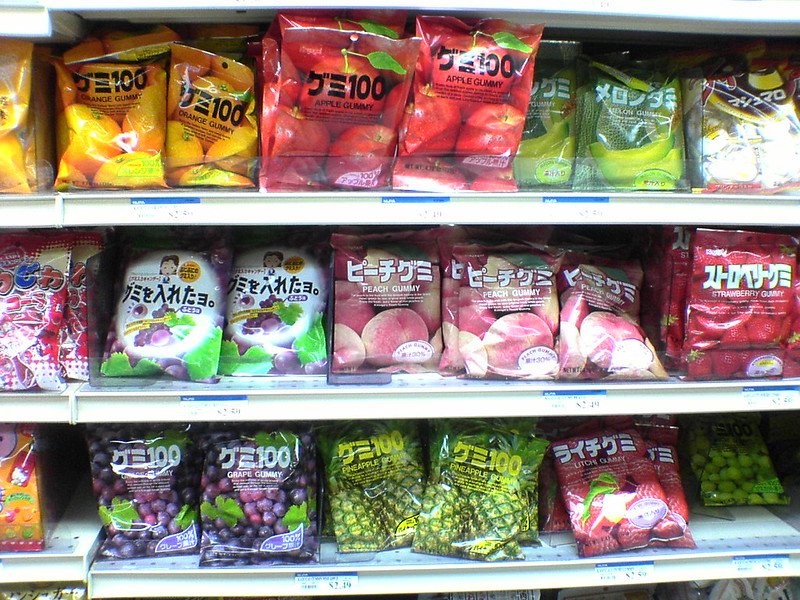 Image credit: Ian Collins via Flickr CC BY-ND 2.0
No.9: Japanese Candy
Head to a Japanese super market candy aisle to find delicious candy to take home.
Morinaga Milk Caramel Japanese candy
Kracie Popin' Cookin' Japanese Candy Sets
Hi Chew Japanese fruit candy
Milky hard candy with Peko chan on the packaging
Wondering what to buy?
Start here: The TOP 15 best Japanese Candy to devour in 2021!
RELATED: Where to buy Japanese candy and snacks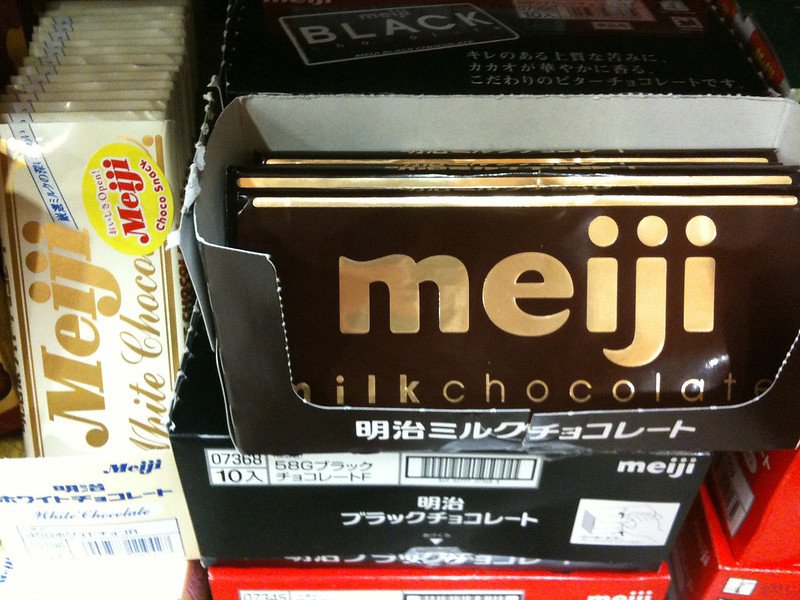 Image credit: Chinnian via Flickr CC BY-SA 2.0
No.10: Japanese Chocolate
Japanese chocolates are some of the cheapest chocolate we've ever seen.
How the Japanese people have the willpower to say no when a bar of Japanese chocolate is less than 120 yen, I've no idea.
Don't miss these:
Meiji chocolate bars, the original one in the brown and gold packaging
Crunky chocolate and Crunky chocolate balls. OH MY!
Dars chocolate
Meiji THE chocolate bars.
They sold over 30 million Meiji THE bars in their launch year!
But here's our best read: The ONLY guide to Japanese Chocolate and Japanese chocolate snacks you'll ever need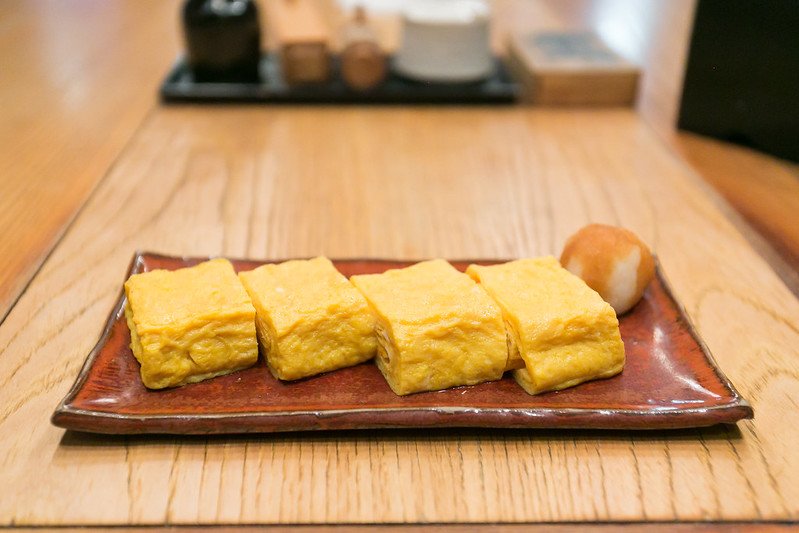 Image credit: City Foodsters via Flickr CC BY-2.0
JAPANESE KITCHEN ESSENTIALS
No.11: Japanese Ceramics & Kitchenware
A Japanese grocery store may also sell a selection of kitchenware products. We look out for:
Cute Japanese ceramic dishes
Chopstick holders
Soy sauce dishes
Udon and ramen noodle soup bowls
Donburi bowls
Unusual chopsticks
Japanese pottery (especially if it has a cute Japanese motif, like a neko cat face, or a Japanese dog on it)
You might find a Japanese omelette frypan to make delicious tamagoyaki as pictured above, if you are lucky.
We keep our eyes open for Japanese kitchen tools, bento boxes, bento accessories & supermarket tote bags too.
Now, it's time to make YOUR list of what to buy in Japanese grocery store in Japan.
RELATED: The best place to buy Japanese bento lunch boxes and bento accessories in Tokyo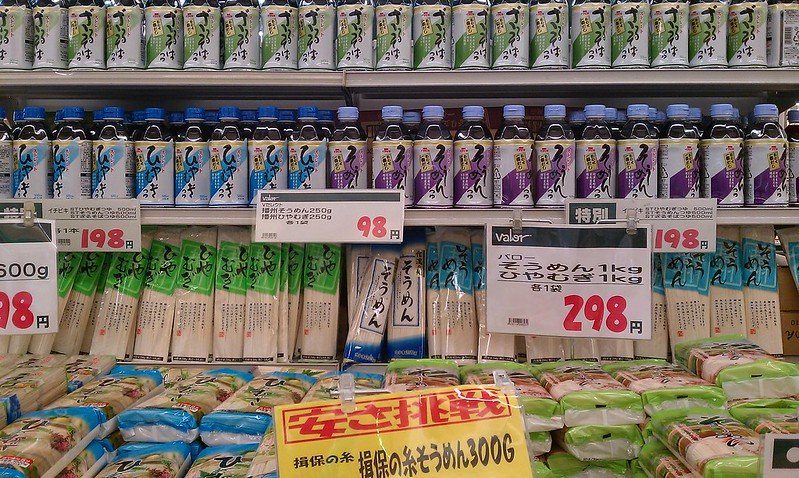 Image credit: Yuya Tamai via Flickr CC BY-2.0
Coming soon! A Checklist Printable Japanese Grocery List
Coming soon: A PDF printable of a Japanese grocery list for a week.
This Japanese grocery list of what to buy at Japanese grocery store will be yours to download so you can take with you on your Japanese grocery store adventures in Japan, and at home.
Best Japanese Grocery Store in Japan?
These are the biggest and the best Japanese food supermarket to buy Japanese food.
Most of these Japanese grocery store chains can be found in Tokyo Central, and throughout Japan.
Ito Yokado
AEON supermarkets
OK Supermarkets
Tokyu Store
Maru Etsu supermarket
Marusho supermarket
Seijo supermarket in Tokyo
Life Supermarket is a smaller boutique grocery market but worth a look.
Some of them do Japanese grocery delivery but you'll need a native speaker to help you.
Find a map of Life Supermarkets in Tokyo here.
Remember to take a print out of our Japanese grocery shopping list.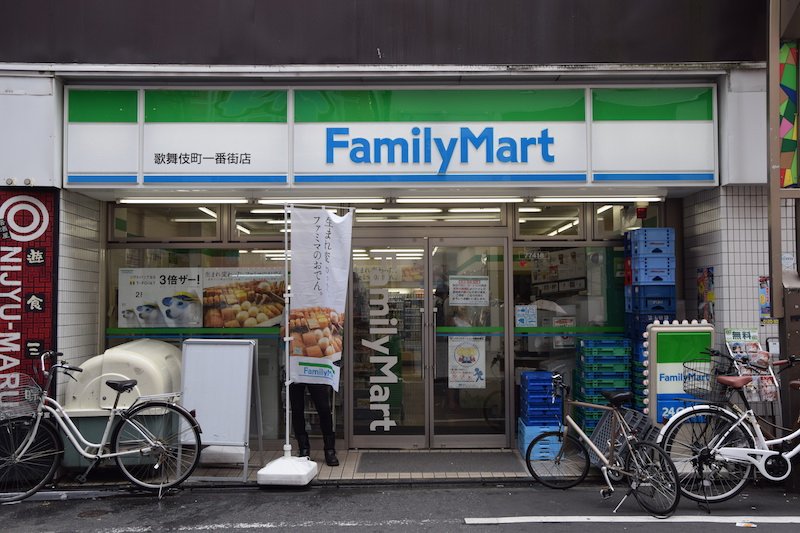 Best Japanese Convenience Stores Konbini
If you are short on time, or just need a few ingredients, another place to buy Japanese groceries is a Konbini, or Japanese convenience store.
Our favorite is Family Mart.
(Read our guide to the best things to buy at Family Mart)
You can also try: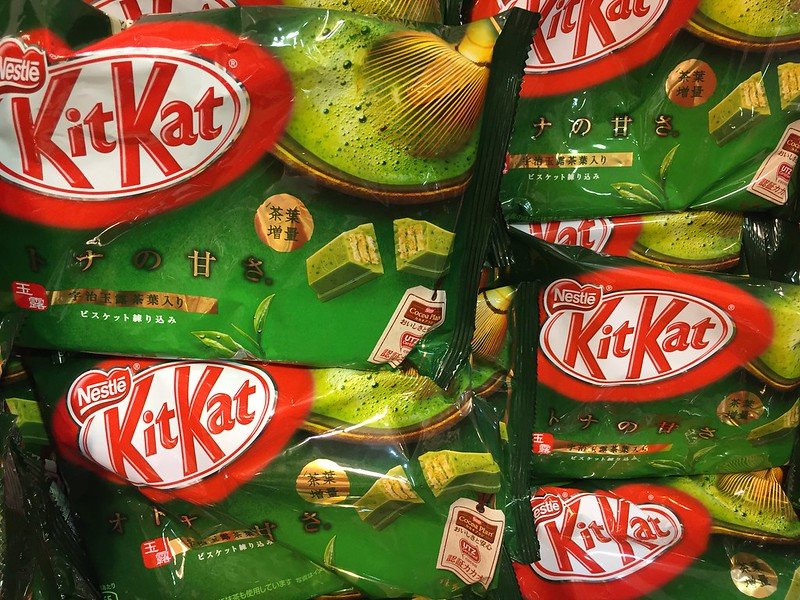 Image credit: Tjeerd Wiersma via Flickr CC BY-2.0
Looking for More Fun Things to Do in Tokyo + Shopping in Tokyo?
Correct at time of publication on Roam the Gnome. Please check with venue for updates. We apologise in advance if there have been any changes we are unaware of. All prices in US dollars, unless otherwise stated
Click the links in blue below.