INSIDE: A Guide to the BEST JAPANESE CANDY and snacks the Whole Family will Love.
Love sugar?
Adore a sweet treat?
Can't travel without trying ALL the candy on offer?
Then you have come to the right place.
Our Comprehensive Guide to top Japanese Candy is all you need to know about the best sweet treats you can find in the land of the Rising Sun.
It's the ultimate list of Japanese candy on the web.
Take a look below for details. !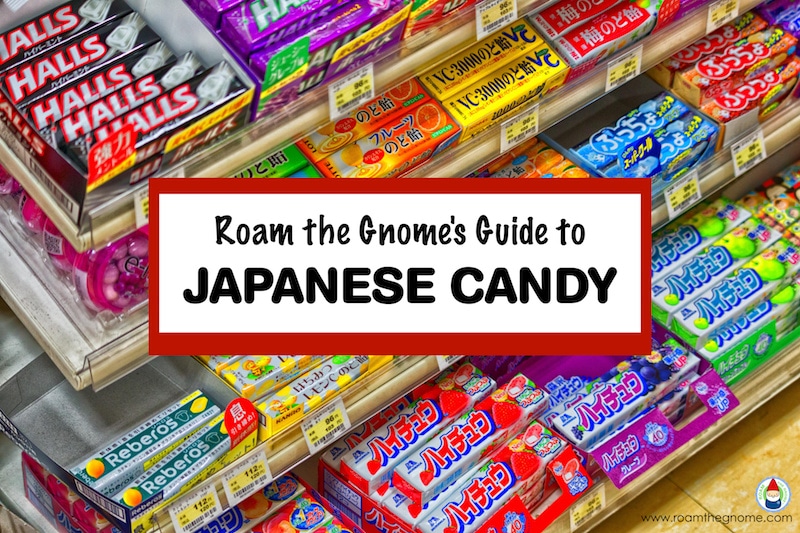 WHAT IS THE BEST JAPANESE CANDY AND SNACKS GUIDE
Roam the Gnome's™ Sweet Tooth Guide to the Best Japanese Candy to eat!
You'll discover:
The most famous Japanese candy to buy
Common Japanese candy names.
What kinds of candies are popular in Japan, and
Who makes candy in Japan.
(We can't answer the question: Why doesn't Japan like licorice? We simply don't know!)
The only question you'll have after reading it is why is Japanese candy so good?
We can't write a guide to Japanese candy without mentioning Japanese chocolate either.
Scroll down the page for a link to the best Japanese chocolates to buy.
Roam the Gnome LOVES Japanese chocolate and Japanese chocolate snacks EVEN MORE than Japanese candy!
Disclosure: This article contains affiliate links. If you make a purchase after clicking on one of these links, we may receive a small commission at NO extra cost to you.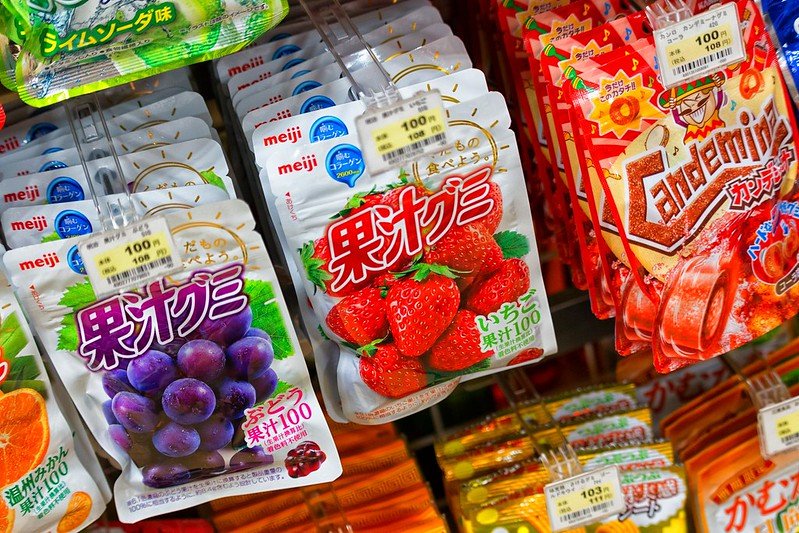 Image credit: Rynse Out via Flickr CC BY-2.0
BEST JAPANESE CANDY ON AMAZON
First up, let's take a look at the types of Japanese candy you can find in Japan.
Japanese lollies come in all shapes and sizes.
Types of Japanese Candy
A Japanese candy assortment consists of:
Japanese Chewy Candy.
Japanese Hard Candy.
Fruit Jellies
Fruit flavored candy
Gummies
Biscuits and Pretzels
Japanese chocolate snacks
Japanese Kit Kats
Right now, the popular Japanese candy is "Do It Yourself" DIY Candy such as Kracie Popin' Cookin' Candy Kits.
We've gathered a list of the best Japanese candy kits below to0.
If going to Tokyo or Japan is not on the agenda right now, find links below of where to find the best Japanese candy on Amazon.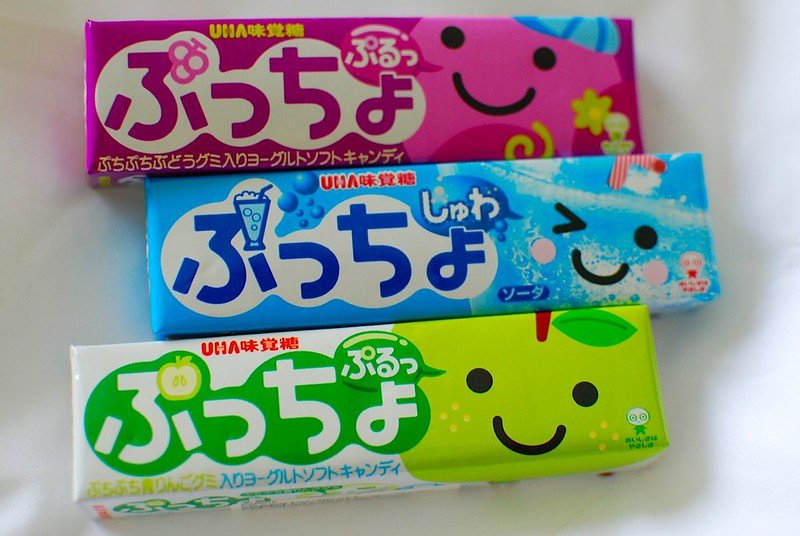 Image credit: Janine via Flickr CC BY-2.0
JAPANESE CHEWY CANDY
Chewy lollies top of list of awesome Japanese candy, and is probably the most popular Japanese candy to buy on the shelf.
No.1: Puccho soft candy chews
Puccho candies come in a 10 piece stick pack, as pictured above.
There are usually 5-10 different flavors available to purchase at any one time.
Grape is the best.
Check seasonally for new releases.
Buy now on Amazon: Puccho Soft Candies – Grape Flavor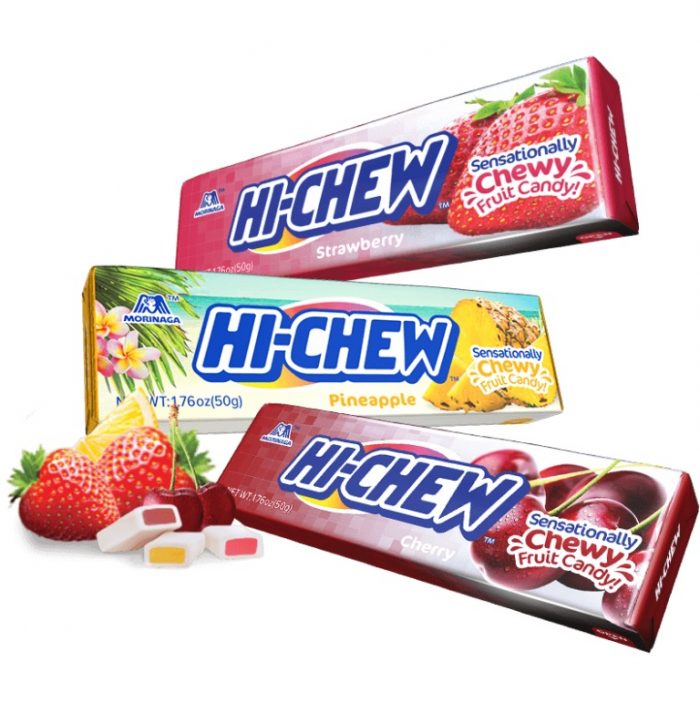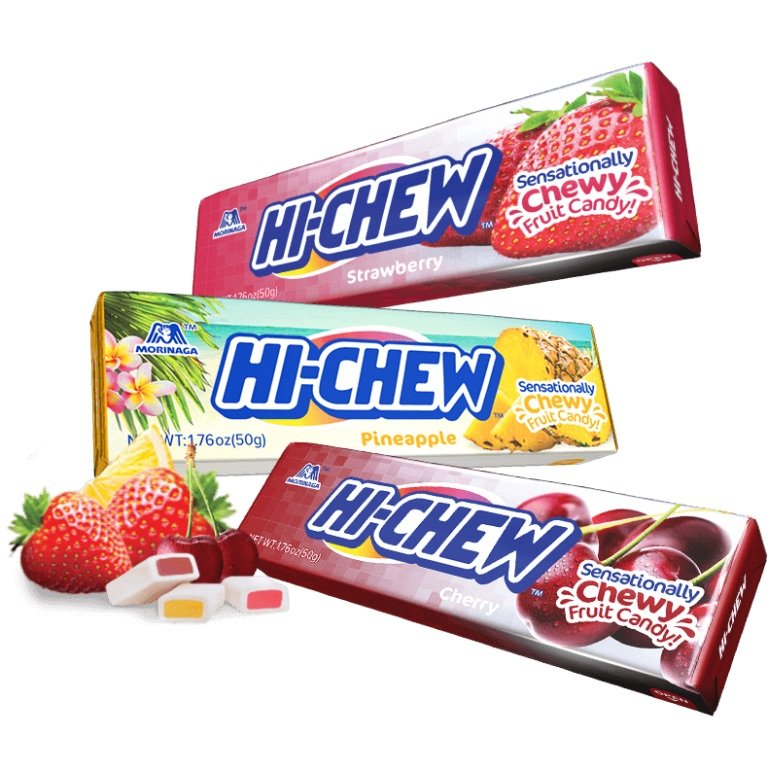 No.2: Hi Chew Candy
These Japanese candy bars can be found in every convenience store in Japan.
HiChew candy comes in these flavors:
Grape
Green apple
Okinawa mango
Lemon squash
Kiwi fruit
Cola
Strawberry
Orange
Pineapple
Watermelon
Sour lemon
White soda, and
Rich banana.
You can buy Hi Chew mixed bags of candy too.
Buy now on Amazon: Morinaga Hi-Chew 8 flavor pack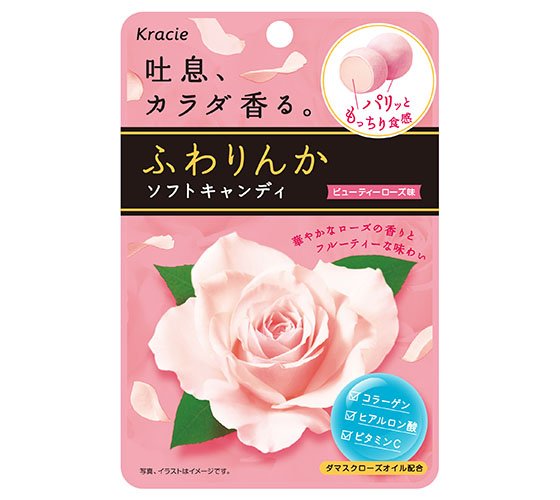 No.3: Fuwarinka Soft Candy
Try Fuwarinka lollies in these flavors:
Mix Berry Rose
Rose
Strawberry Rose, and
Citris Candy flavors.
Buy now on Amazon: Japanese Fuwarinka Beauty Rose Chewing Gum – Pack of 2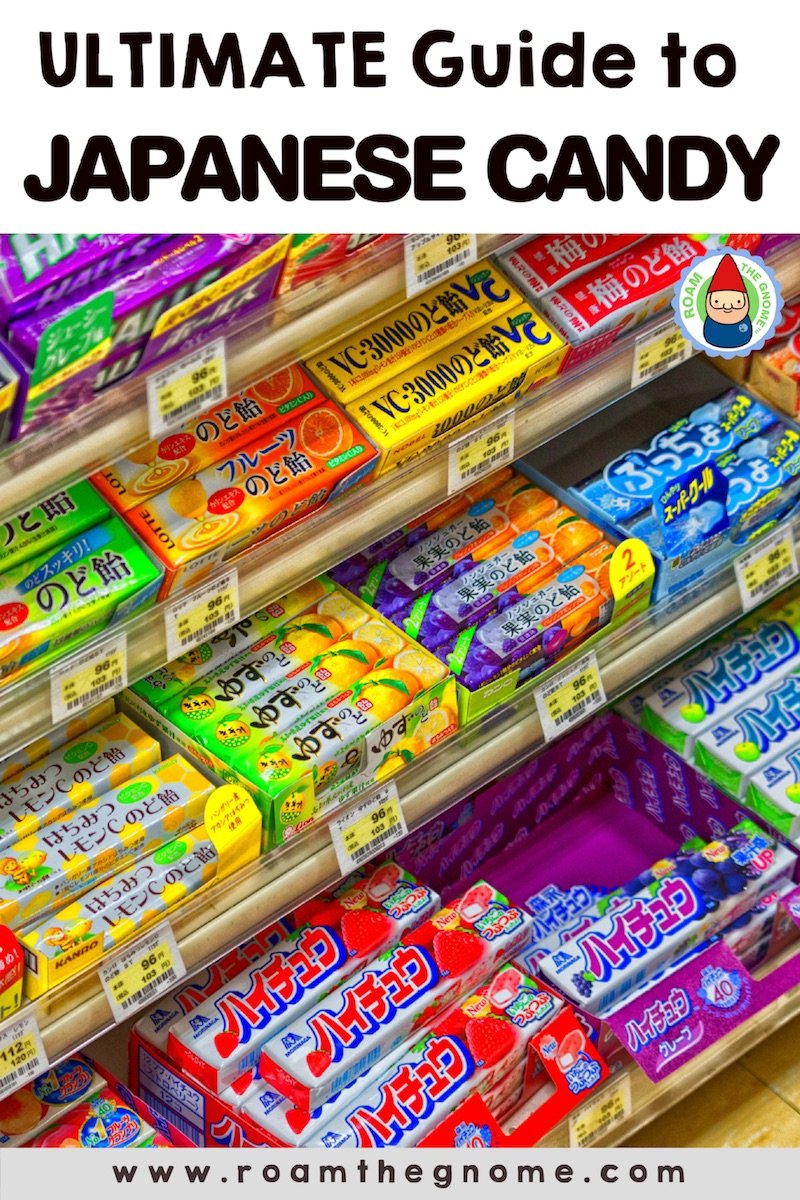 More Japanese Soft Candies
No.1: Kamu Kamu Soft Candy
Kamu Kamu soft candy is available in all the fruity flavors including Melon candy.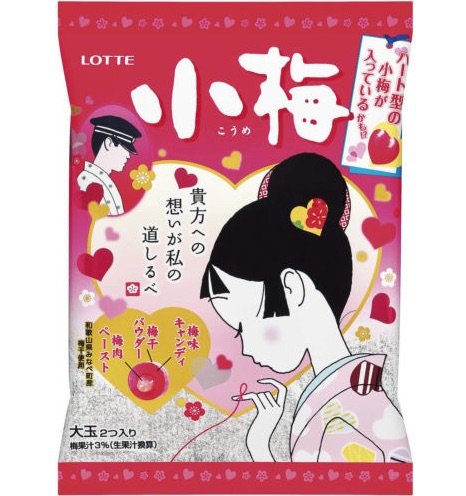 JAPANESE HARD CANDY
No.1: Sour Plum Candy
The Sour Plum candy pictured above have a sour taste to begin but then turn sweet.
The Ko Ume Hard Candy in Sour Plum is a bit of a shock at first, then turns deliciously sweet!
This is one weird Japanese candy.
But despite the shock, it's one of our favourites ever.
Top of the shopping list for souvenirs from Japan.
Buy now on Amazon: Bag of Japanese Plum Hard Candy Koume by Lotte
No.2: Konpeito
Konpeito colorful Japanese sugar candy deserves a special mention.
These adorable sugar crystals may be served on the side with your cup of green tea at a tea ceremony to help your tastebuds adjust to the bitterness.
Konpeito are originally from Portugal, but were adopted by the Japanese aristocracy in the mid 16th century because of their beauty and taste. They are now deeply embedded in the Japanese culture.
Buy now on Amazon: Konpeito sugar candy for green tea ceremony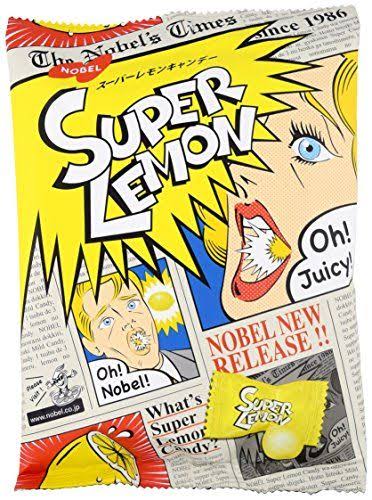 Famous Japanese Candy
The Super Lemon candy is one of Japan's most famous hard candy.
My mouth waters at the sight of them!
They are bitter to start, but then super sweet.
If you have the grit to get past the sour taste at the beginning, they are awesome!
Nobel Candy comes in Super lemon, super cola, and super soda flavors.
More Japanese Hard Candies
Here's a few more Hard Japanese candy options:
Hello Kitty Lollipops
Peko chan pop candy lollipops
Kari Poli candy sticks
Buy now on Amazon: Super Lemon Candy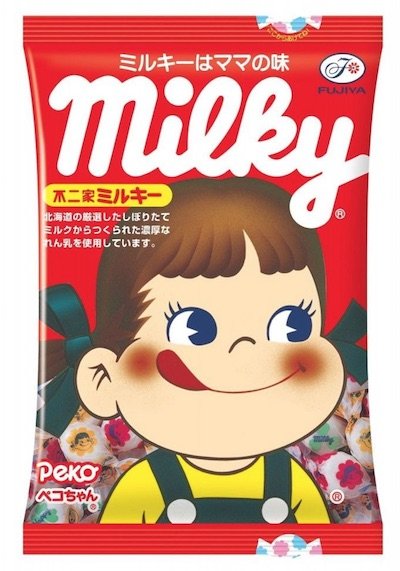 JAPANESE MILKY CANDY
No.1: Milky Candies in a Bag
Japanese Candy Milky is called both a hard candy and a soft candy, depending on who you talk to!
Fujiya is a brand which started production in 1951 and are made of high quality creamy milk from the Hokkaido region of Japan!
It's been my favourite Japanese candy since I was 15 years old.
Look out for the distinctive Peko-chan girl on the packaging.
I adore her!
Buy some of this candy from Japan for your kids to fall in love with too.
Japanese Milky hard candy come in a bag of candy bon bons wrapped in paper, in flavors including:
Rich condensed milk (original)
Green tea
Crunchy mint, and
Peach.
Buy now on Amazon: Japanese Milky Candy bag with Peko chan
No.2: Fujiya Milky Candy in a Box
The best Japanese candy box features the well known Peko-Chan on the box and it contains around 7 individually wrapped candies.
These soft and chewy treats are deliciously milky!
Buy now on Amazon: Fujiya Milky Candy in a box – 10 pack set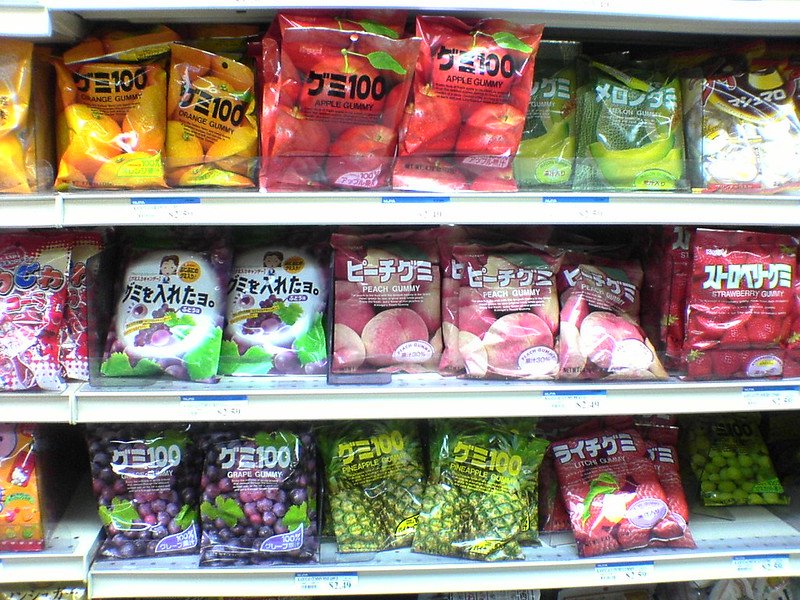 Image credit: Ian Collins via Flickr CC BY-ND 2.0
JAPANESE GUMMIES
Here's our list of the best Japanese gummies.
Pure Lemon Gummies and Pure Muscat Grape Gummies
Pure Gummy candy in lots more fruit flavors
Kororo Melon gummies
Kororo Gummy candy in peach, green grape, golden pineapple, mango and more
Dole Gummy Candy in Orange mango, Orange peel, Grapefruit lychee, Pineapple
Fettuccine Gummy Candy in Cola, Energy drink, Italian grape, Italian peach, Lemon, Melon soda, Strawberry yogurt, Vanilla yoghurt, Hard boiled Cola, and Hard boiled White soda (whatever that is!)
Kaju Juicy gummy candy in all fruit flavors
Try this one: Candy Gummy SUSHI BENTO BOX! (YES, it's Japanese gummies shaped as sushi pieces!)
JAPANESE FRUIT JELLIES
Fruit jelly cups are loved by Japanese kids for a treat.
In fact, kids all over Asia love this Japan candy treat.
Pokemon Sun and Moon Fruit Jelly
Frutissier fruit jellies
Buy similar on Amazon: Ouma Coconut Jelly Cups – Assorted flavors
JAPANESE FRUIT FLAVORED CANDY
Japanese candies come in all the fruit flavors.
Try the melon one first of course.
Look out for:
Melon candy
White Peach candy
Umeboshi candy
Pineapple candy
Buy now on Amazon: Japanese Fruit Candy – Grape Flavor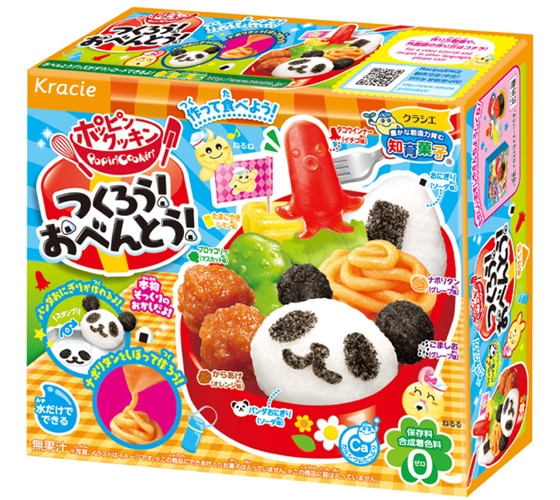 MOST POPULAR JAPANESE CANDY KITS
No.1: Kracie Popin' Cookin' DIY Candy
Here's an activity all the kids enjoy – making their very own candy!
It's easy with these Popin' Cookin' DIY candy kits by Kracie.
Even when you don't speak or read Japanese, you can follow the simple picture instructions to work it out.
It's a matter of adding water and food coloring to a special powder in a mold, and waiting for the magical alchemy to unfold.
These do-it-yourself candy kits by Popin' Cookin' make gooey sweet candy and are very popular with Japanese kids.
The Bento Lunch Box Candy Kit (as pictured above) is a best seller!
Popin' Cookin' candy makes a super fun activity gift for friends with kids back home, especially the mini-scientists.
Kids are always up for trying something different, and this activity is a no-brainer.
It's candy!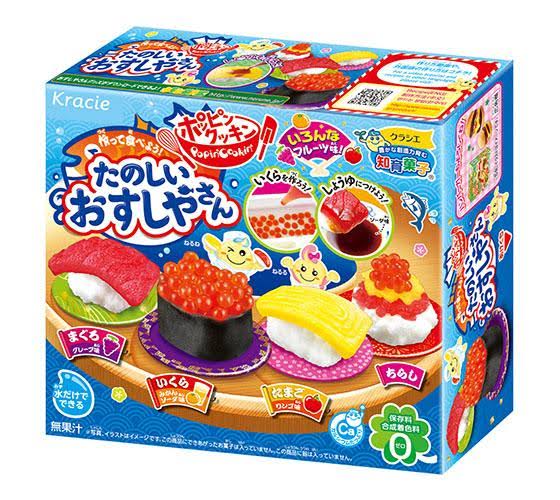 Buy Make Your Own Japanese Candy in these varieties:
Mini Donut Candy Kit
Popin' Cookin' Cake Shop Fun Candy Kit
Guru Guru Potato Candy Kit
Kuru Kuru Takoyaki Candy Kit
NeriCanLand DIY Candy Kit
Oekaki Gummy Making Candy Kit
Rainbow Tsubu Tsubu Land Candy Kit
Ramen Yasan & Gyoza Candy Kit
Sushi Candy Kit (as pictured above)
Tanoshii Nan Curry Candy Kit
Crepe Ya-San Candy Kit
Dekitate Pan Yan San Bakery Kit
Buy now on Amazon: Try this fun Japanese cooking activity with your kids (5 pack set: Sushi, hamburger, pizza, takoyaki and ramen DIY candy)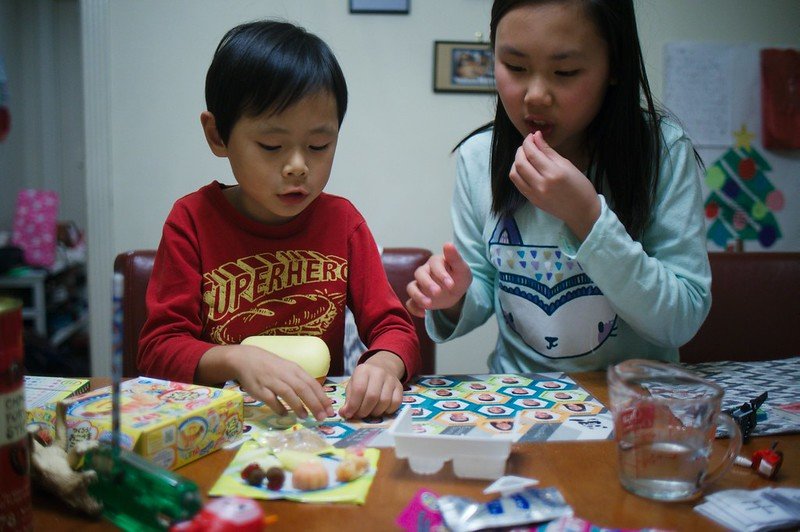 Image credit: Mliu92 via Flickr CC BY-SA 2.0
No.2: More DIY Candy Kits
Spice up your day with these fun DIY kit!
Once again, it's water that sparks the reaction to turn a powder into a sweet treat.
The BEST one is the Chocolate Kinako Mochi DIY kit that lets you make Japanese mochi rice with sweet roasted soybean powder, a much loved Japanese festival staple.
Neru Neru Nerune Grape DIY Candy Kit
Sticky Ramune Candy DIY Kit
Candy Apple DIY Kit
Strawberry Soft Serve Ice Cream DIY Kit
Choco Banana DIY Kit
Buy now on Amazon: Chocolate Kinako Mochi – Let's Make with Water DIY Candy set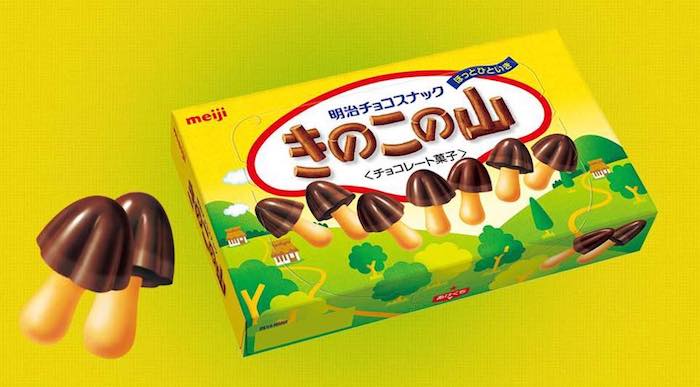 JAPANESE BISCUITS
How can a hungry Gnome resist a unique toadstool shaped biscuit topped with chocolate?
This is one Japanese food that was made with him in mind.
Thanks Meiji Chocolate!
But all these Japanese biscuits are cute to boot.
Kinoko no Yama toadstool biscuits by Meiji
Takenoko no Sato biscuits, also by Meiji
Panda cookies, a much loved Japanese favourite
Koala no March cookies, shaped in a little koala and stamped with fun Koala motifs
Meiji Chocorooms – Japanese mushroom biscuits
Buy now on Amazon: Kinoko no Yama biscuits – Pack of 5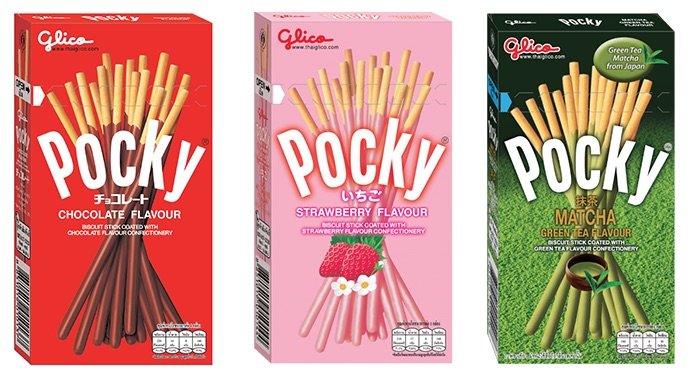 JAPANESE PRETZELS
My kids LOVE Japanese pretzel snacks, both sweet and savory.
When we are in Japan, there's at least one pack in my backpack at all times.
The cheese flavor Pretz pretzel is the best.
Pretz pretzels are probably one of the best healthy Japanese snacks around.
A special mention to Pocky chocolate sticks, the yummiest Japanese treat.
I first tried them at 15 on a school trip, and 30 years later, they are still my favourite Japanese snack.
Buy now on Amazon: Variety Pack of 6 Boxes of Different Pocky flavors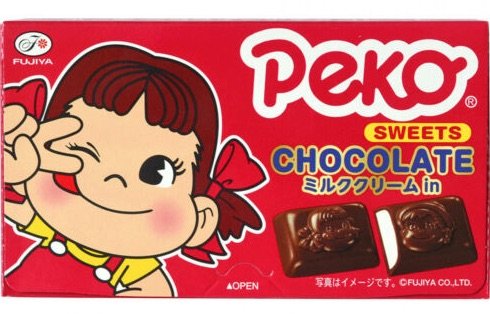 JAPANESE CHOCOLATE
There was just too much to write about Japanese chocolate in this guide to Japanese candy.
So take a peek at Roam the Gnome™'s Guide to Japanese Chocolate.
Special mention: Milky Chocolate Bar
Milky Chocolate has a milk cream filling.
It's in a world of its' own.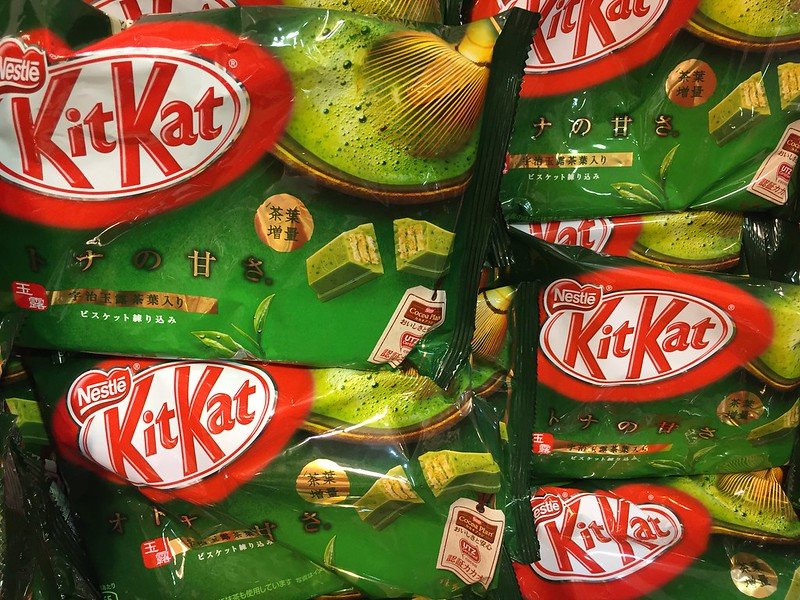 Image credit: Tjeerd Wiersma via Flickr CC BY-2.0
No.1: Japanese Kit Kats
You've no doubt heard that Japan is famous for unusual Kit Kat flavors. Most people have Green Tea Kit Kats on their must buy souvenirs from Japan list.
But did you know you can also buy Japanese Kit Kats in:
Everyday Nuts and Cranberry chocolate kit kats
Matcha Green Powder kitkats
Rich Matcha flavor kit kats
Yogurt kit kats
Frozen Cookies and Cream kitkats
Bitter strawberry kitkats
Japanese Sake kit kats
Dark chocolate kit kats
Strawberry cheesecake kit kats
Sakura Soy powder kit kats
Go hunting for all the different flavor Kitkats (including limited edition Kitkats) when you are out and about in Japan.
Buy now on Amazon: Try an assortment with this Kit Kat taster set – 21 mini Kit Kat bars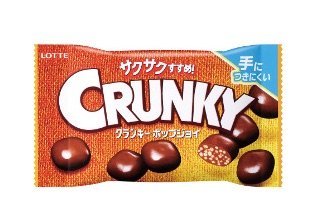 THE BEST JAPANESE CHOCOLATE SNACKS
Oh how we love a good chocolate snack in Japan!
Our favourite? The Crunky Balls.
No competition.
No.1: Crunky Chocolate Balls
Crunky Balls come in flavors:
Green Tea chocolate
Milk chocolate
Strawberry chocolate
Dark bitter chocolate, and
Cookies and Cream chocolate.
These are my favourite Japanese chocolate snack in the world.
The texture of the biscuit crunch is something else.
Warning: If you have a chocolate addiction too, danger ahead!
Buy now on Amazon: Crunky chocolate balls – 6 pack (You'll need them)
No.2: Crunky Chocolate Bars
Crunky chocolate bars (a whole bar instead of individual balls) are made in flavors including:
Vanilla ice cream
Milk chocolate
Strawberry
No.3: Bake Chocolate baked cake bars
Bake Chocolate Cake bars are available in these combinations :
Strawberry
Cheese cake
Creamy cheesecake
Chocolate brownie, and
Mint ice cream.
The Green Tea Bake cake is a collaboration with Hello Kitty.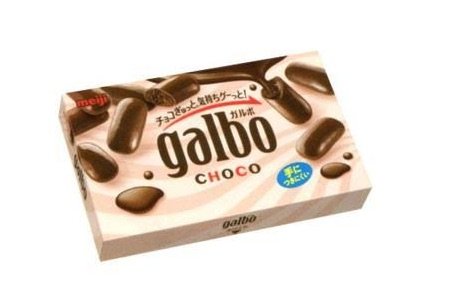 No.4: Galbo Chocolate
Galbo choco has a crunchy biscuit texture, smothered in lashings of chocolate.
They come in:
salty caramel
soy milk green tea
strawberry
white, and
soy milk and kinako (roasted soy bean)
Try the Soy Milk and Kinako Galbo chocolate if you can find it.
It's divine.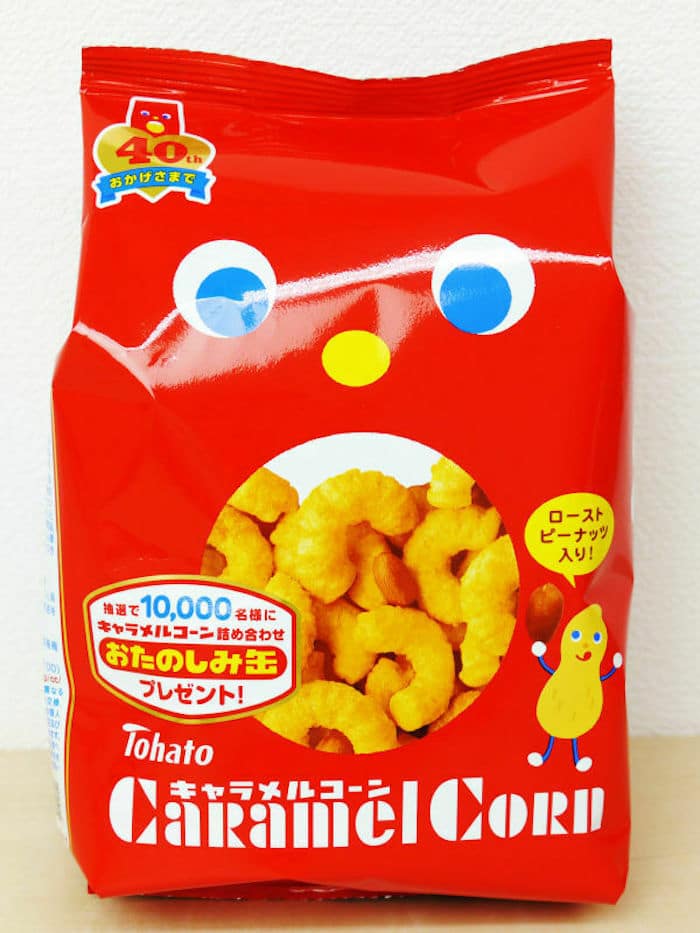 OTHER POPULAR JAPANESE SNACKS – The best snacks in Tokyo
Other popular Japanese snacks and candy include:
No.1: Tohato Caramel Corn
A famous puffed corn treat made into sweet corn curls.
Available in:
chocolate
chocolate mint
fragrant caramel
honey soy
milky condensed milk
ramune soda
with peanuts
tiramisu
strong green tea, and
fruit parfait.
Buy now on Amazon: 80 gram bag of Tohato Caramel Corn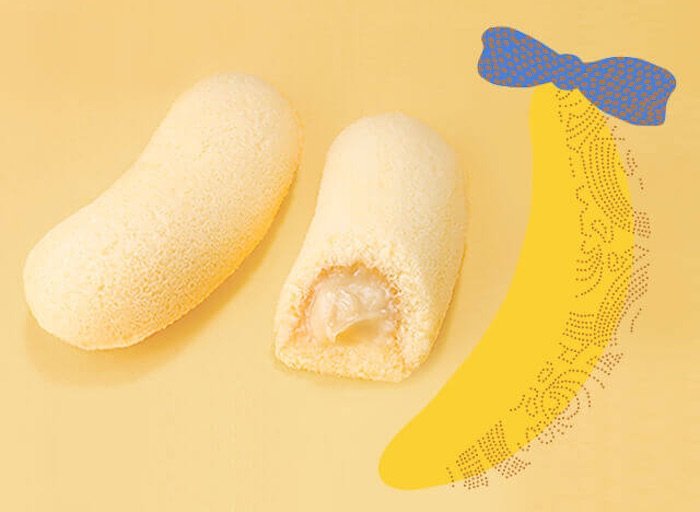 No.2: Tokyo Banana
Tokyo Banana is arguably Japan's most popular souvenir to take home for friends and family.
Want to know where to buy Tokyo Banana?
The main Tokyo Banana shop in Tokyo is at Tokyo Station.
In fact it's not one shop, but many outlets selling Tokyo Banana souvenirs.
You can also buy Tokyo Banana cookies, seasonal variations of Tokyo Banana biscuits, and Tokyo Banana kitkats too!
(See our Snacks Guide below for more information on Tokyo Banana. )
Buy now on Amazon: Original Tokyo Banana – 12 pack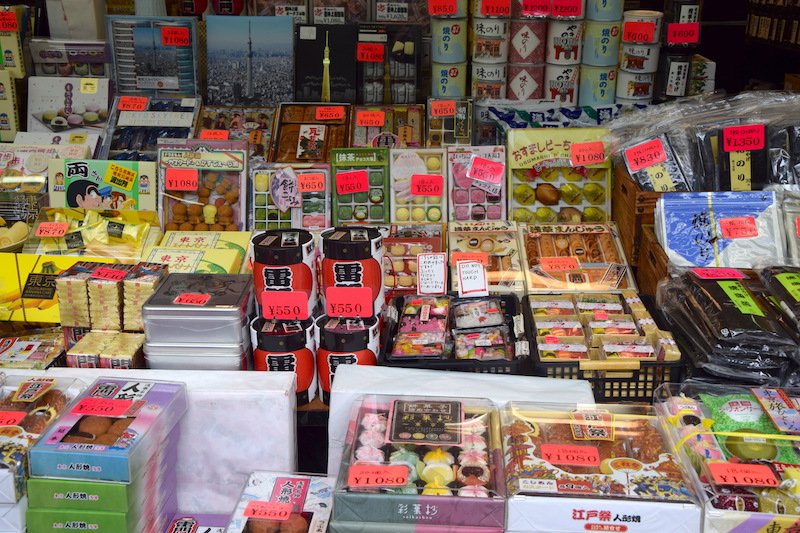 No.3: Japanese Mochi & Wagashi Snacks
Japanese Mochi filled with sweet red bean paste and sweet Wagashi snacks are two traditional Japanese candy snacks.
Read more in the Guide to Japanese snacks below.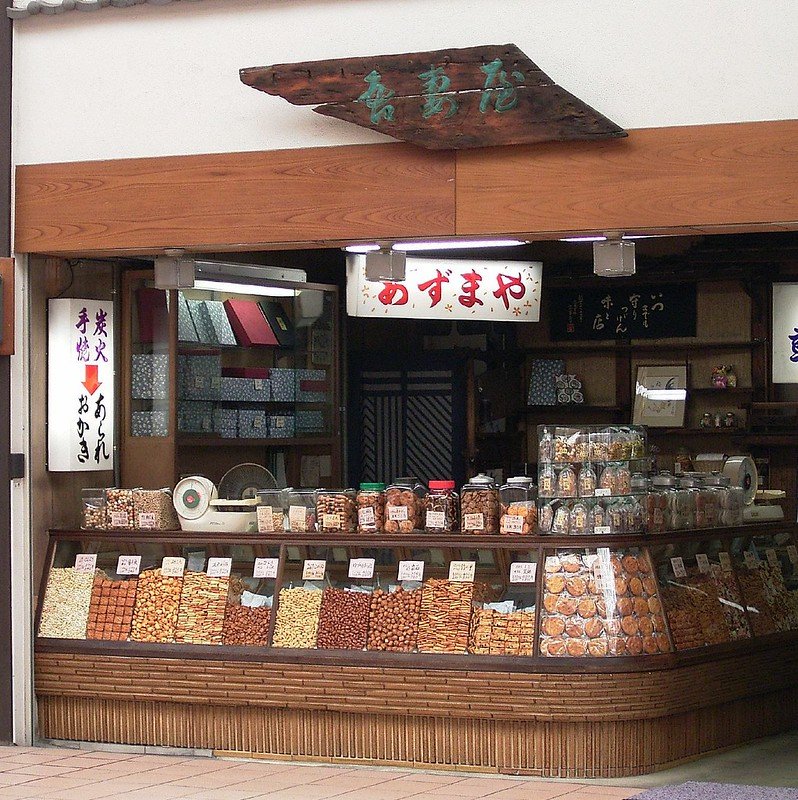 Image credit: Daiju Azuma via Flickr CC BY-SA 2.0
No.4: Japanese Cracker Snacks
There are so many Japanese crackers to try, and we've listed a whole bunch in our guide to Japanese snacks & crackers.
They made the best souvenirs from Tokyo for people who foodies who like to taste traditional food.
Take a look.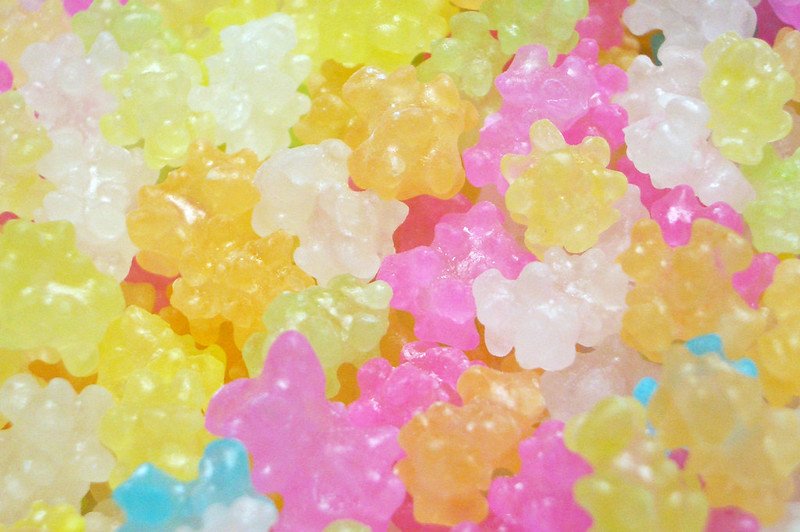 Image credit: Aki Sato via Flickr CC BY-SA 2.0
JAPANESE CANDY MANUFACTURERS
These companies are the main manufacturers of Japanese candy (and some Japanese snacks). It's hard to know who makes the best candy in Japan.
But they ALL make FUN Japanese candy.
Check their individual websites for upcoming releases and seasonal surprises.
Lotte
Calbee
Gliko (famous for Pocky)
Morinaga Dars
Kasugai Gummy.
Calpis
Chelsea – made by Meiji Confectionery in Japan
Cubyrop
Gumi 100
Karinto
Milky
Pinky
Poifull
Pucca
Puccho
Pure gumi candy
Ramune candy
Meiji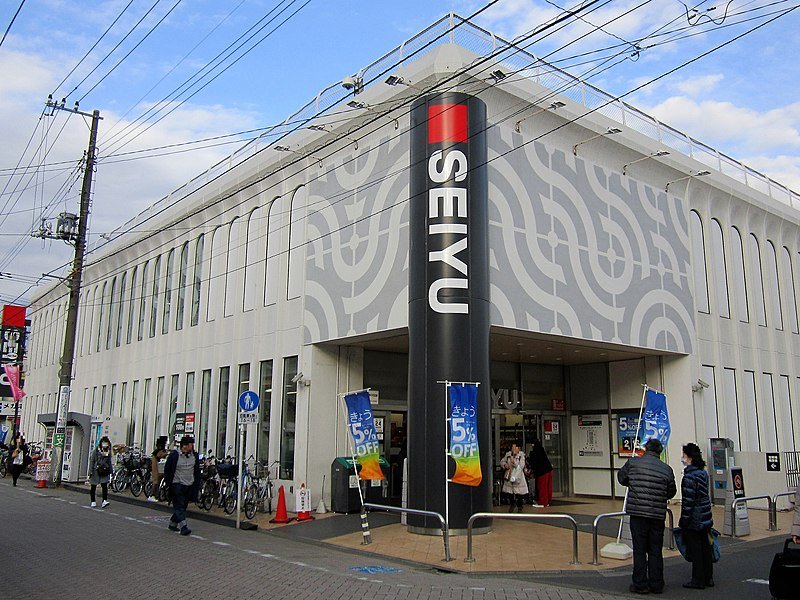 Image credit: Suikotei via Wikimedia CC BY-SA 4.0
WHERE TO BUY JAPANESE CANDY AND SNACKS
Correct at time of publication on Roam the Gnome. Please check with venue for updates. We apologise in advance if there have been any changes we are unaware of. All prices in yen, unless otherwise stated
Supermarkets in Japan
Wondering where to buy the best sweets in Tokyo?
If you want to buy Tokyo souvenir snacks, visit one the big Tokyo supermarkets.
Roam the Gnome says Japanese candy is one of the best souvenirs from Tokyo, but he may have had his arm twisted by the boys!
The Japanese supermarkets are the home of cheap Japanese candy and snacks too.
Buy in bulk and you'll be the king of the castle.
Convenience Stores, Festivals & Shopping streets
Other places to buy the these recommended Japanese souvenirs include:
Depachika Food Halls in the basement level of most Japanese Department Stores
Meiji Shrine souvenir shop
Nakamise shopping street at Senso-ji Temple in Asakusa
Japanese festivals stalls
Tokyo Disneyland and Tokyo Disney Sea have a range of gorgeous Disney candy in metal tins and cardboard packaging you'll love!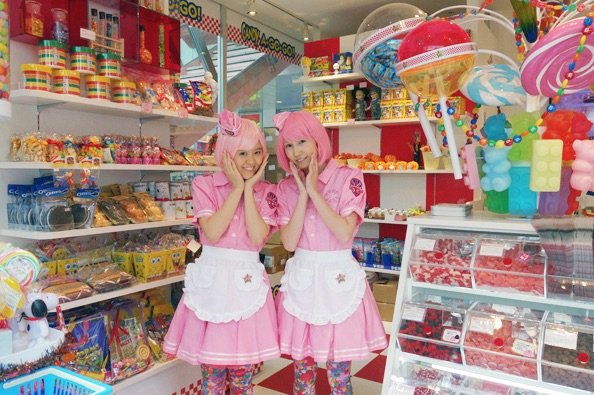 Image credit: Candy a Go Go Harajuku (link below)
Takeshita Street in Harajuku
Takeshita Street in Harajuku has an abundance of Japanese candy shops. Pick your favourite.
Candy a Go Go
Candy a Go Go! is the place on Takeshita street in Harajuku with the pink-haired shop assistants on hand to help you with your Japenese candy purchases.
Tokyo Candy Showtime Japanese Candy Store
Tokyo Candy Showtime on Cat Street is a Japanese candy shop filled with rock candy of every size, shape and color.
They have very cute kawaii designs – a must buy Tokyo souvenir.
Totti Candy Factory
Tokyo Totti Candy Factory on Takeshita Street (this is the place to try the Harajuku Rainbow Cotton Candy you've seen all over Instagram)
Daiso Tokyo Harajuku
Daiso 100 yen store in Harajuku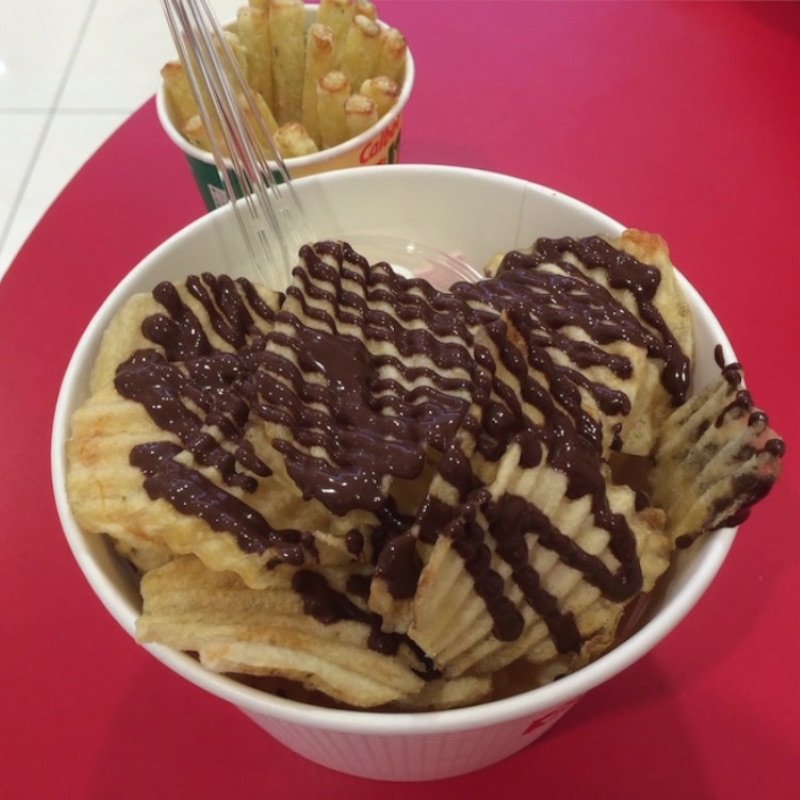 Tokyo Station Candy Snacks
Tokyo Okashi Land is a Japanese snacks shop in Tokyo Station where you can eat fresh Japanese snacks before you buy.
Do not miss it if you have kids in tow.
They have a bulk load of Japanese snacks souvenir for all ages.
They stock cheap Japanese snacks too.
The Calbee potato chips with hot chocolate sauce drizzled over (& served with soft serve ice cream too) is one of the TOP FOODS TO TRY IN TOKYO!
Only in Japan would you find this!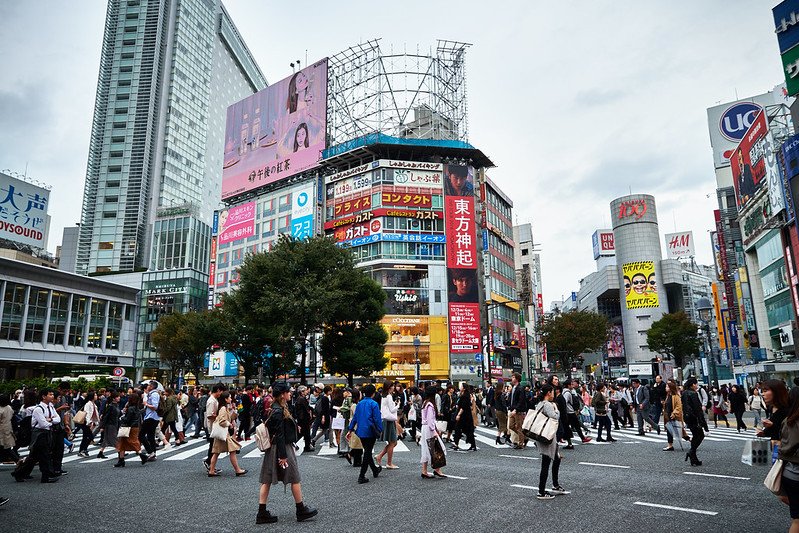 Image credit: Luca Sartoni via Flickr CC BY-SA 2.0
Save for a trip to Japan
Japanese snacks and candy are so good.
We urge you to saving your money for a trip to the Land of the Rising Sun just so you too can taste all these delicious Japanese candies and Japanese chocolate snacks for yourself!
---
RELATED: Ultimate Guide of Fun Things to Do in Tokyo with Kids
JAPANESE CANDY BOX
Check out these fun Japanese candy boxes: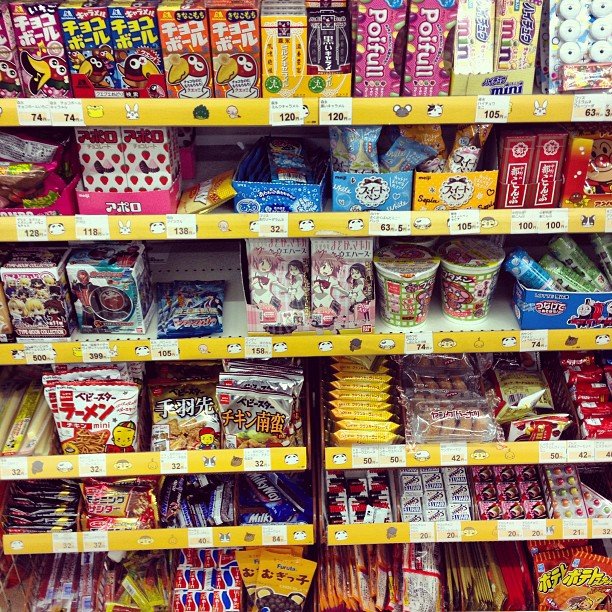 Image credit: Amy Jane Mitchell via Flickr CC BY-ND 2.0
JAPANESE CANDY SUBSCRIPTION BOXES
If you aren't planning to head to Japan any time soon, don't miss out.
But if you can't wait that long, take a look at our guide to the best Japanese subscription box choices to arrange Japanese sweets delivered to your home today.
Wondering what is the best Japanese candy subscription box? Click the links below for our helpful guides.
It's up to you who you share it with!
READ MORE: The best Japanese Candy Box Subscription (update coming soon)
READ MORE: The Best Japanese Snack Subscription Box for Families (update coming soon)
Toadstool Rating: Best Japanese Lollies

Looking for more must try Japanese food?
Click the links in blue below for more fun Tokyo attractions.