INSIDE: The Complete Guide to Japanese Furniture Store Outlets in Tokyo and Japan.
Let's take a moment to bow down in homage to good Japanese furniture stores.
A Japan furniture store adventure is my ultimate day out.
I dream of the day I'm rich enough to import the lot!
In the meantime, I keep browsing… AND buying all the Japanese homeware accessories to placate my dreams.
Popular Japanese home furniture is simple and wholesome, with:
a natural aesthetic
muted colors, and
sleek design, erring on the side of minimalism.
When combined with traditional tatami mats and shoji screens, the traditional Japanese house or ryokan creates a mood of peacefulness.
But anyone can bring a little of that sensibility into their home and garden with a few select pieces of Japanese furniture and decor.
If you want to know where to Japanese buy furniture, take a look below for our guide to the best Japanese furniture stores in Tokyo Japan.
Disclosure: This article contains affiliate links. If you make a purchase after clicking on one of these links, we may receive a small commission at NO extra cost to you.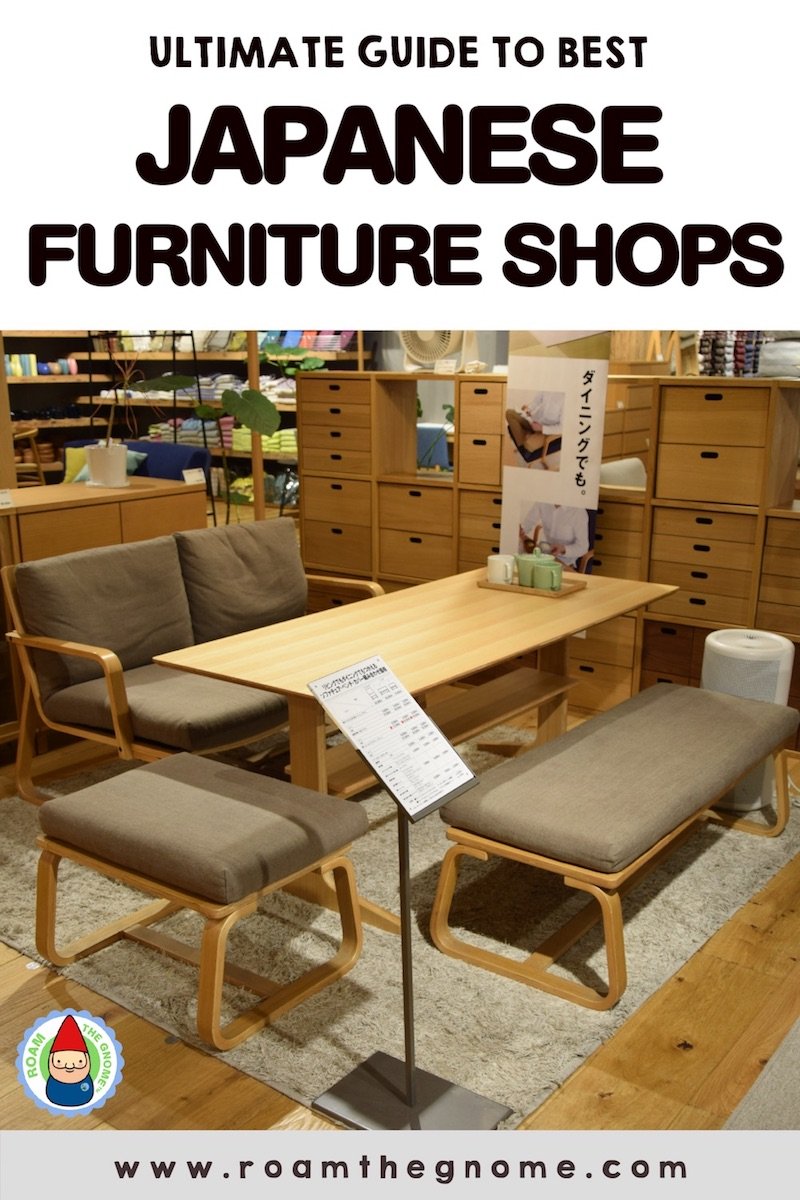 THE INSIDE SCOOP: Best Japanese Furniture Store Outlets
Correct at time of publication on Roam the Gnome. Please check with venue for updates. We apologise in advance if there have been any changes we are unaware of. All prices in AUD dollars, unless otherwise stated
If you are wondering where to buy furniture in Japan, this is the guide you've been waiting for.
Where to buy Japanese furniture brands?
We've gathered 7 of the best places to buy Japanese furniture and Japanese interior decor including room dividers.
These 7 best Japanese furniture brands are made up of:
three of the big famous furniture stores in Japan, plus
a few of the brands making handmade furniture designs.
Start with our favorite!
Thinking of buying furniture in Japan?
Start writing your wish list of things to buy when you read our guide to Furniture Stores Japan style.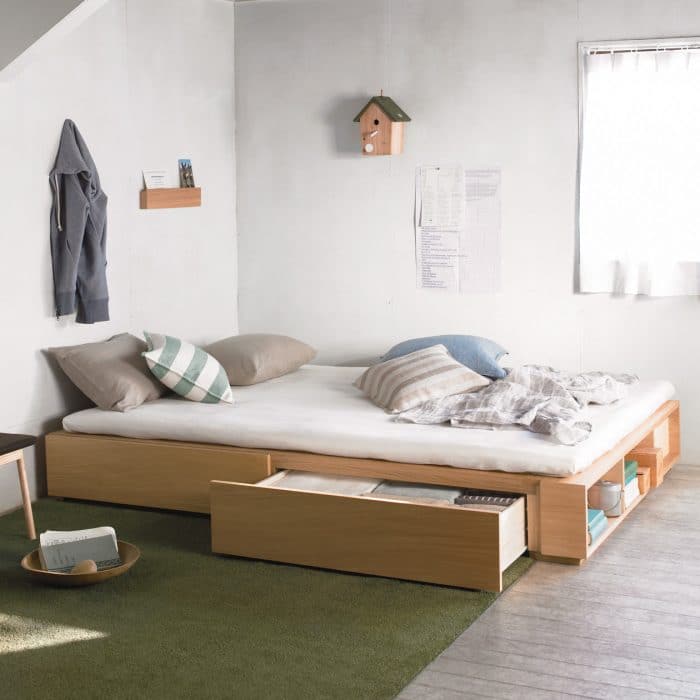 Image credit: Muji
BEST JAPANESE FURNITURE IN JAPAN
No.1: Muji Japan Furniture Store
MUJI Shibuya in Tokyo is our favourite Japanese store in the world for everything to do with keeping an organised wholesome home.
The MUJI furniture collection allows you to furnish your interior in style, following MUJI's concept of Chodo-Yoi, the notion of seeking the just right balance; between quality and price.
Their furniture is designed to utilise space efficiently and promote a restful environment.
Is MUJI furniture good?
YES!
MUJI is one of the best furniture stores in Japan – a must see.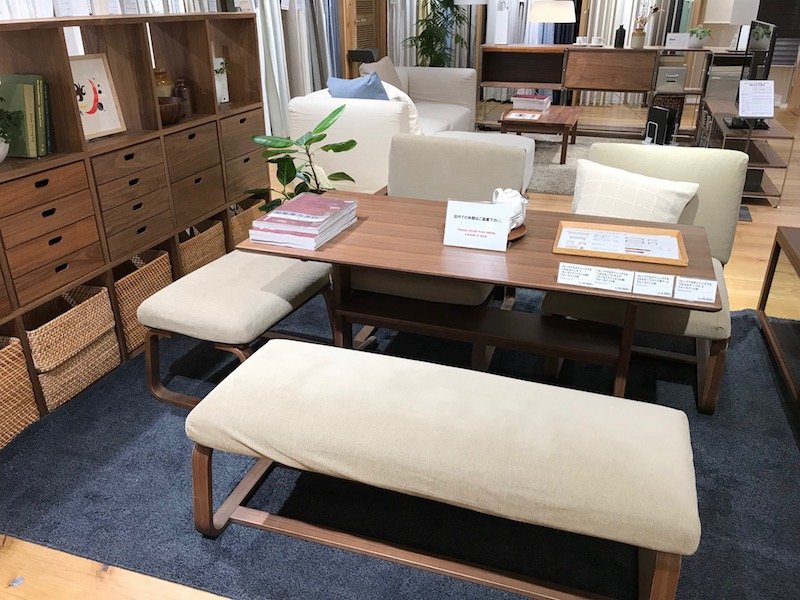 Best Muji Furniture Range
The MUJI furniture range includes:
MUJI bedroom furniture including bed frames, bedheads, mattress, and oak chests for folded clothing
Natural Oak desks, round chairs in oak and walnut, and oak benches
MUJI sofas, and foldaway guest mattresses
MUJI tables and chairs for the Japanese living room
MUJI shelving and MUJI drawer sets, all suitable for the home or office
MUJI coat racks, coat trees, and mirrors
Even if you are not in the market for Japanese furniture right now, you can purchase functional MUJI home accessories that are designed to co-ordinate with the furniture ranges.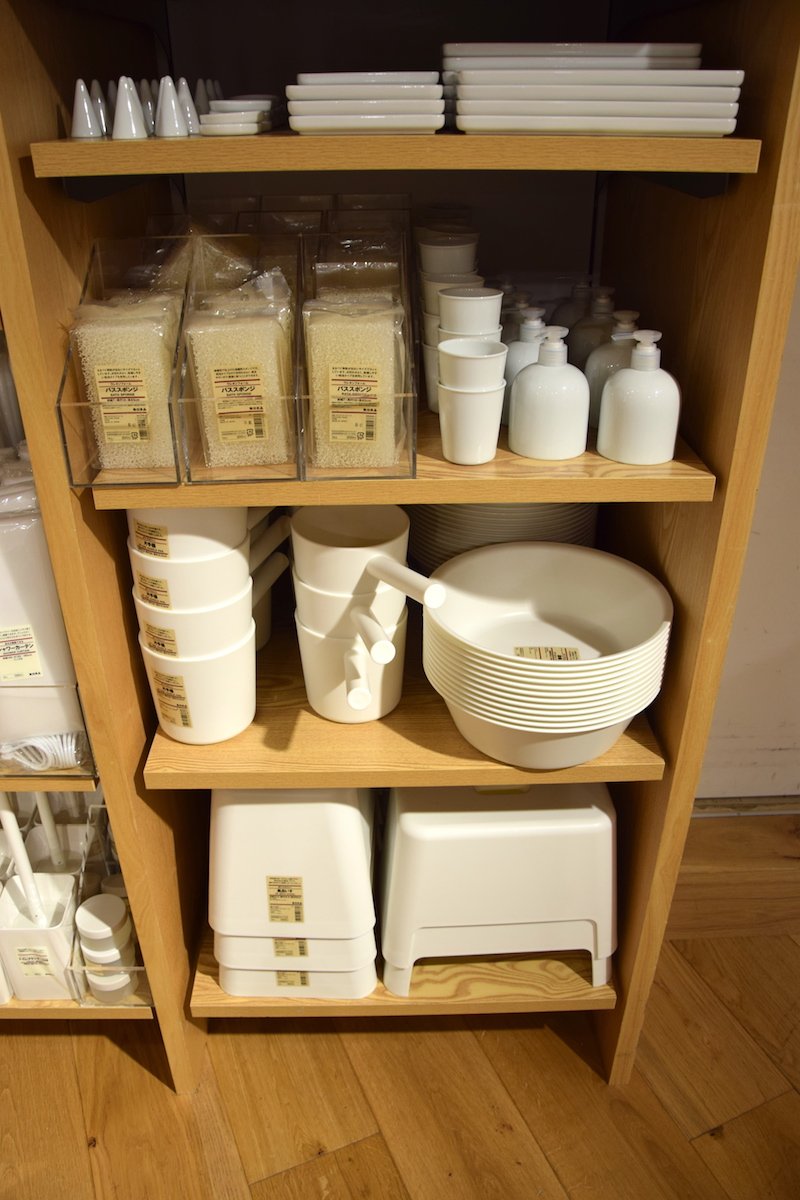 The Best MUJI homewares
No.1: MUJI bathroom accessories
I LOVE the simple bathroom range at MUJI, especially the:
MUJI Japan ladles for bathing, and
MUJI bath stools for a Japanese home.
The white Japanese tableware at MUJI, along with the elegant wooden serving trays delight my inner organiser.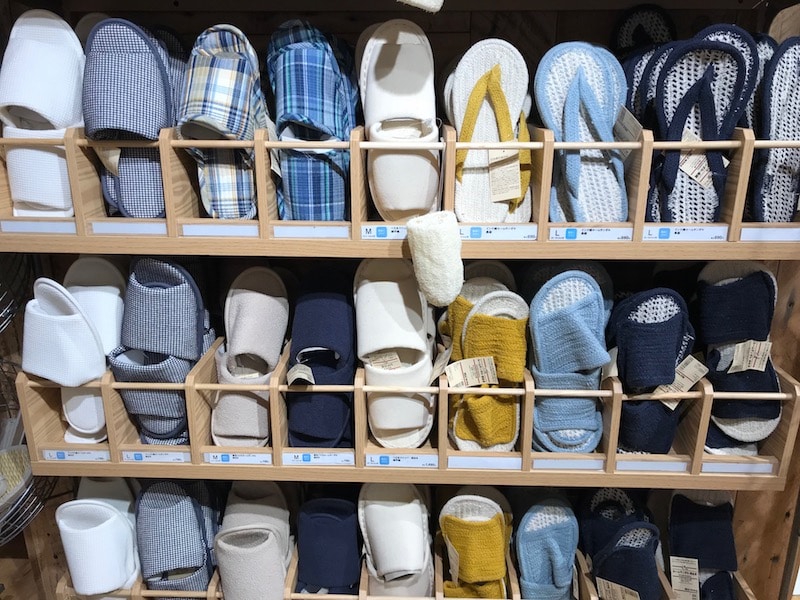 No.2: MUJI Duvets
But the thing I buy every trip to Japan is a new MUJI Duvet cover (doona)
No.3: MUJI slippers
And a new pair of Japanese house slippers, made from cotton or linen.
No.4: MUJI stationery
Oh, and LOTS of MUJI stationery
Hot tip: MUJI candy and snacks
Don't forget Japanese snacks and candy from the MUJI grocery section in the basement.
I buy up the shop.
I cannot live without these things to bring a little Japanese sensibility and charm into my daily life.
Plus, the biggest bonus of visiting MUJI in Shibuya is that LOFT is right next door.
They are interconnected with a shared wall.
Don't miss this beautiful gift & stationery store either.
THE INSIDE SCOOP:
Address:Shibuya Seibu B1F, 21-1 Udagawa-cho, Shibuya-ku, Tokyo
Opening hours: 10:00~21:00
MUJI Japanese Furniture website:Muji Shibuya in Tokyo (a sneak peek inside the shop!)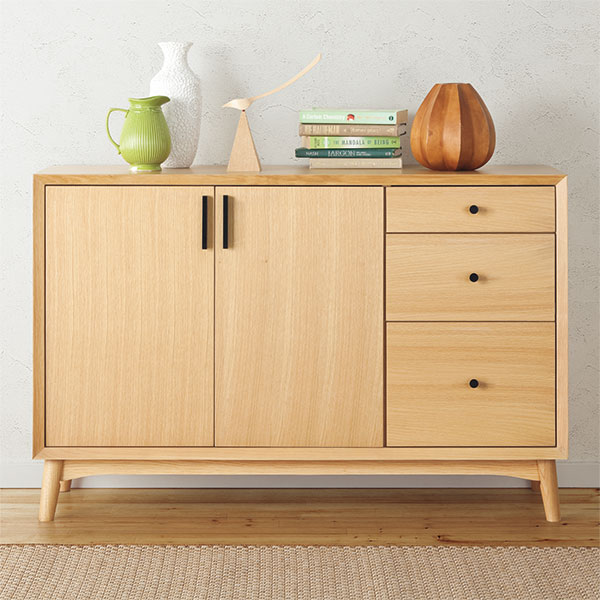 Image credit – Nitori
No.2: Nitori Furniture Japan
Nitori Japanese furniture company and homewares store is the go-to store for Asian-inspired furniture and cute Japanese homewares, somewhat like Ikea.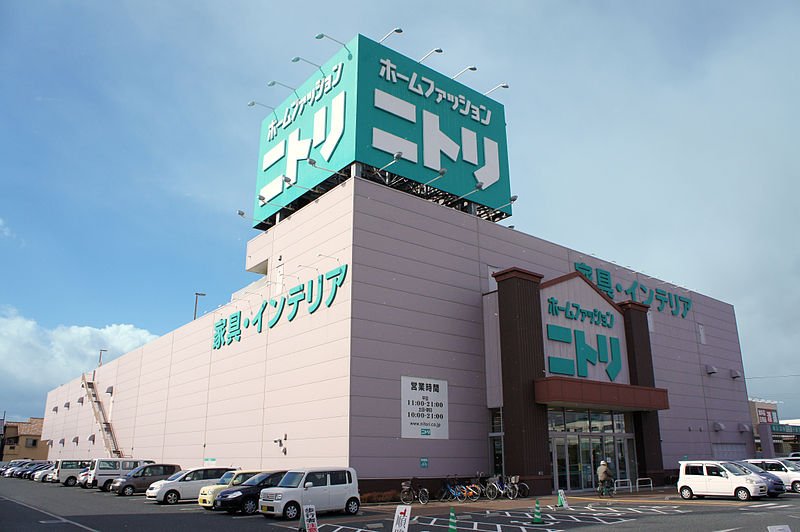 Image credit: Kirakiraouji via Wikimedia CC BY-SA 3.0
Visit Nitori Large Store
Visit this Tokyo furniture store to see their range of affordable Japanese furniture and Japanese homewares including:
Japanese bed mattresses
Futon and bedding comforters
Side tables
Storage options and clothing storage shelving
Japanese sofas and Japanese living room furniture
Japanese bookshelves
Combination desks & PC workstations
Japanese dining table and Japanese chairs
Japanese kitchenware and cookware
Kitchen accessories
Japanese tableware
simple Japanese furniture for the minimalist look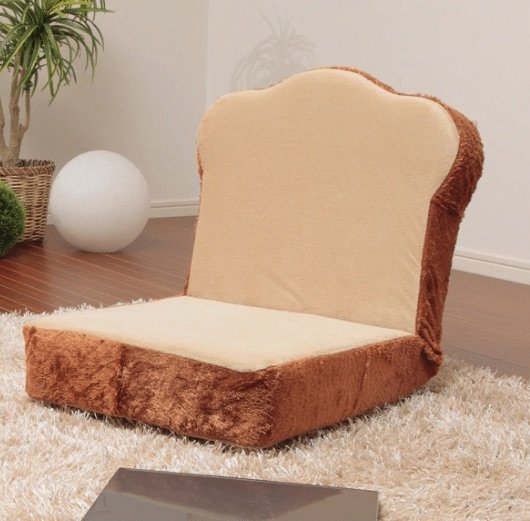 Cute Japanese furniture? Nitori Japanese Seat Chairs
My favourite things at Nitori are Japanese seat chairs, with self-supporting back rests.
Japanese floor furniture seats remind me of the Hello Kitty one I carried home from Japan as excess luggage as an 18 year old! (That excess luggage also included bags of Japanese chocolate.)
For those with kids, or who love quirky eccentric design, you'll be pleased to know you can buy these 'toast'-inspired limited edition seat chairs, a step up from the one I bought!
They sell "Japanese melon bread" themed reclining seat chairs too.
This place is almost as good as Tokyo Character Street for quirky Japanese things.
Better on the budget than MUJI, Nitori is a must visit shop for interior design hobbyists and is as close to cheap Japanese furniture as you can get.
You won't leave empty-handed.
THE INSIDE SCOOP: Nitori Furniture store in Japan
Address:Large Machida store – 3-10-1, Tsuruma, Machida-shi, Tokyo 194-0004
Access:Take the Tokyu Denen Toshi line and get off at Minami Machida station. From there walk for 3 minutes.
Opening hours: 10:00-21:00
Japan furniture online store URL:Find the list of Nitori stores in Tokyo here.
Hot tip: Nitori Deco Home
There is also a chain of Nitori shops for homewares – Nitori DecoHome, throughout Tokyo.
Find one in Shibuya (Address: Tokyu Department Store Toyoko Minami-kan 7F Shibuya 2-chome 24-1, Shibuya, Tokyo 150-8319) and another in Ikebukuro Sunshine City. (Address: Alpa B1 Floor, Higashi Ikebukuro 3-1, Toshima-ku, Tokyo 170-0013)
Find your closest Nitori Decohome shop here. (Scroll midway down the page to find the Nitori Deco Home shop list)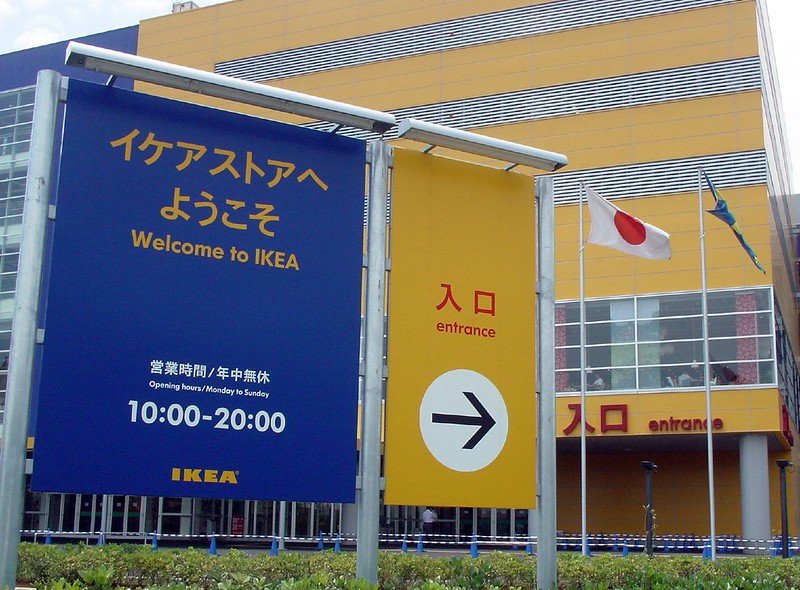 Image credit: Jeff via Flickr CC BY-ND 2.0
No.3: IKEA Japan Furniture Stores Tokyo
This Scandinavian chain sells ready-to-assemble furniture, plus housewares, in a warehouse-like space.
The Japanese Ikea is much the same as Ikea anywhere in the world.
But I adore Ikea, and try to visit a new Ikea store in every country we visit, just to see the subtle differences in styling and interior design influenced by the country.
It's fun to see how they style Japanese decor.
Fun Fact: Did you know you can visit the IKEA museum in Sweden? Read all about it here
(There's also the ONLY Ikea Hotel in the world in the same location)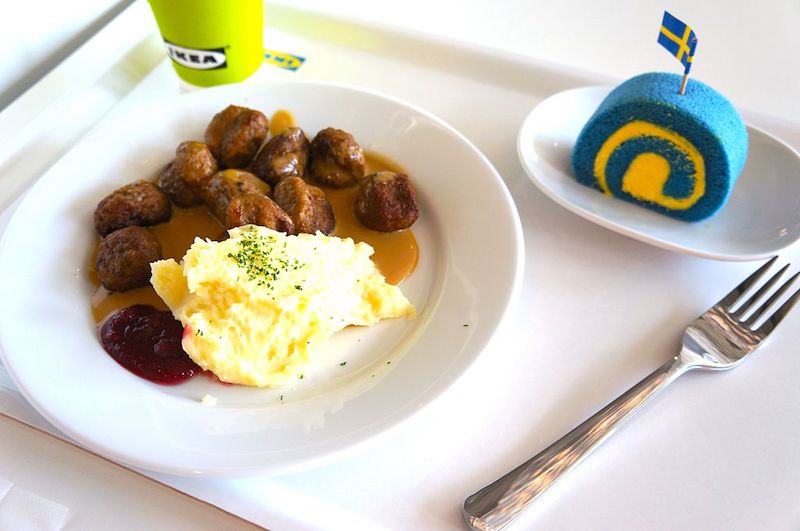 Image credit: Kirakiraouji via Wikimedia CC BY-SA 3.0
Don't miss Ikea Cafe!
Remember to visit the Ikea Cafe
Those Swedish meatballs with creme sauce and Lingonberry preserve taste good everywhere you go!
Resistance is futile.
THE INSIDE SCOOP: IKEA Tokyo Bay store
Address:2-3-30 Hamacho, Funabashi, Chiba 273-0012
Access:
IKEA is only 30mins from Tokyo Station by train!
5-minute walk from JR Minami-Funabashi station for Keiyo line and Musashino line.
Opening hours: Mon ~ Fri 10:00~21:00; Sat & Sun 9:00~21:00; Public holiday 9:00~21:00
2F IKEA Restaurant: Mon ~ Fri 10:00~20:30; Sat & Sun 8:30~20:30; Public holiday 8:30~20:30
IKEA Japan Furniture website URL:https://www.ikea.com/jp/en/store/tokyo_bay/access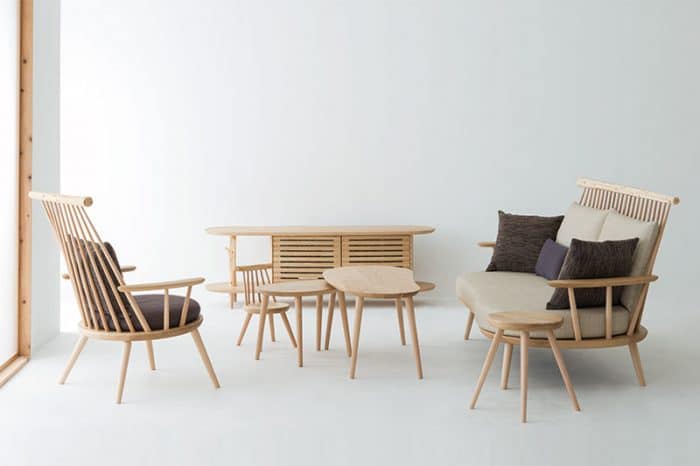 Image credit: Kitutuki
BEST HANDMADE JAPANESE FURNITURE STORES IN TOKYO
No.4: Hida Takayama Furniture Store Japan
Hide Takayama fashions authentic Japanese furniture from Japanese timber yet it's one of the Japanese furniture names you might not have heard of – yet!
HIDA TAKAYAMA is one of the most famous places in Japan for wooden furniture. Their traditional Japanese furniture design has been in production since the beginning of the 20th century.
Their designers include some of the most respected names in the Japanese furniture design business.
They craft:
Japanese furniture for small spaces
Japanese style dining table and chairs
Take a look at all the classic Japanese furniture style they make at Hide Takayama here.
THE INSIDE SCOOP: Hida Takayama furniture shop Japan
Address:Tokyo Showroom, 1F Hulic kamiyacho Building 4-3-13 Toranomon, Minato-ku, Tokyo 105-0001 JAPAN
Japan furniture brand URL: Hida Takayama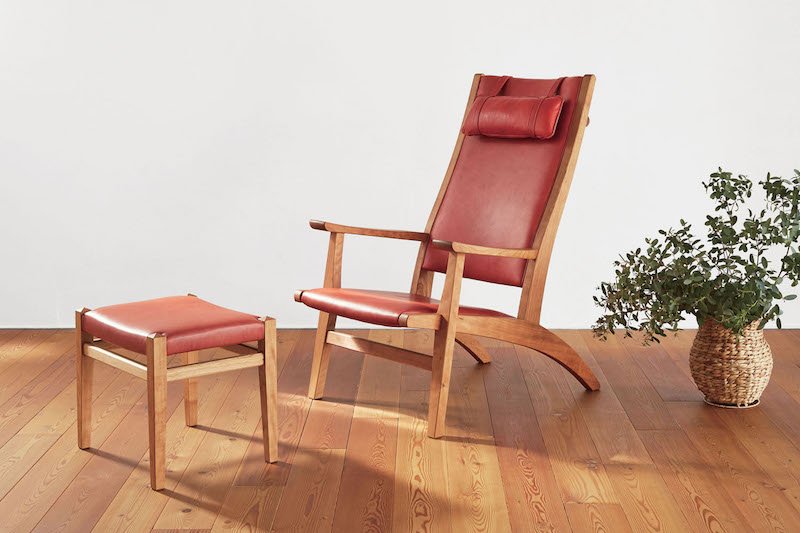 Image credit: Rainbow Chair – Wood you like
No.5: Wood You Like Furniture Store Tokyo
Wondering where to buy Japanese furniture in Tokyo with a handmade aesthetic?
Wood You Like make beloved Japanese inspired furniture made from beautiful woods of Japan including the 5 types of trees:
Cherry
Walnut
Maple
Orc, and
Tuft.
This Japan wood furniture shop has been in business since 1983.
Their Japanese wood furniture is made with love.
Each piece is produced by hand, with one craftsperson in charge of the whole process from beginning to completion, allowing them to fall in love with the piece and give it their all.
Their Japanese living room furniture includes:
sideboards and consoles
tv stands
wall storage
small shelves, chests
bookshelves and cupboards
desks and chairs
dining tables
Japanese cabinet
stools and childrens furniture
sofas and armchairs including the spectacular Rainbow chair pictured above.
They also make Traditional Japanese bedroom furniture including:
ornate beds, and
Japanese dressers for the bedroom.
Take a peek inside their handmade furniture factory on Instagram to see their craftspeople in action and the different stages their furniture goes through during the creation process.
This is definitely one of the best furniture stores in Tokyo!
THE INSIDE SCOOP: Wood You Like Furniture from Japan
Address:5-48-1 Jingumae, Shibuya-ku, Tokyo 150-0001
Opening hours: Business hours from 11:00 am to 7:00 pm. Closed Wednesday.
Japanese furniture store online:https://woodyoulike.co.jp/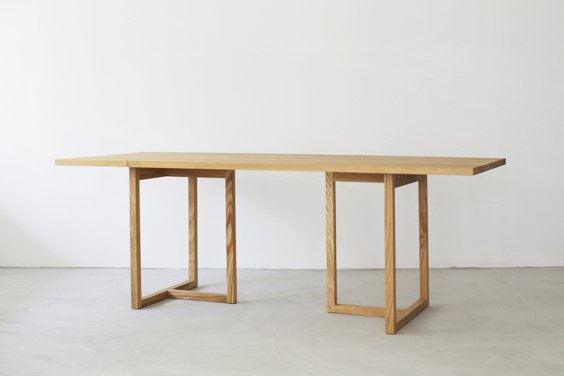 Image credit: Fundamental Furniture
No.6: Modern Japanese Furniture Design
"Fundamental furniture = fundamental furniture and furniture that is the basis of life"
The most important features of Fundamental Furniture pieces are their beautiful structure, the accuracy of the finish, and the rich expression of the material.
Any additional decoration on this Japanese modern furniture has been purposely left out so that the quality of the pieces speak for themselves.
It's Japanese minimalist furniture at it's best!
The team of young Japanese furniture makers spend their days giving each piece individual attention and love, in a workshop space close to Tokyo.
All Fundamental furniture pieces are designed so they can be adapted and changed around for the long term, as the family grows and changes.
This is the ultimate high end Japanese furniture for those with the budget for Japanese designer furniture!
THE INSIDE SCOOP: Building Fundamental Furniture Tokyo
Address:3-11-10 Minato-ku, Tokyo 108-0072
Access:
A 5-minute walk from Shirokane Takanawa Station on the Toei Mita Line and Subway Nanboku Line
1 minute walk from "Sankosakashita" bus stop for Toei Bus "Ebisu Station-Tamachi Station"
5 minutes on foot to the Toei Bus "Shibuya Station-Shinbashi Station"
Opening hours: Wednesday -Friday 13:00-19:00. Sat, Sun, Holiday 11:00-19:00. Closed Monday and Tuesday.
Japanese brand furniture URL:http://www.building-td.com/index.html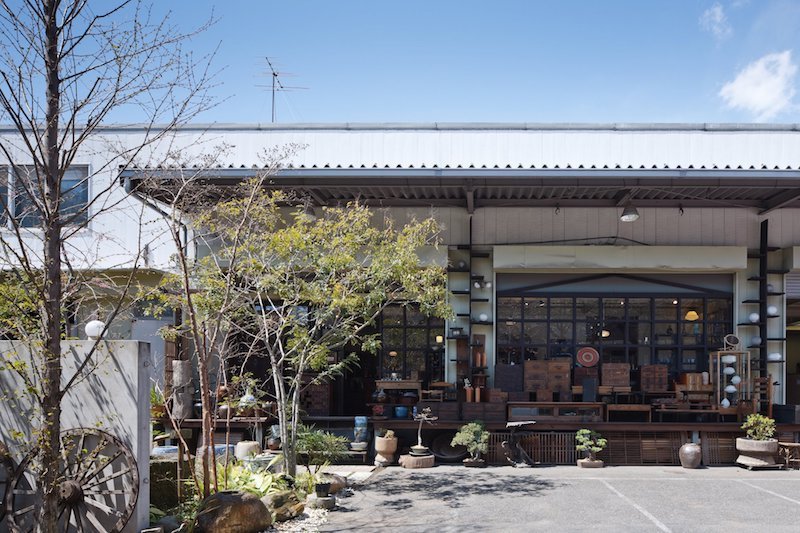 Image credit: Kanarusha via FB
ANTIQUE JAPANESE FURNITURE SHOP MARKETPLACES
No.7: Kanarusha furniture shop in Japan
Kanarusha is a Japanese furniture shop focusing on Japanese antique furniture.
Their claim to fame is vintage timber Japanese Tansu chests made in the Meiji period.
Tansu chests are a Japanese style furniture that can be used for shoe storage, closests, merchants chests to store family treasures, as sideboards, and as decorative Japanese living room pieces.
They offer a repair service too.
Kanarusha Vintage Japanese furniture store also sells Japanese home decor including:
Old Imari antique pottery
Curios and Japanese folk art
Japanese Lacquer ware
Kougei antique art
Kurado fittings – stained glass doors and windows
THE INSIDE SCOOP: Made in Japan furniture
Address:1-26-4,Shiraitodai, Fuchu-shi, Tokyo, Japan 〒183-0011
Access:
10 minutes walk from Tama-reien station (Keio-line).
7 minutes walk from Shiraitodai station (Seibu tamagawa-line)
Opening hours: 10:00 ~ 18:00 (Closed during the New Year holidays and Bon holiday period in mid-August)
URL:https://kanarusha.com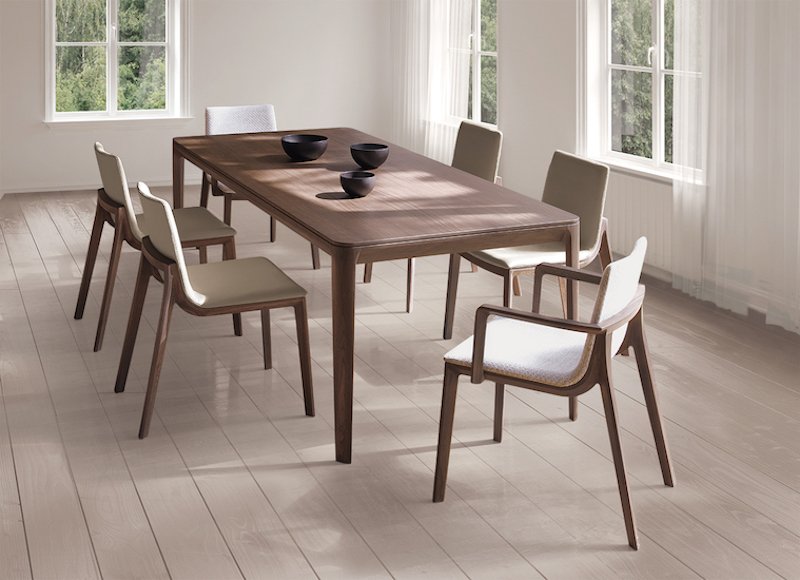 Image credit: Conde House Japanese Furniture
MORE TRADITIONAL JAPANESE FURNITURE COMPANIES
No.8: Conde House Furniture Japan (Alt: Candy House Japanese Furniture)
Conde House Japanese furniture designers have been hard at work creating functional and beautiful Japanese furniture for the last 44 years.
This Japanese furniture company manufactures pieces for both home and business, including:
dining tables and chairs
sofas and coffee tables
lounge chairs
barstools and benches
dressers, sideboards and cabinets
bedroom furniture
chairs and tables for meetings and conferencing
furniture for libraries, hotels and schools
All Conde House furniture is crafted at the company mill in Japan on the northernmost island of Hokkaido.
This Japan furniture shop is known for both solid and veneer wood construction that are beautifully constructed, stylish AND reasonably priced.
Makers at Candy House furniture Japan use both traditional techniques and modern computerized tools in the process of making their Japan style furniture.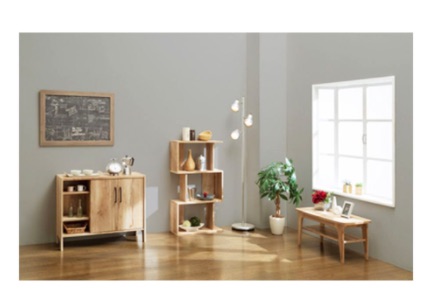 NEW – MORE OF THE BEST JAPANESE FURNITURE STORES & HOMEWARES
No.9: Cainz Homewares Japan
Cainz furniture stores in Japan offers a variety of items such as:
Japanese living room furniture- bookshelves, chest of drawers, cupboards, tv stands, shoe cases
Japanese folding beds and bedding
storage items
carpets, rugs, mats
Japanese dining tables and tablecloths
Japanese floor furniture including Japanese folding chairs, sitting chairs and sofas, seat chair covers, office chairs, ottomans
Japanese cushions, and
curtains and interior lighting
mirrors
You'll find Cainz stores all over Tokyo (14 in fact!) Japan including:
THE INSIDE SCOOP: Cainz Furniture Stores Japan
Address:Click here for Cainz store locations (click the Japanese prefecture near you)
Opening hours: Usually 10am until 8pm – subject to change. Please check with store before making the journey.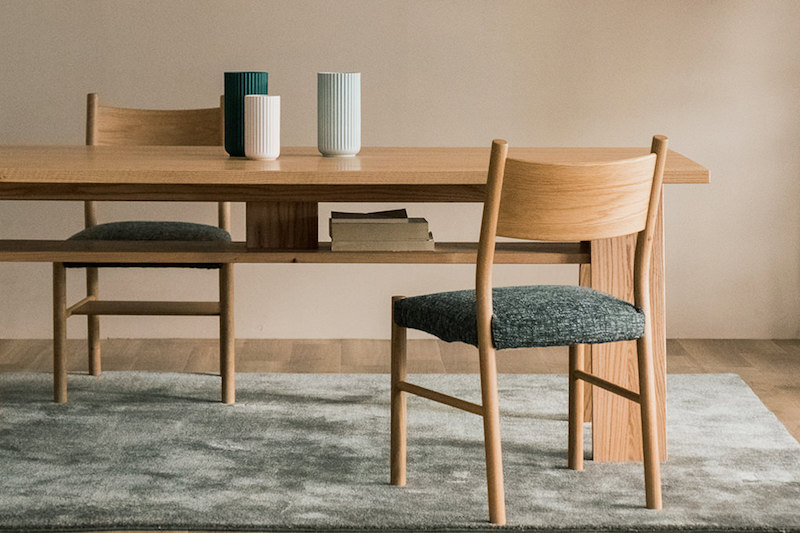 No.10: Rigna Terrace Tokyo
Ligna Terrace Tokyo is a stylish furniture and interior design shop in Tokyo.
In their own words, they sell:
Beautiful furniture with a calm atmosphere of walnut wood.
Bright tone furniture that can greatly change the impression depending on the color and material to be matched.
Vintage-style furniture such as wood, steel, and leather that is rugged but warm as time goes by.
This is a new find for our Japan Furniture shop list, and one that is a fabulous addition.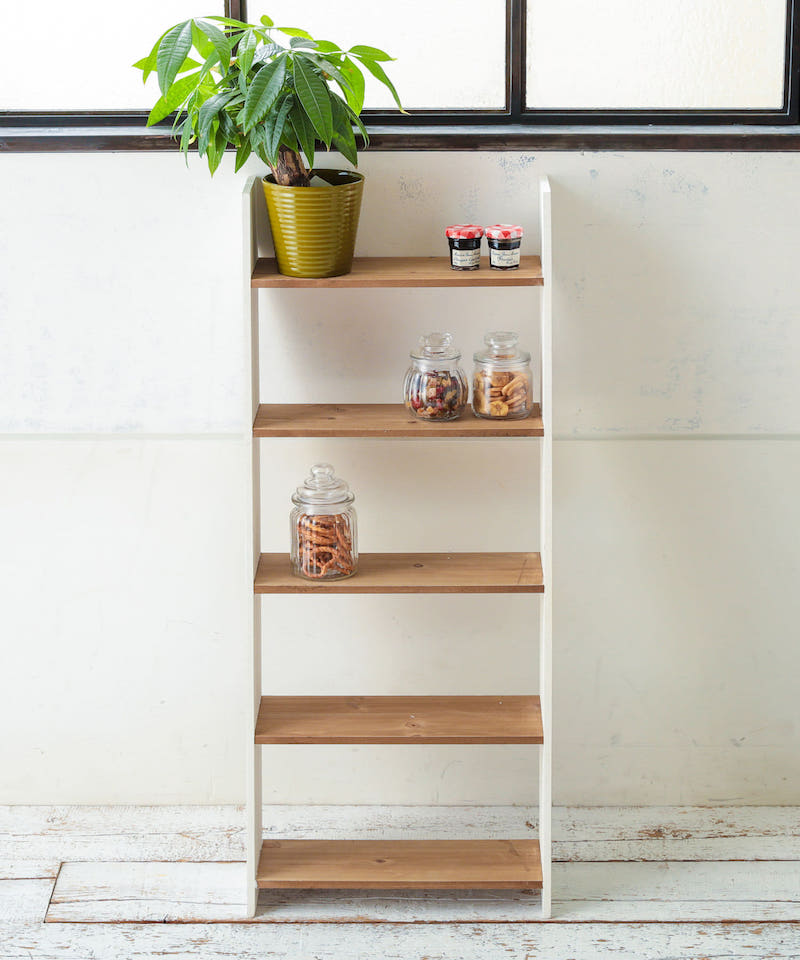 No.11: Pal Closet Furniture Store in Japan
This shop is full of gorgeous antique style Japanese furniture, modern Japanese furniture, and French country style tables and benches as well.
Take a look at theirJapan furniture range
THE INSIDE SCOOP: Pal Closet Tokyo
Locations: Click here
Opening hours: 11: 00-19: 00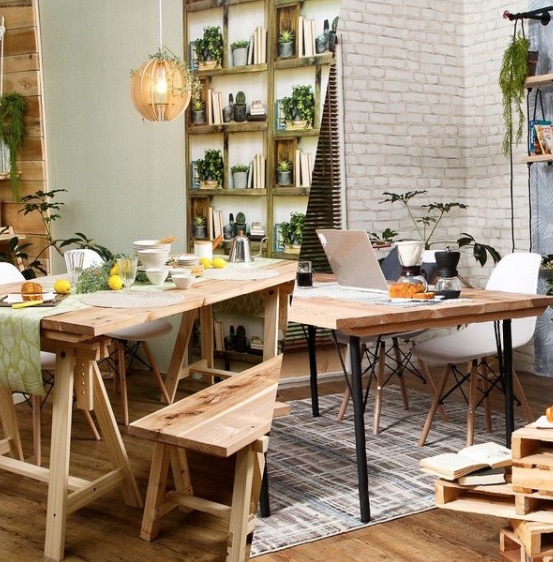 No.12: Joyful Honda Home Center
Head to a Joyful Honda store to find Japanese bedding where you can actually try out the futons and mats.
They also have a section full of ready-made Japanese Buddhist altars!
There's also:
carpet processing
wallpapers
cafe curtains
Masonite pegboard sections to hang all your tools and home necessities
storage containers
You can even buy CUT FLOWERS here!
The Joyful Honda Mizuho Store is the super large store in Tokyo.
They have a pet center and garden center too.
THE INSIDE SCOOP:
Address:Click here for Joyful Honda store locations in Tokyo, Chiba, Saitama and more (click the Japanese prefecture near you)
Opening hours: Usually 10am until 8pm – subject to change. Please check with store before making the journey.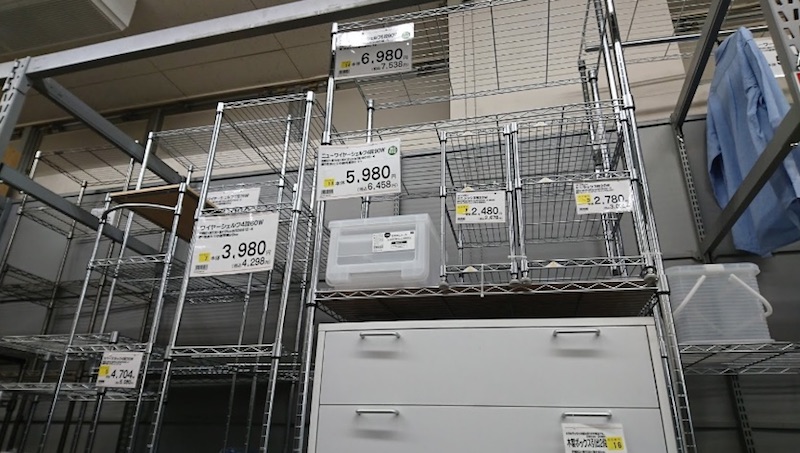 Image: Yuka
No.13: Keiyo D2 Mita Store
Keiyo is another big Japanese chain store selling a small range of storage and furniture and Japanese chairs as well as:
all kinds of DIY tools
indoor plants, kodetama hanging plants and plant pots
home appliances
kitchen goods
timber, and
day to day living basics.
In Tokyo, you'll find one in:
This is the Tokyo megastore – Keiyo D2 in Mita
Itabashi
Tachikawa
Hachijoji
THE INSIDE SCOOP:
Address:Click here for Keiyo home store locations in Tokyo and Japan (click the Japanese prefecture near you)
Opening hours: Usually 10am until 8pm – subject to change. Please check with store before making the journey.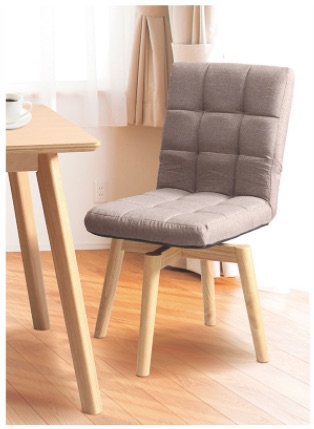 No.14: Viva Home Japan
Looking for all kinds of Japanese furniture and homewares?
You'll find it all here:
Kitchen and cooking utensils
Furniture supplies
Housing equipment
Interior curtains and cushions
Home appliances, and more
Their furniture category includes:
Japanese kids furniture, Japanese folding stools for kids, chair socks
bedroom furniture
seat chairs, sofas, chair covers
living room furniture, tv stands, multipurpose shelves
dining room furniture
office desks and chairs
Japanese book shelves
shoe storage, umbrella stands, entrance furniture
hanger racks, closet storage
rattan and bamboo products
Check out their Box Series of furniture that can be joined together in 25 different ways to make all kinds of shelving and storage options.
THE INSIDE SCOOP:
Address:Click here for products for sale in Viva Furniture Stores in Japan
Opening hours: Usually 10am until 8pm – subject to change. Please check with store before making the journey.

Looking for more places to shop in Japan?
Click the blue links below for more Tokyo finds.