INSIDE: The Insiders Guide to Super Hotel Shinjuku Kabukicho for families.
On our family trip to Tokyo last year, we wanted to stay in Shinjuku, close to the action and bright lights, and near to the Tokyo Toy Museum too!
We booked the Super Hotel Shinjuku Kabukicho, which is situated a few hundred metres behind the famous electric sign landmark, the Kabukicho Gate, at the entrance of Kabukicho Ichibangai (first street).
This hotel near Shinjuku station is about a 10 minute walk. Cross the road towards the famous Kabukicho gate, and wander up the street.
The Super Hotel Shinjuku is very handy to the Japanese Department Stores in Shinjuku including Isetan, Odakyu, and Shinjuku Marui Annex, Don Quijote variety store, Bic Camera, and the Robot Restaurant.
If you are visiting Shinjuku with kids, we recommend Super Hotel Japan, the best Eco Friendly Hotel in Tokyo.
Take a look below for details.
Disclosure: This article contains affiliate links. If you make a purchase after clicking on one of these links, we may receive a small commission at NO extra cost to you.
Super Hotel Shinjuku Kabukicho Review
This clean and vibrant hotel was a SUPER DOOPER surprise!
Not only is it a LOHAS hotel (Lifestyles of Health and Sustainability), the location was perfect for families and kids wanting to be less than 10 minutes walking distance from the train (and the hospital is in the next road too.)
There's a Family Mart convenience store just up the street too, and a street of restaurants and cafes minutes away.
---
RELATED: Big List of the Best Things to do in Tokyo With Kids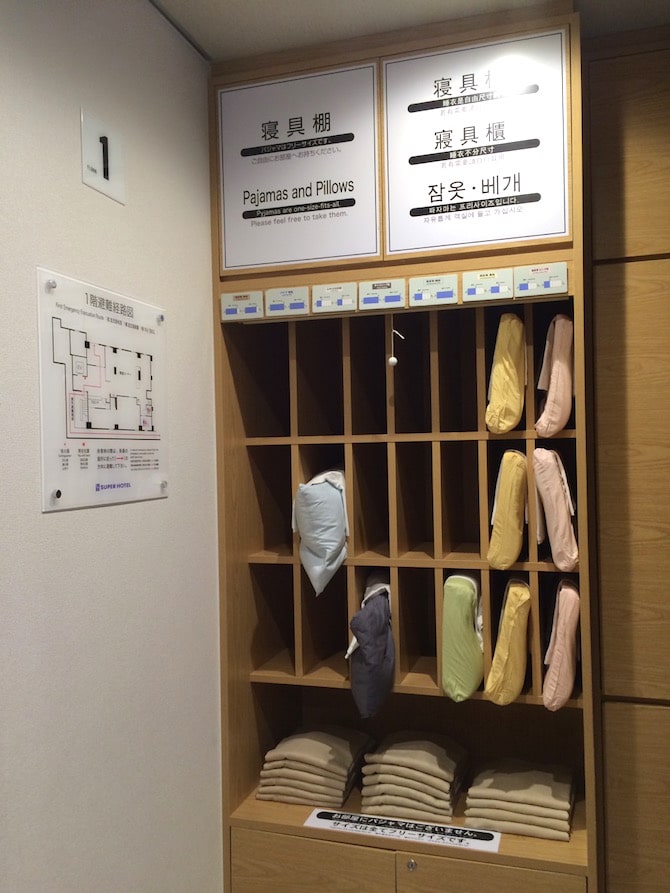 Super Hotel Shinjuku Amenities
There's a pillow menu, and Yukata dressing gowns provided.
You can wear these in your room, and also to travel between your room and the Onsen bath room downstairs.)
Women are also invited to choose 5 free beauty/health care products from the cabinet near the breakfast room each day.
Items include:
facial wipes
tissues
shower caps
shower headbands
make up removers
nail buffers, and more.
Strange but true!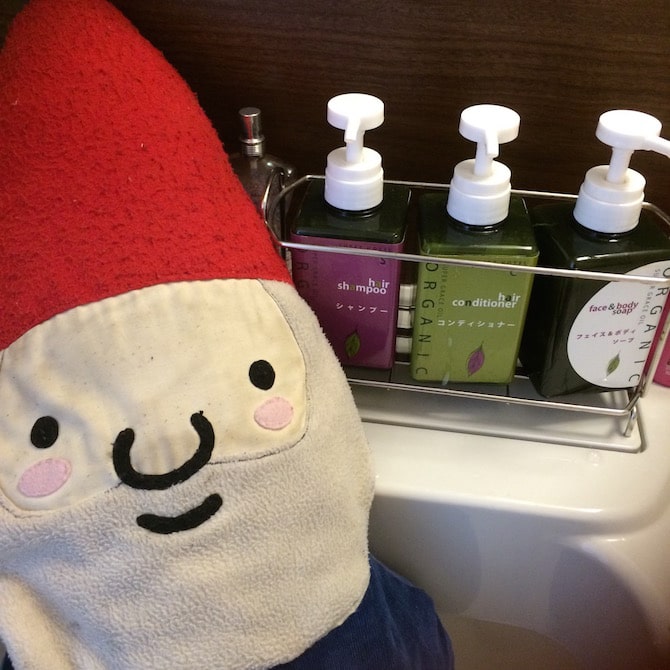 Shinjuku Kabukicho Super Hotel rooms
Our room, one of 117 in the hotel, was configured with one double bed, a small narrow bench with fridge, tea making facilities, and a small storage space underneath.
The room was small by Tokyo standards but I'd book it again for myself and two boys while they are still under 10.
Beyond that, we'd go for the bigger room, the one with the double bed and single bunk attachment above.
If you are travelling with two adults and two kids, you'll need to book two adjoining rooms. The possibility to connect two double rooms for a family room is helpful. More expensive, but still reasonable if you book early enough.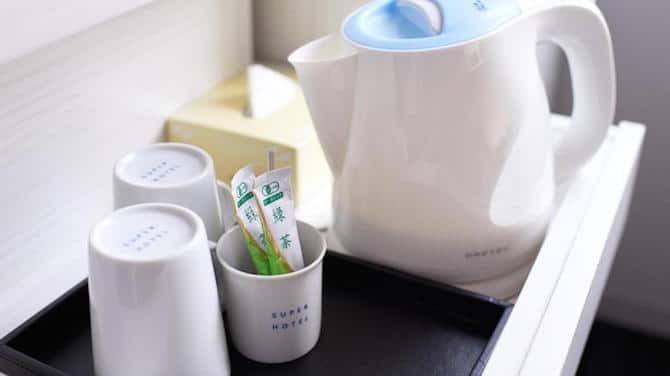 Room amenities
Yay, a kettle!
It's our number one hope that our hotel rooms have a kettle, with some kind of hot tea to drink after a big day of travel in Tokyo.
Thumbs up for Super Hotel Shinjuku.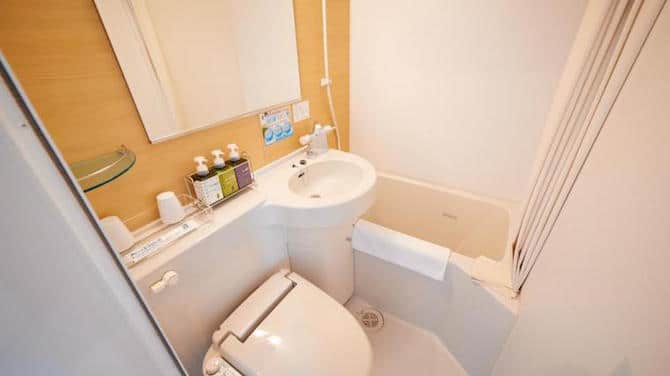 Bathroom amenities
I love Japanese baths – they are short but deep enough when full to immerse your whole body, shoulders and all.
The bathroom was compact but super clean, and every room has its' own deep bath you step into.
While this hotel has its' own traditional-style (but man-made) Japanese onsen bathing room, bathing in the room is much simpler when you have kids in tow.
I love to take a hot bath once they are asleep, to enjoy a bit of peace and quiet!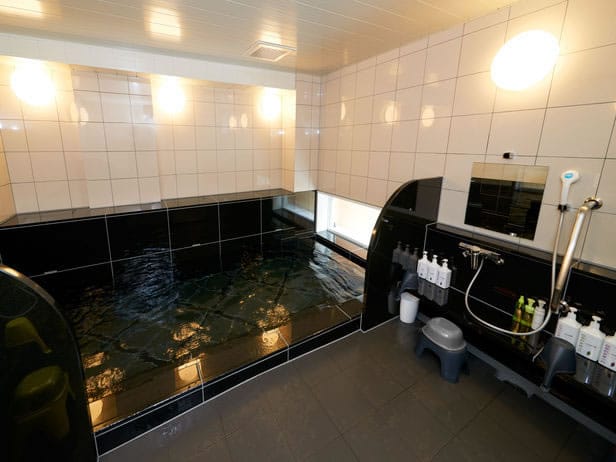 Super Hotel Shinjuku Kabukicho Onsen on site
The manmade onsen in the basement is a hot carbonated bath in a public bathing space. This is where you need to leave behind your prudishness and embrace nudity with strangers of your own sex.
The bath operating hours runs a rotational schedule, with men and women bathing separately.
You need to undress in one room, placing your clothes, towel and valuables in a locker
Walk into the main room towards the shower area
Quickly take a seat on a stool in front of the shower taps.
This is where a facecloth can be a handy modesty tool to cover your bits, while keeping your eyes averted!
Wash your body all over with soap, including your hair if you choose, then slide into the bath as discreetly as you can, with minimal eye contact!
The carbonated onsen bath is said to aid your recovery from fatigue and stimulate the circulation and metabolism too, which is helpful after a day out with kids in tow.
No doubt you'll sleep well after a hot bath, whether it is in this one, or in the one in your room.
If you are able to leave your kids with supervision, then you should definitely take a dip in the Japanese onsen bath downstairs at least once during your stay.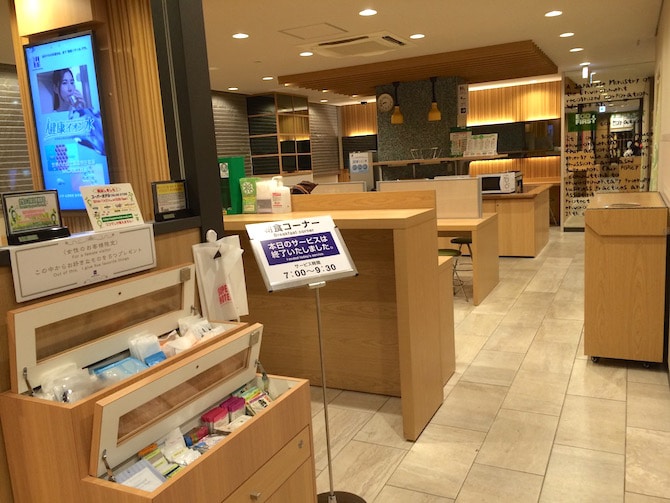 Super Hotel Shinjuku Kabukicho Breakfast – it's FREE!
Family travel budgets go further when breakfast is included in your hotel stay, even more so when it's served in a happy convivial place like this room.
This free Japanese-style buffet breakfast is above average too.
The square plates are divided into four, and you can fill these with a variety of hot and cold dishes including: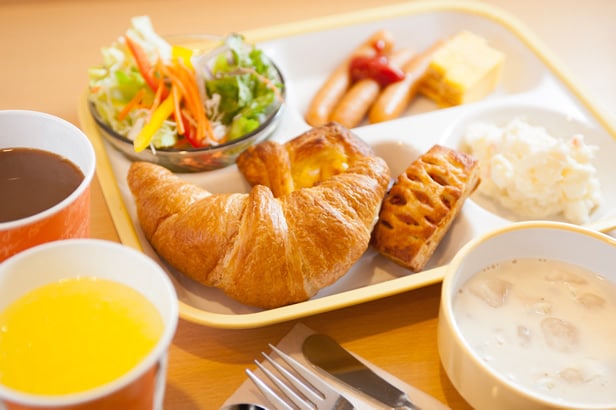 Hot
steamed egg
noodle dishes
chicken karaage
sausages
steamed mixed vegetables
steamed rice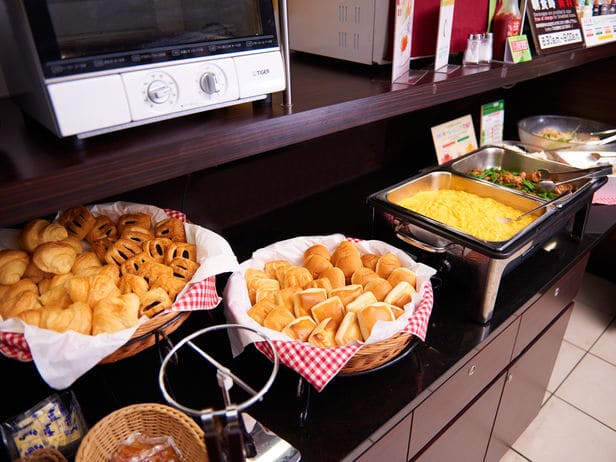 Cold
salads
bean mixes
pastries
bread rolls
yoghurt
There's hot soup too.
By the way, Super Hotel only uses organic vegetables sourced from organic farms that are certified by the Ministry of Agriculture and meet the standard of the Ministry of Agriculture's provisions for organic farming.
Their Super Hotel dressings are free from preservatives, additives, are lactose free, and free of 27 other allergy causing natural and chemical ingredients too.
Healthy and yummy. It's a double win!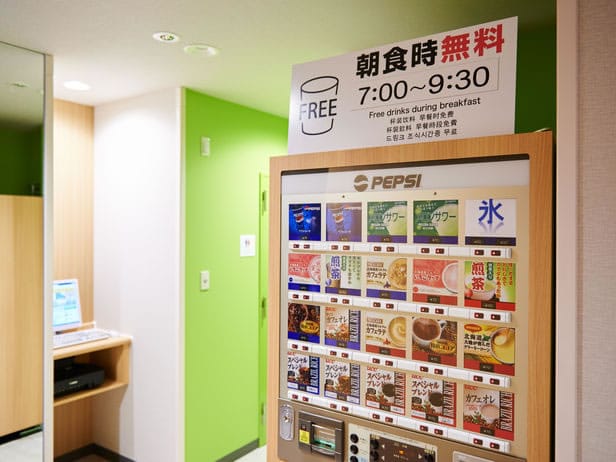 Start your day with coffee or tea, or something from the drinks machine (try the Hot Strawberry Milk!) that is free during breakfast time too.
Breakfast is served between 7:00am and 9:30am
Is Super Hotel Tokyo Shinjuku Good for Families & Kids?
Our Super Hotel Shinjuku Kabukicho Review
This Shinjuku accommodation is good budget Tokyo accommodation if you are a family of three, and can fit in one room, like we did.
Super Hotel Shinjuku is also good for families who don't mind splitting up with mum and child in one room, and dad in child in a second room. Sometimes, that can be a good thing to give everyone a bit of space when traveling in Tokyo.
Or you can book a family room for a little bit more, and open up the doors between to make it one big room.
If you are looking for cheap places to stay in Tokyo, it's a top choice.
Super Hotel Shinjuku may only be rated two stars, but ignore that. It's clean, tidy, wholesome, and has all you really need. Super Hotel is now one of our favourite hotel brands in Tokyo.
THE INSIDE SCOOP: Super Hotel Shinjuku Kabukicho reviews
Correct at time of publication on Roam the Gnome. Please check with venue for updates. We apologise in advance if there have been any changes we are unaware of. All prices in yen, unless otherwise stated
Address: The Super Hotel Kabukicho is at Shinjuku-Ku Kabukicho 2-39-9, Tokyo, Japan, 160-0021
Opening Hours: Check in from 3pm. Check out 10am.
Telephone: 03-6855-9000
Website: Click here to see photos of room types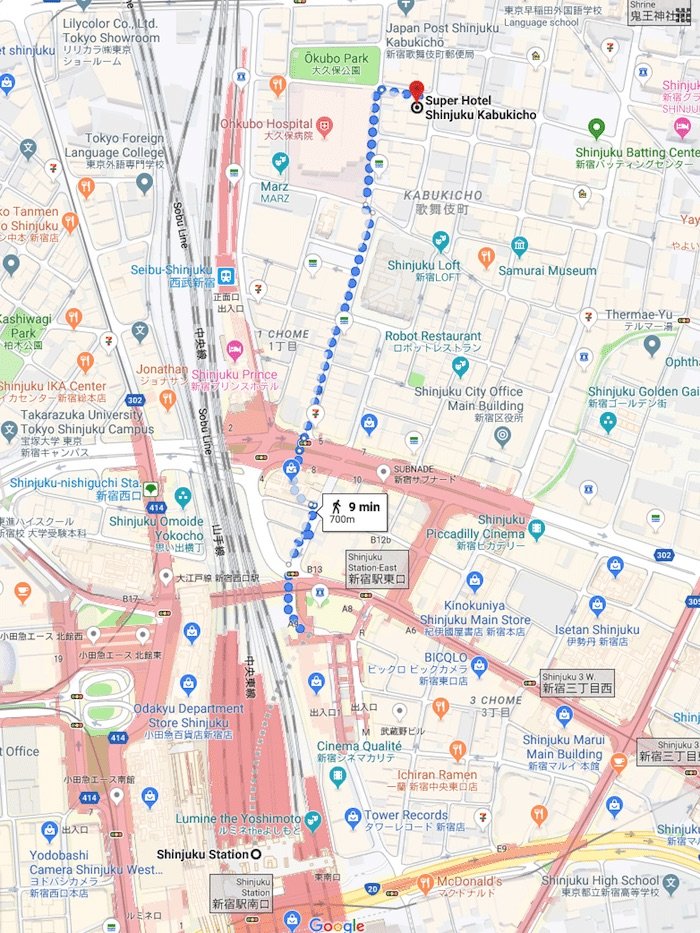 How to get to Super Hotel Shinjuku Kabukicho Tokyo
Hot tip: Catch a taxi from Shinjuku station upon arrival with your luggage. It's worth it to save the moaning and groaning from the kids.
Otherwise, it's a simple straightforward 700 metre walk along Kabukicho street to Superhotel in Shinjuku. A few hundred metres past the Godzilla head on the hotel building (on the right), you'll come to a T intersection.
Veer left slightly for 10 metres, then turn right and continue on the new road for about 130 metres (in the same direction as Kabukicho street).
The hospital will be on your left, and a pharmacy on your right.
Turn right at the next intersection and the Super Hotel is on your right, about 50 metres along.
Map of Super Hotel Shinjuku Kabukicho Hotel
Guest Services
Non smoking accommodation
English speaking staff
Tokyo city center is 2km away.
FREE Wi-Fi throughout the hotels
Coffee/tea facilities in every room
Private bathrooms featuring a hairdryer, slippers and bath sheets.
Laundry on site.

Toadstool Rating:
Super Hotel is SUPER!

Looking for MORE SUPER DOOPER FUN things to do in TOKYO with kids?
Click the links in blue below for more Tokyo travel tips.