INSIDE: A comprehensive BIG list of the best things to buy in Japan.
Japan is my favourite place on earth to shop.
There's NO OTHER PLACE ON EARTH where each purchase, big or small, is handled with such love and care.
They ask 'Is this a gift for someone?" (Omiyage desu ka?) and if so, the wrapping becomes a sacred act of origami folds, swaddled in washi tape.
You are greeted every time you enter a shop with an enthusiastic, but not faked, welcome call "Irasshaimase", inviting you to come on in!
Even the ACT of exchanging money is reverent and full of grace, kindness, and a sense of aplomb.
It's why shopping in Japan is such a delight.
Disclosure: This article contains affiliate links. If you make a purchase after clicking on one of these links, we may receive a small commission at NO extra cost to you. Main image credit: Joi Ito via Flickr CC BY 2.0
GUIDE TO THE BEST SOUVENIRS FROM JAPAN
A Japanese shopping customer experience is spectacular.
For an extra special touch of customer service treatment, shop in:
Tokyo art galleries
Japanese Department stores
Tokyo studio exhibition shops
Japanese museum shops
Obscure quirky boutiques, and
Japanese craft stores in hidden backstreets.
But enough about the experience of shopping in Japan!
Let's talk about WHAT to buy in Japan, including:
the best souvenirs from Japan to remember your time there
fun Tokyo street fashion and accessories
very cool Japanese gifts including handmade goods
the tastiest Japanese chocolate, and the best Japanese candy
delicious Japanese snacks (and must-eat Tokyo streetfood!)
Take a look at our guide to unique shopping in Tokyo and Japan below.
WHERE TO BUY SOUVENIRS IN JAPAN IN TOKYO DISTRICTS
Tokyo is HUGE.
So it's definitely helpful to get an idea of the best Tokyo districts to visit for shopping so you don't waste time or effort.
Many Tokyo suburbs are well known for the particular wares, merchandise, or gadgets they sell, or the character of the place.
That being the case, some suburbs will appeal more than others so we put together a quick guide to the Tokyo Districts to help you start planning your Tokyo shopping itinerary.
READ MORE: All You Need to Know about Shopping the Main Tokyo Districts (coming soon!)
If you want to dig a little deeper before you put pen to paper, we've put together Roam the Gnome's Guide to the Best Souvenirs from Japan, and have included lots and lots of unique ideas for Japanese souvenirs and gifts, plus where to find them.
How about we start with Roam the Gnome's favourite things to buy in Japan?
That's as good a place as any.

Roam the Gnome's Favourite Things to Buy in Japan
Roam the Gnome's favourite top five things to buy in Japan are:
Pocky in all the flavours, but especially strawberry and rare, limited-edition releases such as Pocky Choco Mint (released in June 2019 for the summer only)
Gift boxes of sweet "mochi" rice balls filled with sweet red bean
Patterned ceramic Japanese bowls with fitted lids (the best eco-friendly solution to storing food we've ever found!)
Traditional Daruma dolls, a traditional Japanese curio used for goal setting, that is said to help with making dreams come true
Modern and traditional Kokeshi dolls, to add to our collection
I also like cute Japanese shoes, when I can find them in my size eight .
But that's just a start!
Take a look at this huge list of possibilities of things to get in Japan on your next trip, and the best shops to buy Japanese souvenirs in Tokyo.

JAPANESE KITCHENWARE
Wondering where to shop in Japan for souvenirs for the home?
The best place to buy Japanese kitchenwares is Kitchen Town in Japan. Find:
Japanese knives sets
Japanese cups
Japanese bowls for miso soup and rice bowls
Japanese sauce dishes
Japanese chopsticks
Japanese dishes for pickles
Japanese utensils
Japanese appliances including rice cookers and fry pans
Japanese kitchen accessories
Japanese aprons, and
fake Japanese sample food, made from plastic – same as the Japanese dishes you see in the cabinets out the front of Japanese restaurants (see below)
Kappabashi dori area or 'Kitchen street' is between Ueno and Asakusa. (It's also called Kappabashi Kitchen Town)
You won't find better prices anywhere. Start here.
But there's lots more places to buy affordable Japanese kitchenware that please the eye with that wholesome Japanese aesthetic.
Read Roam the Gnome's Guide to Japanese kitchenware before you start shopping in Kappabashi town.
It's also our blueprint to the best Japanese kitchenware shops in Tokyo outside of Kappabashi.
READ MORE: The Complete Guide to Japanese Grocery Stores and the Japanese food products you need to make everyday Japanese food.
No.1: Fake Japanese Food Displays
Looking for a unique souvenir to remind you of your trip to Japan?
How about a food sample dish of Japanese katsu curry, or a tray of sushi and sashimi?
Japanese food sample shops can be found in Asakusa's Kappabashi tool town
(Or Kappabashi Kitchen Town, as it's more commonly known to tourists).
Maizuru Sample Shop
Maizuru shop is a well known food sample shop, selling commercial-use food samples, and smaller sized sample food souvenir key chains, erasers, and magnets.

Ganso Shokuhin Sample-ya
Ganso Shokuhin sample showroom in Kappabashi is a place where you can try your hand at making your own Japanese sample food display piece in traditional wax, as well as shop for sample food souvenirs.
And here's an idea for the hard-to-buy person!
How about taking home one or two Japanese sample food kits (Sample'n Cooking) that you can make in the comfort of your own kitchen or shed?
I like it!

Tokyo Biken
Tokyo Biken is another shop nearby selling modern day food samples for commercial use in:
restaurants
gyoza bars
yakitori bars
theme parks
curry houses, and
Japanese dessert shops.
Their samples are made from plastic, rather than wax.

No.2: Japanese Aprons
Traditional mother's house aprons
Searching for those traditional pinafore aprons (also called crossback aprons) you see in every good Japanese sewing book?
Find one in real life here:
Linoelina
Linoelina sells Japanese aprons with style.
Address: Meguro-ku, Tokyo 2-14-10 Jiyugaoka.
Opening hours: 11:00 to 17:00 Monday to Friday only.
Website: Click here
MUJI Tokyo Shibuya
Muji in Shibuya Tokyo has a range of traditional Japanese house aprons in linen and denim. Mine is the best thing I've ever bought in Japan.
Find them in the Japanese grocery on the basement floor.
TOKYU HANDS Ikebukuro
Tokyu Hands in Ikebukuro has a selection of Japanese aprons in the kitchen supplies section on the back wall.
Japanese Department Stores
Japanese Department stores throughout Tokyo carry chic linen aprons and patterned aprons
Visit the Japanese homewares and Japanese kitchenware departments in Shinjuku, Nihombashi, Ikebukuro or Shibuya to find affordable aprons in Japan
Momenya Makino
Fabric and craft store in Shimokitazawa has ready made aprons in store
Buy now on Amazon: Authentic Japanese apron with front pockets in beige linen

Maekake aprons
These traditional Japanese apron have been a staple uniform for craftsmen, Japanese chefs at ramen noodle bars, and for domestic cooking in the home since the 15th century.
The Japanese word "maekake" is a combination of mae, meaning in front, and the verb kakeru, to hang.
Worn around the waist and tied at the front, these heavy duty aprons are a practical souvenir for foodies.
Find them at the:
Tokyo Asakusa 'Amuse Museum' 1st floor shop
Narita Airport Terminal 1 – Wamonoya Kaya shop. (They also sell hand towels, furoshiki wrapping cloths, traditional toe socks, Japanese arts and crafts, plates and utensils, & chopsticks)
Narita Airport Terminal 2 – Wamonoya Kaya shop
Buy now on Amazon: Authentic Japanese Maekake traditional waist apron

JAPANESE HOMEWARES
No.1: Japanese Home Decor
There are so many adorable and wholesome Japanese home decor shops to browse, I put them all together on a page for Japanese Style Home Decor.
We've gathered all the top Japanese home design stores in Japan in one place, including all the best Zakka stores.
(What's Zakka? It's anything and everything that you can use or buy to add a little quirky joy or cheerfulness to your home, life and appearance. )
Check out our two guides below for:
fabulous home decor stores in Japan
cute Zakka shops in Japan to buy Zakka homewares. (If you are a maker, THIS is my favorite handmade Zakka book.)
where to buy handmade Japanese goods for Japanese interior design at home
READ MORE: Guide to the BEST Japanese Home Decor Stores for Japanese Homewares Style.
READ MORE: Guide to the Best Japanese furniture stores (including Nitori and Ikea)
No.2: Japanese Bento Lunch Boxes
Buying a Japanese bento box, or three, is a good idea.
These are must buy souvenirs in Tokyo, good for both kids at school AND adults who take lunch to work.
Making a Japanese bento lunch box is a work of art for many Japanese mothers, and there are many, many bento supplies you can buy to liven up your bento box, just like them.
Where to buy Bento Boxes in Japan
Start your bento obsession by finding budget bento boxes and bento accessories in 100 yen shops in Japan.
(DAISO is the most visible.)
Next stop, the kitchenware section of most Japanese department stores in Tokyo will have bento boxes and accessories.
Remember to keep an eye on their special events floor as they'll often feature products from regional areas of Japan, including bento boxes.
You can also look in the crafts section for cute bento accessories.
Try Takashimaya, Isetan and Sogo department stores in Tokyo as their bento box ranges are updated regularly.
Buy now on Amazon: The cutest Japanese Rabbit Moon & Sakura Blossom Bento set with carry bag

More Places to Buy Bento in Japan
Here's some other places to look for bento boxes to buy in Japan & bento accessories.
Shin Nakamise street, the cross street off Nakamise shopping street leading into the Sensoji temple in Asakusa, has a number of small stalls selling bento boxes and accessories
Muji in Shibuya has a range of simple bento boxes, plus they have an awesome grocery store with traditional Japanese snacks such as senbei crackers to go in them.
Don Quijote, known locally as Donki, is the biggest discount store in Japan. This variety store in Japan has cute bento boxes and bento supplies for sale.
Local Japanese supermarkets – the bigger stores in Tokyo suburbs especially – have a dedicated aisle for bento boxes and bento accessories. You'll find bento boxes for kids with Disney characters, Anpan Man, Hello Kitty, Rilakkuma, and more. They also stock bento boxes for adults too. Prices are affordable but more expensive than a 100 yen variety store.
Tokyu Hands Department Store is the best Department store in Japan for cute kawaii bento boxes in Japan, plus ALL the cute bento accessories.
Seria 100 yen stores in Japan
You can also try the Kitchenware Shops along Kappabashi Dori (also known as Kitchen town) between Ueno and Asakusa.
READ MORE: The best shop in Tokyo for Japanese bento lunch boxes

Magewappa bento boxes
Traditional style "magewappa maru ware" bento boxes are made from Japanese cedar wood
Magewappa means 'bent wood' and 'maru' means circle in Japanese.
These wooden bento boxes continue to be made by hand in the traditional way by craftsmen and women in the town of Odate, in the northern Akita prefecture.
Take a look here before you go bento box shopping in Tokyo, so you know what to look for.
It also gives you a general price guide for these magnificent authentic bento boxes.
Beware of imitations imported from China.
Buy now on Amazon: Magewappa Odate Akita Original Bento Box

No.3: Japanese Regional Food Souvenirs
Tokyo Depachika
Beautiful gift box packages of Japanese regional food – find these in all the Japanese Department Store food halls, and Tokyo station.
In fact, many of the major train stations in Japan have pop-up style shops (ekiben shops) in the thoroughfares filled with prepackaged Japanese food gifts to take home.
Nakamise Shopping Street in Asakusa
Nakamise Shopping street in Asakusa is lined with shops selling Tokyo regional food gift boxes too. Walk the streets and the undercover shopping streets in the area around Asakusa to find more options.
Tokyo Shopping Streets
Try Yanaka Ginza shopping street, and Ameyoko Shopping Street in Ueno too.
No.4: Japanese Umbrellas
My favourite Japanese umbrella is the clear one you can buy in Family Mart Convenience Store for around 500 yen.
Take one home with you!
For those who like their umbrella a bit more fancy, you can visit Coci la elle in Shibuya to buy gorgeous sun umbrellas (and super cute raincoats, and handmade scarves.)
You can also find stylish umbrellas at Koncent stores in Tokyo.
Buy similar on Amazon: Clear durable wind-resistant umbrella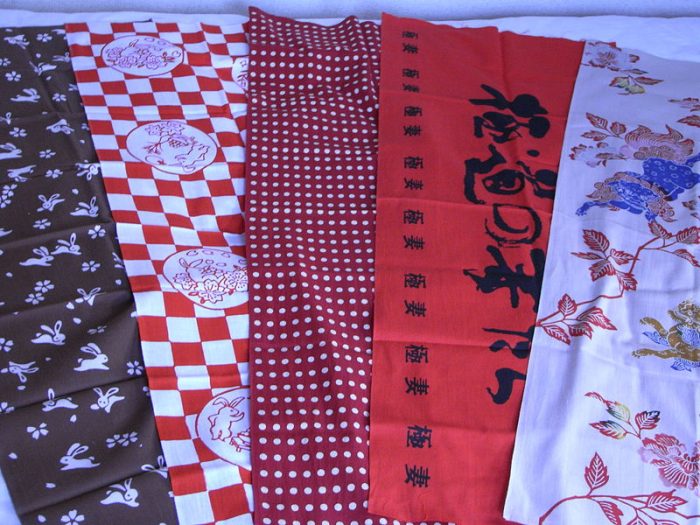 Image credit: Ma Shimaro
No.5: Japanese Towels – Tenugui
Tenugui are flat-woven, small size cotton cloths used for:
drying hands or bodies
covering heads, and
around the neck to cool down.
Tenugui are either dyed with stencils, or printed with patterns.
Buy one to carry with you and use during your travels, then buy more to take home as handy gifts.
Buy now on Amazon: Pack of 5 Japanese Tenugui Towels in various patterns
PERSONAL CARE
No.1: Japanese Makeup and Skin Care
Head to any Tokyo Department store to research the best Japanese skin care, make up brands and the very popular Japanese sunscreen.
Then visit Japanese pharmacies Matsumoto Kiyoshi, Create, Welcia and Drug Papas (more common in the outer suburbs of Tokyo) and the Japanese variety store, Don Quijote to find the mid-range brands at cheaper prices.
Japanese cosmetic brands you can trust include:
Shiseido
Kose
SK-Ⅱ
Canmake
Kate
Come back soon for a link to the best Japanese cosmetic products to buy.
Ainz & Tulpe
A special mention to Ainz & Tulpe cosmetic store & chemist .
They stock a hand-picked variety of products including exceptional skin care and make-up goodies, pharmaceuticals and supplements.
They also stock items recommended for Japanese gifts such as cute original cosmetic brand "LIPS and HIPS".
Find all the nail polish brands at Nail Partner supply shop. Opened in 2003 in Shinjuku, it's one of Tokyo's best nail art supply shops. The Ebisu store has been open since 1998!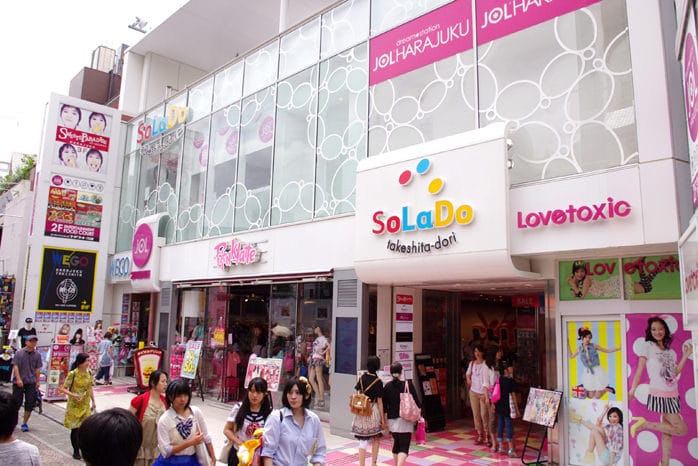 JAPANESE FASHION
No.1: Where to shop for clothes in Tokyo?
SoLaDo in Harajuku
SoLaDo in Harajuku on Takeshita street is a four-storey light-filled department store with the latest Japanese fashion, including a floor dedicated to second hand clothing.
Another floor stocks the best Japanese fashion brands, accessories and shoes.
Stop by the only food court in Harajuku on the 2nd floor, and then finish off with dessert on the third floor, with all you-can-eat-sweets!
Ojico
Ojico is THE place to buy matching family t-shirts, and you know that the team here at Roam the Gnome LOVE a good matching tee for all the family!
Made in Japan from 100% cotton, you can buy cool t shirts for:
babies
children
mums and dads
grandmas and grandpas, and
all your friends!
Find Ojico shops here, including pop up shops at Haneda airport, Higashiyama zoo, Kyushu railway museum, JR Euno ostation, and Omiya railway museum.
Sada
Sada in Kagurazaka near Shinjuku has a range of made-in-Japan shoes and footwear, plus stylish clothes in their studio shop.
Visit Sada for:
shoes
chopsticks
Kagura anime character goods sales
custom production of footwear and clothes, and
shoe repairs.

No.2: Where to buy Japanese Denim
Time Out Tokyo lists the best denim shops in Tokyo here
You can also try Hinoya Plus Mart in Ueno – ground zero for denim lovers.

No.3: Where to buy a Kimono in Tokyo
Japanese kimono shop Tansuya sells Yukata and Kimono mainly to Japanese, but it's a good place to learn about the different types of kimono fabric.
Furigiya second hand stores
Try searching for 'furugiya' (second hand stores) and antique flea markets to see original designs and find treasures other people no longer want or need, or the quaint shopping street Yanaka Ginza for kimono sellers.
Gofukuya
Shops specializing in kimono are called "Gofuku-ya" or "Gofuku-ten".
You can often find a Gofuku on the upper levels within a Japanese Department store such as Mitsukoshi, and Takashiyama in Nihonbashi, and Isetan in Shinjuku.
Did you know Mitsukoshi's original kimono store began in the Nihonbashi district almost 350 years ago, in 1673?
You can repurpose silk fabric from preloved Japanese kimonos for handicrafts too.
No.4: Where to buy a Yukata in Tokyo
Purchase a funky and fabulous 100% cotton Yukata to wear at home as a bathrobe or dressing gown at these iconic Tokyo stores.
Now we head down the shopping rabbit hole…

JAPANESE STATIONERY
No.1: Best Japanese Stationery Shops
The chance to buy Japanese stationery in Japan is the driver behind every trip I make to Tokyo.
I can't help myself.
Japanese stationery shops are like candy stores to me. I can while away an entire day inside without eating lunch or stopping for a cup of tea.
The best things are the Japanese gift cards.
Every single one is a work of art.
I suggest buying up a year's worth. Your friends and family will be appreciative.
Next, it's the Japanese pens.
I love a good Japanese pen, and buy excessive amounts of Japanese pen packs in all the rainbow colours. I've taken to giving them to the kids once I've explored, so I can justify buying more!
Take a good look at Roam the Gnome's Guide to the Best Japanese Stationery Stores in Tokyo.
If you are pushed for time, be sure to visit this one – LOFT in Shibuya.
There's tonnes of Japanese stationery souvenirs, and gift ideas from Japan on both the B1 and 1st floors too.

JAPANESE ART SUPPLIES
No.1: Where to find a Japanese Art Store
Artists, painters, designers, storybook illustrators, manga illustrators, and portrait artists and hobbyists will love the riches and treasures you can find in a Japanese Art Supply Store.
The best Japanese art supplies to buy in Japan are:
Japanese paint brush
Japanese painting supplies
Japanese ink brush & Japanesee ink painting supplies
Japanese art pens
Japanese brush art pens & Japanese brush painting supplies
Japanese calligraphy supplies
Japanese art brushes
Japanese printmaking supplies
Japanese paper and origami supplies
Japanese art materials including quality paper, visual diaries, and journals
Japanese ceramic supplies
Where to shop for Japanese art materials?
First stop- The Kuramae neighborhood in Japan.
This Japanese neighbourhood is home to a resurgence of artists, makers, designers and craftspeople, and so it's an obvious place to find art supply stores in Japan.
There are two stores in particular that you should visit.
Imagine that.
The list of shops where you can buy good Japanese art supplies in Tokyo is VERY, VERY LONG

JAPANESE SEWING & CRAFTS
No.1: Fabric Shopping in Tokyo
Nippori Fabric Town is the obvious starting point if you are shopping for fabric in Japan and want to know where to buy fabric in Tokyo, or are looking for Japanese sewing supplies
The first place to go is Tomato fabric store in Japan.
It's 5 floors of fabric and fabric notions and if you love Japanese fabric, it's a dream come true.
There's even a 100 yen section for the budget travellers so you don't have to leave empty handed.
The minimum purchase for all other fabrics is one meter, then in 10 cm increases.
Theres 87 other Japanese fabric shops in Nippori Fabric Street to explore too.
But that's just the beginning.
To rummage further, check out Roam the Gnome's Complete Guide on Where to Buy Fabric in Tokyo.

No.2: Japanese Craft Store Supplies
I've adored Japanese craft since I was a teenager, and have made it my mission to visit lots of craft stores in Tokyo over the years.
Tokyu Hands Department Store (any branch, but I like Ikebukuro or Shibuya the best) wins hands down as the best craft store in Japan for variety.
I've NEVER seen so many craft displays in my life, with the associated craft supplies located on the shelves right under each one.
It doesn't matter what kind of craft you are in to, Tokyu Hands will cover it.
I've spotted:
Leather work tools
calligraphy pens
ceramic painting
shibori dyeing
Japanese sashiko embroidery
DIY candy kits
Japanese modelling clay miniatures
Hand carved stamping tools
Japanese knitting
Wool felt making
Needle felting
Doll making
Doll house miniatures
And that's just off the top of my head!
You can also find Tokyo Craft Shops throughout the city that specialise in one thing such as cute stickers, or plant-dyed embroidery thread.
If you are a maker, designer, crafter, creative, or seamstress, take a peek at our Comprehensive Guide to the Best Tokyo Craft Stores in Japan.

TOKYO DISNEY SOUVENIRS
The best thing you can buy at Tokyo Disneyland or Tokyo Disneysea is a t-shirt that you can't buy anywhere else!
We've been collecting this range of cool Disney character t-shirts the last few times we've been to Japan, and they are so well worn now, we need to buy bigger sizes next trip.
(We've got the Winnie the Pooh, Toy Story and Peter Pan ones)
Be sure to block out some time in your day at Tokyo Disneyland or Tokyo Disney Sea to go shopping.
The Disney merchandise, Disney snacks, and Disney soft toys are beyond cute.
I scoped out the Disney jewellery last trip and bought myself a pair of Disney hoop earrings with tiny diamonte Mickey heads on them. People comment on them every time I wear them!
You can also shop at the Disney Store in Shibuya. Be sure to check the top floor for 50% off sales!
RELATED: The Best Tokyo Disney Souvenirs to buy in Japan (revised edition coming soon!)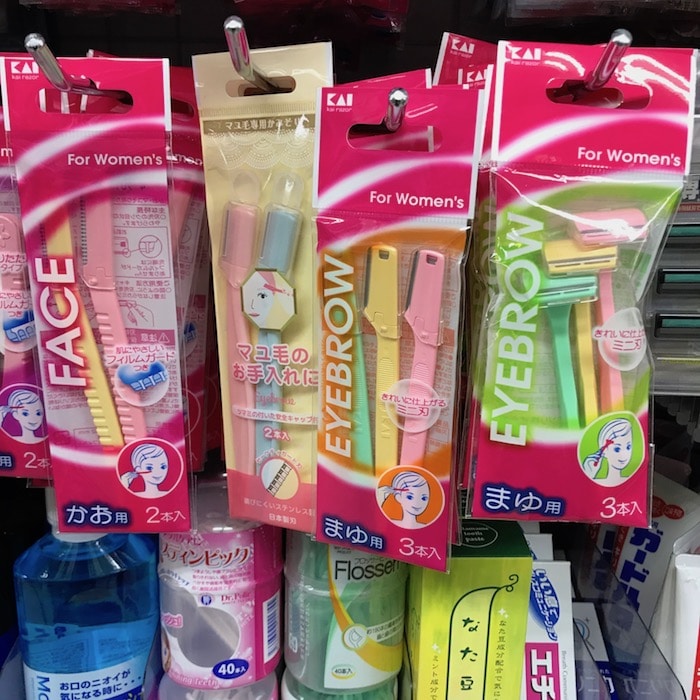 JAPANESE SOUVENIRS TO BUY IN A 100 YEN SHOP IN JAPAN
There's plenty of quirky Japanese things to buy from a 100 yen store in Japan.
100 yen stores in Japan sell everything for 100 yen a piece. But unlike cheap shops or budget variety stores in other countries, Japanese 100 yen shops sell quality products throughout.
Be sure to check out the:
Japanese homewares section for kawaii dishwashing cloths and Japanese ceramic dishes,
the stationery section for adorable Japanese stationery, envelopes, and notepads,
the bathroom section for animal shaped bath sponges, shower caps, and random things you never knew you needed
the beauty section – they even have miniature razor blades to shave your chin of any unwanted hair!
the Japanese snacks section (buy these Japanese snacks)
the Japanese candy section (buy these Japanese candy)
the Japanese drinks – our pick, Milky Tea
the souvenir section for cute Japanese erasers, Koi flags, and Japanese festival paraphernalia
RELATED: The best 100 yen store in Tokyo is DAISO Harajuku – take a peek inside
RELATED: An Awesome Guide to the BEST 100 YEN SHOPS IN JAPAN (Update coming soon)

WHERE TO BUY HANDMADE GIFTS IN JAPAN
Put your hand up if you are looking to buy Handmade Goods in Japan. Me too.
Japanese handmade goods have that special something.
They seem to be imbued with warmth of spirit, wholesomeness, and a kindness of heart.
As though the maker has stitched magic into the seams, caught the wind and dyed it into the fabric, or poured gold into the cracks (in fact, they sometimes have – this is the Japanese art of kintsugi)
I adore Japanese arts and crafts, handmade pottery, plant dyed fabric, and wood crafts from Japan – they make my heart sing.
If you want to purchase handmade goods in Japan for home, or as Japanese gifts for family and friends, read my Guide to finding Handmade Gift Shops in Japan.(update coming soon.)
It lists the best handmade goods shops in Tokyo, as well as craft workshops in Japan you can do to make your very own souvenirs to take home.

No.1: Where to buy Kokeshi in Tokyo?
Roam the Gnome headquarters is proof of our devotion to Kokeshi dolls. We buy at least one more Kokeshi doll each trip.
Here's where we go when we are treasure hunting for kokeshi dolls in Japan.
No.1: Sanbido
Sanbido on Nakamise Shopping street in Asakusa stocks a range of kokeshi dolls including:
You'll fall in love!

No.2: Meiji Shrine souvenir shop
Meiji Shrine souvenir shop is a good bet.
This shop is an unexpected shop full of the best Japanese candy gifts, traditional Japanese toys including kendama cup and ball games and paper balloons, plus so much more.
Don't miss it.

No.3: Bingoya Folk Crafts Store
Head to the B1F of the Bingoya Folk Crafts Store for a gorgeous range of traditional Kokeshi dolls for sale.
You'll LOVE this shop for Japanese gift ideas.
Don't miss it.

No.4: Oriental Bazaar
The best souvenir shop in central Tokyo is near Harajuku, on the Omotesando road.
If you have limited time, make Oriental Bazaar souvenirs shop your first, and last, stop.

No.5: Nishiogi Itochi
Enjoy a cup of tea at this cafe among shelves full of hand crafted Kokeshi dolls that are also for sale at Nishiogi Itochi.
Address: 2-1-7 Nishijimakita, Suginami Ward, Tokyo. Open: 12-7 daily.
No.6: National Art Center Museum shop
The National Art Center Museum in Tokyo has a museum shop.
From time to time, the museum shop at National Art Centre Tokyo stocks original Kokeshi dolls.
The museum is a find for design aficionados.
The shop itself is elegant, a work of art with moveable features.
The shop and the museum are worth a look, so you won't be wasting your time if you do make a detour here.

No.2: Where to buy Traditional Japanese Dolls
No.1: Iwatsuki City of Dolls
Iwatsuki "The City of Dolls" is the home of Kokeshi dolls since the 17th century.
Visit the Togyoku Doll museum (near the Iwatsuki station) to see all the different types of traditional Japanese dolls on display.
It's just 15 minutes from Omiya station.
They also host workshops on traditional Japanese doll making.
The town itself has an abundance of Japanese doll shops where you can purchase dolls for Japanese festivals such as:
Hinamatsuri on the 3rd March each year (also called Doll's Day or Girls' Day) and
Kodomo-no-hi Children's Day on May 5th (also called, boys day in Japan)
No.2: Yokohama Doll Museum
The Yokohama Doll Museum invites you to explore the fascinating world of dolls from around the world. They have a museum shop where you can buy postcards, dolls, novelty items and exclusive museum merchandise.

WHERE TO BUY JAPANESE TOYS IN TOKYO?
No.1: The Best Japanese Toy Shops in Tokyo
Kiddyland
Kiddyland is five storeys of Japanese toys and Japanese toy brands, close to Harajuku's Takeshita street.
Hakuhinkan toy shop in Ginza
Hakuhinkan toy shop in Ginza was a surprise find. So much fun for kids.
Ueno Zoo toy shop
Tonnes of stuffed animal toys here including Japanese panda toys!
Tokyo Disneyland and Tokyo Disneysea
For all your Mickey, Minnie and Duffy merchandise
Yamashiroya toy shop
Yamashiroya is near JR Ueno station
Ameya Yokocho shopping street
You'll find:
Kitty-chan
Studio Ghibli
San-x, and
Domo-kun goods and trinkets galore
Donguri Kyowakoku
Donguri Kyowakoku Studio Ghibli Store in Tokyo SkyTree: Town Solamachi
Lego Store in Tokyo Station
Find a Lego Store in Tokyo Station
(Plus, more LEGO shops in Tokyo too)
Kobayashi Toy Store
Kobayashi Toy Store is an all round Japanese toy shop for general toys, Oedo folk crafts, children's ride-ons and more
Tomica Shop at Tokyo Station
Tomica Shop at Tokyo Station sells original Tomica branded trains, planes and automobiles, plus assorted paraphernalia including Tomica bento boxes and Tomica bento accessories (Shinkansen chopsticks too!)
Medicom Toys
They have three Medicom toy shops in Tokyo to browse cute and fun Japanese toys for the whole family
Odaiba Tokyo shopping malls
Odaiba is THE ultimate destination for Japanese toys and fun for the whole family.
Hot tip: Visit ALL the shopping malls in Odaiba – there's toy shops in every one.

No.2: Where to buy Traditional Japanese Toys?
Take a look at what tops our list of Japanese toys to buy in Japan.
Kendama cup and ball toys
Japanese paper balloons
Japanese paper balloons in all the animal shapes
odetama juggling balls, and
adorable soft toys made using Japanese crepe chirimen fabric
You can also click here for a wonderful overview and guide to more traditional Japanese toys.
No.1: Matsuki Shoten for Japanese Paper Balloons & Toys
Find a huge range of traditional Japanese paper balloons and Japanese kids toys at this shop in Kuramae called Matsuki Shoten.
It's also home to a wide range of fireworks!
But skip those.
You can't take them home.
No.2: Where to buy Kendama cup and ball toy? (Juggling toy)
The clothes shop Decade (6 Chome-16-5 Jingumae, Shibuya City) sells a range of Kendama cup and ball catch toy.
You can find shops selling Japanese toys including Kendama in:
Harajuku's Takeshita street, and also
at Meiji Shrine near Yoyogi park in their souvenir shop.
Oriental Bazaar on Omotesando street also sells a range of Japanese toys, including Kendama juggling toys
No.5: Where to buy Sushi Keyrings
Kappabashi Town near Ueno and Asakusa is your best bet, in one of the stores listed above selling plastic food samples.
You'll also find some at Oriental Bazaar on Omotesando shopping street, and along Harajuku's Takeshita street, the home of kitsch.
No.6: Where to buy Super Mario in Tokyo?
Visit Akihabara, the anime and manga town, for electronics, video games, and anime ornaments, products, and soft toys including Super Mario toys.
No.1: Super Potato
Super Potato in Akihabara has three floors of cool anime and manga toys, gifts and games. Find Super Potato on the Kitabayashi 3F/4F/5F building at 1-11-2 Soto-Kanda, Chiyoda-ku, Tokyo 〒 101-0021
No.2: Bic Camera
Bic Camera is another top spot to find Super Mario soft toys, keyrings, Super Mario trading cards, Super Mario party goods, Super Mario phone cases, Super Mario soundtracks, Super Mario figurines, and your own pair of red and white toadstool slippers!
The main store is in Ikebukuro, but there's large Bic Camera stores in Yurakucho and Shinjuku, and smaller stores all over Tokyo too.
No.3: Yodobashi Camera
Yodobashi camera in Akihabara (Akiba) stocks Super Mario games, Super Mario candy, soft toys, neck pillows, Super Mario luggage, bags, hats, umbrella covers as well as Yoshi and Luigi soft toys and gifts too.
There's also Yodobashi stores in the most popular inner city suburbs of Tokyo including Ueno, Shinjuku, Kichijoji, Hachioji and Machida.
No.4: Sofmap
Sofmap in Akihabara is a giant opportunity to trawl for Super Mario goods across their multiple outlets.
Click here to find more details.
No.7: Where to buy Manga in Tokyo
If you LOVE manga, anime and cosplay, then you should seriously consider having a custom made outfit sewn just for you!
Visit Cosmode CLOTHic #20 in Nippori Fabric Town to have a custom made costume created just for you! They also sell outlandish fabrics for cosplay dress ups.
You should also visit:
No.1: Sunshine City Pokemon Center (Pokemon Center Tokyo)
The biggest store in Tokyo for Pokemon and Pikachu fans. Take a sneak peek inside here
No.2: Tokyo Anime Center
Click here for details
No.3: Suginami Animation Museum
Click here for details
No.4: Otome Road in Ikebukuro
This is a well known street for manga and anime fans for manga comics and anime-related goods, mostly related to female characters.
Address: 3 Ikebukuro, Toshima-ku, Tokyo
No.5: Akihabara
Visit Akihabara for a walk around.
You'll find LOADS of manga shops and anime outlets here but spaced out in amongst the electronic shops.
No.6: Nakano Broadway Shopping Mall
The Nakano Broadway building is 5 storeys of manga and anime fun.
It's home to one of the largest manga and anime stores in the world that caters to visitors from all over the world.
Mandarake currently has over 30 different stores inside the Nakano Broadway, each one the residence of a different type of product, game, or toy.
There's English speaking staff to help you find all your favourite manga comics.
It's also home to the largest collection of second hand, unique or discontinued Disney merchandise outside of Tokyo Disneyland.
When you've finished shopping at this flea-market style place, head downstairs B1F and find DAILY CHIKO for a giant sized icecream! Address: 5-52-15 Nakano, Nakano 164-0001, Tokyo Prefecture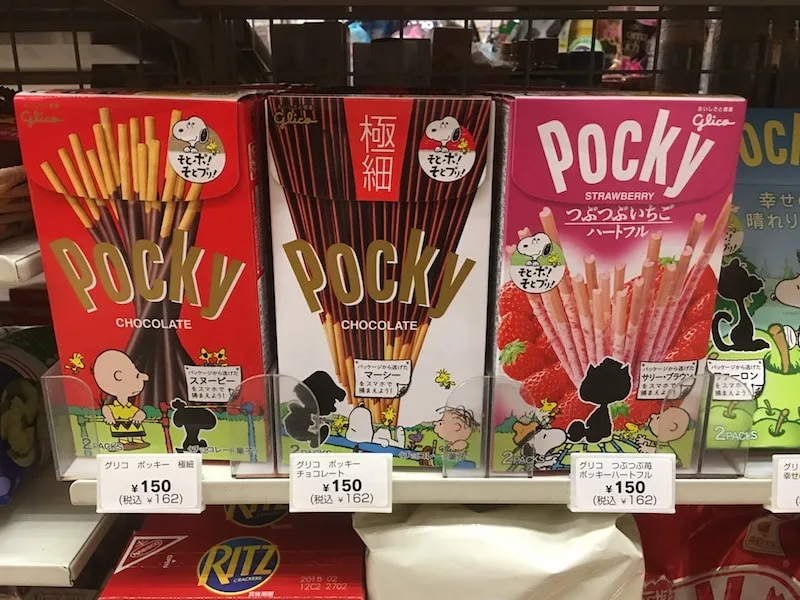 JAPANESE SNACKS SOUVENIRS
I mentioned Pocky already. Original Pocky are delicious thin pretzel sticks covered in milk chocolate. There's plenty of other flavour combinations too.
But Pocky is not top of the souvenir radar of most visitors to Japan, unlike Green Tea KitKats. Green Tea Kit Kats are good, and come in all kinds of flavours .
You can even have a personalised message inscribed on a kit kat in the Ginza store!
But Pocky wins my vote.
You can buy the most popular Pocky flavors in most Asian food stores at home, but for double or triple the price.
Stock up on Pocky in Japan so you don't risk running out. The cravings for Pocky never go away once you've tasted them once.
Japanese snacks, Japanese chocolate, Japanese candy and Japanese drinks are affordable souvenirs from Tokyo, but there are so many different types to choose from, we've written some comprehensive guides to help you choose the best Japanese snacks, chocolate and candy to take home for friends and family.
READ MORE: Roam the Gnome's Ultimate Guide to Japanese Snacks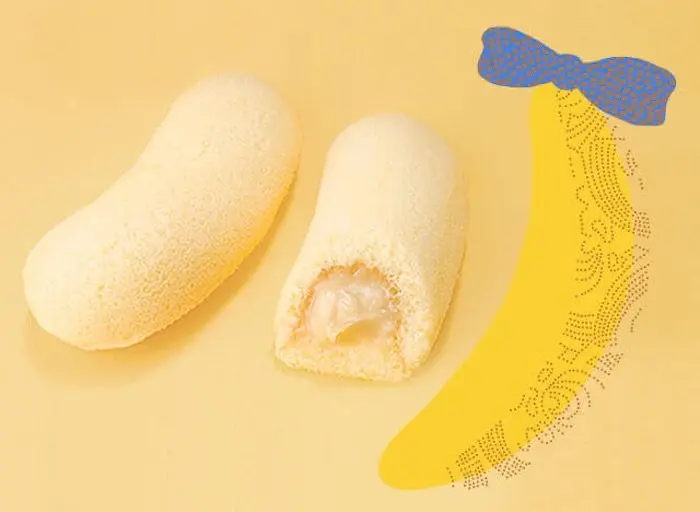 No.1: Where to buy Snacks in Japan
Here's some tips on where to buy the most popular snacks in Japan.
No.2: Where to buy Tokyo Banana
The most popular Japanese souvenir gift of food is the Tokyo Banana.
Luckily, you can buy them at both Narita Airport and Haneda airport when you leave Japan.
You can also find Tokyo Banana at most major train stations in Japan.
Check the Tokyo Banana store list to find a Tokyo Banana shop near you.
No.3: Where to buy Dagashi Snacks
Visit Dagashi Yumeya at Tokyo Dome.
Or pop into any Japanese supermarket to find a huge selection of yummy dagashi snacks for kids.
Special mention: Ameya Yokocho Shopping Street
Ameya-Yokochō (Ameya alley) is an open-air market next to Ueno station, selling lots of Japanese street food snacks on a budget.

No.4: Handmade Japanese Confectionary and Wagashi Sweets
Baikatei is the best shop in Tokyo to buy:
gorgeous traditional wagashi sweets
Japanese confectionary
sweet steamed buns
red bean filled pancakes and
Japanese rice mochi treats in small quantities.
Their sweets are made by hand daily, without any additives.
You seriously need to check out the "fish bowl" sweet, shown above.
It is the cutest edible cake I've ever seen in my life!

No.5: Where to buy Royce Chocolate in Tokyo
The best place to buy Royce chocolate in Tokyo is at Narita Airport and Haneda Airport. Both airports have multiple duty free outlets selling them.
Royce chocolates can also be purchased at Duty Free Shops in most airports in other parts of Japan too.
READ MORE: Roam the Gnome's Epic Guide to Japanese Chocolate

No.6: Where to buy the Best Japanese Candy
The best place to buy Japanese candy on a budget is from a Japanese supermarket. They have the biggest range of the best Japanese candy too.
You can find Japanese candy at Japanese convenience stores all over Tokyo, and in depachika department store food halls.
100 yen stores in Japan have a big range of the most popular Japanese candy souvenirs.
Read our guide to Japanese candy here.
Our top tip is to buy limited edition Japanese candies from the big tourist destinations in Japan:
Tokyo Disneyland
Tokyo Disney Sea
Ueno Zoo
Tokyo Skytree
Tokyo Tower
Meiji Shrine souvenir shop, and
Harajuku.
READ MORE: Find the big Tokyo Supermarkets near you

BEST JAPANESE DRINKS
No.1: Where to buy Green Tea in Tokyo
Firstly do a bit of research into the type of green tea you want to buy.
Gyokuro green tea for special events (gyokuro tea is grown under the shade rather than the full sun)
Sencha – an everyday green tea
Matcha powered tea – good for ice tea, green tea ice cream, tea ceremony
Hōjicha is a Japanese green tea, roasted in a porcelain pot over charcoal (different to other Japanese teas that are steamed)
Genmaicha is a Japanese brown rice green tea consisting of green tea mixed with roasted popped brown rice – the aroma is sensational!
For last minute souvenirs, buy the Itoen brand from the supermarket.
But tea conossieurs could visit the Tokyo shopping streets (Nakamise Dori in Asakusa, and the streets nearby; Yanaka Ginza; Omotesando shopping street; Ameya Yokocho for example) to find quality green tea souvenirs.
You can also try:
Ippodo Tokyo Marunouchi Store
Uogashi-Meicha teashop
Masudaen Green Tea Shop in Asakusa.
If you want to drink green tea in Japan or eat matcha green tea ice cream, visit:
Nana's Green Tea shops
Tea shop Suzukien in Ginza to try the strongest matcha ice cream in the world!
Tsujiri, Ginza. It's a shop selling all kinds of matcha green tea food and drinks
The cold matcha green tea at the Kibi-Dango Azuma shop in Asakusa is my favourite green tea drink in the world! Try it with sweet dango every day of the year.

No.2: The Complete Guide to Japanese Drinks
Japan is home to a monumental collection of Japanese drinks to try, and we've listed our favourites in our guide to the best Japanese drinks in Japan.
Start your Japanese drinks adventure at any Japanese vending machine because they are easily accessible and on every street corner.
More varieties can be found in local Japanese convenience stores for slightly cheaper, but head to any big Japanese supermarket in Japan for the full monumental range of Japanese drinks to blow your mind.
Looking for MORE of the BEST Places to Shop in Tokyo?
Click the links in blue below.