INSIDE: Everything you need to know about visiting the Ikebukuro Earthquake Museum Tokyo with kids
Hidden away in the backstreets of Ikebukuro in Tokyo, you can ride a REAL LIFE Earthquake Simulator Machine raging up to 7.0 magnitude earthquake!
If you are visiting Tokyo with kids, a trip to the Tokyo Earthquake Museum (a free Life Safety Training Centre in Ikebukuro) is a must-do for this unique and one-off experience alone.
Take a look inside at all the things to do at the Earthquake Museum in Tokyo below.
Disclosure: This article contains affiliate links. If you make a purchase after clicking on one of these links, we may receive a small commission at NO extra cost to you.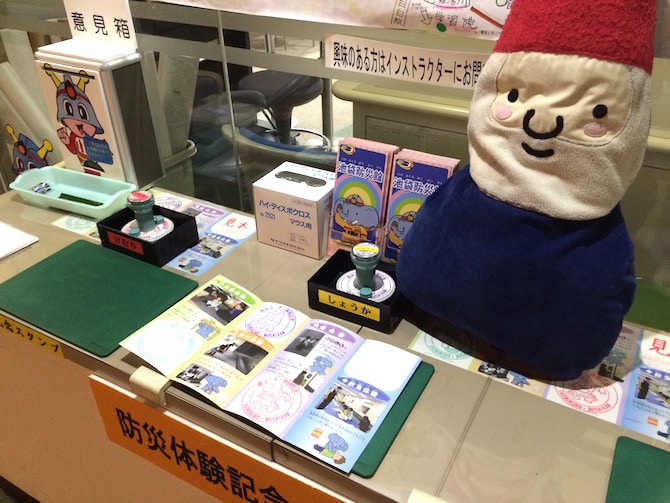 Guide to Tokyo Earthquake Museum (Alt: Ikebukuro Life Safety Training Center)
I've been to Japan five times, and have had a mild earthquake encounter on every visit.
In Japan, minor earthquakes and tremors are a fairly common occurrence, so this life safety training center in Ikebukuro where you can practice drills for earthquakes is not just for show.
The Tokyo Earthquake Museum also runs CPR and earthquake rescue courses (rescuing people from collapsed buildings) for public safety.
Companies book training sessions for their office workers and employees.
Japanese people attend voluntarily to update their skills.
Schools send their kids on excursions to learn what to do in the event of an Earthquake emergency.
Students of all ages learn how to avoid smoke, fight fires, and escape from buildings safely.
On the fourth floor of the Tokyo Fire Department building, the Tokyo Earthquake Training Center offers something a bit different to your normal tourist itinerary.
It's super interactive with hands-on activities for the kids.
---
RELATED: Big List of the Best Things to do in Tokyo with kids
Best Things to do at the Ikebukuro Earthquake Museum Tokyo
Visiting tourists and families can join a basic training tour.
The tour includes:
a short movie about the history of Japanese earthquakes (subtitled in English)
followed by the earthquake simulation (the main event)
smoke maze training, and
fire fighting training.
If you are looking for fun things to do in Ikebukuro, put this top of your list.
Watch our video of the Earthquake Simulator Tokyo!
When you arrive for this part of the tour, you are given a pair of shoes to put on, and given instruction about what to expect when riding the simulator.
The earthquake simulator is a raised platform with horizontal movement created by hydraulic rams.
A dining table and six chairs are on the platform and a large video screen on the surrounding walls depicted a home setting and also buildings.
Real footage is screened during your ride.
Six people at a time are invited to take a turn.
My mum and I took our places.
Roam the Gnome sat on my lap!
You sit in a chair to begin, then when the platform operator gives you the go-ahead, you grab your chair cushion in both hands, climb under the table, hang on to a table leg, and somehow juggle everything to put that chair cushion over your head.
The shaking and moving starts to intensify almost immediately.
---
RELATED: Guide to Tokyo Toy Museum, the best of museums in Tokyo for kids
What to expect on the Japan Earthquake Simulator ride?
We were taken through two different earthquake scenarios.
The first was bearable, but the second one, a 7.0 magnitude earthquake, was much more unpredictable!
There was little hope of holding that chair cushion above my head – it was hard enough to stay upright.
We couldn't help but laugh hysterically, because there's little you can do to stop falling over!
Anyone 3 years old and above can ride.
BUT, my 3 year old would not like this.
Fortunately, younger kids can stay seated in the small auditorium in front of the simulator where you can see them and they can watch you.
It's a good idea to let others go first, so that your little kids can see that it's not real, that it's just a pretend 'ride', a bit like a rogue Disneyland!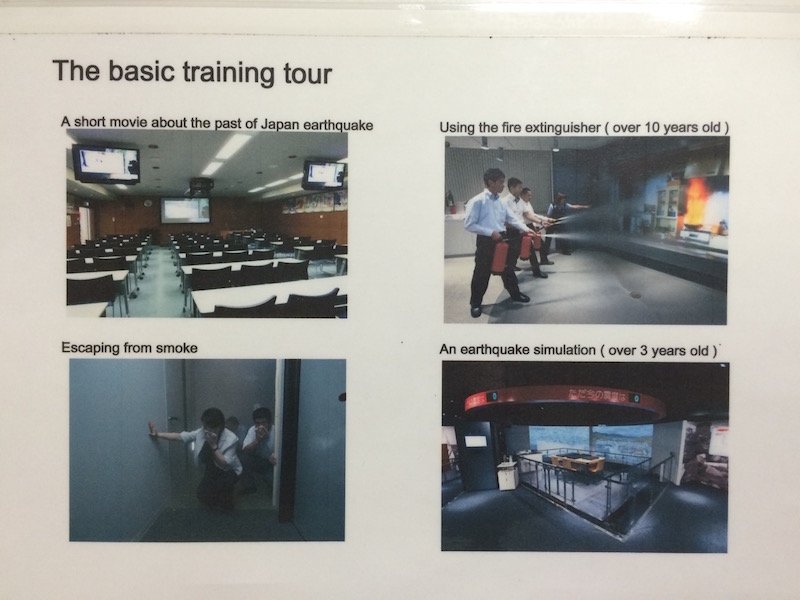 MORE things to do at the Tokyo Earthquake Museum Japan for kids
There are a number of things for kids to do here.
Check out this PDF before you go: Kid friendly Training Notes for Keeping Safe in Japan" .
It's in English.
No.1: Tackle the smoke-filled maze and learn how to evacuate properly.
Stay low to the ground, and cover your mouth from the dangers of smoke inhalation.
From time to time, the smoke machine conks out, so you'll be invited to become an actor and pretend!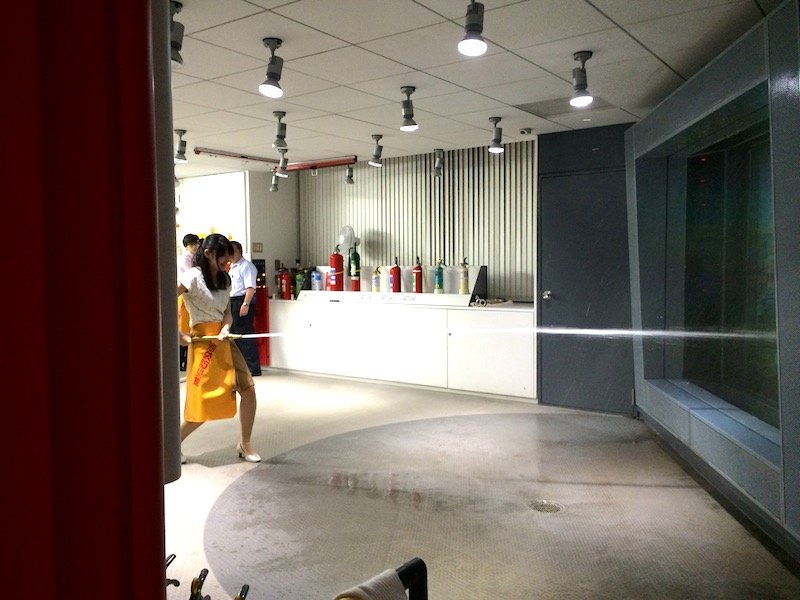 No.2: Try fire-fighting training.
Kids need to be 10 years and older to have a go at spraying the water at the make-believe kitchen fire on screen (what a silly lady to answer her phone when cooking with oil) but it's fun to watch mum or dad have a turn too!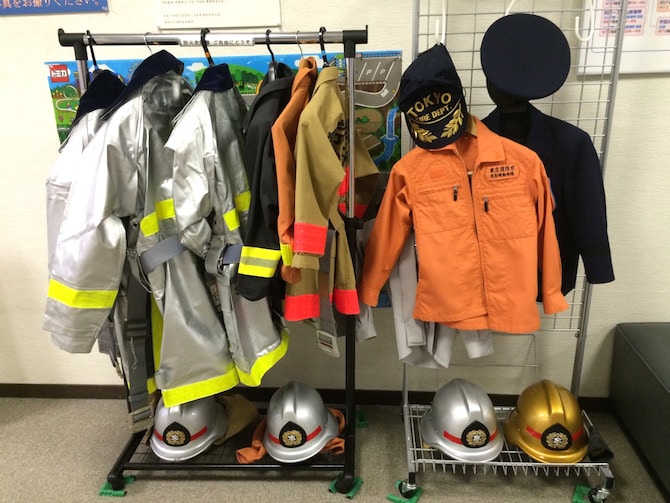 No.3: Dress up in fire-fighter clothes and helmets from the Tokyo Fire Department.
Try on a hat or cap or helmet, a jacket, and goggles too.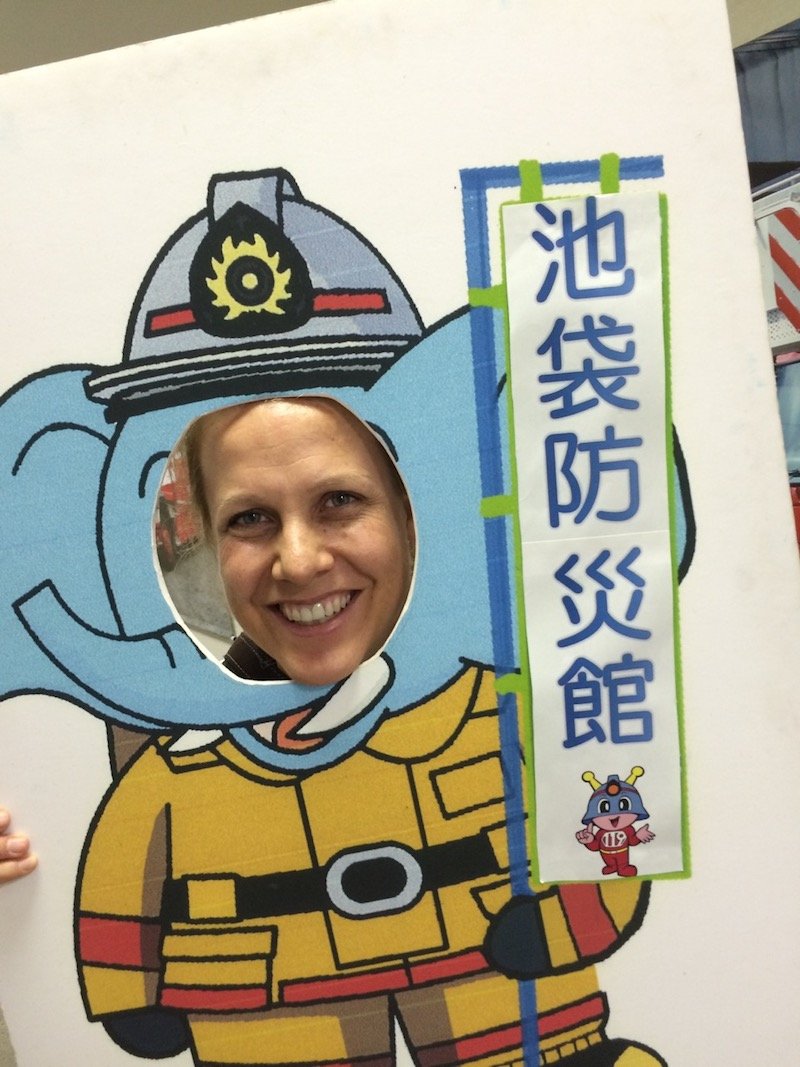 No.4: Snap a picture in the Photo Spot
Go on.
It's the done thing.
No.5: Collect all the "Eki" type stamps from the five stations around the centre.
Stamp yourself a souvenir of your visit and add them to your collection.
Learn more about Eki "Station" Stamp collecting here – update coming soon.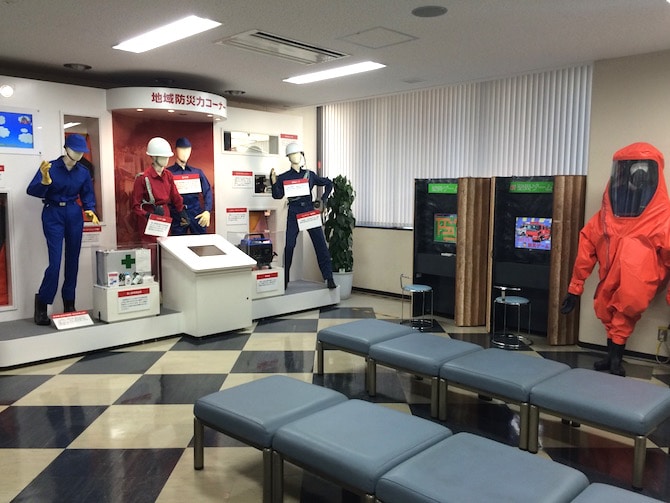 No.6: Uniform display & computer game
Check out the display of uniforms from Japanese fire fighting and emergency services
Try a 'rescue' game on the computers while you are there.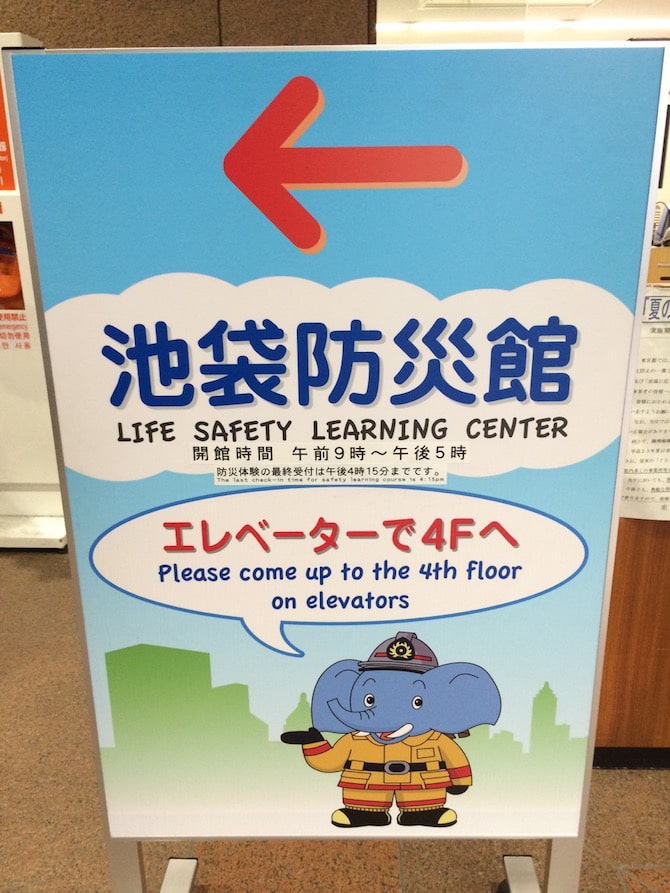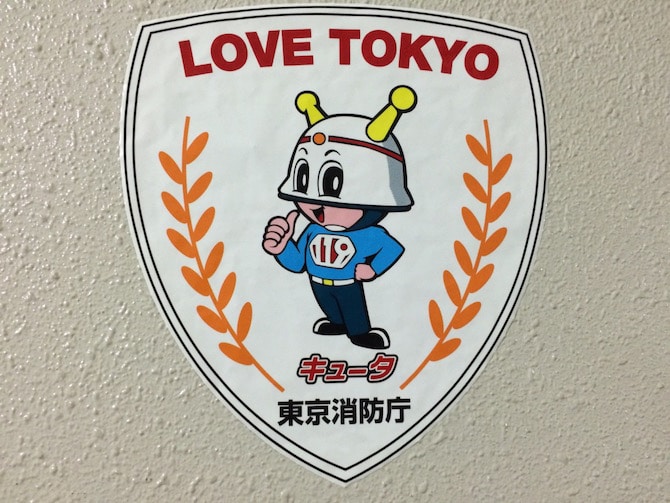 Guide to the Earthquake Simulator Ride at Earthquake Museum Tokyo
To experience the Earthquake Simulator as a foreigner there are two choices.
You can either A: take the short tour at 11.10am until 12pm, with the simulator experience and short movie (25 minutes each) with English instruction OR, B: experience the simulator only at 12.00pm – 12.30pm. Option B is in Japanese only but this is not a major problem if you are running late and won't make the earlier short course session.
For safety and comfort, you should be in good health and free from lumbago, or neck problems, motion sickness, hypertension, expectant mothers, or other conditions that could be aggravated by this simulation.
Helpful tips:
Most of the staff do not speak English but one of the ladies had enough English to be able to direct us to the right room when we arrived.
The Japanese staff at this place are so helpful and generous with their time, the kids will love them and they'll feel pretty special too. Not many foreign travellers with kids make the trek or even know about this place so they feel honoured by your interest.
Preparing your little kids for an earthquake experience in Japan is really helpful. The first time you feel a tremor happen in real life is pretty terrifying and seems to last forever. Preparing kids for that will help them stay calm during the minute or so of movement before the earth settles again.
Questions to ask at the Earthquake Museum Tokyo Japan
You can find the answers to these questions about earthquakes in Tokyo, and more at the Japan Earthquake Tokyo museum.
How often does Tokyo get hit by earthquakes?
How is Tokyo prepared for an earthquake?
What was the largest earthquake in Japan?
Why does Tokyo have so many earthquakes?
What magnitude earthquake can buildings in Tokyo withstand?
THE INSIDE SCOOP: Ikebukuro Life Safety Learning Center "Ikebukuro Bosaikan"
Correct at time of publication on Roam the Gnome. Please check with venue for updates. We apologise in advance if there have been any changes we are unaware of. All prices in yen, unless otherwise stated
Address: 2-37-8 Nishi Ikebukuro, Toshima-ku Tokyo 171-0021
Telephone: 03 3590 6565
Website: Click here
Entry Fees
Admission is FREE!
Opening Hours
9am to 5pm on Monday, and Wednesday to Friday. Every Friday until 9 pm.
Closed on Tuesdays and the 3rd Wednesday of each month. Closed form December 28th to January 4th.
How to get to the Tokyo Earthquake Training Center
By train: Catch the train to Ikebukuro Station and follow the map above. (It's a bit off the beaten track.)
Allow 10 minutes on foot from Ikebukuro station South Exit, West entrance, & Metropolitan mouth.
If you have access to Google Maps, set your target as the Ikebukuro Police Station.
The Tokyo Earthquake Training Center is on the adjacent corner.
Map of Tokyo Earthquake Simulation Center
Facilities Available at Tokyo Fire Department Life Safety Training Center
Toilets: Yes, including baby change table
Disability access: Yes
Food and Drink: No food for sale on site. Eat and drink before you arrive. Bring snacks for afterwards. Then head to Sunshine City shopping mall for lunch or dinner.
Toadstool Rating: Ikebukuro Earthquake Museum

Looking for MORE SUPER DOOPER FUN places to visit in TOKYO?
Click the blue links below for more Tokyo tips.