INSIDE: Everything you need to know about Nekobukuro Cat Cafe Tokyo at Tokyu Hands.
Nekobukuro Cat Cafe is a "cat's house" – a place to visit and spend time with cats.
Of all the animal cafes in Japan and Tokyo we've been to, and visited, this is one of our favourites.
Because this TOKYO CAT CAFE in Ikebukuro has NO time limit on your stay!
There's 15 or so cats of different breeds in the Neko Cafe Cat House at any one time, out of a total of about 30 cats who call Nekobukuro Cool Cat Cafe home at Tokyu Hands Department Store
Take a peek inside below.
Disclosure: This article contains affiliate links. If you make a purchase after clicking on one of these links, we may receive a small commission at NO extra cost to you.
The Neko Cat Cafe House
The Neko Cat Cafe House is styled inside to resemble a train station.
There are boxes and shelves on the walls, and cat furniture abounds.
You'll definitely spot a napping cat or two.
The adorable cats at this Tokyo cat cafe are free to roam and jump and sit on visitor laps for a pat!
These Japanese cats are well cared for, and are rotated on the hour so that none of the cats become distressed or grumpy with all the attention.
Best Nekobukuro Cat Cafe!
We heard that Nekobukuro Cat Cafe in Ikebukuro attracts over 400 visitors each weekend.
WOW.
This Ikebukuro Cat Café is less busy on weekdays, with most visitors being office workers, or Tokyu Hands shoppers who come to say hi to these feline friends.
---
RELATED: Big List of the Best Things to do in Tokyo with kids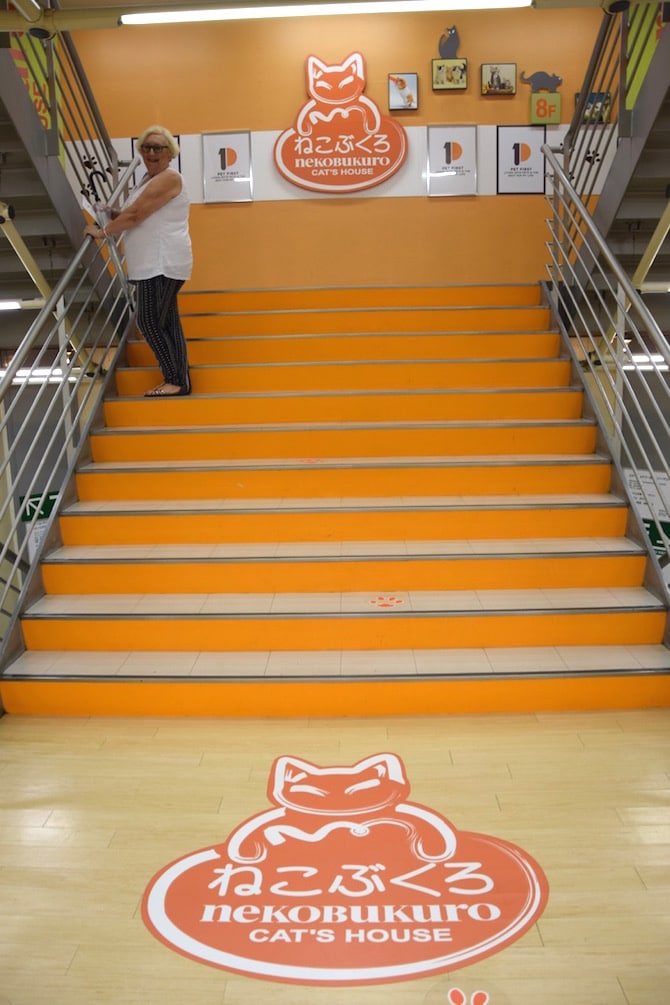 What is a Cat Cafe?
Why do the Japanese love cats, and cat cafes?
Most Japanese people visit a cat cafe in Tokyo when they are unable to keep cats themselves because of pet restrictions in their apartment building, or time constraints in their life such as a busy work lifestyle.
Visiting a Tokyo cat cafe gives them the opportunity to spend time with, and cuddle and pat their favourite animal without the hassle of ownership.
Visitors to Japan and tourists come for the experience.
There is an entry fee and cover charge at the door to this Japanese cat cafe, however there's no time limit on your stay once you've paid.
You don't pay for one hour, as you do at many other cat cafés.
Tokyo Cat CAFE?
A little heads up.
This Tokyo cat cafe in Ikebukuro is more of a petting zoo for cats, as there is no eating food or drinking here.
We preferred this experience to some of the other cat cafes in Tokyo, as there was no stress.
You aren't pushed to drink up quickly and leave before the hour is up, nor do you risk paying more if you haven't had enough cuddles in the time allowed.
But if you want to enjoy cats AND coffee in Tokyo, you'll have to go elsewhere.
Nekobukuro Cool Cat Cafe Ikebukuro
Nekobukuro is a combination of the words Japanese word for cat 'neko', and 'Ikebukuro', the location of Tokyu Hands department store.
Our hot tip for Nekobukuro?
If you are visiting this Cat Cafe in Japan to play and see cats with your family, or kids, ask for a discount.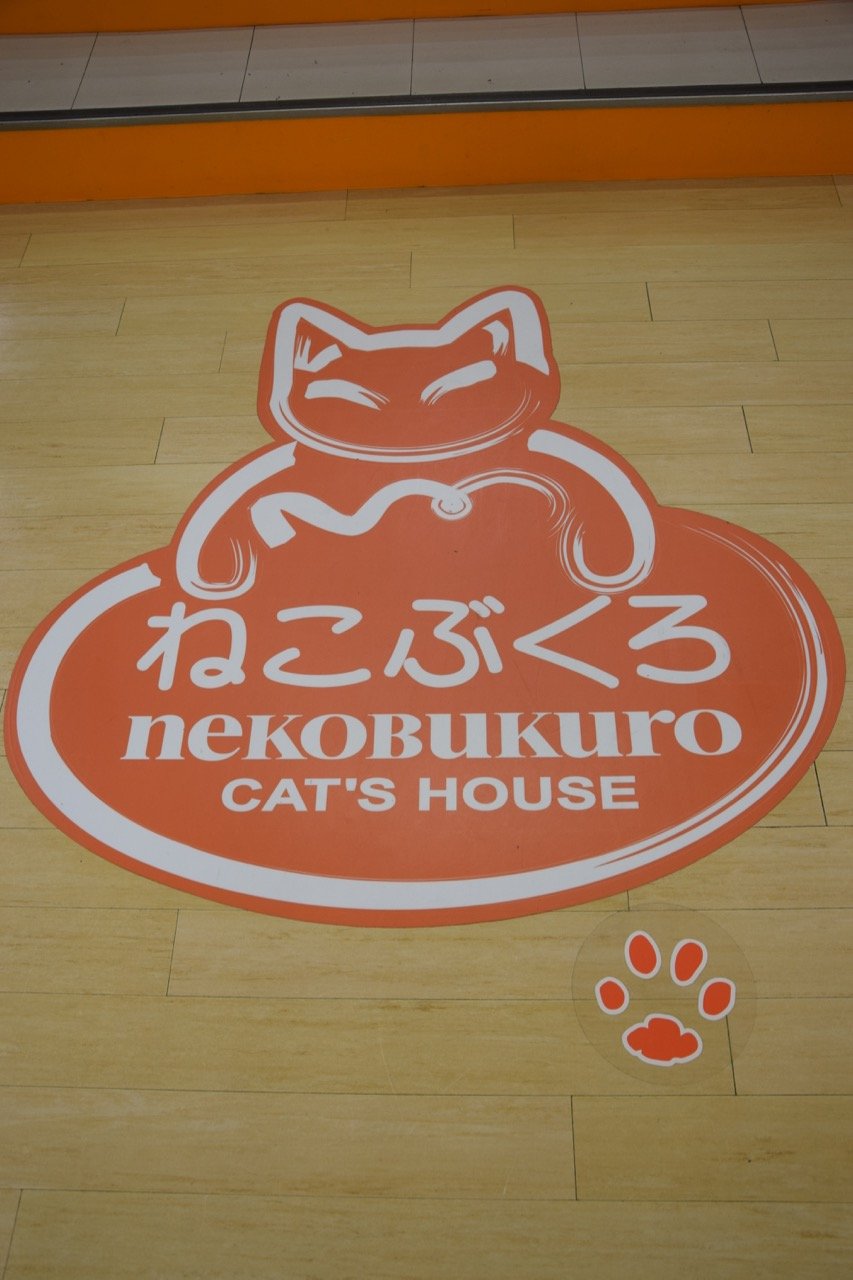 Follow the Cat Paw Prints to the Japanese Cat Cafe Tokyo
This animal cafe is located on the eighth floor of Tokyu Hands in Ikebukuro.
Catch the lift up to the 7th floor, and follow the cat paw prints up the last lot of stairs when you exit the lift.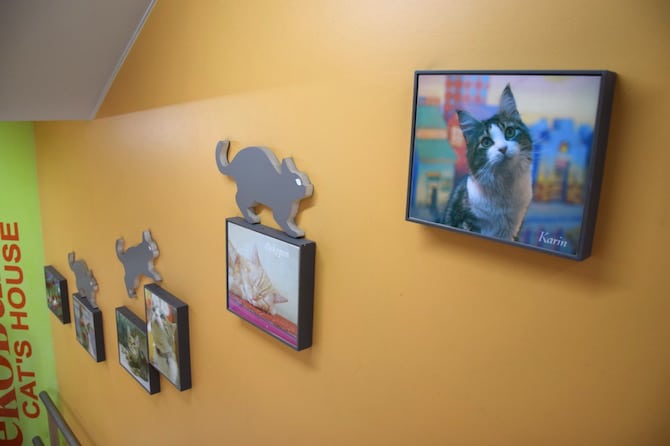 Staircase Gallery
As you walk up, you'll see framed photographs of the cats currently residing at the Cat Cafe Ikebukuro lining the wall of the upper staircase.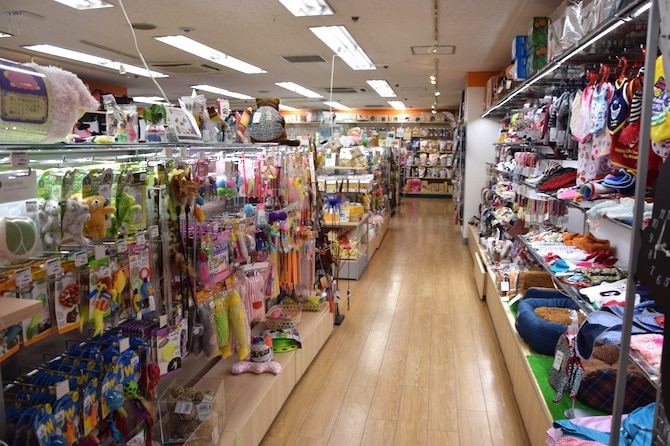 Whats it like to go to a Cat Cafe in Japan?
If you are wondering what are 10 things I should do in Tokyo, we recommend adding a cat cafe to the list.
You will pay upon entry to a friendly Japanese person (usually a woman) who will then lead you inside a room full of cats.
You'll be shown where to sit, and given a few simple instructions on what to do.
The main one if you are visiting a cat cafe with kids is to make sure the kids don't chase the cats.
Most cat cafes ask you to sit quietly, and to let the cats come to you.
Some cat cafes will let you pick the cats up and hold them.
Others ask you to pat or stroke the cats only.
Tokyo Souvenirs for your Feline Friend at the Cat Cafe Tokyo!
When you've finished hanging out with the cats in the kitty cafe, you can head back out into the Pet Supplies store and buy Tokyo souvenirs for your own cat.
I guarantee you've never seen anything like this yet.
Ikebukuro Cat Shop
It's a shop filled with everything a cat could possibly need, plus a few supplies for dogs, birds and other pets too.
(But mostly cats!)
There are lots of:
cat toys
cat bedding
carry baskets
soft cuddly dolls for cats
cat prams
dress up costumes for cats!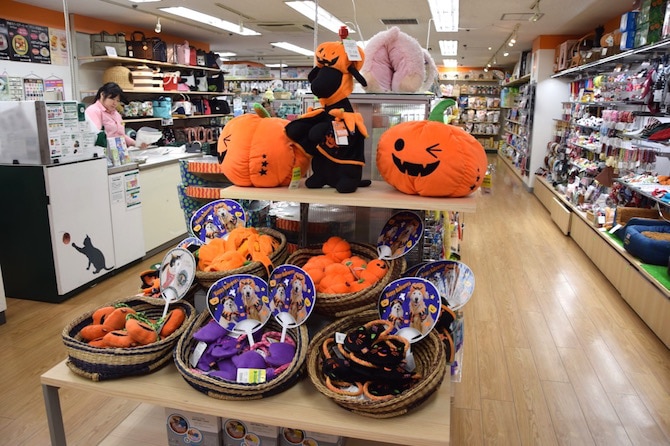 If you visit in lead up to Halloween, you'll see an even bigger range of dress ups including:
whole outfits
headbands
necklaces
hats, and
suits.
It's super cute, if not a little creepy!
It's fun to look around and see what else the Japanese cat lovers get up to!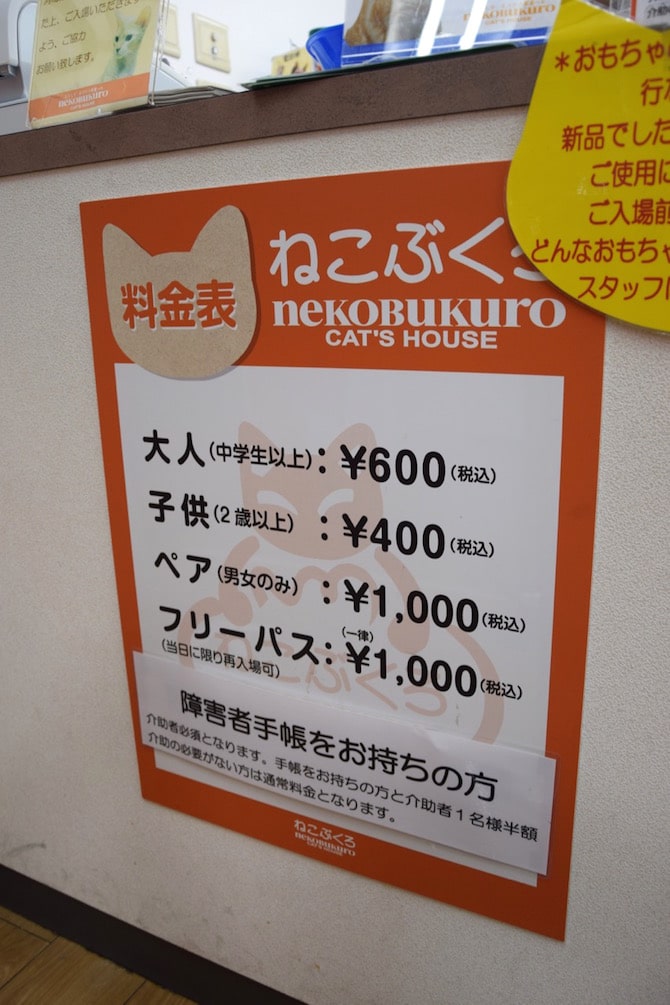 THE INSIDE SCOOP: The Best Cat Cafe Tokyo is Nekobukuro
Correct at time of publication on Roam the Gnome. Please check with venue for updates. We apologise in advance if there have been any changes we are unaware of. All prices in yen, unless otherwise stated
Address: Japan Cat Cafe, Tokyu Hands Department Store, 1-28-10 Higashi Ikebukuro Toshima-ku Tokyo 170-0013
Telephone: 03 3980 6111 (Tokyu Hands)
Website: Tokyu Hands Website
Opening Hours:
11am to 8pm daily with rest breaks (closed to the public) throughout the day for the cats.
8th Floor.
Entry fees: Entry is ¥600 yen for adults and ¥400 yen for children over 2.
How to get to Nekobukuro Cat Cafe
The nearest station to the Cat Cafe Ikebukuro at Tokyu Hands – 7 minutes on foot from East Exit of Ikebukuro Station
Map of Nekobukuro Cat Cafe in Tokyo
Toadstool Rating by the Kids – The Cat Cafe Japan
Kids will love this cat cafe in Tokyo.
If you are in Sunshine City Shopping Mall for the day, don't miss Tokyu Hands Department Store, and a visit to the Nekobukuro Kitty Cafe.

Looking for MORE SUPER DOOPER FUN places to visit in TOKYO?
Click the blue links below for more Tokyo tips.