INSIDE: The Ultimate Guide of Fun Things to do at Tokyo Station in Japan. Updated 2019. 
First Avenue Tokyo Station is the shopping heart of this travel gateway.
It's always hectic, with trains travelling to 46 out of the 47 prefectures in Japan.
Plus, it's the heart of the city so with all those people and families coming and going, you need:
Food and Restaurants to recharge
Coffee and Drinks for weary travellers
Places to Shop for Japanese Souvenirs and Gifts
Regional Food gifts, beautifully wrapped in gift boxes
Japanese Convenience Stores for emergency phone chargers, batteries, newspapers, and paraphernalia for travel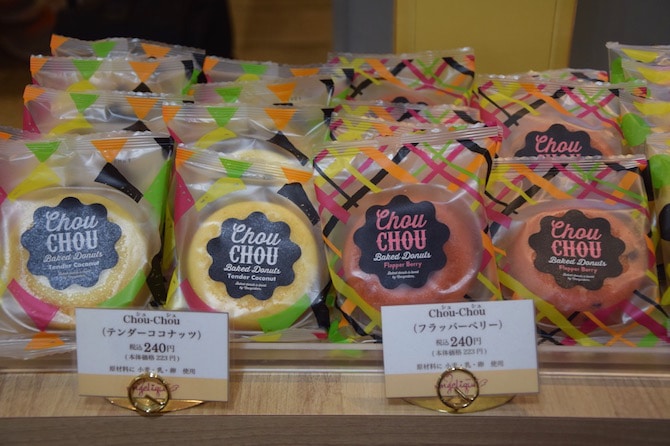 What to do in Tokyo Station – Underground Shopping
First Avenue Tokyo Station has a number of themed shopping areas for gifts and souvenirs that the kids (and the entire family!) will adore too.
You will never be stumped for what to do at Tokyo station shopping mall with our travel guide.
Omiyage Gifts
"OMIYAGE" is the Japanese word for presents, and no respectable Japanese person would ever arrive empty handed to visit friends or family.
In Japan, it is a cultural norm to give gifts:
to your hosts
to your friends and family when visiting, and,
when you return home from a trip, bringing a special something for those you care about
This central train station in Tokyo helps visitors to find the best food gifts – biscuits, cakes, traditional Tokyo food, sweets, desserts, and more.
Everyone can pick up the perfect present as it has become a dream shopping destination for souvenirs in Tokyo.
Shopping in Tokyo Station building can be a whole day affair, especially if you have kids in tow. They will LOVE shopping here, especially visiting the famous Character Street in Tokyo.
We suggest a day trip to go shopping at Tokyo station, even if your train doesn't depart from here.
Make a stop on your Tokyo itinerary to enjoy all that this place has to offer.
Daimaru Tokyo
One of the best Japanese Department Stores in Tokyo, Daimaru is a place of elegance. Find unique gifts, clothing, umbrellas, aprons, Japanese childrens toys and more.

Tokyo Okashi Land & Calbee Tokyo Station
If you are asking, what are the unique things to do in Tokyo, this is one.
Enjoy a fresh Calbee snack!
A collaboration of the three biggest Snack and Confectionary manufacturers in Japan, Tokyo Okashi Land and Calbee snacks store is the perfect spot to pick up a few boxes of your favourite Japanese treats and Tokyo things to take home or give as gifts.
You can also meet Kyorochan bird – the mascot for the famous Chocoball candy.
But the main purpose of a visit should be to eat a strange but delicious Japanese concoction, Potato Crisps with Chocolate Sauce AND soft serve ice cream. Weirdly, it's SOOO good!
READ MORE: Tokyo Okashi Land and Calbee Tokyo Station.
Tokyo Character Street
If you've a favourite animated character from your childhood, or your kids are fans of Japanese anime/manga, then you MUST visit Tokyo Character Street.
Character Street Tokyo Station is a shopping arcade filled with 26 individual character stores, and all their licenced/branded "paraphernalia" (in the nicest possible way.)
There's Hello Kitty, Snoopy and Moomin of course, but also Japanese favourites such as Rilakkuma and Pokemon.
Find cheap Rilakkuma souvenirs such as keyrings and stickers here.
Be sure to visit the Pokemon Store Tokyo Station for all the latest Pikachu merchandise from the movie.
READ MORE: Take a sneak peek at our visit to Tokyo Character Street
Tokyo Me + Cakes and Desserts Food Hall
For the prettiest cakes and desserts in the most elegant of packaging, stop here.
This stylish dessert food hall is a treat for the eyes!  Our tip: find the store selling the Flower Bavarois Cakes and try a petal bite-sized piece for yourselves!
READ MORE: Take a look at our visit to Tokyo Me+ Food Hall
Tokyo Station Ramen Street
If your kids are big noodle fans, Ramen Alley Tokyo Station for lunch or dinner is a good spot to try.
Tokyo Ramen street has ramen noodles from a whole bunch of different regional areas too, so plenty of flavour choices to choose from include pork broth, beef broth, chicken broth and seafood.
It makes my mouth water just typing that!
READ MORE: Click here for all the details, including a map of Tokyo Station Ramen restaurants.
READ MORE: The Complete Guide to JAPANESE STREET FOOD & Japanese Snacks
Tokyo Station Restaurants
Details about Tokyo Station food options coming soon!
Tempura
Sushi
Shabu Shabu
Starbucks
Ekiben Train Station Bento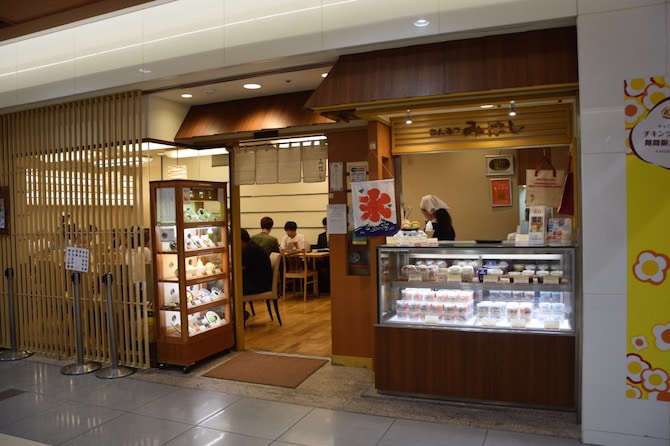 Tokyo Dessert Restaurants
There's also heaps of yummy Japanese desserts and sweet treats to try at Tokyo Station First Avenue.
Try an Angelique New York Chou Chou Baked Donut (yum!), or visit Mihashi Desserts shop.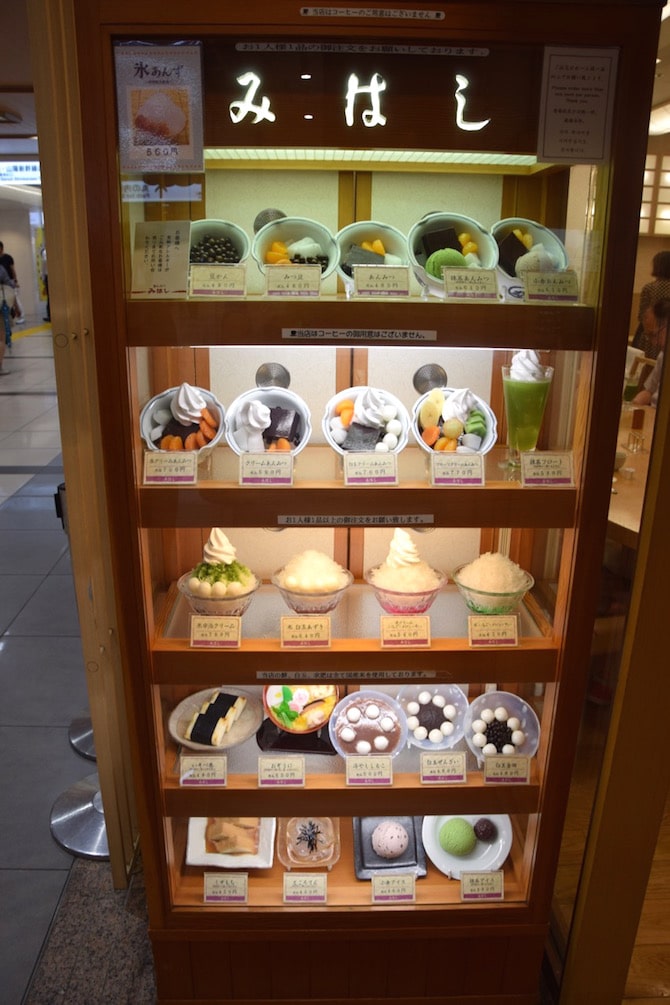 Mihashi is a must-do if you want to try traditional Japanese sweets. (Look out for this display at the front of the store).
I worked in a number of Japanese restaurants as a teenager and there's nothing better than a delicious "Anmitsu", which is cubes of sweet agar jelly with sweet red beans (anko), syrup and fruit or soft ice-cream.
Other winning Japanese desserts to try include:
the popular Matcha Anmistu (Anmistu with green tea ice-cream)
Kakigori shaved ice
or a Matcha Float (Green Tea Milkshake.)
If the family is feeling in need of a rest and a refreshment, make this your sweet stop. Takeaway available too.
Where to buy Tokyo Banana
Look out for the kiosks selling Tokyo Banana throughout the station. Buying Tokyo Banana here is a good idea, as they can be hard to find elsewhere.
Map & Tokyo Station Shopping Guide
Here is your Golden Ticket.
You're welcome!
Fun things to do near Tokyo Station
Visit the Imperial Palace to see the scenic gardens and grounds of the main residence of the emperor of Japan.
Visit Tokyo International Forum to see the dramatic glass foyer entrance, and visit the Gallery shop for unique Japanese souvenirs
See a show at the National Theatre of Japan
Visit the Science & Technology Museum to try hands on exhibits and games
See Martial Arts live at the Nippon Budokan arena
Walk across the iconic Seimon stonebridge
Visit the Mitsubishi Ichigokan museum to see the collections of European art, gorgeous gardens, and drink tea in the cafe
Stop by the Pola Museum annex art gallery
The Inside Scoop
Tokyo Station Address: 1-9-1 Marunouchi, Chiyoda-ku, 100-0005
Telephone: 03-3210-0077
Opening Hours 
10am to 8.00/8.30pm (restaurants open later.)
Open 7 days a week.
Entry Fees: Entry to First Avenue Tokyo Station is free
Facilities:
Check the map above for locations of Information Centers, Telephones, Coin Lockers, Bathrooms and Toilets,  Chemists, Convenience Stores, ATM's and Lost and Found.
There are baby change rooms in Tokyo Station also.
Tokyo Station Luggage Storage
See the floor map above to find luggage storage around the station. The lockers come in three different sizes, small, medium and large. The medium will fit carry on bags. The large will fit most big suitcases.
We recommend seeking your baggage storage early, as the large lockers go fast, especially during holidays and public holidays.
Where is Tokyo Station?
The closest Tokyo train station to the Imperial Palace, it's between Nihombashi to the north, and Yurakucho to the south, on the east side of the city.
How to get to Tokyo Station
A couple of minute walk from the Tokyo Metro Marunouchi Line and the JR Tokyo Station.
Exit using the Yaesu Underground Central Exit.
Map Tokyo Station
---
Best Hotel Near Tokyo Station?
If you are looking for hotels in this area, a nice central location for sightseeing, check our suggestions below.
Booking a Hotel in the area is a clever idea for anyone as it's one of the most central, easily accessible suburbs of Tokyo, with quick direct access to most of the Tokyo tourist spots including:
Shop exclusive brands and luxury goods at Ginza
Harajuku and Yoyogi Park
Meiji Shrine
Shibuya shopping
Shinjuku shopping
Akihabara electronics
Asakusa Shrine and Tokyo Sky Tree, and
Tokyo Disneyland and Tokyo Disney Sea.
This area is central, so although it's busy, basing yourself here saves you time and effort.  Take a look at these hotel choices in the area.
Courtyard by Marriott
Super Hotel
Hotel Metropolitan
Marunouchi Hotel
Imperial Hotel Tokyo
The Tokyo Station Hotel
Super Hotel Lohas
Shangri-La Hotel Tokyo
---
Toadstool Rating (by the kids) – Tokyo Station Shops
Should be a MUST-DO stop on your itinerary!
You can easily spend a day in and around the centre with the kids in tow, but half a day will do if that's all the time you have. It's an epic Tokyo shopping day out.
Looking for MORE SUPER DOOPER FUN Places to Shop in TOKYO?
Click the links in blue below.
Subscribe
Bookmark Roam the Gnome
Disclosure: This article contains affiliate links. This means if you make a booking or purchase after clicking on one of these links on Roam the Gnome, we may receive a small affiliate commission at no cost to you.
Roam the Gnome is a participant in the Amazon Services LLC Associates Program, an affiliate advertising program designed to provide a means for sites to earn advertising fees by advertising and linking to amazon.com, amazon.co.uk, amazon.ca. Amazon and the Amazon logo are trademarks of Amazon.com, Inc. or its affiliates.
Thank you for your support in helping us to grow Roam the Gnome™ Family Travel Website Directory.