INSIDE: Everything you need to know about visiting GOTOKUJI Temple Tokyo.
20 minutes by train from Shibuya station is one of the most unusual temples in Tokyo, the Gotokuji Temple.
If you are planning to visit temples in Tokyo with the kids, we suggest putting this one on your list.
Walk through the entry gate and you'll find:
sizeable gardens
a wooden pagoda
family gravestones
bamboo fences, and
manicured hedgerows.
It's a beauty, but there's one big difference between this shrine and other temples in Tokyo.
The Gotokuji Temple in Tokyo is home to thousands of identical "Maneki-Neko" Lucky Cats.
GOTOKUJI TEMPLE of LUCKY CATS is the best temple in Tokyo for kids.
Find details below.
Disclosure: This article contains affiliate links. If you make a purchase after clicking on one of these links, we may receive a small commission at NO extra cost to you.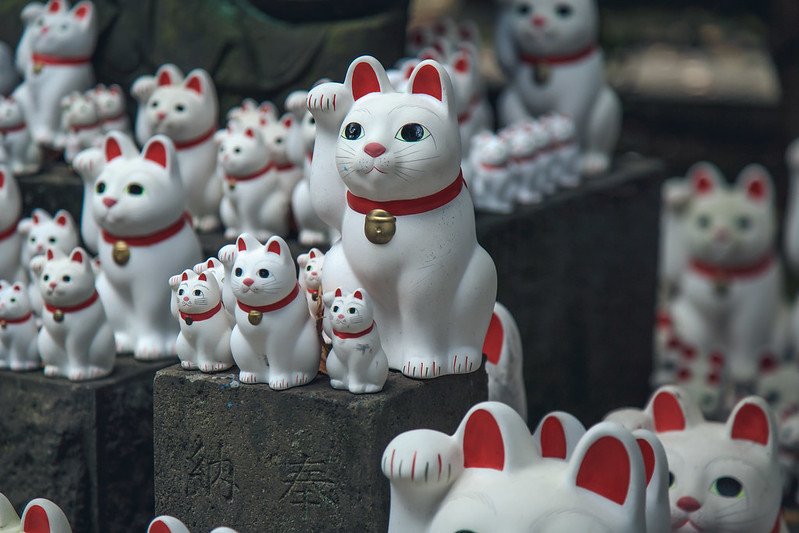 Image credit: John Gillespie via Flickr CC BY SA-2.0
Guide to Gotokuji Temple Tokyo (aka, The Gotokuji Cat Temple Tokyo)
Gotokuji Temple is home to the popular Japanese Lucky Cat ornaments, and it's one of our favourite Temples in Tokyo for kids.
It doesn't take long for tourists and visitors to Japan to become familiar with the beckoning cat, waving its' hands in a gesture of 'Come on in'!
Fortune cats can be found on the front counter or entryway of most Japanese shops, businesses, restaurants and Pachinko parlours.
But you have to walk deep into the temple grounds before you see them here!
Do make sure the kids know these Lucky cats at this temple in Tokyo are not toys to play with, but rather something to look at.
The ceramic Lucky Cats do get muddy being out in the elements, but the Gotokuji temple groundskeeper is kept busy cleaning them regularly.
---
RELATED: Big List of the Best Things to do in Tokyo With Kids

Introducing the Japanese Good Luck Symbol – Maneki Neko
The Maneki Neko cat is believed to be a lucky charm by the Japanese people, to bring good fortune and happiness.
We've heard a rumour that if the cat's right arm is raised, it invites and beckons money. If the cat's left arm is raised, it invites people and community.
So, the main reason people pay a visit the Cat Temple is to:
Make their own wish seeking good fortune, or
Say thank you for good fortune already bestowed.
Do keep an eye out for cats in surprising places – look up towards the roof and ceilings to spy ornate timber carvings and don't forget to let the kids ring the long red rope outside the temple.
The rope looks like the cat's collar and is attached to a bell. Ringing a 'suzu' rope is the way to call in the good spirits and deter the evil spirits from gaining hold.
It's a small but intriguing temple, and definitely a temple that children will find more interesting and tolerable than others.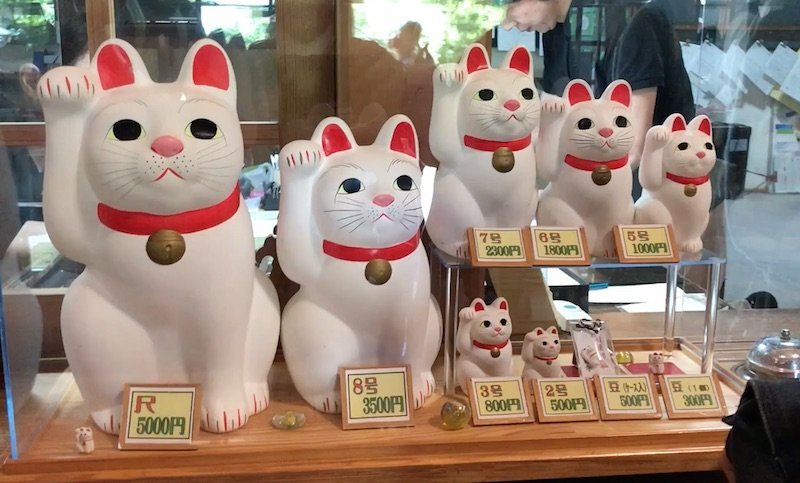 Where to buy Maneki Neko in Tokyo
The first step if you are visiting for the first time is to purchase your own Lucky Cat from the souvenir shop on site.
The Maneki Neko cats come in all different sizes, big and small, which is helpful if you have kids in tow who want to buy their own Lucky Cat souvenir to make a wish, and take it home.
Legend says that you should return the cat back to the Gotokuji Shrine once your wish has been granted to acknowledge the blessing.
That's a fabulous incentive to visit Tokyo again!
But even if you don't buy a Maneki Neko lucky cat, it's still custom to make a wish before you go.
Don't miss the opportunity. Wishes come true around here.
Another reason to buy a lucky cat ornament from the temple – all proceeds from buying a cat or a wooden prayer board go back towards the upkeep of the Temple.

Lucky Cat Statues – The Good Fortune Cat
Lucky cat statues are most often ceramic but now you can find lucky cat statues made out of plastic too.
These lucky cats may run by battery or solar power, allowing them to move their paw up and down in a beckoning fashion.
You can also buy the Maneki Neko Japanese cat figurine souvenirs such as:
Lucky cat keyrings
socks
piggy banks
Lucky cat soft toys
posters, and
plant pots.
Walking along the road to the Cat Temple Shrine, you'll also find shops selling cat-shaped confectioneries, cookies and Japanese breads too – yum!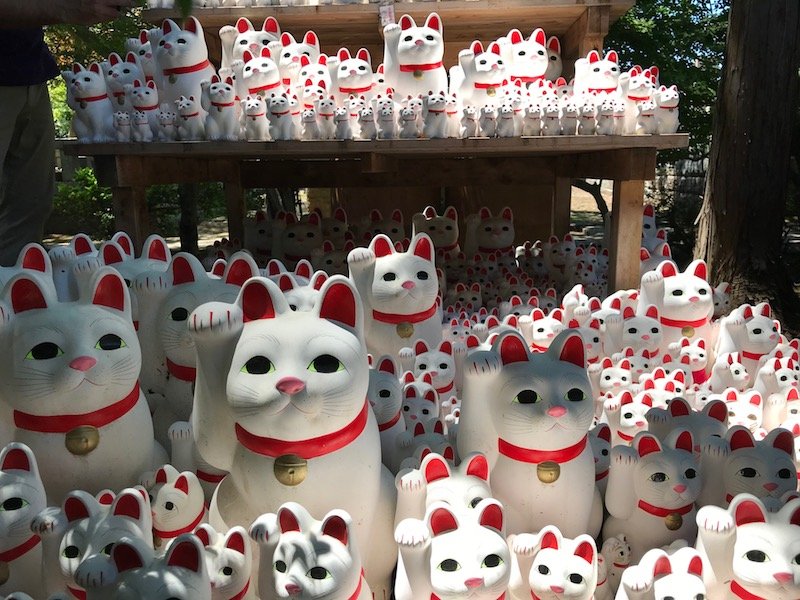 Chinese cat? No! It's a Japanese cat.
The Gotokuji Temple Maneki Neko cats are one of Japan's most recognisable images, although many people falsely believe they are of Chinese origin.
They are not but they are popular in Chinese communities, known as jīnmāo or "golden cat", and "Chinese lucky cat" for the same reasons.
Fortune Cat. Good luck cat. Lucky Cat. All the cats.
They also have many names and are called everything from:
waving cat
welcoming cat
lucky cat
money cat
happy cat
beckoning cat
Japanese greeting cat
Chinese waving cat
lucky Chinese cat, or
fortune cat in English.
The most common Lucky Cat ornament has a white body, but you do see them occasionally in gold, black and the odd time in red.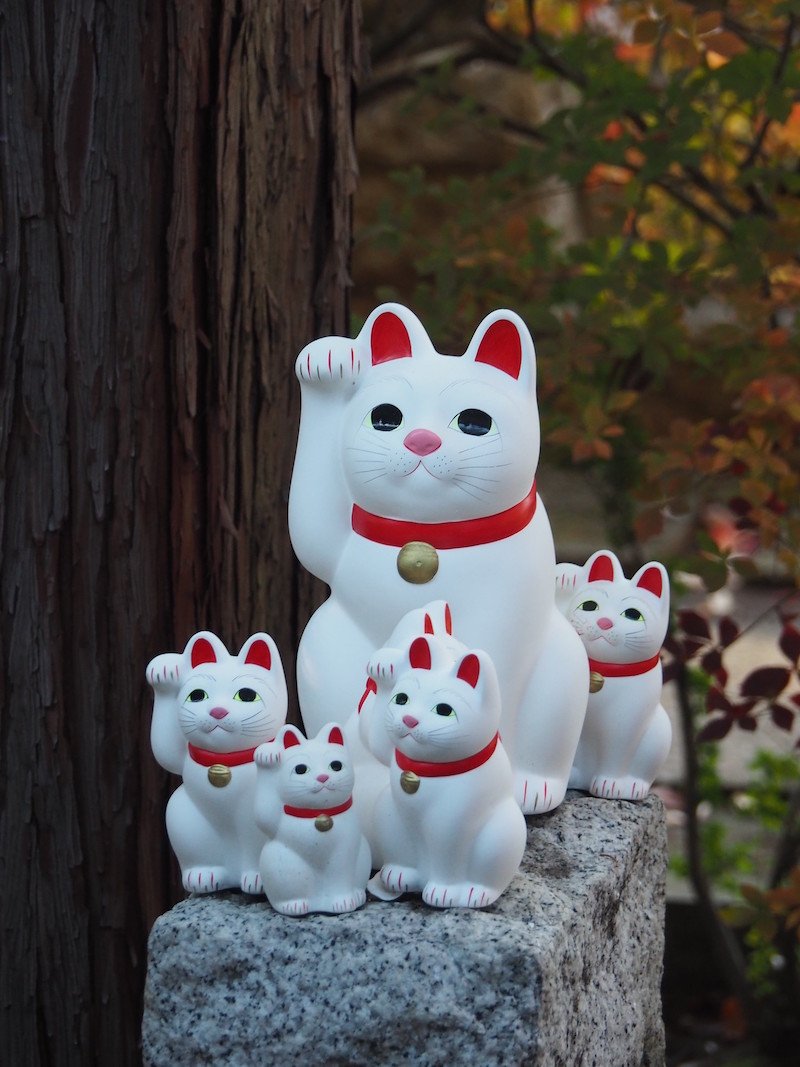 Image credit: Hotel Kaesong via Flickr CC BY SA-2.0
The Gotokuji Cat Temple Legend
The story of how the Gotokuji Cat Shrine came to be is found in the brochure given to you when you enter and at the gift shop.
"A long time ago when the temple was a shabby hut and the Monk could barely live on the small income he gained as practising mendicant, he had a cat and cared for it like his own child, sharing his own meal with it.
One day he said to the cat, "If you are grateful to me, bring some fortune to the temple."
After many months, one summer afternoon, the Monk heard sounds around the gate, and there he saw five or six samurai warriors on their way home from hawk hunting, approaching him and leaving their horses behind.
They said, "We were about to pass in front of your gate, but there a cat was crouching and suddenly it lifted one arm and started waving and waving when it saw us. We were surprised and intrigued, and that brought us to come here to ask for some rest."
So the Monk served his bitter tea and told them to relax.
Heavy rain…
Suddenly the sky darkened and heavy rain began to fall with thunder. While they waited a long time for the sky to clear, the Monk preached Sanzei-inga-no-hou (past, present, future reasoning sermons).
The samurais were delighted and began to think about converting to the temple.
Immediately, one samurai announced, "My name is Naotaka Ii. I am the king of Hikone, Koshu province. Due to your cat's waving, we were able to hear your preaching. This has opened our eyes, and seems to be the start of something new. This must be the Buddha's will."
Good Fortune
Soon after they returned home, Naotaka Ii donated huge rice fields and crop lands to make the temple grand and generous as it is now. Because of the cat, fortune had been brought to the temple.
Therefore, Gotokuji is called the Cat Temple.
The monk later established the grave of the cat and blessed it.
Before long the statue of the cute waving cat was established so that people might remember the episode and worship it.
Now everybody knows the temple as the symbol of household serenity, business prosperity, and fulfilment of wishes."
(Source: Wikipedia)

THE INSIDE SCOOP: Tokyo Cat Temple
Where is Gotokuji Temple?
Address: Location of this Temples in Tokyo shrine: 2-24-7 Gotokuji, Setagaya 154-0021, Tokyo Prefecture
Telephone: +81 3-3426-1437
Entry Fees
The Gotokuji temple entrance fee is free.
Donations welcome.
Gotokuji Temple opening hours
The Gotokuji Temple opening hours are from early morning 9am ish, till late afternoon. The shop is generally open till 5pm.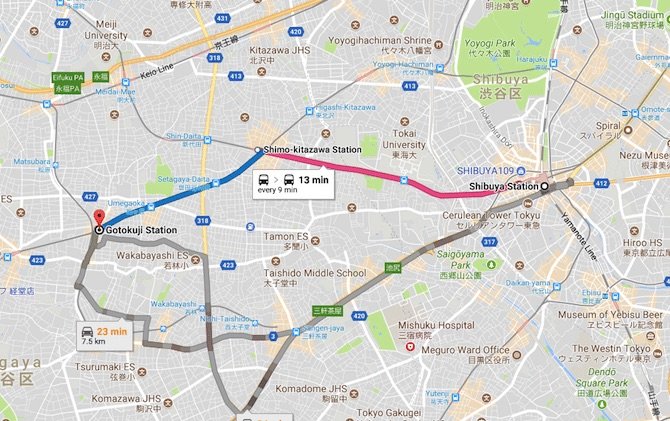 How to get to Gotokuji Temple in Tokyo Japan
Planning how to go to Gotokuji temple? Follow our directions to the Tokyo Cat Temple.
From Shibuya, take the Keio-Inokashira line to Shimokitazawa, then transfer to the Odakyu line for three stops to Gotokuji station.
Take a left out of the station to find a street with small local shops and restaurants.
Wander along this street for a few blocks following the map below.
It's about a 10-12 minute walk from the station.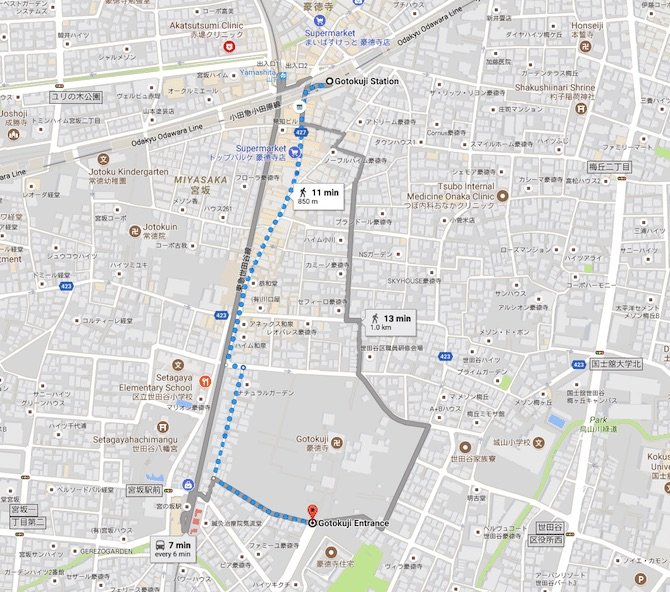 Map of Gotokuji Temple Japan
Toadstool Rating: Gotokuji Shrine
An interesting sight for sure.

Looking for MORE SUPER DOOPER FUN places and temples in TOKYO?
Click the links in blue below for more Tokyo travel tips.