INSIDE: Best Guide to Things to do in Odaiba Tokyo for kids.
Where in Tokyo can you:
ride a GIANT FERRIS WHEEL overlooking a Rainbow Bridge?
stand next to a giant replica of the Statue of Liberty,?
AND be immersed in a breathtaking indoor theatre spectacle following the WATER CYCLE, while lounging on super soft pod chairs?
ODAIBA is the place. (Locals also call it Daiba and Tokyo Island)
Hot tip: Put Odaiba TOP of your Tokyo Itinerary today.
This is not a joke. Miss it at your own risk. It's our new favourite Tokyo destination for families.
If you are travelling to Tokyo with kids, plan at least one, but preferably two or three, days to explore Odaiba points of interest.
We'll try to answer all your questions including:
Things to do in Odaiba at night
Things to do in Odaiba for free
Fun things to do in Odaiba for teens
Things to do in the Odaiba area
Read Roam the Gnome's ULTIMATE GUIDE to ODAIBA travel guide below, and add your favourite Odaiba attractions from the list of 46 onto your Tokyo itinerary.
Disclosure: This article contains affiliate links. If you make a purchase after clicking on one of these links, we may receive a small commission at NO extra cost to you.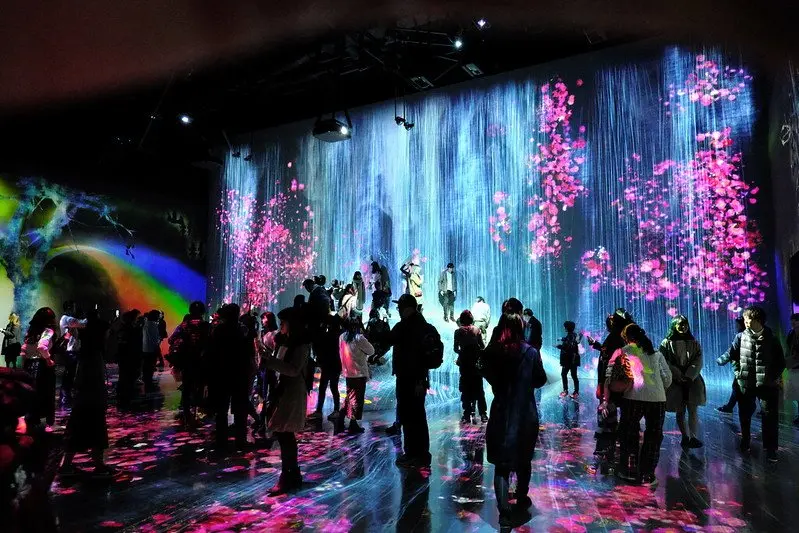 Image credit: Tosh Chiang via Flickr CC BY 2.0
46 BEST THINGS TO DO IN ODAIBA TOKYO!
NEW ADDITION! Team Lab Odaiba (Team Lab Borderless)
We've added these two newest arrivals to our list to make it a total of 46 things to do in Odaiba for kids.
(So forgive us starting with numbers #45 and #46.)
No.45: Team Lab Borderless ODAIBA
The BEST thing that has happened to Odaiba of late was the opening of the Team Lab exhibition at Aomi Station, Odaiba, Tokyo.
The official word is that Team Lab Borderless is:
"a group of artworks that form one borderless world.
Artworks move out of rooms, communicate with other works, influence, and sometimes intermingle with each other with no boundaries."
---
RELATED: Big List of the Best Things to do in Tokyo With Kids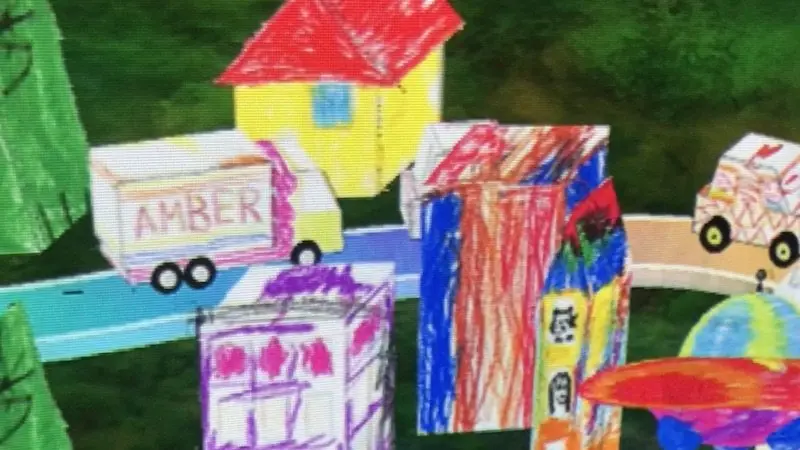 Digital Art!
In reality, it's a DIGITAL IMMERSION into a world of beauty & creativity!
Do not miss it!
Now everyone has heard of Odaiba, just because of this!
Word on the street though, is that visitors come for the exhibition, then move on again their turn, before even starting to explore Odaiba.
Don't do this.
Check the guide below so you don't miss out on the best Odaiba activities that are there year round.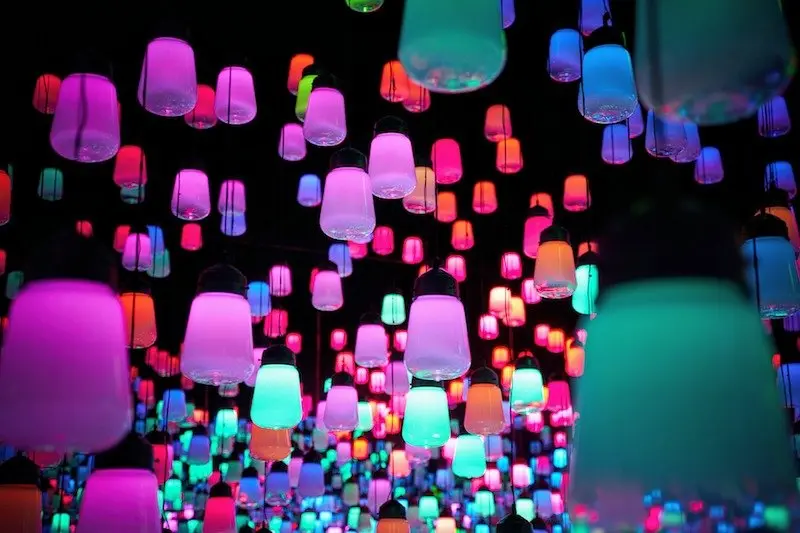 Image credit: Pixabay
#46 Team Lab Planets TOYOSU #46
Hot tip: There is a second TeamLab immersion experience called Team Lab Planets.
This TeamLab exhibition is in TOYOSU, an 11 minute train ride from Odaiba Mega Web.
There are colorful, mind blowing exhibitions featuring waterfalls, black holes, forests, fields of flowers, an infinite crystal universe, and autumn blooms.
Don't miss this 4D experience!
THE INSIDE SCOOP: Team Lab Borderless
Address:MORI Building DIGITAL ART MUSEUM: teamLab Borderless, Odaiba Palette Town 2F, 1-3-8 Aomi, Koto-ku, Tokyo, Japan
Opening hours:
Weekdays 10:00 – 19:00
Sun, Sat & Holiday – 10:00 – 21:00
Extended hours from July 13 to September 1: every day 10: 00 – 21: 00
Last entry 1 hour before the museum closing time.
Closed 2nd & 4th Tuesdays
Entry Fees:
Access:How to get to Team Lab Borderless
teamLab Borderless is on the 2nd floor of Palette Town next to the entrance to the giant ferris wheel.
Go to the second floor of Palette Town, and go through the MEGA WEB building towards the giant ferris wheel.
Since Google Maps does not display the correct route, please set the Google Maps destination to "MEGA WEB TOYOTA City Showcase"
This venue is teamLab Borderless in Odaiba. This is not the Mori Art Museum in Roppongi.
The exhibition teamLab Planets is in Toyosu. Please be careful not to go to the wrong venue.
URL:Click here
Map: Click here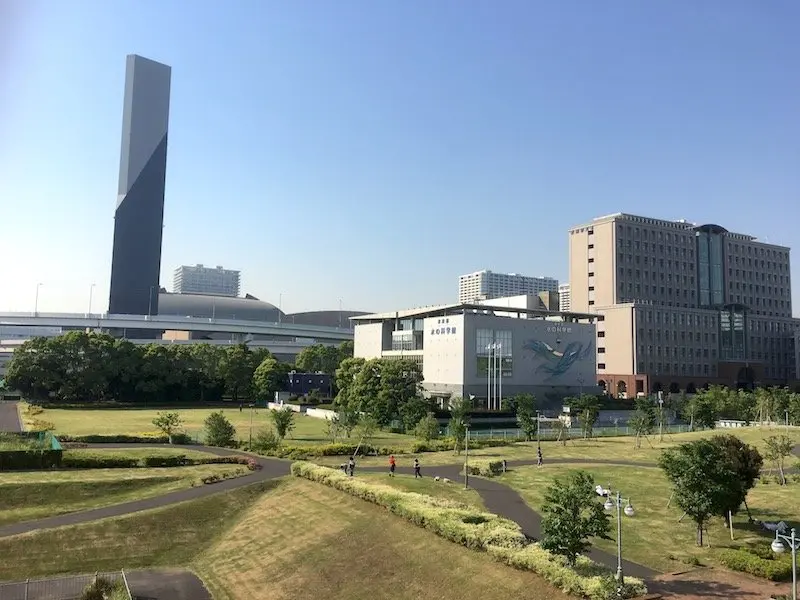 What is ODAIBA?
Odaiba is a giant island of reclaimed land across the Rainbow Bridge from the centre of Tokyo, built initially for defence purposes in the 1850s.
Mid century, plans were established to change it to a seaport district, and from there, it has now grown into a major commercial, business, residential and entertainment area.
It's now home to:
Fuji Television
Tokyo's Big Sight Convention Centre
Multi-level shopping centres including Decks Tokyo Beach, AQUA City shopping mall, DiverCity, and Venus Fort.
There's also a number of SUPER FUN museums, and places to visit that kids will go crazy for!
Odaiba is TOP of our MUST-DO Tokyo districts to visit for family travel in Tokyo, and with this list of places to visit in Odaiba, you're all set.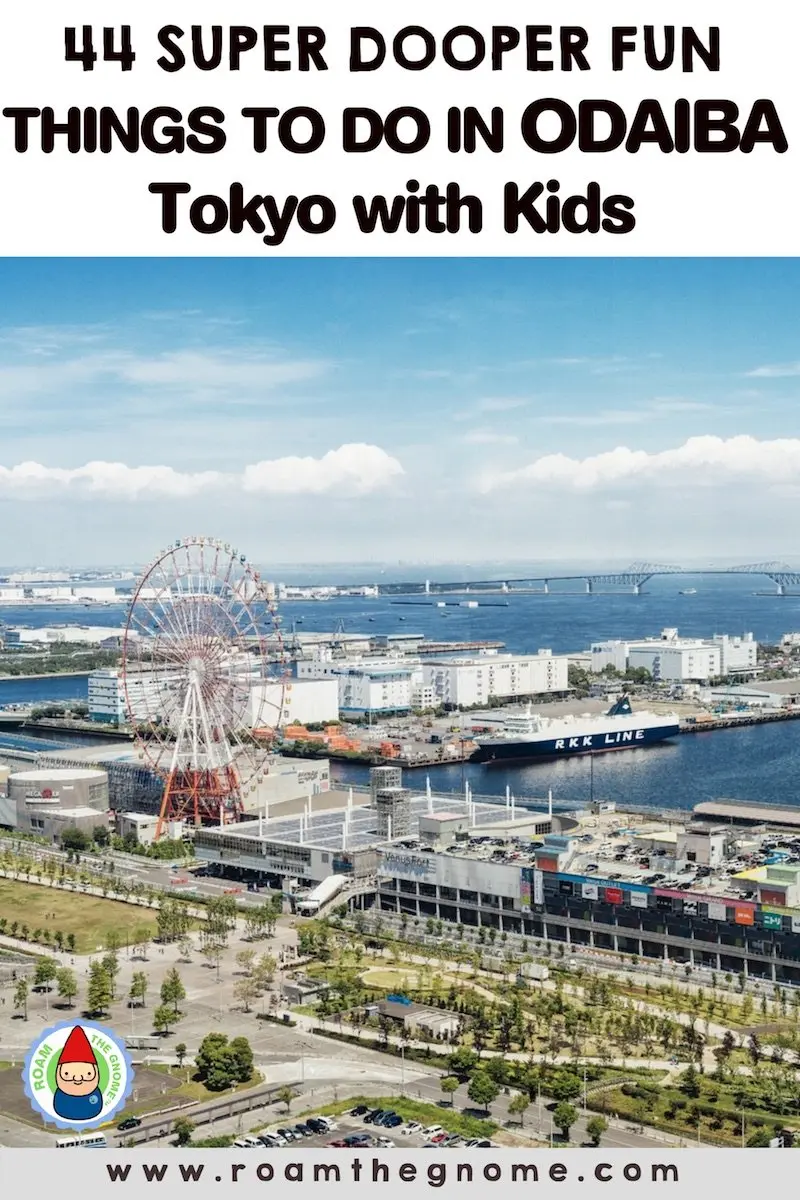 HOW TO GET TO ODAIBA POINTS OF INTEREST
Although Odaiba is accessible by car, most people come to Odaiba via the Yurikamome electric transit service from Shimbashi across the Rainbow Bridge.
My kids LOVE this monorail-like train.
It's actually NOT a monorail though.
The transit service is more like a car, with four rubber wheels, that travels along a concrete elevated private road, powered by electricity.
The trip from Shimbashi Station to Odaiba is the smoothest public transport ride we've ever taken, strangely quiet, and DRIVERLESS!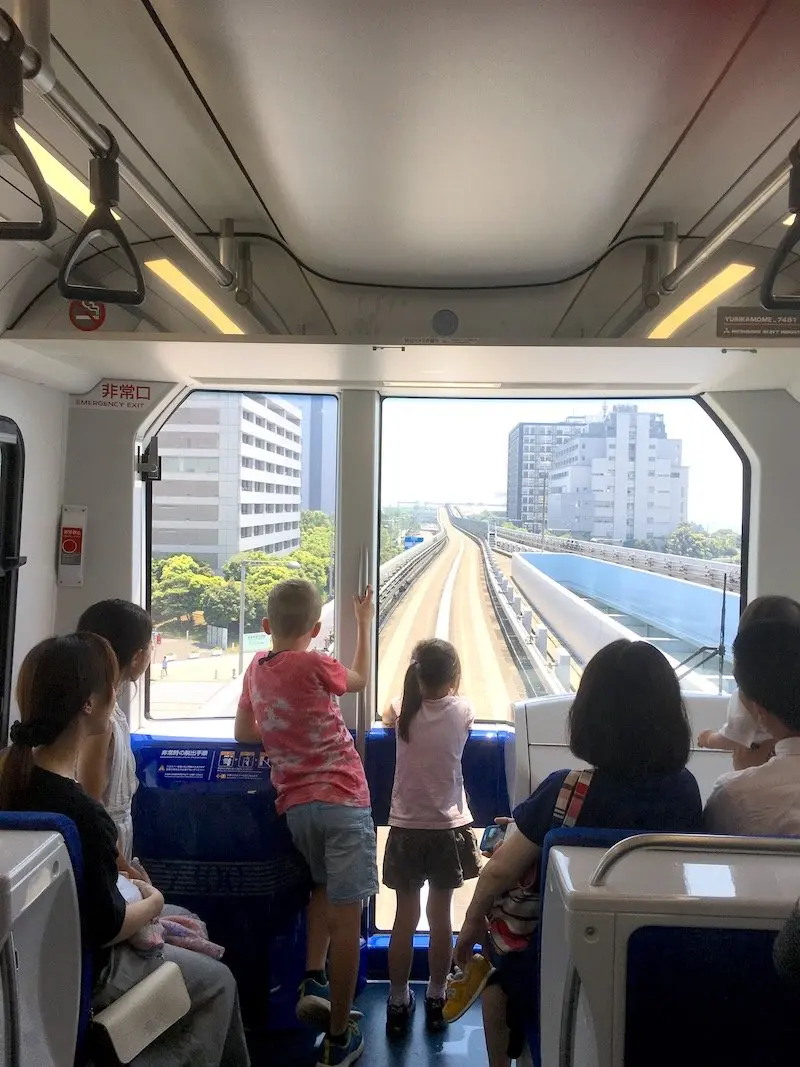 Yurikamome line
Yes, it's fully automated which means the kids can sit right up front and stare out the king-sized windows as you spiral and gain speed up the hill to cross the Rainbow Bridge to Odaiba.
Pick the closest stop to your first attraction (there's 14 stops along the track) then explore the island by foot.
Hot tip: Bring a stroller for younger kids.
Odaiba on a sunny day is the ultimate family day out in Tokyo.
The wide walkways, open space, and places for kids to be kids is unparalleled in Tokyo.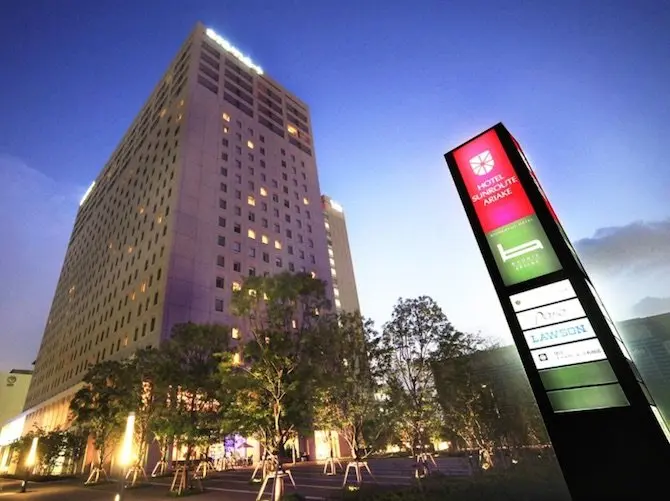 BEST ODAIBA HOTELS
Where to stay in Odaiba?
We highly recommend staying on Odaiba Island if you have the budget.
There are only a small number of family hotels in Odaiba on the Island so we've gathered them all up.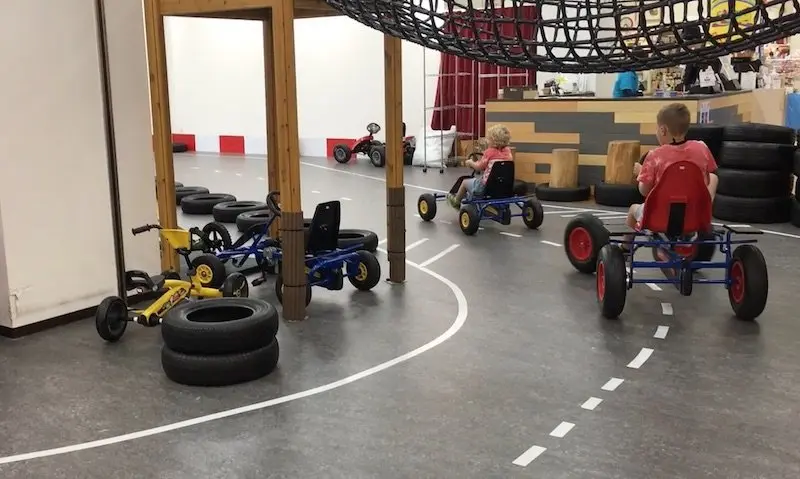 FUN THINGS TO DO IN ODAIBA WITH KIDS & FAMILY
We've set the activities in logical order so you can follow along in an anti-clockwise route around the island.
We cannot wait to go back to Odaiba, we've so much more to see and three days is just not enough.
If you are travelling with kids, on a family trip to Tokyo, we know you'll love it as much as we do. Is Odaiba for kids?
It's that and so much more.
(Detailed posts of individual attractions, with lots of photos coming shortly)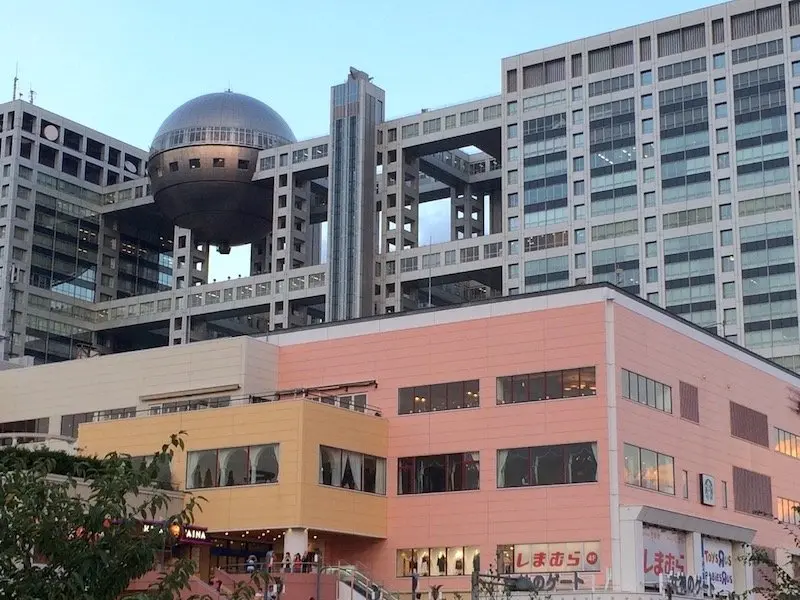 AQUA City, DECKS Tokyo Beach to the left, and Fuji Television behind.
ODAIBA TOKYO – the ULTIMATE Family Destination in Tokyo!
What to See in Odaiba for kids?
Odaiba has a bucketload of attractions for kids.
The best way to sort them is by their location, or building.
NB: We are currently writing up our backlog of stories about Odaiba points of interest. Check back soon to read our reviews of each of the Odaiba points of interest listed below.
DECKS TOKYO BEACH
Start here for all the best Odaiba kids attractions.
No.1: Tokyo Trick Art Museum
Bring your camera to capture hilarious 3D images with your kids.
DECKS, Seaside Mall 4th, floor.
No.2: Nicopa Indoor play centre.
A fun indoor playground for the under 8's.
DECKS Island Mall, 4th Floor.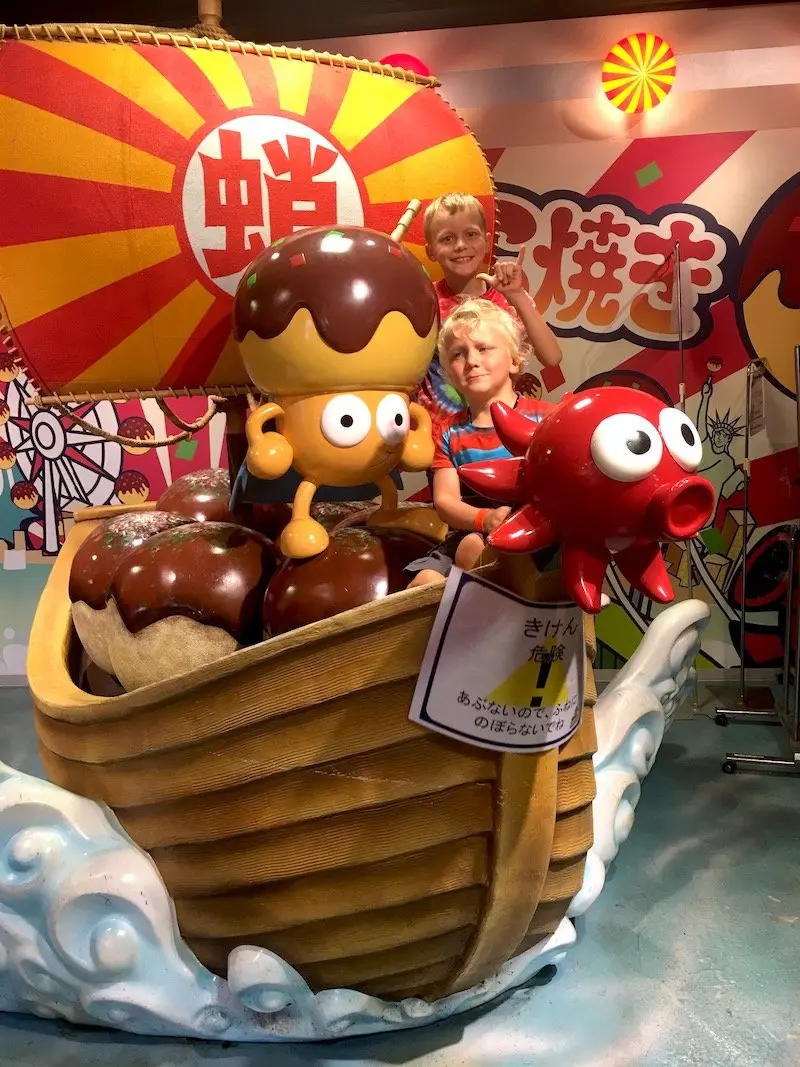 No.3: Odaiba Takoyaki Museum.
More like a Takoyaki eating hall than a museum, we dare you to try this popular food at this quirky tourist attraction.
DECKS, Seaside Mall, 4th floor.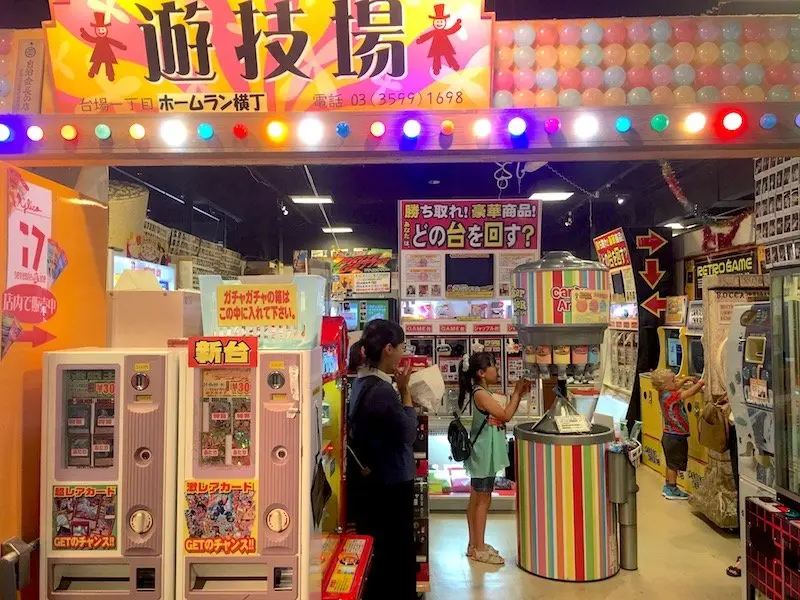 No.4: "Daiba Itchome"
Buy lollies and souvenirs and play retro Games in this 'kawaii' shopping arcade.
DECKS Seaside Mall, 4th floor.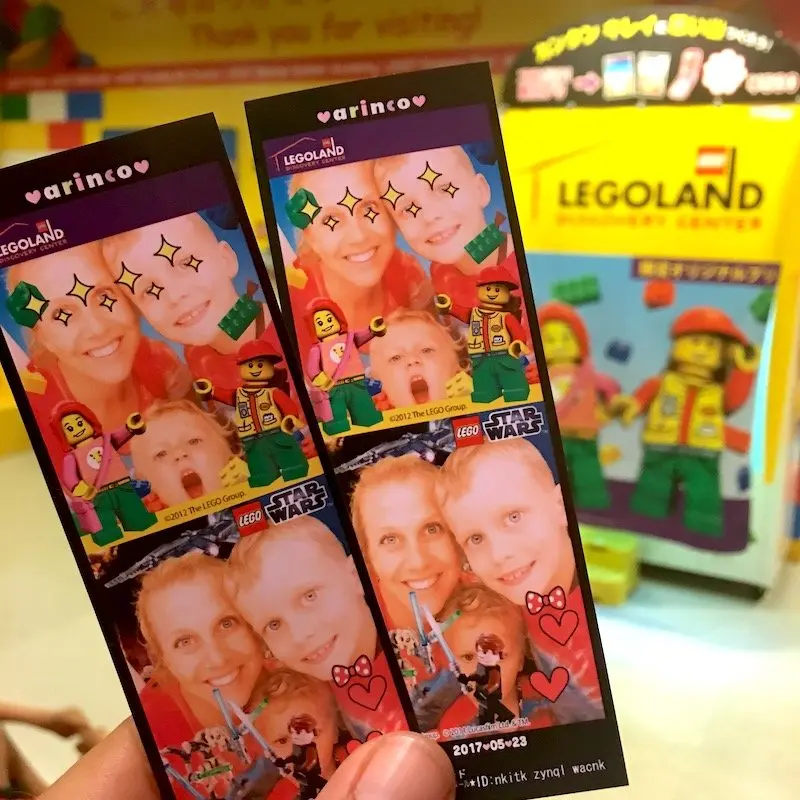 No.5: Legoland Japan Odaiba
Join the LEGO fans at this interactive Legoland Discovery Center Tokyo.
If your kids like LEGO even a tiny bit, pay a visit.
There's LEGO rides, interactive LEGO displays, a place to build LEGO cars and race them (Racers Build and Test), an indoor playground, ball games, giant LEGO models including a dragon and the City of Tokyo.
There's also hands-on workshops they can join in.
DECKS Seaside Mall, 7th floor.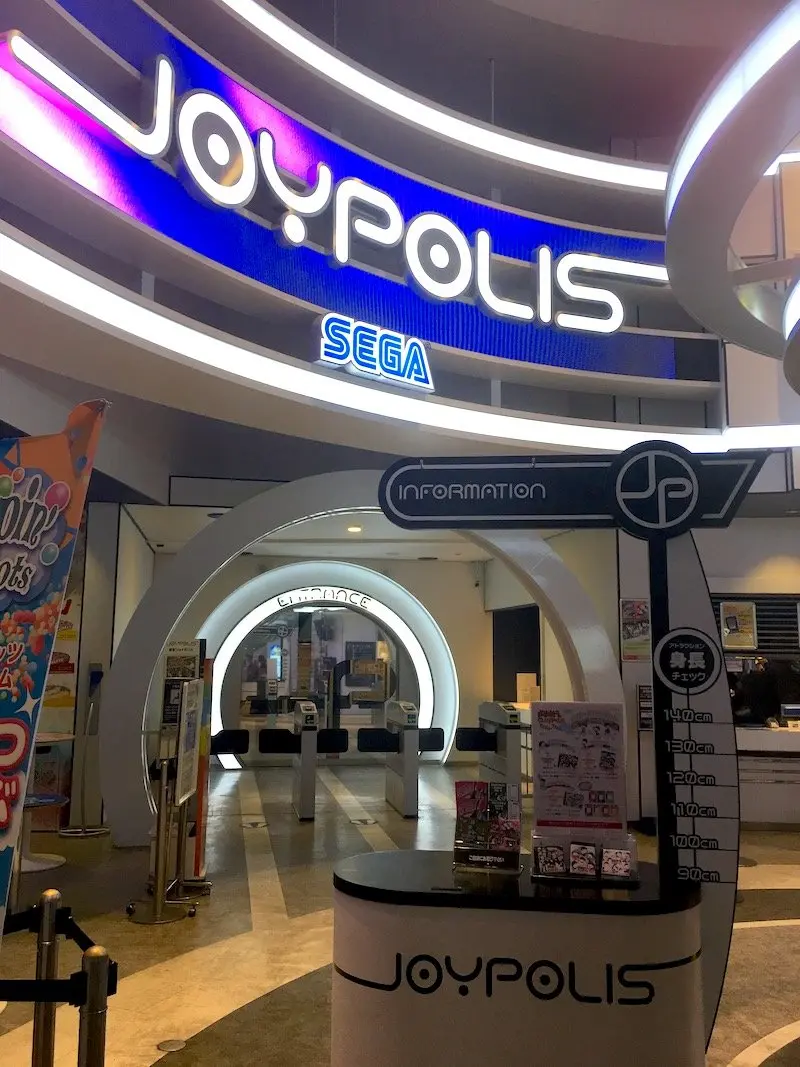 No.6: Tokyo Joypolis
Play futuristic games at Tokyo Joyopolis, perfect for teens.
DECKS, Seaside Mall, 3rd – 5th floor.
No.7: Madame Tussauds Wax Museum Odaiba
See all the stars in wax at Madame Tussauds Tokyo.
DECKS Seaside Mall, 6th floor.
No.8: Decks Tokyo Beach Island and Seaside Malls
The DECKS Tokyo Beach Island and Seaside Malls are filled with fabulous shopping and restaurants.
Shops include:
ABC mart
Billabong
Daiso 100 yen store, and
Bills restaurant.
It's our favourite Odaiba shopping mall.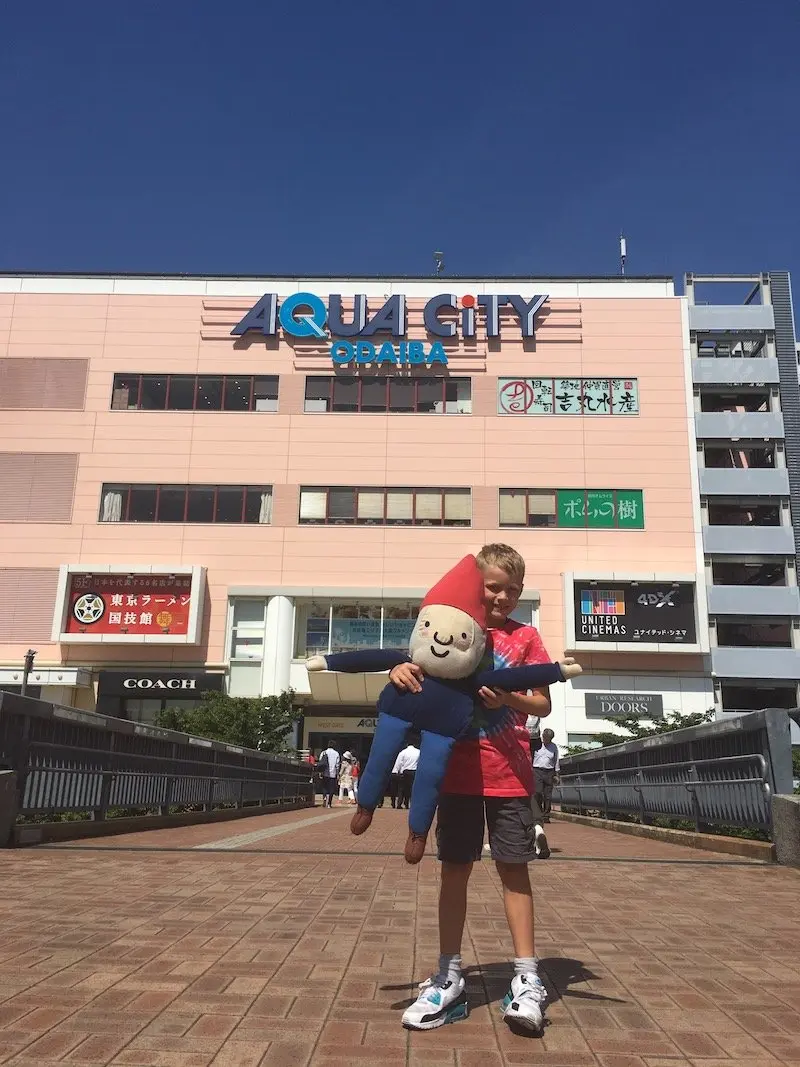 AQUA CITY ODAIBA
Aqua City is full of Odaiba things to do.
Head on in.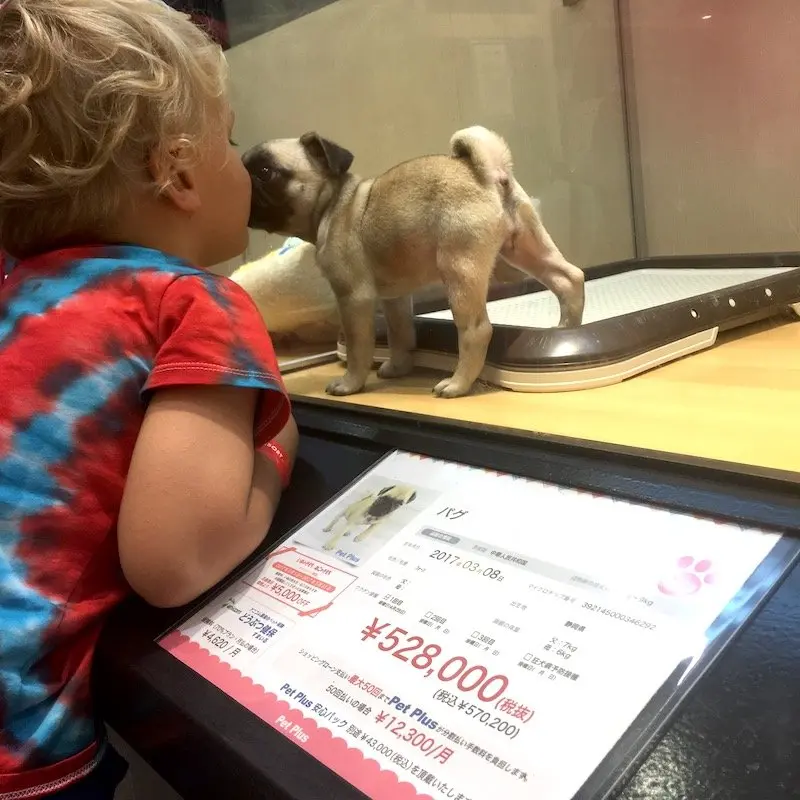 No.9: Check out the Pet Shops
For an unusual quirky Tokyo experience, check out the Pet stores (and the price of the puppies and kittens on show!) on the 1st floor of AQUA CITY.
Look out for the Pet Bakery – yes, it's full of cakes and confectionaries for those spoiled pups.
Kids will adore it.
Just for giggles, want to know how much this puppy in the window is?
Yes, that's $5280 yen, or close on $5500 AUD!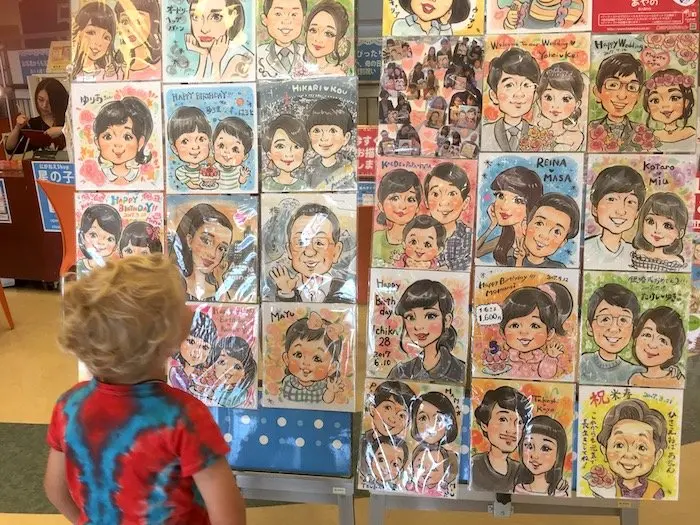 No.10: Hoshinoko Caricature Pictures
Have your portrait drawn in the most 'kawaii' caricature at the Portrait Shop Hoshinoko on the 4th floor.
No.11: Resort Aquarium at Aqua City
Check out the Resort Aquarium on the 3rd floor (right next to the cutest "kawaii" knick knack shop we've ever seen, Flying Tiger Copenhagen)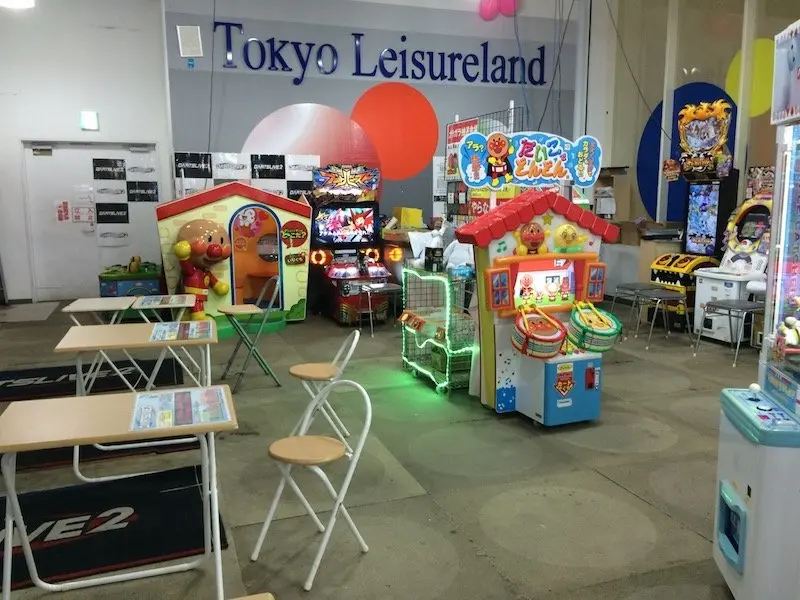 No.12: Tokyo Leisure Land
Visit Tokyo Leisureland on the 4th floor and try Purikura, the Japanese craze of taking sticker photos in a photo booth and decorating them with fun emojis, patterns, and text.
There's tonnes of Japanese arcade games to play, claw machines, and giant (and child-size) Japanese drums to beat in time with music.
No.13: Sony Explora Science
Explore fun technology at the Sony Explora Science, AQUA CITY. A
science museum that explores light and sound with tonnes of hands-on activities.
5th floor.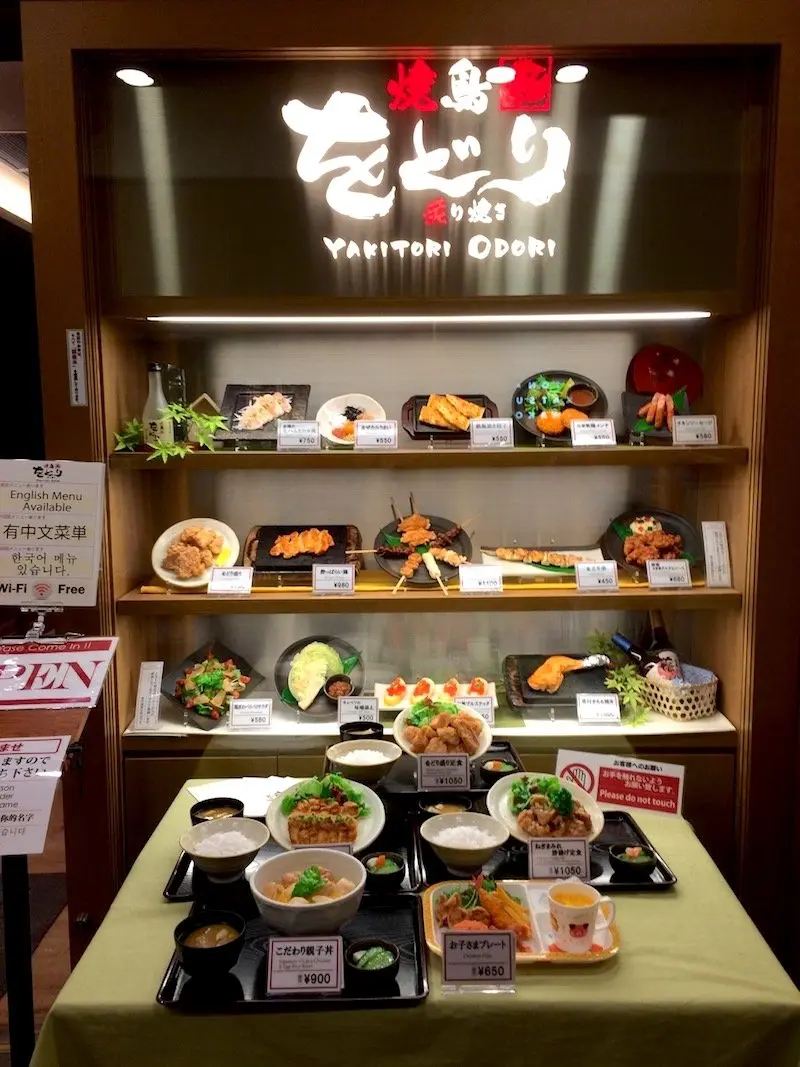 No.14: Aqua City Odaiba Restaurants
Here's a list of the AQUA CITY restaurants and food outlets you must try:
Eggs n Things – 3rd floor
KuKuRuZa popcorn – 3rd floor
Matcha tea at Starbucks – 3rd Floor
Gonpachi grilled skewers – 4th floor,
Tonkatsu – 5th floor
Eat at one of six traditional Japanese Ramen restaurants – 5th floor
Cute kids food at the Fuji TV Kids Cafe – 6th floor
Plenty more choices at the food hall – 6th floor
If you are wondering what to eat in Odaiba, this is a good start.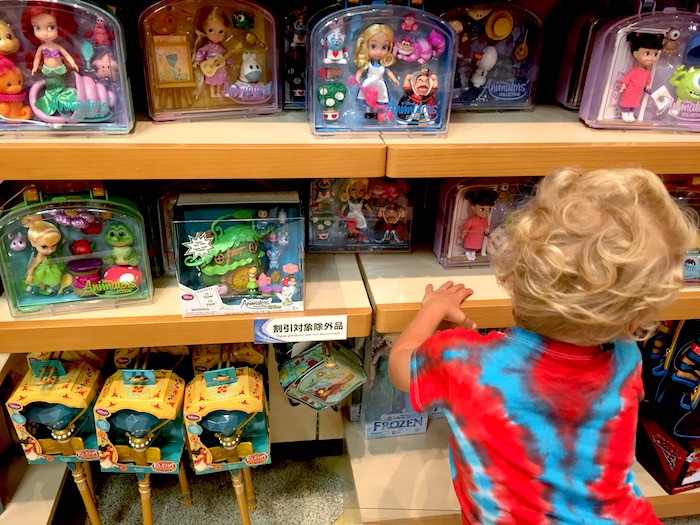 No.15: Aqua City shopping.
Popular kids and family shops include:
Third Floor Aqua City
Disney Store
Gap
Birkenstock
Adidas
Lacoste
Swatch
Coach
Gap and Gap Kids
the Coca Cola store
Fourth Floor Aqua City
Bic Camera
Our favourite souvenir shop in Tokyo – Daiso 100 yen store
Kumazawa Book store.
Allow LOTS of time to wander this Odaiba Mall.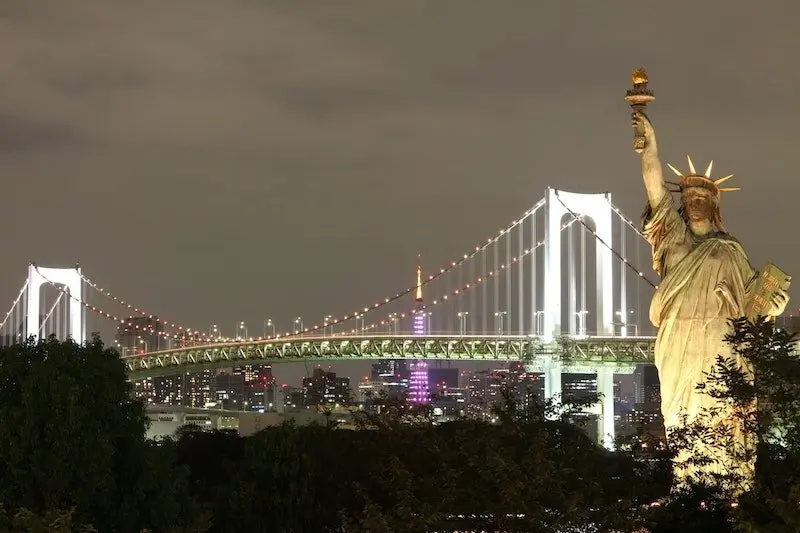 Image credit: Kazuend via Unsplash
FUN PLACES TO VISIT IN ODAIBA
No.16: Rainbow Bridge Tokyo at night
Head outside towards the Odaiba Seaside Park and catch a glimpse of the famous Rainbow Bridge.
It lights up at night in a glorious rainbow hue.
No.17: Odaiba Statue of Liberty
Take a picture with Japan's version of the Statue of Liberty in front of AQUA CITY.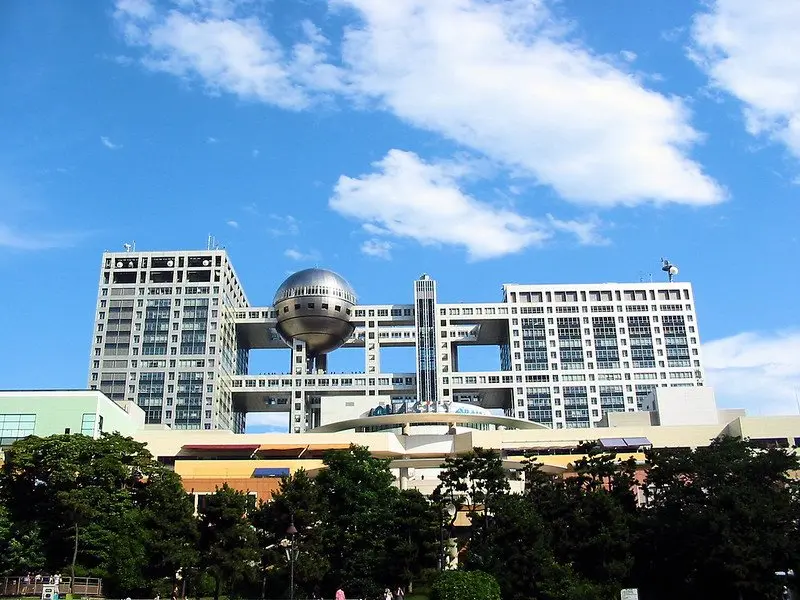 Image credit: Doc Chewbacca via Flickr CC BY SA 2.0
FUN THINGS TO DO IN ODAIBA
No.18: Fuji TV Building
Go inside the Fuji Television Station, visit Japan's only Chuggington shop and the limited-time Chibi Maruko Chan café.
There's also a Fuji TV shop where you can buy all the famous Japanese tv stuffed toys!
No.19: Shiokaze Park
Run off steam at the Shiokaze Park to the left of AQUA CITY facing the bridge.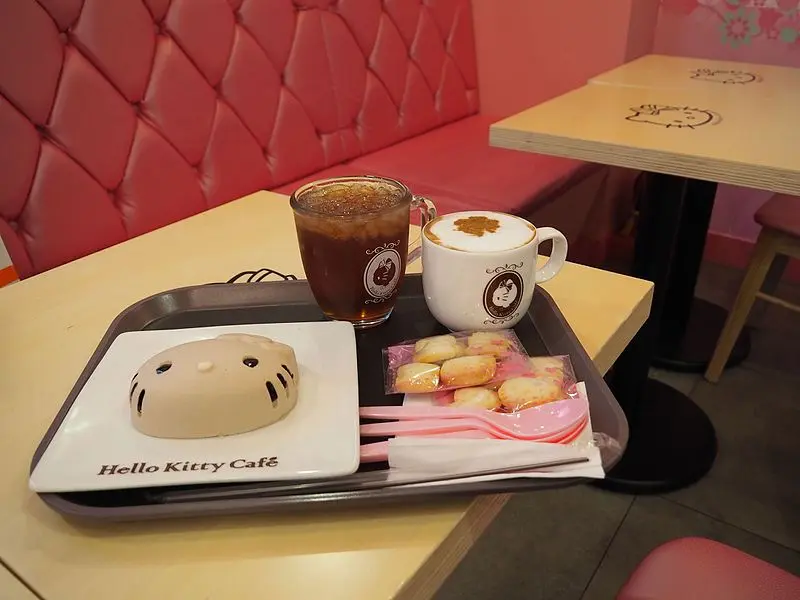 Image credit: Laica Ac via Wikipedia CC BY SA 2.0
DIVERCITY TOKYO
No.20: DiverCity Tokyo Plaza Food
Diver City Odaiba has a Hello Kitty Cafe on the 4th floor, and a bakery selling Hello kitty breads on the 2nd floor
The largest food court in Odaiba is on the 2nd floor of Diver City Tokyo AND there's plenty more restaurants on the 6th floor of DiverCity too
No.21: Wabi Sabi Gifts
Check out the Wabi Sabi shop at DiverCity Tokyo Plaza on the 2nd floor for beautiful gifts and homewares all displaying the Japanese art of appreciating the beauty in the naturally imperfect world.
No.22: DiverCity shopping mall
Shoppers will die for the shops at DiverCity Tokyo.
Check them out on this detailed Store Floor Map.
No.23: ROUND1 Stadium
ROUND1 stadium is on the 6th floor of DiverCity and is one of Tokyo's largest entertainment parks. Kids can:
play air hockey
play table tennis
go bowling
step into a batting cage and strike a few baseballs
play video games
ride balance scooters and segways
tackle bubble football
rollerskate
ride a bucking bull
play frisbee
AND sing Karaoke.
There's also a zone for smaller kids with a ball pit and indoor playground. Buy a day pass – it's the best value.
Hot tip: Snap a pic of the price list and use Google Translate to work out current prices.
No.24: HLNA Skygarden Skate Park
If your kids skateboard, check out the HLNA Skygarden Skate park on the 7th floor. It's an open-air skate park you won't believe.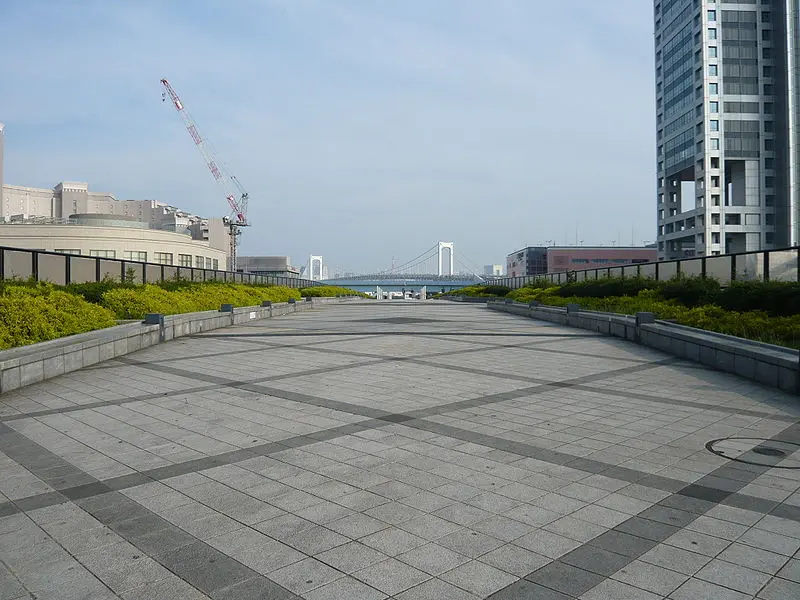 Image credit: Ryoma35988 via Wikipedia CC BY SA 3.0
WHAT TO DO IN ODAIBA WHEN THE KIDS ARE GRUMPY
No.25: Wander the Symbol Promenade
Theleads you from DiverCity to the area of museums (if you follow it as far as you can, you'll end up over the bridge and at the Water Science museum – see below)
It's a lovely wander and great for kids to run off steam without trying to quieten them down too much.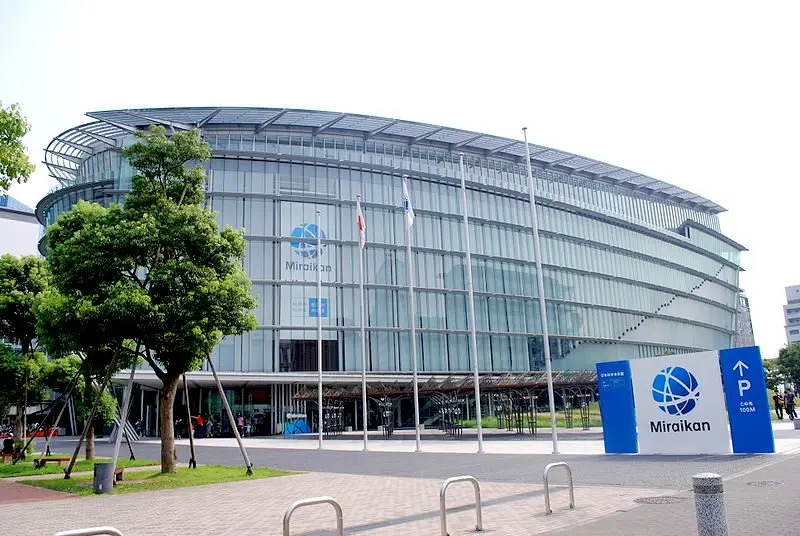 Image credit: Katorisi via Wikipedia CC BY SA 3.0
ODAIBA MUSEUMS
No.26: Odaiba Science Museum – Miraikan
This place pictured above is a MUST DO with kids – it's the National Museum of Emerging Science and Innovation (Miraikan).
Plan to spend at least half a day when you visit Odaiba.
At least.
It's chockoblock full of hands on activities!
No.27: Maritime Museum
Stop by the Museum of Maritime Science and step aboard "Soya", an ice-combatting cargo ship built in 1965.
It has been a lighthouse supply ship, active as an Antarctic observation ship for 3 years, and a patrol ship of the Japan Coast Guard until he retired and was moored here back in 1953.
There's also public exhibits in the main hall and seasonal activities for the kids. Check websites for dates.
No.28: National Institute of Advanced Industrial Science and Technology
The AISA Tokyo Waterfront National Institute of Advanced Industrial Science and Technology is free.
Kids can check out the Life Technology Studio at the AIST Waterfront center.
This is a small area featuring hands-on activities, computers and displays including robotics related to medicine and healthcare.
No.29: Tokyo Port Museum
Learn about the Tokyo waterfront at the Tokyo Port Museum. Worth a trip for the magnificent views of the Container Ships in the harbour and to see the models and displays.
No.30: Tokyo Customs Info Plaza
We haven't been there but the Tokyo Customs Info Plaza is open to visitors and even has a Kids character, "Custom Kimi", a customs image character modelled on a drug detection dog so might be worth a visit.
(Let us know!)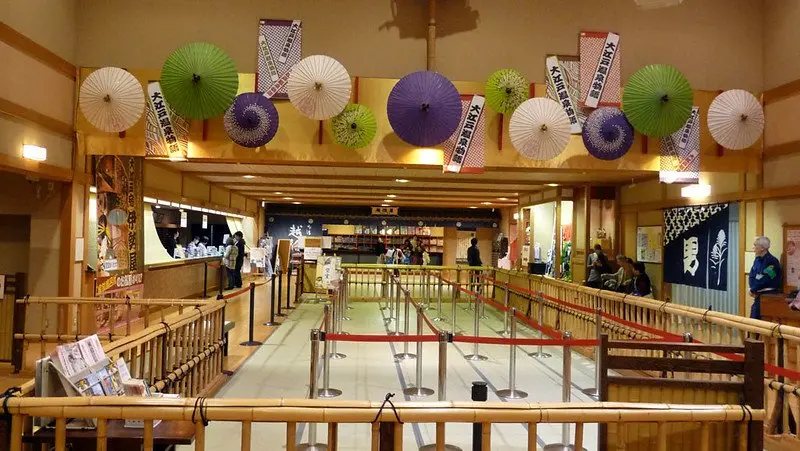 Image credit: Dozodomo via Flickr CC BY SA 2.0
ODAIBA ONSEN
No.31: Oedo-Onsen Odaiba Monogatari
Experience a Japanese "hot springs" onsen without travelling too far.
The Tokyo Odaiba Oedo Onsen Monogatari is just the place for a taste test.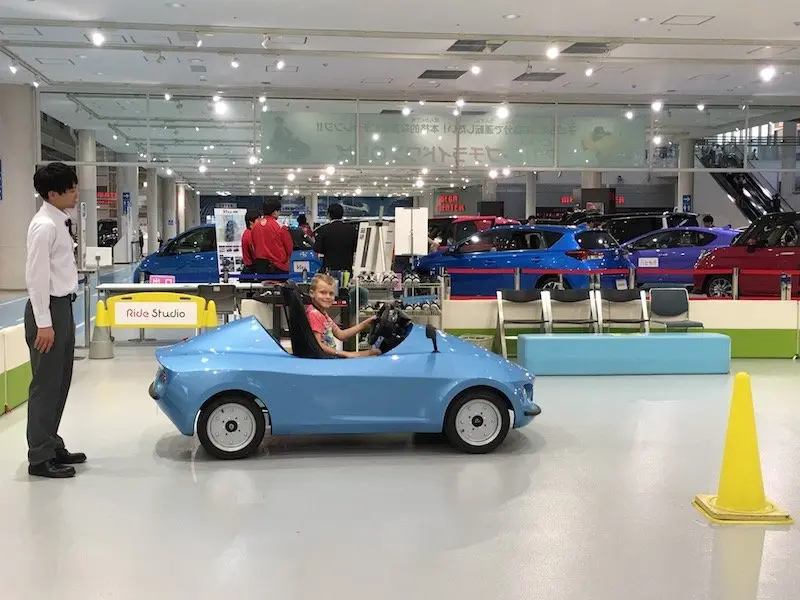 VENUS FORT TOKYO
Venus Fort is the home of two awesome Odaiba kid attractions, Aneby Trim Park, and Mega Web.
Read on…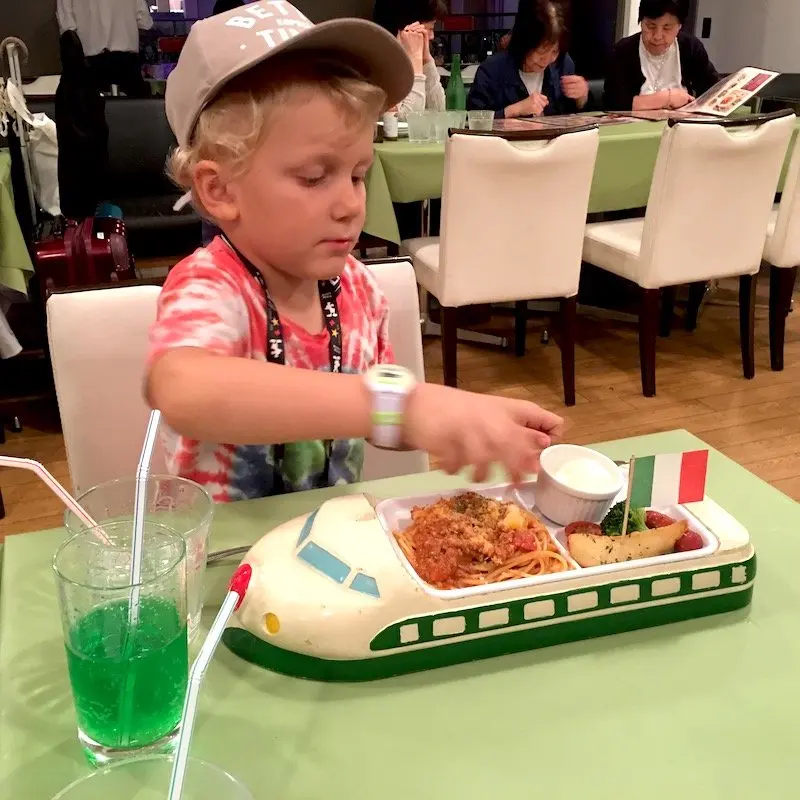 No.32: Venus Fort Odaiba Outlet Mall
You could spend a whole day here alone.
The Venus Fort food court has lots of family restaurant options. We chose to eat in an Italian restaurant that served spaghetti in a Shinkansen bento tray!
The Aneby Trim park play area (see entry below) is a MUST do for kids!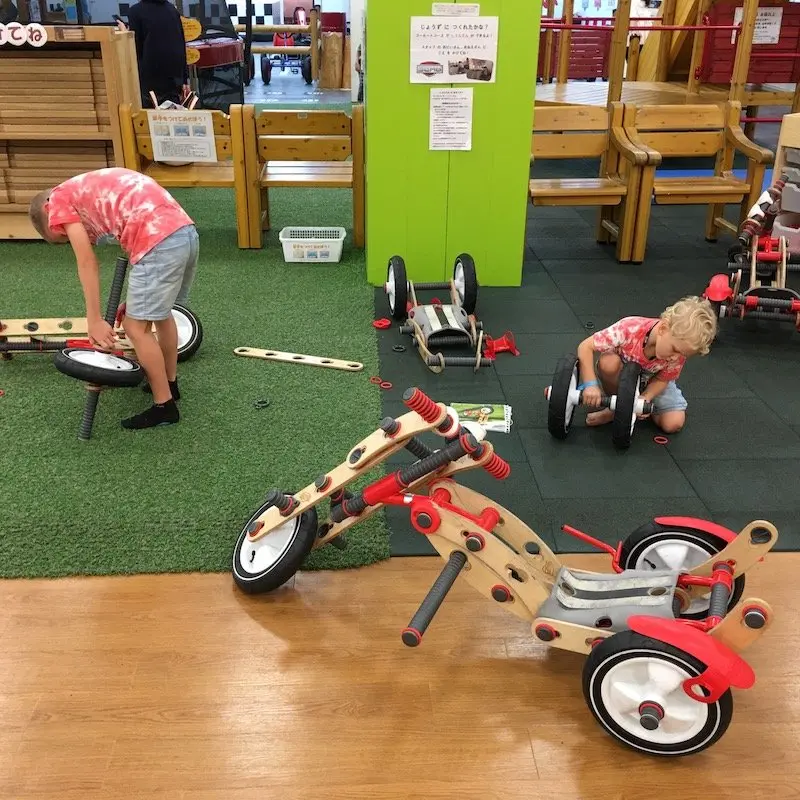 No.33: Aneby Trimpark Odaiba
Aneby Trimpark play area at Venus Fort was one of our favourite places to visit in Tokyo on our last trip.
This indoor playground in Tokyo was the BEST indoor play area for kids we've ever seen in Japan, with SO many activities for kids of all ages.
The boys loved:
driving the pedal carts around the race track
playing with the CAT excavator ride ons
playing parkour on the indoor fort
jumping on the indoor tramp
building with blocks
playing shop
keeping house, and
reading books.
But building these hot rod bikes topped the lot.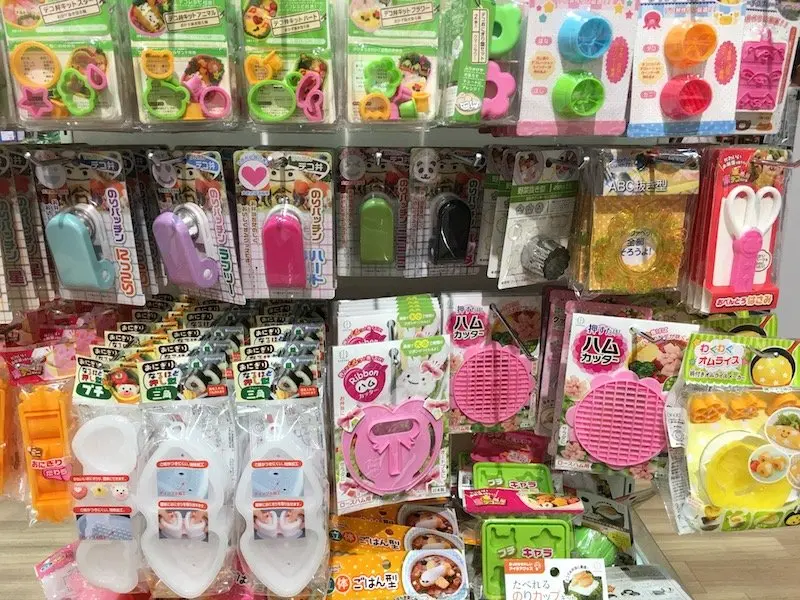 No.34: Seria 100 Yen Shop
Shop at this upmarket 100 yen store "Seria" at Venus Fort.
Visit this Tokyo Odaiba shopping spot for awesome Japanese souvenirs and gifts.
You'll find:
an amazing collection of budget Japanese tableware
Japanese chopsticks
Japanese bento boxes and bento accessories
Japanese kitchenware
cute household goods
furoshiki wrapping cloths and Japanese fans
a HUGE selection of Disney goods and Mickey goods
hair accessories and fashion finds
Japanese stationery
We LOVE Seria.
Hot tip: Give your kids 500 yen each to spend. They'll be amused for hours!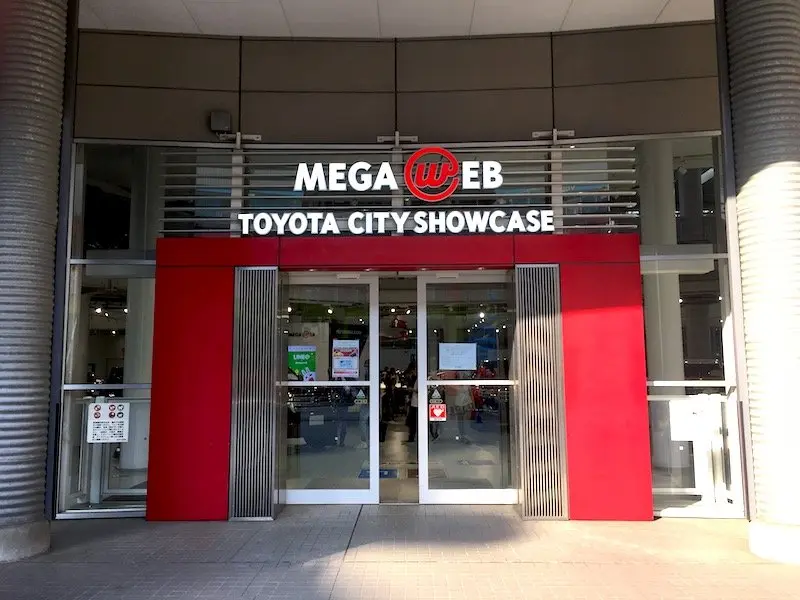 No.35: Mega Web
MEGA WEB is a FREE "theme" park featuring:
a showcase of Toyota cars in the Toyota Line Up Zone
Ride One where you can test drive a new car
a History Garage
a Motorsport Simulation Zone
a Global Discovery Zone
AND RIDE Studio where kids can test drive their own miniature cars!
No.36: Zepp Tokyo
Hang with musos at one of Odaiba's two live music venues. Don't be confused.
Zepp Tokyo is a music venue next to MEGAWEB, near the ferris wheel at Palette Town, featuring cool bands and live acts. It's one of a chain of four venues in Japan.
Zepp DiverCity live music venue is next to DiverCity shops.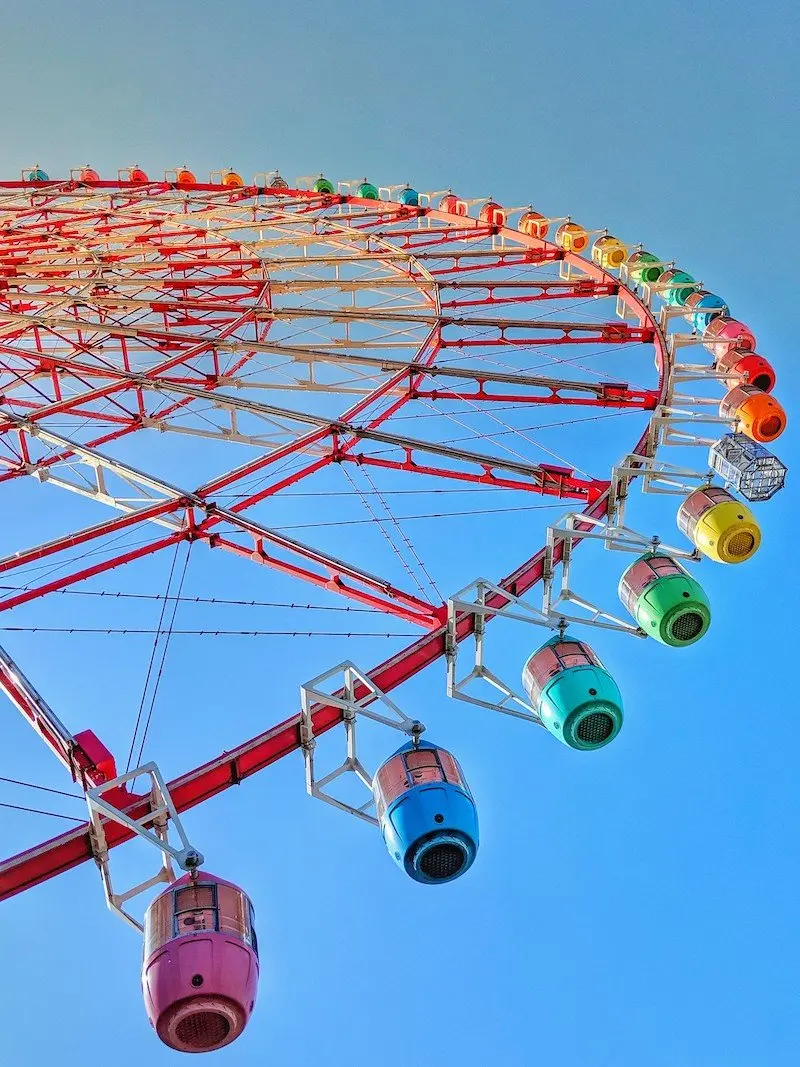 Image credit: Mark Gunn via Flickr CC BY 2.0
PALETTE TOWN ODAIBA
Palette Town Tokyo is yet another awesome place to visit with kids on Odaiba. If you are looking for things to do in Odaiba at night, this is the spot.
No.37: Tokyo Leisureland Odaiba
Tokyo Leisure Land, Odaiba Amusement Park at Palette Town has several floors of fun including:
arcade games
bowling
karaoke
batting cages
pool tables
ping pong
a Ninja Trick House
a haunted house
darts
fishing games
claw machines
Purikura photo booths
and Disney tsum tsum games for younger kids at mostly 100 yen per go.
If you are arcade fans, you'll love this.
Hot tip: we've heard a rumour the prizes in these machines are exclusive to Leisureland and NOT for sale elsewhere in Japan! Which means you might lay your hands on some select figurines from Star Wars, Dragonball Z, and Disney. Worth a 100 yen, or two!
No.38: Odaiba Ferris Wheel
Ride the Odaiba Ferris Wheel at night for spectacular views of the Rainbow Bridge.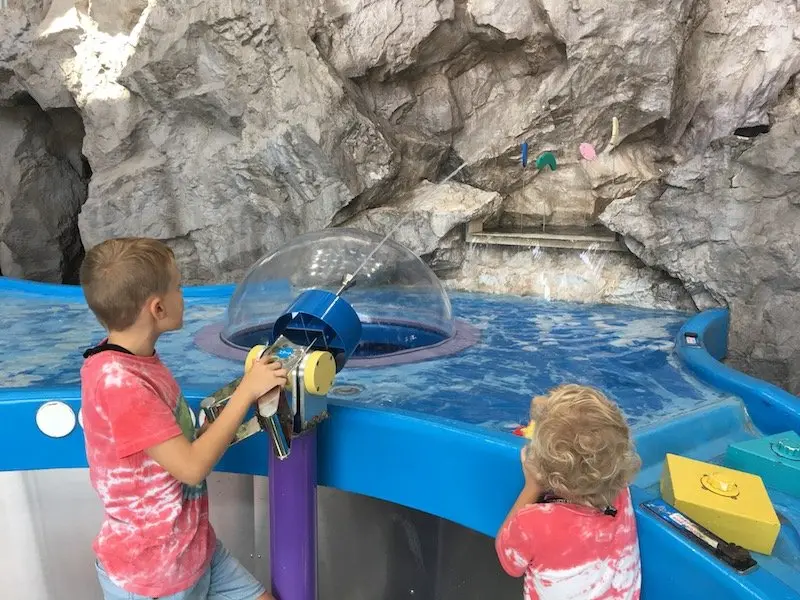 OTHER ODAIBA ATTRACTIONS
What to do in Odaiba after you've exhausted the list of things above… keep reading!
No.39: Tokyo Water Science Museum
At the other end of the bridge, enter the Tokyo Water Science Museum. One of the kid's favourites – with water, splashing and bath toys – it's a BIG win.
There's something else we absolutely LOVED to pieces, and it's the main reason we'd put this place at the top of our places to visit in Odaiba list.
Read about it here soon.
(For now, trust us. Go!)
No.40: Odaiba Sightseeing – Cosplay
Walk across the Dream Bridge and look out for Cosplayers doing photoshoots!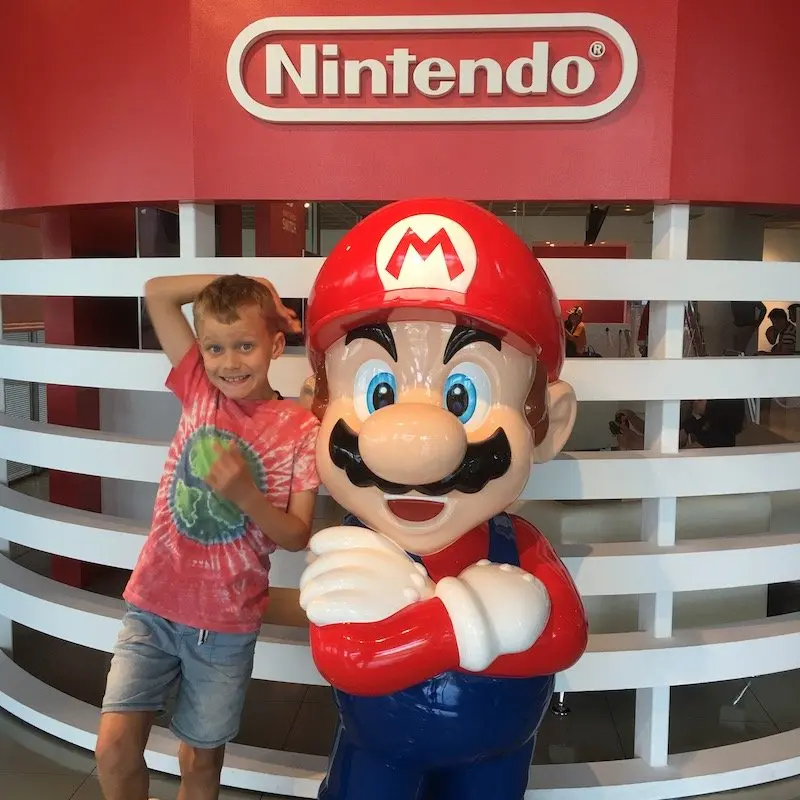 No.41: Odaiba Panasonic Centre Tokyo
It was an unexpected hit for Roam the Gnome and the boys.
We stayed THREE hours!
So many hands-on technology toys and games to explore, including the chance to play Super Mario Kart on Nintendo Switch at the Nintendo Game Front zone.
RiSuPia is also on the second floor is an experience-oriented museum for visitors to experience the fun of science and mathematics.
No.42: Tokyo Rinkai Disaster Prevention Park
There's experiential learning when you do the "72 Hour" tour at the Tokyo Rinkai Disaster Prevention Park, Sona Area Tokyo on the 1st floor.
Learn what to do if there was an Earthquake emergency and you had to survive the first 72 hours before help arrives.
More learning experiences on the 2nd floor too.
No.43: Tokyo Sewerage Museum Rainbow
Sounds gross, hey.
But surprisingly, there's plenty of hands-on activities and heaps of water-based fun things to do at the Tokyo Sewerage Museum "Rainbow"
No.44: Tokyo Big Sight Convention Center
Check out what Odaiba events are on at the Tokyo Big Sight Convention Center
There's plenty of public events including our favourite, the Handmade in Japan exhibition.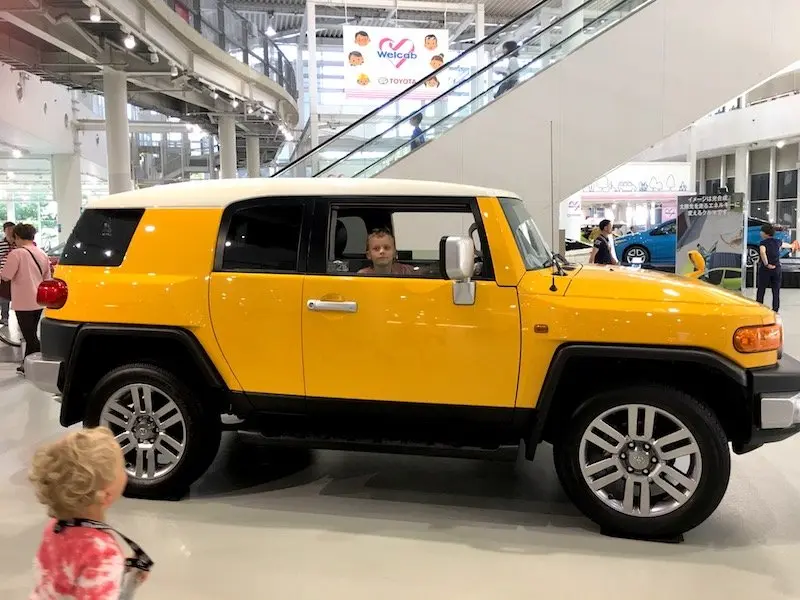 THE INSIDE SCOOP: What to do in Odaiba
Correct at time of publication on Roam the Gnome. Please check with venue for updates. We apologise in advance if there have been any changes we are unaware of. All prices in yen, unless otherwise stated
Odaiba was built initially for defence purposes in the 1850s.
Mid century, plans were established to change it to a seaport district, and from there, it has now grown into a major commercial, business, residential and entertainment area.
Address: Daiba, Minato 135-0091, Tokyo Prefecture
Yurikamome train fares
Admission to Odaiba Tokyo Island is free but expect to pay for the Yurikamome train line.
320 Yen per ticket from Shimbashi to Daiba.
Children under 6 travel FREE!
Check current ticket prices for the Yurikamome line here
Opening Hours of Odaiba Points of Interest
Early morning around 10am till late.
LATE means late!
Most entertainment venues, shops and restaurants are open till at least 9pm but some stay open till 11pm.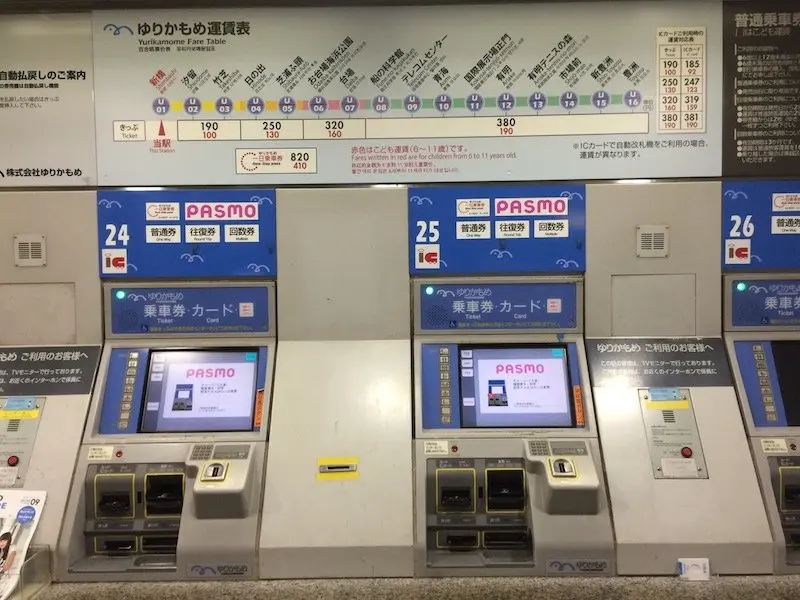 How to get to Odaiba City
Odaiba by train:
Getting to Odaiba Tokyo Bay from Tokyo's Ueno station, take the Yamanote line train to Shimbashi.
At Shimbashi, walk outside the station and head towards the Yurikamome line, Shimbashi station.
At the first level, you'll see two sets of stairs/escalators.
Take either left or right escalator (you'll end up on the same platform at the end) up to the next level
Ticket machines are on this level
Buy your tickets to U07 Daiba station (or your choice of station, depending on where to want to start).
Odaiba Train Map – Tokyo Yurikamome Line: Click here for a train station map.
Odaiba Map
Toadstool Rating: Odaiba Japan

Looking for MORE SUPER DOOPER FUN things to do in Tokyo?
Click the links in blue below for more Tokyo travel tips.