INSIDE: A sneak peek at the fun and fabulous Namco Namja Town in Ikebukuro Sunshine City, Tokyo.
Japanese theme parks for kids are SUPER FUN!
There's something endearing about the Japanese style of family entertainment with quirky mascots, and a curious take on children's entertainment and fun character-themed food.
This indoor theme park in Japan – Namco Namja Town in Ikebukuro – has all kinds of surprises.
Take a look inside below.
Disclosure: This article contains affiliate links. If you make a purchase after clicking on one of these links, we may receive a small commission at NO extra cost to you.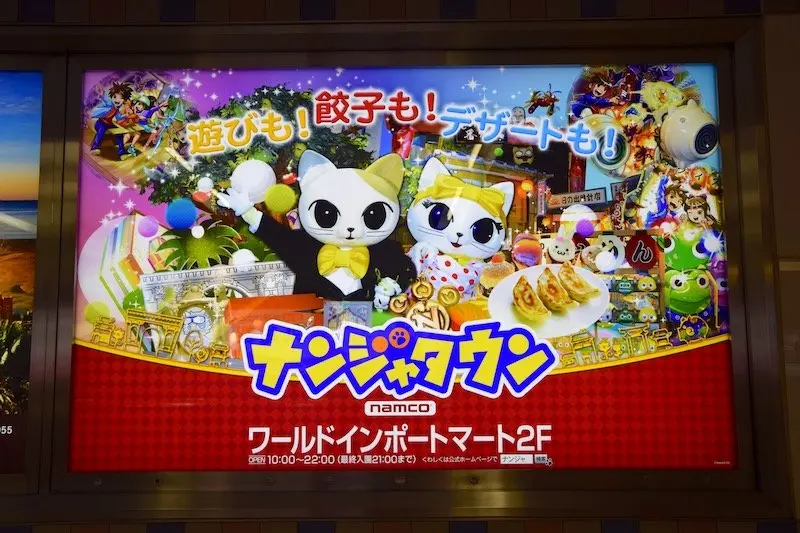 What is Namja Town?
Namco Namja Town indoor theme park in Tokyo at Sunshine City Ikebukuro is the perfect family friendly place for a laugh and a giggle with the kids.
If you are looking for things to do in Tokyo, or more specifically, things to do in Ikebukuro that are NOT packed with tourists, put Namco Namja Town on your itinerary quick smart.
They'll love everything about it, including the cute kawaii food at the Dessert Street inside.
Namco Namja Town Indoor Theme Park in Japan has a DESSERT LANEWAY!
Yes, you read that right.
A whole indoor 'laneway' of dessert shops.
Yum.
---
RELATED: Big List of the Best Things to do in Tokyo with kids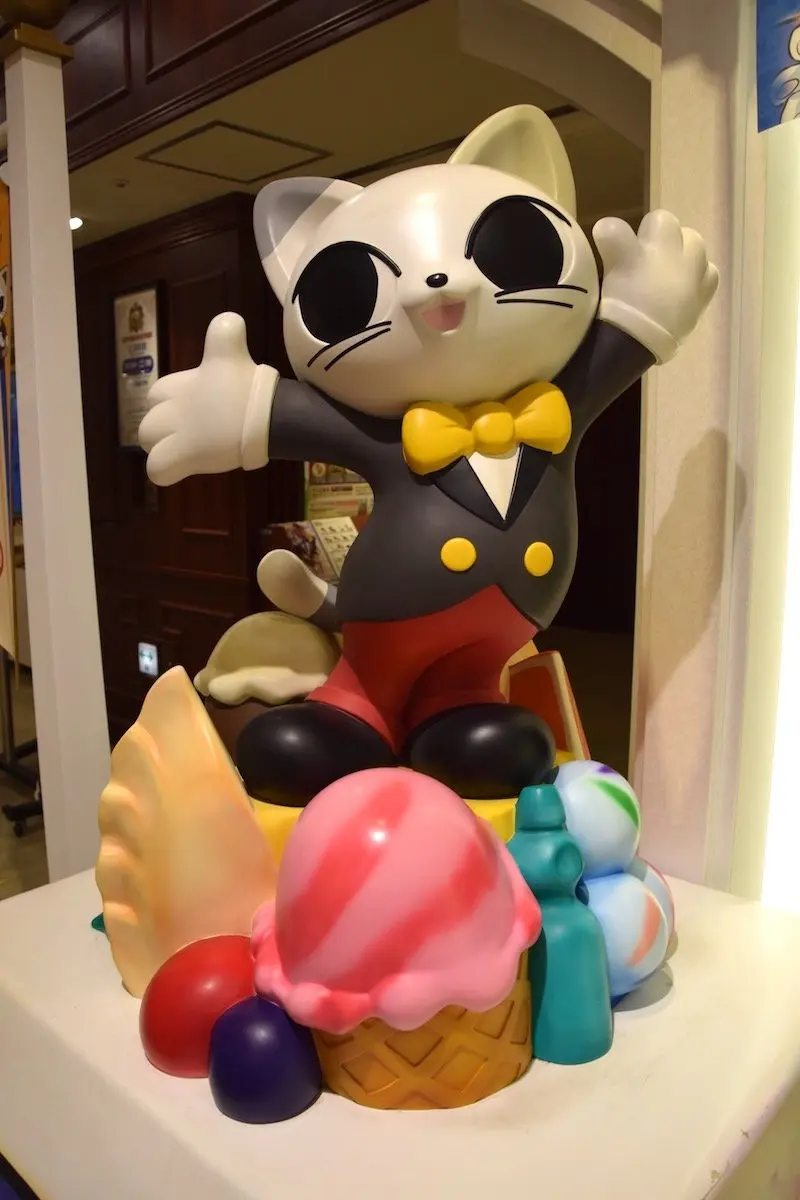 Namco Namja Town Sunshine City Tokyo
Looking for fun things to do in Sunshine City Tokyo?
You'll find:
Cute Food
Fun Ice Cream Flavours
Strange 'Rides'
Unusual Carnival Attractions
A very cute mascot!
Come for the food, stay for a sticky beak and a quick wander around, enjoy a ride or two.
But the main reason to visit Namco Namja town at Sunshine City Tokyo is to try at least six of the Japanese ice cream flavors at the BEST Ice Cream shop in Tokyo.
Pop it on your Tokyo itinerary!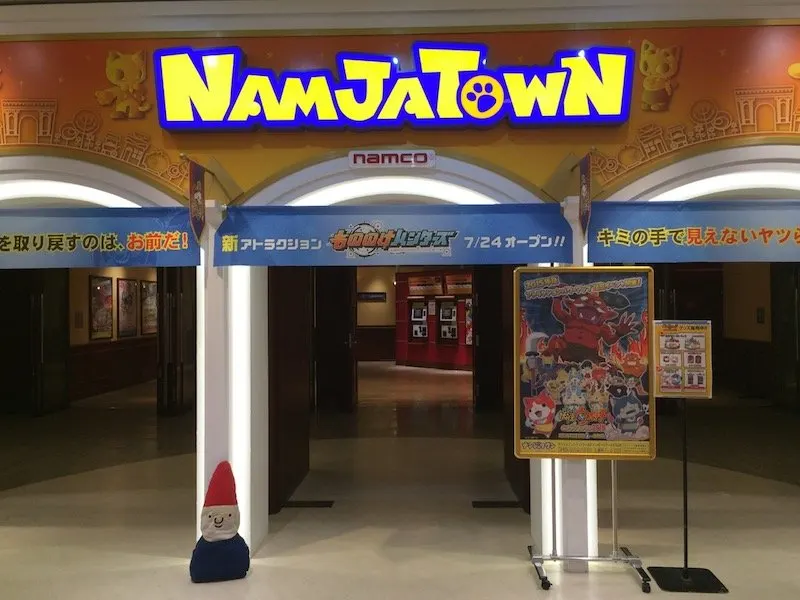 Entry to Namco Namja Town Ikebukuro
There are two choices when it comes to entry to Namco Namja Town at Sunshine City Shopping Mall.
You can buy an entry pass only, OR a passport style pass where all the attractions/rides are included.
We suggest saving your money and buying the entry pass only, as this place is mostly about the food for english speaking visitors.
The attractions and rides are all in Japanese, so without an interpreter or a guide, getting a grip on what you're supposed to be doing can be a little bit hit and miss.
You can try copying the adults or kids in front of you, or asking an attendant for help.
Otherwise, make it up!
Our hot tip for Namco Namja Town in Ikebukuro is, if you or the kids wish to jump on a ride, buy individual tickets to attractions.
They have coin vending machines throughout Namco Namja Town theme park.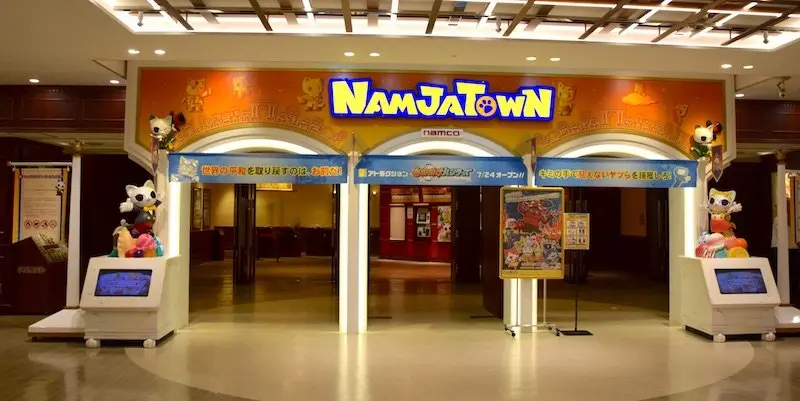 Japan's Largest Indoor Theme Park – Namja Town Tokyo
Namja Town, owned by Namco, the creator of Pacman and many other arcade games and leisure products, is Japan's largest indoor theme park.
It's housed in the best shopping mall in Tokyo for kids and families, a place called Sunshine City Ikebukuro.
We love Sunshine City Tokyo as it's just a few stops off the tourist track so it's filled with locals and caters for locals.
Namco Namja Town indoor theme park in Sunshine City is divided into 'lands' you can stroll through, with attractions dispersed throughout, including:
two 'lands' based on food, and
recreations of Tokyo alleys and streets of the 1950's and 1960's.
Namco Namja Town is completely indoors so if you want to take any kind of decent photos, you'll need a flash.
Note: no photos allowed in the games area evidently. (Oops!)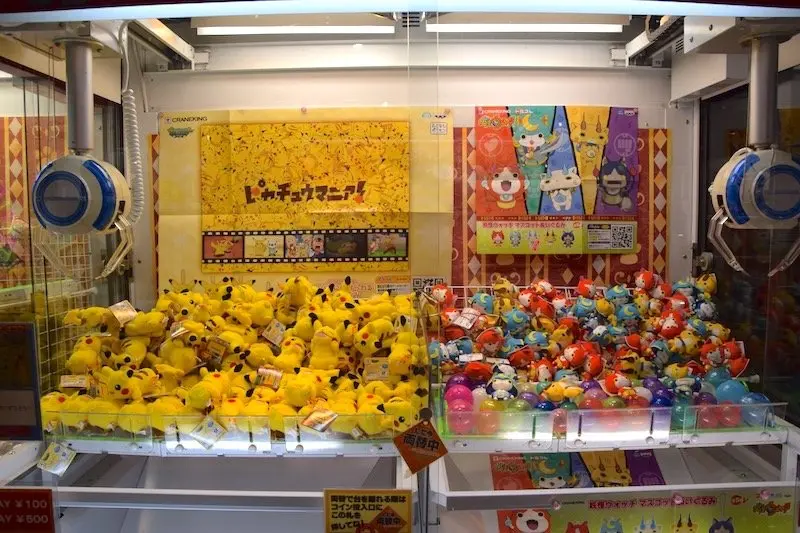 Carnival Style Claw Machines
There are LOTS of games and arcade attractions, but as they are in Japanese, we couldn't play most of them as we couldn't understand the instructions.
But your kids will hound you to play the claw games!
All kids know how to work those things.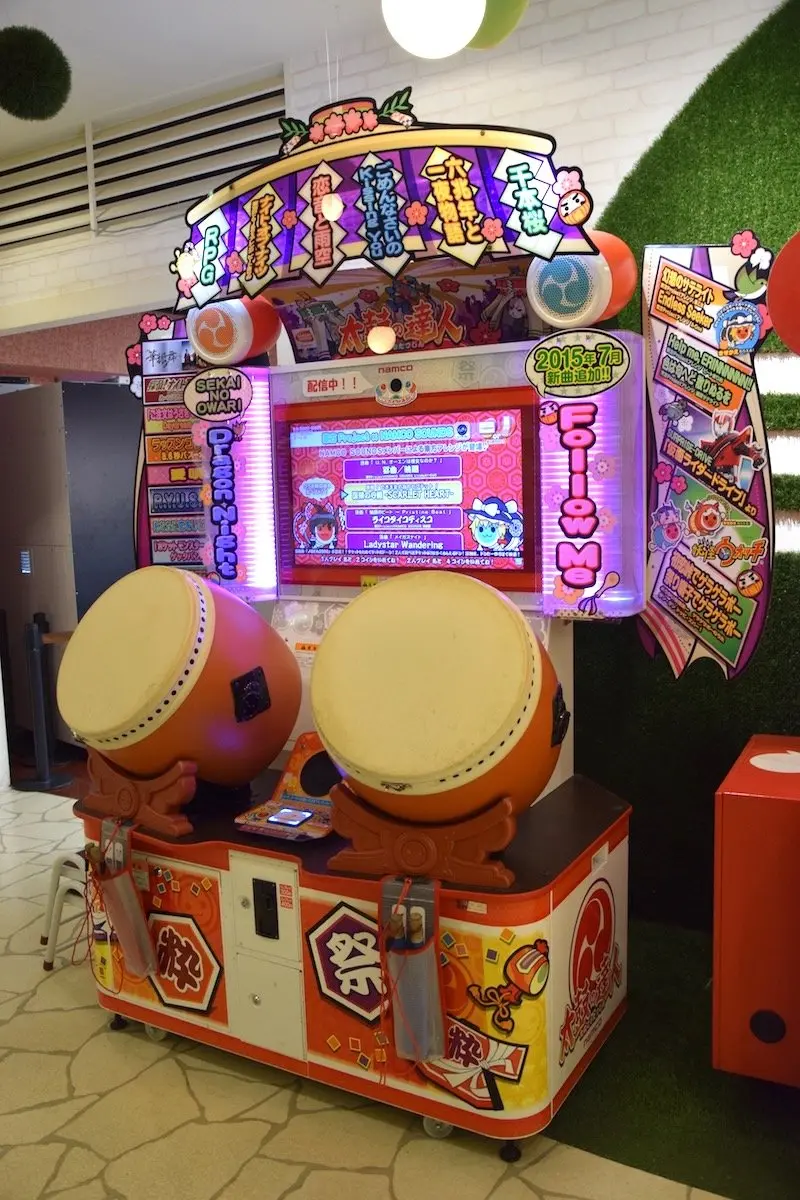 Arcade Games at Namja Town Japan
My boys loved the big drums, but there are loads of arcade games to try.
All in Japanese, so sometimes it's just a situation of 'put your money in, and guess what you have to do'.
Fun nevertheless.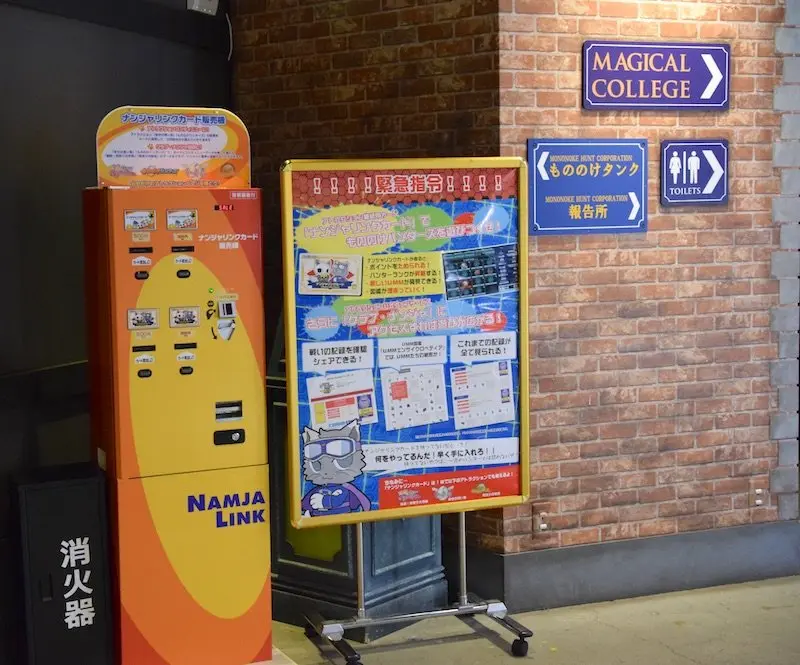 Magical College of Wizarding
There's even a Magical College where Japanese kids, and their parents, can learn the art of wizarding, complete with cloaks and wands, just like Harry Potter.
(Very much like Harry Potter actually.)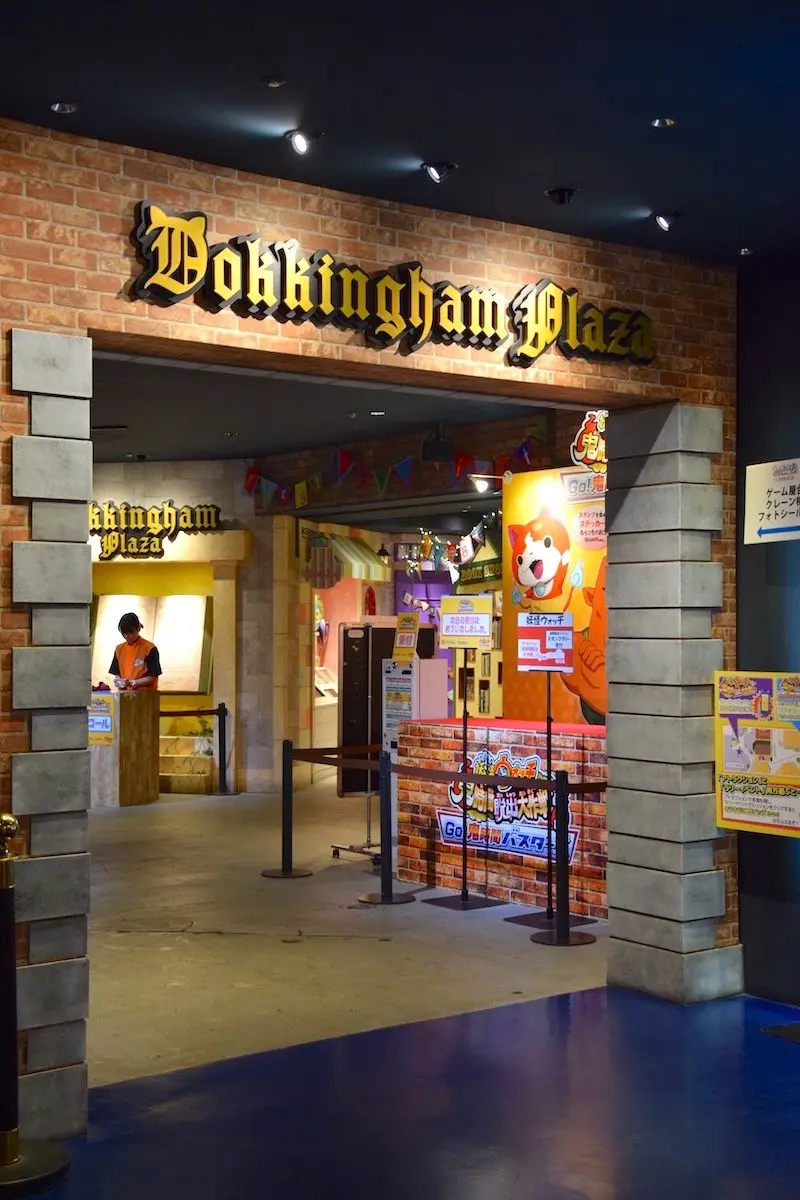 Rides at Tokyo Namco Namja Town Ikebukuro
There's a ride where you can ride in a pig-shaped "Mosquito Coil" carriage and accompany "Bakuretsu Joe" on his mission to shoot down the Amazon mosquitos that have evolved into giant ferocious creatures.
It's 800 yen per person to ride, so we skipped it this time, as I wasn't sure there was any real value in it for us without being fluent in Japanese.
If any of the rides capture your attention and the kids want to have a go, just find a coin-operated ticket machine and buy ONE attraction ticket.
Even when you can't read the instructions, you can watch what the Japanese kids (and adults) are doing and simply copy them!
The kids will find joy and laughter in the FREE devices and objects that react by touching, tapping or pushing them.
(There's more than 50 of these kinds of things throughout so keep your eyes open.)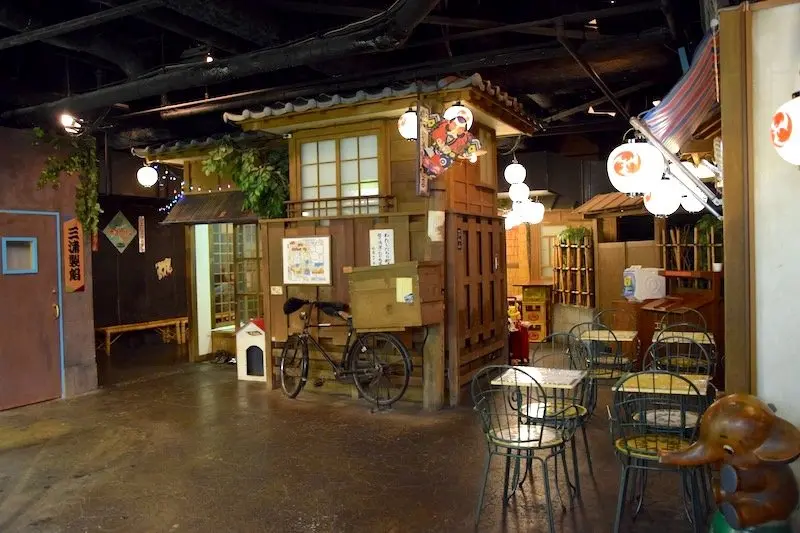 Namja Town Haunted House
Be warned that Namco Namja Town has a Haunted House area that is dark and mysterious and this pocket can feel a little spooky to little kids.
In keeping with this Haunted House part of 'town', there were plenty of creepy Navaju lanterns around the place.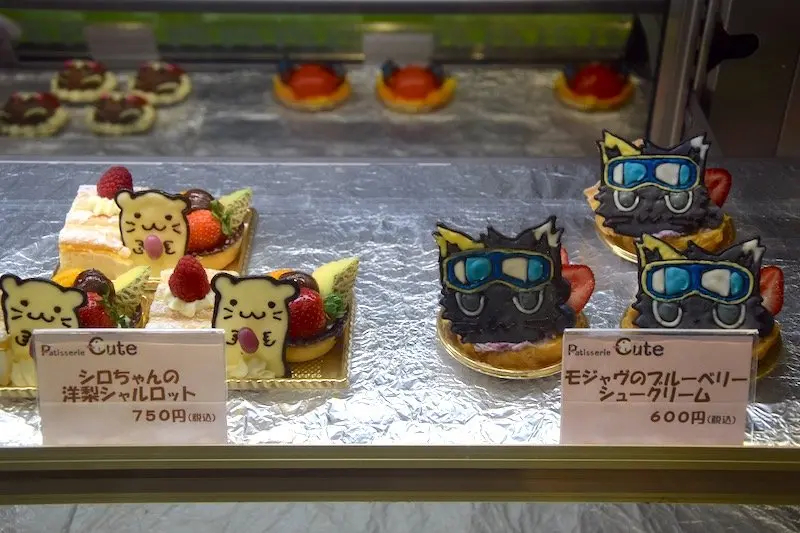 Fukubukuro Dessert Street at Namja Town Tokyo Sunshine City Mall
The best thing about Namco Namja Town is the Fukubukuro Dessert Street, and the Namja Town Gyoza Stadium. (see below)
But, as sweet-treat food lovers, we ate exclusively in the Fukubukuro Dessert Yokocho Area!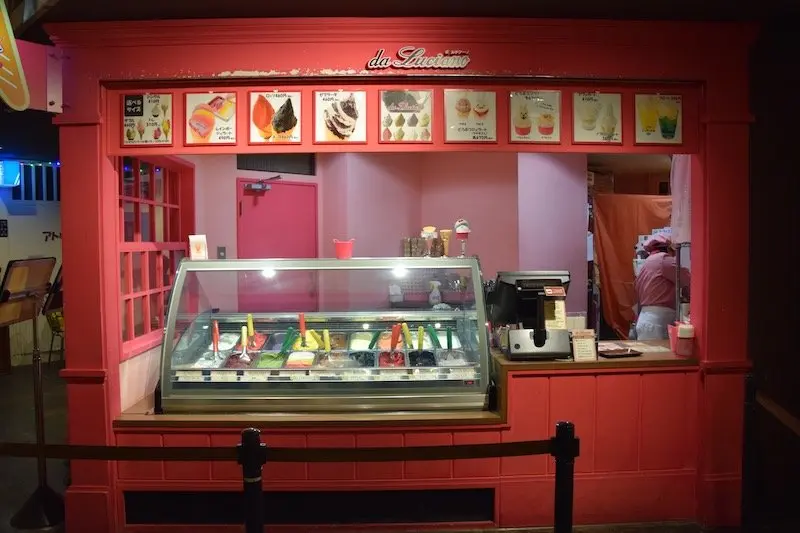 There's so many cute food options to try, including:
Japanese pancakes
Japanese crepes
Japanese cakes
ice-cream and gelati
So try them we did!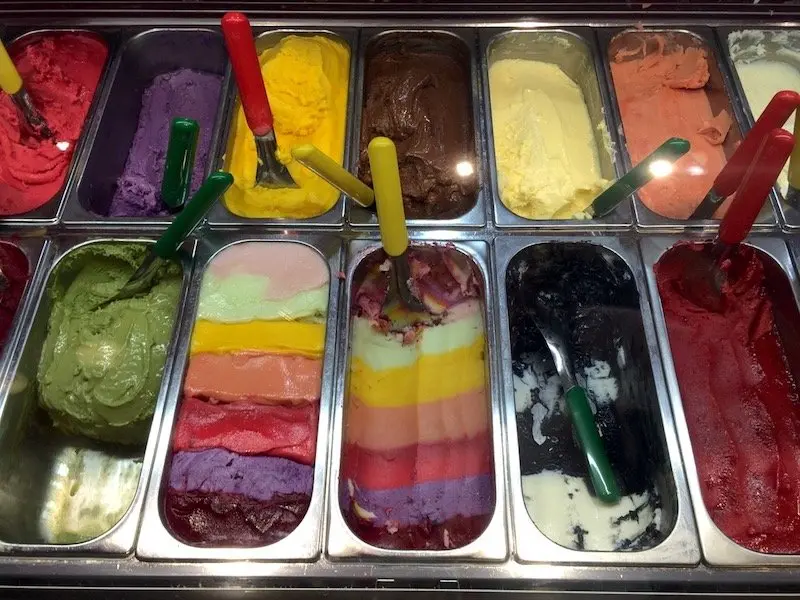 No.1: Gelato in Tokyo
Rainbow Gelato anyone?
If not that, make sure to eat the Green Tea one.
(There's a reason the tub is the only one that is half-empty.)
Or a rabbit-topped gelati cone!
How will we ever eat a normal cone again?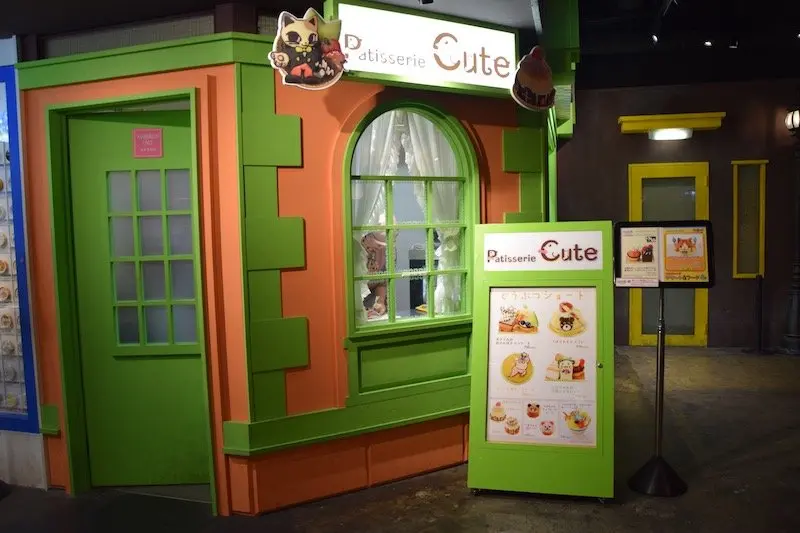 No.2: Patisserie Cute
If you are a cake fan, then this is your stop of choice.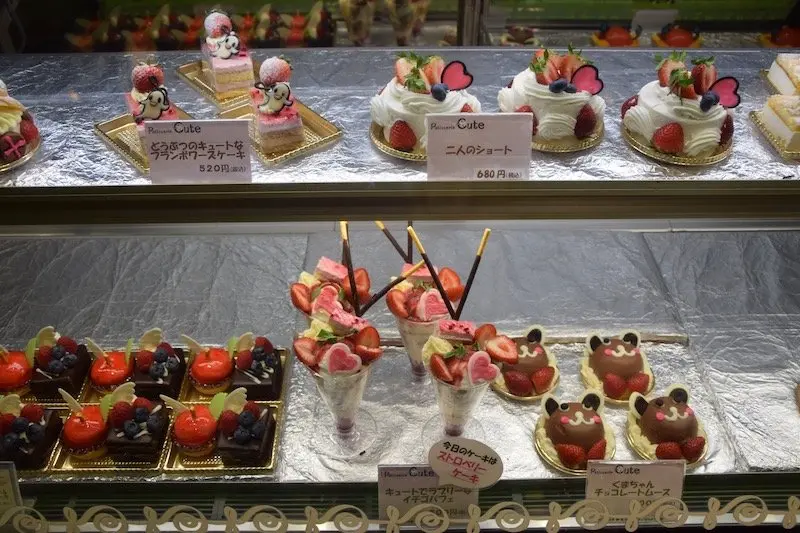 Cute Japanese food
There's:
fruit filled parfaits
cat-shaped chocolate mousse
fruit flans
sponge cakes
chocolate tarts
All made extra yummy with cute presentation.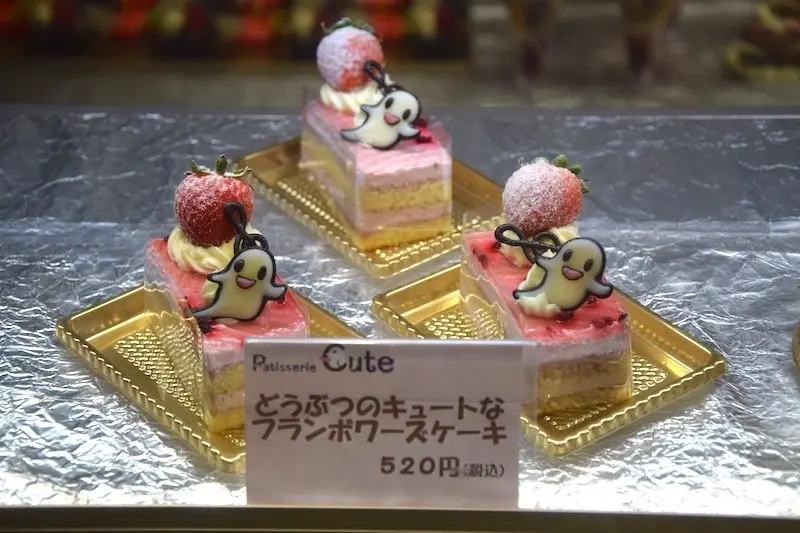 The kids will think this place is a hoot!
An expensive one at that, but hey, you only eat Namco Namja Town mascot cat-themed cake once!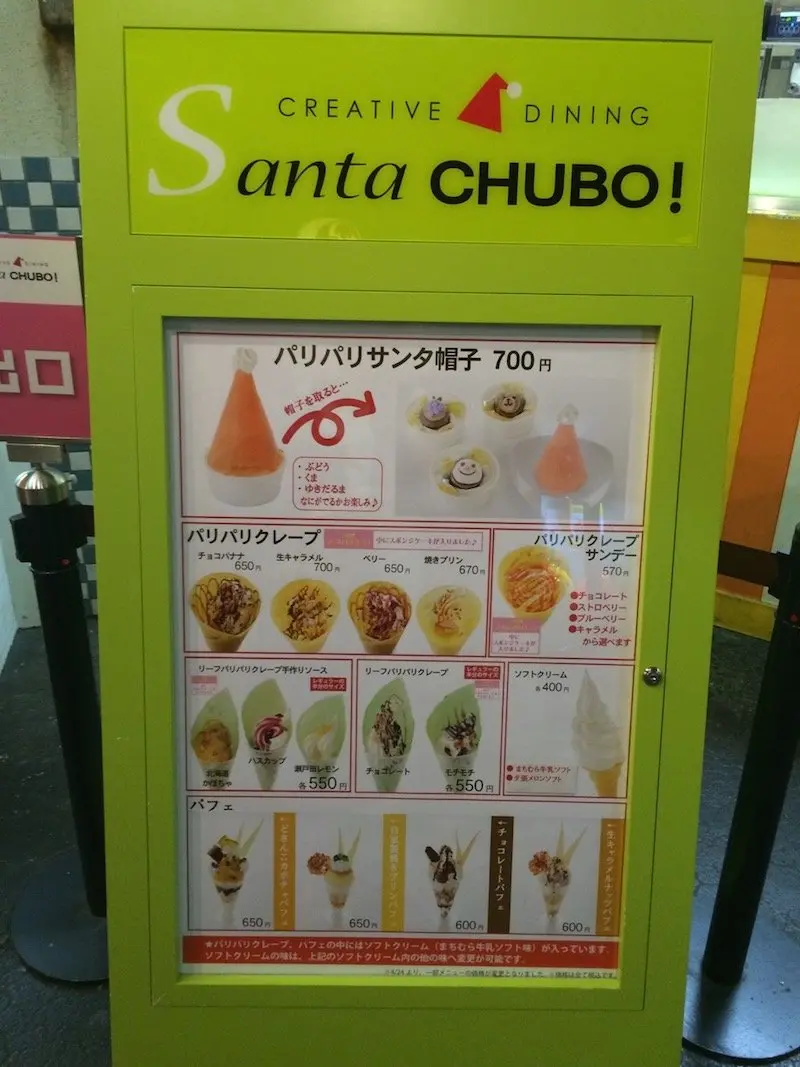 Crepe Shops in Tokyo
Fancy a crepe?
Then you've two choices.
No.1: Santa Chubo
The first one is a more traditional crepe place called Santa Chubo.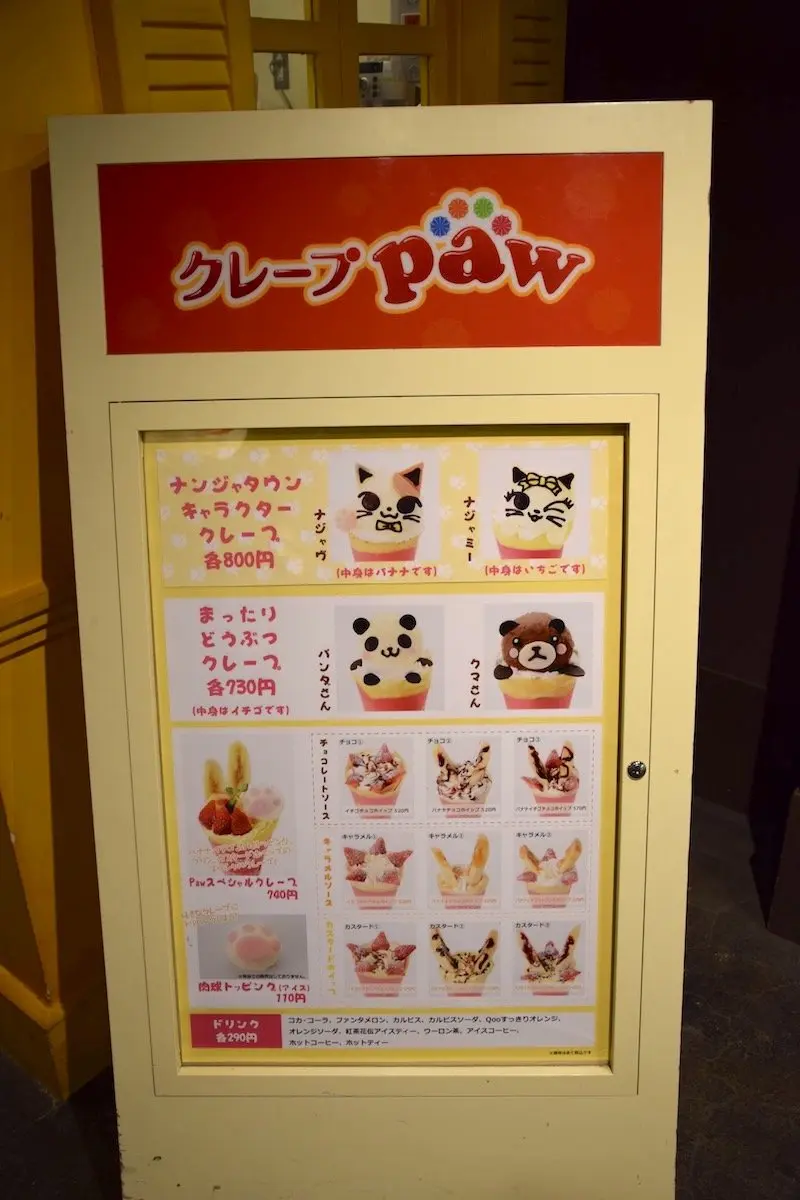 No.2: Crepe Paw
The second one, Crepe Paw, has character-topped crepes including cat, bear and panda-inspired sweet crepes, plus all your regular favourites.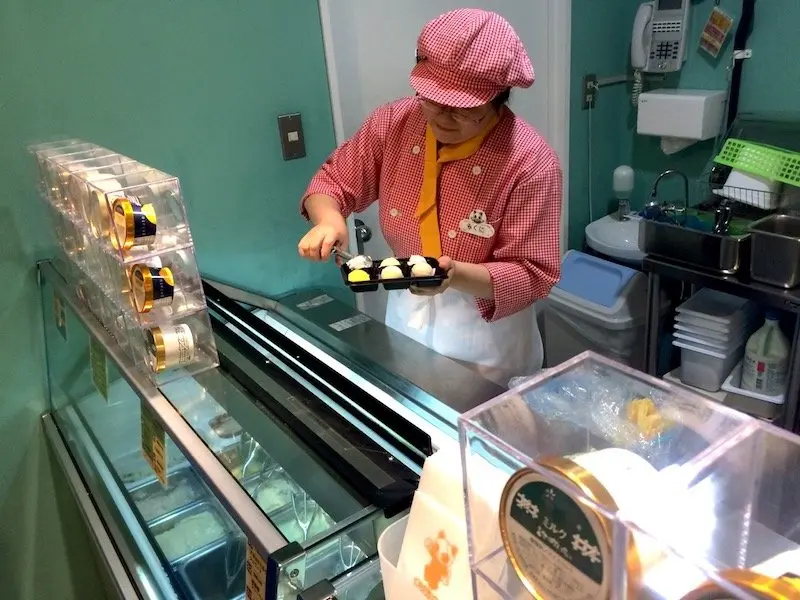 The Best Ice Cream Shop in Tokyo?
Ice Cream City Japan is tucked away in the corner of Namco Namja Town (position 5 in the blue love heart on the English map) and is only small so doesn't call much attention.
When Ice Cream City was scaled back (what a sad day), this little ice cream shop was all that was left.
Saying that, it's still heaps of fun to try out a whole plateful of strange-sounding ice cream if you dare, and for about 300 yen, it's a totally affordable SUPER FUN experience and a BIG winner with the kids in Tokyo.
Namco Namja Town Gyoza Stadium
It's really just a food court that specialises in delicious Japanese-style dumplings.
If you've never had Gyoza before, this Namco restaurant is as good a place as any, although slightly more expensive than what you'll find elsewhere.
Most gyoza have pork or chicken mince, chinese cabbage, cabbage, onion, and chives fillings with a dipping sauce accompaniment, but sometimes you can find cheese gyoza at a gyoza shop.
They are cooked fresh, they are healthy, they taste great and the kids will LOVE them!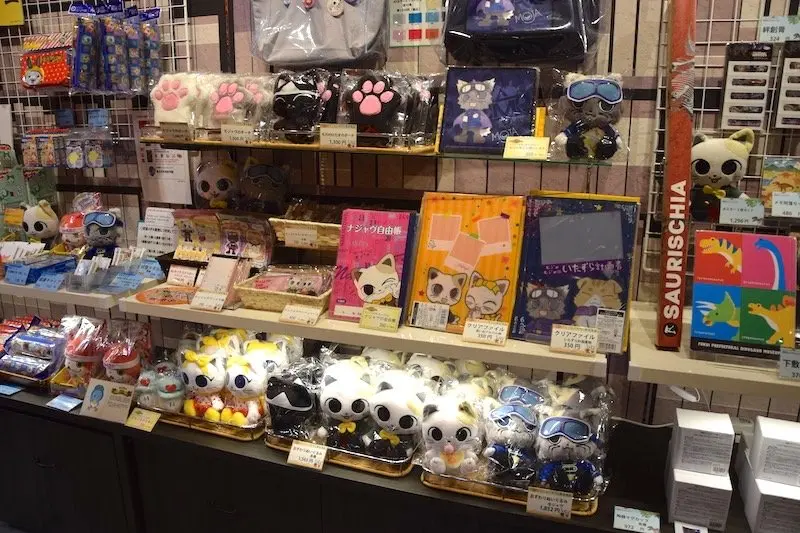 Namco Namja Town Souvenir Shop
There's a gift shop featuring Namja Town mascots, the main one being a cat named Najavu.
You might also find limited edition goodies such as themed boxed sweets including Sailor Moon 'Sweet Moon' macarons and candies.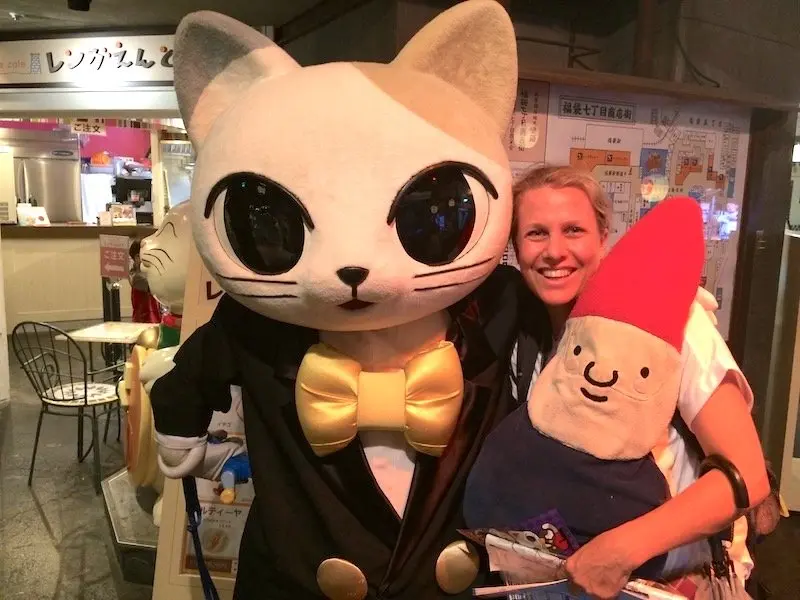 Visit Namja Town on a Weekend or Holiday
Namja Town is one place that's more fun when it's filled with families and lots of children to create atmosphere so we'd suggest a weekend visit.
We wouldn't go out of our way for Namco Namja Town alone.
BUT, combined with a visit to Sunshine City Shopping Mall (and all the things to do at Sunshine City mall with kids there) plus other Ikebukuro attractions nearby, such as the Tokyo Earthquake Museum, we put a day trip to Ikebukuro on TOP of our Tokyo things to do list.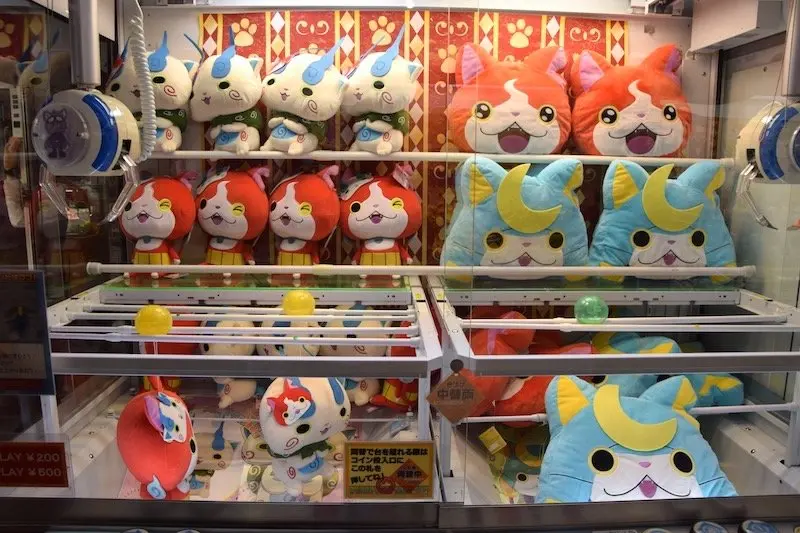 THE INSIDE SCOOP: Things to do in Tokyo with Kids? Namja Town
Correct at time of publication on Roam the Gnome. Please check with venue for updates. We apologise in advance if there have been any changes we are unaware of. All prices in yen, unless otherwise stated
Address: 3−1−3 Higashiikebukuro, Toshima-ku Tokyo 170-0013. Sunshine City World Import Mart Building on 2nd Floor.
Telephone: 03 5950 0765
Website: Sunshine City Namja (in Japanese)
Namco Town Opening Hours
Open 10am to 10pm daily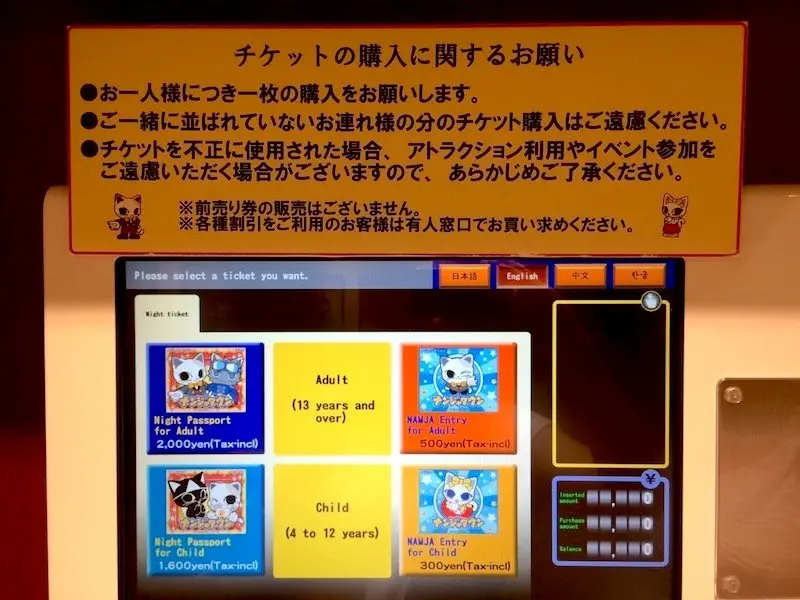 Namco Town Entry Fees
The Namco Namja Town price is 500 yen for adults (13+) and 300 yen for kids 4 -12 years. Entry fee includes access to the Fukubukuro Dessert Yokocho AND Namja Gyoza station.
There is a passport you can buy for 3300 yen adults and 2600 yen kids 4-12. As we said, all the attractions inside are in Japanese, it's probably better to buy the cheap entry ticket and purchase single entry/ride tickets for anything the kids might like. You can buy individual tickets at coin-operated vending machines throughout.
We've heard that if you show your passport at the entrance and you'll get a discount.
(This might be a good tip at all the theme parks where tourists and english-speaking visitors are not so common- worth a try!)
Facilities at Namco Namja Town, Ikebukuro Tokyo
Here's an English Guide to Namco Namja Town.
The Best Ice Cream Shop in Tokyo is at position 5 on the map on page 2.
How to get to Namco Namja Town
Nearest stations
3 minutes on foot from Higashi-Ikebukuro Station (Tokyo Metro Yurakucho Line)
8 minutes on foot from Ikebukuro Station (JR, Tokyo Metro, Seibu Line, Tobu Line)
4 minutes on foot from Higashi-Ikebukuro 4-Chome Station (Toden Arakawa Line)
Directions from Ikebukuro Station: Go to exit 35 of Ikebukuro Station. Walk down Sunshine 60 Dori, and the underground entrance (escalator) to Sunshine City will be visible on the right-hand side next to Tokyu Hands.
Directions from Higashi-Ikebukuro Station: Walk toward exit 6.7, and a sign should direct you to the "Underground Passage" to Sunshine City.
Map of Namco Namja Town
Toadstool Rating:
Go for the kids to try the fun food in the Sweet Dessert Street, especially the ice-cream shop. THEY will love the place!

Looking for MORE SUPER DOOPER FUN places to visit in TOKYO?
Click the blue links below for more Tokyo tips.