INSIDE: Feel up for a challenge? There's 50+ Japanese Ice Cream flavors to try at Ice Cream City Tokyo.
Vanilla sherbet icecream? Tick.
Butternut pumpkin ice cream? Tick
EEL ICE CREAM?
There's these three, PLUS 48 more wonderful Japanese ice cream flavours to choose from at Ice Cream City Ikebukuro in Sunshine City.
Parents Beware! The kids will love this fun ice cream shop in Tokyo.
There's LOTS of crazy ice cream flavours and if the kids have their way, you'll be the guinea pig.
Take a look below for details
Disclosure: This article contains affiliate links. If you make a purchase after clicking on one of these links, we may receive a small commission at NO extra cost to you.

Complete Guide to Ice Cream City Tokyo Japan
Hidden away in Ikebukuro, out of sight of most tourists, is a shopping centre called Sunshine City Tokyo.
Inside Sunshine City shopping mall, there is a fun indoor theme park called Namco Namja Town.
This place is a popular haunt for Japanese teenagers as well as Japanese families looking for a fun indoor activity in Tokyo.
If you are looking for the BEST ice cream shop in Tokyo, then visiting here is a MUST.
---
RELATED: The ULTIMATE List of Things to Do in Tokyo with Kids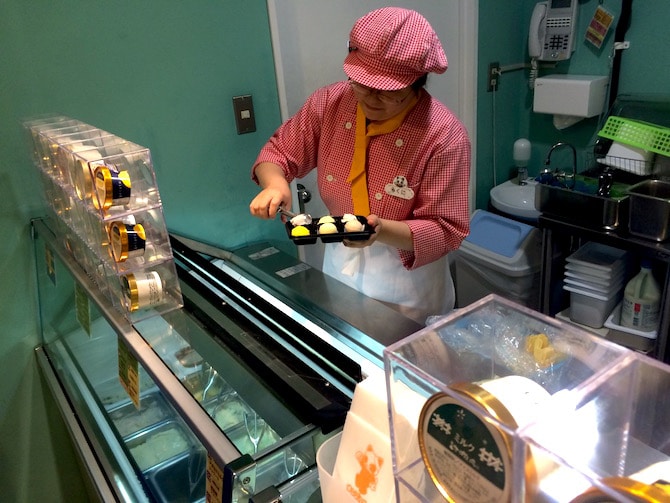 The BEST Ice Cream Shop in Tokyo? Namco Namja Town
To find Ice Cream City in Tokyo, you'll need to meander through the "olde-world streets" of Namco Namja Town until you find the Fukubukuro Dessert Yokocho or "Sweet Street".
(Sweet street has two crepe shops, cakes, gelati, and pancakes too.)
In one corner, you'll see a tiny shop with a menu board of ice-cream tub lids outside.
THIS is your destination for the best ice cream shop in Tokyo.
Never before have I seen so many ice-cream flavours in one spot!
If you and your kids are adventurous eaters, there's something new and exciting for you to try here, and probably a few ice cream flavours you couldn't stomach.
Hot tip: There are a few traditional Japanese ice creams for the fussy eaters.
Best Japanese Ice Cream Flavors list
Get ready to encounter weird Japanese ice cream flavors, and different types of ice cream flavors than the ones you are used to.
You may just find fish flavored ice cream, but sadly, no squid ink ice cream or soy sauce ice cream yet.

Where to buy Wasabi ice cream?
When you arrive at the Namja Town ice cream shop, ask at the counter for a Japanese ice cream flavors order form. (They have them in English.)
Each flavour is numbered 1 to 51.
You pay per scoop. Simple flavours start at 60 yen per scoop, right up to 210 yen per scoop for the two choices that have an alcoholic component.
While there is no minimum requirement, six scoops is standard.
Circle the corresponding numbers on the order form and pass it to the ice cream shop assistant.
She (or he) will scoop them out in order and show you how they are set out in the tray so you can keep track of the flavours you are eating.

Weird Japanese ice cream flavors
Check out some of these weird Japanese ice cream flavours you can try
All these Japanese ice cream flavours should be served with a side dish of humour, because you are going to need your sense of humour (and a dash of patience) when the kids are loudly cajoling you to taste it. Take a look at these weird Japanese flavors.
Potato ice cream
Apple sherbet
Miso noodle ice cream
Shark Fin noodle ice cream
Double cheese ice cream
Beef tongue ice cream (no!)
Gold tomatoes with soybean
Japanese sweet potato ice cream
Wasabi ice cream (get ready for a hot tongue!)
Coal ice cream
Eel ice cream!!!
UGGHHHH!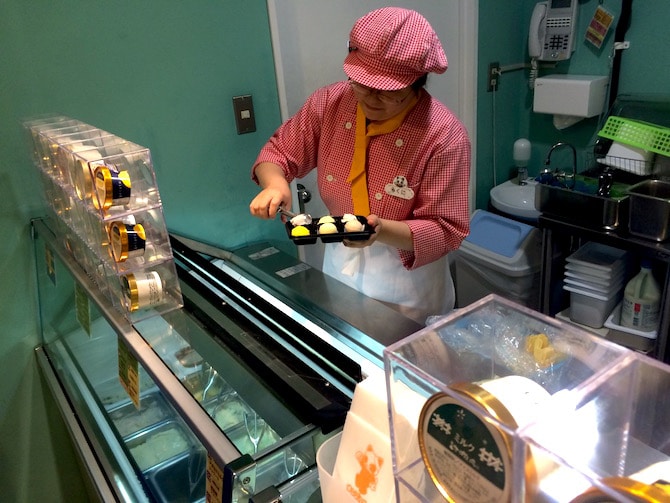 What is the most unique flavor of ice cream you have tried?
We ate Indian Curry ice cream!
Roam the Gnome and I were travelling in Tokyo with my mum – a mother, daughter, Gnome trip. We chose:
Potato ice cream (pleasant)
Apple sherbet (tangy)
Strawberry Mille-Feuille (delicious)
Indian Curry (curry spice lingers…)
Japanese berry and chocolate (yum!)
Roasted green tea ice cream (my favourite.)
Indian Curry was as adventurous as we could manage that day.
I'm steeling myself for another visit and promise to try the EEL ice cream and the BEEF TONGUE.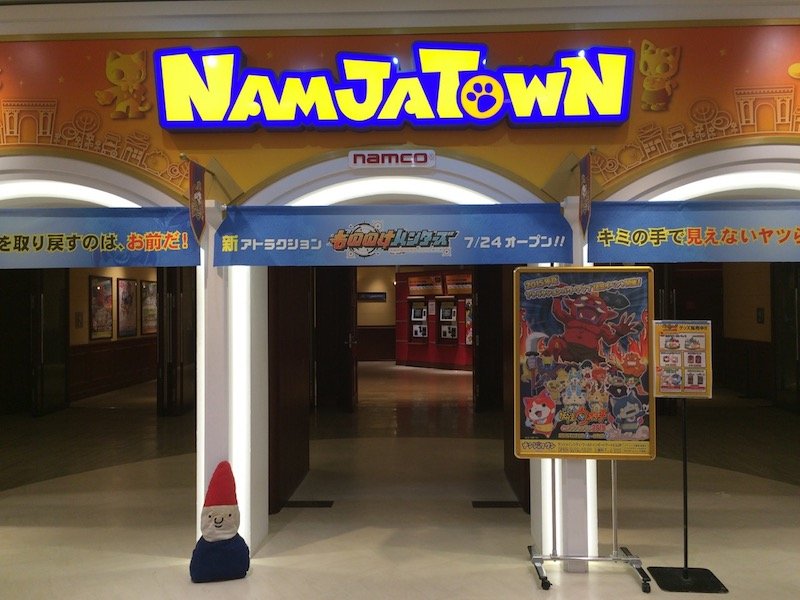 THE INSIDE SCOOP: Best Tokyo Ice Cream Shop
Correct at time of publication on Roam the Gnome. Please check with venue for updates. We apologise in advance if there have been any changes we are unaware of. All prices in yen, unless otherwise stated
Address: 3−1−3 Higashiikebukuro, Toshima-ku Tokyo 170-0013. Sunshine City World Import Mart Building on 2nd Floor.
Telephone: 03 5950 0765
Website: Click here (Japanese only)
Namco Namja Town Opening Hours
Namco Namja Town Entry Fees
Namco Namja Town costs:
500 yen for adults (13+) and
300 yen for kids 4 -12 years.
Entry fee includes access to the Fukubukuro Dessert Yokocho, Ice Cream City Tokyo, AND Namja Gyoza station.
There is a all inclusive entry passport for 3300 yen adults and 2600 yen kids 4-12
BUT as all the attractions inside are in Japanese, it's probably better to buy the cheap entry ticket and purchase single entry/ride tickets for anything the kids might like.
You can buy individual tickets for rides and attractions at coin-operated vending machines throughout.
How to get to the Japanese ice cream shop in Tokyo
Nearest stations to Sunshine City Ikebukuro
3 minutes on foot from Higashi-Ikebukuro Station (Tokyo Metro Yurakucho Line)
8 minutes on foot from Ikebukuro Station (JR, Tokyo Metro, Seibu Line, Tobu Line)
4 minutes on foot from Higashi-Ikebukuro 4-Chome Station (Toden Arakawa Line)
Directions from Ikebukuro Station: Go to exit 35 of Ikebukuro Station. Walk down Sunshine 60 Dori, and the underground entrance (escalator) to Sunshine City will be visible on the right-hand side next to Tokyu Hands.
Directions from Higashi-Ikebukuro Station: Walk toward exit 6.7, and a sign should direct you to the "Underground Passage" to Sunshine City.
Map of Ice Cream City Ikebukuro
Hot tip – English Guide to Namco Namja Town
Here's an English Guide to Namco Namja Town.
The Best Ice Cream Shop in Tokyo is at position 5 on the map on page 2.
Toadstool Rating: Ice Cream City Japan
Roam the Gnome, Grandma Angie and I say a visit to Ice Cream City in Namja Town at Sunshine City is a must-do experience for the whole family.
We laughed and laughed!

Looking for MORE fun places to visit in TOKYO?
Click the links in blue below for more Tokyo tips