INSIDE: Spot a Sumo Wrestler & More… The Top Things to do in Asakusa Tokyo for Family Travel.
To be honest, we are not super fans of gimmicky places filled with shiny souvenir shops, or busloads of camera-wielding tourists.
But while Asakusa is a hot destination on all coach and bus tours in Tokyo, (perhaps the number one tourist destination for coach tours in Japan?) it IS the perfect boisterous and colourful introduction to Japanese culture for the kids.
Senso-ji Temple IS the oldest Buddhist temple in Tokyo, said to have been built in 628, and that alone makes bringing the family to Asakusa a worthwhile investment of your time and energy.
But it's the 16 other things to do at ASAKUSA with kids that make a day of it!
Disclosure: This article contains affiliate links. If you make a purchase after clicking on one of these links, we may receive a small commission at NO extra cost to you.

Kaminarimon Gate – the famous Giant Red Lantern icon at Asakusa Tokyo
The first thing most visitors see when walking from the Asakusa station is the iconic Kaminarimon Gate, with its' Giant Red Lantern hanging below.
Here is where the Asakusa fun begins, at Nakamise Dori Asakusa shopping street.
("Namamise" translated into Japanese means "inside shops")
Both sides of Nakamise shopping street are lined with shops, eateries, and Japanese souvenir shops.
Looking for:
Japanese cultural ornaments
Japanese kokeshi dolls
Japanese sumo wrestler ornaments
Japanese handbags
Japanese tote bags
handmade Japanese crafts, or
those super cute Japanese crafts and toys made from that Chirimen (cheery men!) crinkle crepe fabric?
You name it. It's there.
Nakamise dori street is a busy and touristy spot BUT there is something equally compelling and breathtaking about this temple that I've not felt at others, even though the lead up to it feels a bit like a party street, unlike most temples in Japan where the mood is reverent and quiet!
Kids love it here.
There's no need for shushing, prolonged quiet, or having to hold in their natural exuberance for too long.
---
RELATED: Big List of the Best Things to do in Tokyo with kids
Sensoji Temple in Asakusa
At the other end of the street is the Hozo Mon (middle gate) and beyond that is where the Sensoji Temple stands.
The mood here is more quiet and thoughtful (but only just.)
Worshippers do come to bless, to pray, to ask for guidance and good luck.
There are a number of stalls to purchase blessing trinkets if you wish to join in.

The Five Storey Pagoda at Asakusa
To the left, you'll see the the Five Storey Pagoda, one of Japan's most sacred traditional monuments in Asakusa.
It is said that the top of the pagoda holds the ashes of Gautama Buddha.

Asakusa Buddha
Nearby, a Buddha statue sits in contemplation.
Many Japanese people come to pray at this spot too.

THE BEST 16 THINGS TO DO IN ASAKUSA WITH KIDS
Schedule a full day for Asakusa sightseeing.
The Asakusa district has a special charm, and there's so much more to do than just visit the Sensoji temple and Nakamise streets. Let's start exploring!
ASAKUSA SHOPPING
No.1: Buy Japanese Toys at Nakamise Dori
Quite unexpectedly, Asakusa was one of our favourite places in Tokyo.
It's the perfect place to pick up traditional Japanese toy souvenirs for kids
Otedama soft juggling ball sets made from traditional Japanese cloth chirimen
Sumo magnets and bobbing head dolls
Welcoming Maneki Neko 'waving' cats (like those in restaurants) – The maneki-neko cat is a common Japanese figurine believed to bring good luck & prosperity to the owner. In Nakamise dori, you'll find maneki-neko cats in ceramic or plastic.
Miniature lanterns
Souvenir tins, magnets, phone charms, keychains
Traditional japanese toys – paper balloons, spinning tops
Kendama "sword & ball" is a traditional Japanese skill toy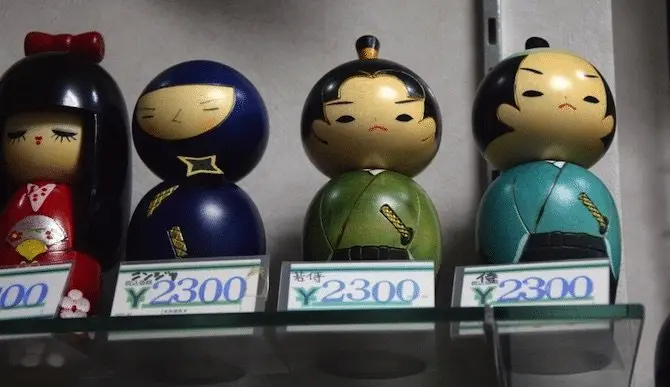 No.2: Buy a Traditional Kokeshi Doll at Nakamise Street
Who could resist a SUMO doll?
Or a Ninja doll?
Or a Kokeshi doll who beams at you with a smile?
There's Kokeshi Dolls at Nakamise shopping street that we haven't seen anywhere else.
traditional Kokeshi dolls
modern Kokeshi dolls
Sumo Kokeshi dolls
Ninja Kokeshi dolls
Geisha Kokeshi dolls
Hot tip: See a Kokeshi doll you love? Buy it.
Odds are, you won't find the same one again, or for a better price.
(We learned the hard way.)
But there's plenty more to do in Asakusa than just shopping in Asakusa for Japanese toys.

No.3: Shop for Japanese Sweets & Japanese Snacks Souvenirs
These beautifully boxed and aesthetically-presented sweets, biscuits, crackers, snacks, and cakes are just what Grandma and Grandpa ordered.
But we say buy at least two or three boxed Japanese gifts, if you want at least one to make it home.
I have a feeling you might break one (or two…) boxes open for a midnight snack, just like I did!
They are SO yummy, especially the Mochi rice cakes with Sweet Red Bean filling inside.
READ MORE: The Ultimate Guide to the Best Japanese Candy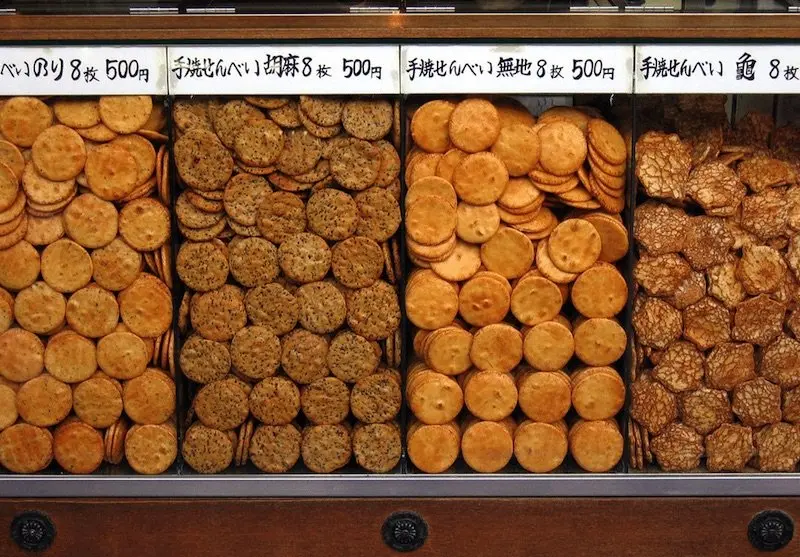 EATING AT ASAKUSA
No.4: Eat senbei crackers, a traditional Japanese snack souvenir
There's plenty of freshly cooked Japanese senbei crackers to try, but be sure to be seated.
Walking while eating is prohibited here at Asakusa Nakamise dori, and highly frowned upon.
READ MORE: The best Japanese street food to try in Tokyo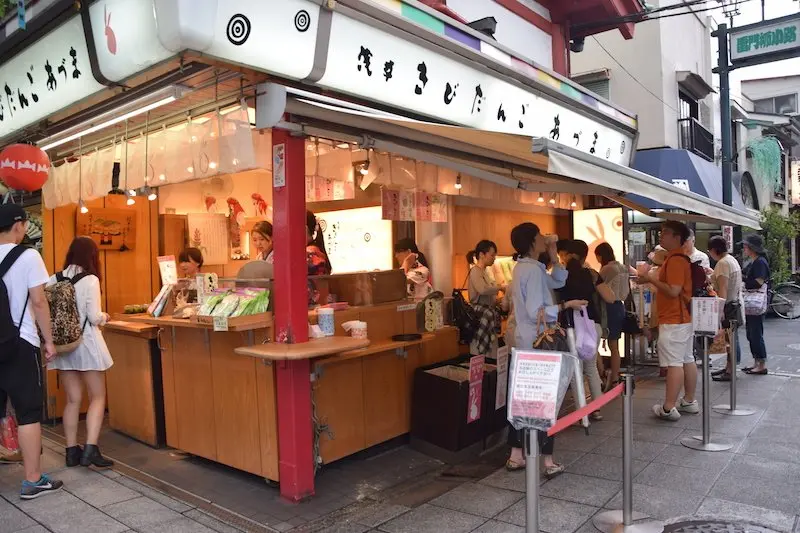 No.5: Eat here at Asakusa Kibi Dango shop
Find the Asakusa Kibi-Dango Azuma shop and do not pass until you have tried this sweet treat!
I'm not joking when I say I DREAM of this place. I love it that much and never ever go to Japan without stopping by.
During the Edo period, "Kibi-dango" was popular on Sensoji's "Nakamise" street.
At this shop, they make it in front of your eyes.
"Kibi-dango" is made with Kibi (Millet) Powder and sweet rice and coated with Kinako (soybean flour).

Cold matcha tea
Buy the drink too – the cold Matcha green tea on offer in warmer months is so good.

WHAT TO SEE IN ASAKUSA?
No.6: Keep your eyes peeled for Sumo Wrestlers
Hail the Gods of Sumo. We were lucky enough to spy a group of three Sumo men walking their way through the crowds on Nakamise Shopping Street, so we asked for a quick pic.
This fellow wasn't all too happy about it, mind you.
The other two were much more generous, smiling to the crowd, chatting to the kids, and up for a photo opportunity, but this guy was prickly, and disagreeable and not at all interested.
I'm surprised he didn't walk the other way!
If you spot a Sumo too, I guarantee this will be the highlight of your kid's day. (It was our highlight too!)
These blokes are GIGANTIC!

No.7: Wander off the main drag
Our best finds are always off the main drag.
If you have time, take a wander and see what magic awaits you too.
You'll find shops:
selling traditional kimono
artisans selling their traditional handicrafts, plus
shops selling Japanese ceramics and homewares.

No.8: Spy the Tokyo Sky Tree between buildings
It's the tallest freestanding broadcasting tower in the world at 634 metres tall.
If it's a fine day, pop this on your itinerary too.
You can see the entire Kanto region including Mt Fuji on a fine day.
And if it's not a fine day, like when we visited, all is not lost.
You'll be given a cute Japanese Skytree token as a booby prize gift!
There's also a major shopping centre below, with a bunch of limited-time restaurants featuring Japanese character food that the kids will think is just the bees' knees.
WHAT TO DO IN ASAKUSA
No.9: Take a ride in a Jinrikisha, a traditional Japanese rickshaw.
Take a selfie or two!
No.10: Visit Sumida Park for a view of the Sumida River.
If it's March or April, you might be lucky enough to see the Cherry Blossoms in full bloom.
No.11: Visit the Sumida Aquarium at the Tokyo Sky Tree
The colour-changing jellyfish exhibit is cool.
One of the highlights for kids are the labs with experimental exhibitions.
Kids can watch a scientist work with the jellyfish too.
But the real appeal at this aquarium for most kids is the garden eel tank.
Want to see a field of snake-like creatures swaying in the sand?
It's mesmerising and a bit spooky.
They are paired with leaf-shaped shrimp who swim up vertically!
It's otherworldly!
No.12: Visit the Konica Minolta Planetarium "Tenku" at Tokyo Sky Tree
Take a lie-down on one of their mesh seats and get set for a new kind of fun.
This 4D experience lets you walk under the stars, with lights, sounds and smells to amaze you.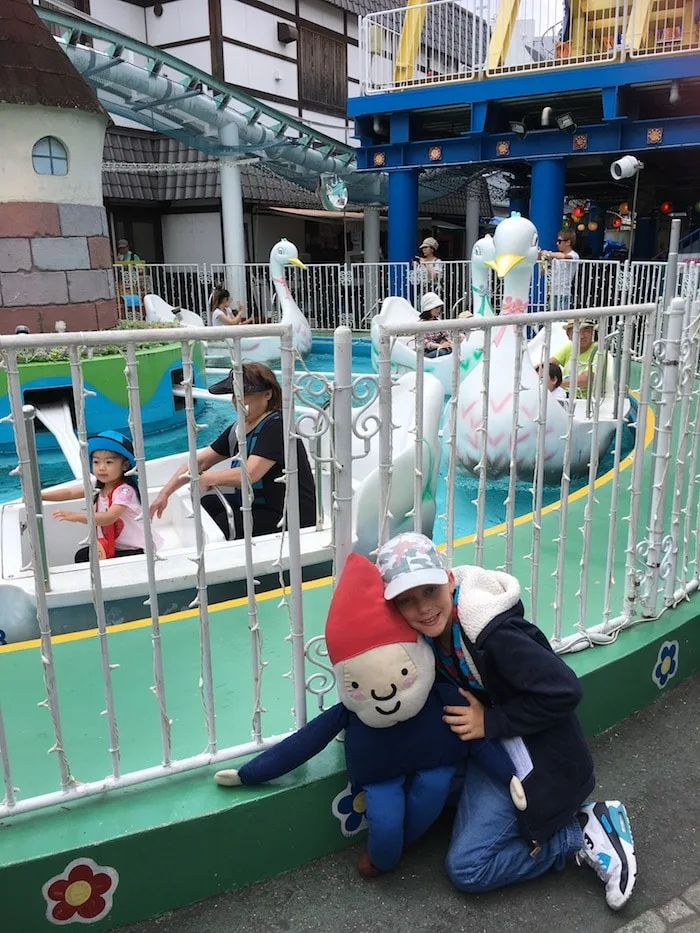 No.13: Take a Ride at Japan's Oldest Theme Park, Hanayashiki
Hanayashiki is Japan's oldest amusement park.
It's a stone's throw behind the Sensoji temple, yet most visitors to Asakusa with kids don't know it's there.
My kids and I had a BALL at this place.
There's a small entrance fee to enter the grounds (currently 1000 yen for adults, and 500 yen for kids 7-12. Kids under 7 are free.
You then buy tickets for the rides and attractions
100 yen per ticket, or
a book of 11 tickets for 1000 yen, or
a day pass for 2000 yen for kids, and 2300 yen for adults, or 1800 for kids 6 years and under.
The big scary rides cost 4 to 5 tickets each. The family friendly rides cost 2-3 tickets each.
Take a look at the rides on offer at Hanayashiki amusement park in Asakusa.
It's the best value in town!
You can also eat lunch at Hanayashiki at one of their Japanese street food restaurants, or pick up some speciality souvenirs at one of the shops.

No.14: Eat Japanese street food at the food stalls
Wander the back way out along the pathway that runs between the Five Storey Pagoda and the Main Sensoji temple, towards Hanayashiki theme park.
You'll find a row of awesome Japanese street food stalls.
Try all the delicious Japanese street food on a budget here.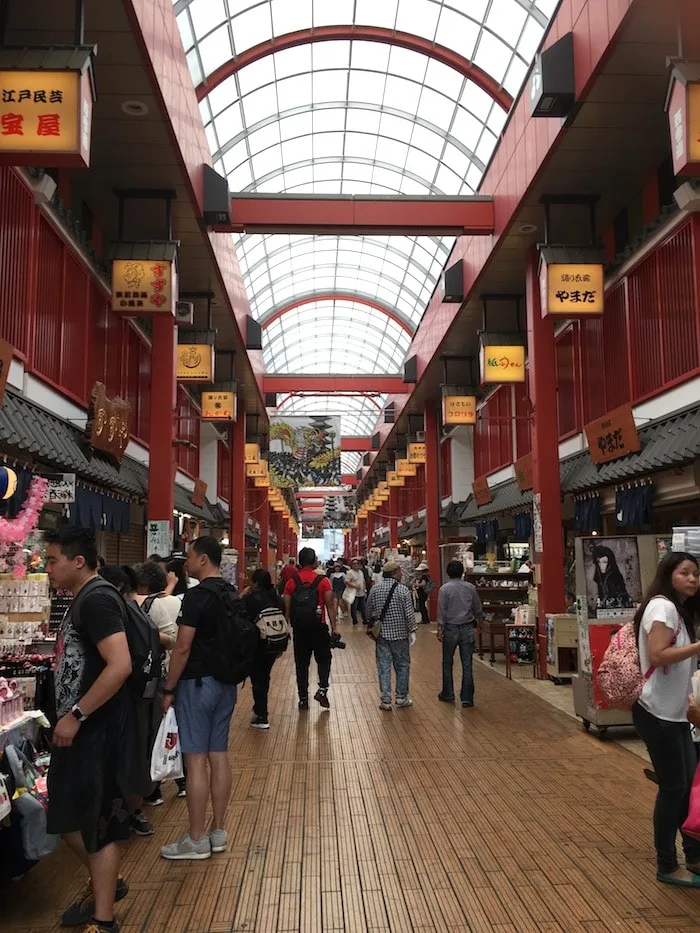 No.15: Visit Asakusa Nishi-sandō Shopping Street
This is a quaint Japanese shopping street that we stumbled upon by accident.
It's a covered walkway, lined with lanterns for mood and ambience.
This bustling shopping area is worth a look.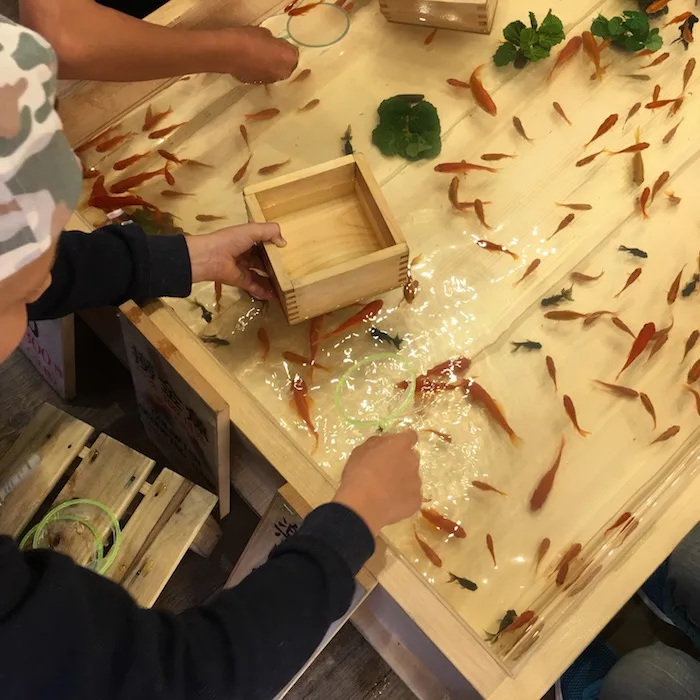 No.16: Go Goldfish Scooping at Asakusa Kingyo
Inside the Asakusa Nishi-sandō Shopping Street, there's a Goldfish Scooping activity for kids to do.
Japanese kids take home the goldfish they catch.
We played catch and release.

THE INSIDE SCOOP: Asakusa Sensoji Temple & Nakamise Street Shopping
Correct at time of publication on Roam the Gnome. Please check with venue for updates. We apologise in advance if there have been any changes we are unaware of. All prices in yen, unless otherwise stated
Address:Senso-ji Temple in Asakusa, 2-chōme-3-1 Asakusa, Taitō-ku, Tōkyō-to 111-0032, Japan
Access:Take a JR train to Asakusa Station. Walk from the station to the Kaminarimon Gate is less than 200 metres.
Opening hours: 10am to 4pm, except Sundays and holidays. Free entrance
Website:Click here
Asakusa Travel Map
Toadstool Rating (by the kids)
Visiting Asakusa is a MUST-DO with the kids.

Looking for more things to do in Japan with kids?
Click the blue links below for more Tokyo tips.